Regardless of the destination, there are some accessories that are truly essential when travelling 😊 If you're like me, you're always looking for that extra product that will help you on your next trip. And, for that very reason, I decided to prepare this list with my top travel essential products!
Travel essentials for the best luggage
01 | Hand luggage
Option 1: under the seat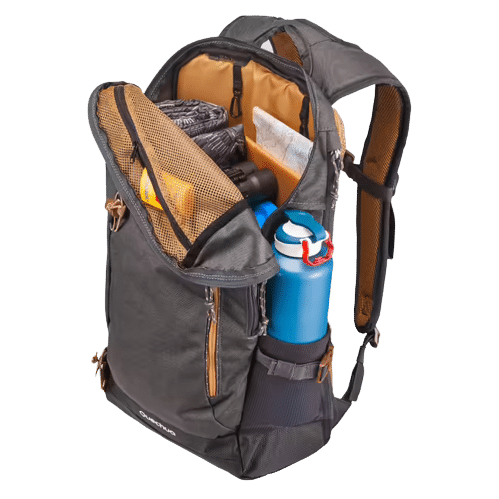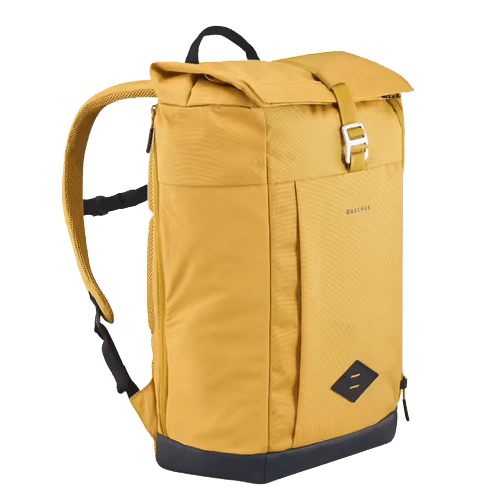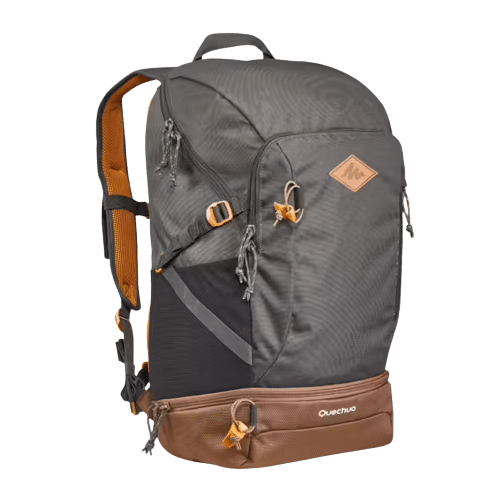 If you're travelling on low-cost flights, you're probably only allowed one small backpack to put under the seat. My first recommendation is this 20L from Quechua. It's pretty cheap and has a waterproof cover, a compartment for your laptop and several pockets. In addition, the back is very comfortable.
Alternatively, and also at a very affordable price, there is the NH Escape 500 Rolltop from Quechua with a slightly higher capacity (23L and extendable up to 27L). But what I love most about this backpack is the modern design and also the hidden pocket (one of the things I value most in a backpack).
Quechua NH500 30L, despite slightly exceeding the authorized measurements for the item we can carry for free under the seat, is also an excellent option as it has a capacity of 30L (above the previous ones). The one I use regularly is very similar to this one (it's an older 30L model from Quechua that is no longer available) and to date, I had never had any problems in carrying this backpack as my "under the seat" item.
Option 2 | cabin luggage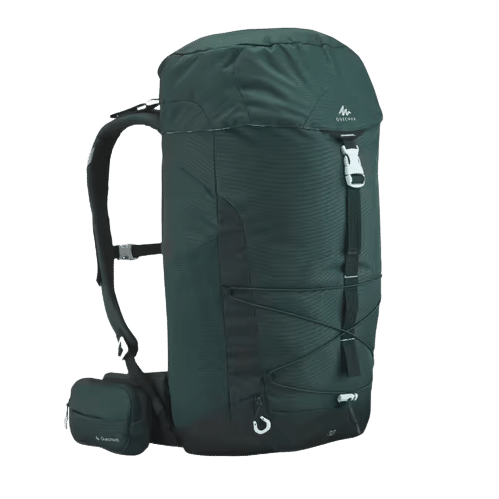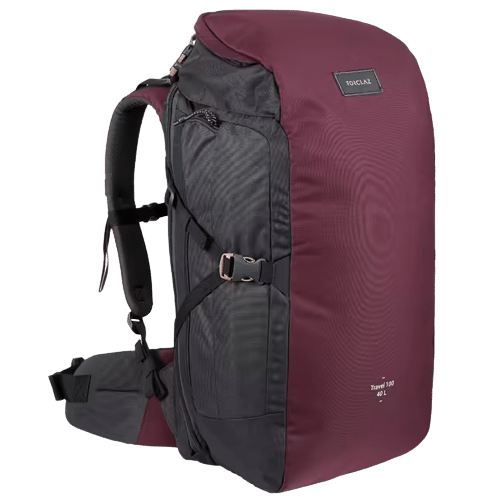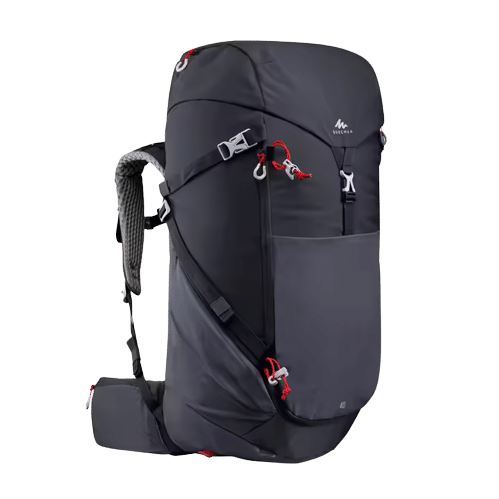 For hand luggage, there are backpacks with more capacity, such as the following:
Quechua 30L MH100: 58 cm x 30 cm x 21 cm; includes waist belt, secret pocket inside the backpack and highly ventilated system in the back area
Forclaz 40L Travel 100: 55 cm x 30 cm x 25 cm; opens all the way around the back for easy handling and includes lumbar support and rain cover
Quechua 40L MH500: 66cm x 30 cm x 26 cm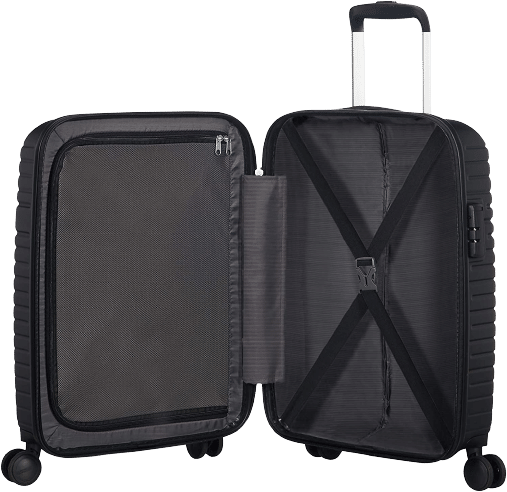 Alternatively, you can also go for the traditional trolleys. An excellent option is this one from American Tourister, with the usual measurements allowed for a cabin bag (40 x 20 x 50 cm). In addition, it has a code lock for greater security.
02 | Hold Baggage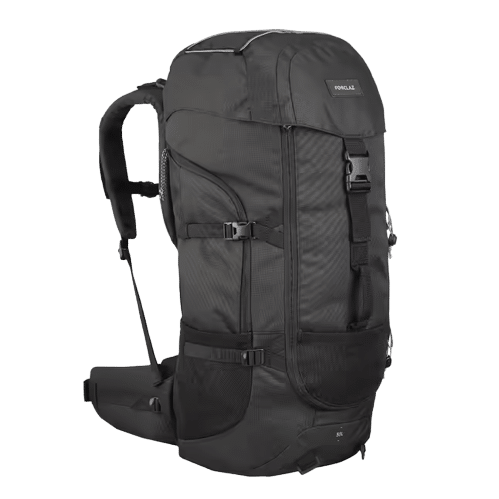 Longer trips require bigger backpacks, which generally have to go in the hold of the plane. The first option is the Forclaz 50L. Due to the larger size, the straps and back have foam panels for greater comfort.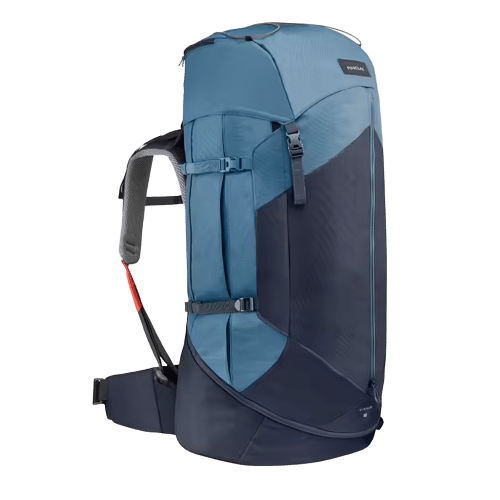 There is also a 60L option from Forclaz (MT100 EasyFit). It includes a rain cover, a space for a water bag, a bottle holder and a rod holder. It is a very complete option at a very affordable price.
Another very highly-rated backpack brand on the market is Osprey, known for its high-quality products. See products from the brand Osprey.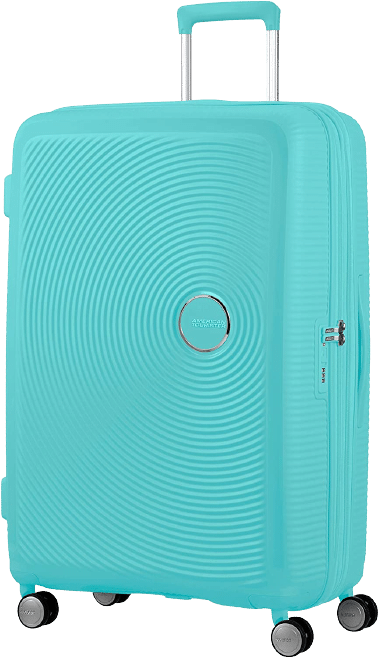 In terms of trolleys, I also recommend one from American Tourister. The quality is identical to the trolley I mentioned above, and there are several colours and sizes available.
03 | Foldable backpack for everyday life
Often the luggage is so full that you can't fit anything else. However, at the destination, we often feel the need to have a smaller backpack for everyday use where we can carry essential items (e.g. money, sunglasses, a warm coat, etc.).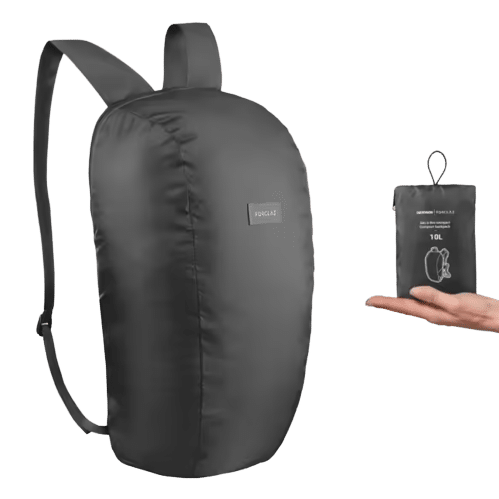 That's why these folding backpacks from Forclaz are absolutely amazing. They are so tiny that it is impossible not to fit on your trolley/larger backpack. I have this 10L one which is small, but fits all the essentials and it's super cheap 😱
However, if you need more space, there is also a 20L and a 25L version.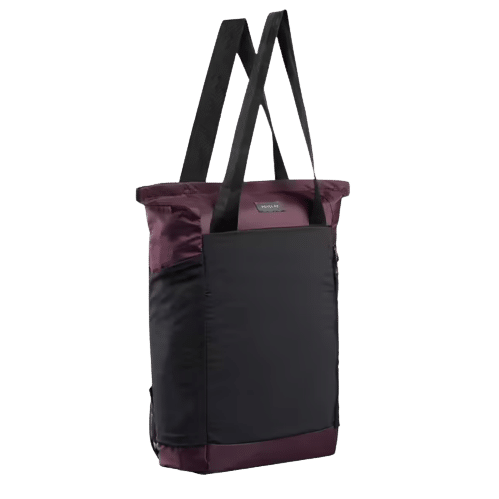 Alternatively, you can also use a tote bag, but in my opinion, it's not as comfortable because it's only supported on one shoulder. This option from Forclaz combines a tote bag with the possibility of a backpack. It is not as small as a "normal" tote bag, but it is a great option.
04 | Packing cubes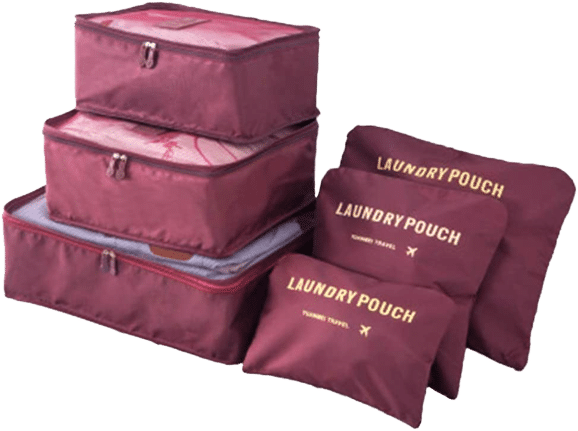 Since I discovered packing cubes I want nothing else 😊 Apart from helping to gain some space in your suitcase, they are extremely useful in keeping the suitcase organized during the whole trip and have the clothes organized by categories, for example.
This one from Forclaz comes with 3 bags, but there are more complete options like this one (and this one has the advantage of having very pretty colours available).
05 | Universal Socket Adaptor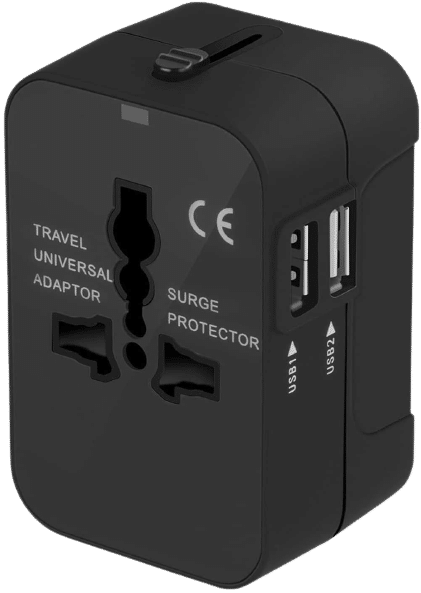 Although this item is not essential for every trip, there are some trips where it is (especially when travelling outside Europe). Although there are specific plug adaptors for each type of socket, the ideal solution is to buy one that is universal.
This is the best-selling adapter on Amazon's website and costs just 15€.
06 | Powerbank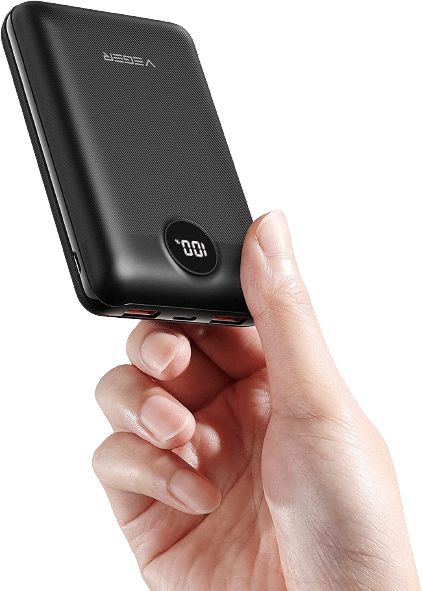 No matter how good our mobile phone battery is, on a trip with so much use of Google Maps and after so many photos, it is normal for the battery to drain more easily. Thus, a power bank has become one of those top travel essentials.
This option from VEGER, available on Amazon, is interesting as it has a good capacity (20,000 mAh) and two USB inputs, allowing you to charge two devices simultaneously.
07 | Wallet with RFID protection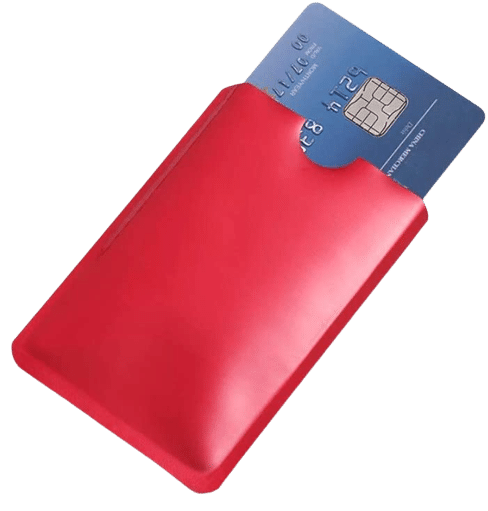 It is not enough for us to be careful about possible pickpocketing, it is also important to make sure that even if you don't have your wallet stolen, you don't have your card cloned or something similar.
A great way to avoid this problem is to use a wallet with RFID protection. For example, many wallets already have this function available like this one, but you can always opt for a simpler solution like this one.
08 | Cable and memory card organiser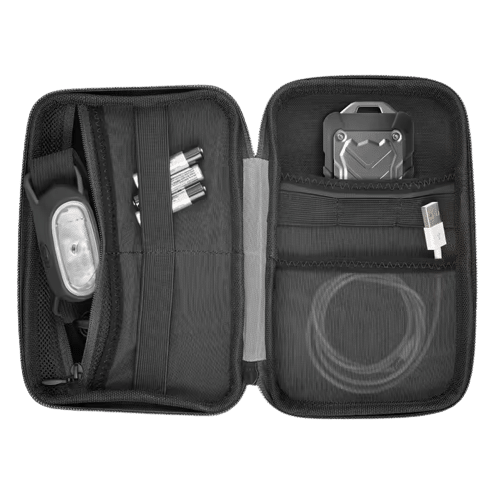 If you're like me and always travel with electronic paraphernalia (mobile phone, camera, drone, power bank) then you have to take several chargers and memory cards. So that the cables don't run loose, I suggest using a small bag for organising these types of items. You can see, for example, this one from Forclaz.
09 | Portable digital scale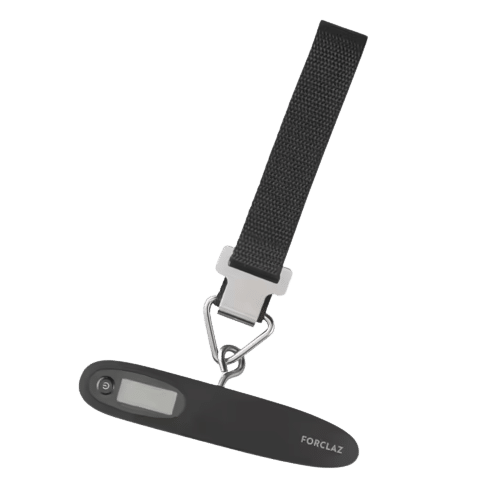 How many times do you go on a trip and when you come back you don't know if your suitcase exceeds the allowed weight after all the shopping for souvenirs? The best way to help you with this problem is to travel with a digital luggage scale. This one from Forclaz takes up almost no space.
10 | Travel document organiser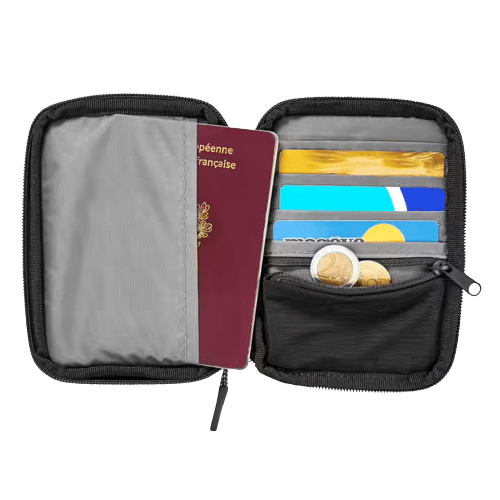 I am very much an advocate of only taking the essentials for travel. And this also applies to the cards we should take. Apart from the driving licence, ID, debit/credit card and passport, there shouldn't be much left over that you need to take on the road. So, in order to keep everything organised, it might be a good idea to buy some sort of organiser bag.
Alternatively, you can also just use a card holder which takes up very little space and is very practical. However, in this case, the passport will have to be carried separately.
11 | Vacuum bags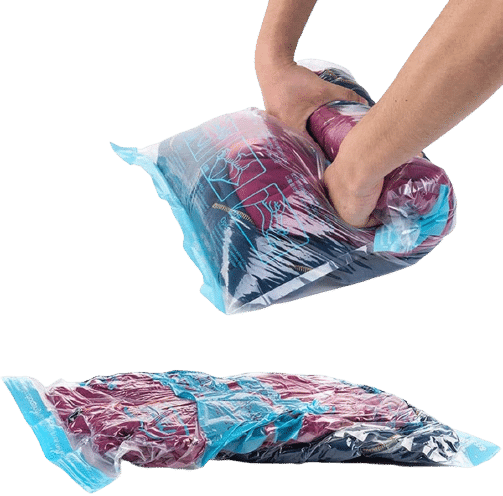 Need to fit one more piece of clothing or another in your suitcase, but don't know how? Using vacuum bags can be very useful in gaining that extra space in your luggage.
12 | Transparent liquid bag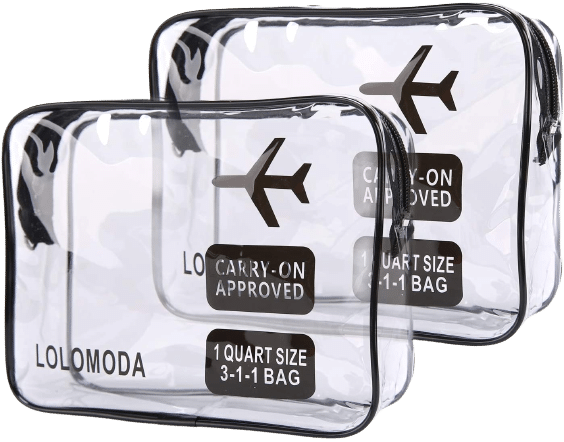 Why always look for transparent bags for the liquids that are carried in hand luggage? If you use a transparent toiletry bag this problem no longer exists.
13 | Laundry and shoe bag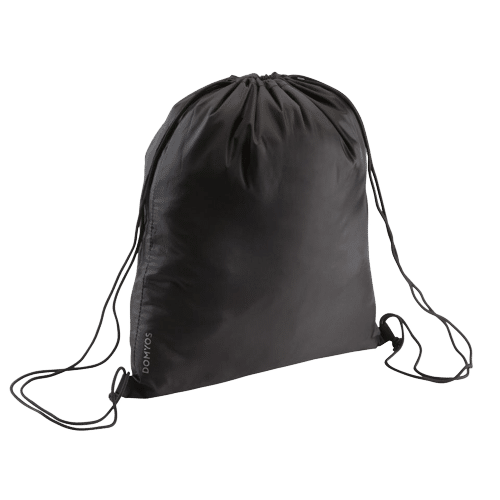 While on the go, I don't think anyone wants to mix their dirty clothes with the rest of their clothes or for the extra shoes we bring to be in our suitcase in contact with everything else. So, the best way to ensure that everything stays in its place is to have specific bags for dirty clothes and shoes. These are very practical!
14 | Waterproof backpack cover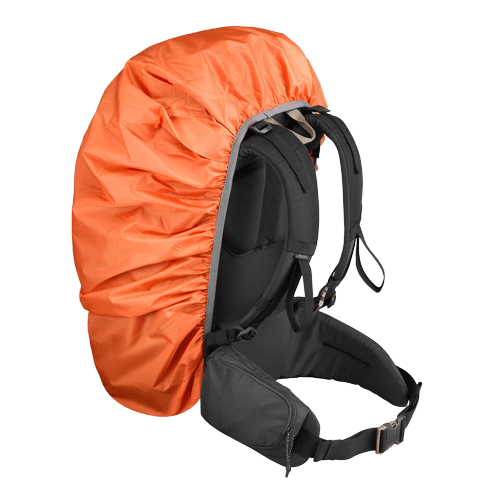 You never know when it might rain and, for that reason, it's better to be safe and always have a waterproof cover for your backpack at hand. Many backpacks already include this cover, but in case you need to buy it separately, there are several sizes for different backpacks: 20/40L, 40/60L or 70/100L.
Travel essentials for the flight (and beyond)
15 | Reusable water bottle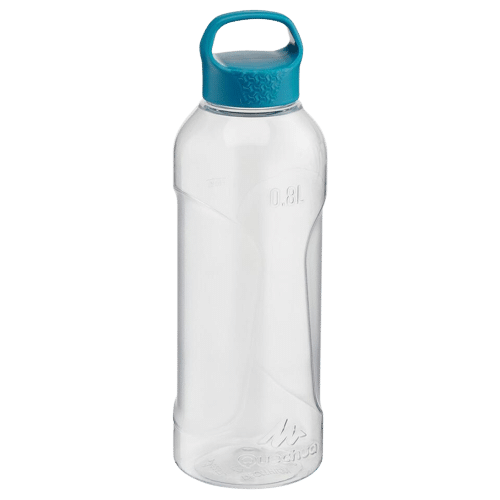 Did you know that you can take an empty bottle through airport security and refill it later? Besides being an environmentally friendly alternative, this idea helps you save some money if at your destination you can drink tap water. Anyway, you can always buy a larger bottle at your destination and fill your smaller bottle. Decathlon has several options available, but this is an excellent one. It has a screw cap to prevent it from spilling and a capacity of 0.8 L.
16 | Travel pillow
Especially for longer trips, it makes perfect sense to use a travel pillow 😊 Personally I really like this one from TRTL which has a very different shape than traditional travel pillows.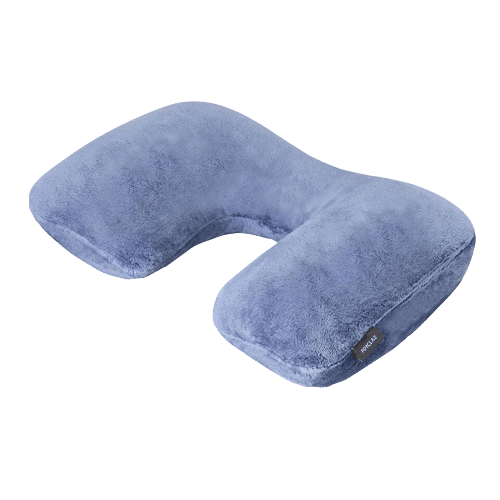 However, if you want an option that takes up less space, then you can take a look at this inflatable cushion from Forclaz, which is much cheaper than the first option.
17 | Good sound insulators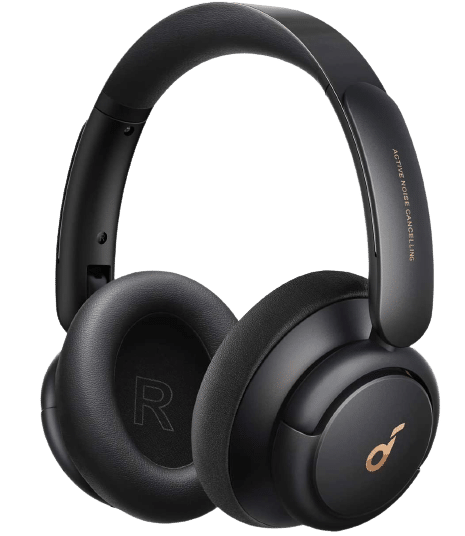 Often a life-changing factor to survive a long flight is having good sound isolators. That is why using a headset with sound cancellation can be our saviour on a noisy flight. This option from Amazon has excellent ratings and is wireless, has 3 available modes and has an autonomy of up to 40 hours.
Another cheaper alternative is earplugs. See for example this pack of 3 pairs of reusable foam earplugs.
18 | Sleep mask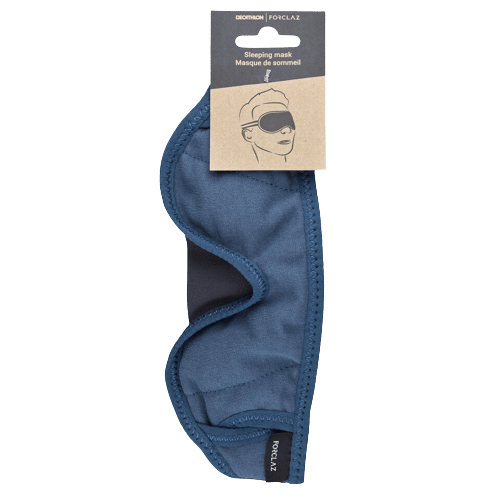 Are you expecting a long flight and would you like to sleep? If you are like me and have some difficulty falling asleep in any brightness, then a sleeping mask should be one of the must-have accessories for a trip.
It's not only practical on flights, but also in accommodations. Rarely do I find accommodation with blinds, so the blindfold has become one of my favourite travel essentials.
19 | Compression socks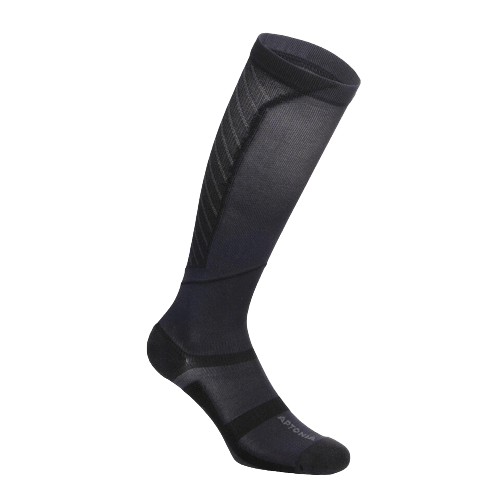 Many of us suffer from the endless long journeys that make our legs feel so tired. So, if you have a long flight ahead of you, one of the travel essentials should be a pair of compression socks to help your legs feel lighter.
20 | Disinfecting wipesntes
Planes are full of bacteria, often in the places you least expect it. That's why it can be really handy to have some disinfectant wipes at all times. And even outside the plane, they are very useful especially when you have nowhere to wash your hands.
Take this example, which easily fits into any bag.
Travel essentials for all weathers
21 | Foldable coat for the cold
You never know when it might get colder, but you don't always have space in your suitcase for large coats. That's why the best solution is to carry a foldable jacket that takes up little space.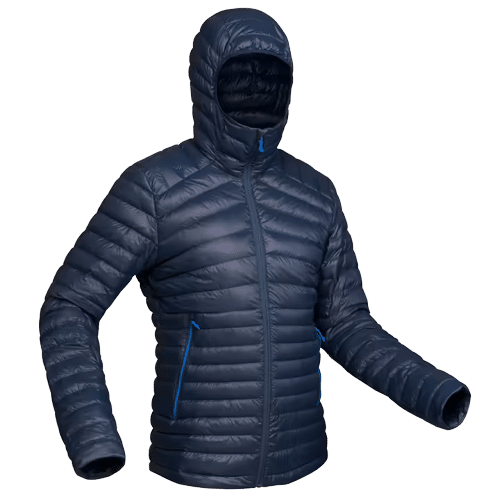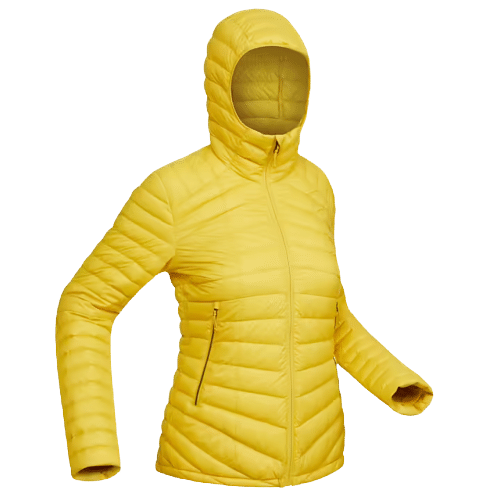 Forclaz has several possible solutions. A female and male version of feather jackets made for temperatures down to -5ºC, and with lots of colours available 😊
But there are also versions for temperatures down to -10ºC, although they are slightly more expensive: women's version and men's version.
22 | Waterproof jacket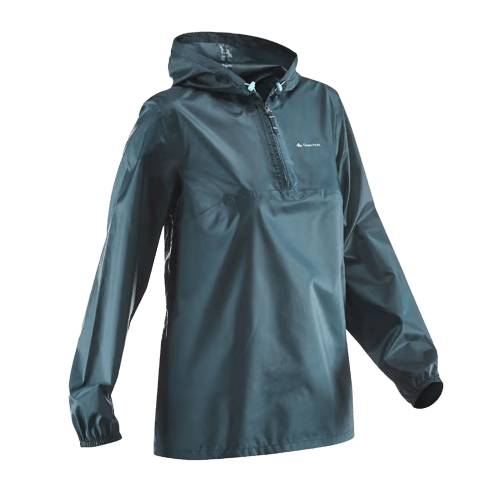 I bet you've already got wet when travelling or you've bought one of those waterproof covers that only last a few hours and don't protect much (guilty!). A more sustainable option is to buy a higher quality waterproof that lasts longer.
Quechua has some very cheap ones that, apart from protecting you from the rain, are very light and take up little space in your suitcase. See the men's version and the women's version.
23 | Microfibre towel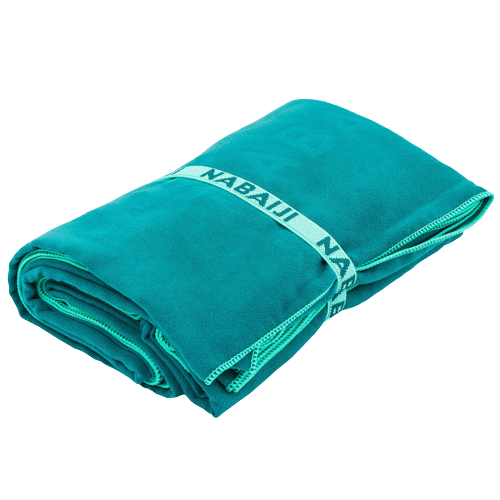 Microfibre towels are an excellent purchase for those who plan to visit beaches, pools or waterfalls and don't have space in their suitcase for a normal beach towel. As well as taking up little space, they dry quickly, making them essential on any trip.
I have this one from Nabaiji that is 80 x 130 cm, but there are other sizes available, such as 60 x 80 cm or 110 x 175 cm.
24 | Flip-flops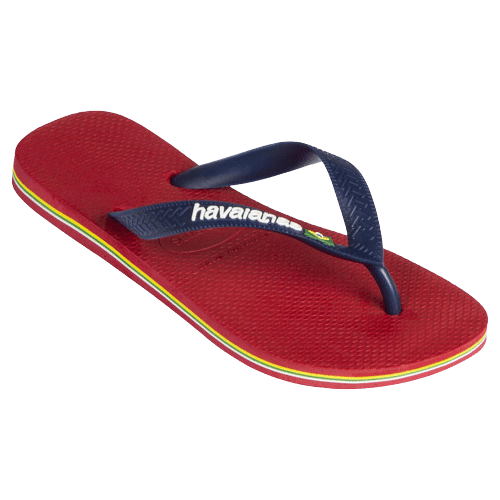 A pair of flip-flops is that product that is essential on the vast majority of trips. It's not only useful for going to places like a beach, pool, or spa but also serves for showering in shared bathrooms, for example. Besides, they can also work as room slippers 😊
In my case, I'm very loyal to the Havaianas brand because the quality-price ratio turns out to be very worthwhile. They may be slightly more expensive, but they end up lasting longer. Find your favourite model here!
25 | Shoes for rocky beaches/waterfalls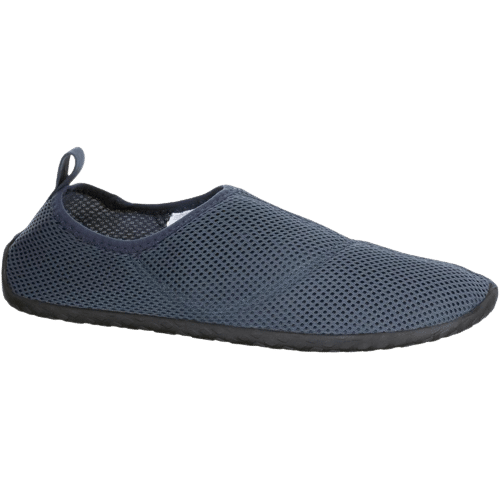 There's nothing more annoying than being on a drop-dead gorgeous beach with warm, clear water, but being almost tortured to get into the sea due to pebbles (and often even boulders!) instead of sand.
After a few bad experiences, both on beaches and waterfalls, I finally bought these. Now, whenever I know that rocky beaches or less regular surfaces await me, this is one of my travel essentials.
26 | Gloves and Scarf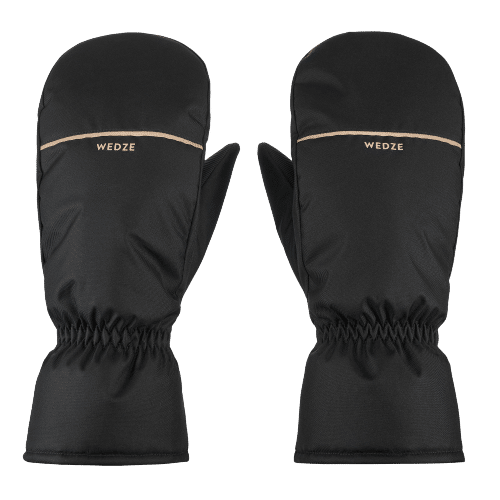 When the cold weather hits, there's no denying the need for a good pair of gloves or a scarf.
For destinations that are only slightly cold, a "normal" pair of gloves is sufficient and Decathlon has quite a diverse choice. However, for those going to VERY cold destinations (for example, like when I visited Lapland) I recommend using a second pair of gloves – mittens. At the time I bought these from Wedze that are carded on the inside and were a true lifesaver 🙏🏻
27 | Hand, Feet and Body Warmers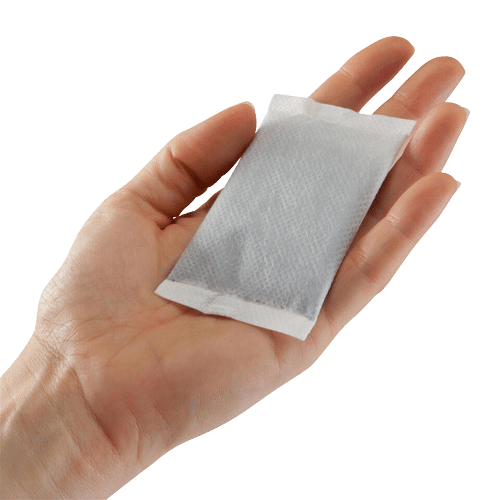 For those really VERY cold destinations, it's best to go prepared and take some warmers. These are small bags that you shake and provide extra heat for a few hours. There are different options for hands, feet and body.
28 | Beanie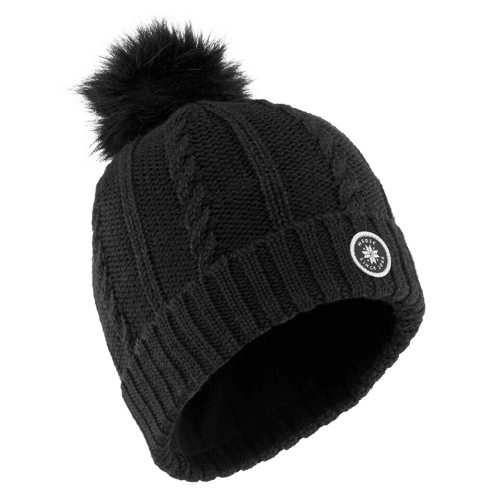 A beanie is one of the essential products on any trip to a cold destination! On my trip to Lapland I had to ensure that I had a very warm cap and I chose to buy a carded one from Wedze.
29 | Thermal clothing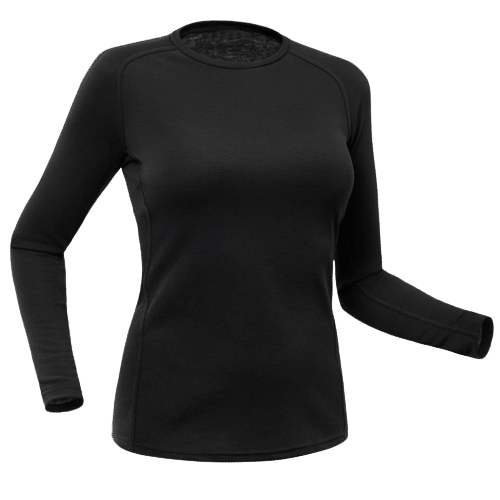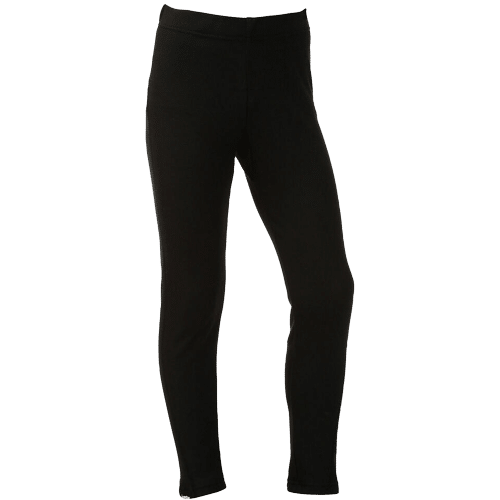 Surviving the cold usually involves dressing in layers and one of the most important layers is the base layer. A good thermal jumper and thermal trousers can be essential to ensure we stay most comfortable. These were the ones I wore in Lapland at -20°C and were extremely useful:
30 | Snowshoes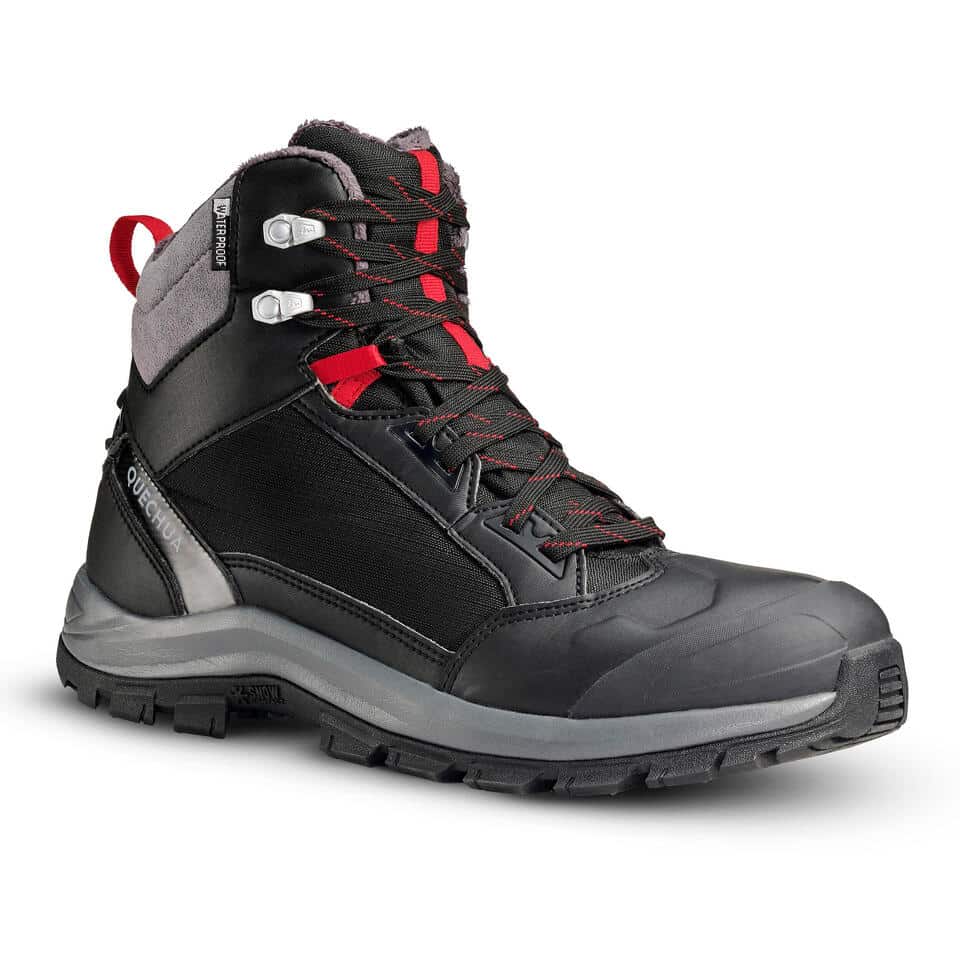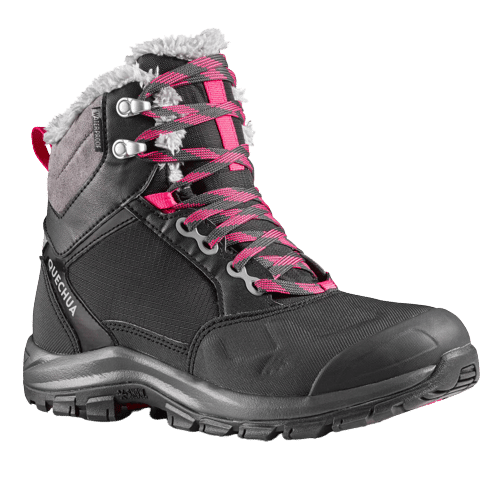 And for snowy destinations, snow boots are a must. For women, I highly recommend these Quechua boots with an excellent quality-price ratio. They are waterproof, have excellent insulation and have good grip. There is also a men's version.
Travel essentials for trail lovers
31 | Hiking boots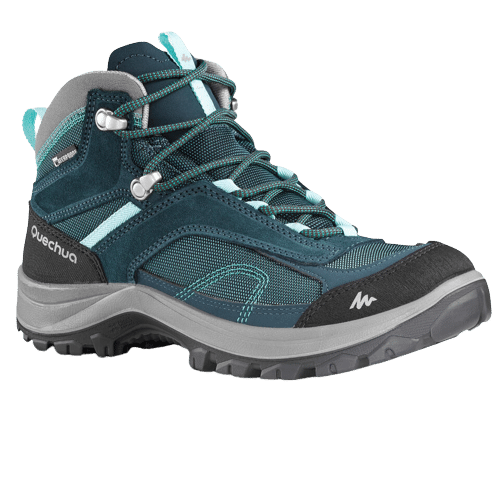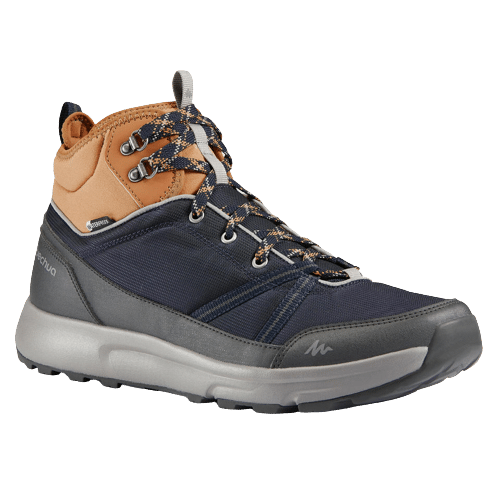 There are several models and several brands of hiking boots, but for beginners, these might be two good options – both waterproof and with good cushioning, but at slightly different price points:
32 | First aid kit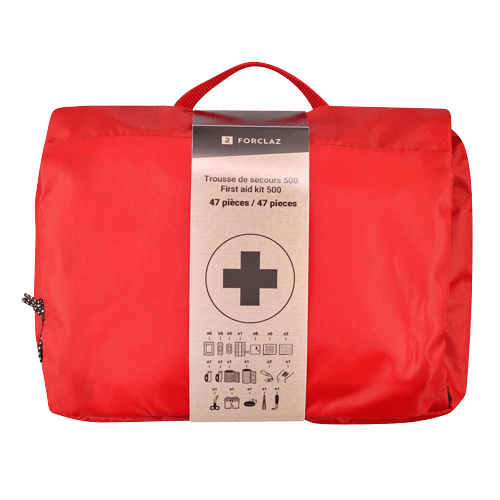 You never know when the unexpected will happen and this is even more true for those who like to venture a little further. That's why carrying a first aid kit can come in very handy. Forclaz has several options available, some more complete than others. Take, for example, this basic kit and this more complete one. They include everything from gloves to tweezers, bandages, scissors and much more.
33 | Insect repellent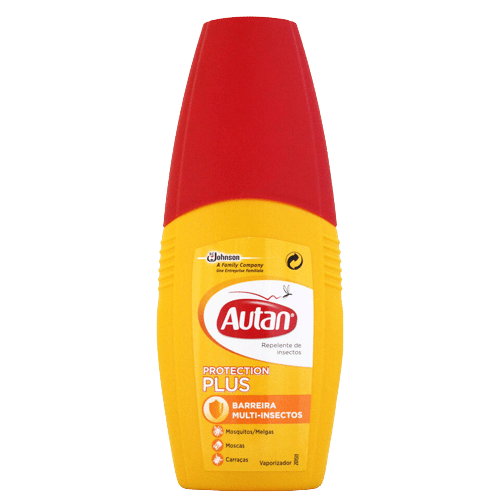 There are certain destinations where insects are a reality. So, it's better to be safe than sorry and take some insect repellent. This one has the advantage of having 100 ML and can be carried in hand luggage.
Travel essentials to protect from the sun
34 | Sunscreen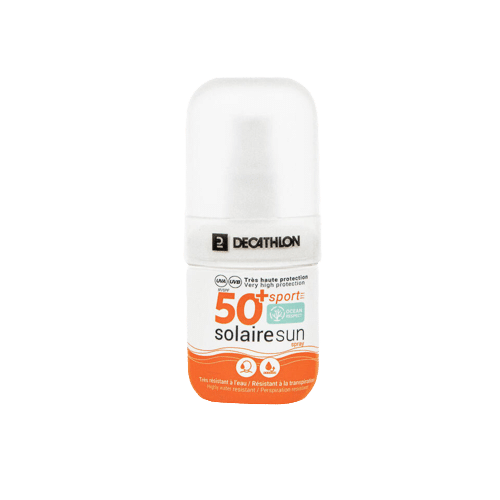 Whether it's a beach destination or not, in winter or summer, we should always make sure we use sunscreen, at least on our faces. I recommend using a +50 sun cream and this option from Decathlon is quite interesting as it only has 50 ml, and can be carried on your hand luggage.
35 | Cap or hat
As a good addition to sunscreen, you should also use a cap or a hat. There are various options at Decathlon for all tastes. However, if you are looking for a more personalized option, I suggest the services of Joana Costureira. I already have mine and I love it 🥰
36 | Sunglasses
And to finish this list of travel essentials, I remind you not to forget your sunglasses. There are so many brands available, but two affordable options with very modern and cute glasses are Hawkers and Meller.
Disclaimer: this post may contain some affiliate links, which means I get a small commission if you buy something through my links. This doesn't represent any additional cost to you and you'll be supporting my work here on the blog😊