If you are planning to visit Lake Garda in Italy, then a stop at Limone sul Garda should be a must. Although it's not one of the main towns around Lake Garda, it's certainly one of the most special ones 🥰.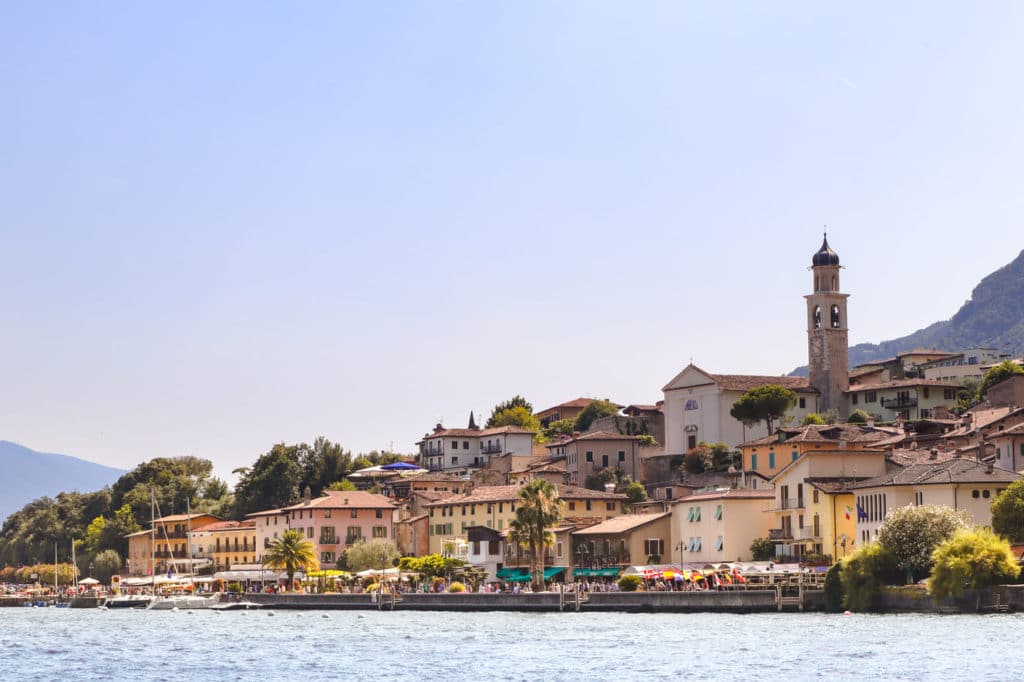 Limone sul Garda is a small village in the northwestern part of Lake Garda. Although its name is 'limone' (which translates to lemon) and there is currently lemon production in the area, the origin of the village's name is quite different. In fact, the name comes from the Latin word 'limen' which means border, as this was a border area with the region of Trento.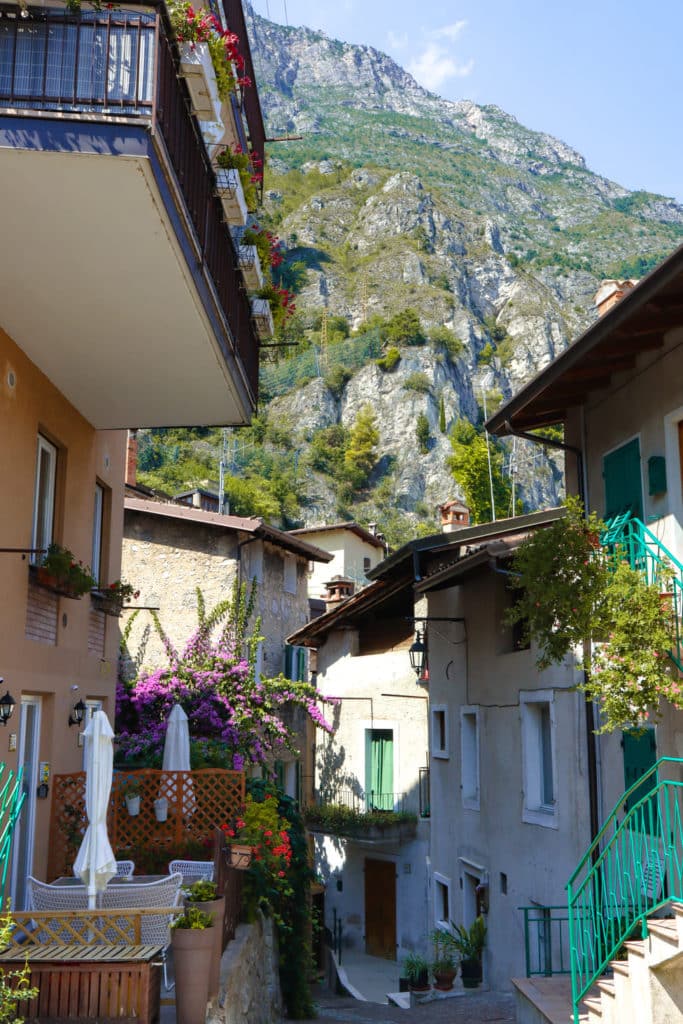 So, throughout this post, I hope to inspire you to visit Limone sul Garda and help you better plan your trip to Lake Garda with the 13 best things you can do in Limone sul Garda.
How long do you need in Limone sul Garda?
Given the small size of Limone sul Garda, one day is more than enough to visit what is one of the most picturesque villages on Lake Garda.
Spending a day in Limone sul Garda is a guarantee of a day well spent, without rushing too much.
What is the best time of the year to visit Limone sul Garda?
In terms of weather in Lake Garda, summer (June to September) is definitely the best time of year to visit Limone sul Garda. The days are long, warm and sunny. The beauty of Lake Garda seems to stand out at this time of year 😍.
However, although not as popular as Lake Como, Lake Garda is becoming more and more famous and, consequently, more touristy. Thus, the summer months are also the most popular to visit this Italian gem.
So, I suggest trying to visit Limone sul Garda in June or September, as the temperatures will be pleasant and they are not the most crowded months, even though it's also high season.
💡 EXTRA TIP: The roads around Lake Garda can get quite busy in the summer months, which makes the experience of visiting Lake Garda less appealing. This is one of the main reasons why I don't recommend visiting this region in July and August.
Is Limone sul Garda worth visiting?
As I prepared my Lake Garda itinerary, I wondered what I should visit. Limone sul Garda was not one of the main towns around the lake, but it often appeared on itineraries due to being one of the must-visit spots in Lake Garda.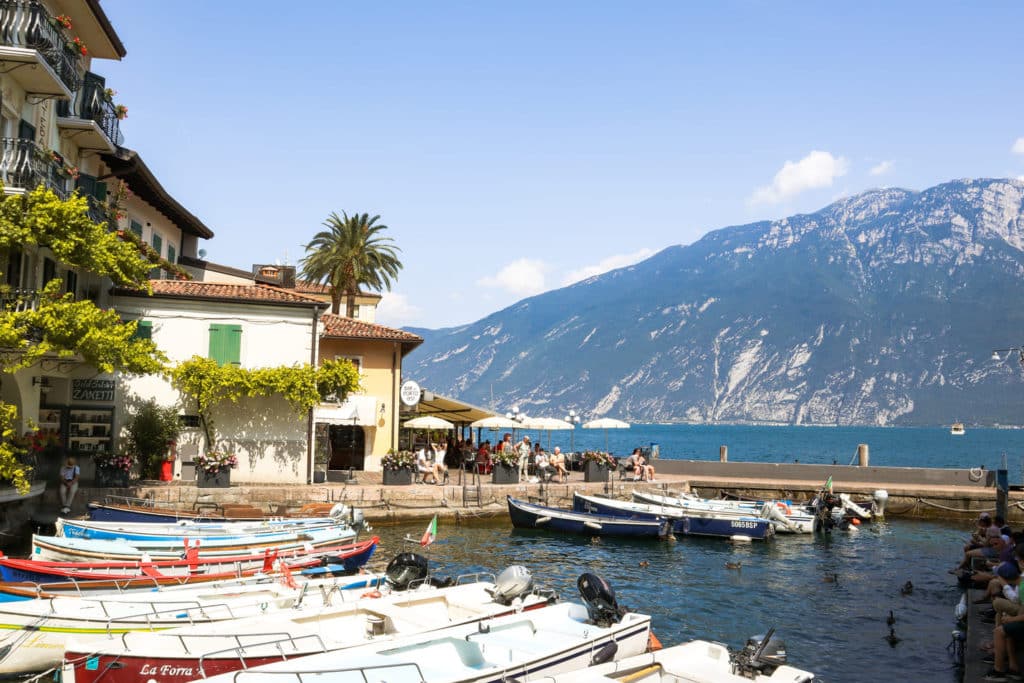 I eventually decided to visit and now I know I made the right decision because Limone sul Garda is a real cutie 🥰 . Even if you don't have a whole day to visit, half a day is enough to be captivated by Limone sul Garda's charm.
How to get to Limone sul Garda?
There are several airports in Northern Italy that are good options to get to Lake Garda and more specifically to Limone sul Garda.
So, I'll share with you the distance and travel time by car between each of the airports in Northern Italy and Limone sul Garda:
Verona – 1h30, 95 km
Milan Bergamo – 2h, 120 km
Milan Linate – 2h20, 150 km
Bologna – 2h20, 219 km
Venezia Treviso – 2h30, 225 km
Milan Malpensa – 2h40, 203 km
💡 EXTRA TIP: If you would like to add other cities in Northern Italy to your Lake Garda itinerary, I suggest you have a look at my posts with itineraries and tips for the following cities: Verona | Milan | Venice.
Limone sul Garda can also be reached by boat (from Malcesine, Riva del Garda or Sirmione) and also by bus, although the latter is not the most convenient option.
💡 EXTRA TIP: The best way to travel between the various points of interest on Lake Garda is by car, as it allows us to have greater flexibility in terms of time and also in what we want to visit.
Best hotels in Limone sul Garda
Although Limone sul Garda is relatively small, there are some accommodation options in the village. Given the popularity of Limone sul Garda and its privileged location, the prices are not always the most attractive. Even so, here are some accommodation options in Limone sul Garda: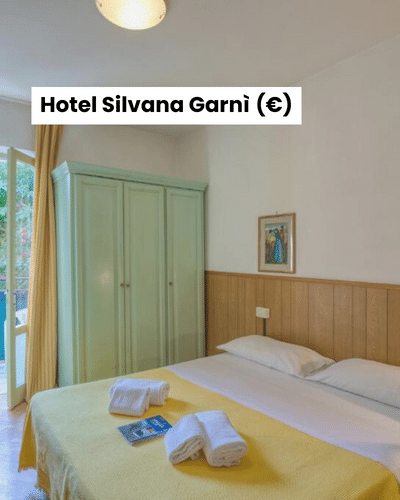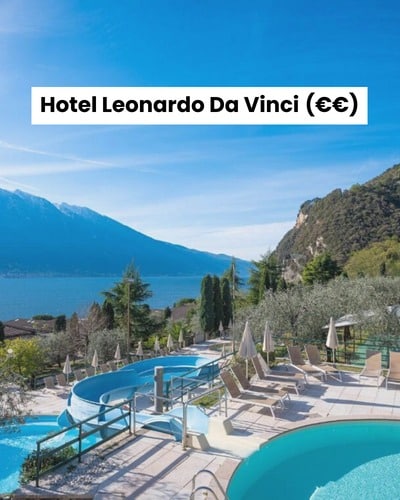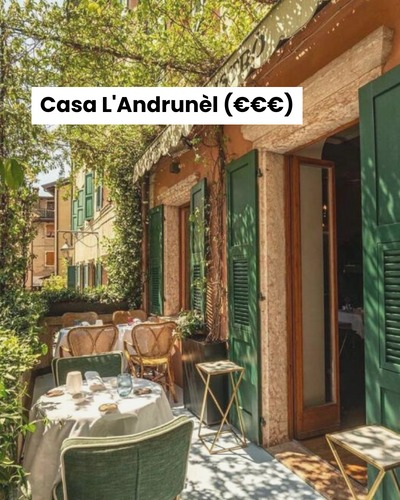 Alternatively, you can also look for accommodation in Riva del Garda, where there are more options as it is one of the main towns on Lake Garda. For example, in my case, I chose to stay in Riva del Garda at Residence La Vigna.
The atmosphere at Residence La Vigna was very family-friendly and the place had an outdoor pool and free parking (perfect for those travelling by car!).
Where to park in Limone sul Garda?
You can't drive in Limone sul Garda's city centre. It is therefore essential to park your car in one of the car parks at the town's entrance. For example, I parked in this car park, with several floors and many spaces available. The price of this car park is 2.5€ for the first hour and 1.5€ for every hour after that.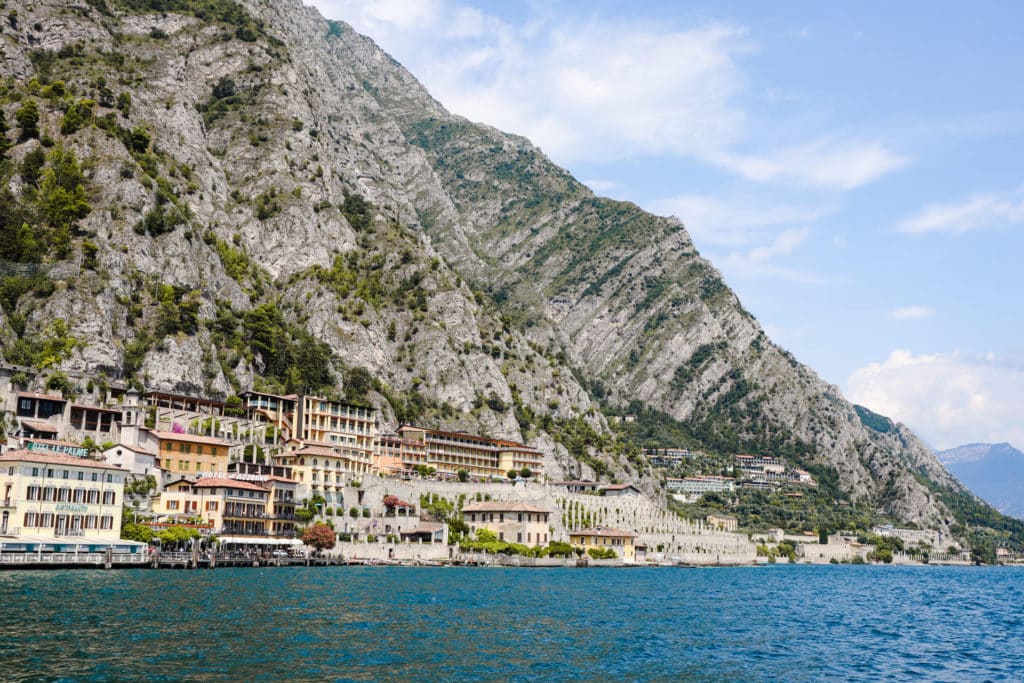 However, there are a few more options for car parks in Limone sul Garda:
💼 TRAVEL INSURANCE: If you want to feel safe while travelling, then you should definitely look into purchasing some travel insurance. Having insurance will help you with any health-related emergencies as well as with other events, such as theft, loss or delay of luggage, eventual need to cancel your trip and much more. In my case, I always use IATI Insurances, which has one of the best price-quality ratios in the market and a 100% online service that is very easy to use. Book here your travel insurance and enjoy a 5% discount for being readers of the blog. Don't forget that the purchase must be made using this link.
Best things to do in Limone sul Garda
So, it's time to tell you about the best things you can do in Limone sul Garda. Apart from some points of interest in the historical centre of Limone sul Garda, this list also includes some additional places not exactly in Limone sul Garda, but quite worth it 😉.
01 | Wander freely through the streets of Limone sul Garda
To be totally honest, one of the best things to do in Limone sul Garda is to wander its streets without much of a destination in mind. What makes Limone sul Garda so special are its narrow and flowery streets. This is exactly what makes Limone sul Garda a real postcard.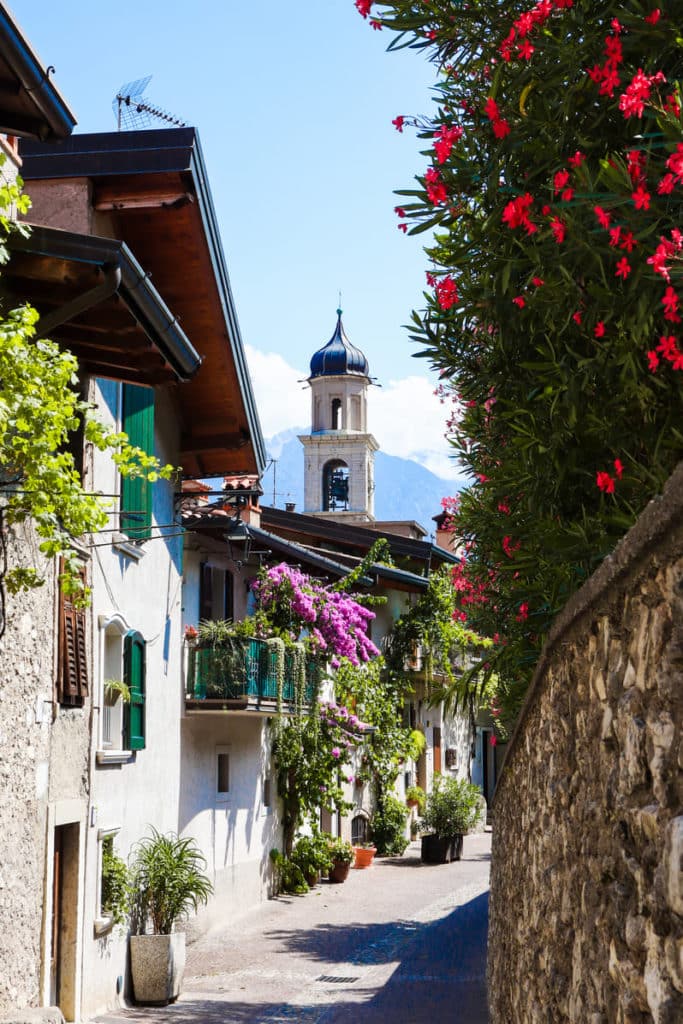 Whilst strolling through the streets of Limone sul Garda, take the opportunity to browse the local shops and maybe even buy a souvenir. Many of the products on sale are lemon-based or lemon-inspired and, most likely, you'll want to bring back plenty of them.
02 | Learn about lemon production at Limonaia del Castel
Right in the historic centre of Limone, we find Limonaia del Castel. It's an open-air museum where you can learn more about the techniques used to grow lemons in the area.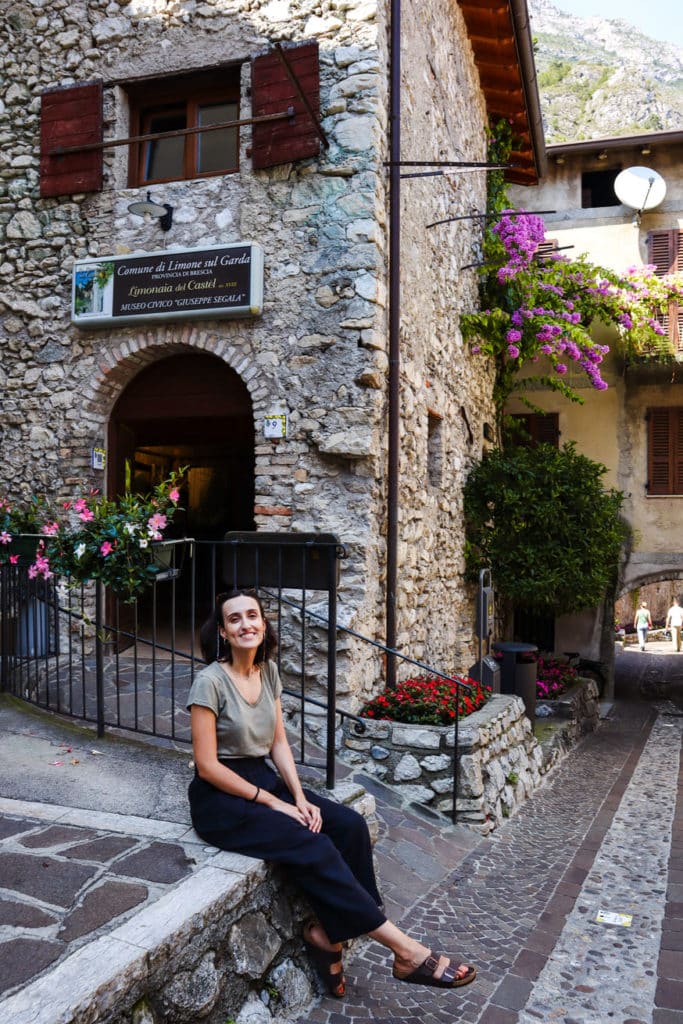 The tour is relatively short and you have to pay a symbolic fee, but it's worth it! And apart from learning more about the cultivation of lemons, the panoramic views over Lake Garda and Limone are also not to be missed!
03 | Walk on the promenade near the lake
One of my favourite parts of Limone is how easily we can admire Lake Garda since the village is located right next to the lake's shores. Plus, the surrounding mountains make the scenery even prettier.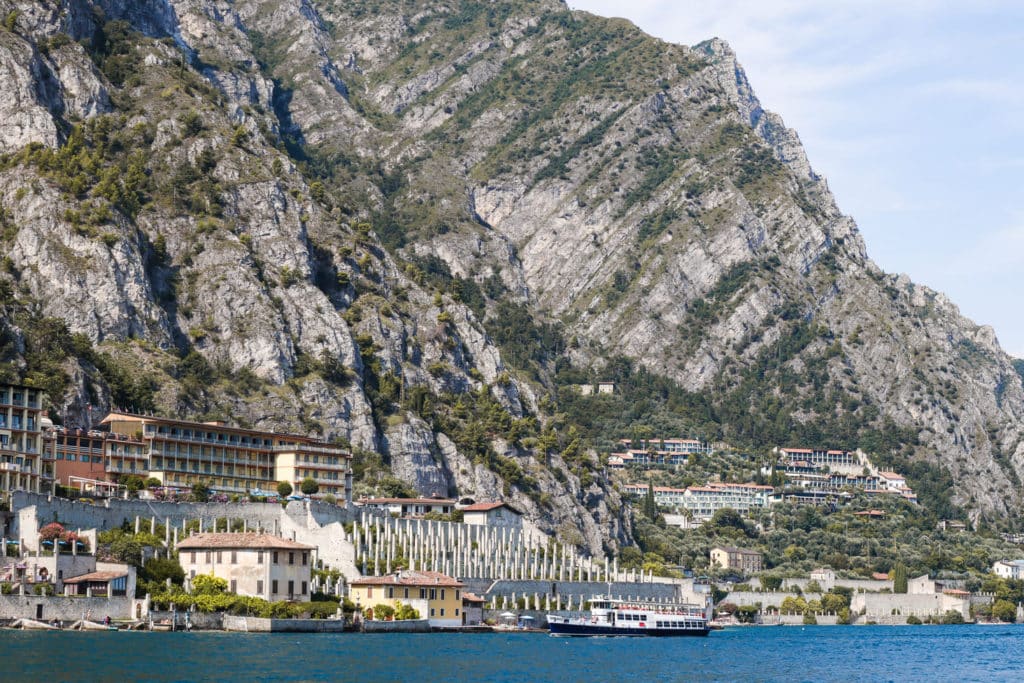 So I suggest a short walk along the promenade of Limone sul Garda. There are some benches along the way where you can sit. And, the views are so breathtaking that I am sure you'll want to sit down for a bit to enjoy them for quite some time.
04 | Have fun at one of Limone's "beaches"
Although the "beaches" in Limone are not exactly sandy beaches, it may well be worth taking a dip in some of them.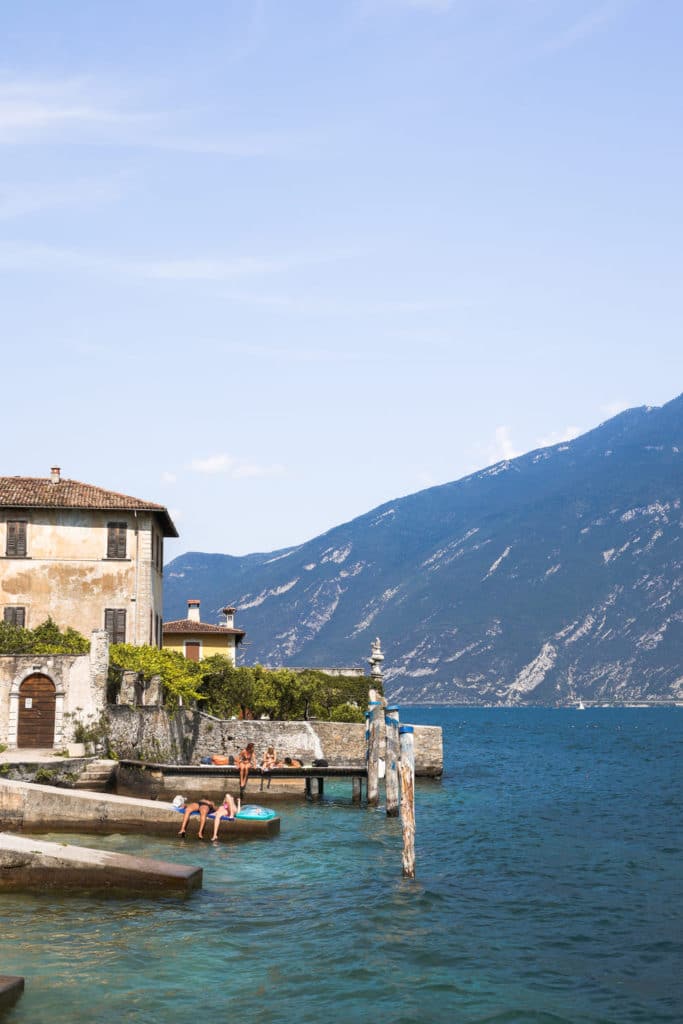 One of the most popular and extensive peable beaches is Cola Beach. But, if you're looking for just a quick dip, Spiaggia via Garbera can also be an option to cool off on hot summer days.
05 | Surprise yourself at San Rocco Church
Hidden in the middle of Limone's town centre, the church of San Rocco is one of Limone's best-hidden secrets, where you'll find 16th-century frescoes.
06 | Taste some gelato at Gelateria Qciarì
We all know that when in Italy, it's mandatory to eat at least one ice cream a day 😄. So, take a break from sightseeing around Limone to try the delicious ice creams from Gelateria Qciarì. I tried the tiramisu one and it was delicious 🤤.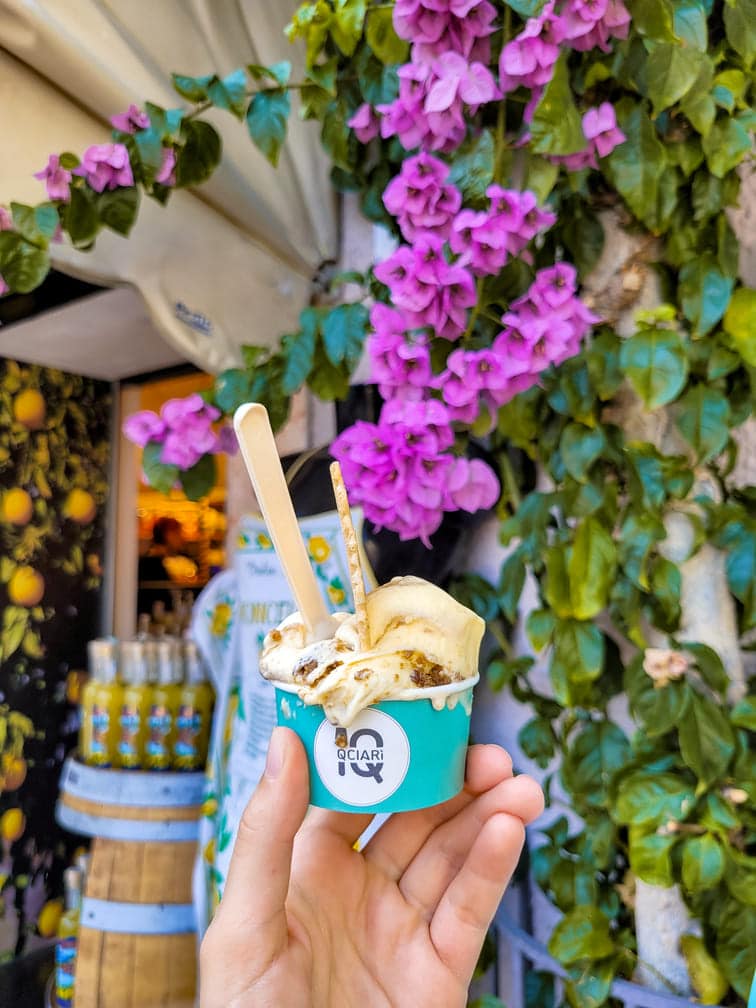 07 | Visit the local market
If you're lucky enough to visit Limone on a Tuesday (and during peak season), you can find a small market selling some local produce. A great addition to any Limone sul Garda itinerary.
08 | Cycle (or walk) along Limone's cycle path
One of the most popular and recent activities in Limone sul Garda, and also on Lake Garda, is cycling along the lake (in fact, part of the route is located just above the lake).
The cycle path is about 4 km long, it's 50 metres high and has unforgettable views over Lake Garda. Although I didn't ride the cycle path itself, I did part of the route by car (the normal road follows the cycle path for a while), and it's unbelievably beautiful.
💡 EXTRA TIP: You can hire bicycles for a few hours or an entire day by the lake in the area where the cycle path starts. You can find more information here.
09 | Visit the Tourism Museum
If you thought that Limone sul Garda has no museums, you were wrong. At the Tourism Museum, you can learn more about the history of the town of Limone through some objects, photographs and other artefacts. Moreover, the visit is free!
10 | Admire the street name signs
As soon as you enter Limone sul Garda, it is easy to realize that the lemon has become the symbol of the town. And the street signs are no exception. Honestly, I think they're some of the cutest I've ever seen 🥰.
11 | Visit the medieval village of Canale di Tenno
About 30 minutes by car (20 km) away, we find one of the most precious villages of Lake Garda – Canale di Tenno. The village is so small that it takes no more than an hour to walk through its cobbled streets.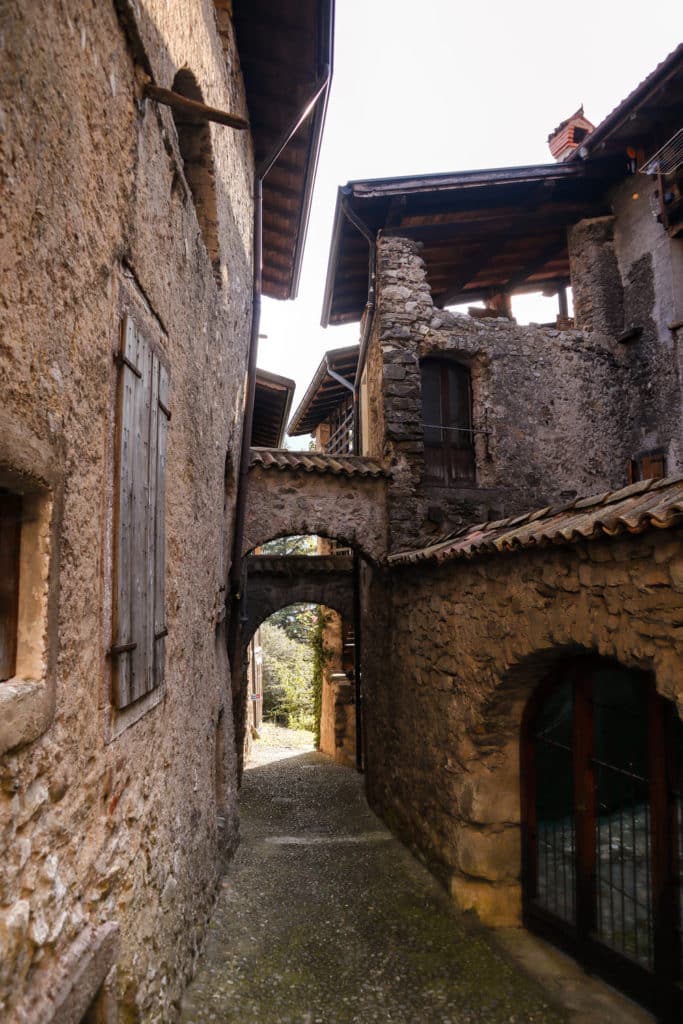 There aren't really any specific places to visit in Canale, but that's also one of the most fun parts – wandering around aimlessly and thinking about what life was like there several centuries ago.
💡 EXTRA TIP: If you are travelling by car, I suggest parking here. There are only a few spaces, but the village is usually not very crowded either.
12 | Take a trip to Lago di Tenno
And, as if Lake Garda wasn't already beautiful enough, you can also visit Lago di Tenno, which is 5 minutes away from the Canale di Tenno. The turquoise tones of this lake look like it has been photoshopped. But believe me, these are the lake's real colours!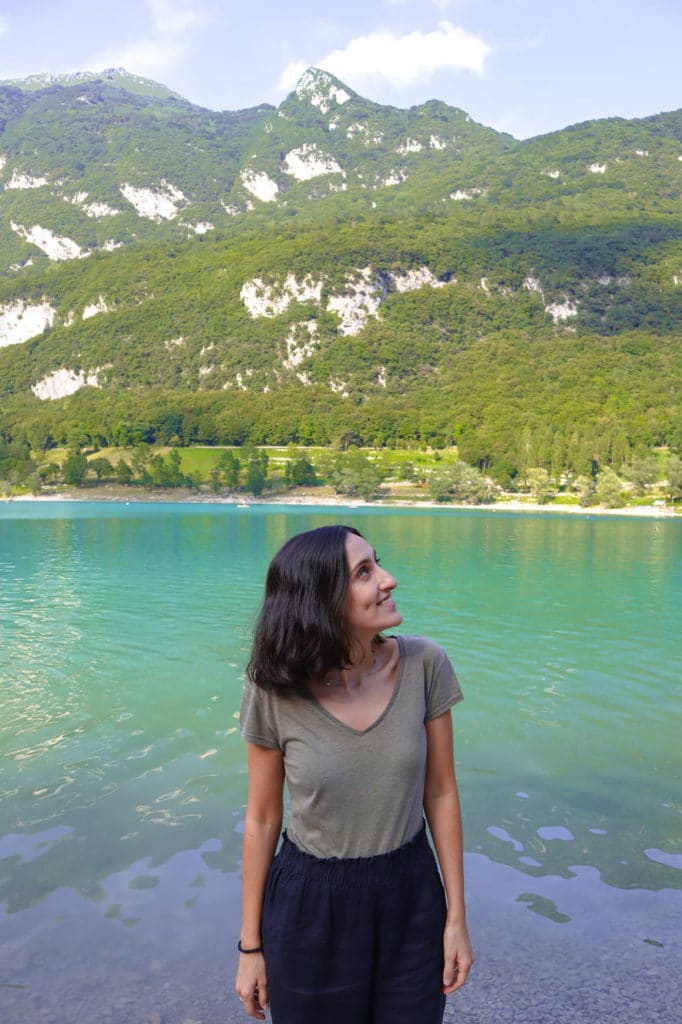 From the (paid) car park, we quickly reach the lake (about 5 minutes walk downhill). Given how easy the access is, the lake is quite popular with families during the hottest summer days.
💡 EXTRA TIP: There is a trail that connects Lago di Tenno to the medieval village of Canale di Tenno. However, due to lack of time, I ended up not walking it despite the short distance.
13 | Visit Riva del Garda
Limone sul Garda is quite close (only 10 km) to one of the main towns on Lake Garda – Riva del Garda. So why not also visit Riva del Garda as well?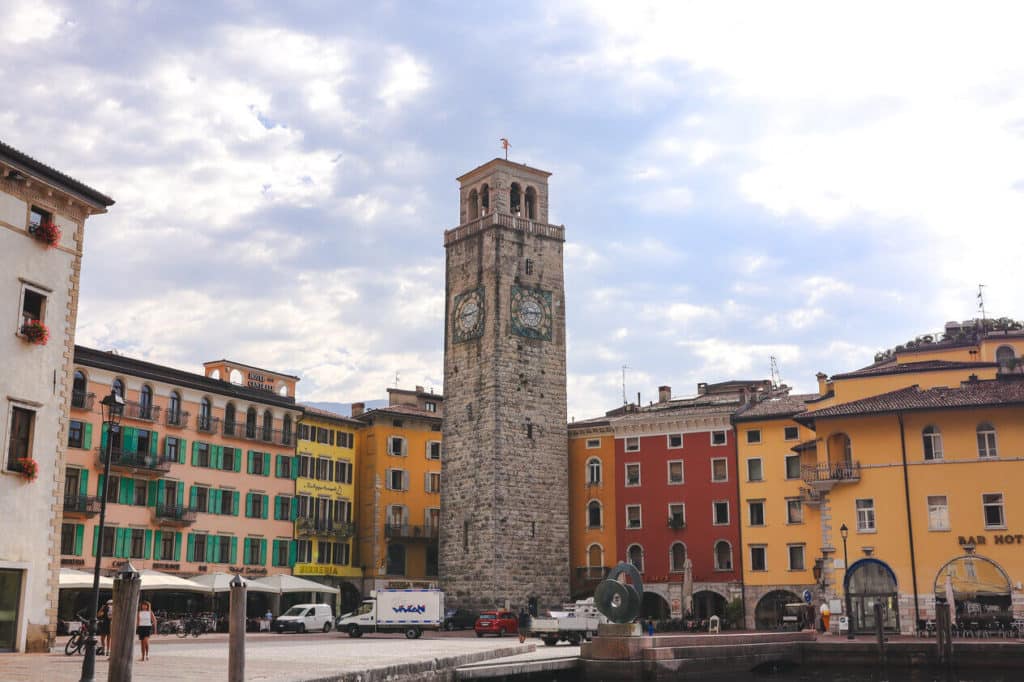 Riva del Garda is larger and has more points of interest than Limone, but it's just as well worth it. Riva del Garda is a very charming town, despite being quite different from Limone.
Disclaimer: this post may contain some affiliate links, which means I get a small commission if you buy something through my links. This doesn't represent any additional cost to you and you'll be supporting my work here on the blog😊