When I was organising my roadtrip through Andalusia, I immediately thought it would be a great opportunity to finally visit Gibraltar! And so it was 😊 Despite being quite small, this British territory has enough points of interest for a day well spent. This way, I'll share with you my complete itinerary of what to visit in 1 day in Gibraltar.
How to get to Gibraltar?
Although Gibraltar has an airport (which is actually a pretty interesting one as the airport runway is also a road for cars and pedestrians), the easiest way to get there is by car or on foot.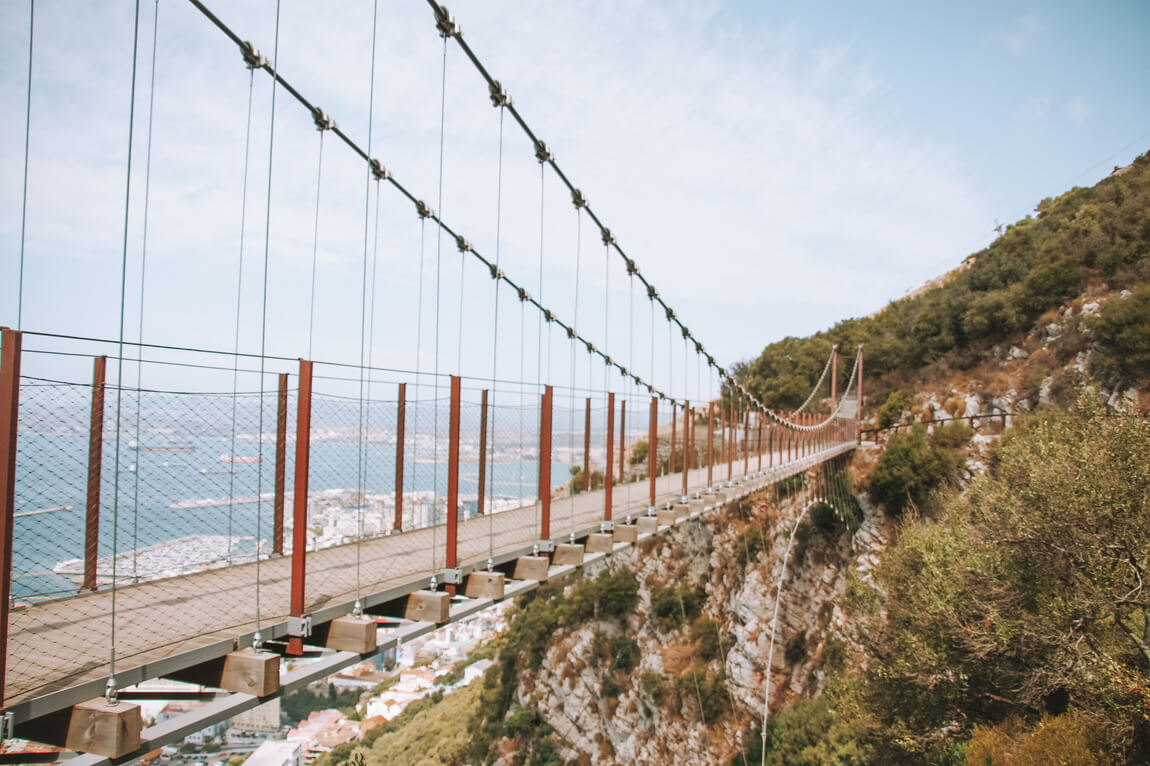 First of all, let me warn you that Gibraltar has a lot of traffic (especially during the summer months). Also, as Gibraltar is not part of the Schengen area there are usually long queues to cross the border. If you choose to enter Gibraltar by car, count on some extra time to get in and out. In my case (I visited in late August), it took about 30-40 minutes to enter and exit Gibraltar.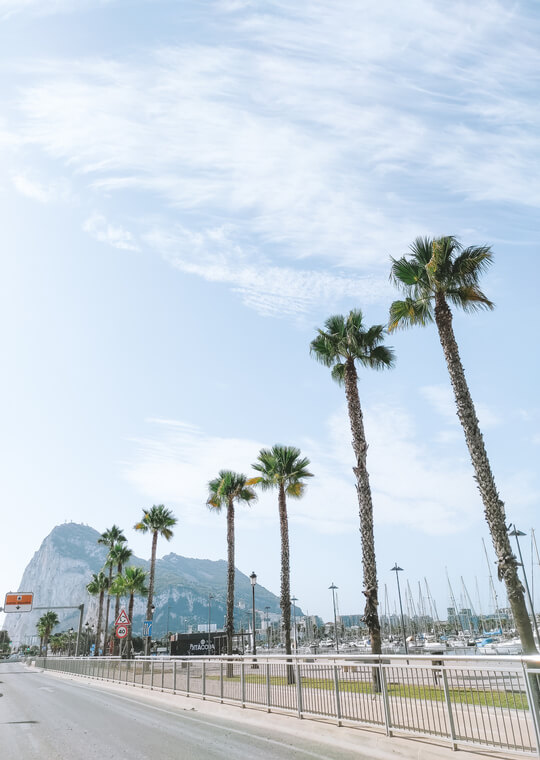 Alternatively, you can choose to park your car on the Spanish side of the border at Parking Santa Barbara, located in La Línea de la Concepción. If you choose this option, you will have to cross the border on foot.
I am not taking a car to Gibraltar. How can I visit Gibraltar?
Apart from the obvious option (walking everywhere), you have two options for exploring Gibraltar:
By bicycle
The most sustainable option is actually to hire a bike. All useful information here.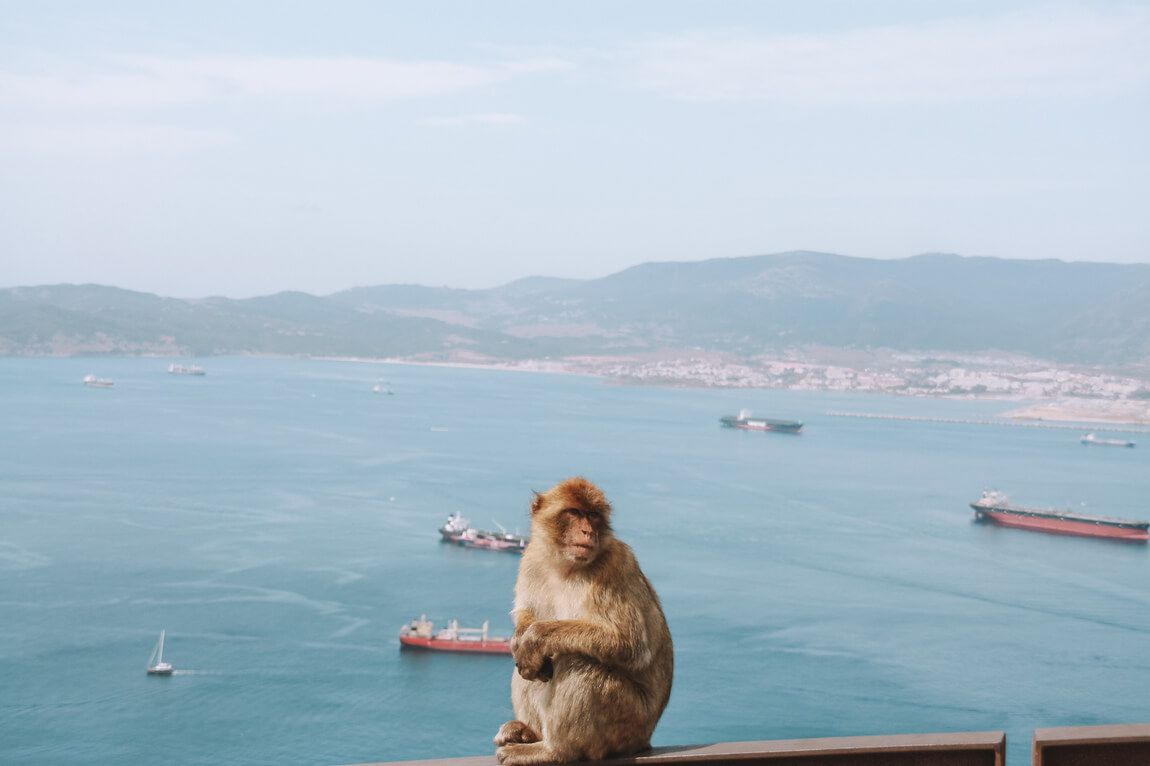 By bus
Gibraltar offers good public transport options and there are two companies providing this service:
Citibus: The ticket for a single journey is £1.4 (£2.2 return) but there is a hop-on/hop-off option for £6. Find the most up to date information here.  
What do you need to enter Gibraltar?
Even though this is recent, everyone must present a valid passport when entering/exiting Gibraltar. You can check what you need to visit Gibraltar here or here.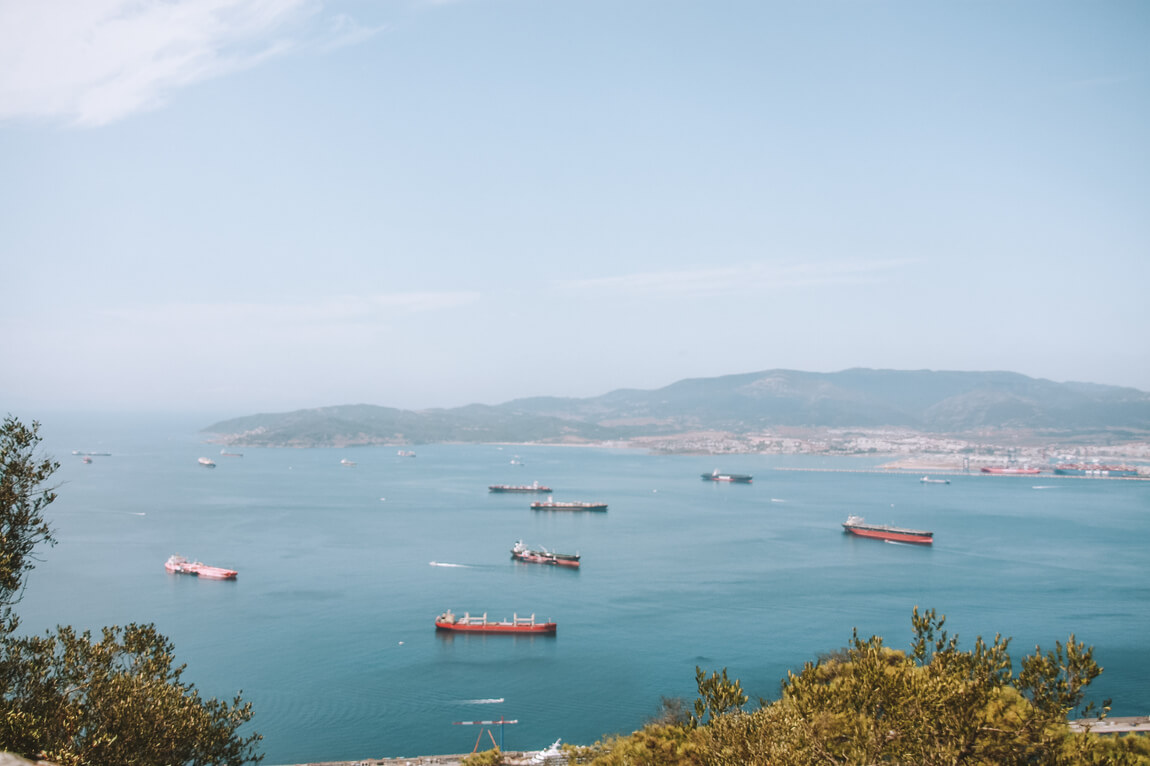 What is the currency used in Gibraltar?
Being a British territory, the official currency is the pound. Some places will accept euros, but be aware that the conversion rate between pound and euro will rarely be in your favour.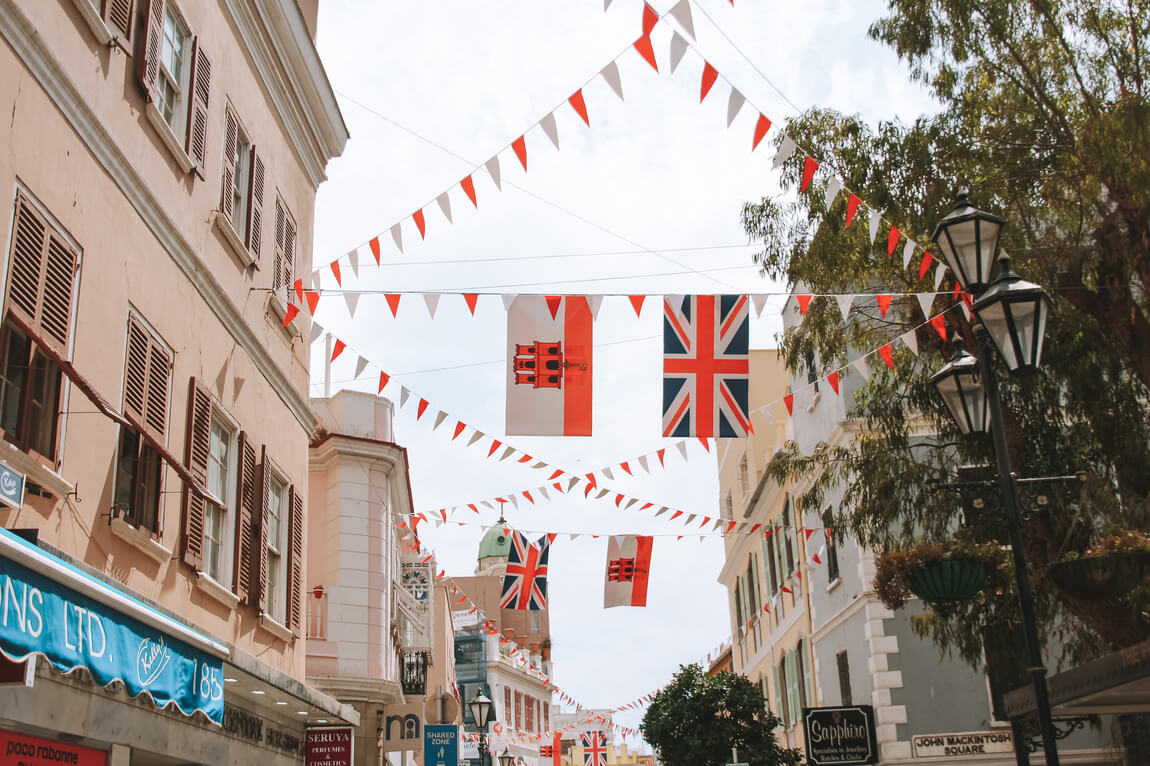 The best solution (and also to avoid having to withdraw pounds from an ATM) is to use a card like Revolut in order to pay for everything.
💼 TRAVEL INSURANCE: If you want to feel safe while travelling, then you should definitely look into purchasing some travel insurance. Having insurance will help you with any health-related emergencies as well as with other events, such as theft, loss or delay of luggage, eventual need to cancel your trip and much more. In my case, I always use IATI Insurances, which has one of the best price-quality ratios in the market and a 100% online service that is very easy to use. Book here your travel insurance and enjoy a 5% discount for being readers of the blog. Don't forget that the purchase must be made using this link.
Accommodation in Gibraltar
Gibraltar has several accommodation options available. However, it may be cheaper to stay in Spain.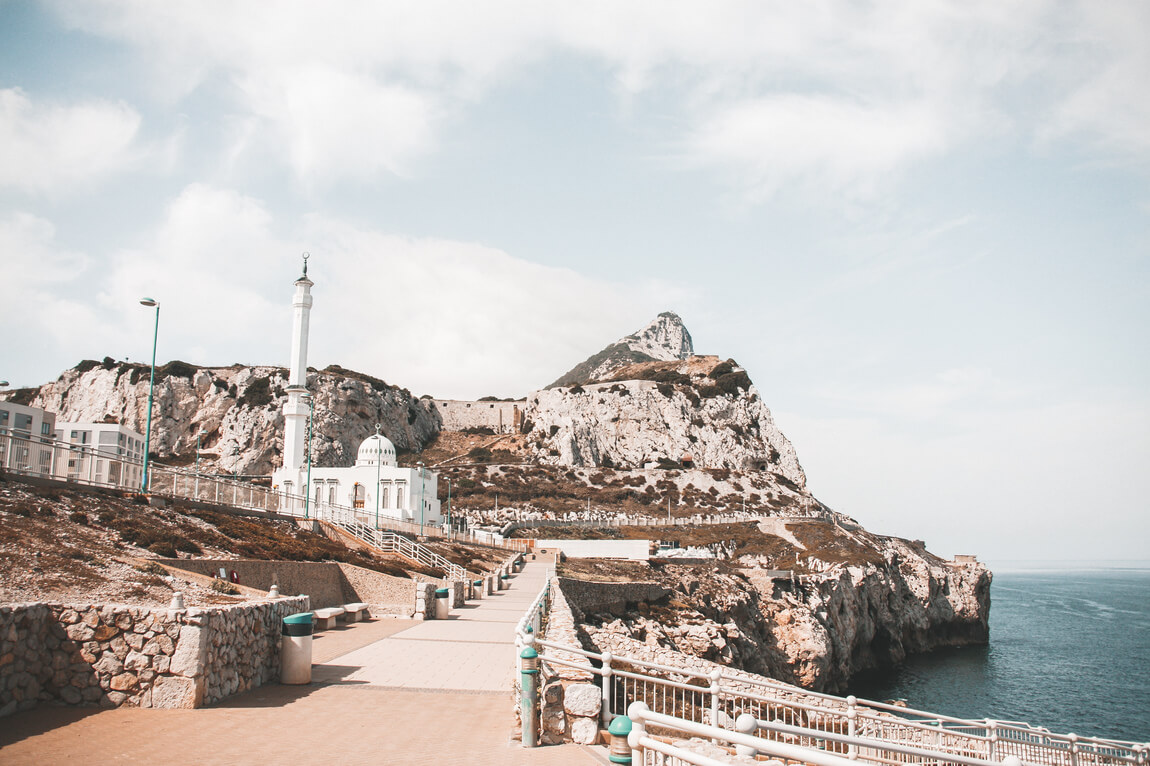 A first option might be to stay in La Línea de la Concepción, right near the border.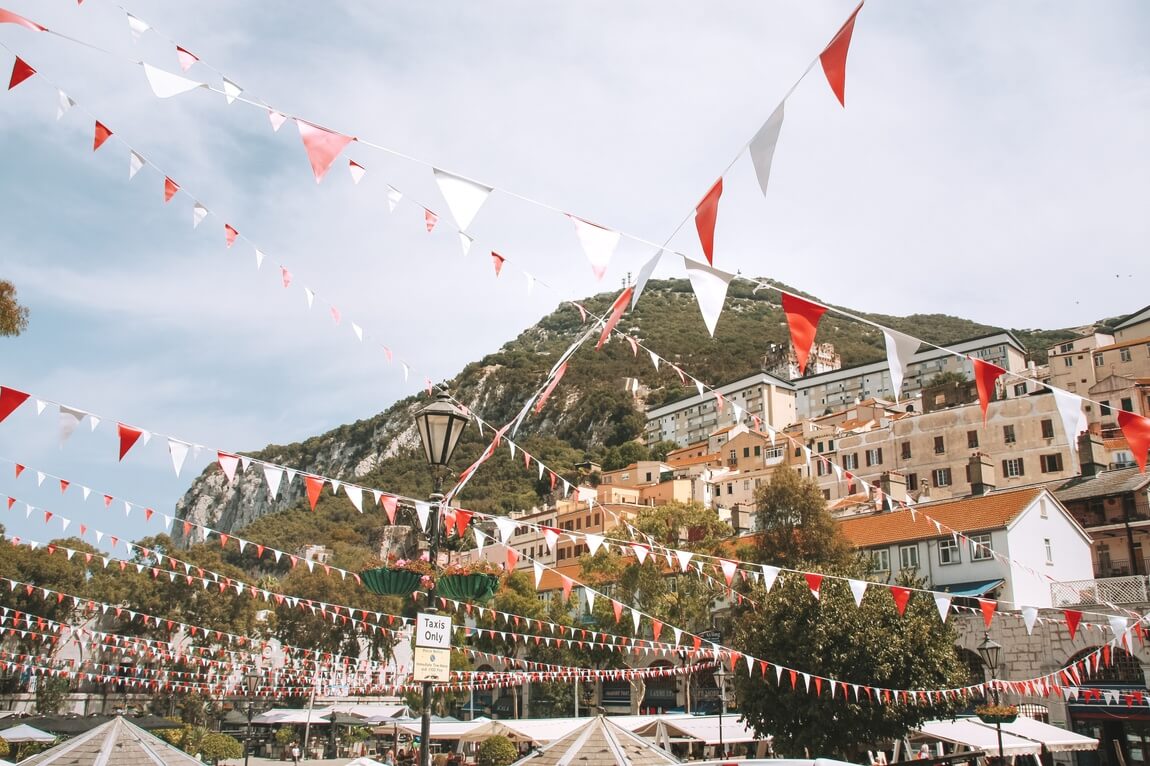 Alternatively, you can choose to stay in Algeciras, located about a 30 minutes drive from Gibraltar. And this is exactly what I did 😊 I had come from Cádiz the day before, so I stayed overnight at Hotel Aura in Algeciras. The hotel is simple, but with all the necessary conditions for a relaxed night. They also offer a basic breakfast for 3€ in the cafeteria next to the reception.
What to visit in Gibraltar?
» Nature Reserve
I confess that this was the main reason for wanting to visit Gibraltar and you'll understand why shortly 😉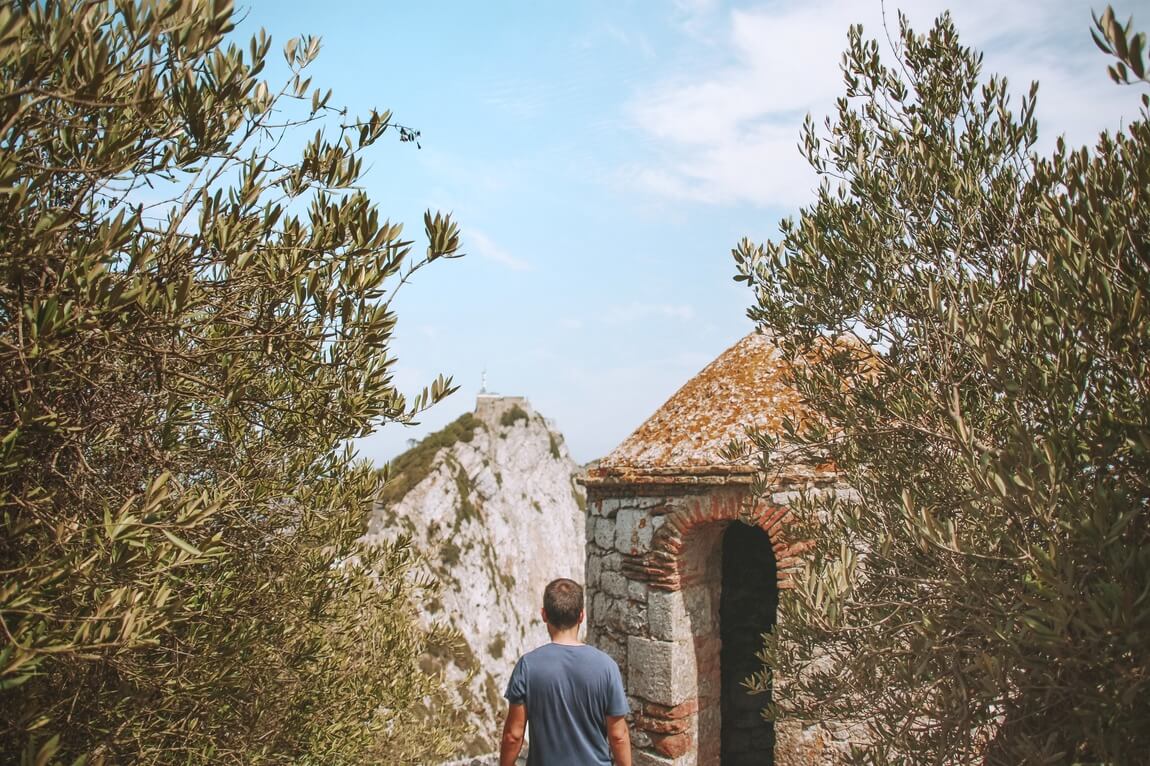 The Nature Reserve is located on the famous Rock of Gibraltar and it is here that you will find some of Gibraltar's most iconic sites:
St. Michael's Cave
Great Siege Tunnels
Moorish Castle
Apes Den
Footpaths (such as Mediterranean Steps, Douglas Path, Devil's Gap or Royal Anglian) which connect many of Gibraltar's fortifications
World War II Tunnels
Skywalk
Windsor Suspension Bridge
O'Hara Battery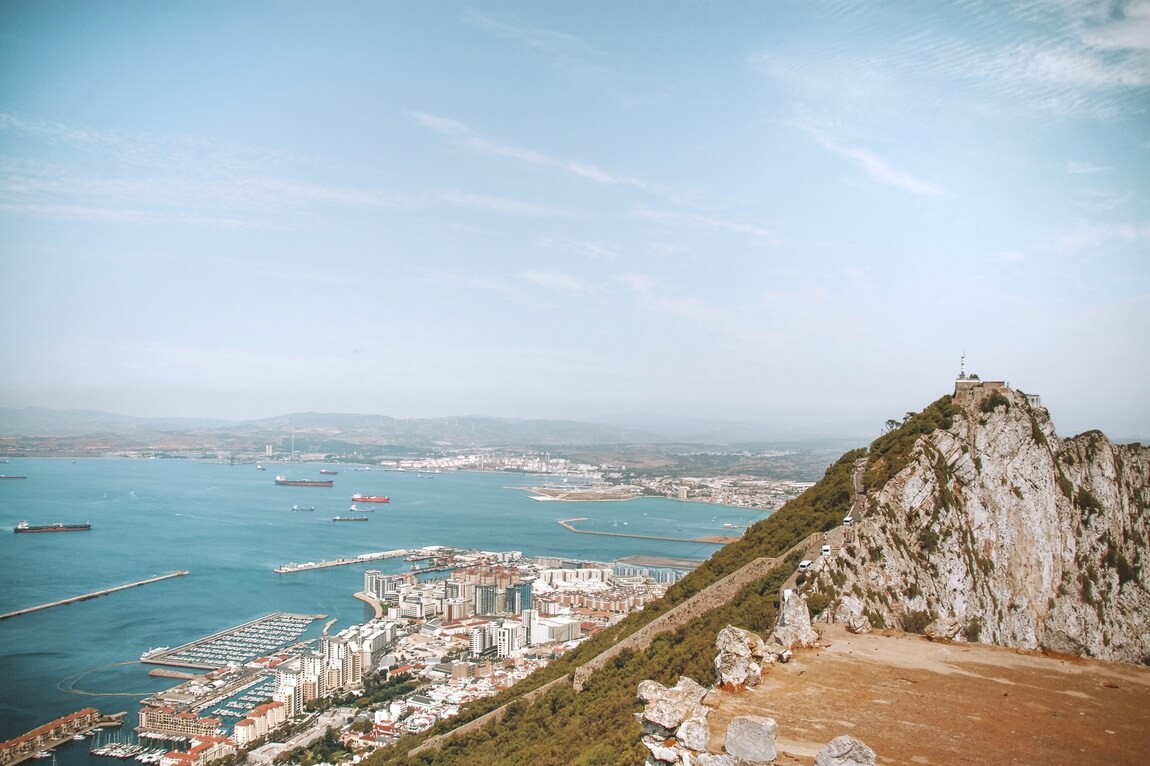 Of these points, I especially recommend the Apes Den, the Skywalk and the Windsor Suspension Bridge. Nevertheless, all the others are also interesting, especially for those who love history.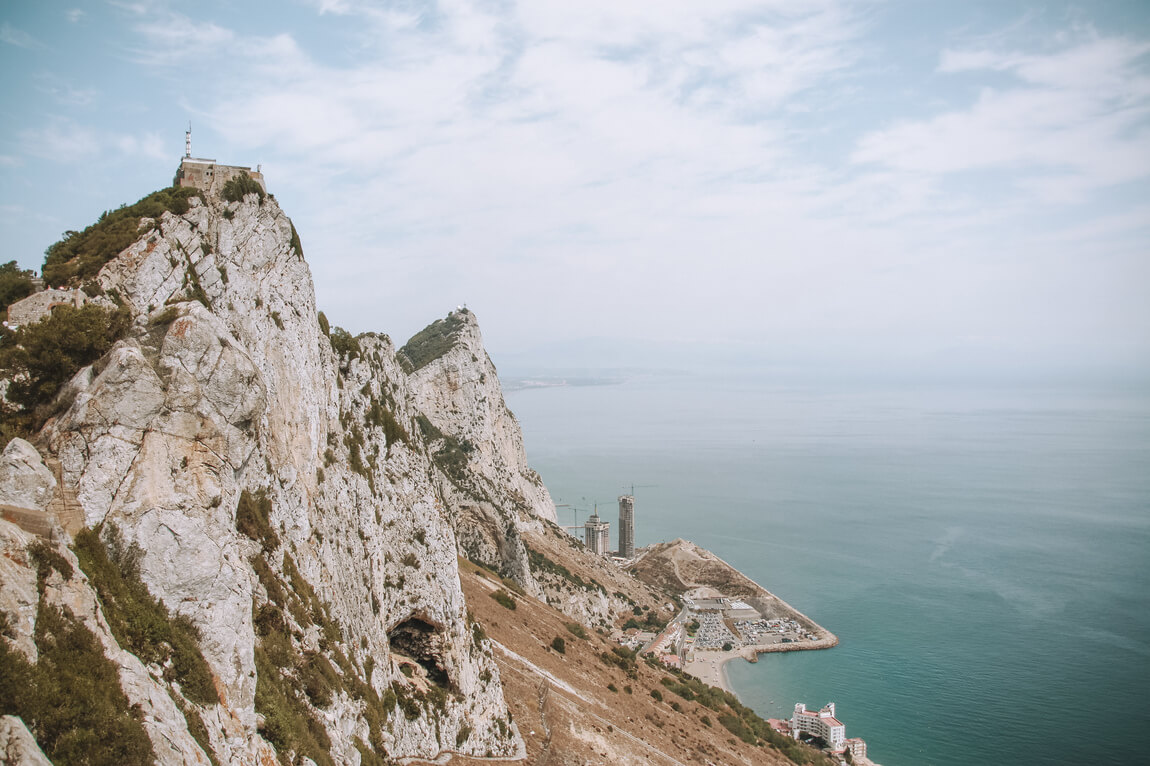 All around the Nature Reserve there are superb views. From there we can observe 2 Continents and 3 different countries. It is, without a doubt, a unique opportunity 😊 However, the Skywalk (which has a glass platform) is the most recent viewpoint of the reserve with one of the most privileged views.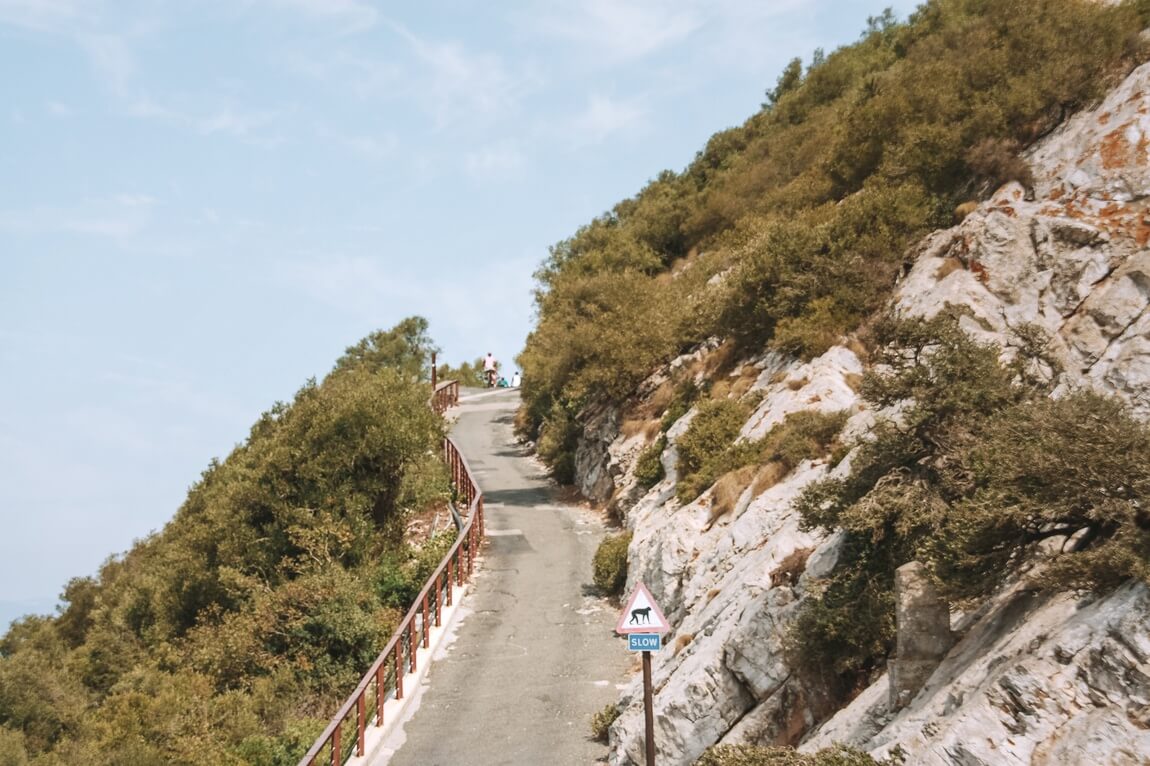 On the other hand, at 50 metres high, the Suspension Bridge offers us incredible views over the Bay of Gilbraltar while we get a bit of an adrenaline rush.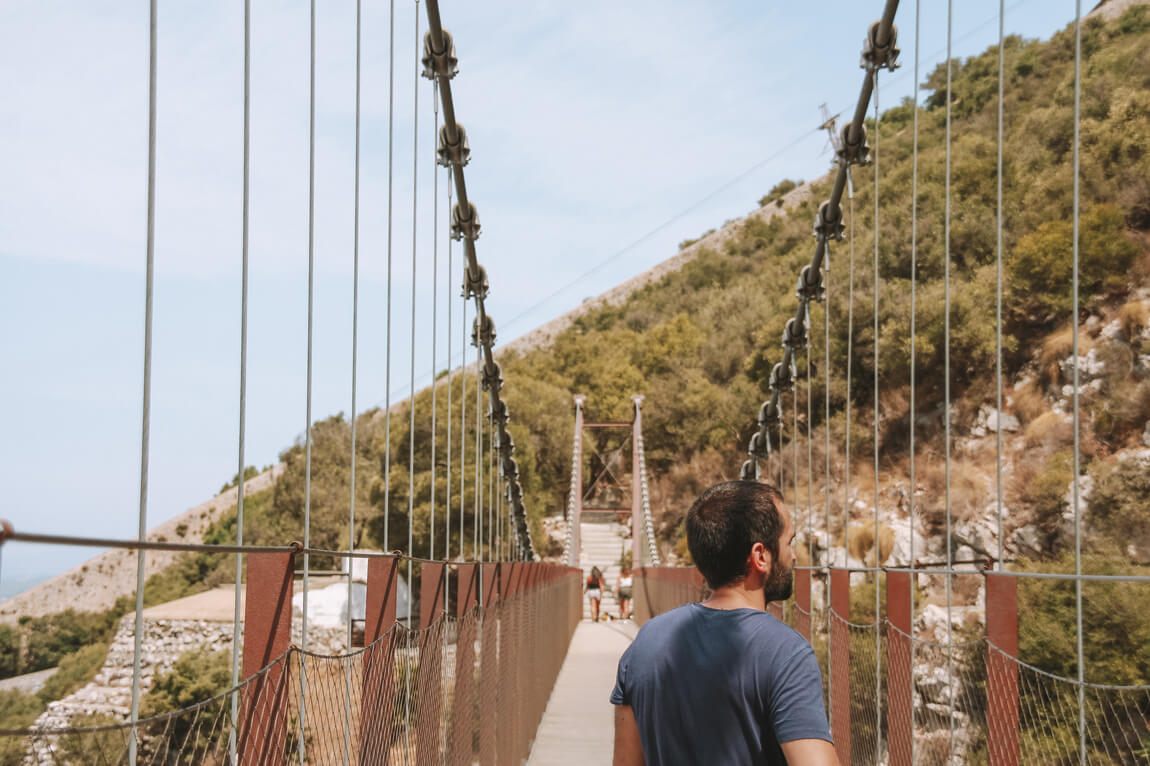 And finally, the Monkeys of Gibraltar! Yes, there are monkeys on the loose all over the Reserve. It is in the Apes Den that there is a higher concentration of the species, but the truth is that we find them everywhere.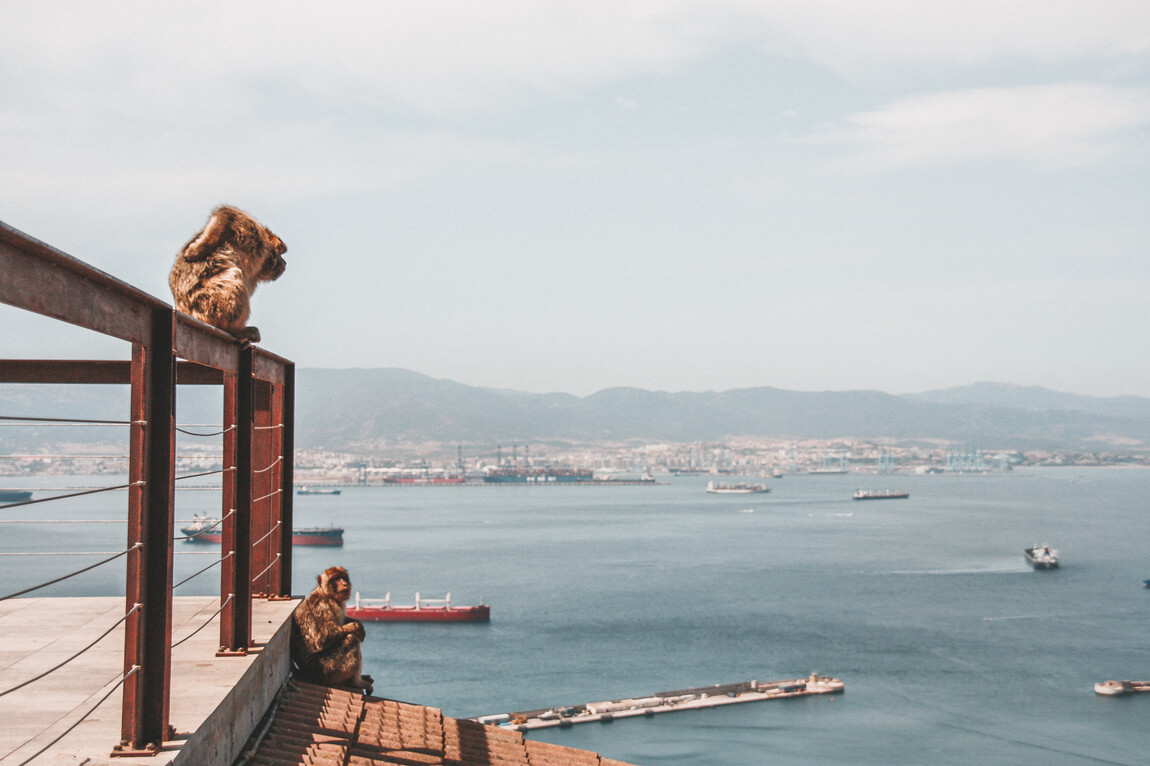 These monkeys are a symbol of the British conquest and rumour has it that if the monkeys disappear Gibraltar will no longer belong to Britain.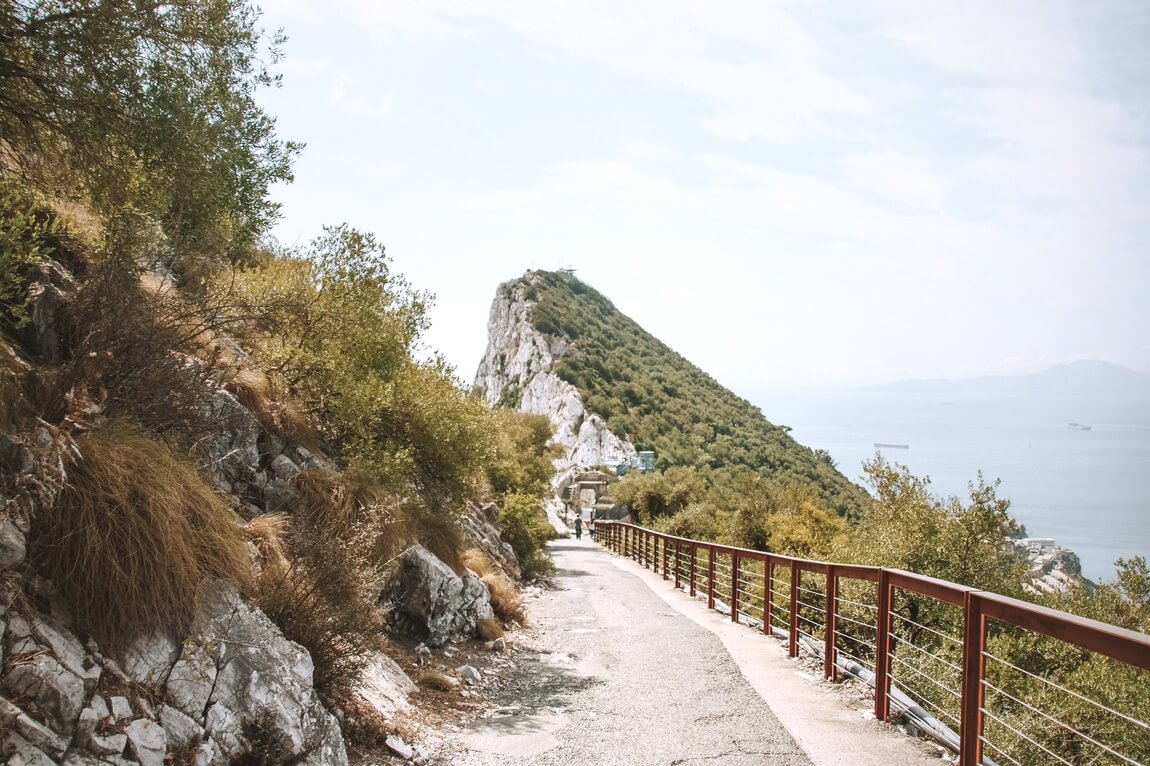 This will be a truly unique experience and most likely (if you're like me!) you'll end up taking a million photos 😉 But don't be fooled by the nice and harmless look of these primates. We must walk with backpacks in front of our bodies and well closed since it is frequent that monkeys "rob" visitors' backpacks looking for food.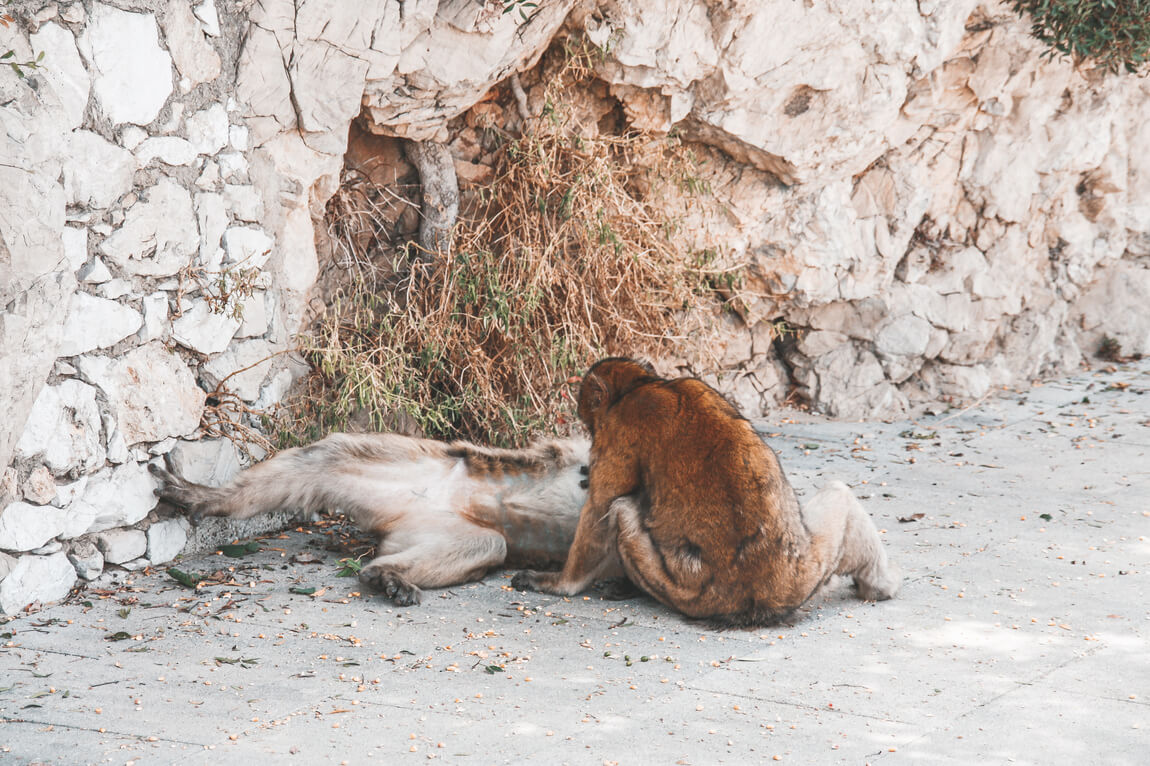 Although usually nothing bad happens on these visits, we should respect some rules:
Do not feed the monkeys (there are fines for those who do)
Do not touch them
Be careful with backpacks, sunglasses, hats, earrings, necklaces (anything that is easy to "rob")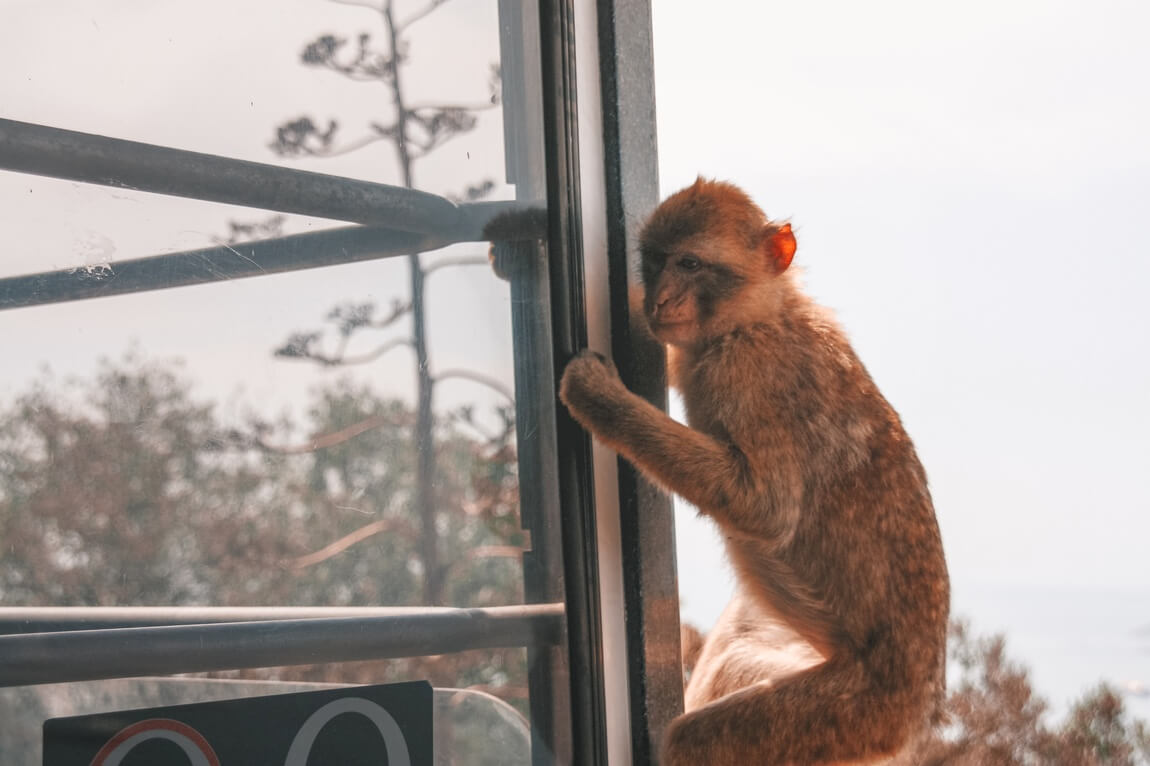 To make it easier to visit, there are also a number of trails that can be explored:
History Buff (4,3km; medium difficulty)
Monkey Trail (2,9 km; medium difficulty)
Nature Lover (3,2 km; easy)
Thrill Seeker (3,9 km; difficult)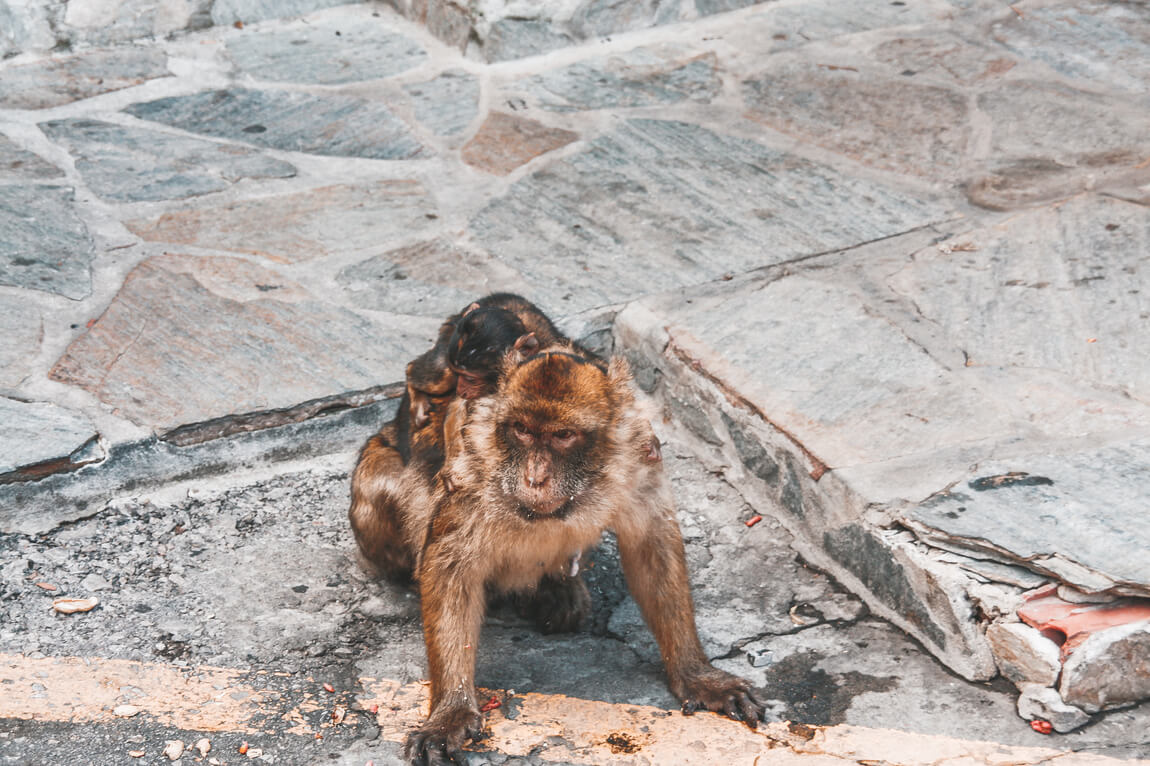 In my case, as I didn't have a full day to explore Gibraltar, I hiked mostly (with some detours of course), the Monkey Trail.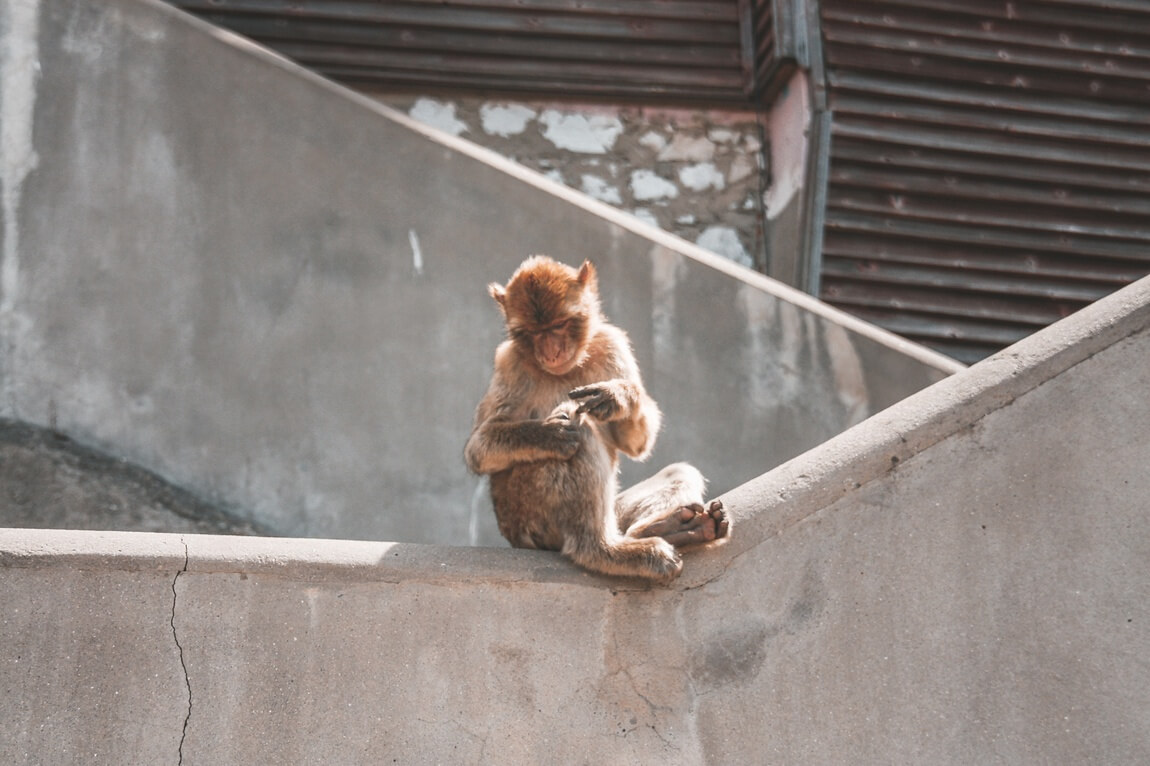 How to get to the Nature Reserve?
Only authorised vehicles can access the roads of the Nature Reserve. So, apart from walking there (which can be a bit arduous) or booking a private tour, the easiest way to get there is by cable car.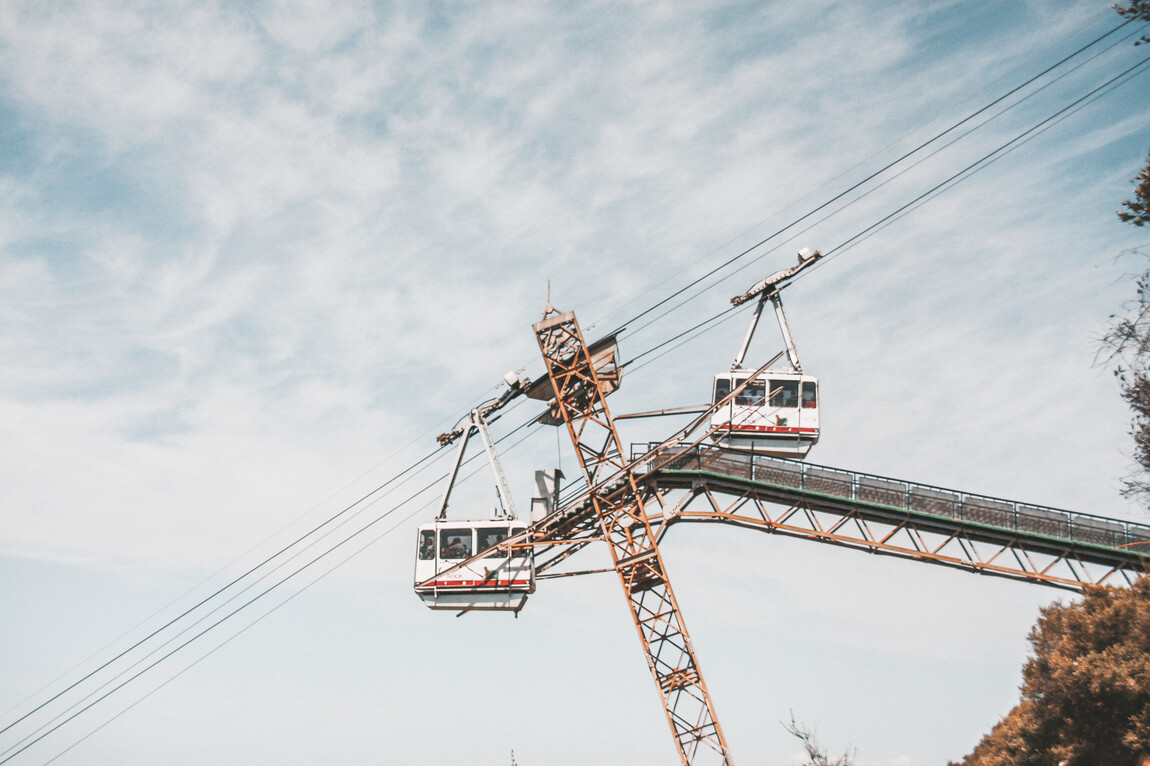 The cable car ride can be bought at the ticket offices or online and costs about 17£ (round trip). The trip lasts only 6 minutes and is quite frequent. You can buy your ticket here.
💡 EXTRA TIP: To find the cable car base station, just search for "Cable Car Base Station" on Google Maps. Next to the station, there is a small car park with some free spaces and some paying spaces. I recommend arriving early as there are not many parking spaces available.
What are the opening hours of the Nature Reserve?
The timetables vary according to the time of year:
Summer: 9h30 -19h15
Winter: 9h – 18h15
Times for specific sites (such as the Skywalk or St. Michael's Cave) should be consulted separately. It is also important to check the specific cable car timetables in advance here.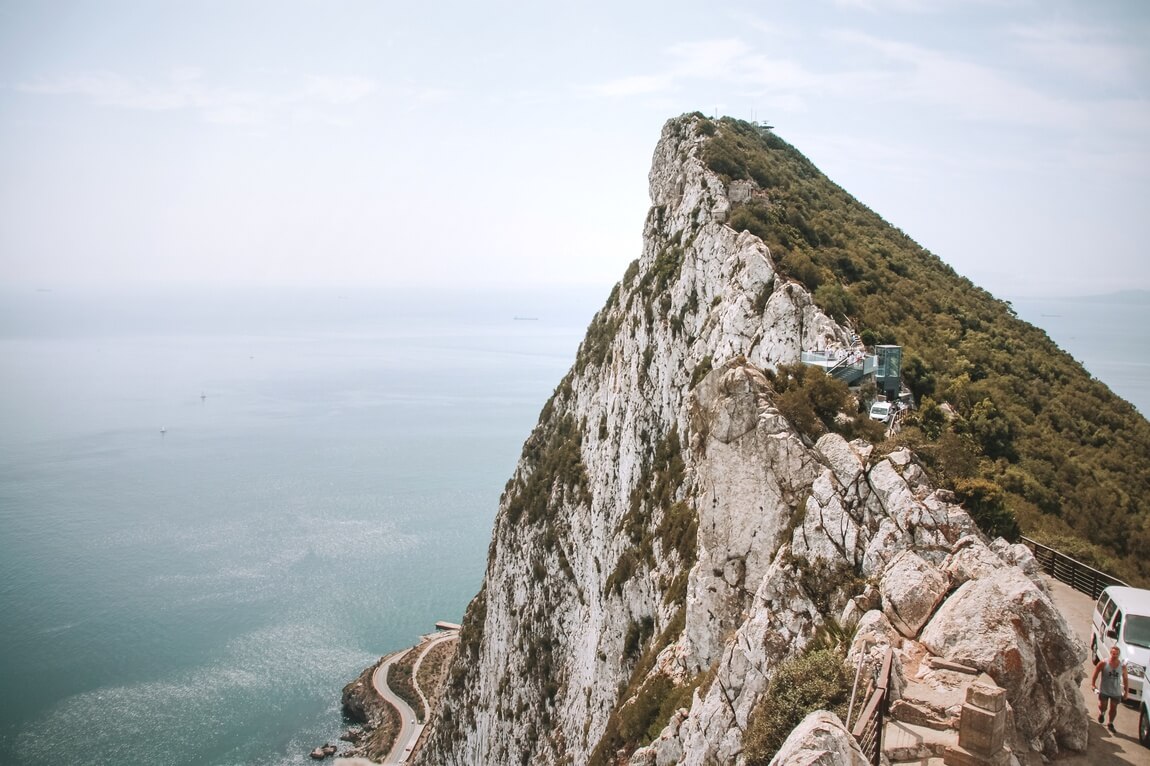 How much does it cost to visit the Nature Reserve?
Tickets can be purchased online, at the cable car ticket office or at the Gibraltarinfo information kiosk on the Spanish side of the border. In any case, tickets are only vouchers that must be redeemed at the cable car ticket office.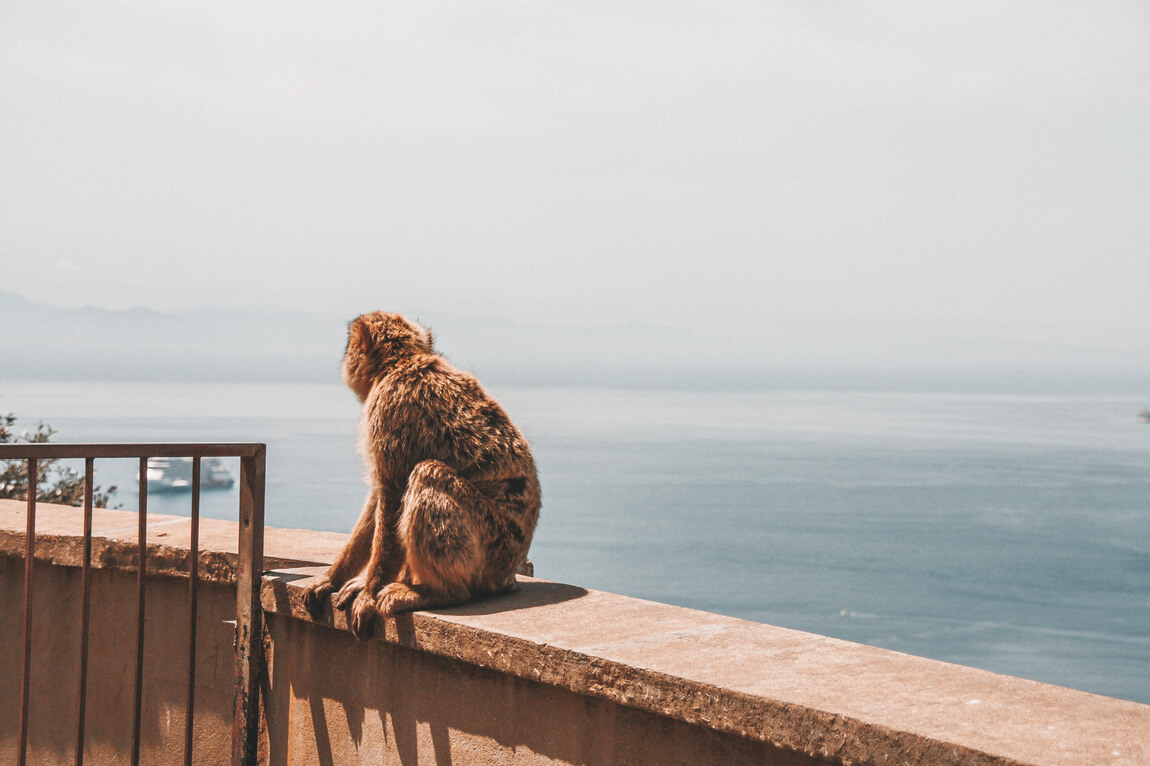 The ticket is a combined ticket giving access to all the areas mentioned above. The combined option with Cable Car (round trip) + Nature Reserve costs 30£. However, you can check all available options here.
💡 EXTRA TIP: Those who purchase their ticket in advance (online or at the Spanish kiosk) can enjoy a free shuttle bus from the border (located on the left-hand side of the road before crossing the airport runway) to the cable car.
» Grand Casemates Square
This is the main square of Gibraltar and here you will find numerous restaurant offers. It is the ideal place for a meal 😊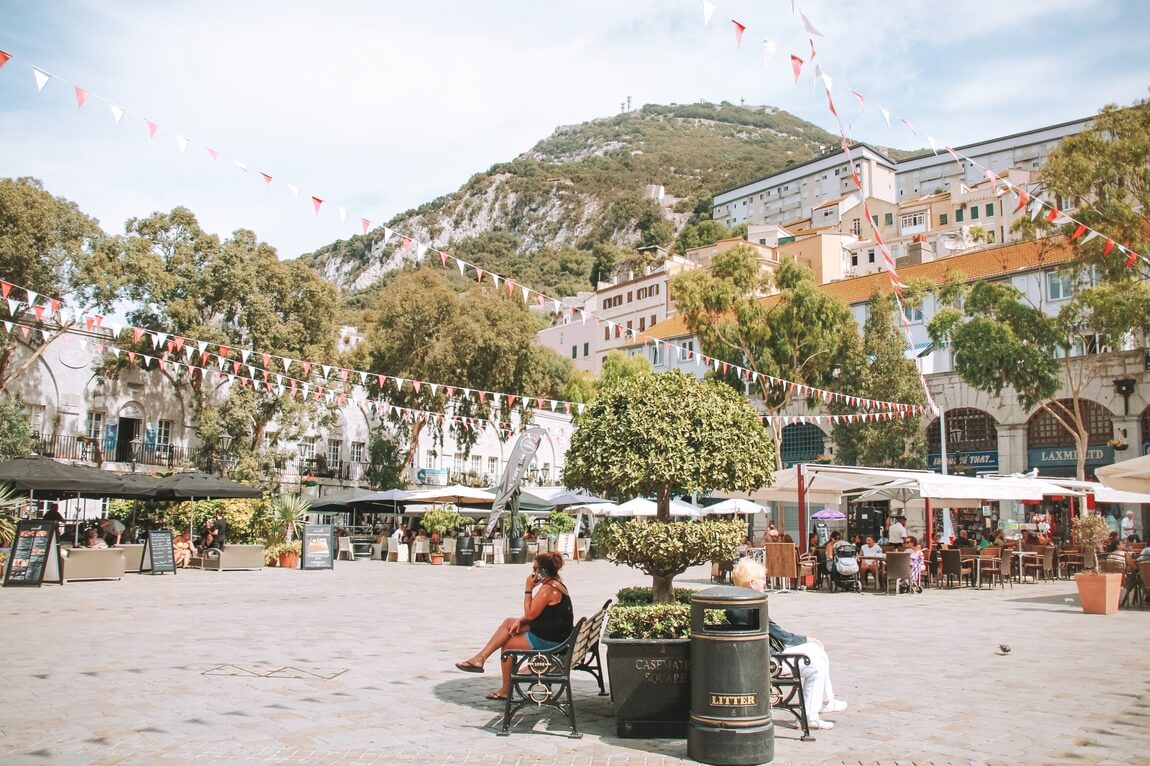 Next to this square, you can also visit the Grand Casemates Gate, one of the old entrances to the fortification of Gibraltar.
» Main Street
The most famous street of the city is located right next to the most important square. Here you will find the most varied types of commerce and it is common to see many Spaniards shopping.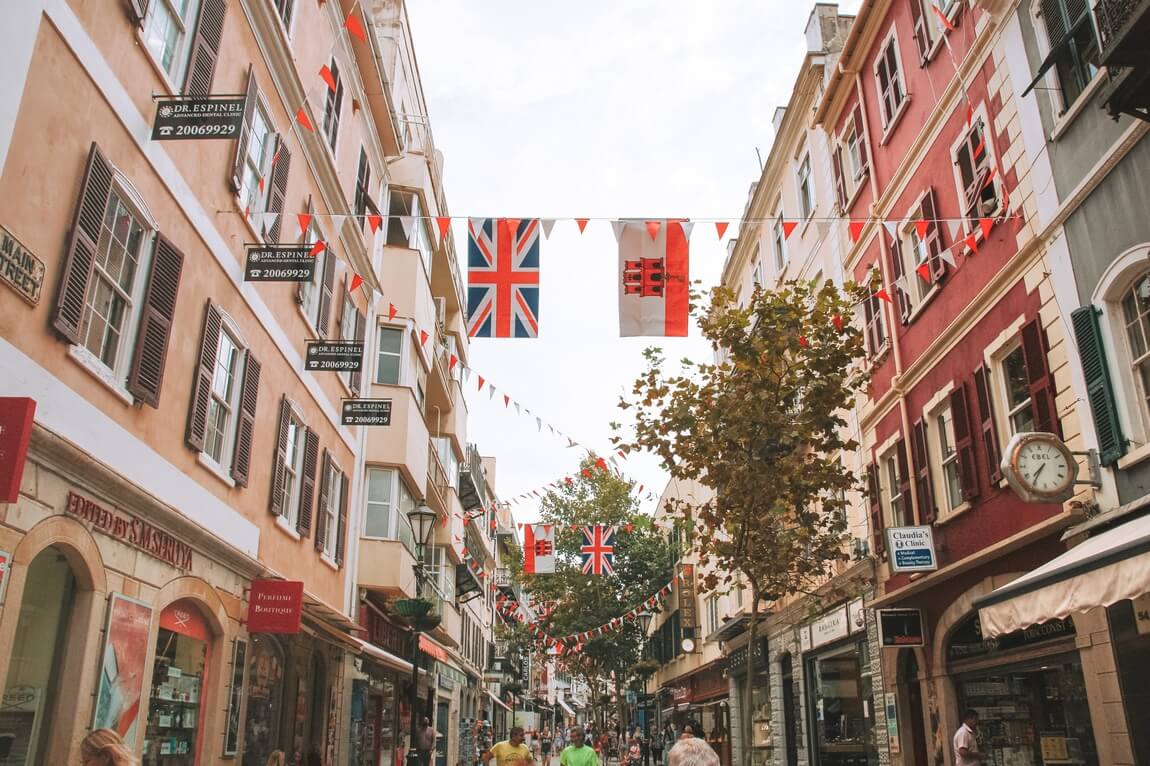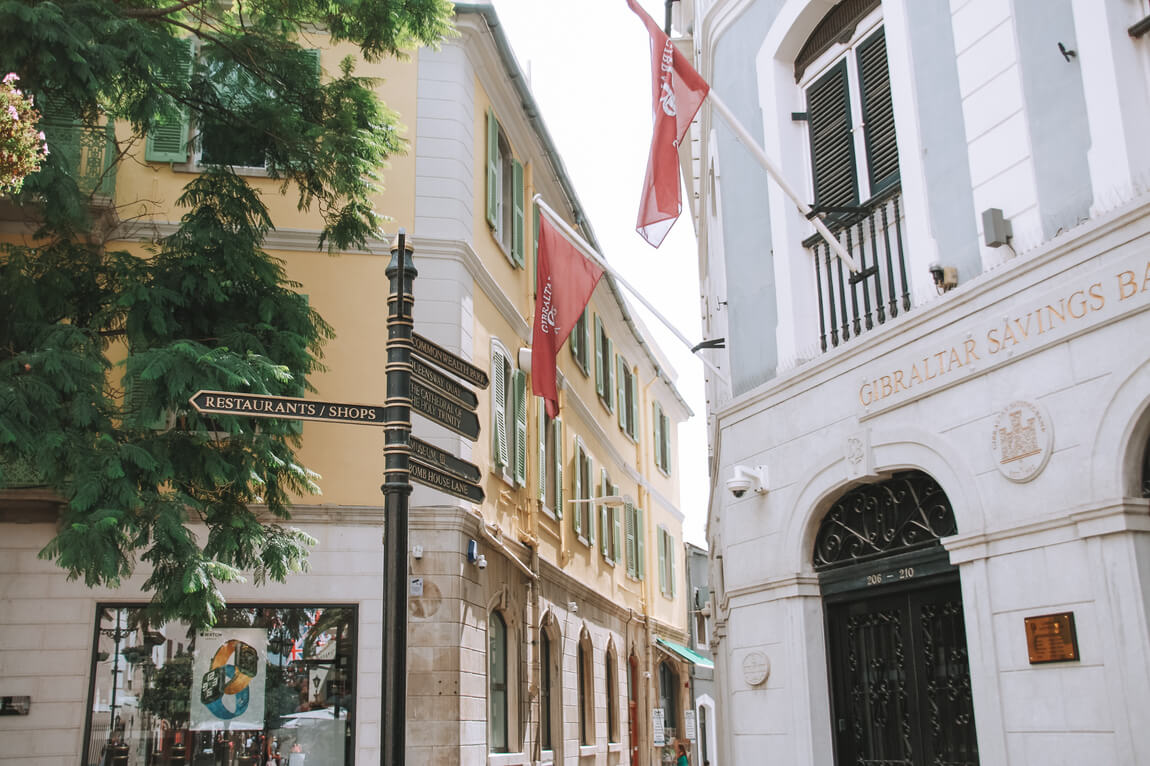 » Cathedral of Saint Mary the Crowned
Built on the site of an old Mosque, this Cathedral was transformed into a Catholic temple during the Spanish occupation. It still retains some traces of the old mosque but has a very sober style.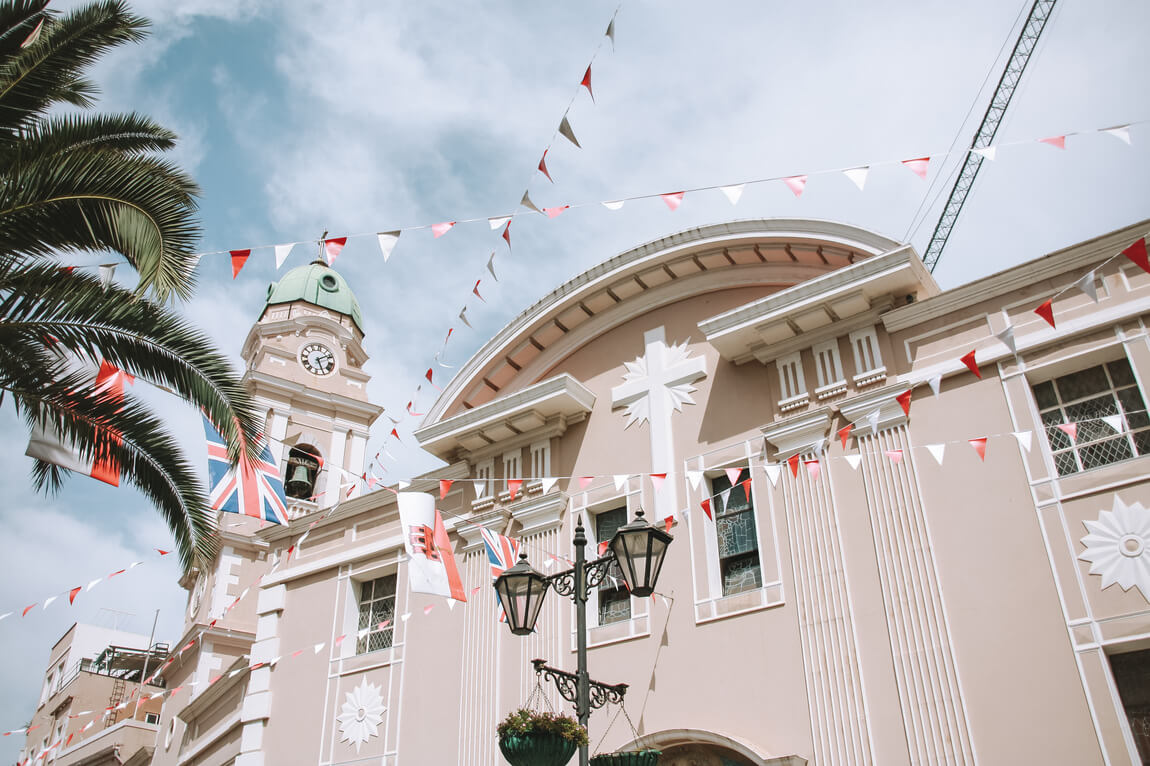 » Holy Trinity Cathedral
With architecture that still has some Arabic influences, this cathedral was built in the 19th century and is the main Anglican place of worship in the region.
» Irish Town
One of the most important streets in Gibraltar, located next to Main Street. However, nobody really knows the origin of the name: some say that the name is related to the origin of the owners of the buildings on this street, but another theory indicates that it has to do with an Irish regiment that was barracked here.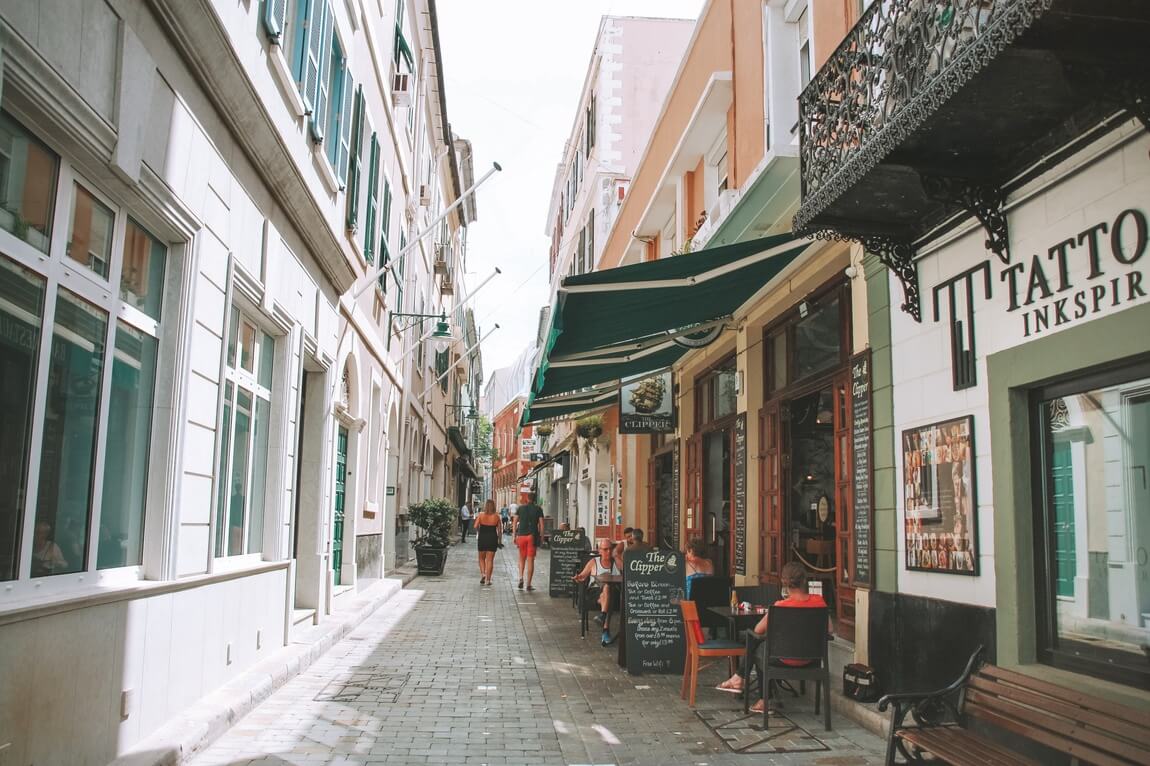 » Europa Waterfall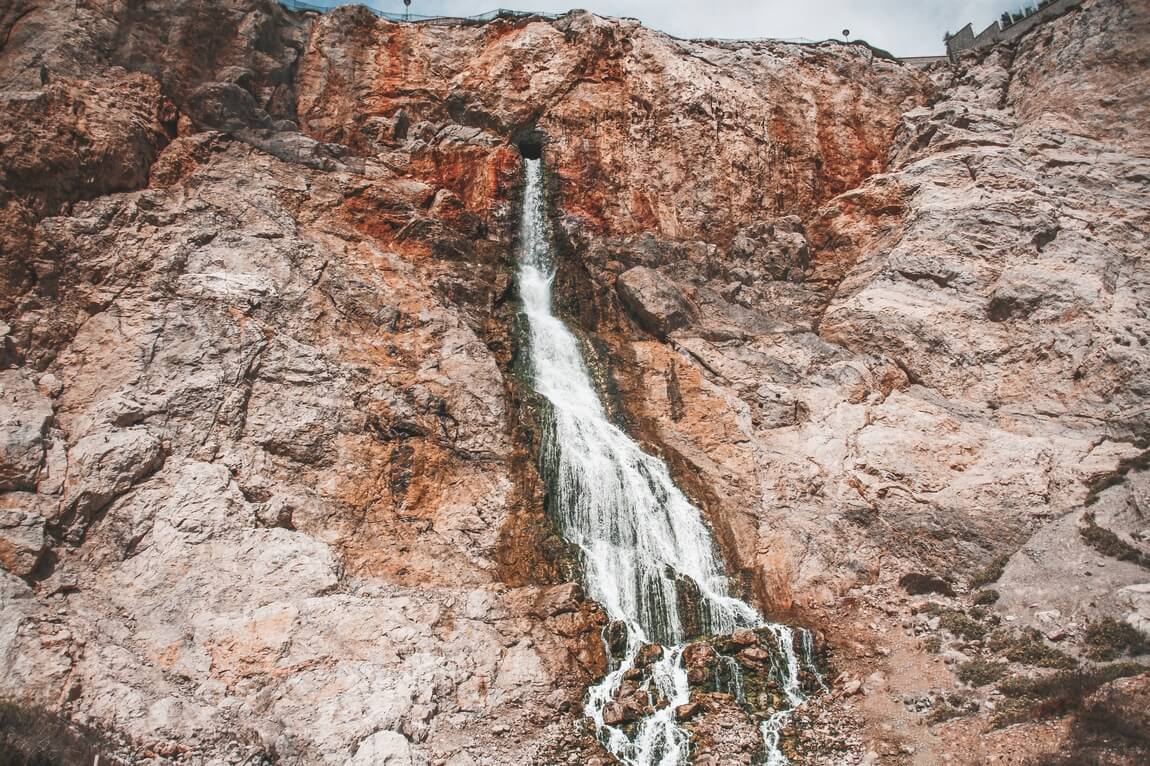 » Europa Point
Located 25km from Africa, this is the southernmost point in Gibraltar. Here you will find several emblematic places such as:
Europa Point Lighthouse
Ibrahim-Al-Ibrahim Mosque
Sanctuary of Our Lady of Europe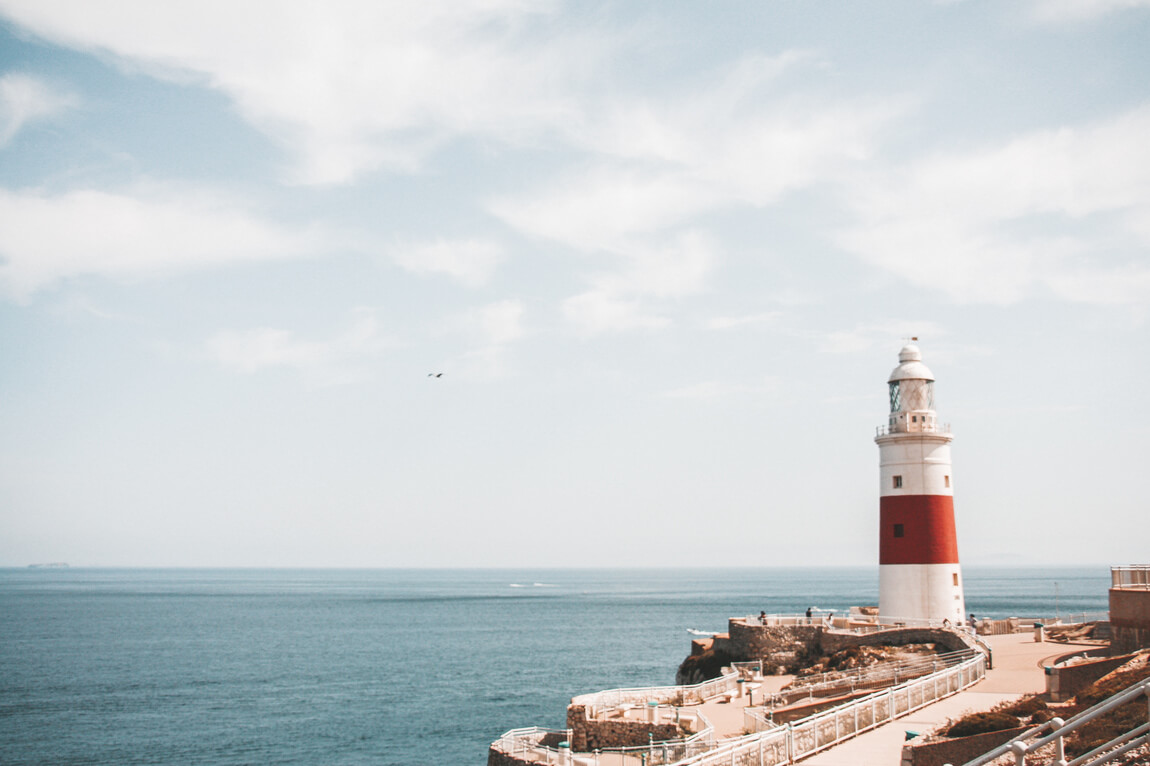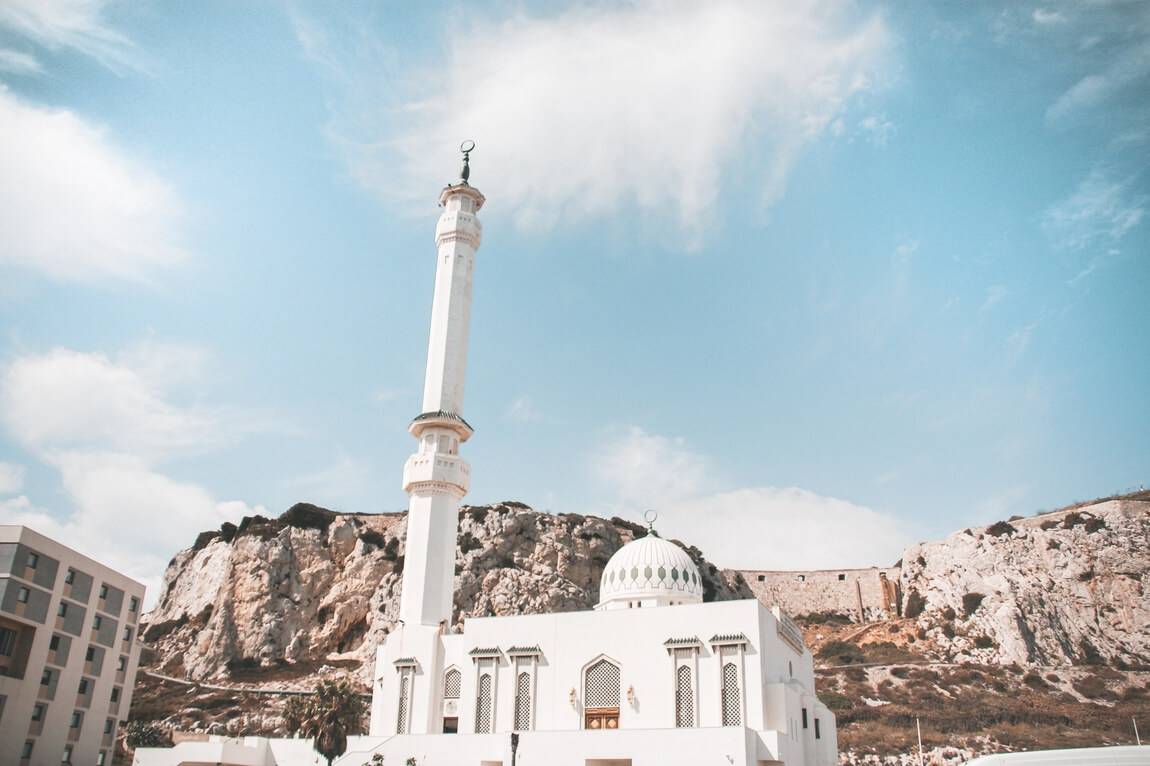 » Beaches
If the beaches in neighbouring Spain are not for you, you can always enjoy a dip at some of Gibraltar's beaches, such as Catalan Bay, Eastern Beach, Sandy Bay, Little Bay or Camp Bay.
But Gibraltar has even more to offer. If you have more time, you can also visit the Alameda Gardens, Trafalgar Cemetery, the National Museum of Gibraltar, the Botanical Gardens, Gorham's Cave, among others.
Disclaimer: this post may contain some affiliate links, which means I get a small commission if you buy something through my links. This doesn't represent any additional cost to you and you'll be supporting my work here on the blog😊