I have been wanting to visit Lousã for a long time. The photos I saw were too appealing, I heard wonders of its gastronomy… In fact, all I really needed was to find the opportunity to visit it. Therefore, I took advantage of a long weekend to spend 4 days relaxing and learning what to visit in Lousã.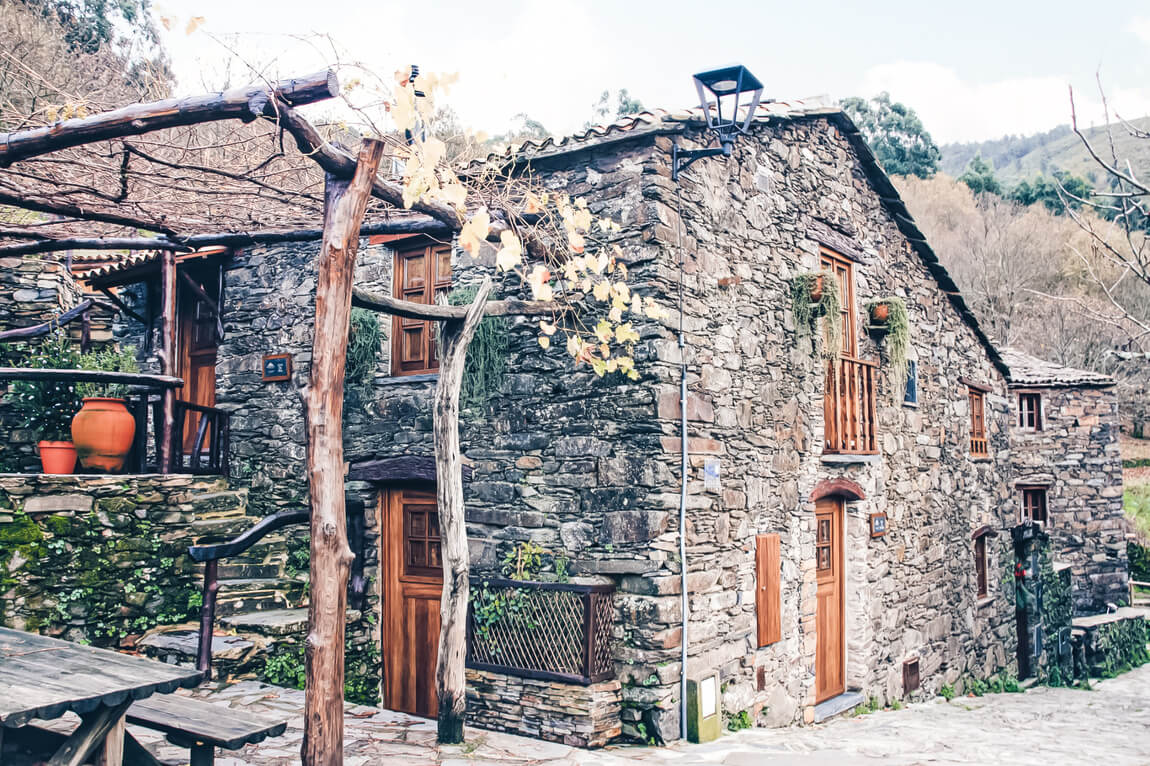 What is the best time of the year to visit Lousã?
Honestly, any time of year is a good time to visit Lousã. However, being located in the interior of Portugal, the winters are harsher and the summers are hotter. For example, I visited in December and it was quite cold. Therefore, and to ensure a more pleasant visit, I suggest you plan your visit for the months between May and September.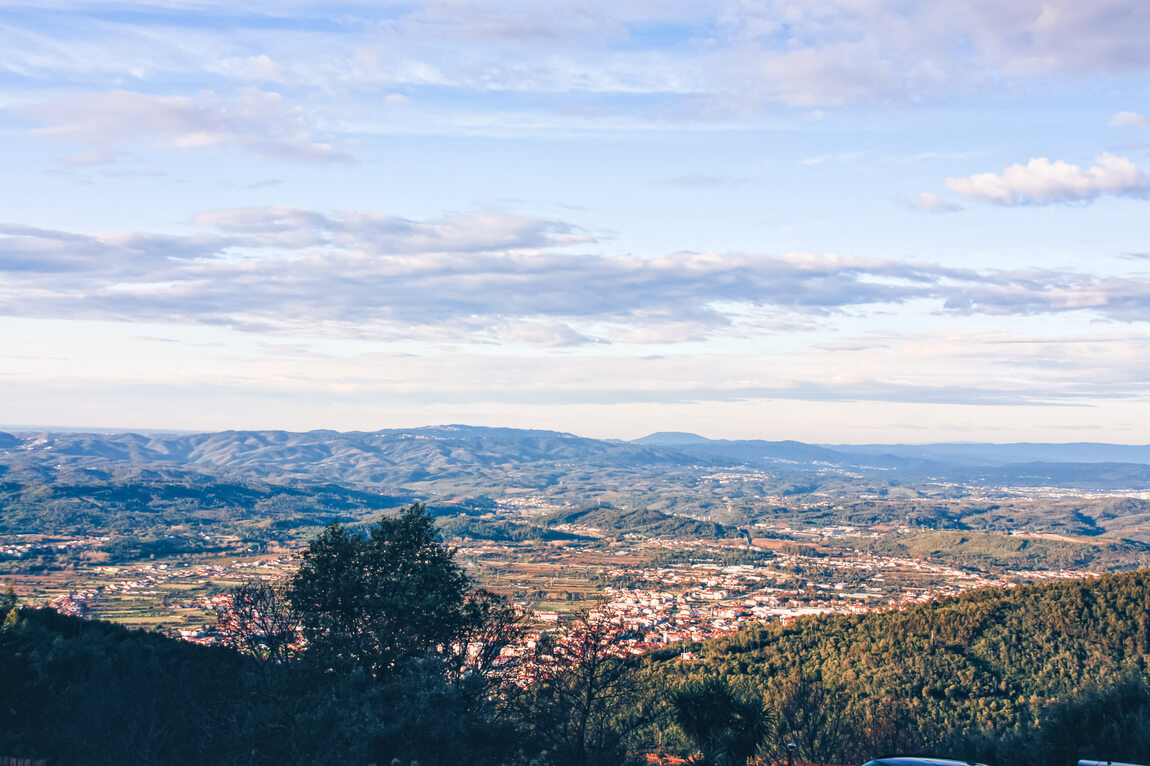 How many days do you need to visit Lousã?
Although my visit lasted 4 days, I believe it is quite possible to include most points along this blog post in a 2 days itinerary.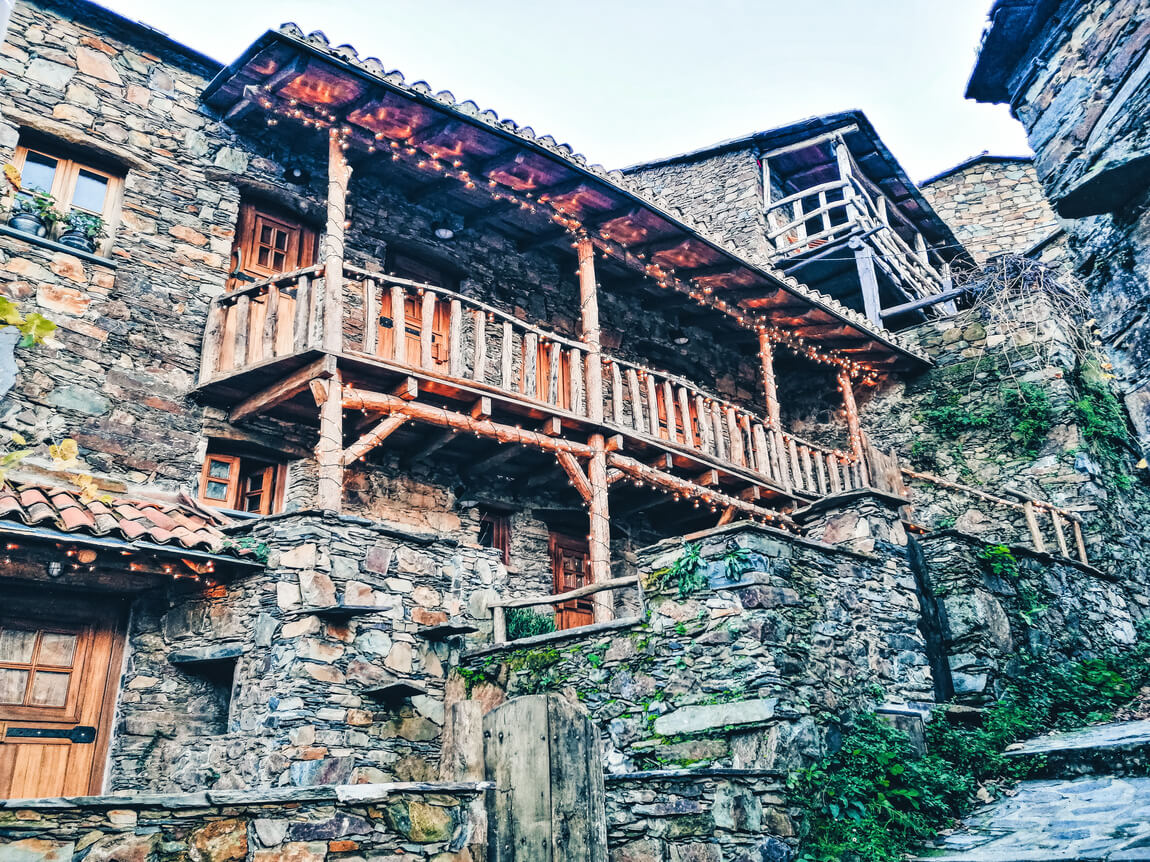 However, the aim of this trip was also to rest and savour all that Lousã has to offer at a slower pace. That's why I stayed there for 4 days.
Accommodation in Lousã
When we talk about staying overnight in Lousã, we easily think of staying in the typical schist villages. Although I haven't tried it (next time!), it sounds too good. However, most of the villages have no restaurants and are still about 20 minutes by car from the centre of Lousã, where most restaurants are located.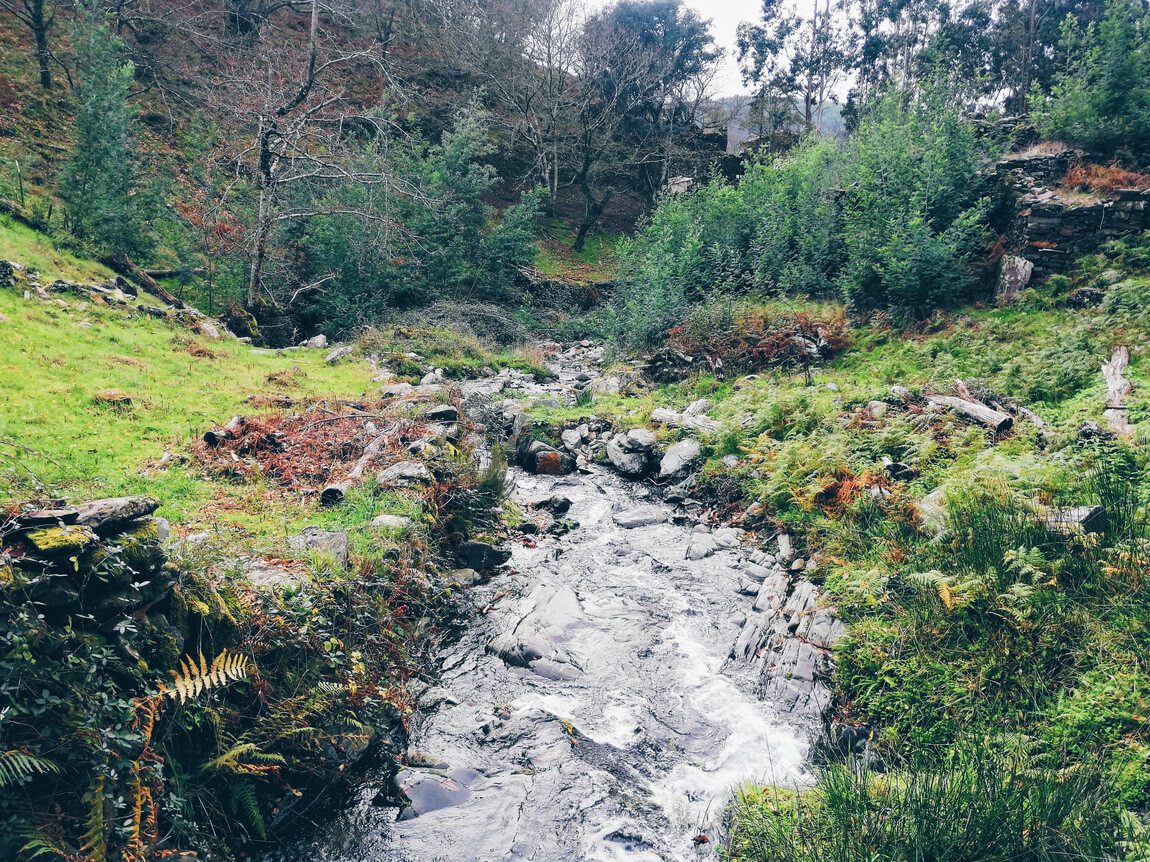 So, if you prefer a more comfortable solution and with all the necessary services nearby, it is preferable to choose accommodation in the centre of Lousã. If you opt for the schist houses, the ideal is to choose accommodation with a kitchen.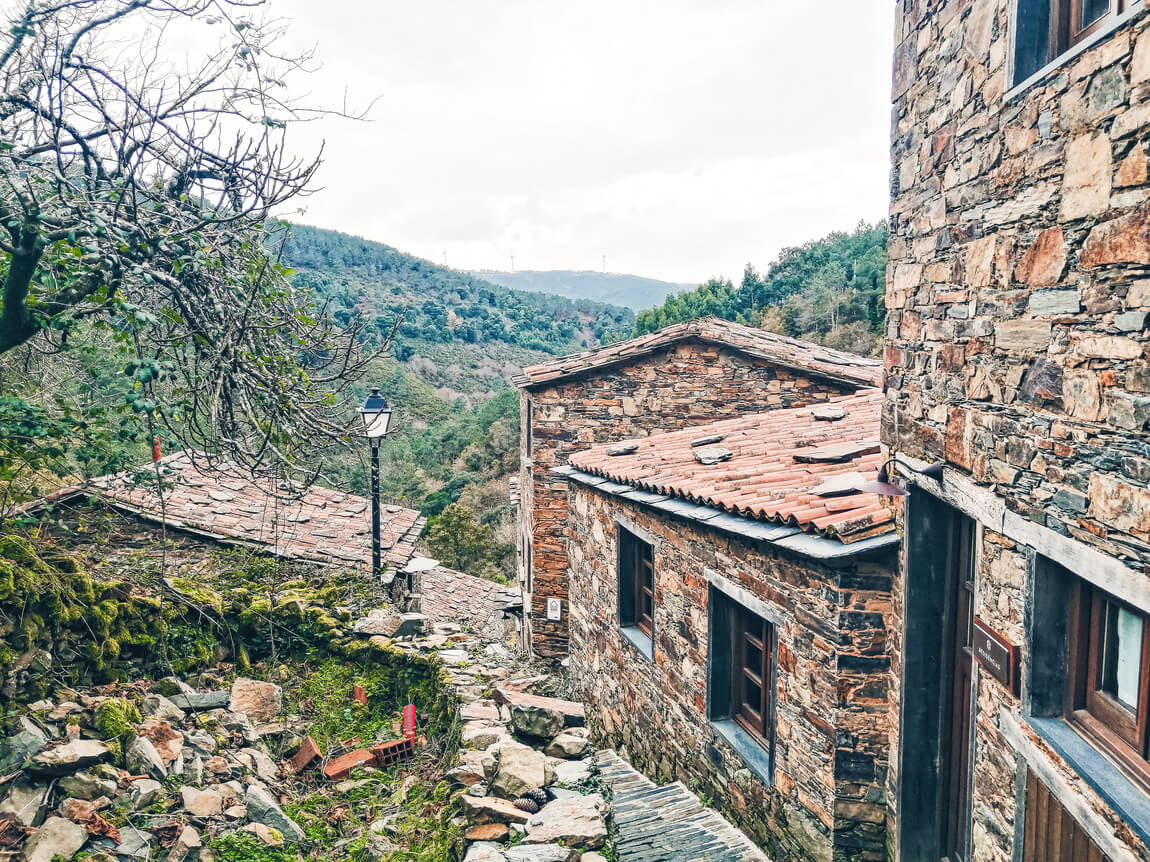 These are my recommendations for accommodation in Lousã:
💼 TRAVEL INSURANCE: If you want to feel safe while travelling, then you should definitely look into purchasing some travel insurance. Having insurance will help you with any health-related emergencies as well as with other events, such as theft, loss or delay of luggage, eventual need to cancel your trip and much more. In my case, I always use IATI Insurances, which has one of the best price-quality ratios in the market and a 100% online service that is very easy to use. Book here your travel insurance and enjoy a 5% discount for being readers of the blog. Don't forget that the purchase must be made using this link.
What to visit in Lousã – Schist Villages
The Lousã municipality contains five of the twenty-seven villages that in 2001 were considered Schist Villages under the Schist Villages Programme project. And all of them deserve to be visited! These are the villages of Talasnal, Cerdeira, Casal Novo, Chiqueiro and Candal.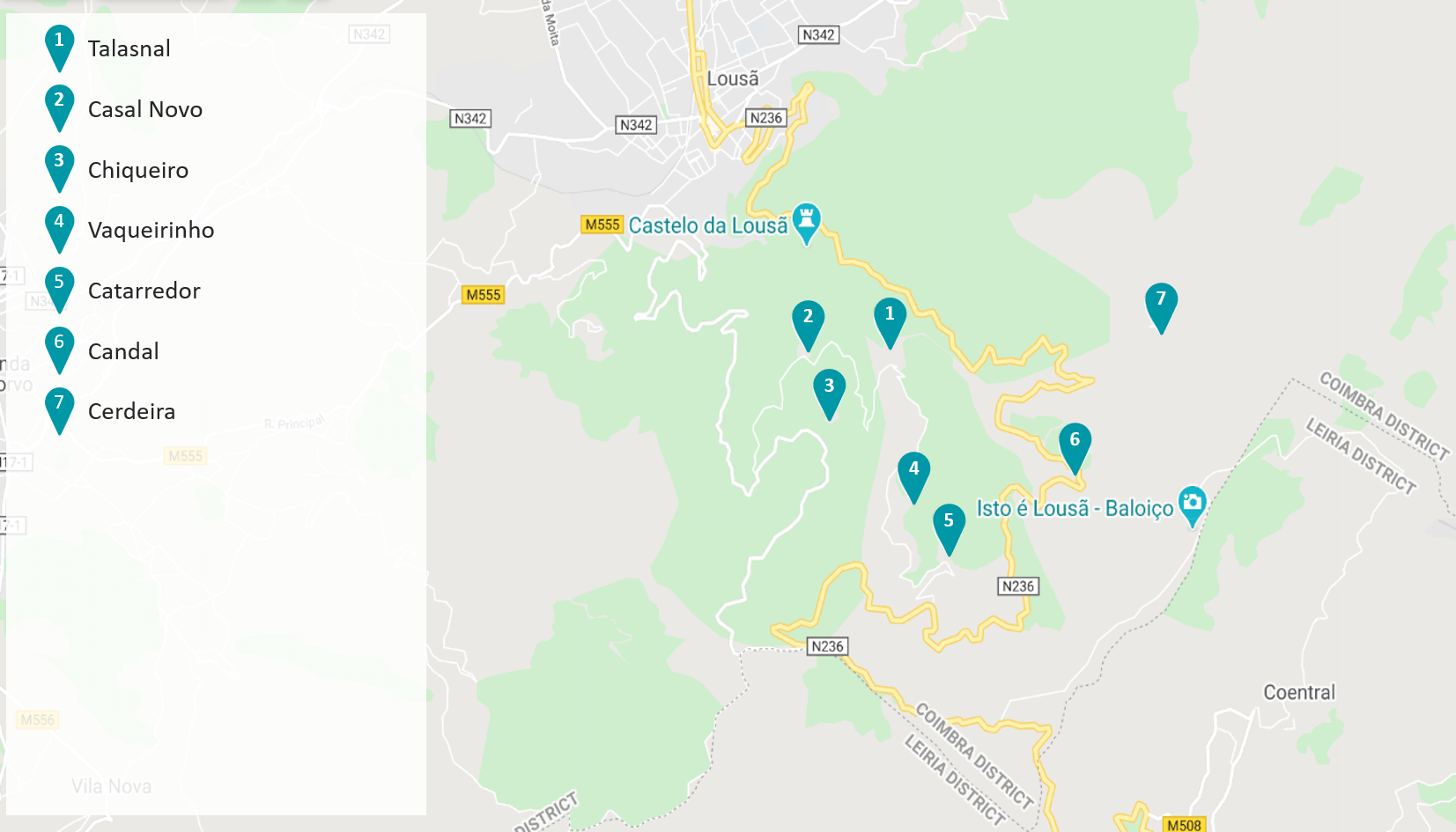 In fact, there are two more schist villages that are less well known and for some reason are not qualified as such: Vaqueirinho and Catarrador. 
We might think that at the end of the first or second visit to these villages, they would all be similar. But this is not the case at all!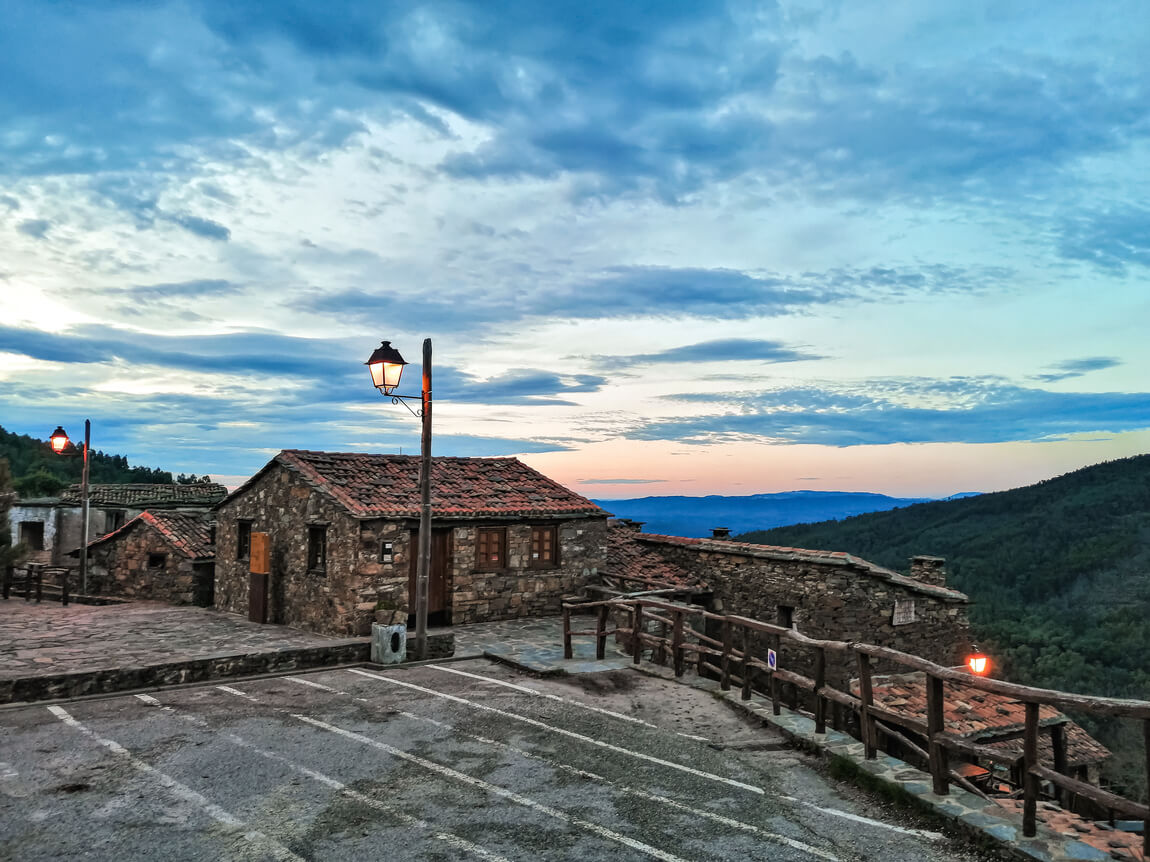 Although I easily chose my favourite (Talasnal), they all tell a different story. If in some there is not a single living soul, and we are only welcomed by the silence that inhabits there, in others, we still feel a strong presence of the community that once lived there.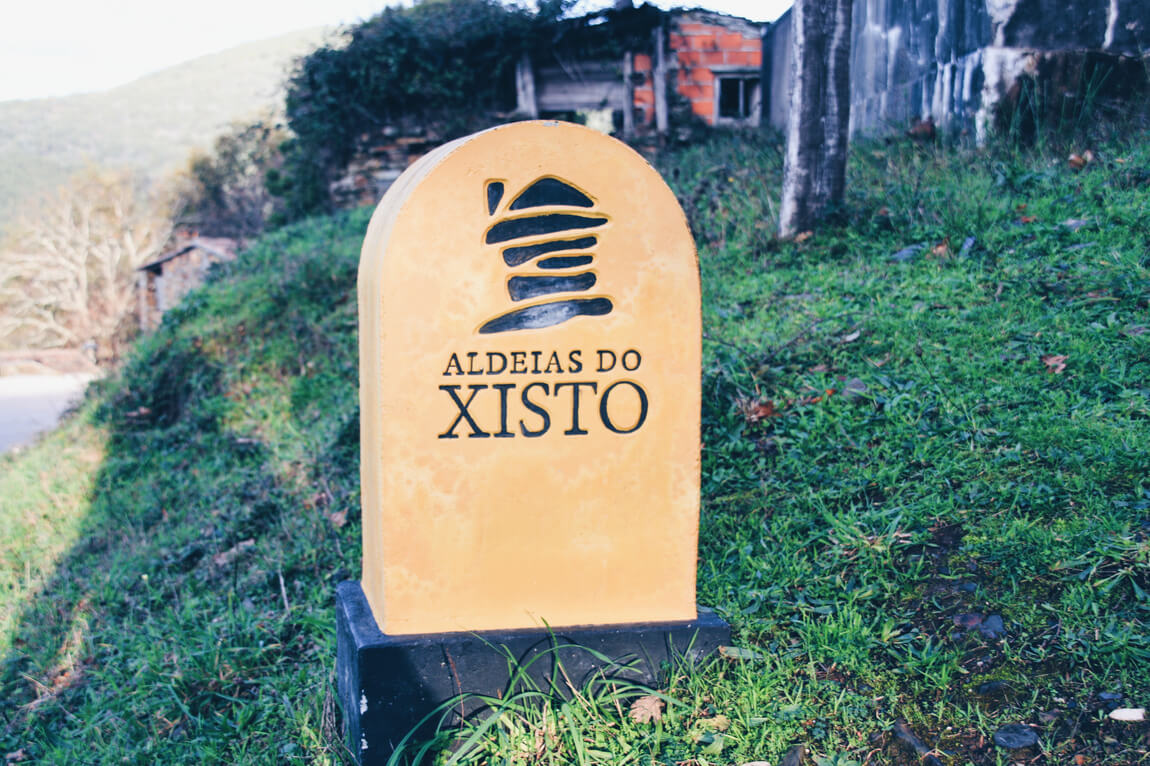 The truth is that most of these villages are uninhabited. During the 20th century, many of these villages have seen their inhabitants migrate to the cities and become increasingly deserted. The Schist Villages project clearly brought some life to these places and some curiosity, so people visit them more regularly.
» Talasnal
It was love at first sight when I arrived at this village. I swear I'm not overreacting 😊 It was very cold and at the entrance of the village we had a small fire assembled by Montanhas de Amor restaurant and lodge. We entered this place for lunch and the service was very nice.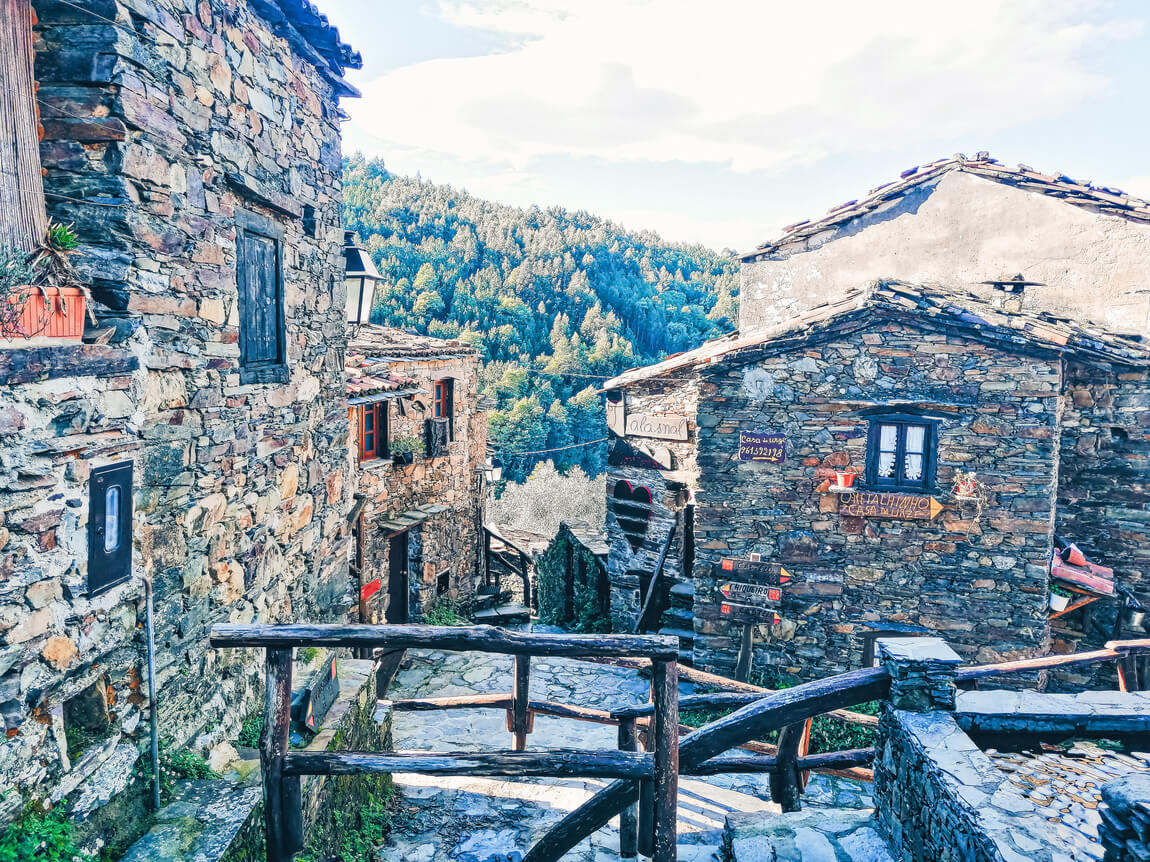 Of all the villages visited, this is the one with the largest crowds. It is also the village that offers more services: 2 to 3 restaurants, some cafés and also some local handicraft shops.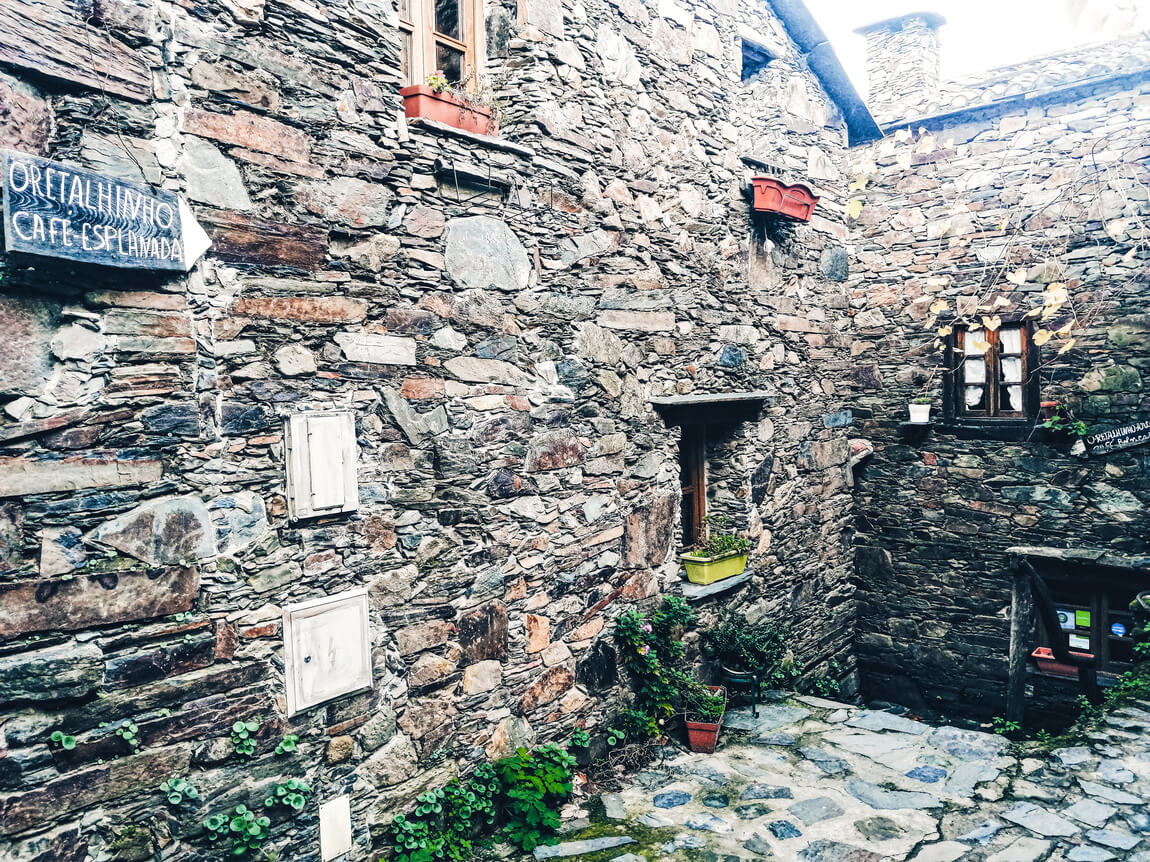 There are also some options for local accommodation, certainly perfect for a few days close to nature.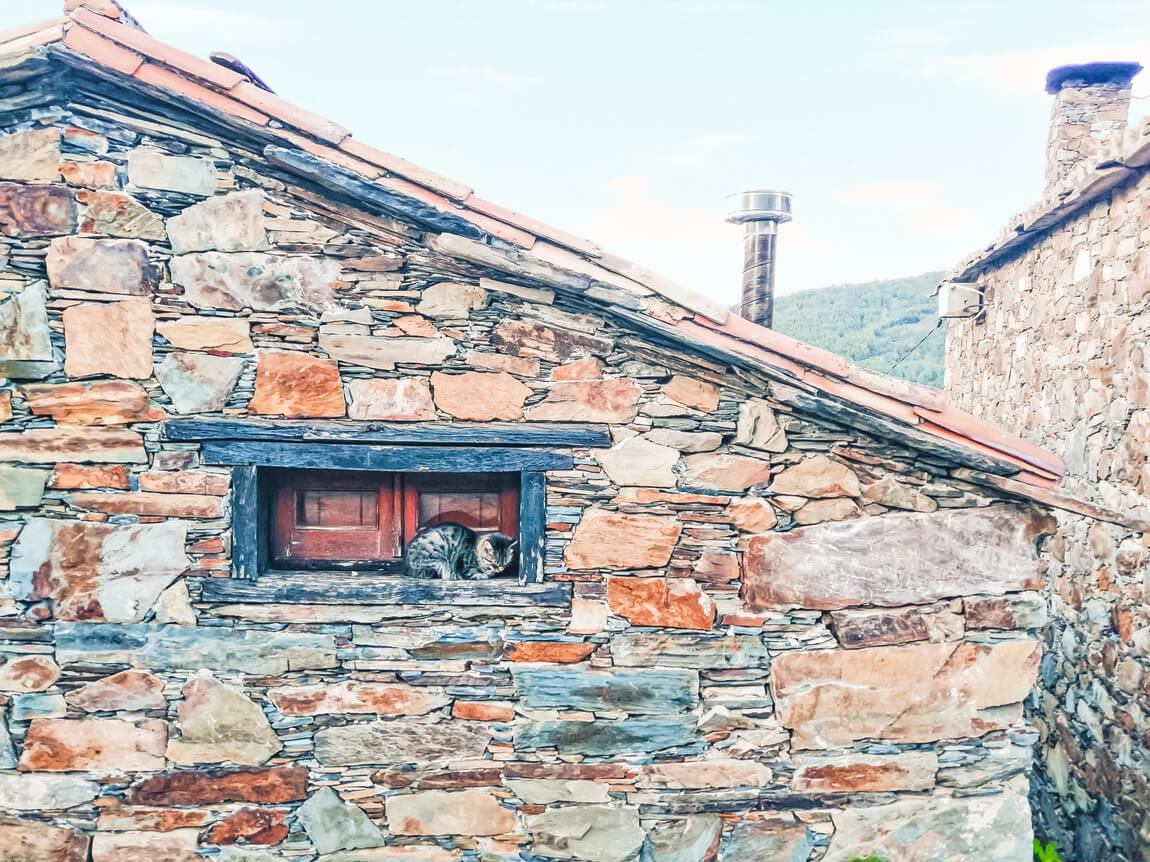 I fell so much in love with this place that I had to go back there on my last day in Serra da Lousã. At the end of the day, we entered a small café – Curral – where we ate a nice slice of chocolate and honey cake. All this while watching a beautiful sunset from their balcony. A picture is worth a thousand words.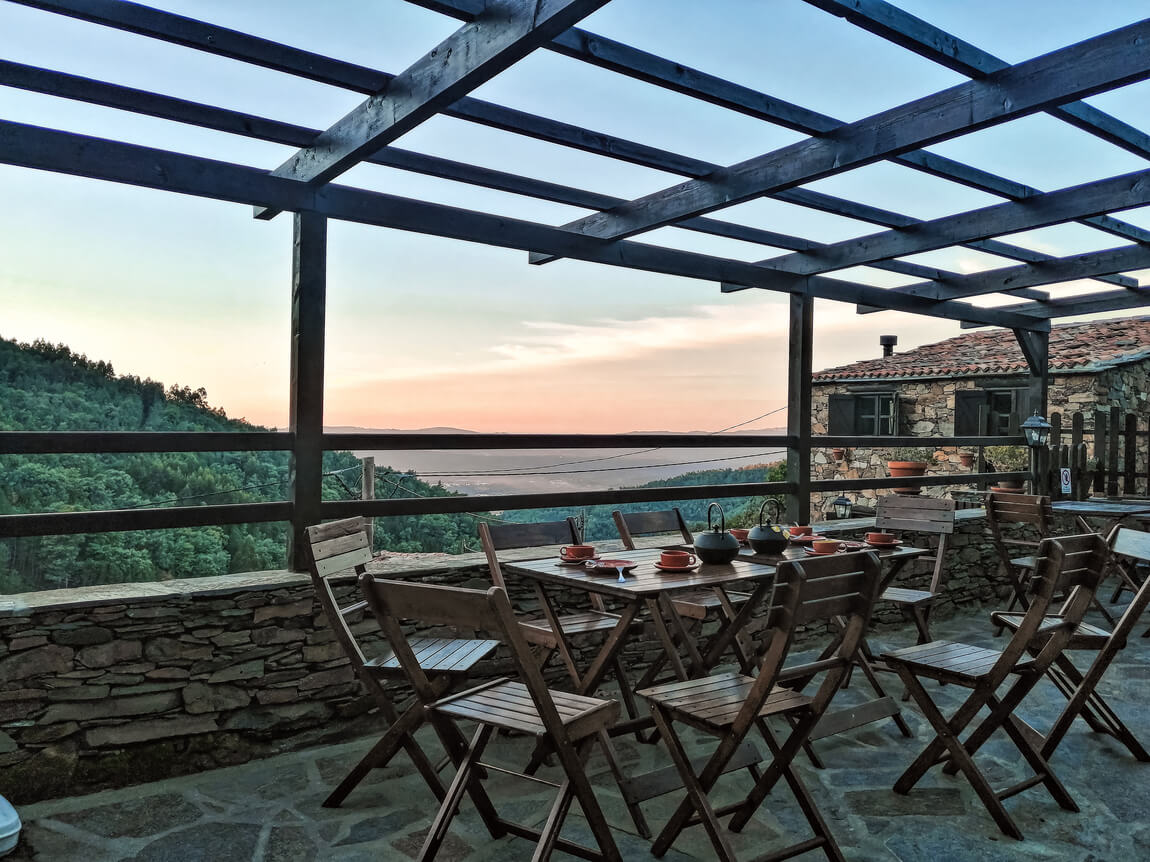 💡 EXTRA TIP: When visiting the village of Talasnal, don't miss one of the best viewpoints of this village. Here you can frame in your memory (or in a photo) the charm of the Talasnal village. Here are the coordinates of the viewpoint 40°05'26.5 "N 8°13'47.2 "W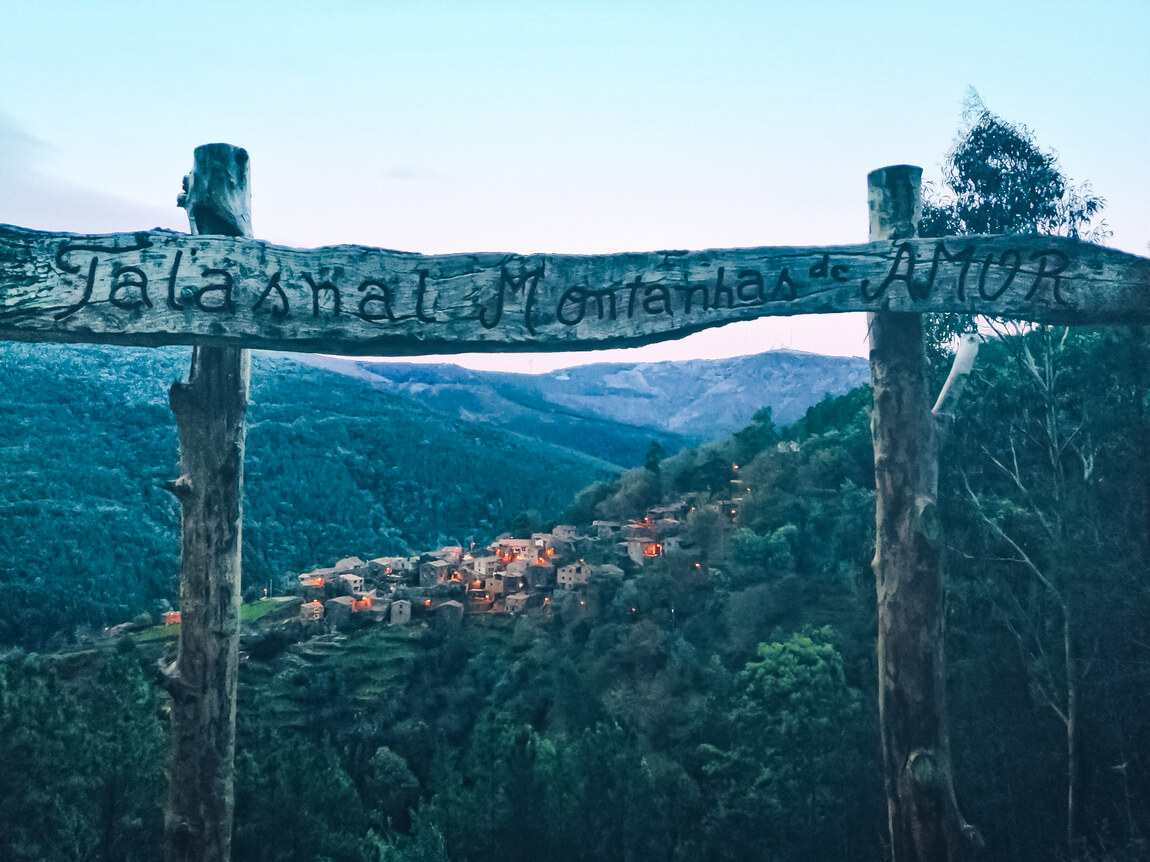 » Chiqueiro
On our first visit to Talasnal, we embarked on a "little" adventure and walked a part of the Serranos Route (route identified as PR5). Starting the route in the Talasnal village, it takes only 1.5 km to reach a smaller village – Chiqueiro.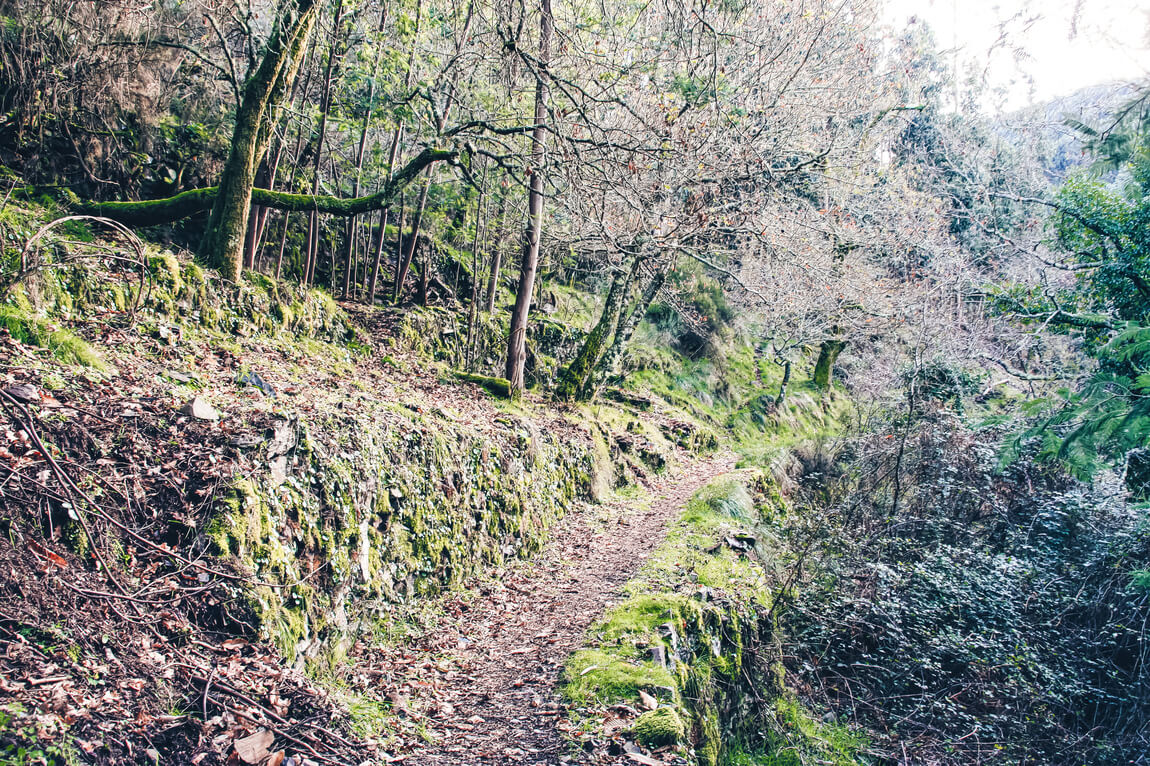 However, do not be fooled (like me!) by the short distance of the route. The beginning of the trail is quite flat, but halfway (as soon as we reach the main road) the path becomes quite steep. I was not prepared for this kind of adventure, but the landscapes along the way certainly made up for it.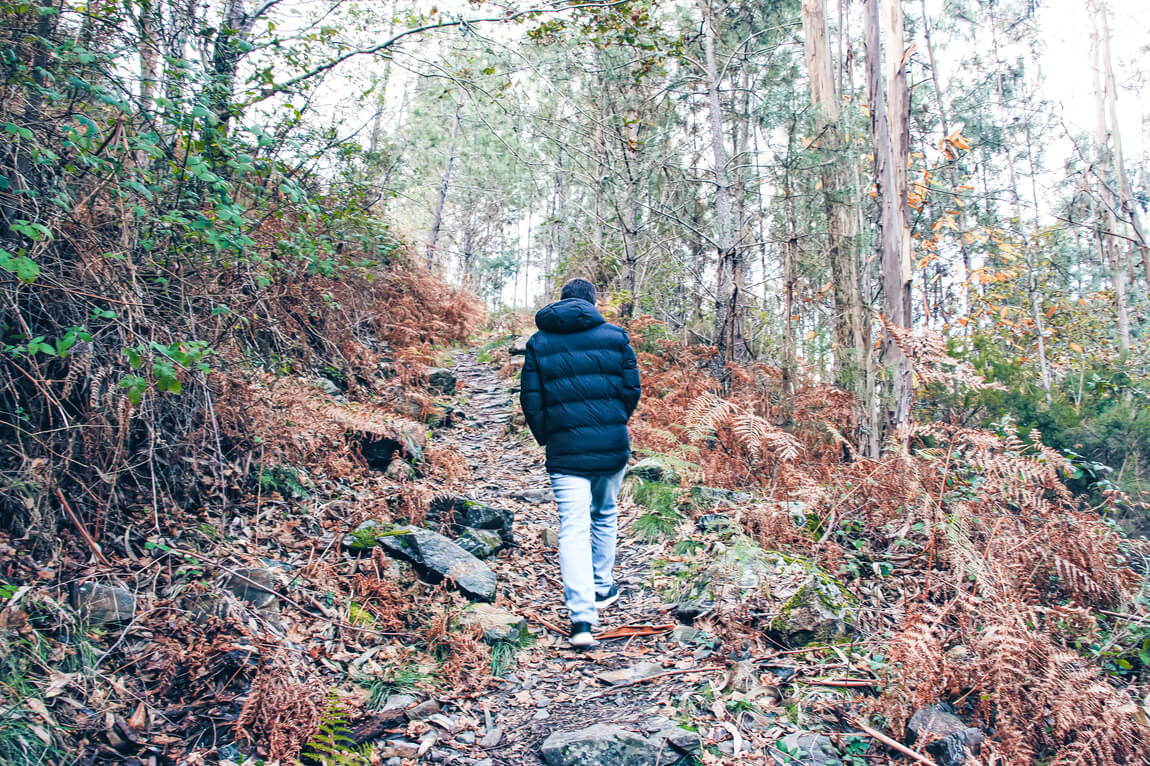 When we arrived at Chiqueiro, we only came across a person who was taking care of the village's electricity. The houses seemed uninhabited, and here neither tourism seemed to have arrived yet. However, we saw some projects under construction for local accommodations, which could certainly boost the village's tourism in the near future.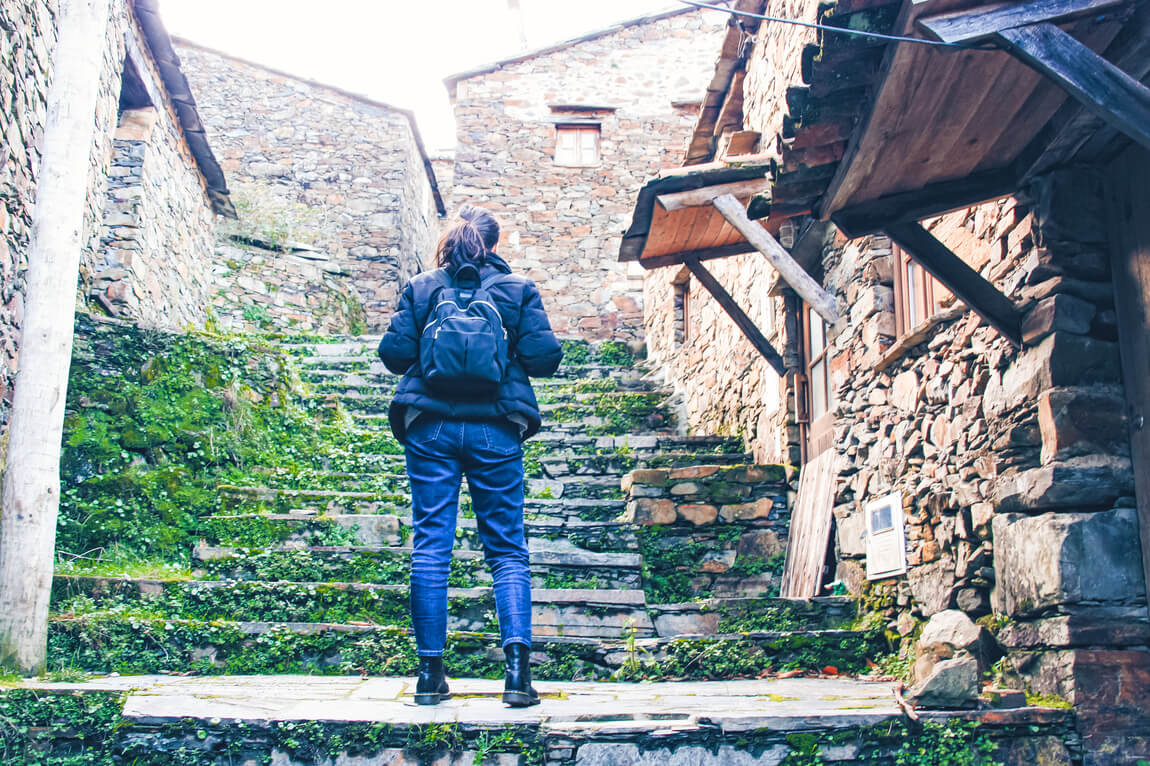 I believe that in this case, the description of the Schist Villages project is the one that best describes it: "Only the herd bells seem to counteract the feeling that time has long since stopped here".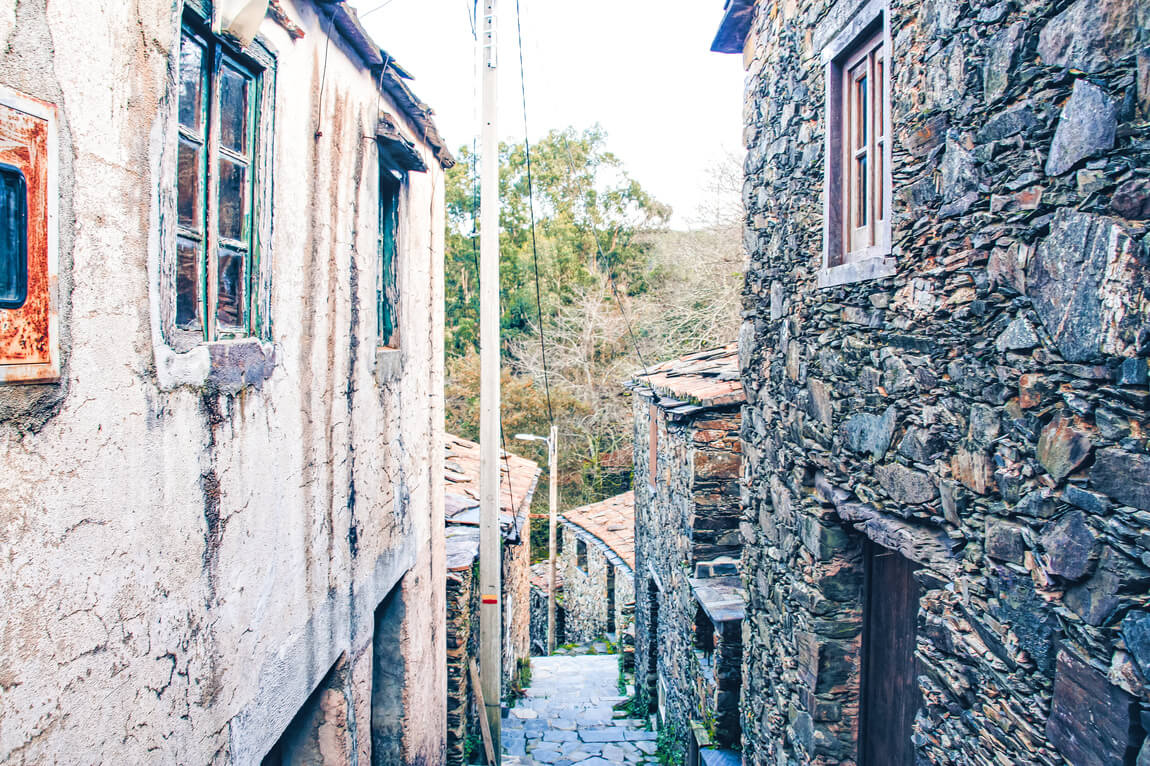 » Casal Novo
Despite the fear that the route could resemble the stretch between the Talasnal village and Chiqueiro, we risked continuing the Serranos route. This time, the path to Casal Novo village had a distance of 1.1 km.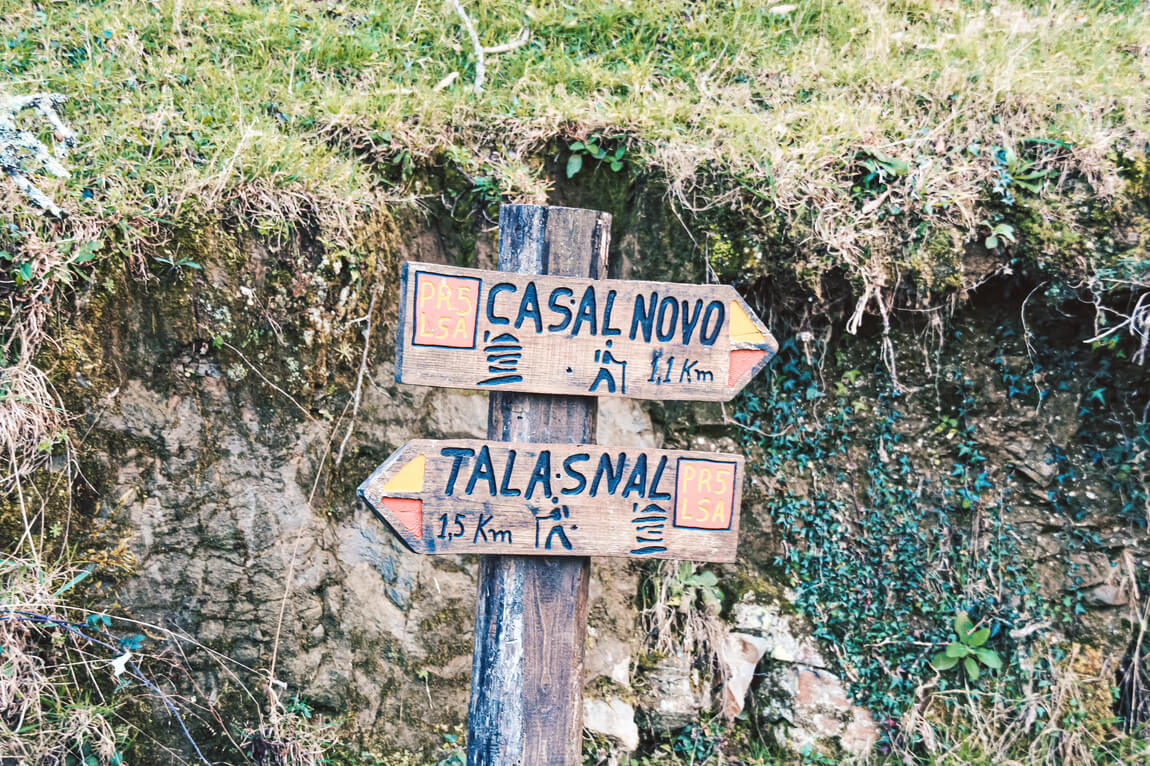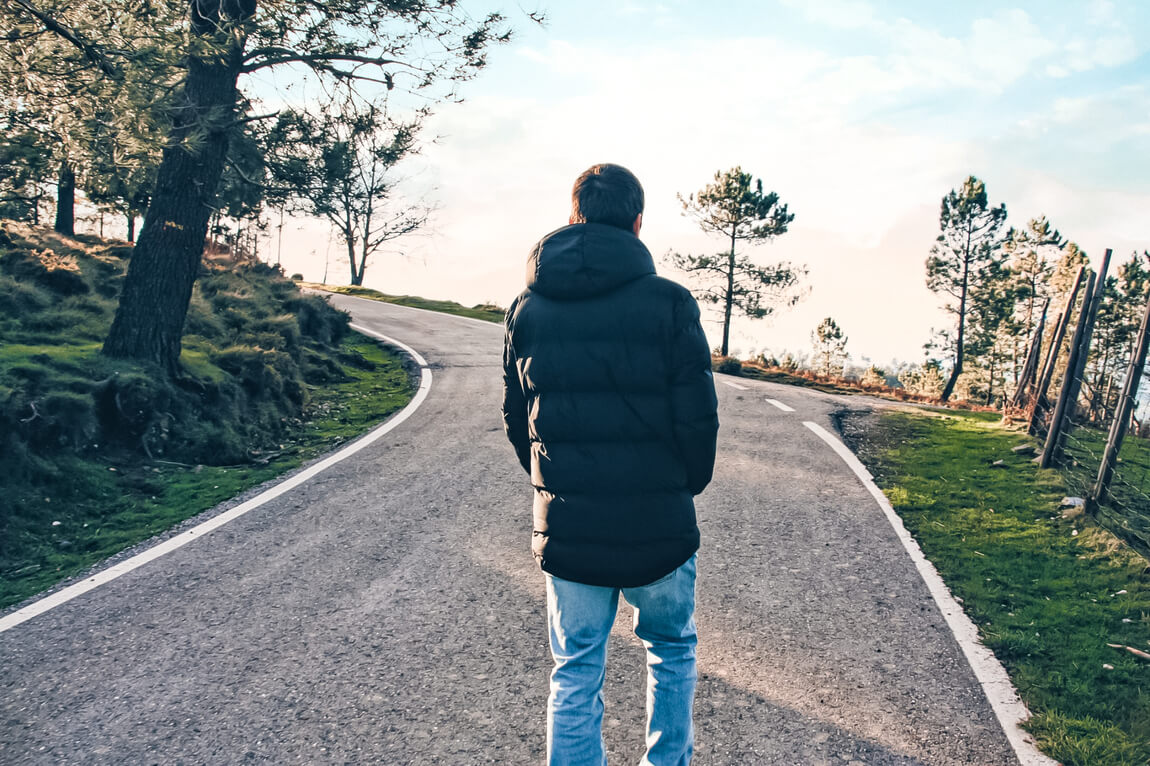 This route, much nicer than the previous one, gave us beautiful views. We were also lucky to meet a shepherd who was grazing his herd.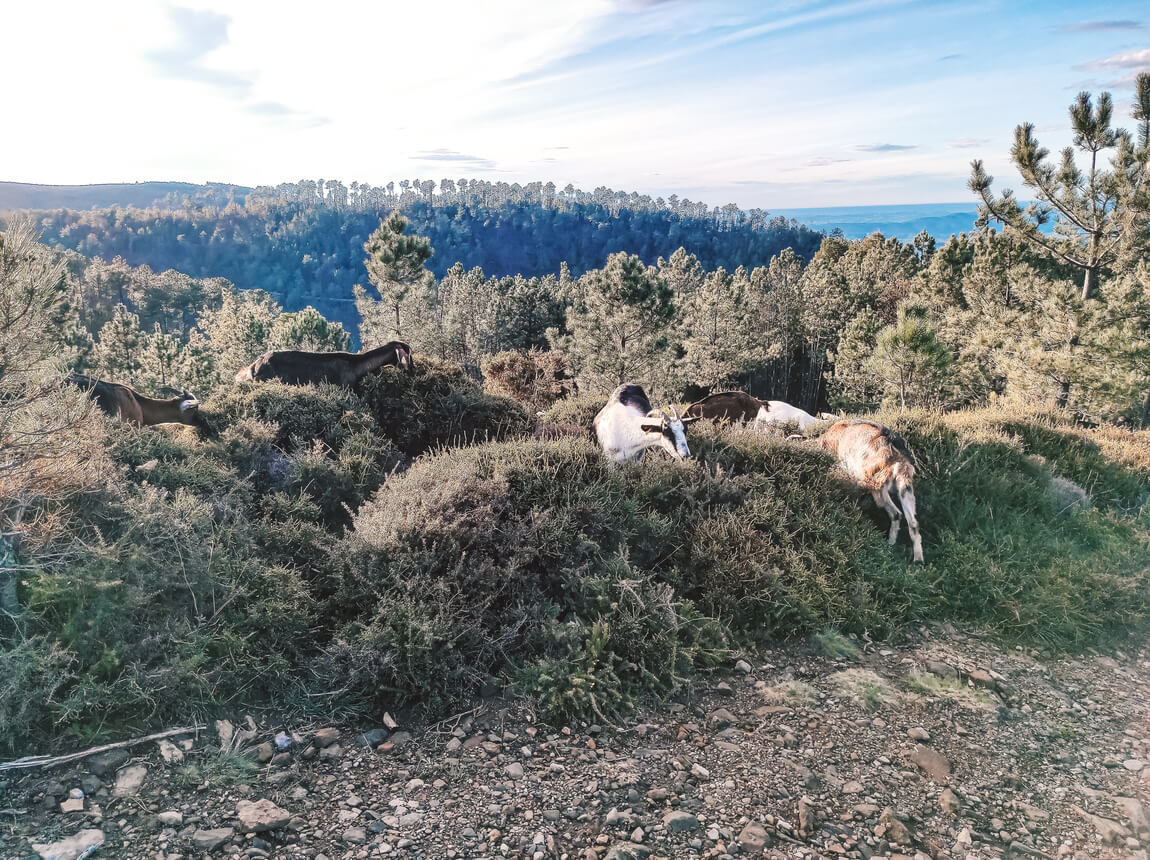 Also in the village of Casal Novo we found ourselves in the middle of an almost deserted village, but not less charming.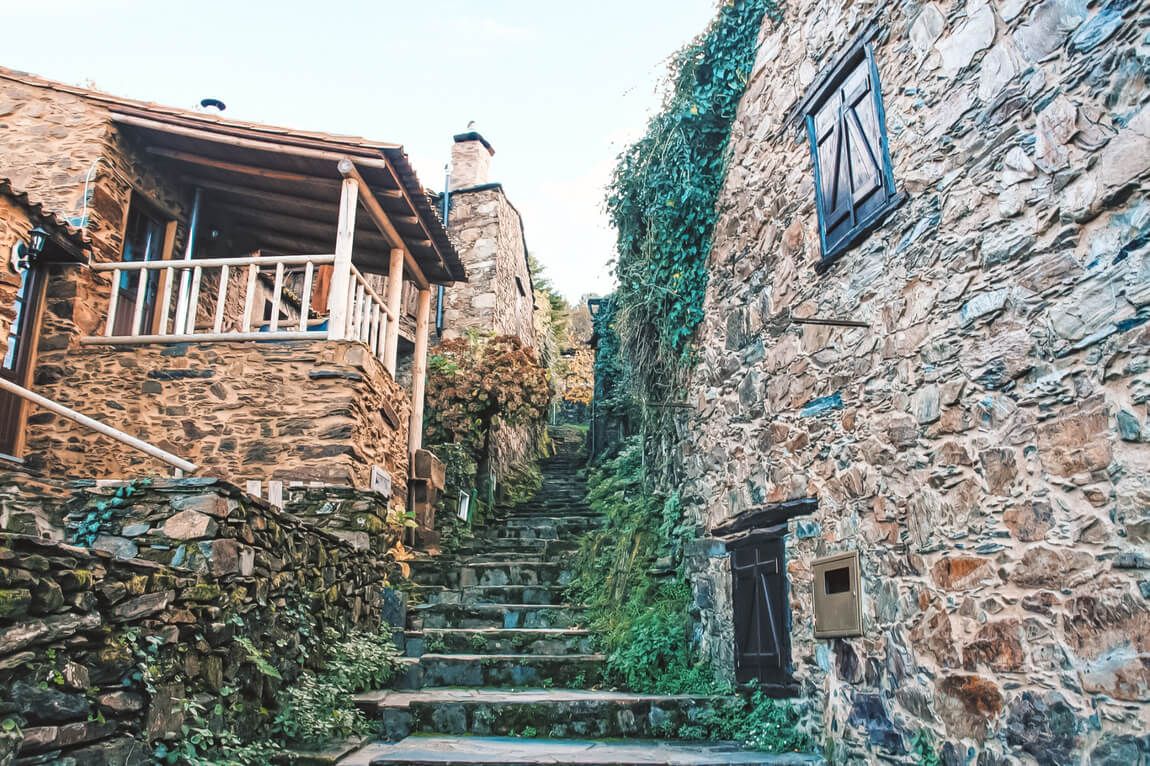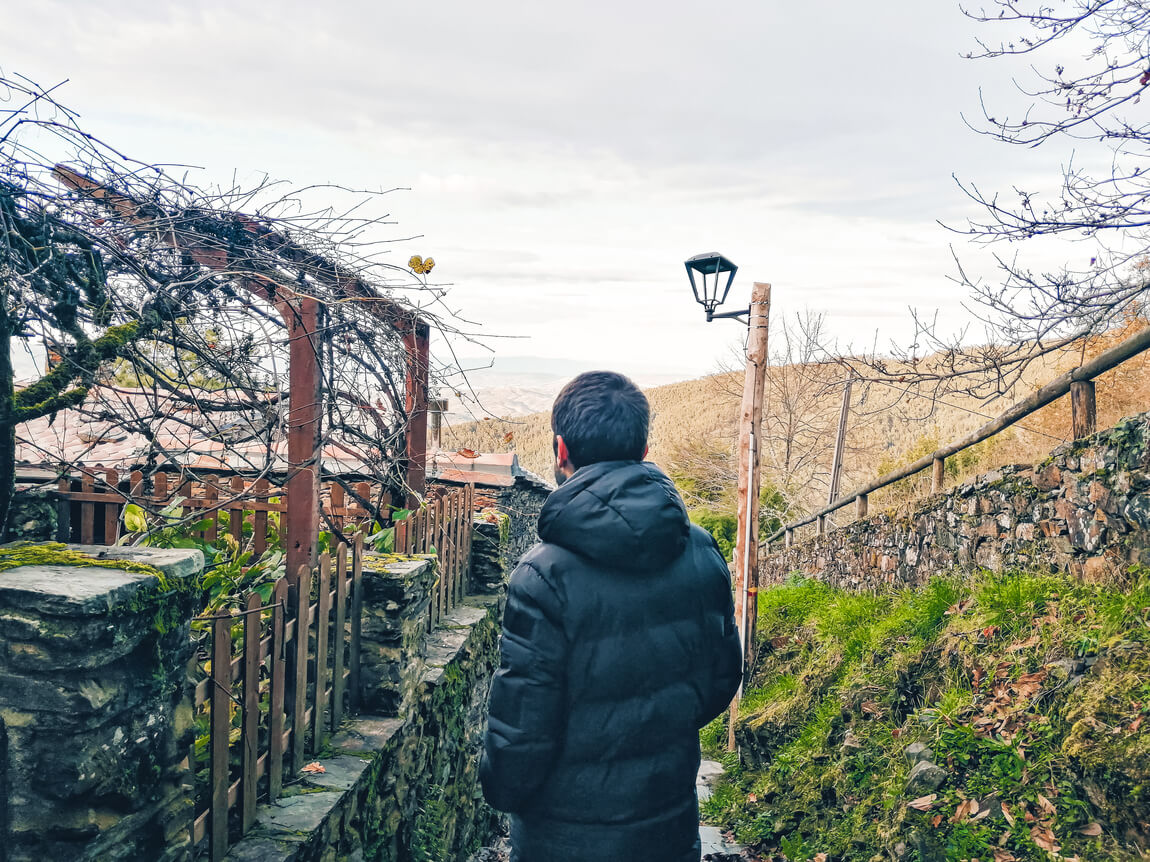 The sun was about to set, and we had to return to Talasnal, where we had started this adventure. This time, we would return by the route PR2 – Schist Villages Route, which takes about 40 minutes. This was clearly the route that most surprised me.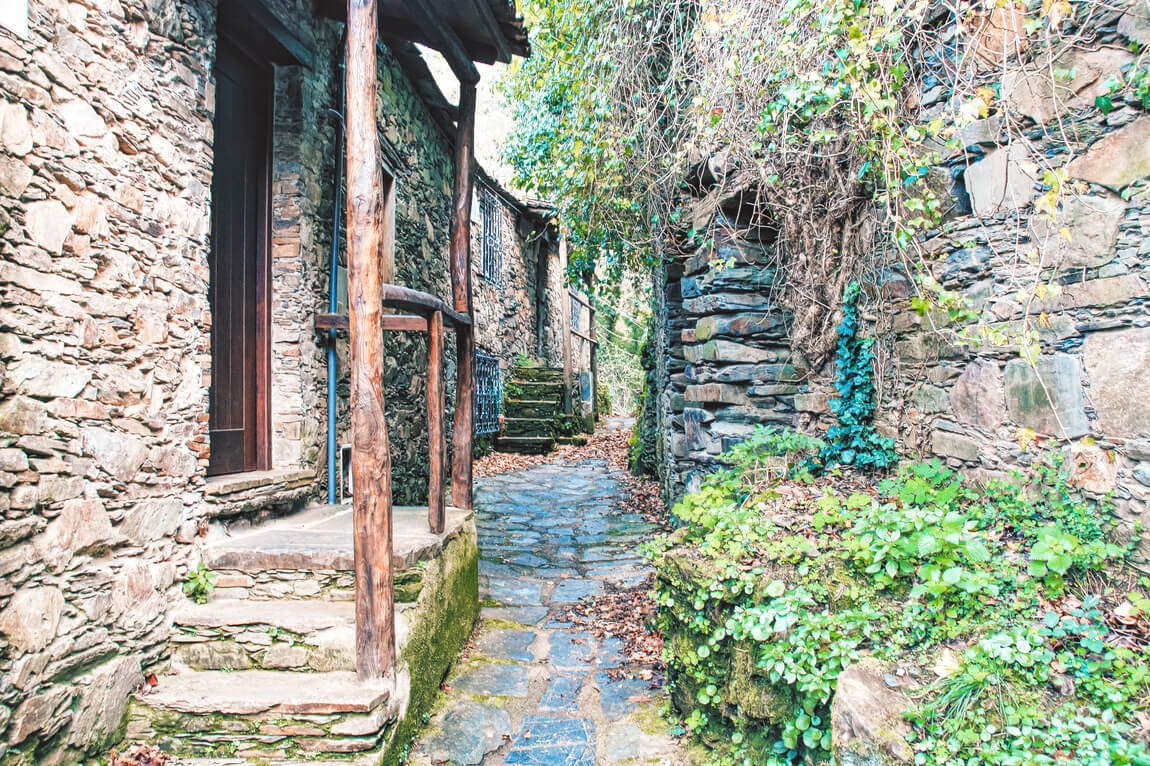 Besides the leafy vegetation, we came across along the way, we also saw several water courses. It was all so beautiful, that we stopped over and over to take pictures! In addition, there are also several viewpoints over the village of Talasnal.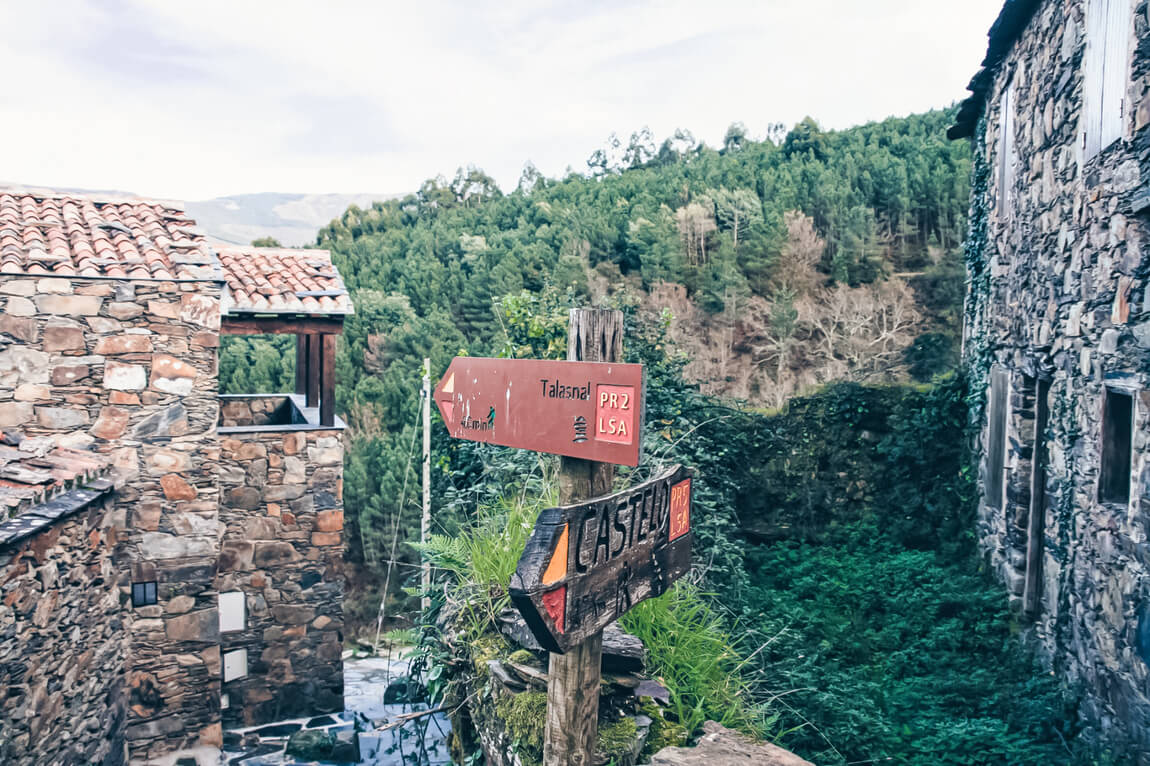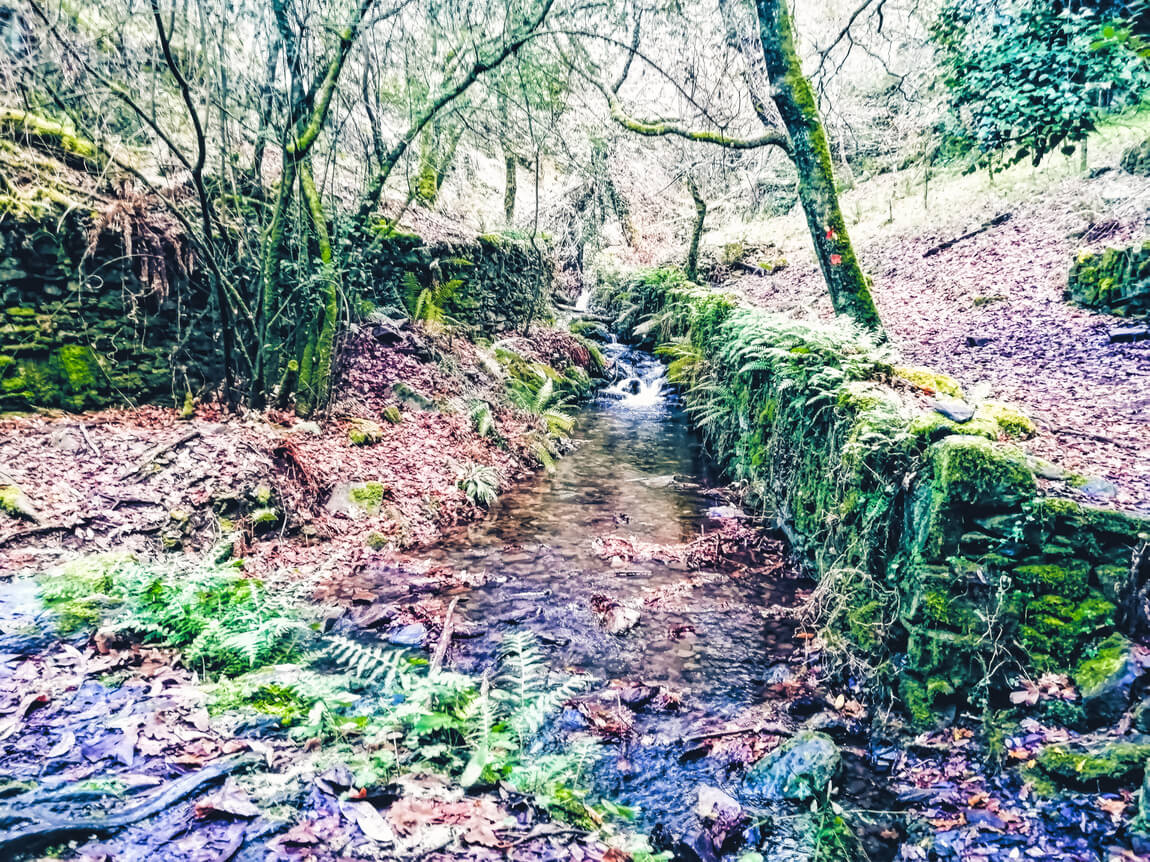 » Candal
This village is one of the easiest to access in terms of parking. We easily park the car at the village "entrance" and the best is to explore it on foot. The village has some points of interest, from the fountain to the water mills or even the olive oil mill.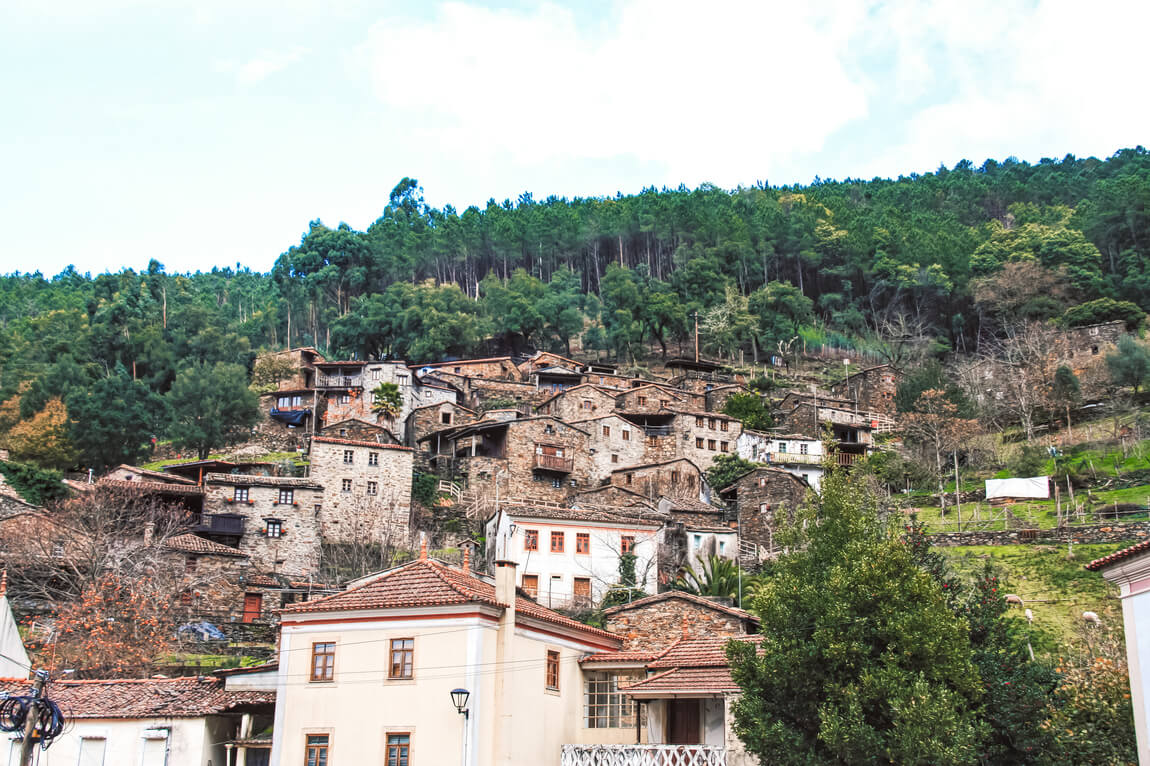 However, take the opportunity to go up to the viewpoint with spectacular views of the village. If you are facing the village, the viewpoint is on the left side.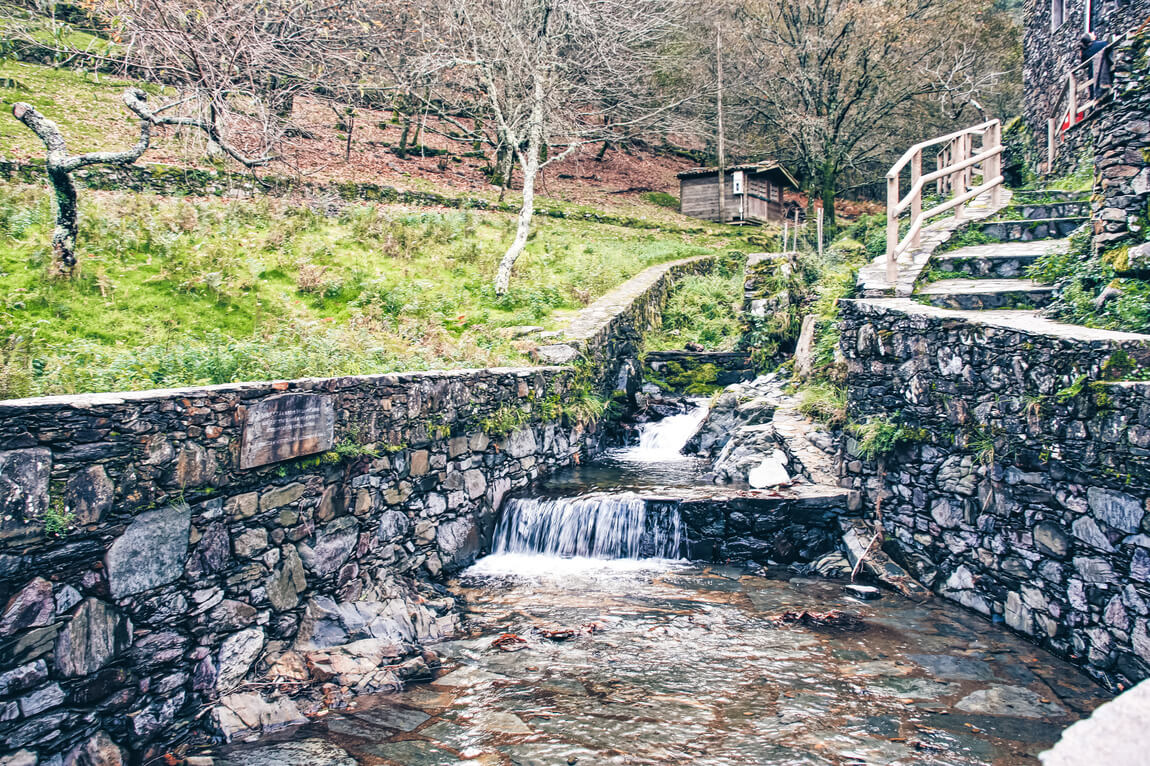 This is still one of the few villages that has a small restaurant and a shop to buy some regional products. Here the food is also wonderful and homemade.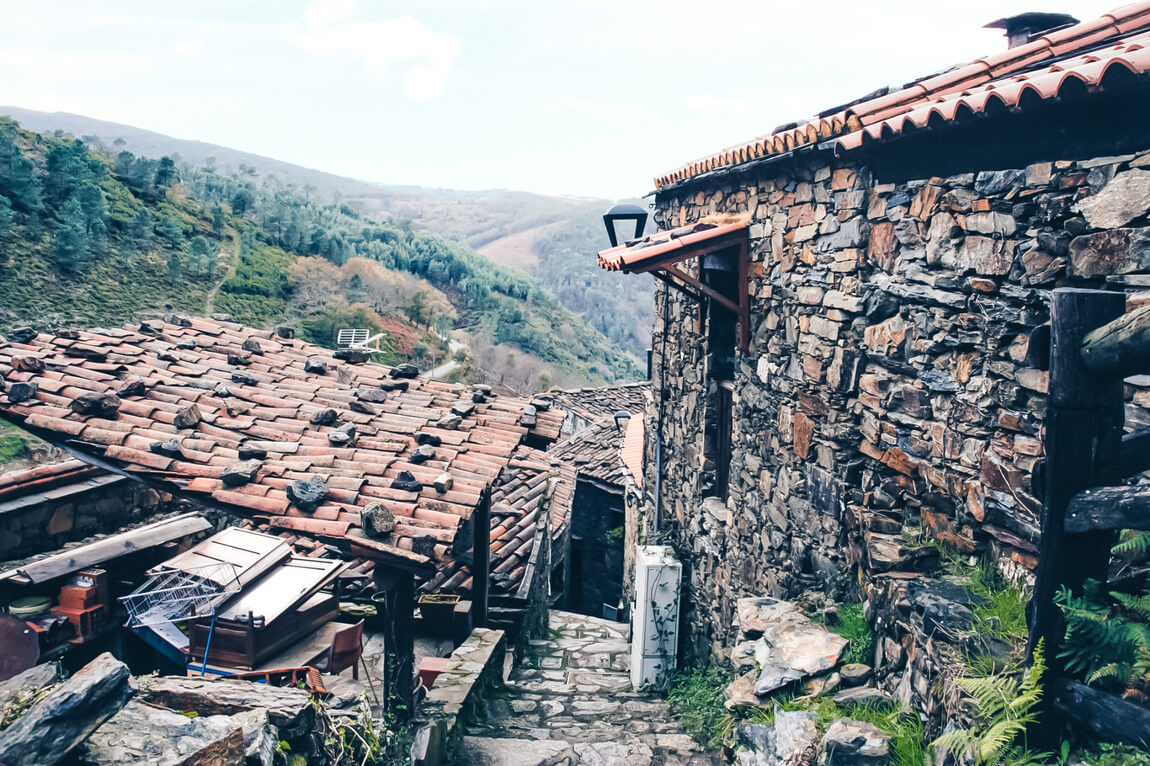 If you have some time available, also take the opportunity to visit Candal's waterfall. The route is about 1 km (one way) and is in itself quite pleasant.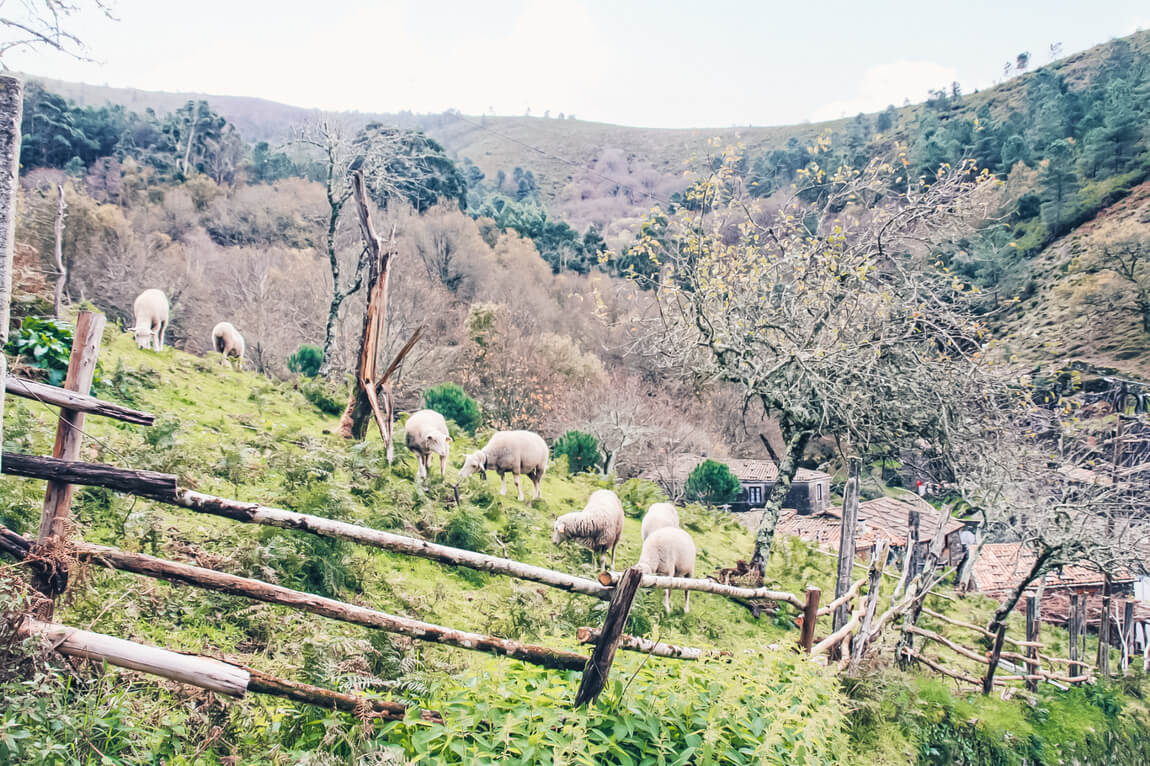 Initially, we were not finding the beginning of the route, but it is quite simple. Just in front of Sabores da Aldeia restaurant, there is a kind of water course… just go down a few stairs and continue there.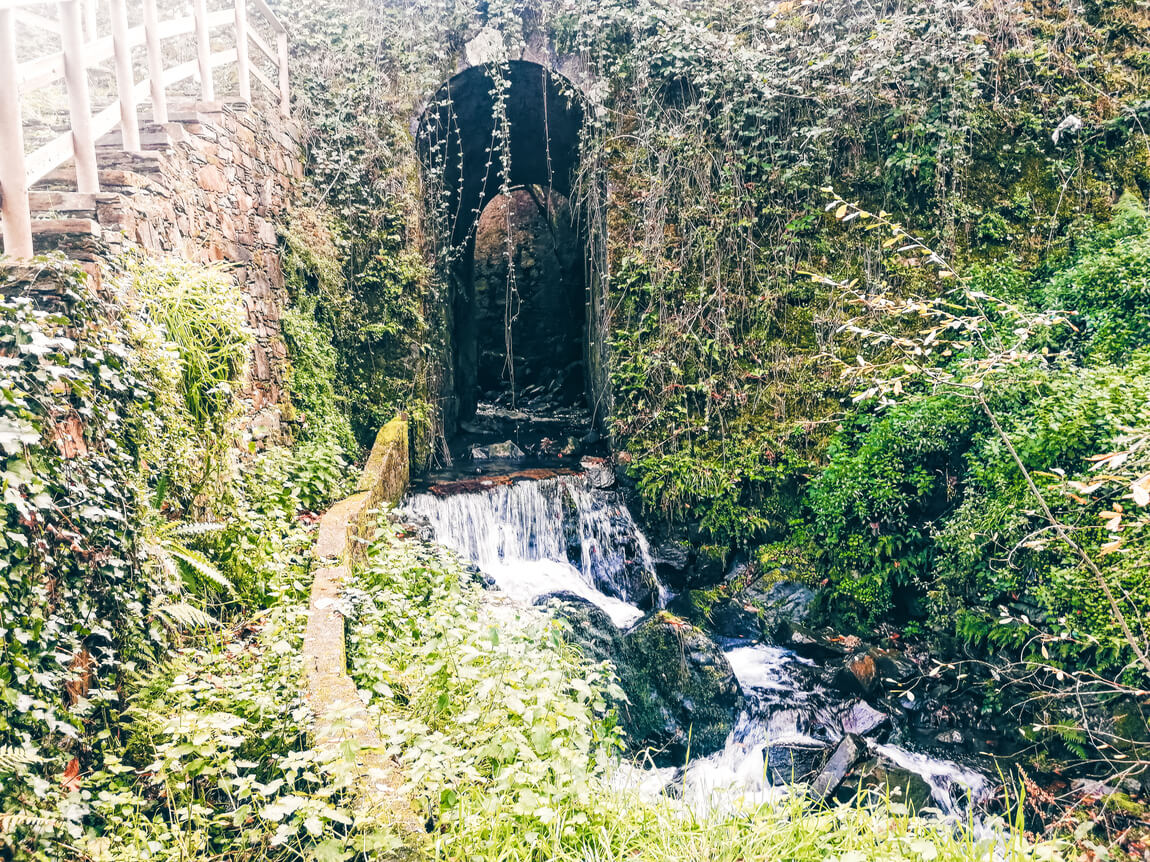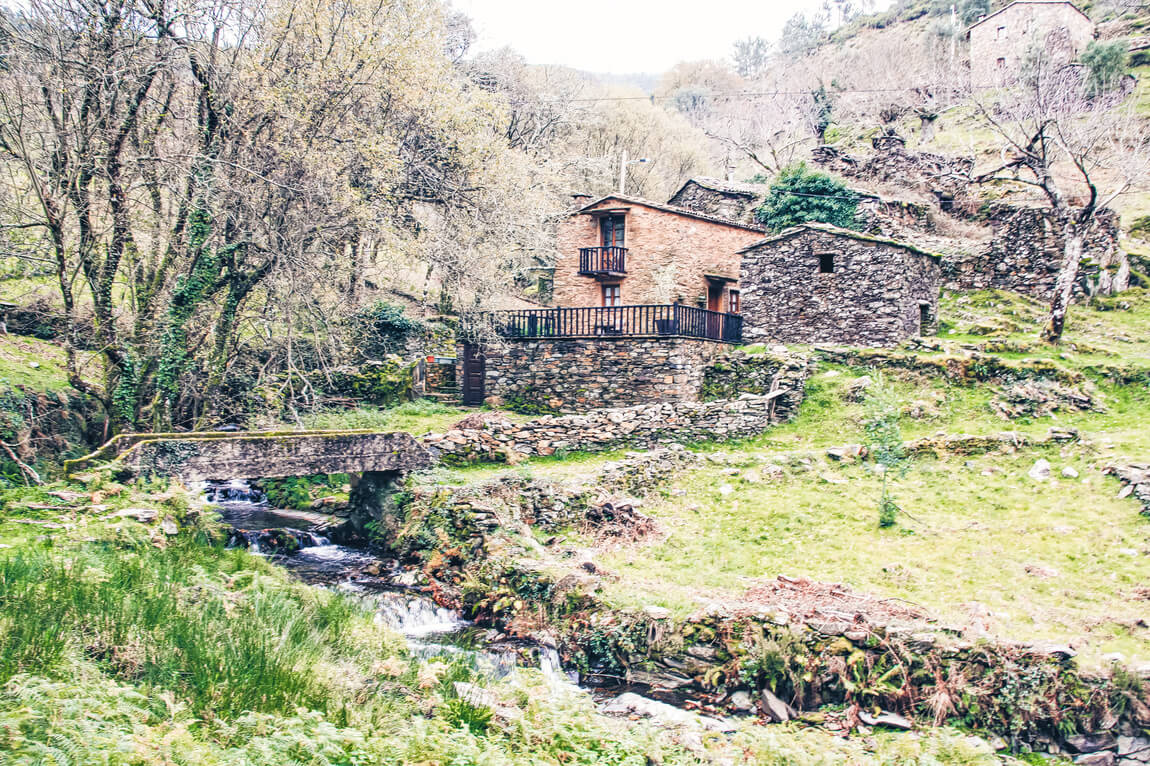 The route is well-marked from then on. Unfortunately, we did not see the waterfall in all its splendour because at a certain point we considered the route a little more complicated and chose not to continue further. Anyway, we could see the waterfall from above.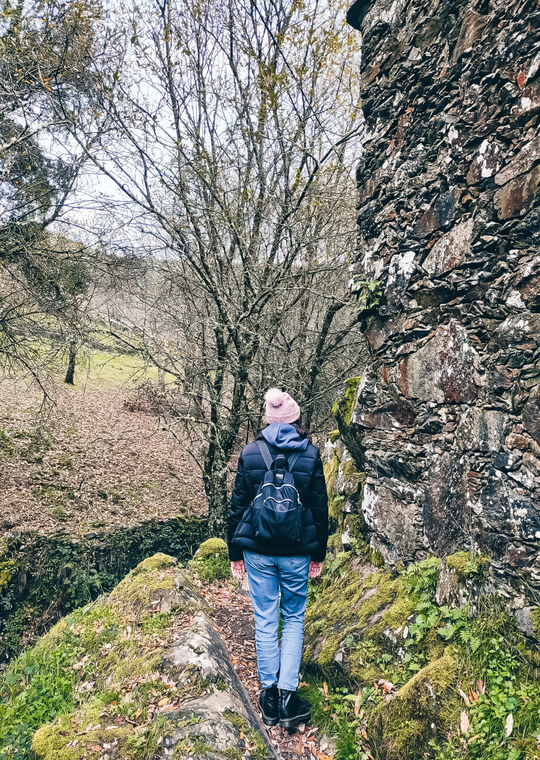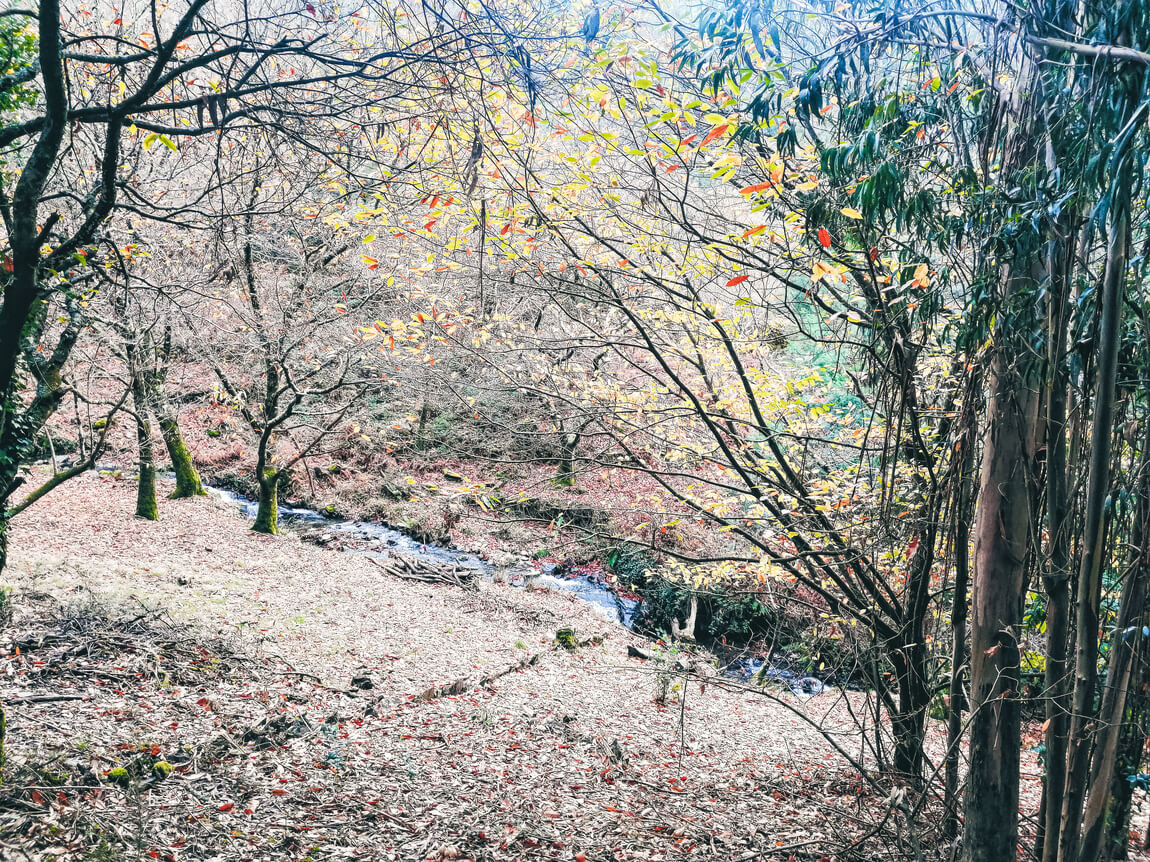 💡 EXTRA TIP: If you have a little extra time, take the opportunity to walk part of the PR3 – Levada Route. This trail connects the villages of Cerdeira and Candal. The trail between the two villages is about 4 km round trip.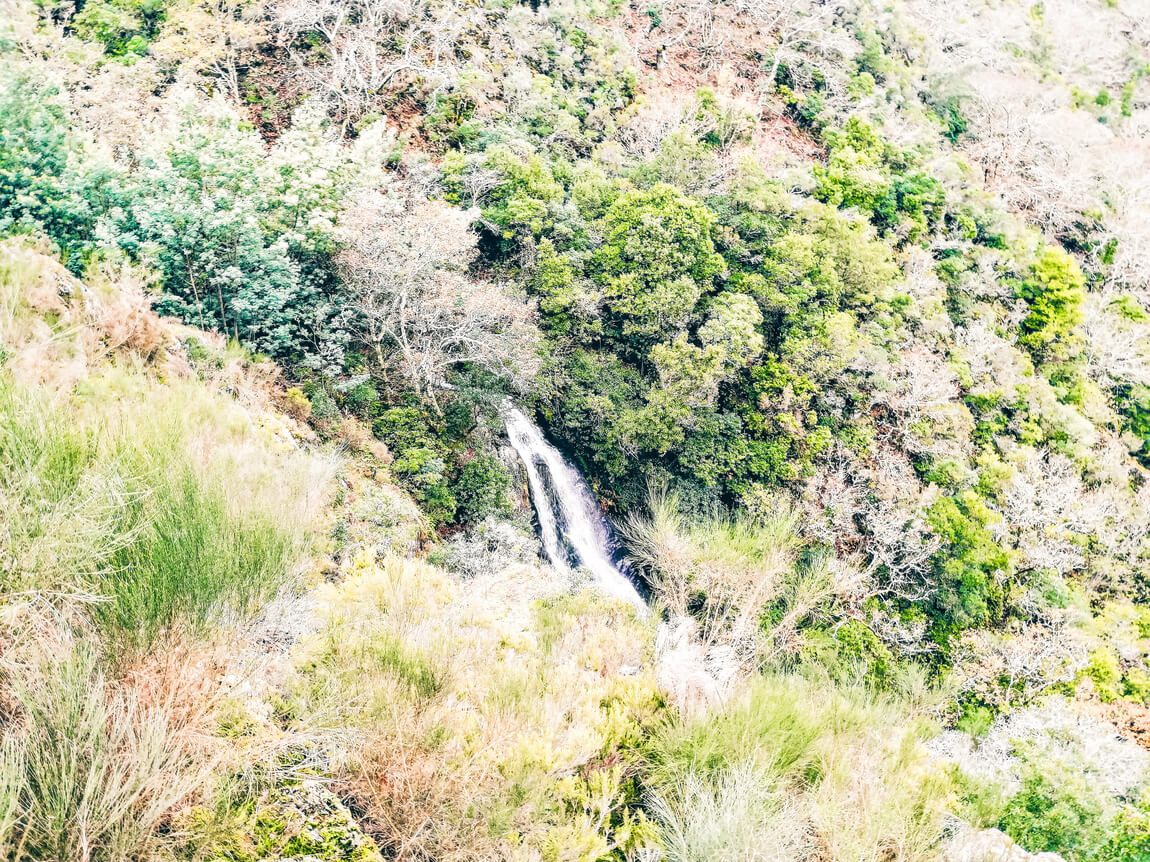 » Cerdeira
According to the Schist Villages project, Cerdeira is "where inspiration lives". After a rehabilitation project of the village, Cerdeira is now a place of artistic creation.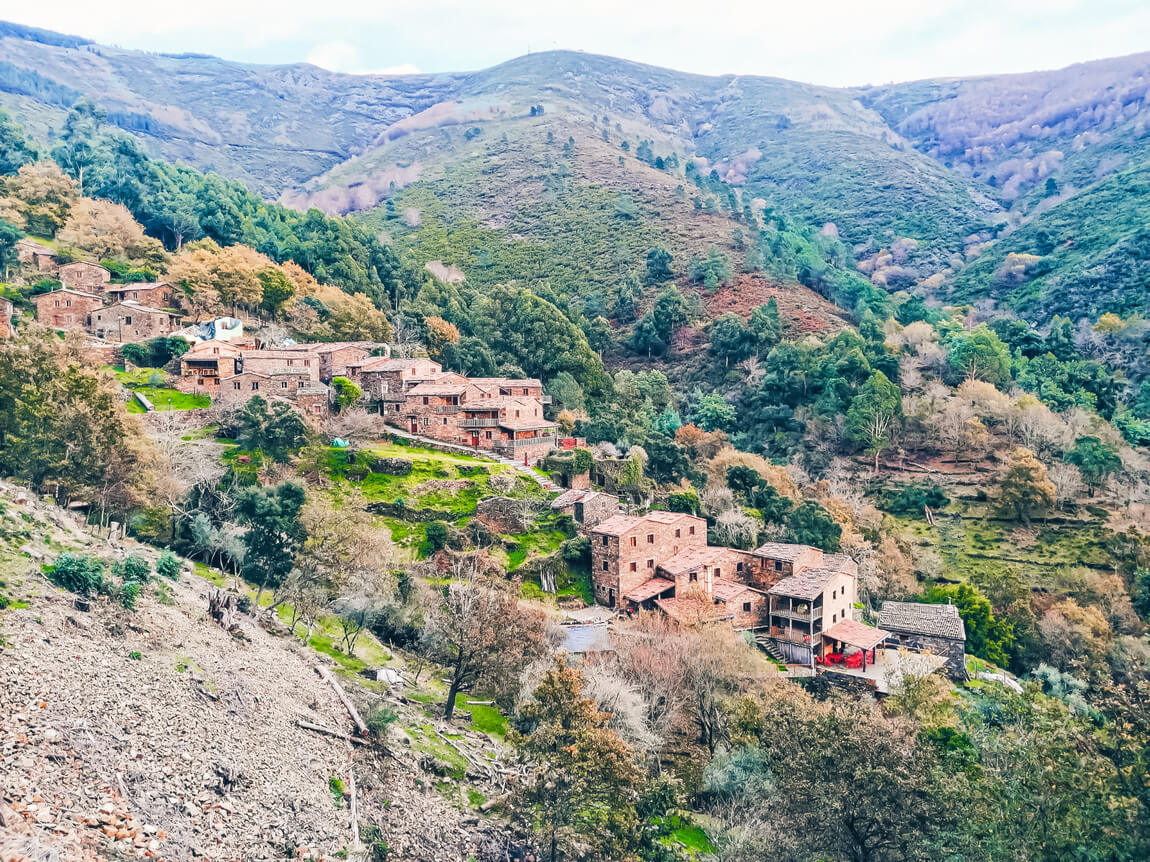 The houses are well taken care of, and it is a delight to walk along its streets. If you have the opportunity, do not miss a night in the fantastic Cerdeira – Home for Creativity.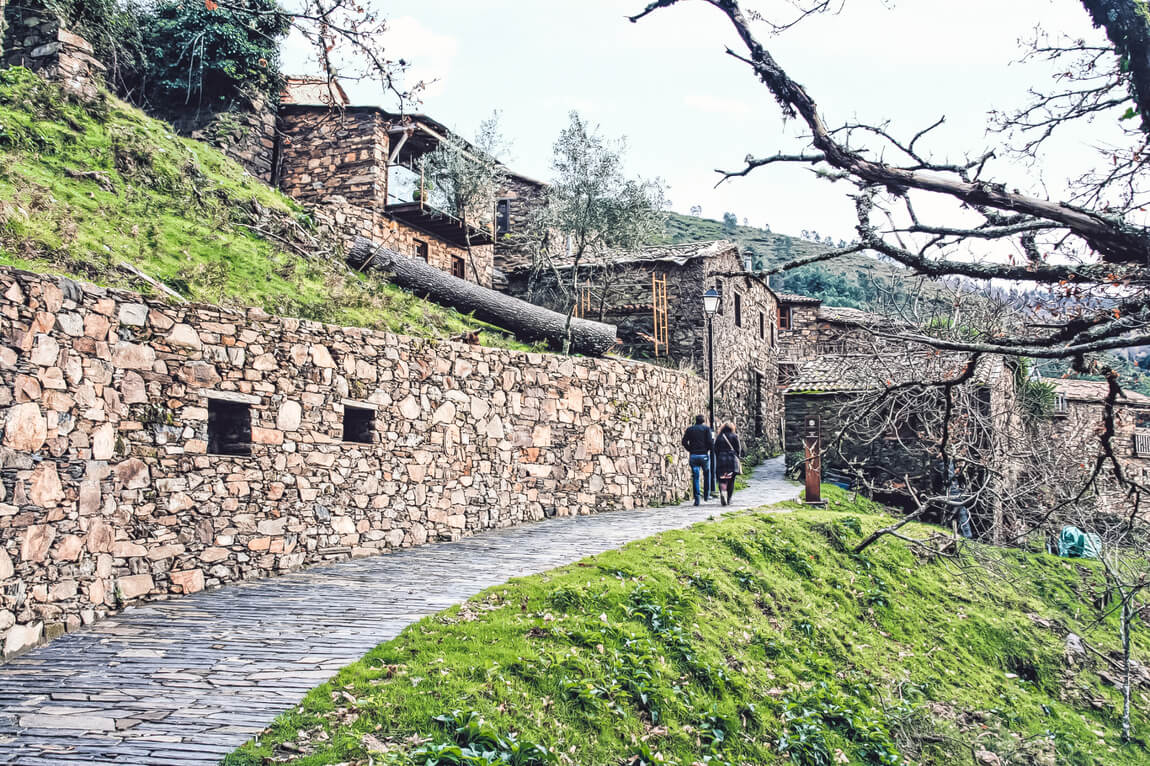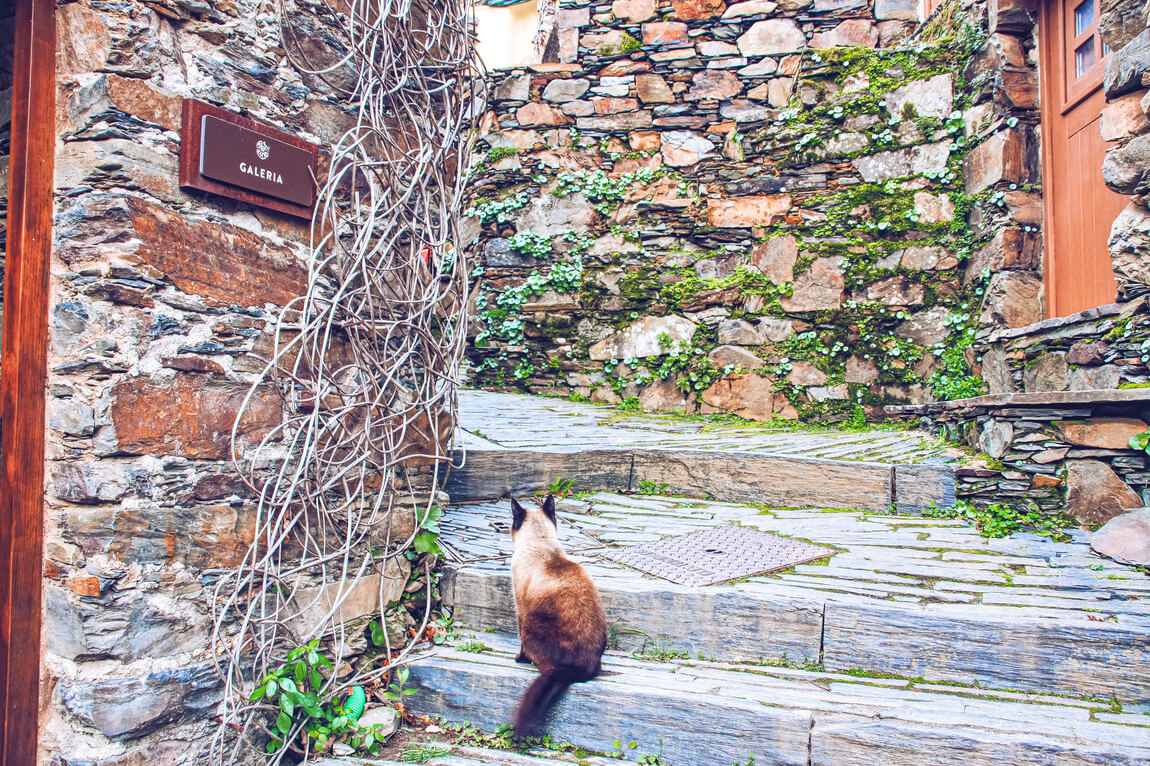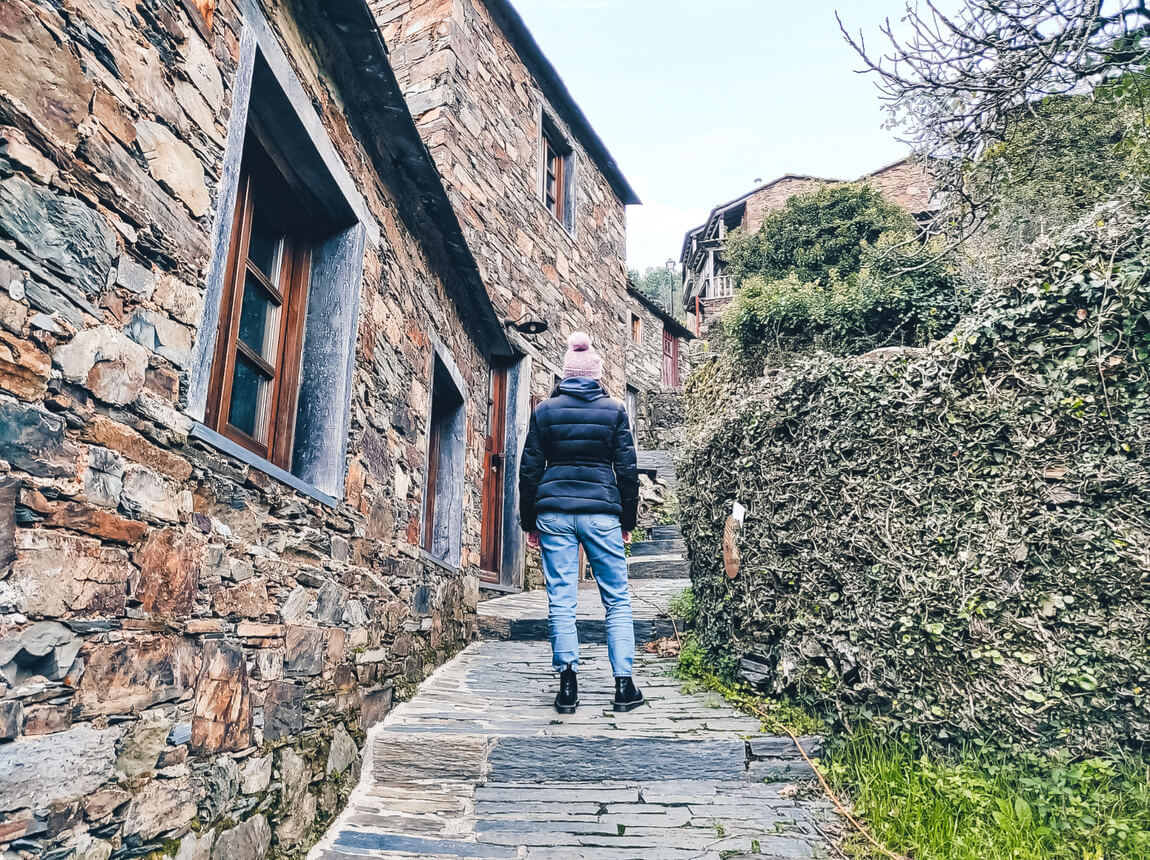 » Vaqueirinho
Although it is not officially considered a Schist Village, Vaqueirinho village is also full of small schist houses.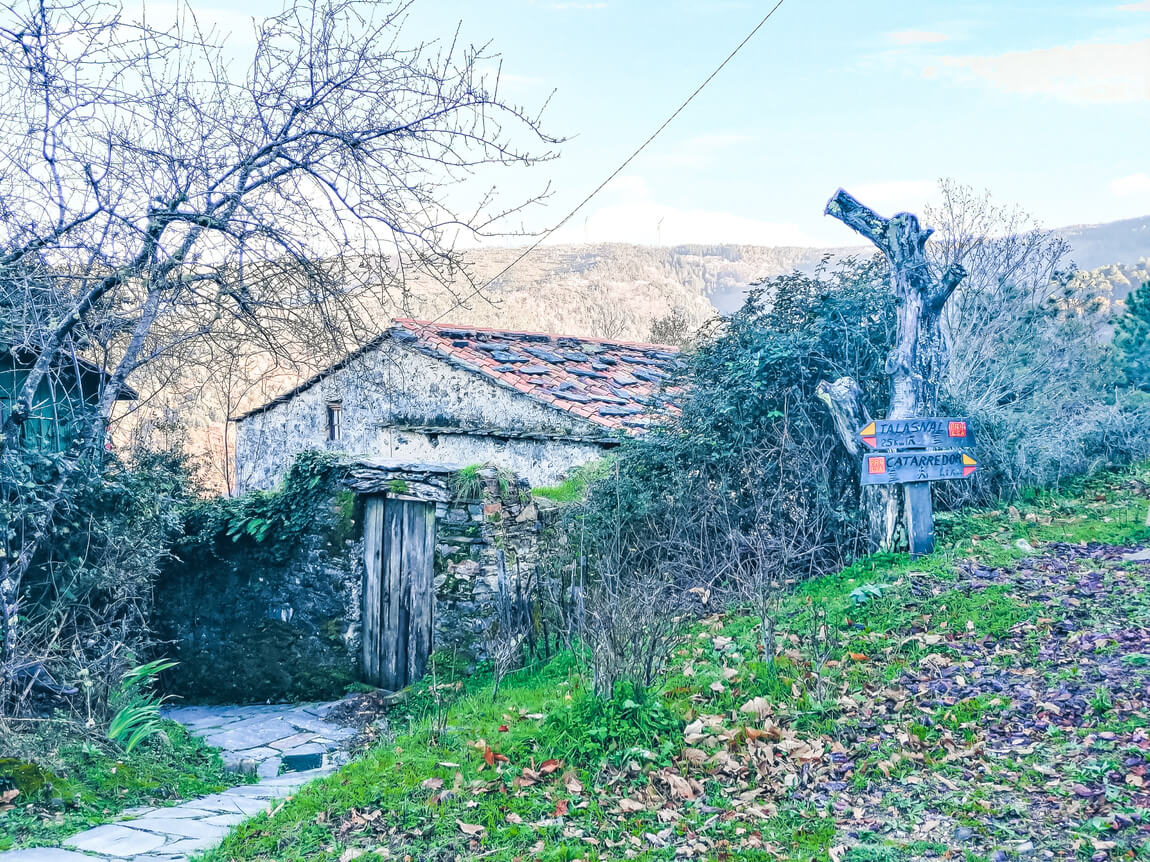 When we arrived there, we came across a van, where you could see exposed animal bones on the dashboard. While we were there, we saw absolutely nobody.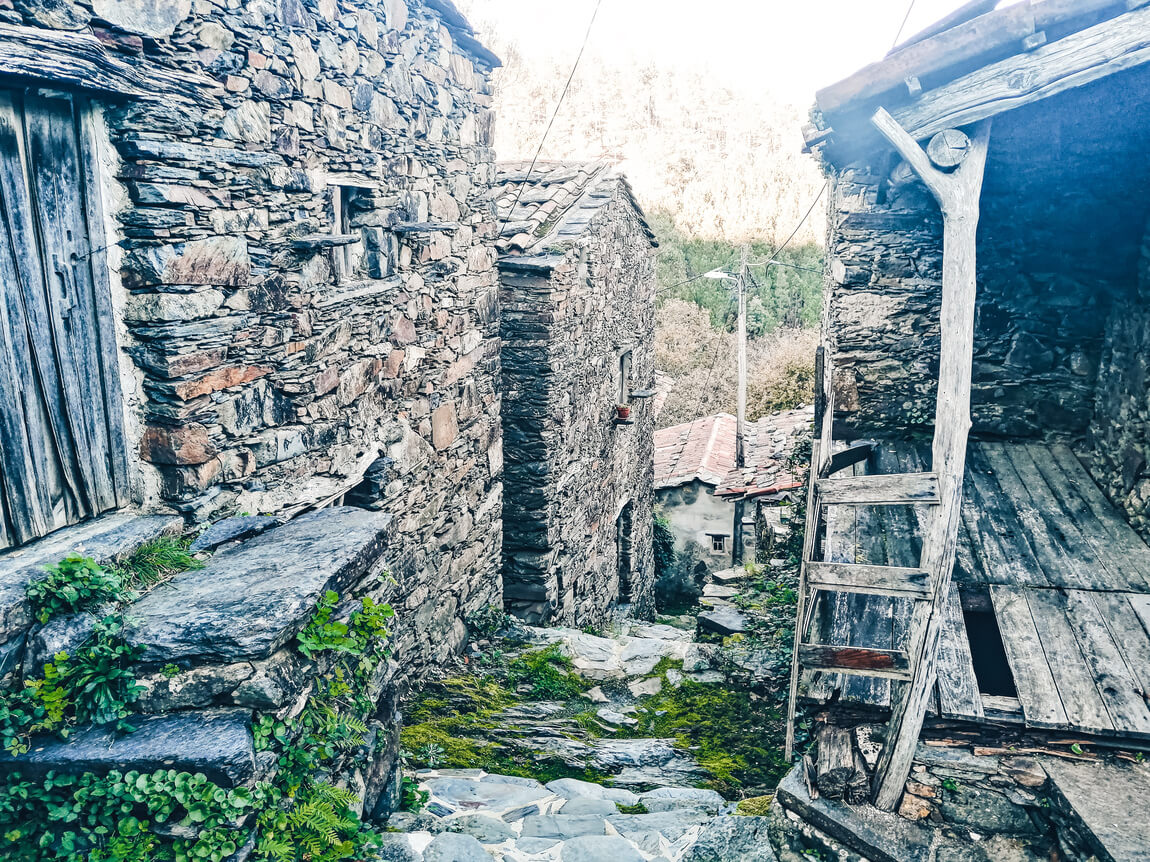 Clearly more degraded than the other villages, here we were welcomed by a lovely family of cats who ended up accompanying us throughout the visit.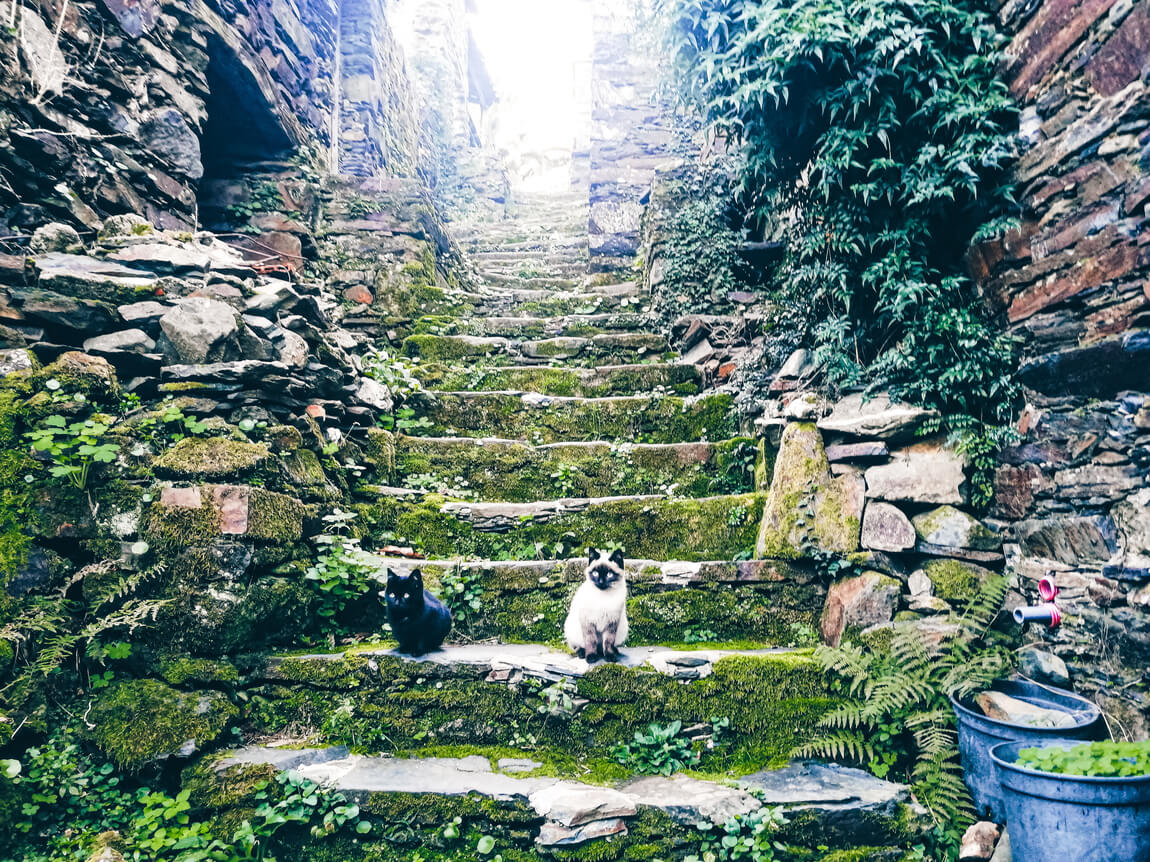 The cats were present in almost all of our visits to the Schist villages. In almost all of them, we were received by these extremely docile cats that just wanted to interact with us.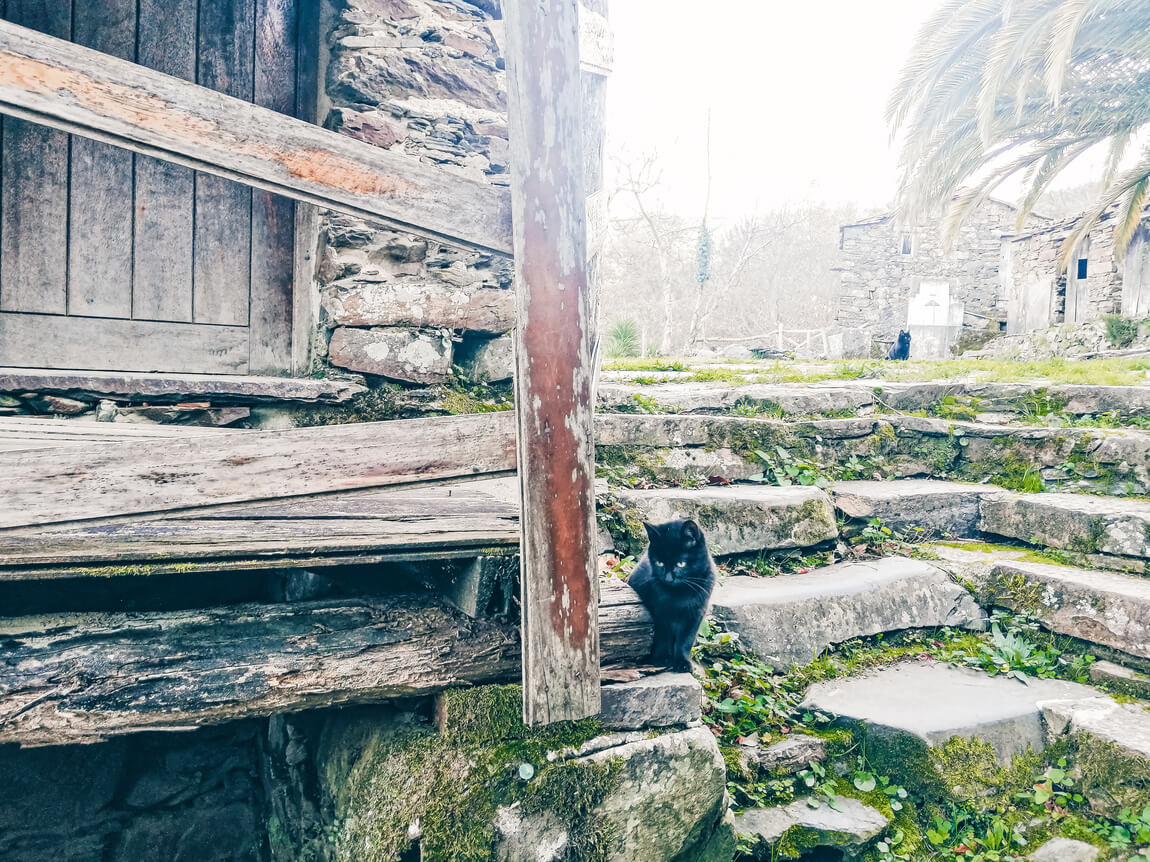 It was in this village that we also saw some more unusual elements, starting with the bar (which that day was closed) "End of the World". In the background, one could hear trance-like music, which was, to say the least, weird.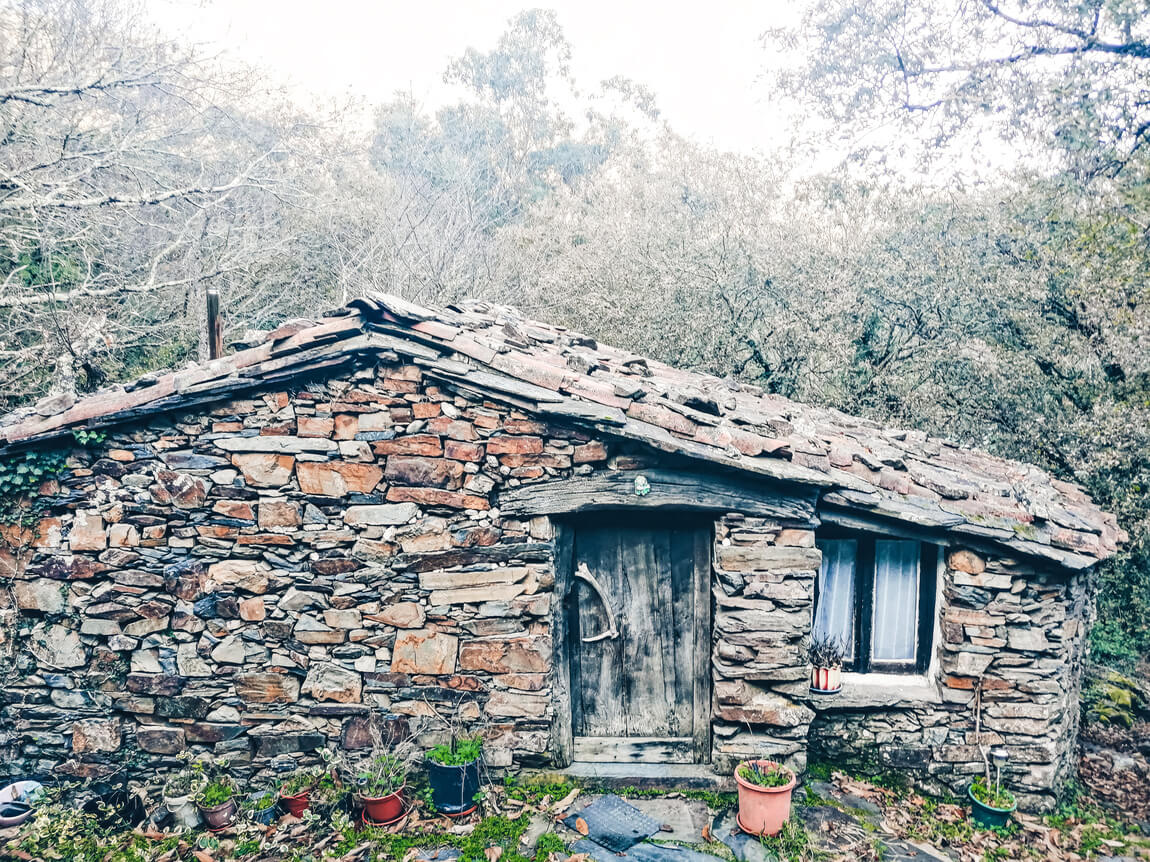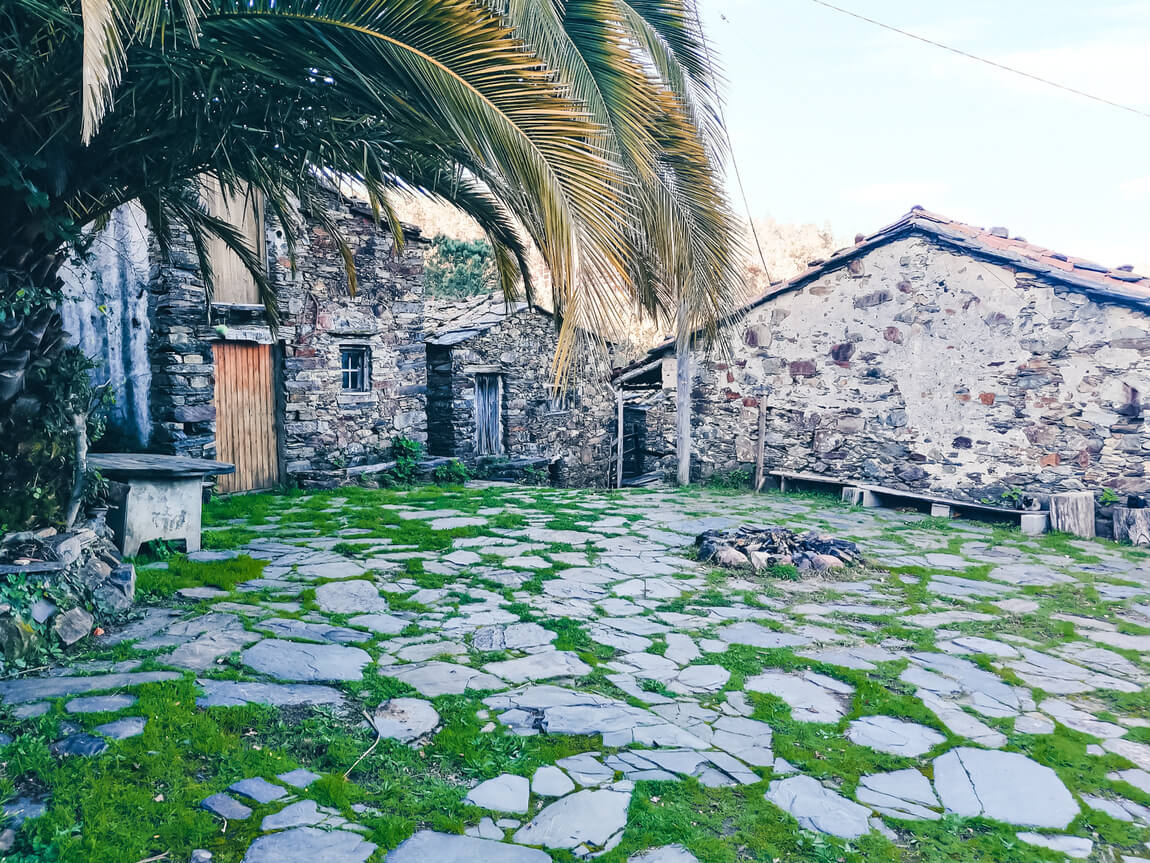 » Catarredor
When we arrived in the Catarredor village (also an unofficial Schist Village), the trance music could be heard even more intensely. After a brief walk through the village, we noticed that it had a very different lifestyle from the other villages we had visited before.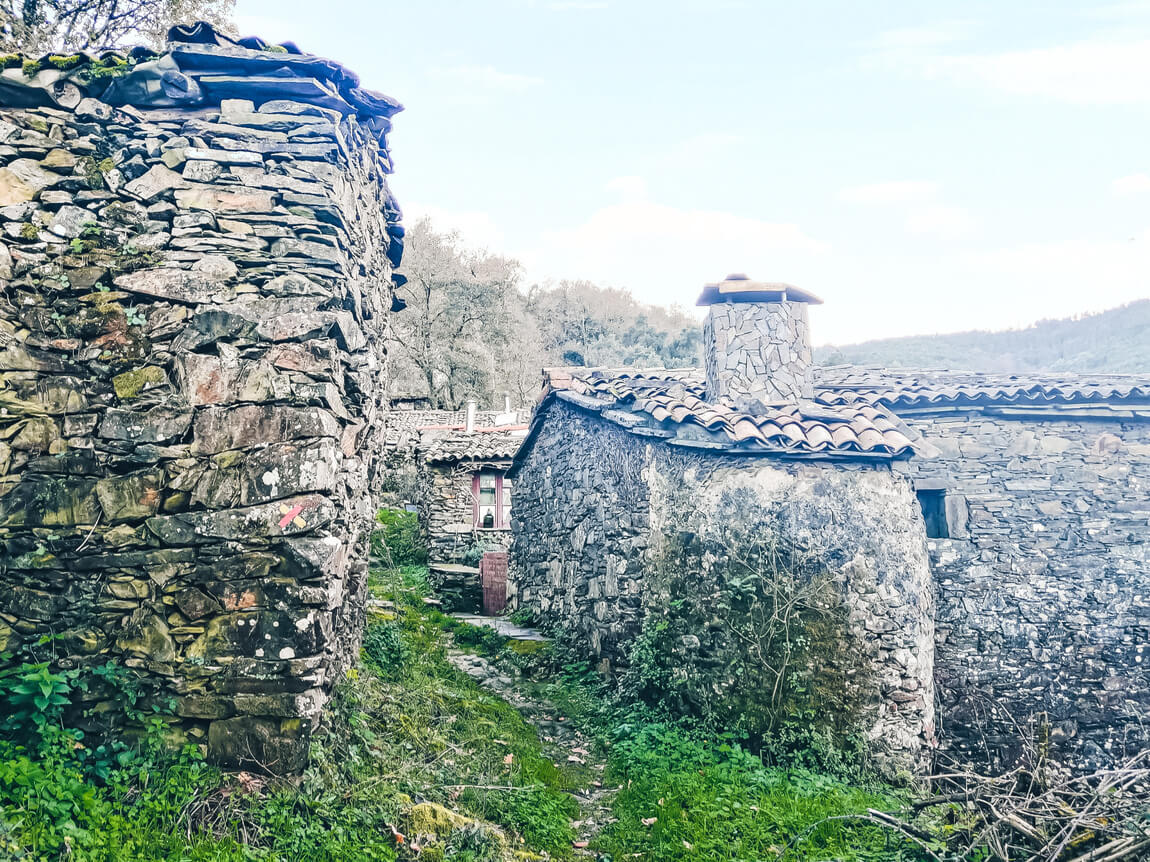 There was another unusual café and a set of other elements that didn't seem to "fit" with the old way of life of these villages.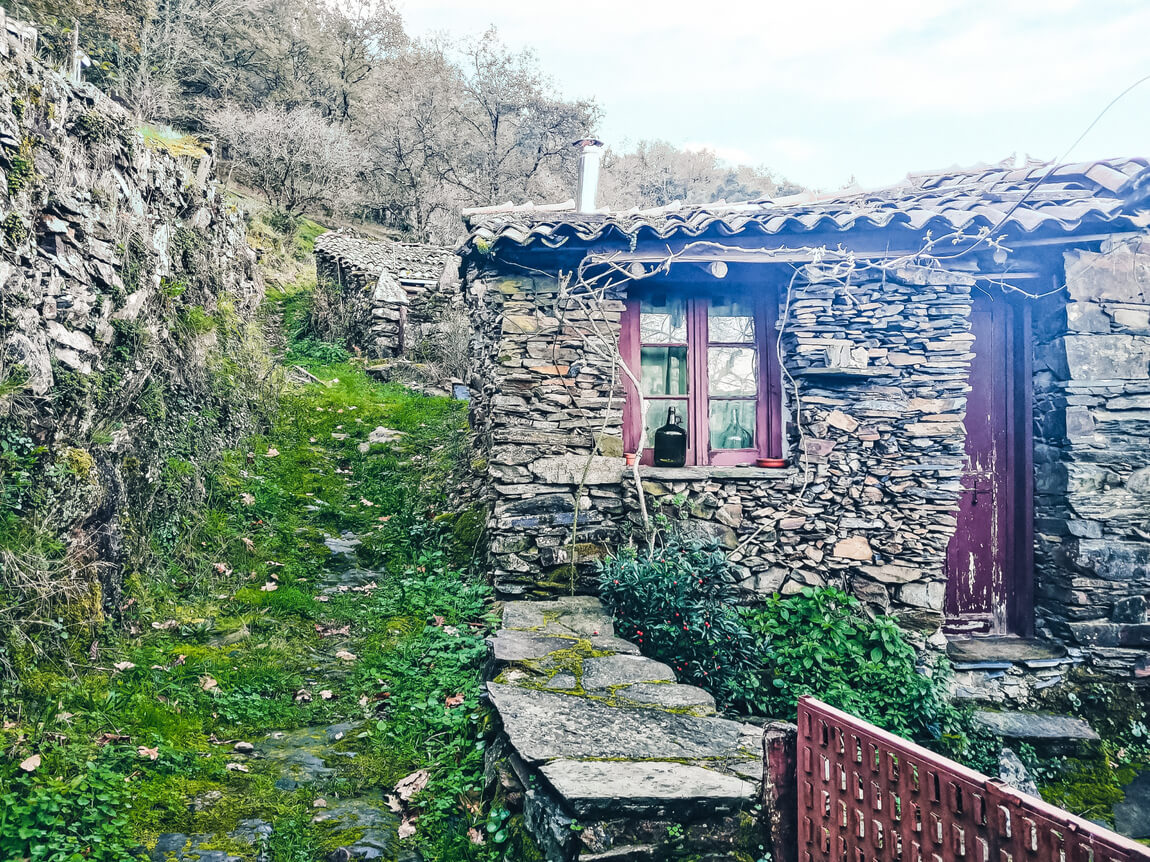 All this in the villages of Catarredor and Vaqueirinho made me curious. So curious that I had to go and research them… and that's when I realized that they are currently inhabited by some immigrants who have chosen to live a simply more "hassle-free" life.
What to visit in Lousã – "This is Lousã" Project
The project "This is Lousã" arose from the idea of two friends who wanted to show the world all that Lousã has to offer.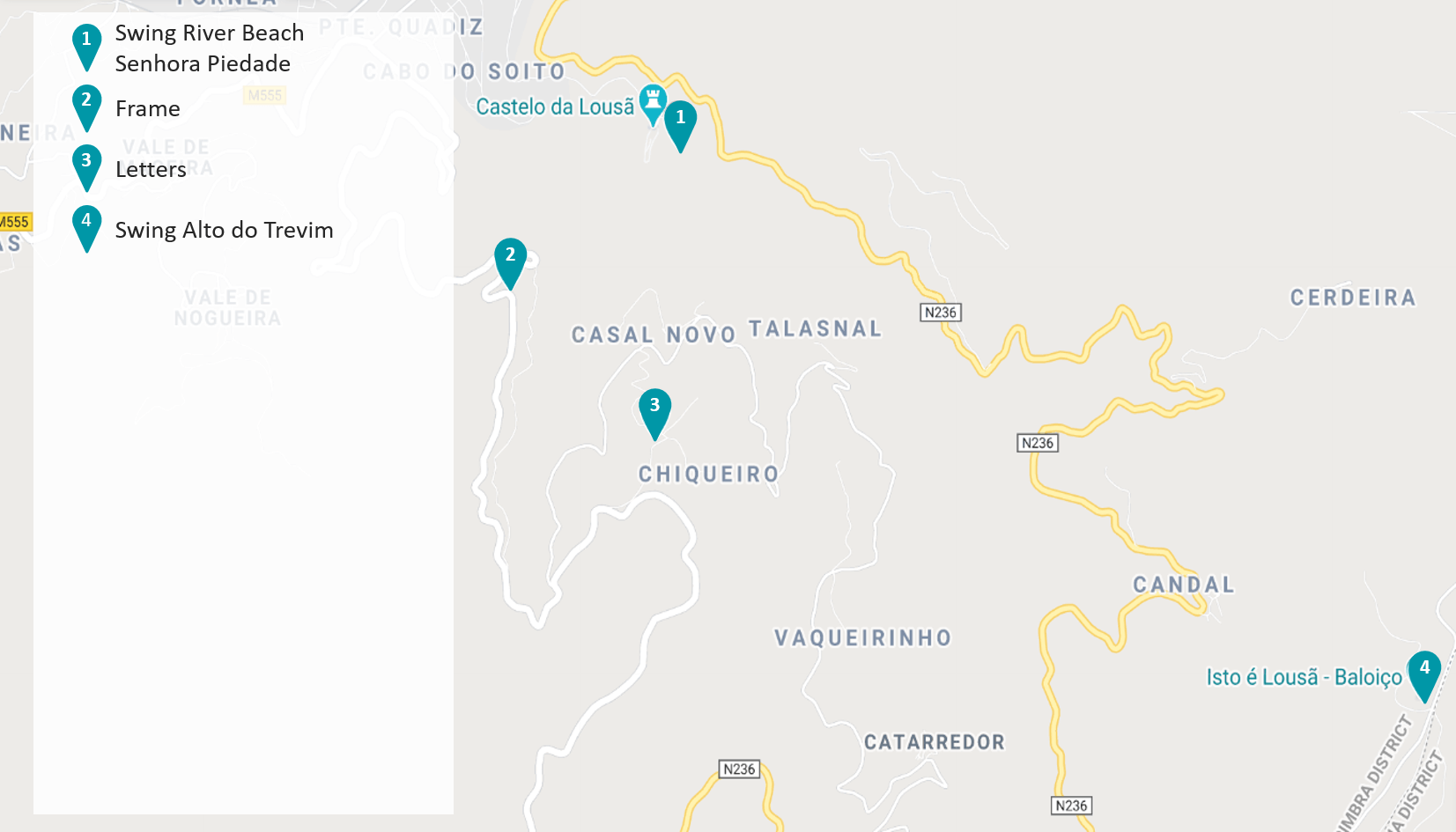 They installed a set of elements in Serra da Lousã, which were strategically placed in places with superb views.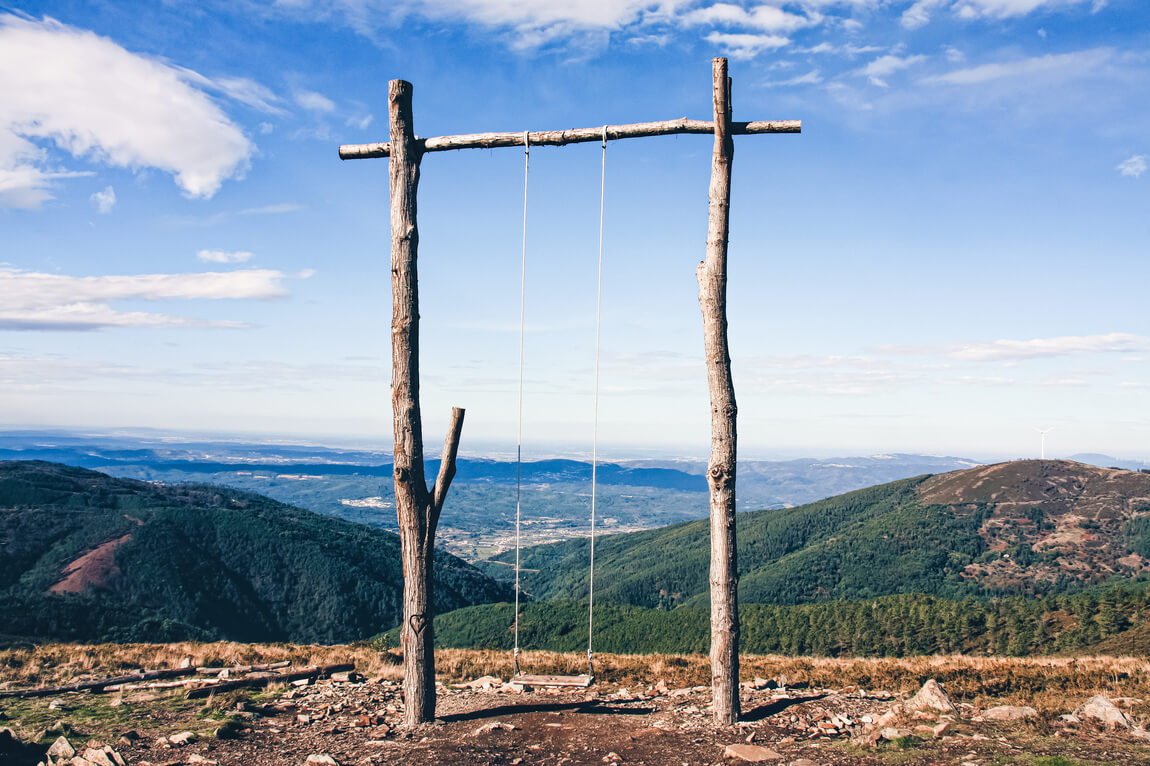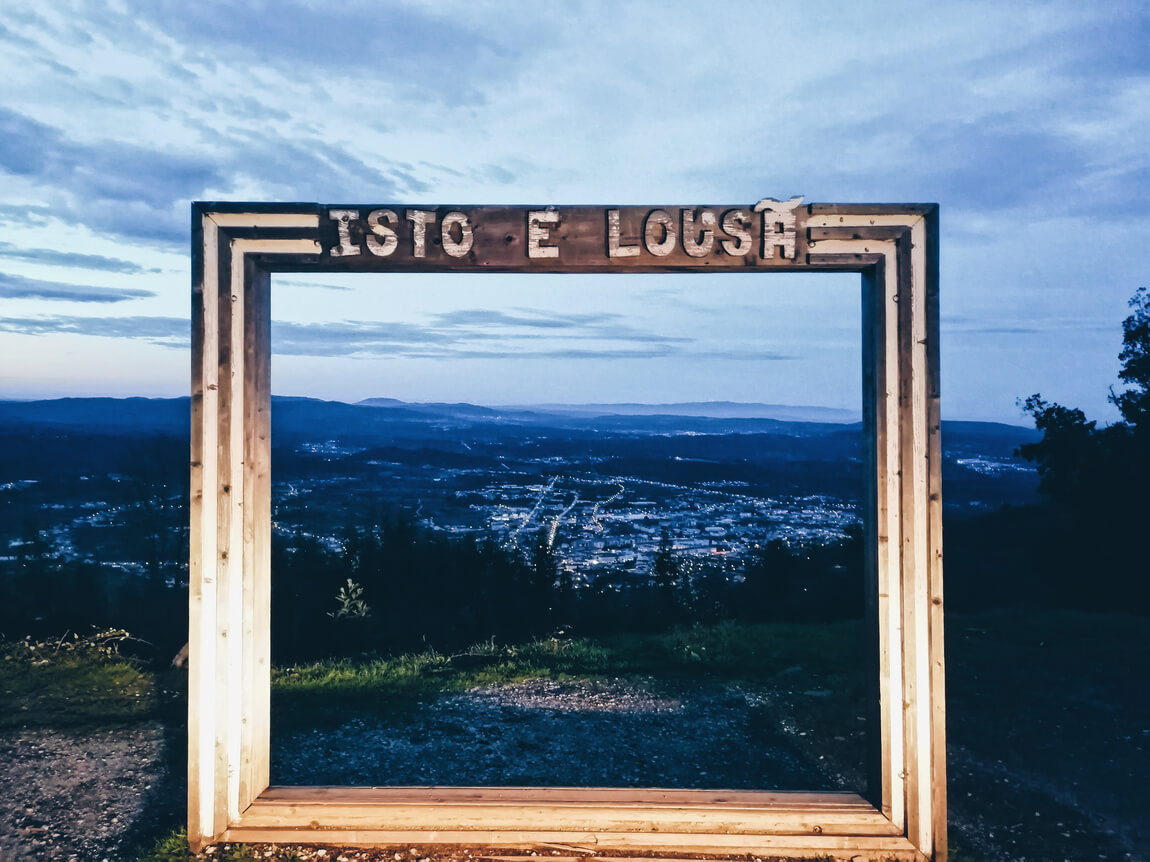 » Swing Alto do Trevim
The route to reach the most famous swing in Portugal is worth it in itself. Up there, the views are really spectacular. The swing is just a fancy detail there!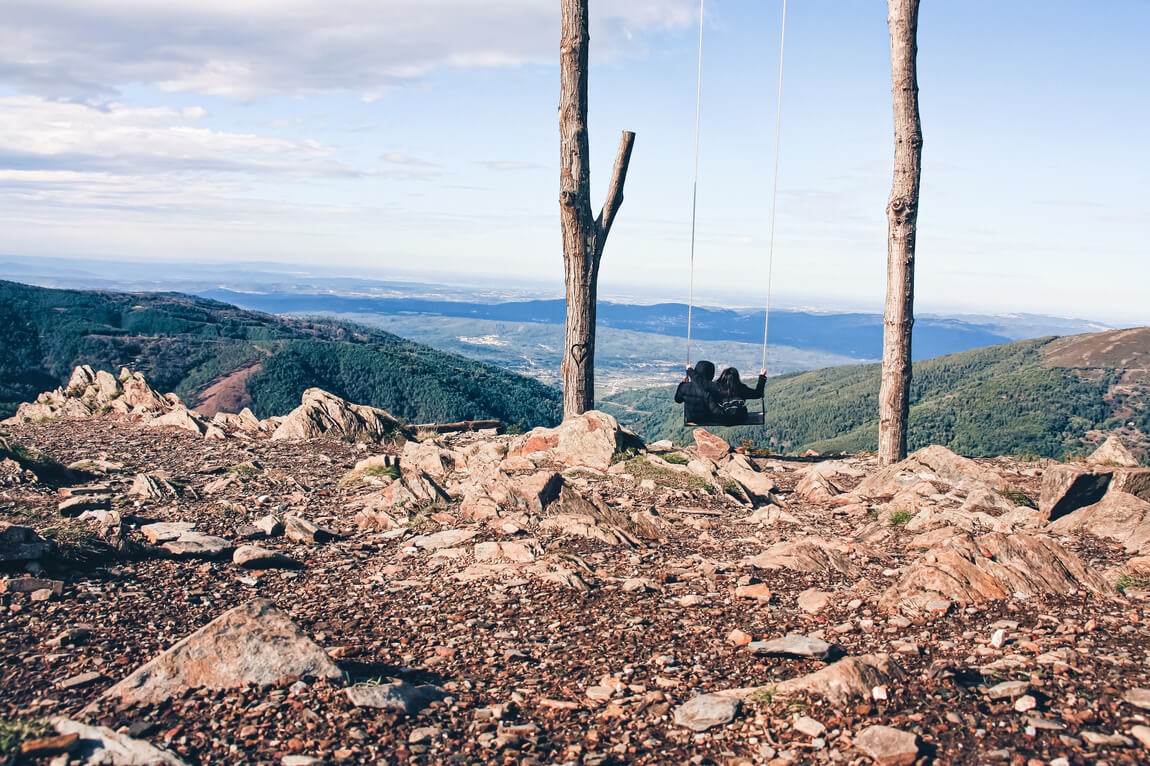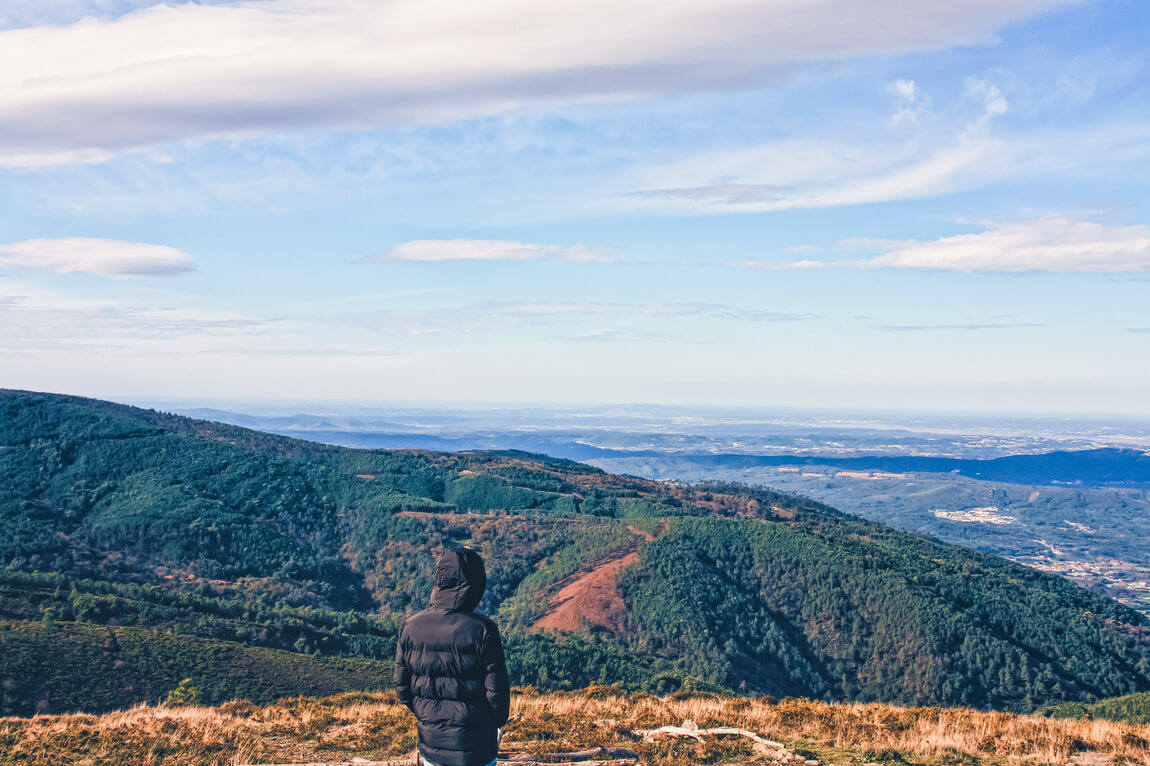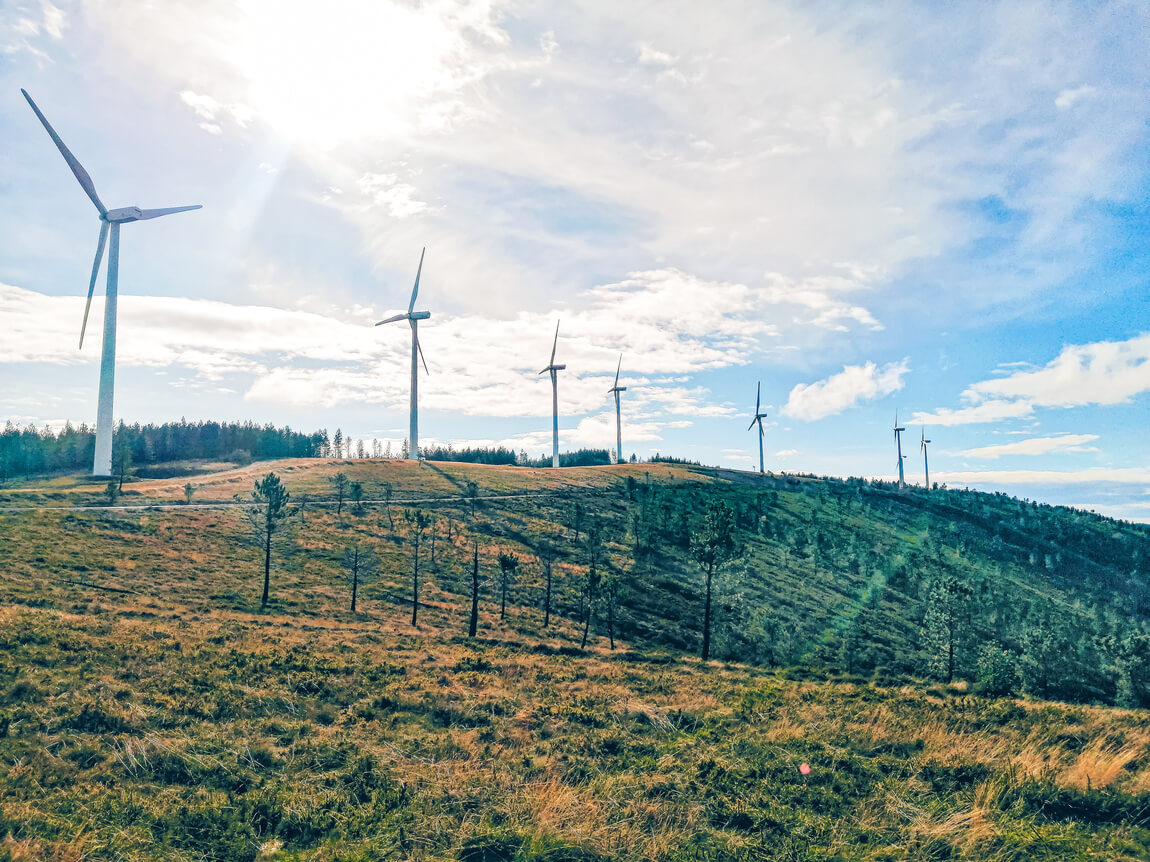 » Frame – This is Lousã
On the way between the centre of Lousã and the Talasnal village, you will pass through here. In our case, we passed this place two or three times, and so we took several photos.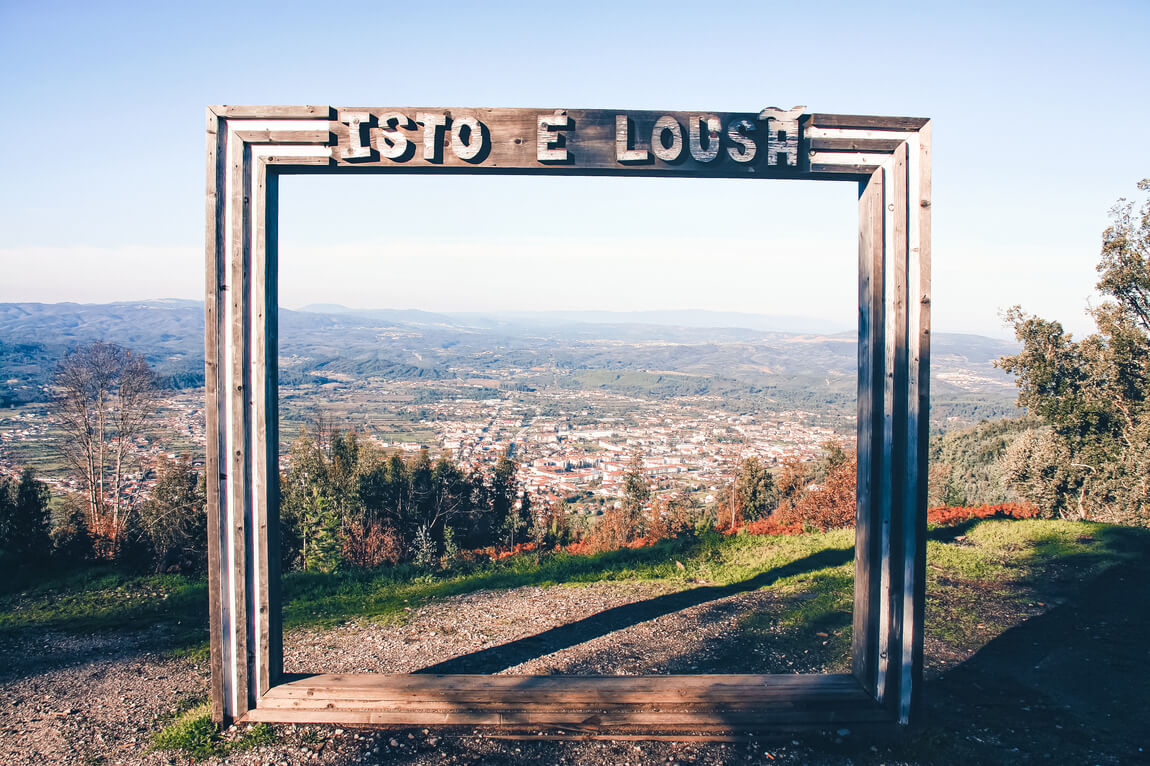 » Letters – This is Lousã
Another fancy space to take some photos with a superb view of Lousã.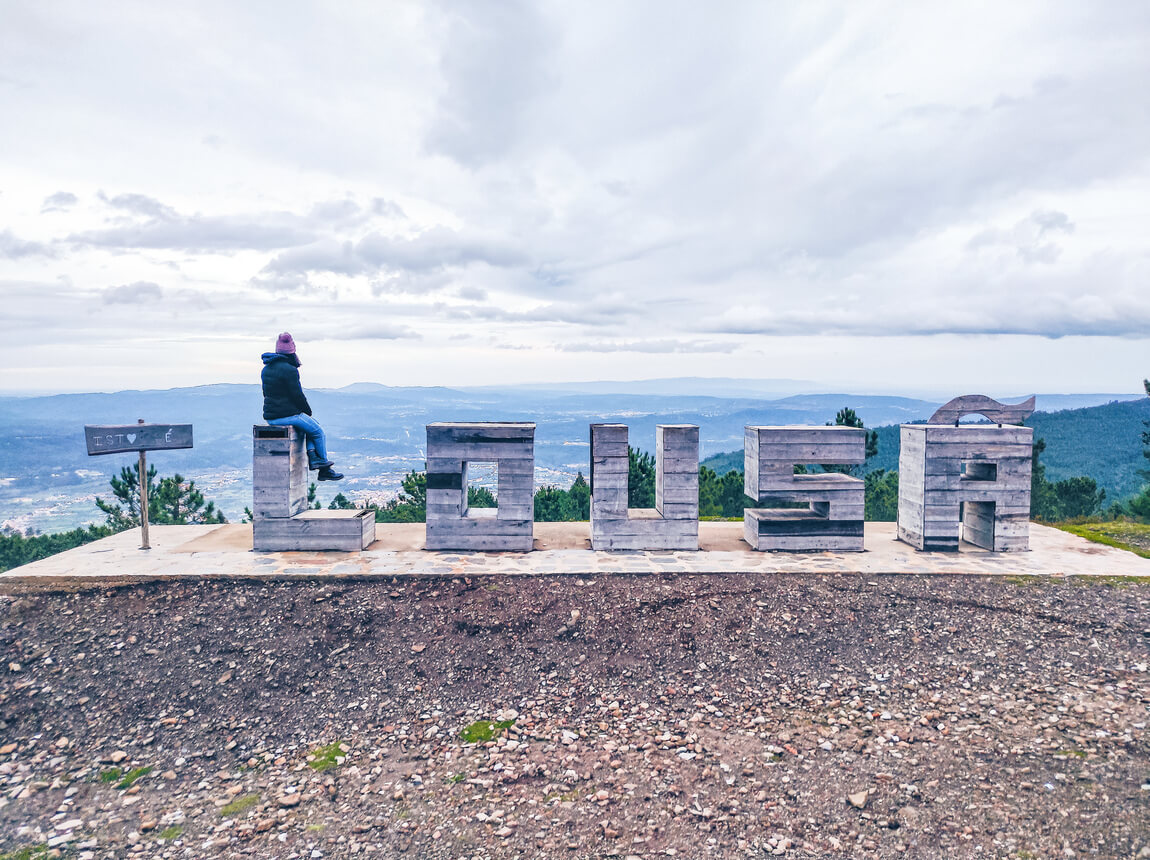 » Swing – Senhora da Piedade River Beach
Another photogenic swing with a very romantic setting. However, this swing is taken out in winter for safety reasons and for this reason we were not able to see it.
What to visit in Lousã – Nossa Senhora da Piedade Complex
In the surrounding of Lousã Castle, there are also some points of interest. If you are driving, park the car near the castle or the walkway that was recently installed nearby. Then start by exploring the castle.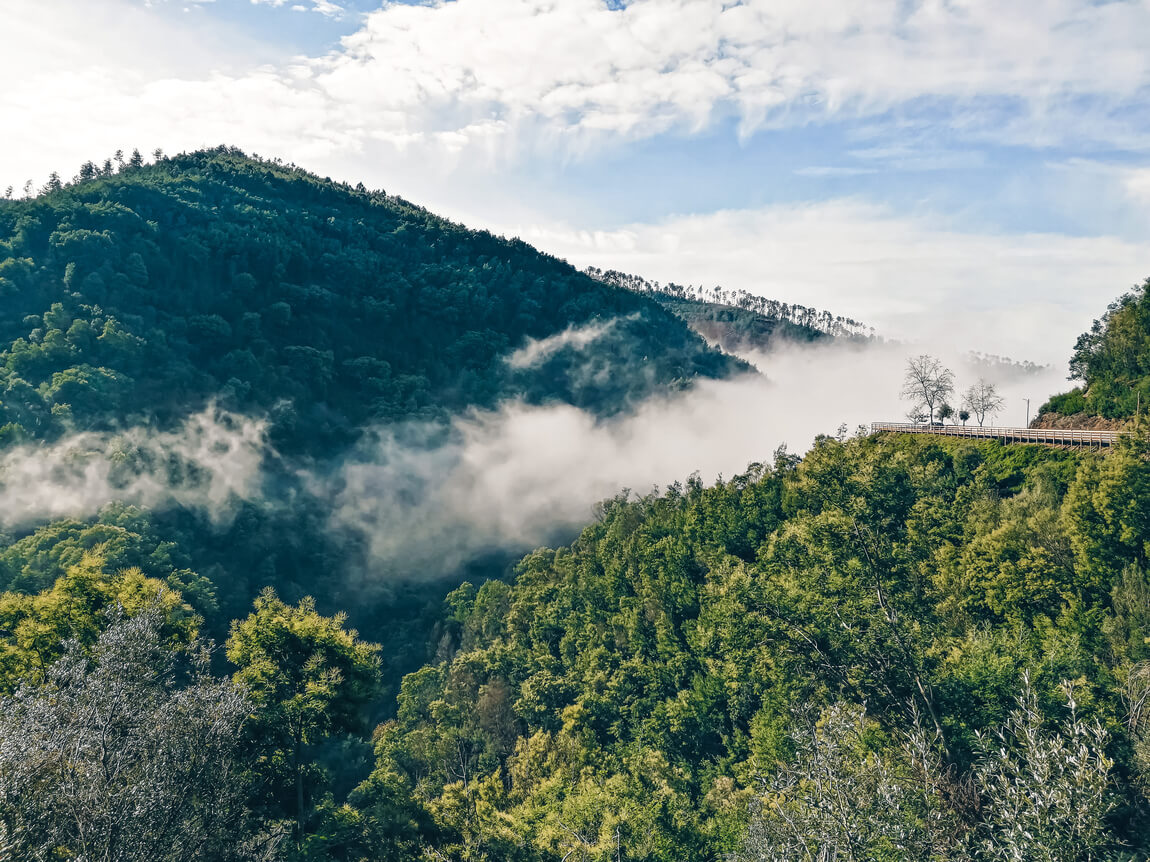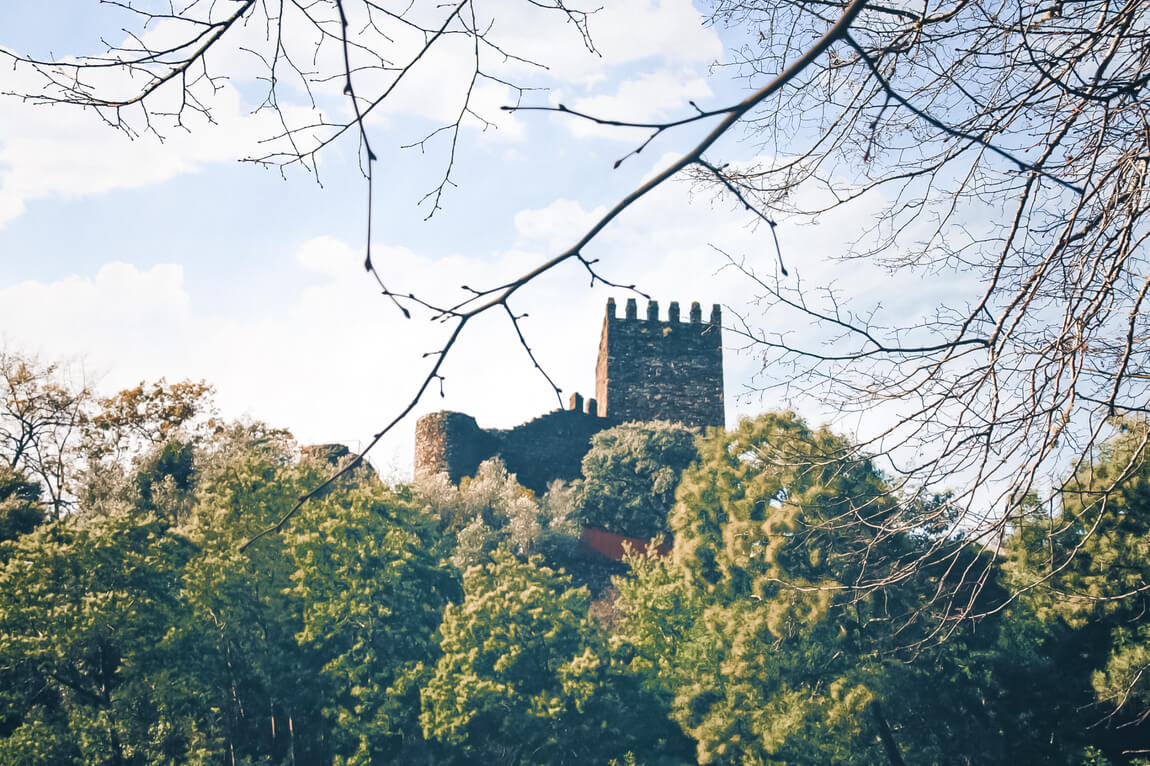 Then descend to Nossa Senhora da Piedade River Beach. In summer, you can spend an excellent day here. Alternatively, during less hot seasons, you can enjoy a nice walk by the beach. Further down you will find a kind of waterfall, where during summer and spring the famous swing is suspended over the water.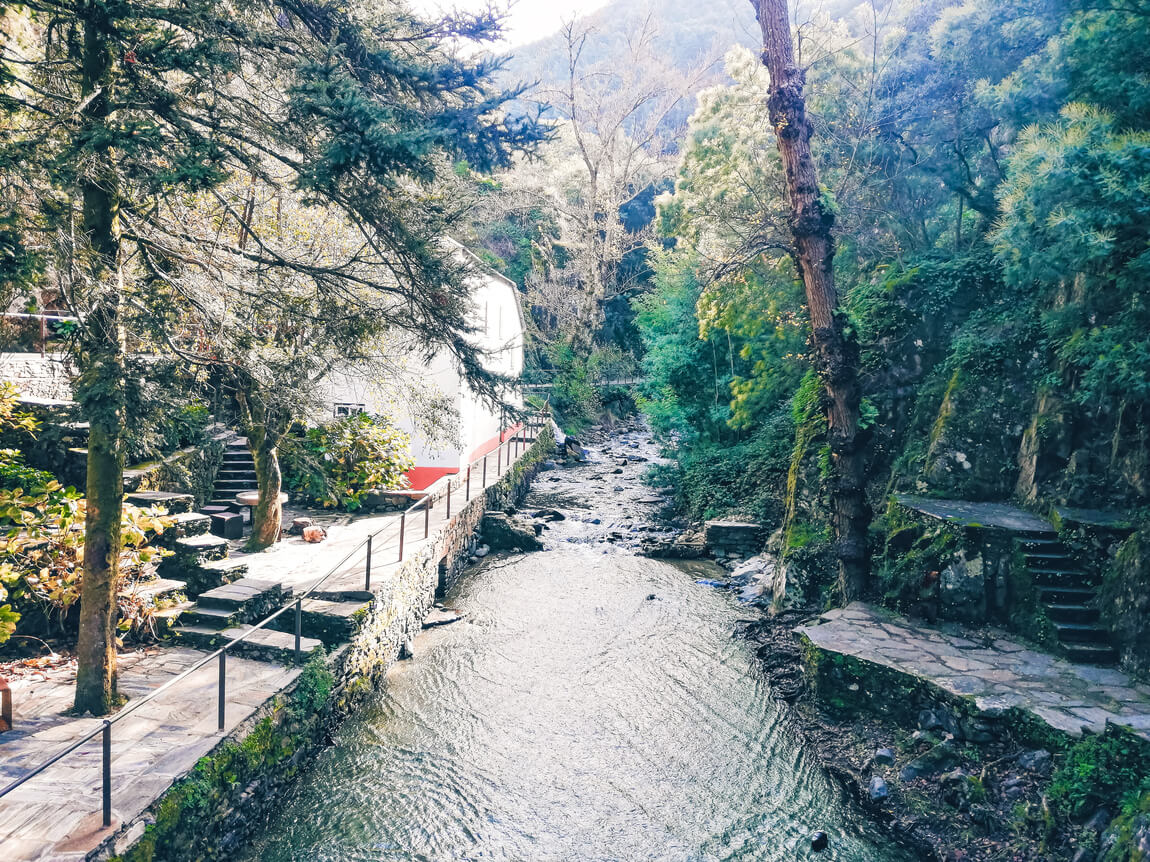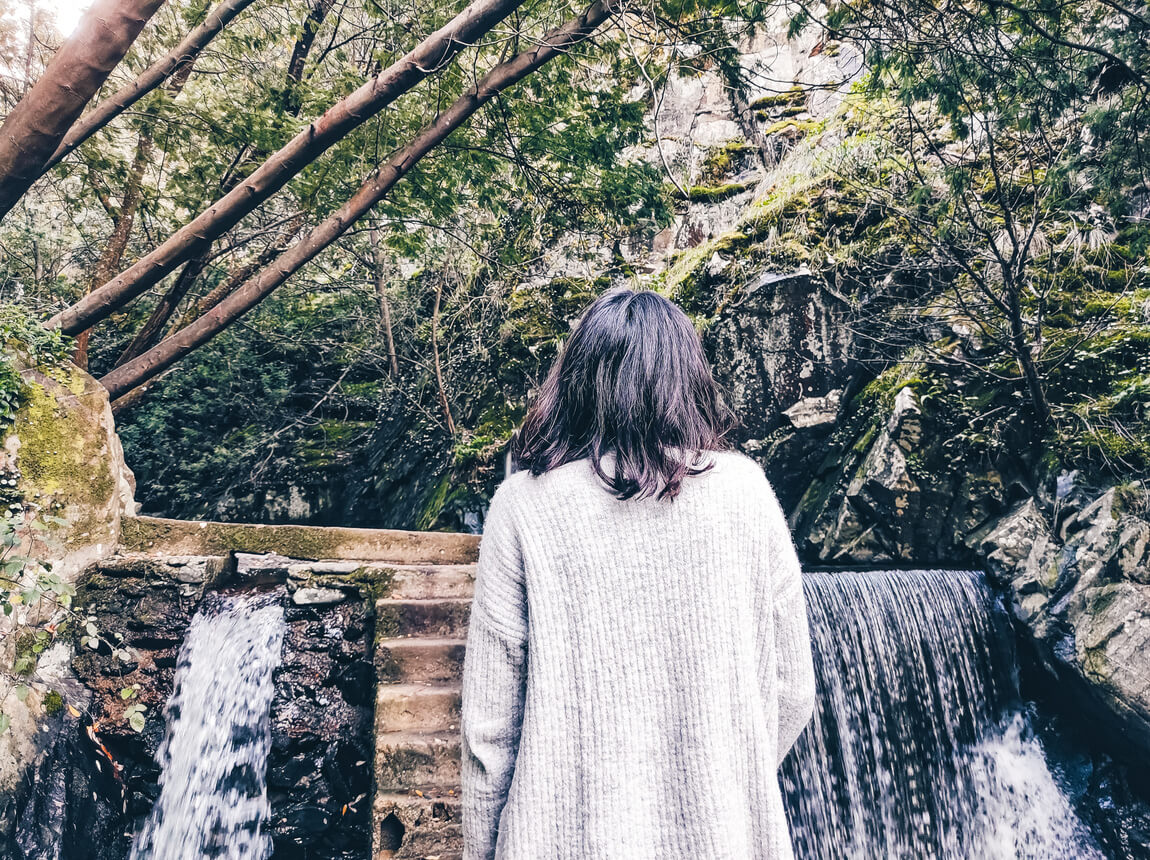 Finally, take the opportunity to visit Ermida Nossa Senhora da Piedade and its fantastic views.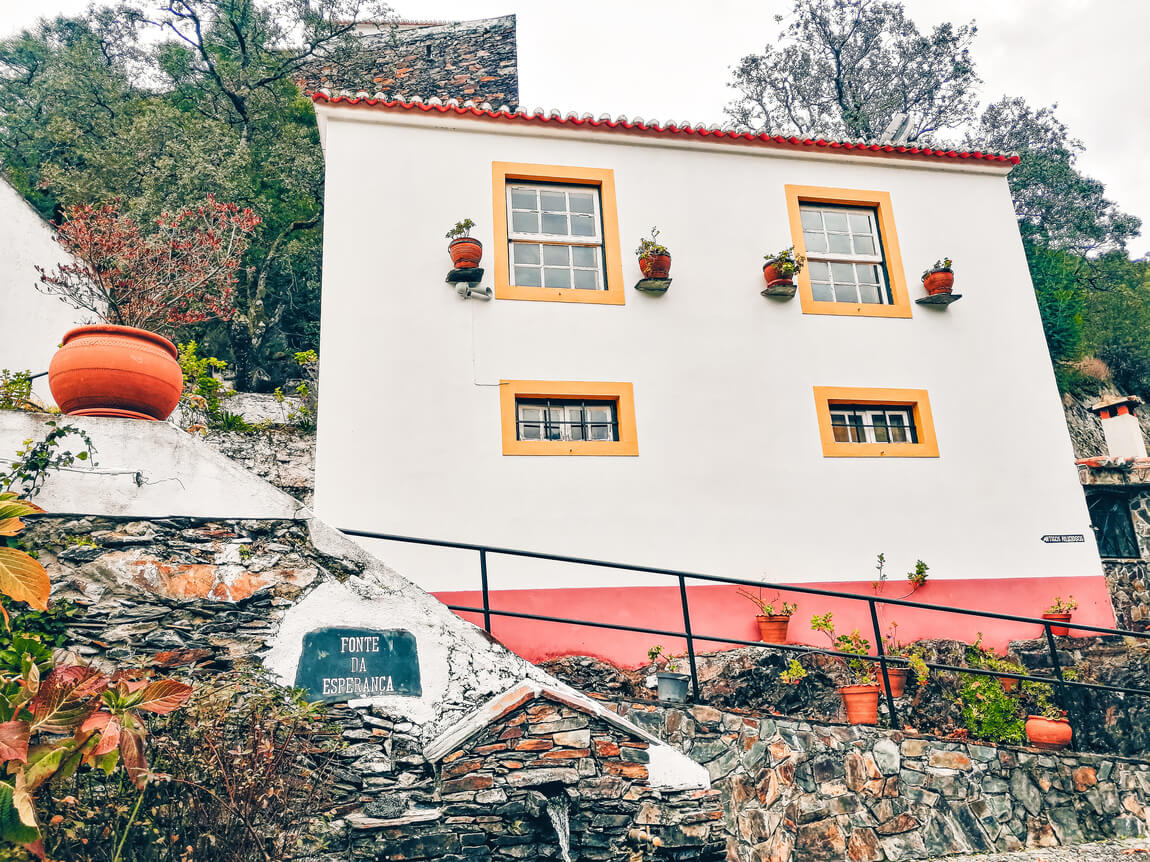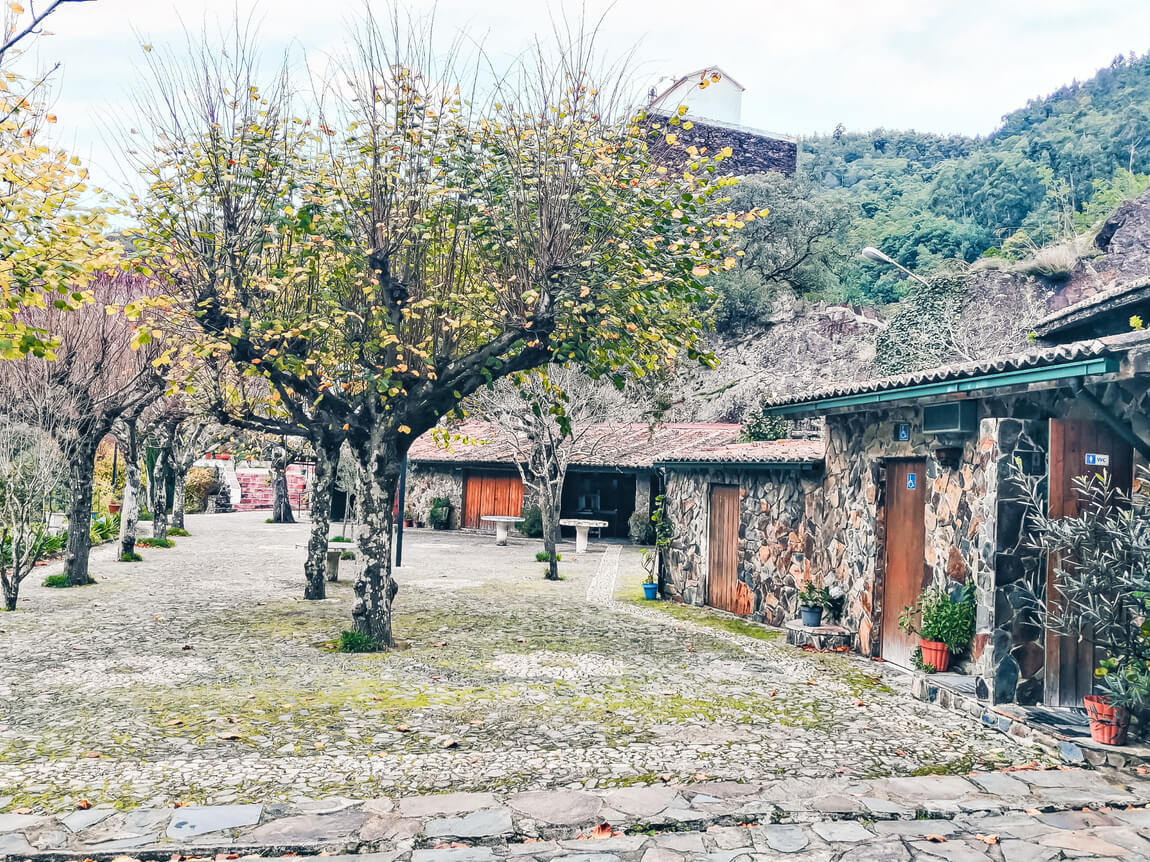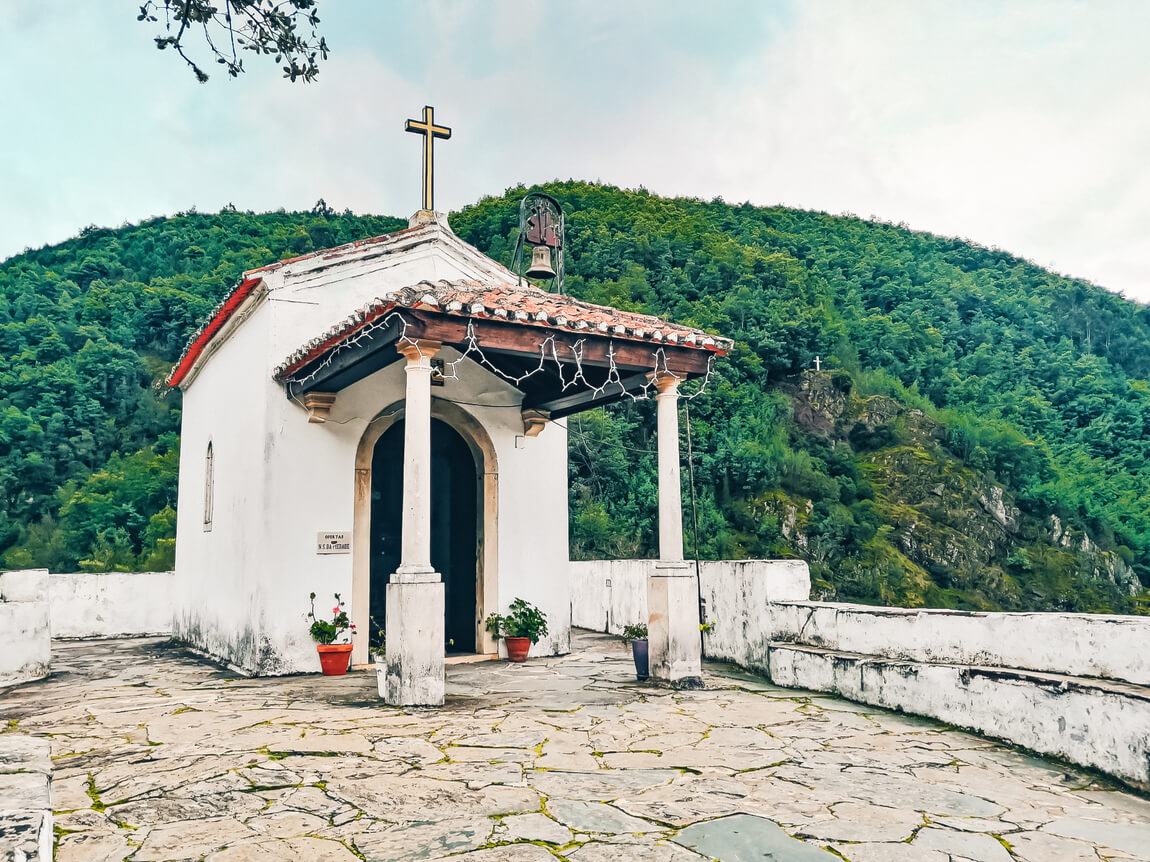 💡 EXTRA TIP: If you are nearby, take the opportunity to stop at the Nossa Senhora da Piedade viewpoint or at the Gevim Balcony for views over the city of Lousã.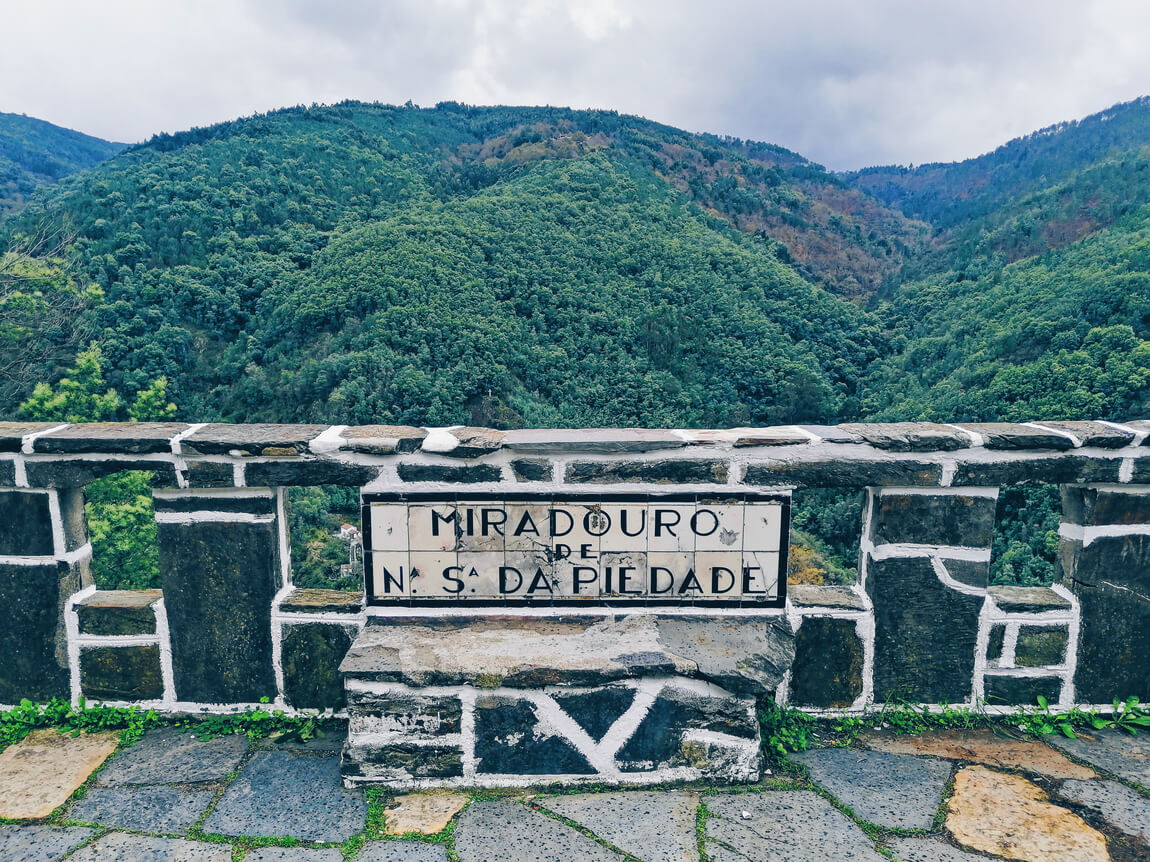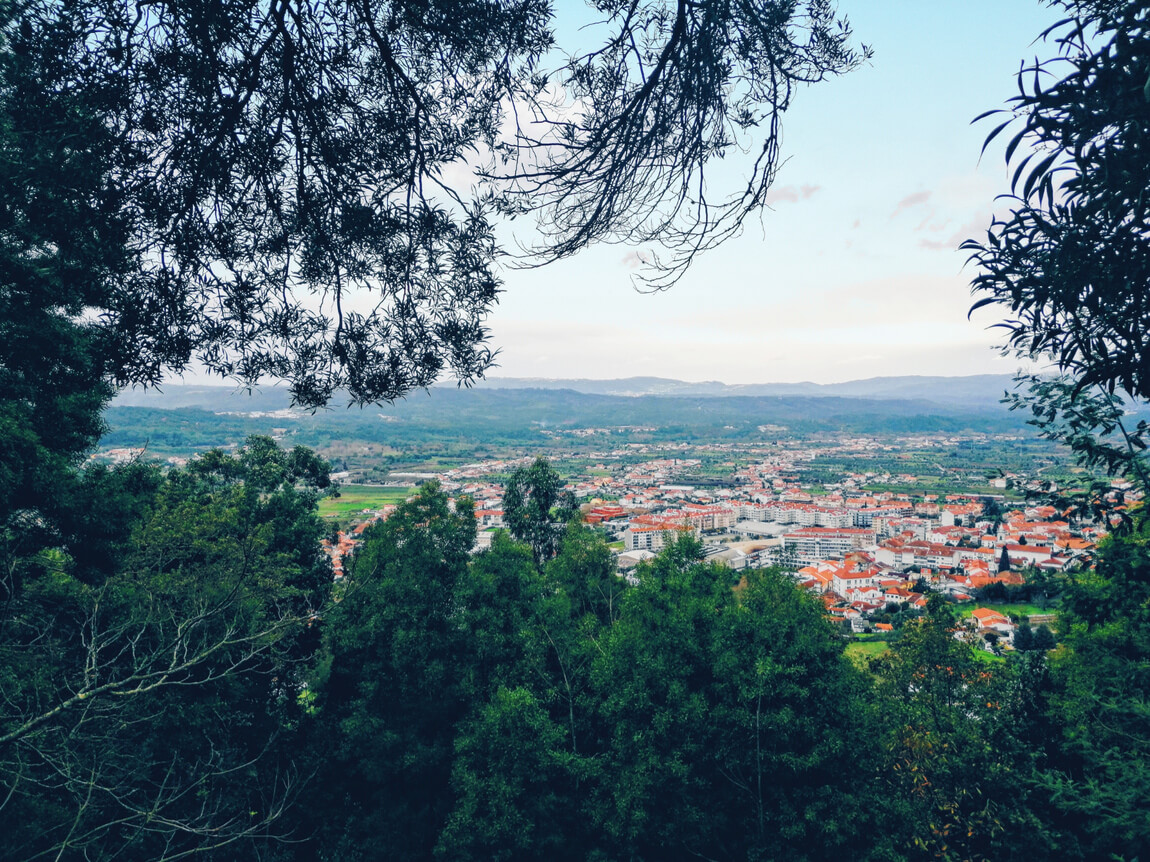 What to visit in Lousã – historical centre
If you stay in the centre of Lousã, also take the opportunity to take a walk around the main points of interest in the city.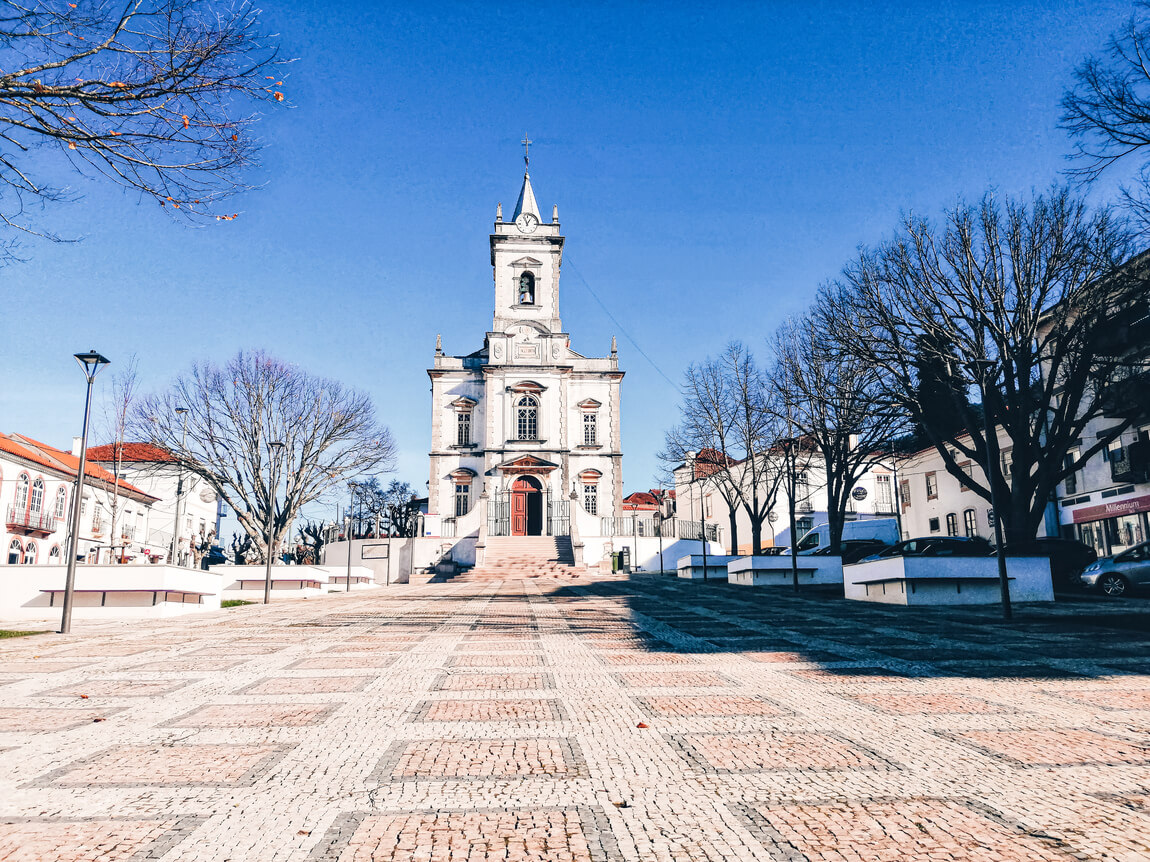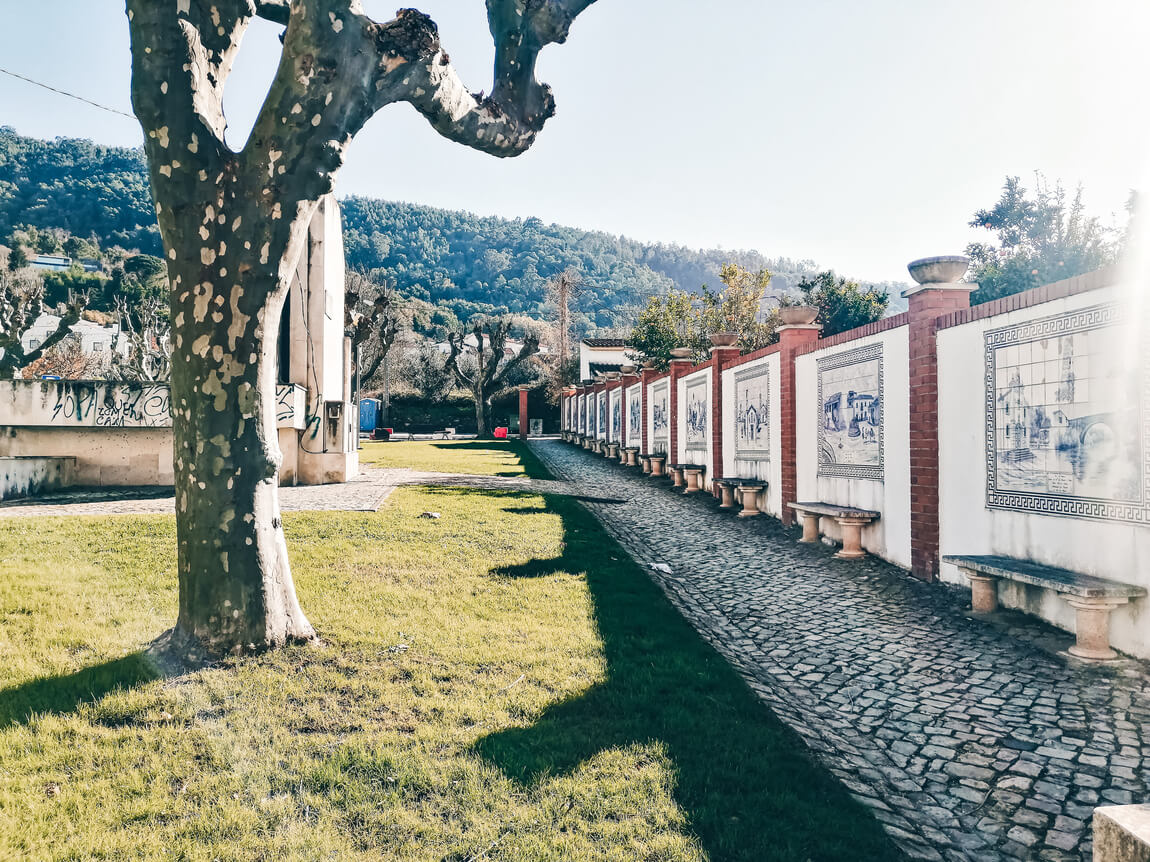 What to visit in Lousã – Casal Ermio Village
The municipality of Lousã is not only home to schist villages. If you can, take the opportunity to visit Casal Ermio Village.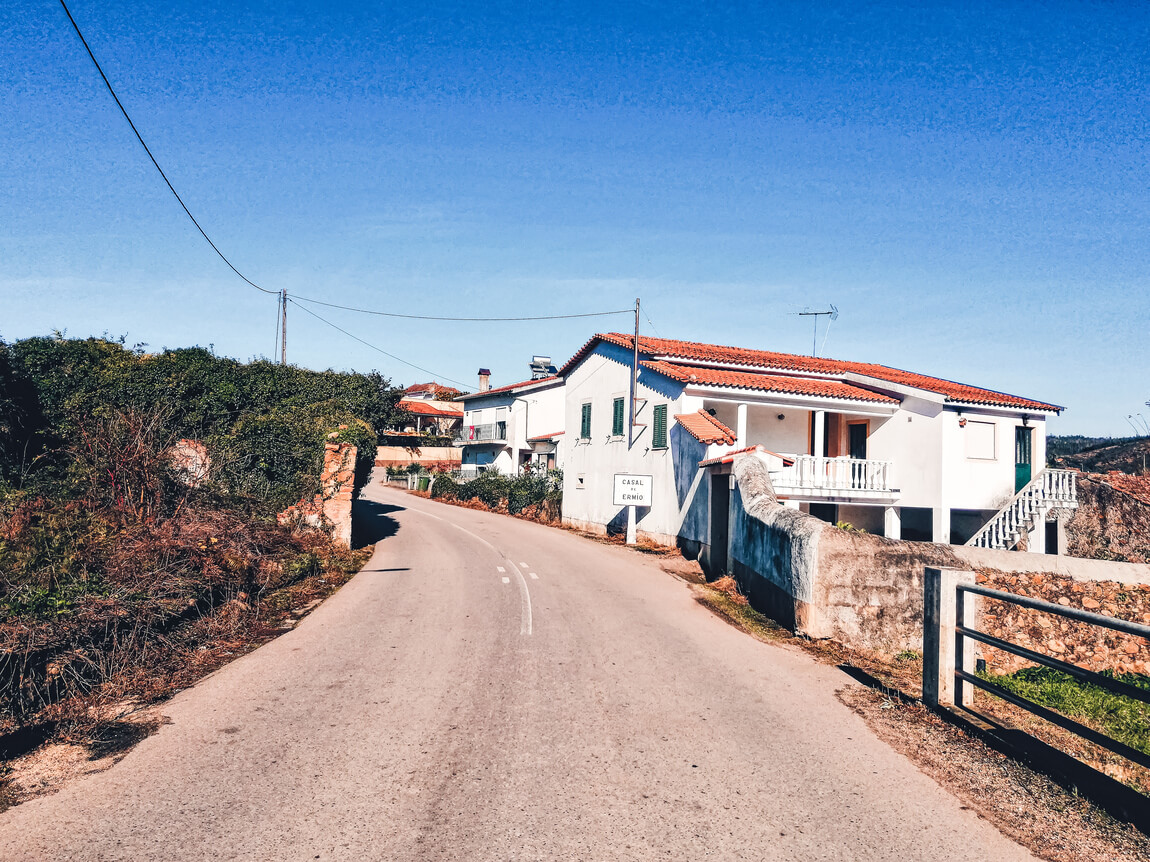 Here you can find Bogueira river beach, perfect to take a swim in the summer or some nature walks in winter.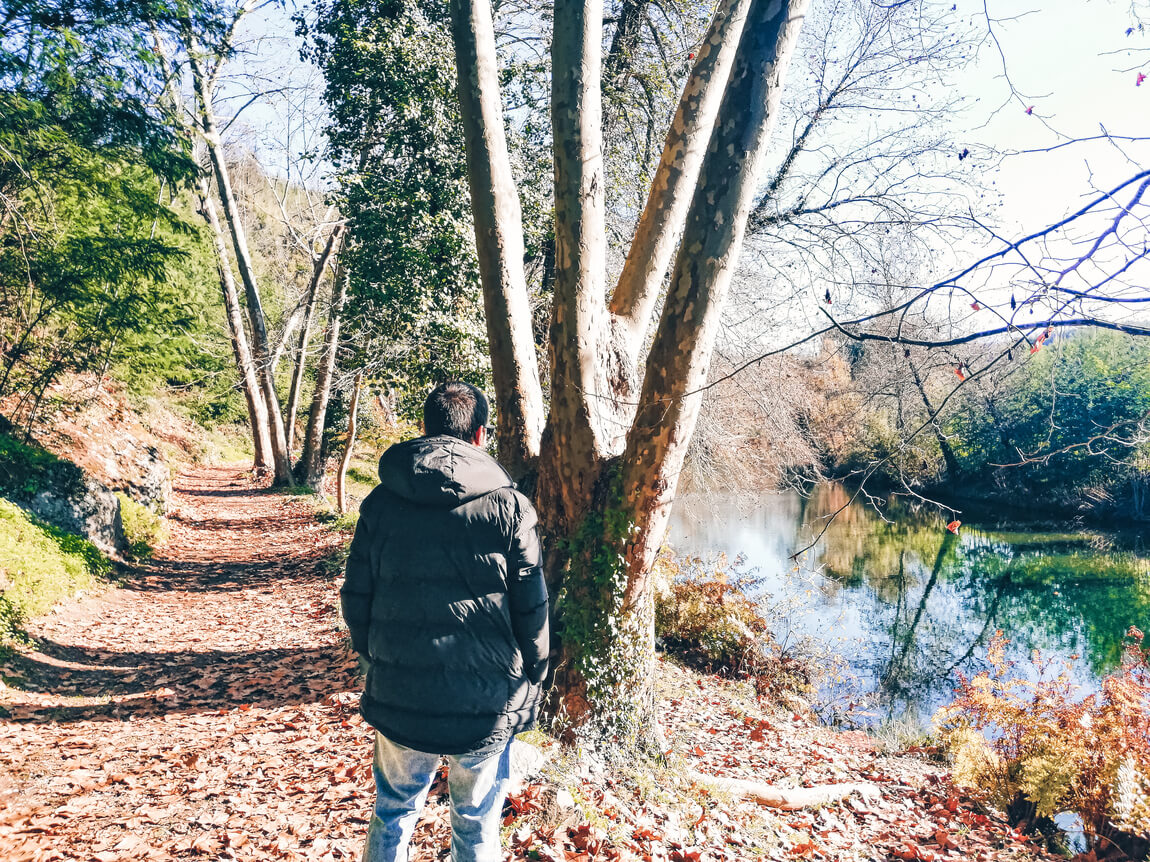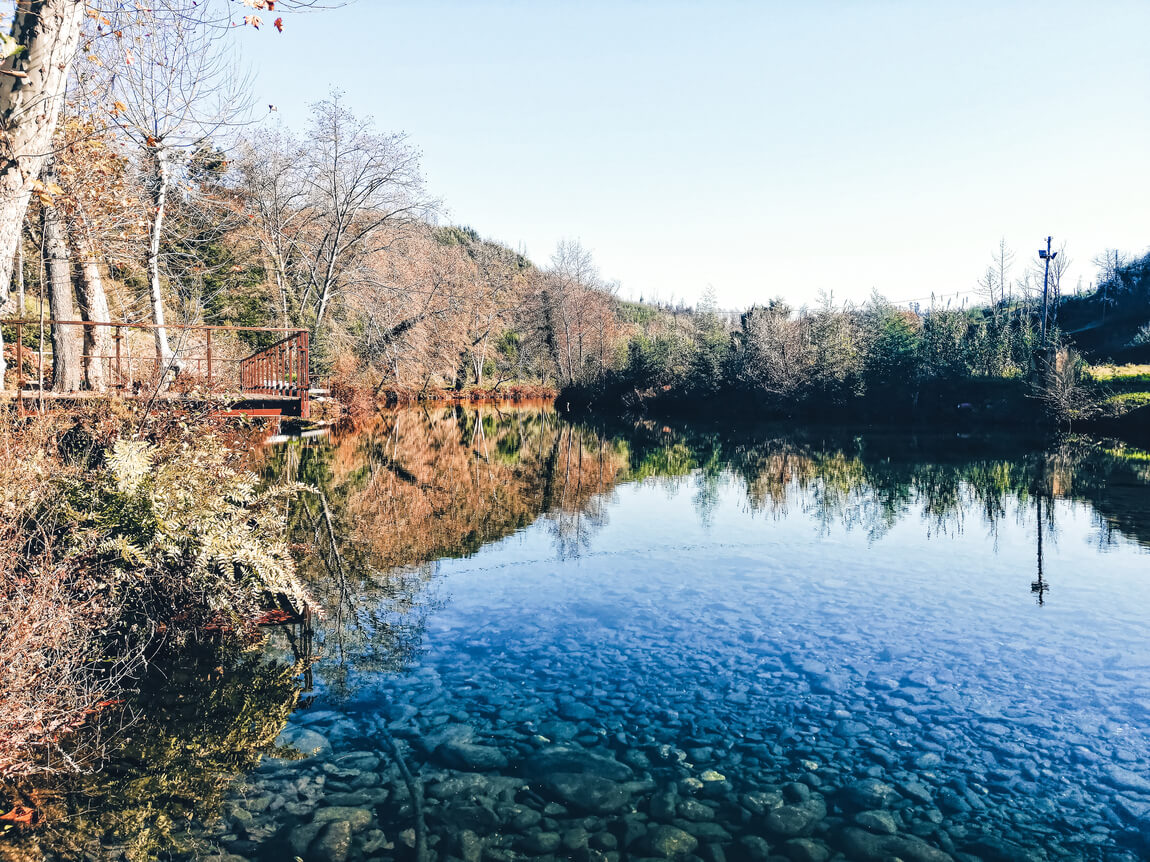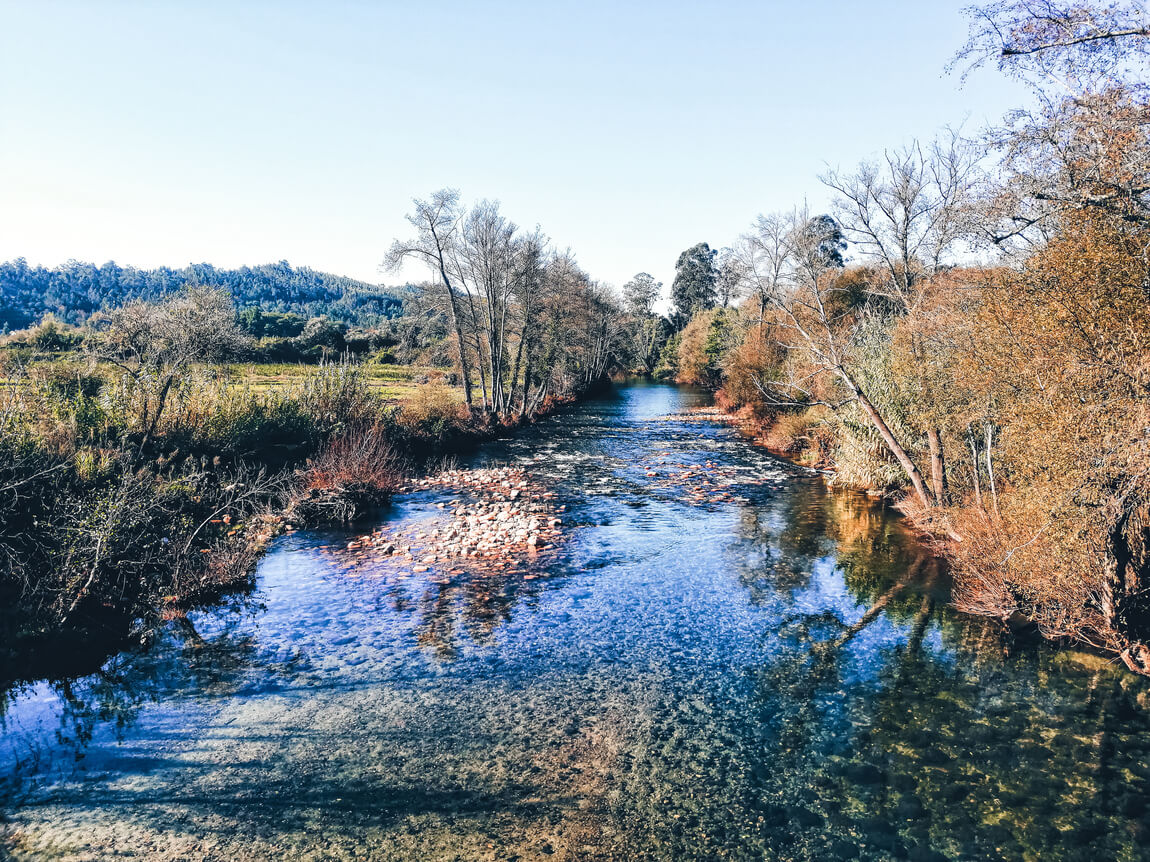 Restaurants in Lousã
Gastronomy is simply amazing in Lousã… I think this is undeniable! Known by the "chanfana", there are several restaurants that prepare wonderful versions of this dish. Don't miss the opportunity to taste it! In addition, if you have a sweet tooth, try the local sweets as well. Most of the sweets are made with typical Lousã ingredients: Licor Beirão, chestnuts and honey. Simply not to be missed!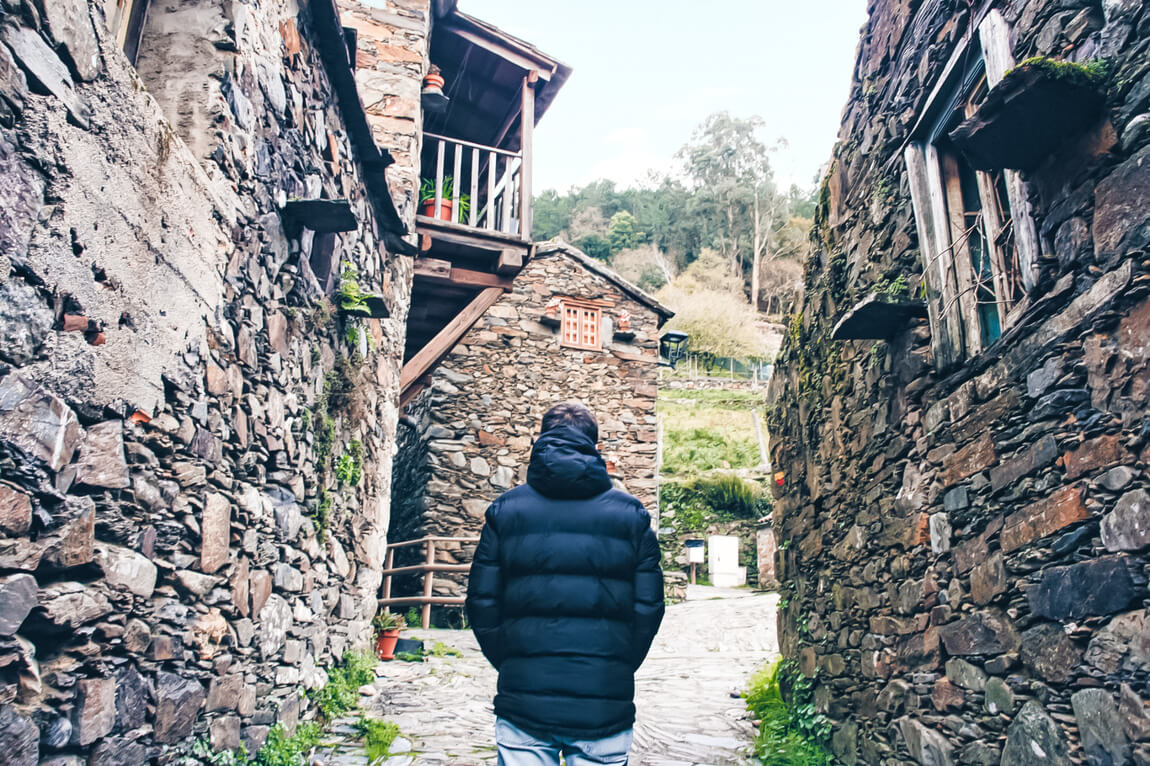 I also have some other helpful advice on where to eat at Lousã. The villages have few services, so the best is to plan your trips in advance or even to bring your own snacks. Of the 7 villages we visited, only Talasnal and Candal have restaurants. Cerdeira village also has a kind of café and the restaurant of Cerdeira – Home for Creativity. During busy times and also due to the limited supply, these places usually fill up easily, so you should reserve a table.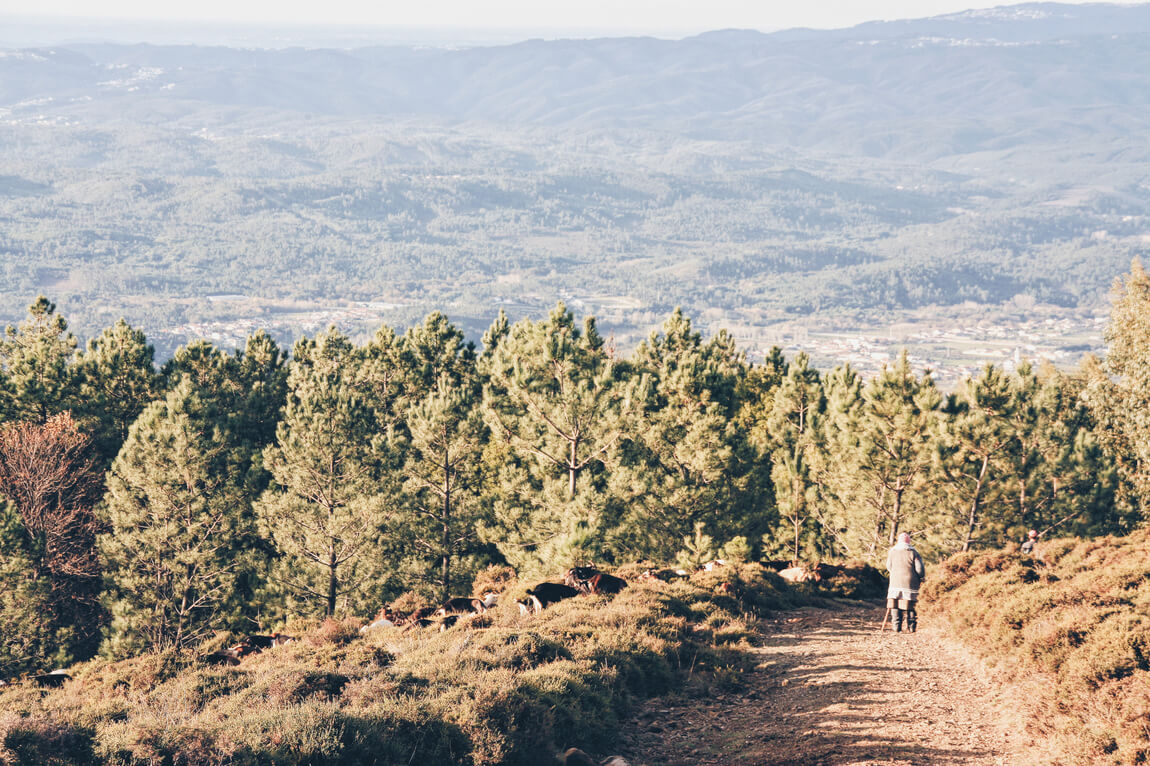 Nossa Senhora da Piedade Complex
Candal
Talasnal
Lousã
Disclaimer: this post may contain some affiliate links, which means I get a small commission if you buy something through my links. This doesn't represent any additional cost to you and you'll be supporting my work here on the blog😊