Before I started planning my trip to Madeira Island, I was convinced I would visit its main points of interest in 3 or 4 days. I couldn't have been more wrong! The island may be relatively small, but there are plenty of things to do. So I'm here to share with you my complete 6 day itinerary through Madeira island.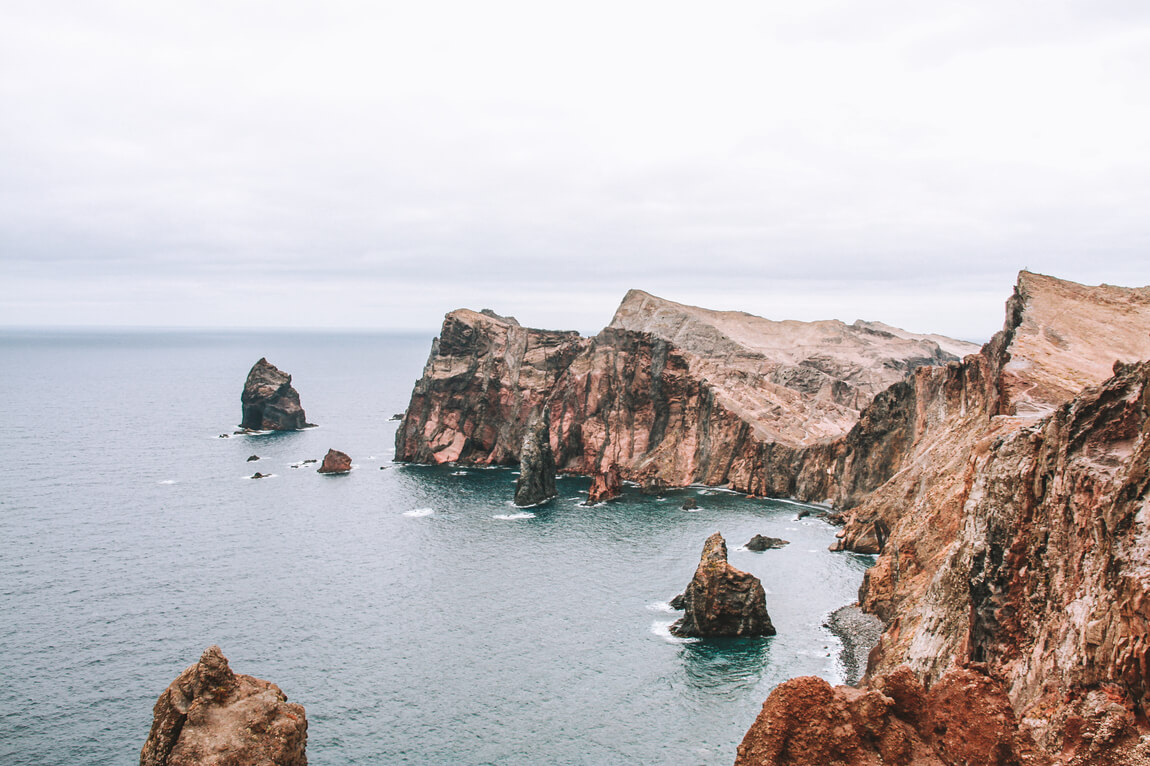 When I thought of Madeira, Funchal was always the place that came to mind. Once again, totally wrong! Madeira is much more than Funchal and it is an incredible Nature destination. It has breathtaking landscapes, amazing hiking trails, waterfalls and many places where you can eat delicious food. I think you can already tell that I fell in love!!
What is the best time of the year to visit Madeira?
Any time of year is a good time to visit Madeira. Madeira's climate is widely envied as temperatures hardly vary throughout the year and it rarely gets very cold.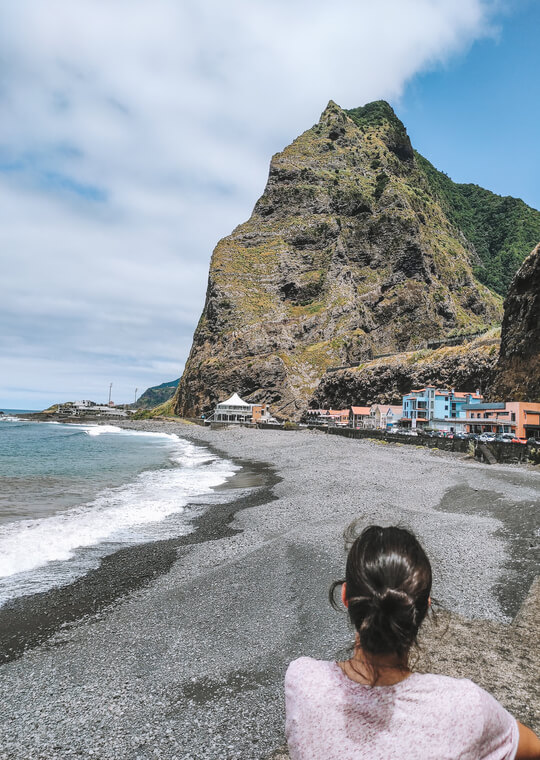 However, to enjoy the island to the fullest (hiking trails, beaches, natural pools), it is always better to visit during the warmest months: May to October. These are also, as you might expect, the busiest months.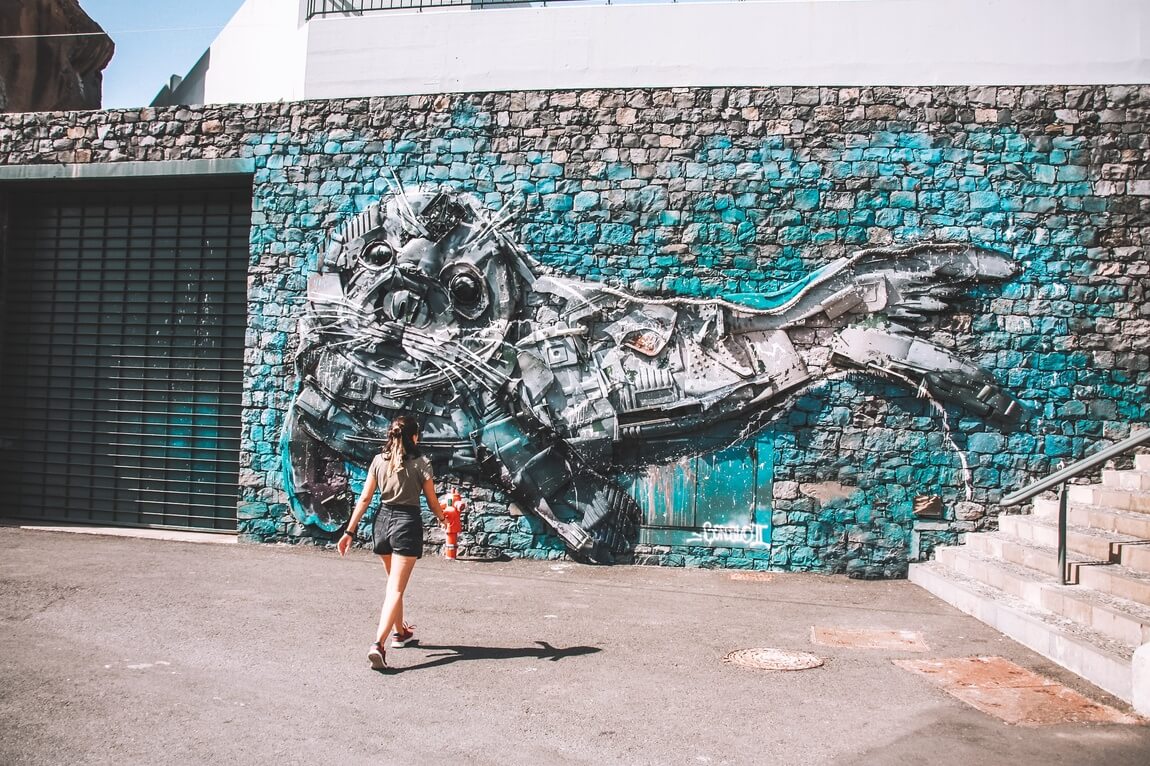 There are also some well-known festivities throughout the year that easily justify a visit to the island:
New Year's Eve Party (31/December) with one of the best fireworks shows in Portugal
Flower Festival (May)
Market Night Party (23/December) at the Farmers' Market
Nossa Senhora do Monte Festival (15/August): the biggest religious celebration in Madeira
Carnival
How many days does you need to visit Madeira?
It is true that 2 to 4 days are enough to get to know what is strictly essential. However, don't make that mistake and set aside a few more days to explore the island at your own pace. Even so, there will be a lot left to visit.
In my case, I opted to go 6 full days, which is a good amount of days to explore the island calmly and visit various sites (and even walk some of the famous "levadas").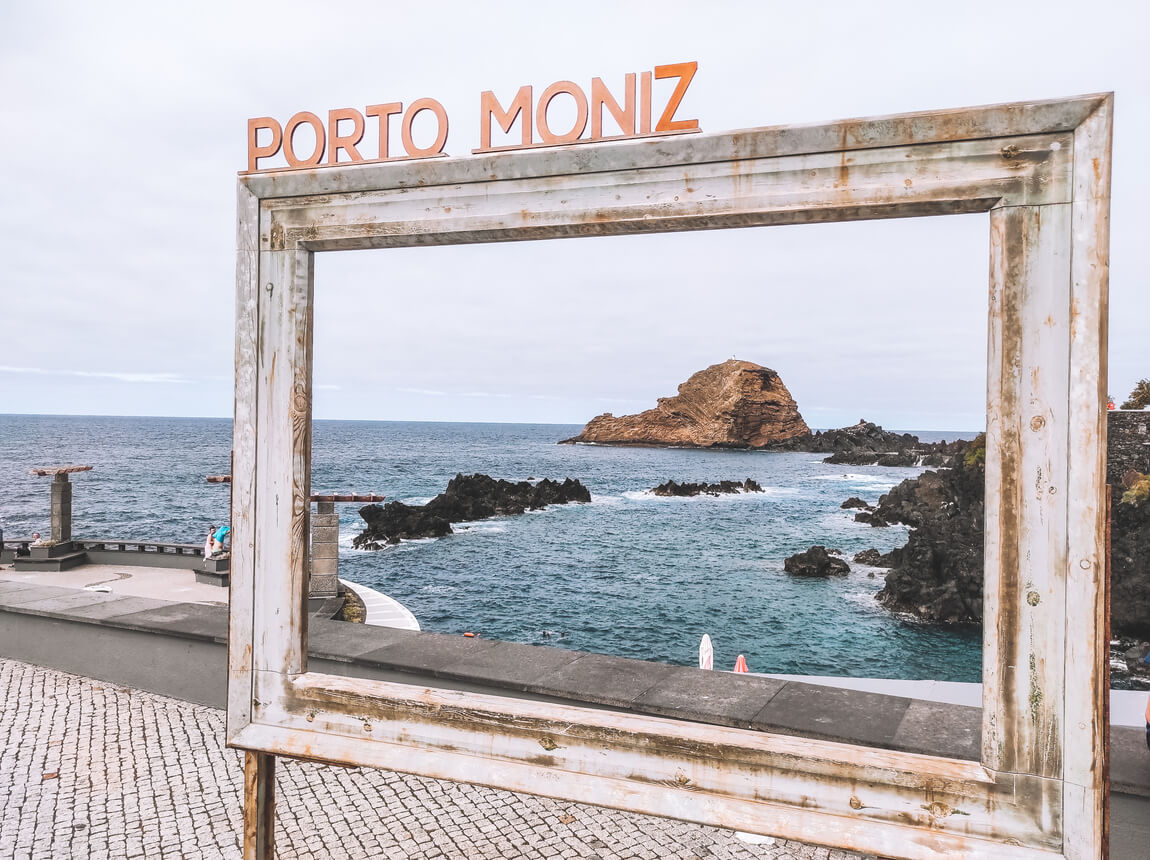 Even so, I feel that there were still many things left to visit and experience. I left Madeira with a clear feeling that I will visit it once again. There were some trails left to hike, some dips in the sea missing and, besides that, I would love to visit Madeira during one of its festivities.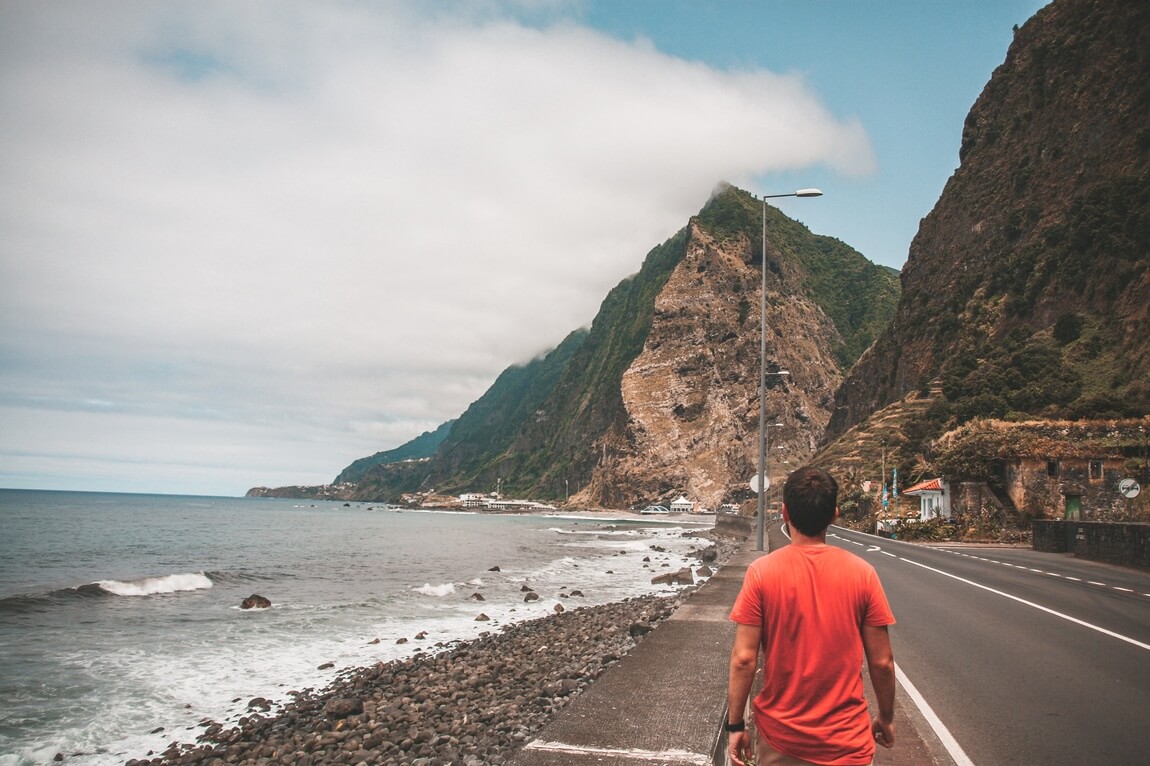 The number of days in the itinerary is merely indicative so please feel free to use it to get some ideas of what to visit in Madeira.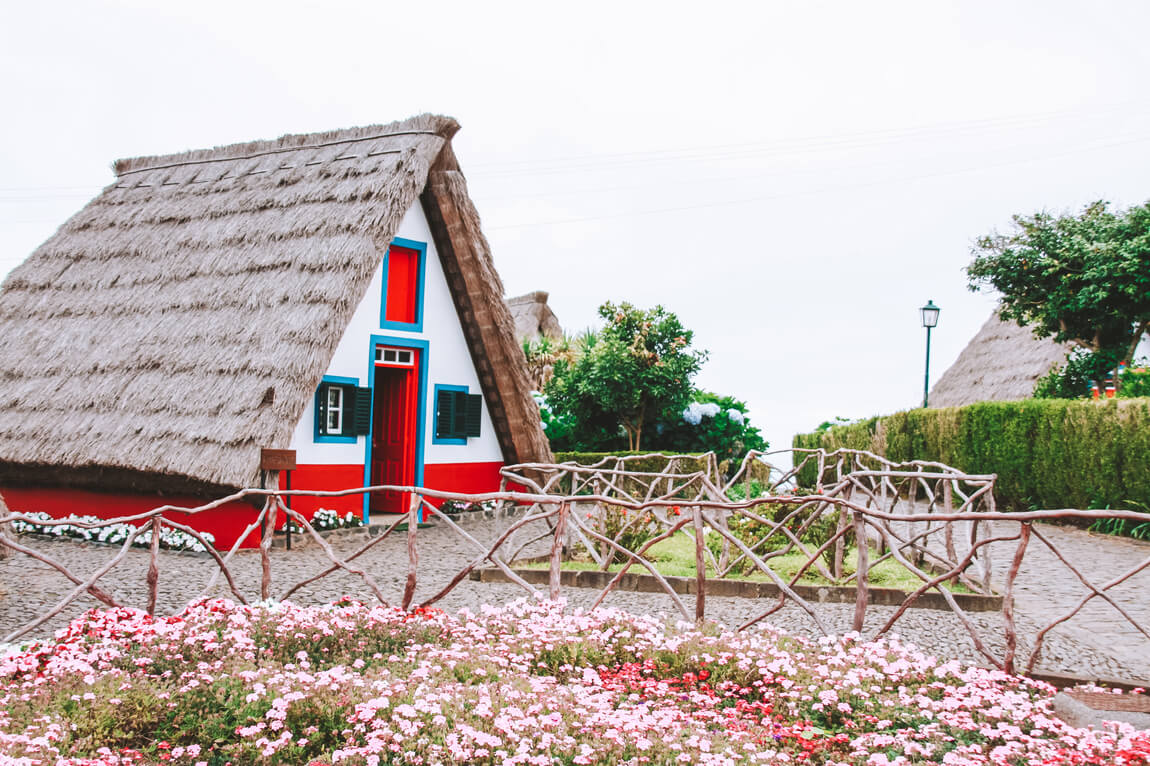 Still, I'll show you two other alternative itinerary suggestions at the end of the post (4 or 7 days), in case you have more or less time available.
How to get to Madeira?
There are many European cities with direct flights to Funchal, the only airport available on Madeira island. Here are some of them:
Portugal (Porto, Lisbon, Ponta Delgada)
United Kingdom (Manchester, London, Bristol, Birmingham, Newcastle, Glasgow, Nottingham, Edinburgh, Leeds)
France (Marseille, Paris, Lyon, Nantes)
Belgium (Brussels)
Ireland (Dublin)
Italy (Milan)
Germany (Nuremberg, Cologne, Hamburg, Berlin, …)
Austria (Vienna)
Spain (Madrid, Tenerife, Gran Canaria, Lanzarote)
Do you need to hire a car to visit Madeira?
Unfortunately (or not for those who enjoy a good road trip!), visiting Madeira Island without a car or guided tour is often an arduous task. Madeira is also a Nature destination and therefore many of the points of interest are located in places that are more difficult to access.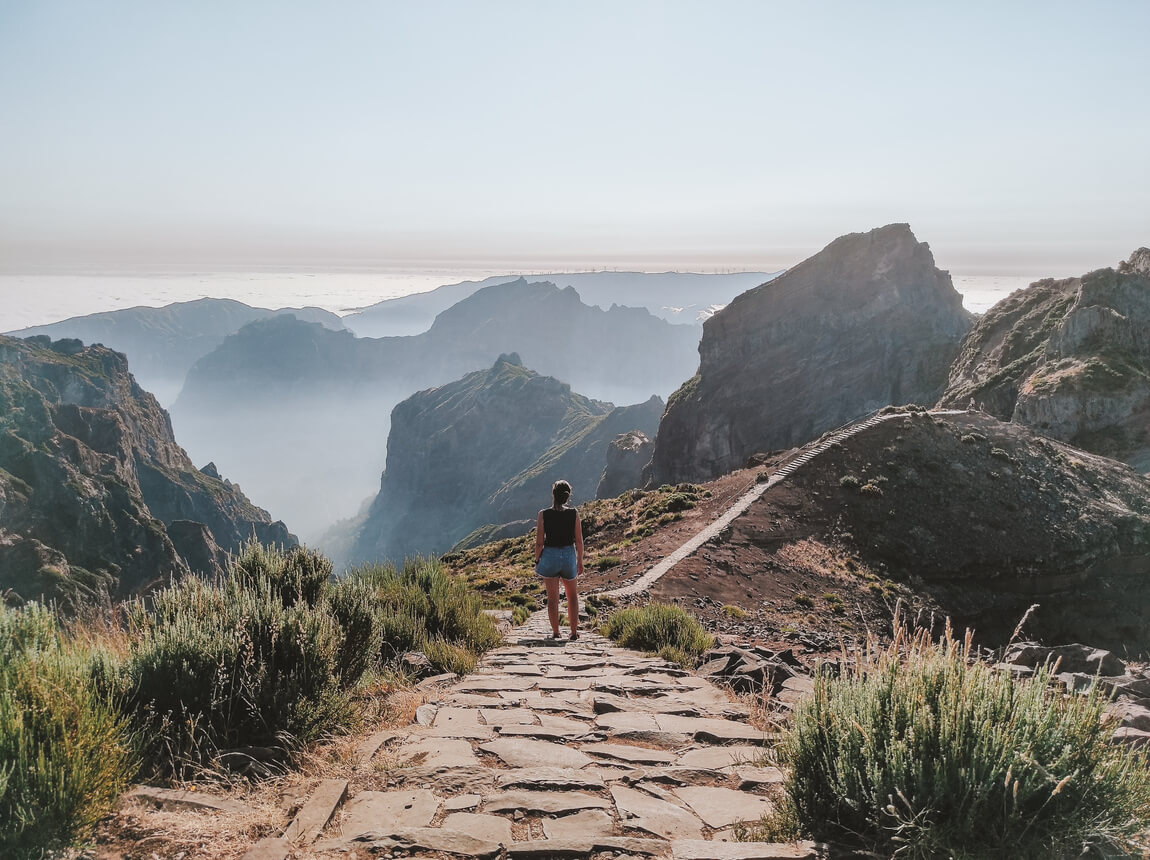 Driving a car is definitely the best way to get around the island, as it allows us to be more flexible. Madeira's weather is quite unpredictable and on the same day, we may have to adapt our plans quickly.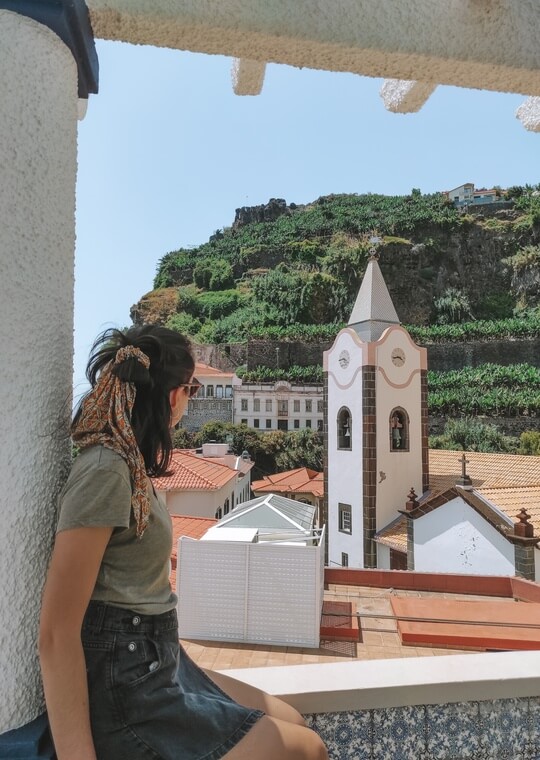 In my case, I rented a car from a small local company (InsularCar), and was satisfied with it. The service was very attentive and the car was delivered and picked up at the first hotel where I stayed, in Santa Cruz.
💡 EXTRA TIP: Pay attention when booking your car on Madeira Island because often online booking is only a pre-booking. The ideal solution (especially if you choose a local company) is to call the company immediately after you pre-book the car on the websites to secure the reservation.
Anyway, if you opt not to rent a car, you should book some guided tours around the island according to your interests.
Is it difficult to drive in Madeira?
If a few years ago Madeira was known for its roads with hairpin bends (which were also narrow and close to the sea), this is no longer the case. Many sections of the famous ER101 road (considered by many to be one of the most scenic roads, but also infernal) have been closed for some time. The parts of the road that were closed have mostly been replaced by tunnels that facilitate traffic (don't be surprised if you pass through several tunnels in a single day).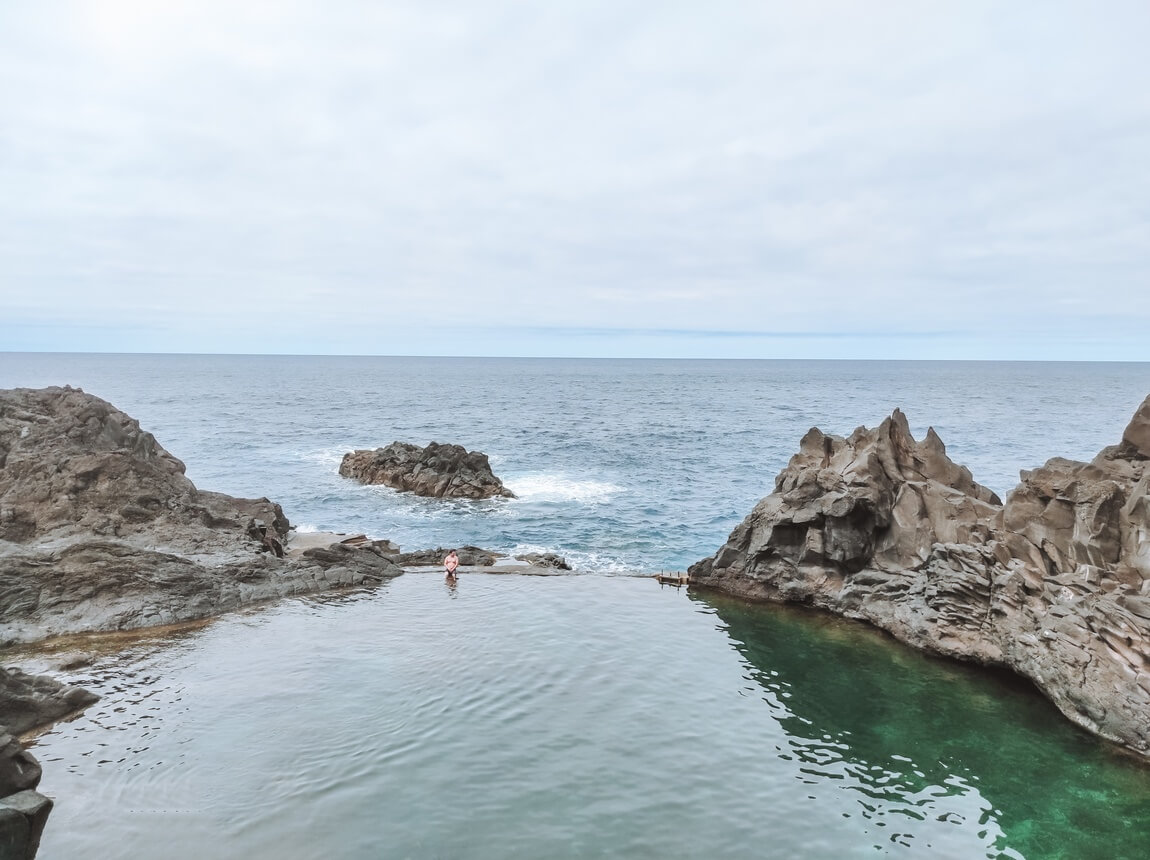 Therefore, the most difficult thing about driving in Madeira might be some of its steep roads. But even so, it's not that hard 😉
Activities & tours in Madeira
Accommodation in Madeira
Many tourists choose Funchal as their only place for accommodation for all their days on the island. However, and to avoid wasting some driving time, it may make sense to change accommodations along the way.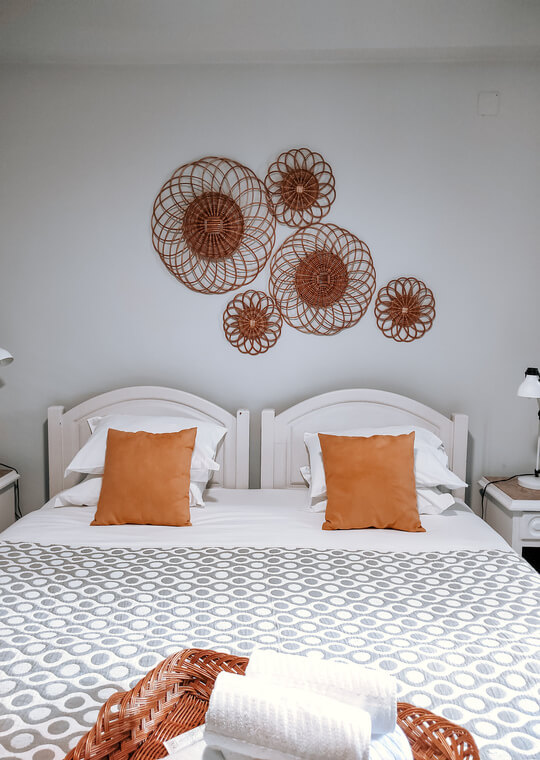 Even though the island is quite small, if you can spare some kilometres and time making trips back to Funchal, why not?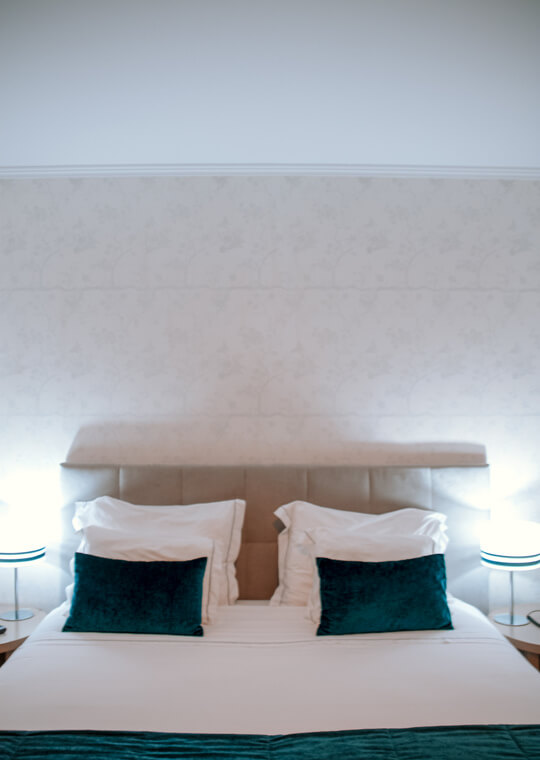 In my case, I stayed in Santa Cruz (5 minutes drive from the airport) on my first night on the island, from where I went to Porto Moniz (2 nights) and from there to Funchal (3 nights). If you want to save some time you should try splitting the stays through the Southern part of the island (Funchal, Câmara de Lobos, Ponta do Sol) and the North (Porto Moniz, Seixal, Santana) part of the island.
These were the accommodations I chose:
[Santa Cruz] Santa Cruz Village Hotel: very recent hotel, very friendly service and excellent conditions. The room was probably the biggest I've ever stayed in. The only disadvantage would be the breakfast because of its relatively small variety
[Porto Moniz] Costa Azul: flats located less than 5 minutes walk from the natural swimming pools of Porto Moniz. The flat was huge, equipped with a kitchen, two bathrooms and a living room. The conditions are more modest, but it was just fine.
[Funchal] ASPA – São Paulo Studios: fully refurbished flat in an old building. Very complete and different food at breakfast throughout the days, served in an outdoor space.
💼 TRAVEL INSURANCE: If you want to feel safe while travelling, then you should definitely look into purchasing some travel insurance. Having insurance will help you with any health-related emergencies as well as with other events, such as theft, loss or delay of luggage, eventual need to cancel your trip and much more. In my case, I always use IATI Insurances, which has one of the best price-quality ratios in the market and a 100% online service that is very easy to use. Book here your travel insurance and enjoy a 5% discount for being readers of the blog. Don't forget that the purchase must be made using this link.
Day 1: Santa Cruz – Câmara de Lobos – Cabo Girão – Fajã dos Padres – Ribeira Brava – Ponta do Sol – Anjos Waterfall – Paúl do Mar – Ponta do Pargo Lighthouse – Porto Moniz
» Câmara de Lobos
Câmara de Lobos was an excellent starting point to get to know Madeira. I could tell right away that this trip was going to surprise me in terms of landscapes.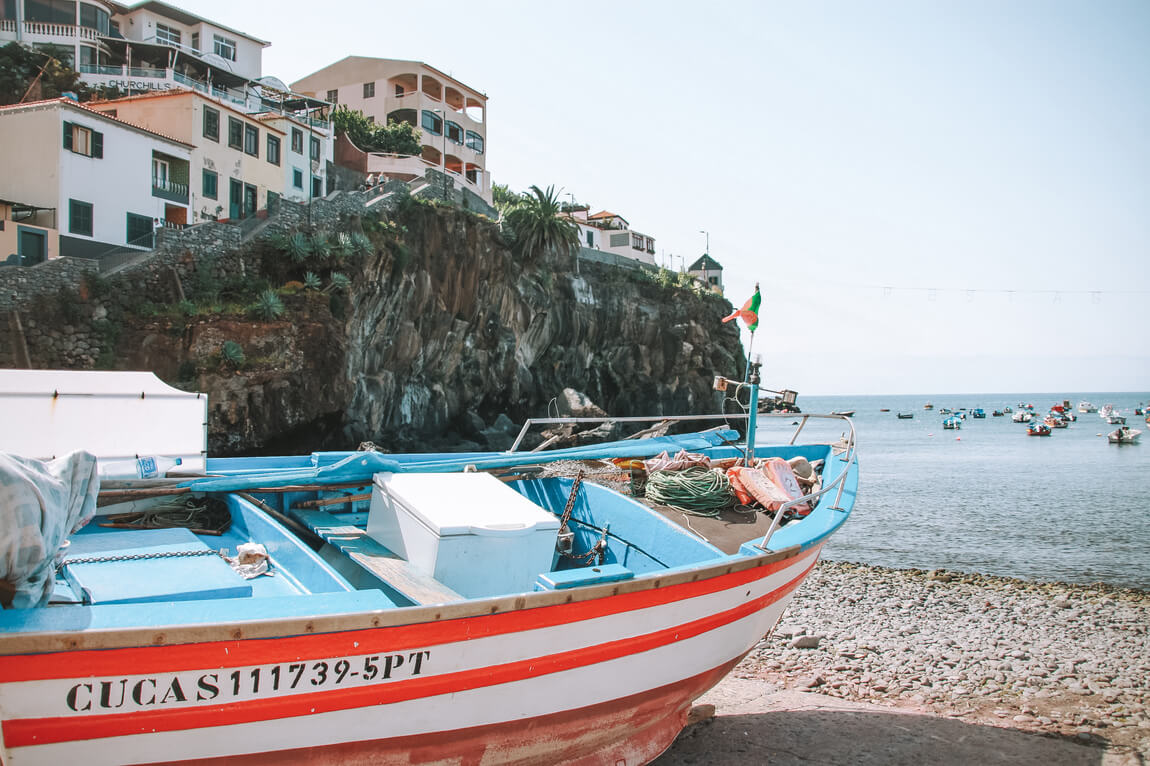 Apart from a walk along the bay where sea lions were sighted when the island was first discovered, a visit is not complete without passing by Nossa Senhora da Conceição Chapel or the San Sebastian Church.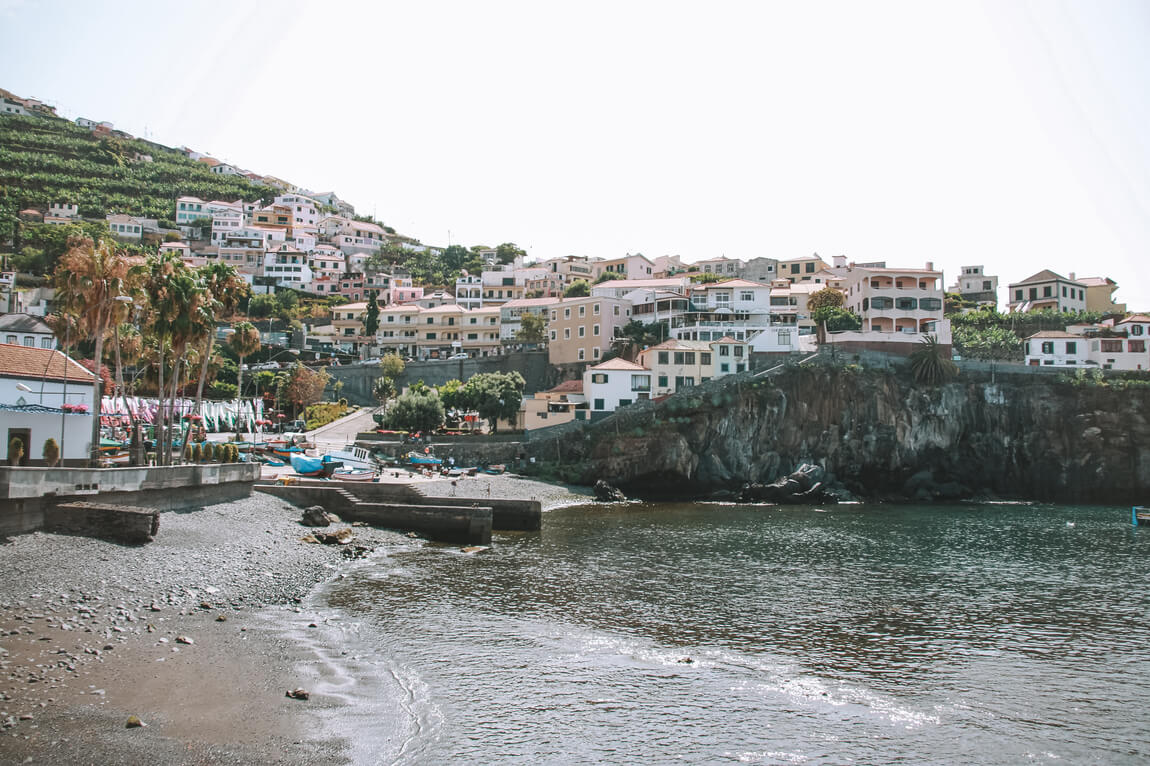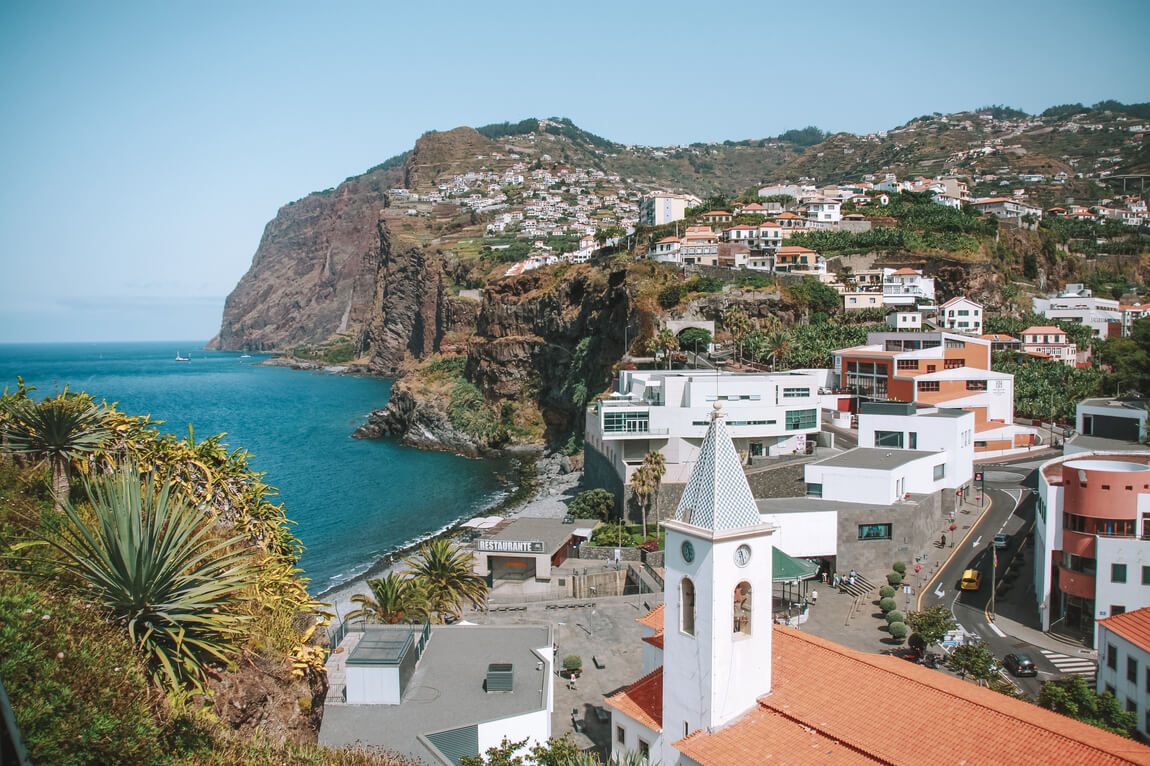 To appreciate the views, I also recommend going up to Câmara de Lobos islet and a stop at Salão Ideal viewpoint.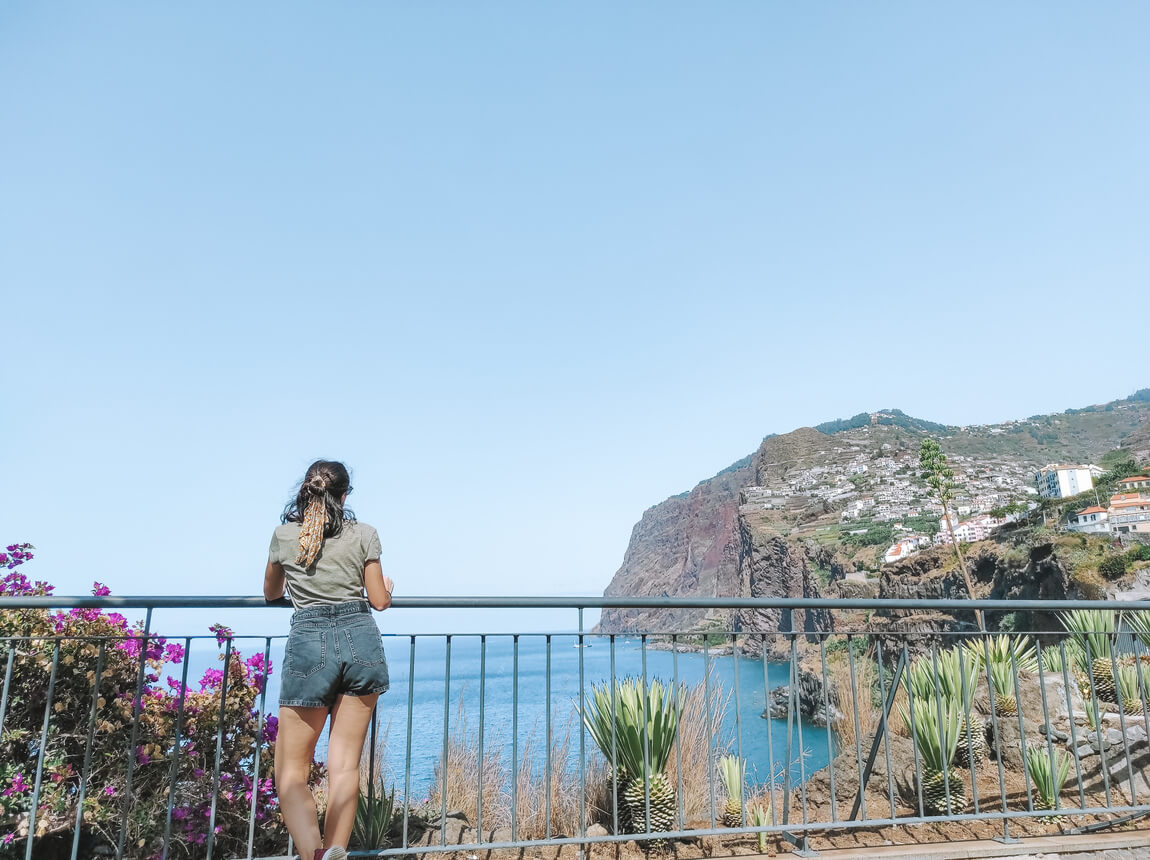 Finally, let yourself get lost in the few streets of Câmara de Lobos. Besides the various bars and restaurants that liven up the area (especially at night!), the streets are full of street art!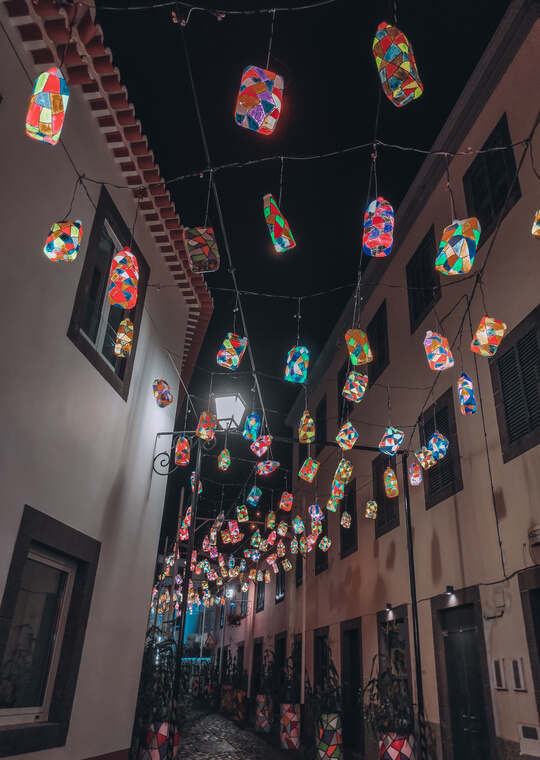 » Cabo Girão
One of the most famous places in Madeira, Cabo Girão is the highest cape in Europe (580 metres high) and consists of a glass platform.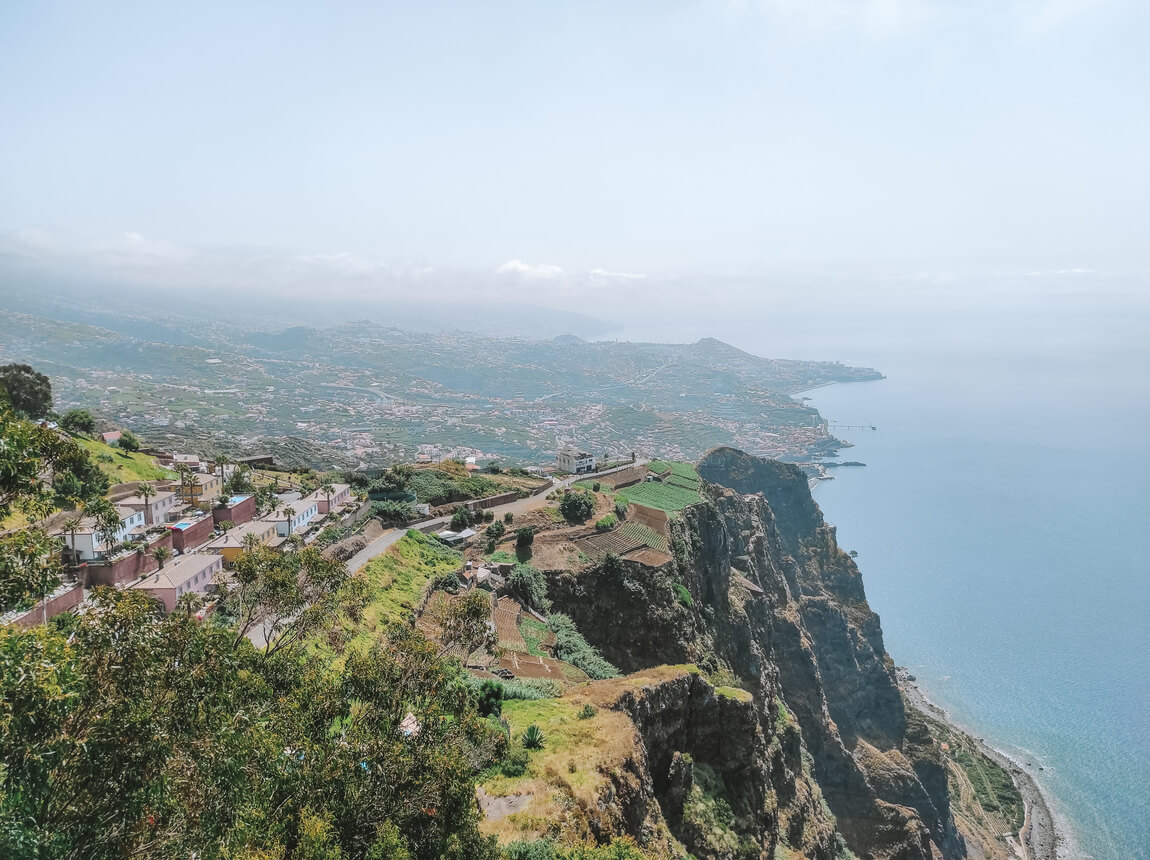 I confess I was expecting the glass platform to be bigger, but the views are worth way more than any platform. From here we have privileged views over Fajã do Rancho and Cabo Girão.
📝 USEFUL INFORMATION: Visits are free and the space is open from 8.30 am to 8 pm in summer and 8.30 am to 7 pm in winter.
» Fajã dos Padres
Fajã dos Padres is also one of the most famous places on the island! Completely isolated and only accessible by sea or by cable car, in Fajã dos Padres you can either go to the beach or observe some of its subtropical plantations.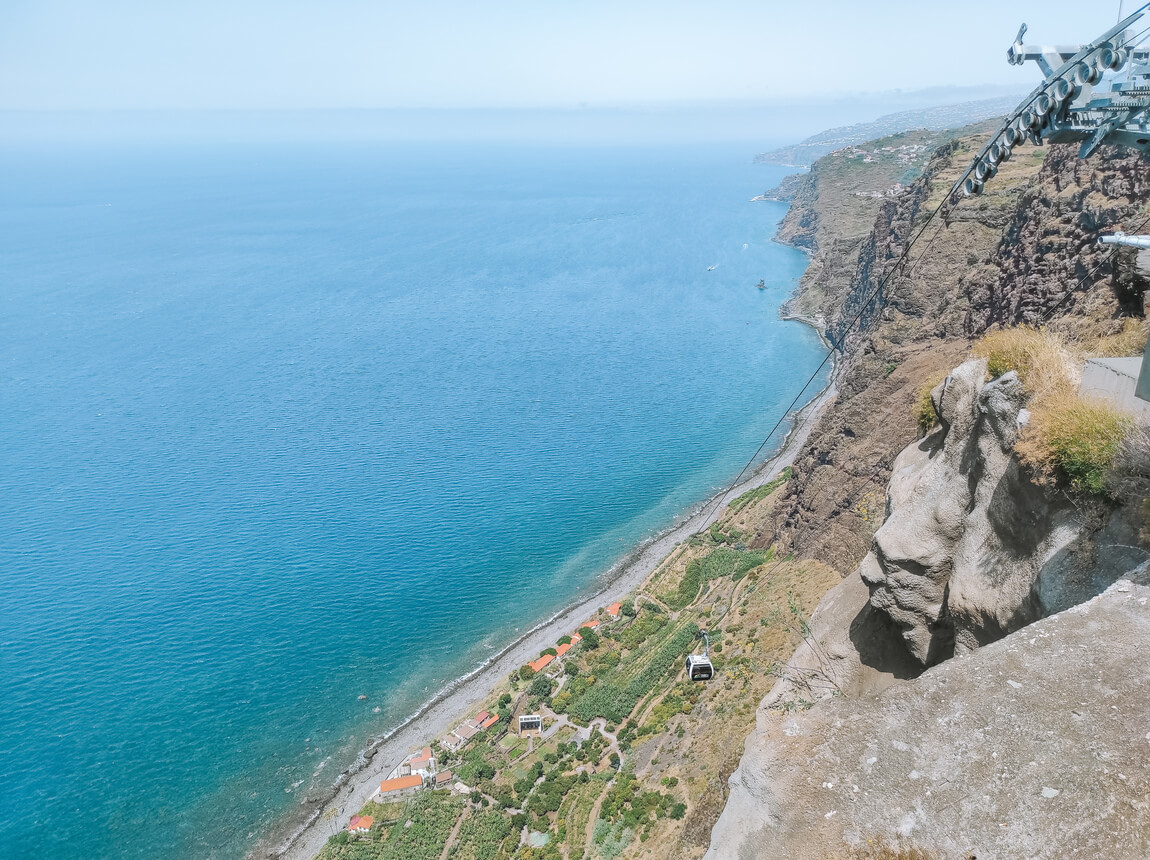 Fajã dos Padres also has a restaurant which is open until the end of the day. The cable car ride is quite vertiginous although it only lasts about 3 minutes.
📝 USEFUL INFORMATION: The cable car runs from 10 am to 7 pm (6 pm in winter) and costs 10€ (round trip). Check out the most up-to-date information here.
» Ribeira Brava
Ribeira Brava doesn't have many points of interest, but I assure you it is worth a visit. After a short walk along the waterfront next to Ribeira Brava beach, we stopped at the other two main points of interest:
São Bento Fortress Ruins (currently the Tourist Office)
São Bento Church (located in a very pleasant square)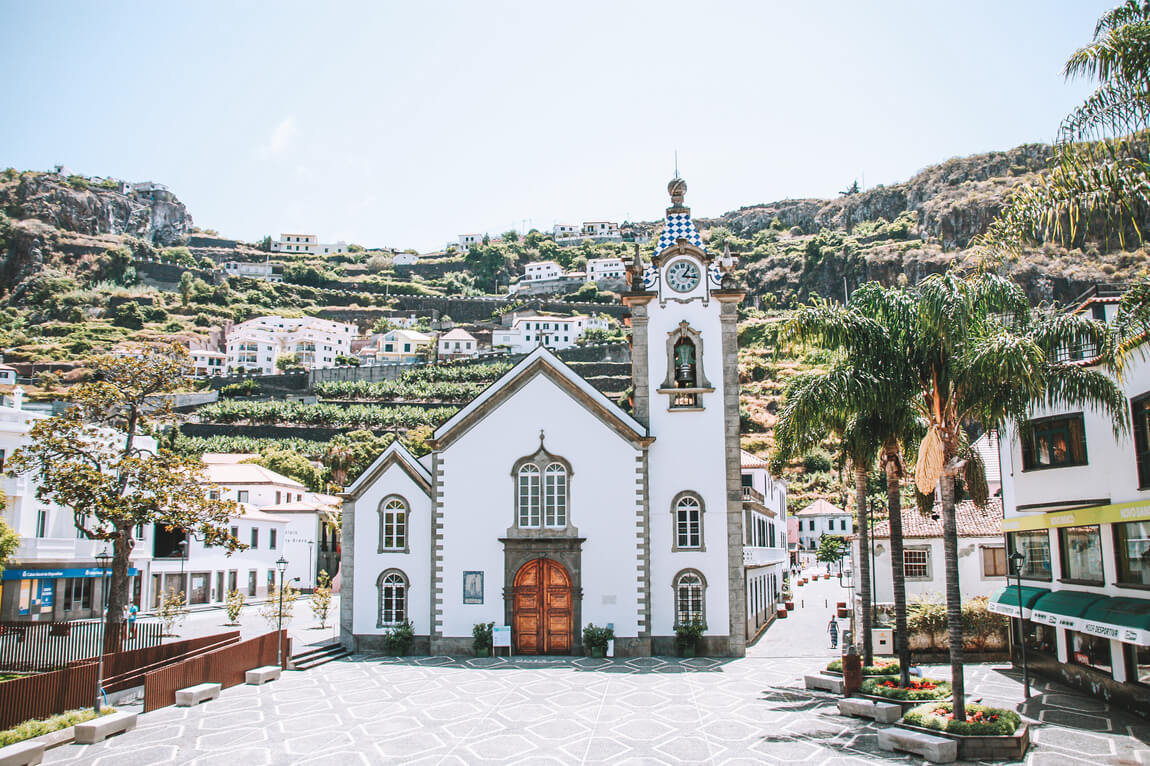 💡 EXTRA TIP: If you are travelling from Ribeira Brava to Ponta do Sol, stop at Cascalho Viewpoint for panoramic views over Ribeira Brava.
» Ponta do Sol
Ponta do Sol (which translates to "sun point") owes its name to the fact that this is one of the warmest parts of the island and where the sun shines for the longest hours. So, of course, I had to enjoy a nice lunch by the sea at the restaurant Maré Alta.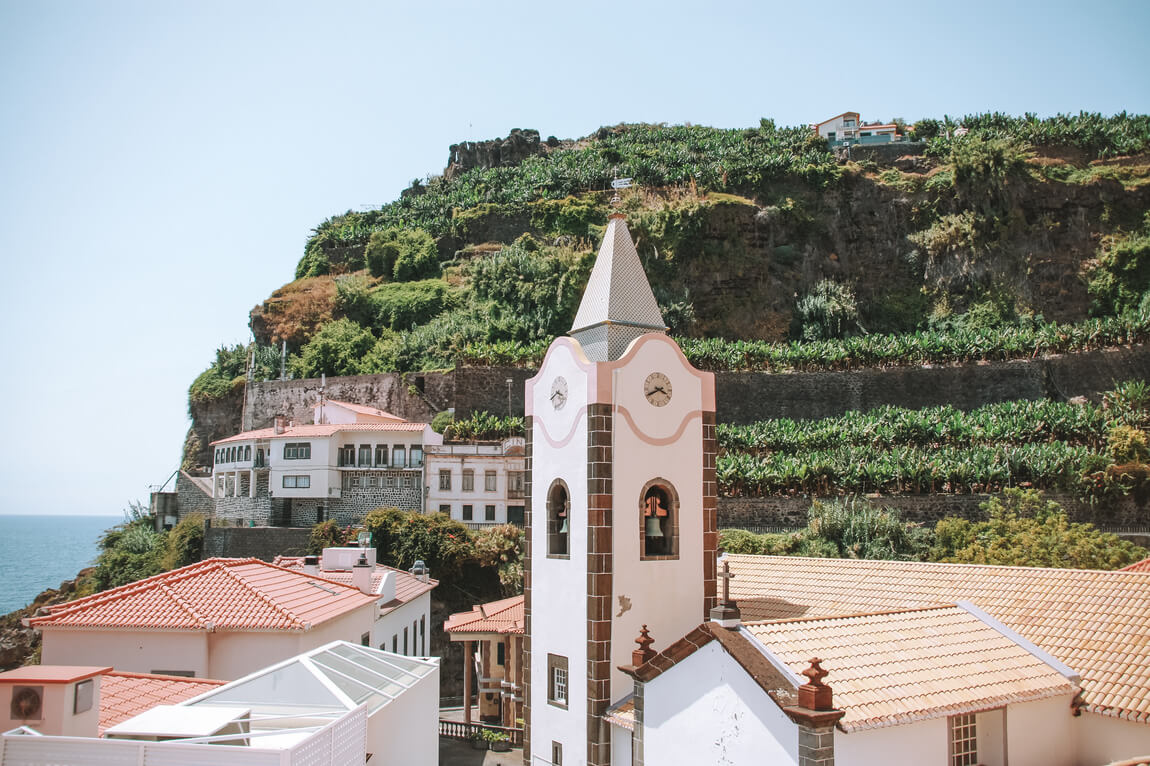 However, Ponta do Sol is not all about beach life. There are 3 churches/chapels worth visiting: Santo António Chapel | Mother Church | Saint Sebastian Chapel.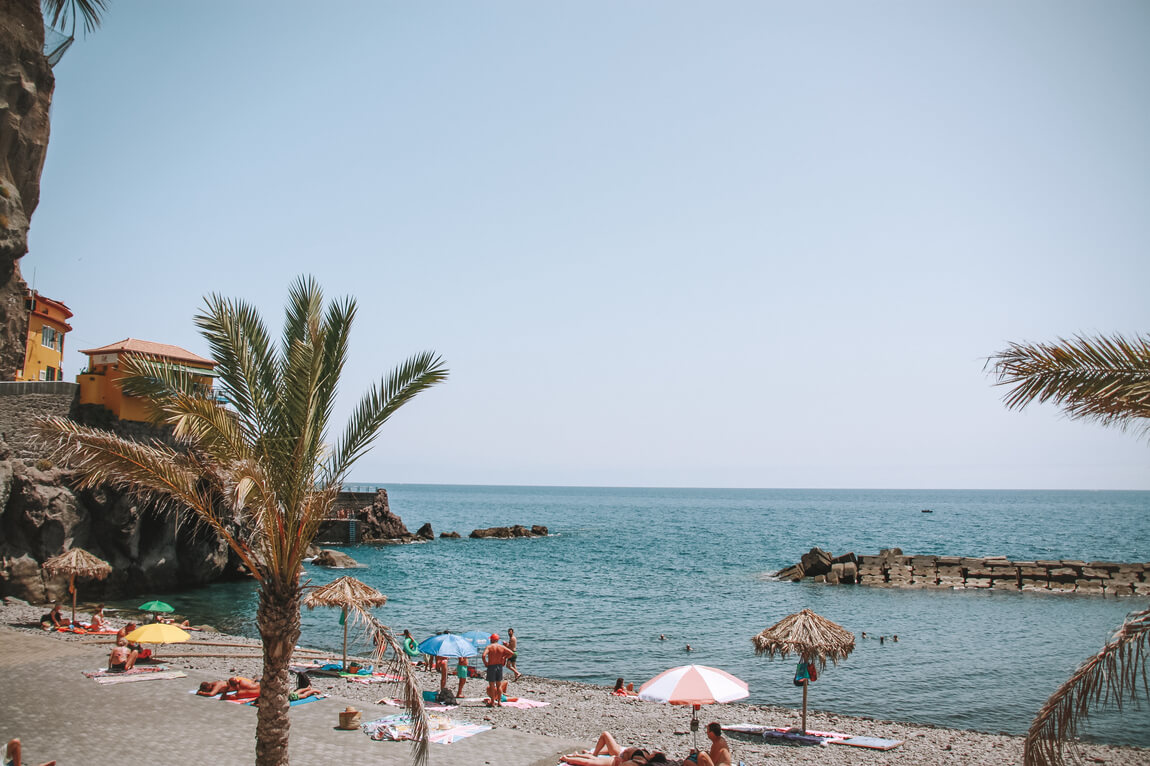 💡 EXTRA TIP: Next to Santo António Chapel there is a viewpoint with panoramic views over Ponta do Sol.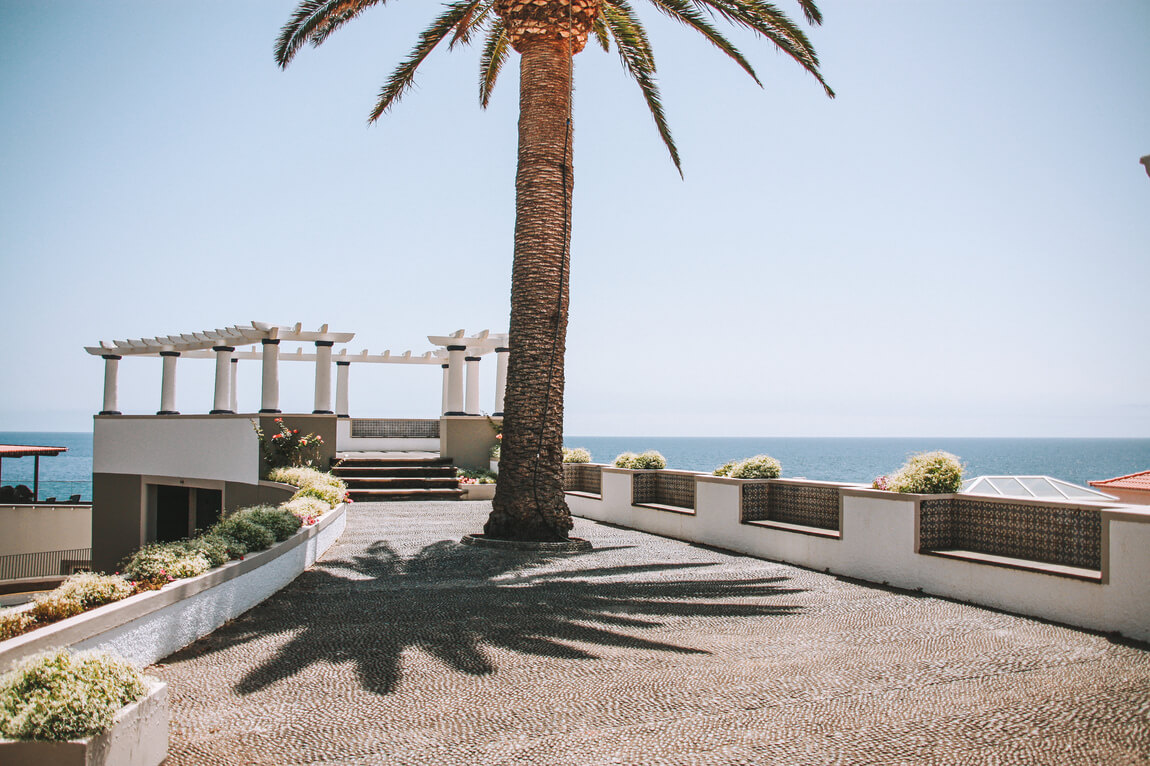 » Anjos Waterfall
When driving from Ponta do Sol to the next point on the itinerary, you shouldn't miss the Anjos waterfall. This waterfall is probably the most famous in Madeira as it literally falls on the ER101 road, making for some incredible photo opportunities 😉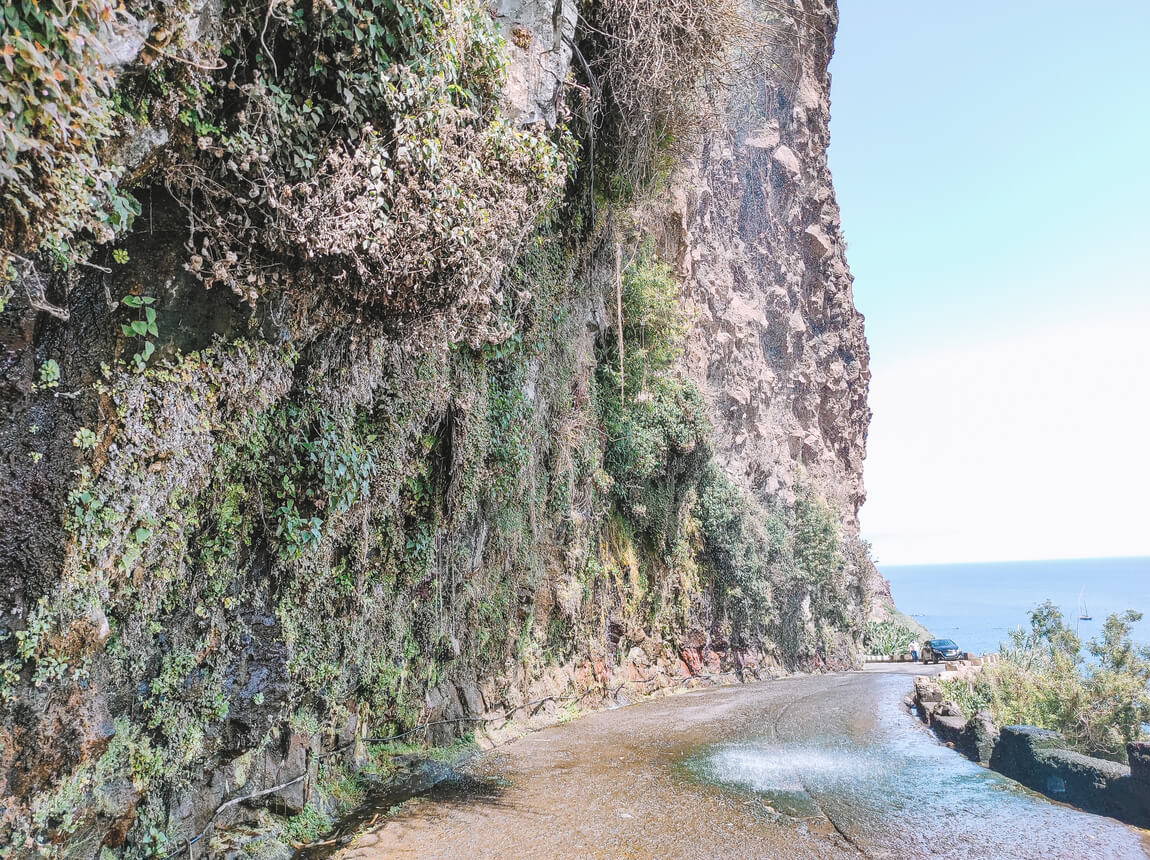 💡 EXTRA TIP: Sometimes the ER 101 road is closed (especially on rainy days) and if this happens it will be impossible to visit the waterfall.
» Calheta Beach
Madeira means Nature, but also cool beaches. The water temperature in Madeira is probably one of the mildest in Portugal, so you can enjoy a nice swim. So, nothing better than a stop at Calheta Beach!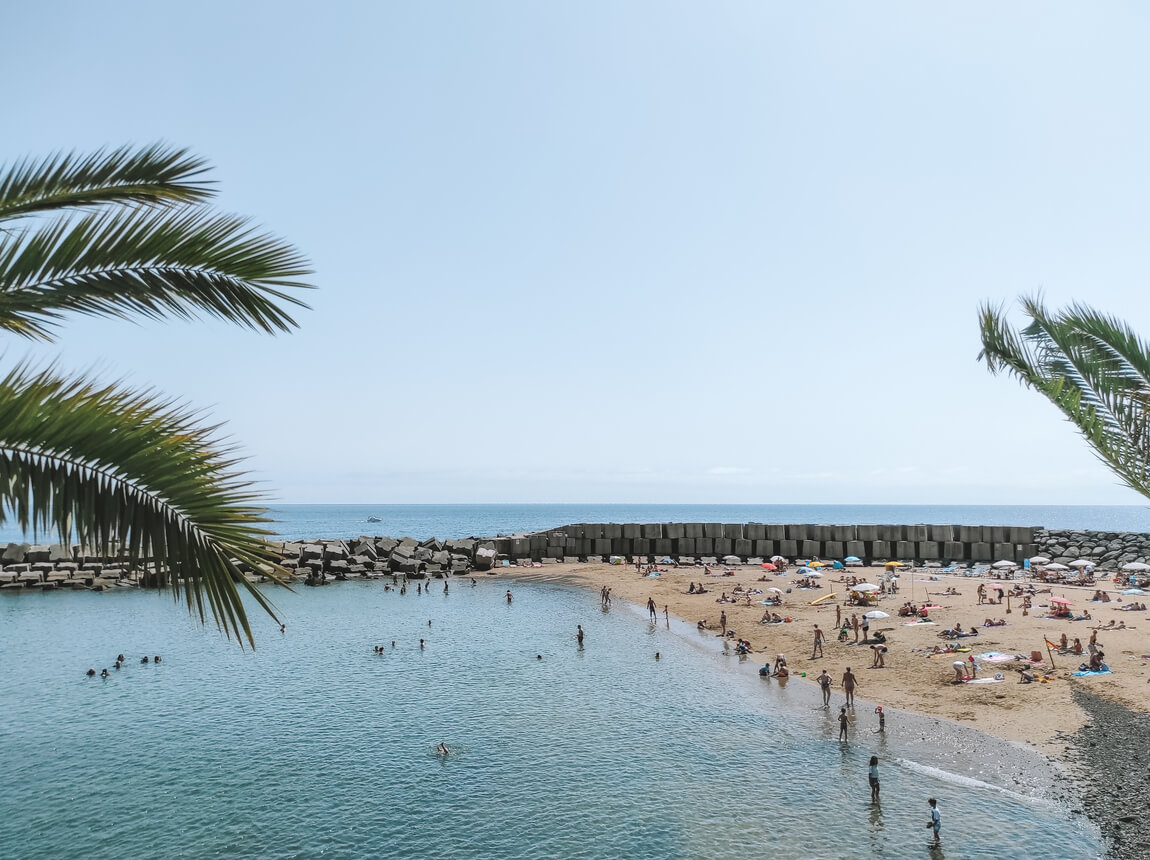 » Paúl do Mar
Paúl do Mar is one of the most important fishing areas in the archipelago, so it is a nice place to try out some fish.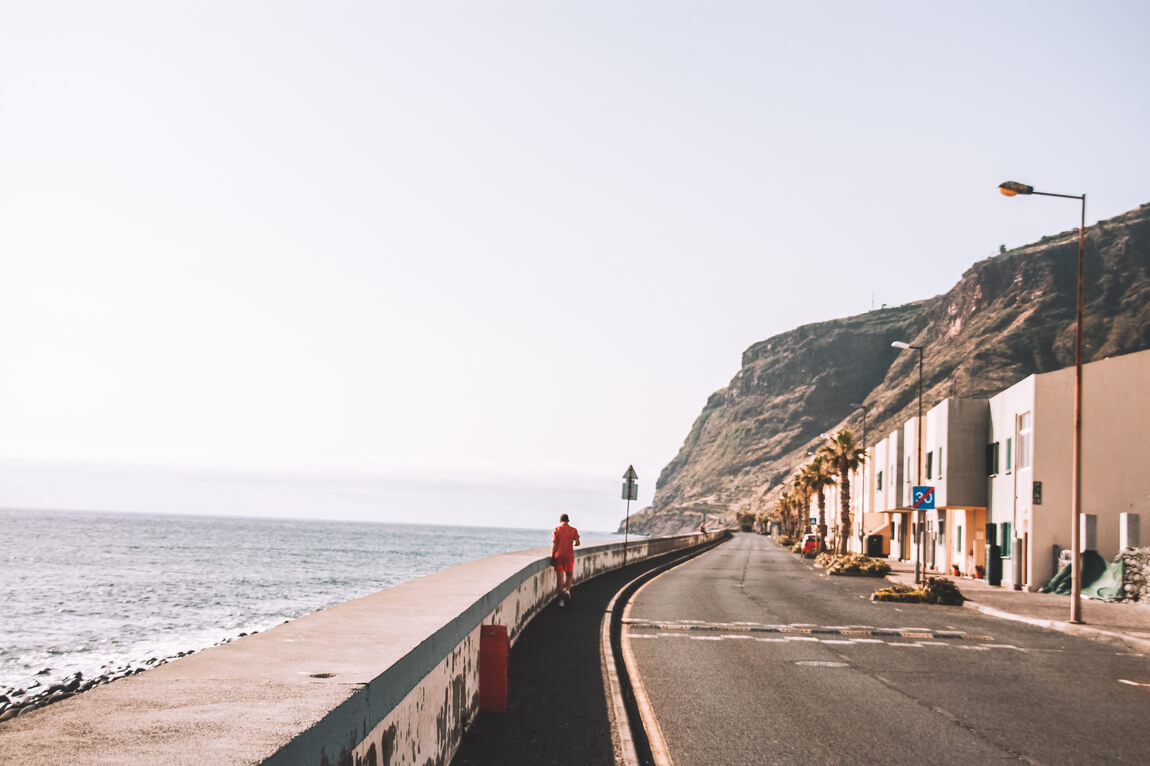 For many years, Paúl do Mar was only accessible by boat. Nowadays, the road that allows us to get there is superb and has breathtaking views.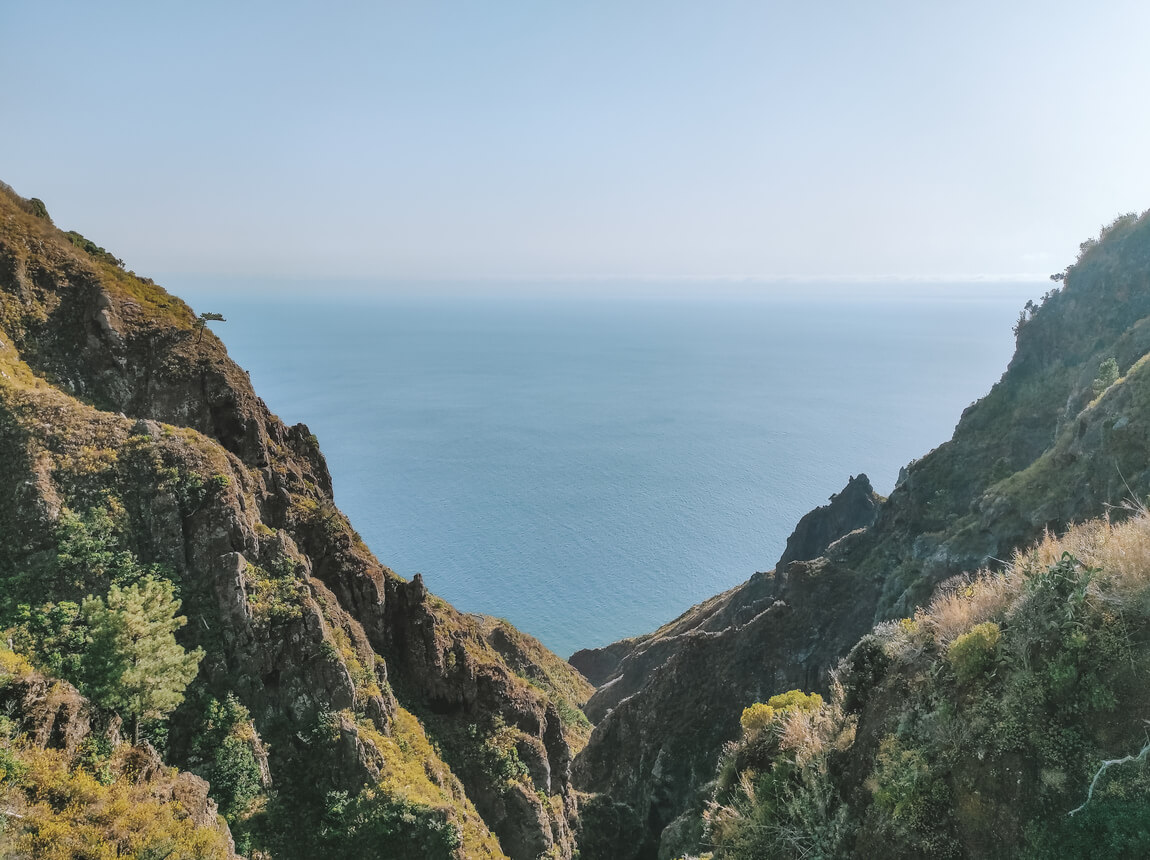 I must confess this was not one of the places I liked the most (we can't love all places the same way), but it is worth at least the road that takes us there.
» Ponta do Pargo Lighthouse
On the way to Porto Moniz we also stopped at Ponta do Pargo Lighthouse, located on the westernmost part of the island. It is said that from here you can watch one of the most beautiful sunsets on the island 😊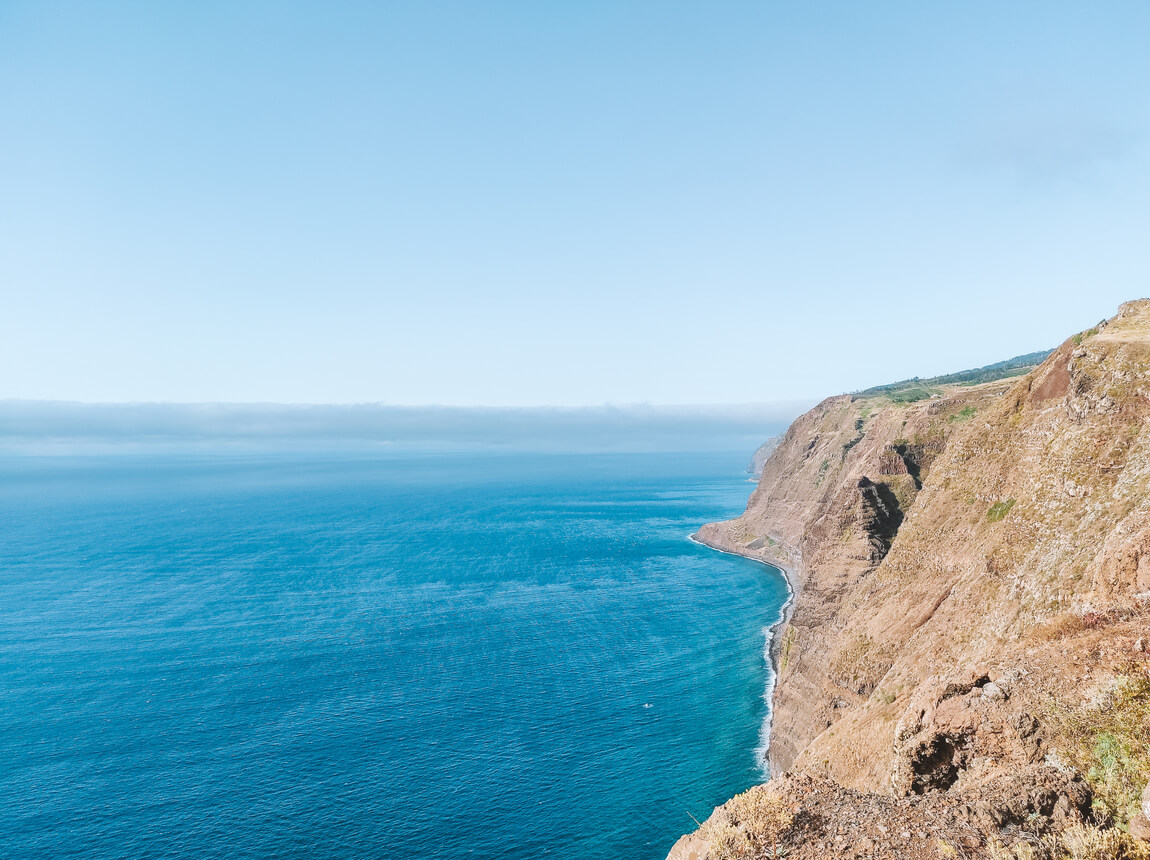 💡 EXTRA TIP: If you are travelling during the rainy season (in summer there tends to be less water), you can take a short diversion to Garganta Funda Viewpoint. Here you will be able to observe a waterfall falling from 140 meters high! You have to walk a short distance (about 1km round trip) to get to the viewpoint.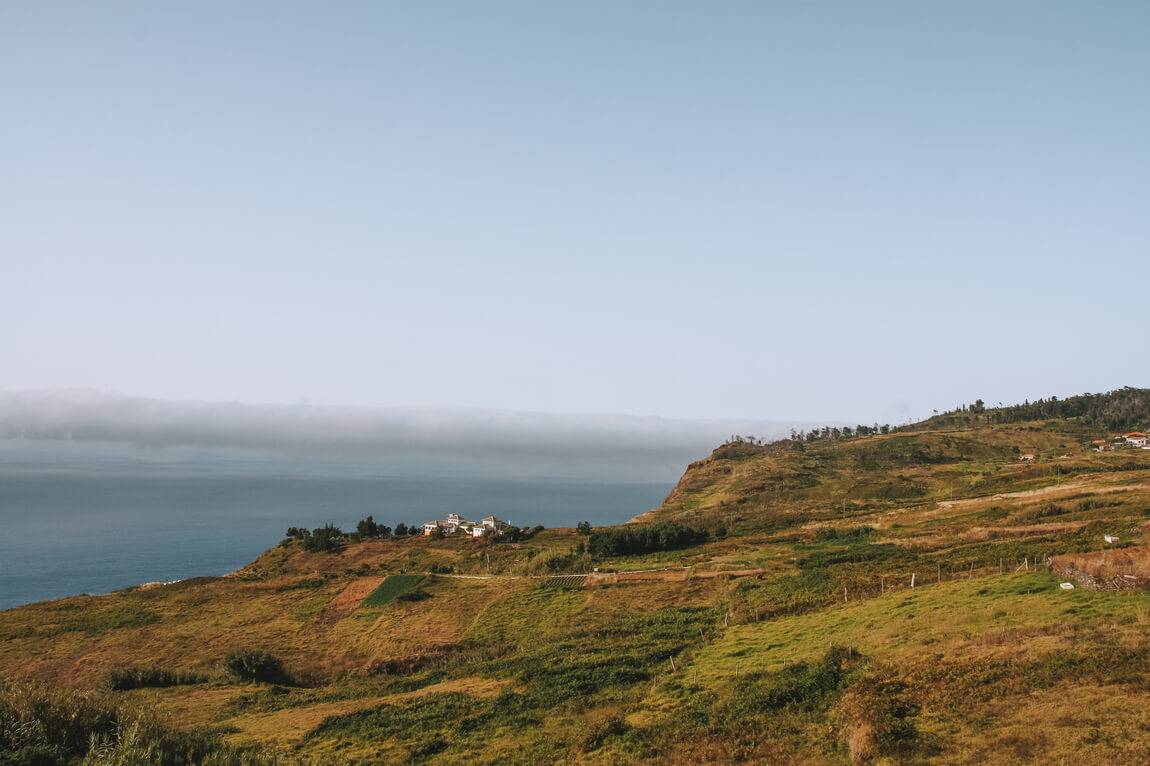 Day 2: Porto Moniz – 25 Fontes/Risco Trail – São Vicente – Seixal – Ribeira da Janela – Fanal – Porto Moniz
» 25 Fontes + Risco Hiking Trail
Going to Madeira and not walking through one of its trails (usually known as "levadas" or "veredas") would be a shame. So, we woke up very early to go towards the Rabaçal Viewpoint, where the 25 Fontes and Risco Hiking Trails start.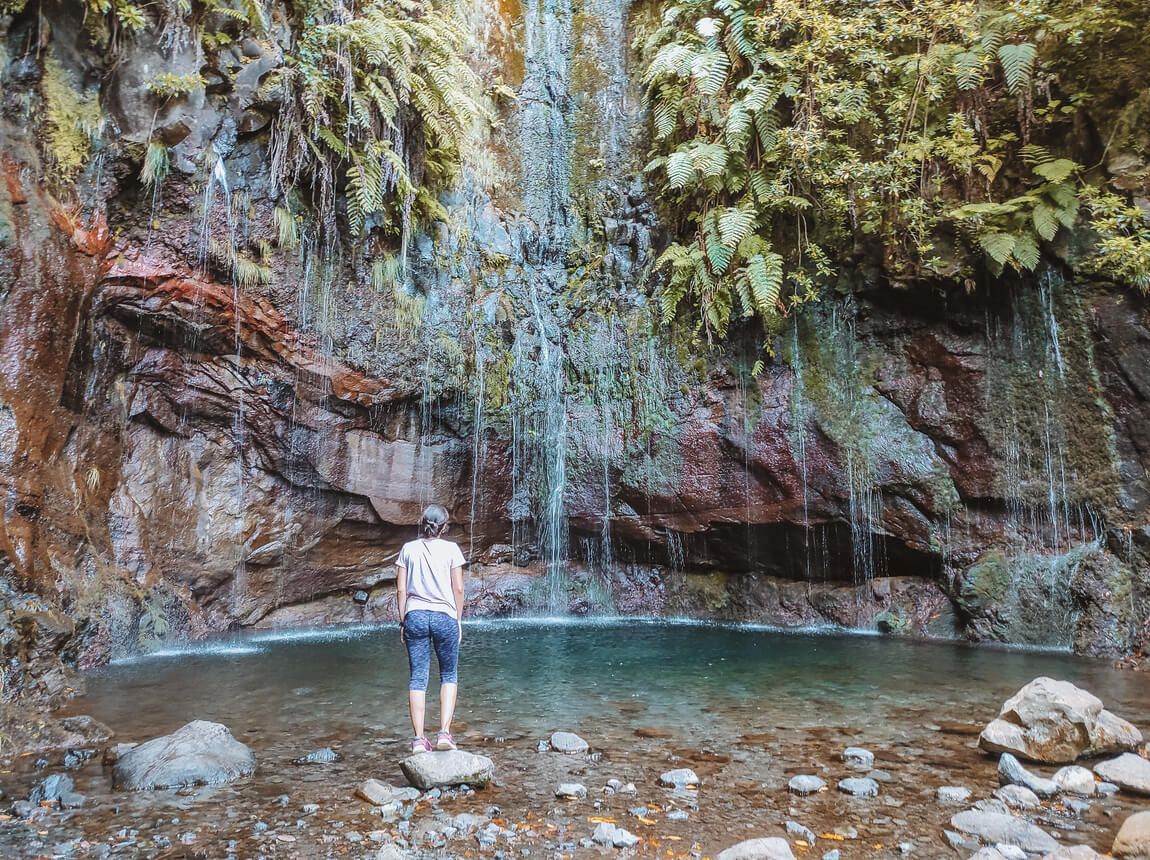 "Levadas" are very typical in Madeira and there are lots of them. It would be impossible to visit them all, but it's really worth trying at least one.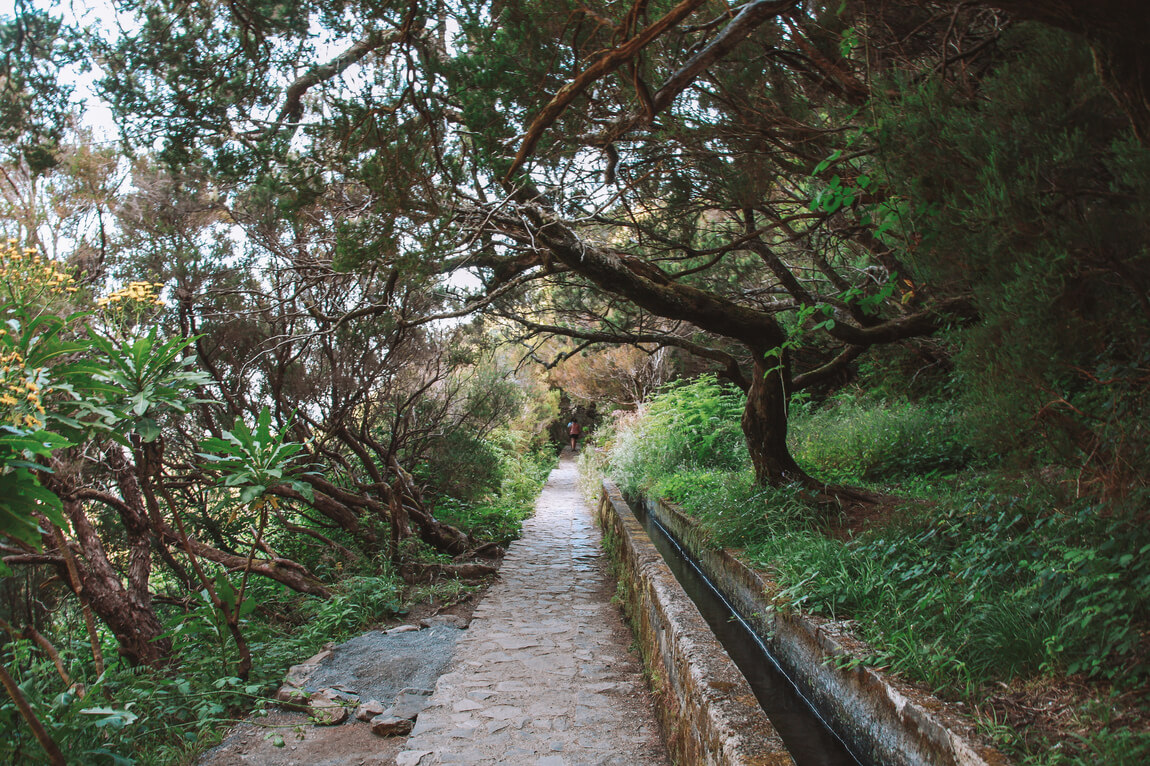 In this case, we walked about 9 km for 3 hours and this is probably one of the most beautiful hiking trails on the island. Check out all you need to know about this "levada" in my blog post all about Madeira's hiking trails.
» São Vicente
After a beautiful start to the day amidst enchanting landscapes, we headed to São Vicente to recharge our batteries.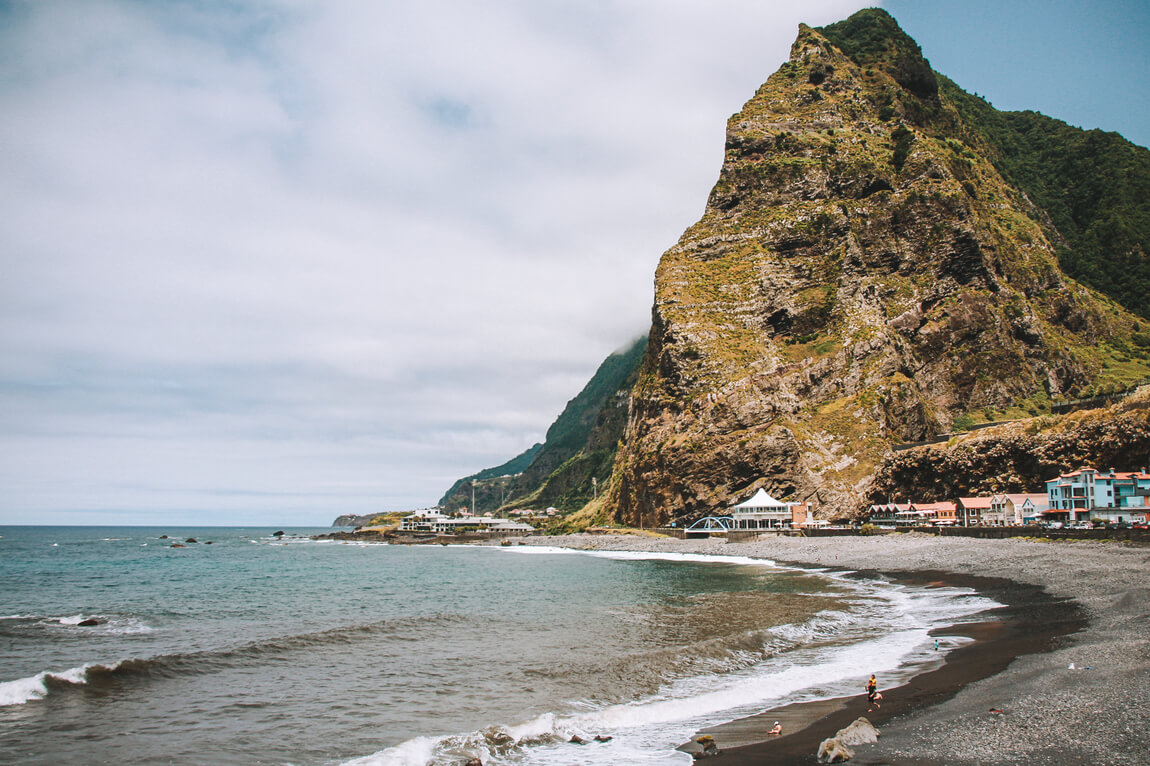 São Vicente was one of the most beautiful places I found on the island. Even though it doesn't have that many points of interest, the green landscape that surrounds São Vicente steals all the attention. A walk along the waterfront is all we need to fall in love with São Vicente!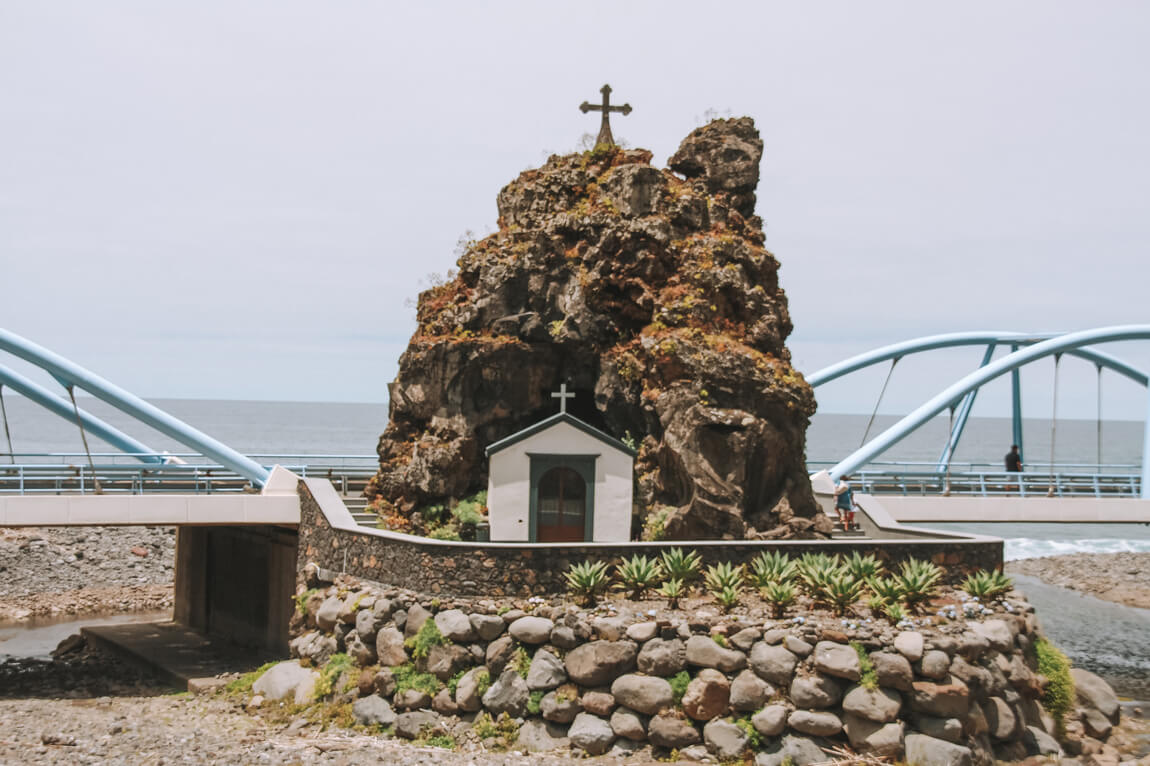 Nevertheless, don't forget to visit the São Vicente Chapel (built inside a rock) or São Vicente Waterfall (right next to the road).
💡 EXTRA TIP: When in São Vicente, you can also visit its Caves and Volcanism Centre and the ticket costs 5€ per adult.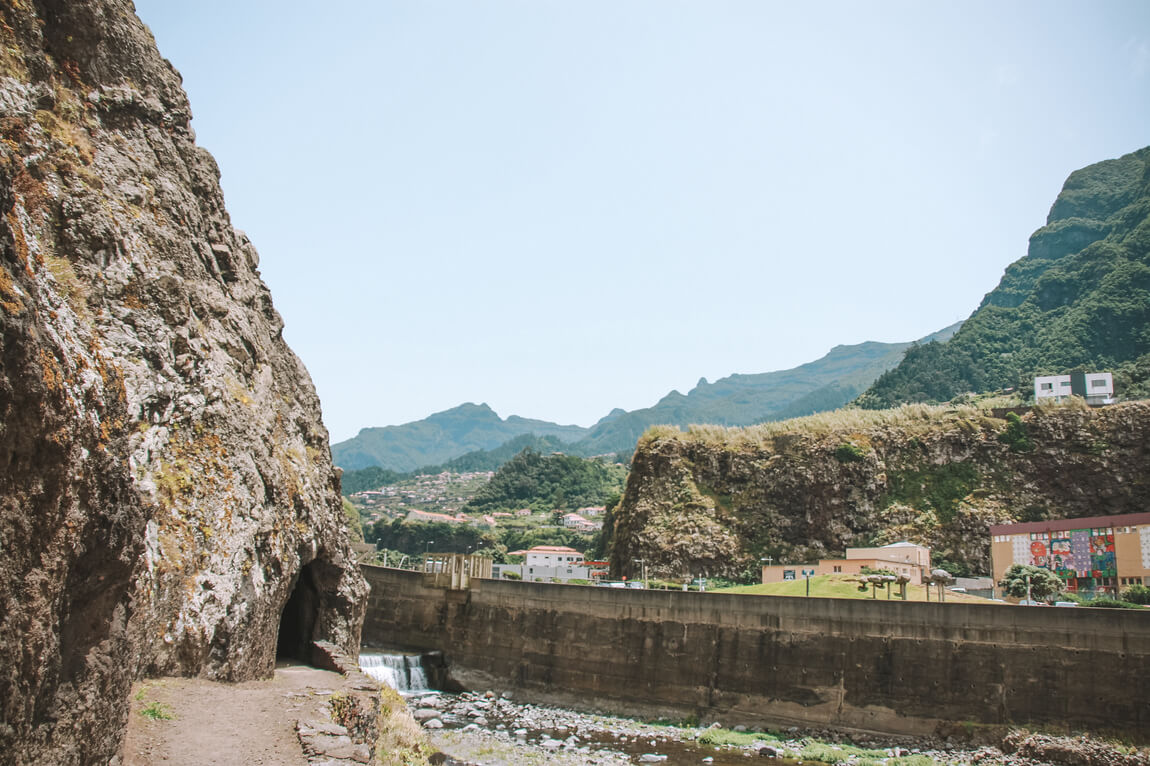 💡 EXTRA TIP: On the way to the next stop, I suggest stopping at Veú da Noiva Viewpoint (Bride's Veil Viewpoint), from where we can observe the waterfall that shares the viewpoint's name. The waterfall is located on the old road that used to connect São Vicente to Seixal and its name comes from its resemblance to a bride's veil.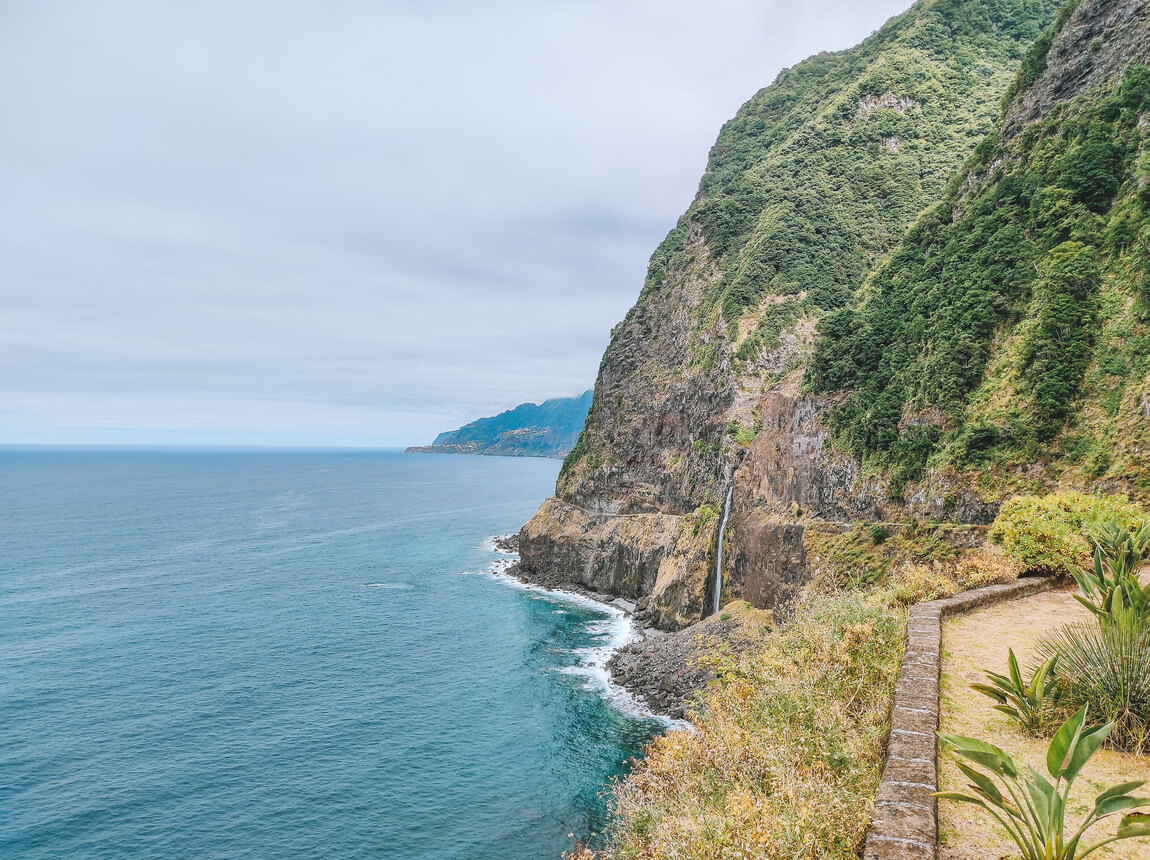 » Seixal
Along with São Vicente, Seixal was also one of the places that impressed me the most on Madeira Island. Surrounded by green hills, it will be hard not to fall in love.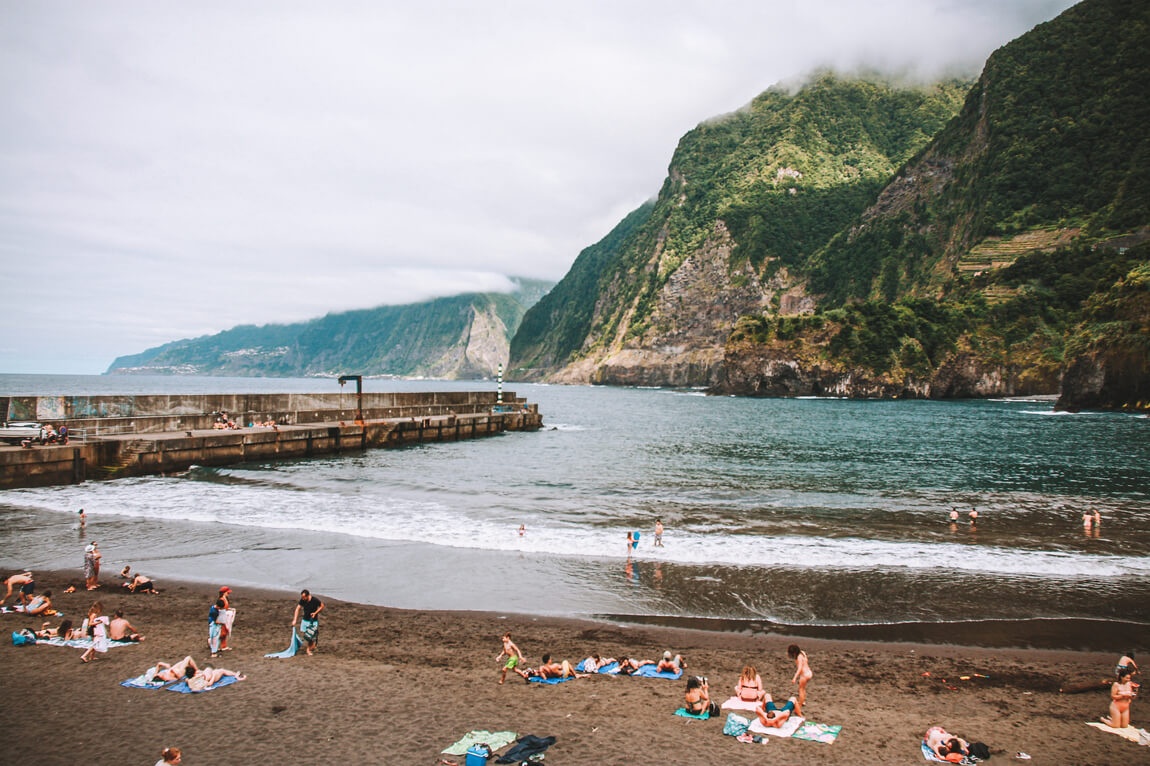 Don't miss the famous black sand beach – Porto do Seixal Beach or Seixal's natural pools (of volcanic origin). The natural pools are much less crowded than those of Porto Moniz and, quite honestly, they are great as well. Besides, the visit is totally free 😊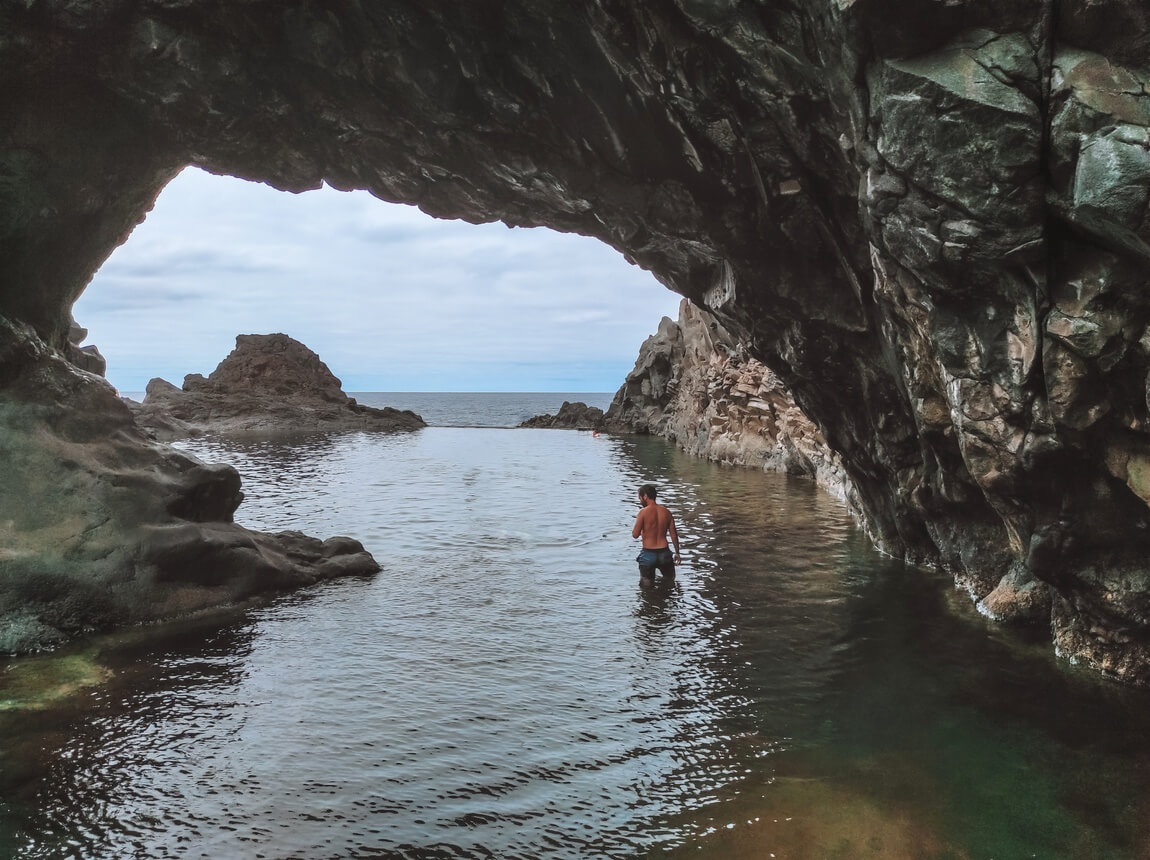 » Ribeira da Janela
On our way back from Seixal towards Porto Moniz, we took the opportunity to stop briefly at Ribeira da Janela. More specifically, we stopped at these two viewpoints:
Eira da Achada Viewpoint – with sweeping views over the northern coast of the island
Ribeira da Janela Islets Viewpoint – it is necessary to go through a small tunnel to reach the lookout point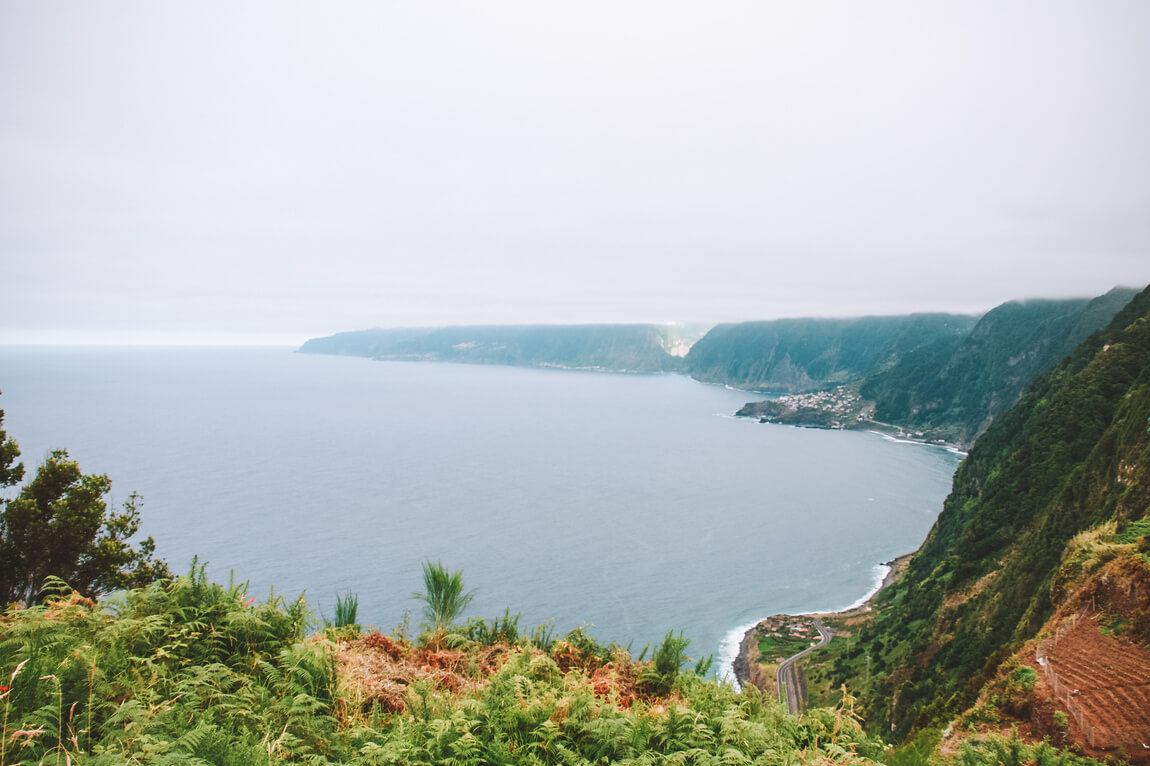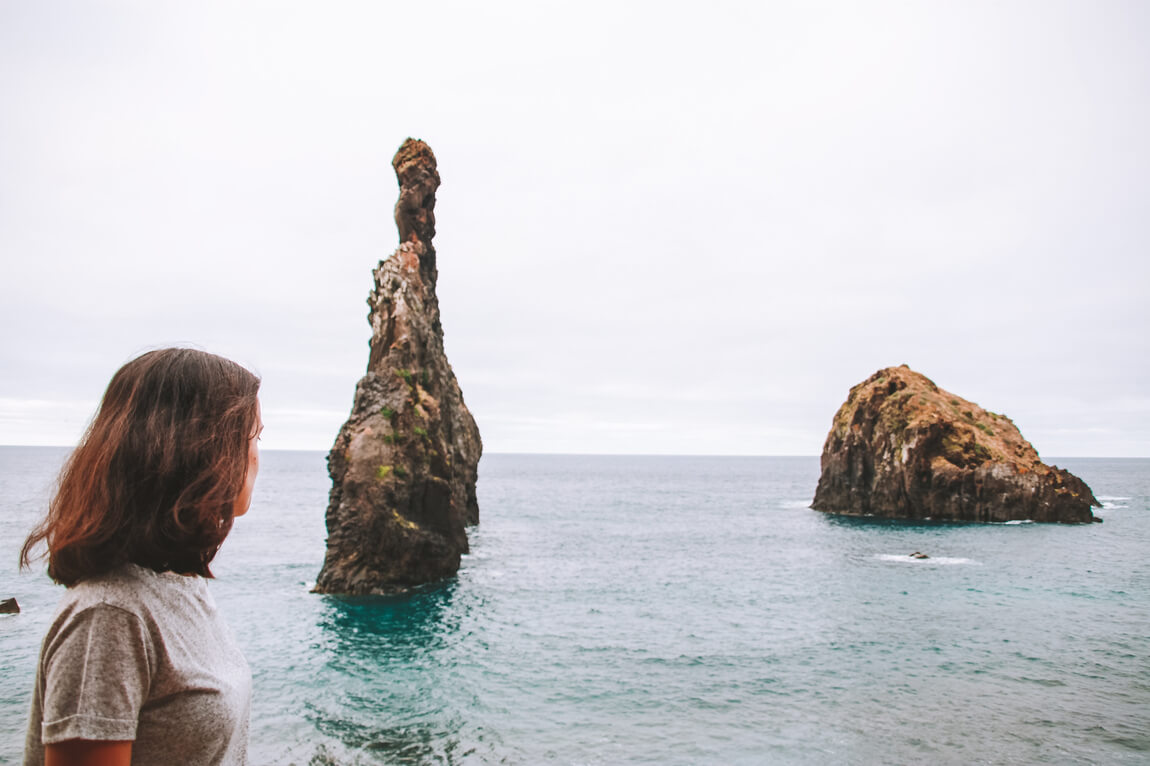 » Fanal
The Fanal Forest is one of the most mystical places in Madeira Island due to the fog that often exists there and also due to the unusual shape of the trees.
Unfortunately, when I went to visit it, there wasn't much fog and, as the time was running short, I opted to only visit the Fanal Pond.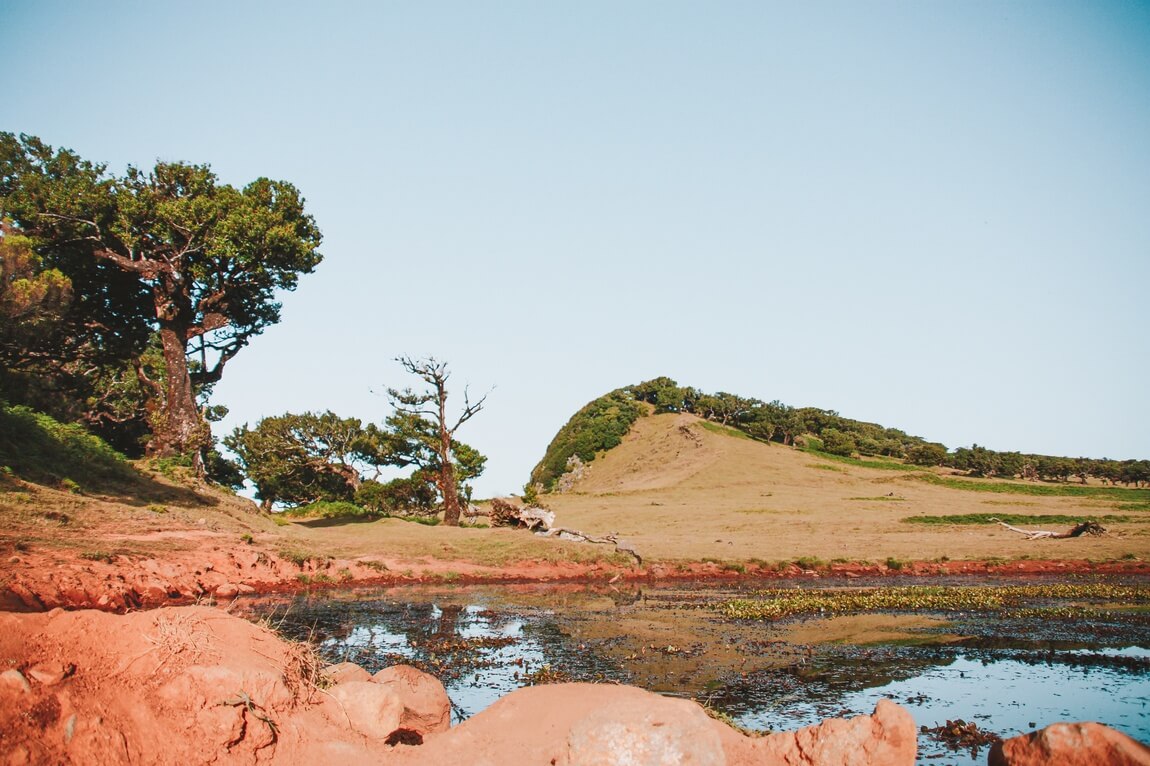 However, there are some hiking trails that start here and that enable you to you better explore Fanal:
Vereda do Fanal (PR13)
Levada dos Cedros (PR14)
💡 EXTRA TIP: On the way back to Porto Moniz, we stopped at Santa Viewpoint, which has privileged views over Porto Moniz.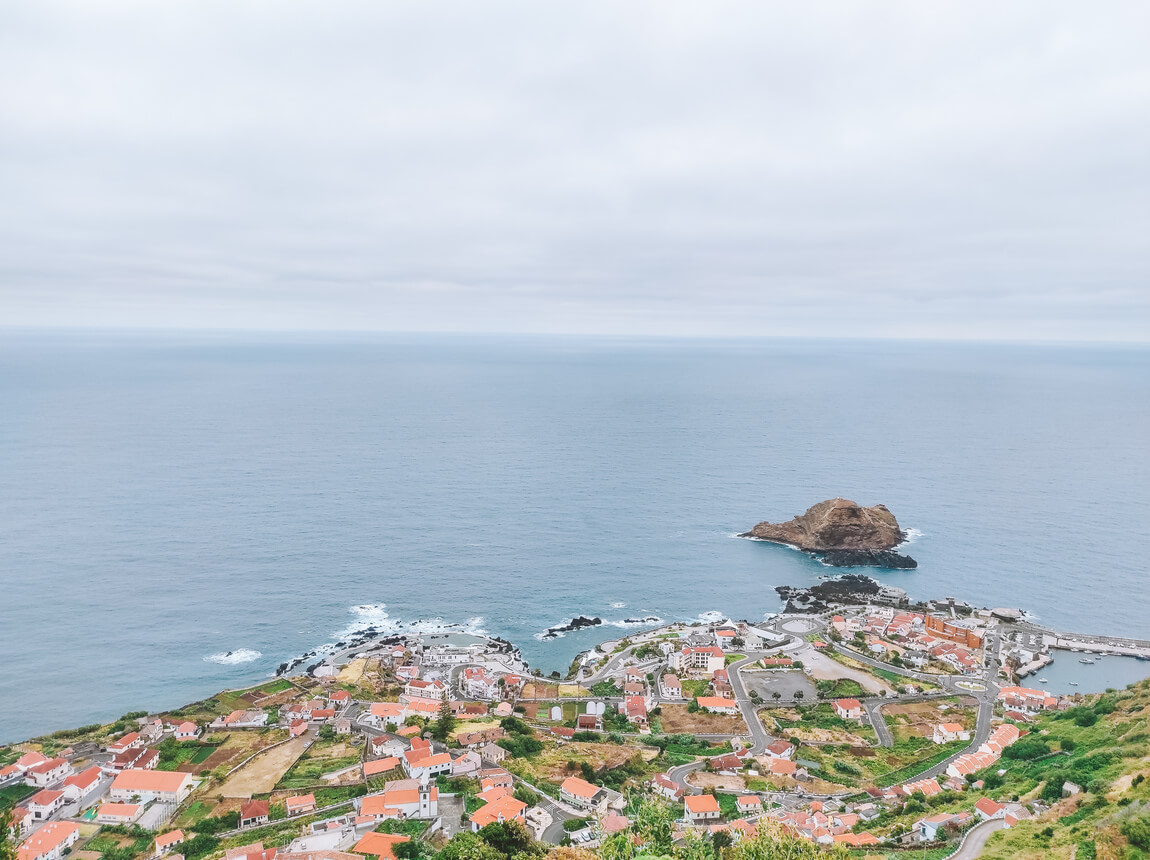 » Porto Moniz
Porto Moniz is one of the most famous places in Madeira due to its natural pools that were formed by volcanic lava.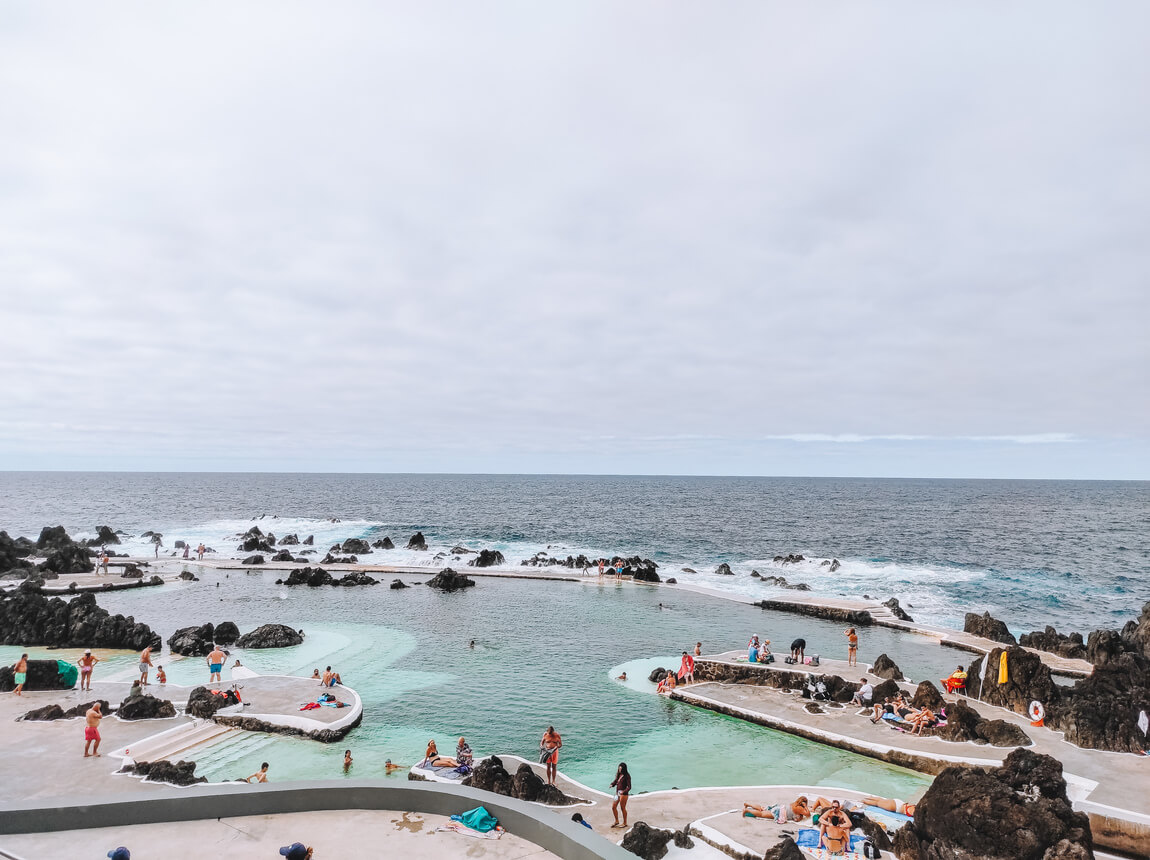 There are the old pools (admission is free) and the new pools, where the adult ticket costs 1,5€. The opening hours of the new pools vary depending on the time of year: from 9 am to 7 pm in summer (and until 5 pm in winter).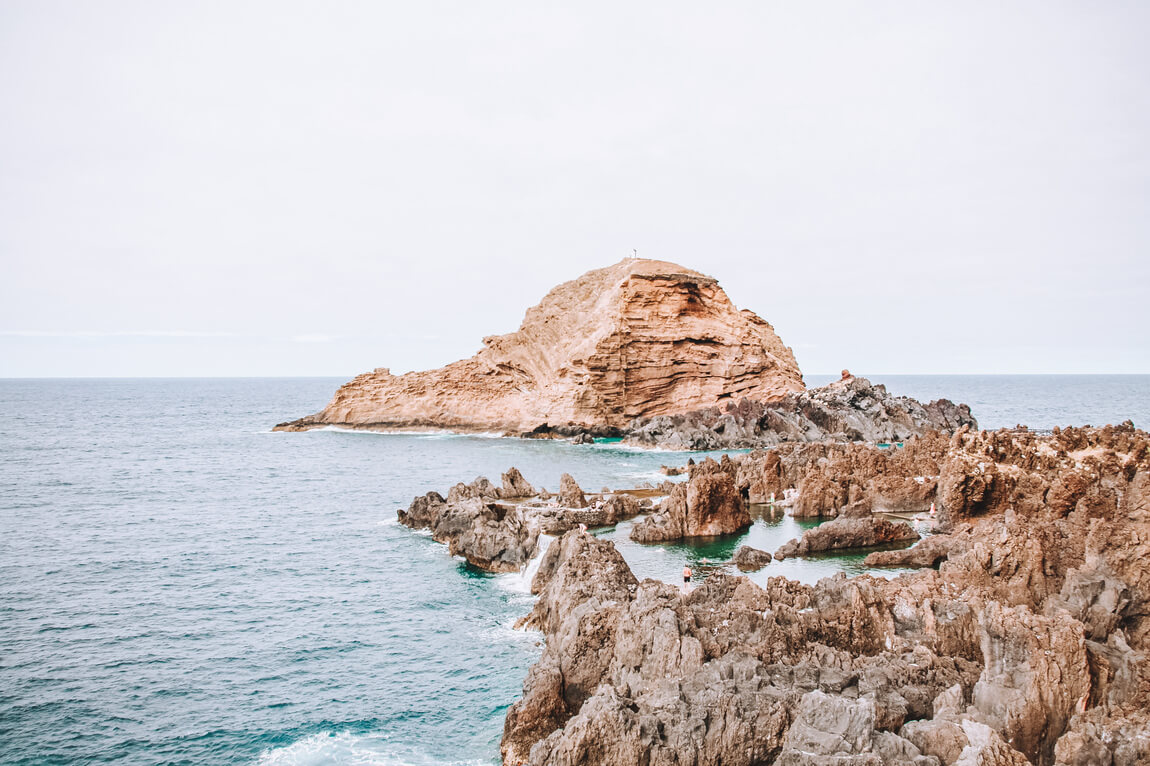 Day 3: Porto Moniz – Alecrim/Lagoa do Vento Trail– Ponta Delgada – São Jorge – Santana – Funchal
» Alecrim/Lagoa do Vento Hiking Trails
The 3rd day of this itinerary started again very early for another "levada/vereda". Starting again from the Rabaçal Viewpoint, this time we went to explore Alecrim and Lagoa do Vento Hiking Trails.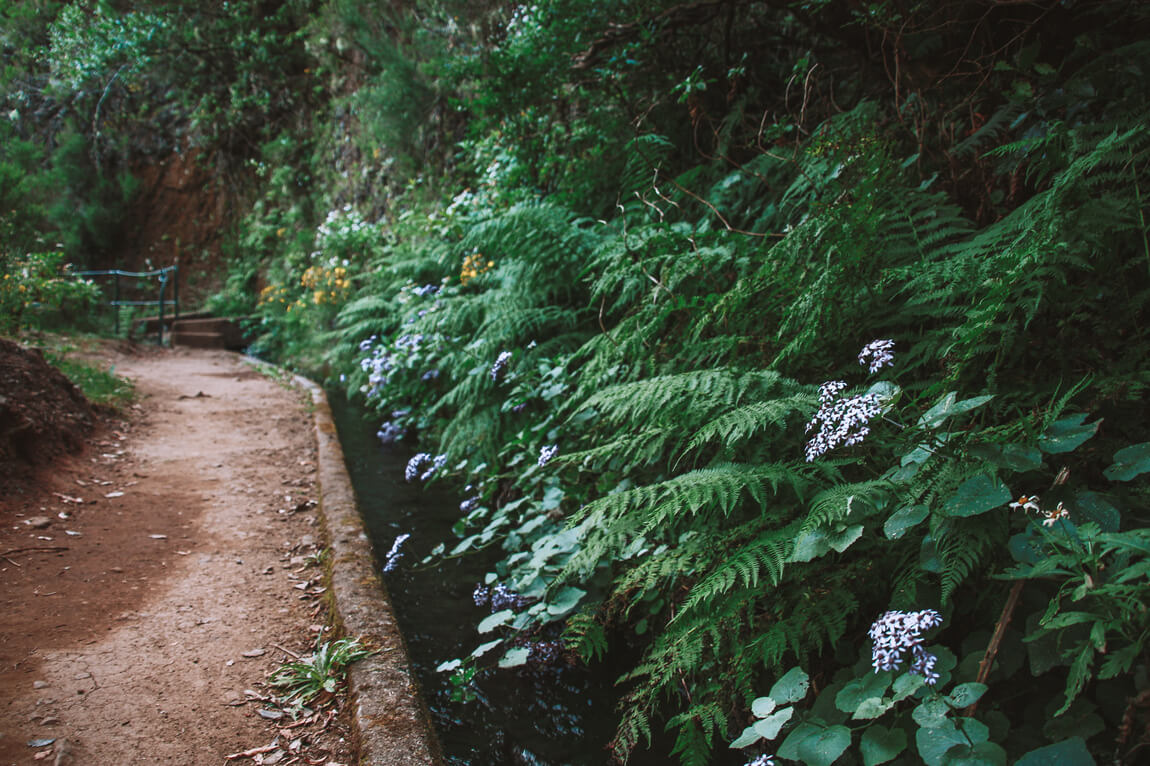 In total, we walked 8 km (in about 3h30). On this trail, I got the chance to observe one of the waterfalls that most enchanted me on the island – Lagoa do Vento Waterfall.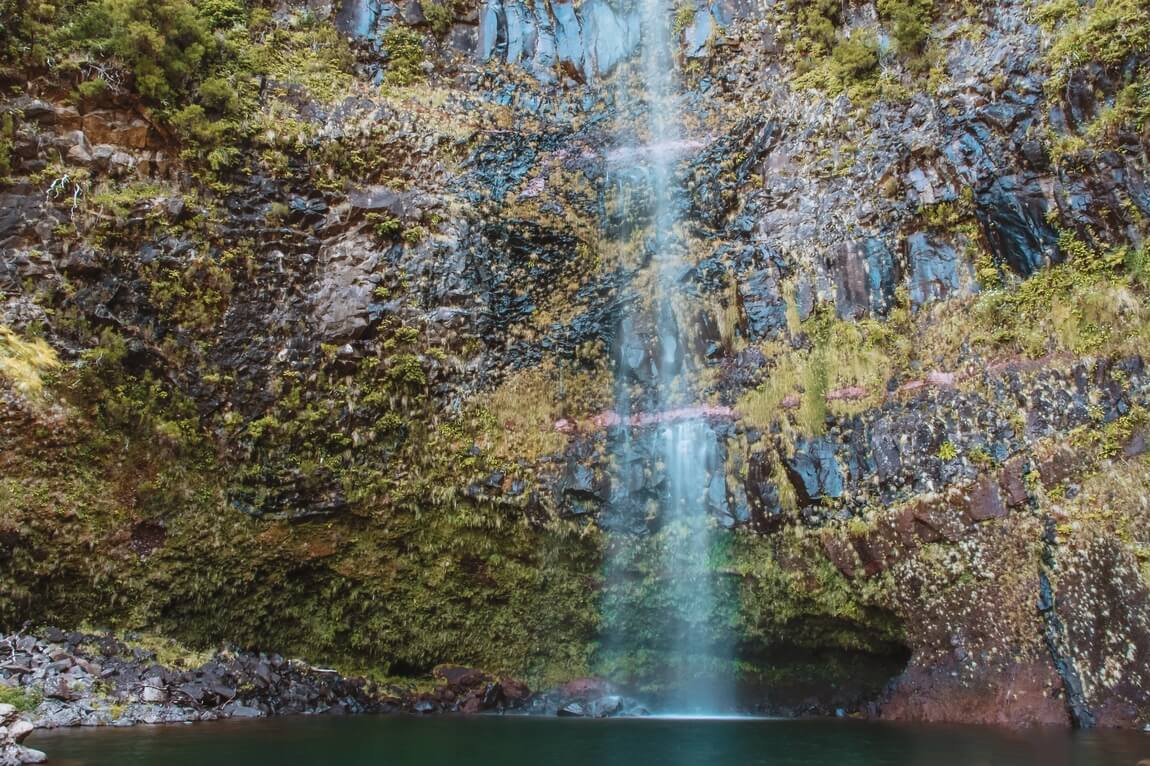 All the detailed information about this trail and two other levadas/veredas in Madeira that you can't miss, in this blog post.
» Ponta Delgada
After a full morning, we headed towards Ponta Delgada. In reality, Ponta Delgada is one of those places with only a few points of interest, such as Senhor Bom Jesus Church or the Sea Water Pools.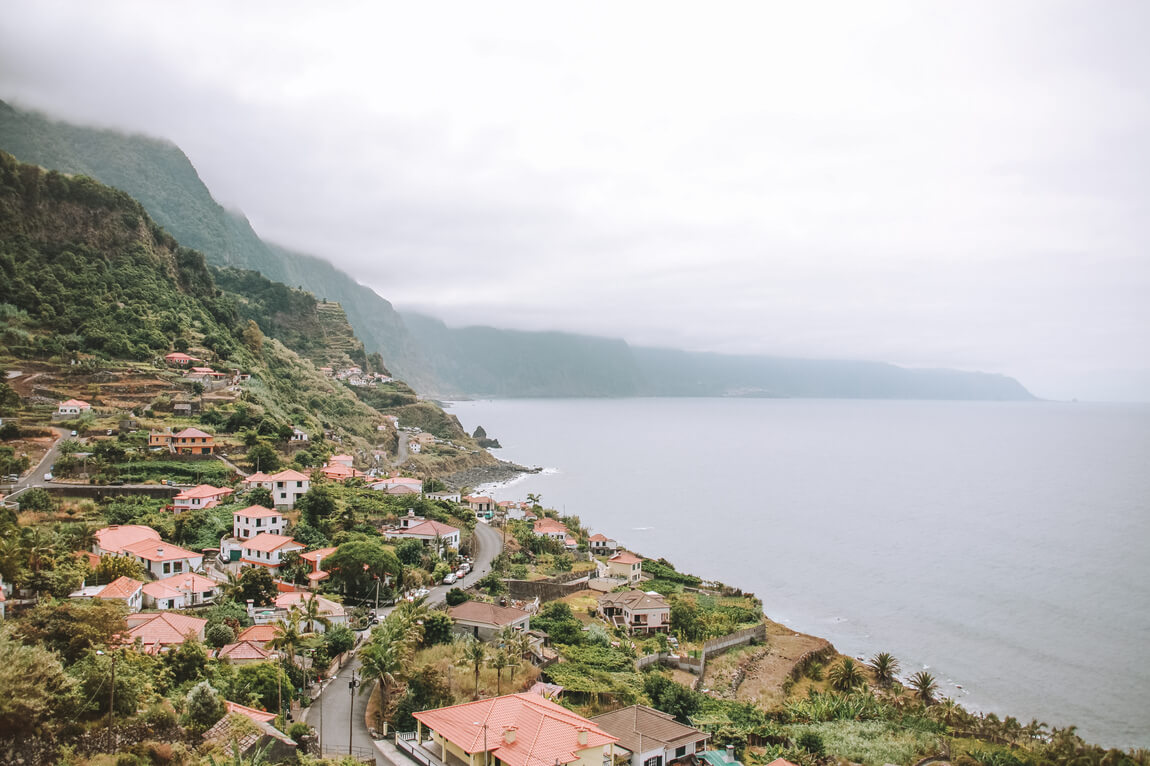 The landscape around Ponta Delgada is quite beautiful, but I must say that it is not as impressive as Seixal or São Vicente.
💡 EXTRA TIP: When driving from Ponta Delgada to São Jorge, you should add the Cabanas Viewpoint to your GPS 😉 Here you will find spectacular views, and on a clear day you can even see Porto Santo!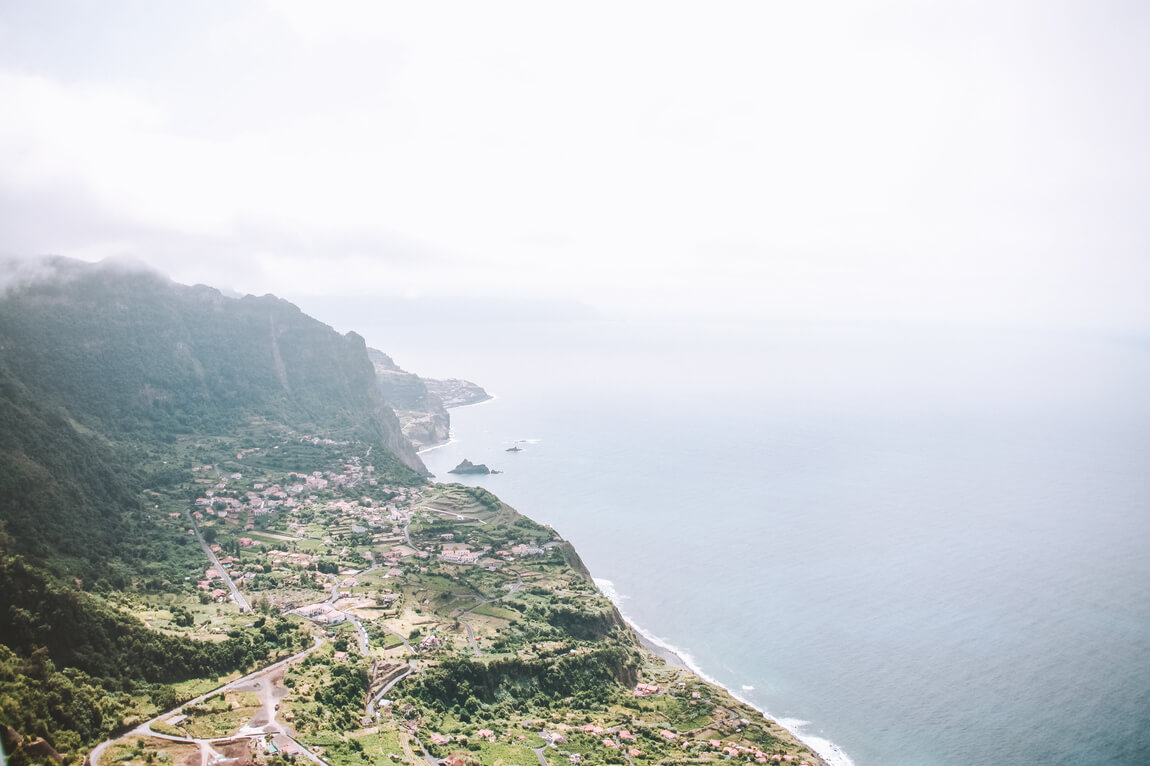 » São Jorge
The highlight in São Jorge is the sugar cane mills' ruins that date back to the beginning of Madeira's colonization.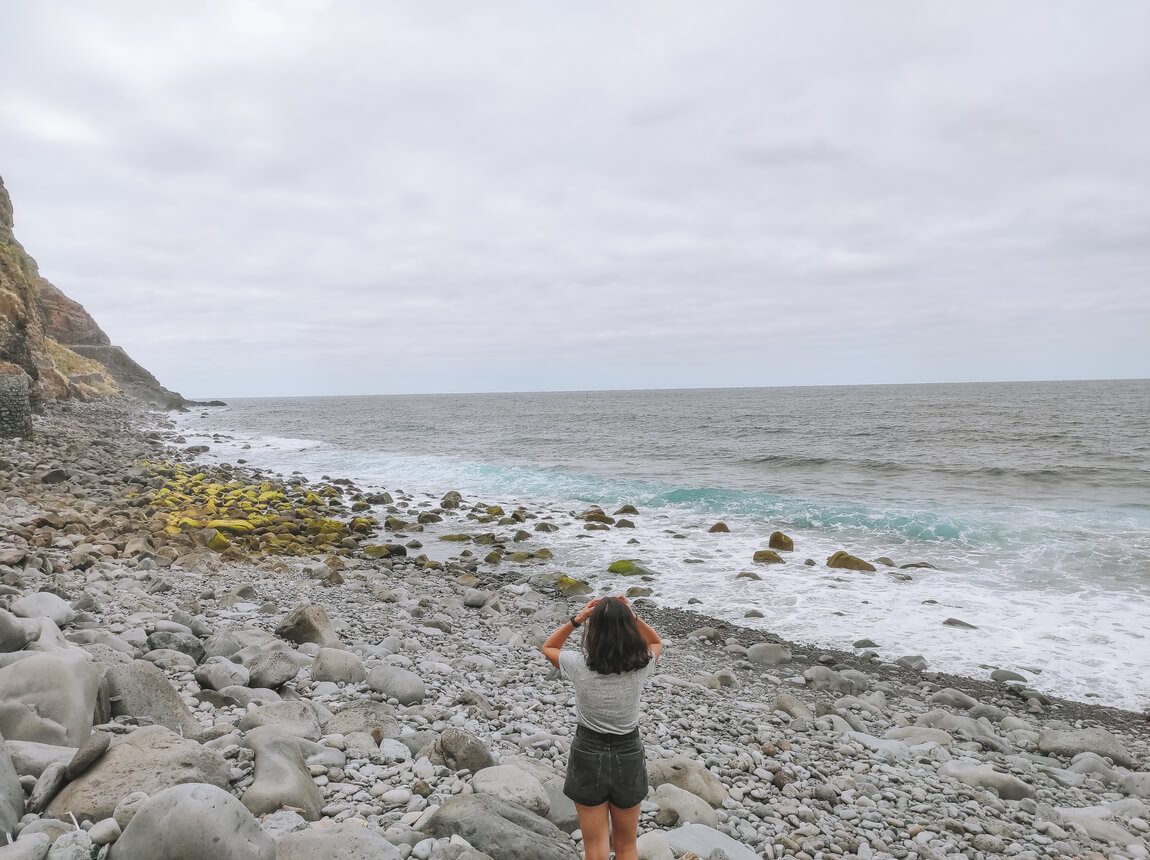 To get here, you can park your car next to Calhau de São Jorge bathing complex, having to walk just a few metres from there.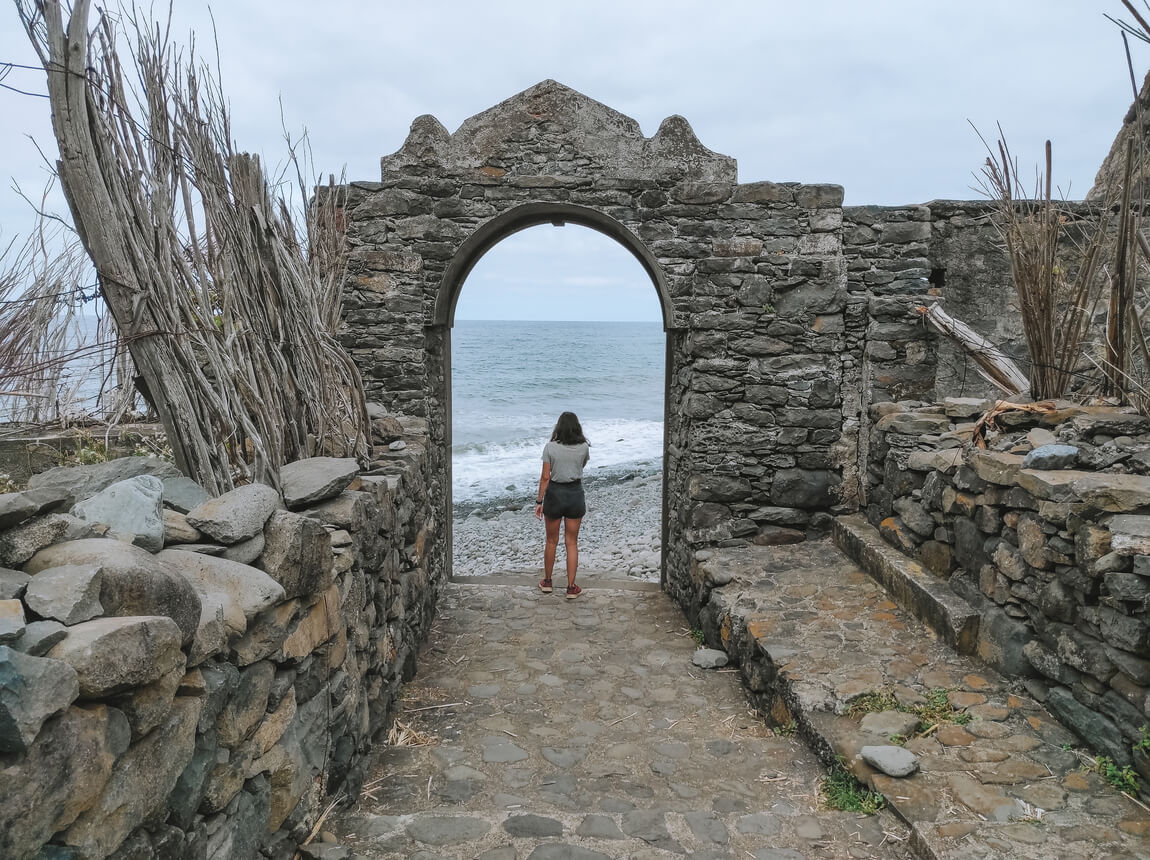 💡 EXTRA TIP: Heading towards Santana, the Guindaste Viewpoint is another must-see. From here we have superb views of the north coast of the island and we can also observe Ponta de São Lourenço, among others.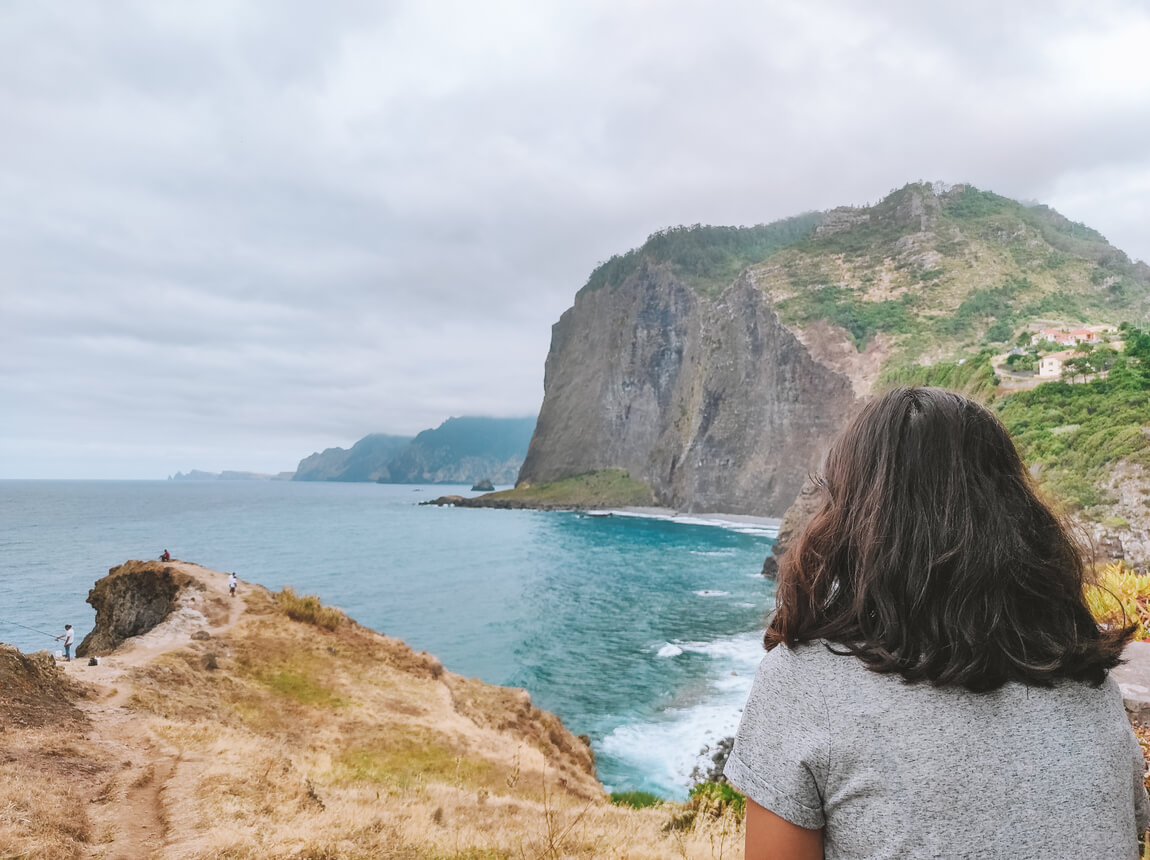 » Santana
Santana is home to what is probably the biggest landmark of Madeira Island – the typical Santana houses!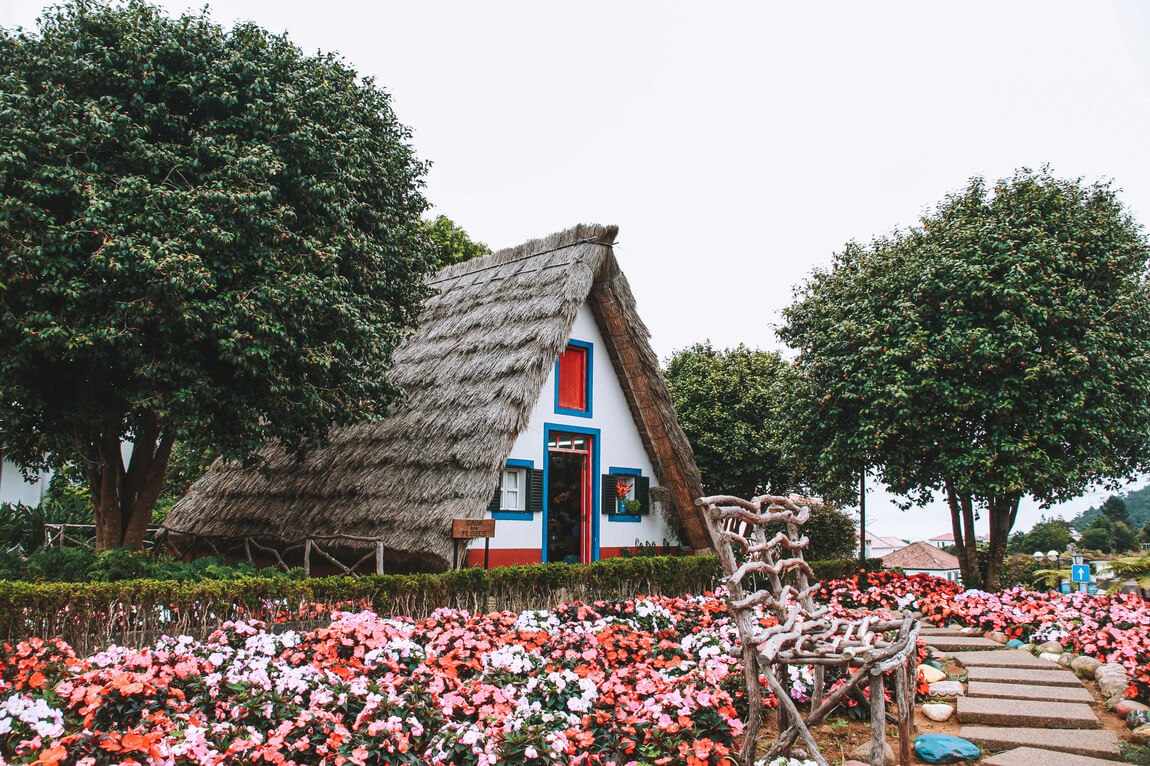 Santana's typical houses have a triangular shape and their roofs are covered with thatch. Tourists usually visit the "Núcleo de Casas Típicas de Santana", where the houses accommodate several handicraft shops, local products and even flowers.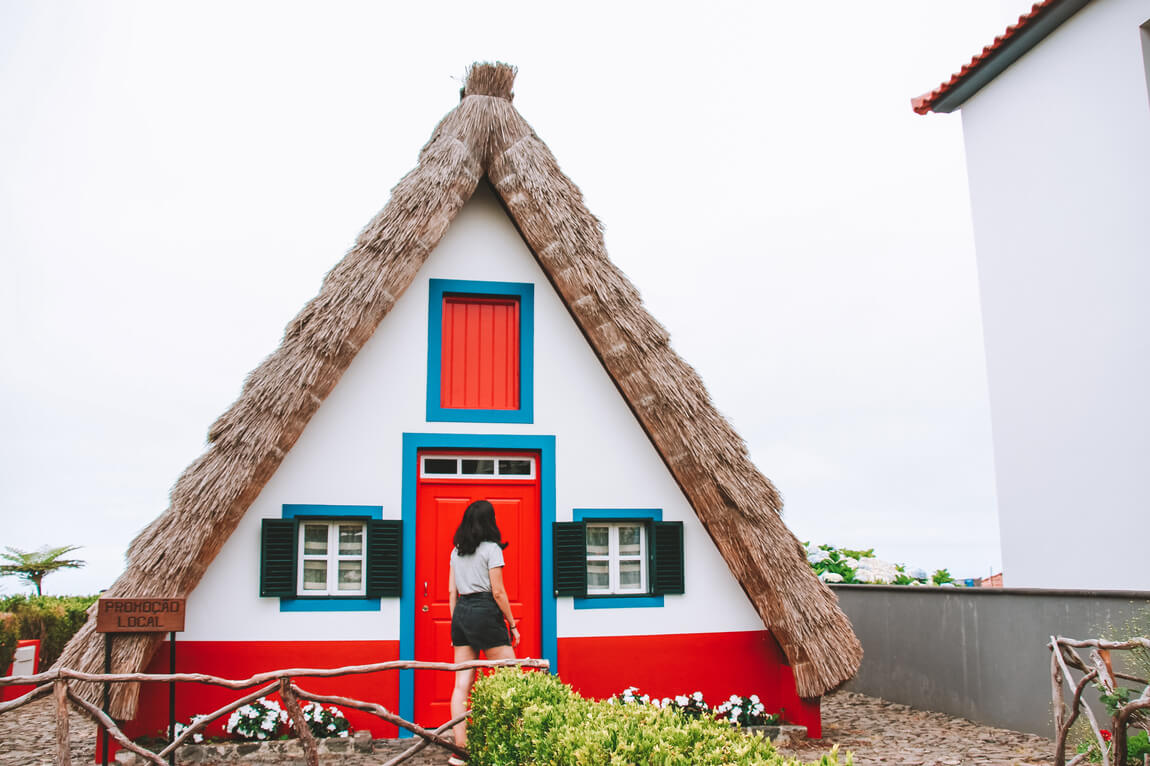 The place is relatively small and quite touristy, but the photos look really cute 😊
💡 EXTRA TIP: If you have some extra time, you can also visit the Queimadas Forest Park, located near Santana. Here several trails start, such as Levada do Caldeirão Verde (PR9) and Levada Um Caminho para Todos.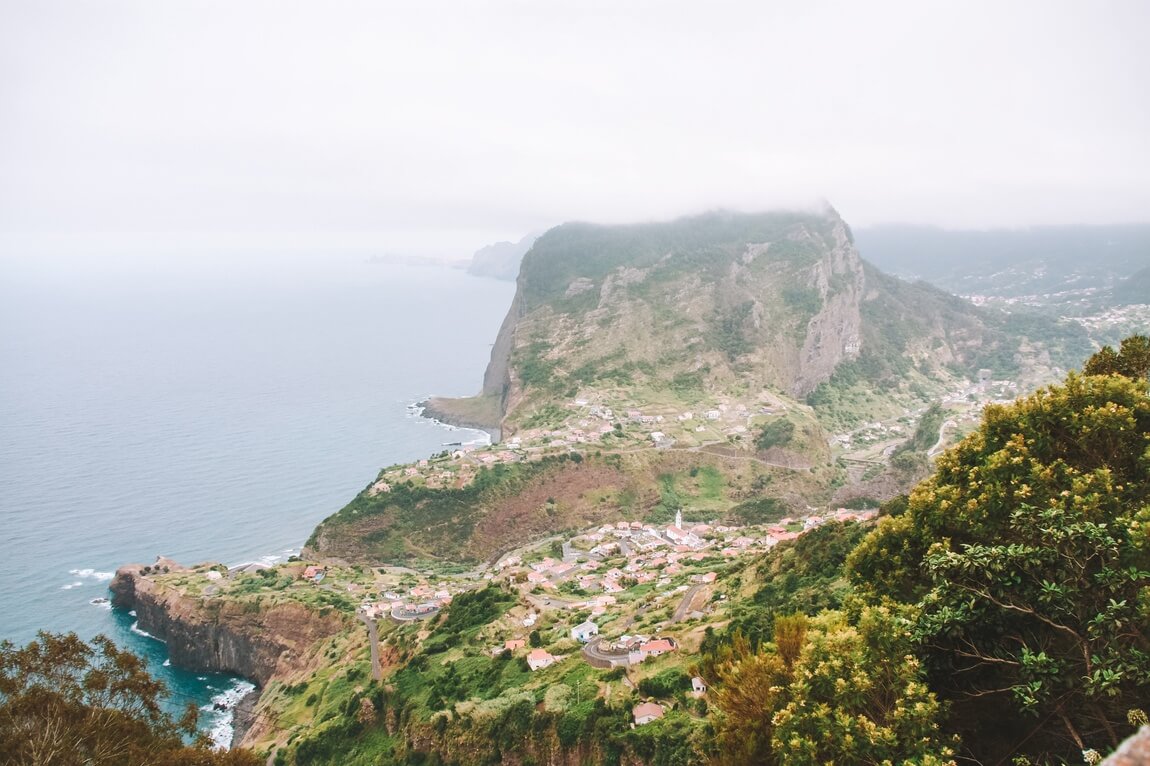 💡 EXTRA TIP: If you leave Santana heading towards Funchal you can also stop at Curtado Viewpoint from where you can see Faial and the famous Penha D'Águia rock.
Day 4: Funchal – Ponta do Garajau – Ponta de São Lourenço – Porto da Cruz – Balcões Trail – Curral das Freiras – Pico do Areeiro – Funchal
» Ponta do Garajau
Ponta do Garajau is home to what are probably the most famous stairways on Madeira island. It is also here that we find the famous Cristo Rei facing the Atlantic Ocean!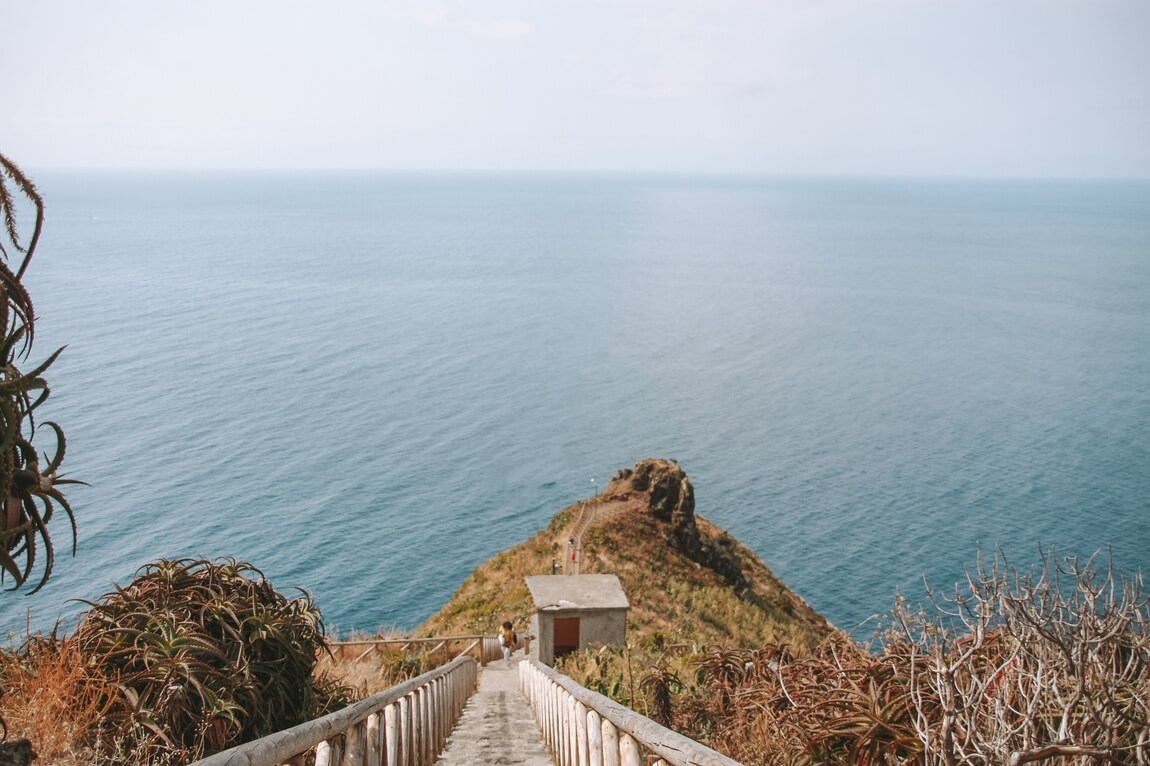 Visiting this place should be relatively quick, but don't forget to stop for a while to enjoy the beautiful views over the bay of Funchal and the sea.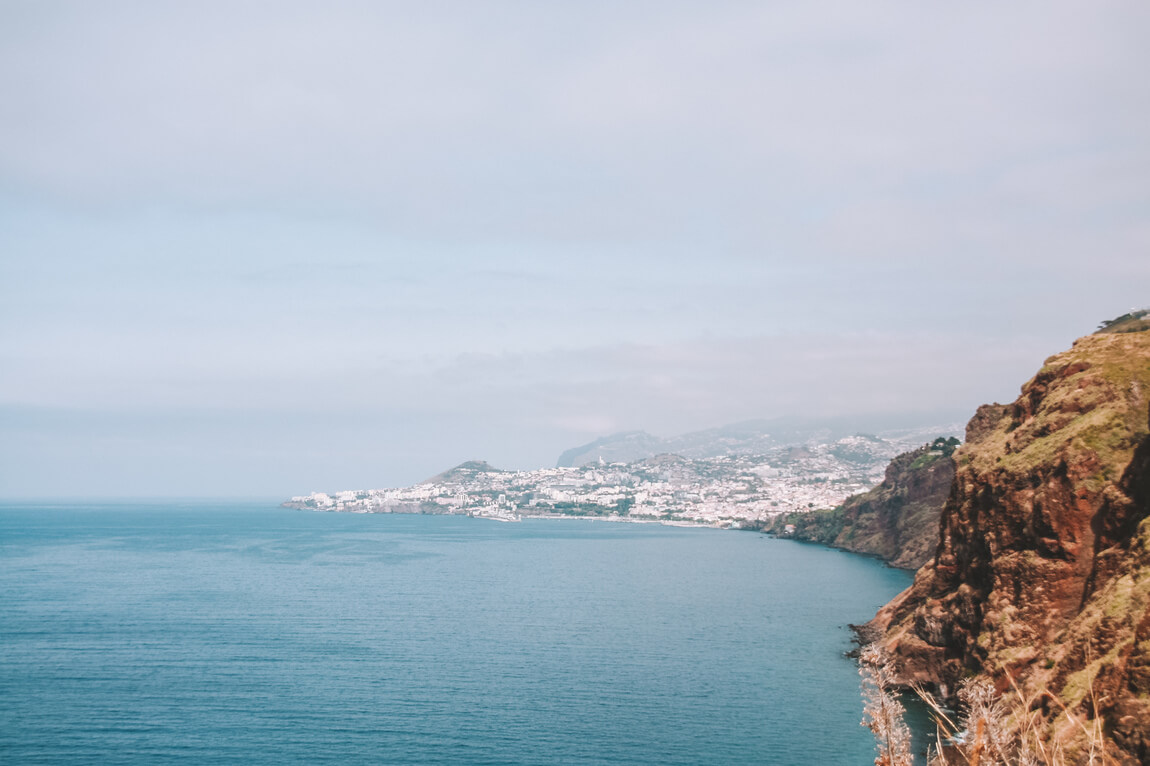 If it's already very hot and you feel like a refreshing dip in the sea, you can also enjoy Garajau beach right next door. From above, you can read "Welcome to Paradise"… I don't know about you, but to me, it doesn't seem like an unreasonable slogan 😉 Access to the beach can be made through a cable car.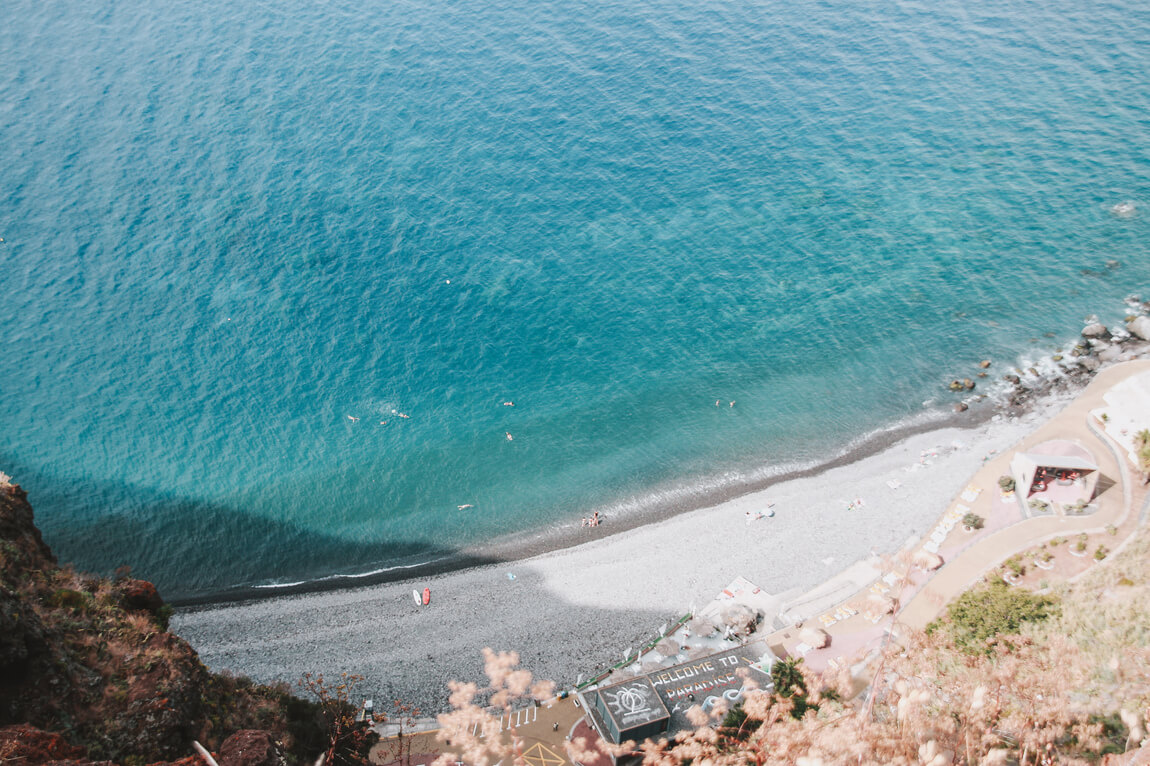 💡 EXTRA TIP: Before reaching Ponta do Garajau, you can stop at the Pináculo viewpoint with views over Funchal's bay. And since there is no such thing as too many viewpoints, on the way to the next stop on the itinerary, I also suggest stopping at the Francisco Alvares Nóbrega Viewpoint. The viewpoint is located at the side of the road and has some of the best views over Machico and Ponta de São Lourenço.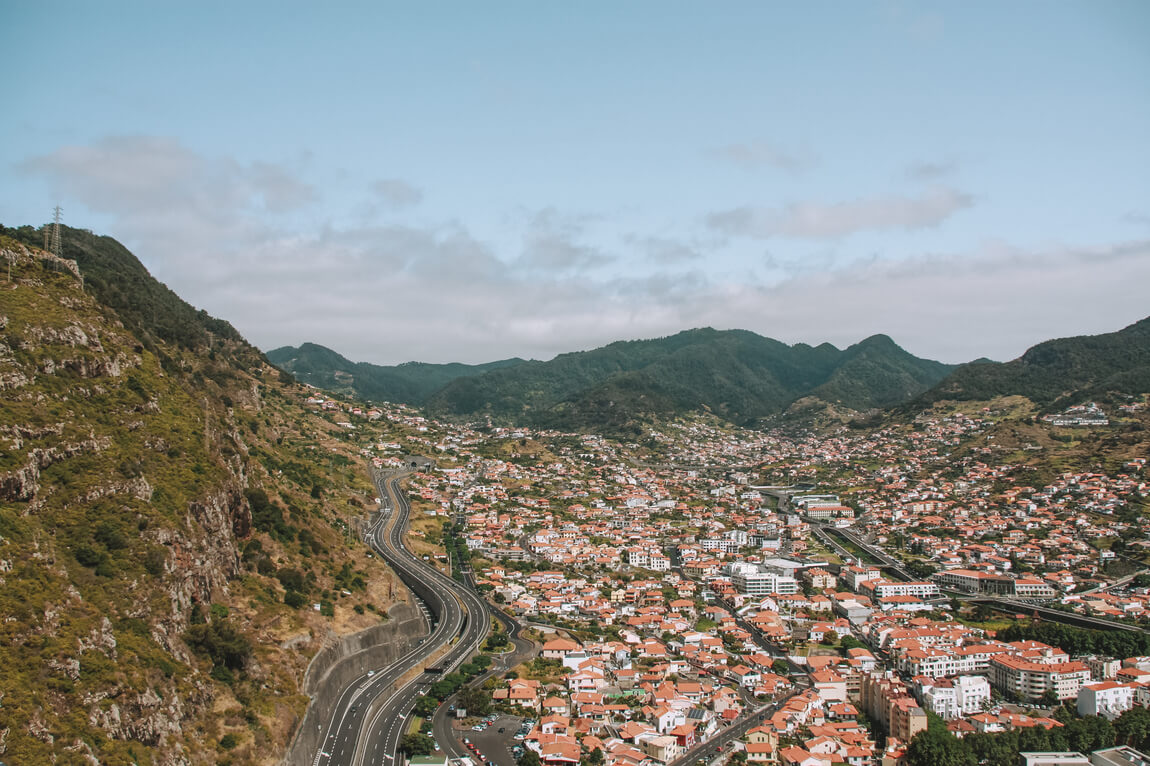 » Ponta de São Lourenço
Being 9 km long, Ponta de São Lourenço is a place unlike any other on the island. Located in the easternmost part of the island, when you arrive here it almost feels like you're on another planet! The vegetation is much more sparse and the rocky and arid aspect of the place transports you mentally to another place than Madeira Island.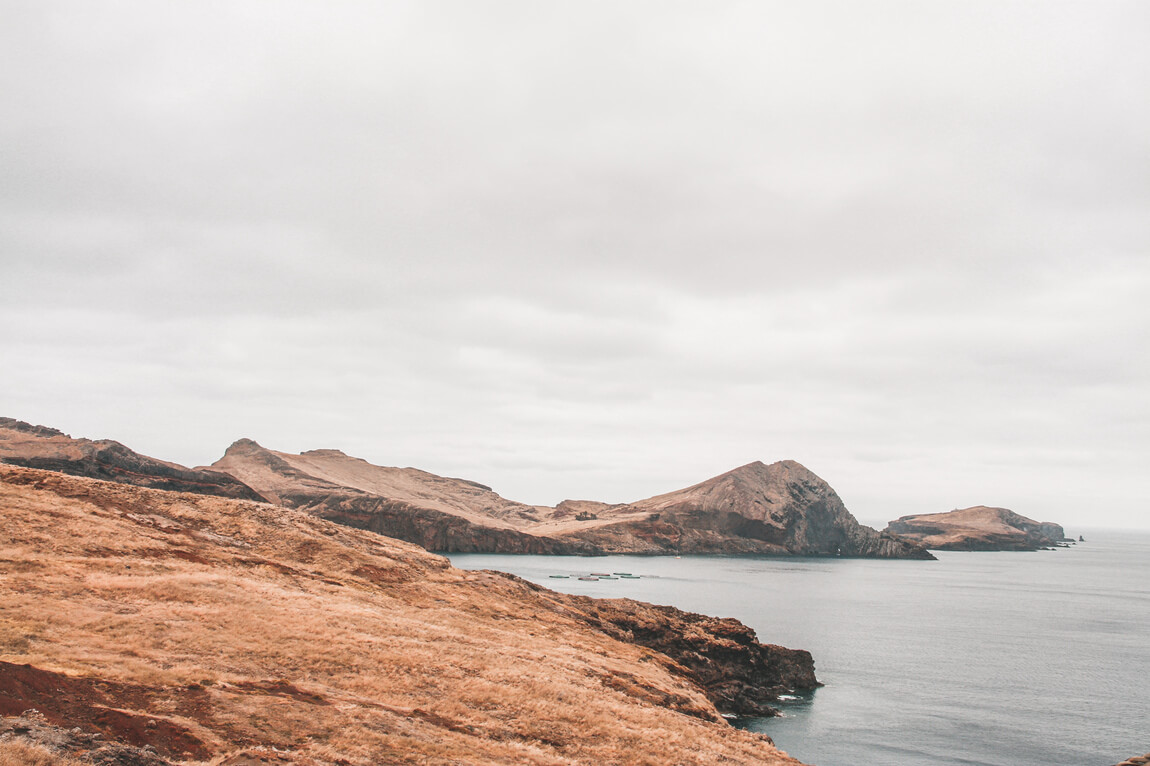 Not to be missed near Ponta de São Lourenço, we also have Ponta do Rosto viewpoint.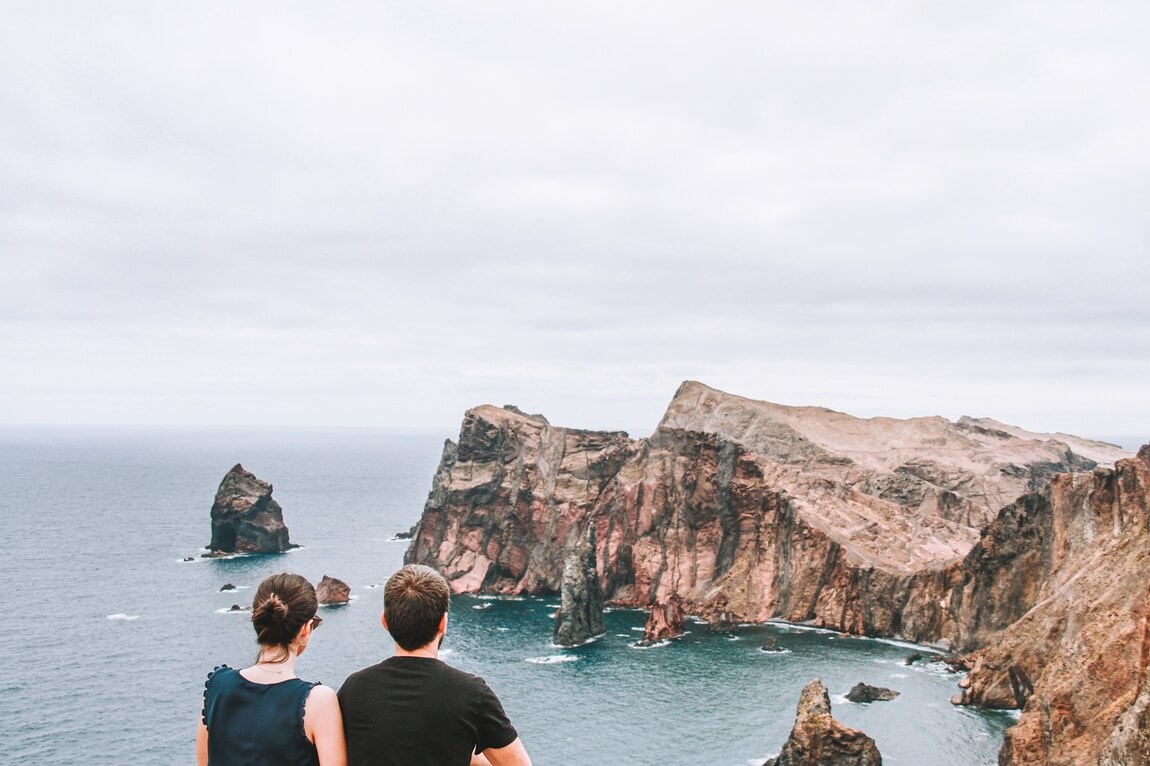 💡 EXTRA TIP: If you have some time available, one of the best ways to explore this area is by walking along the Ponta de São Lourenço Hiking Trail. Unfortunately, I didn't have time to do it, but it's on the top of my list for my next visit. You can find a lot of useful information about the trail here.
» Porto da Cruz
Porto da Cruz was one of the first areas in northern Madeira to be inhabited. The production of sugar cane for later use in the famous Madeira rum has always been of vital importance to this region. Engenhos do Norte are proof of this, still using one of the mills built in 1927 for sugar production.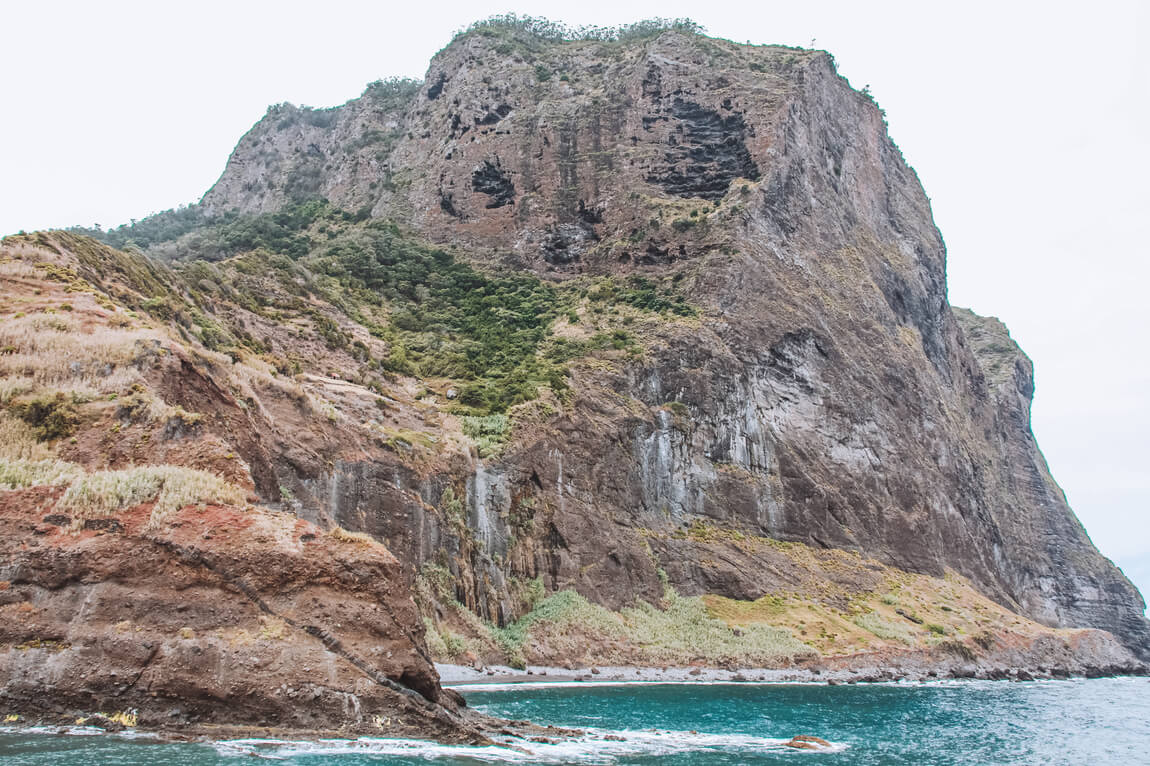 Apart from a visit to Engenhos do Norte to learn more about their history, you can also visit the Fortim do Pico viewpoint and Furna do Porto da Cruz viewpoint.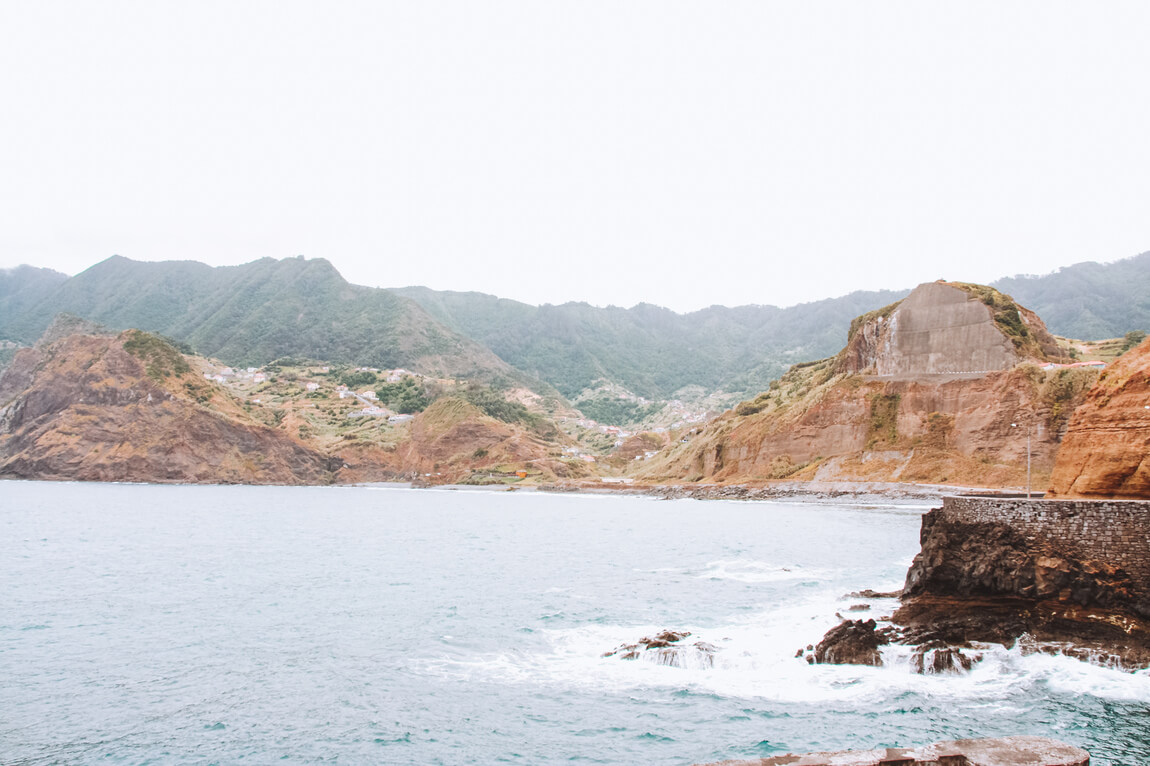 If you have more time, you can also enjoy a swim at Alagoa Beach, with views over Penha d'Águia.
» Balcões Hiking Trail
Time to move on to what is probably the most beautiful viewpoint in Madeira – Balcões Viewpoint.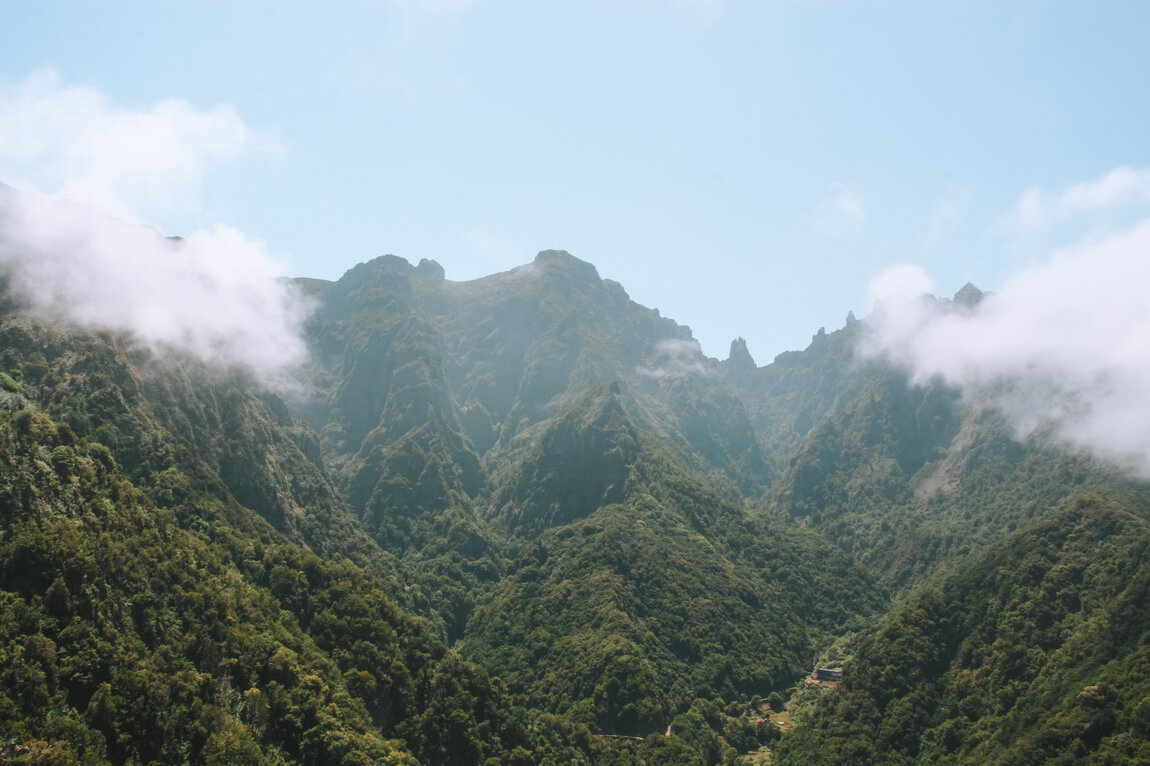 To get there we have to follow a small hiking trail (Vereda dos Balcões), about 3 km long (round trip). The views are totally breathtaking with the Laurissilva Forest as a backdrop.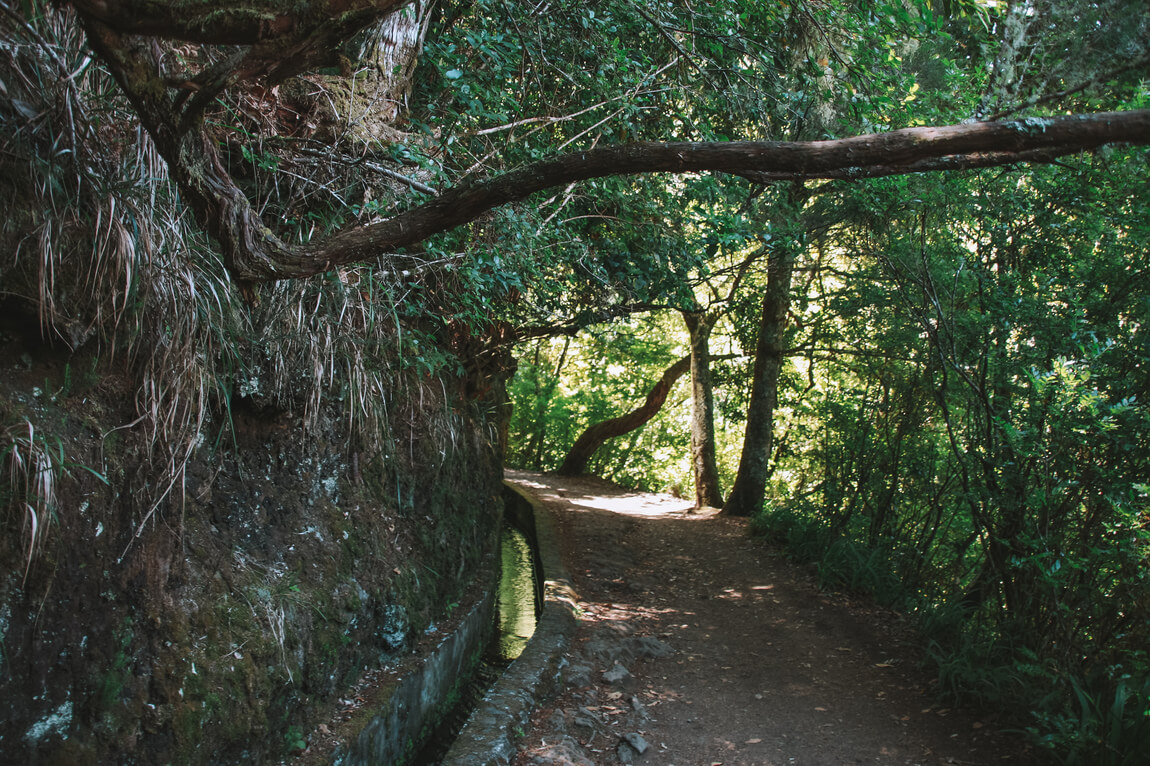 To know all the details about this trail, you can check my complete blog post about trails in Madeira.
» Curral das Freiras
Curral das Freiras is another emblematic place on Madeira Island. Its name is said to have originated around the 16th century when the nuns of the Santa Clara Convent took refuge there following the sacking of Funchal by the French.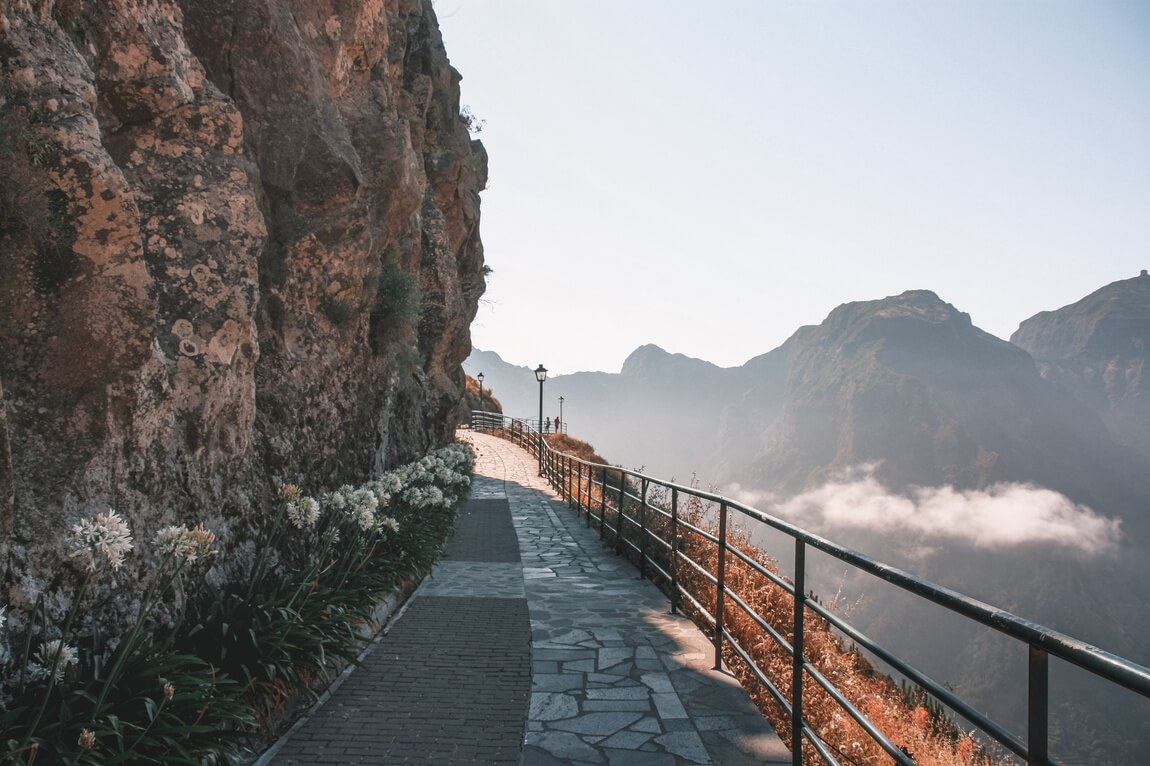 For the best views over Curral das Freiras, you can head to Eira do Serrado Viewpoint (right next to Eira do Serrado Hotel & Spa) or Paredão Viewpoint.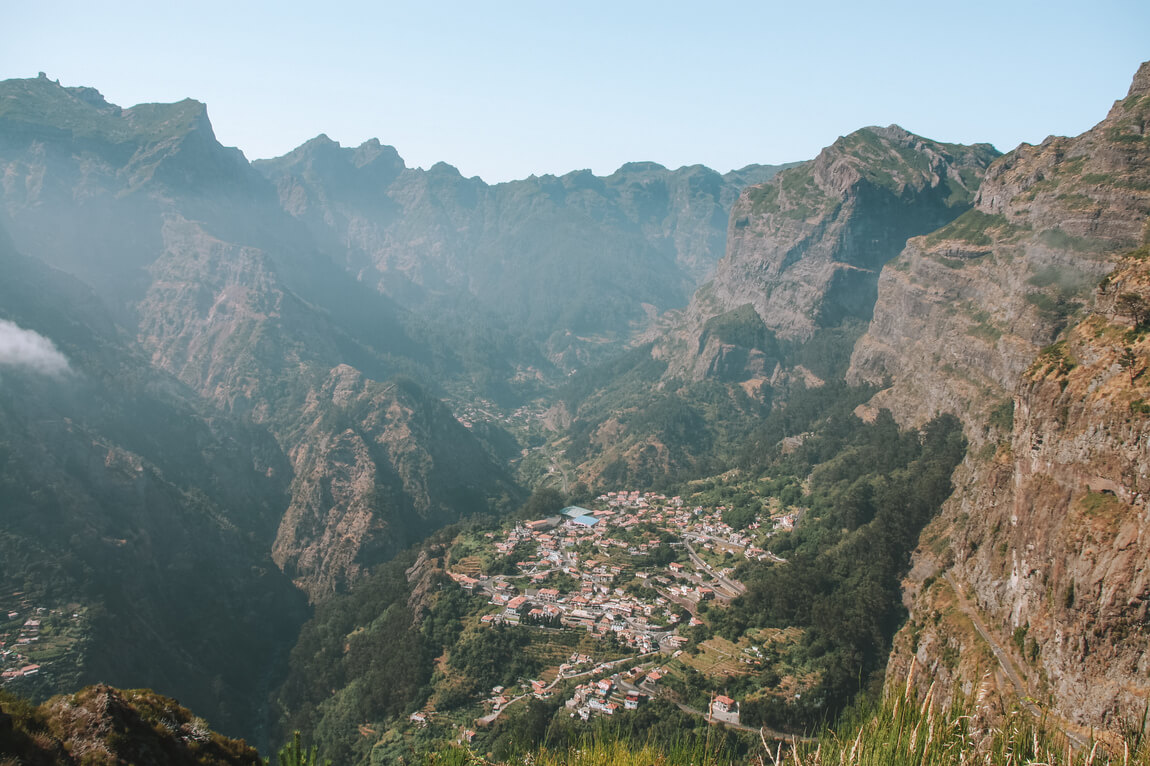 It is also possible to visit Curral das Freiras, but for this you will have to follow some winding roads.
💡 EXTRA TIP: The weather in Madeira is very uncertain and sometimes at high altitude we may not have good visibility. This way and to avoid being disappointed, I recommend checking the real time webcams on the Net Madeira site before going to Eira do Serrado.
» Pico Do Areeiro
We continue to another magical spot on the island. This is the place chosen by many to contemplate the sunrise and sunset on the island. However, even if you don't have the opportunity to go on one of those moments (as was my case), don't leave this spot out of your itinerary.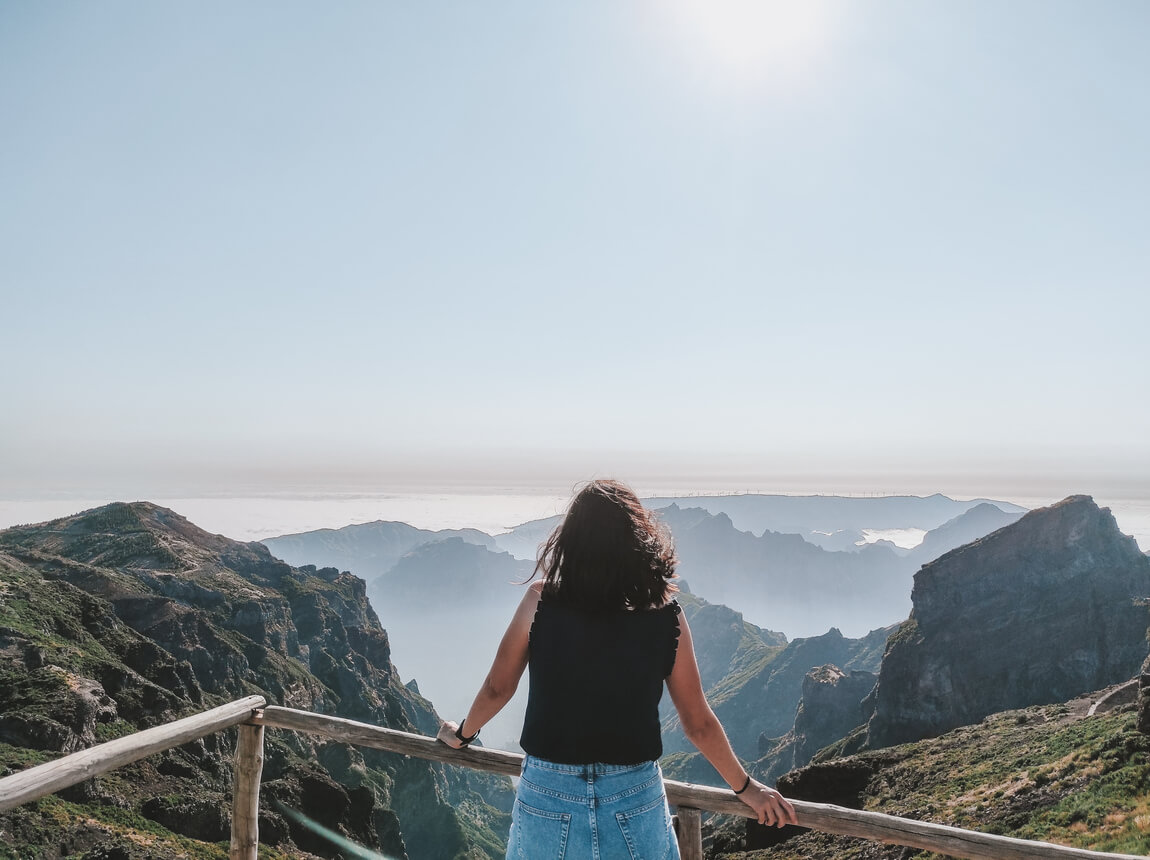 Located at 1818 metres altitude (the third highest point on the island), from here we have simply indescribable views over the central massif of the island.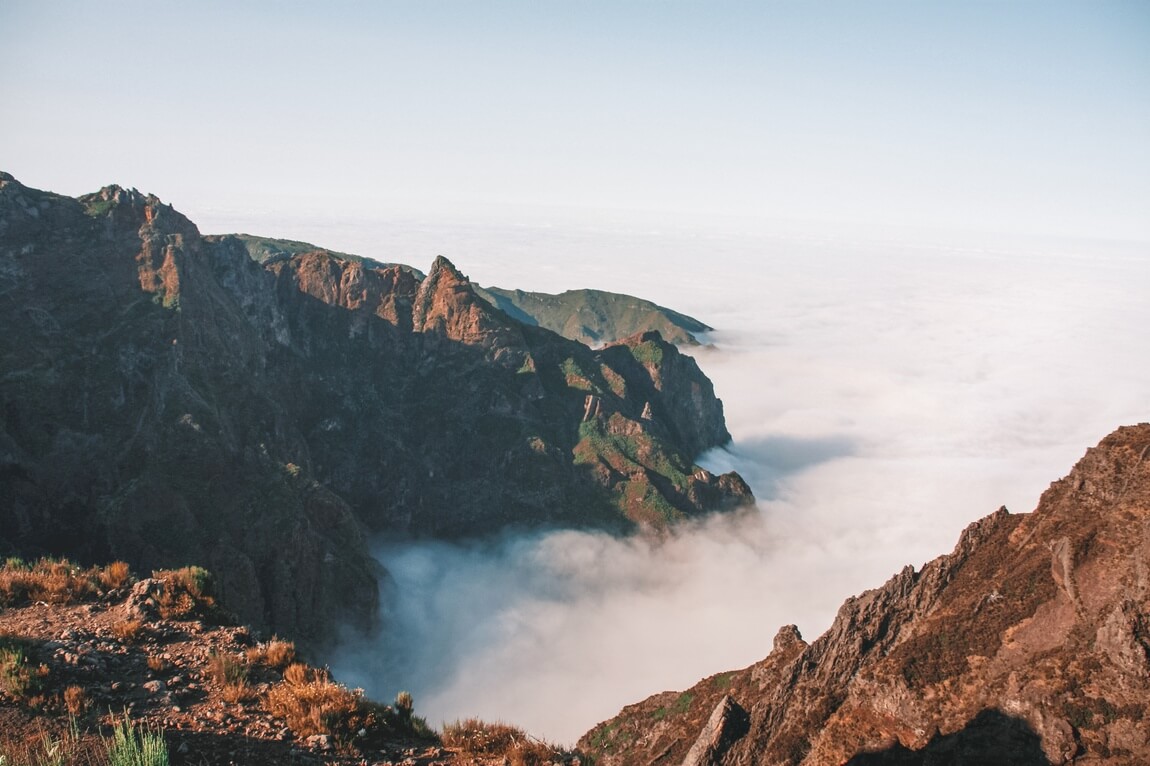 Here begins the Areeiro Hiking Trail (Vereda do Areeiro)… a demanding trail that connects Pico do Areeiro to Pico Ruivo. If you don't have time to walk this trail (as was my case), you can always walk just a bit of this trail towards the Manta Viewpoint. The round trip takes about 45 minutes to 1 hour since, although the distance is short, the way back is almost always uphill.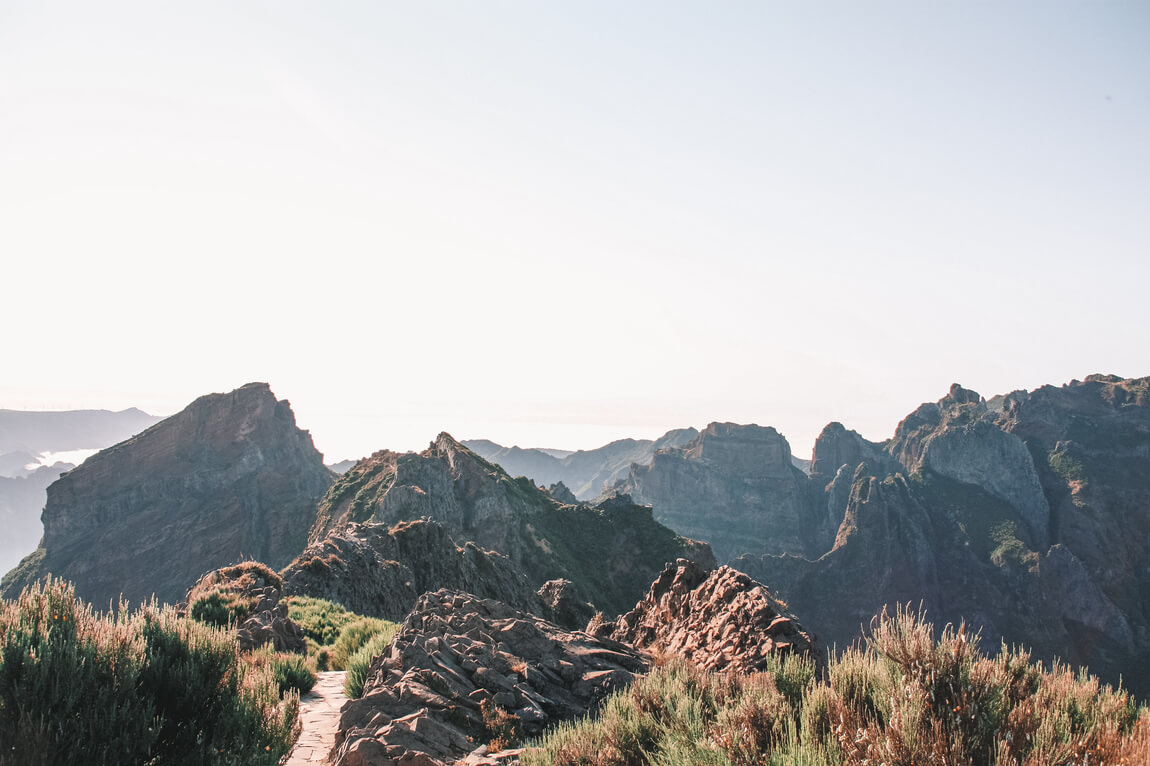 💡 EXTRA TIP: Once again, due to the high altitude of this place, you should try to check the webcams on Net Madeira beforehand.
Day 5: Funchal
It was finally time to get to know Funchal 😊 The day started with a ride on the Monte Cable Car, which took us to Monte Palace Garden.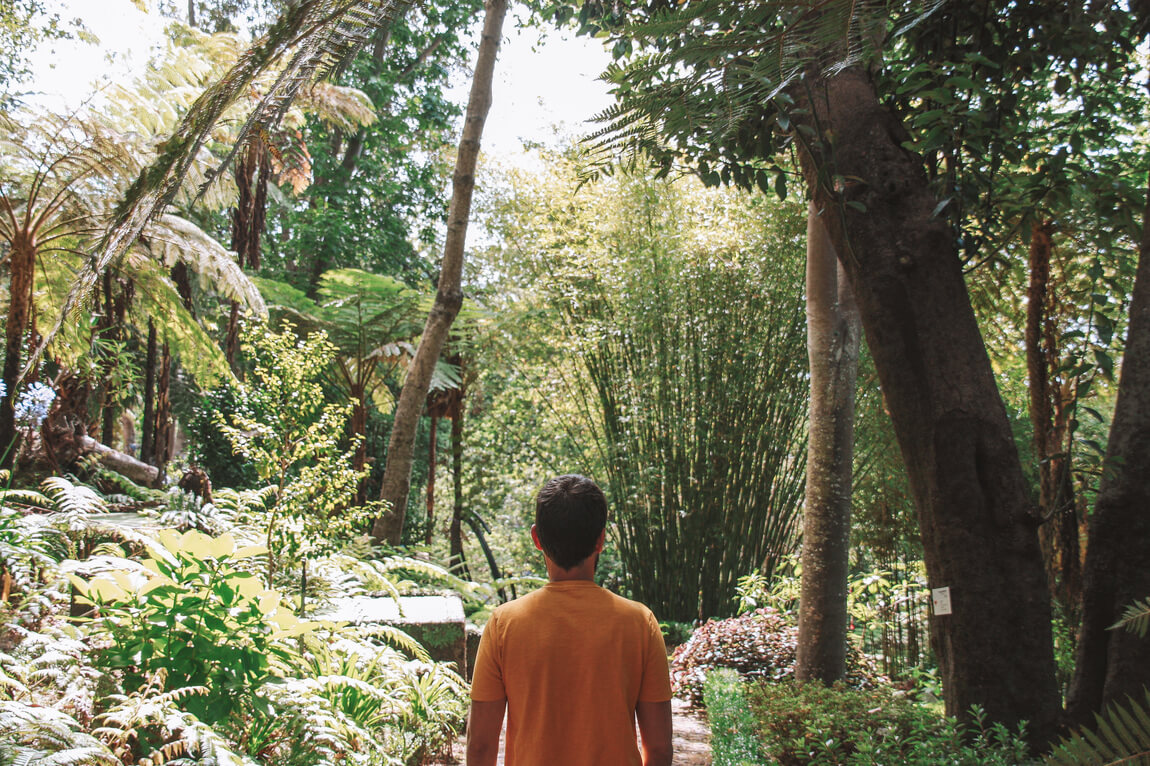 We also took the opportunity of visiting the parish of Monte to take a look at the famous Madeira baskets – Monte Toboggan Wicker Sledges (Carreiros do Monte).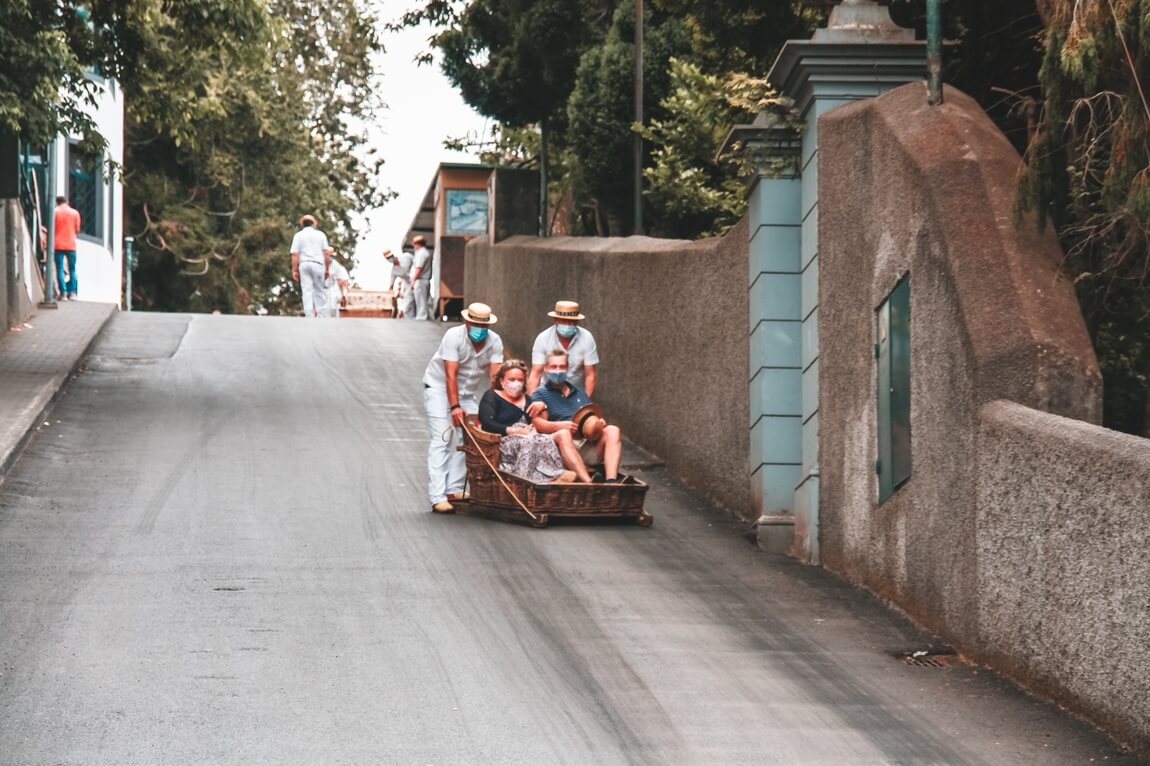 Meanwhile, after a lunch break, we headed to the Lido Promenade (a pleasant walk by the sea) and we also visited Formosa beach. It was so hot, that we couldn't avoid enjoying the beach for a while.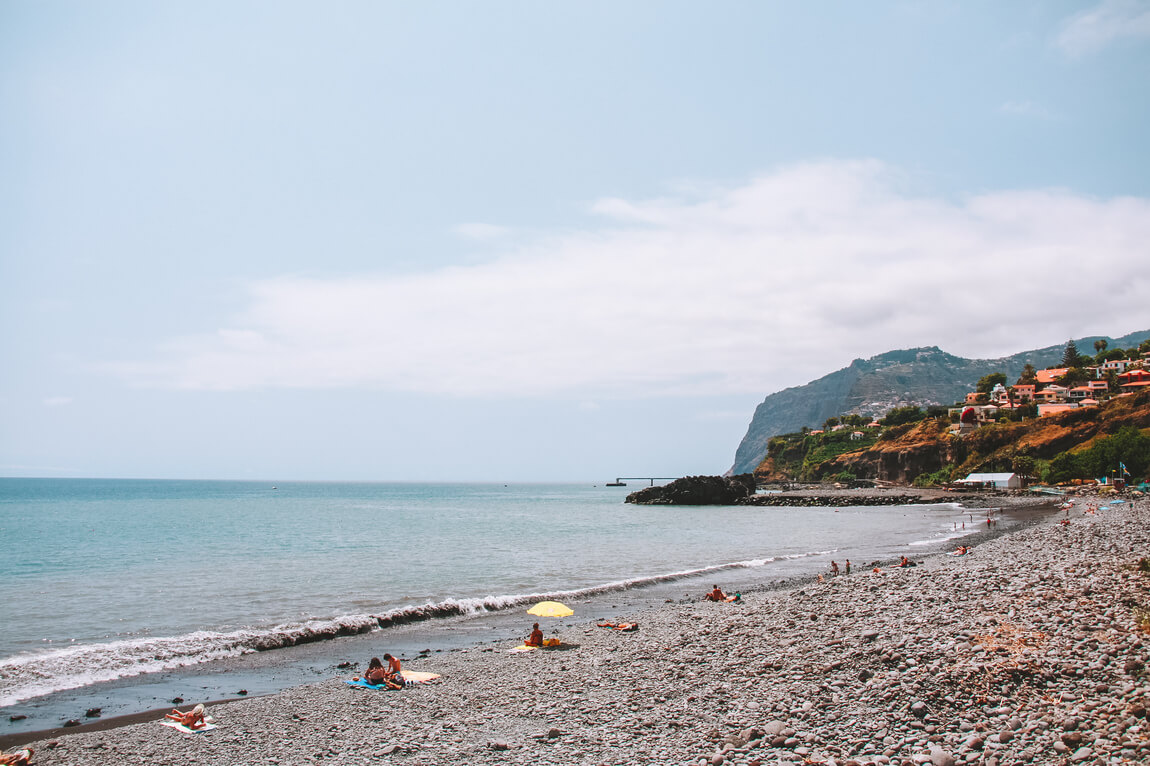 At the end of the day, even before dinner time, we strolled around the Harbour area.
Day 6: Funchal – Santa Cruz
» Funchal
It was the last day of this trip (and I was already starting to miss it), but there was still a lot of Funchal to see.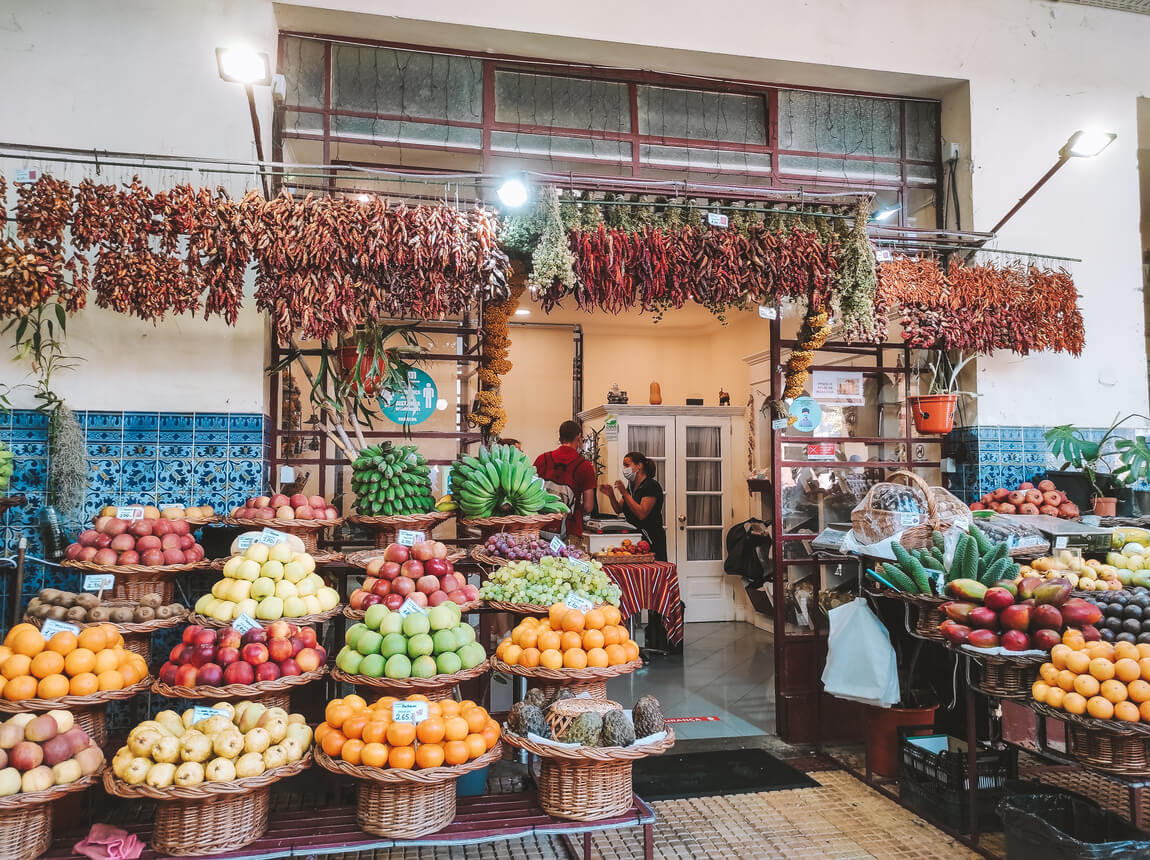 We started the day in the old part of the city, passing by some of the city's best-known places: Lavradores Market, Santa Maria Street, São Tiago Fortress.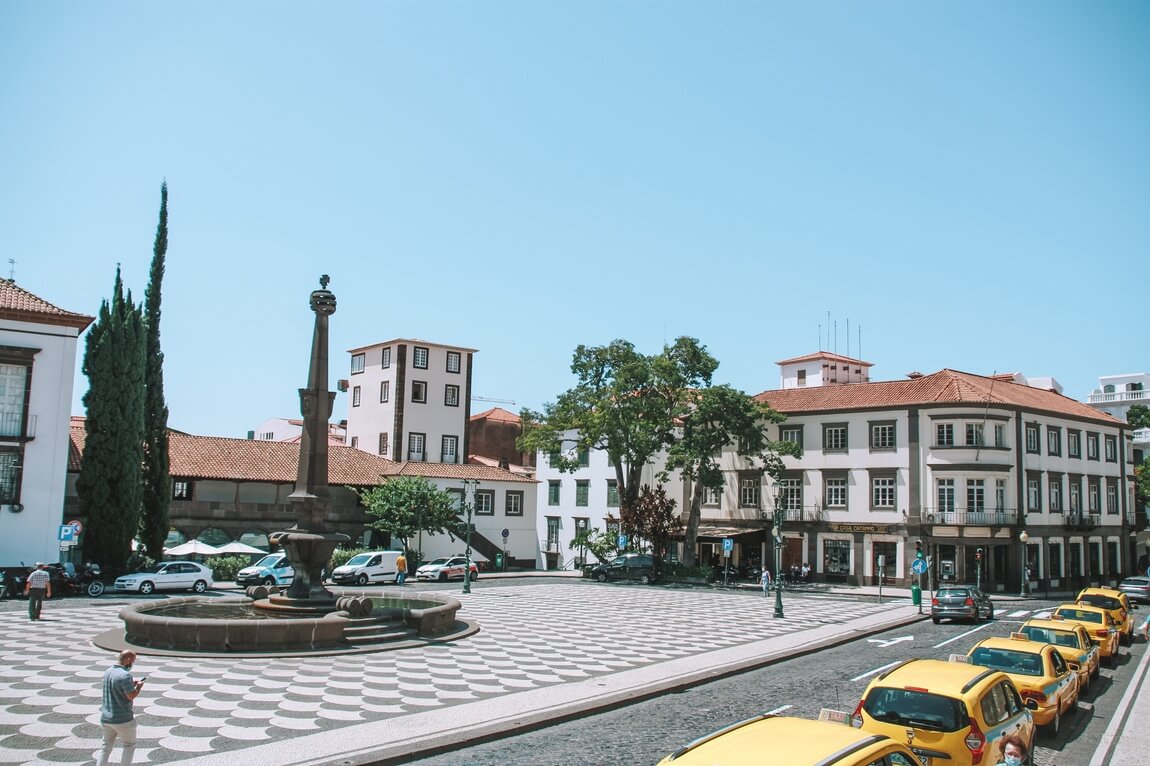 From there we went on to Town Square, where we visited São João Evangelista Church and also Funchal's Cathedral.
💡 EXTRA TIP: Learn more about what to visit in Funchal, with this quick guide of what to visit in Madeira's capital.
» Santa Cruz
Santa Cruz was the first and last place I visited in Madeira! The centre is relatively small and can be seen in less than 10 minutes. But the truth is it has a certain charm 😊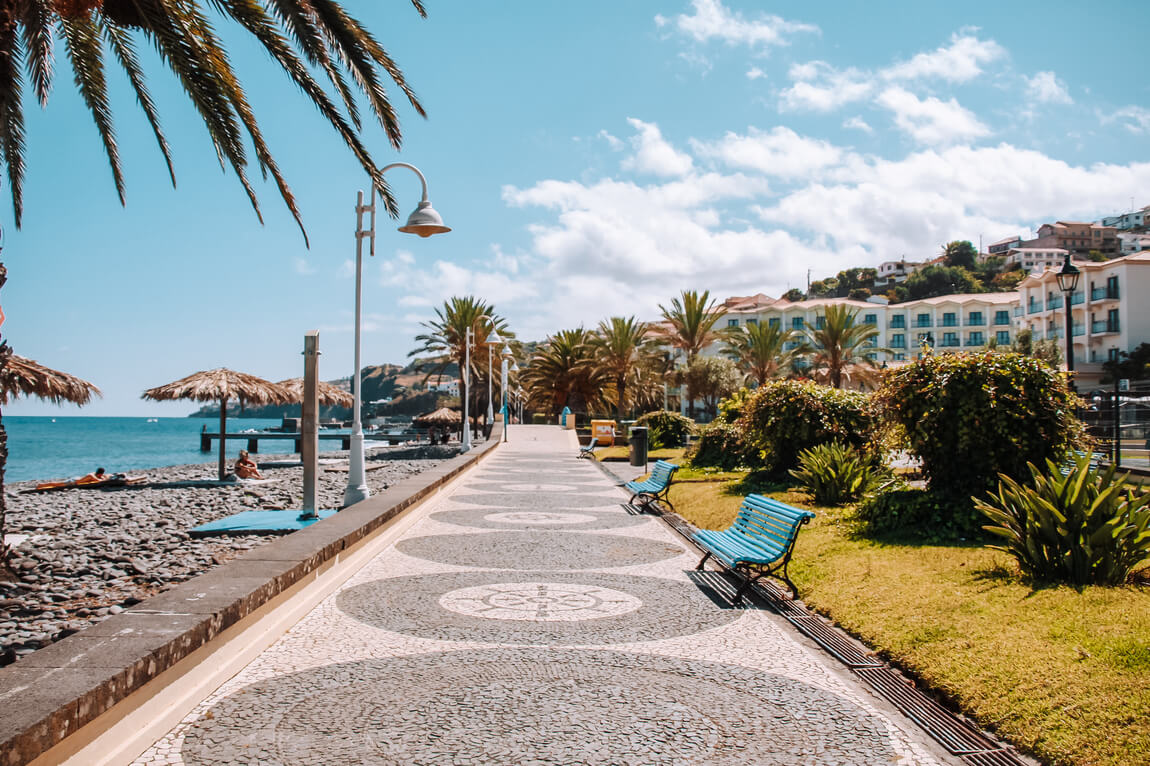 In addition to the various terraces that exist there and that can (and should!) be used to sample some of Madeira's delicacies, some of Santa Cruz's points of interest include:
Palmeiras Beach
Mother Church
Bathing Complex by Boaventura Creek
Aquapark
Alternative itinerary suggestion: 4 days version
If you have fewer days available on your trip, I suggest taking out some of the above-mentioned points, maybe less interesting (like Porto da Cruz, Ponta Delgada) and giving up one of the hiking trails. So, my suggestion would be the following:
Day 1: Santa Cruz – Câmara de Lobos – Cabo Girão – Fajã dos Padres – Ribeira Brava – Ponta do Sol – Anjos Waterfall – Porto Moniz
Day 2: Porto Moniz – 25 Fontes/Risco Trail – Seixal – São Vicente – Funchal
Day 3: Funchal – Ponta do Garajau – Ponta de São Lourenço – Santana – São Jorge – Balcões Trail – Curral das Freiras – Pico do Areeiro – Funchal
Day 4: Funchal (without Lido Promenade and Formosa beach, if you don't have time)
Alternative itinerary suggestion: 7 days version
If you have more days available to enjoy this amazing island, in addition to the 6 days mentioned in the itinerary above, you can add one day for the following activities:
Option 1: Walking Areeeiro Trail (Vereda do Areeiro)
Option 2: travel to Porto Santo by ferry (journey time: 2h15) or by plane (journey time: 25 minutes)  
Option 3: walk Caldeirão Verde Hiking Trail (PR9, 13 km round trip) or Ponta de São Lourenço Hiking Trail (PR8, 8 km round trip)
Restaurants in Madeira
Now that I've told you about all the beautiful places worth visiting on the island, I have to write about Madeira's gastronomy. WHAT A SURPRISE! I had no idea it was going to enter my top 3 of Portuguese gastronomies 😊
I enjoyed their delicacies so much, I even have a detailed blog post with local food and drinks that you shouldn't miss on a visit to Madeira!
And to taste all that Madeira's gastronomy has to offer, here's a list of restaurants all over the island: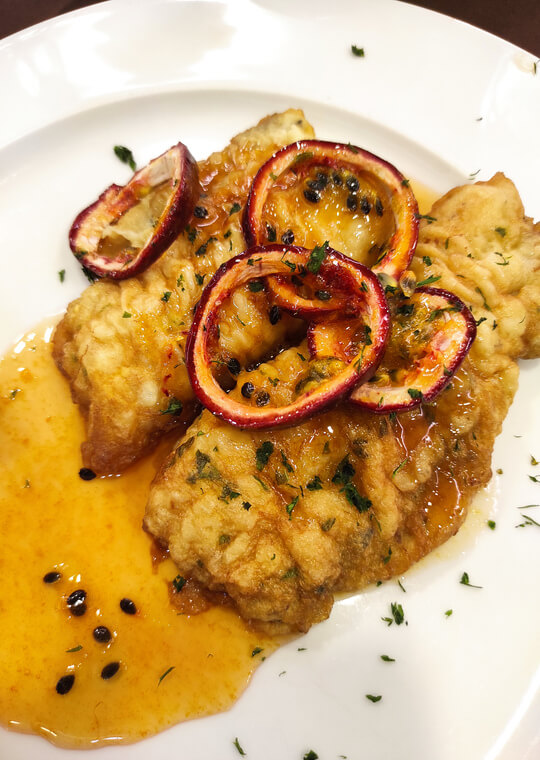 » Funchal and surroundings
[Funchal] A Gruta (€€€): a very nice place right next to the Marina, where we tasted "picado" and a very nice seafood rice with octopus.
[Funchal] A Bica (€€): simple place, located next to the Lavradores Market. Tasty traditional food at interesting prices.
[Funchal] Barreirinha Bar Café (€€): a very nice bar right by the sea. The house specials are "prego no prato" in "bolo do caco" and hamburgers. It is also worth mentioning the Nikita, which was the best one I drank on the island.
[Camâra de Lobos – 10 min drive] O Polar (€): they only serve skewers and barbecue chicken, but the skewers are divine. In addition, the price is absolutely fantastic.
[Camacha – 20 min drive] Abrigo do Pastor (€€): very traditional restaurant with very well-prepared dishes. Excellent value for money and attentive service. We tried the regional skewers and magnificent bean rice as a side dish.
[Santa Cruz – 18 min drive] A Bilheteira (€): a simple restaurant, but with an excellent "picado" and "prego em bolo do caco".
» Porto Moniz
Dom Peixe (€€€): prices are a little high but very appetizing swordfish fillets with passion fruit sauce.
» Ponta do Sol
Maré Alta Bar e Restaurante (€€): beach bar with a very pleasant space. We tried the sautéed squid with sweet potato and they were very well prepared.
» São Vicente
O Virgílio (€): a traditional restaurant where we tried "prego" in "bolo do caco". The quantity was very generous and the "prego" was pretty good.
Taberna de São Vicente (€): a simple and traditional restaurant where we tried "picado misto", which was very tasty.
Custos da viagem
It is true that everyone has their own style of travel and trips shouldn't be compared. This was not a low-cost trip, but also not an extravagant one either. However, if you are interested in knowing what you can expect in terms of costs in Madeira, I leave here a small summary of the costs of the trip (per person):
Accommodation: 163€
Flights: 151€
Meals: 180€
Car (insurance included): 126€
Gas: 38€
Others (car parks, Monte Palace Garden entrance, Monte Cable Car, taxis to/from the airport): 63€
In short, it would have been possible to save a little more money:
Flights: despite flying with EasyJet, we flew during high season, without much flexibility of dates and the flight was booked at short notice
Car: we had a problem with the initial car booking and it was only booked on the day of the outbound flight (it was the cheapest we could get so short notice)
Meals: on average we paid 13€ per meal! It was possible to pay less yes (there was simply no such concern).
Disclaimer: this post may contain some affiliate links, which means I get a small commission if you buy something through my links. This doesn't represent any additional cost to you and you'll be supporting my work here on the blog😊