When I decided to head to the Spanish region of Galicia, I wasn't sure what to expect. But the truth is that Galicia was a real surprise 😯. And clearly one of my favourite parts of this Galicia road trip was the visit to its pueblos.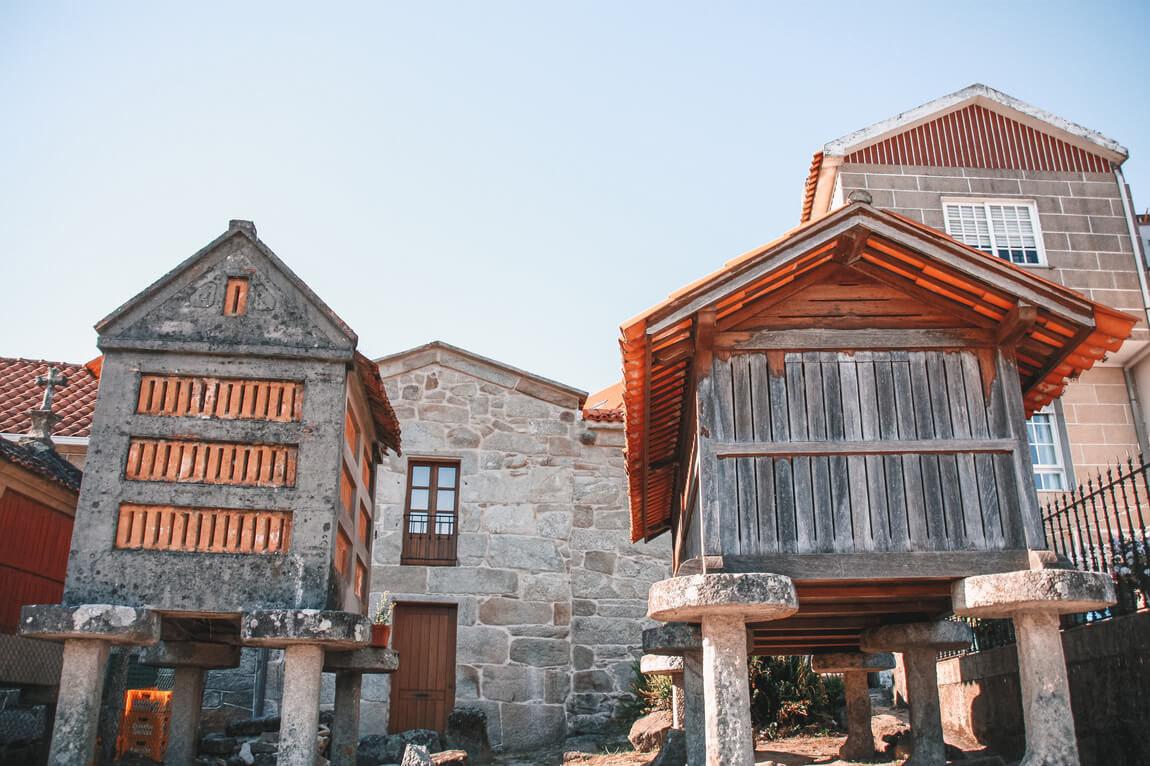 Some are small towns and villages located in the middle of Nature, others next to the so beautiful and characteristic Galician coast 🥰. They all tell a different story and, for that very reason, in this post, I want to tell you about the most beautiful pueblos in Galicia that you must visit.
What is the best time to visit these pueblos in Galicia?
The weather forecasts in Galicia are not always the most optimistic, and this region is widely known for its high amount of rainfall. However, any time of year is a good time to visit Galicia and, more specifically, its pueblos.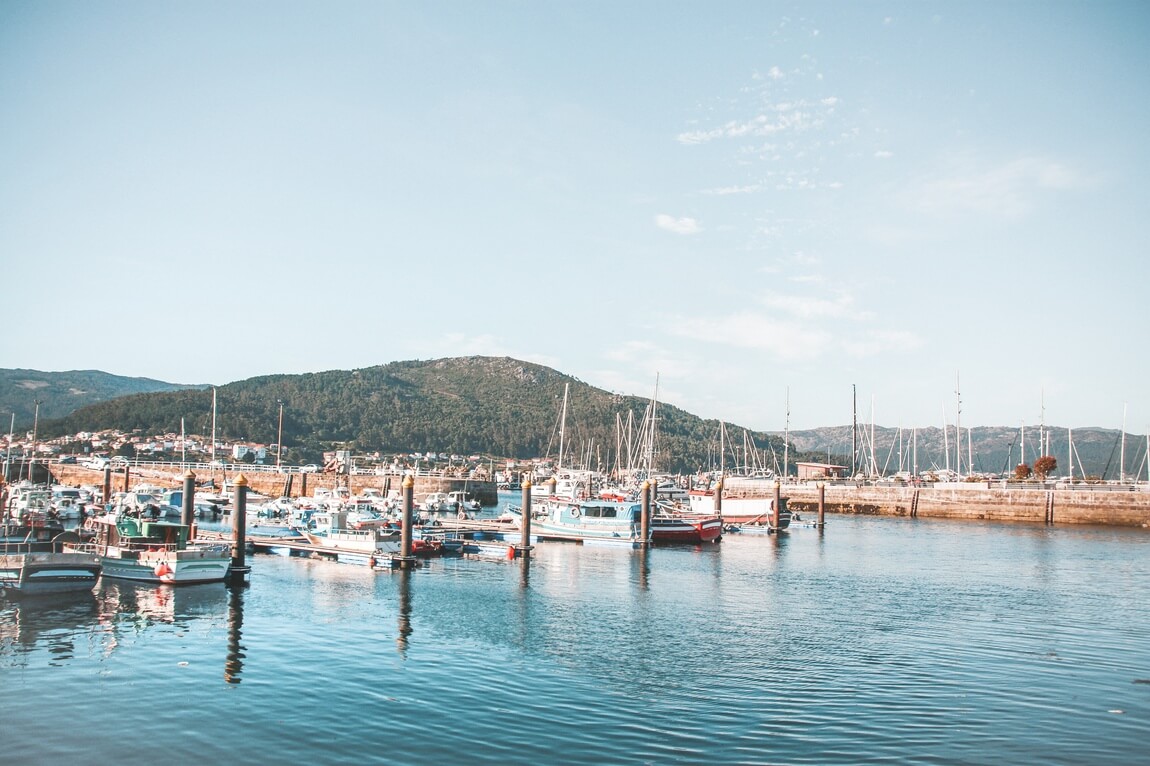 However, if you're looking to enjoy some of the region's almost heavenly beaches, the best time to visit is from June to August, when the temperatures are more inviting. But don't be fooled by the beautiful colour of the seawater, as it is quite chilly!
💼 TRAVEL INSURANCE: If you want to feel safe while travelling, then you should definitely look into purchasing some travel insurance. Having insurance will help you with any health-related emergencies as well as with other events, such as theft, loss or delay of luggage, eventual need to cancel your trip and much more. In my case, I always use IATI Insurances, which has one of the best price-quality ratios in the market and a 100% online service that is very easy to use. Book here your travel insurance and enjoy a 5% discount for being readers of the blog. Don't forget that the purchase must be made using this link.
Map of the most beautiful pueblos in Galicia
In order to help you to better plan your trip to Galicia, here is a map with all the recommended pueblos in Galicia and their main points of interest.
Visit the most beautiful pueblos in Galicia
» Ribadavia (Ourense)
Located in the Galician province of Ourense, Ribadavia has a very small but interesting historic centre. After all, this Galician pueblo was once the capital of the former Kingdom of Galicia.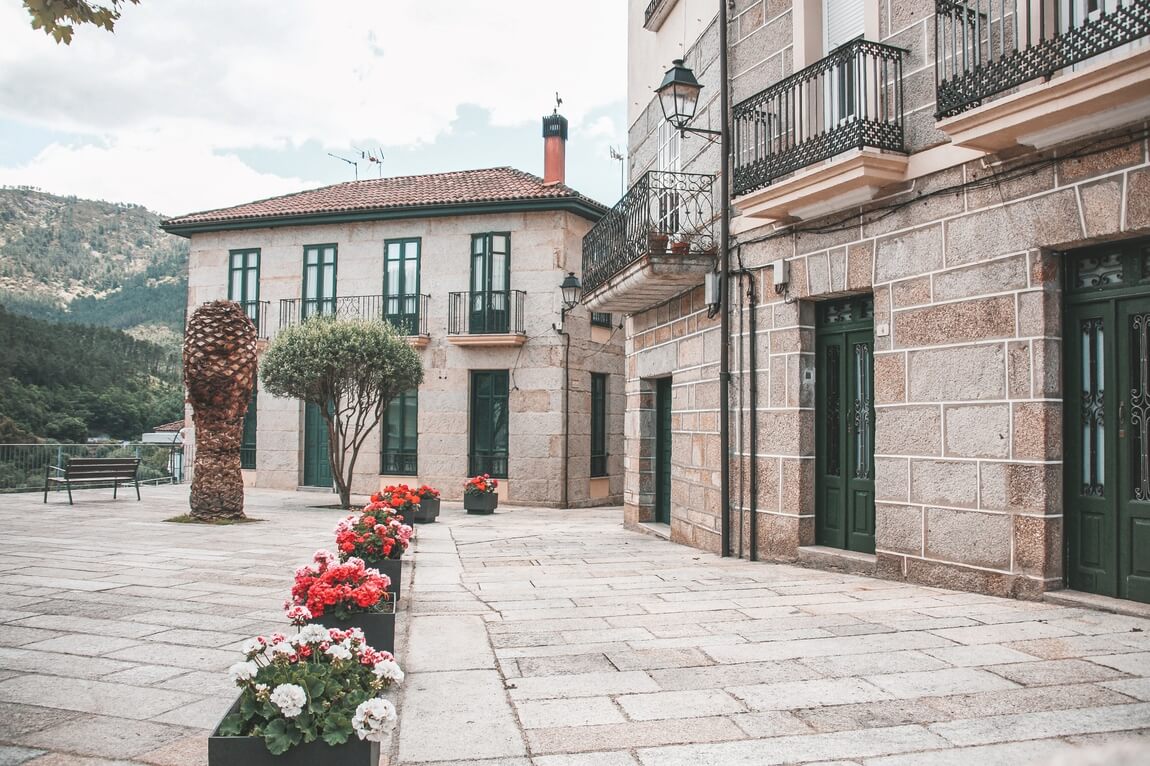 In its historical centre, the highlight is the Jewish Quarter (Judiaria) – one of the most important Jewish quarters in the region, not only for its importance at the time but also for how well-preserved it remains to this day.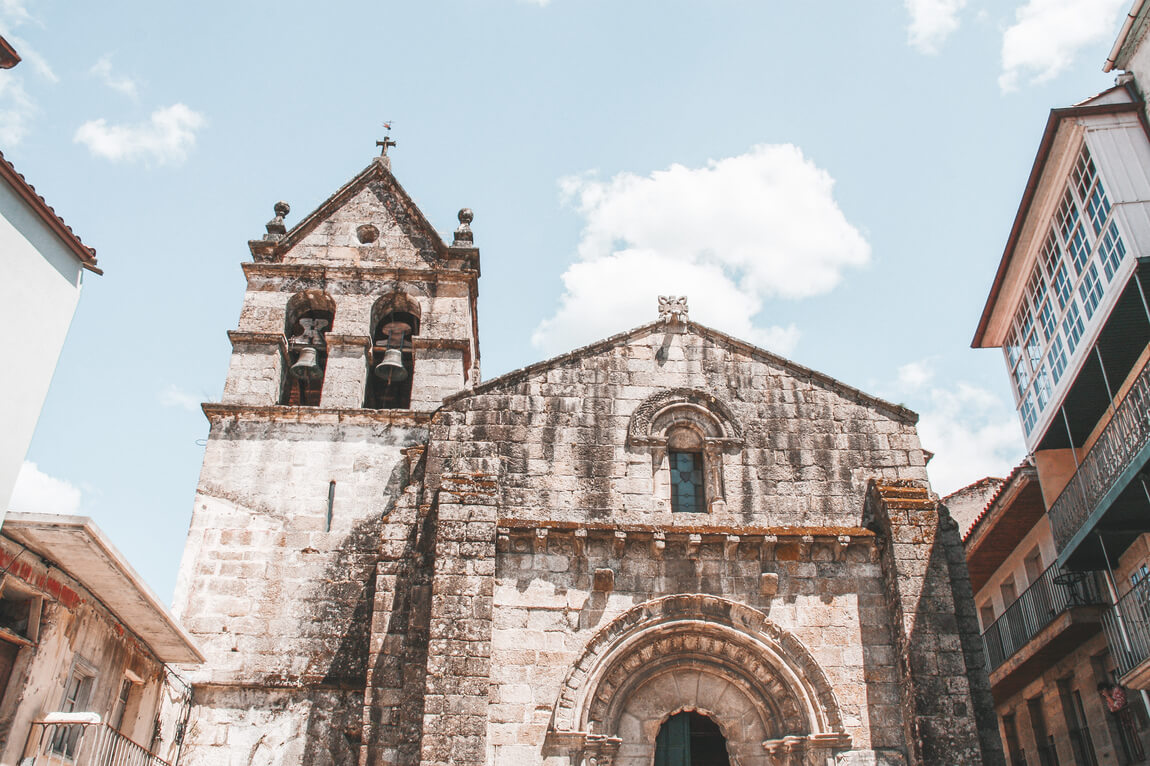 It's also worth mentioning the Church of San Juan de Ribadavia, the Church of Santiago de Ribadavia or the Church of Santa María Magdalena. And if you are looking for a more cultural tour, you can also visit the Ethnological Museum of Ribadavia.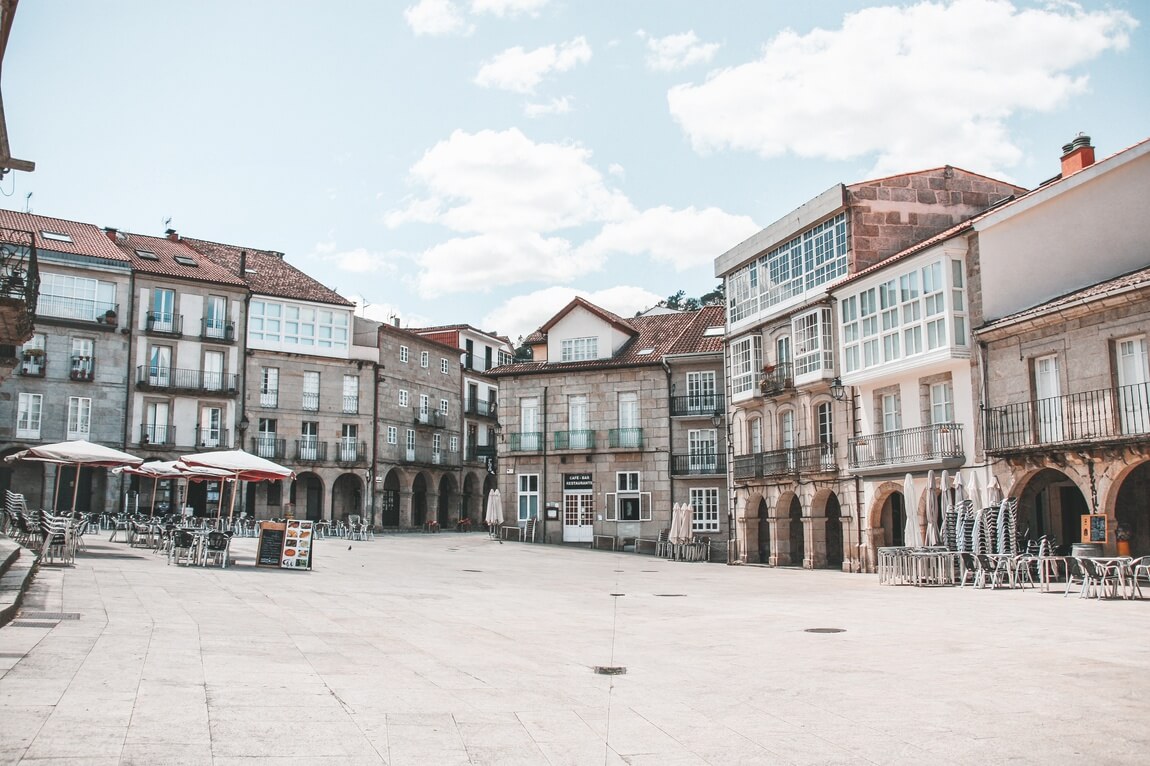 But the best way to visit a pueblo like this is really to let yourself get lost in its streets, without a final destination in mind.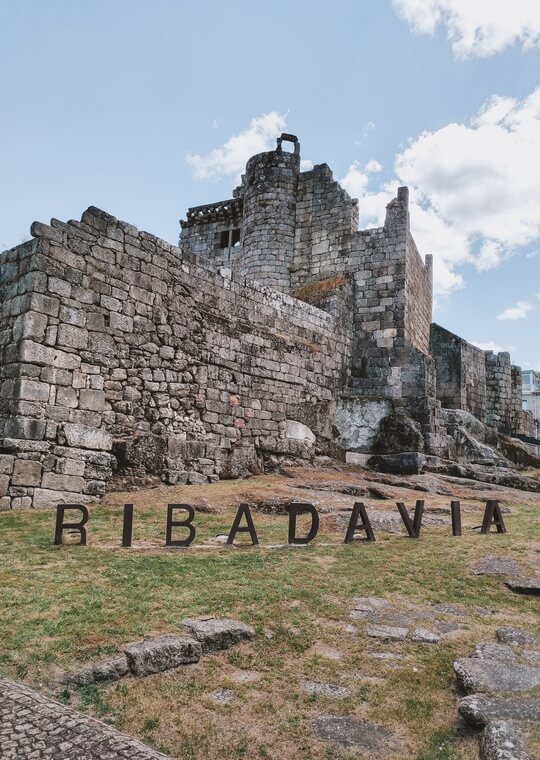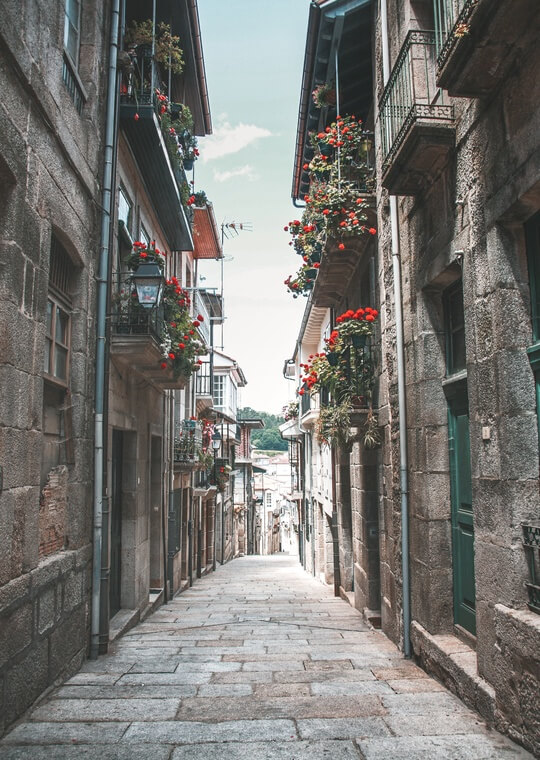 However, there are two other essential stops in the city: the Santo Domingo Convent and the ruins of the Sarmento Castle.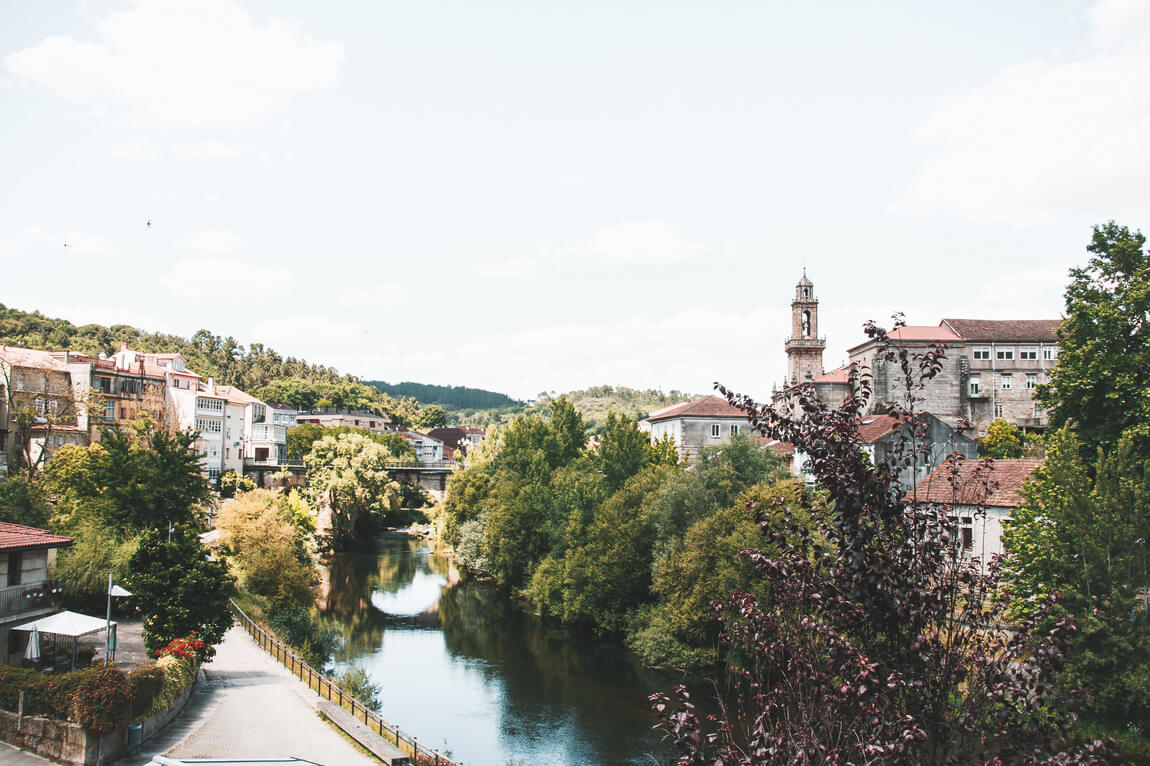 Finally, this beautiful Galician pueblo is not limited to its historic centre. Have an (literally) immersive experience at Prexigueiro Thermal Baths. This thermal complex has a circuit with 6 pools, providing a very relaxing experience. The entrance ticket costs 6.4 € and you can stay there for 90 minutes. You can check all the information here.
When to visit Ribadavia?
"Festa da Istoria" takes place on the last Saturday of August and it is a trip back in time to the Middle Ages. This is undoubtedly one of the city's great festivities and can be an interesting time to visit Ribadavia. The whole Jewish quarter is recreated, creating a unique atmosphere in this Galician pueblo.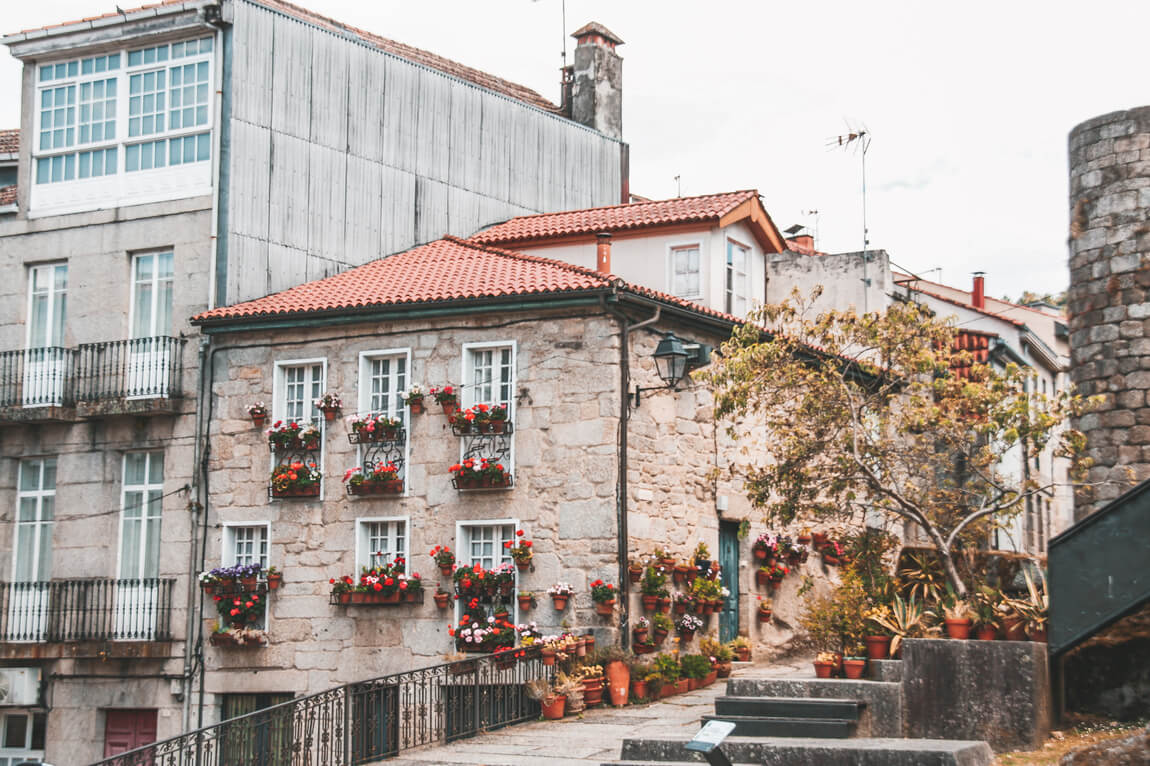 Restaurants in Ribadavia
O Birrán (€): This restaurant is located in the heart of the Jewish Quarter and it serves tapas. They will certainly not be the best tapas you will ever try, but the space (especially if you have the opportunity to enjoy the terrace) is quite pleasant.
Accommodation in Ribadavia
I did not stay overnight in Ribadavia and there isn't that much offer in the historic centre, to be honest. However, less than 10 minutes away by car, there are two very nice accommodations (Pazo de Esposende and Casa dos Ulloa). A little further away (20 minutes by car), there is also the Aldea Rural Pazos de Arenteiro with good value for money.
» Castro Caldelas (Ourense)
Castro Caldelas was a mere chance discovery, as I happened to stay there on the road trip through Galicia. This is another Galician pueblo that you must visit and it has less than 2000 inhabitants. This pueblo is so small that its main points of interest are the Castro Caldelas Castle and Watch Tower and the Nuestra Señora De Los Remedios Sanctuary.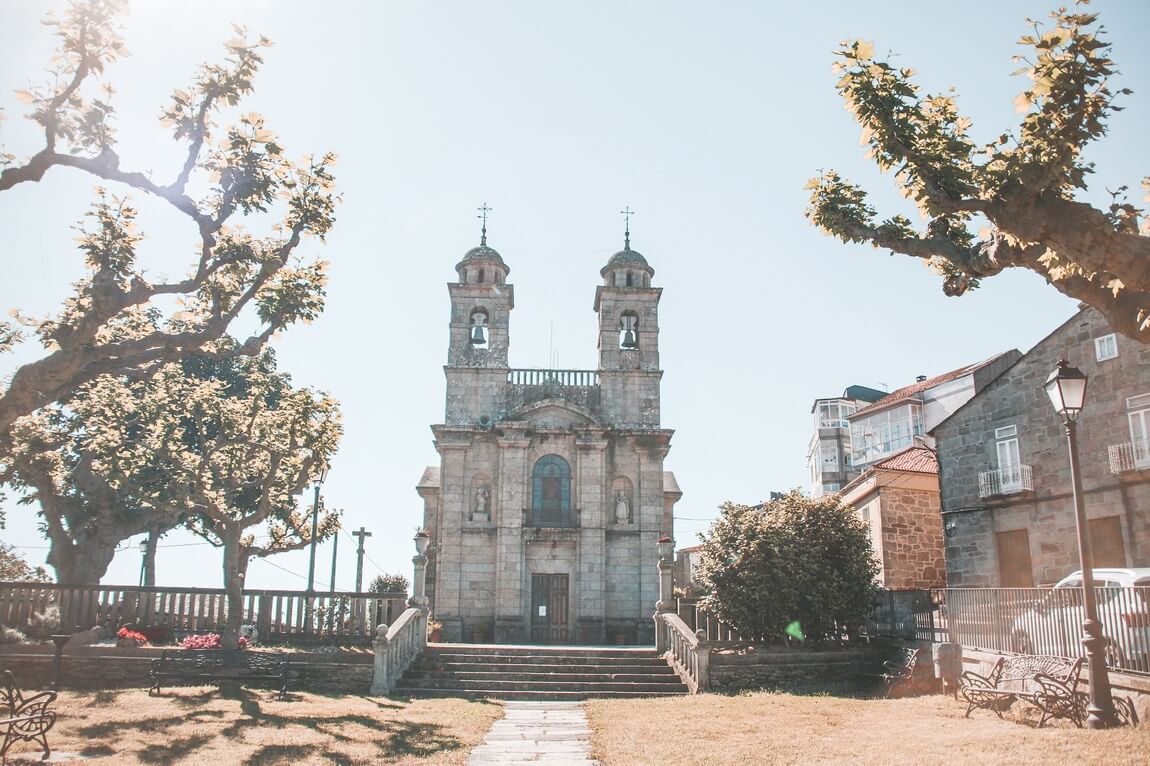 However, a few kilometres away by car, you can find some of the most beautiful views in Galicia at the Pena de Matacás viewpoint or even at the Pena do Castelo viewpoint.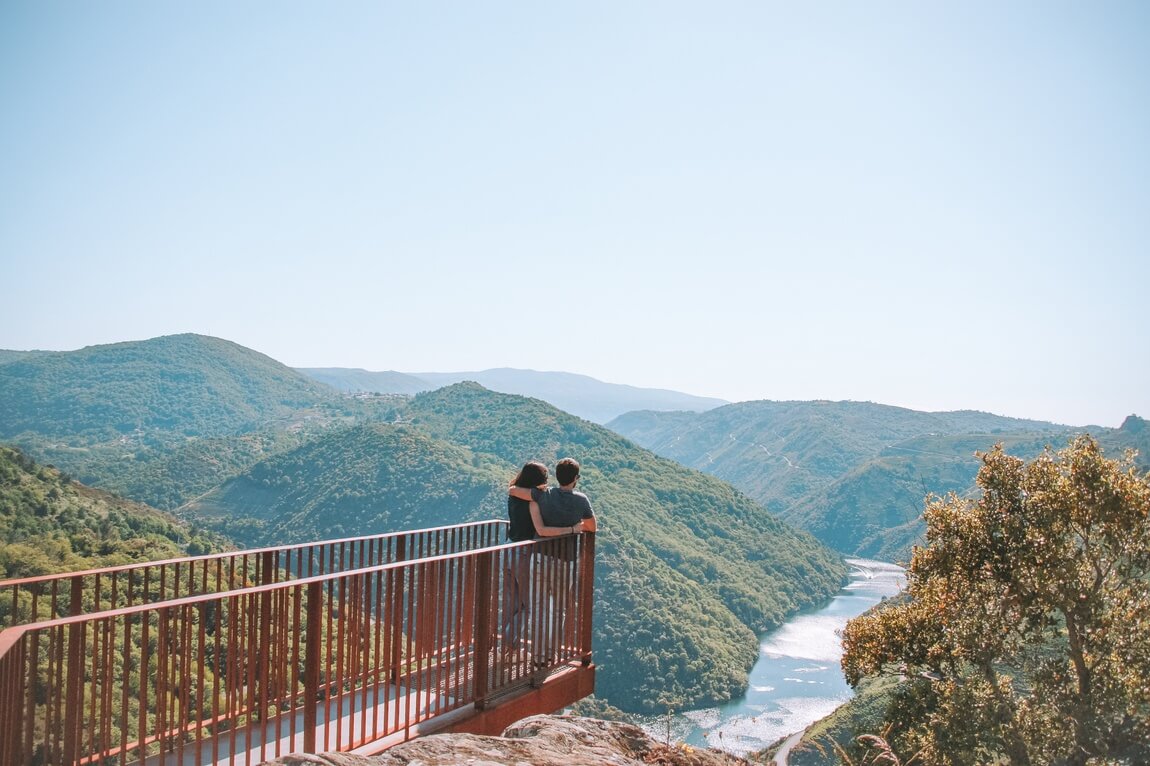 For the more adventurous, I suggest walking the Windmills Route (Ruta Dos Muiños) or the small trail that takes us to Cachón Waterfall (Fervenza do Cachón).
When to visit Castro Caldelas?
Despite being a very small pueblo, Castro Caldelas has 3 important festivities: Fachos Festival (January 19), the Virgen de los Remedios Festival (September 6-10) and the Ponte Louco festival (in August).
Accommodation in Castro Caldelas
Hotel Casa de Caldelas: a rather loving and familiar accommodation. The hotel has just a few rooms and is made out of stone, but is very comfortable. Located right in the historic centre of Castro Caldelas, the rate also includes breakfast, which is served in the café opposite the hotel
» Monforte de Lemos (Lugo)
The pueblo of Monforte de Lemos is another must-see on a road trip through Galicia. With its historic centre declared a Site of Cultural Interest, the most important monument is probably the San Vicente del Pino Monastery, originating from the 10th century. Currently, the Monastery serves as Parador de Monforte, where it is possible to stay overnight.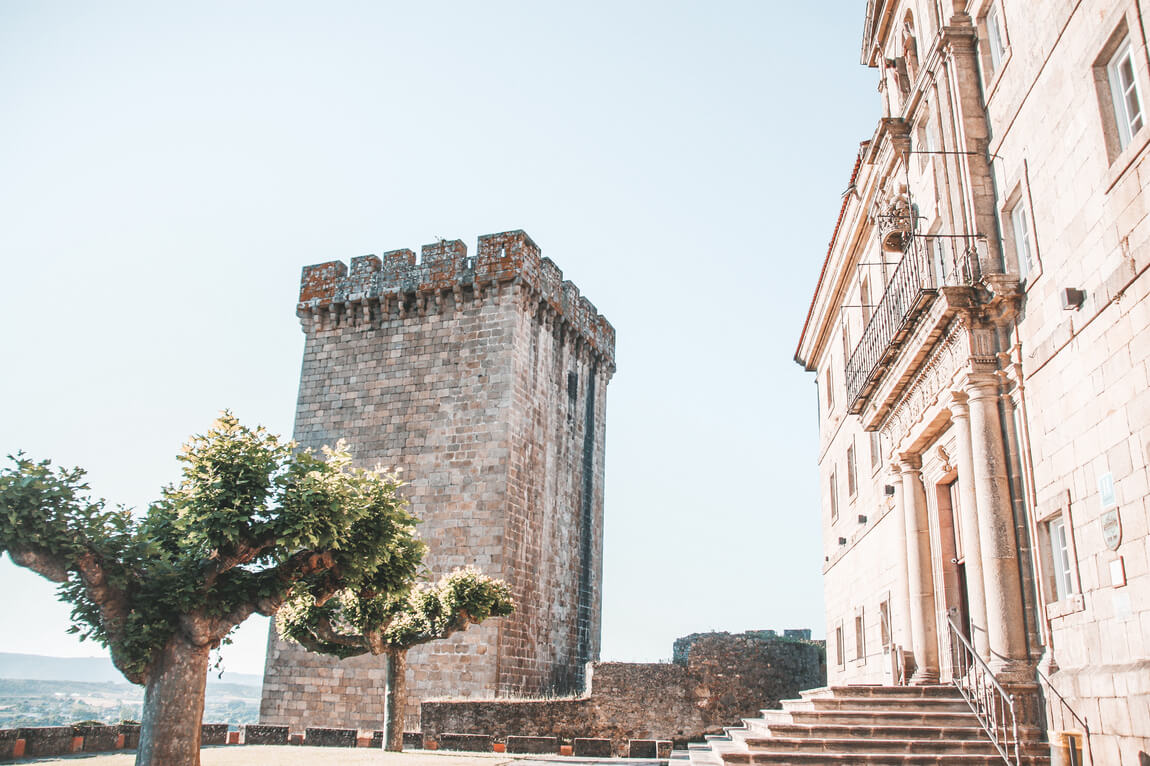 Due to the location of the San Vicente del Pino Monastery, from there you will have some of the best views of Monforte de Lemos. Also, be sure to visit the old castle's tower.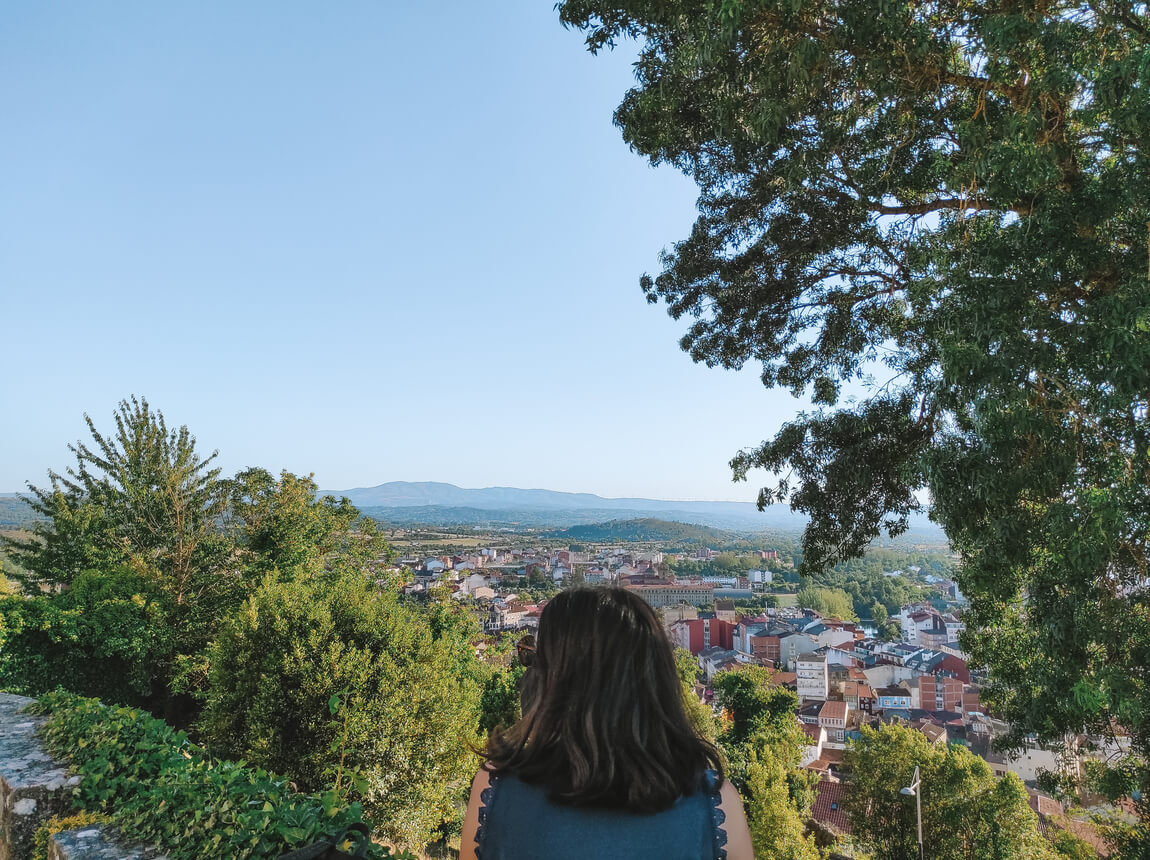 From here we can go down to the historical centre of Monforte de Lemos and visit some of its other points of interest:
Old bridge over the Cabe River – Roman bridge which, despite having been restructured, still keeps some of its original details
College of Nosa Señora da Antiga – 16th-century religious building that is impossible to pass unnoticed due to its grandiosity
Clarissas Convent and now Museum of Sacred Art
💡 EXTRA TIP: If you have some time, you can also take a walk along the Cabe River Walkways (Pasarela del Rio Cabe) – a short footpath that starts at Condes Park.
Accommodation in Monforte de Lemos
Parador de Monforte de Lemos: located in what is the former San Vicente del Pino Monastery, it'll be hard to find more beautiful interiors than these 
Hotel Cardenal: hotel with more modern decoration and also slightly cheaper, located right in the city centre
» Portomarín (Lugo)
Portomarín is a small pueblo that pilgrims pass through on the French version of Camino de Santiago. This Galician pueblo has one of the most interesting stories of all the pueblos mentioned in this blog post. In the 1960s, with the construction of the Belesar dam, the old village of Portomarín was completely submerged.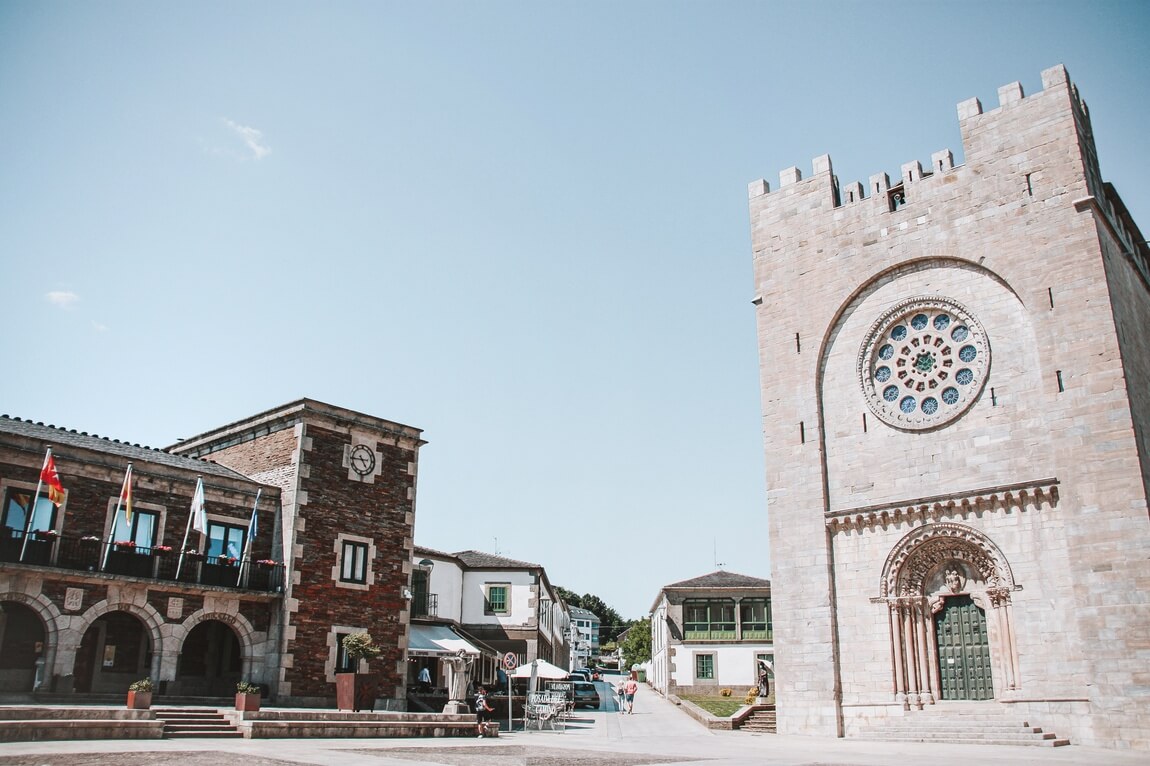 The monuments that existed were literally transported stone by stone to the new location of Portomarín. Some of the most relevant monuments in Portomarín include:
San Xoán Church, currently known as St Nicholas Church
Staircase of the old medieval bridge and Nieves Chapel – an important landmark for pilgrims on the way to Santiago since this is the main access to Portomarín
La Maza Palace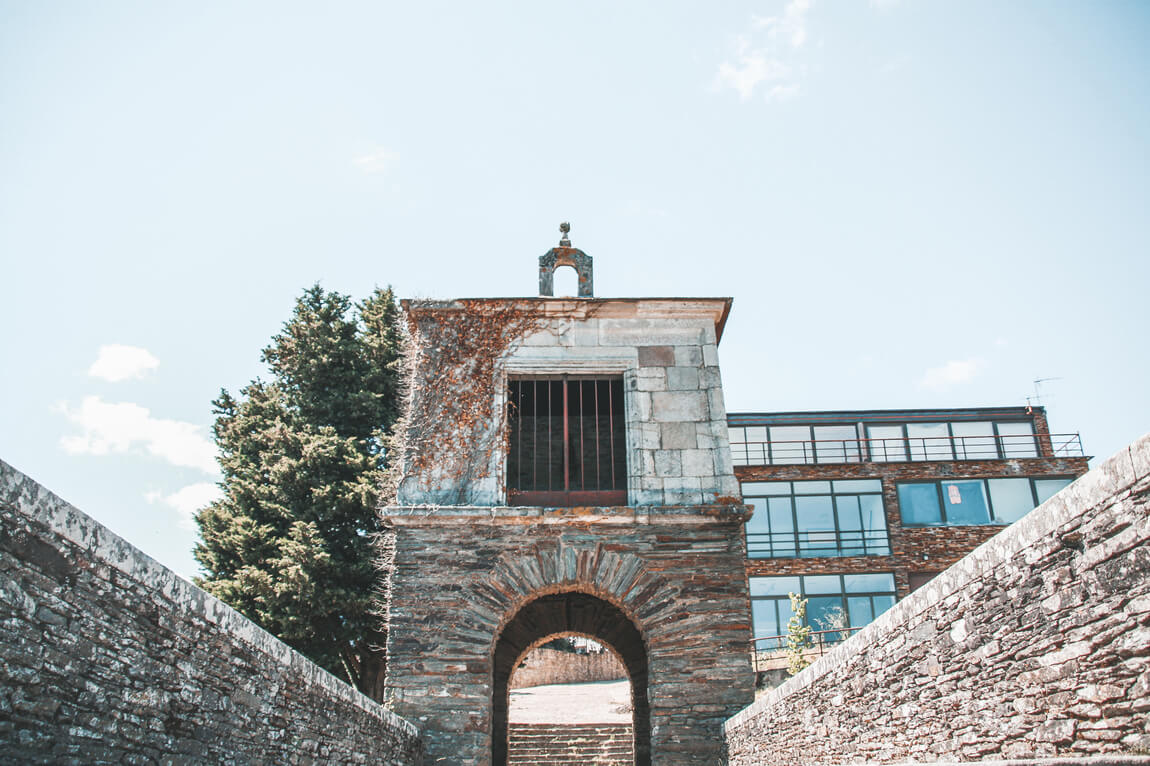 💡 EXTRA TIP: On days when the flow of the River Miño is lower, it is still possible to see what remains of the old village of Portomarín.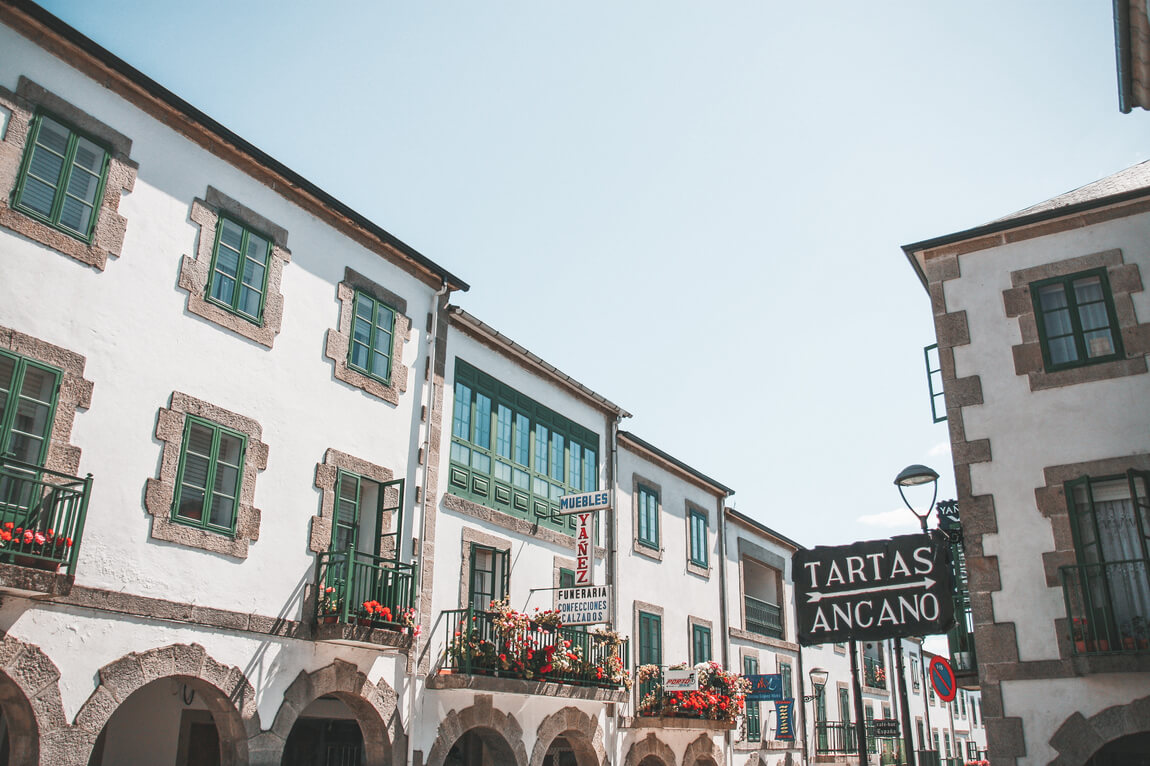 When to visit Portomarín?
This Galician pueblo is especially known for its brandy and there is even a Brandy Festival (Festa da Augardente), celebrated during Holy Week.
Accommodation in Portomarín
Hotel Ferramenteiro de Portomarín: with a central location and the best views over the river Miño and very spacious rooms 
VistAlegre Hotel-Spa: Located near the entrance to Portomarín, VistAlegre is a relatively small hotel, but with a nice view and spa services, jacuzzi and sauna.
» Betanzos (A Coruña)
Like Ribadavia, Betanzos was also once the capital of the ancient Kingdom of Galicia. Crossed by the Mandeo River and its affluent Mendo River, Betanzos was another pleasant surprise in this Galicia road trip.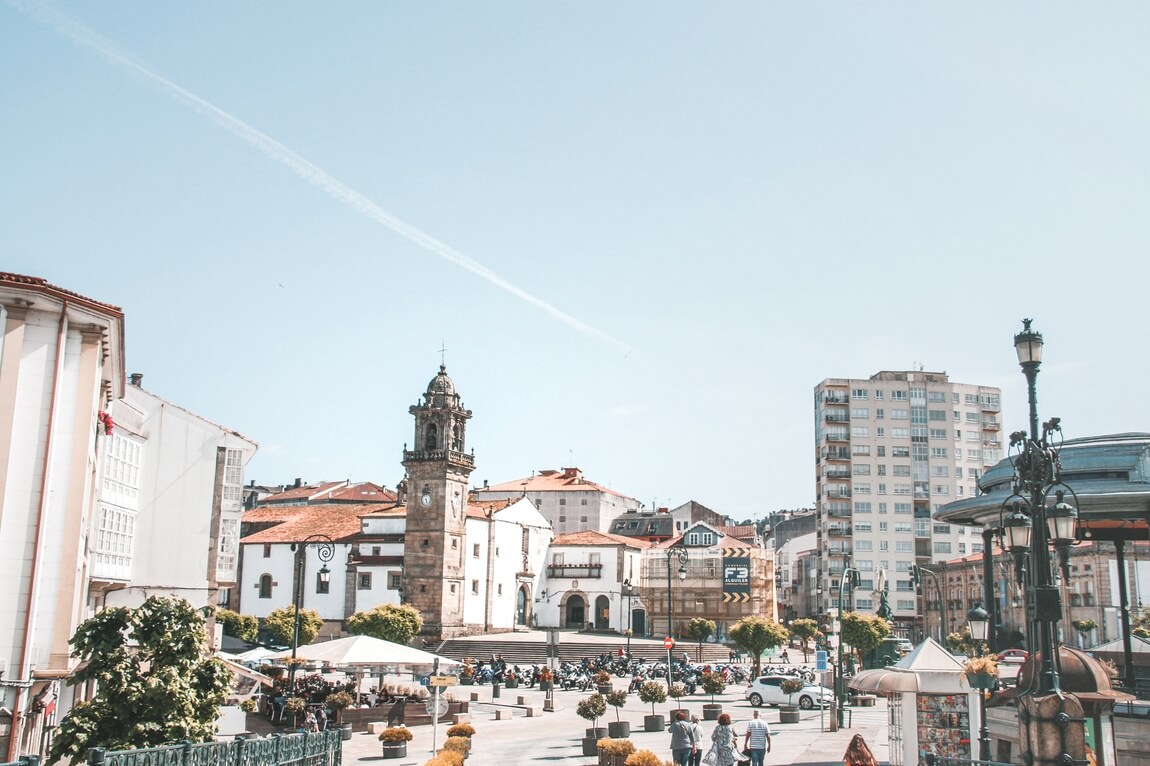 Start your visit in the charming Hermanos García Naveira Square. Here you will find the house of Don Juan García Naveira (a former Spanish businessman from Betanzos), the Hospital of San Antonio, the Diana Fountain and also the old convent of Santo Domingo (currently the Mariñas Museum).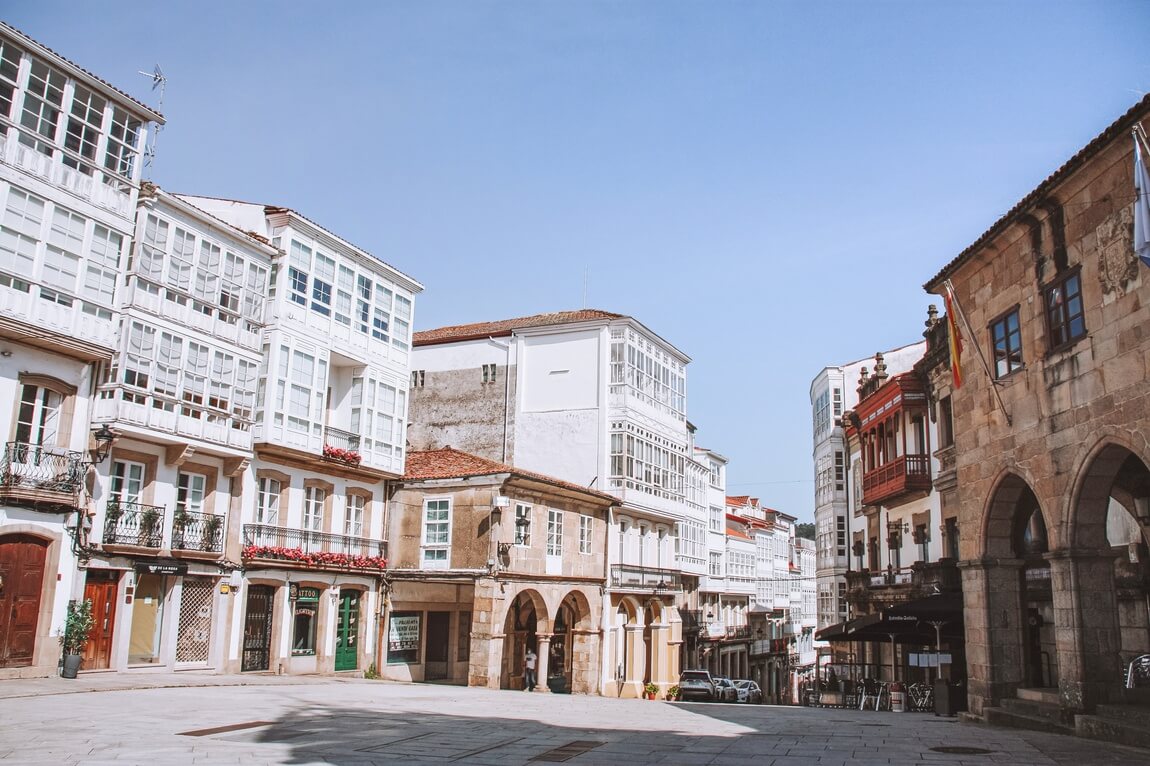 From here we continue to the Plaza de la Constitución, another of the most important squares in the city. It is here that we will find the Church of Santiago and the Bendaña Palace.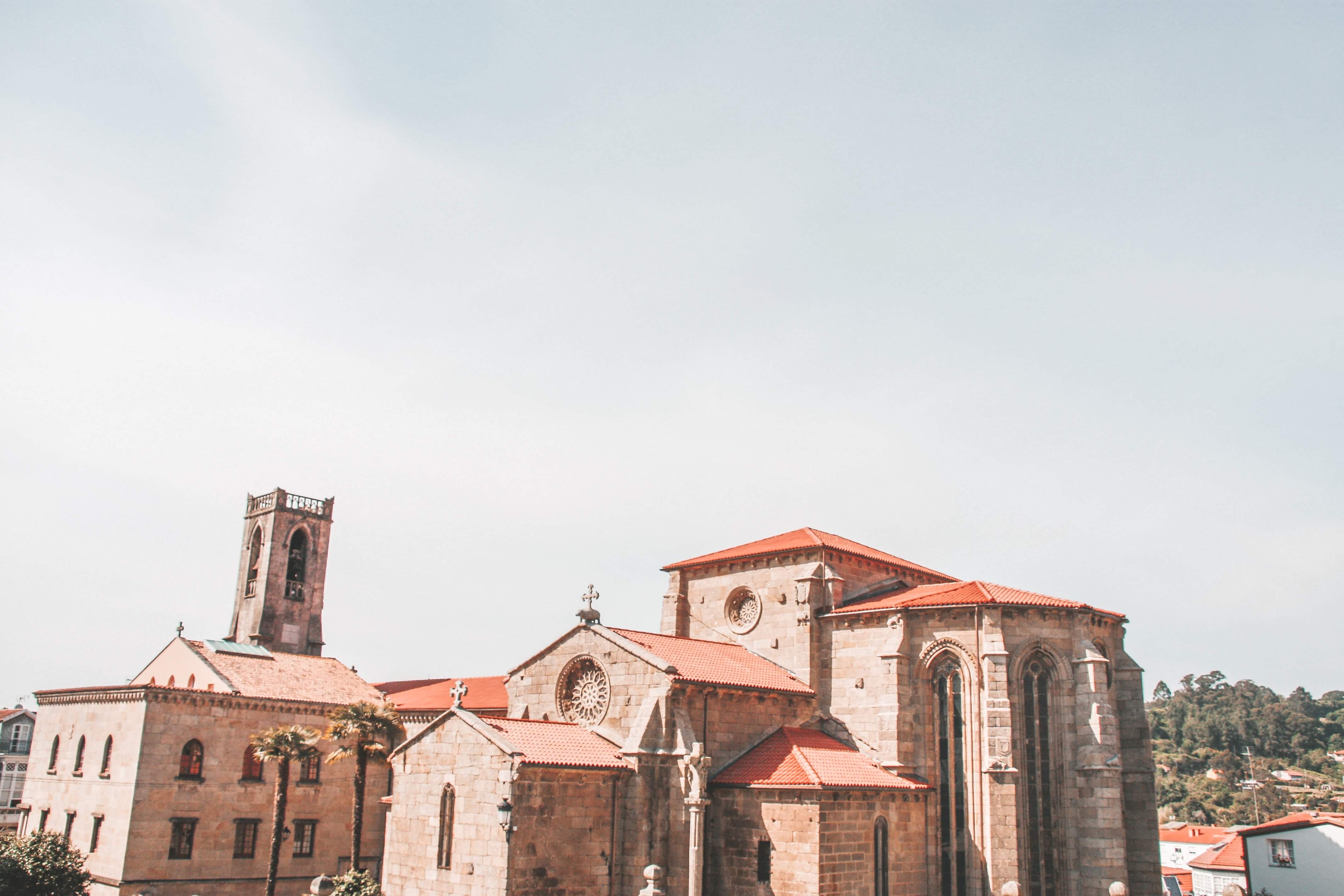 You must also visit the Fernán Pérez de Andrade Square, in honour of a Galician knight. Right next door, have a look at the Church of San Francisco and the Church of Santa Maria do Azougue – the church I liked the most in Betanzos.
When to visit Betanzos?
The San Roque festivities are among the most famous in Betanzos and are celebrated between 14 and 25 August to honour the town's patron saint. Another event also known in Betanzos is the Medieval Festival on the second Sunday of July – the whole town goes back to medieval times.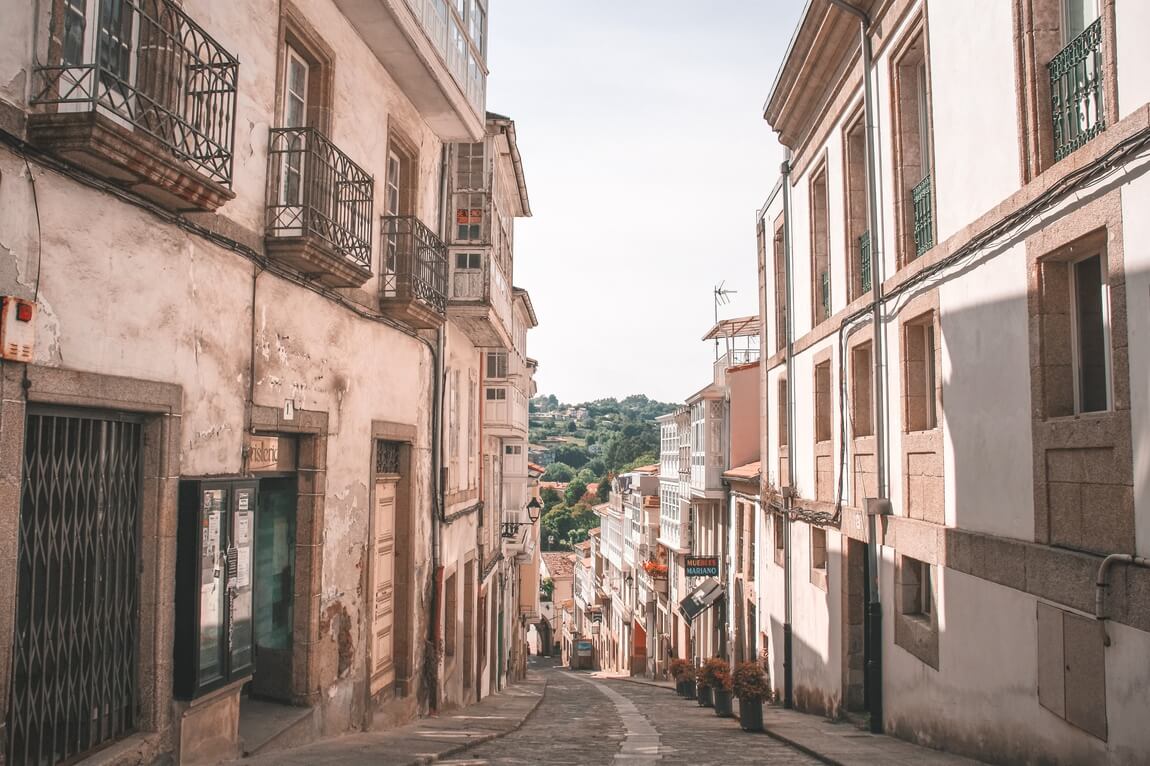 Accommodation in Betanzos
Mirador de la Muralla: a renovated and very modern flat in a central location. The apartment is well-equipped, with a kitchen and even a washing machine.
Hotel Os Olivos: Located less than 15 minutes drive from the centre of Betanzos, it is a relatively small hotel with a very nice space (especially the view from the breakfast room).
Rectoral de Cines: also a 15-minute drive from Betanzos, has a more quirky decor but good value for money. It also offers friendly service and quality breakfast.
» Fisterra (A Coruña)
Fisterra is a pueblo known for Cape Fisterra which, for many years, was considered the end of the world.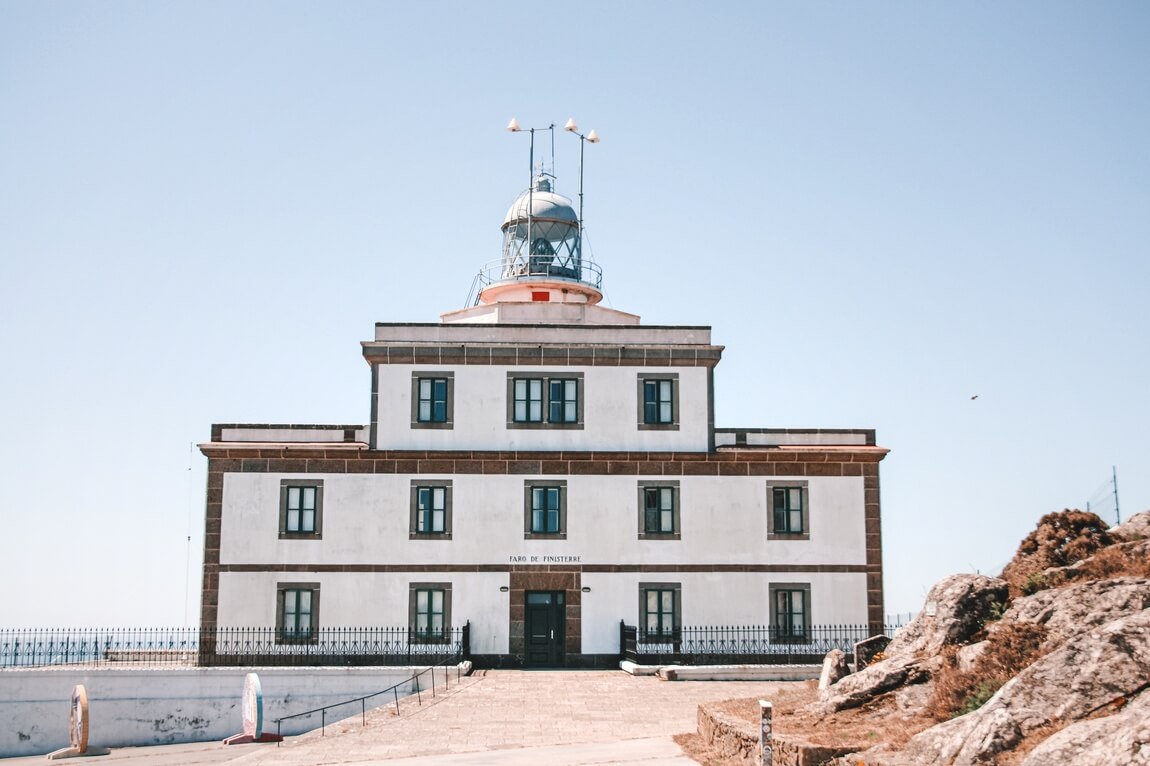 Being part of the famous Death Coast, nowadays Cape Fisterra is a special place for those who walk Camino de Santiago. Many of the pilgrims continue on from Santiago de Compostela towards this place to only end their journey here. In fact, near the Fisterra lighthouse, you'll find the kilometre zero marked 😉.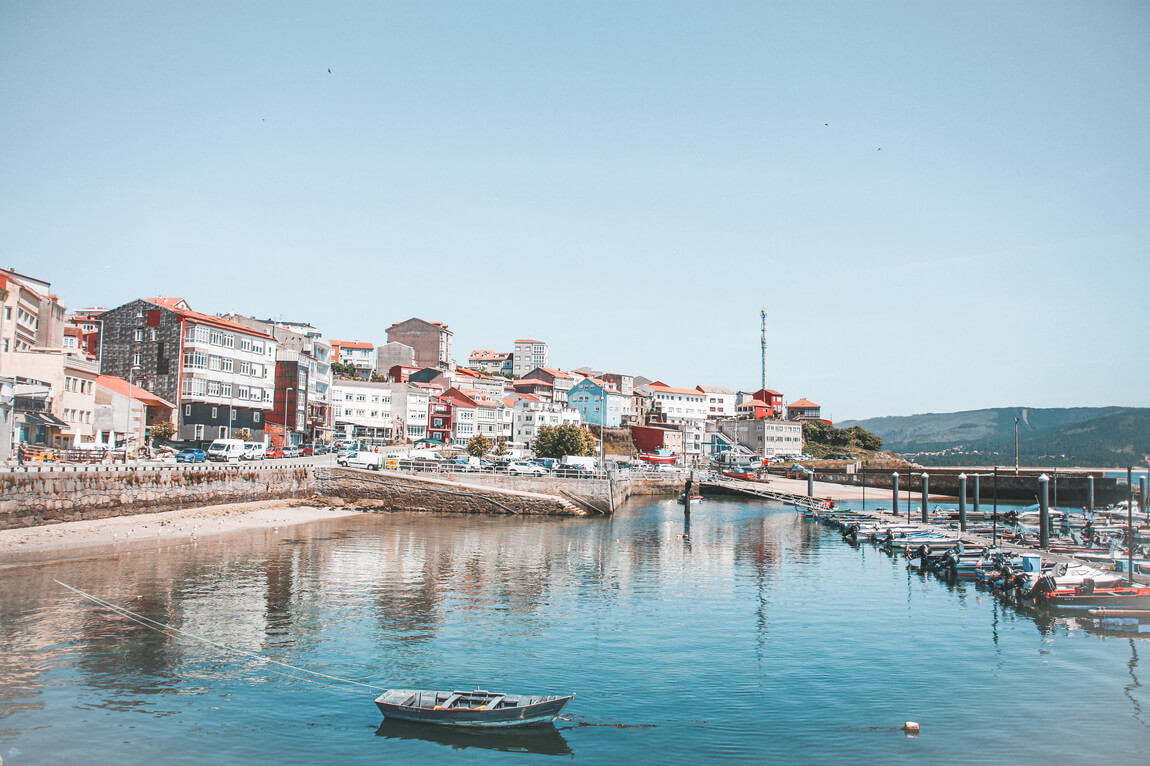 However, visiting Fisterra is not only about visiting the Lighthouse and Cape Fisterra. Also, take the opportunity to:
Catch a glimpse of Langosteira Beach from the Fisterra viewpoint
Enter San Carlos Castle
Visit the Santa María das Areas Church
Walking along the Paseo da Ribera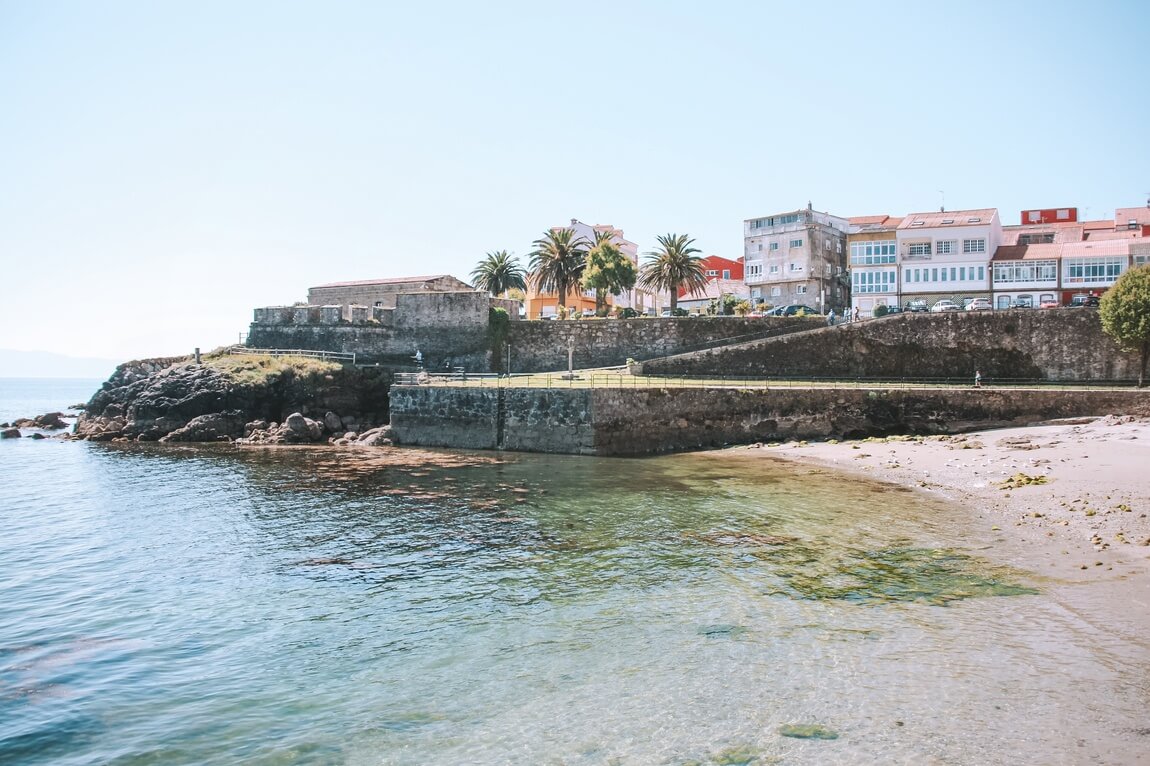 Accommodation in Fisterra
Apartamento Valdemar Keliam Fisterra: modern flat, located right next to Langosteira beach. Guests particularly praise the friendliness and availability of the hosts. 
Hotel Rural Finisterrae:  rural accommodation, but with good conditions. The outdoor pool is perfect for a quiet day in Fisterra.
» Muros (A Coruña)
If I had to choose the pueblo in Galicia that I most enjoyed visiting, it would be Muros for sure 🤩.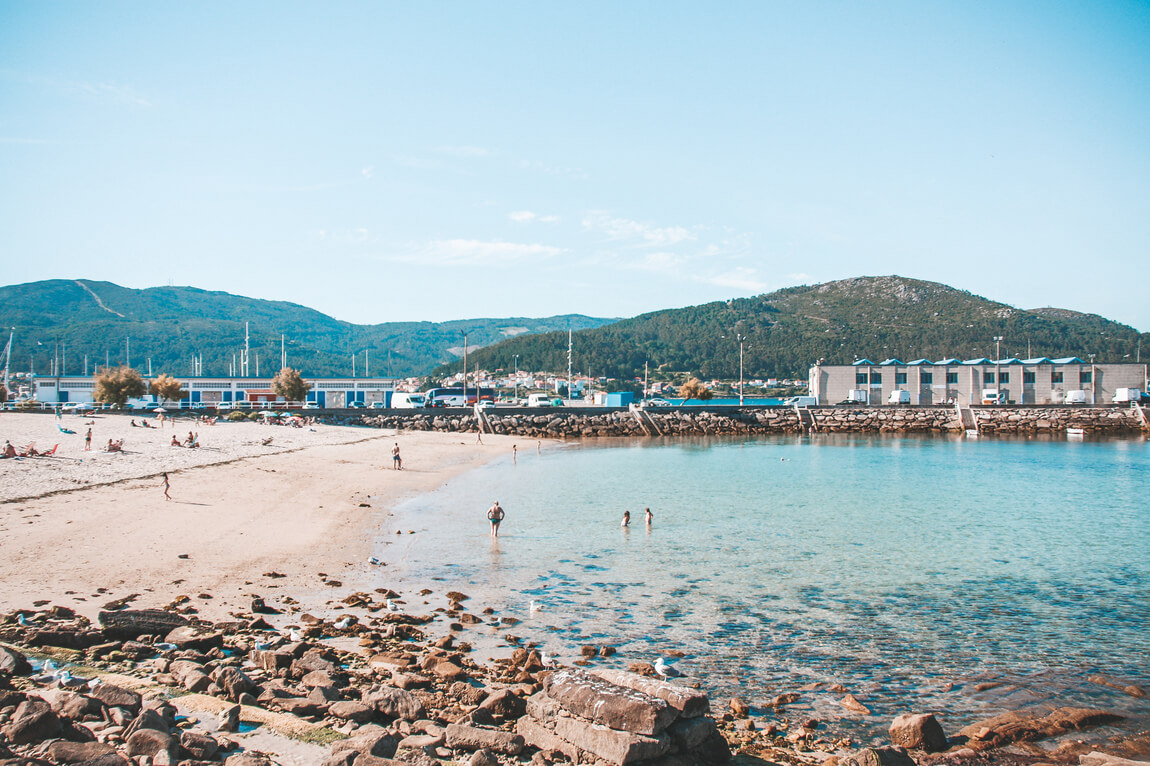 What is there to visit in Muros? Not much, really. The best way to explore Muros is to get lost in its streets and alleys. However, there is a mandatory stop: Castelo Beach.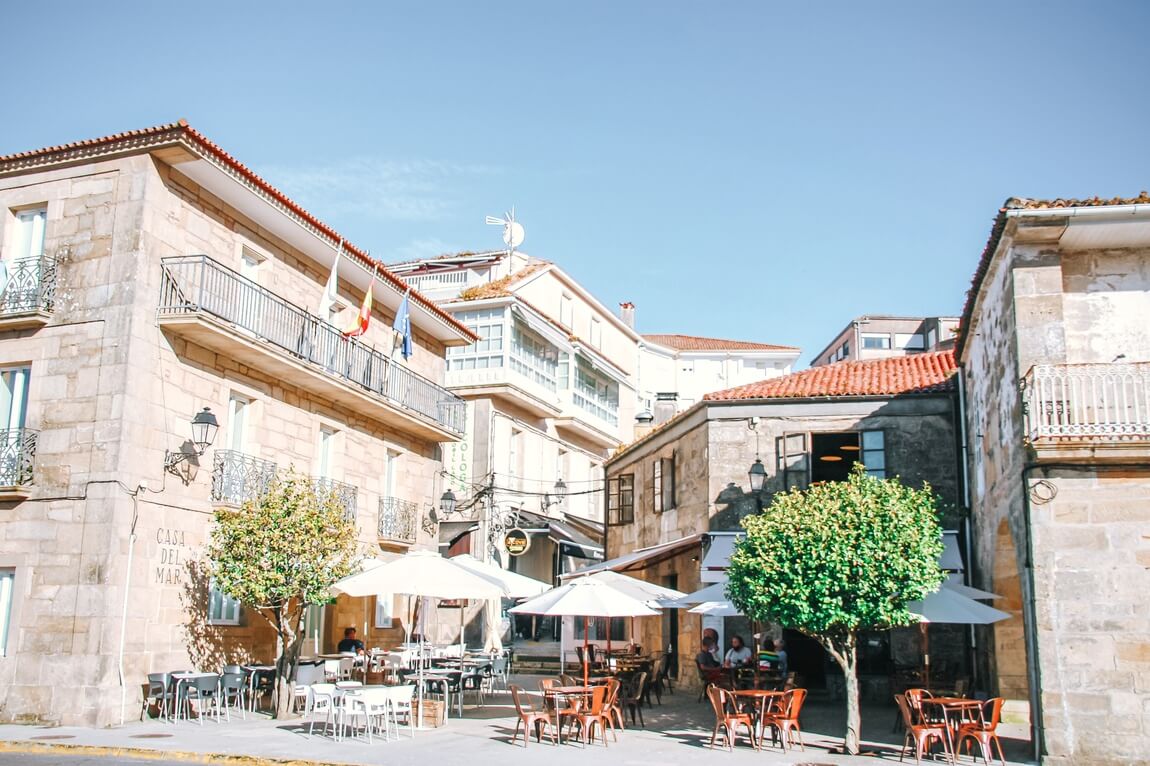 In addition, you can also stop to enjoy the beautiful landscape near Muros Harbour or by the San Pedro Church.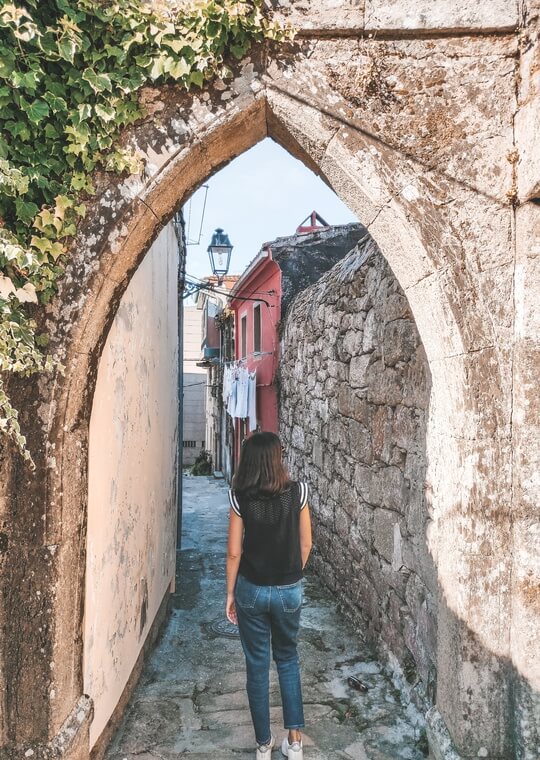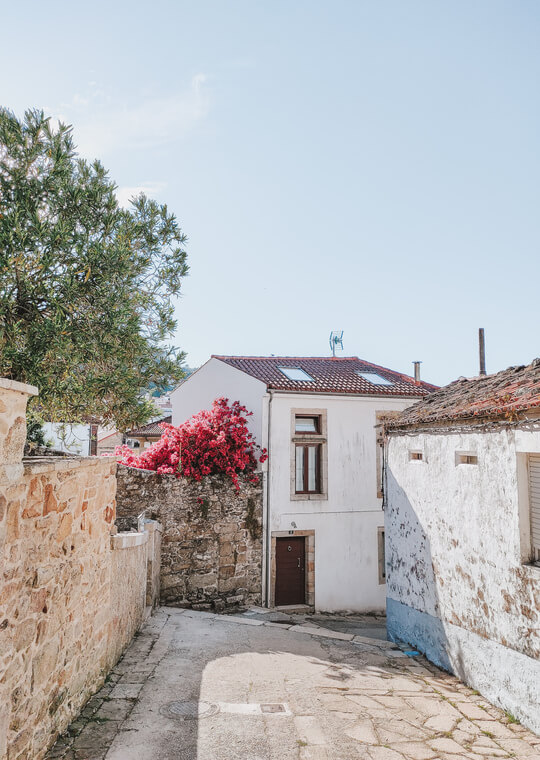 💡 EXTRA TIP: Less than 25 minutes by car from Muros, we find some of the best beaches in Galicia that are clearly worth a visit if the weather permits. They are Ancoradoiro Beach, Carnota Beach and Lariño Beach.
Accommodation in Muros
Pensión Casa da Nena: Simple accommodation with no great luxuries, but with all the conditions for a night well spent.
Casa del Ancla: despite a higher price, the decoration and comfort of Casa del Ancla will make anyone want to visit Muros
» Padrón (A Coruña)
Padrón is another important place along the Portuguese version of Camino de Santiago because of its historical importance (it was there that the remains of the Apostle St James arrived), but not only that! It's even from here that the famous padrón peppers come from – "uns pican e outros non" (some are spicy, others not) 🤭.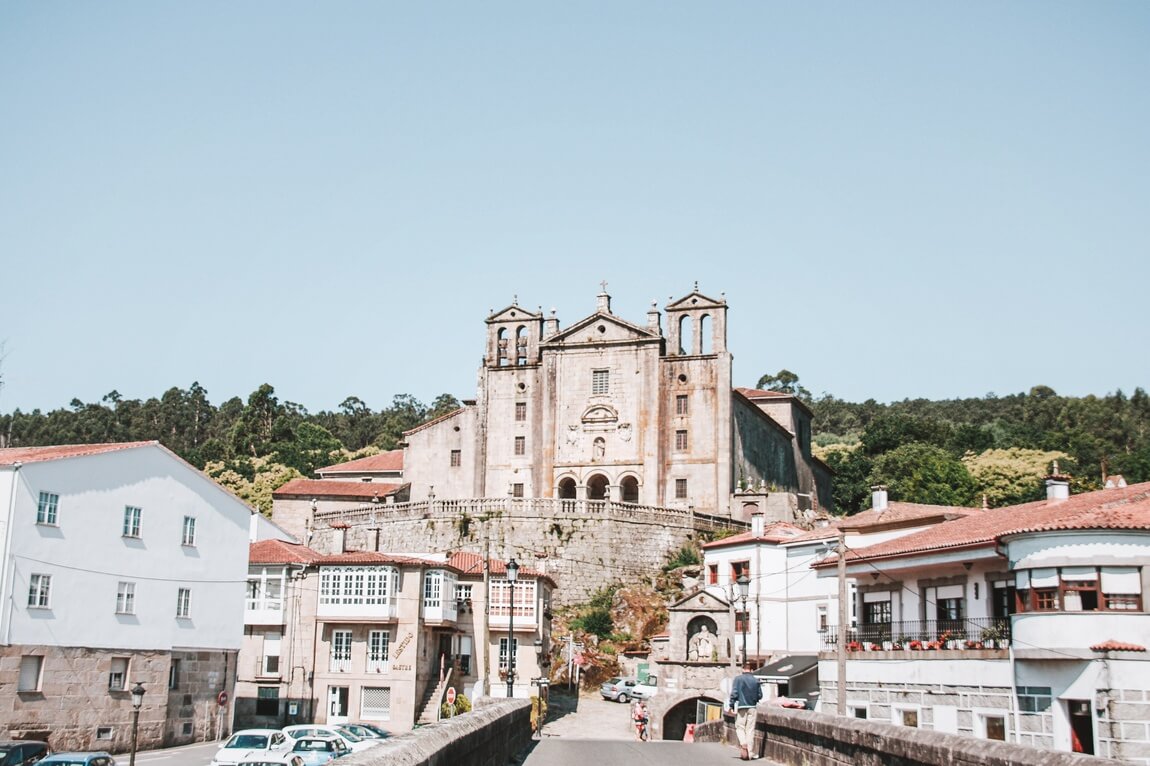 The historic centre is quite small and you can easily walk its streets and alleys in a couple of hours. However, don't miss Paseo do Espolón, Carme Convent or even Santiago Church.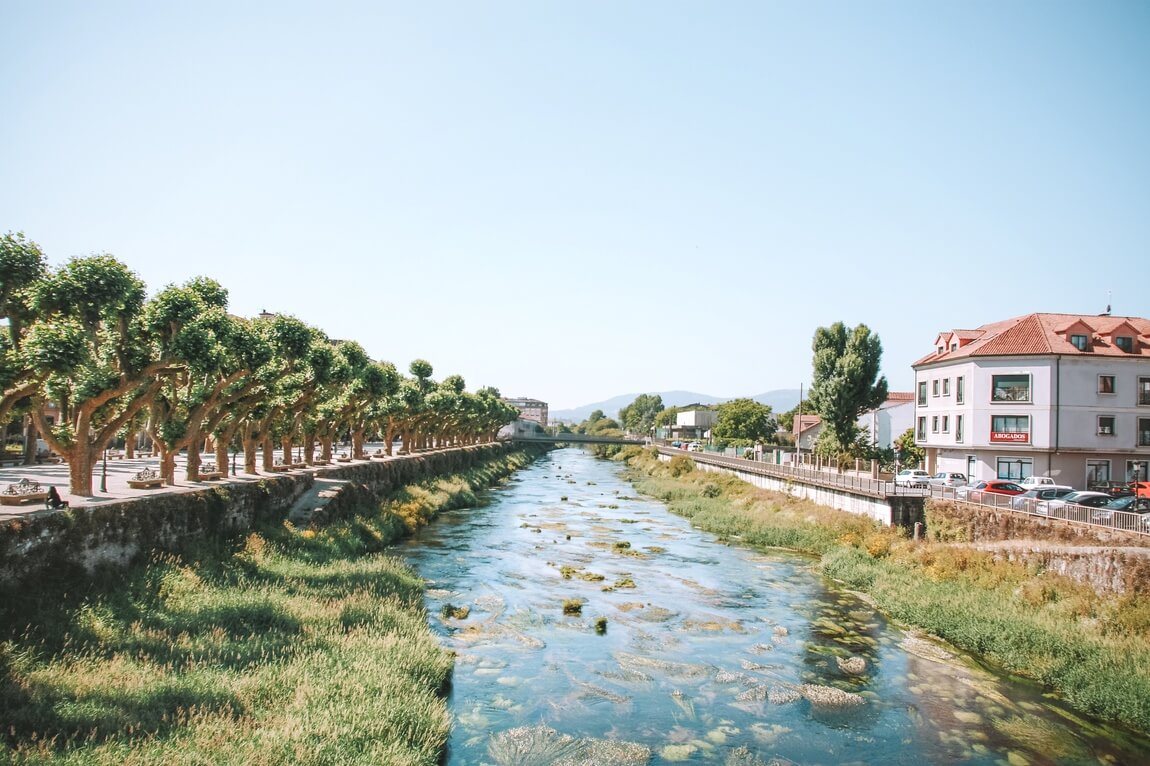 If you still have some time left and like this kind of things, you can always visit two of the most important cultural spaces in Padrón:
Rosalía de Castro Museum – poetess originally from Pádron
Camilo José Cela Foundation – in honour of the Literature Nobel Prize, who is also originally from Pádron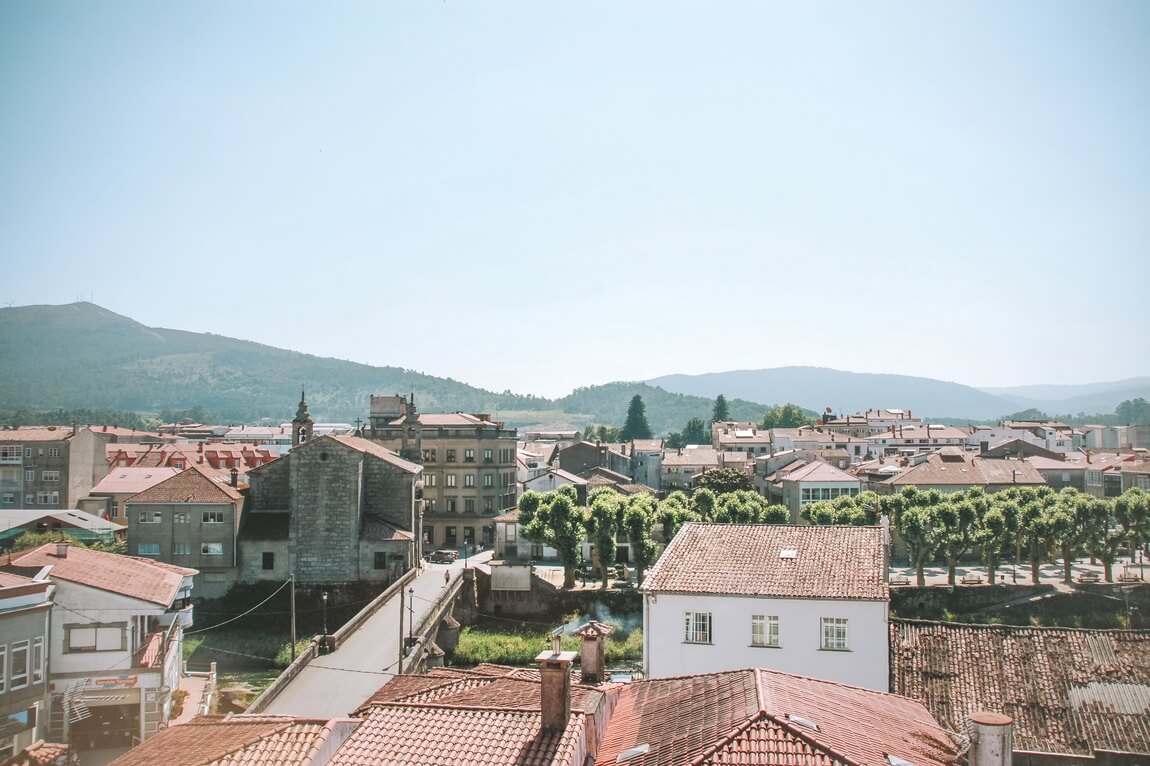 Accommodation in Padrón
Os Lambráns: despite not being located in the historic centre of Pádron, this country house is a good option for those seeking tranquillity and at the same time some modernity
Suite Nest: very central flat with a modern décor that appeals to comfort. In addition, guests praise the availability and friendliness of the host.
» Cambados (Pontevedra)
Cambados is a fishing pueblo known for its good seafood and albariño wine, and is even considered the capital of this type of wine.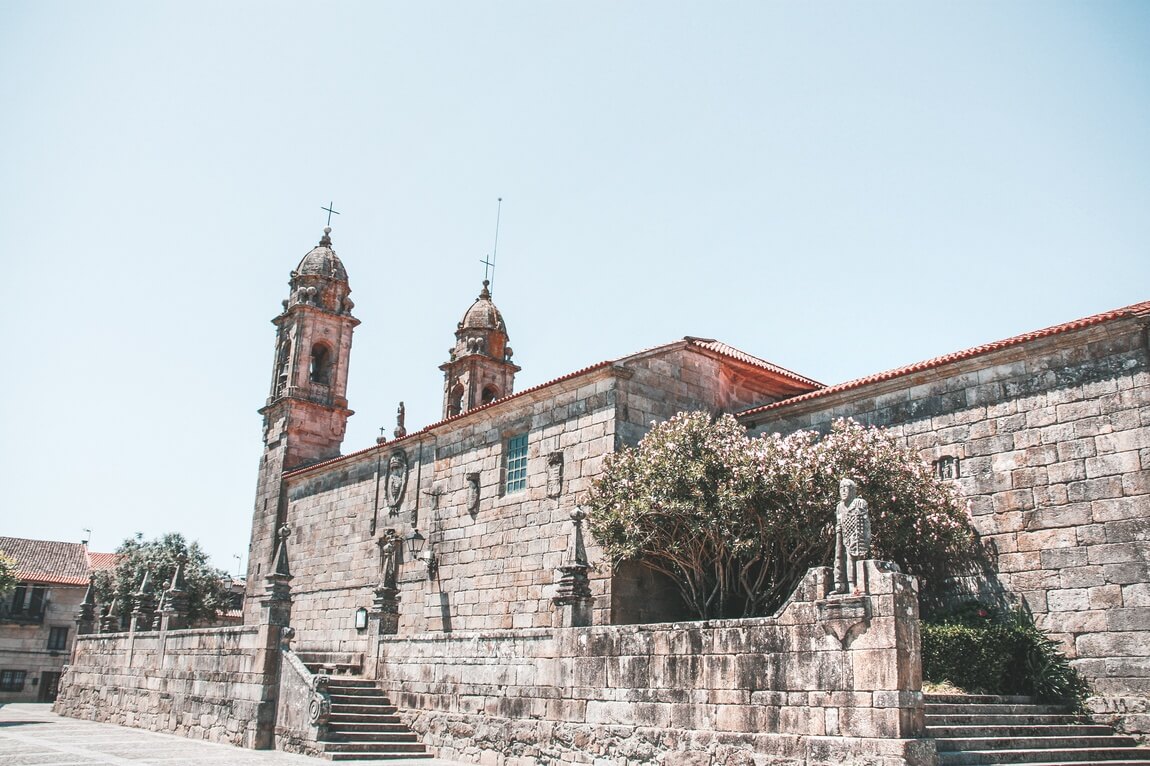 In addition to a well-deserved walk along the Cambados promenade, the historic centre of this village tells us stories of other times through its palaces, and manor houses, among others.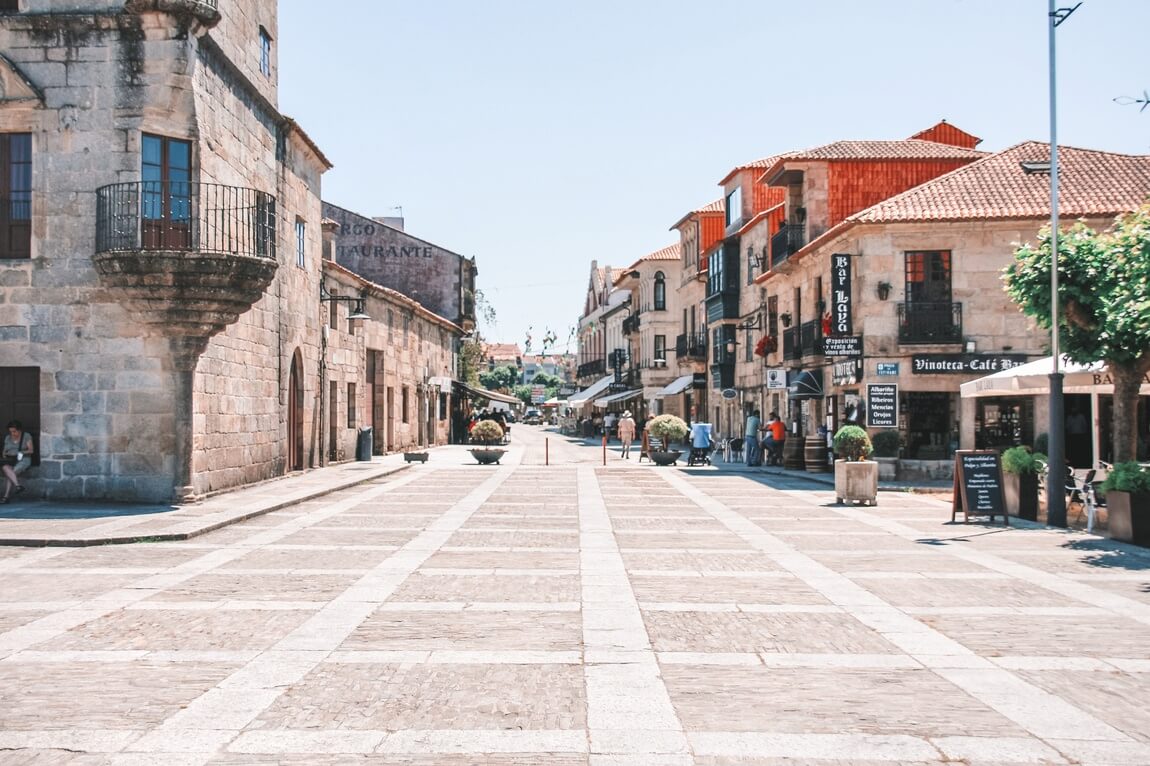 A visit to the town's historic centre can begin at Fefiñans Square, one of the largest squares in the town. Here we find the San Benito Church and the incredible Fefiñans Palace, where the Fefiñáns Winery is located.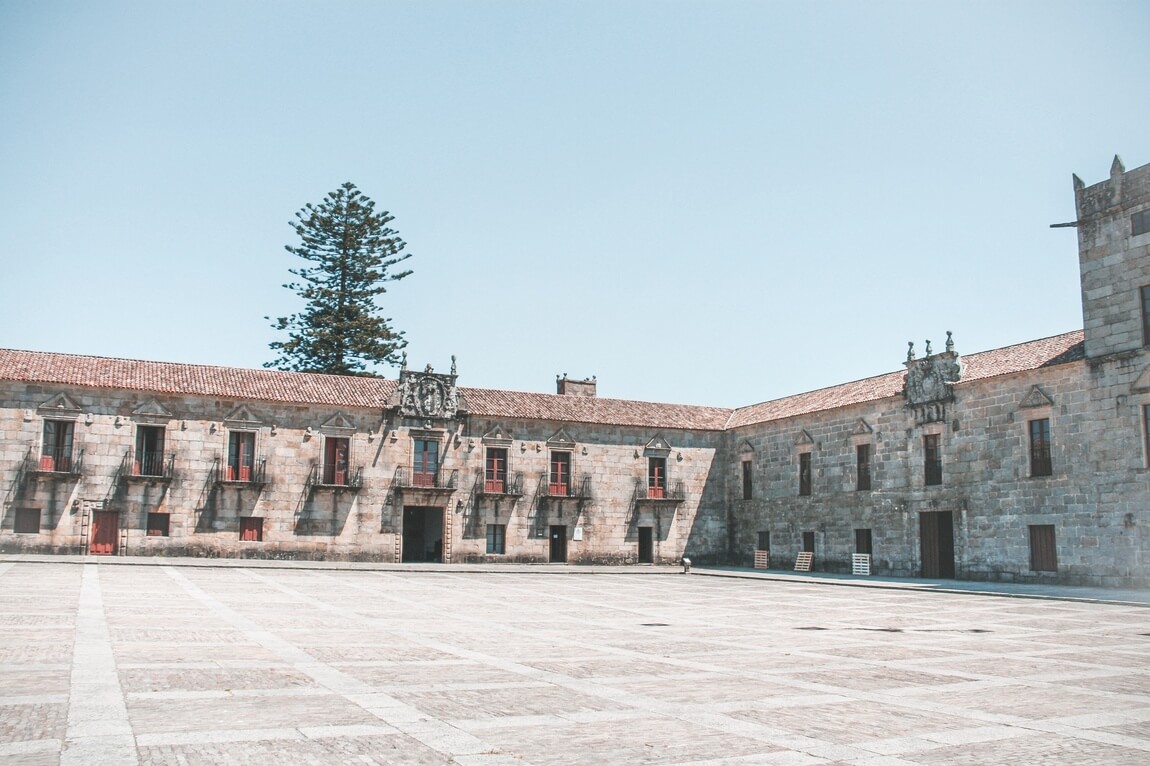 Getting away from the centre, we can still visit the Ethnographic and Wine Museum, as well as the ruins of the Mariña Dozo church – where a cemetery is currently located.
When to visit Cambados?
On the first Sunday in August, the Albariño Wine Festival is celebrated, so this could be a good time to get to know this Galician pueblo, especially for wine lovers. During the festival, there are many stalls on the streets and you can taste many different wines.
Accommodation in Cambados
Parador de Cambados: Located in the old Bazán Palace, this accommodation option is a very pleasant trip back in time. Despite the higher prices, the quality of the parador is indeed incredible
Villaprado: with an excellent location, it offers a more refined stay at an affordable price
Restaurants in Cambados
A Fonte Do Viño (€€): the perfect place to try what is fished close by and experience a good albariño wine
» Combarro (Pontevedra)
And to finish this list of 10 pueblos to visit in Galicia I chose Combarro. This is one of the most quirky and friendly pueblos 😊. Its landscape is clearly marked by the most characteristic element of this pueblo – its granaries (or "hórreos" in Galician).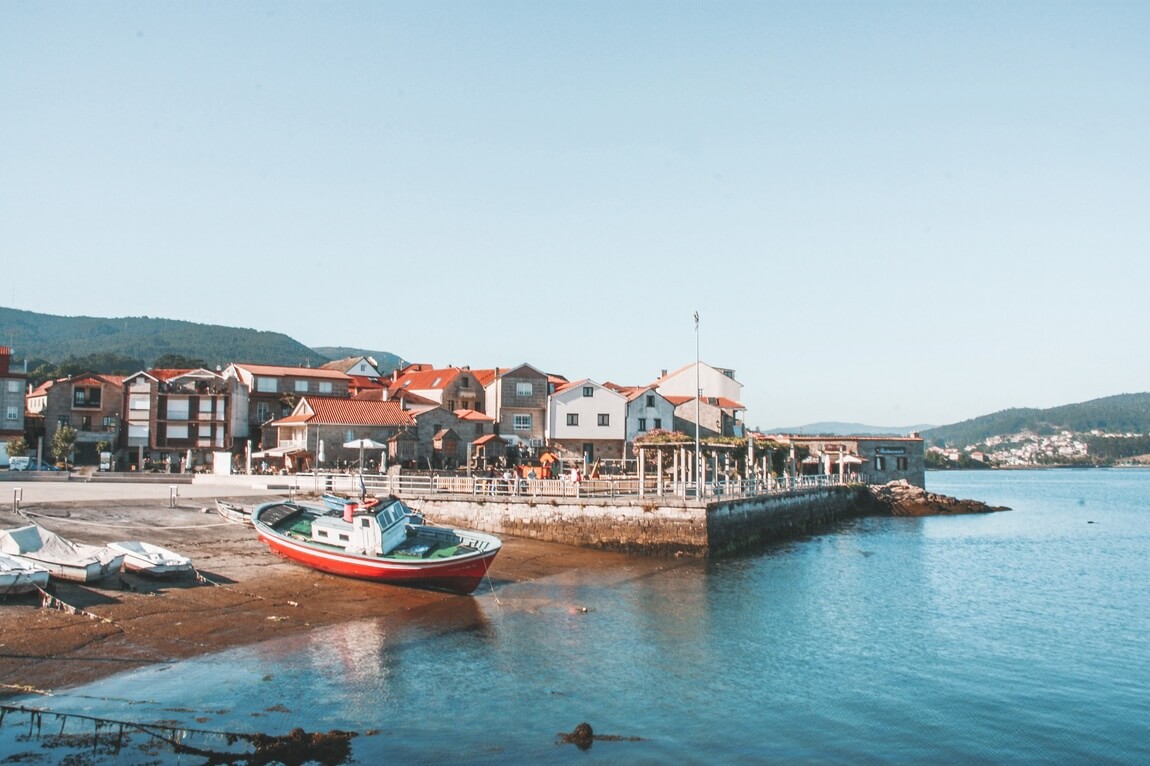 Wander through the narrow streets lined by the various granaries that can be found near the estuary. Moreover, look out for the various cruises scattered around and the coastal houses (locally known as "casas marineras").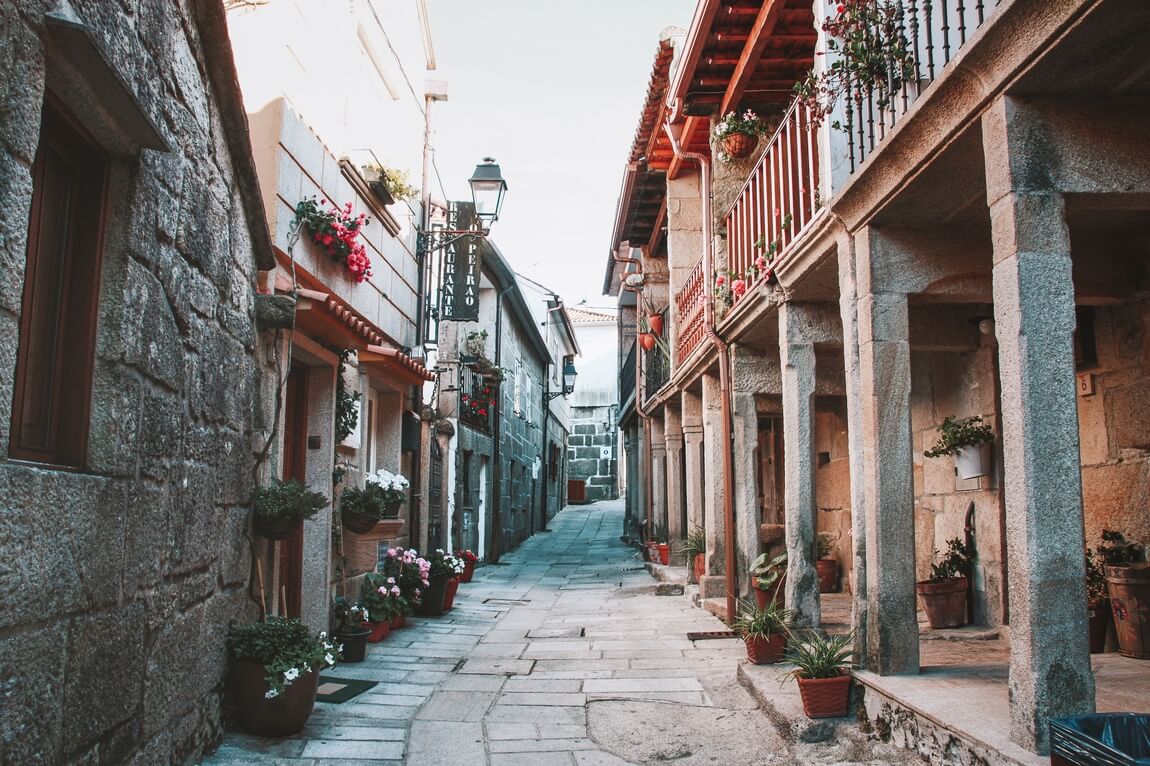 I also suggest a visit to San Roque Church and also to the San Juan de Poyo Monastery, located 5 minutes by car from the centre of Combarro.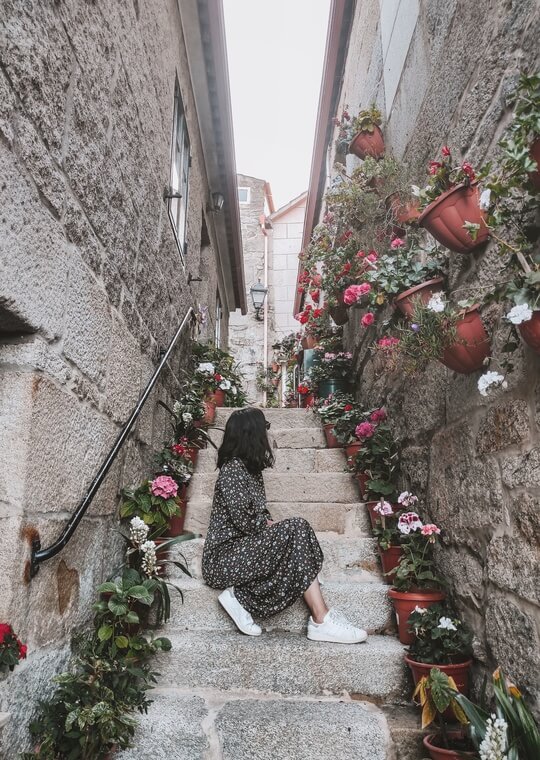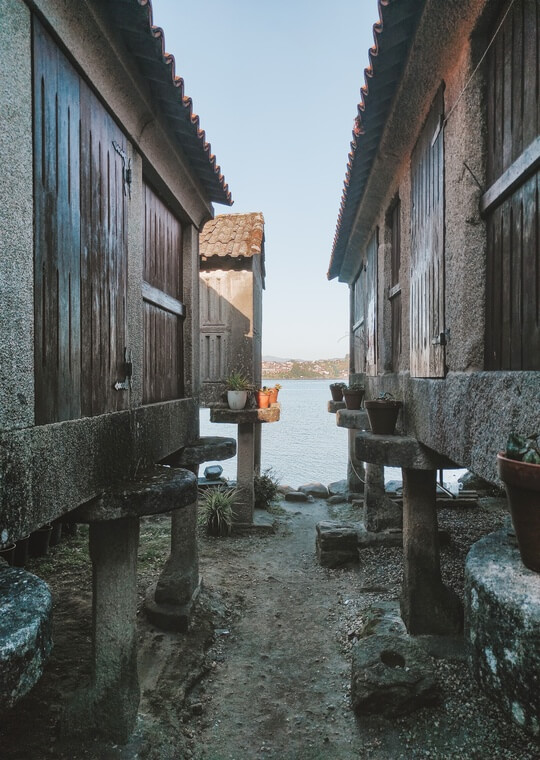 Finally, for a panoramic view of the granaries, I suggest a visit to Padrón beach or Pinela beach!
Accommodation in Combarro
Casa Noelmar: Very rustic accommodation right in the centre of Combarro. Apart from the very friendly service, the flat is comfortable and has a garden to enjoy on warmer days.
Atico Mirador Rualeira: typical house of Combarro with a central location and nice views
I hope this blog post has left you wanting to go and visit these 10 pueblos in Galicia 🥰 .
Disclaimer: this post may contain some affiliate links, which means I get a small commission if you buy something through my links. This doesn't represent any additional cost to you and you'll be supporting my work here on the blog😊