Modena is a small town located in Italy's Emilia Romagna region. Known for its excellent gastronomy, Modena is the perfect getaway from other popular cities nearby, such as Bologna, Verona, Milan or even Venice.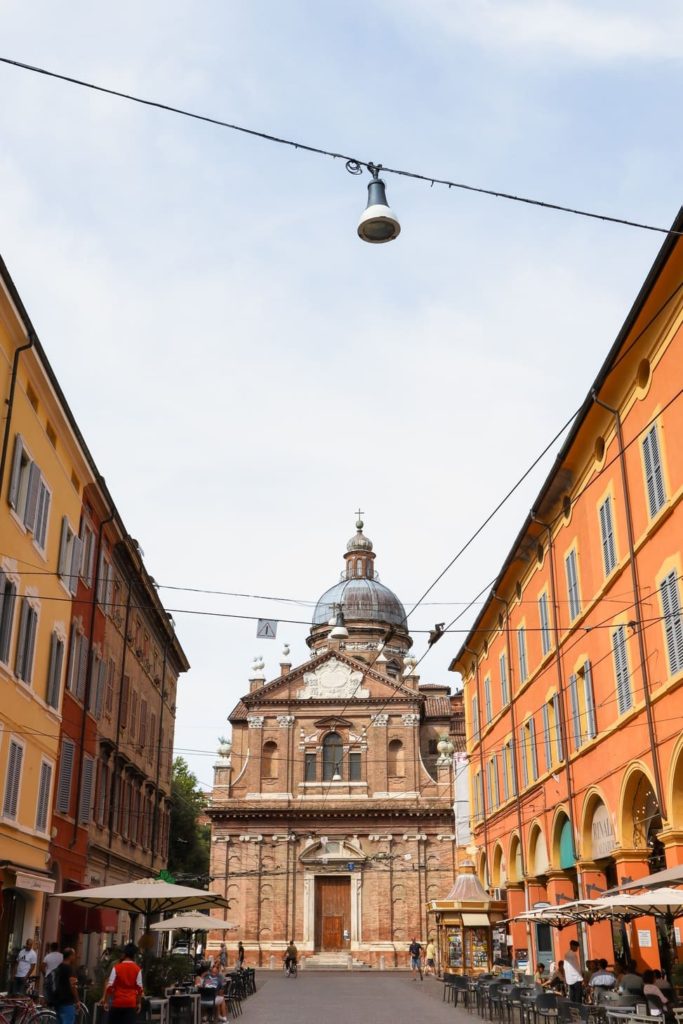 Although it's only a 20 minutes train ride from Bologna, it's surprising how many tourists Modena receives compared to Bologna. I visited the city in the middle of summer and hardly saw any tourists in Modena.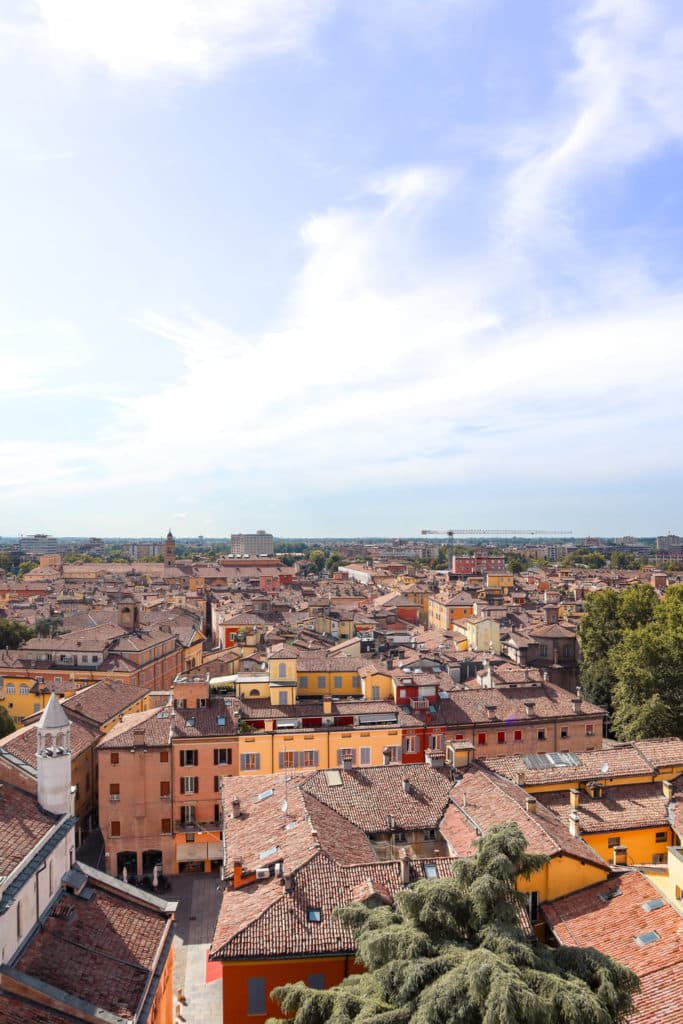 All I could think was 'how is that possible?' And to this day, I still have no answer. Modena is perfect for those who like quirky cities and getting lost in cute and narrow streets. It's perfect for those who love Italian food and cities with history. It's perfect, and that's what I want to show you throughout this post 😍.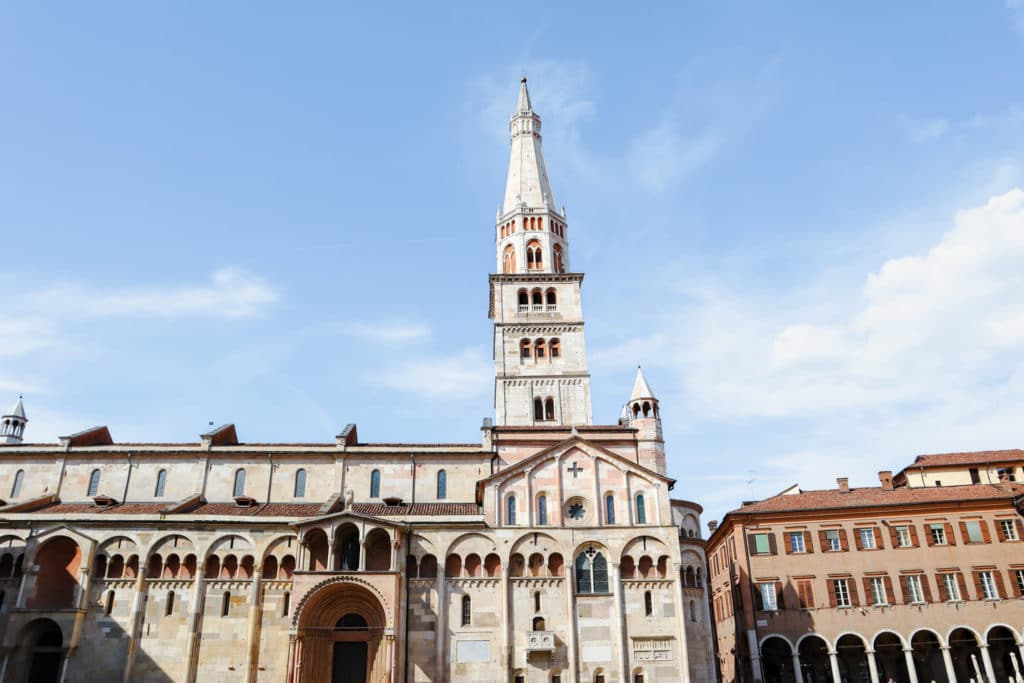 So, throughout this post, I'm going to show you my suggested itinerary in Modena for those who have one day to visit the city. In the post, as well as the best things to do in Modena, you'll also find other tips, such as the tours I recommend, the best food in Modena, the best hotels in Modena, and more.
What is the best time of year to visit Modena?
Any time of year is a good time to visit Modena, as its climate is far from extreme. However, summers are hot and winters are cold. Nevertheless, in neither case do we find very high/low temperatures, so you can also visit Modena at that time.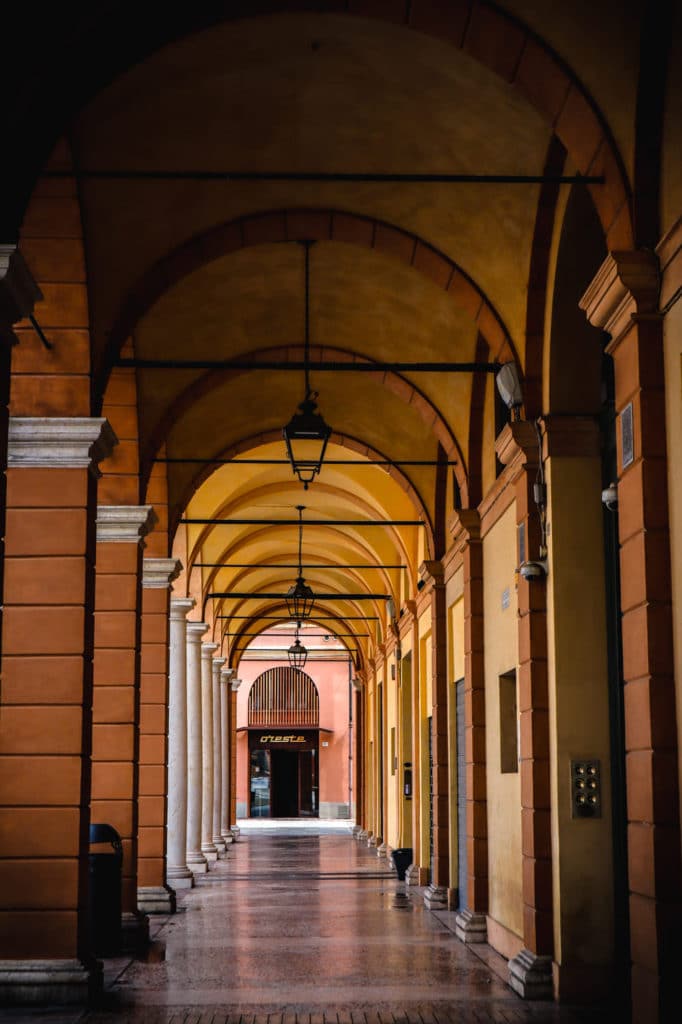 For example, on average, the highest temperature in August is 30 °C and in the coldest months (December and January), thermometers drop to 0 °C. In fact, sometimes it even snows in the city.
Therefore, the best time to visit Modena is during the months of March to October, to enjoy more pleasant temperatures.
How many days in Modena?
Modena is a city which, although very interesting, is relatively small. So a day in Modena is the ideal length for those who want to visit the city's main sites.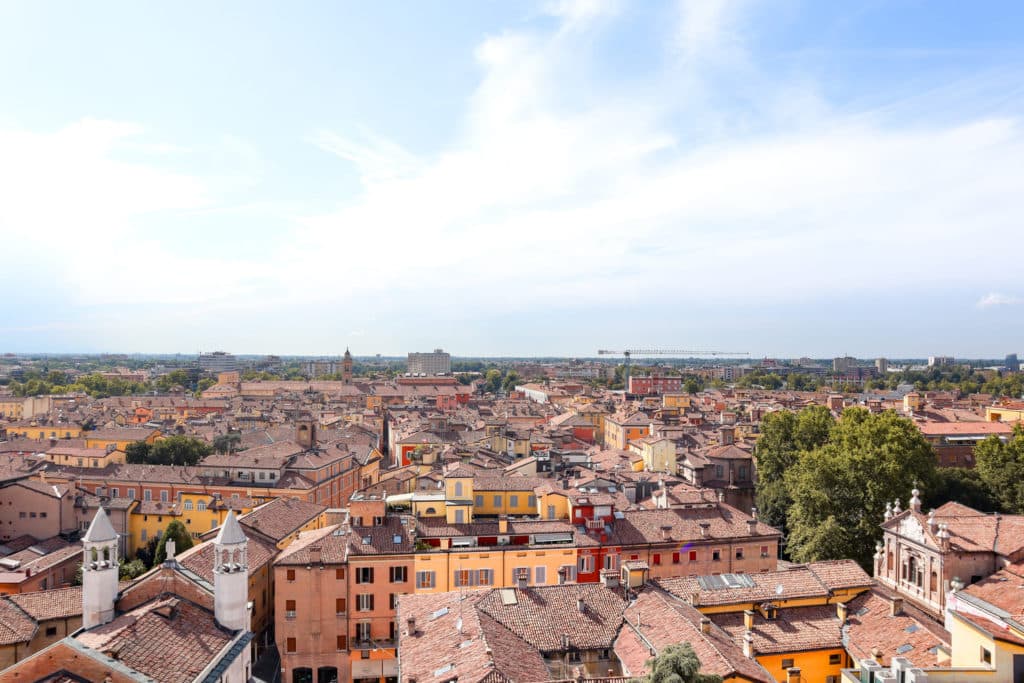 One day in Modena allows you to get to know the city's sights in no hurry. In fact, a very popular option is to take a day trip to Modena from Bologna.
How to get to Modena?
Although Modena doesn't have an airport, it is close to a number of cities that have airports with several connections. The closest airport to Modena is certainly Bologna's (Bologna Guglielmo Marconi Airport).
However, other options include Venice, Verona or Milan, after which it is possible to take a train (however, there aren't that many direct trains) or bus from these cities to Modena.
Is it worth taking a day trip to Modena from Bologna?
Given the distance from Bologna to Modena, many people choose to visit Modena on a day trip from Bologna, as the latter gets a lot more tourism. So it's well worth visiting Modena this way. This is an interesting option that allows you to visit most of the points of interest I'm going to mention in this Modena itinerary.
In terms of how to get from Bologna to Modena, these are the best options:
Train: The journey takes between 20 minutes and 30 minutes, and the cheapest ticket in Trenitalia costs ~4€. The price of the trains sometimes varies enormously, so I recommend that you look for the best fare possible.
Bus: The journey takes about 45 minutes and the ticket starts at 9€ on Flixbus
💼 TRAVEL INSURANCE: If you want to feel safe while travelling, then you should definitely look into purchasing some travel insurance. Having insurance will help you with any health-related emergencies as well as with other events, such as theft, loss or delay of luggage, eventual need to cancel your trip and much more. In my case, I always use IATI Insurances, which has one of the best price-quality ratios in the market and a 100% online service that is very easy to use. Book here your travel insurance and enjoy a 5% discount for being readers of the blog. Don't forget that the purchase must be made using this link.
What is the best way to get around in Modena?
The city's historic centre is fairly flat and the main things to see in Modena are located relatively close together. So the easiest way to get around the city is by walking almost everywhere 😉.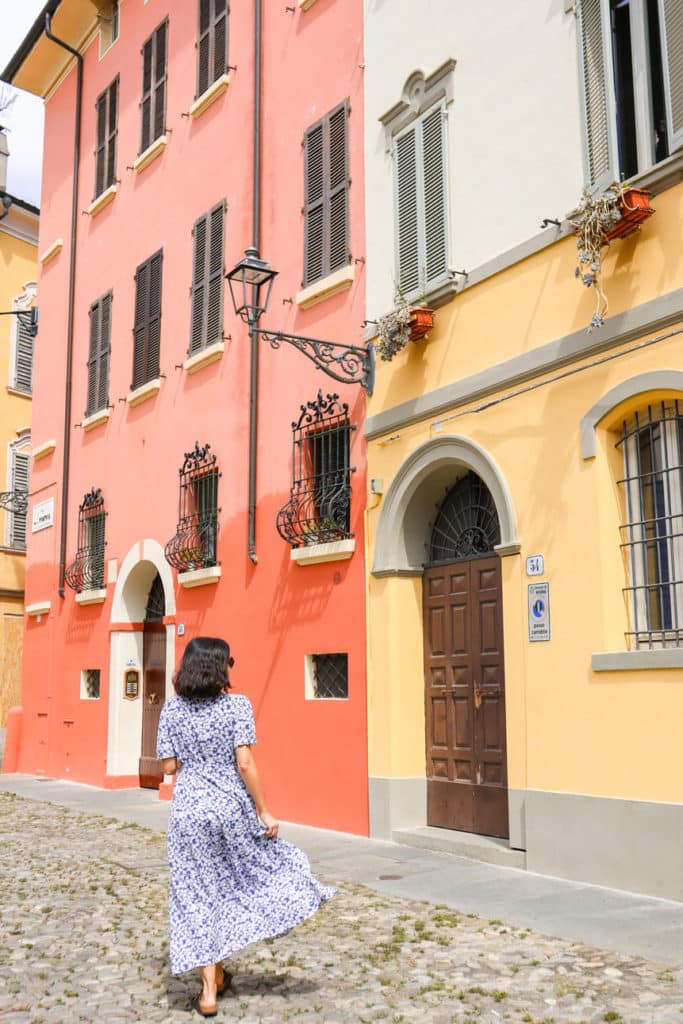 Even if you arrive in the city by train, Modena's train station is relatively close (10 to 15 minutes walking) to the city centre, so it is easy to get there.
💡 EXTRA TIP: If you're travelling with luggage, you can leave it at this hostel, which is one of the few places where you can leave luggage in Modena.
Accommodation in Modena
If you choose to spend 24 hours in Modena, it might make sense to look for accommodation in the city. Personally, I didn't stay overnight in the city, but here are some of the best places to stay in Modena, according to different price ranges: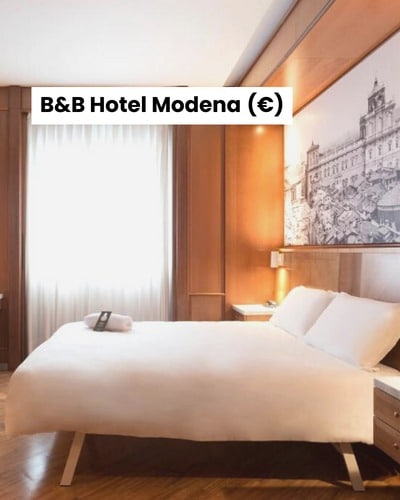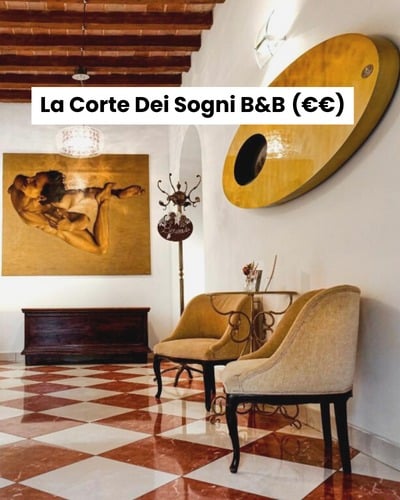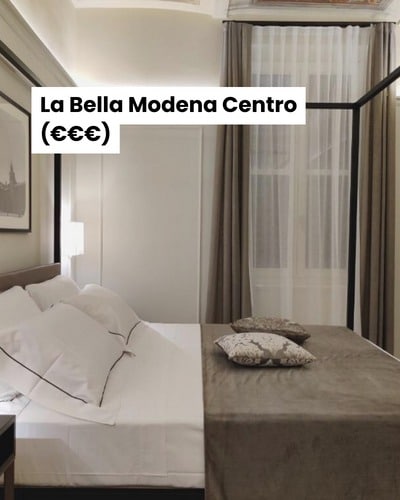 Modena Map – What to do in Modena in a day
Before I share with you what to do in Modena, I'll share a map with the main points of interest in the city.
Activities & tours inModena
What to do in Modena in a day
» Sant'Agostino Church
This Modena itinerary begins at my favourite church in the city. Its plain and boring exterior does not at all predict the beautiful interior that awaits you as soon as you enter Sant'Agostino church. The paintings on the church ceiling are undoubtedly the best part of the visit.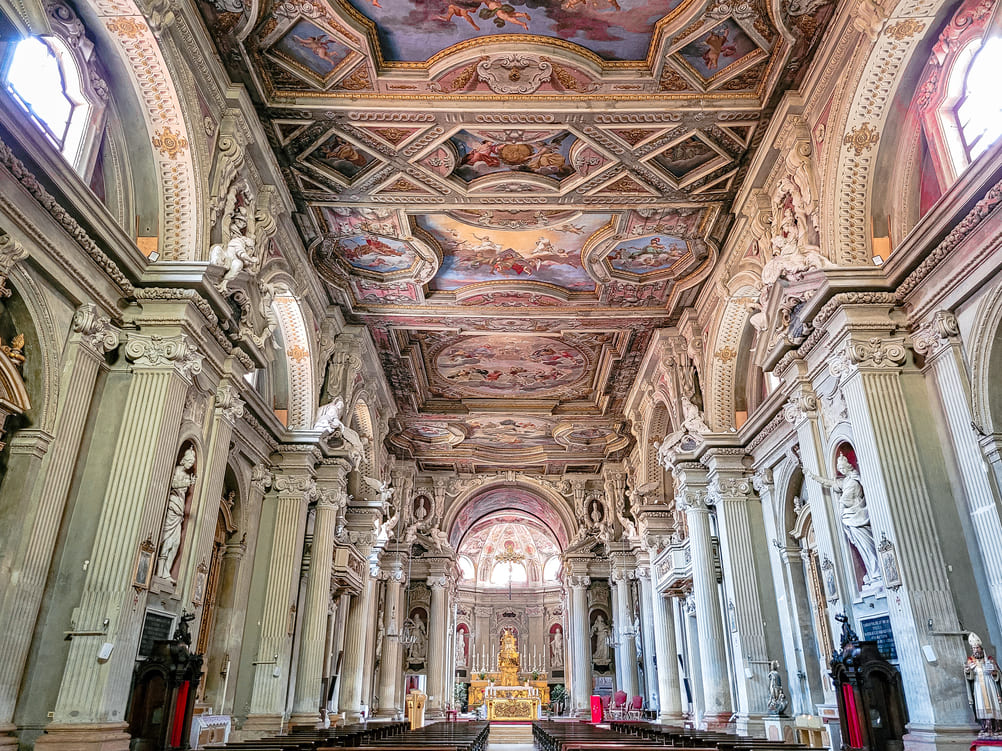 The original construction dates back to the 14th century, but little remains of the original building and decoration, as several changes have been made over the years.
📝 USEFUL INFORMATION: Entry to St. Augustine's Church is free and opening hours are from Monday to Friday from 6.40 am to 12.30 pm and from 4 pm to 7.15 pm, Saturday from 8 am to 12.30 pm and from 4 pm to 7.15 pm and on Sundays from 8.30 am to 7.15 pm.
» Modena's Civic Museum (Museo Civico di Modena)
Right next to Sant'Agostino Church, you can visit Modena's Civic Museum. Although it's far from being one of Modena's main attractions, in this museum you can find various collections of archaeology, ethnology, and artistic crafts, among others.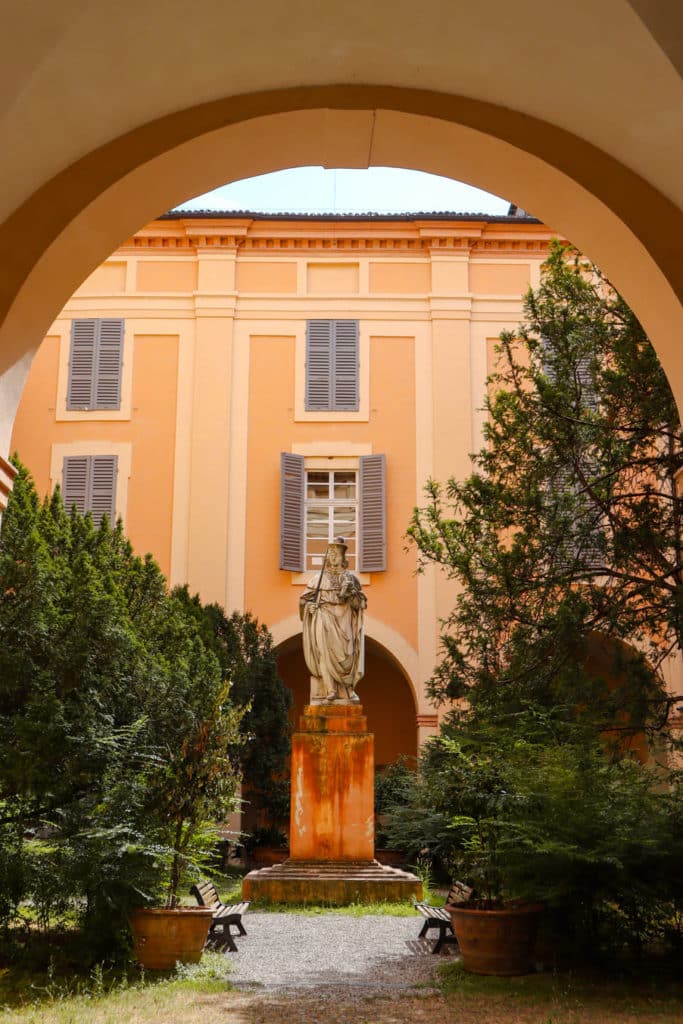 Even if you don't visit the museum, it's worth going inside to at least enjoy the museum's pleasant inner courtyard.
📝 USEFUL INFORMATION: The museum can be visited from Tuesday to Friday from 9 am to 12 pm and on Saturdays, Sundays and public holidays from 10 am to 7 pm. I suggest you check the most up-to-date information here.
» Via Emilia
Another thing to do in Modena is to take a leisurely stroll along Via Emilia. This is the most famous street in the city and also one of the oldest, whose purpose was to connect Rimini to Piacenza.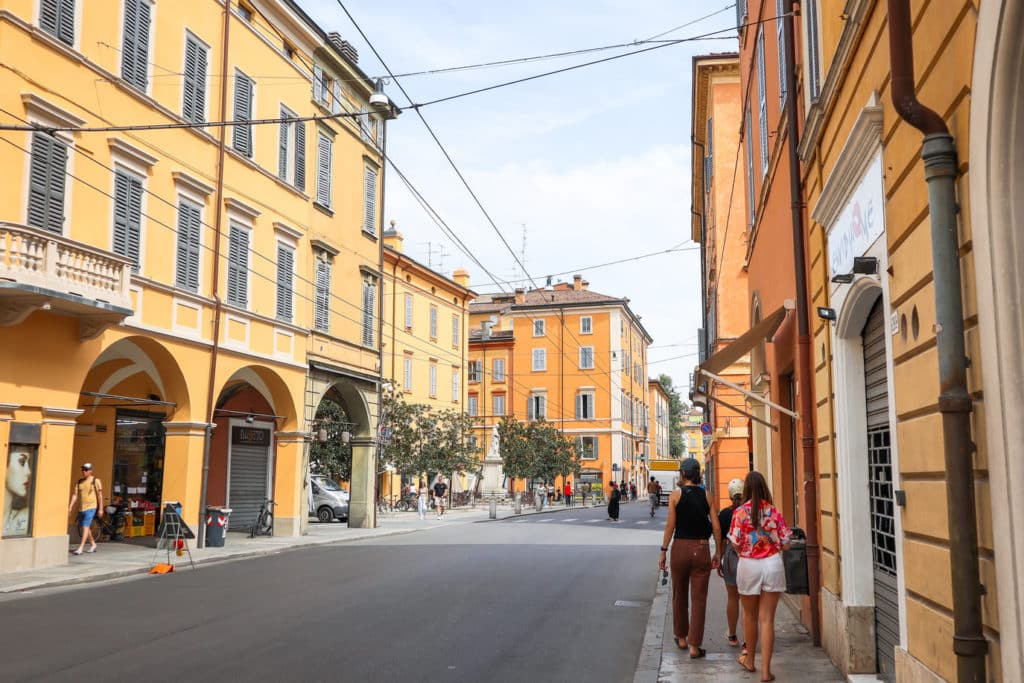 » Piazza Grande
We now head towards one of the must-see spots in Modena – Piazza Grande. This square dates back to the 12th century and was for many years the centre of governmental and religious power in the region.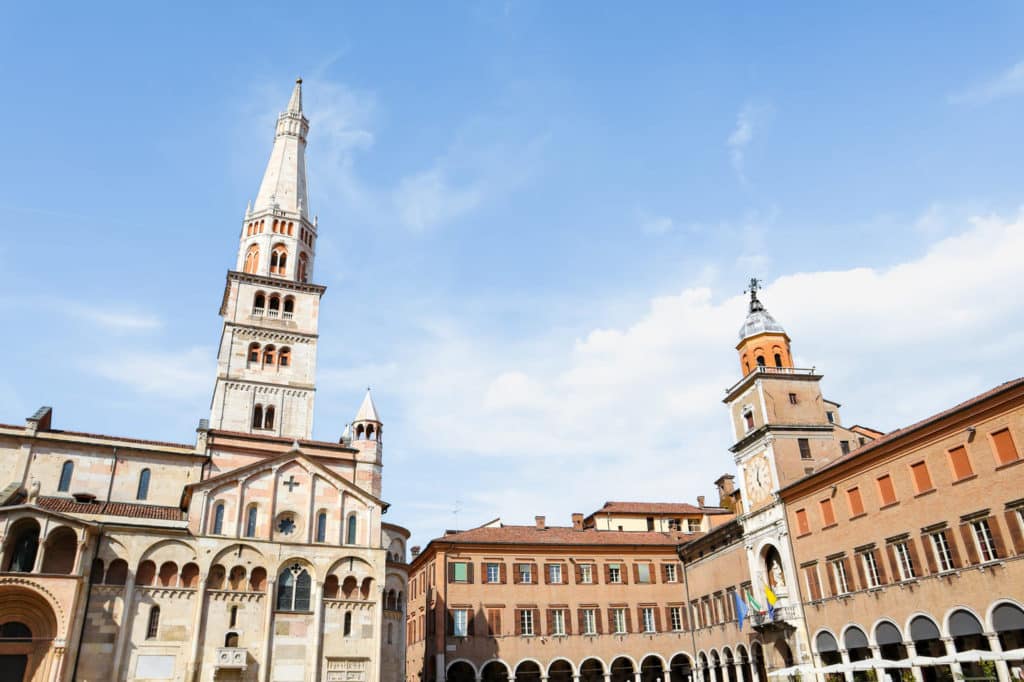 It was in this square that the city market and religious parades were often held, as well as other public events typical of the time, such as executions. In fact, many of the monuments in the square (and the square itself) are UNESCO World Heritage Sites.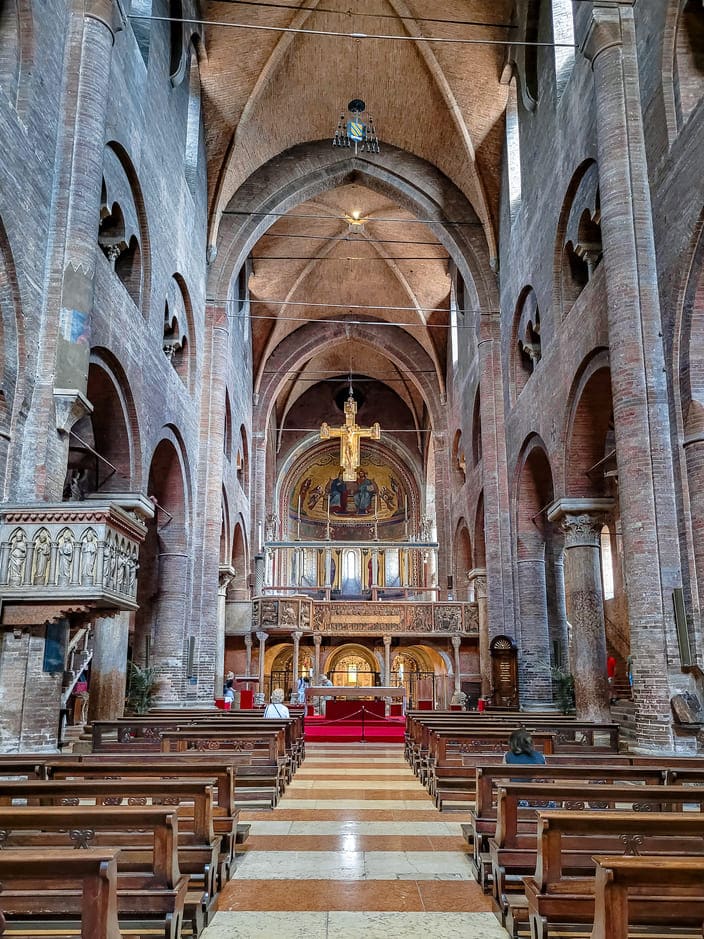 Not to be missed in Piazza Grande is Modena's Cathedral. In my opinion, even though the cathedral is prettier on the outside than it is on the inside, it's still worth it! What's more, entry to the cathedral is free.
I suggest you also take advantage of your visit to Modena's Cathedral to appreciate Chiesa del Voto.
Adjacent to the Cathedral, it's impossible not to notice the Ghirlandina tower. The climb to the top of the tower has around 200 steps, but at the top, you'll be treated to the best views of Modena.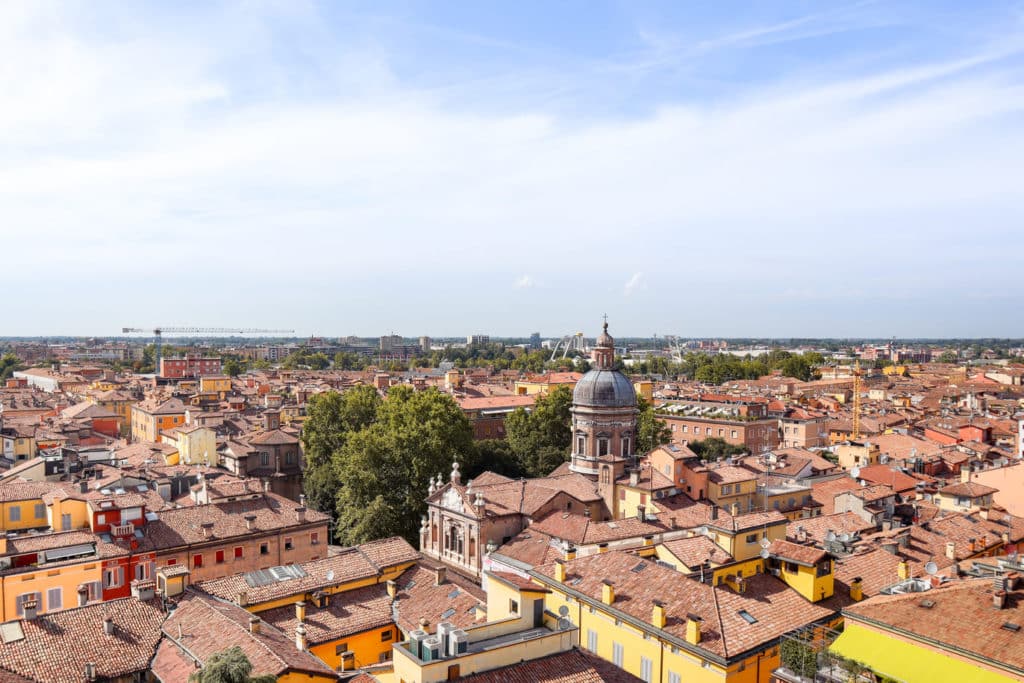 I'm a sucker for beautiful viewpoints, so it goes without saying that this was one of the places I most enjoyed visiting in Modena 🥰 .
📝 USEFUL INFORMATION: The ticket to visit the Ghirlandina Tower costs 3€. It is open from April 1 to September 30 from Monday to Friday (9.30 am to 1 pm and 3 pm to 7 pm) and on Saturdays, Sundays and public holidays (9.30 am to 7 pm). During the remaining months of the year, the opening hours are different: Monday to Friday from 9.30 am to 1 pm and 2.30 pm to 5.30 pm and on other days from 9.30 am to 6.30 pm.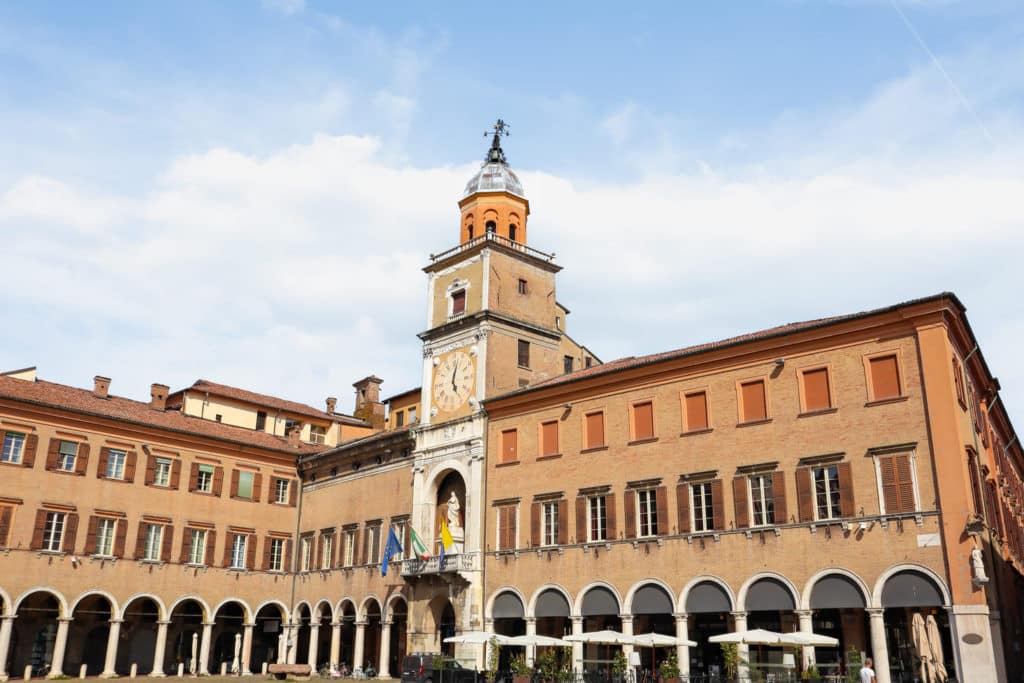 But there is more to visit in Piazza Grande! At the back of the Cathedral, we can also enjoy Palazzo Comunale – a building that results from the combination of several buildings built for different purposes in medieval times.
📝 USEFUL INFORMATION: It is possible to visit the interior of some of the rooms at Palazzo Comunale, and the visit is free every day of the week, except Sunday (when admission costs 2€). The visit does, however, require prior booking. I recommend you check out the most up-to-date information here.
» Albinelli Market
If you love markets, then you can't miss Mercato Albinelli, which sells fresh produce such as meat, fish, vegetables, cheeses and more. It is the oldest covered market in the city, having opened in the early 30s. It is still used by locals for their grocery shopping.
📝 USEFUL INFORMATION: The market is open Monday to Saturday from 7 am to 3 pm, except for Saturdays when it closes at 7 pm. On the other hand, the restaurants in the market are open from Monday to Saturday from 12 pm to 3 pm and from 6.30 pm to 11 pm. All the most up-to-date information can be found here.
» Piazza Roma
Another one of the places to visit in Modena is Piazza Roma. And while getting there, I suggest you get lost in the streets of Modena, as this is also one of my favourite parts of the city. Modena has buildings painted in very harmonious tones, making it an extremely photogenic city 🤩.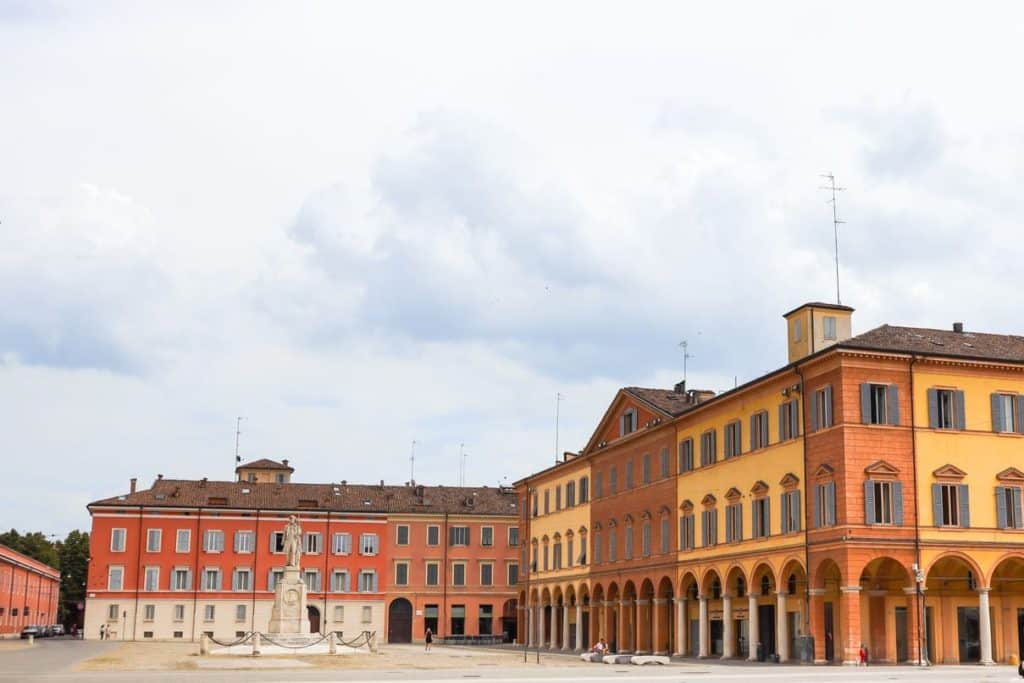 When you reach Piazza Roma, stop to enjoy what is one of Modena's largest squares on one of the many terraces there.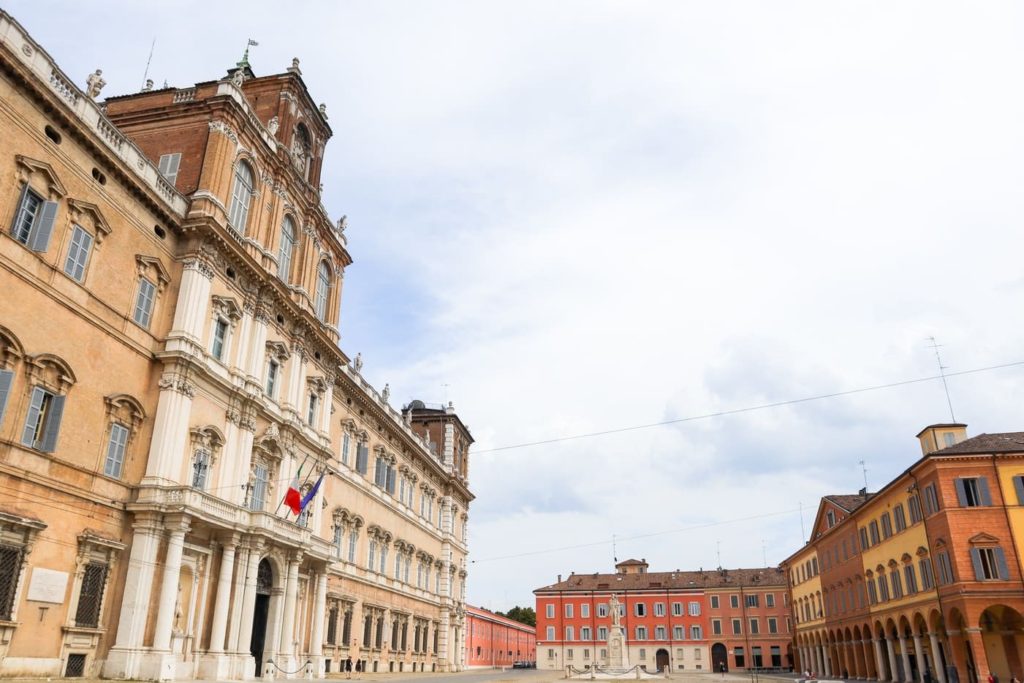 In the square, without a doubt, the most impressive monument (apart from the statue in its centre) is the building of what is currently the Military Academy (formerly the Ducal Palace of Modena). It is possible to visit inside this majestic building, although tours are only available at weekends and by prior request. I suggest you find out more about it here.
» Enzo Ferrari Museum
Ferrari, does that ring a bell? 😉 I'm sure it does! But did you know that it was in Modena that Enzo Ferrari, creator of Ferrari, was born? In fact, Enzo Ferrari is from a small town nearby (Maranello), but he did actually live in Modena.
In fact, this museum is housed in the old house where Ferrari spent his childhood. There you can see some older models of Ferraris.
📝 USEFUL INFORMATION: A ticket to the Enzo Ferrari museum costs 22€. However, if you're a car fan, you could also consider a visit to the Ferrari Maranello Museum (further outside the city centre). In this case, a combined visit to both museums costs 30€. For the most up-to-date information, check out the official website of the Ferrari Museum.
» Luciano Pavarotti House Museum
Enzo Ferrari wasn't the only star from Modena, as Luciano Pavarotti also hails from this Italian city. So if you visit the Casa Museo Luciano Pavarotti you can learn more about this artist and man. The museum opened in 2005 and is located on land that Pavarotti bought at the end of the 80s.
Please note that this museum is a little far from the centre of Modena, so it's not possible to get there on foot.
📝 USEFUL INFORMATION: The ticket to visit the Luciano Pavarotti House Museum costs 10€ and is open every day from 10 am to 6 pm. See all the updated information you need to visit it here.
» Balsamic vinegar tour
Food in Modena is a must, and one of the city's most famous gastronomic elements is its balsamic vinegar. It's therefore very common to see traditional balsamic vinegar on sale around the city and even tours to learn more about its production.
For example, this 2-hour balsamic tasting tour introduces you to Acetaia Gambigliani Zoccoli – a family-owned factory that produces balsamic vinegar. As well as learning about the history of the family and more about the techniques used to produce this product, the tour even includes lunch with typical local products.
💡 EXTRA TIP: Alternatively, you can opt for a shorter (about 1 hour) but free visit to Acetaia Villa San Donnino.
Where to eat in Modena
One of Modena's main attractions is undoubtedly its gastronomy. In fact, the entire Emilia Romagna region (where Modena is located) is known for being one of the best places to eat in Italy.
It should come as no surprise, then, that Modena is home to what has twice been named the best restaurant in the world. It's called Osteria Francescana by chef Massimo Bottura.
Although I haven't tried it myself, I'm sure it's an unforgettable and unique gastronomic experience. However, I must warn you that given the popularity of this place, you should book a table months in advance!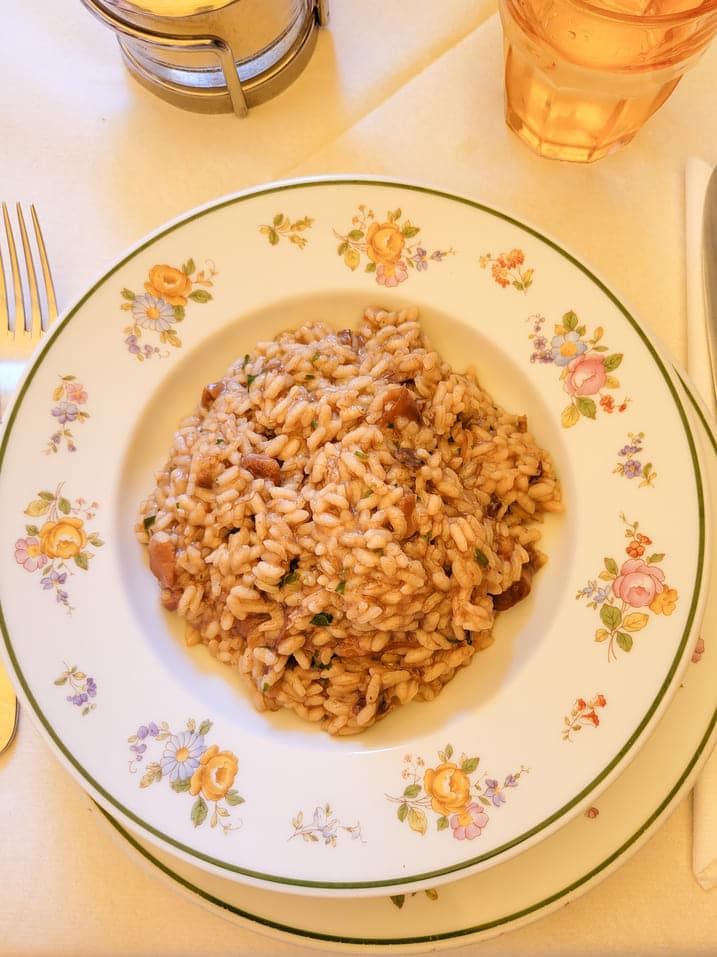 Anyway, even if you don't try Osteria Francescana, there are plenty of good restaurants to try in Modena. For example, I ended up having lunch at Ristorante da Danilo and I loved it! There you can find typical local cuisine at affordable prices.
Disclaimer: this post may contain some affiliate links, which means I get a small commission if you buy something through my links. This doesn't represent any additional cost to you and you'll be supporting my work here on the blog😊