Caminito del Rey had been on my radar for a while, since the first time I visited Málaga in 2018. Considered (back in the day!) one of the most dangerous trails in the world, my time had finally come to go see it with my own eyes.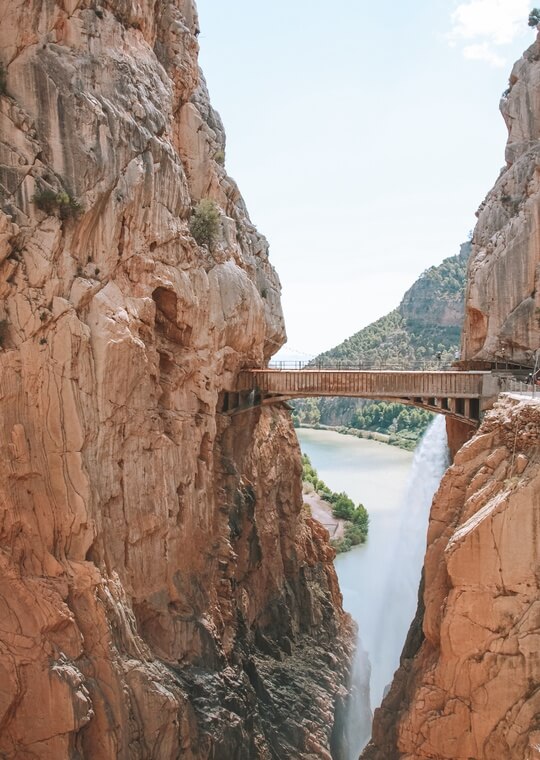 The route is about 1 hour's drive from Málaga and 2 hours from Seville, so it's a great option for a different day out in the Andalusia region.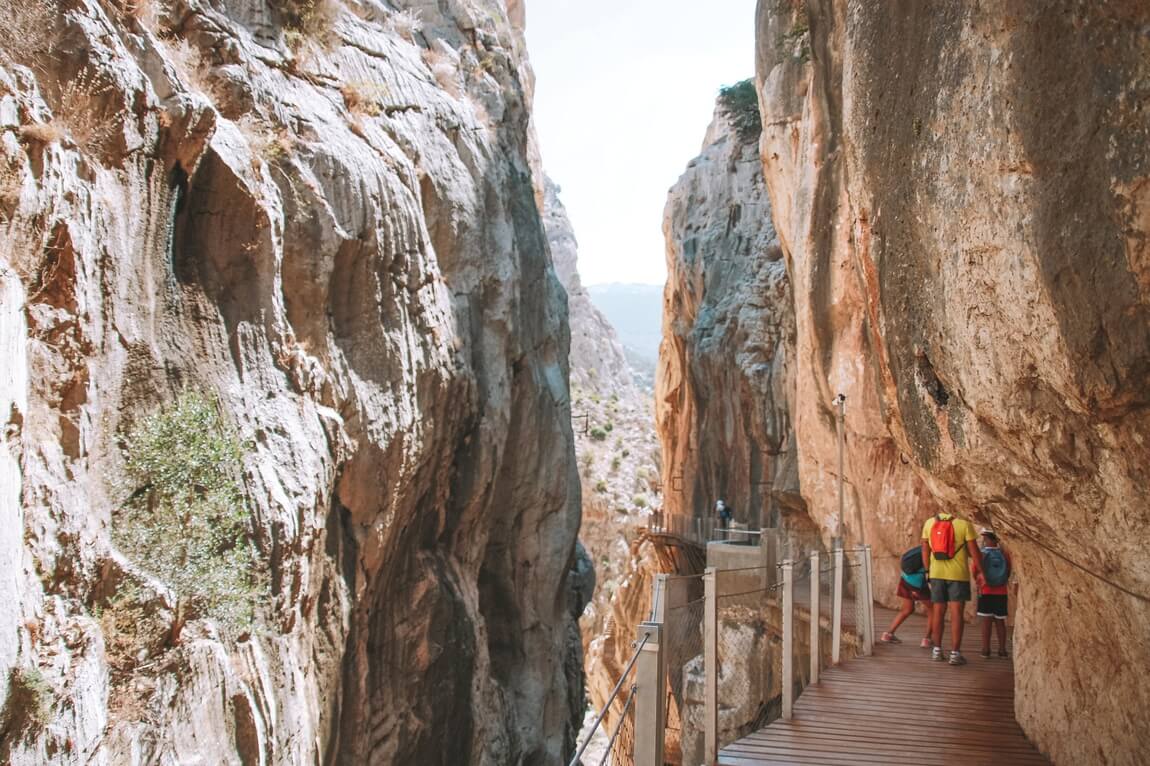 So, more than telling you about my experience, I want to share with you all you need to know before visiting Caminito del Rey, from where to park, where to sleep, how to get there and a few more tips.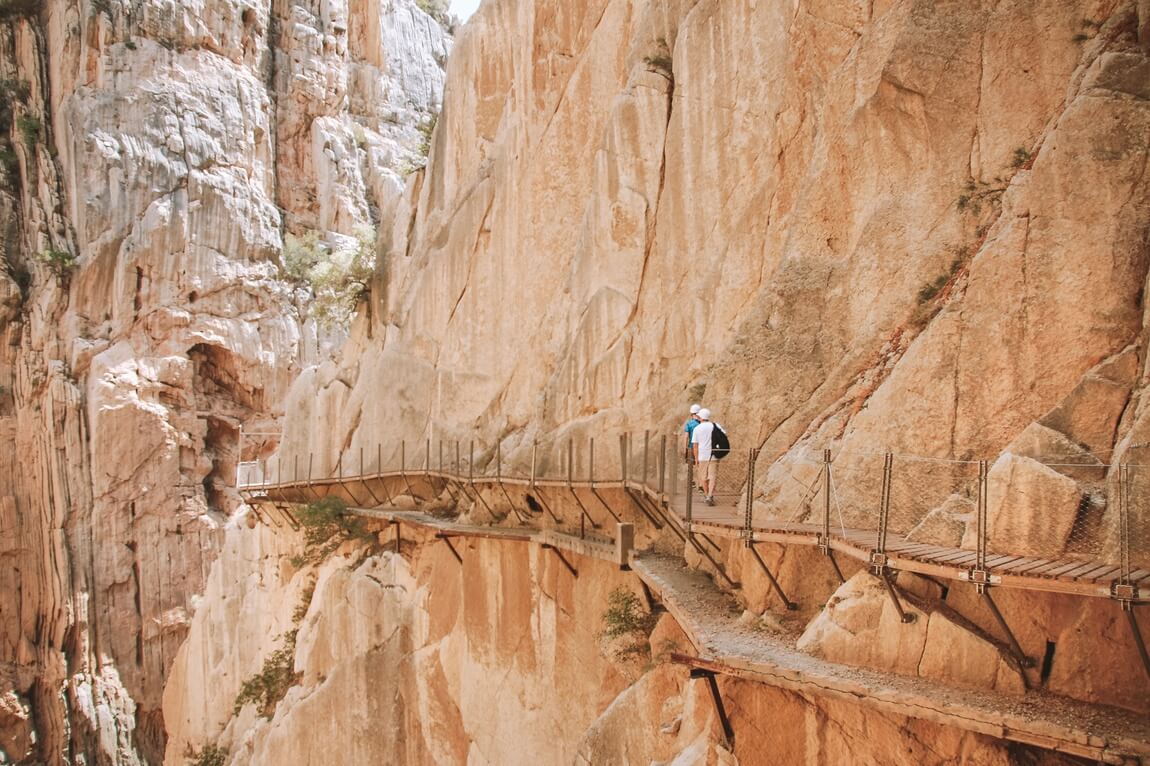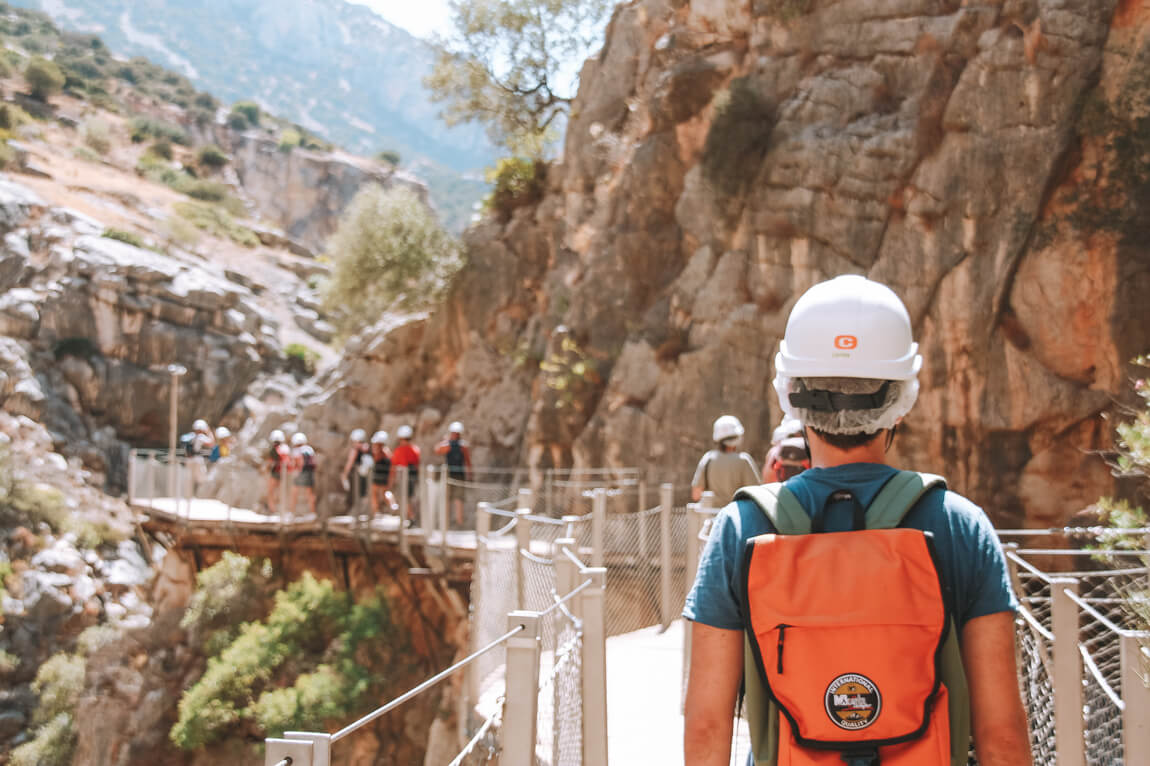 What is the origin of Caminito del Rey?
The creation of this route is related to the construction of the hydroelectric power plant at the beginning of the 20th century, which was used to supply electricity to the city of Málaga. The route was built between 1903 and 1905 and was intended to help in the maintenance and transport of materials by the plant's workers.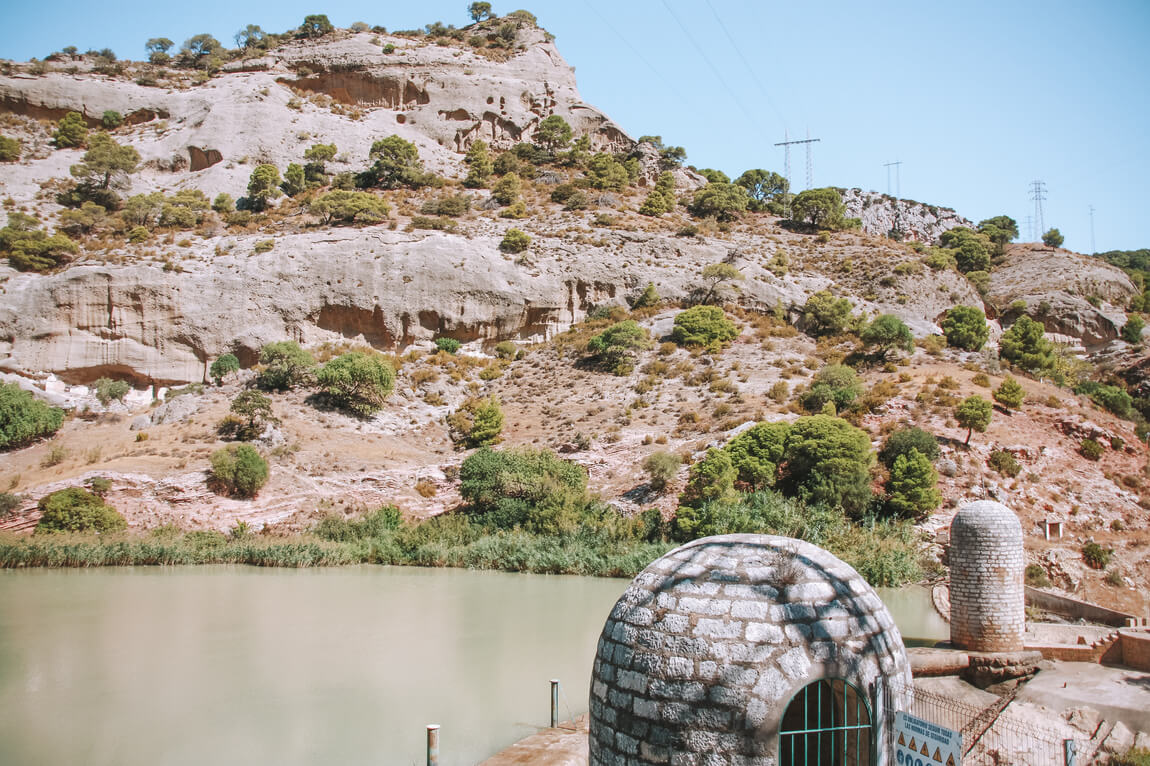 The path was built at a height of 100 metres along Los Gaitanes gorge and, shortly after its construction, it also began to be used by the people of El Chorro village and other villages nearby. Children used this path to go to school and adults to go and buy some essential products, for example.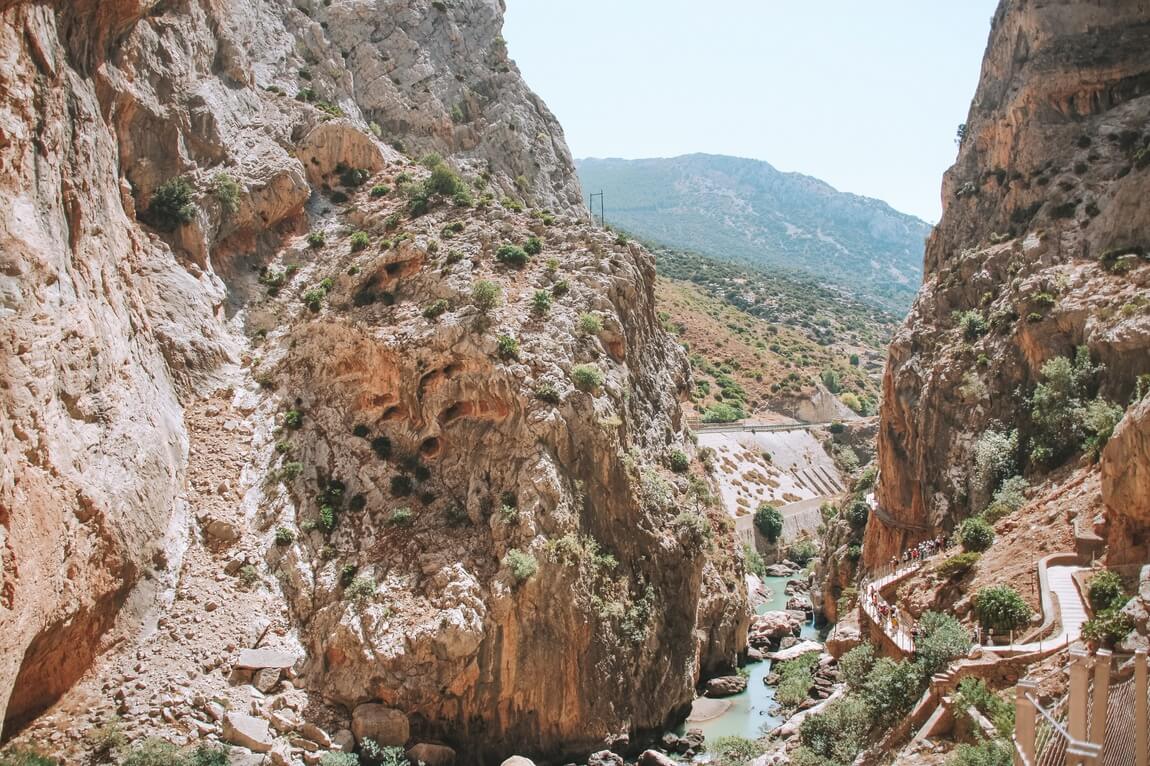 But where does the name Caminito del Rey ("King's Path") come from? This work was so important for the region that in 1921 King Alfonso XIII came to inaugurate the Guadalhorce dam, which had, in the meantime, been built in the region.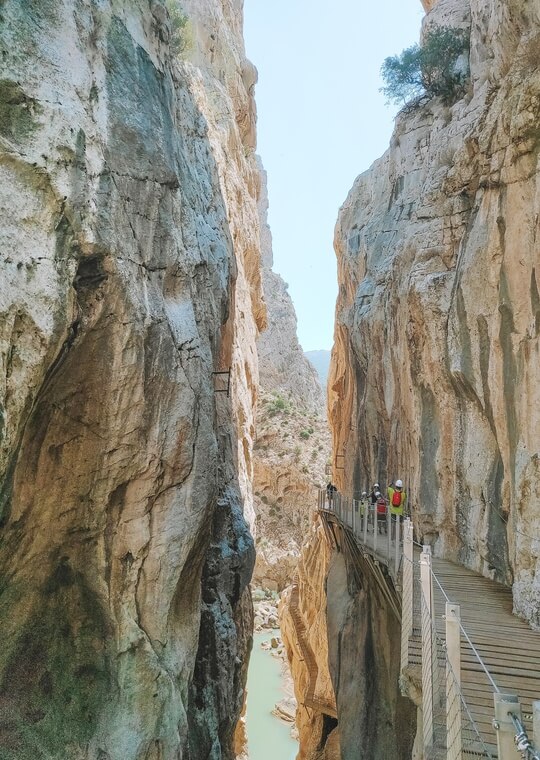 However, over the years, the path started to deteriorate. Despite being extremely dangerous, some curious people continued to try to hike it (look it up on YouTube!). After some fatal accidents in 1999 and 2000, Junta de Andalucía decided to close Caminito's two entrances.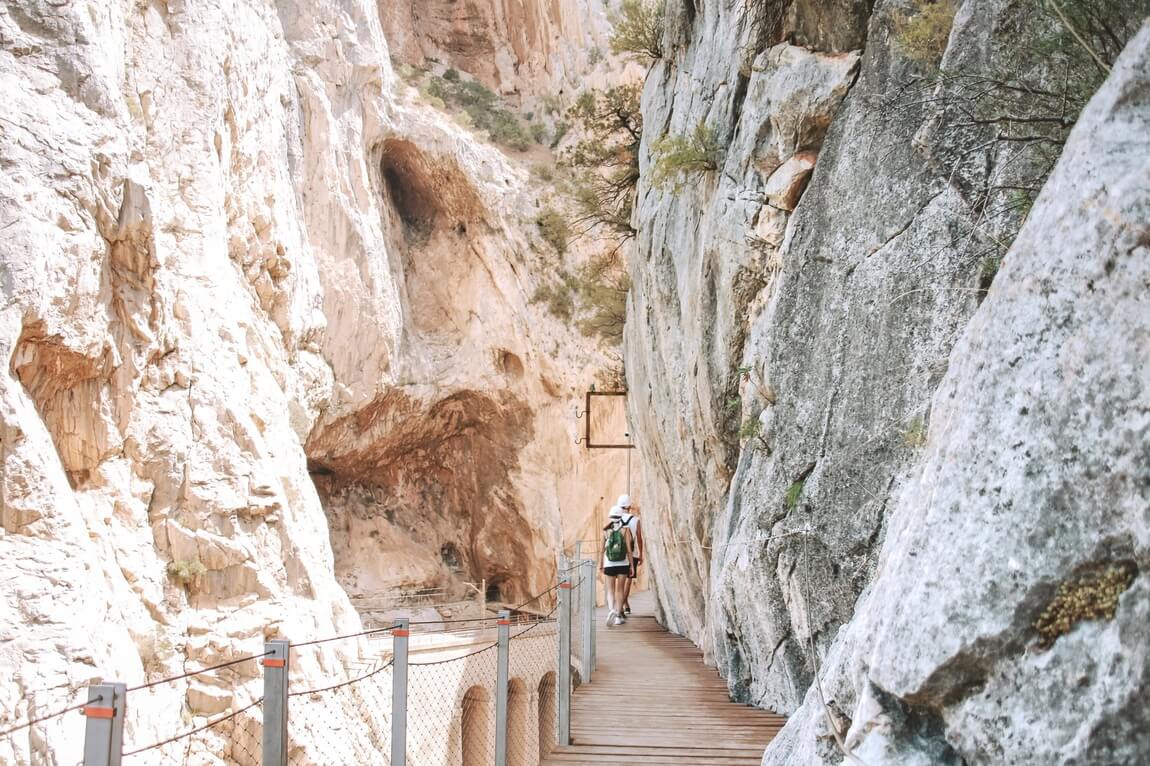 Only in 2015 would a new, safer version of Caminito del Rey be inaugurated by Junta de Andalucía.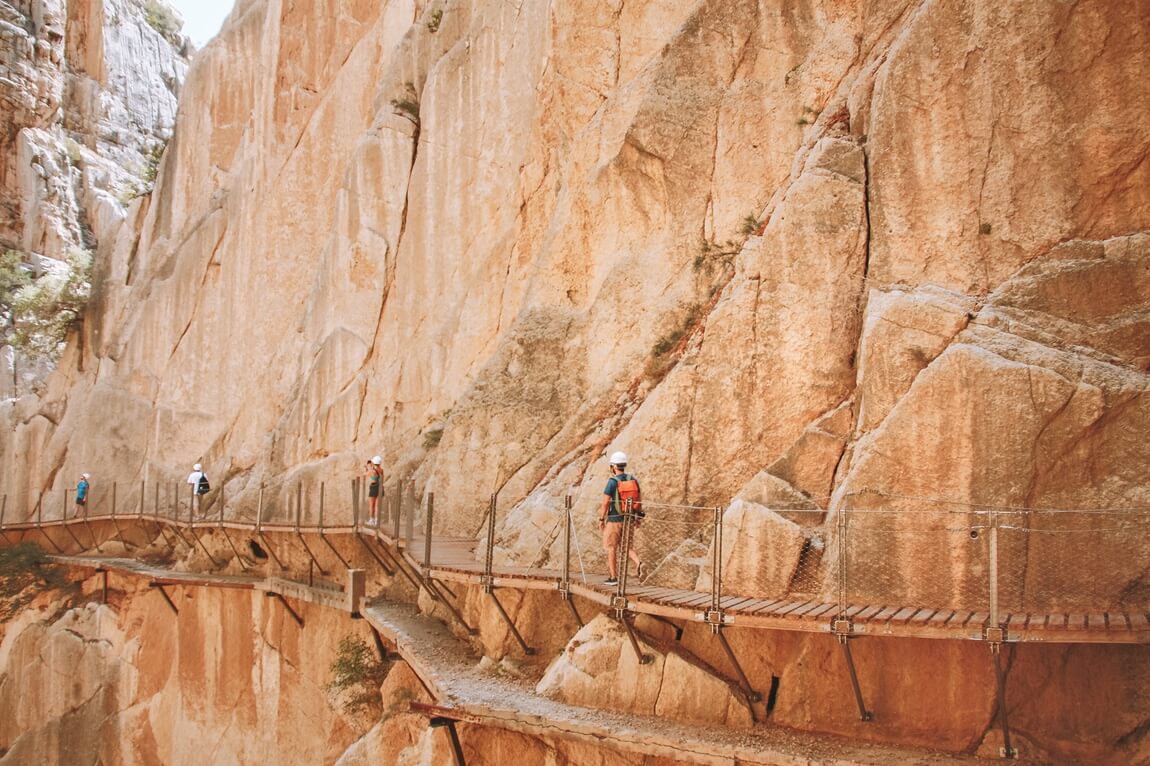 How to get to Caminito del Rey?
The Caminito del Rey must be accessed via Ardales, as the Caminito is a linear route and you can only hike it one way (and consequently there is only one point for entering it).
By car
The simplest option is getting to Caminito del Rey by car. Currently, you can only enter Caminito del Rey through the northern entrance. So you should try parking your car in one of the several car parks available. I recommend the park near El Kiosko Restaurant or the other near El Mirador Restaurant. In some of the parks, you may have to pay a small fee of 2 €.
The trail is linear, so at the end of the trail to return to the north entrance you can catch a bus from El Chorro train station. The ticket costs 1,55 € and the bus comes every half hour until 6 pm.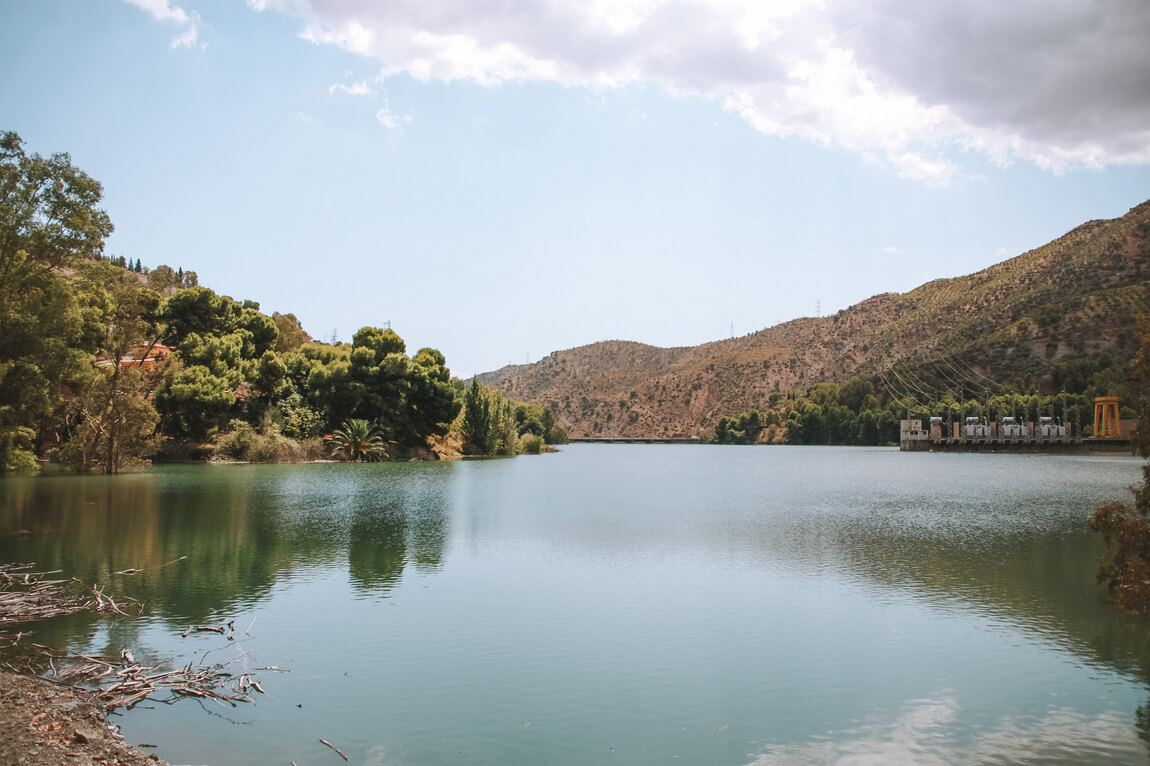 Alternatively, you can park the car by the southern entrance (next to El Chorro train station) and take the bus at the start of the journey.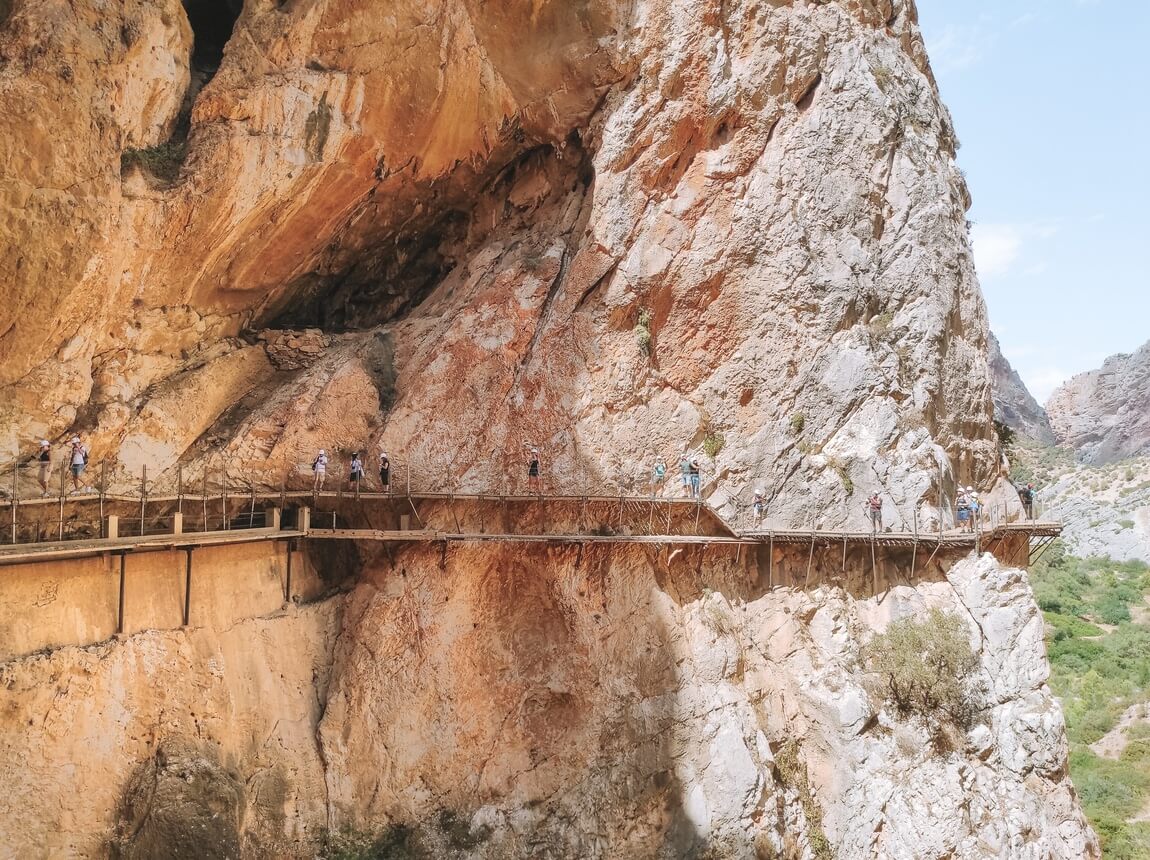 By train
If coming from Seville, you can take the train from Sevilla – San Bernardo station to El Chorro station. The trip takes about 2 hours and the ticket price (round trip) starts at 14,95 €.
If you are coming from Malaga, the train to El Chorro leaves from Malaga Maria Zambrano station. The journey takes less than an hour and the price is 5 € (round trip).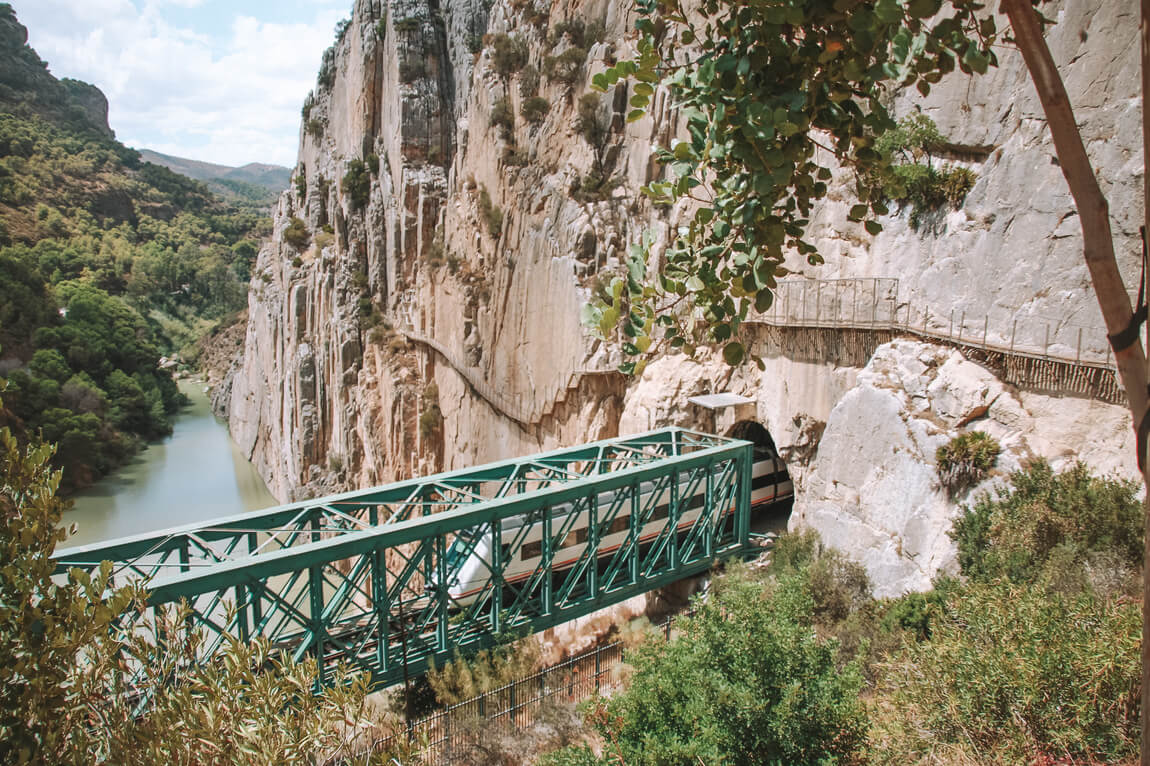 You can check out all the most up-to-date information about train timetables and even purchase your ticket through RENFE's website.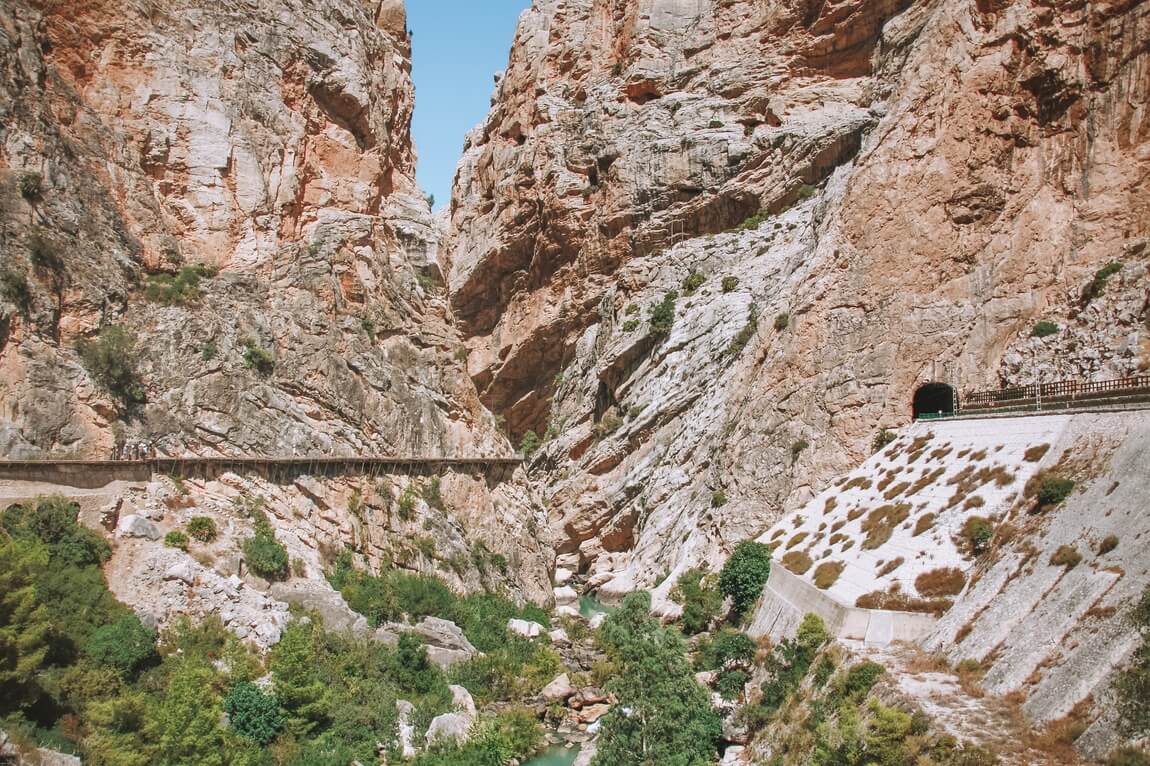 💡 EXTRA TIP: In any of these options, once you arrive at El Chorro station you can take the bus (1,55€ one way) to the starting area of Caminito (north entrance next to El Kiosko Restaurant).
Book a tour
If you do not have a car and prefer a more comfortable solution, you can always opt for one of the tours that depart from Malaga.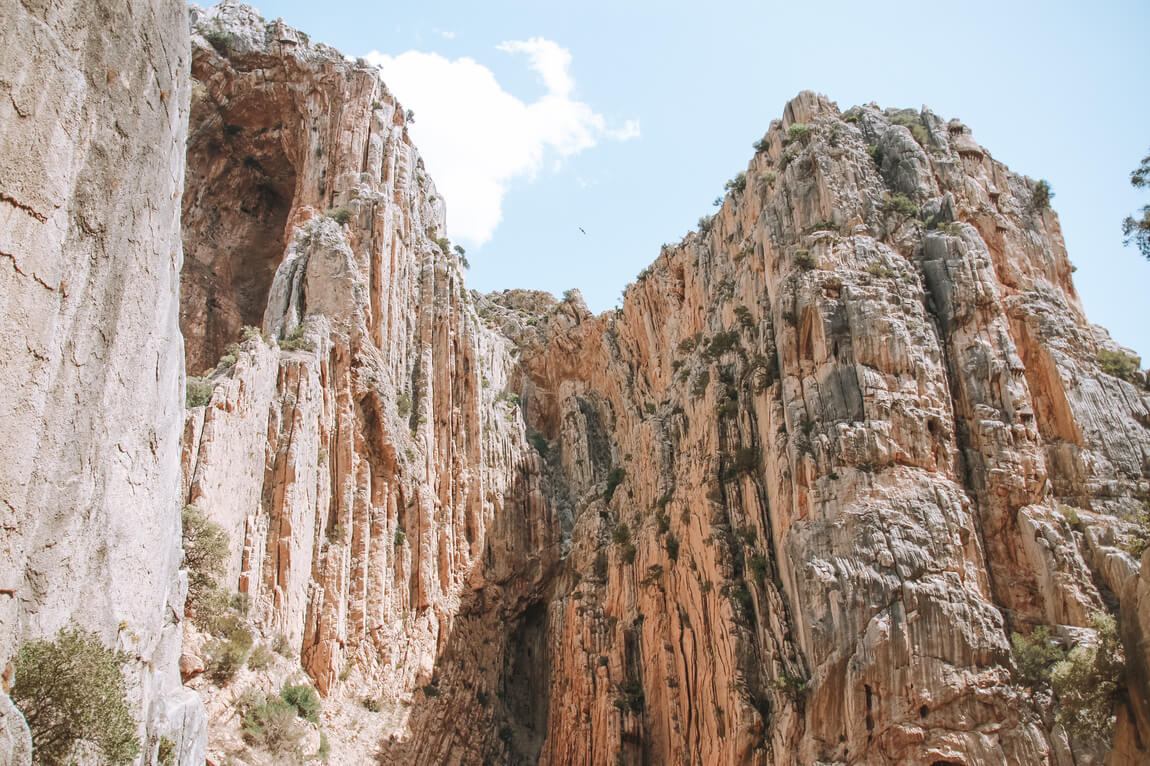 Where should I book accommodation?
Caminito del Rey is located next to the village of El Chorro. You can choose to stay near El Chorro or Ardales, but the truth is that most people come from Seville or Malaga (as was my case).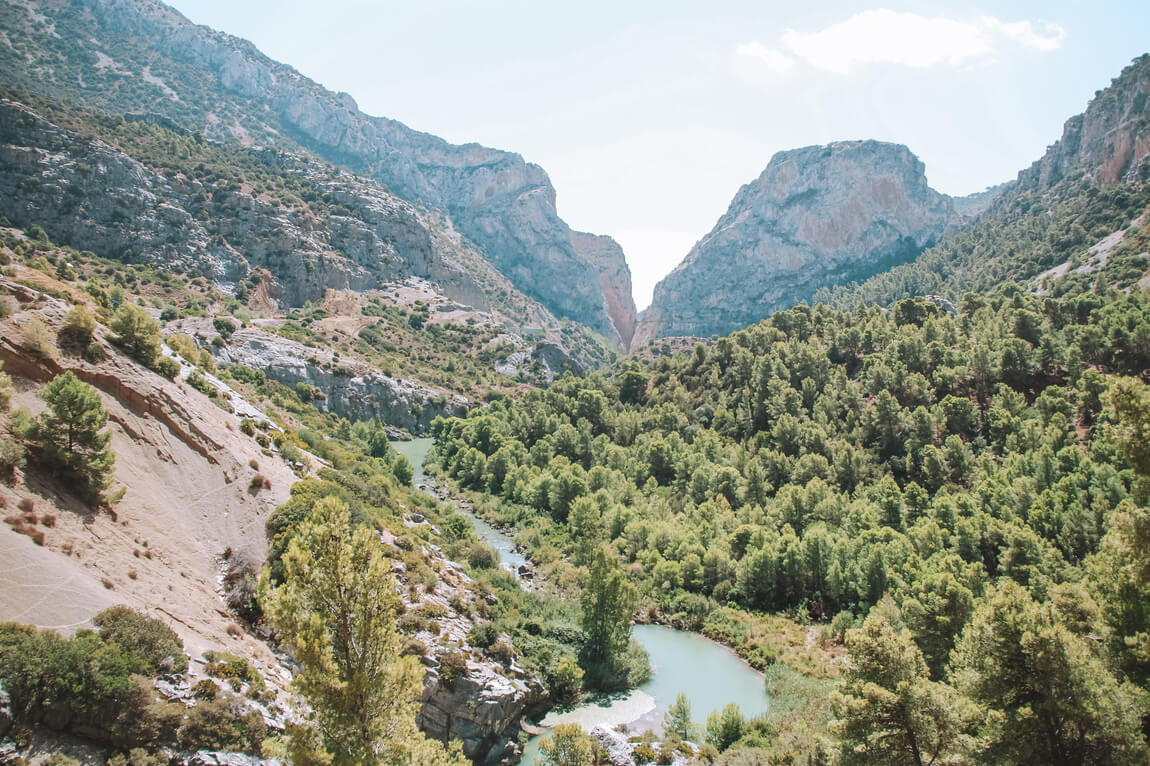 In Seville, I recommend Hostal Atenas. The accommodation is 10 minutes walking from Seville's historic centre and has great conditions. Excellent value for money.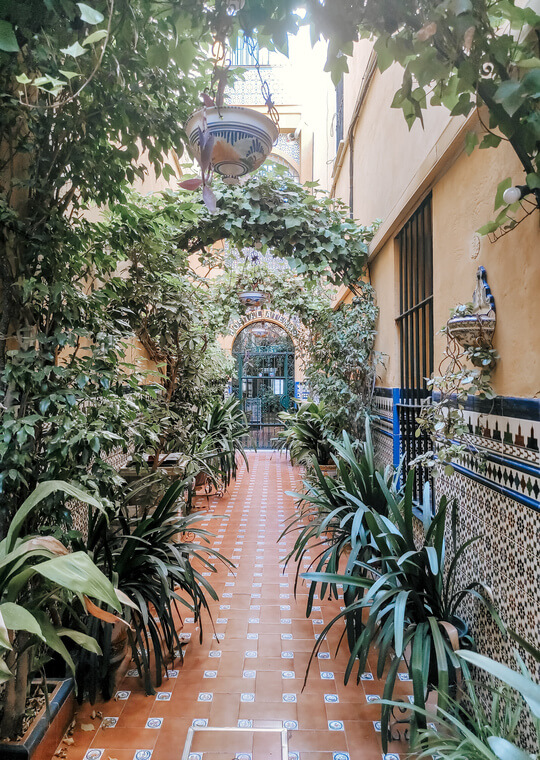 However, there are other places that seem to me to have good conditions, although I have not tried them personally: Jardin de la Alameda Hostal Boutique | Santiago 15 Casa Palacio | La Abadia de Giralda | Hostal San Vicente II
In Malaga, I recommend Málaga City Breaks. It is a completely renovated building in the city centre and very well-equipped (kitchen, microwave, refrigerator, etc.).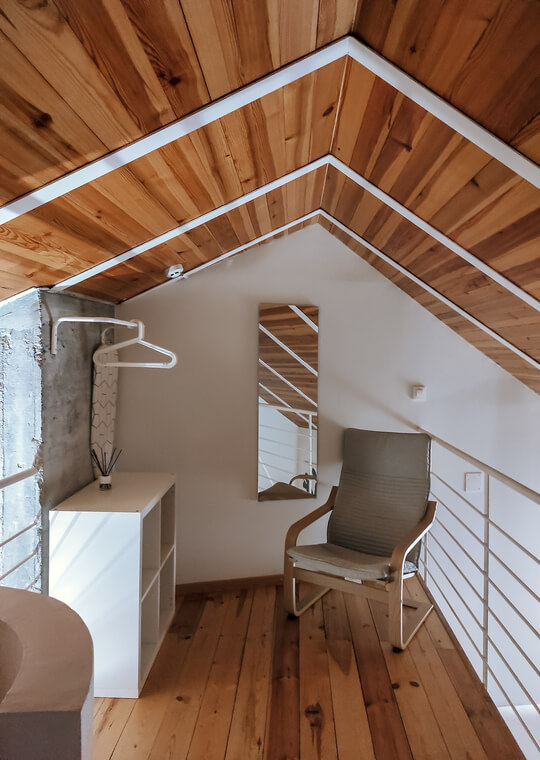 Again, I take the opportunity to show you other options that also seemed interesting to me: Hotel Sur Malaga | Elcano | Clavero Apartments | Petit Malaga Congress | Kentia Rooms | El Nogal Home
How to buy tickets for Caminito del Rey?
This route has become more famous over the last few years, and so this is one of the most important tips if you want to visit Caminito del Rey: tickets should be bought (well!) in advance.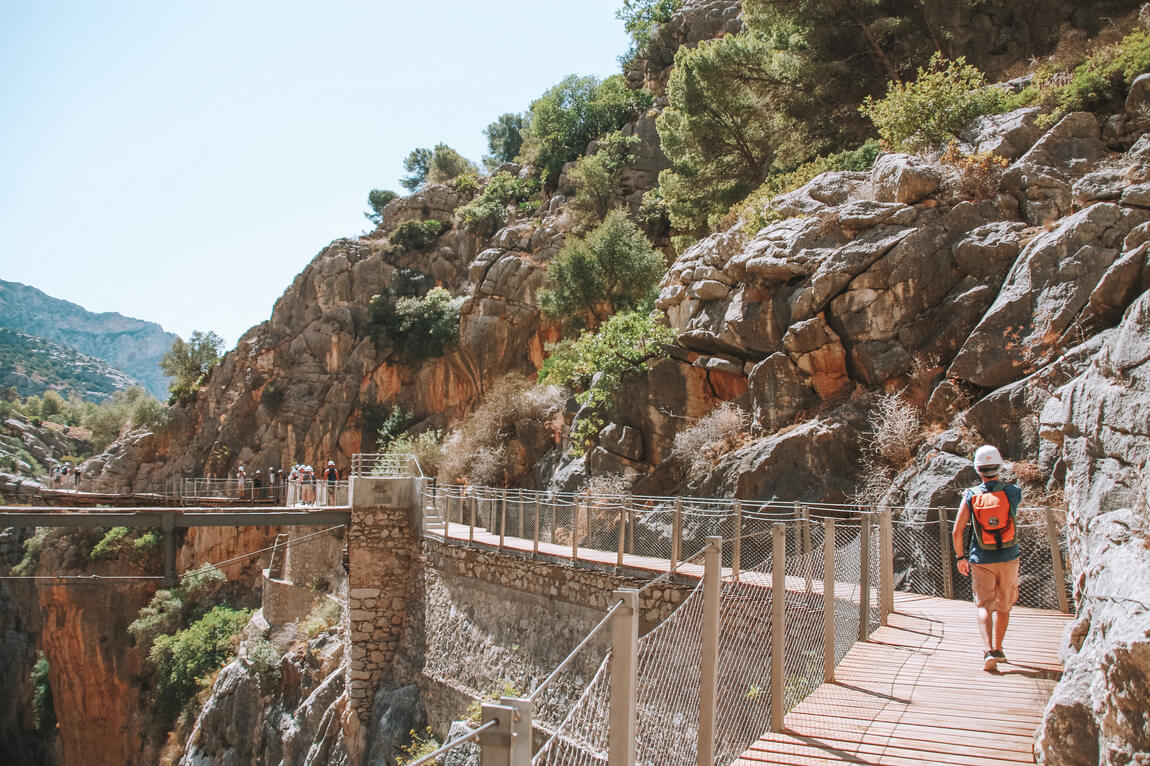 Tickets can be purchased directly on the Caminito del Rey website. The ticket costs 10€ or 18€ if you choose a guided tour.
💼 TRAVEL INSURANCE: If you want to feel safe while travelling, then you should definitely look into purchasing some travel insurance. Having insurance will help you with any health-related emergencies as well as with other events, such as theft, loss or delay of luggage, eventual need to cancel your trip and much more. In my case, I always use IATI Insurances, which has one of the best price-quality ratios in the market and a 100% online service that is very easy to use. Book here your travel insurance and enjoy a 5% discount for being readers of the blog. Don't forget that the purchase must be made using this link.
Where to start Caminito del Rey?
Caminito del Rey is a linear route and can only be started through the northern entrance, next to El Kiosko restaurant.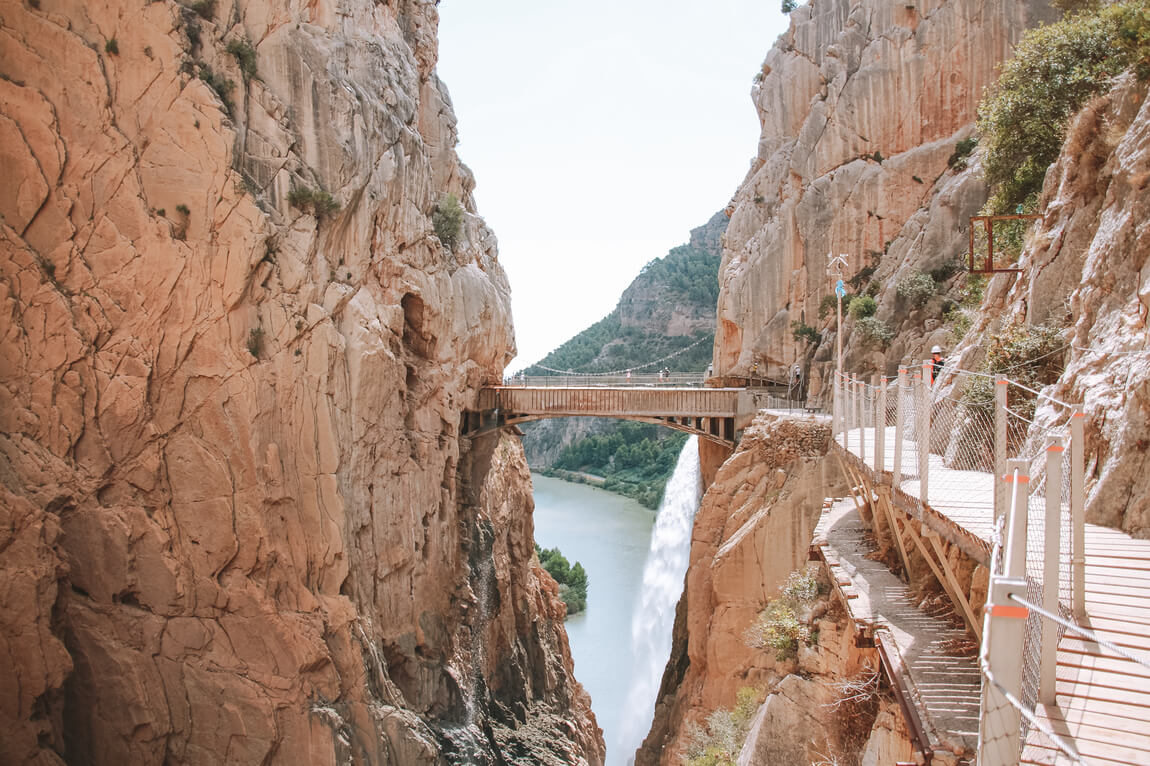 There are two options to get to the official entrance of the Caminito. The first option (2,7 km) starts in the tunnel located right next to El Kiosko Restaurant. The second (1,5 km) starts in a second tunnel, located 200 metres from El Kiosko restaurant. In this second option (which was the one I chose), the tunnel is narrower and longer, but it is well-marked.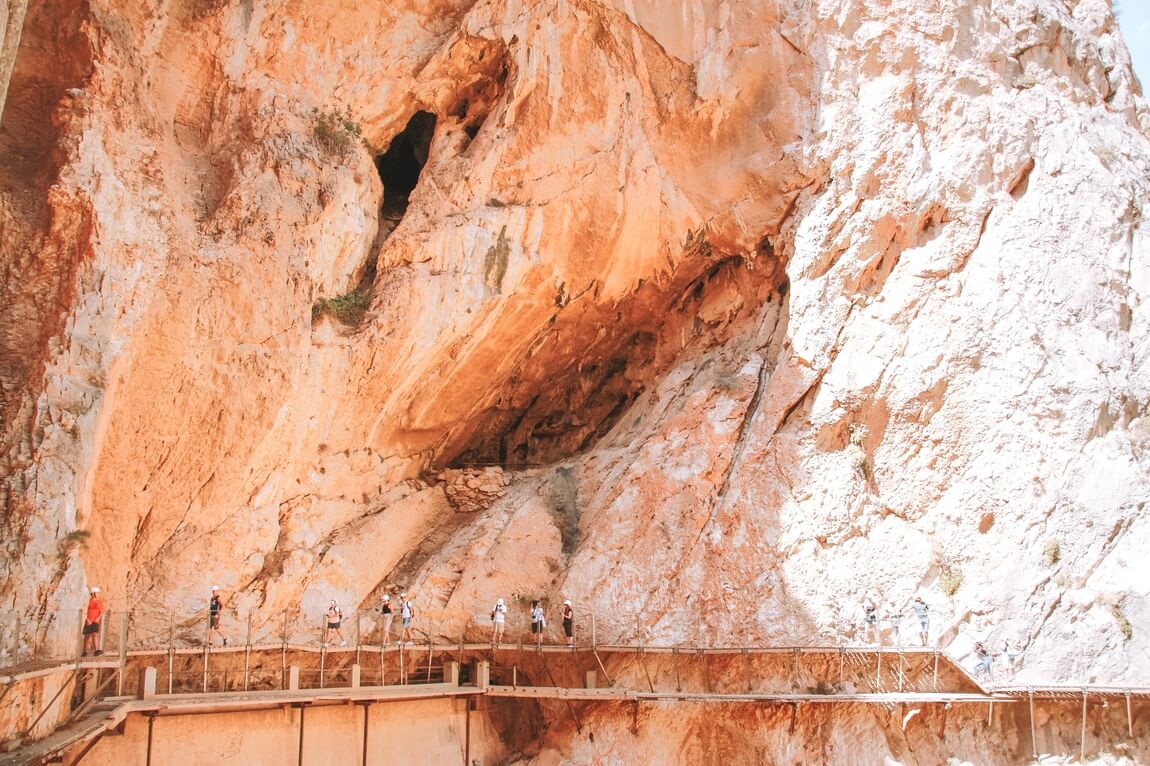 After 1,5 km of walking, we officially arrive at the entrance of Caminito del Rey. This is where we have to present the tickets and where we pick up the helmets – mandatory for the whole journey. Next to the entrance, you will find toilets and a vending machine with water and some snacks.
Is the route recommended for those who are afraid of heights or suffer from vertigo?
It is true that many times the route is done at an altitude of 100 metres. Additionally, it is also necessary to cross a suspension bridge almost at the end of the Caminito.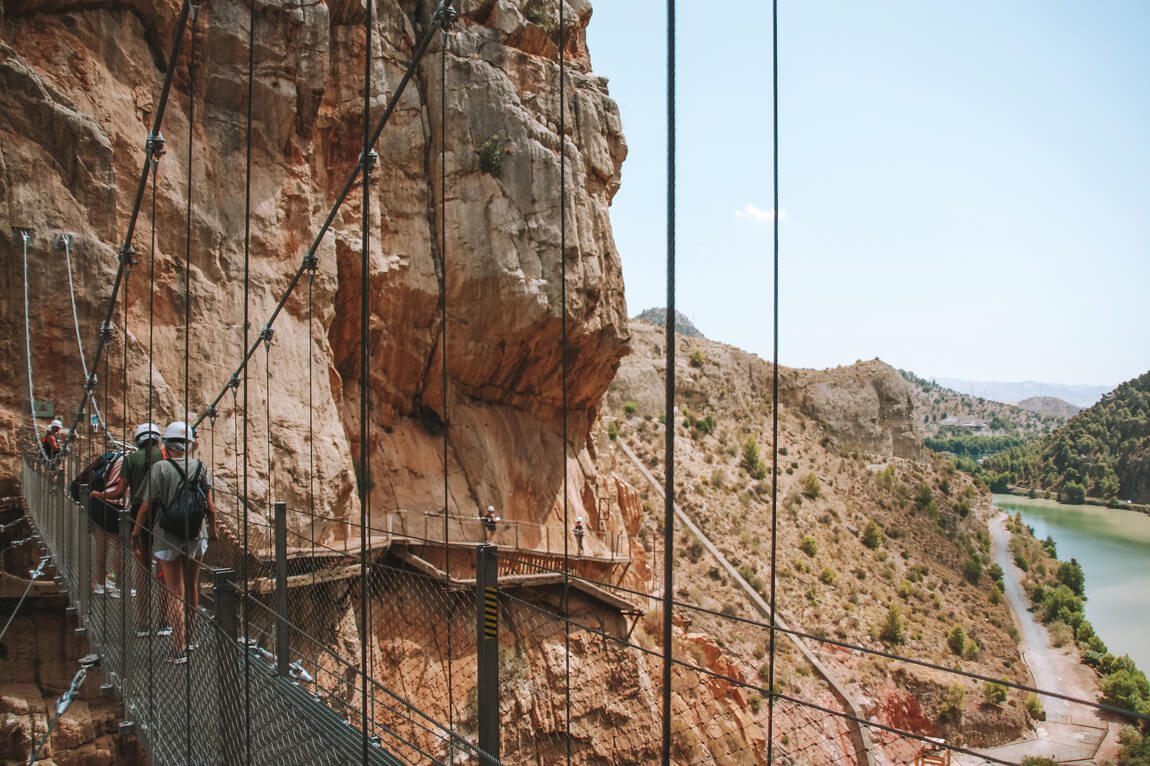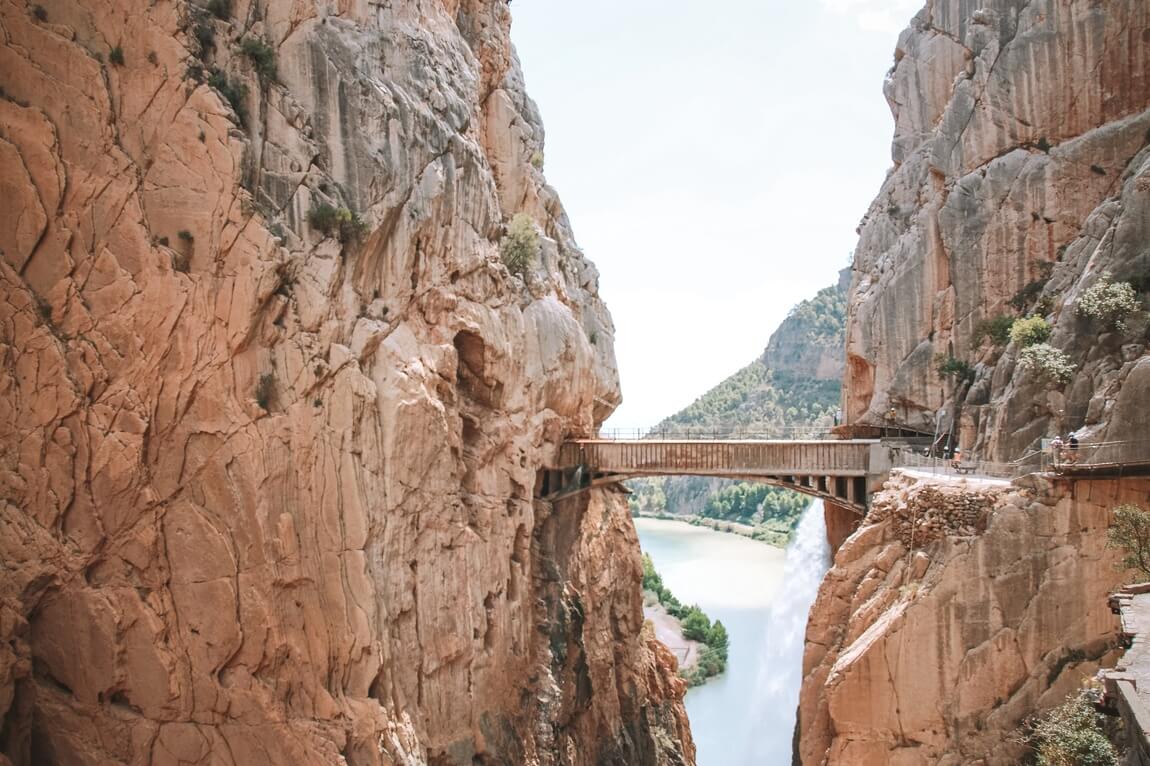 However, I always felt safe. There are some challenging parts (a viewpoint with a glass platform or the suspension bridge at the end) during the route, but I consider it a fairly easy route (and I suffer a tiny bit from vertigo).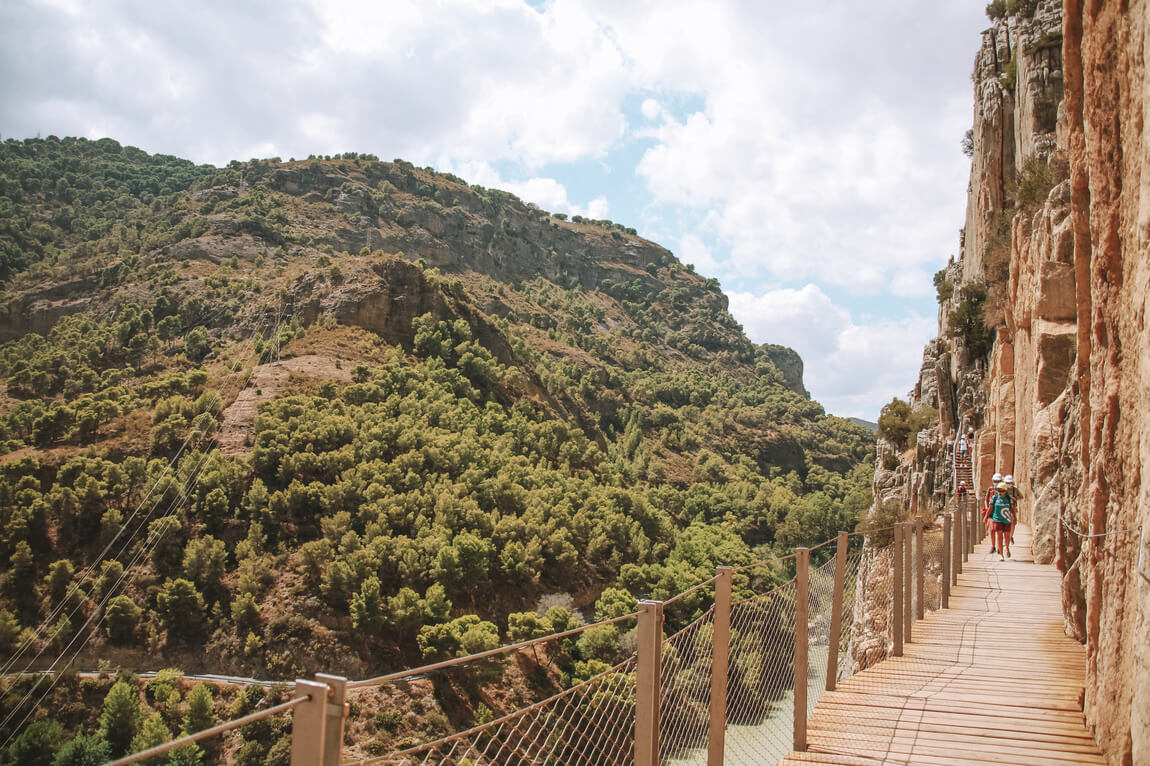 I guess it will depend on each person, but I would recommend the route without any hesitation 😊
Tips about Caminito del Rey
Start of the trail: Tunnel located 200 metres from El Kiosko restaurant
Linear route and only one way (north to south)
Distance: 7,7 km (includes trails off the "official" Caminito del Rey)
Duration: 3h to 3h30
Open from Tuesday to Sunday
The path may close for meteorological reasons
Difficulty: easy (the path is almost always flat, except for the last section where you have to climb some steps)
Wear suitable footwear
Bring a backpack with water, a hat and sun cream as there are few shades
When we buy the tickets, we have to buy them for a specific time slot. It is therefore advisable to arrive at the car park with some time to walk the first part of the route to the official entrance of the Caminito.
There is a shuttle bus between the southern "entrance" (in El Chorro) and Ardales (where the car parks are located). The ticket can be bought on board and costs 1,55€.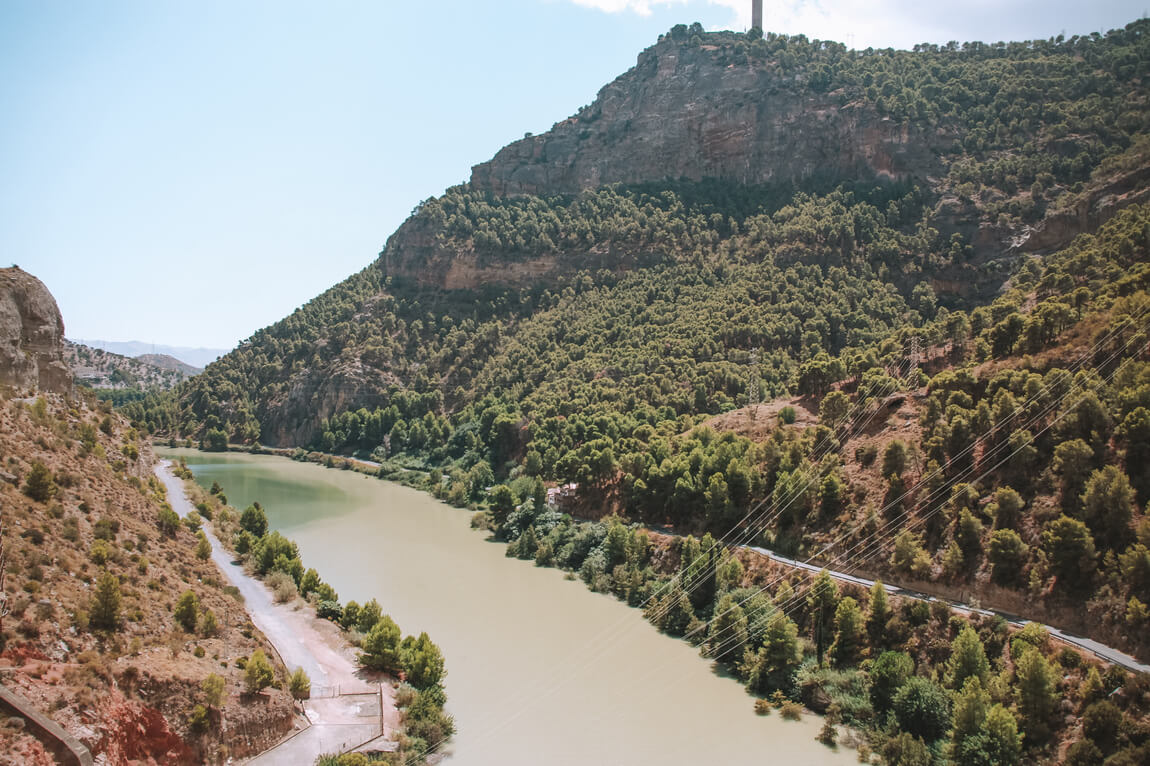 What is the final verdict?
Hiking Caminito del Rey was one of the items on my bucket list, and it certainly didn't disappoint. Although only part of the route is done on the actual Caminito, the surrounding landscape is superb, and it's a trail, unlike anything I've ever hiked.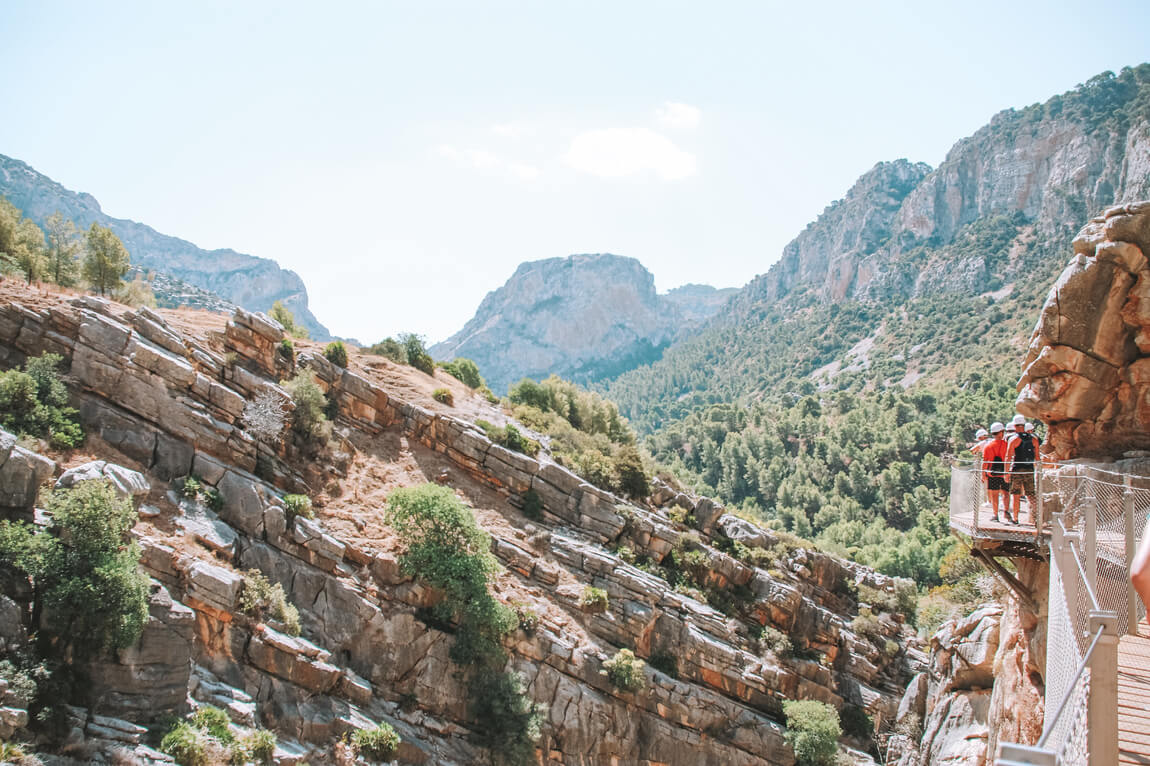 It's incredible to think how important this route was in the past, and it's completely surreal to look down and see the original path under our feet. It was completely degraded and its requalification by Junta de Andalucía was a great initiative for the region 😊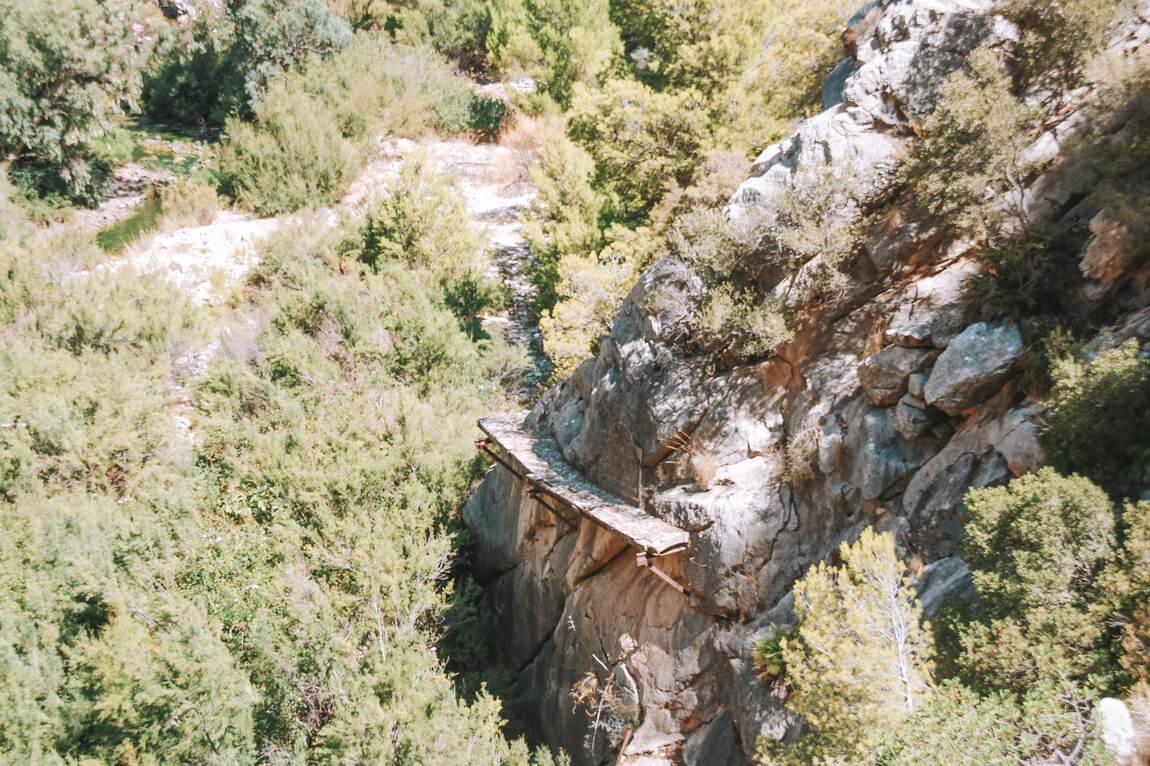 If you are travelling around these parts of Andalusia, I think you should really take a day to enjoy Caminito del Rey. I promise you won't regret it!
Disclaimer: this post may contain some affiliate links, which means I get a small commission if you buy something through my links. This doesn't represent any additional cost to you and you'll be supporting my work here on the blog😊