Seville is probably that city that everyone wants to visit in the Spanish region of Andalusia! And as soon as you arrive in Seville, you can easily understand why 😊 The city, known for its (almost) absurd temperatures in summer, has a magic in the air that leaves many enchanted. And of course, I was no exception 😉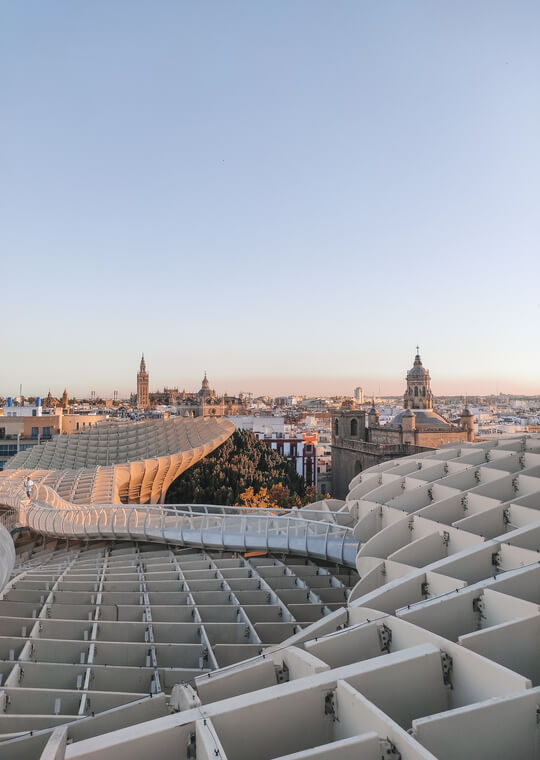 I visited this Andalusian city for the first time on my road trip through Andalusia and I fell in love almost instantly. The beautiful monuments scattered around the city, the movement in the streets and a summer vibe that would make any city jealous!
How many days do you need to visit Seville?
Seville has many points of interest, so I recommend 2 to 3 days to visit everything (especially if you want to walk at a slower pace!). In my case, I only had two days in the city, and it was perfect enough to visit the main points of interest.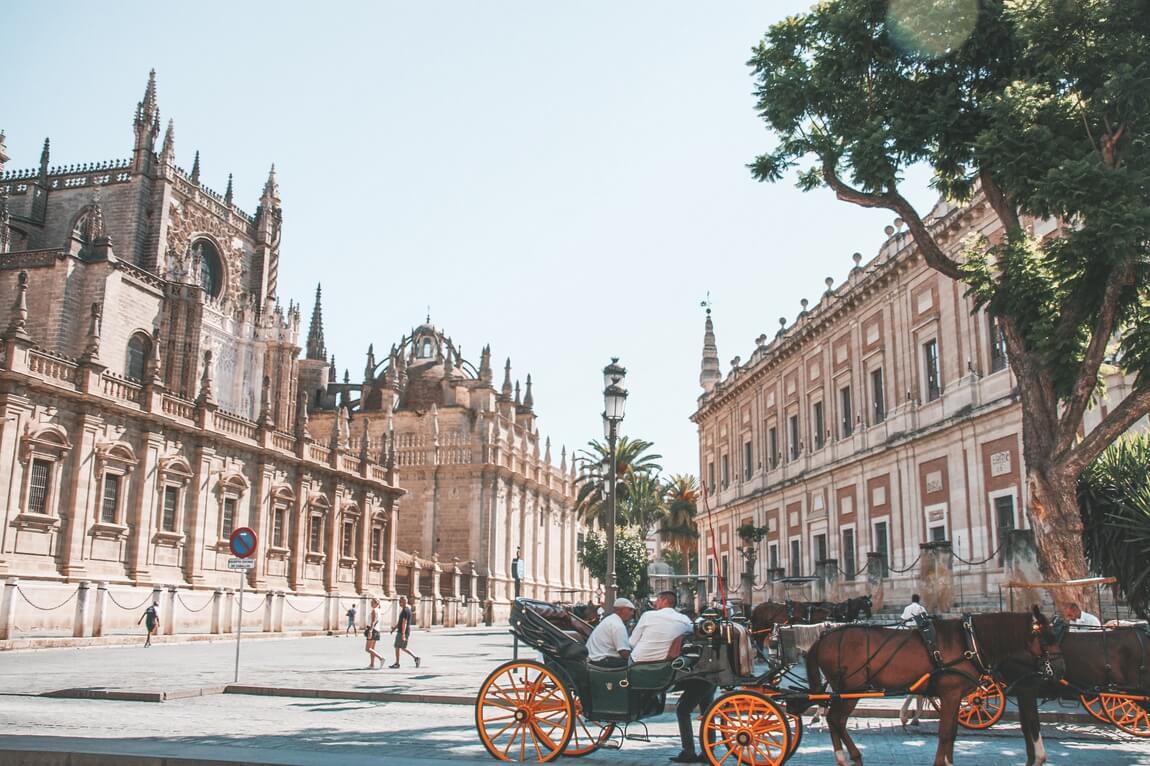 What is the best time of the year to visit Seville?
Seville is known for its "crazy" temperatures in summer. It is a rare day when temperatures do not exceed 40ºC in summer, so you need to choose wisely the time of the year to visit Seville! In my case, I chose to visit Seville in late August, and of course, it was not a good idea at all.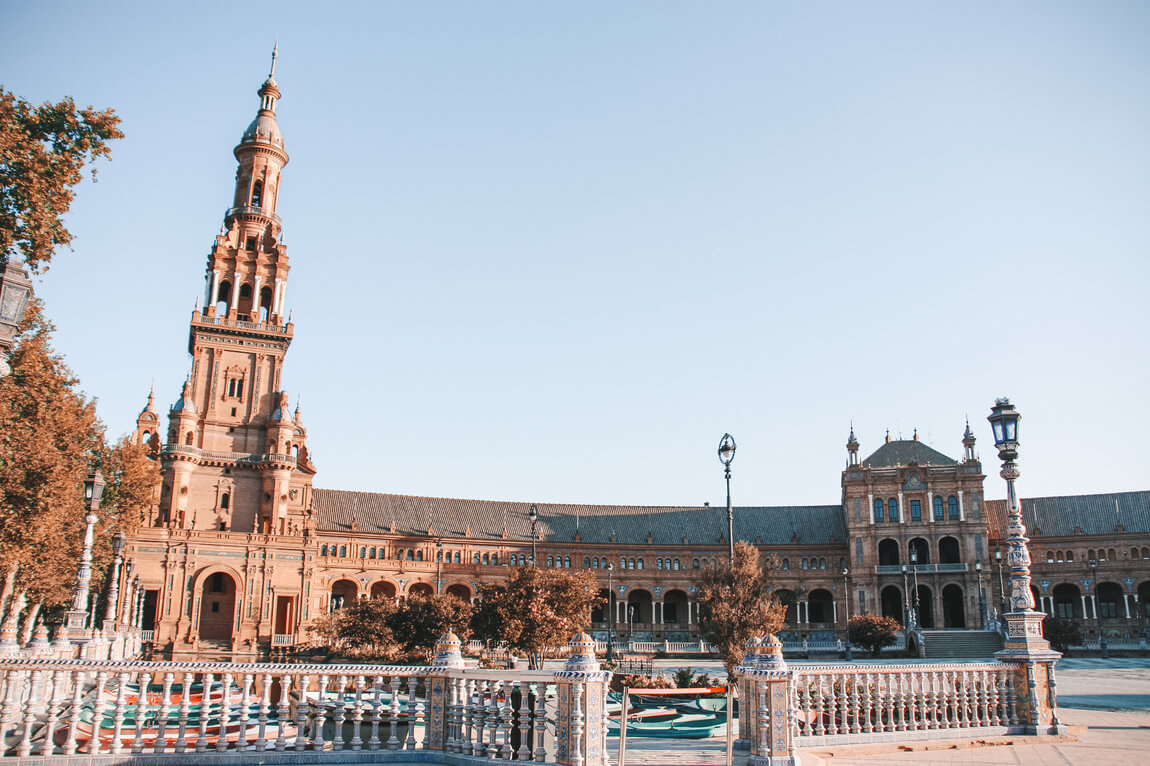 I found myself waking up quite early to escape the hottest hours (which has its advantages: the city almost to myself) and resuming the visit later in the afternoon 😉 That said, if you can, try to visit Seville from October to April!
How to get to Seville?
Seville has an airport, so the easiest option for those travelling from various European cities is to catch a plane. Some of the direct flights to Seville depart from (data as of October 2021):
Italy (Milan, Turin, Bologna, Rome, Venice, Naples, …)
Malta
United Kingdom (Bristol, London, Edinburgh, Manchester)
Portugal (Porto, Lisbon)
France (Paris, Bordeaux, Toulouse, Marseille, Lyon, …)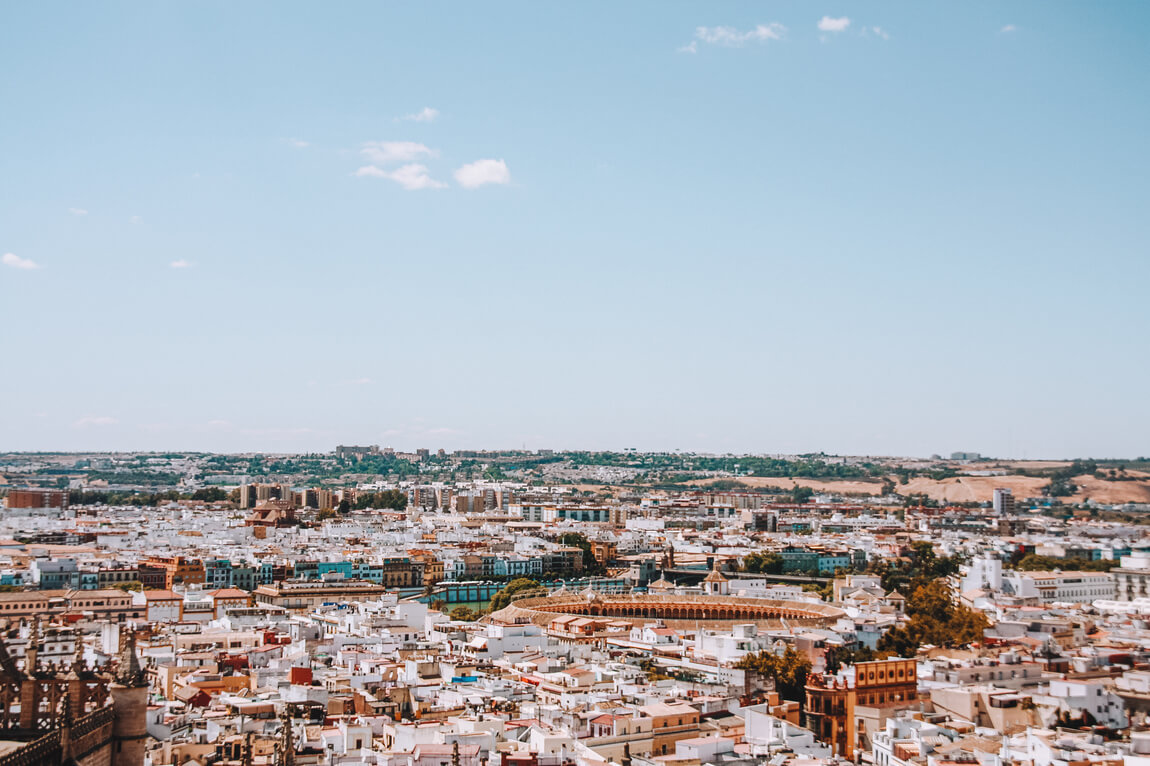 And the list goes on:
Germany (Munich, Frankfurt, Cologne, …)
Austria (Vienna)
Belgium (Brussels)
Netherlands (Amsterdam, Eindhoven)
Switzerland (Zurich, Geneva)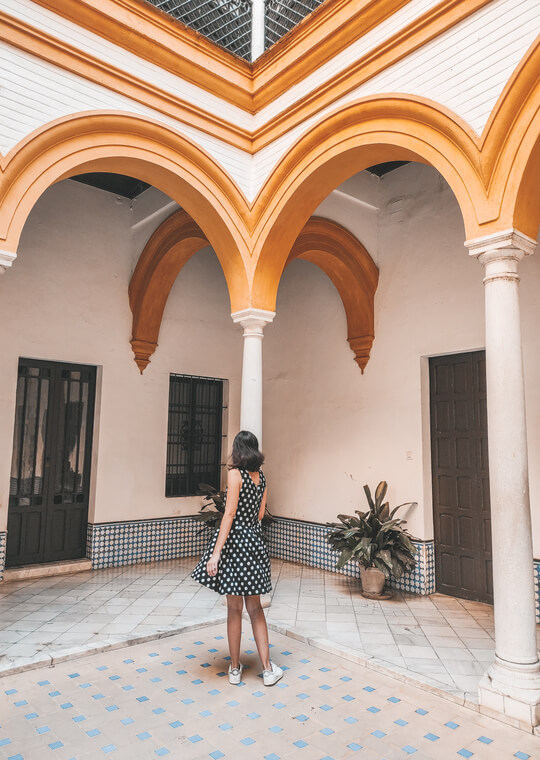 💼 SEGURO DE VIAGEM: Para se sentirem mais tranquilos em viagem, sugiro a compra de um seguro de viagem. Para além deste seguro vos precaver no caso de alguma emergência relacionada com saúde, este cobre também outros incidentes, como é o caso do roubo, perda ou atraso de bagagem ou a eventual necessidade de cancelar a viagem, entre outros. No meu caso, recorro sempre à IATI Seguros que apresenta das melhores relações qualidade-preço do mercado e um serviço 100% online e muito fácil de contratar. Reservem aqui o vosso seguro de viagem e aproveitem um desconto de 5% por serem leitores do blog. A compra deve ser feita através deste link. 
Accommodation in Seville
As you can imagine, there is no shortage of accommodation in Seville! The hard part might be to choose from so many options. But that's why I'll share with you my tips!
I chose Hostal Atenas, located about 10 minutes walk from the historic centre of Seville. You access it through a kind of courtyard and the rooms are quite comfortable 😊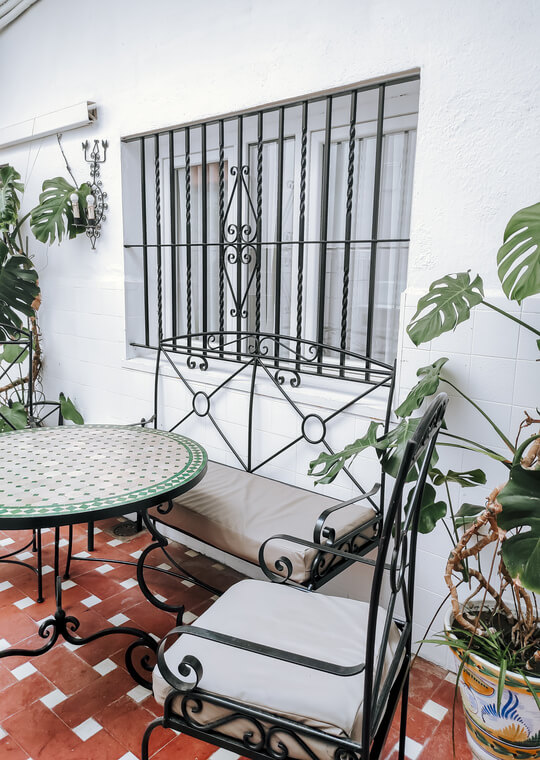 It offers good value for money and nearby you can even find some cafes for breakfast. The only downside is that, if you're driving, it is quite difficult to park somewhere other than a car park (the nearest car park costs about 22€/day).
In the meantime, I'll take this opportunity to leave you other options that also seemed interesting to me:
Activities & tours in Seville
What to visit in Seville?
Before starting my list of what to visit in Seville, I'll share with you this map version of the main points of interest in the city.
» Lonja del Barranco Market
With direct views over the Guadalquivir River, the Lonja del Barranco market is a gourmet-style market where we can sample some of Seville's gastronomy. It is located in an old city market, which had been designed by Gustave Eiffel. In this space, you can also find from time to time some cultural events.
📝 USEFUL INFORMATION: The Market is open from Sunday to Thursday from 10 am to midnight and from 10 am to 2 am on Fridays and Saturdays.
» Triana Bridge
Also known as Isabel II Bridge, the Triana Bridge is one of Seville's most emblematic bridges over the Guadalquivir River. The bridge opened in 1852 and was built on a site where there was previously another bridge that already connected the historic centre of Seville to the Triana neighbourhood.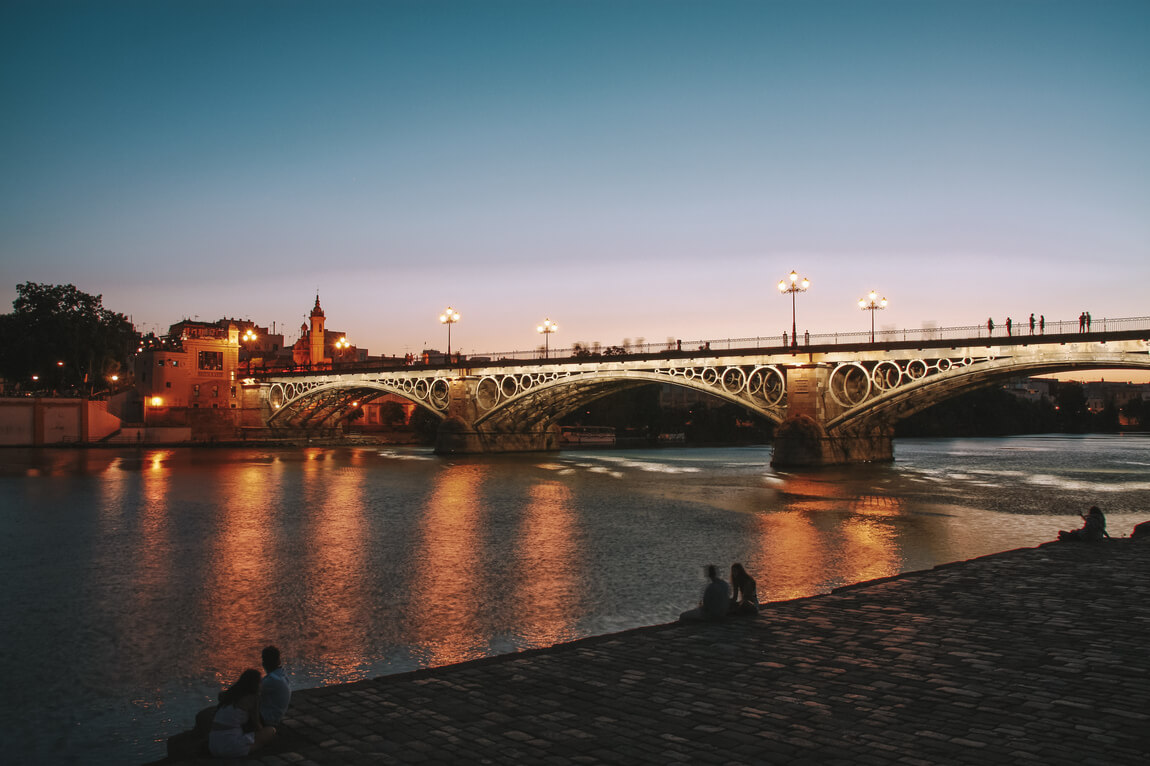 Take advantage of the visit to this bridge to take a walk along the banks of the Guadalquivir River.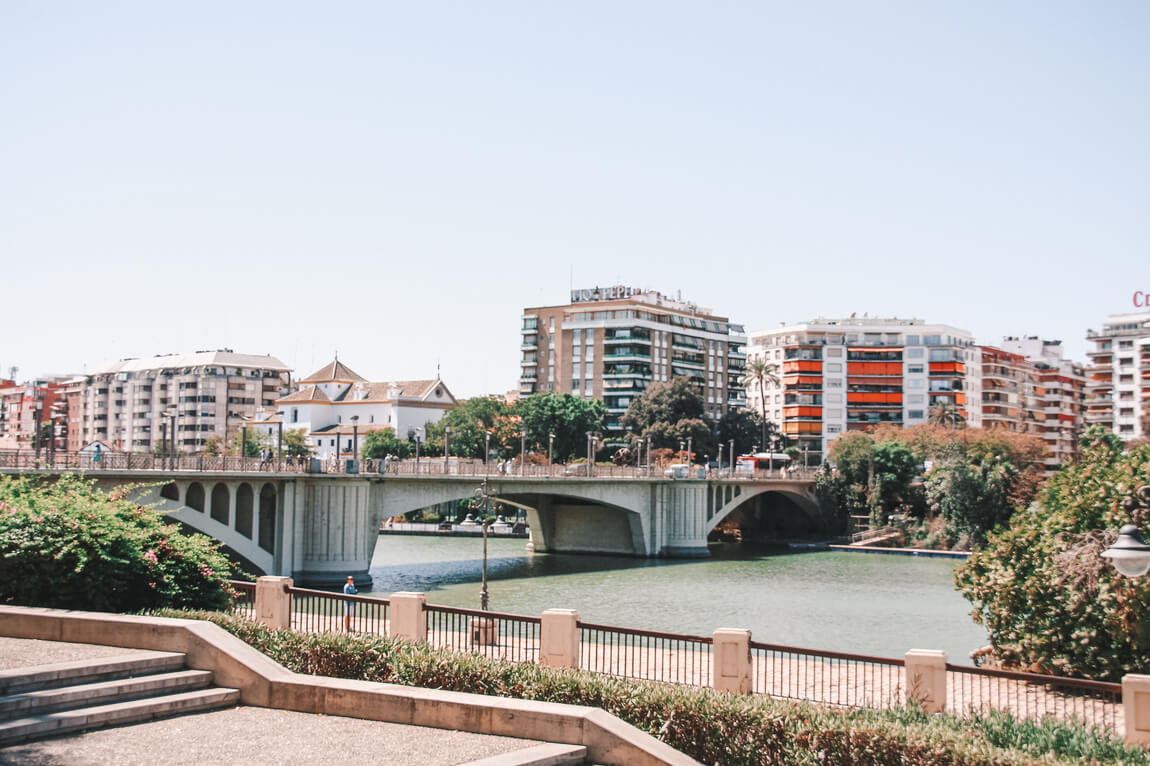 » Bullring Real Maestranza
Although I do not support bullfighting, there's no denying that the culture of bullfighting is very much rooted in Spain. And as such, Seville also has its own Bullring, which is quite well known by the way. Seville's Plaza de Toros began to be built in the 18th century and currently has a capacity for 12,000 spectators!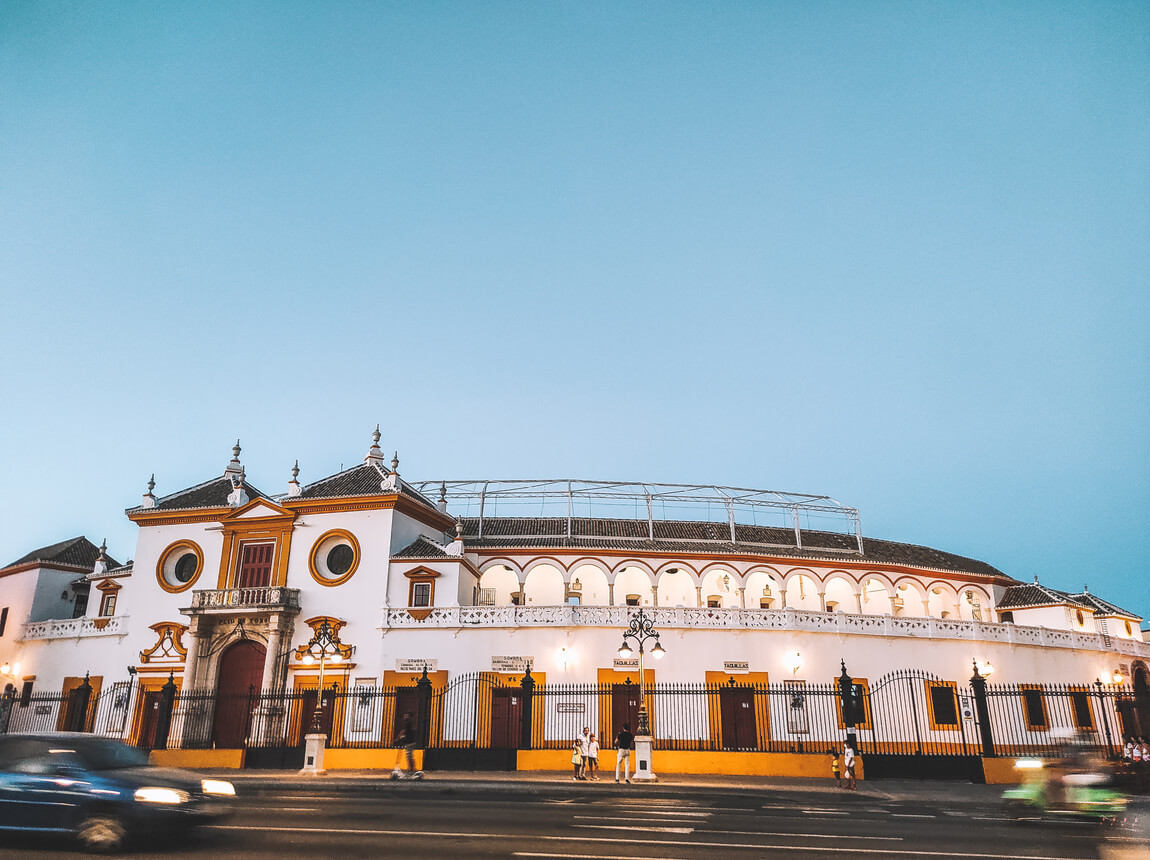 📝 USEFUL INFORMATION: The Bullring is open every day from 9.30 am to 7.30 pm and admission costs 10€.
» Torre del Oro
The Torre del Oro was built during the Almohad Caliphate to control access to the city via the Guadalquivir River. At 36 metres high, this is one of the places with one of the most privileged views in Seville 😉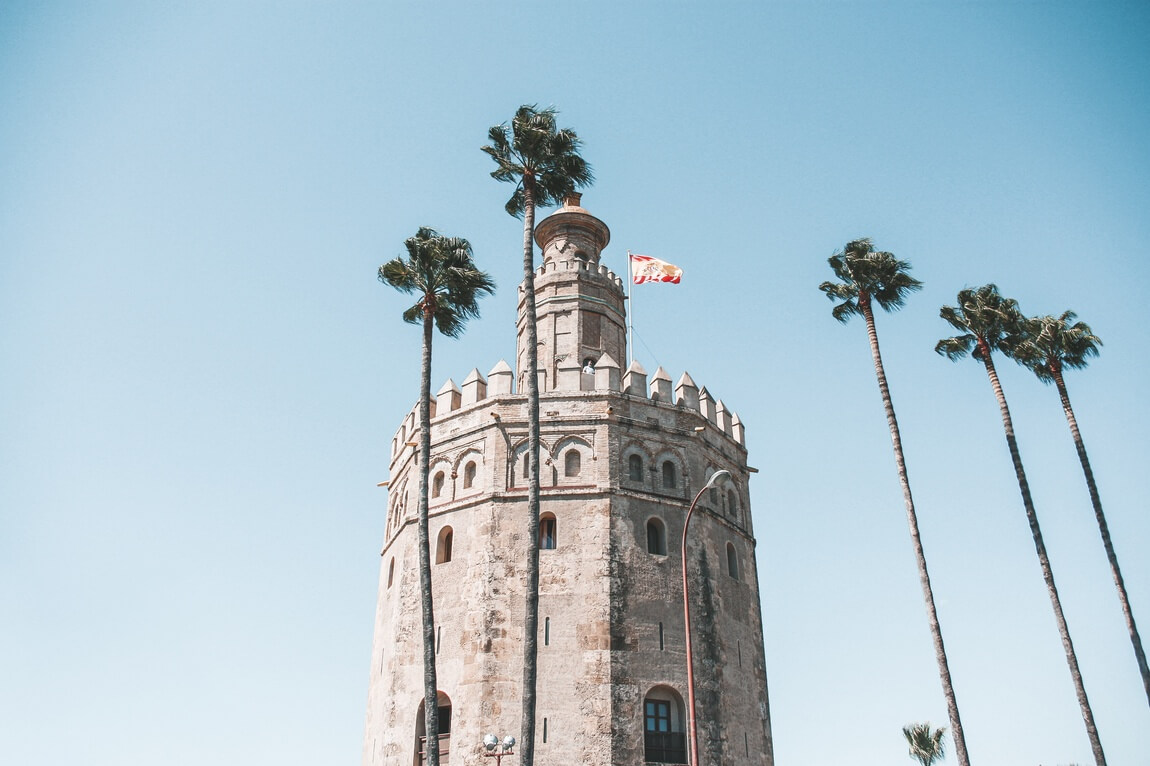 Currently, we can visit the Naval Museum inside, and the visit costs 3€.
📝 USEFUL INFORMATION: Torre del Oro is open from 9.30 am to 6.45 pm Monday to Friday and from 10.30 am to 6.45 pm on Saturdays and Sundays.
» Plaza Nueva
Plaza Nueva was inaugurated in the mid-19th century and has had various names over the years. Currently, Plaza Nueva is where we can find Seville's City Hall, the beautiful building of the Spanish telecommunications company – Telefónica and also the Chapel of San Onofre.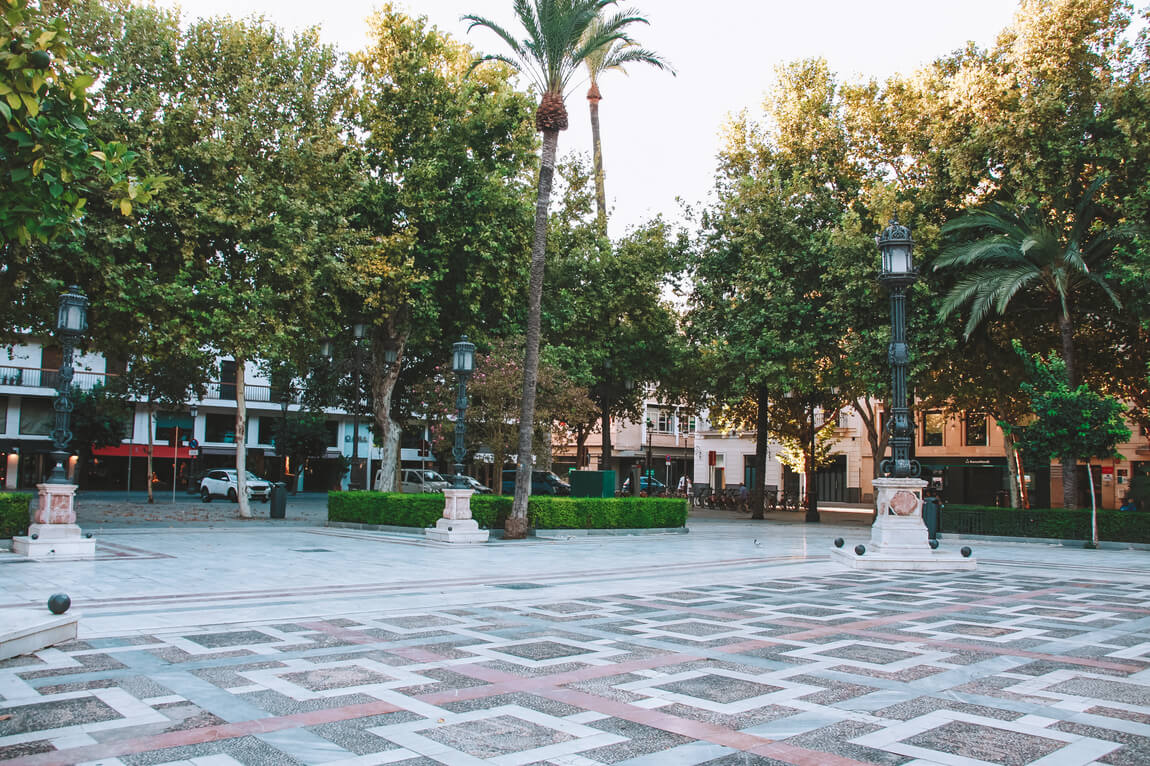 In the centre of the square, we also find a statue in honour of Ferdinand III who reconquered Seville in 1248.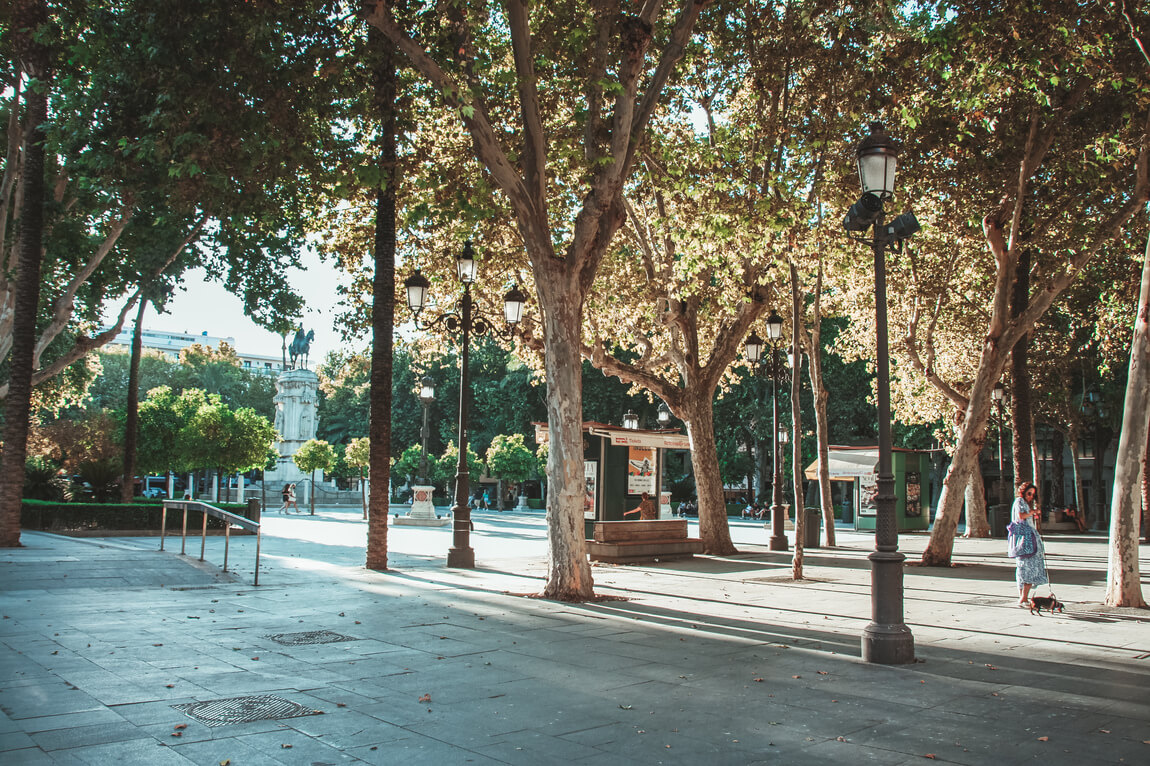 » Sierpes and Tetuán Streets
And because most big-city itineraries usually include a stroll through shopping streets, Seville is no exception. Take the opportunity to walk through Sierpes and Tetuán streets, which are two of the most important streets when it comes to commerce in Seville.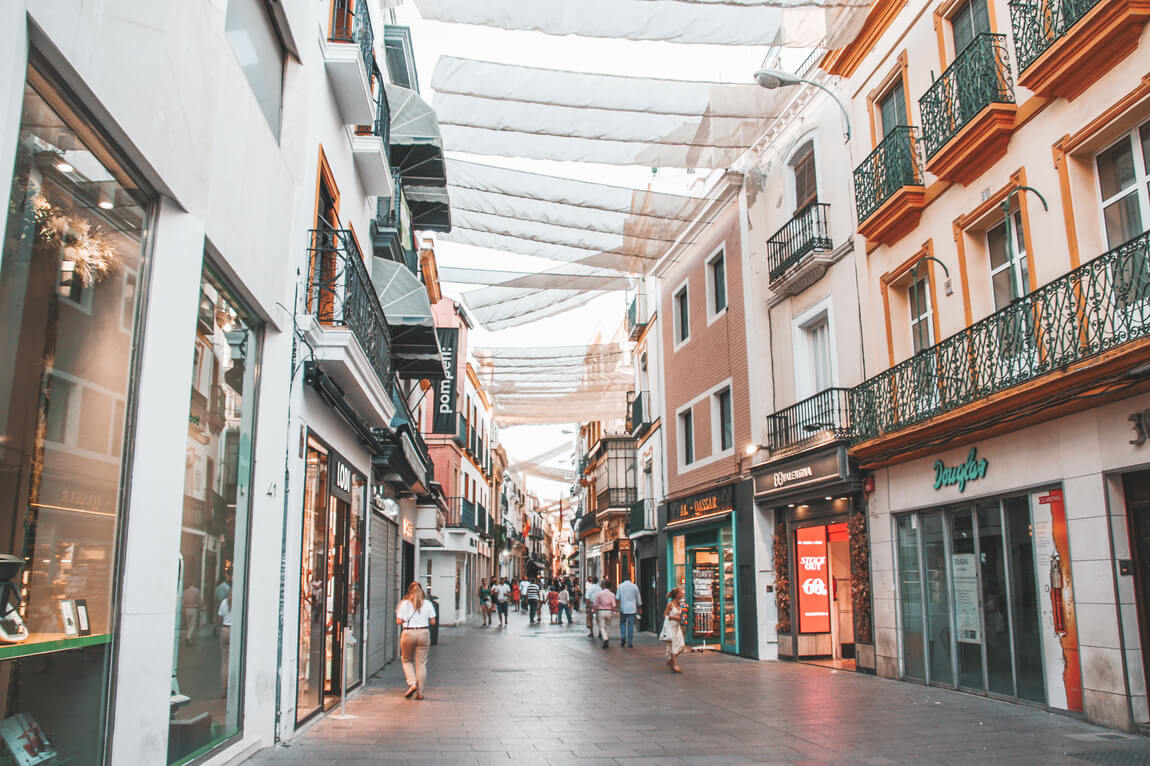 Two streets with historical importance in the retail sector, here you'll find a bit of everything 😉
» Metropol Parasol/Setas de Sevilha
Metrosol Parasol may be a recent construction in the city (2011), but it already is one of the main points people visit in Seville.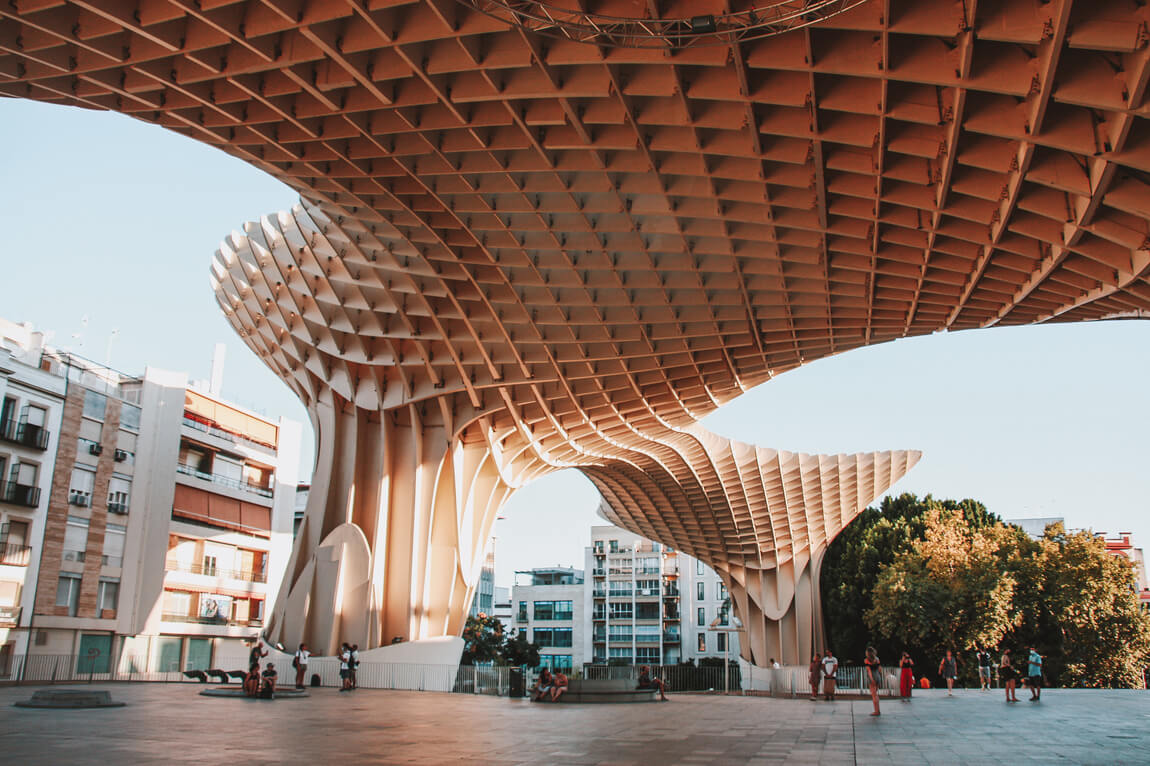 Located right in Plaza de la Encarnación, this wooden structure offers one of the best views of the city. At the top of the structure, there is a kind of walkway 250m long.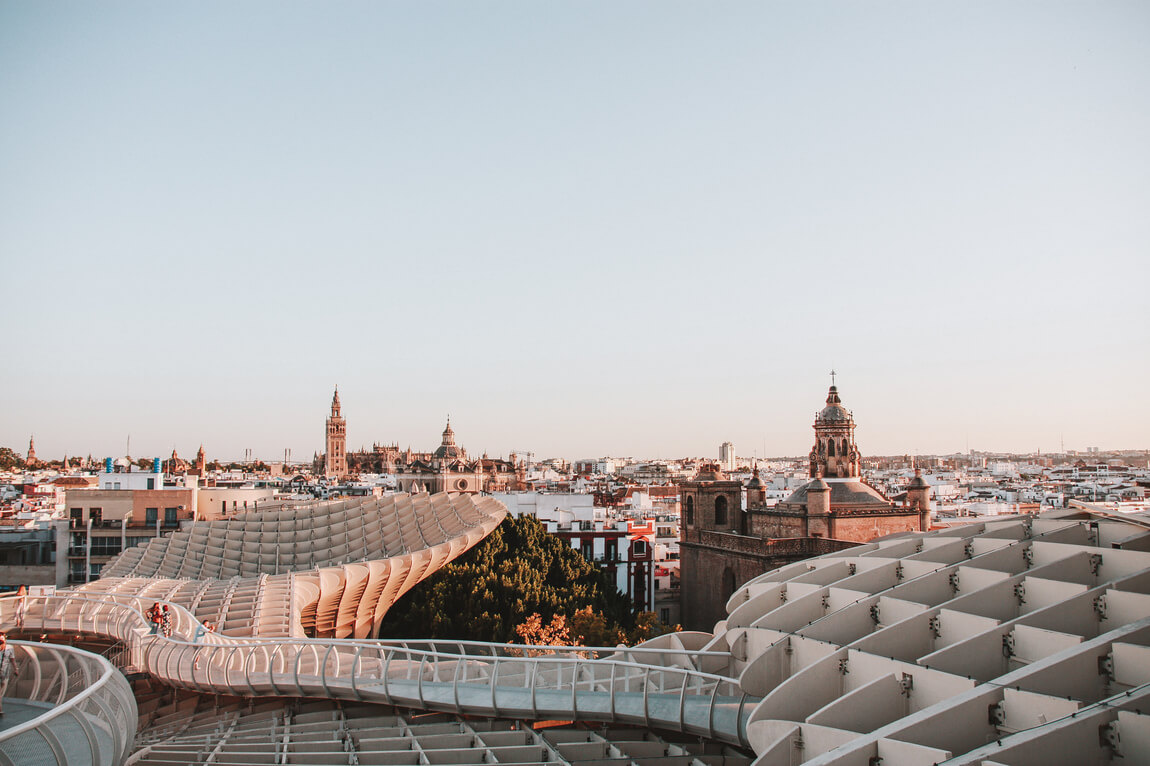 At night, it is also possible to watch a light show on the platform! Alternatively, at Metropol Parasol site, you can also watch a show that aims to promote Seville's culture – Feeling Seville.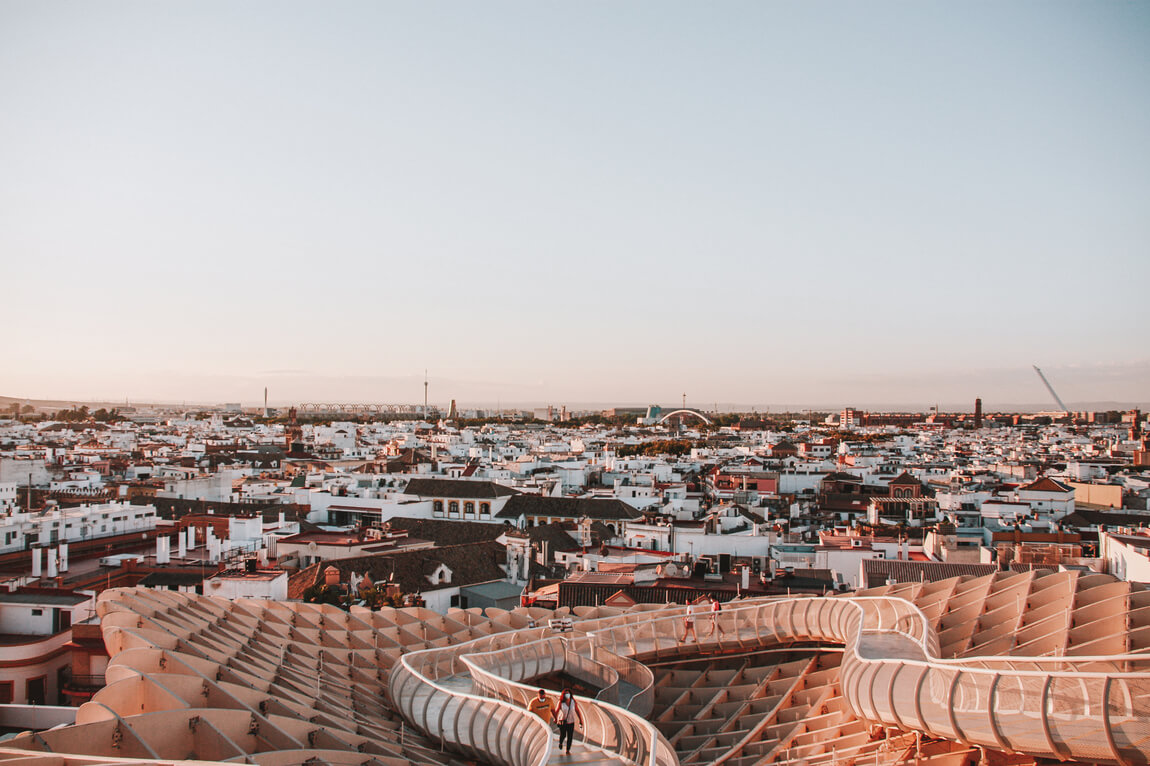 Finally, this is also where the Antiquarium is located – the largest archaeological site in Seville.
📝 USEFUL INFORMATION: From November to March it is open from 9.30 am to midnight and in the other months until 00.30 am. There are several types of tickets (depending on the time of day and the chosen experience) that can be bought here.
» Plaza de España
Plaza de España was my favourite place in Seville and you really can't miss it on any Seville's city itinerary 😉 The square was designed by Aníbal González and took over 15 years to be built…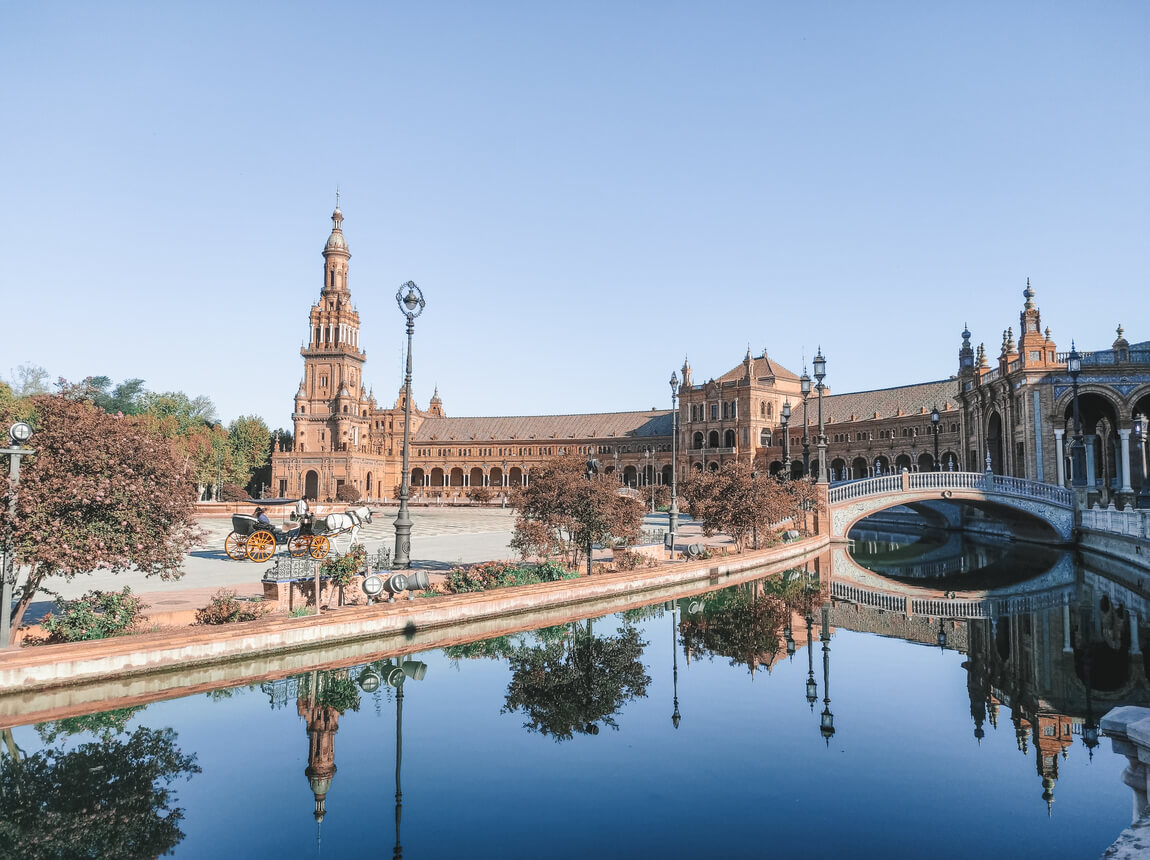 The construction of this large space is due to an Ibero-American exhibition that took place in 1929. The square is huge and has a semicircular shape, and along the square, there are tiles alluding to each of Spain's provinces.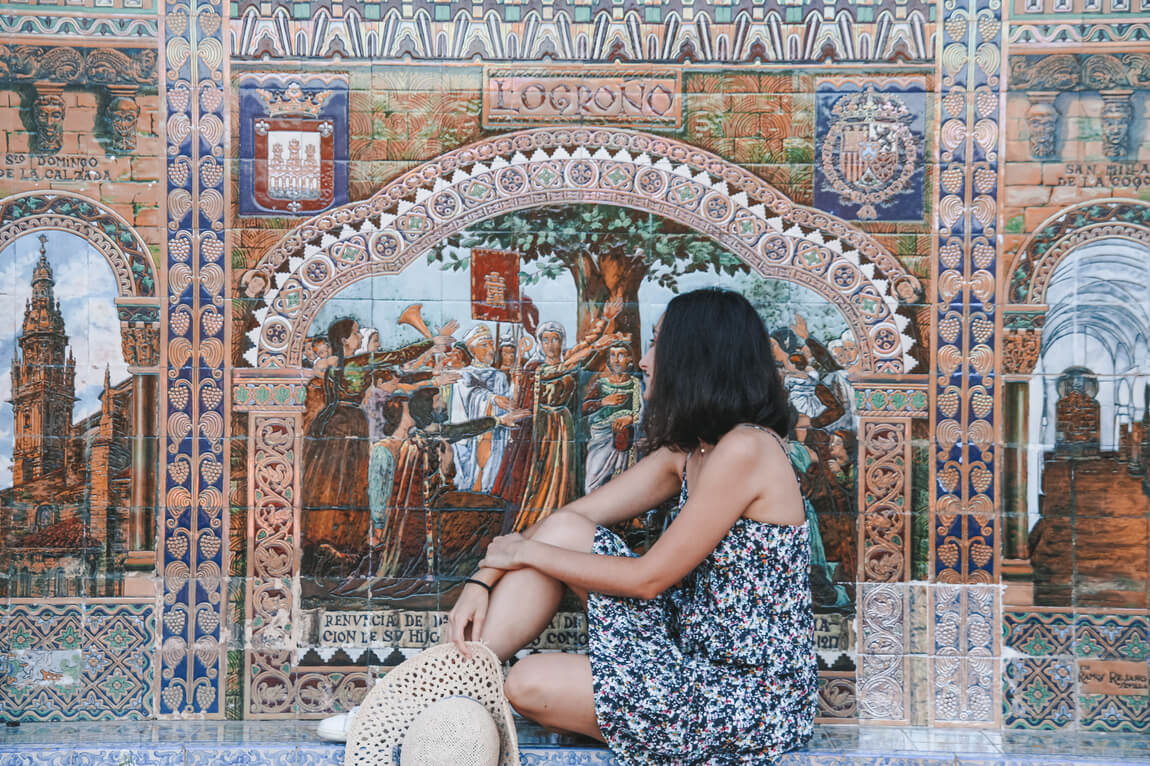 Most of the buildings on the square are now government buildings or museums. But what really grabs your attention in this square are its details. Everything is so beautiful and thought out to detail that we easily lose ourselves for hours and hours appreciating it.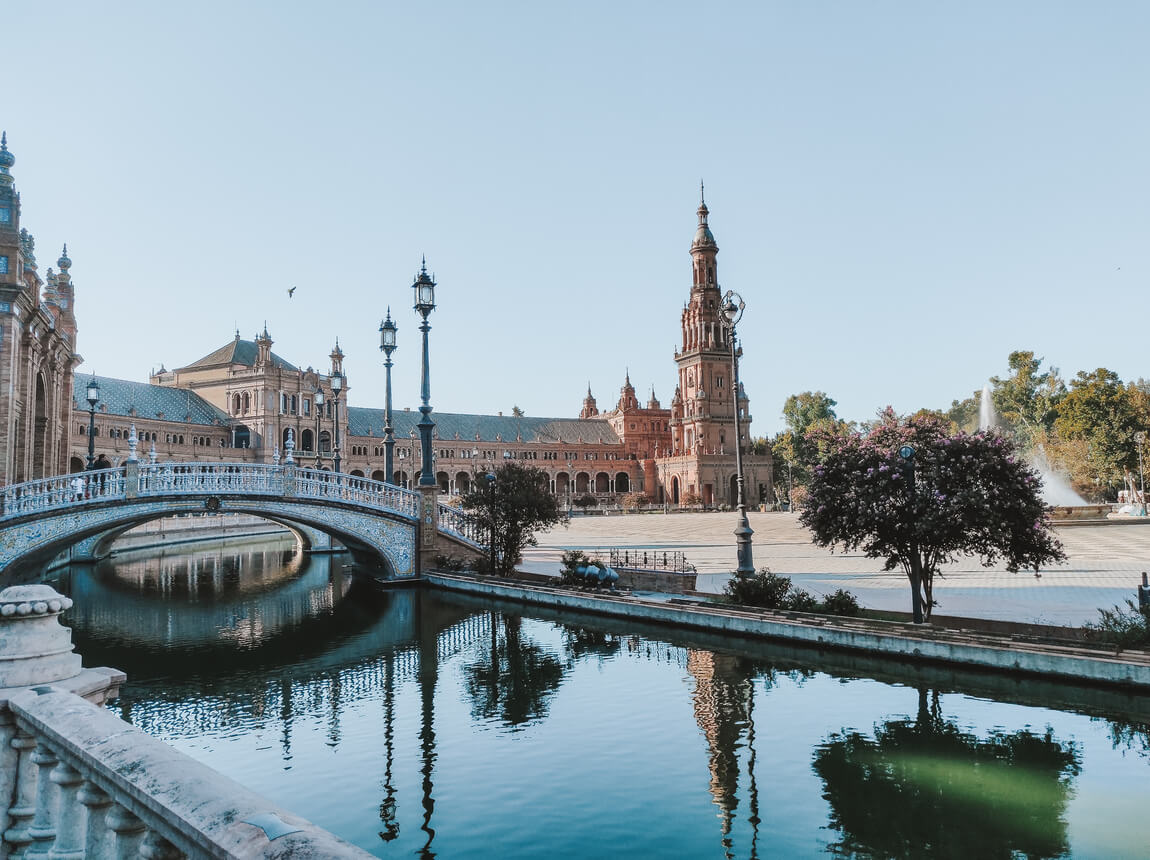 In Plaza de España there is also a 500-metre-long canal, where you can ride small boats.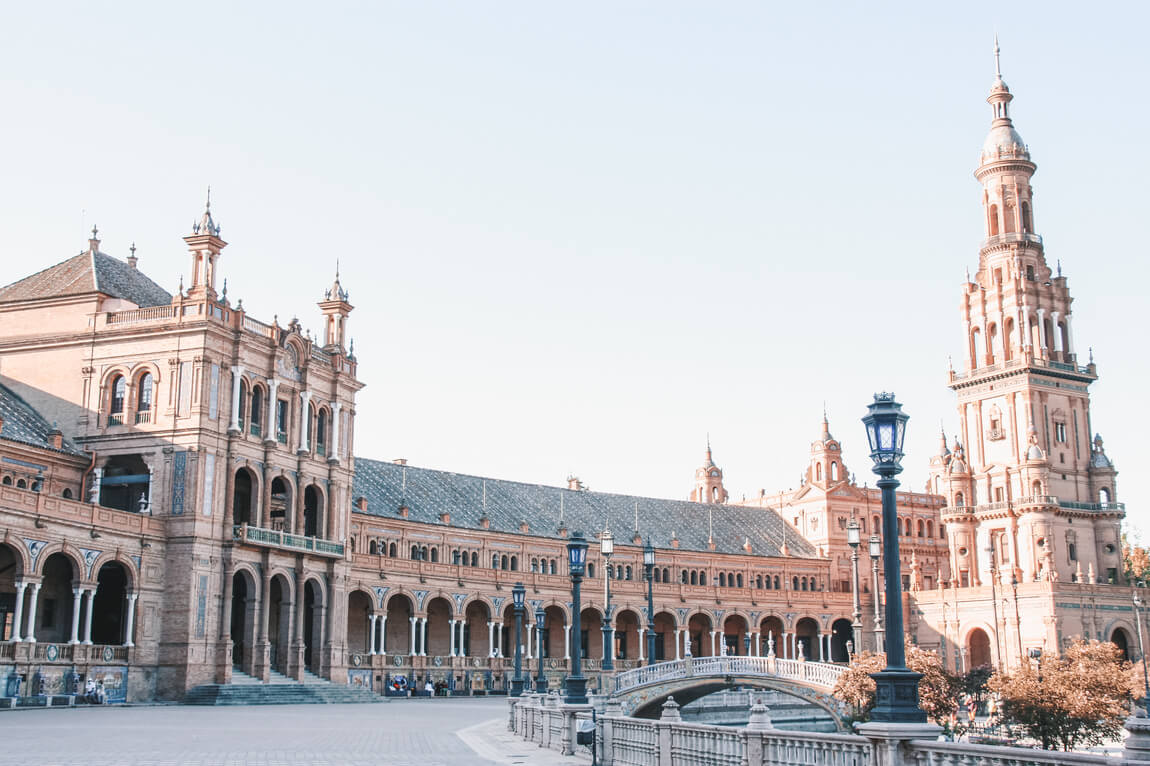 » María Luísa Park
This was followed by a visit to the park where the Plaza de España is located. Covering some 34 hectares, this is one of the city's most important green spaces.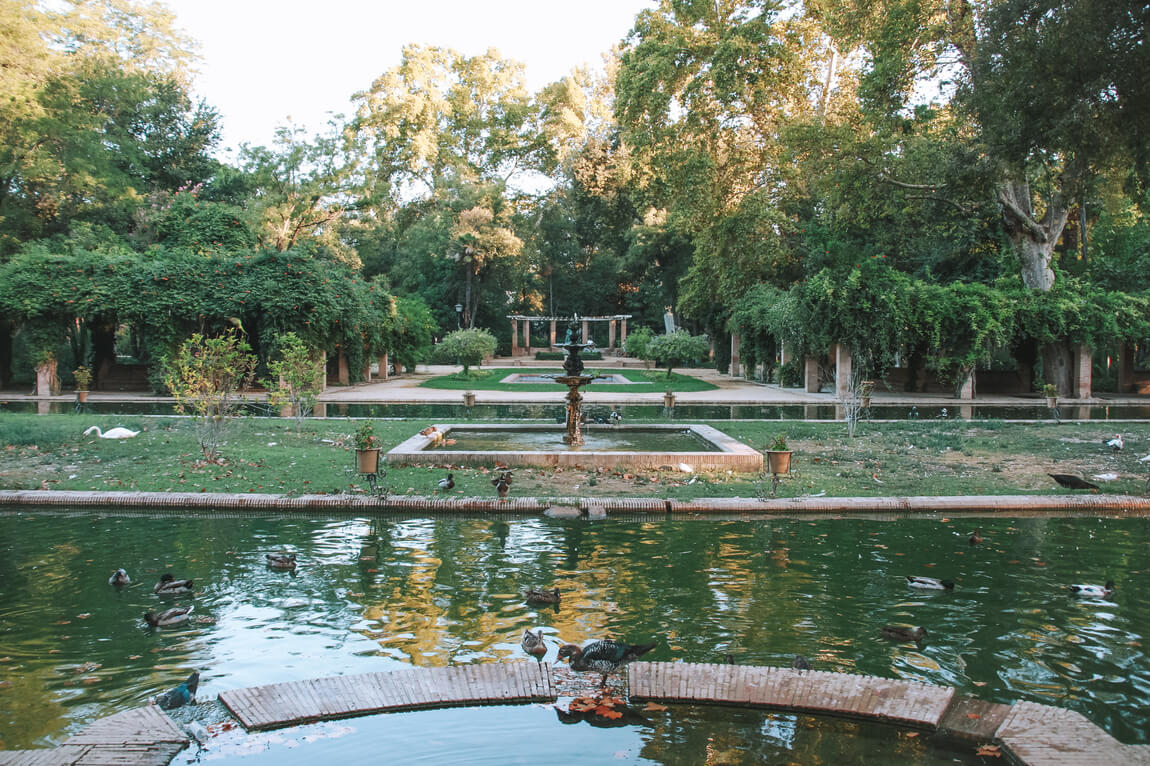 As well as a visit to the famous Plaza de España, you can also visit the Frog Fountain, the Lions Fountain, Plaza América, Gurugú Hill, Seville's Archaeological Museum and the Museum of Popular Arts and Customs.
» Plaza del Cabildo
Located in the heart of the historic centre, Plaza del Cabildo is accessible through what looks like a secret passage 😊 Prepare to be dazzled by the beauty of this place!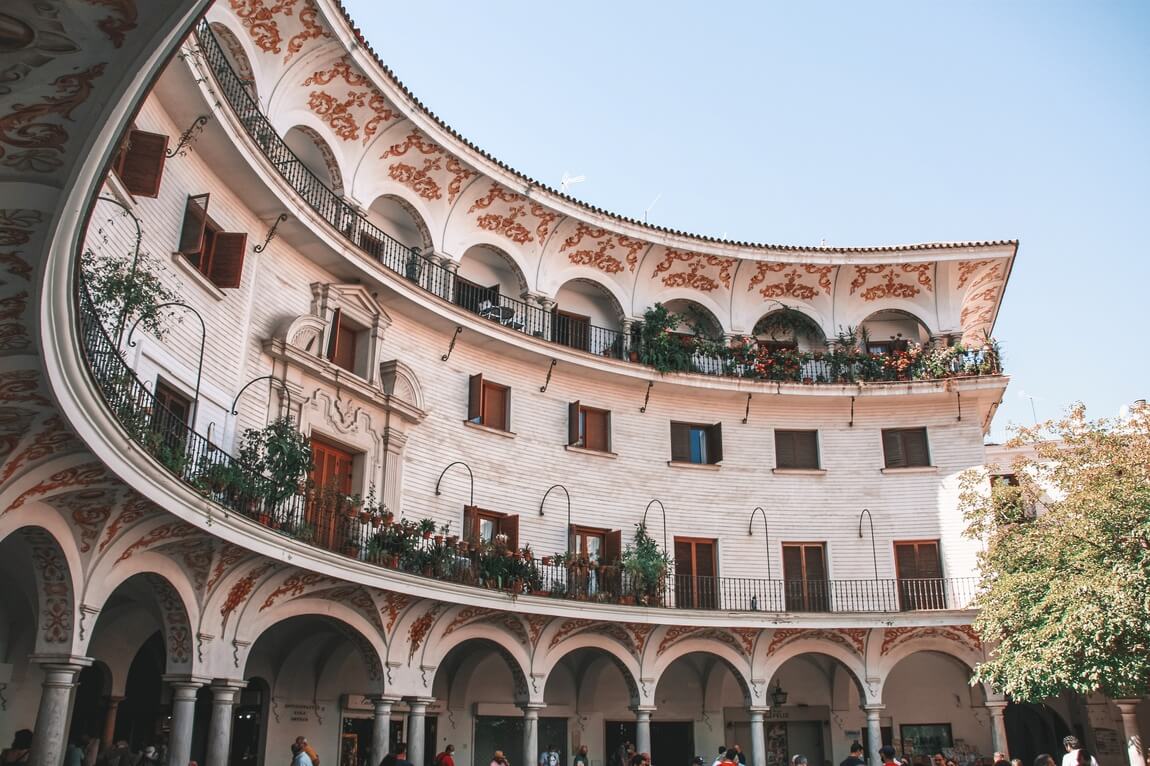 The square has a semicircular shape and has some beautiful arcades! It is a hidden square in the middle of the city, except when there are numismatic or philately markets, which take place every Sunday.
» Cathedral and La Giralda
Seville Cathedral and La Giralda are 2 must-see spots on any visit to Seville! After all, we are talking about the largest gothic-style church in the world!!!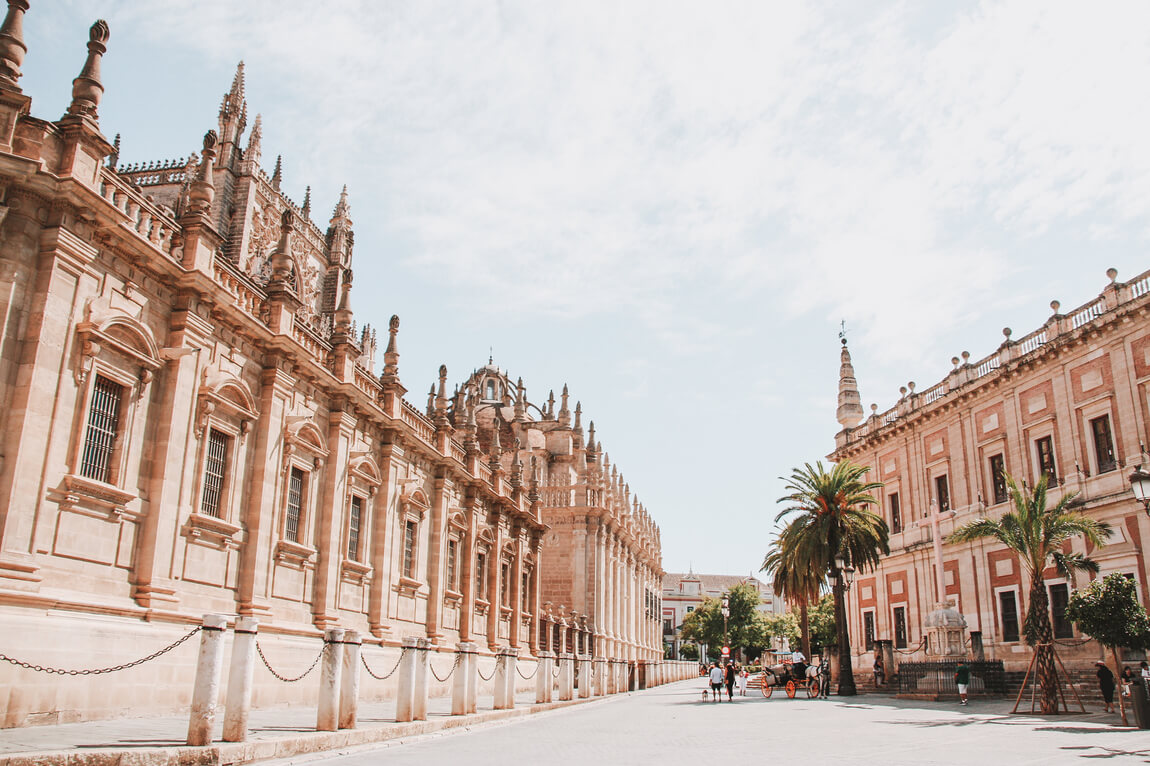 Like so many other churches in the Andalusian region, the Cathedral originated as a mosque built in the 12th century and was only converted into a Catholic place after the city was reconquered from the Muslims.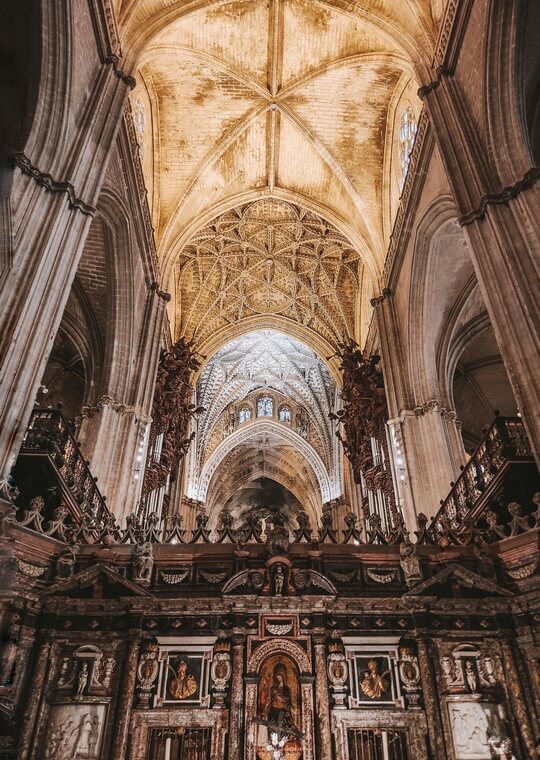 With its construction completed in the 16th century, this Cathedral is a true work of art, both inside and out.
💡 EXTRA TIP: For great shots of La Giralda with the perfect framing, I suggest you visit Patio de Banderas, Calle Mateos Gago or Calle de Placentines.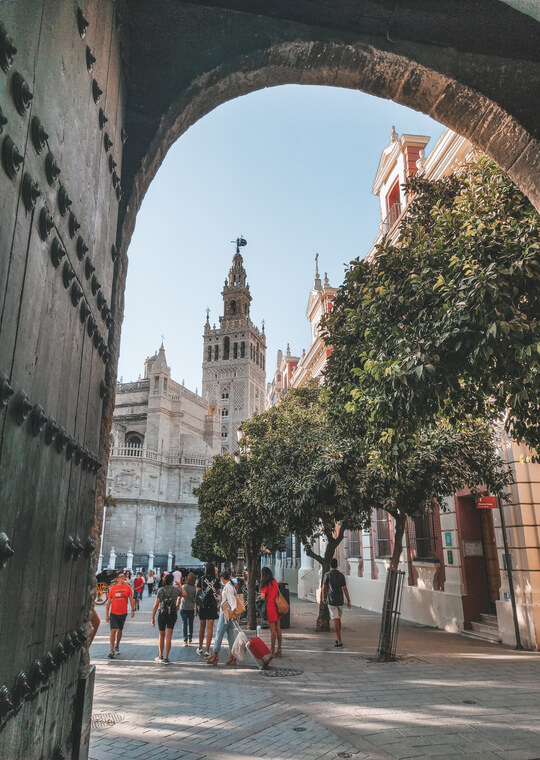 When you visit the Cathedral, also take the opportunity to climb La Giralda tower – the bell tower of the Cathedral. The tower was originally built to be the minaret of the Great Mosque of Seville, during the time of Muslim occupation in this region. At almost 105 metres high, get ready for one of the best views of Seville.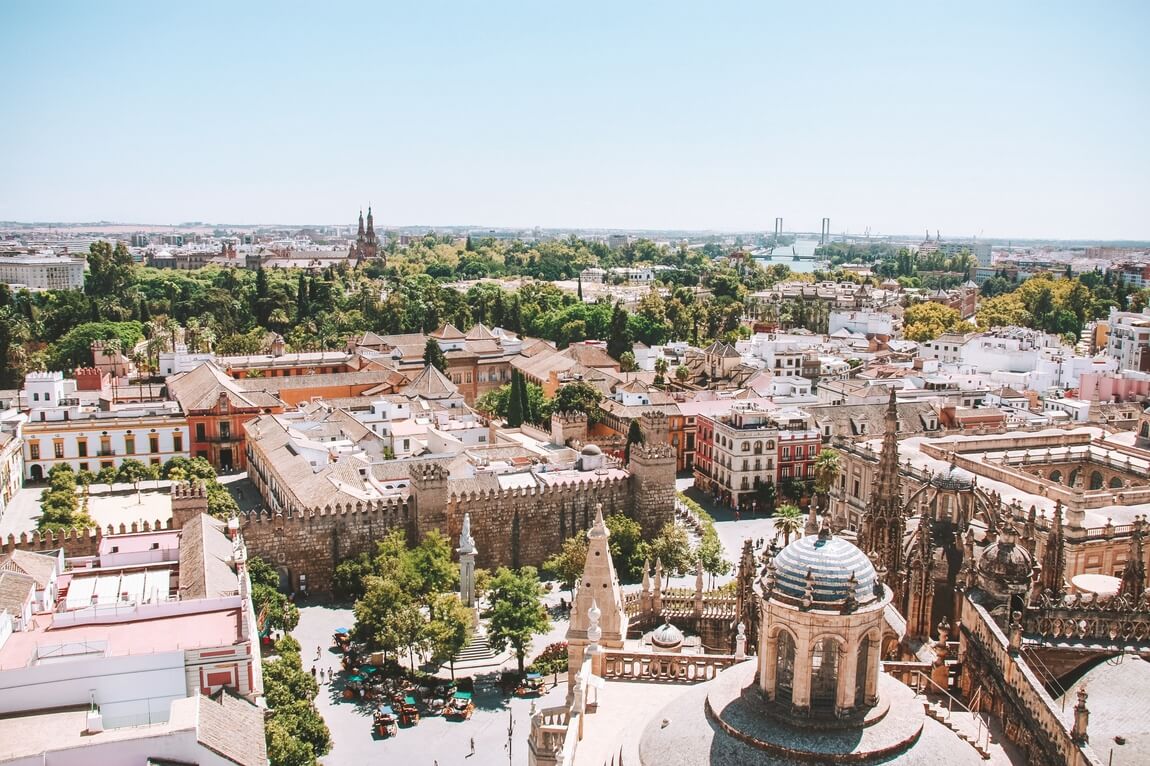 📝 USEFUL INFORMATION: Entrance to the Cathedral and La Giralda can (and should, in order to avoid queues) be bought online and costs 11€. You can enter it from 10.45 am to 6 pm Monday to Saturday and from 2.30 pm to 7 pm on Sundays. You can check the most up-to-date timetable information and purchase your tickets here.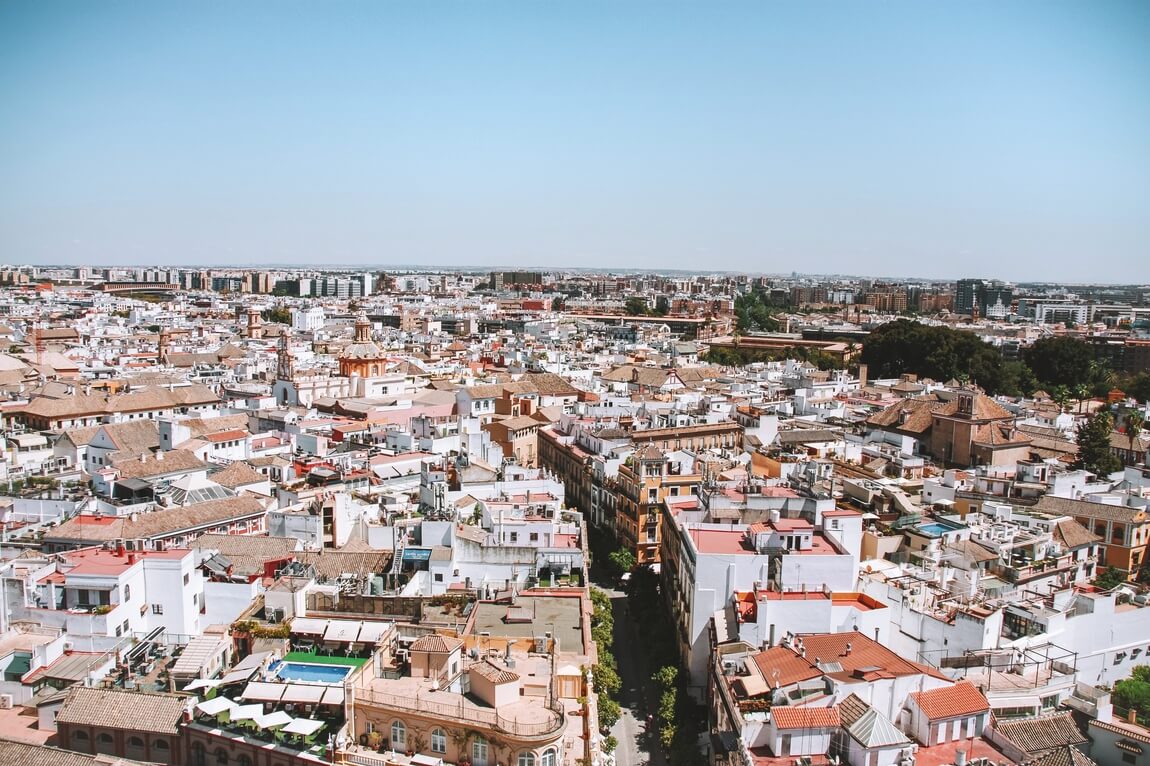 » Plaza del Triunfo
Now that we have visited the Cathedral, it is time to explore the square where this monument (and many more) is located. Look out for the Royal Alcázar of Seville (we're going there next!), Convent of La Encarnación, the General Archive of the Indies and the Provincial House.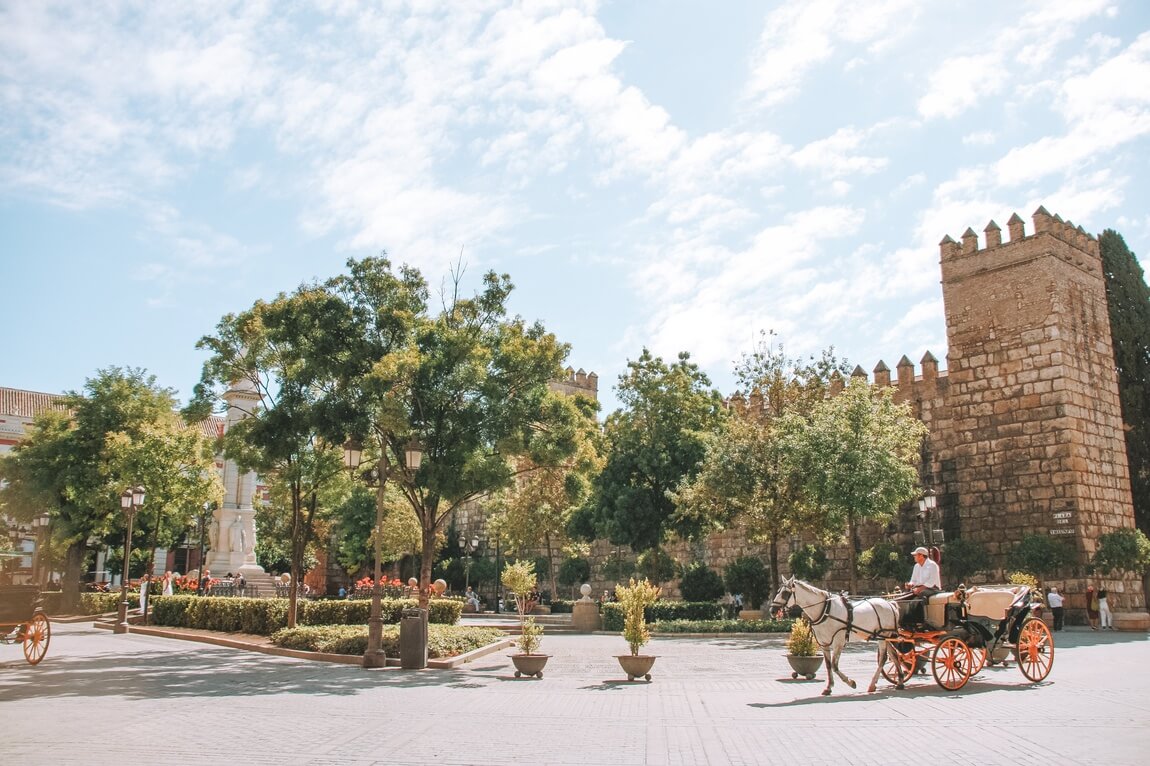 If you are interested, you can also start a carriage ride in this square.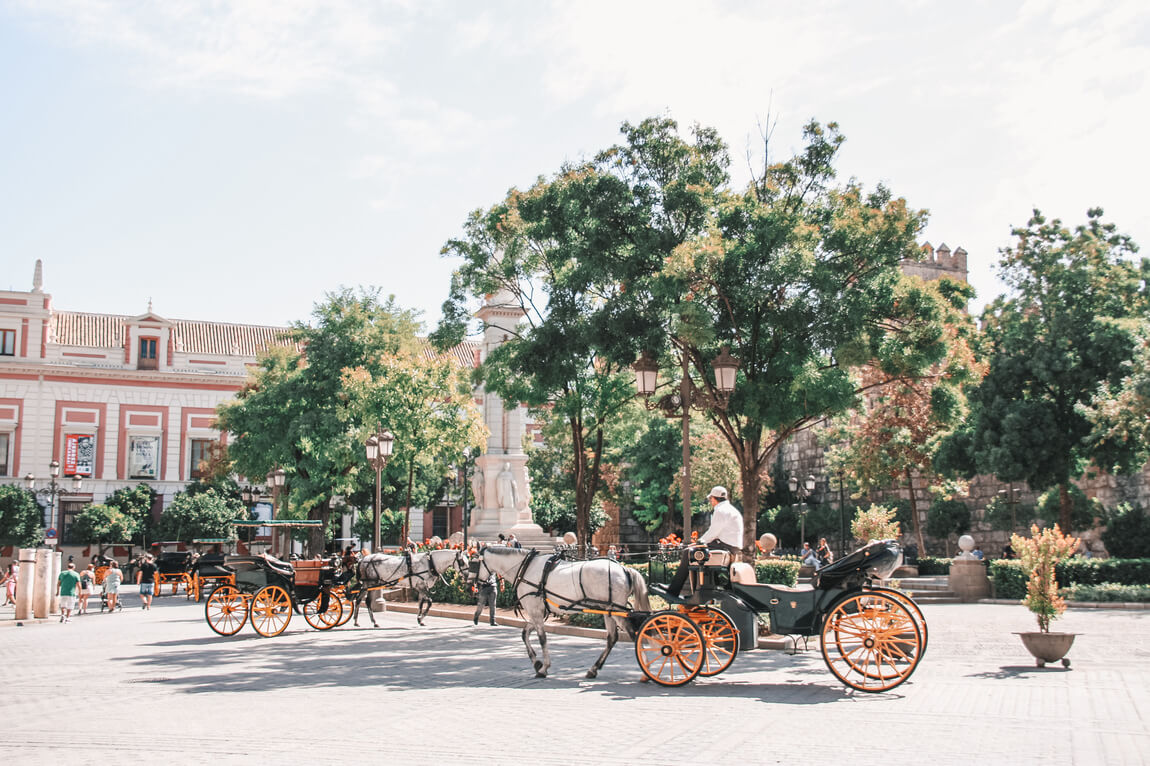 » Church of the Divine Saviour
When you buy the entrance ticket to Seville Cathedral, the ticket also includes a visit to the Church of the Divine Saviour. This church is one of the most important in the city, and was also built on a site where there was a mosque and even a basilica during the Roman Empire.
💡 EXTRA TIP: If you are going to spend a few more days exploring the Andalusia region, I suggest you also check out other blog posts with ideas of places to visit: Cádiz | Ronda | Gibraltar | Caminito del Rey | Córdoba | Málaga
» Royal Alcázar of Seville
We continue on to another of the city's most important monuments. This is a royal palace on the site of an ancient Alcázar, destroyed during the reconquest of Seville from the Muslims.
This is currently the official residence of the Spanish Royal Family when they visit the city. It is even possible to visit the Royal Bedroom for a supplement of 5,5€.
Considered a UNESCO World Heritage Site since 1987, here you will find a mixture of styles, from Gothic to Mudéjar. The space is still quite large, so you should set some time aside to visit it (count on 1h to 1h30). Besides, there are several green spaces to enjoy as well 😊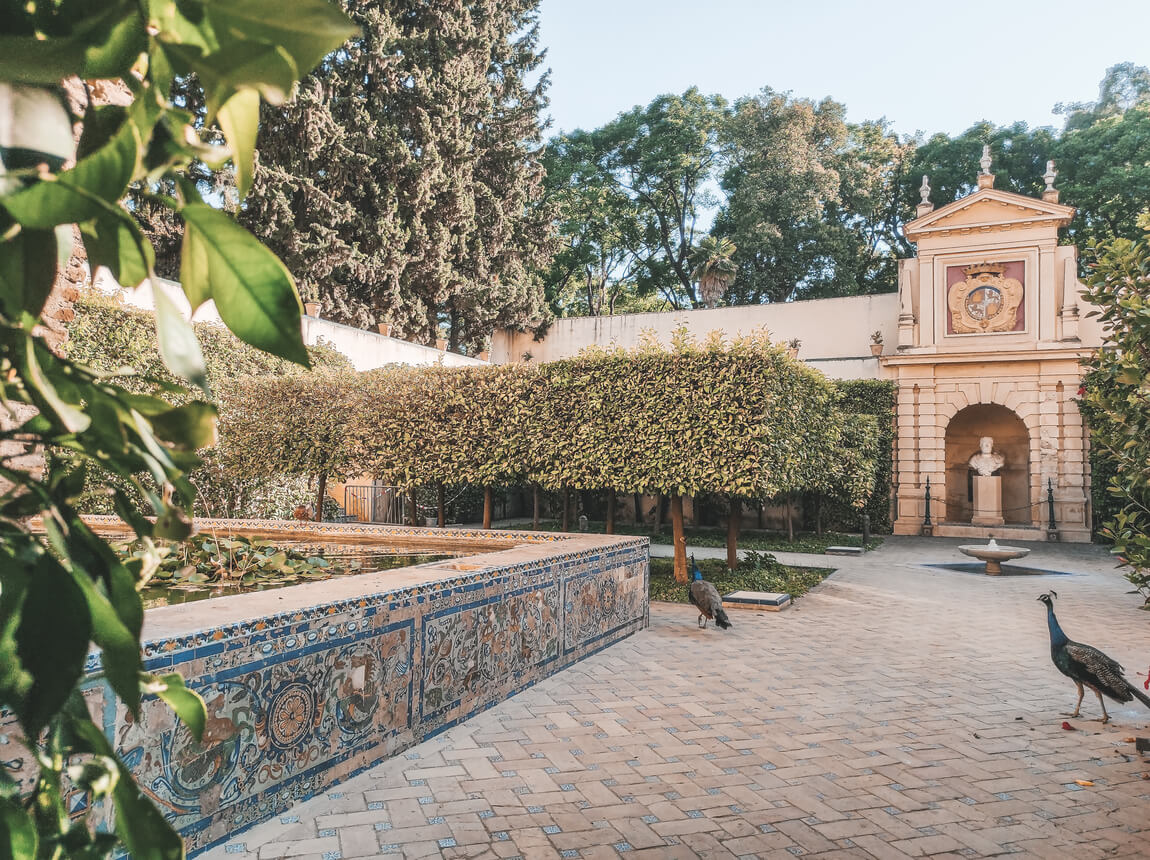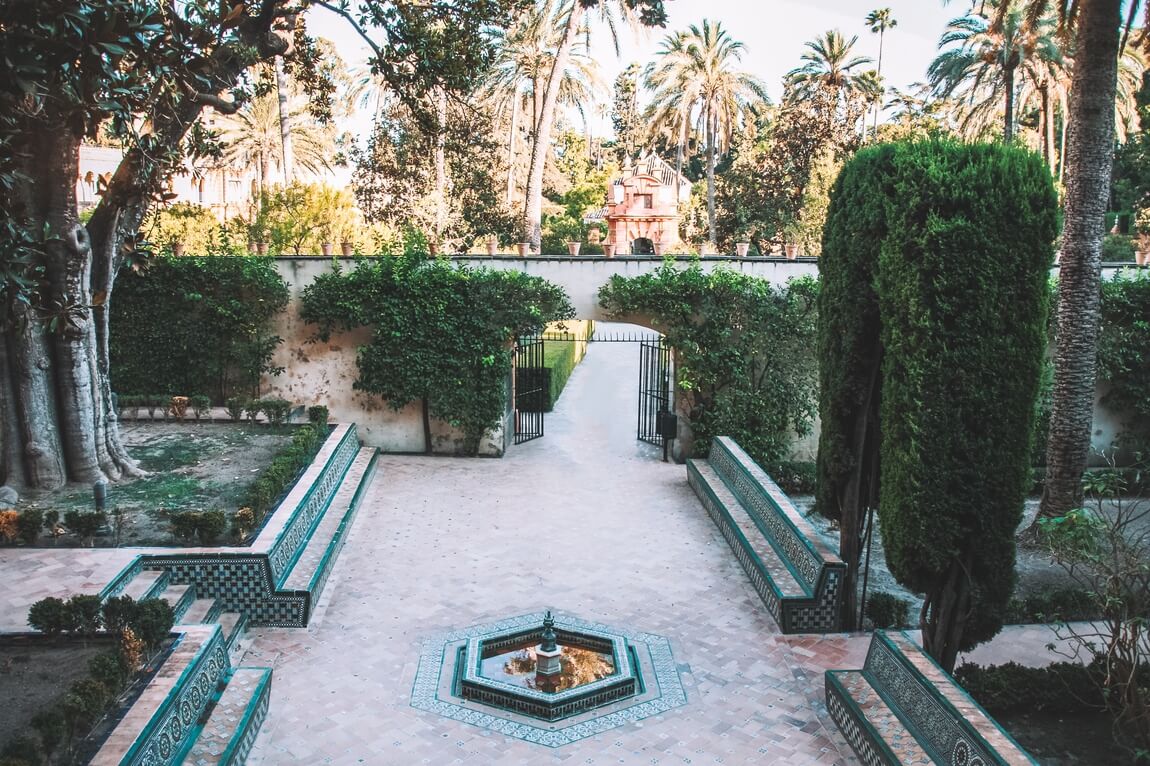 The Arab influence is clearly evident, and it's hard not to get lost imagining what life would have been like in the Alcázar hundreds of years ago!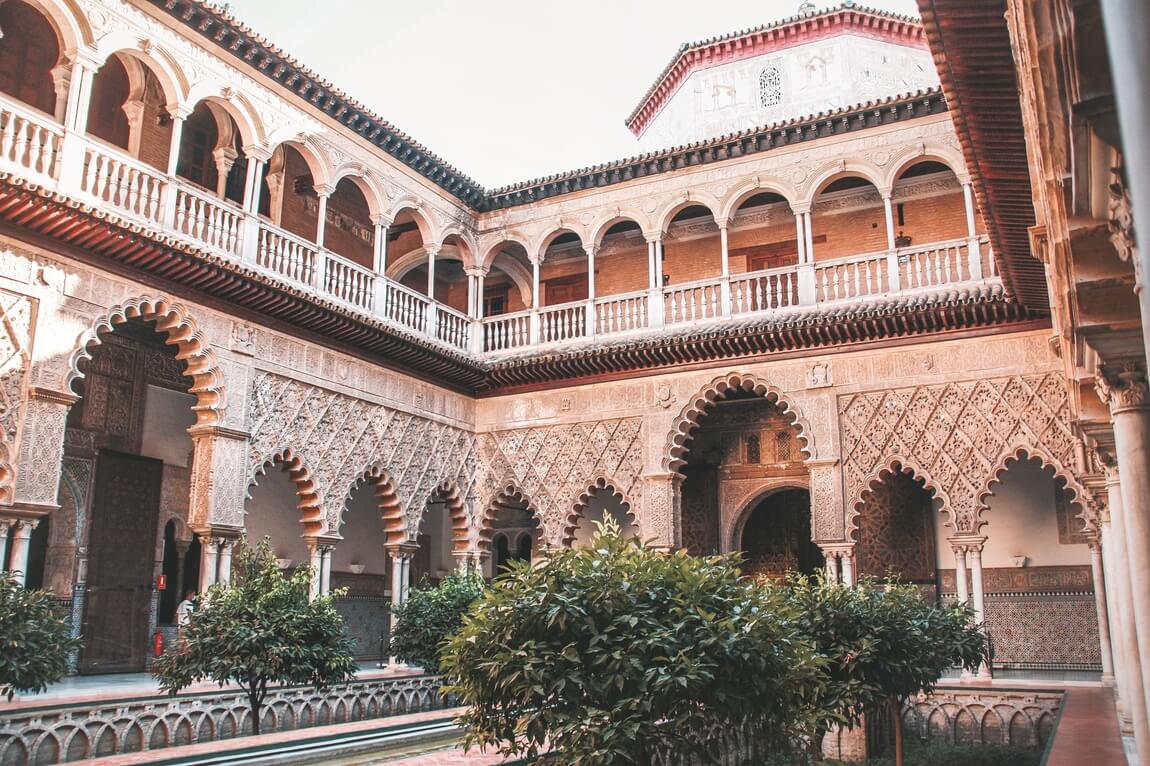 📝 USEFUL INFORMATION: The opening hours of the Royal Alcázar vary depending on the time of year. From 29 October to 31 March, it is open every day from 9.30 am to 5 pm and from 9.30 am to 7 pm the rest of the year. The most basic ticket costs 13,5€ and can be bought online here.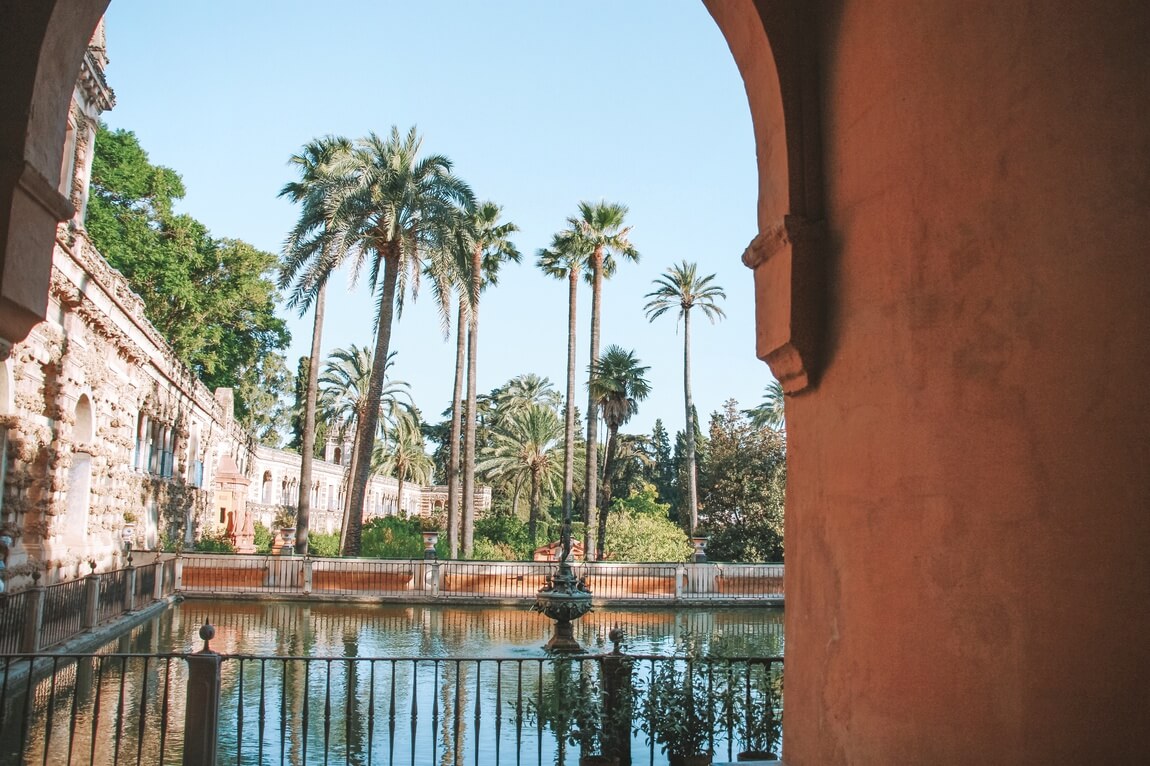 The queues tend to be quite long, so I definitely recommend buying the ticket in advance. In addition, I suggest you visit as late in the afternoon as possible to try your best to avoid the crowds throughout the day.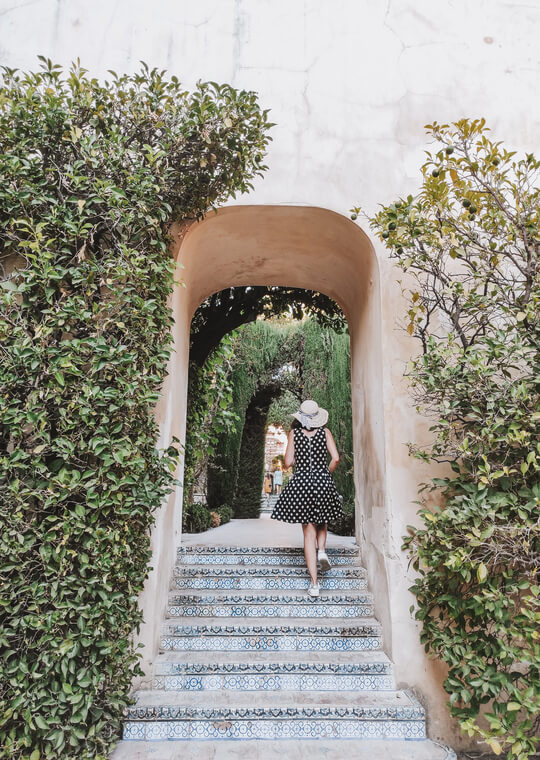 » Santa Cruz District
The Santa Cruz District is one of those places where you get lost in narrow streets and alleys. The walls of its streets and houses tell us the stories of this former Jewish quarter.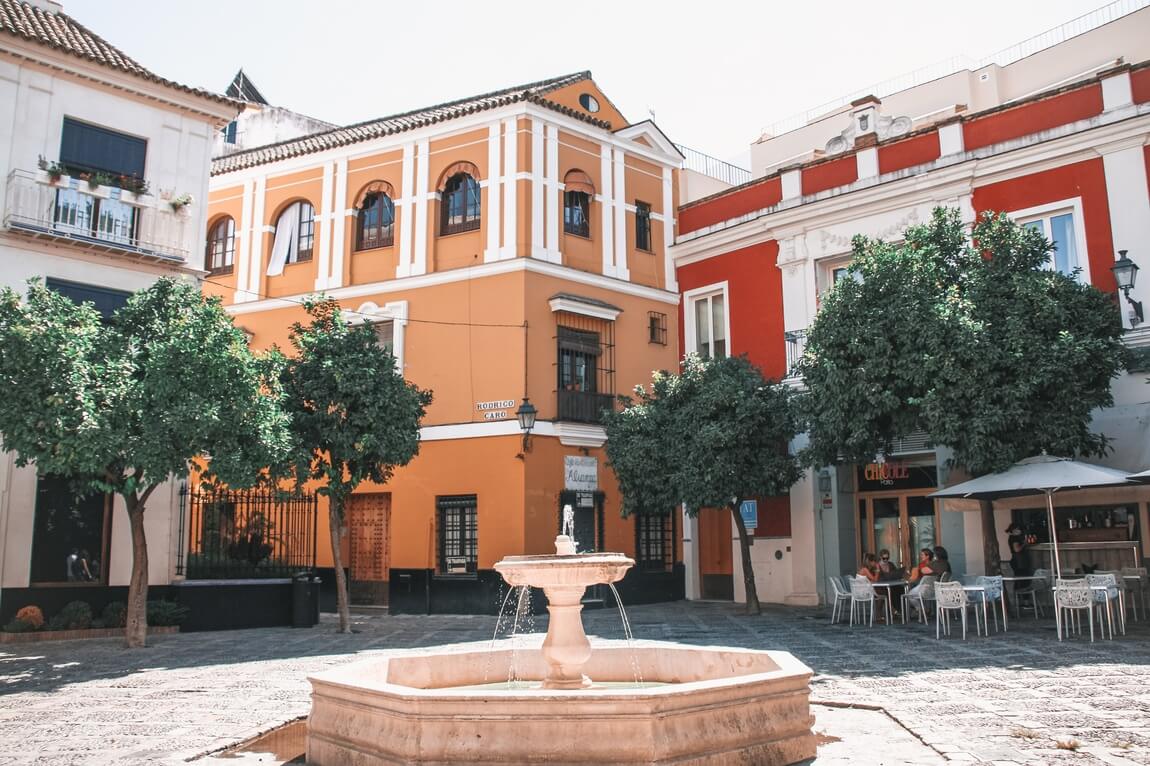 In fact, some of the emblematic sites mentioned above are parts of this neighbourhood, such as the Royal Alcázar or the Seville Cathedral. Here we also find two more pleasant green spaces to visit in Seville – Murillo Gardens and Paseo Catalina de Ribera.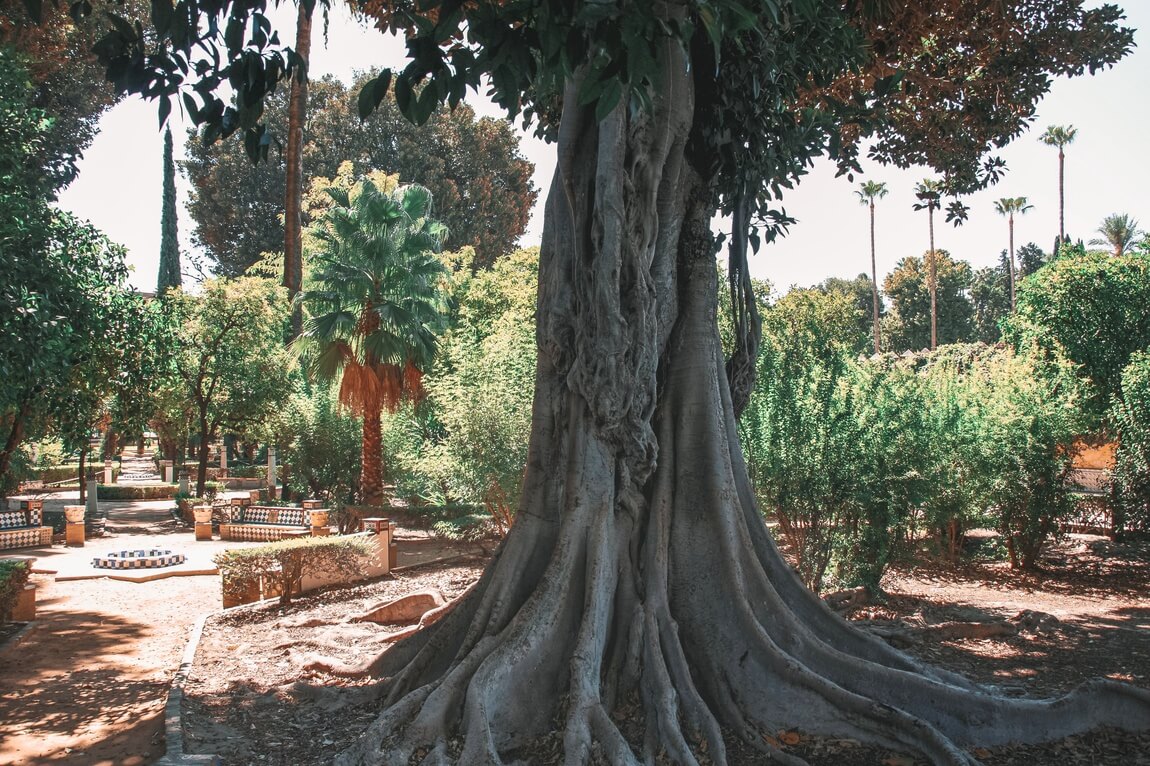 Other must-sees in this neighbourhood include:
Calle Agua
Plaza de la Santa Cruz
Plaza Alfaro
But, being totally honest, the most enjoyable part of visiting this neighbourhood is walking through its narrow streets without any destination in mind 😉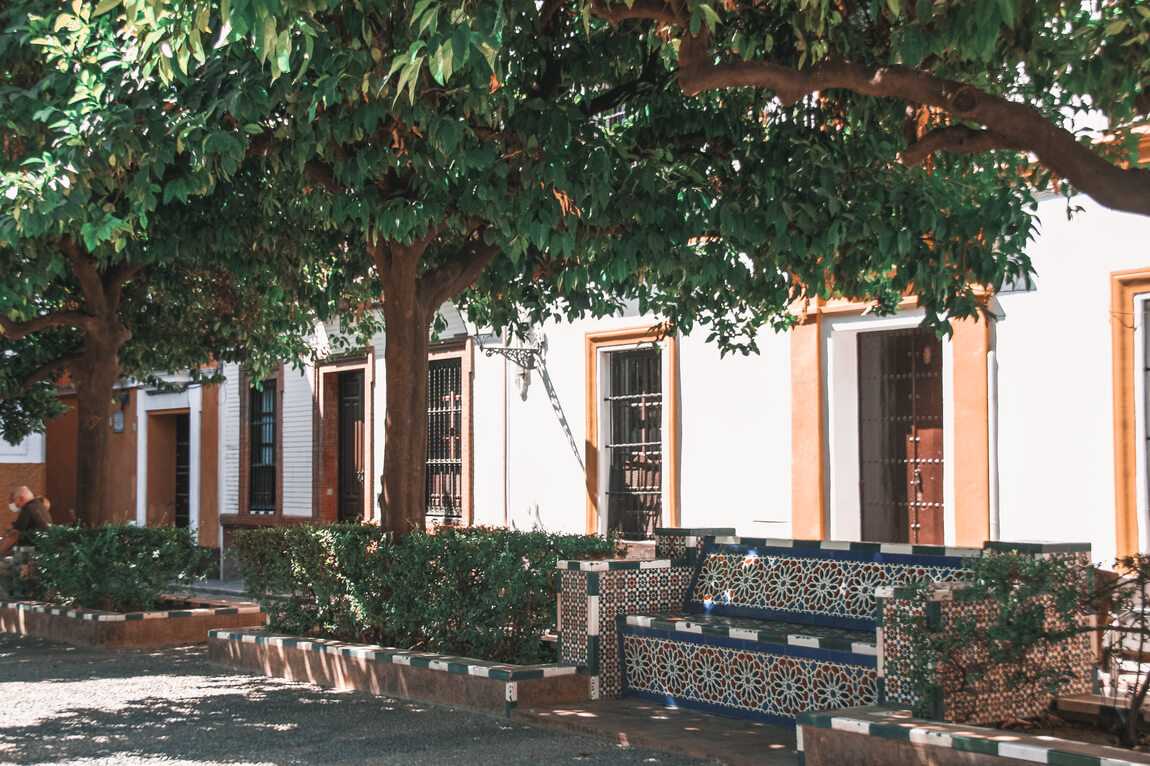 If you are more curious about the history of the Santa Cruz neighbourhood, you can always take the opportunity to visit the Seville Jewish Interpretation Centre.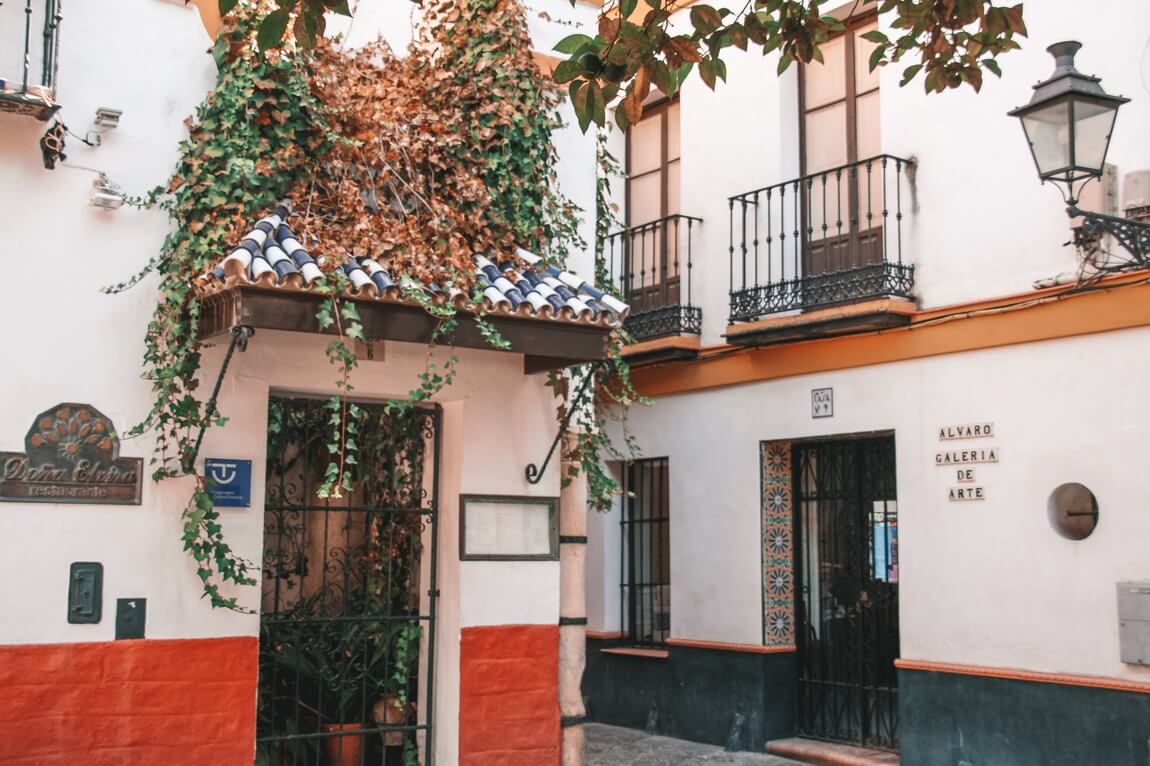 » Pilatos House
If you have a little extra time on your visit to Seville, I recommend a visit to Pilatos House – a palace built in the 15th century that combines Mudéjar, Renaissance and Gothic styles. Unfortunately, I didn't get a chance to visit it, but on my next visit, it certainly won't escape me!
📝 USEFUL INFORMATION: Entry to visit Pilatos House costs 15€ (10€ if you only visit the ground floor). The monument is open from 9 am to 6 pm.
» San Ildefonso Church
Built between the late 18th and 19th centuries, the Church of San Ildefonso is probably one of the most beautiful churches in Seville. It wasn't even on the itinerary initially, but it was so close to my accommodation that I ended up stopping by every day to admire its beauty.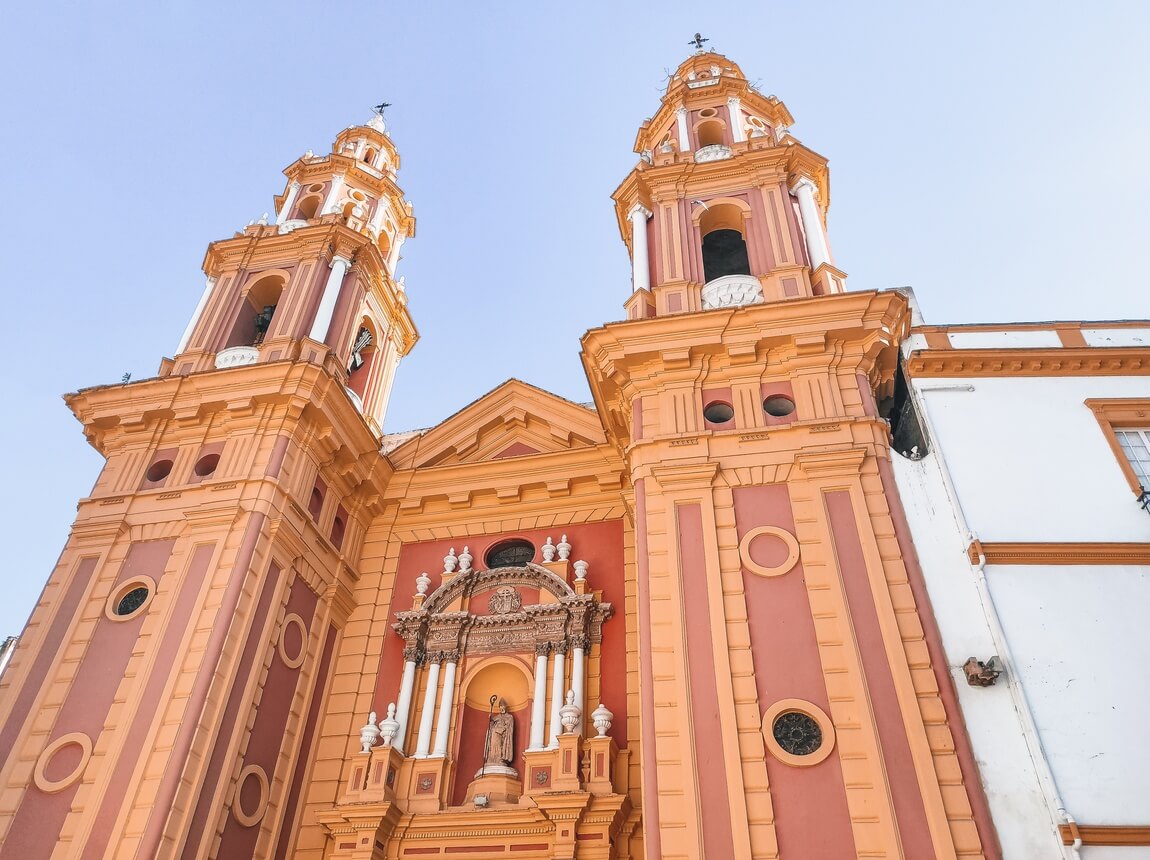 » Museums in Seville
Seville is an amazing city and you can spend days and days wandering around. If you have some more time available, you can also take the opportunity to visit some of the city's museums:
Seville Museum of Fine Arts
Seville Archaeological Museum
Andalusian Centre for Contemporary Art
Museum of Flamenco Dance
» Flamenco Show
And of course, a visit to Seville is not complete without watching a flamenco show – after all, flamenco was born in this city!
When walking around the city, you will easily come across several billboards and may even be invited to watch a show. Unfortunately, I didn't attend any flamenco shows, so I don't have any recommendations for you, but you can check out some of the flamenco experiences available:
And finally, if you're more adventurous, you can always take a trip to Isla Mágica – one of the biggest theme parks in Spain 😉
Restaurants in Seville
My stay in Seville was relatively short, but I still have two recommendations for you:
El Paseillo (€€): it has a pleasant terrace where you can enjoy tasty tapas
Bar Catedral (€€€): perfect place to have a drink after a day of sightseeing, but also for a comforting meal. I tried the paella and was very pleased! The price was nice, and the portion was well served.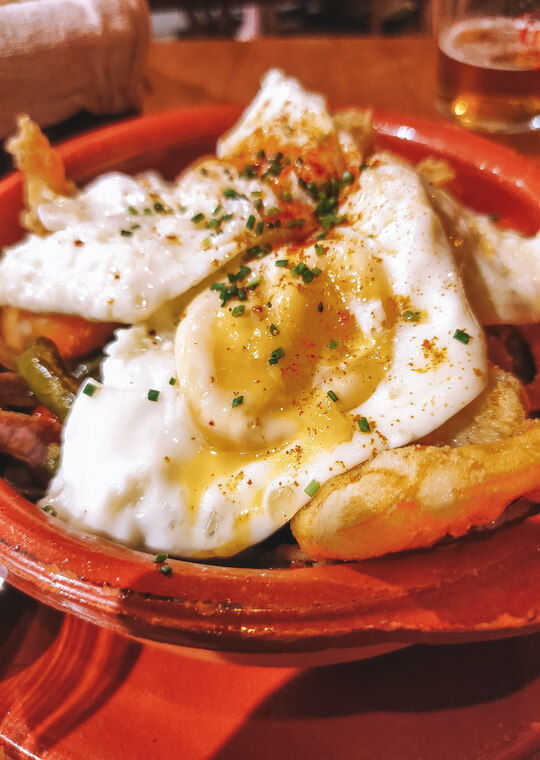 Disclaimer: this post may contain some affiliate links, which means I get a small commission if you buy something through my links. This doesn't represent any additional cost to you and you'll be supporting my work here on the blog😊