The Spanish capital represents everything I love about Spain: the beautiful buildings, the squares full of people whenever the weather allows. A liveliness and spirit that is hard to replicate elsewhere.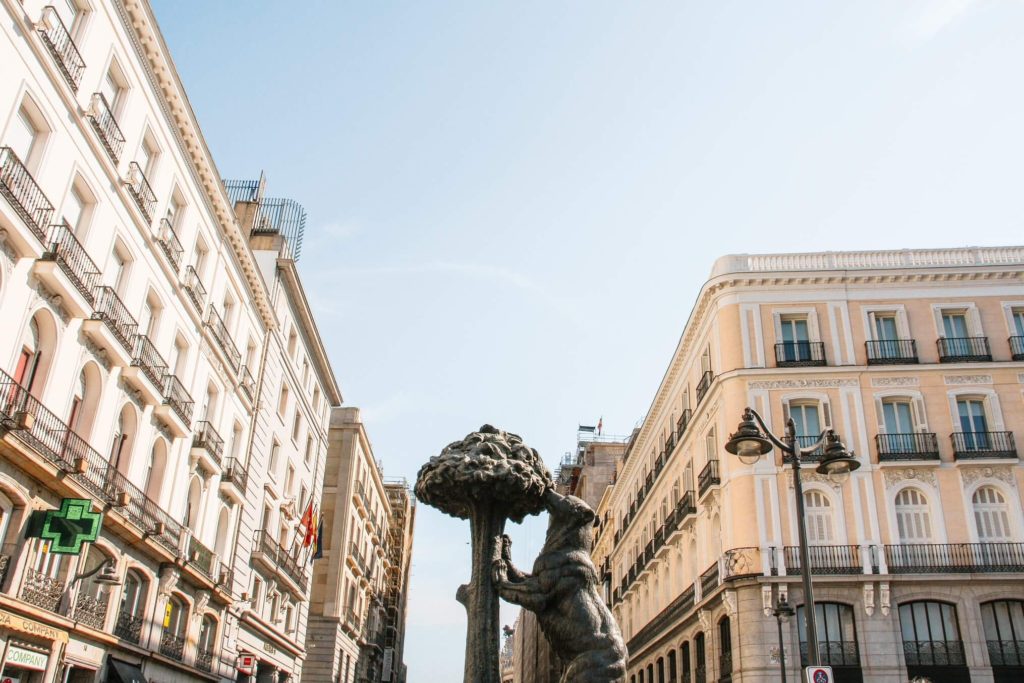 I've already had the opportunity to visit Madrid 3 times and I feel many more trips will come! The truth is that Madrid is always a good idea 😍. So, in this blog post, you'll find out the perfect Madrid in 3 days itinerary.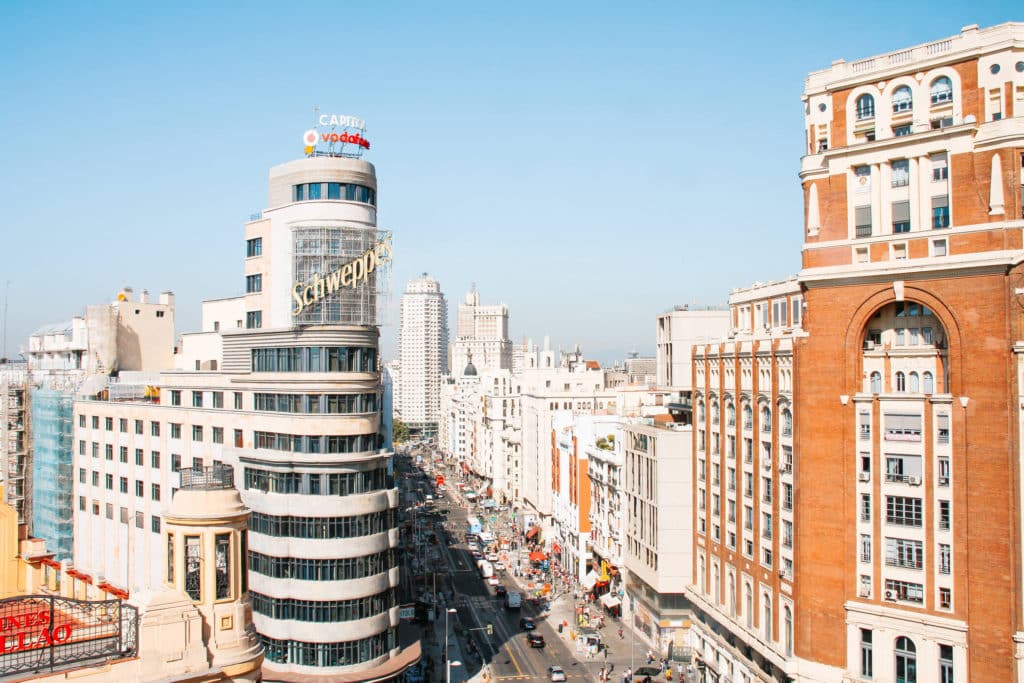 However, since I know that Madrid is often chosen as a weekend getaway, you can also find an alternative version of a 2-day Madrid itinerary at the end of this post.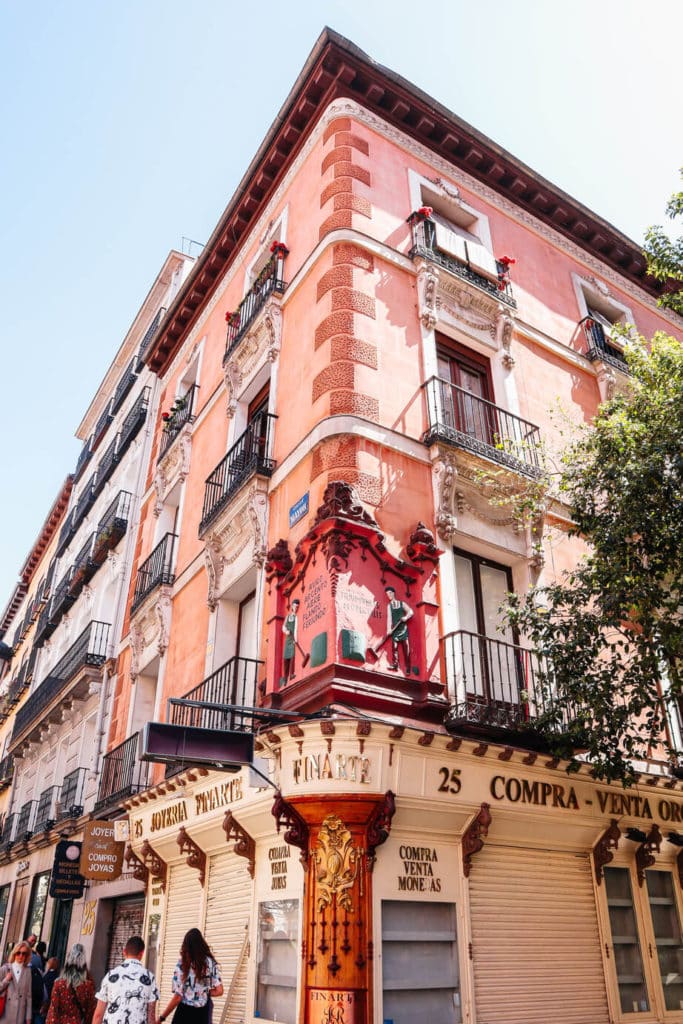 Throughout the blog post, in addition to tips on what to visit in Madrid, you will find advice on what is the best time to go to Madrid, tips on public transport in the city, how many days to spend in Madrid and suggestions for accommodation, and restaurants, among others.
What is the best time of year to visit Madrid?
While it is always a good idea to visit Madrid, there are some months when Madrid is a bit more welcoming. Located in central Spain, Madrid has some extreme weather: cold winters (where it sometimes even snows) and quite warm summers.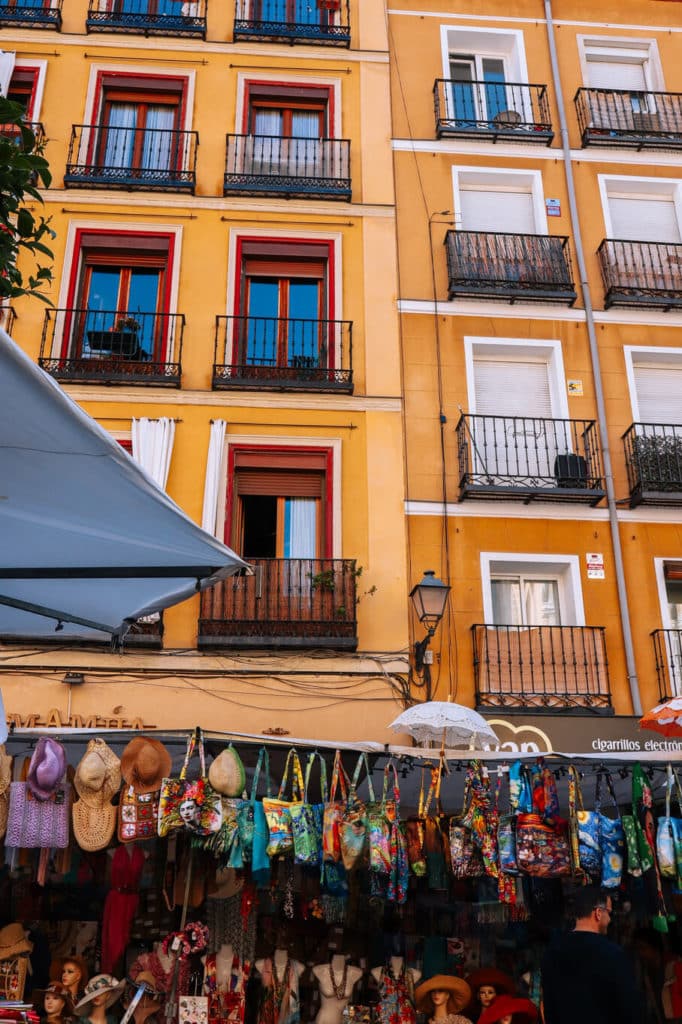 So, I suggest you try visiting Madrid during the months with milder temperatures, such as the spring months (April to June) or late summer/early autumn (September and October).
💡 EXTRA TIP: For example, I visited Madrid in June and October and the temperatures were quite warm.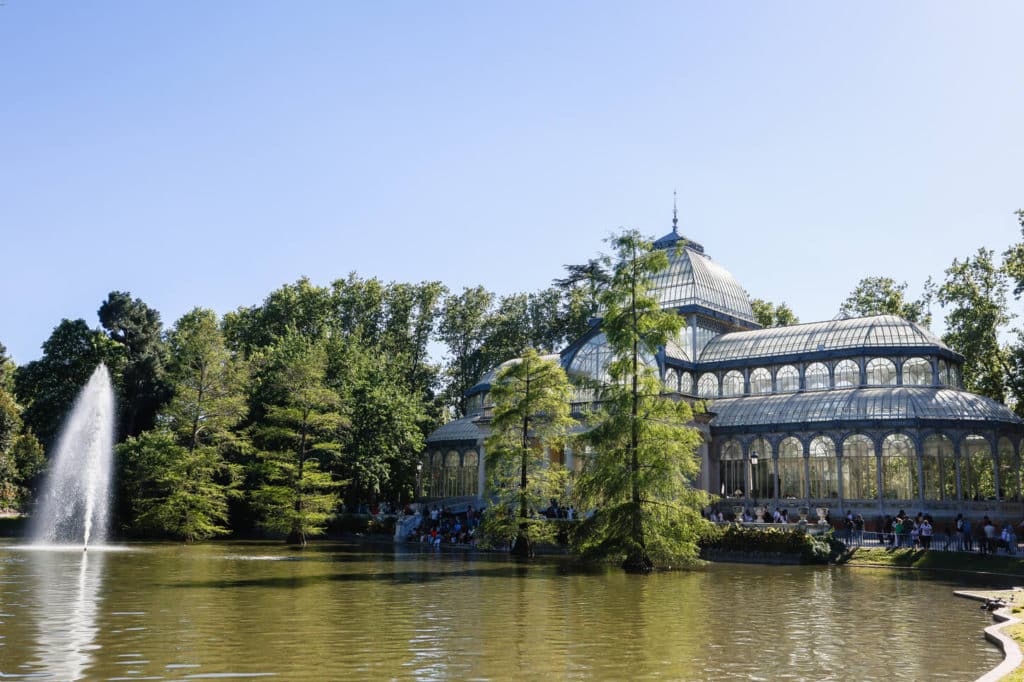 Alternatively, and if you are a fan of these kinds of events, also consider planning your Madrid itinerary to include some of Madrid's main festivities:
Dia de Los Reyes (January)
Carnival (February)
Holy Week (March/April)
Dos de Mayo (May 2nd): Madrid's independence celebration after the French occupation
San Isidro Festivity (May): patron saint's festivities
San Juan Festivity (June 23rd)
Inmaculada Concepción Festivity (December 8th)
Christmas Markets (November/December)
How many days do you need in Madrid?
Madrid is a relatively compact city, but deciding how many days you should spend in Madrid can vary depending on what each traveller is looking for. Madrid has so much to visit that we could easily spend a week exploring the city 😉.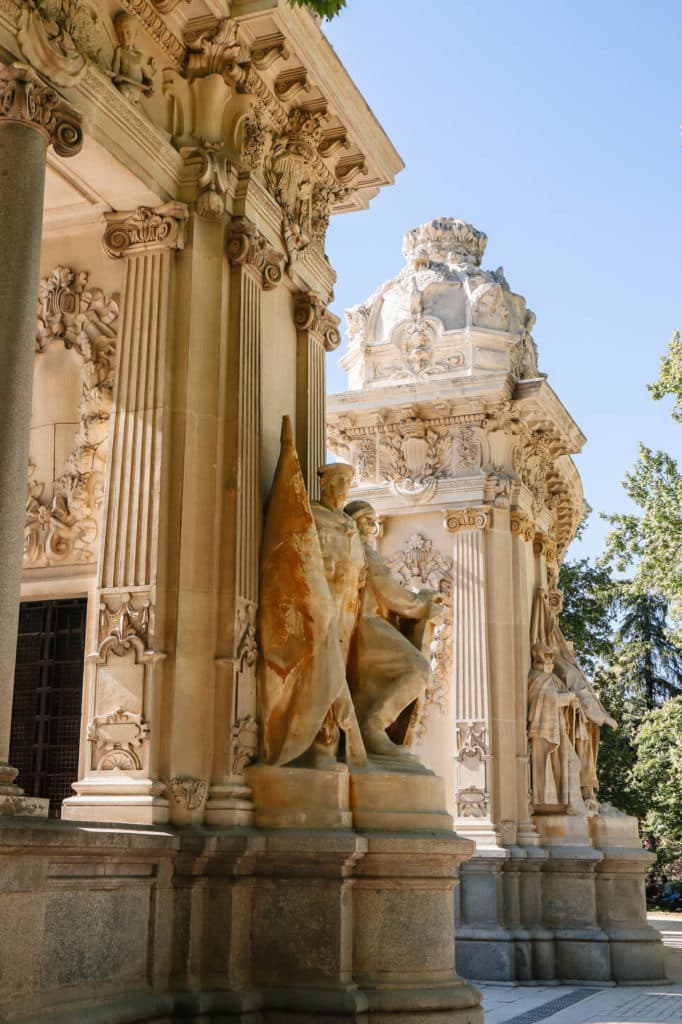 However, probably most people who visit the city, are looking to visit the main tourist attractions in Madrid, and so 2 to 3 days is the ideal length for a visit to Madrid.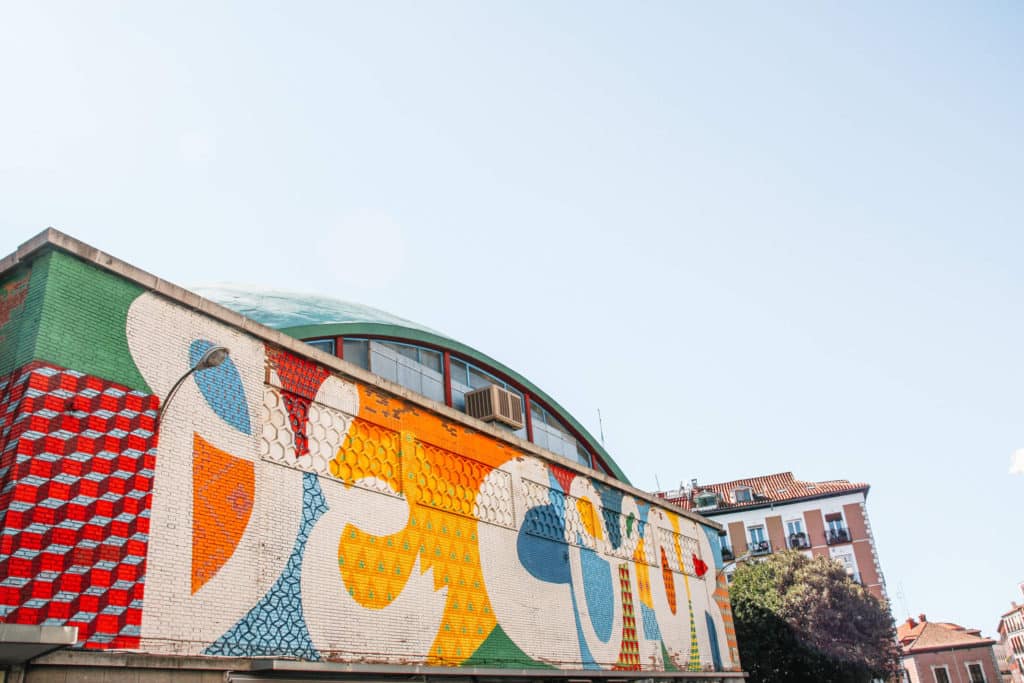 Although it is possible to visit Madrid's main sights in 2 days, I recommend that you extend your stay to 3 days in the city. You'll be able to visit everything in a more relaxed way and add one or two less obvious things to do in Madrid to your itinerary. And so, in this post, you can find both versions: 2 days itinerary or 3 days itinerary in Madrid.
How to get to Madrid?
As the capital of Spain, Madrid has hundreds of flight connections to many European cities (many of them operated by low-cost airlines). In addition, Madrid has excellent connections (many direct) with many different cities in America and especially South America.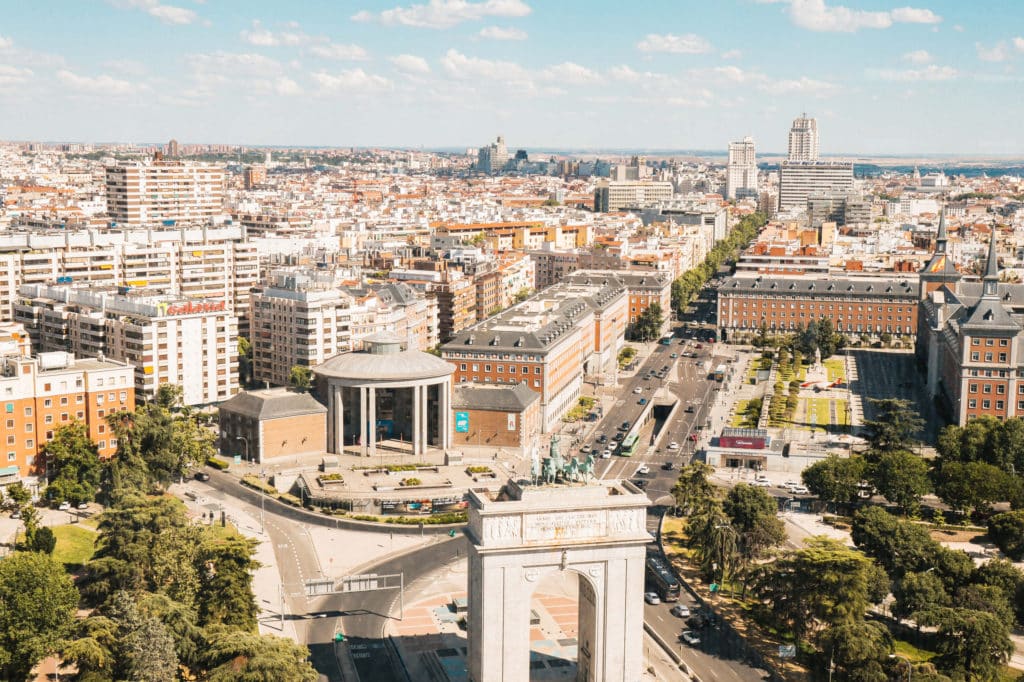 So, I am sure you won't have any trouble finding flights to the Spanish capital.
💡 EXTRA TIP: Madrid's airport is huge, so I recommend that you take that into consideration. This is especially important when returning from Madrid. There are several terminals, and you should be sure which one your flight leaves from to avoid unexpected delays.
How to get from Madrid airport to Madrid city center?
Madrid's airport (Adolfo Suárez Madrid-Barajas) is located about 15-20 km from the city centre, and there are several options for getting to the city centre.
Metro
One of the most practical and simplest options to reach the city centre is by metro. Line 8 of the Madrid Metro connects all the airport terminals (T1, T2 and T3 at one station and T4 at another station), with the city centre.
Taking the subway, just head in the direction of Nuevos Ministerios, which is also the last available subway station on this line. The trip takes about 20 minutes (terminals 1 to 3) or 30 minutes (terminal 4).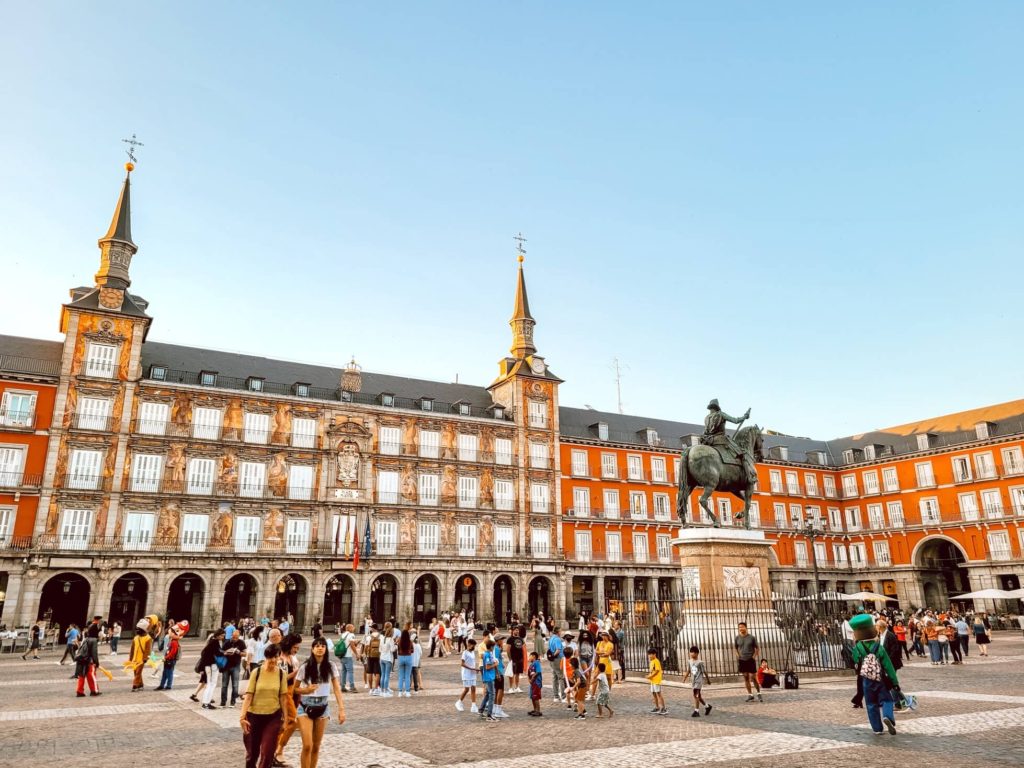 However, you will probably need to change to another line that will bring you closer to your accommodation or the first place you want to visit in Madrid, for example. The metro is fairly simple to use, so you'll be just fine!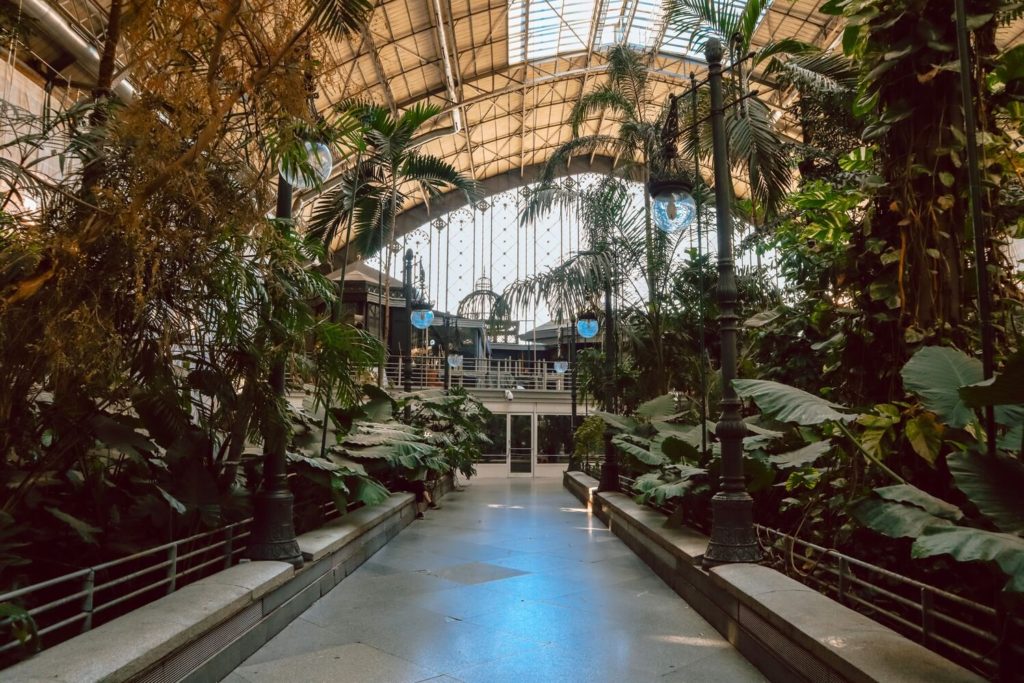 Metro tickets can be purchased from the machines available at the airport metro station. In addition to the price of the trip to the final destination (1,5€ to 2€ depending on the destination), you must pay 3€ for the airport supplement. You should also buy the travel card that costs 2,5€. The airport supplement is only valid for the day it is purchased.
💡 EXTRA TIP: If you are travelling with someone, the same travel card can be used by more than one person for the entire trip. This allows you to save because you can purchase one card and use it for more than one person. In addition, you can always keep the card in case you return to Madrid, as it is valid for 10 years.
Bus
Alternatively, there is also an Express Bus (line 203) that connects Atocha station with the metro in about 40 minutes. Buses leave every 15–20 minutes during the day and every 35 minutes at night and run continuously. A one-way ticket costs 5€.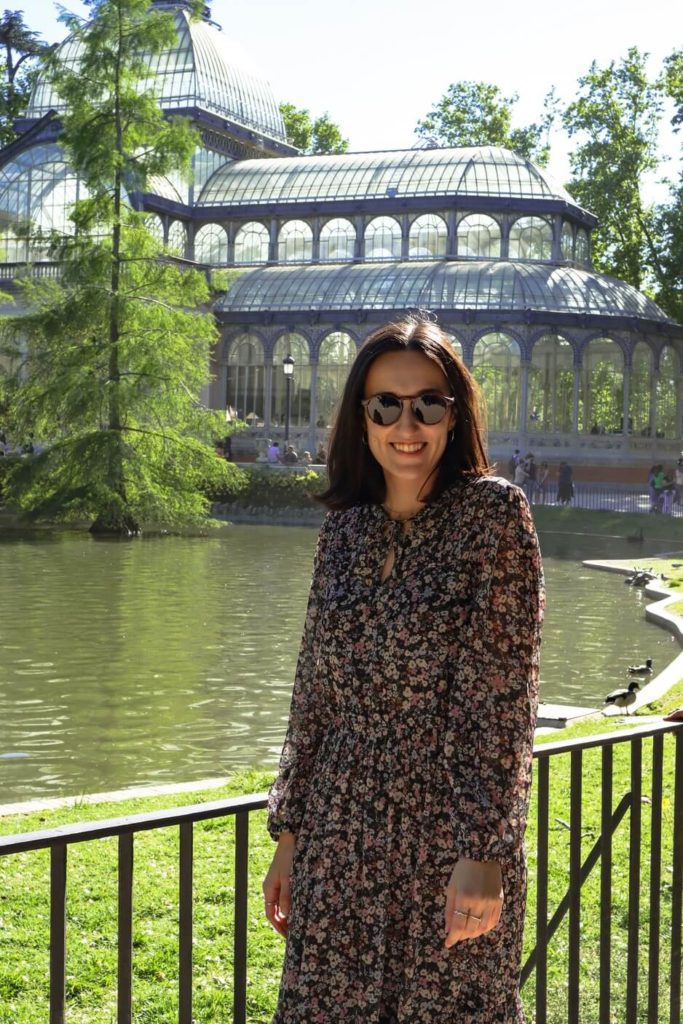 There are other, cheaper buses that offer this service:
Line 101: connects terminals 1, 2, and 3 to the Canillejas transport terminal. Buses leave every 13–16 minutes and run from 6 am to 11:25 pm (or 7:30 am to 11:25 pm on Sundays and holidays). The price of one trip is 1,5€.
Line 200: serves all terminals and has Avenida de América transport terminal as its final station. The ticket also costs 1,5€. The bus runs from 5 am to 11 pm from Monday to Saturday with a frequency of 12 to 15 minutes.
📝 USEFUL INFORMATION: I suggest checking the most up-to-date bus information here.
Taxi or private transfer
If you prefer to travel in a more comfortable way, no doubt that opting for a taxi or a private transfer is the best option. If you choose the transfer option, I suggest the services of Welcome Pickups (costs about 30€ and 40€).
💼 TRAVEL INSURANCE: If you want to feel safe while travelling, then you should definitely look into purchasing some travel insurance. Having insurance will help you with any health-related emergencies as well as with other events, such as theft, loss or delay of luggage, eventual need to cancel your trip and much more. In my case, I always use IATI Insurances, which has one of the best price-quality ratios in the market and a 100% online service that is very easy to use. Book here your travel insurance and enjoy a 5% discount for being readers of the blog. Don't forget that the purchase must be made using this link.
What is the best way of visiting Madrid?
Although many of the city's points of interest are relatively close to each other, it can make sense to use the public transport available in Madrid.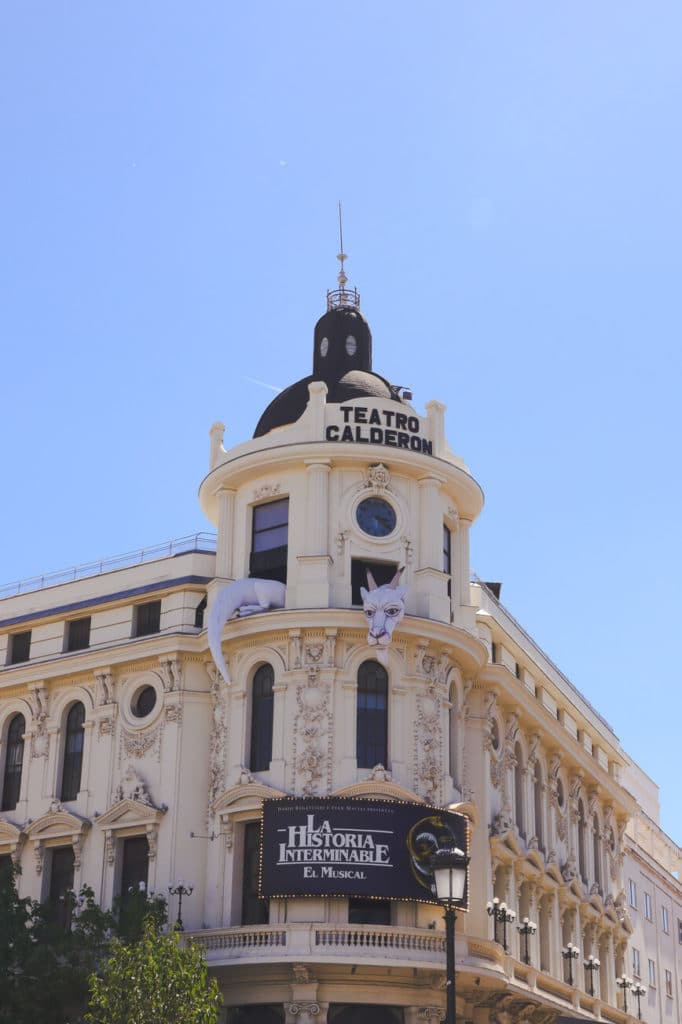 The metro network has incredible coverage throughout the city and is very simple to use. Each metro ride costs between 1,5€ and 3€ (depending on the region you are visiting). However, if you plan to use the metro several times, there are two options that might be better:
10 trips: 12,2€ (areas closest to the centre of Madrid) or 18,3€ (for those wishing to travel in the entire Madrid metropolitan area)
Tourist pass: between 8,4€ for 1 day or 35,4€ for 7 days
📝 USEFUL INFORMATION: I suggest you check the updated metro price list on the official Madrid metro website.
Accommodation in Madrid
On my last visit to Madrid, I really liked the accommodation I chose. I stayed at Hostal Castilla Puerta del Sol. The location was one of the most central possible (about 2 minutes walk from Puerta del Sol!)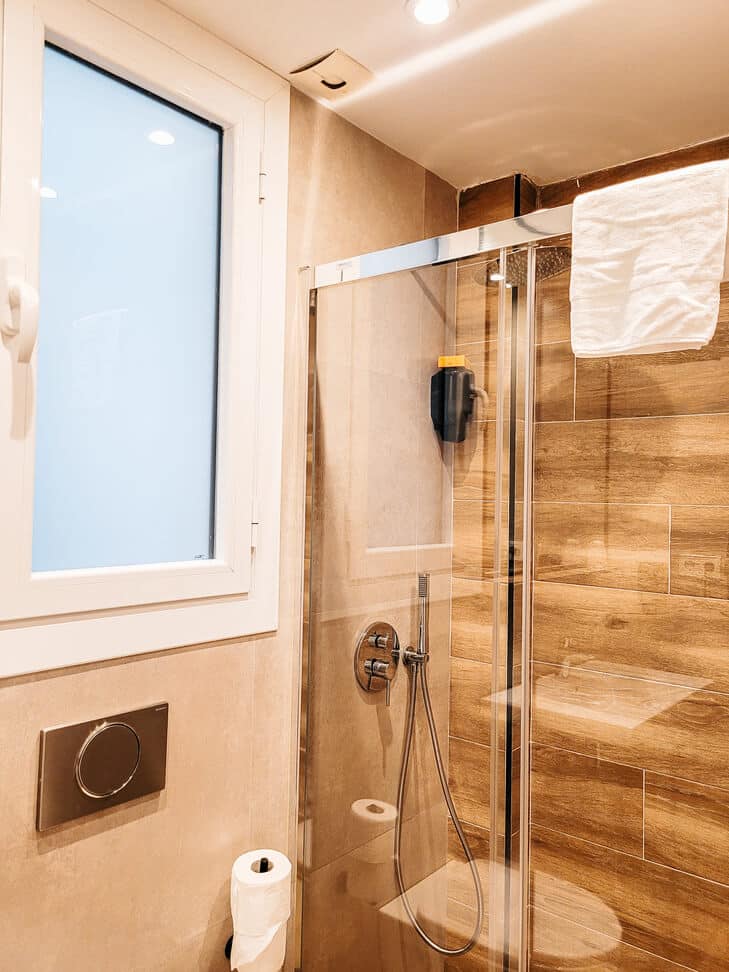 Although the rooms are located in an old building, the facilities have been recently refurbished and were in quite a good condition. In addition, the value for money is quite good.
However, there are other accommodation options available in Madrid: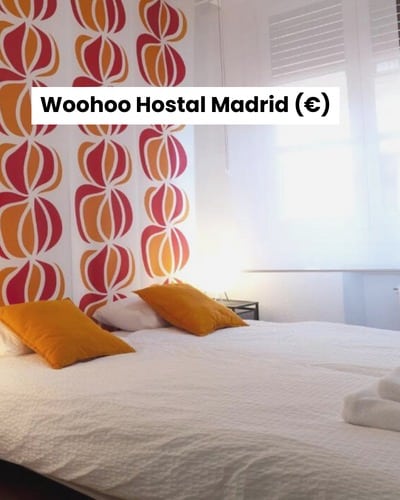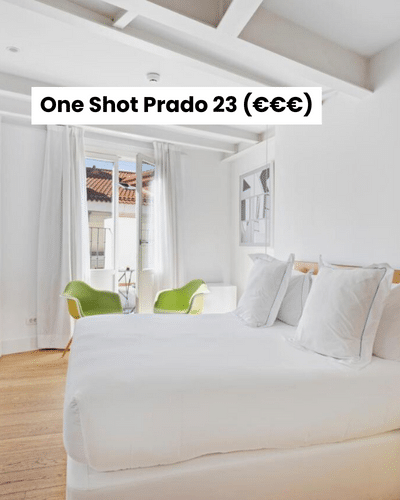 Activities & tours in Madrid
Madrid in 3 days – Itinerary
Before starting this 3 days Madrid's itinerary, I'll share a Madrid map with the main points of interest in the city so you know what to do in Madrid in 3 days.
Madrid Itinerary – Day 1
» Chamberí Metro Station (Andén 0)
Andén 0 is a project of Madrid Metro which gives you the chance to learn a bit more about the history of public transportation in Madrid. Although there are other places to visit (such as a power station), the one I highly recommend is the old Chamberí metro station.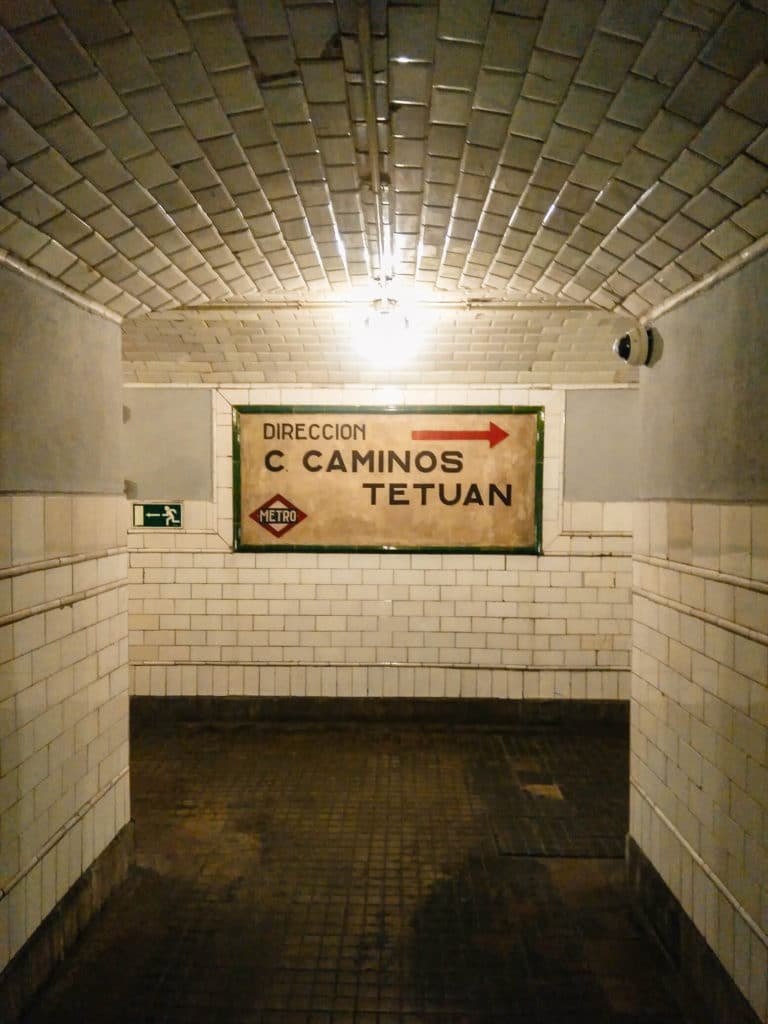 Entering this station is like travelling back in time. This station was part of the first metro line inaugurated in Madrid in 1919 and was in operation until the 1960s. The ads present in the station are still the originals and throughout the visit, we can learn more about the metro system in Madrid.
📝 USEFUL INFORMATION: Visiting the Chamberí station is free, but can only be done by guided tour, which must be booked in advance here.
» Cibeles Square (Plaza de Cibeles)
We continue our 3 days itinerary in Madrid to one of the city's most emblematic places – Plaza de Cibeles. It is, for example, in this square that the people of Madrid celebrate sports victories.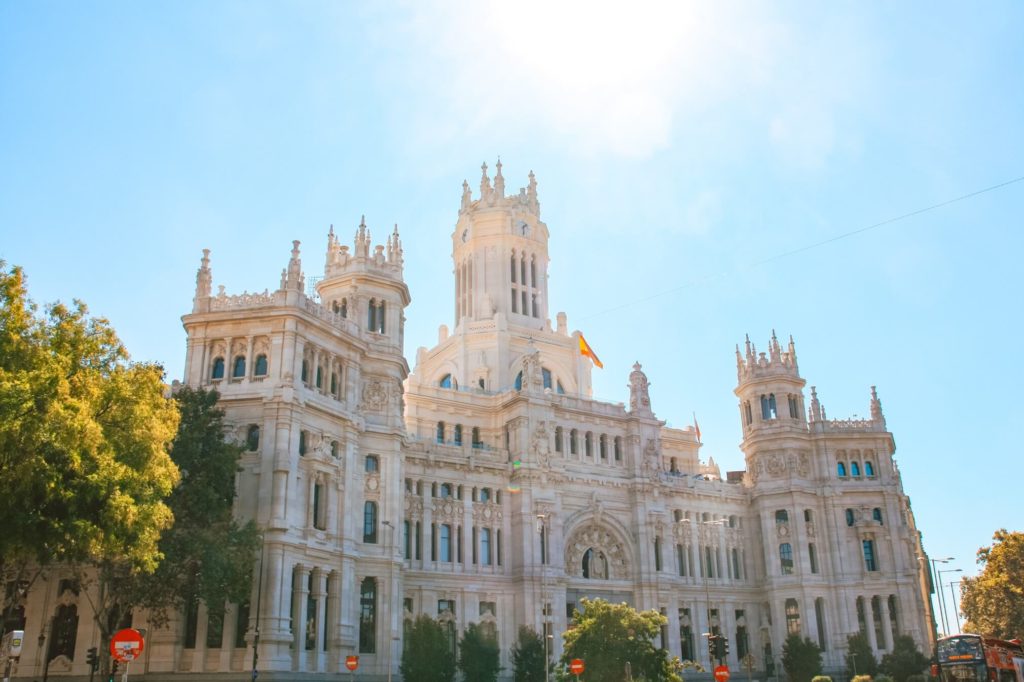 The square boasts impressive buildings that were built between the 18th and early 20th centuries, as well as the Cibeles Fountain, which once supplied water to the locals.
Among the most emblematic buildings are the Cibeles Palace (now Madrid City Hall), the Buenavista Palace, the Bank of Spain (fans of La Casa de Papel, are you there? 🙋‍♀️) and also the Linares Palace.
📝 USEFUL INFORMATION: From the top of the Cibeles Palace, you can get some of the most amazing views over Madrid. In fact, there is a restaurant and bar on the 6th floor of the building. Find out more here.
» Alcalá Gate (Puerta de Alcalá)
We head towards Puerta de Alcalá – one of the five gates providing access to the city. It was inaugurated at the end of the 18th century and was commissioned by Charles III.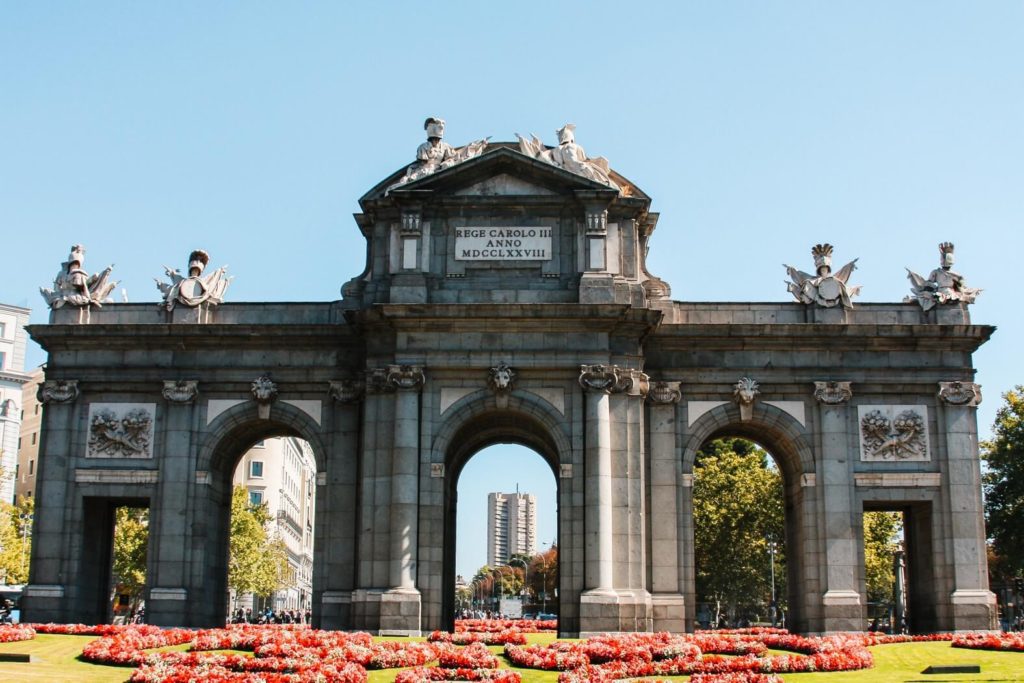 Its name comes from the fact that it is located next to the road that used to go from Madrid to Alcalá de Henares.
» El Retiro Park
Time to visit one of the most photographed places in Madrid 😍! This is the most visited park in Madrid and is as popular with tourists as it is with locals.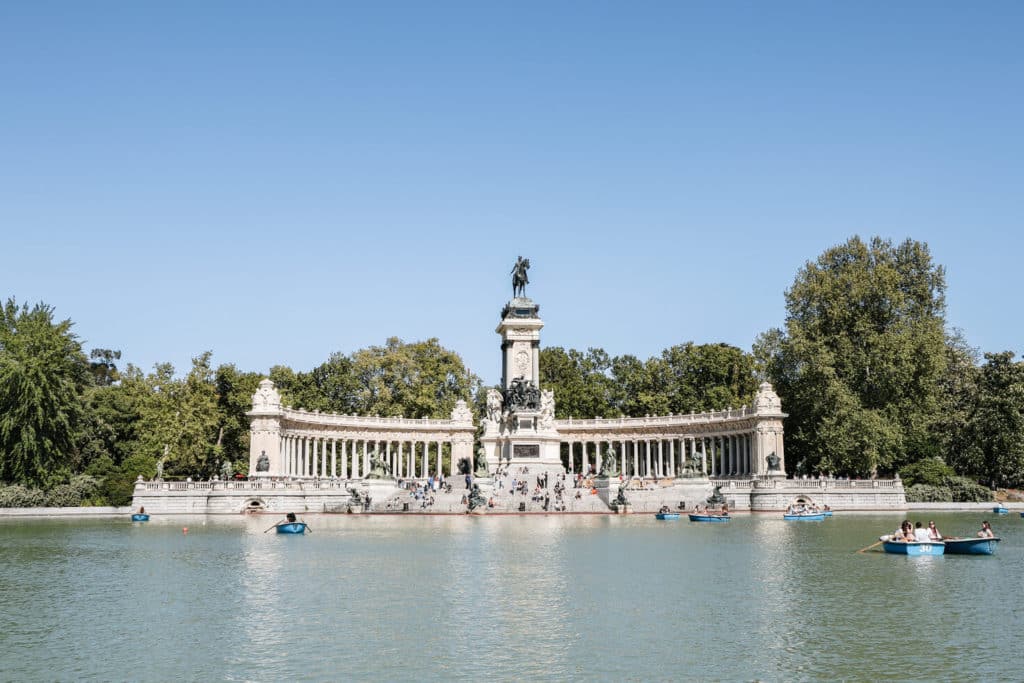 Having about 125 hectares, there are plenty of places to explore at El Retiro Park. However, there are some parts of Retiro Park that are more popular. One of the most emblematic places in Retiro Park is Lago Grande (which translates to Big Lake), where you can hire rowing boats.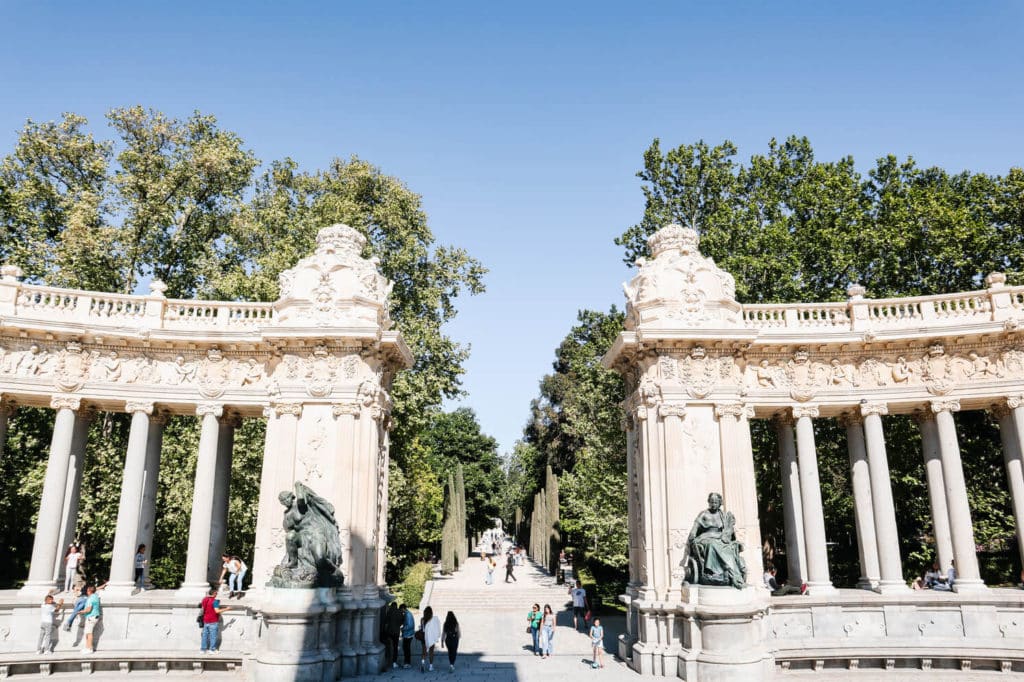 Additionally, another must-visit place in El Retiro Park is Palácio de Cristal (Crystal Palace). This palace was built for an exhibition of exotic plants in 1887 and is still sometimes used as an exhibition hall.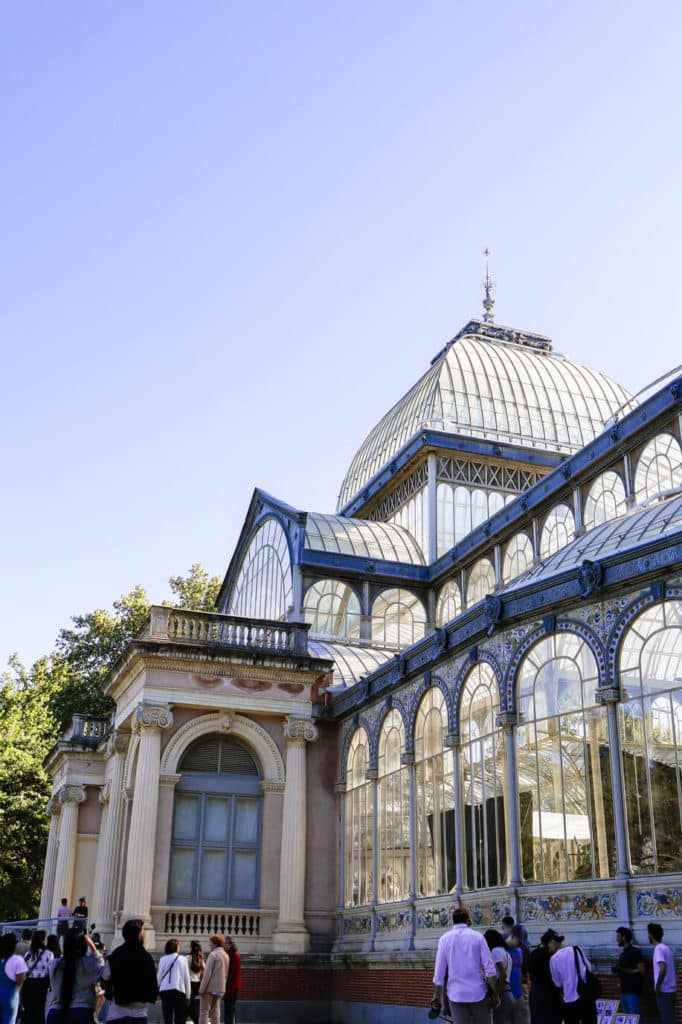 However, although these are the main attractions in El Retiro Park, there are a few more sites that may be interesting to visit:
Casita del Pescador
La Rosaleda
Paseo de la Argentina
📝 USEFUL INFORMATION: El Retiro Park is open from 6 am to 10 pm from October to March and until midnight from April to September.
» Atocha
Relatively close to Retiro park, you can also take the opportunity to visit the Atocha train station. The surroundings of the station are quite quirky, as there is an indoor garden.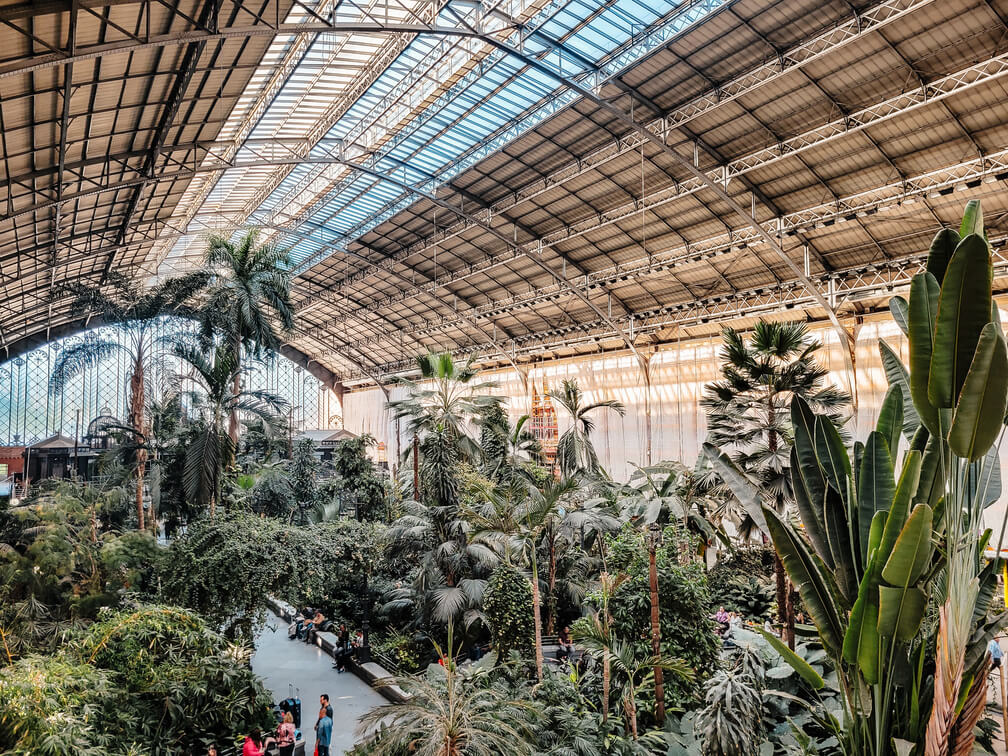 » Prado Museum
The first day of this Madrid itinerary is coming to an end. And I suggest ending the day in one of the most important museums in the city and even the country – the Prado Museum.
Commissioned by Charles III, the Prado Museum houses several art collections, mostly paintings and sculptures. With works by renowned artists such as Francisco Goya, Diego Velázquez, Rubens, Bosch, one of the most famous works in the Prado Museum is Las Meninas by Diego Velázquez.
📝 USEFUL INFORMATION: The Prado Museum is open from 10 am to 8 pm Monday to Saturday and until 7 pm on Sundays and public holidays. The adult ticket costs 15€ (+5€ with audio guide). I suggest you check the most up-to-date information here.
Although this is definitely not my kind of museum, it is impossible not to acknowledge that each painting at the museum is a true work of art. If you'd like to get more out of your visit, you can always opt for a guided tour. This tour, for example, even includes a skip-the-line option, saving you some time when entering the museum.
💡 EXTRA TIP: You can visit the Prado Museum for free from Monday to Saturday from 6 pm to 8 pm and on Sundays and holidays from 5 pm to 7 pm. However, don't be fooled into thinking you're the only one with this precious information 🙃! Expect a pretty big queue to visit the museum at this time. Also, given the size of the museum, it is practically impossible to visit the museum in just two hours. But, for those who are not art fanatics and don't mind a shorter visit, this is an excellent option to save some money on your visit to Madrid.
Madrid Itinerary – Day 2
» Puerta del Sol
Puerta del Sol is definitely one of the best things to visit in Madrid since it's one of the main squares in the city.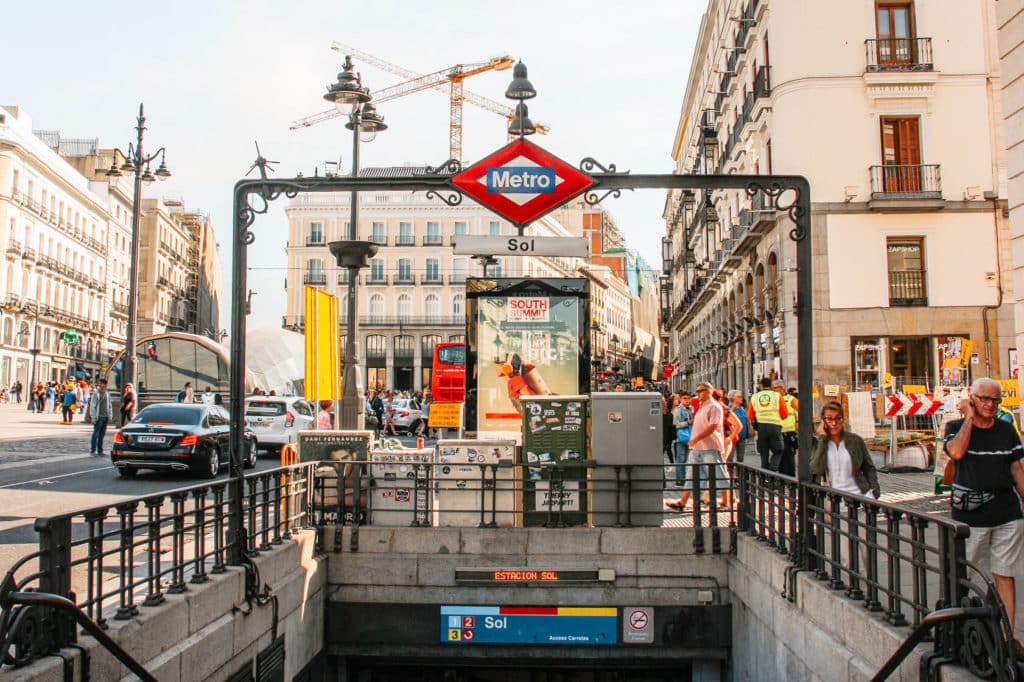 Initially, this was where one of the city's entrance gates existed, and only later (19th century) did the square get the format it has today.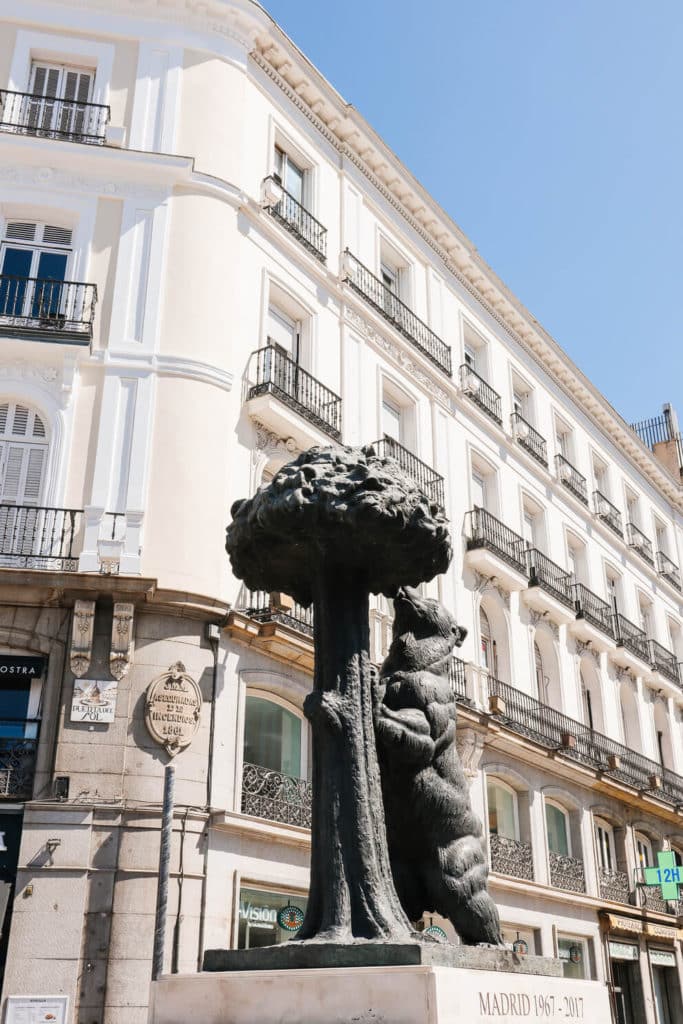 In Puerta del Sol, there are 3 elements that stand out. Firstly, El Oso y el Madroño, which is a statue of a bear and a strawberry tree – the symbol of Madrid.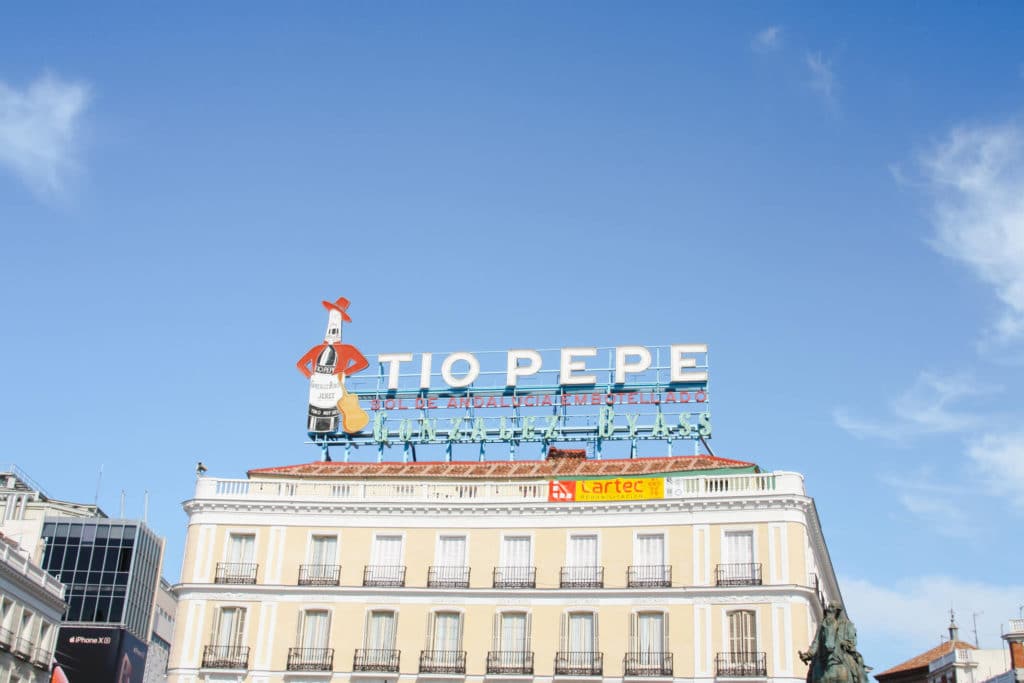 However, there is also the Royal House of the Post Office and Kilometre Zero (a mark on the ground that marks the point from which all distances in Madrid are measured).
» Gran Vía
Surely, even before you start researching what to do in Madrid, you have heard of Gran Vía. This is one of the city's main arteries and where we can find several restaurants/shops and some of the city's most striking buildings.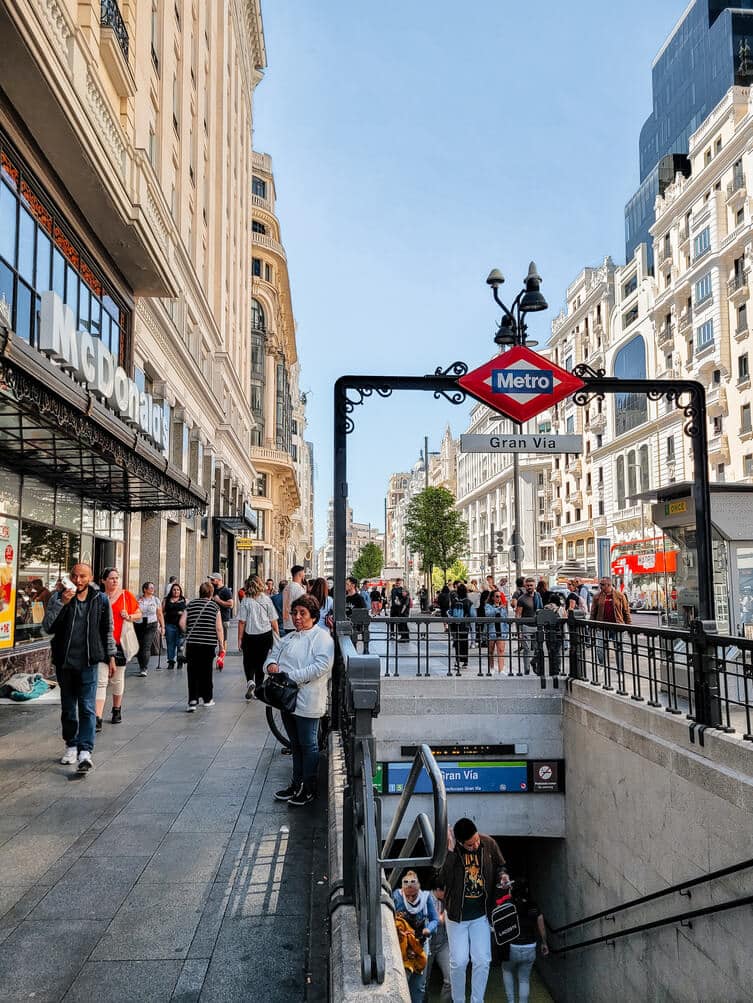 For example, one such building is the Carrion (where the Schweppes advertisement exists).
💡 EXTRA TIP: For the best photos of this iconic street in Madrid, I suggest going up to the top floor of this El Corte Inglês.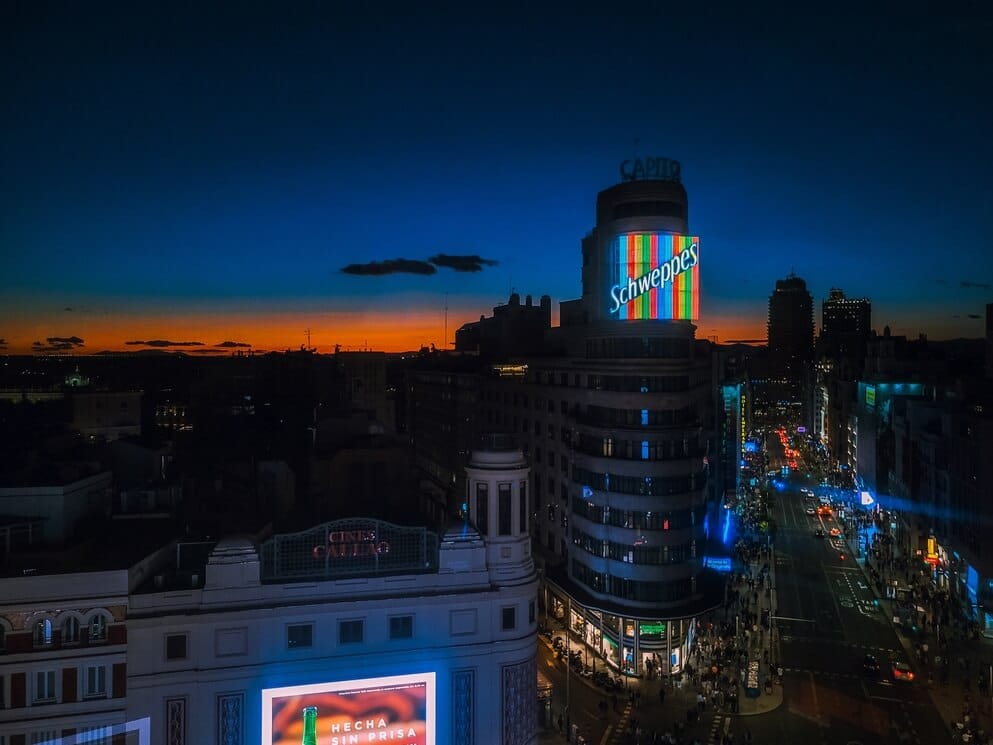 » San Antonio de los Alemanes Church
The next stop on this Madrid itinerary is not one of the best-known in the city, but I promise it's worth it! It is a baroque-style church from the 17th century, where the main attraction are the frescoes on the church walls.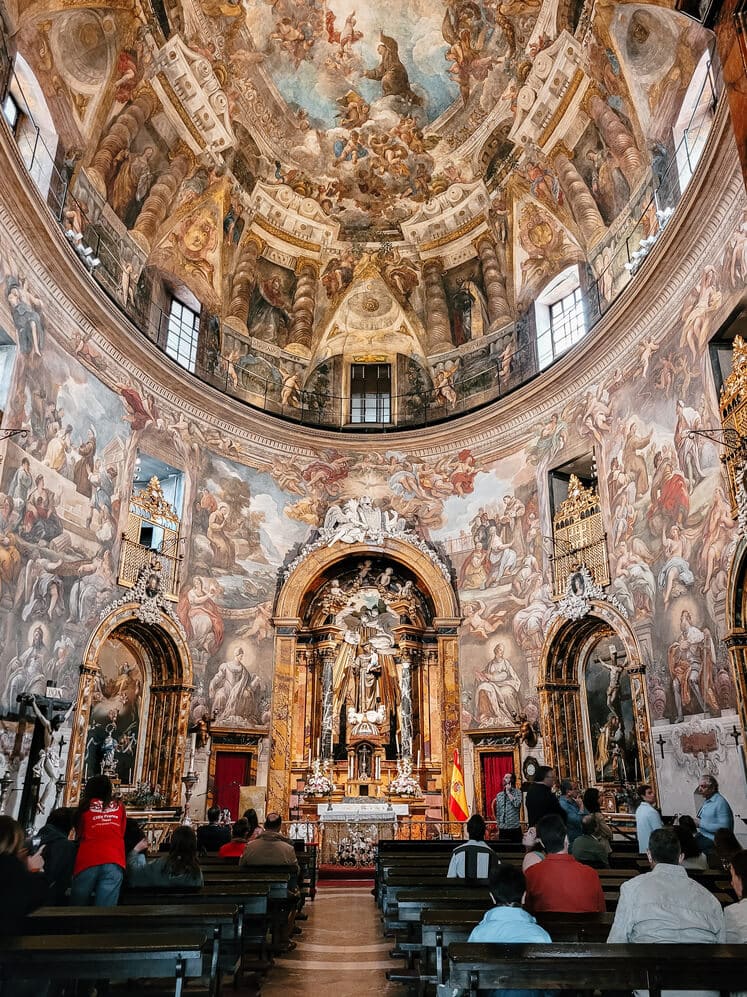 📝 USEFUL INFORMATION: A visit to the church costs 5€. The church is open Monday to Friday from 10 am to 2 pm and 5 pm to 8 pm. On Saturdays, the opening hours start at 10.30 am.
» Plaza Mayor
This Madrid guide continues towards another of Madrid's most spectacular squares. Located in the oldest part of the city, Plaza Mayor is a meeting point for both those who visit the city for a few days and those who live there.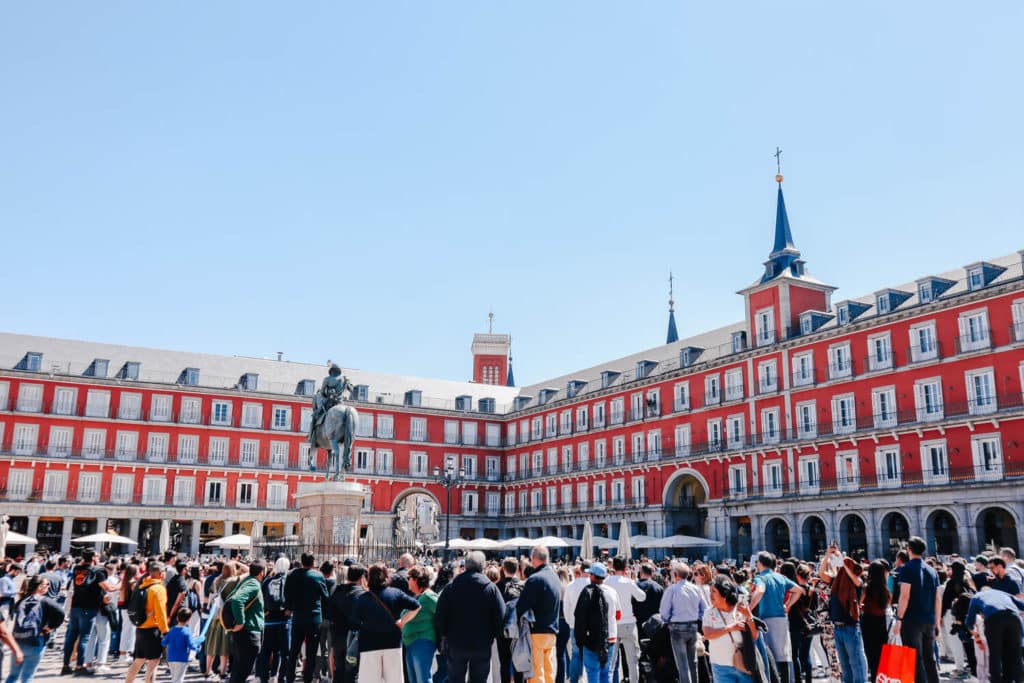 There are several terraces there. It seems like an excellent excuse to rest a bit on this second day in Madrid 😎.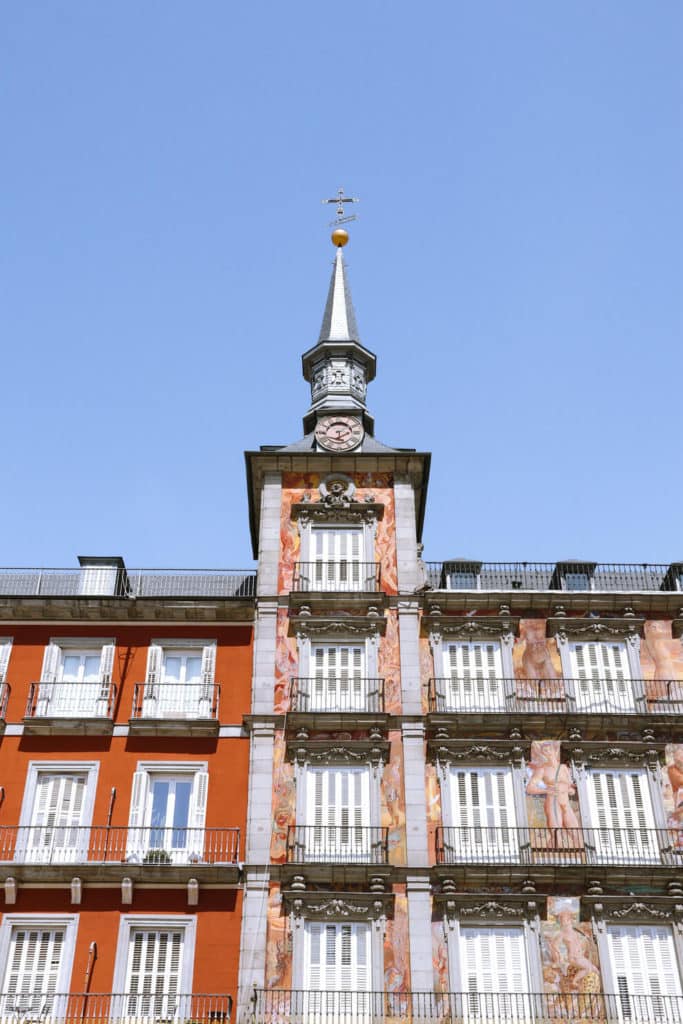 But the square also has beautiful architecture that is worth admiring. The main points of interest in Plaza Mayor include:
Equestrian statue of Philip III
Casa de la Panadería (with one of the most beautiful façades in Madrid)
El Arco de Cuchilleros (the most famous entrance to the city)
💡 EXTRA TIP: If you visit Madrid at Christmas time, this is the square where you will find the Christmas market.
» San Ginés Chocolate Shop
One of the most iconic experiences in Madrid is eating churros with hot chocolate. Sounds like a great idea, doesn't it?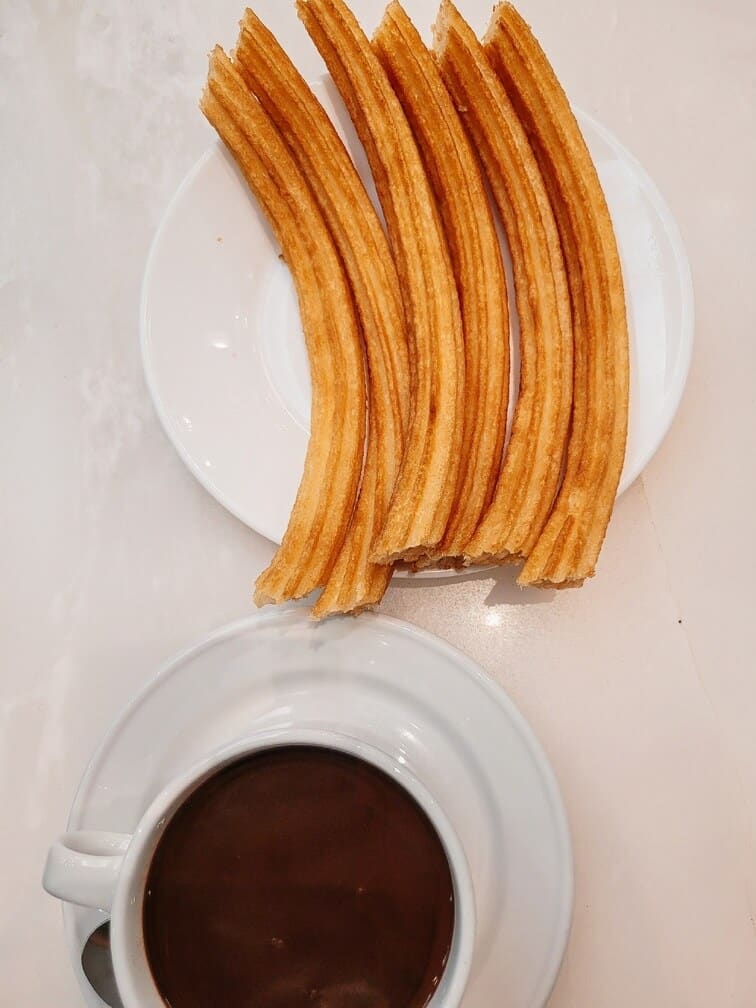 And the most famous place to do this is in one of the oldest chocolate shops in town – Chocolatería San Ginés, founded in 1894. This place is quite popular so it can sometimes queue up, but the service is quite fast!
» San Miguel Market
Spain has markets in several cities that are absolutely unmissable (e.g. Barcelona and Valencia) and of course, Madrid could be no exception.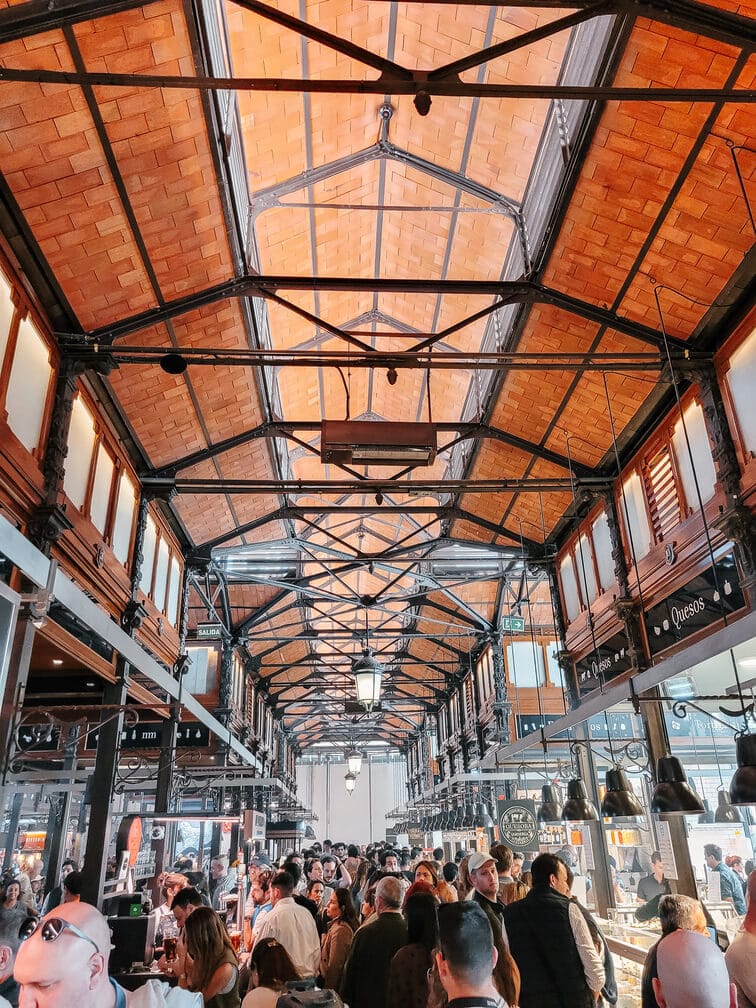 San Miguel Market is a gastronomic icon in the city of Madrid, located in Plaza de San Miguel (San Miguel Square). Although there has been a market here since the early 19th century, it was in 1916 that the San Miguel Market was inaugurated with the iron structure that remains to this day.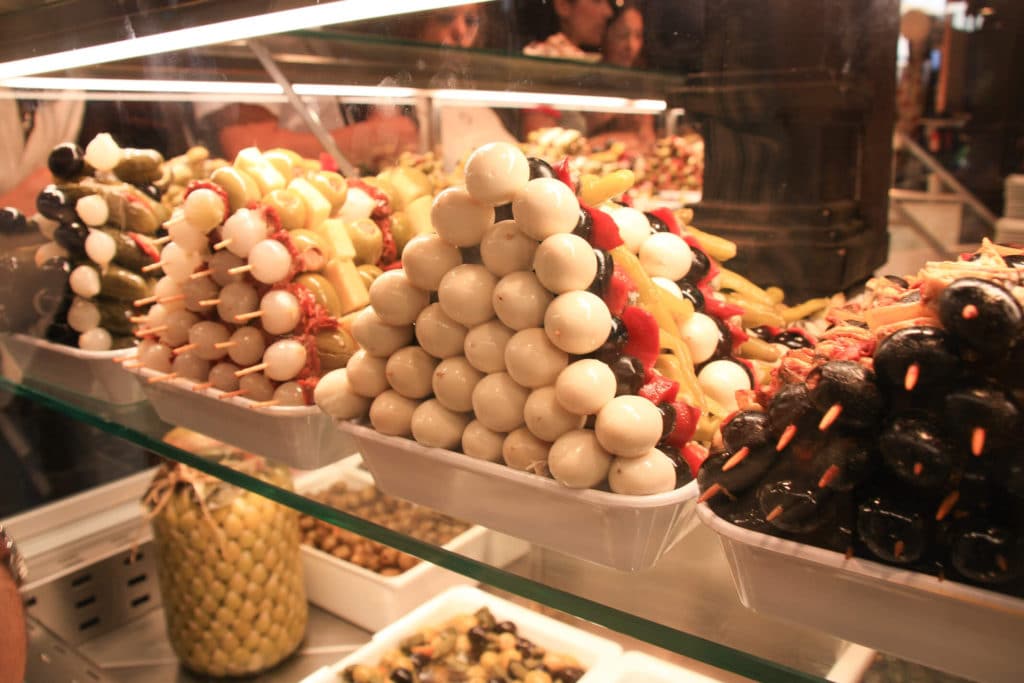 After renovations in 1999, the market was transformed into a place that serves light meals, especially focused on local gastronomy.
💡 EXTRA TIP: Being one of the most popular tourist spots in Madrid, this market is usually very crowded. However, don't let that intimidate you from trying one of the famous olives from the San Miguel Market. I promise it will be worth it!
» La Almudena Cathedral
Another must-do thing in Madrid is visiting the city's most important religious building – La Almudena Cathedral.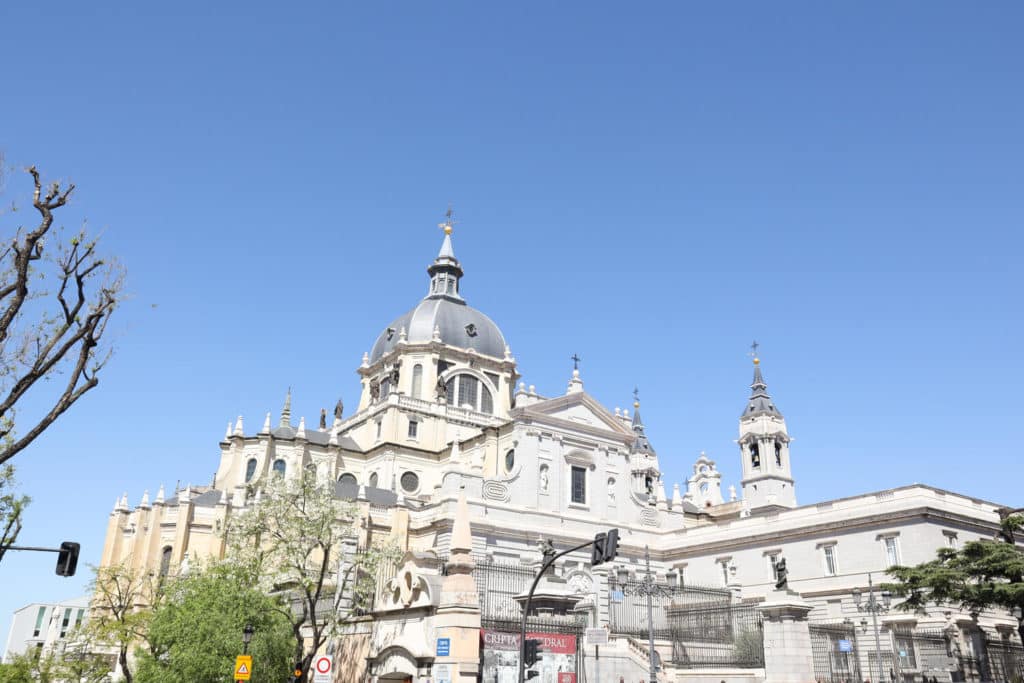 Apart from visiting the inside of the Cathedral, it is also possible to visit a museum about the history of the cathedral or climb the dome for views over the city. The Cathedral's crypt can also be visited.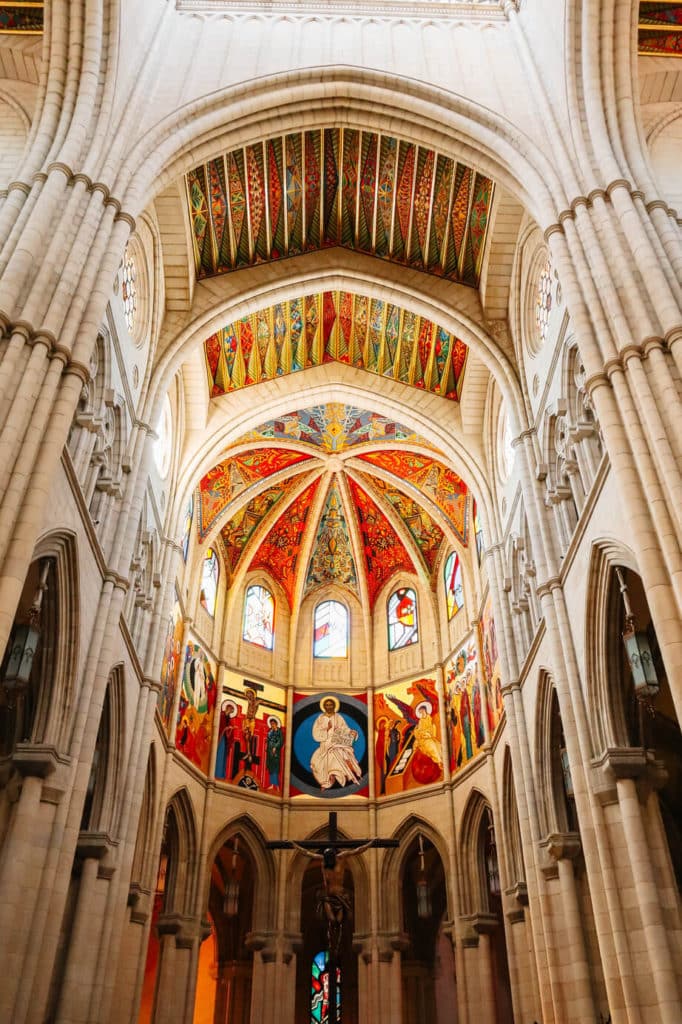 📝 USEFUL INFORMATION: Visits to the cathedral are free and can be made from 10 am to 8 pm from September to June and until 9 pm the rest of the year. On the other hand, the visit to the museum and the dome costs 7€ and runs from Monday to Saturday from 10 am to 2.30 pm. You can check the most up-to-date information here.
» Spain Square (Plaza de España)
Although not one of my favourite squares in the city, I chose to include Plaza de España in this Madrid itinerary as it is one of the largest in the country and the most important in the city.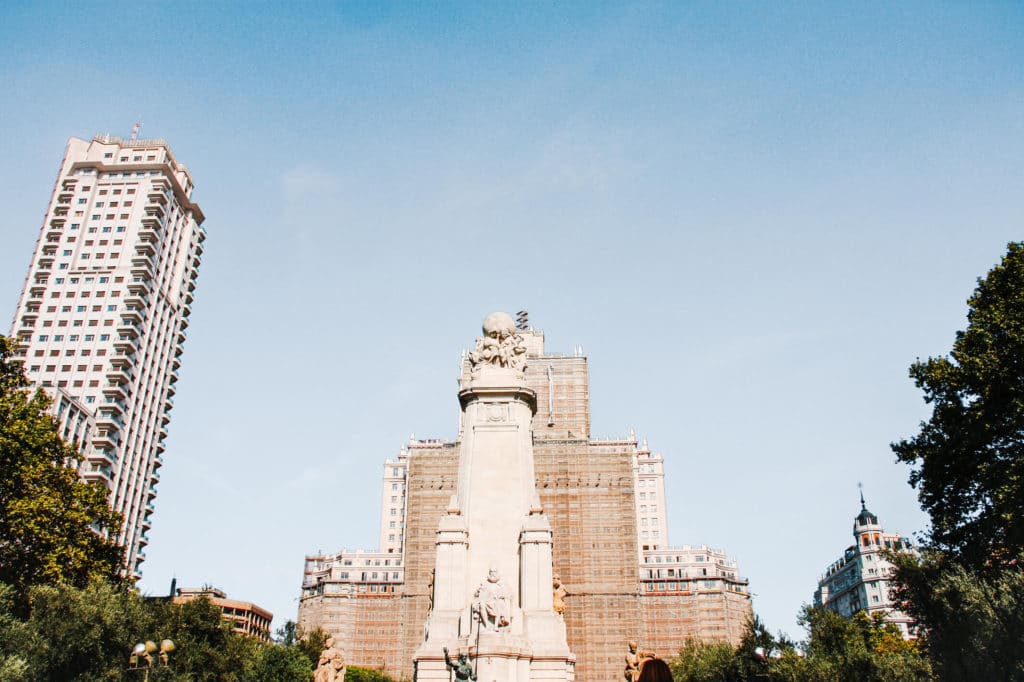 It is a meeting place for tourists and locals alike. Some of the most emblematic buildings in the square include Torre de Madrid, Casa Gallardo, Compañía Asturiana de Minas building and even a monument in honour of Miguel Cervantes.
💡 EXTRA TIP: For one of the best views over Madrid, you can go up to the Terrace of the Hotel RIU. In addition to the 360° views of the city, the terrace has a vertiginous glass platform on which you can walk on top on! However, the visit is not free.
» Debod Temple
The Temple of Debod is probably one of the most distinct places in Madrid that you should include in your itinerary! This temple was offered by Egypt to Spain as a way to thank Spain for helping to save the temples of Nubia.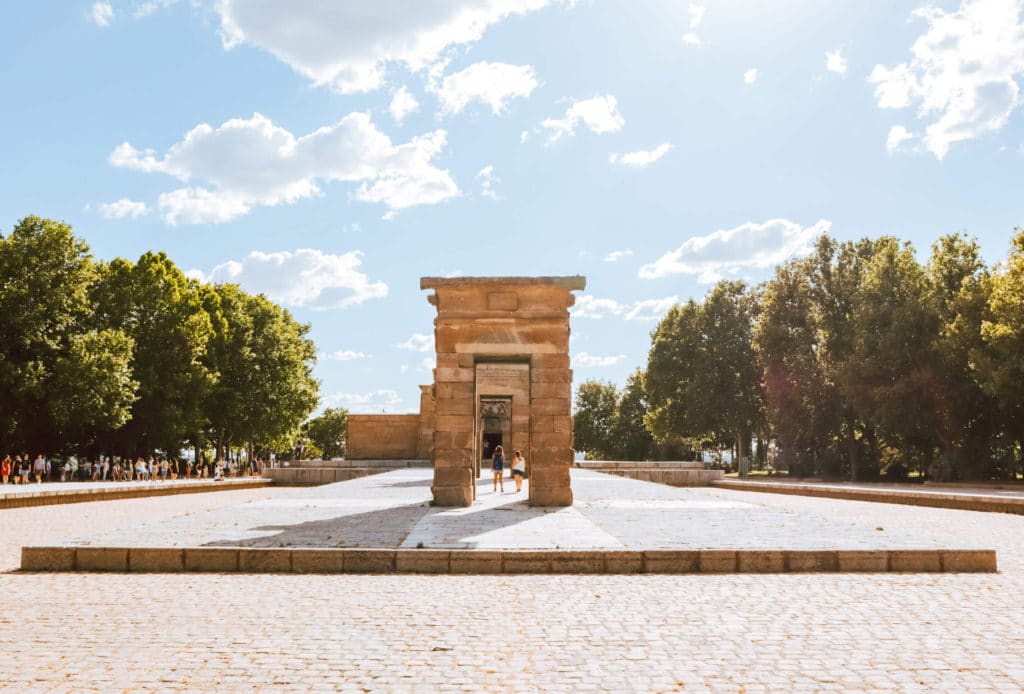 One of the best times to visit the Temple of Debod is at sunset because if there is water, the illuminated temple is reflected in the water and creates beautiful photos 🥰. Unfortunately, I never got to see the water next to the temple. Anyway, I think the visit is definitely worth it.
📝 USEFUL INFORMATION: The visit inside the temple is free and we can learn more about Egyptian society. Tours run from Tuesday to Sunday from 10 am to 8 pm.
» Reina Sofia Museum
Located in the Lavapiés neighbourhood (one of the coolest in town!), the Reina Sofía Museum is the second most important museum in Madrid. Unlike the Prado Museum, this one focuses more on contemporary art. One of the museum's most famous works is Guernica by Pablo Picasso.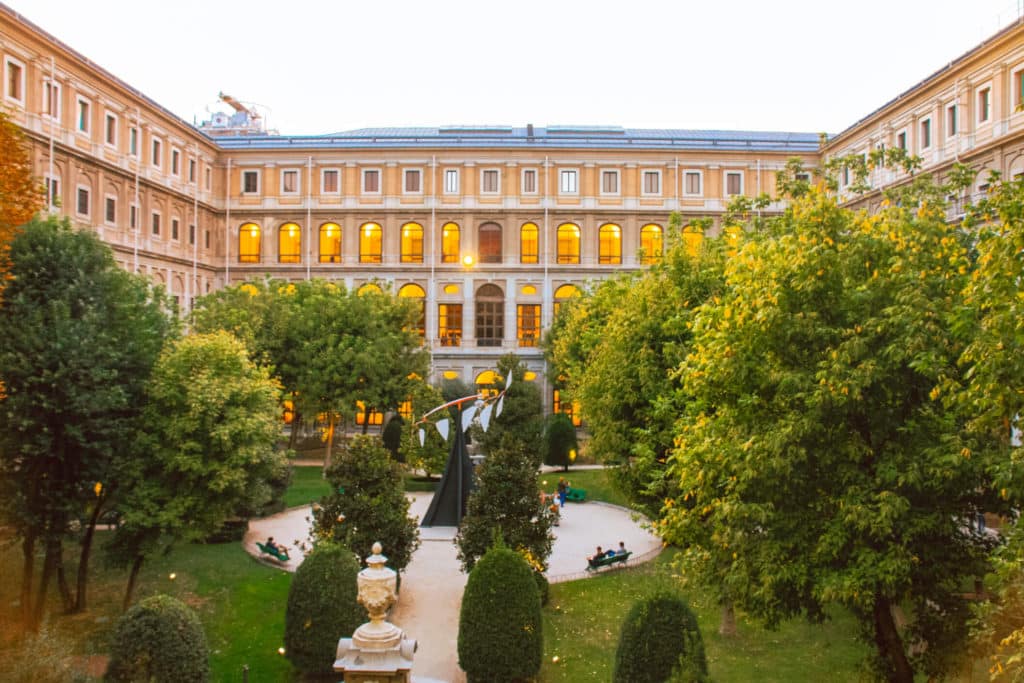 The museum has a vast exhibition that includes works by some of the most important Spanish painters. Apart from Pablo Picasso, we can find works by Salvador Dalí and Joan Miró.
📝 USEFUL INFORMATION: The Reina Sofia Museum is open Monday to Saturday (except Tuesday) from 10 am to 9 pm and on Sundays from 10 am to 2.30 pm. The ticket costs 12€, but the visit is free Monday to Saturday from 7 am to 9 pm and Sunday from 12.30 pm to 2.30 pm. Find the most up-to-date information here. You can buy your ticket in advance here, where you benefit from the option of free cancellation up to 24 hours before.
Madrid Itinerary – Day 3
» Toledo Gate (Puerta de Toledo)
The third day of this Madrid itinerary continues at Toledo Gate – another of the gateways into the city of Madrid and this was the last one built. It was the gateway for those coming from the region of Andalusia.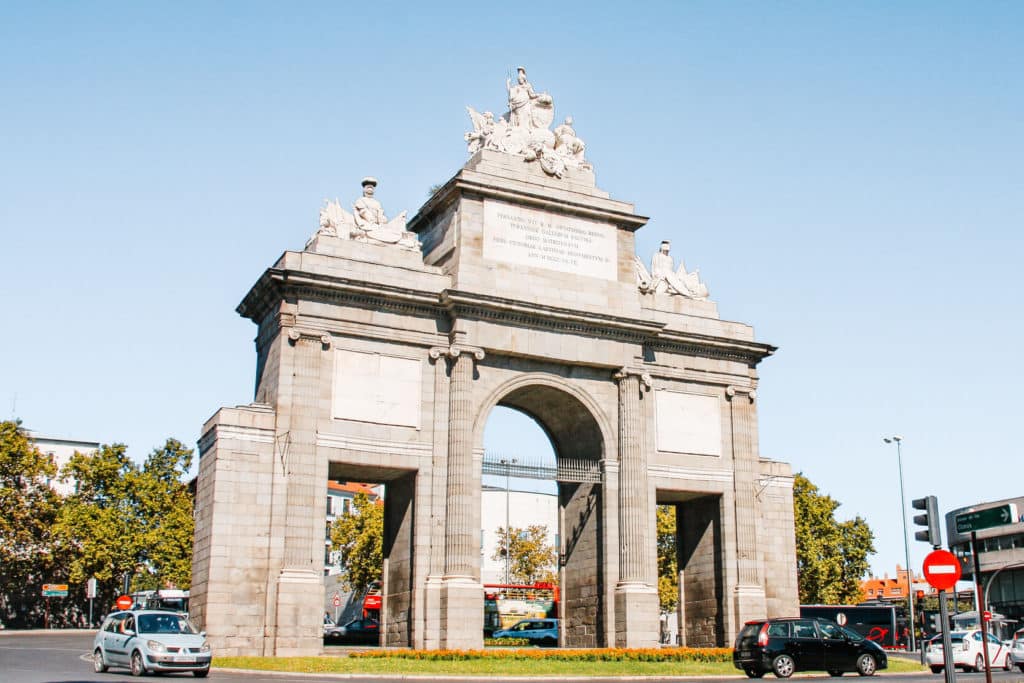 This point of interest is a bit far away from the other points of this Madrid itinerary, so if you don't have much time available, I suggest not including it in the list of places to visit in Madrid.
» El Rastro Market
We continue to the best-known open-air market in Madrid. This market takes place every Sunday and public holidays from 9 am until 3 pm.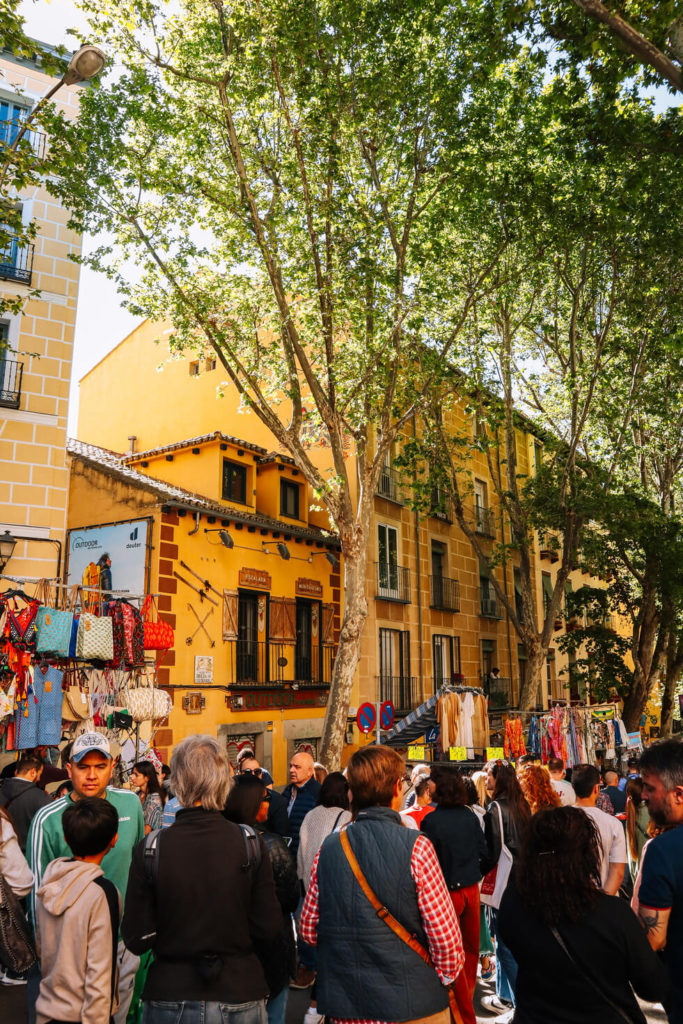 The market dates back to the mid-18th century when it was mainly a second-hand market.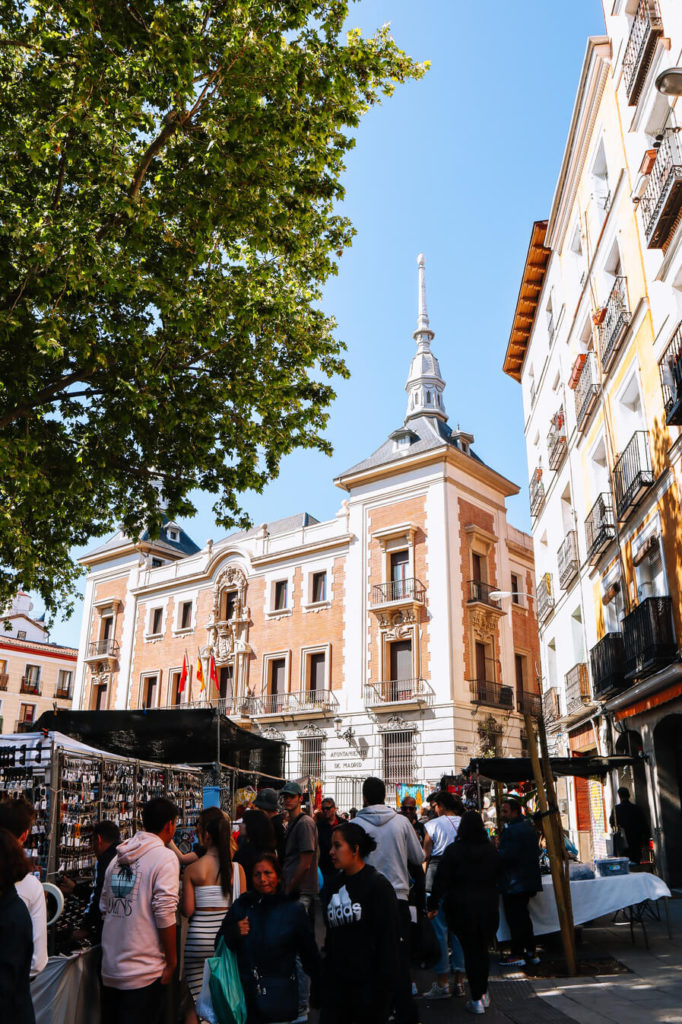 Currently, we find more than 1000 vendors every weekend on El Rastro and the products sold vary from stall to stall, but are generally textile products, jewellery or handicrafts.
» Royal Palace
Also known as Palacio del Oriente, the Royal Palace in Madrid is the official residence of the kings of Spain. However, the kings of Spain do not live there and the palace is only used for some ceremonies.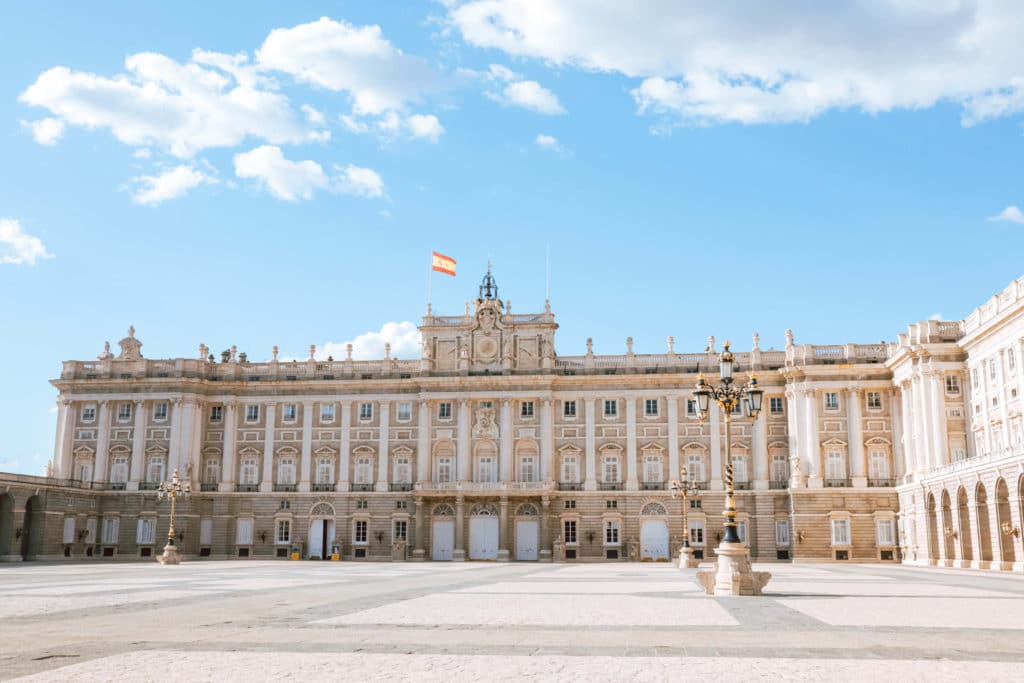 The Palace took about 17 years to build and dates back to the 18th century. Apart from the imposing exterior of this building, its interior is also really beautiful! Prepare to get lost in the details with a visit to the interior of the royal palace.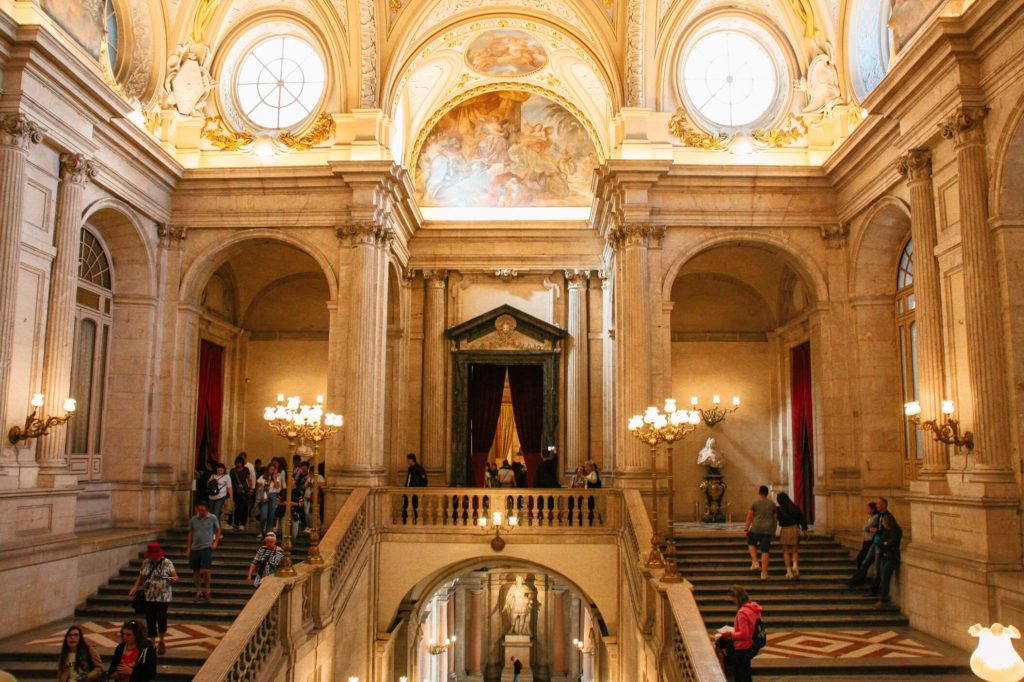 📝 USEFUL INFORMATION: The Royal Palace is open Monday to Saturday from 10 am to 6 pm and Sunday until 4 pm. The adult ticket costs 12€ (+ 5€ with audio guide). You can check the most up-to-date information and buy tickets online here. If you want to save the waiting time (which is sometimes quite long) you can buy the skip-the-line option here.
💡 EXTRA TIP: From Monday to Thursday it is possible to visit the palace free of charge from 4 pm to 6 pm.
» Sabatini Gardens
After a visit to the Royal Palace of Madrid, I suggest a walk through the palace gardens – Sabatini Gardens.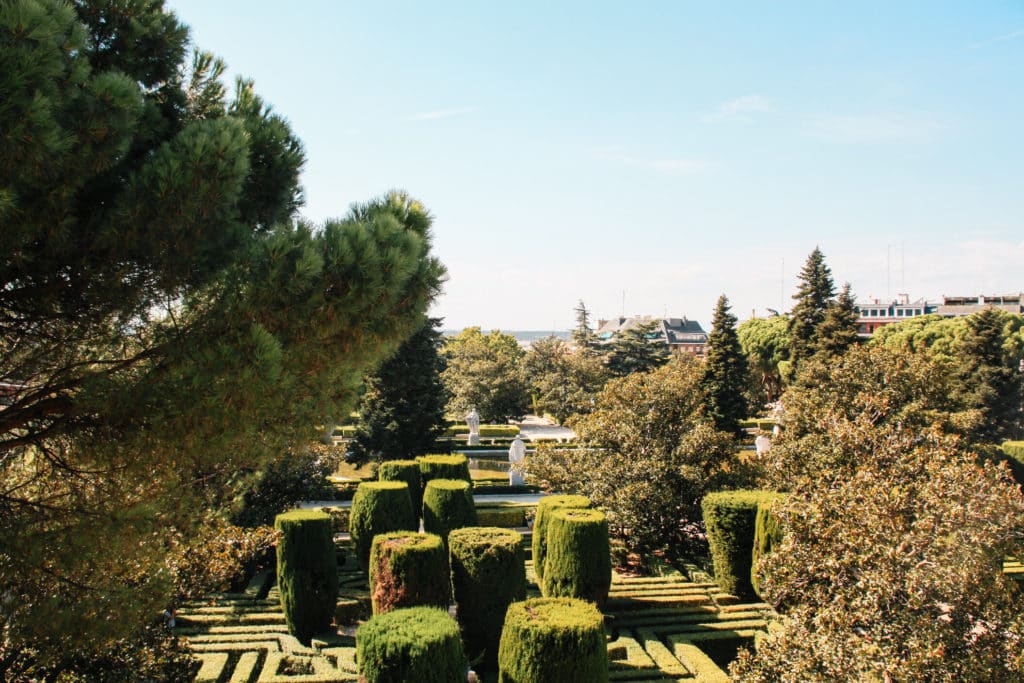 These neoclassical gardens cover more than 2 hectares and are certainly worth a visit 😉.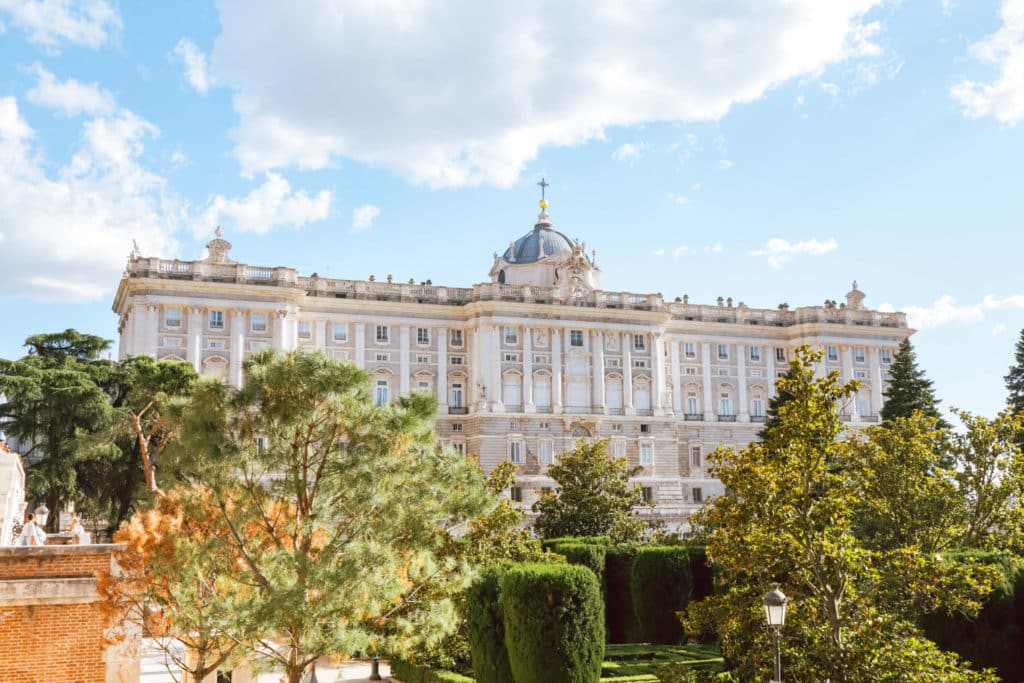 » Oriente Gate (Plaza de Oriente)
Next to the Royal Palace and the Sabatini Gardens, it is also worth stopping by the Plaza de Oriente. Framed by the building of the Royal Palace and the Royal Theatre of Madrid, a statue of Philip IV stands out in its centre.
» Faro de Moncloa
We continue towards one of the hidden gems in Madrid that I only discovered on my most recent visits to the city. Faro de Moncloa is an old 110-metre light tower and currently serves as one of the city's viewpoints.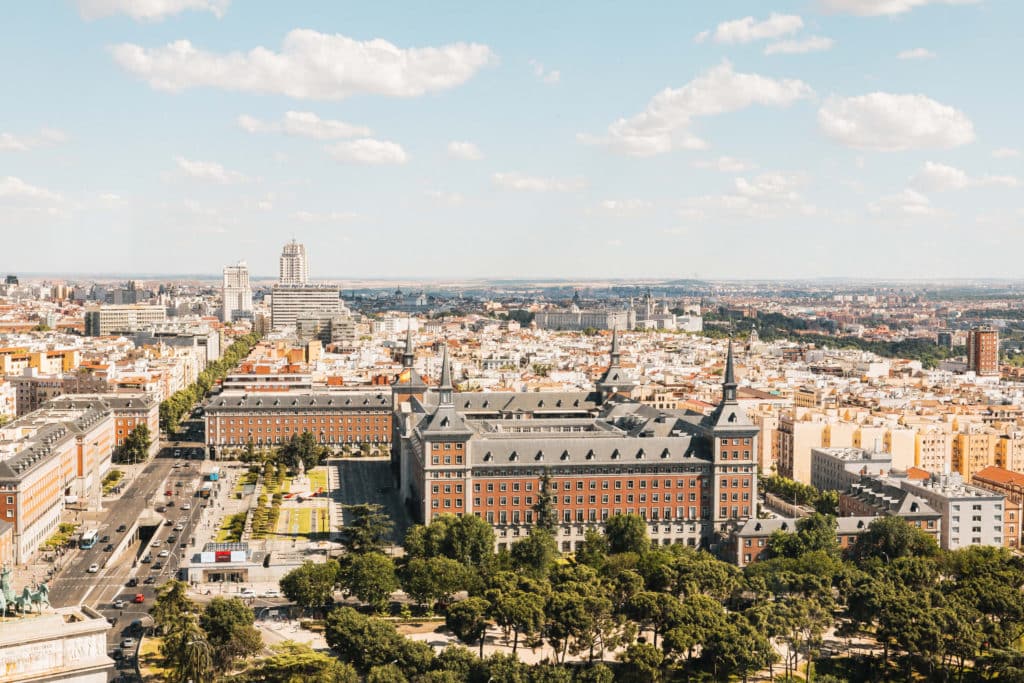 The ascent to the top of the tower is via a lift and the views are truly incredible. From the top, you can see the Royal Palace, and the Almudena Cathedral, among others.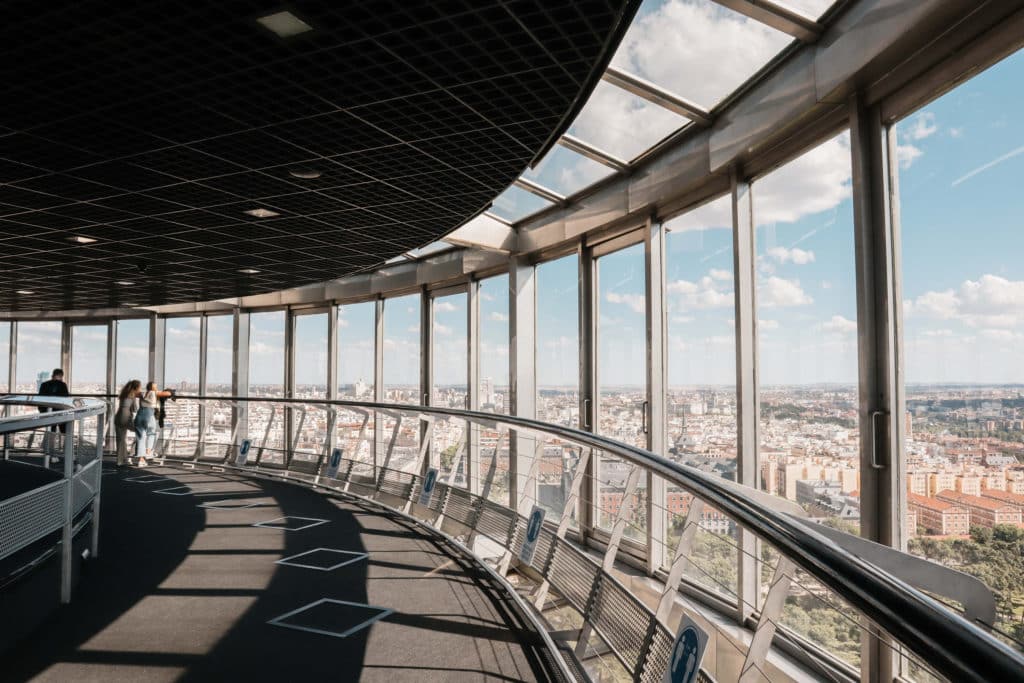 📝 USEFUL INFORMATION: You can visit Faro de Moncloa from Tuesday to Sunday from 9.30 am to 8 pm. The ticket costs 4€. If you prefer, tickets can be purchased online.
» El Oeste Park (Parque del Oeste)
Next to Faro do Moncloa, we can also explore another of the city's green spaces. Parque del Oeste dates back to the 20th century and, in addition to the green spaces where we can enjoy the city peacefully, we can also see some bunkers from the Spanish Civil War.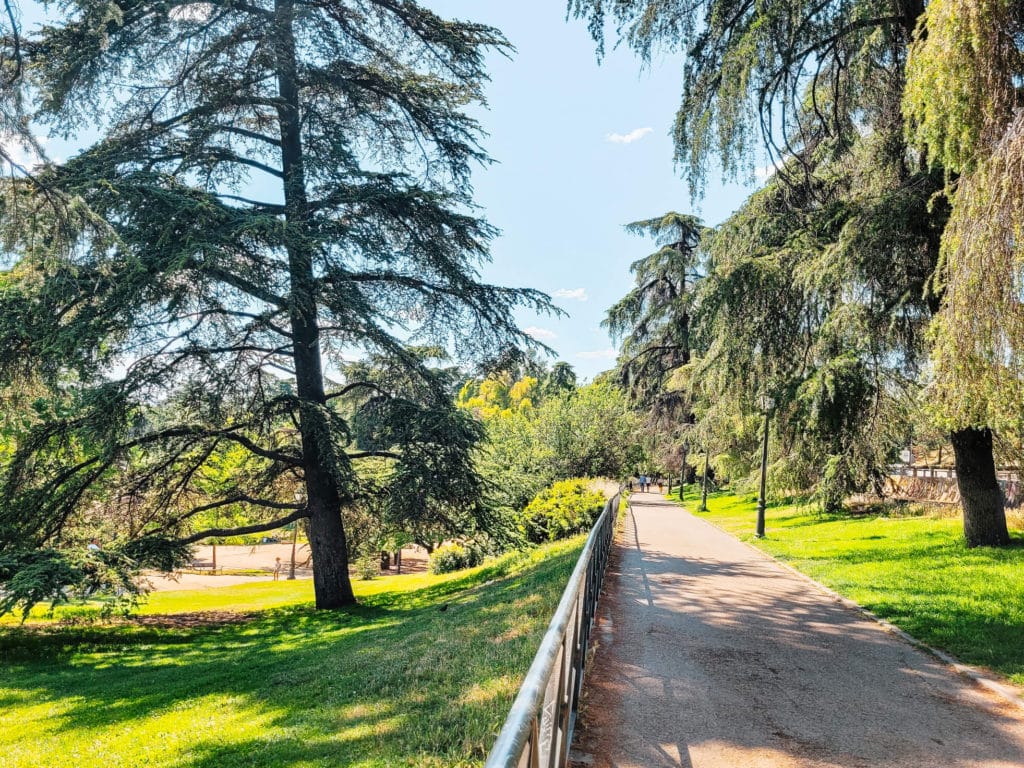 » La Cebada Market
Opened in 1875, the La Cebada Market is another iconic market in Madrid. It is located in the La Latina neighbourhood (another of the best-known neighbourhoods in Madrid) and there we can find a little bit of everything, but mainly food products.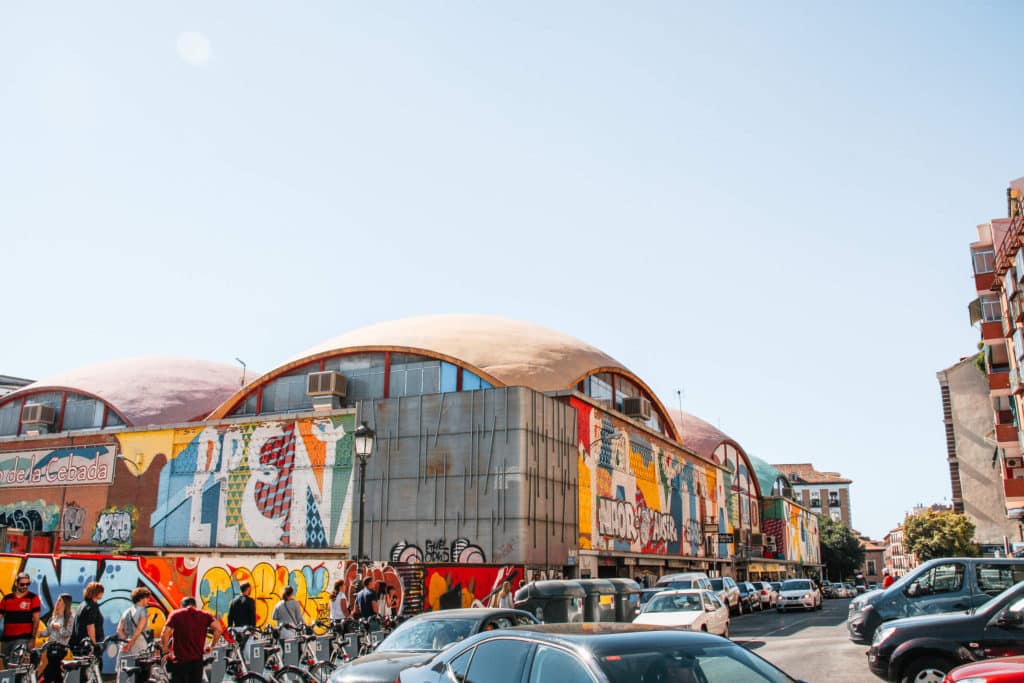 📝 USEFUL INFORMATION: The market can be visited from Monday to Friday from 9 am to 2 pm and from 5 pm to 8 pm. On Saturday, the market is open from 9 am to 6 pm. The most up-to-date information on opening hours can be found here.
Alternative version of 2 days itinerary in Madrid
What if you don't have 3 days to visit Madrid? Don't worry because I'll also share a shorter version of this itinerary:
Day 1: Puerta del Sol – San Antonio de los Alemanes Church – Gran Vía – Cibeles Square – Alcalá Gate – El Retiro Park – Prado Museum or Reina Sofia Museum
Day 2: El Rastro – Plaza Mayor – San Ginés Chocolate Shop – San Miguel Market – La Almudena Cathedral – Royal Palace – Sabatini Gardens – Debod Temple
Restaurants in Madrid
Having visited Madrid a few times now, I have a few suggestions of places worth trying in the city:
For breakfast/brunch
La Rollerie (€): is a café chain that exists in various parts of the city and has several interesting options, especially for breakfast
Pum Pum Bakery (€€): cool café to have a cup of coffee. In my case, I tried the yoghurt cup with granola and it was amazing.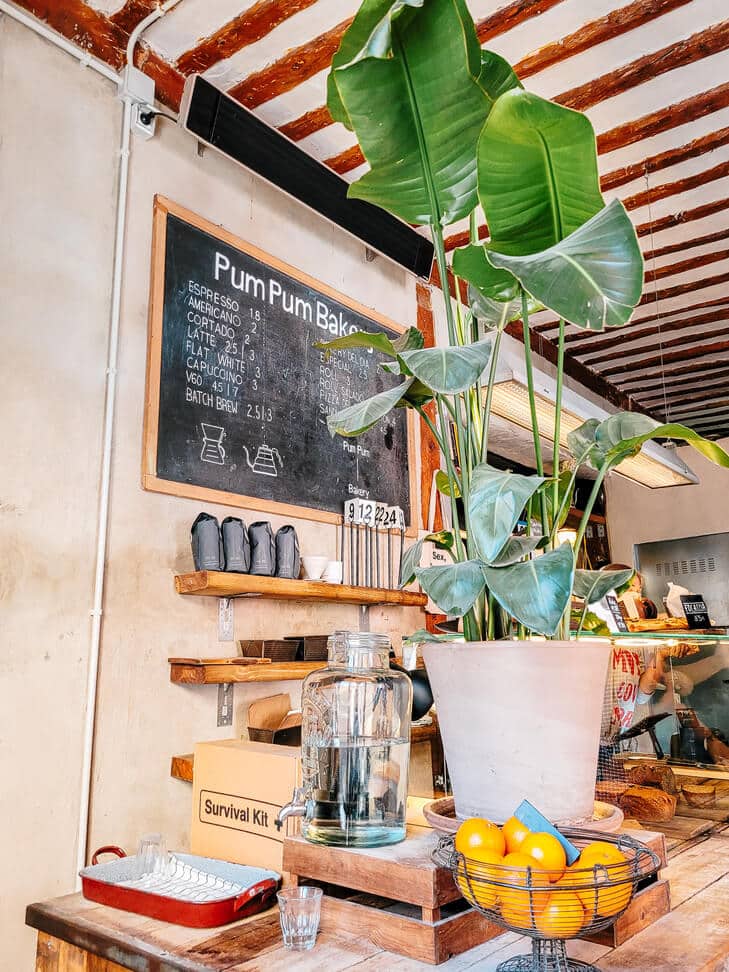 For lunch/dinner
Juana la Loca (€€€): perfect for tapas. The space is small, so it's best to book a table! I especially recommend the tortilla, which is very different from the traditional tortilla.
Lateral (€€): This is a tapas restaurant with a very pleasant atmosphere. I especially recommend the mushroom croquettes.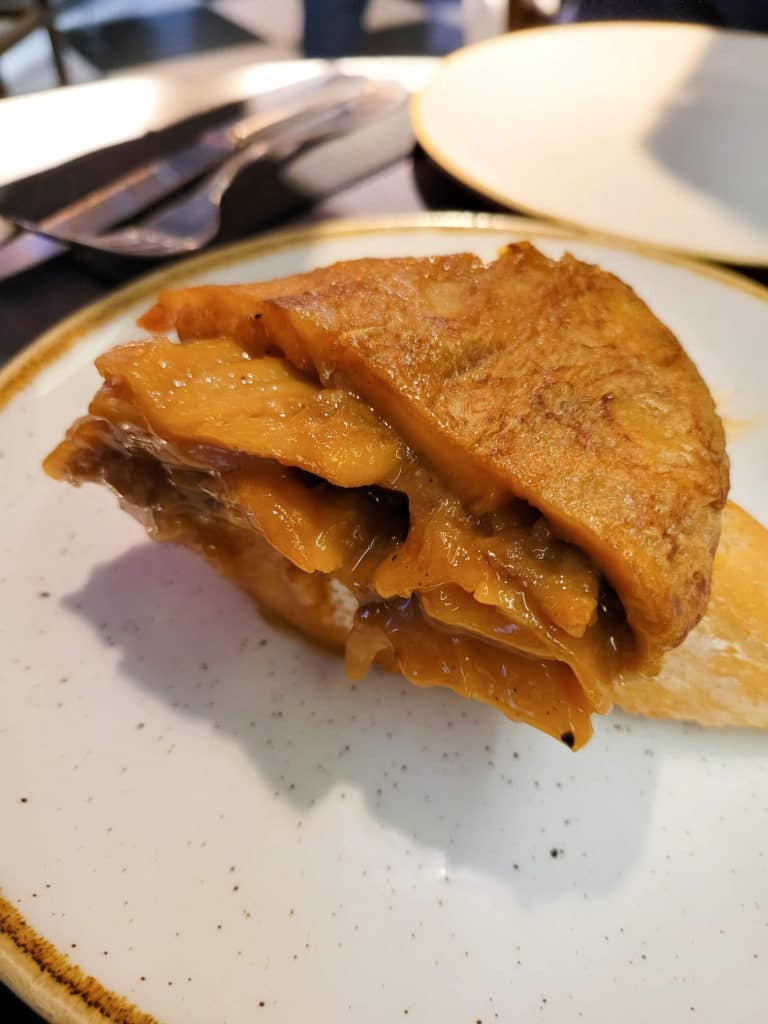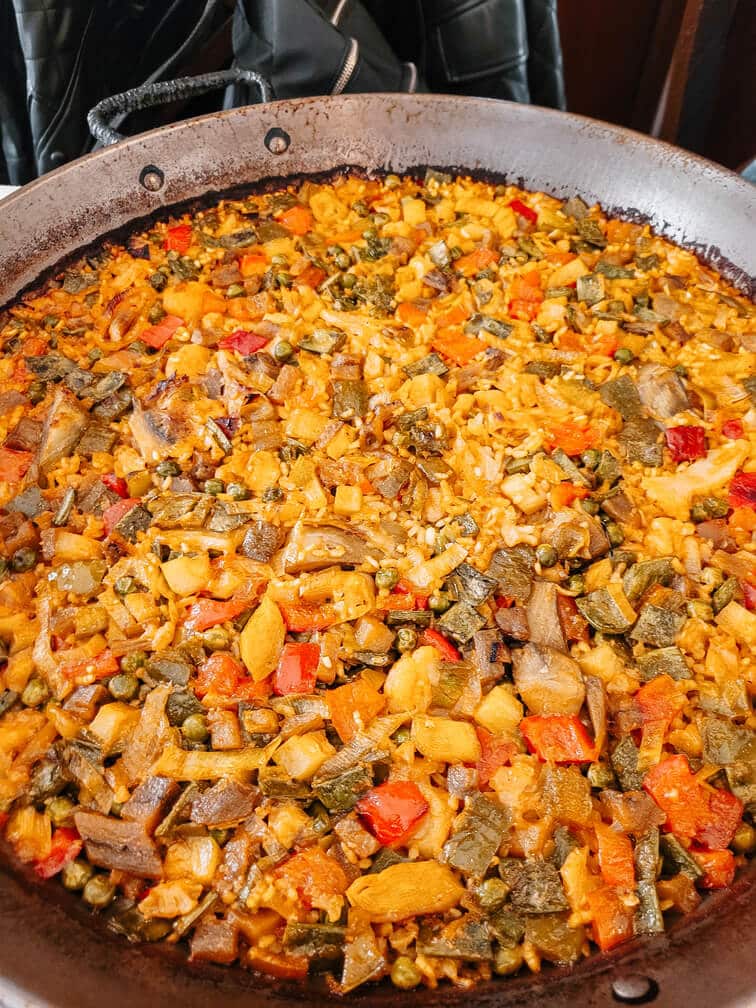 To have a drink
Mojito's Cocktail Bar (€): a bar where they serve the biggest cocktails in town! In addition, the space is very cute.
Calle 365 (€€): a disco-bar serving delicious cocktails served in the most original glasses ever.
Disclaimer: this post may contain some affiliate links, which means I get a small commission if you buy something through my links. This doesn't represent any additional cost to you and you'll be supporting my work here on the blog😊