Malacca (also spelt Melaka) is often an overlooked city in Malaysia. But, if you're planning to visit Malaysia, let me tell you, you should definitely include it on your itinerary.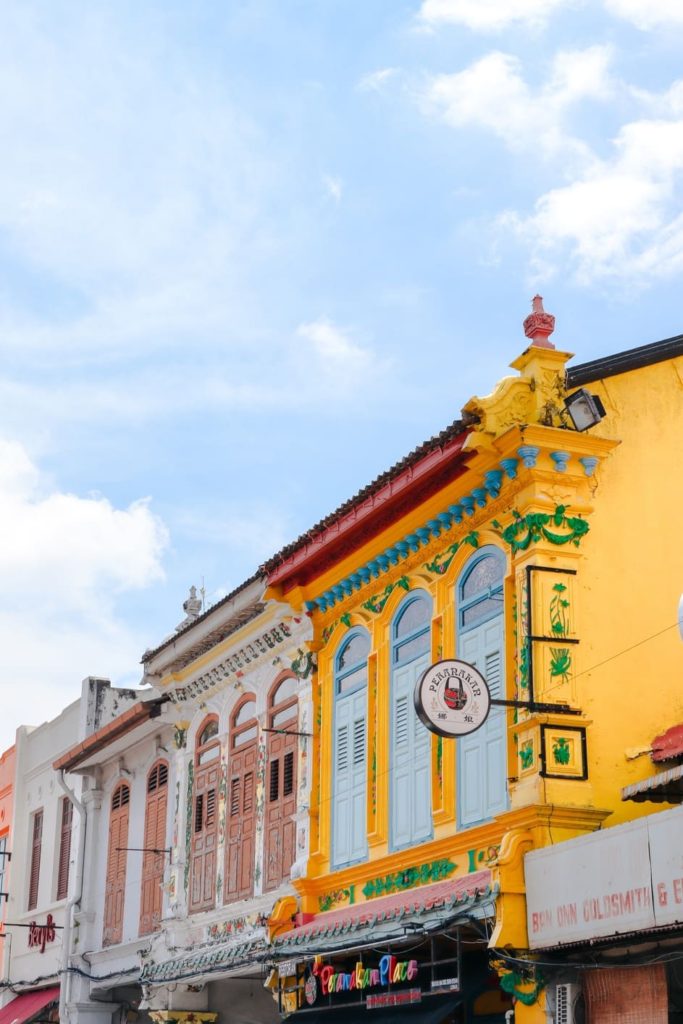 Considered a UNESCO World Heritage Site, Malacca is a city with quite some history due to the importance it had in commerce, which is related to its strategic location near the Malacca Strait. In fact, its relevance in the previous centuries is quite noticeable.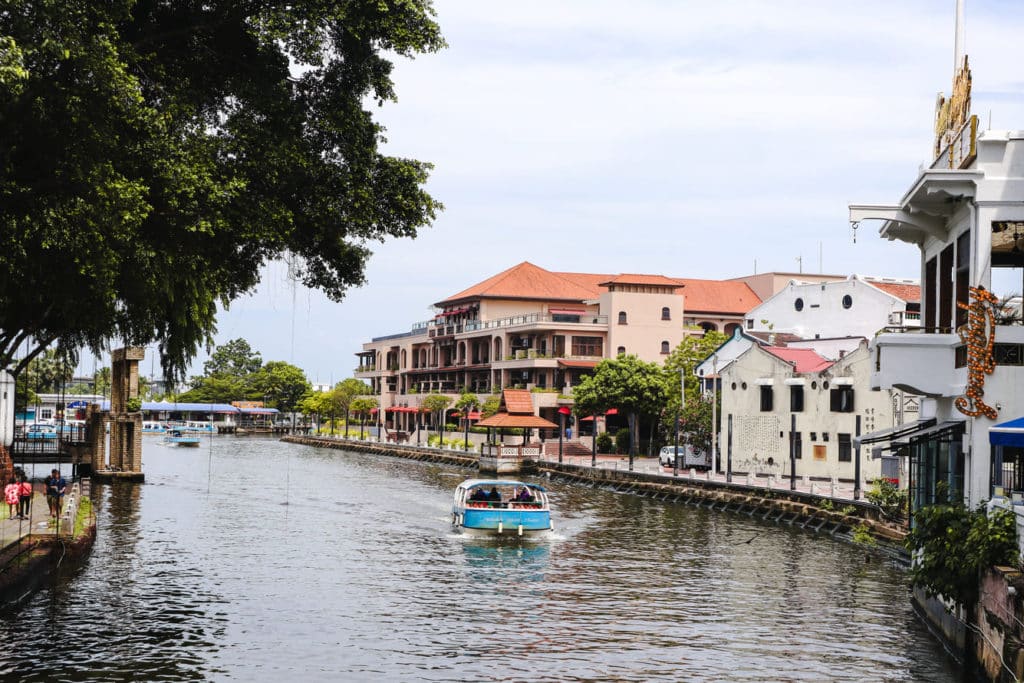 Some of Malacca's main points of interest include buildings and places that were built while Malacca was a colony of some European countries, namely Portugal, Netherlands and the United Kingdom.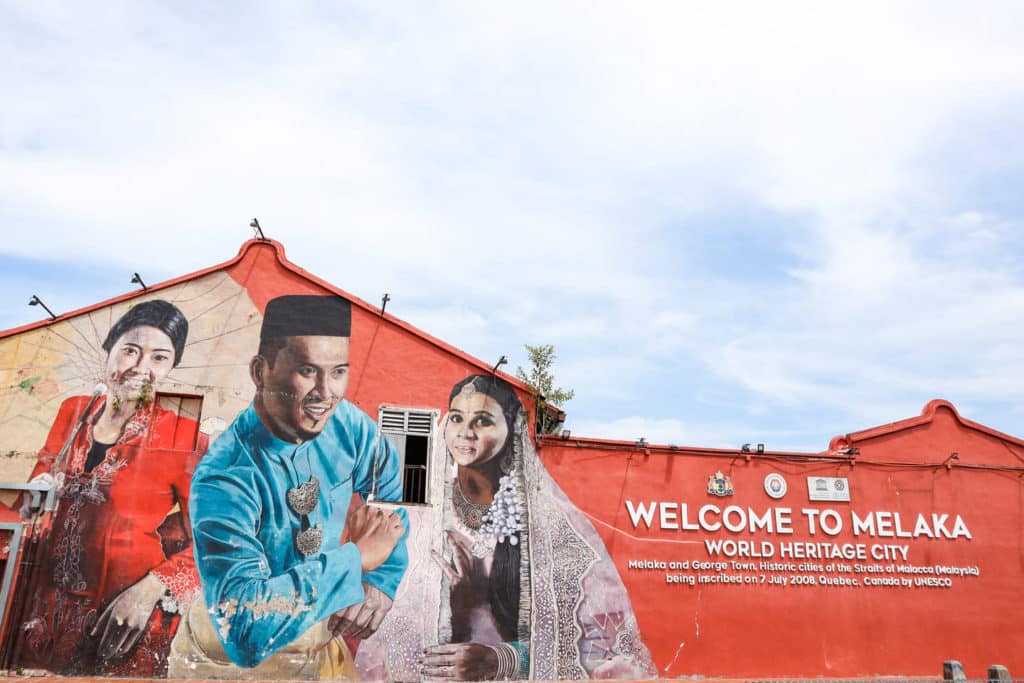 The city is not that far from Singapore or Kuala Lumpur in Malaysia, thus making Malacca the perfect day trip specifically from these two places.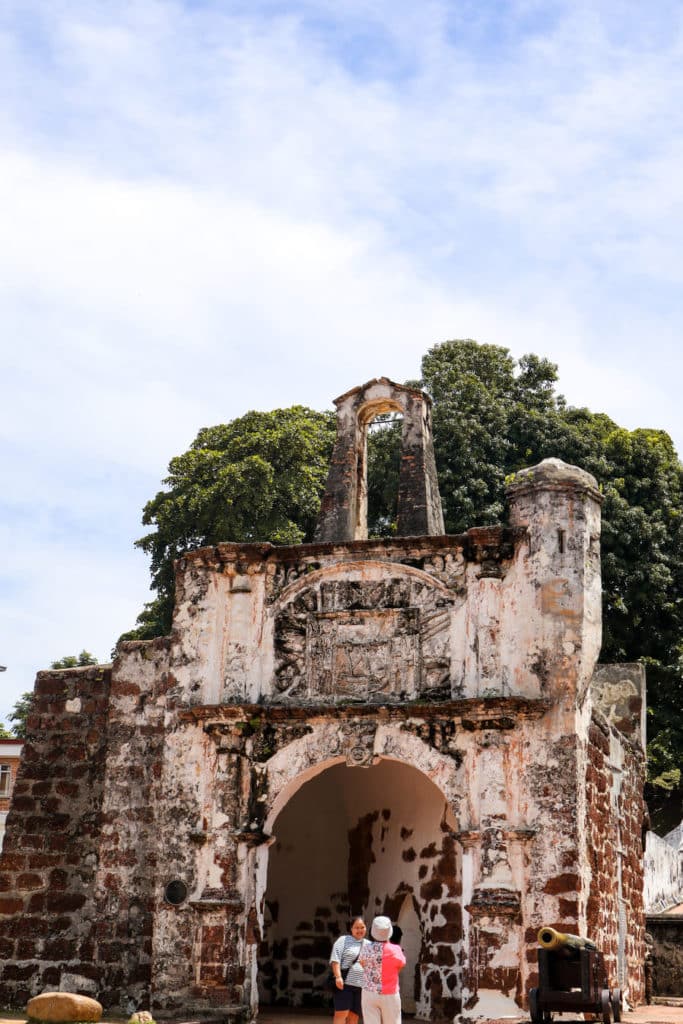 So, keep reading the blog post to better plan your trip to Malacca. Here you'll find tips about hotels in Malacca City, how to get to Malacca from Kuala Lumpur, how to travel between Singapore and Malacca, and much more.
And, even if you're not planning a day trip to Malacca, on the post, you can also find inspiration for your Malacca itinerary.
Is it worth to visit Malacca?
Being completely open about it, Malacca was the city in my Malaysia itinerary that I was less excited about! But the truth is that the city quite surprised me 🥰.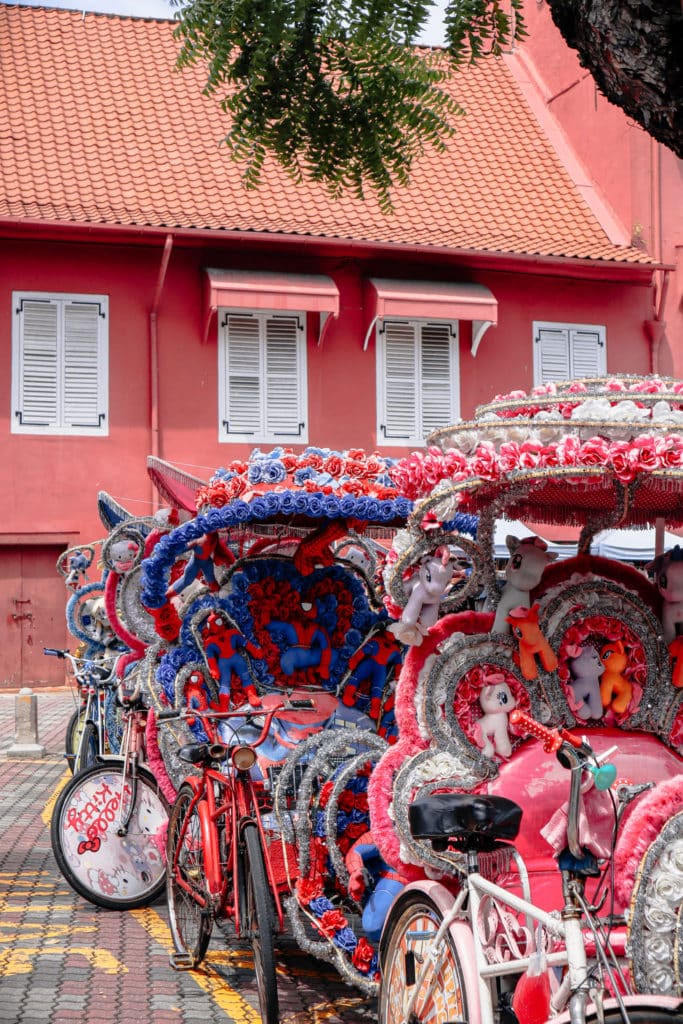 Even though there are only a few things to do in Malacca, it's the perfect getaway from the busy cities of Singapore or Kuala Lumpur. So, if you have an extra day in this area of the world, I'd highly recommend visiting Malacca.
How much time do you need in Malacca?
Most famous places in Malacca are located within walking distance and they aren't that many. So, 1 day should totally be enough to visit Malacca's main attractions (not in a rushed way). Ideally, you should try to sleep one night in the city because it'll allow you to enjoy it to the fullest.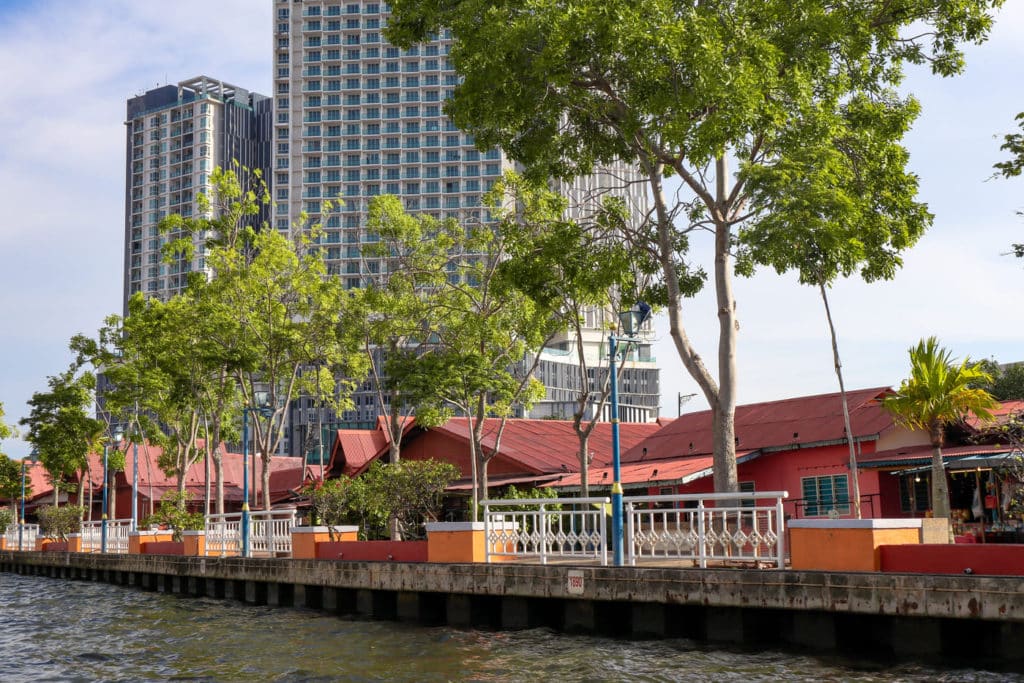 However, if you have some spare time, you can opt to add another day in the city and, that way, you'll get to explore it even more at a leisurely pace.
Is a day trip to Malacca worth it?
Day trips are quite a popular option to explore Malacca, especially if you're coming from Kuala Lumpur. So, if you're short on time but you'd like to visit Malacca, I'd recommend doing a one-day trip to Malacca from Kuala Lumpur.
On the other hand, if you're coming from Singapore, my opinion is quite different. Even though it's doable to visit Malacca as a day trip from Singapore, I wouldn't personally recommend it.
Assuming you're travelling by bus, the trip takes about 4 hours one way (so, 8 hours if you decide to come back on the same day!) if everything goes to plan. Don't forget you'll be crossing a border, so this takes some extra time.
So, I'd suggest travelling from Singapore to Malacca, sleeping there and then getting back to Singapore on the next day.
What is the best time of the year to visit Malacca?
Weather in Malacca is mostly hot and humid and so, you should expect hot weather all year round. However, have in mind that, for example, May is the warmest month of the year and November and December are the months with the most rain. On the other hand, February is when it rains less in Malacca.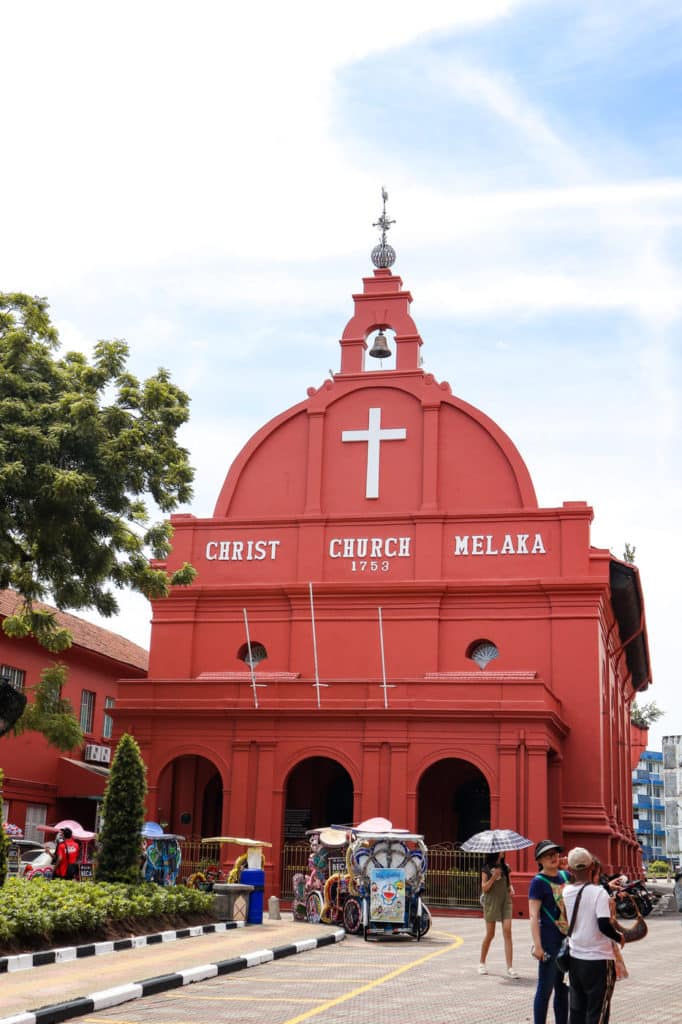 In fact, the weather in Malaysia is a bit unpredictable all year round. Even though there is a dry season (November to February) and a wet season (April to October) in the West part of the country, it's usual to encounter some rain even during the dry season.
So, despite recommending visiting Malacca during the dry season (November to February), I suggest you go prepared with a waterproof jacket, for example. I used this one and loved it!
What documents do you need to visit Malacca?
As a citizen with a Portuguese passport, I am entitled to a free visa valid for 90 days to enter Malaysia. My passport just had to be valid for, at least, 6 months. I also filled out the Malaysia Digital Arrival Card but no one asked me for it.
When arriving in Malaysia, the process is quite simple and you might be asked a few questions about your origin, where you're going next, how long you plan to stay, where you'll be staying and a few extra questions in some cases.
📝 USEFUL INFORMATION: I strongly suggest you check out the latest information here, as well as the rules that apply to different passport holders.
How to get from Singapore to Malacca?
Malacca is located just 240 km from Singapore. If you decide to use public transport, beware that the trip between Singapore and Malacca usually takes about 4 hours. Don't forget, you'll need to get off the bus twice: once on the Singapore side to show your passport and another one when entering Malaysia (in this second part, you'll also need to scan your bags besides showing your passport).
Most buses don't wait more than 20–30 minutes at each stop, so make sure you have all sorted (passport and luggage ready) before going through immigration. In case you lose the bus, you'll have to wait for the next one.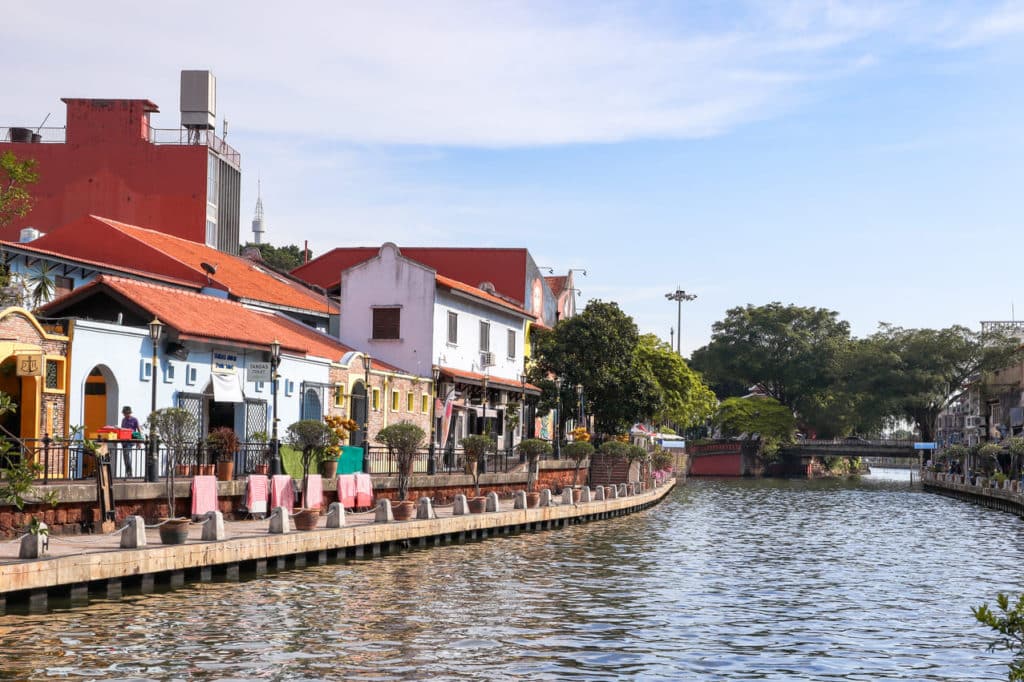 There are several companies providing this bus service, so I recommend you check out the options available at 12goasia. Most options cost about 22 SGD (~ 15€). I chose to ride with 707 inc and the bus was quite comfortable.
In Singapore, you can choose from some bus terminals, such as Boon Lay, Golden Mile Tower or Queen Street Bus Terminal, for instance. Choose the option that is more convenient for you 😉.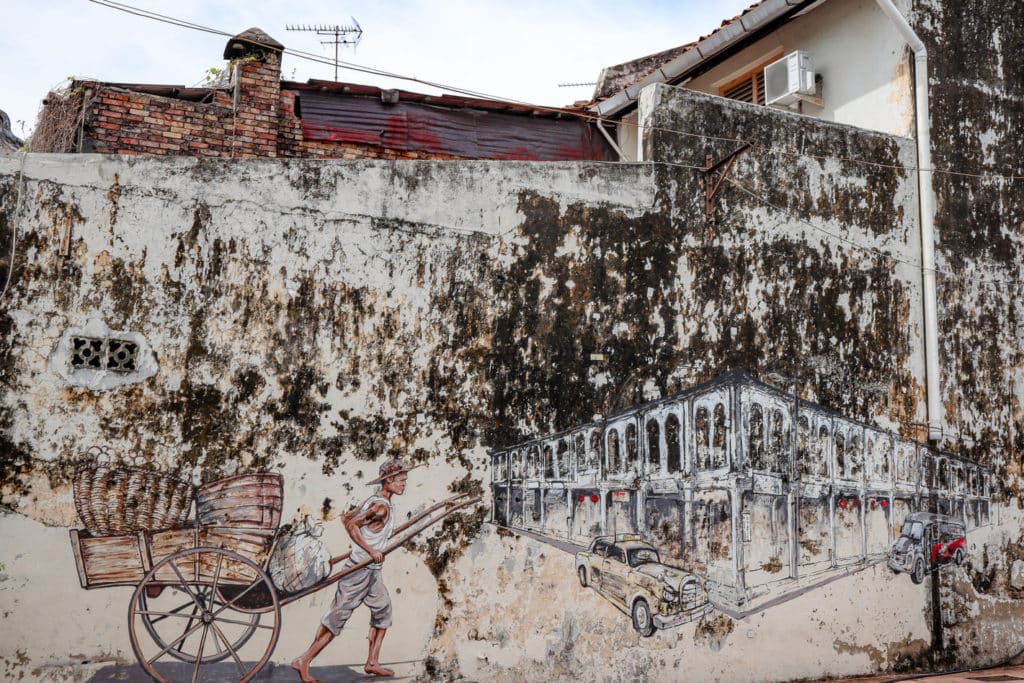 In Malacca, most likely you'll stop at Melaka Sentral. There are other options available, nevertheless. For example, I did the Singapore – Malacca trip and left the bus at Hatten Hotel Malacca which was a better option for me.
How to get from Kuala Lumpur to Malacca?
The trip from Kuala Lumpur to Malacca is rather shorter and takes about 2 hours, without major traffic. Plus, it's also quite inexpensive (2€ – 3€).
There are several companies providing this service and many timetable options throughout the day. Check out the one that suits you best in 12goAsia. The buses are spacious and quiet, making it a pleasant experience overall.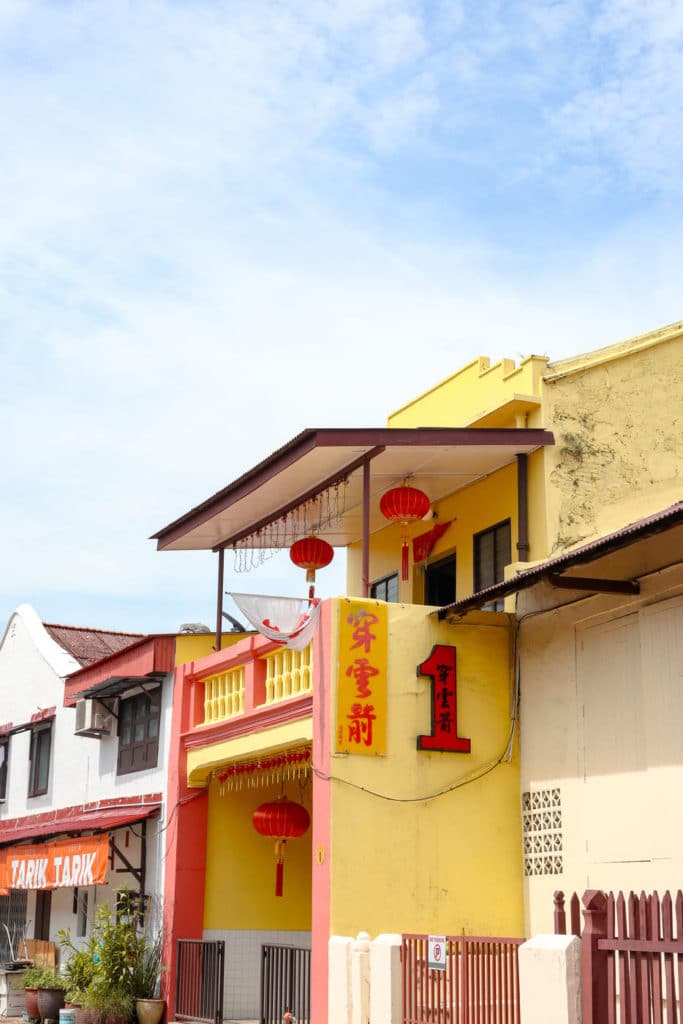 If you'd prefer a stress-free experience, you can buy this highly-rated tour of a 10 hours day trip to Malacca. This Malacca tour from KL covers Malacca's main points of interest and also has lunch included in the price. This one really is one of the best options if you don't intend to stay overnight in Malacca.
How to get from Melaka Sentral to the city centre?
Most likely is that your bus from either Singapore or Kuala Lumpur stops at Melaka Sentral – Malacca's bus terminal. Melaka Sentral is located just 5 km out of Malacca's city centre, and the easiest way to cover that distance is to call a Grab (similar to Uber in Asia). Trips with Grab in Malaysia tend to be quite cheap 😄!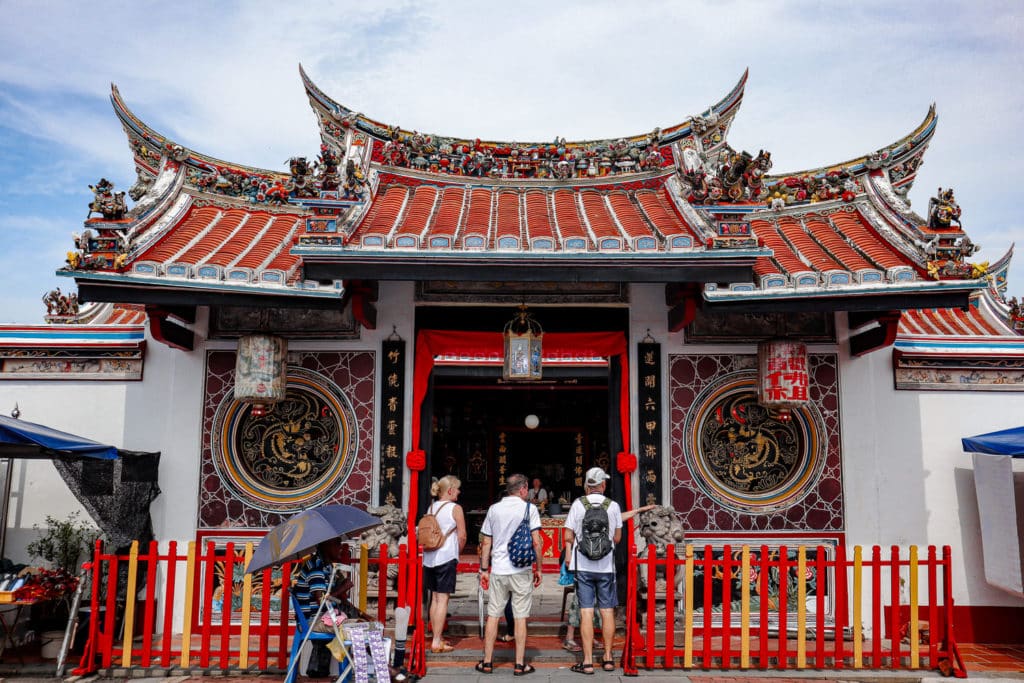 How to get around Malacca city?
Most of Malacca's historical places are within walking distance, so the best way to get around Malacca is definitely walking. There are just a few exceptions (I'll talk about it later when I get to the part in Malacca's itinerary) where you'll be better off calling a Grab.
What currency is used in Malaysia and how to pay?
The official currency in Malaysia is the Malaysian Ringgit (MYR). As of July 2023, 1 MYR = 0,19€. Even though there are many places that accept cards, you should also try to carry some cash with you since some are "cash only". This is especially true if you intend to eat out in local markets.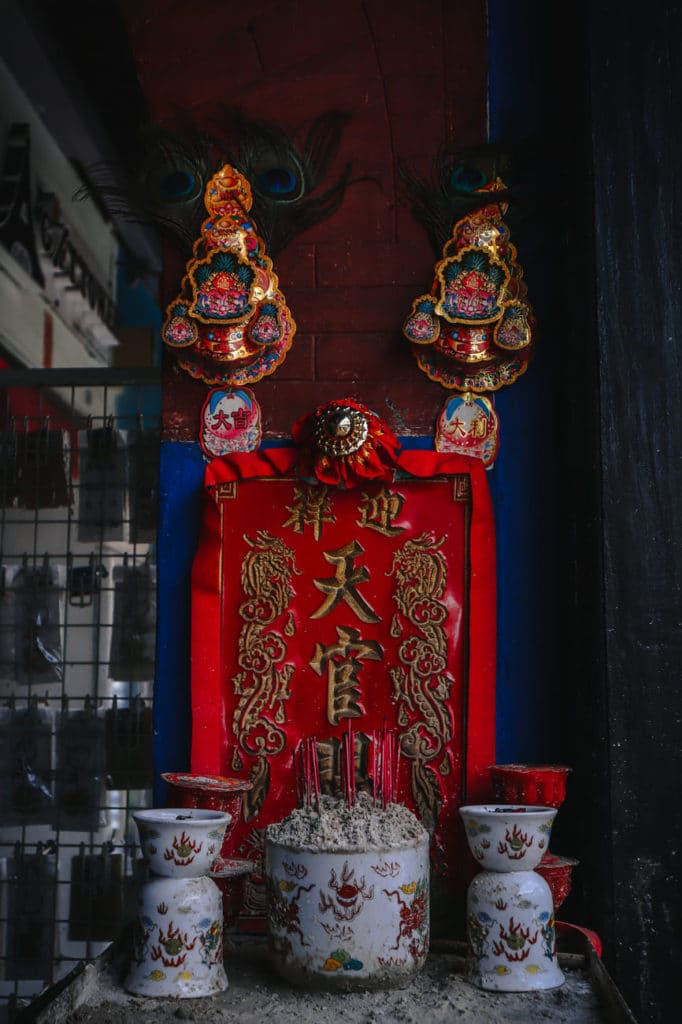 To make purchases with a currency other than the one I usually use (Euro), I always use the Revolut card, which has many advantages. One of the biggest advantages of the Revolut card while travelling is the fact it does not charge additional fees for using a different currency.
If you do not yet know the advantages of having a Revolut Card, you can find out more here.
Where to withdraw money without paying fees?
Some of the banks in Malaysia charge a fee for withdrawing money with foreign cards (even if you're using a Revolut card!). However, I found some that actually didn't charge me to withdraw money with my Revolut card. These were the banks where I got to withdraw money without paying fees:
How to have internet?
It's quite handy to always have internet while travelling in Malaysia. It's useful when you need to call a Grab or use Google Maps in walking mode, for example.
I decided to buy an e-SIM from Celcom (which I could then do top-ups) at a 7-Eleven store, but you can opt for a more hassle-free option. For example, this e-SIM Roaming Mobile Data Plan can be purchased even before you arrive in Malaysia and the options are quite cheap.
You can choose the option that suits you best, having in mind the duration of your trip and where you plan to go, since most of the plans include a mobile data plan that also works in other countries.
Accommodation in Malacca
There are many options when it comes to accommodation in Malacca. However, I chose to stay at Liu Men Melaka. This hotel is fairly central but simultaneously located in a quieter part of town.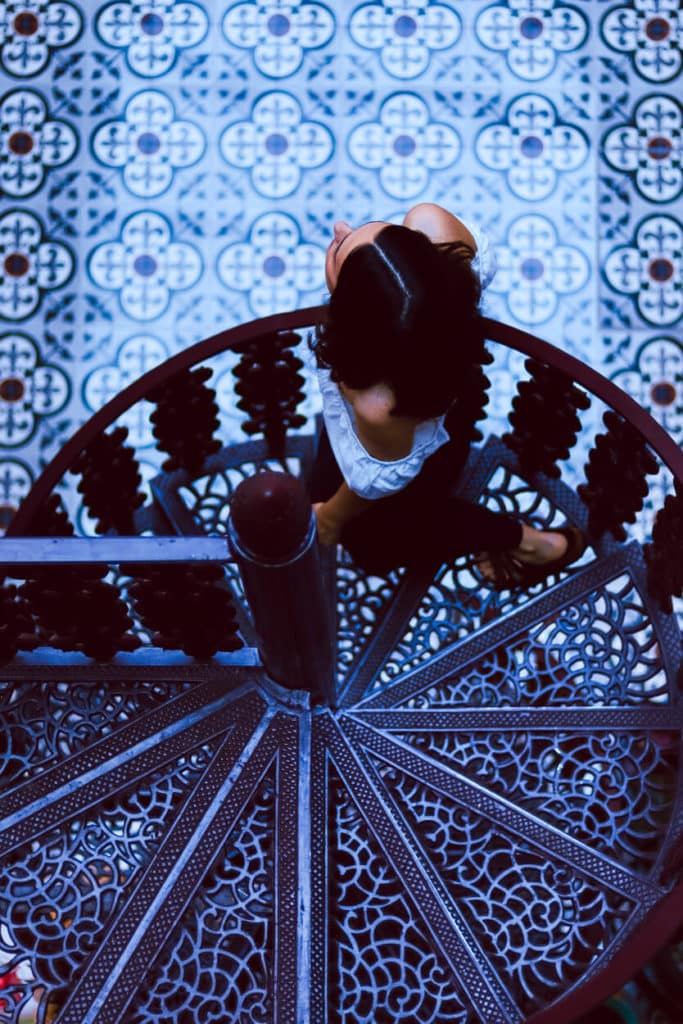 The staff went above and beyond to make sure the guests' needs were met. For example, breakfast was à la carte, but they tried to accommodate other requests guests might have.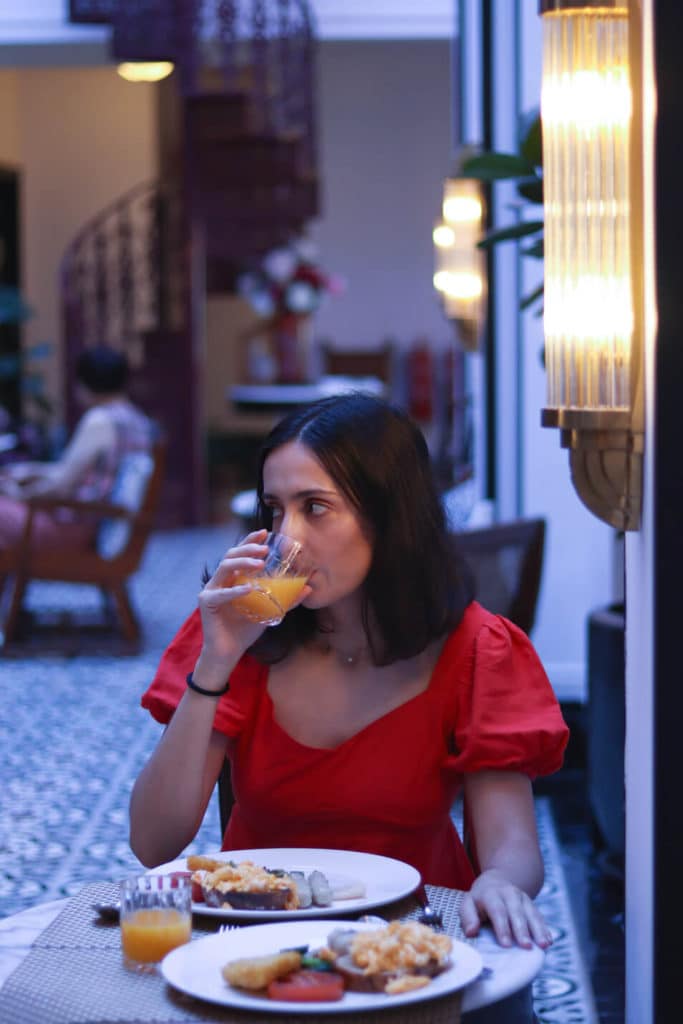 The facilities are rather small but yet so charming. The building results from a restored heritage pre-World War II building and it intends to pay tribute to colonial and heritage elements.
However, if you'd like to check out other accommodation options, there are many other available as well: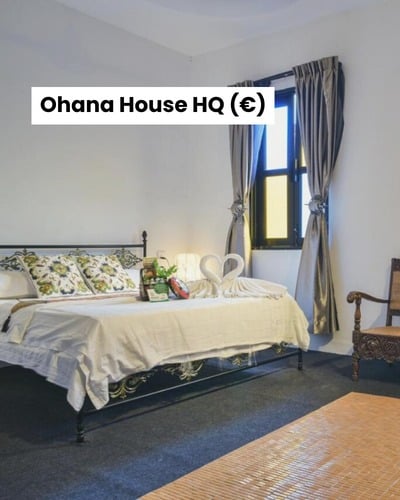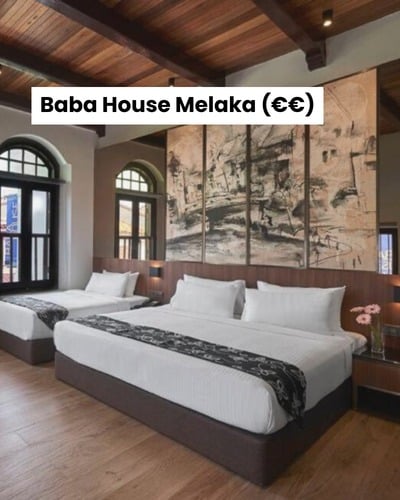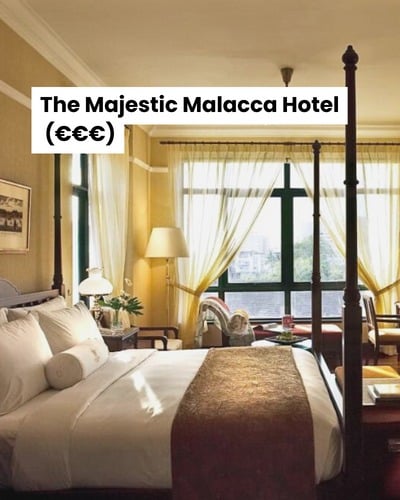 💼 TRAVEL INSURANCE: If you want to feel safe while travelling, then you should definitely look into purchasing some travel insurance. Having insurance will help you with any health-related emergencies as well as with other events, such as theft, loss or delay of luggage, eventual need to cancel your trip and much more. In my case, I always use IATI Insurances, which has one of the best price-quality ratios in the market and a 100% online service that is very easy to use. Book here your travel insurance and enjoy a 5% discount for being readers of the blog. Don't forget that the purchase must be made using this link.
Malacca City Map – 1 day Itinerary
Before I share with you my 1-day itinerary with what to do in Malacca, here is a map with all the places to visit in Malacca.
Day trip to Malacca – What to Visit
» Cheng Hoon Teng Temple
Begin your Malacca tour at Cheng Hoon Teng Temple. This temple gets the title of Malaysia's oldest traditional Chinese temple. So, make sure to set a few minutes aside to visit it inside and admire its beautiful interiors.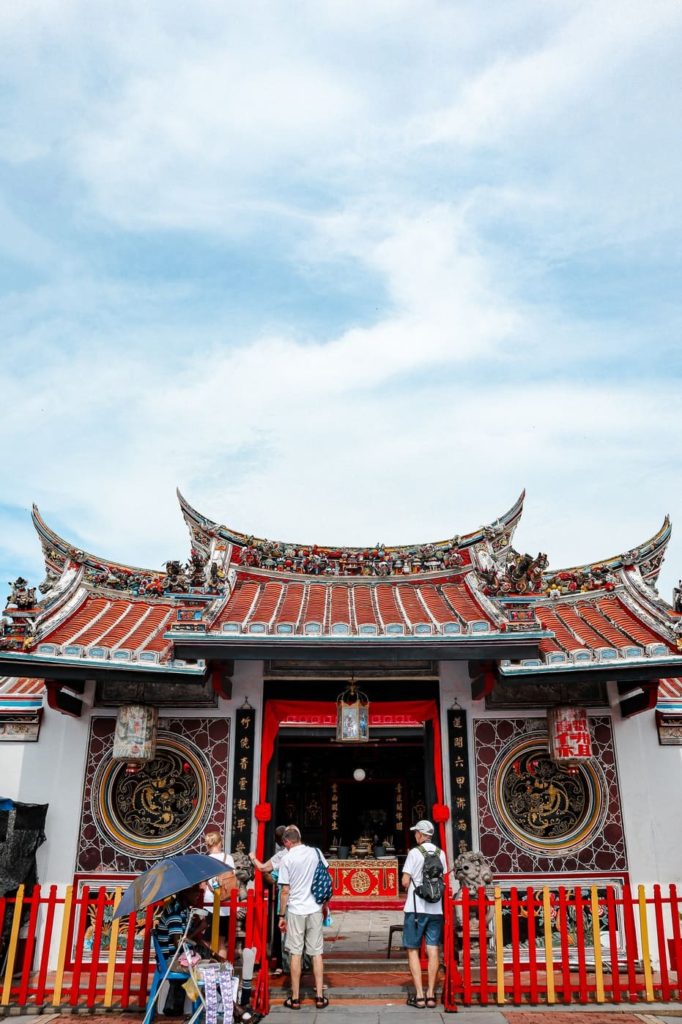 💡 EXTRA TIP: While you're at the Cheng Hoon Teng Temple, make sure to stroll around Tokong Street, which is also known as Harmony Street since it showcases the harmony of all the religions that exist in Malaysia. For example, on this street, you'll also find the Kampong Kling Mosque.
» Baba & Nyonya Heritage Museum
I suggest you continue towards Baba & Nyonya Heritage Museum. This is basically a house that was converted into a museum and that showcases how four generations of the Chan family lived there.
This is a great add-on to any Malacca itinerary since it will allow you to learn more about the Peranakan culture. The Peranakans resulted from the mix of cultures between the people that lived near the Strait of Malacca and the Chinese who went to live there.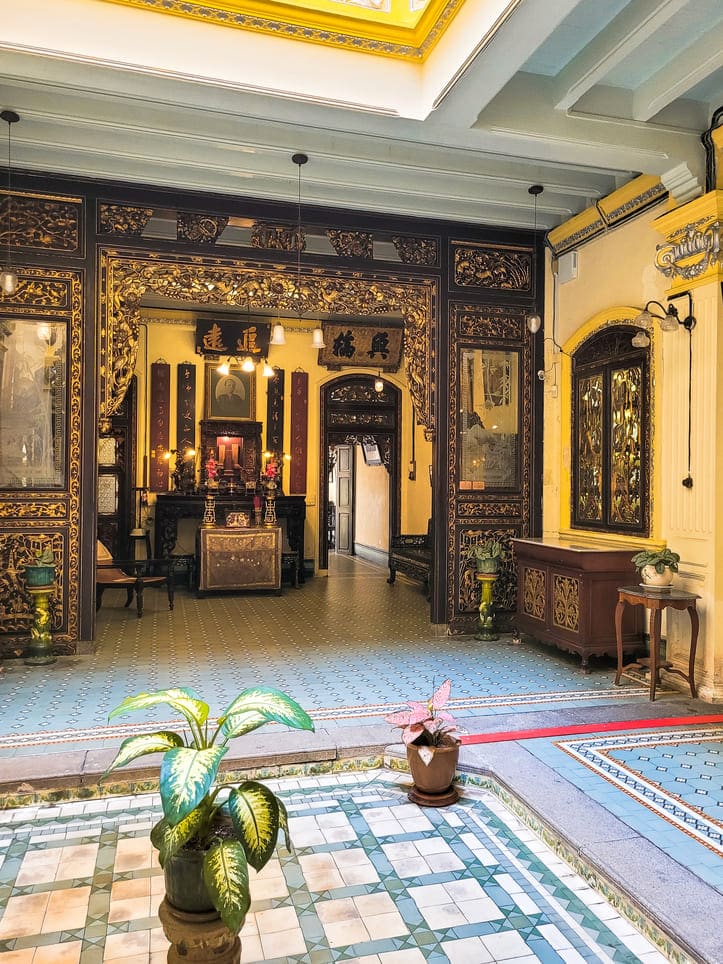 The visit is really well-structured and you'll be able to learn how the Peranakans lived back then, since there are so many artefacts displayed around the house.
📝 USEFUL INFORMATION: The ticket costs 18 MYR (only cash is accepted). Opening hours are from 10 am to 5 pm. Please check the most updated information here.
» Street Art: The Well + My Kiehl's Mural + Orangutan House + River Promenade
Malaysia's main cities are packed with street art, and Malacca is no exception. Therefore, there are especially three places I recommend visiting.
Firstly, there is a tiny alley called 'The Well' (look for 'The Well' on Google Maps). You'll find several art pieces along the walls of this street.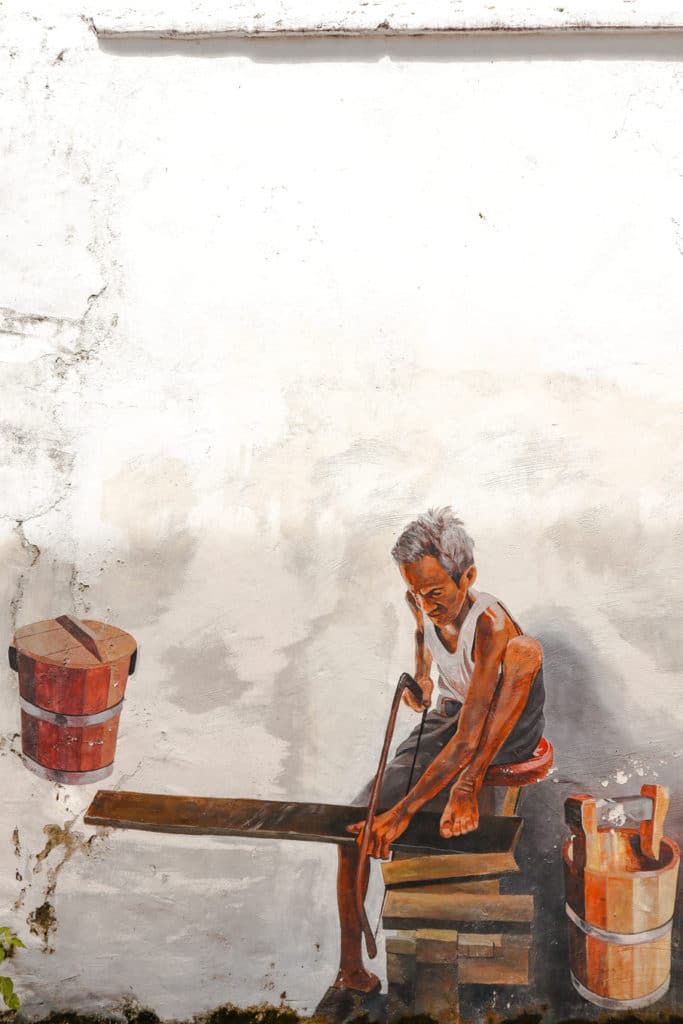 Secondly, make sure you also visit Kiehl's mural – the most famous in town. You can easily find it on Google Mas as well, but it's located near the river promenade.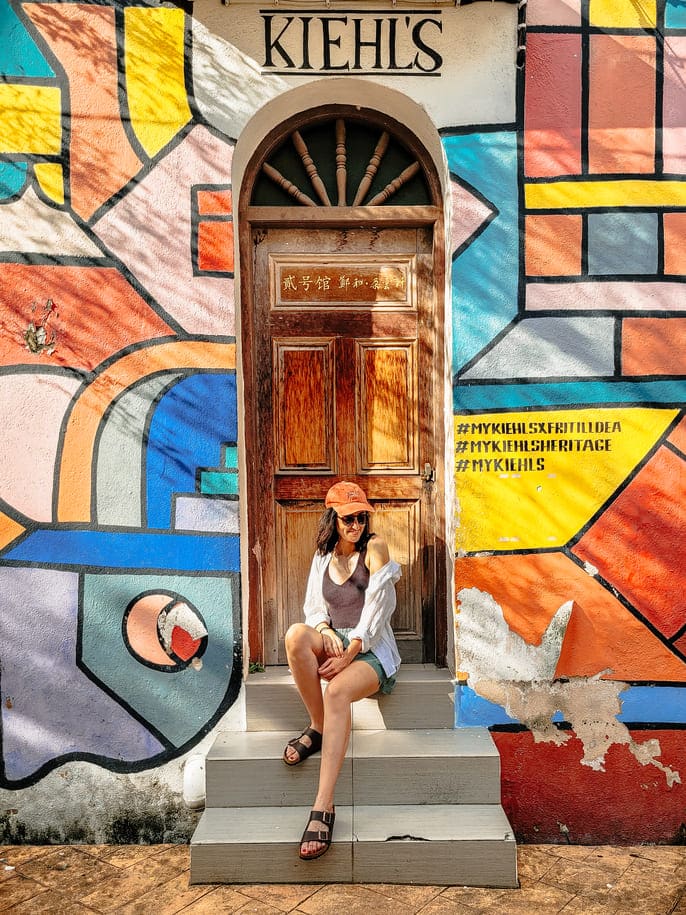 You might also consider having a look at the Orangutan House. It was my least favourite of the places I mention here, but still worth it nevertheless.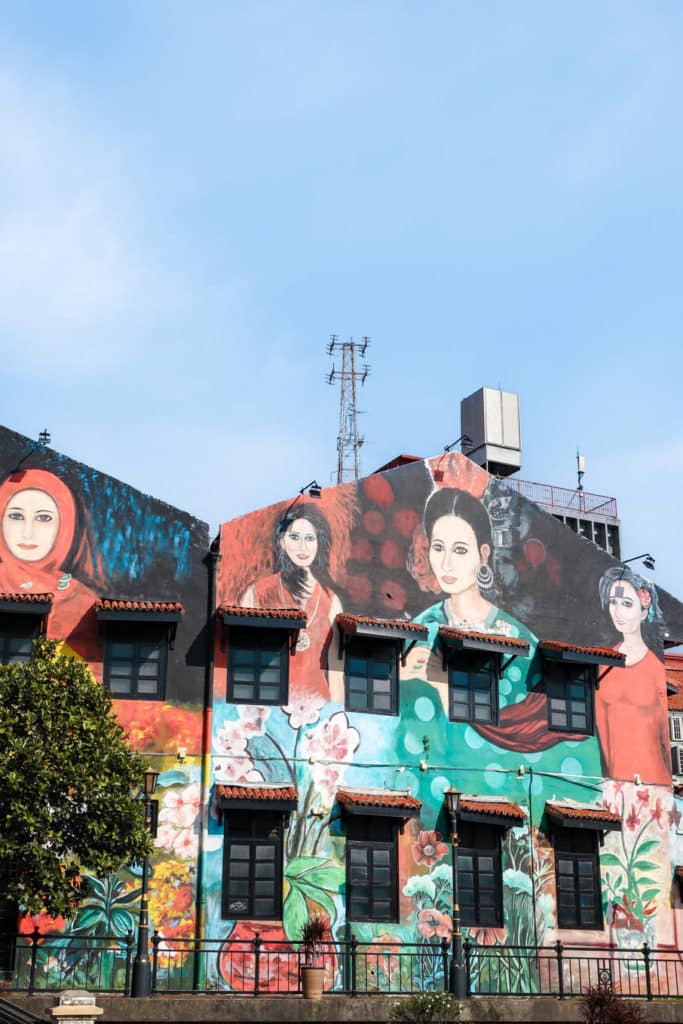 And finally, I suggest you stroll a bit around the Malacca River, where you can also find some cute pieces of street art along the way.
» St. Francis Xavier Church
It's now time to head to St. Francis Xavier Church – another proof that Malaysia is a great example of how different religions can coexist. This church was built in the 19th century in a place where it once stood a Portuguese church.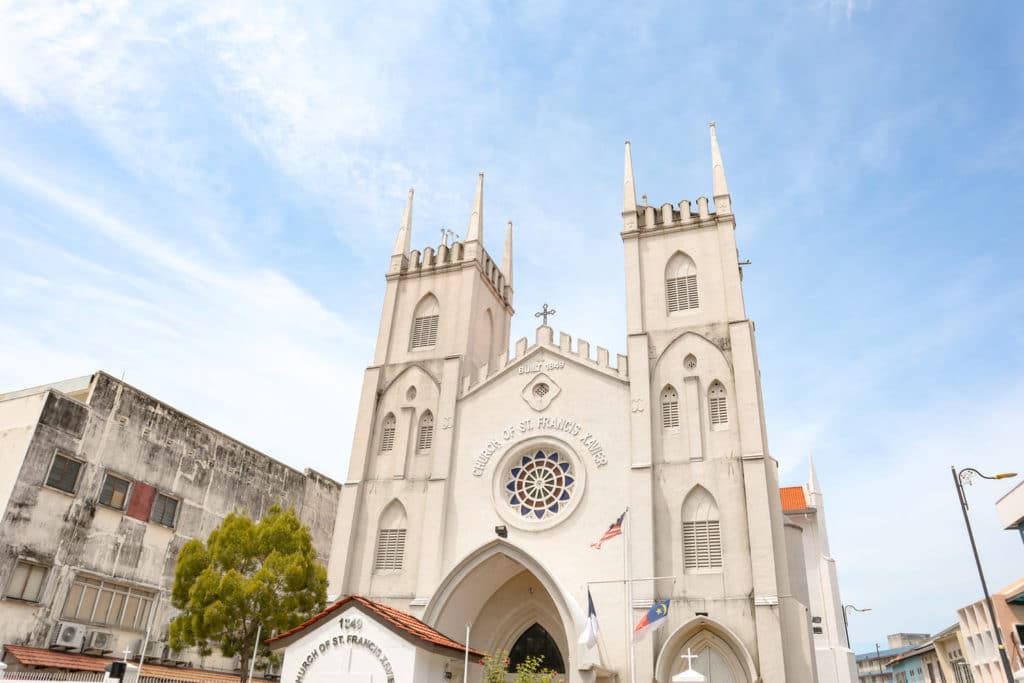 » Dutch Square
The Dutch Square is only a few minutes walk from the previous point in this Malacca itinerary. Also known as the Red Square (it's easy to understand why), this is considered by many the heart of Malacca.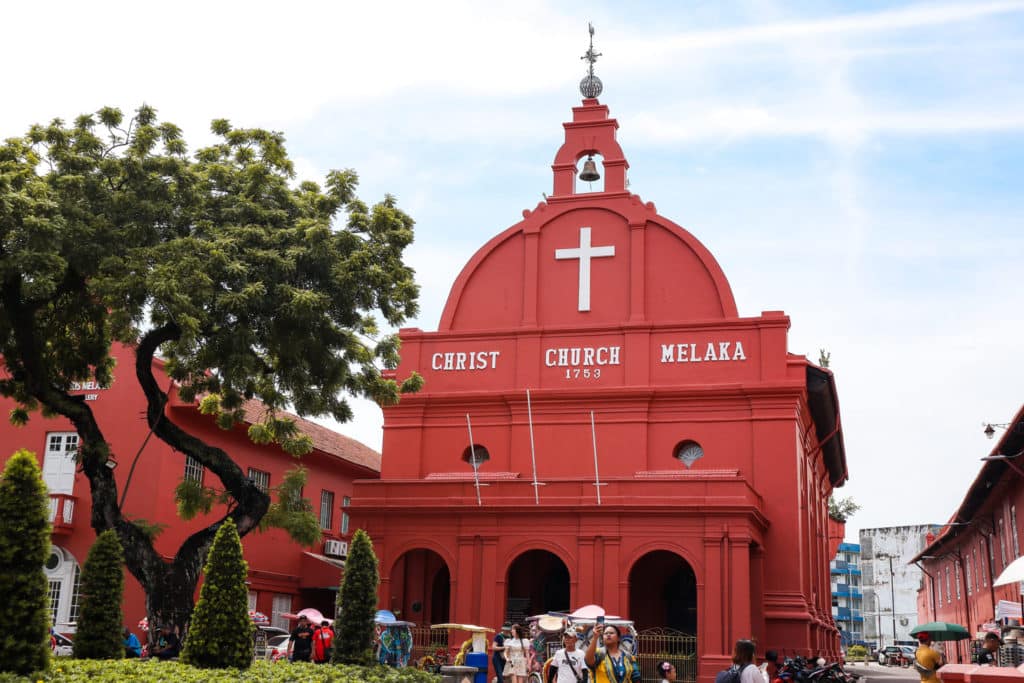 Here you'll find some of the best examples of Dutch colonial architecture. The most visited places in Dutch Square are probably Christ Church and Stadhuys. In fact, the Stadhuys (originally the seat of the Dutch government) is the oldest Dutch colonial building still standing in Southeast Asia.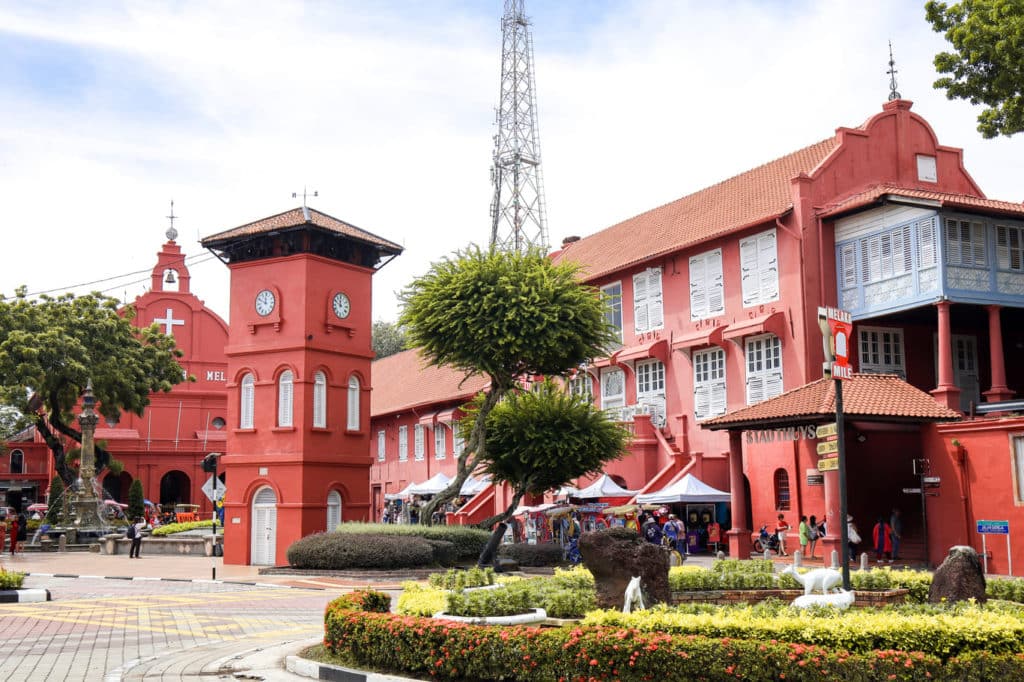 And, while you're at the Dutch Square, make sure you don't miss the silliest tuk-tuk rides ever. If you can, make sure you also get to watch them ride at nighttime since it's even a funnier experience 😅.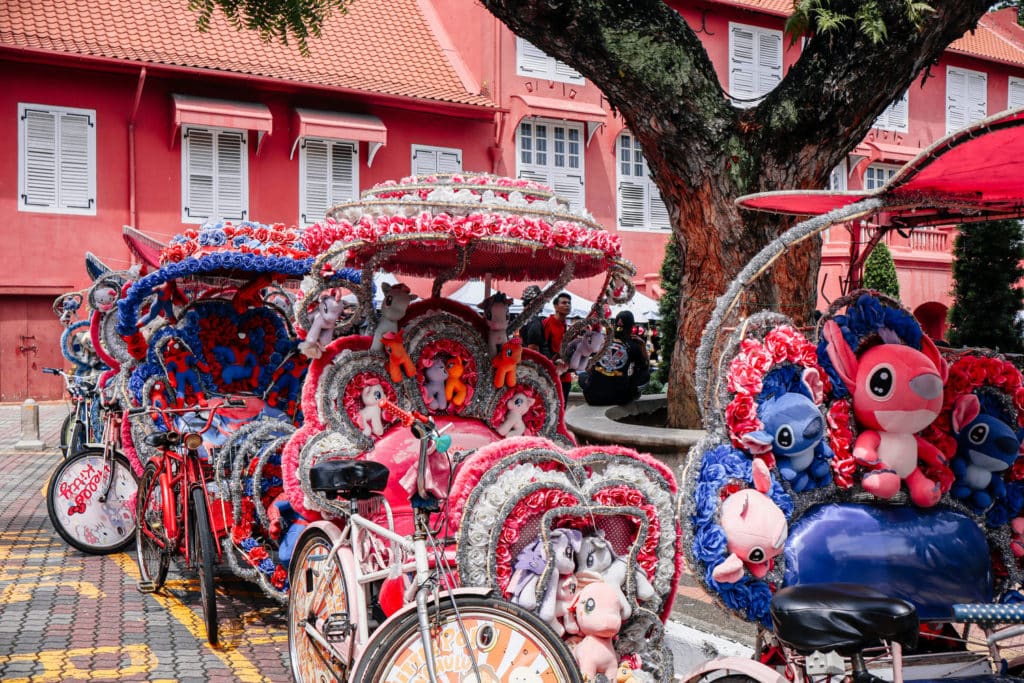 » Malacca's River Cruise
Head over to Malacca's Tourist Information Center to buy tickets for a river cruise around Malacca. It's a very touristy experience, but definitely worth it.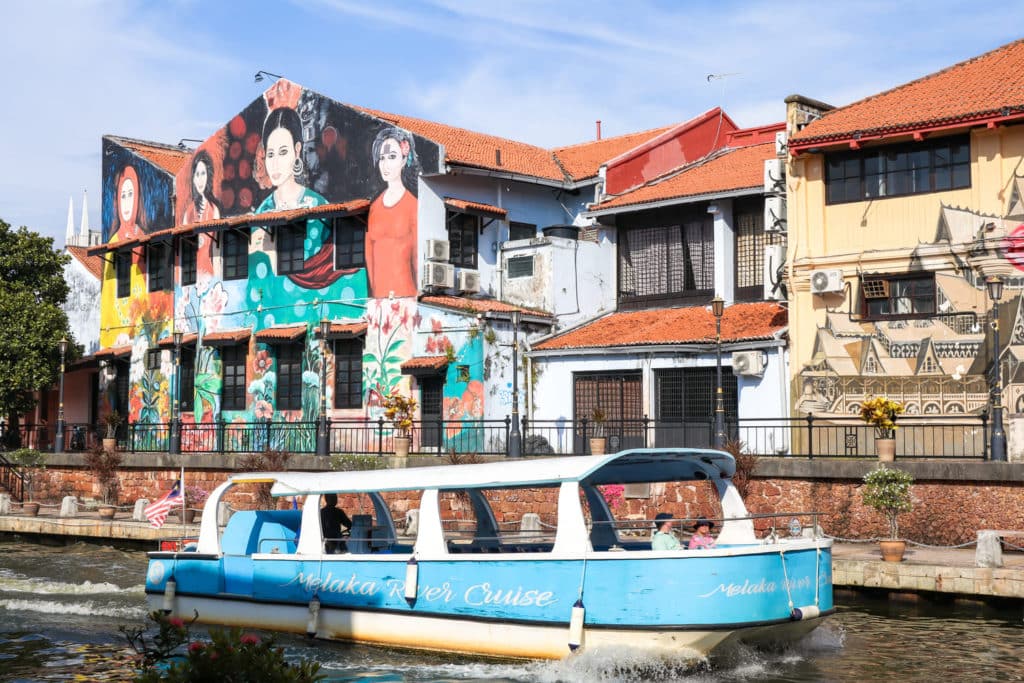 The cruise is a great way to experience Malacca from another perspective. Plus, it'll help you to survive the hot weather.
📝 USEFUL INFORMATION: The Malacca River cruise takes about 45 minutes and costs 30 MYR (~5,9€) for non-Malaysians.
» St. Paul's Church
St. Paul's Church is another of Malacca's attractions that results from the colonial occupation by the Portuguese. It was built in 1521 in honour of the Virgin Mary. It is also the oldest Catholic Church in Malaysia and Southeast Asia.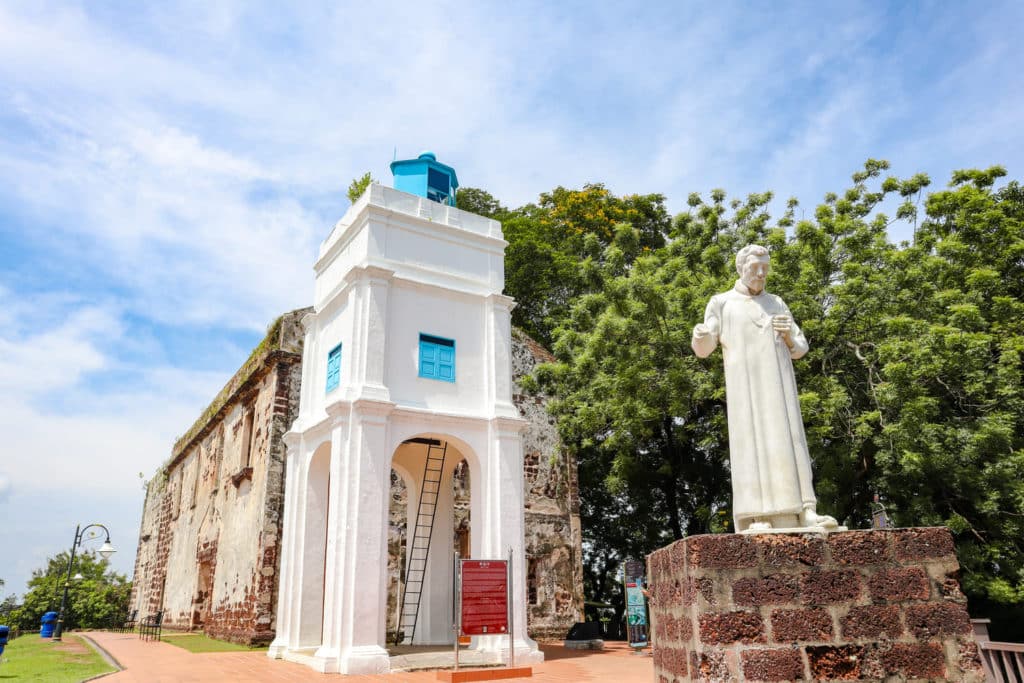 You'll have to climb a few steps to get there since it's located on a hill, but it's quite easy.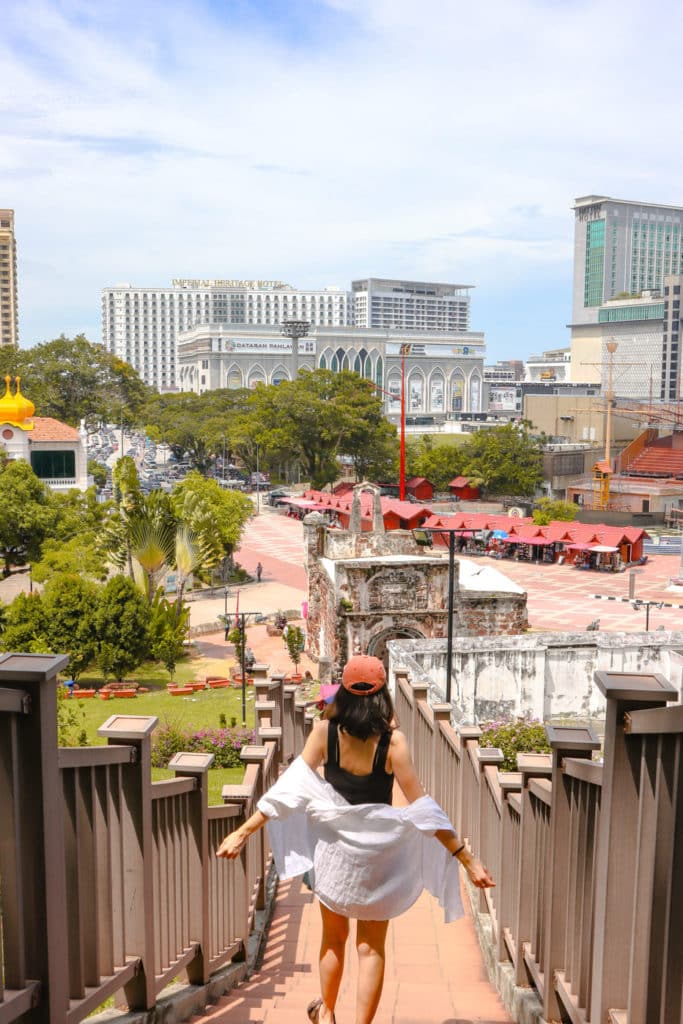 » A Famosa
At the bottom of St. Paul's Hill, you'll find A Famosa – a Portuguese fortress built at the beginning of the 16th century. Even though most of the fortress has been destroyed since, you can still admire the remains of Porta de Santiago (gateway).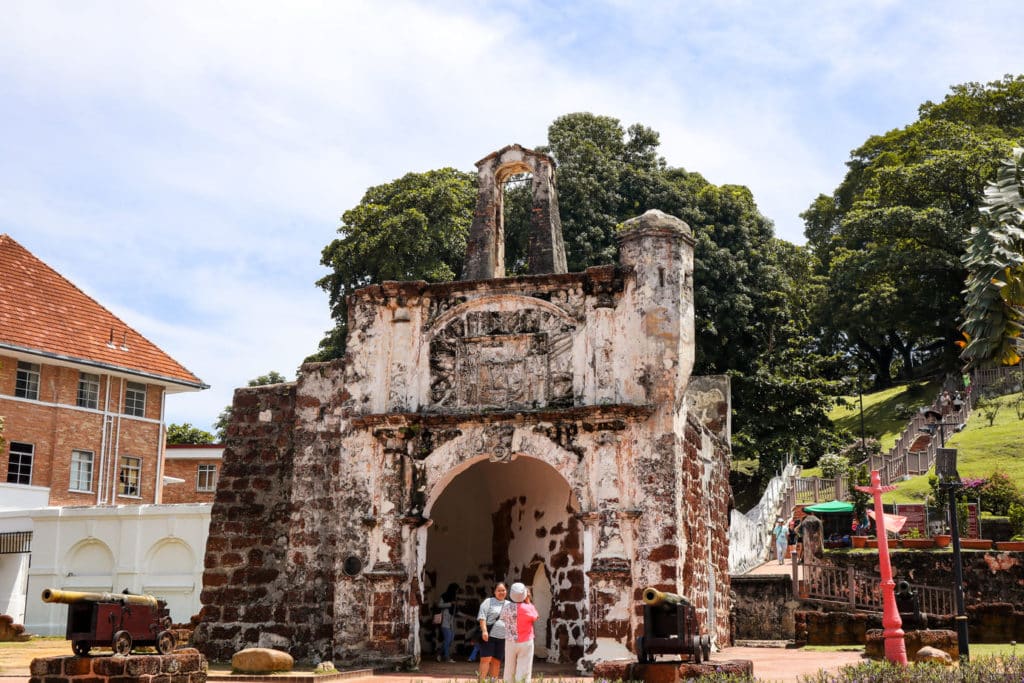 This is also one of the greatest examples of European architectural remains in Southeast Asia.
» Kampung Morten Village
Even though it's quite far to walk there, I recommend a quick stop at Kampung Morten Village. There, you'll be able to witness traditional Malay Houses.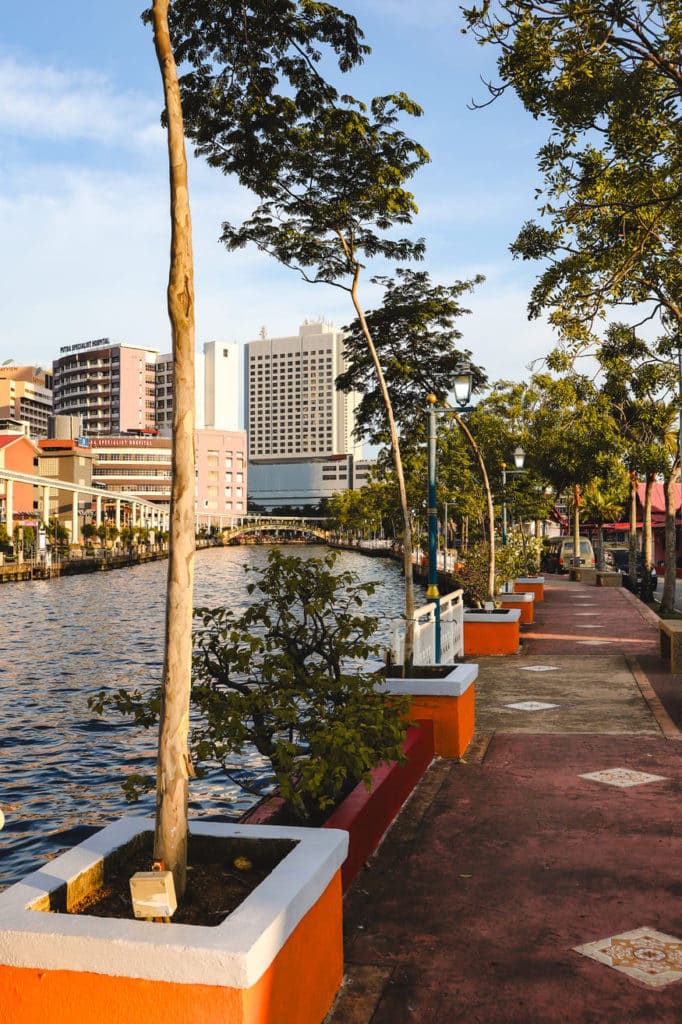 There is not much to do there except to get lost in Kampung Morten's small streets. But here, you'll definitely get to experience another side of Malacca.
💡 EXTRA TIP: Since Kampung Morten Village is located a bit far from central Malacca, I suggest you use a Grab to get there. The Grab ride should be quite inexpensive.
» Straits Mosque
If you're looking to check out one of the most beautiful mosques in Malaysia, then you should definitely consider visiting Straits Mosque. It's a bit far from central Malacca, but you can quickly get there with a Grab ride.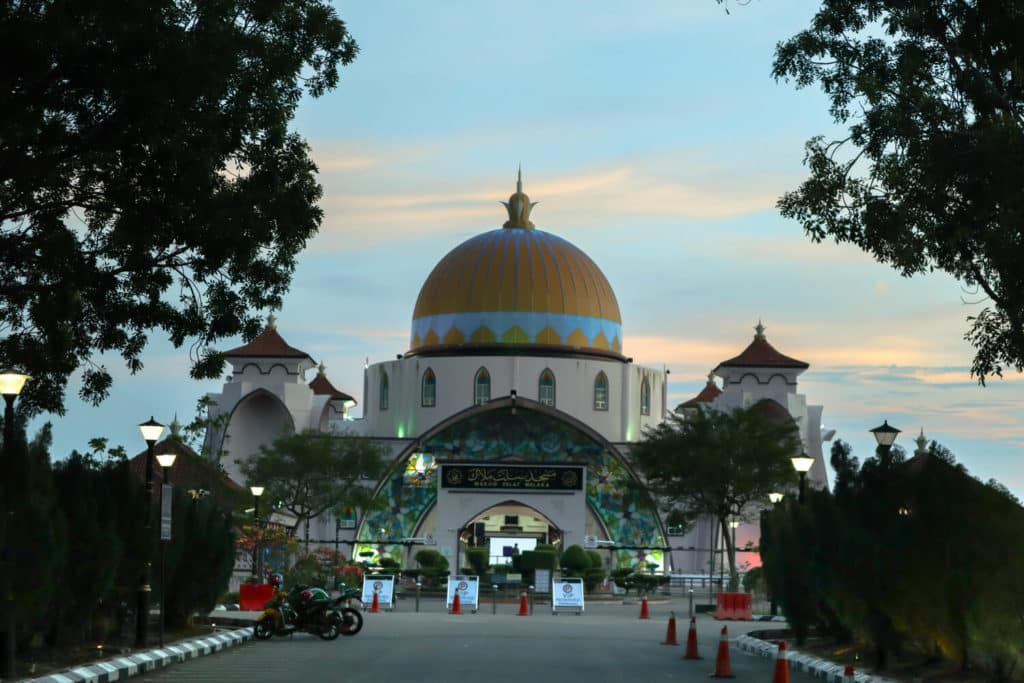 The location of the mosque creates the illusion that it's floating when there is a high tide. That's why it's actually called by many the Floating Mosque. If you wish, you can also try to check it out inside.
» Jonker Street Night Market
And to end this Malacca itinerary, I suggest you head to Jonker Street to have some dinner at the numerous food options that exist there. Please beware that the market only happens on Friday, Saturday and Sunday nights. Unfortunately, I didn't visit on any of those days, and so, I didn't get to experience it.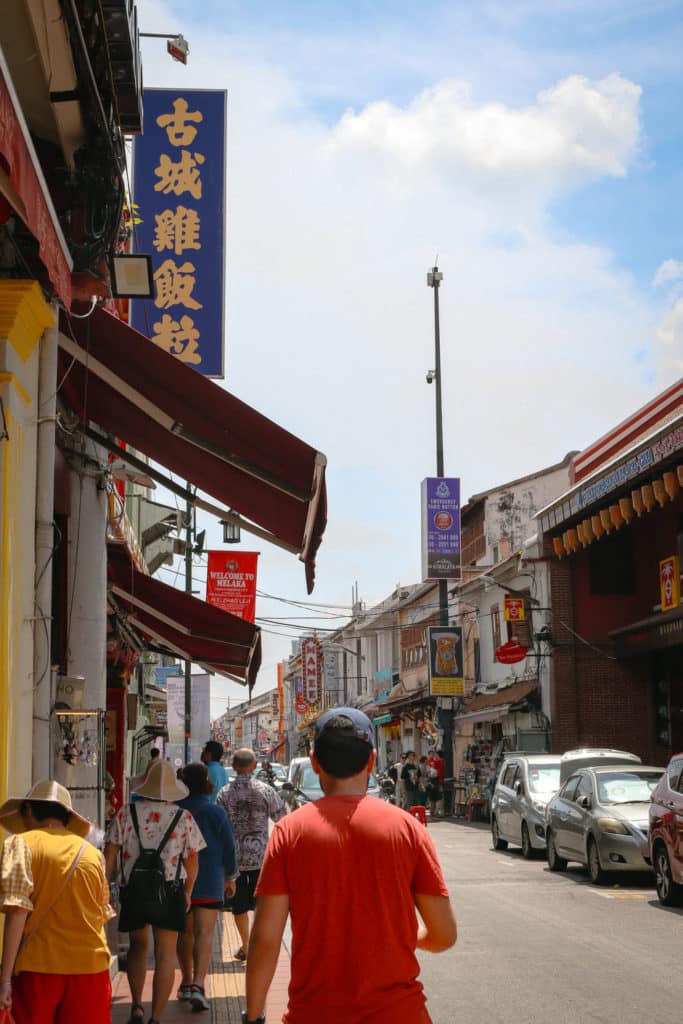 Nevertheless, it's still worth it to stroll around Jonker Street even during the day 🥰.
Day trip to Malacca – What else to visit
If you have some extra free time in Malacca, then you should consider visiting some of the other popular sights in Malacca. This includes:
Portuguese Settlement – a part of Malacca where Kristang (people with mixed Portuguese and Malaysian heritage) live
Taming Sari Revolving Tower – incredible views over Malacca
Shore Sky Tower – another place with beautiful views over Malacca
Upside Down House Melaka – an unusual and funny experience
Sultanate Palace Museum
Maritime Museum – a replica of the Portuguese ship Flor do Mar
Disclaimer: this post may contain some affiliate links, which means I get a small commission if you buy something through my links. This doesn't represent any additional cost to you and you'll be supporting my work here on the blog😊