Marrakech may be a charming city (and it is!), but it doesn't suit everyone. Especially for those coming from Europe, Marrakech is a pretty intense city. So, I decided to create this short blog post with some things you should know before visiting Marrakech!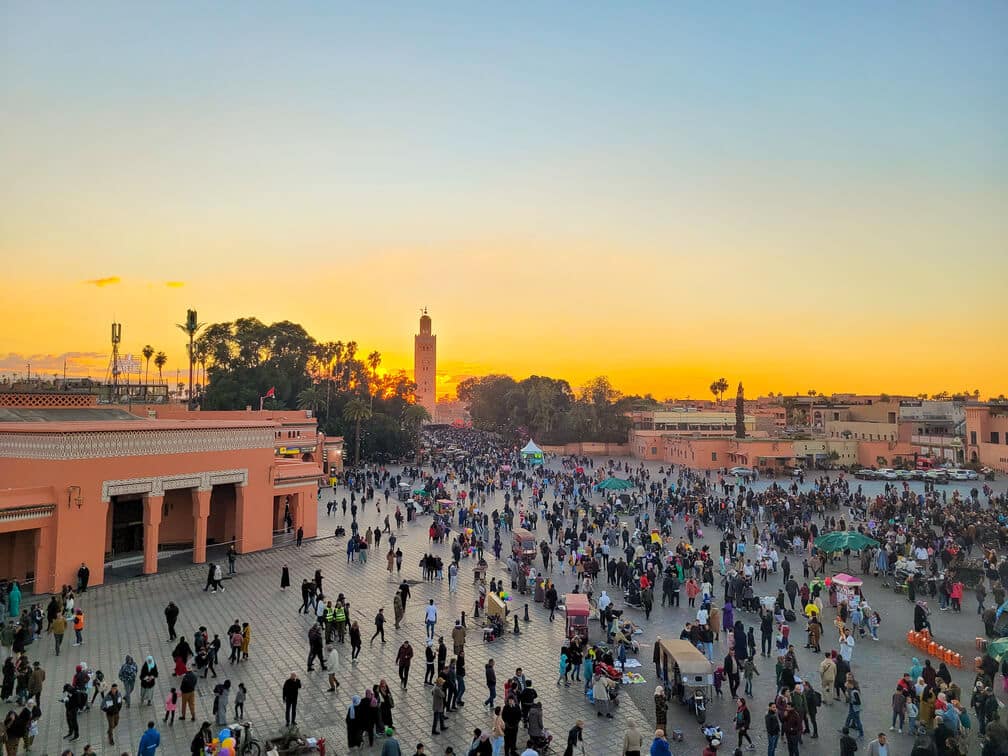 When we look for photos of Marrakech, it's usual to see pictures in beautiful places with girls in flowing dresses. These places exist and are undoubtedly beautiful! However, Marrakech is much more than this.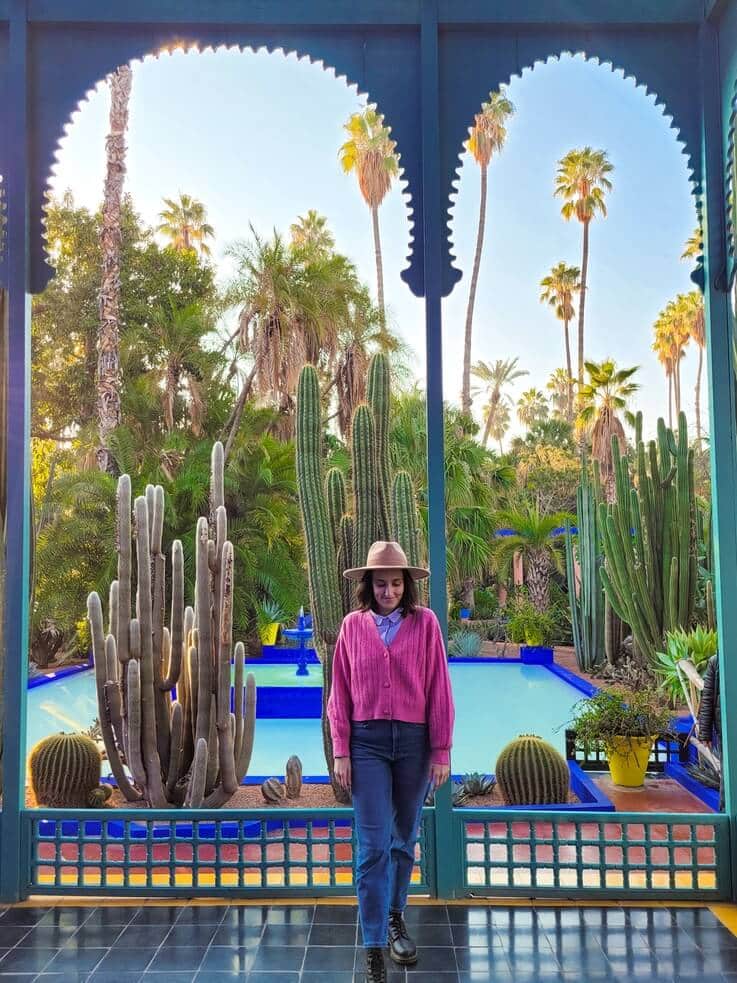 The city of Marrakech is chaotic, dirty and intense. It is an incredible city, but if you don't want to be truly disappointed, I recommend you keep reading to find out a few things you should know before visiting Marrakech.
01 | The importance of the location when choosing accommodation
Marrakech has magnificent accommodations, many of them, at very affordable prices. One of the most incredible experiences in the city is, actually, staying in a riad – a typical house that is characterized by having an interior courtyard.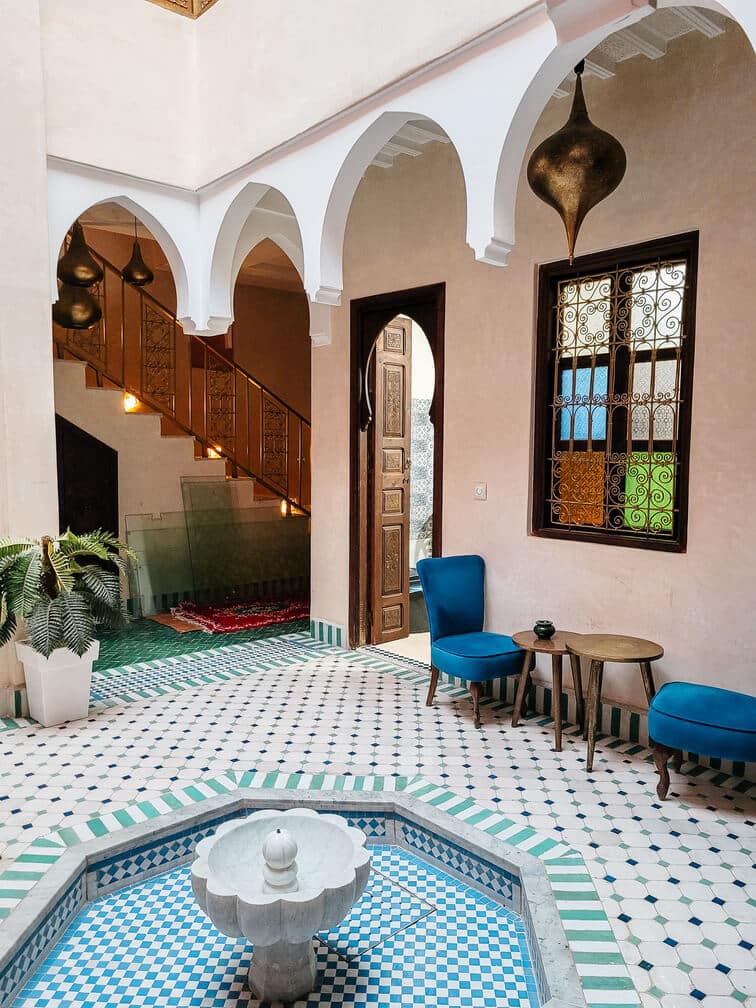 However, most of these riads are located inside the medina – an area within the city walls. And this is the most chaotic part of the city. Most of the streets are narrow, many of them are alleyways, and some are quite dark. Additionally, the paths inside the medina often feel like a maze.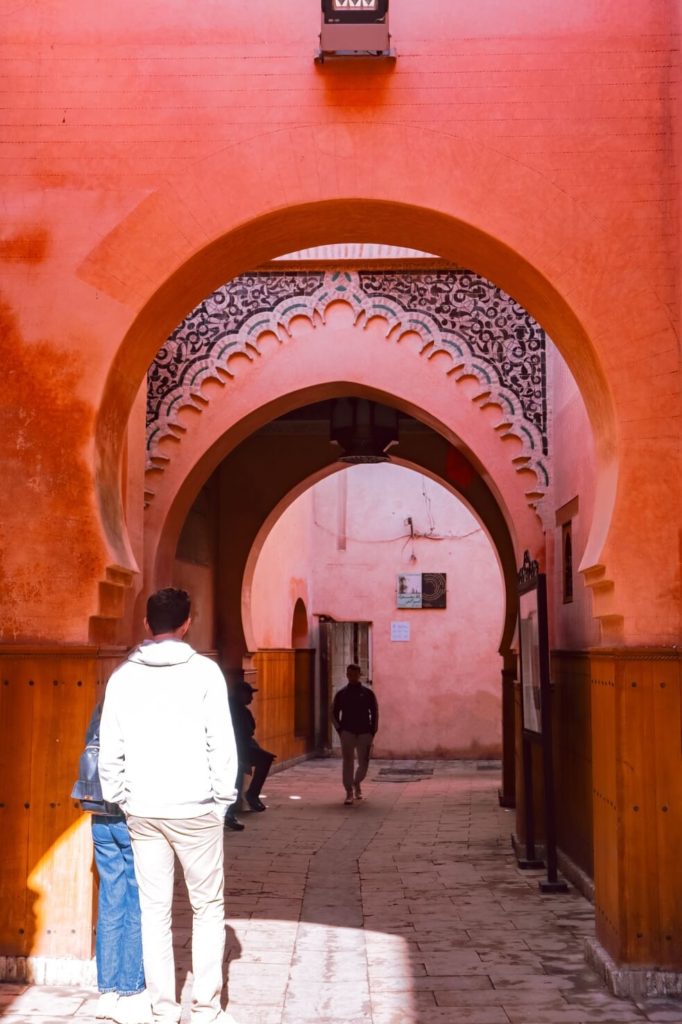 Although I felt safe inside the medina (even at night!), I recommend reading the comments on the accommodation booking platform carefully, especially with regard to location. There's no better way to understand what the street is like where a particular riad is located.f
Choosing a riad that is in a part of the medina where we feel safer can be quite important to make the whole trip more enjoyable.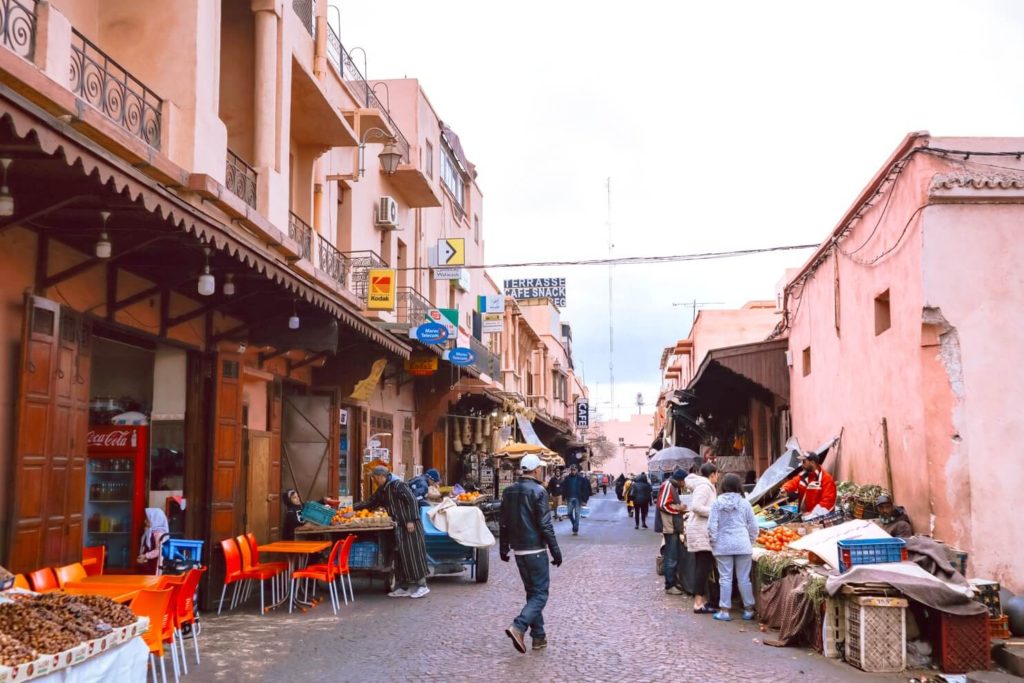 Finally, most of the hotels of the major hotel chains are located outside the medina. For those who want to avoid the medina at all, this is an excellent option. However, in this case, you will always have to walk a bit more (or even take a taxi) to get to the medina, which is where most of the city's points of interest are located.
02 | It's a pretty much cash-based city
Another fact that is important to know before visiting Marrakech is that many of the places in the city only accept cash as a form of payment, especially inside the medina.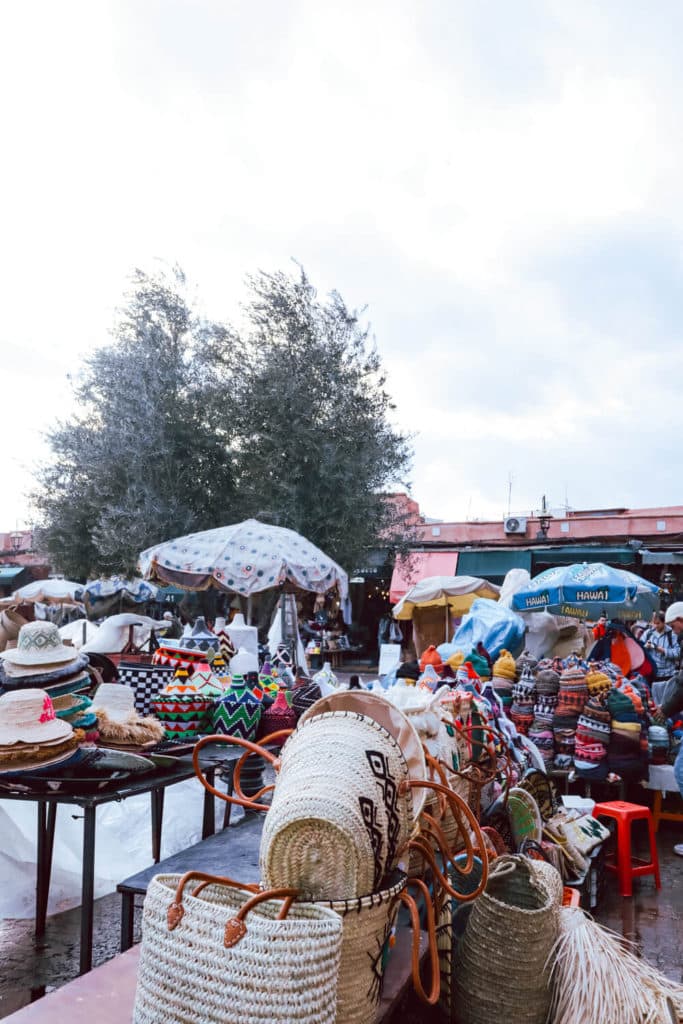 Therefore, I strongly recommend withdrawing money as soon as possible from one of the many ATMs in town. You can use your Revolut card to ensure that you do not pay fees for withdrawals in a currency other than your own.
💡 EXTRA TIP: Although the Revolut card allows you not to pay fees with withdrawals/payments, it still does not avoid paying fees from local banks. So, I recommend using Al Barid Bank, where I didn't pay any fees to withdraw money.
03 | Don't accept help from strangers
Apart from the vendors inside the medina, it is very common for locals to approach us while we are walking through the streets. Generally, the speech is always the same: the place we're looking for is closed or it's not located where we are heading. However, those who tell us this always have an alternative solution: they can show us the right way or they know someone who will let us in.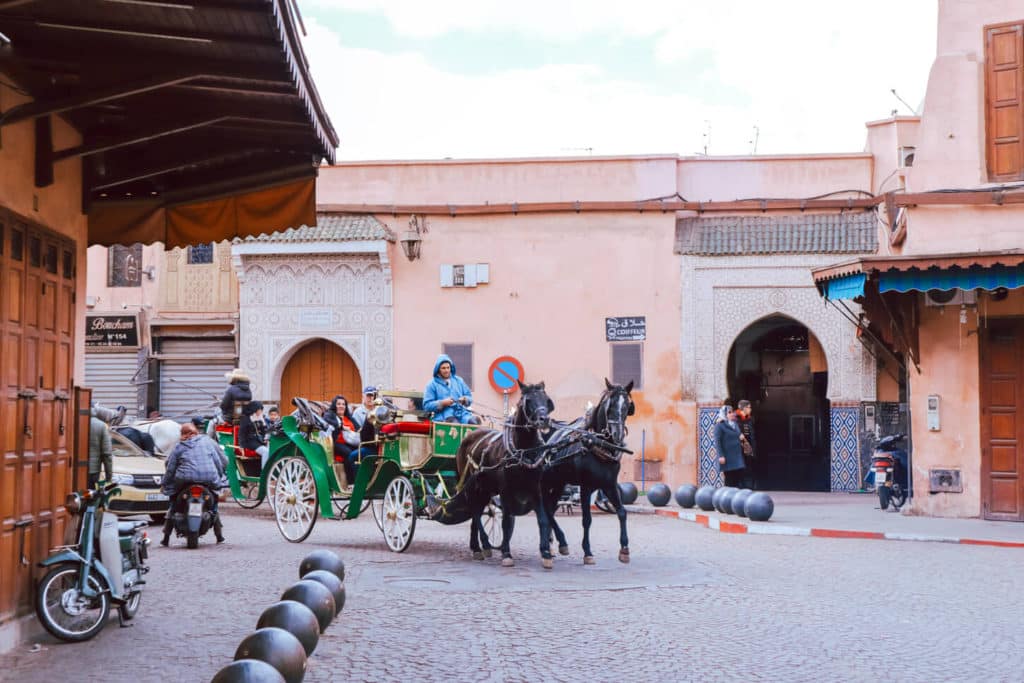 The problem is they are, generally, lying. The aim is to take you to another part of the medina, where they have some shop or know someone who does, to try to sell you something.
Although in most cases nothing will happen if we simply refuse and walk away, it is best not to let the situation get to that point. So, my recommendation is not to accept any suggestions as soon as we are approached. A simple thank you in French or Arabic and walking away is more than enough to stay out of trouble.
04 | Expect to walk several kilometres a day
Most points of interest in Marrakech are located in the medina, where there are hardly any cars. So, the easiest way of transport between the various places is on foot, as there is no major public transport to use.
Although there is the option of riding a motorbike, the streets are so chaotic (people, motorbikes, bicycles, wheelbarrows, donkeys) that the best solution is to just walk!
05 | Haggling is the key word on this trip
Moroccan culture is known for its extraordinary bargaining skills. If you plan on buying anything in the medina, it is best to be prepared to haggle.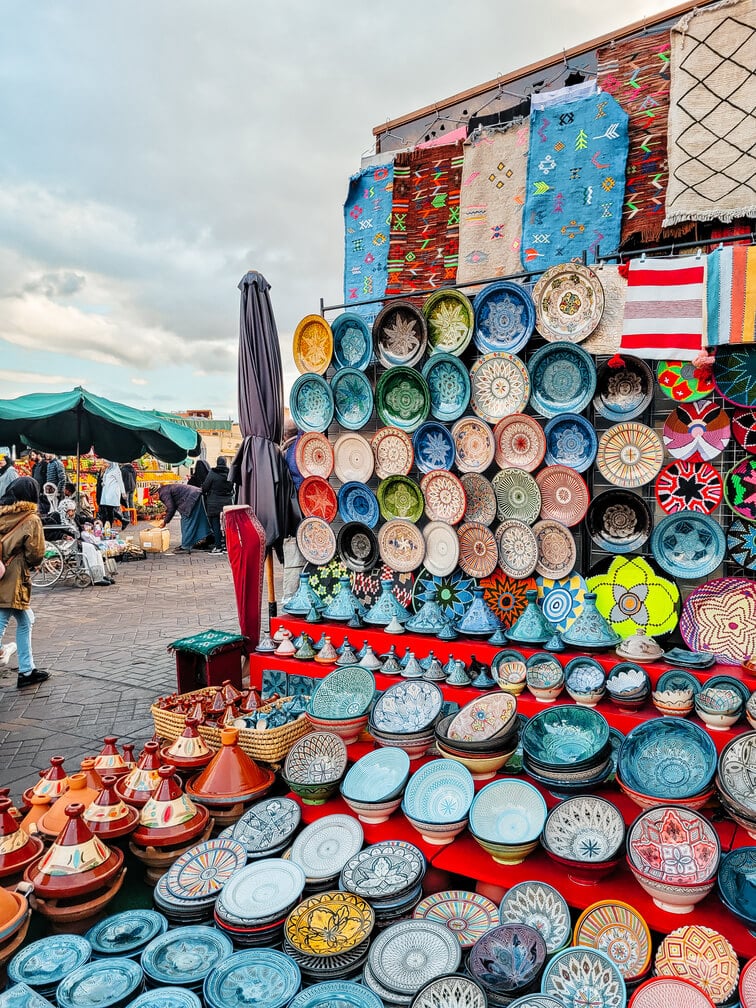 But bargaining doesn't stop at the small shops inside the medina. If you are considering using the city's taxis, I strongly recommend that you find out the basic fares for the route you intend to take, because even in taxis you have to haggle.
In fact, the advice to research the "normal" price of products/services in advance can be useful for anything you are thinking of buying in Marrakech.
06 | Be prepared to say 'no'
Walking through the streets of the medina means being approached every 2 to 3 minutes (sometimes even less) to visit a particular shop or try something. If you are not interested, nod your head no, say a few words in French (for example, "no, merci") or Arabic ("choukran", which means "thank you") and carry on.
No one will bother you anymore and you will only have to repeat it a few metres further when you are approached again 😆.
07 | Street food can be quite delicious
There are hundreds of street food stalls and some of them with very delicious food. It can seem a little scary to try street food because we may be afraid of possible food poisoning.
So my recommendation is to try a food tour with a local guide, who will take you to the best (and also safe!) places.
💡 EXTRA TIP: When I was in Marrakech, I took a food tour and I really enjoyed the experience. You can read all about my experience here.
08 | Don't take photographs without permission
I know that all the colours and confusion of the medina are very tempting to photograph! However, the vendors in the souks (markets) don't like us to photograph their shops without buying anything or even being photographed without permission.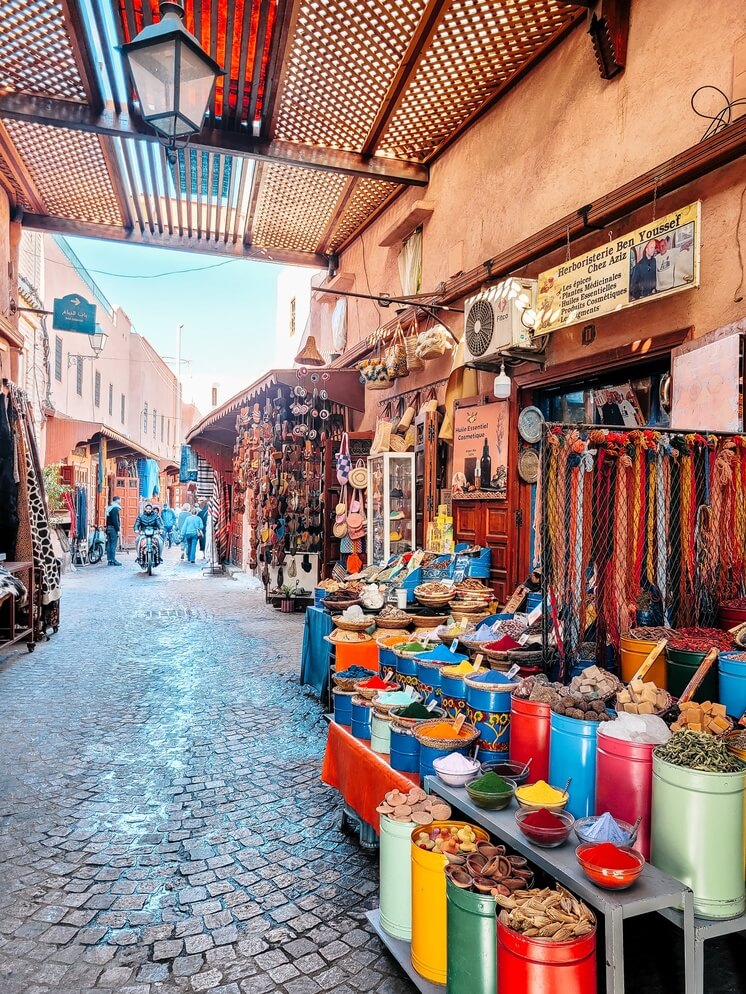 There are many cute shops (for example, spices, pottery and lamp shops), but unless it is a very discreet photo (like all the ones I took during the trip), ask permission to take it. This advice is even more valid if you intend to photograph the vendors.
Another useful tip regarding photographs is: if you accept that they put something on your body (e.g. monkeys/ snakes on the shoulder, turbans, scarves, …), expect to pay if you are going to take a photo with it. The best thing is to refuse in advance that they put something on you.
09 | Beware of motorbikes
The motorbike is a very common means of transport inside the medina. This is also true even if the street is very narrow and crowded. Motorbikes are everywhere, they come when you least expect them, and some are faster than others.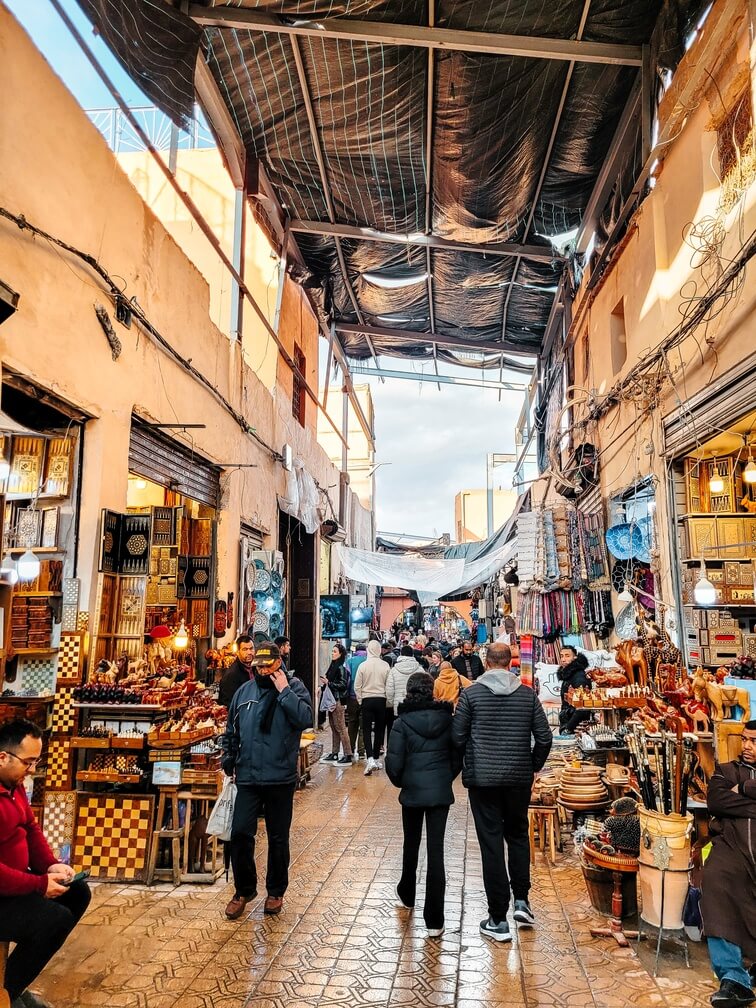 Although I haven't seen any motorbike accidents (which is quite unbelievable!), I recommend you be careful when walking through the streets of the medina. Drivers try to respect the supposed side of driving, but it's not always true!
10 | Precautions with water
Another thing you should know before visiting Marrakech is that it is not recommended to drink tap water or even brush your teeth with tap water! Try to always use bottled water (and make sure the water is sealed before opening it) for drinking and brushing your teeth.
Additionally, be careful with drinks with ice, as most ice will be made from tap water. In high-end restaurants and hotels, it will be less risky to have drinks with ice, but it's still better to be safe than sorry 😉.
11 | The city is mostly dirty
Don't expect spotless streets (especially inside the medina). Shopkeepers and locals have a habit of littering the ground, accumulating throughout the day.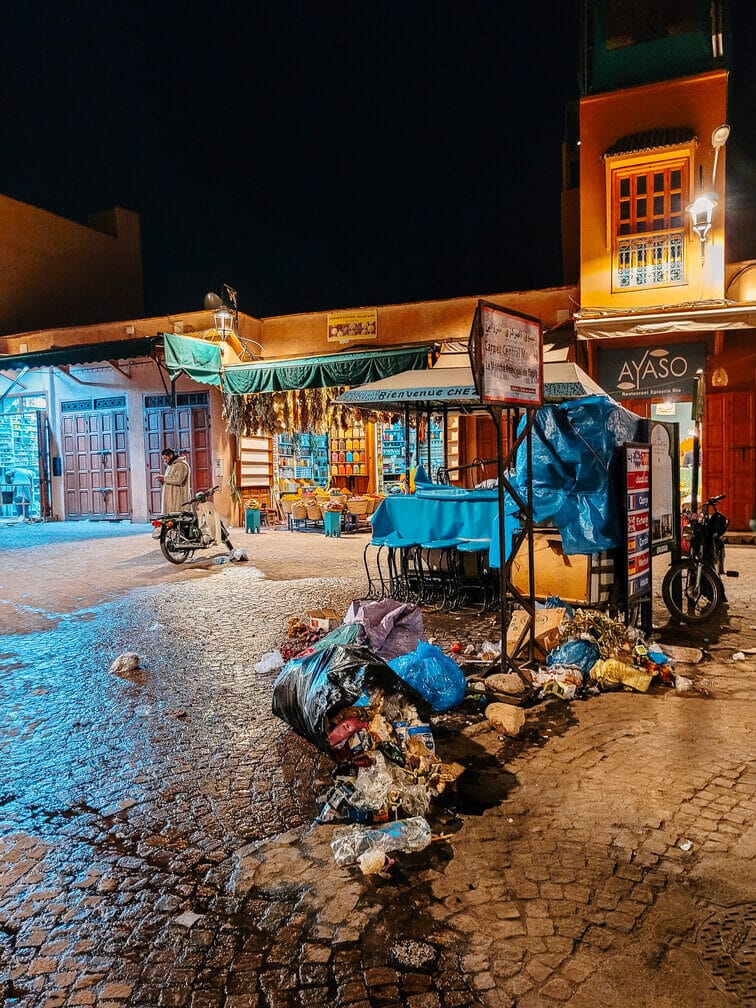 It's a sad reality to watch, but unfortunately, there's not much we can do! Let's simply try not to contribute with even more rubbish. From what I noticed, there are very few rubbish bins in the city, which certainly doesn't help with this problem.
12 | Morning prayers
Another thing to know before visiting Marrakech is that staying in the medina may mean staying near a mosque. And, depending on the sound insulation of your room, in this case, you may hear the call to morning prayer. In the riad I stayed in, for example, I heard the call every day around 7 am.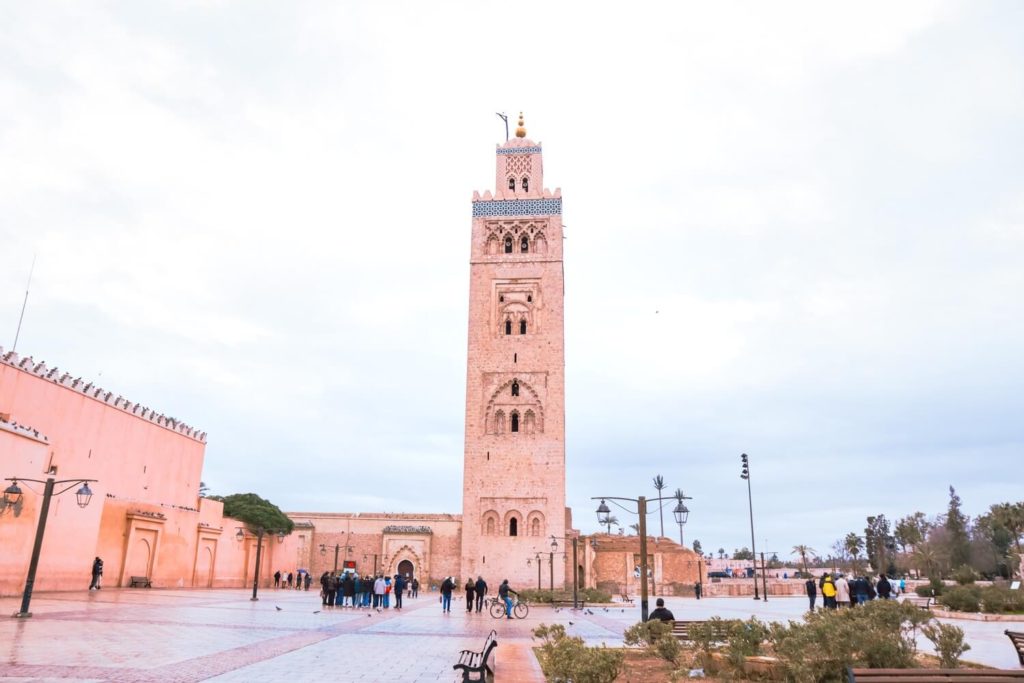 There are more throughout the day, but the one that occurs early in the day can be the most bothering because it occurs so early in the morning.
13 | It's not always hot
Many people associate Morocco with warm weather, and although the summers are unbearably hot, it's not hot all year round.
If you choose to visit Marrakech in winter (and even at other times of the year when it's not too hot), I recommend taking warm clothing, as it can be quite cold. For example, I visited Marrakech in January and I witnessed 2 °C.
💡 EXTRA TIP: The best time to visit Marrakech and when the temperatures are milder is from March to May or October to November. Check out all the tips for visiting Marrakech here.
14 | Allow enough time for the airport
If you are flying out of Marrakech airport, make sure you get there with plenty of time. In addition to border control (where queues can be quite long) and security control, you have to go through the check-in counter even if you don't have a suitcase to check in.
Therefore, and to avoid missing flights, I suggest you go with a bit more time than usual.
15 | (After all) Google Maps works
Finally, one of the things I think is important to know before visiting Marrakech is that Google Maps works surprisingly well in the city (including in the medina). I've read some reviews saying the exact opposite, but honestly, I don't agree.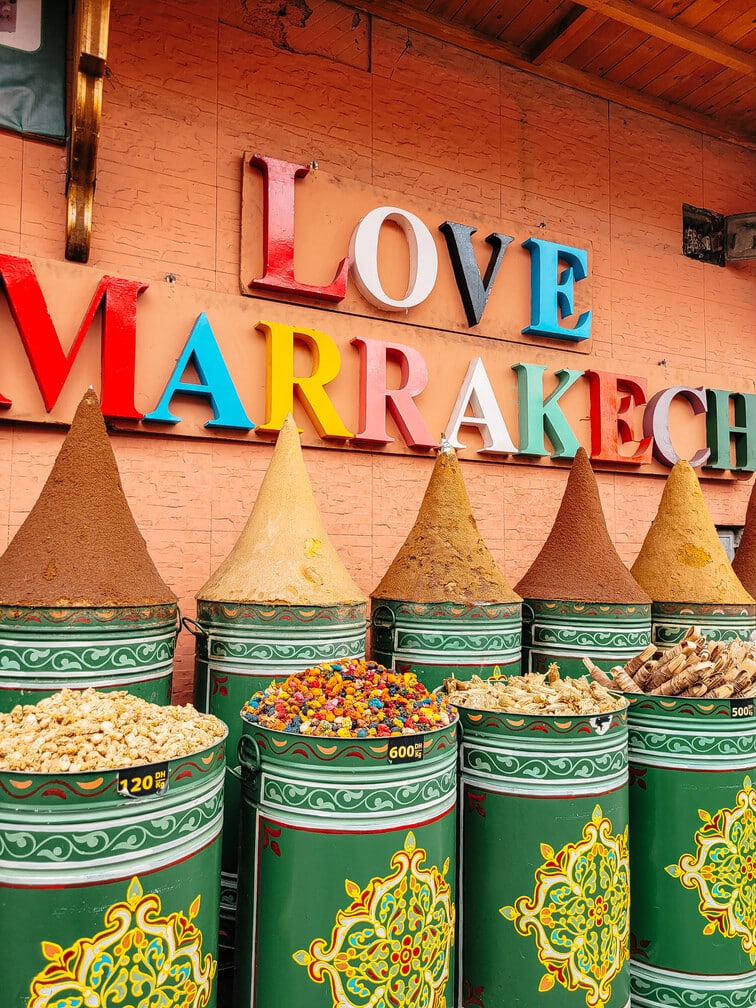 It is true that it is easy to get lost in the labyrinth that is the medina, but I found that Google Maps works quite well, given the number of small streets and alleys there are.
Disclaimer: this post may contain some affiliate links, which means I get a small commission if you buy something through my links. This doesn't represent any additional cost to you and you'll be supporting my work here on the blog😊