Are you travelling to Southeast Asia and looking for what to do in Malaysia? Then you've come to the right place! Throughout this post, you'll find a 10 days in Malaysia itinerary, as well as tips on accommodation, Malaysian food, the best time to visit the country and what you can visit with a few extra days to spare.
The truth is that Malaysia is sometimes an overlooked destination in Southeast Asia. People usually visit neighbouring Thailand or Singapore instead.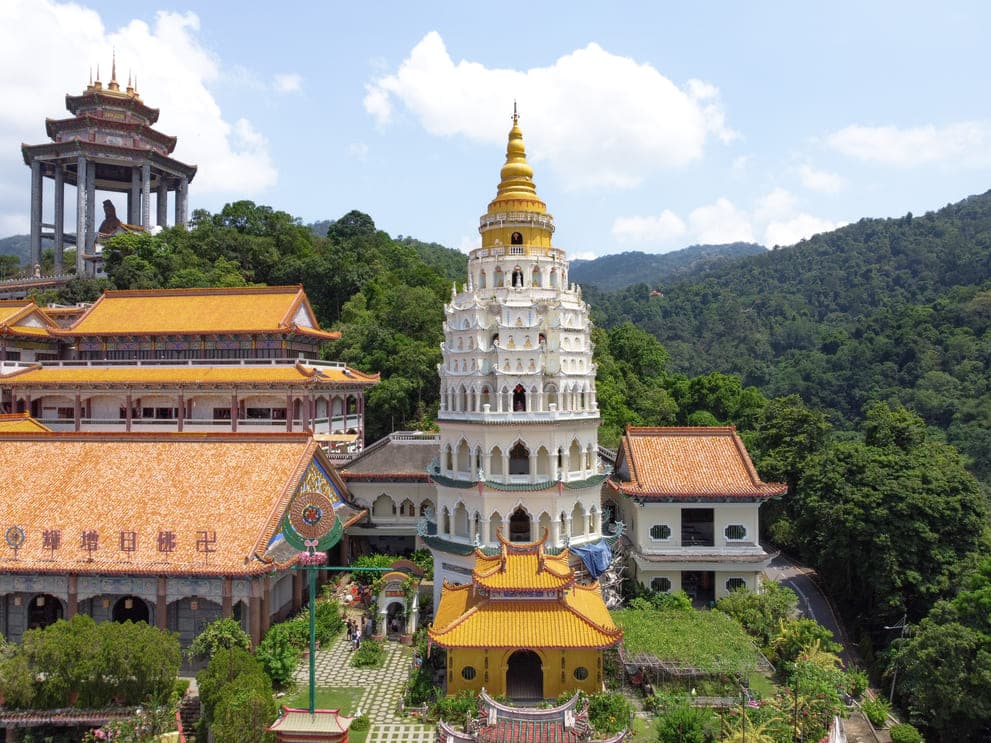 Although it's a less popular option, Malaysia is an excellent choice for all kinds of travellers. After all, it's a destination that perfectly combines vibrant cities (such as Kuala Lumpur), UNESCO World Heritage sites (Malacca or George Town in Penang) and even beaches (like the Langkawi Islands).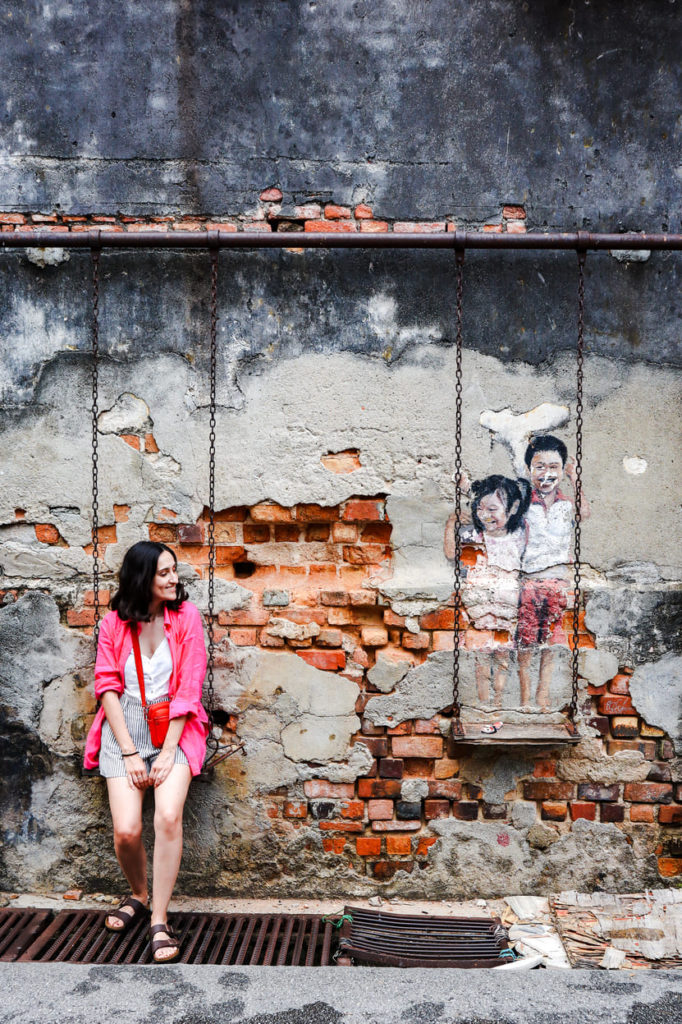 What's more, this is a country with a delicious cuisine that is well worth discovering (more on this at the end of the post) and a very friendly population 🥰.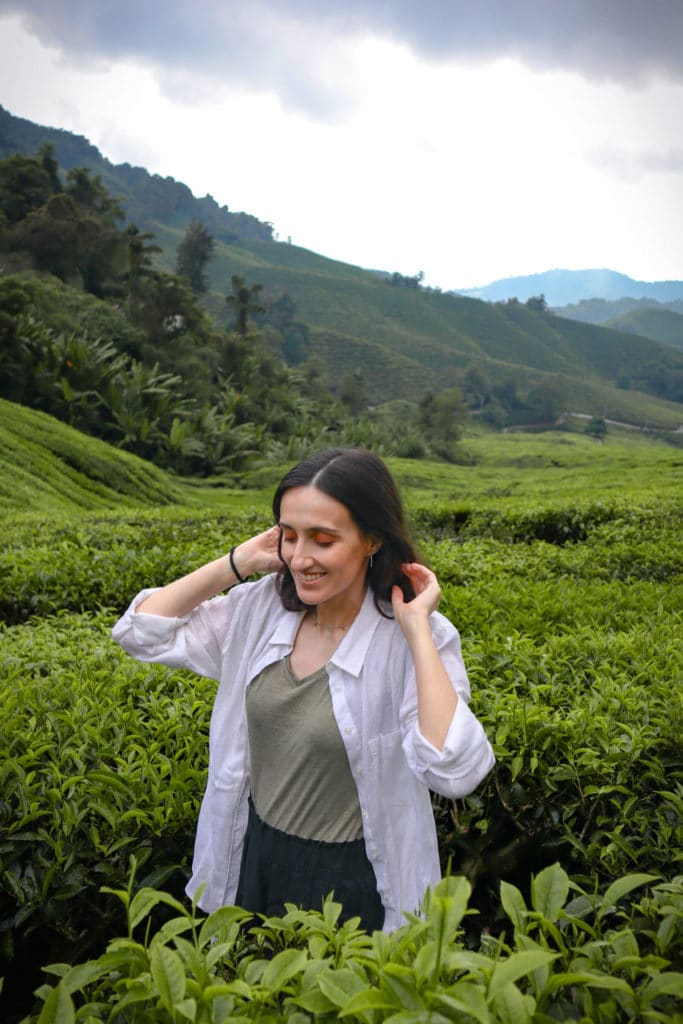 Sticking to just visiting Kuala Lumpur would be a huge mistake. That's why I invite you to continue reading this post and have a look at my 10 days in Malaysia itinerary. Throughout the post, you'll also find tips on, for example:
Number of days you need to visit Malaysia
Best time to visit Malaysia
Malaysia's top attractions
Malaysia's food guide
Accommodation in Malaysia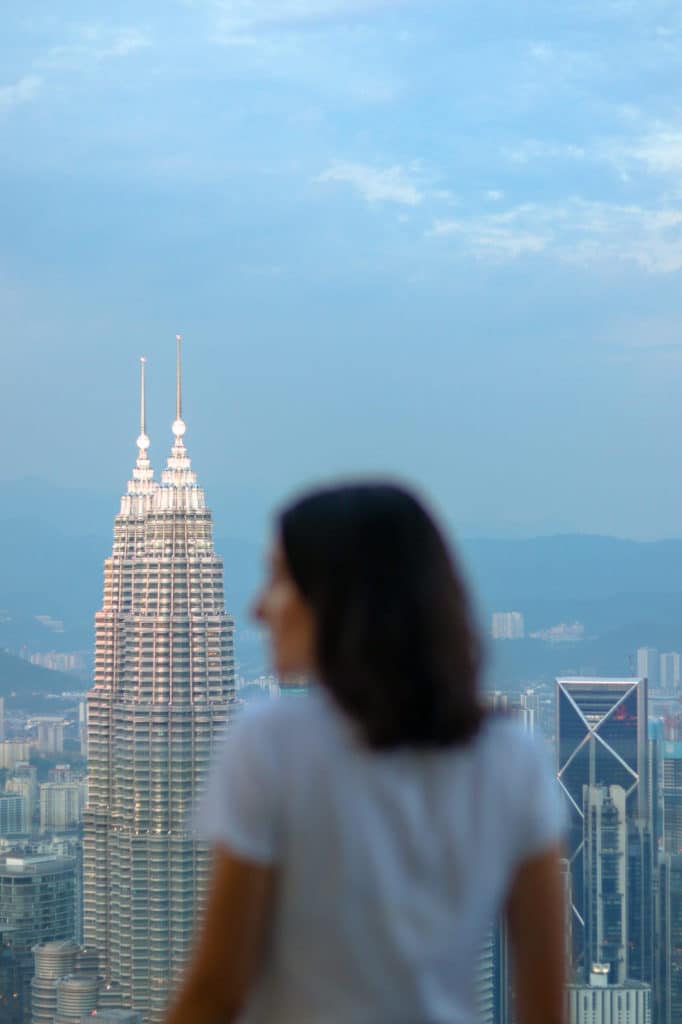 Before I start this Malaysia travel guide, I'd just like to point out that this itinerary focuses only on western and peninsular Malaysia (except for Langkawi), and does not include Malaysian Borneo, for example.
How many days do you need in Malaysia?
Even though it may seem like a small country at first glance, the truth is that there are a handful of interesting places in Malaysia. You could spend weeks, if not months, visiting Malaysia. From its colonial cities to some of its islands.
However, for a first visit, I believe that 10 to 15 days is the ideal length of time to plan a trip to Malaysia. With this number of days, it will be possible to include two to three days in the main Malaysian cities and a visit to one of Malaysia's islands.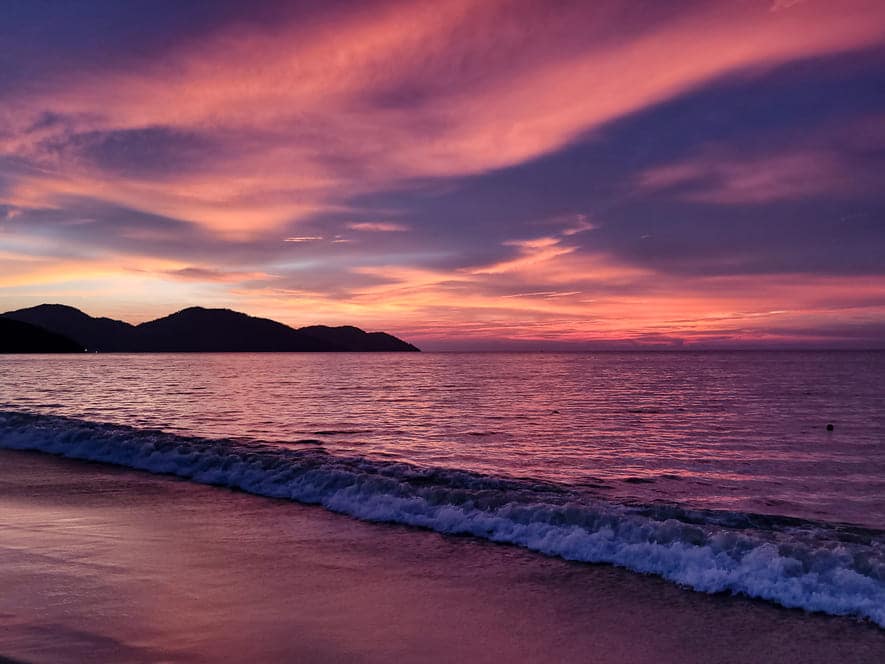 The places I'm going to mention in this 10 days in Malaysia itinerary are sometimes a bit far apart, so you also need to consider the time spent travelling between them.
What is the best time of year to visit Malaysia?
Malaysia has a hot and humid climate all year round. However, there is a dry season and a rainy season, so bear this in mind when booking your trip to Malaysia.
Since this itinerary is concentrated in the western part of Malaysia, the best months to visit Malaysia are from December to February, when there is less chance of rain. This is also normally the time of year with the most tourism in this part of the country.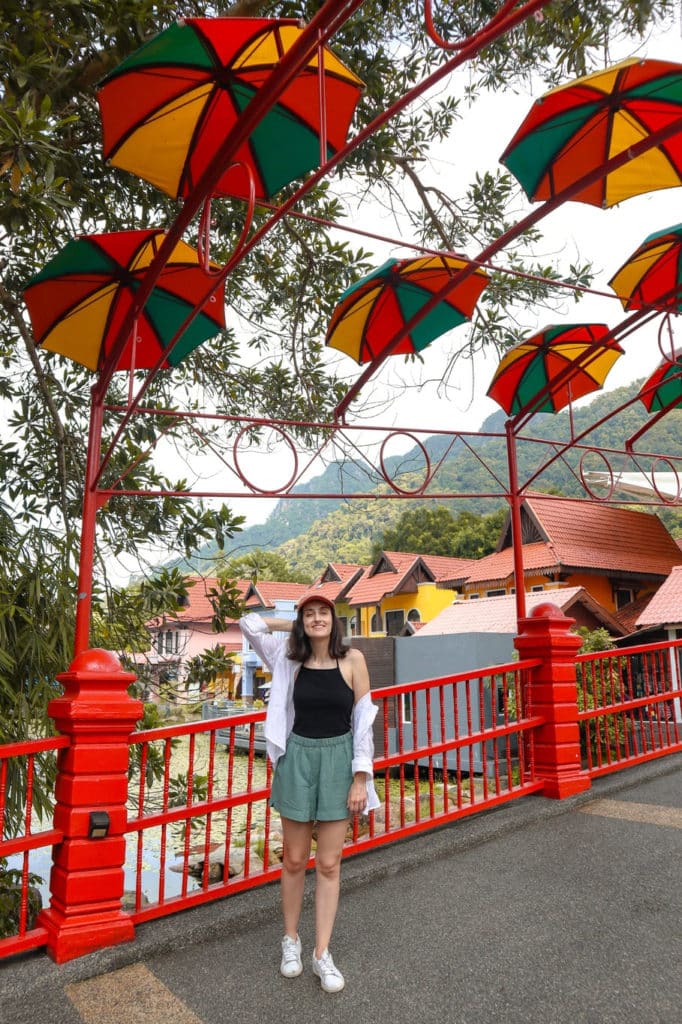 However, if you're curious about visiting the eastern part of Malaysia or even Borneo, then these tips are no longer valid.
In any case, it's worth mentioning that in my case, for example, I visited Malaysia in June (whether I was lucky, I don't know 😇) and it worked out well. I only experienced a bit of rain in Penang (for a few minutes) and Langkawi.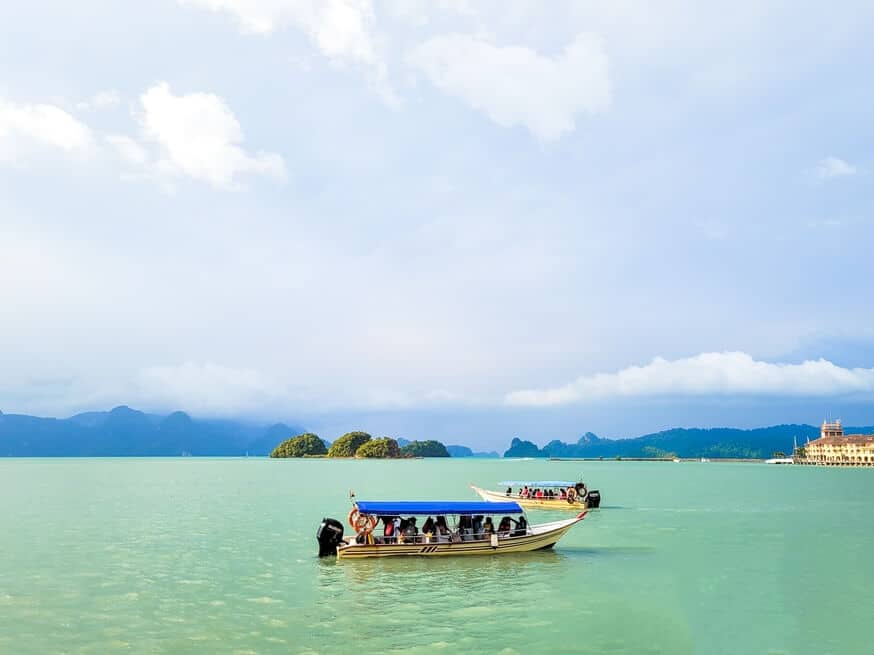 In fact, rain is always a possibility, so I recommend travelling with a raincoat or umbrella. For example, I use this Decathlon waterproof jacket and I really like it!
What documents do you need to visit Malaysia?
As a citizen with a Portuguese passport, I am entitled to a free visa valid for 90 days to enter Malaysia. My passport just had to be valid for, at least, 6 months. I also filled out the Malaysia Digital Arrival Card but no one asked me for it.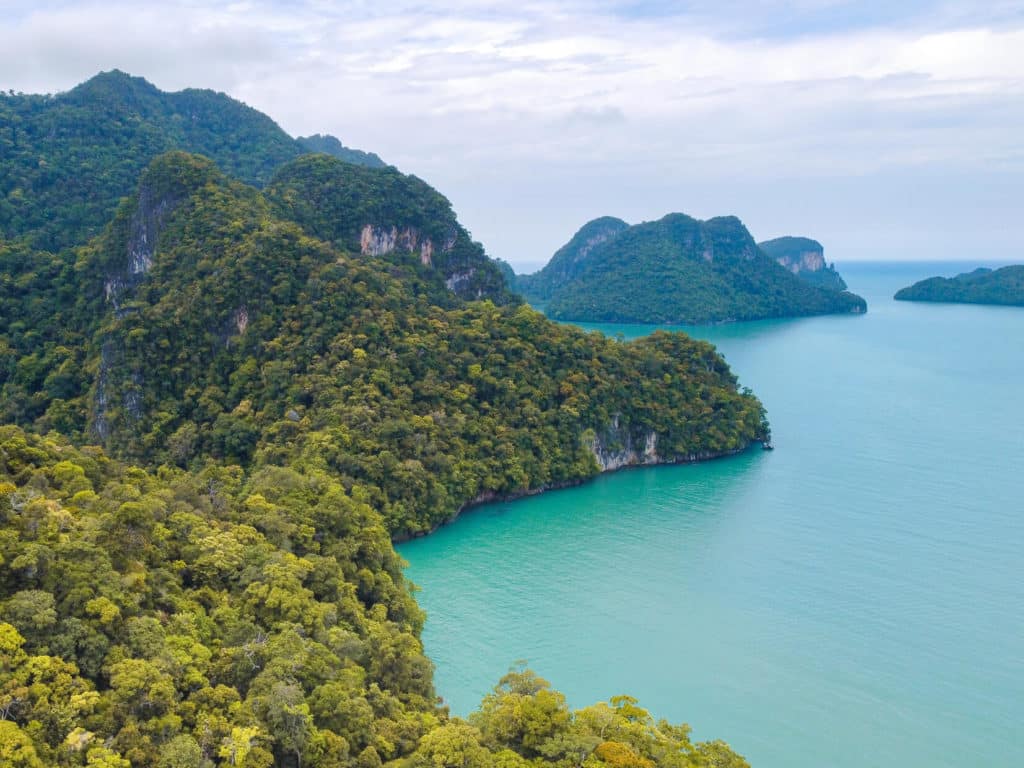 When arriving in Malaysia, the process is quite simple and you might be asked a few questions about your origin, where you're going next, how long you plan to stay, where you'll be staying and a few extra questions in some cases.
📝 USEFUL INFORMATION: I strongly suggest you check out the latest information here, as well as the rules that apply to different passport holders.
Is it safe to visit Malaysia?
Malaysia is a very safe country to visit. I've never felt unsafe travelling around the country, even in the big cities at night. I just recommend the usual precautions you would take in any European city while travelling, for example.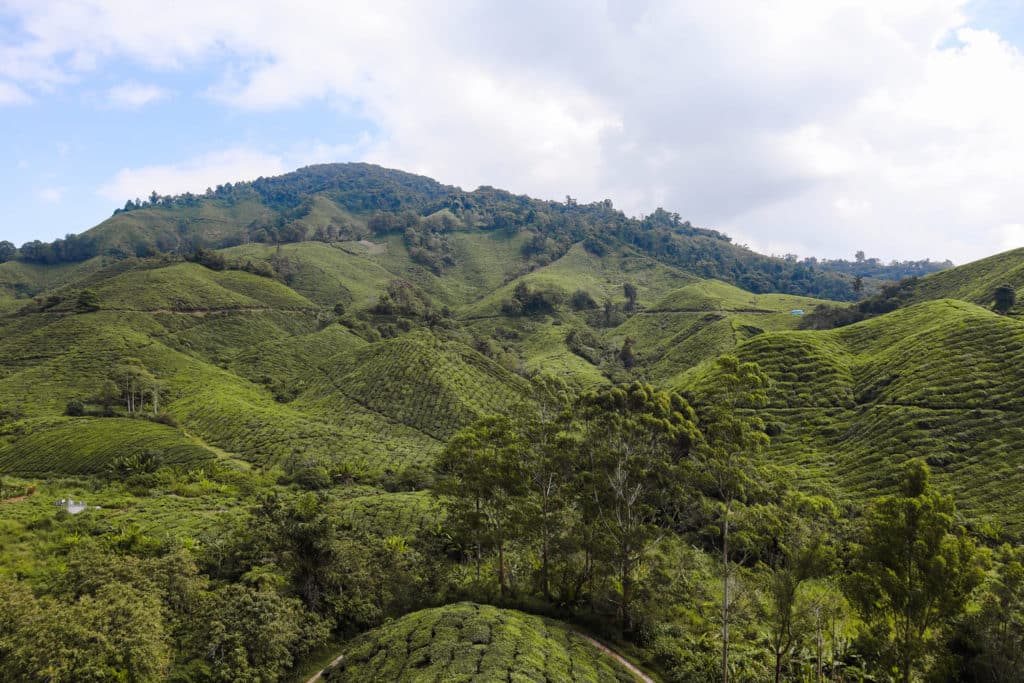 How do you get to Malaysia?
You can enter Malaysia by various forms of transportation, but the most common are by plane and bus. For example, in my case, as I was in Singapore before entering Malaysia, I entered the country by bus.
Arriving in Malaysia by plane
There are several airports in Malaysia, many of them located in the most popular tourist cities. This is the case with Kuala Lumpur Airport or Penang Airport. Although both receive international flights, it is likely that you will land at Kuala Lumpur airport as it is the one with connections to countries outside Asia.
Although you'll probably have to make one stopover (or more) to get to Malaysia if you're flying from a European country, there are some European cities with direct connections to Kuala Lumpur:
London (Malaysia Airlines)
Amsterdam (KLM)
Istambul (Turkish Airlines)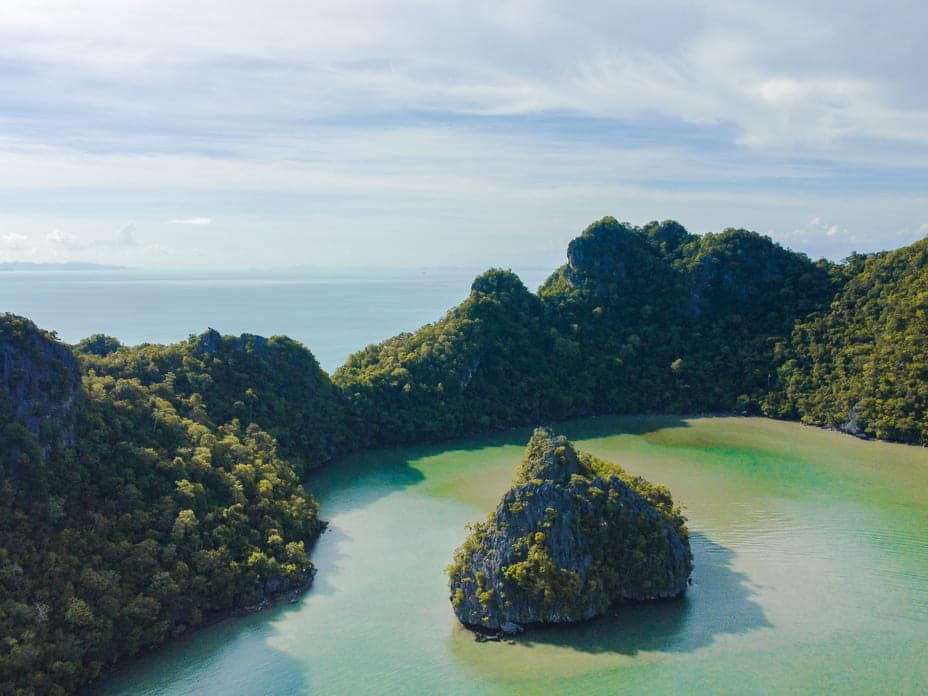 In my case, for example, I flew Etihad from Geneva, as this is a destination with direct and (often) cheap connections to Portugal. The round trip to Geneva, with a stopover in Abu Dhabi, cost around 525€ (an excellent price considering the distance).
Getting to Malaysia by bus
Another popular way to enter Malaysia is by bus (this is a popular option in Southeast Asia) because of its low prices. This option only makes sense for those who intend to enter Malaysia via Thailand or Singapore.
This is exactly what I did on a bus trip with 707 inc that lasted around 4 hours and connected Singapore to Malacca. The bus was very comfortable and it cost around 15€. I suggest you search for your desired trip on 12goasia – the best site to search for buses in Southeast Asia.
How to get around in Malaysia?
Although it's possible to rent a car to make it easier to get around Malaysia, I don't think this is really worth it because in most situations you'll need to have an international driving licence (which, at least in Portugal, is still expensive for its short validity).
Therefore, I believe that one of the best ways to get around Malaysia is by bus and, in some cases, by train. For example, I chose to travel between the various places I visited in Malaysia by bus.
The only exception was to get to and from Langkawi, which, being an island, makes it impossible to travel by bus.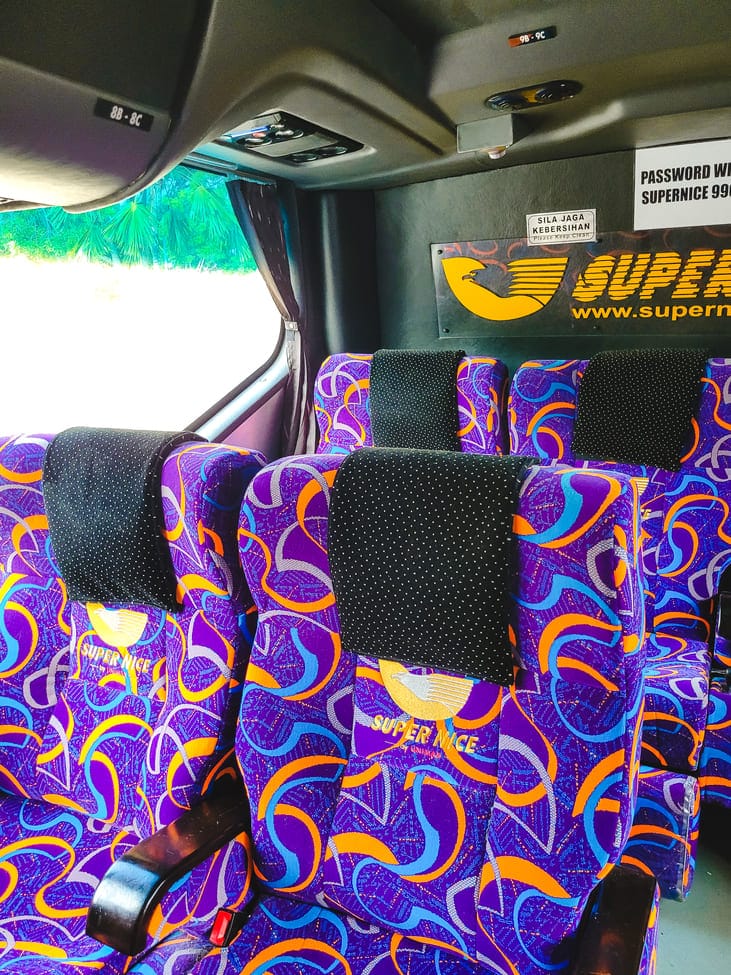 These were the bus trips I took in Malaysia and they all went well (the buses are very spacious and comfortable):
Malacca – Kuala Lumpur: It took about 2 hours, and cost less than 3€ with Super Nice Express
Kuala Lumpur – Tanah Rata (Cameron Highlands): The trip took about 4h30. It cost around 8.5€ with C&S company.
Cameron Highlands – Penang: The journey takes about 5 hours and was 9€.
Except for the trip between Cameron Highlands and Penang, which I booked directly through WhatsApp, the remaining trips were booked through 12goasia, which makes the process of researching and buying trips much easier.
What currency is used in Malaysia and how to pay?
The official currency in Malaysia is the Malaysian Ringgit (MYR). As of September 2023, 1 MYR = 0,20€. Even though there are many places that accept cards, you should also try to carry some cash with you since some are "cash only". This is especially true if you intend to eat out in local markets.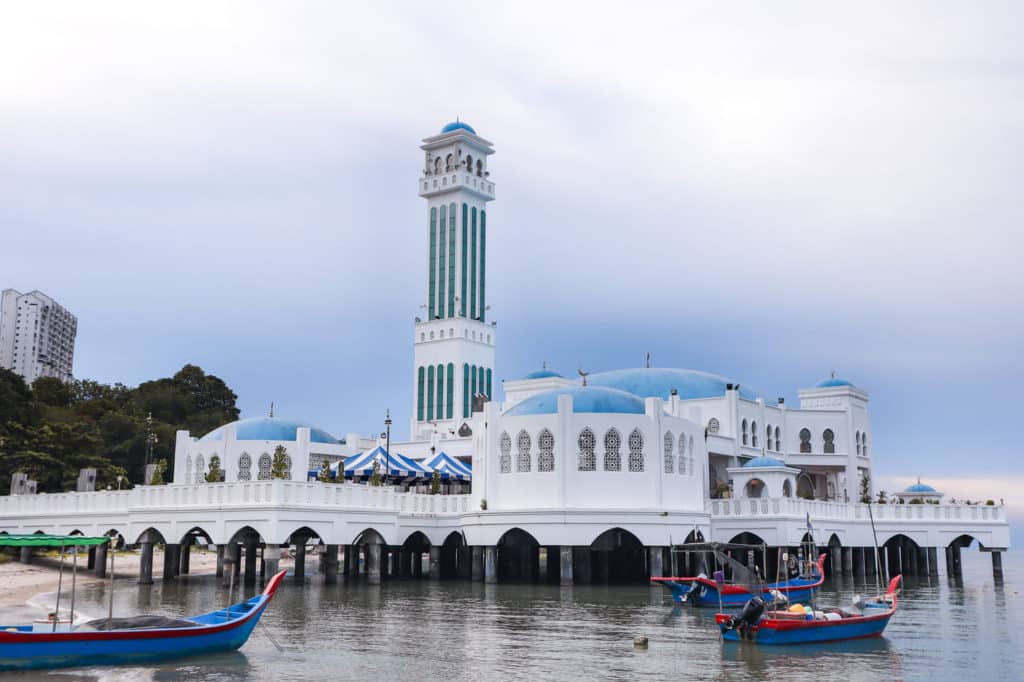 To make purchases with a currency other than the one I usually use (Euro), I always use the Revolut card, which has many advantages. One of the biggest advantages of the Revolut card while travelling is the fact it does not charge additional fees for using a different currency.
If you do not yet know the advantages of having a Revolut Card, you can find out more here.
Where to withdraw money without paying fees?
Some of the banks in Malaysia charge a fee for withdrawing money with foreign cards (even if you're using a Revolut card!). However, I found some that actually didn't charge me to withdraw money with my Revolut card. These were the banks where I got to withdraw money without paying fees:
How to have internet in Malaysia?
It's quite handy to always have internet while travelling in Malaysia. It's useful when you need to call a Grab or use Google Maps in walking mode, for example.
I decided to buy an e-SIM from Celcom (which I could then do top-ups) at a 7-Eleven store, but you can opt for a more hassle-free option. For example, this e-SIM Roaming Mobile Data Plan can be purchased even before you arrive in Malaysia and the options are quite cheap.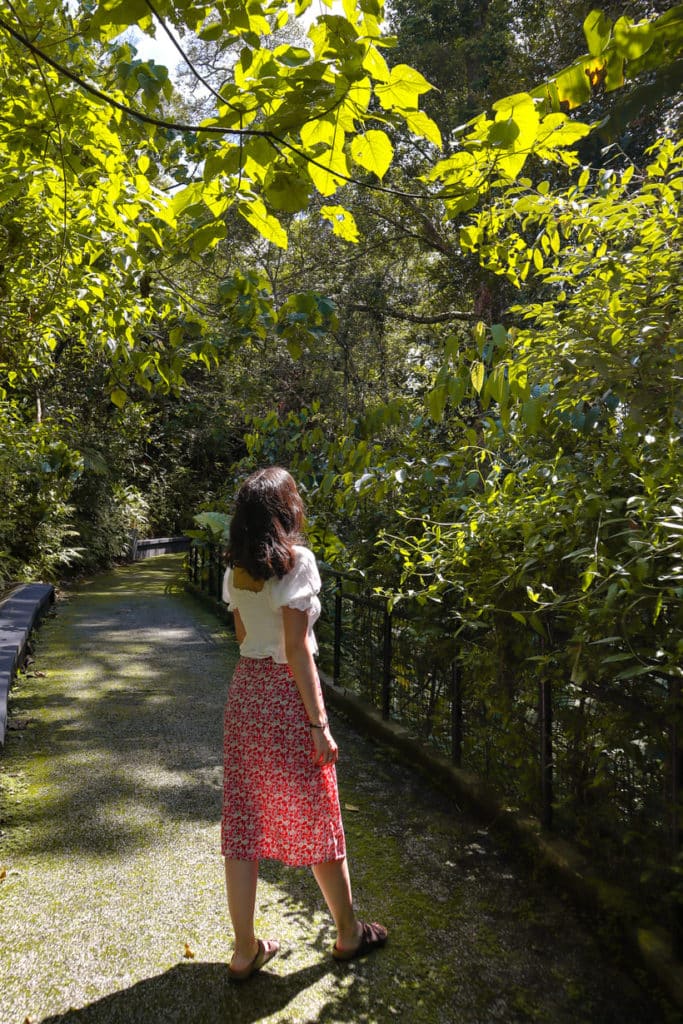 You can choose the option that suits you best, having in mind the duration of your trip and where you plan to go, since most of the plans include a mobile data plan that also works in other countries.
Accommodation in Malaysia
The choice of where to stay in Malaysia obviously depends on the places you decide to visit 😉. Anyway, here's a list of the places where I stayed during my stay in Malaysia:
I'll tell you more about accommodation in Malaysia throughout this blog post, so keep reading to find out more.
💼 TRAVEL INSURANCE: If you want to feel safe while travelling, then you should definitely look into purchasing some travel insurance. Having insurance will help you with any health-related emergencies as well as with other events, such as theft, loss or delay of luggage, eventual need to cancel your trip and much more. In my case, I always use IATI Insurances, which has one of the best price-quality ratios in the market and a 100% online service that is very easy to use. Book here your travel insurance and enjoy a 5% discount for being readers of the blog. Don't forget that the purchase must be made using this link.
Malaysia Itinerary
Assuming you only have 10 days available, you'll need to make some choices about which places to visit in Malaysia. So first, I'm going to show you my Malaysia 10-day itinerary.
However, I will also show you some alternative versions of this Malaysia itinerary. For example, if you don't fancy the beach, there's really no point in going to Langkawi. So I'll also include a version without beaches.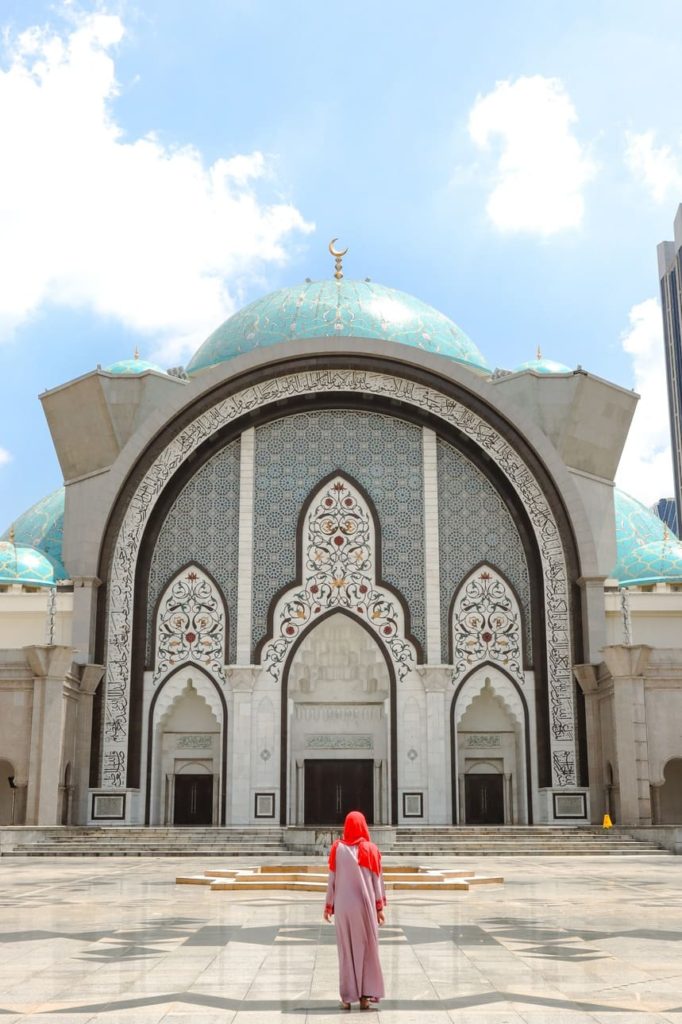 Finally, I'll give you a few more suggestions of places to go in Malaysia in case you have more days available in the country and also a version for those who only have 7 days (although I wouldn't recommend such a short time in the country).
Note: None of the options presented in this post include the trip to/from Malaysia.
10 days in Malaysia itinerary – What to visit: my itinerary
Day 1: Malacca
An excellent first gateway to Malaysia is Malacca – one of the unique places to visit in Malaysia. Due to its privileged position on the Strait of Malacca, Malacca has always been coveted by many other countries. In fact, Malacca is a former colonial city that once belonged to Portugal, the United Kingdom or even the Netherlands.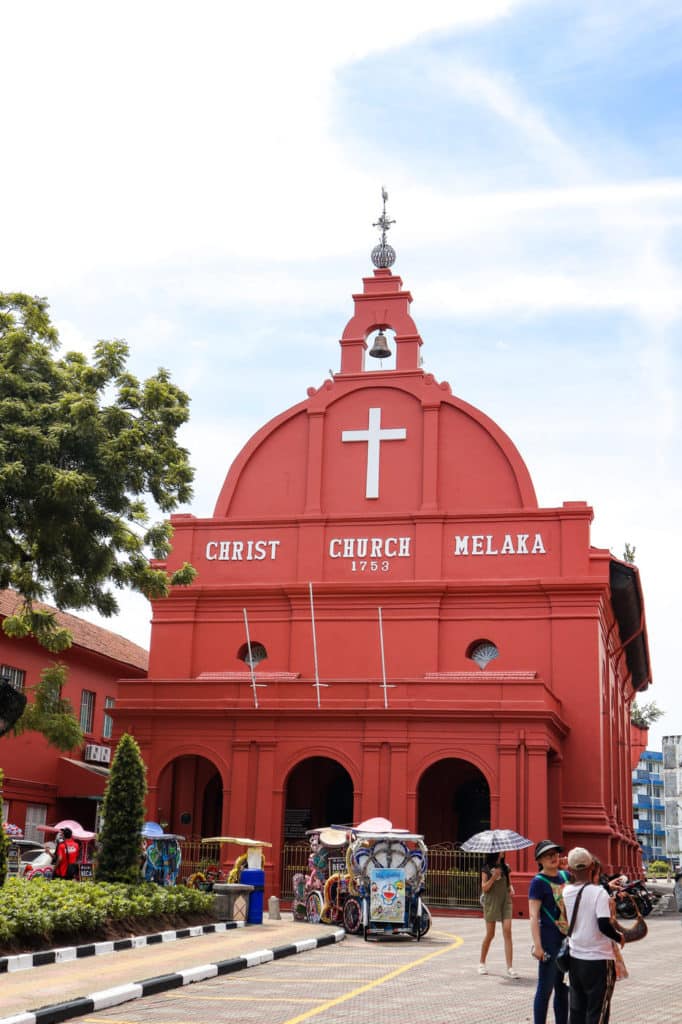 The buildings' architecture in this UNESCO World Heritage city leaves no doubt about its history. Some of the buildings from this colonial era are Malacca's most famous square (Dutch Square), St. Paul's Church or even what remains of the Portuguese fortress 'A Famosa'.
When visiting Malacca, a boat trip on the river that crosses the city is also a must. As well as being a very pleasant ride, it's a unique opportunity to see the city from another perspective and admire some of its street art!
Given its location on the Strait of Malacca, Malacca's history has been marked by the Peranakan culture – a mixture of the cultures of the people who lived near the strait and the Chinese population who moved there. The Baba & Nyonya Museum is therefore a must-see for anyone interested in learning more about this culture.
💡 EXTRA TIP: You'll find all the tips for visiting Malacca and even more must-see places in this colonial city in my post about what to visit in Malacca.
Although you can visit Malacca on a day trip from Kuala Lumpur, I recommend that you spend at least one night in the city. If you visit the city at night from Friday to Sunday, you can't miss the night market on Jonker Street.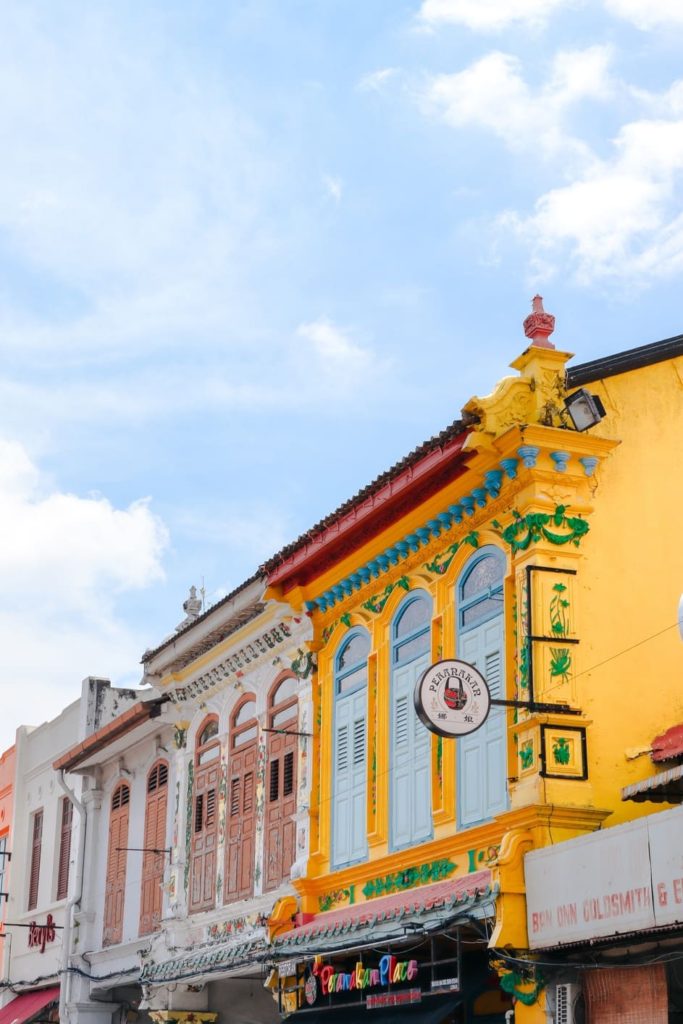 In any case, if you don't have enough time to spend a night in Malacca and want to visit the city on a day trip from Kuala Lumpur, I recommend this 10-hour tour, which has excellent ratings. The tour even includes lunch and stops off at Malacca's main points of interest.
Accommodation in Malacca
I stayed at Liu Men Melaka – a centrally located hotel, although in a quieter part of the city. The building is relatively small, but charming as it results from the restoration of a pre-World War II building and aims to pay homage to the colonial elements.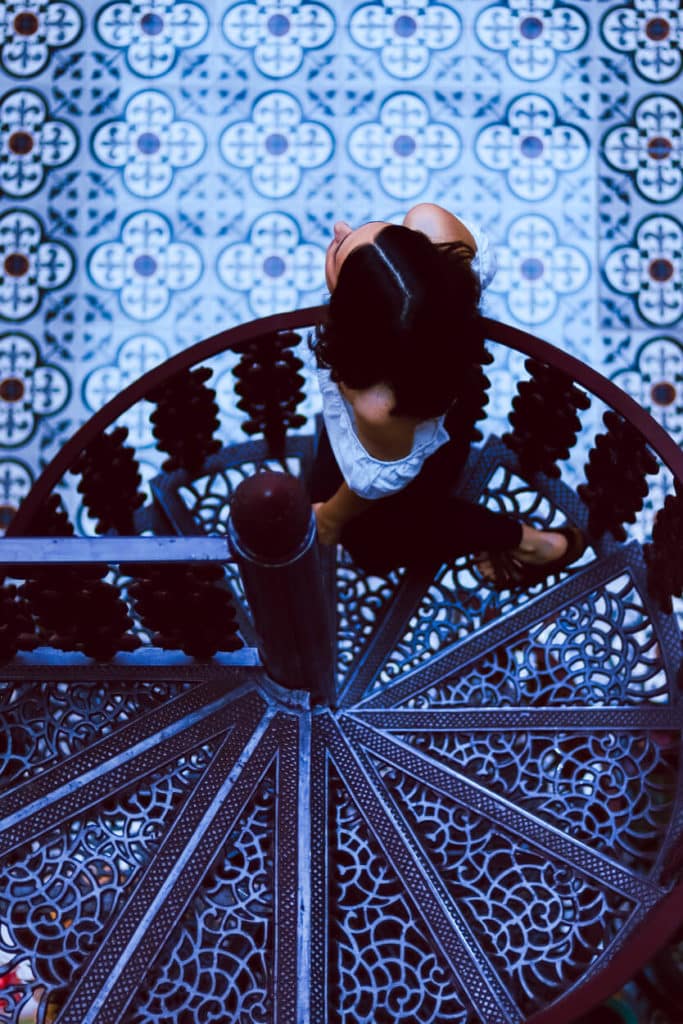 What's more, the service was very attentive and the staff always made sure that the guests were satisfied.
Nevertheless, here are a few more accommodation options in Malacca: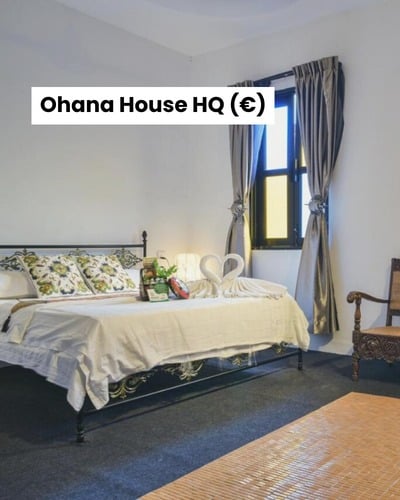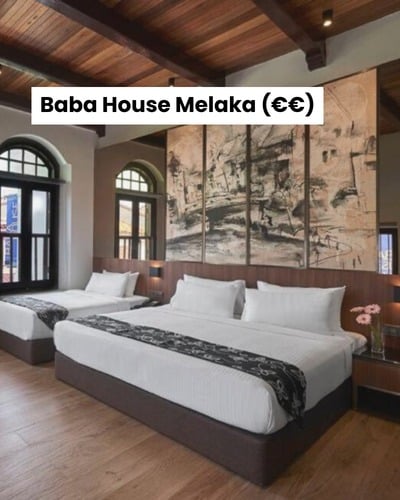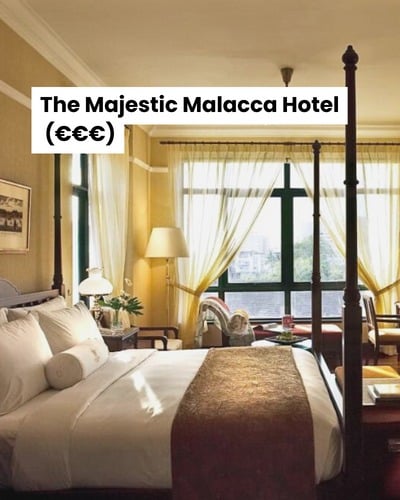 Day 2 to 4: Kuala Lumpur
Kuala Lumpur is, without a doubt, Malaysia's most famous place. I'd say there are very few people travelling through Malaysia who don't stop here.
Kuala Lumpur is clearly the most vibrant city in Malaysia and one of the liveliest cities in Southeast Asia. Here you'll find an endless scenery of skyscrapers, but also street art and you can't even escape the city madness away in nature.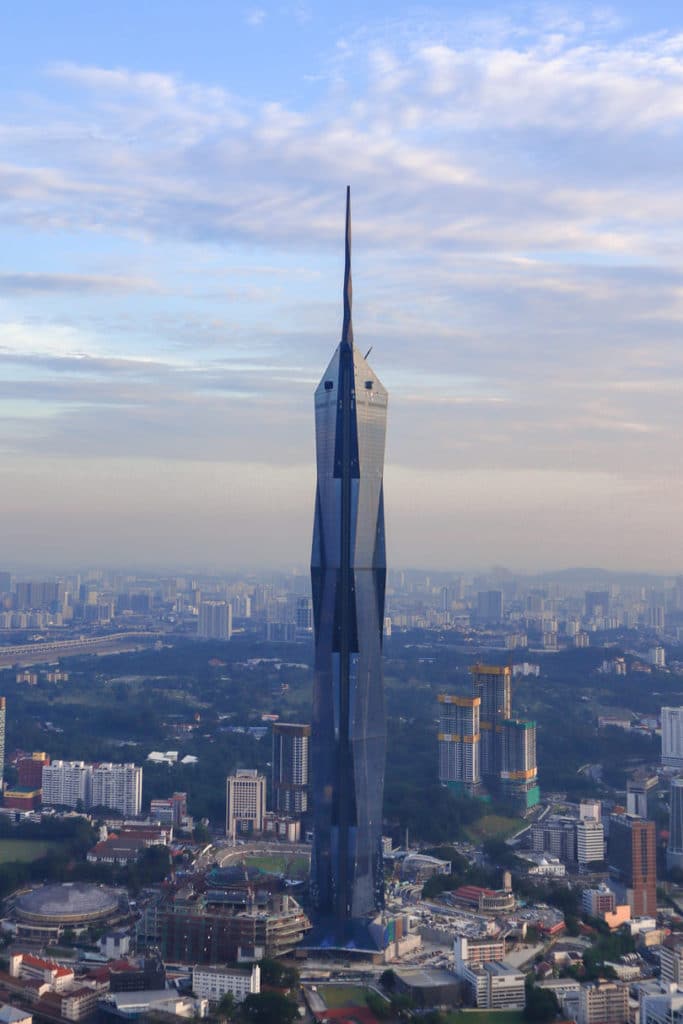 Day 1 in Kuala Lumpur: On your first day in Malaysia's capital, I suggest you visit one of the city's main markets (Petaling Street Market), where you'll find a bit of everything. Another option is the historic Central Market!
From the market, it's a short hop to two of the city's most important temples – Sri Mahamariamman Temple and Guan Di Temple.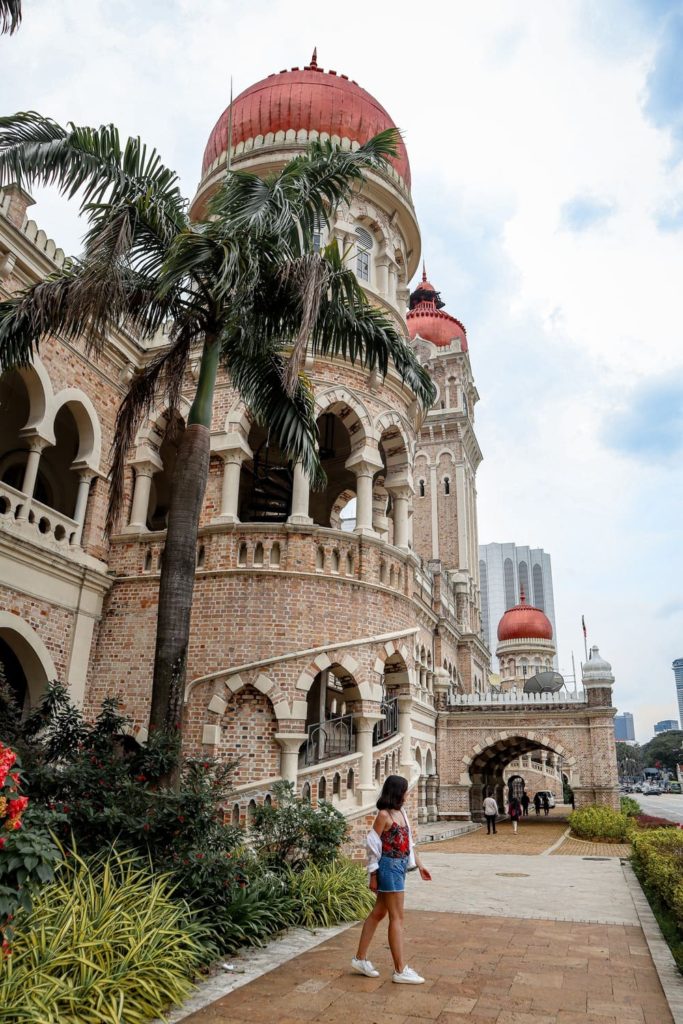 Also not to be missed is Merdeka Square – a symbol of the country's regaining of independence in 1957. As well as a visit to the National History Museum, don't miss out on one of the city's most beautiful buildings (Sultan Abdul Samad building) or even the Jamek Mosque.
And then, to escape the hustle and bustle of the city, why not take a stroll through the Perdana Botanical Gardens? You won't even remember that you're in one of the main capitals of Southeast Asia 😉.
Finally, after the sun goes down, my suggestion is that you relax a bit and watch the KLCC Lake Symphony Water Fountain Show.
💡 EXTRA TIP: I recommend reading my more detailed post on what to visit in Kuala Lumpur in 3 days, where you can also find many other tips about the city.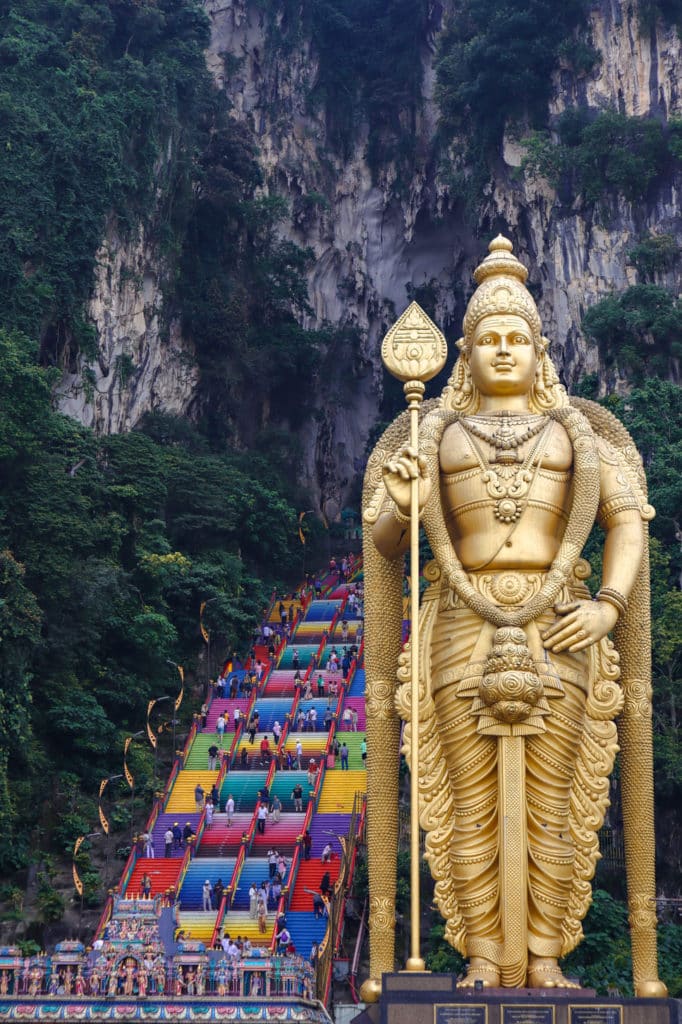 Day 2 in Kuala Lumpur: On the second day, start with the famous Batu Caves – a Hindu temple located on the outskirts of Kuala Lumpur. This is definitely one of the top 10 things to do in Malaysia!
Although it is possible to get there independently (either by public transport or Grab), if you prefer, you can opt for this half-day tour which, in addition to the Batu Caves, also includes a visit to a rural Malay village, the Royal Selangor and the Batik Factory.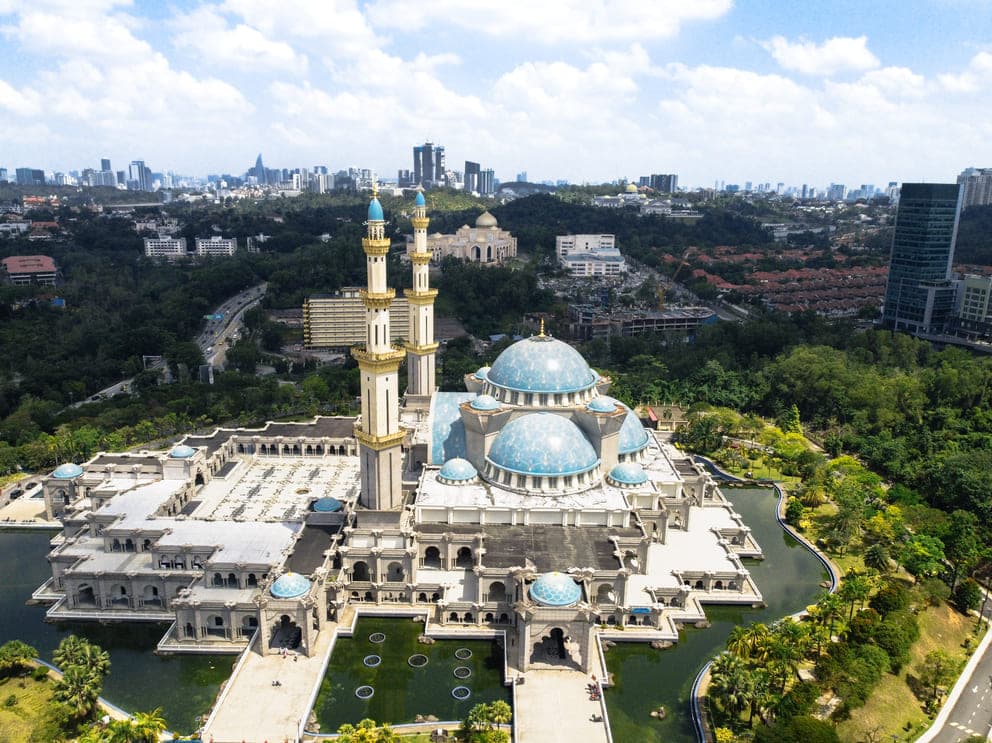 Next, I suggest you head to the most beautiful mosque in Kuala Lumpur – the Wilayah Mosque. It's not one of the most touristy spots in Kuala Lumpur, but it's well worth it! You have to take a guided tour, but it's free.
Also not to be missed are the Petronas Twin Towers – Kuala Lumpur's landmark. They were once the tallest building in the world and today, although they have lost that title, they are still a symbol of the city and the country. And they are very cool indeed (especially for those of you who like this kind of architecture 🥰). If you'd like to go inside, you can buy your tickets directly here.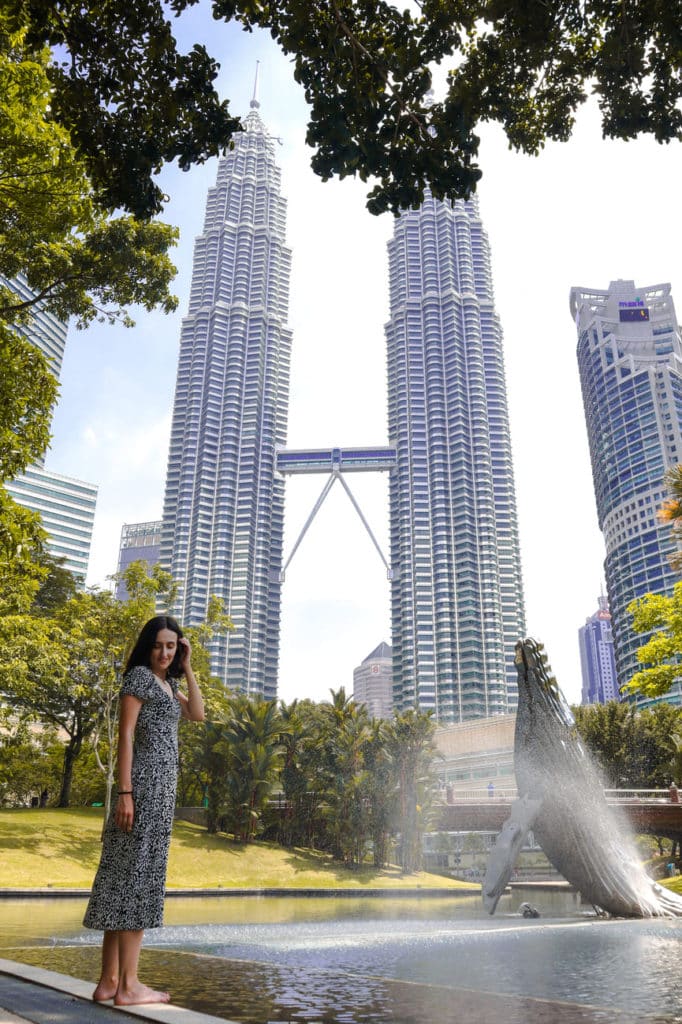 If you don't intend to visit the inside of the Petronas, don't worry, they are visible from various points in the city. One of the best places to observe them is from KLCC Park – one of the most pleasant green spaces in the city.
Alternatively, you can also climb up to the KL Tower. As well as views of the Petronas Towers, the observation deck has spectacular 360º views of the entire city. This was one of my favourite activities in Kuala Lumpur and I can't recommend it more! I particularly recommend visiting around sunset time to make the visit even more magical! Buy tickets for the KL Tower directly here.
As the day draws to a close, I recommend a meal on Jalan Alor Street and a drink at the Helipad Lounge, which is nothing more than a helipad that turns into a bar after 6 pm. Pretty cool, right? 🤩
Day 3 in Kuala Lumpur: On the last and third day in Kuala Lumpur, I suggest a visit to the most beautiful Chinese temple in the city – Thean Hou Temple. The visit is free and, as well as the temple being amazing, you'll be treated to views over the city.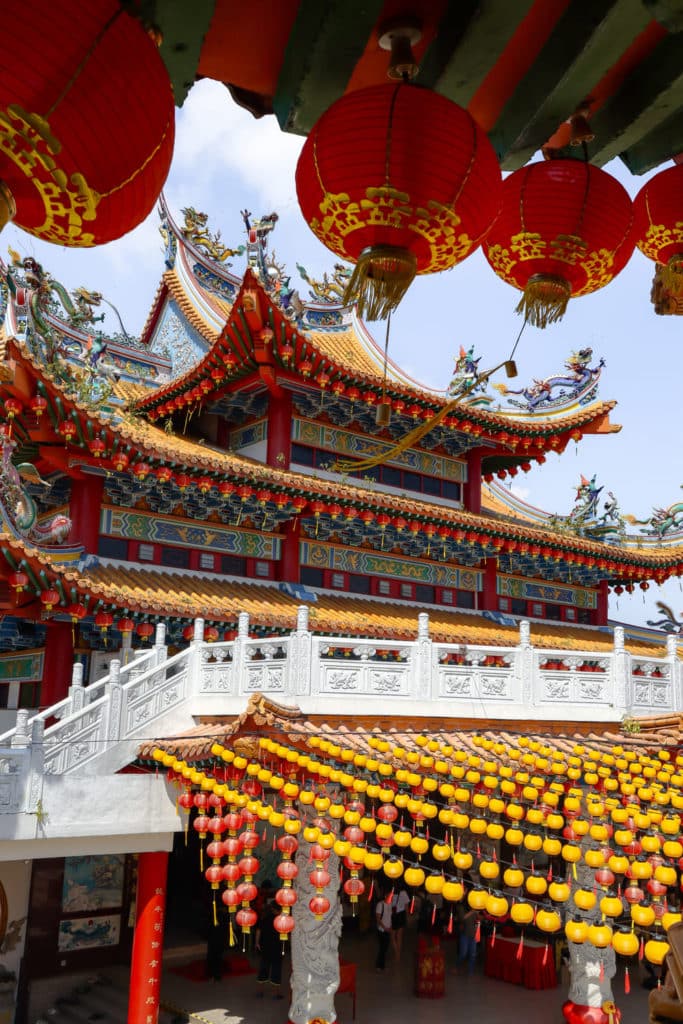 Another place that takes your mind off the hustle and bustle of Kuala Lumpur is the KL Forest Eco Park, where you'll find some lovely trails.
And finally, although a little further out of the city centre, I recommend a visit to the Putra Mosque, which is another of the most beautiful mosques in Malaysia.
💡 EXTRA TIP: Although this itinerary recommends spending 3 days in Kuala Lumpur, it is possible to shorten the visit to 2 days and visit the city's essentials. If you want to visit Kuala Lumpur in just 2 days, I suggest removing the KL Forest Eco Park, the botanical gardens and the Putra Mosque, and trying to include the Thean Hou temple on one of the other two days.
Accommodation in Kuala Lumpur
In Kuala Lumpur, I stayed at 8 Kia Peng Suites. This is an excellent option for those looking for a "home" away from home. The flats are equipped for longer stays and are very spacious. What's more, the location is very central!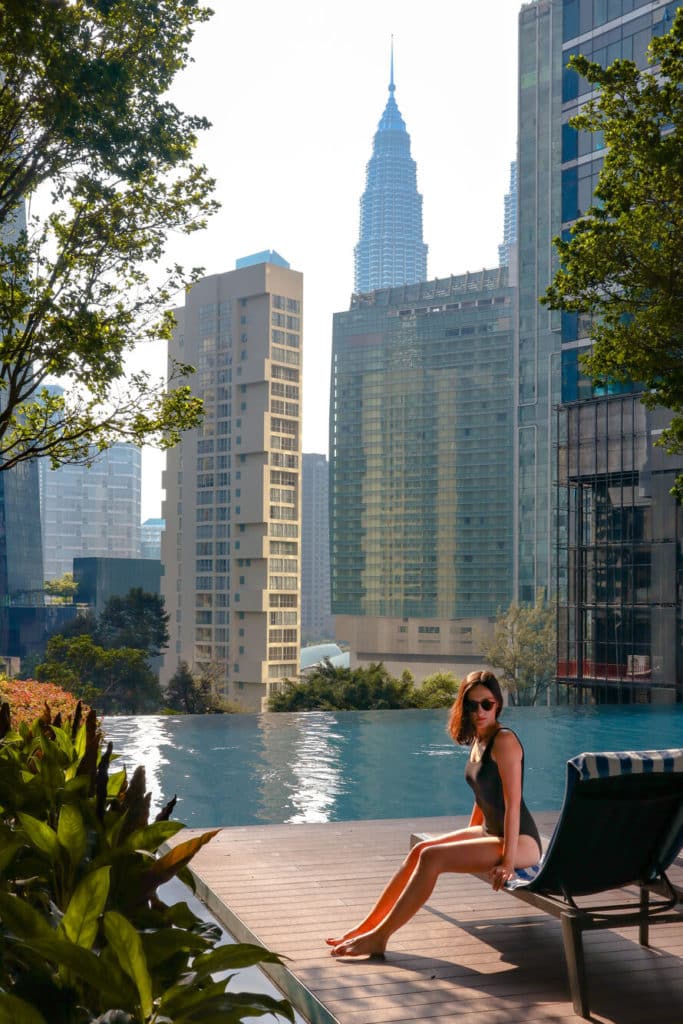 There you can find buffet breakfast service, a gym and an infinity pool with unforgettable views of the Petronas Towers.
Anyway, here are some other suggestions for accommodation in Kuala Lumpur: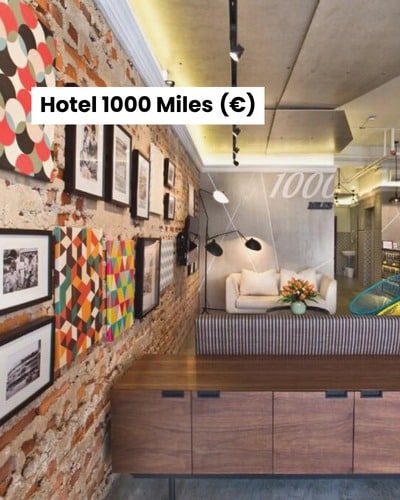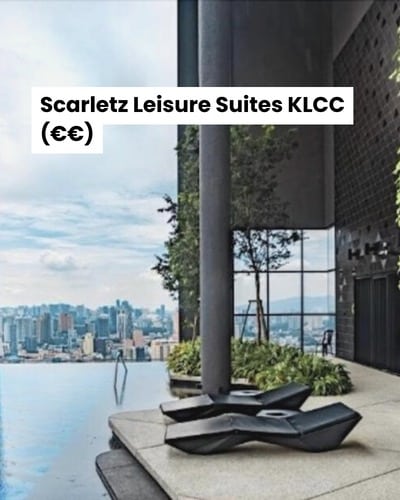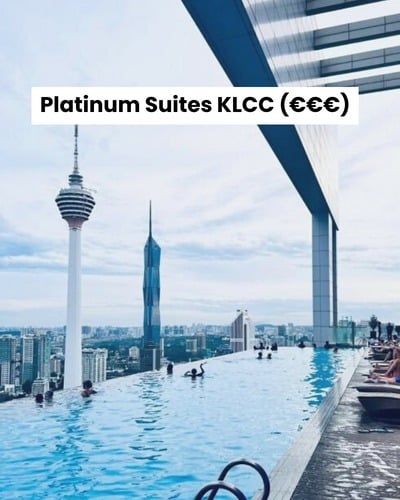 Day 5 and 6: Cameron Highlands
The Cameron Highlands are living proof that Malaysia is also an excellent destination for nature lovers. Known for being one of the coolest areas in the country (where in the coldest months the temperature reaches 20-25 °C), this is where many Malaysians spend their weekends and even school vacations.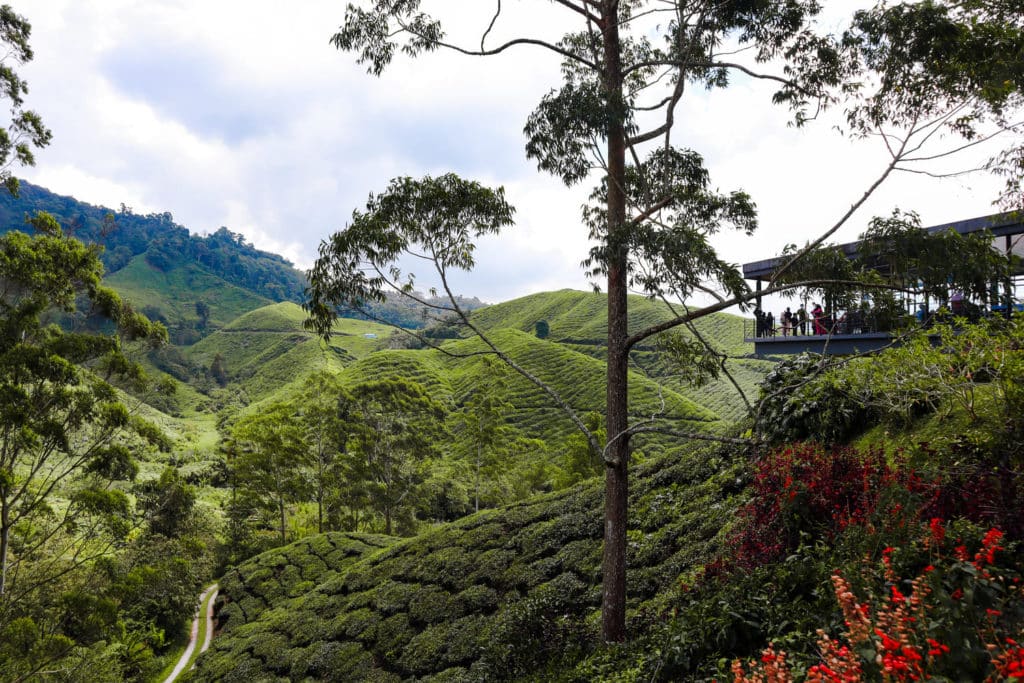 The main attraction in Cameron Highlands is its tea plantations! Most of these plantations are still operated by English families. In fact, the tea plantations began when Malaysia was still a colony of the United Kingdom.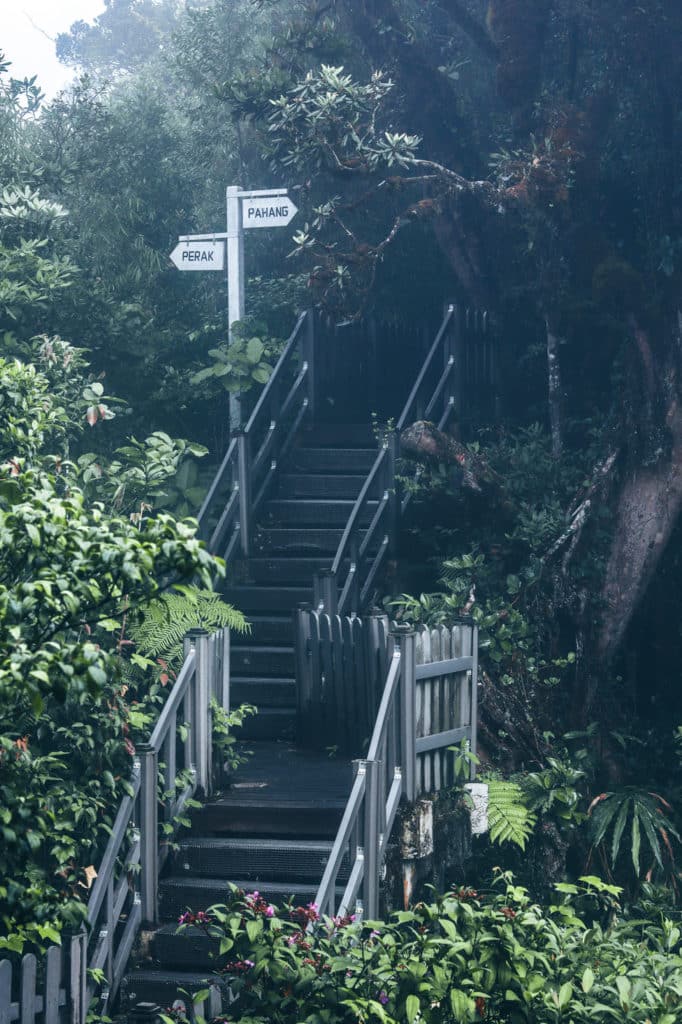 Although it is possible to visit the tea plantations independently, I recommend taking a guided tour. This is exactly what I did with the company Cameron Secrets. There are different types of tours (in terms of duration and points of interest), but I chose the Mossy Forest Tour (~11€), which includes a visit to the Mossy Forest (+6€) and also to the BOH tea plantations.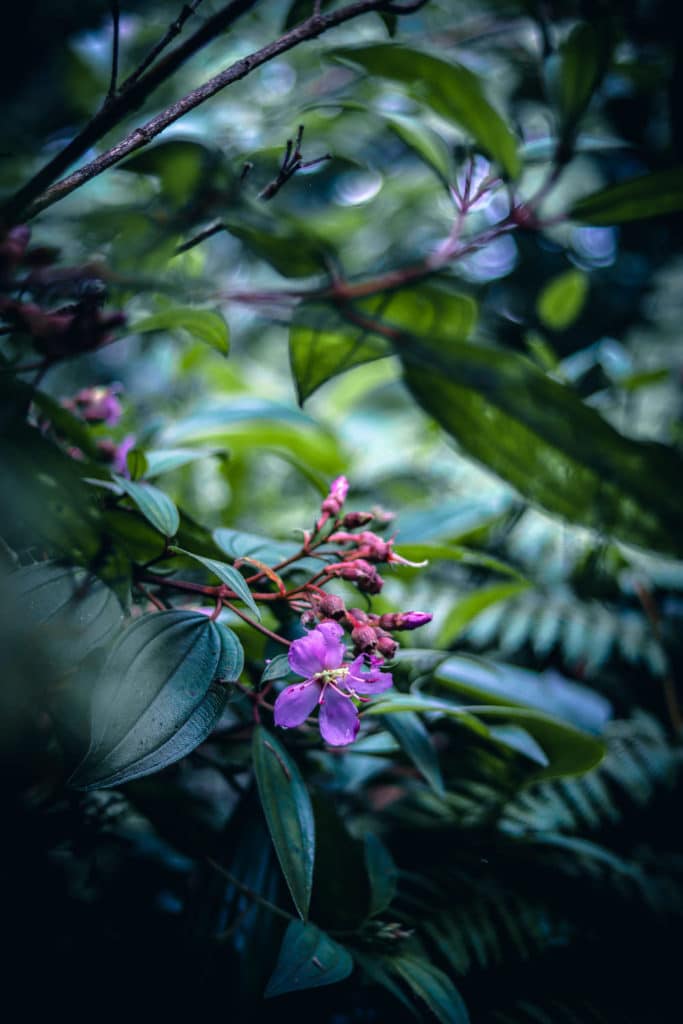 At the BOH tea plantations, we had some time to explore the grounds and also to enjoy the café (which sells everything from snacks to full meals) with panoramic views over the plantations!
The tour lasted all morning and included pick up and drop off at the accommodation. The tour includes a guide and we rode the entire time in a jeep. Plus, it was quite a small tour, with just 8 people.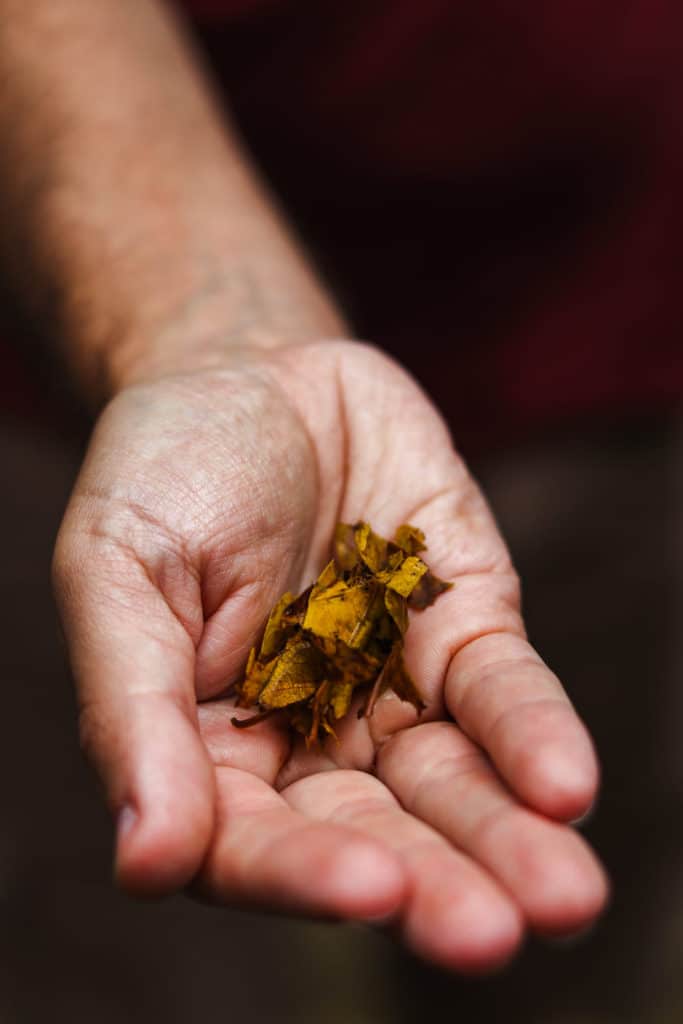 However, there are also some trails in Cameron Highlands that you can try out. Although I haven't hiked any myself, here's a post with lots of tips on hiking in Cameron Highlands. This is undoubtedly one of the best ways to explore the tea plantations away from the crowds.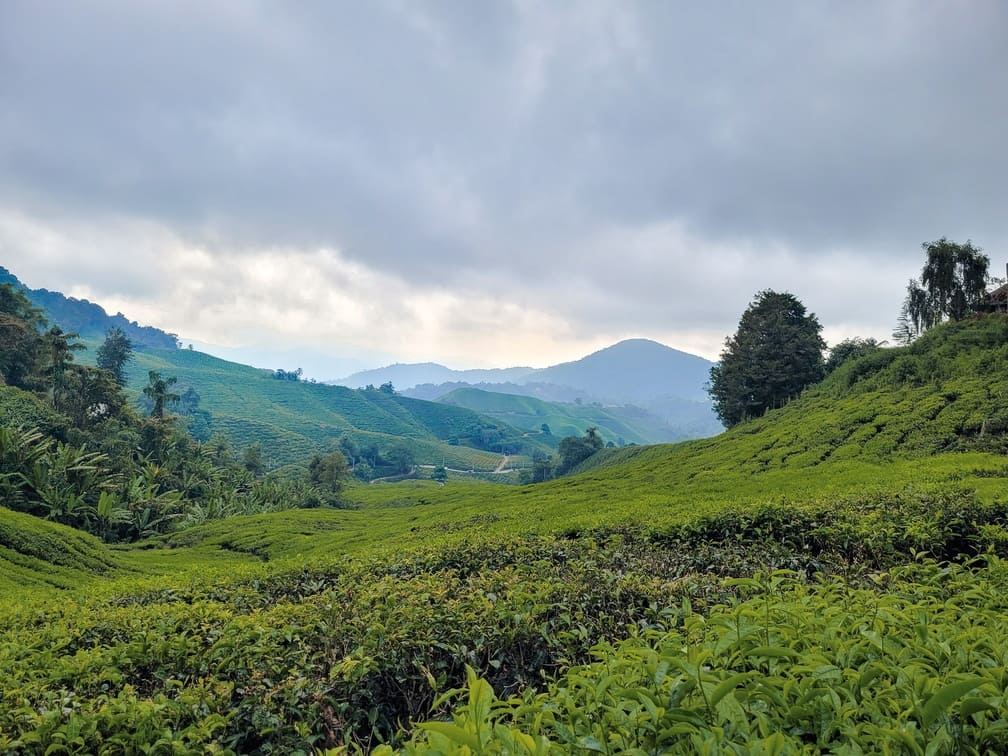 Other activities (some of them too touristy, in my opinion) available in Cameron Highlands include:
Strawberry farm
Butterfly and insect farm
Sam Poh Temple
Lavender gardens
Cactus Valley
Time Tunnel Museum
💡 EXTRA TIP: Although I wouldn't recommend it too much, as it's still quite a long drive, some people choose to visit the Cameron Highlands on a day trip from Kuala Lumpur.
Accommodation in Cameron Highlands
The main area of Cameron Highlands is Tanah Rata, where most public buses stop and also where you'll find most accommodations. Most of the accommodations are quite simple, but I can recommend the one I stayed in – Golden Lodge. The accommodation was very simple but clean and comfortable.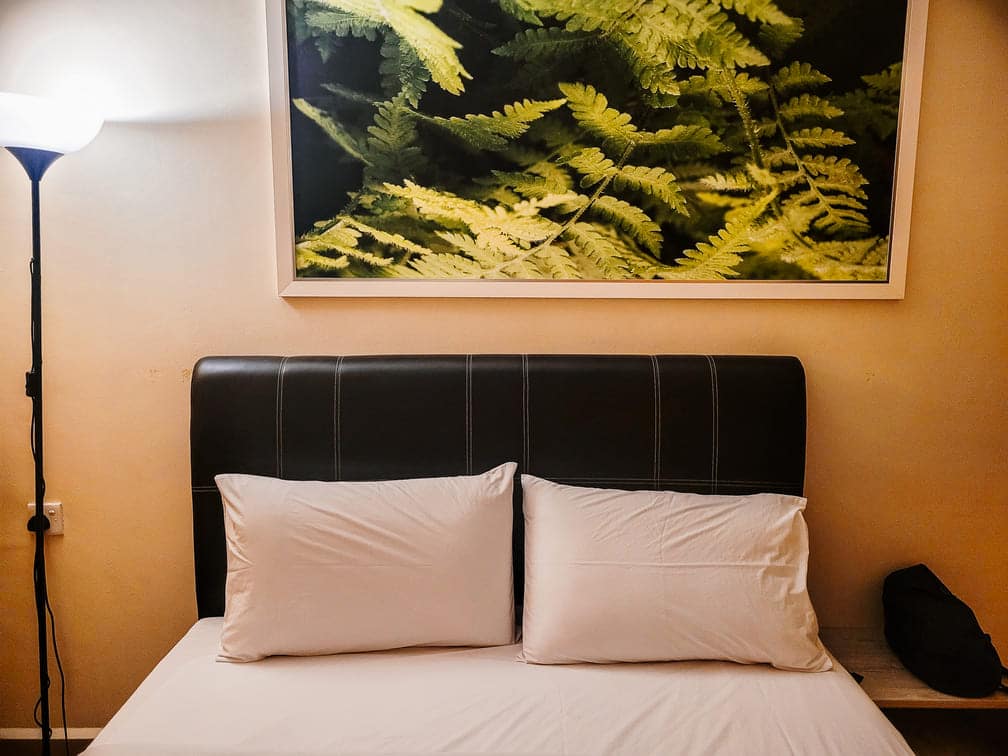 Even so, I'll share with you other accommodation options in Cameron Highlands: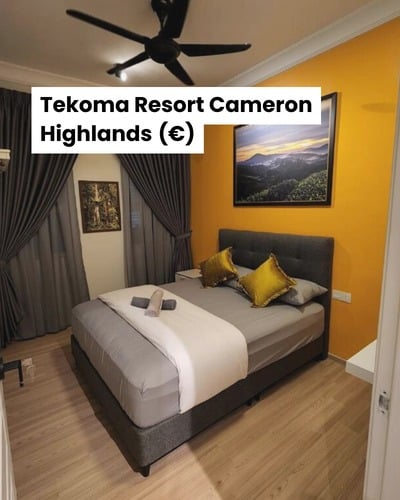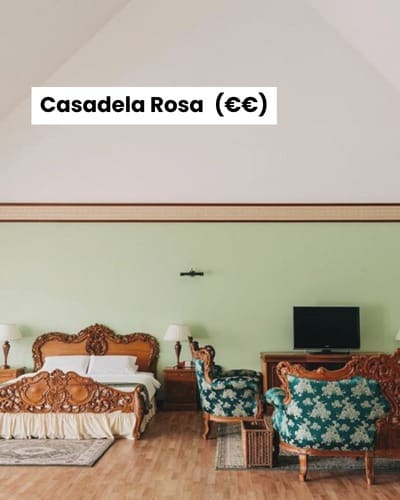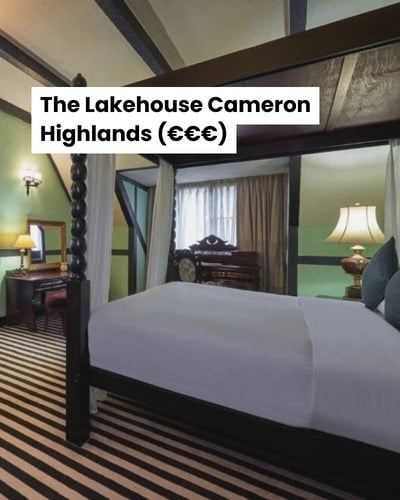 Day 7 and 8: Penang
It's time to keep heading north to spend two days in Penang. Penang is actually an island connected to the mainland of Malaysia by more than one bridge.
Its main area is George Town, where we also find strong evidence of the colonial era. Penang has a lot to explore, but the highlights are undoubtedly its street art, which has made the city even more famous, and the incredible Kek Lok Si temple. But Penang's attractions don't stop there, as it is one of the most famous places in Malaysia to try street food.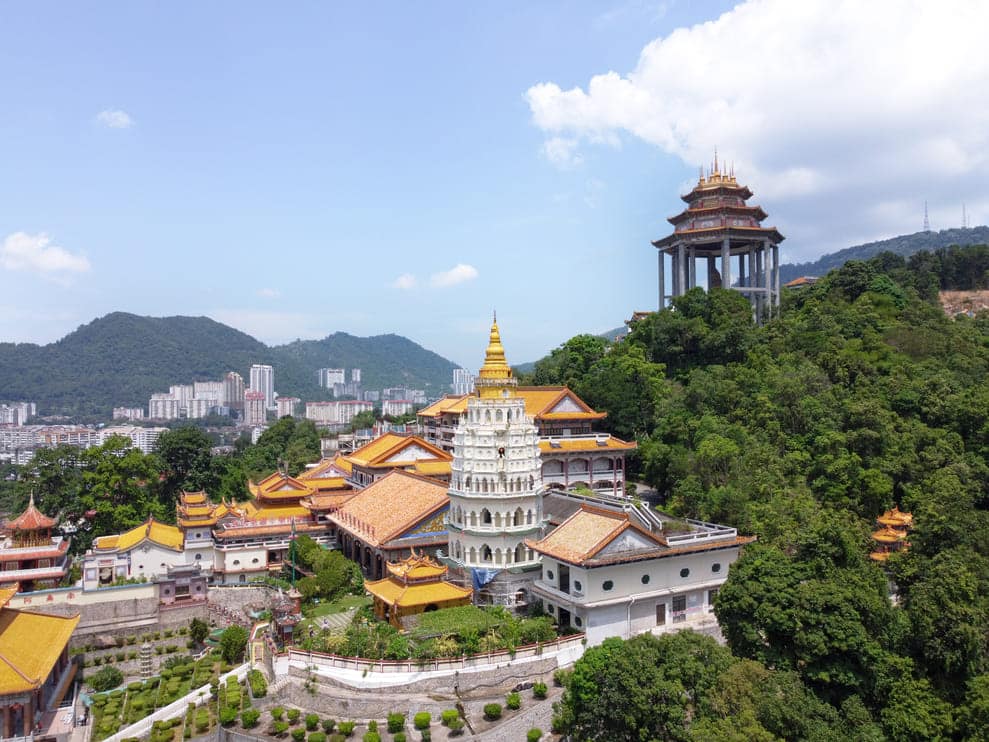 Day 1 in Penang: I suggest you start your day in George Town by visiting the Clan Jetties – a floating village where several Chinese clans live. It's quite a touristy place these days, but I found it interesting nonetheless!
Right next to the Clan Jetties, you'll find some of Penang's most famous pieces of street art. You can find out more about the various murals and where to find them here.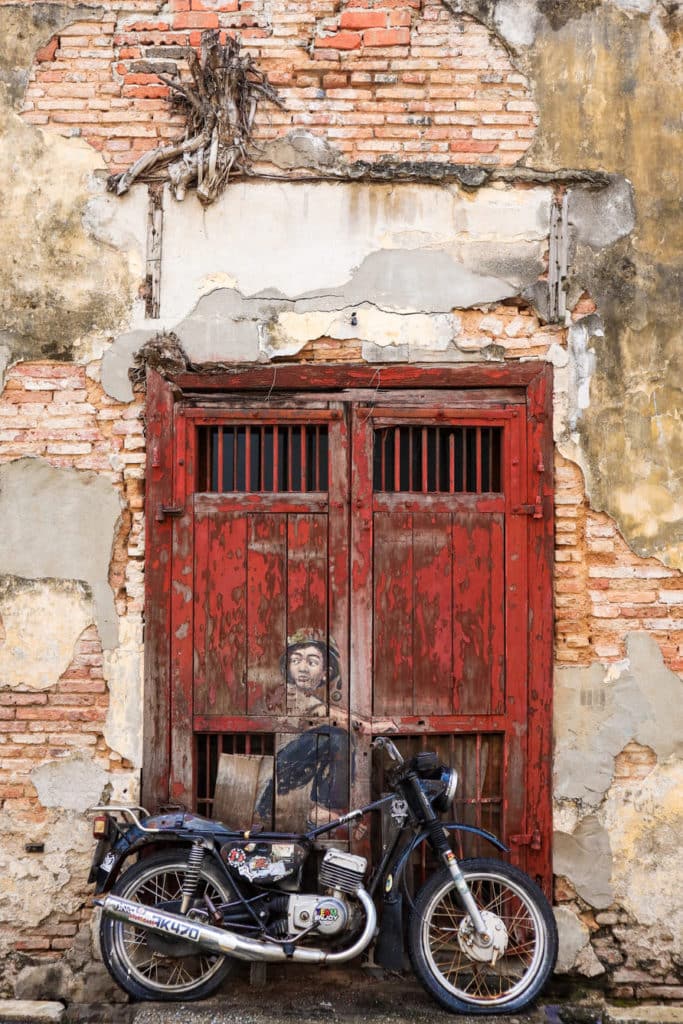 Another must-visit in Penang is the Cheong Fatt Tze Mansion, also known as the Blue Mansion because of its colour. This is a historic house, built in the 19th century. As the building is now a boutique hotel, you should book your visit in advance to ensure a place on one of the guided tours.
In the afternoon, I suggest going up to the top of the vertiginous Komtar Tower, from where you have one of the best views of Penang. There are several viewpoints in the tower, but I particularly recommend the Rainbow Skywalk and the Observatory Deck.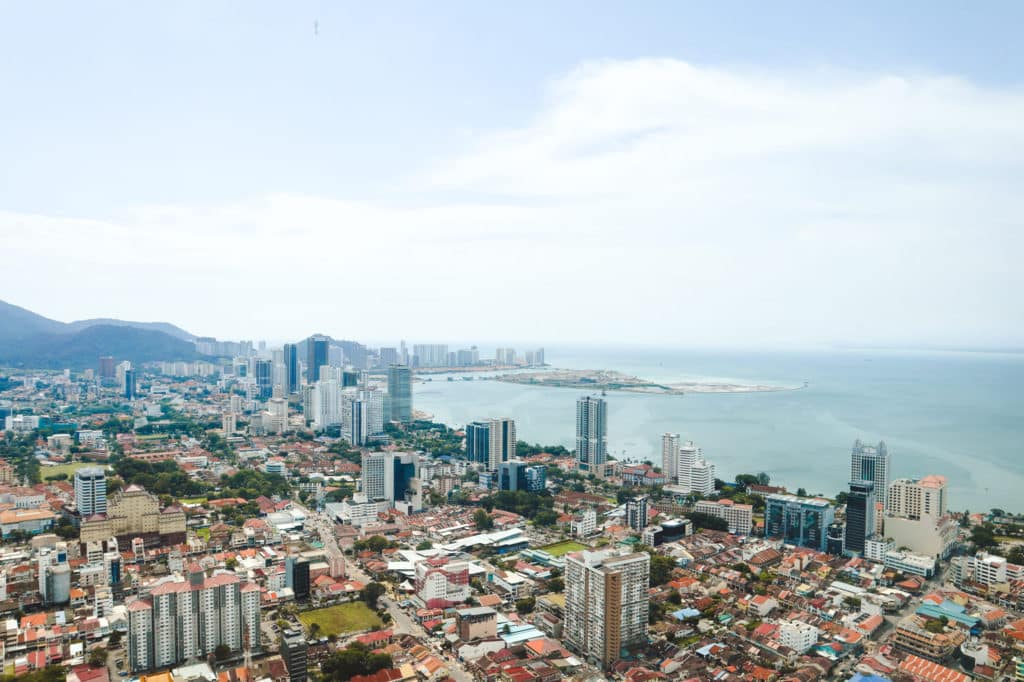 And after wandering a bit around the streets of Penang, you can enjoy dinner on Chulia Street – a street food lover's paradise.
By the way, if you'd like to learn a bit more about Malaysian cuisine, I'd also suggest one of these food tours in the city:
Day 2 in Penang: The first stop on the second day in Penang is one of the most amazing Chinese temples in Malaysia – Kek Lok Si temple, which is actually one of the best places to visit in Malaysia as well. Although it's far from the centre (I recommend using Grab to get there!), it's well worth it 🥰.
The complex is huge! In fact, there's even a small funicular to take you to one part of the temple. Apart from its size, you can also admire the superb views over Penang, which actually make this temple one of the best viewpoints in Penang.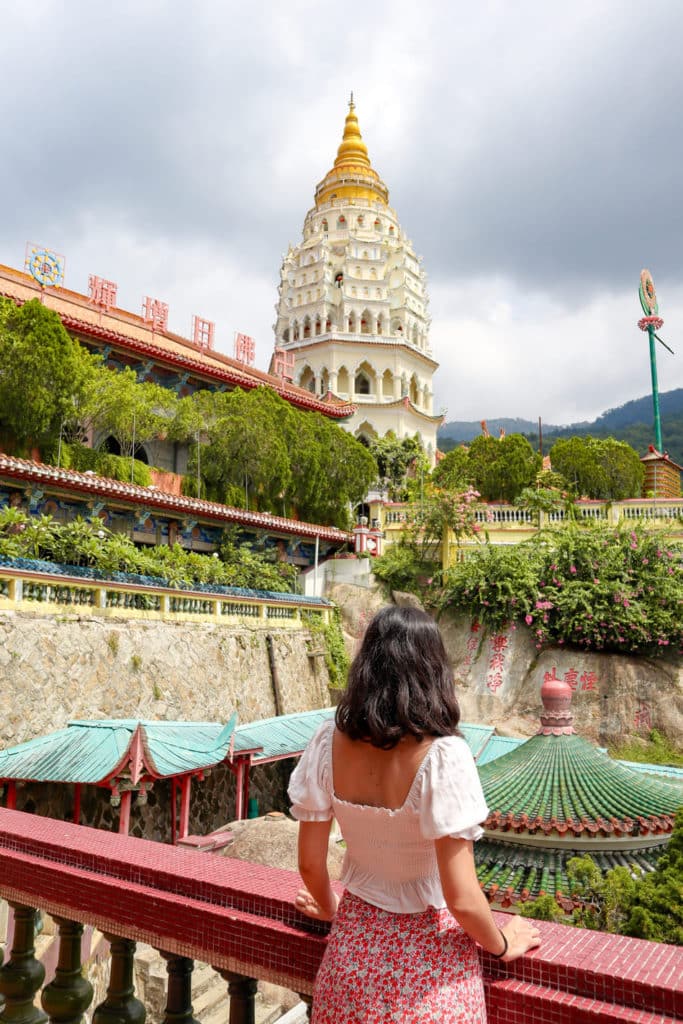 From there, it's a few minutes drive to the bottom station of the cable car that takes you up Penang Hill. The cable car ride might be short, but there is plenty to do at the top. It's quite possible to spend an entire day exploring all that Penang Hill has to offer. However, in order to be able to visit Penang in only 2 days, I recommend you only visit Habitat on Penang Hill.
Habitat is a small trail of about 1.6 km in the middle of nature. Entrance to Habitat is charged separately from the cable car fare, but it's well worth it in my opinion!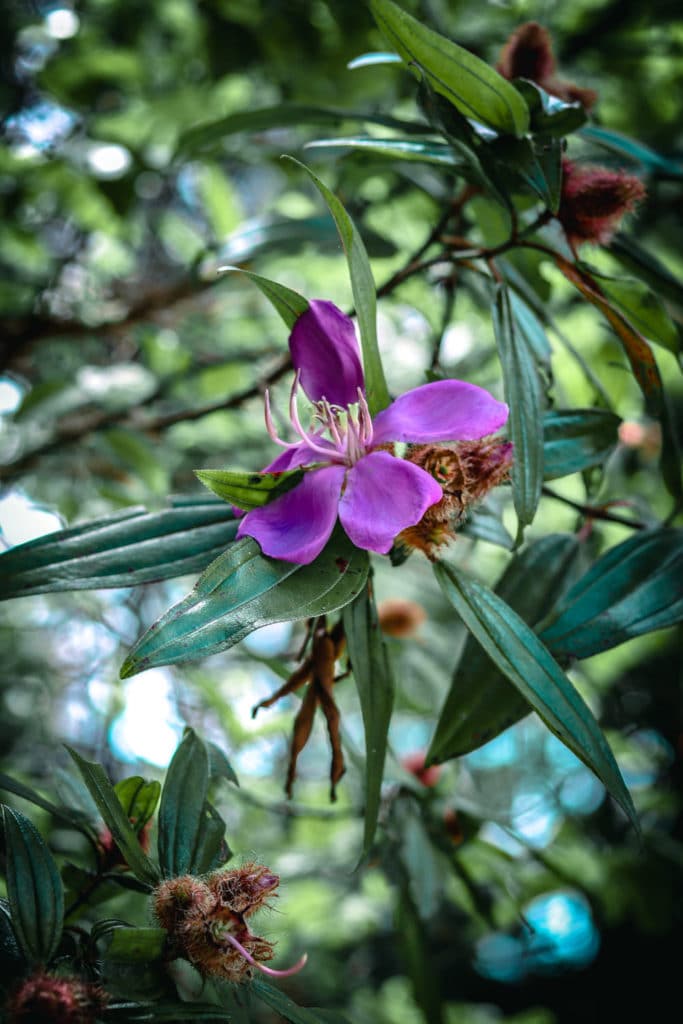 Although it's a bit off the beaten track in Penang, I highly recommend a visit to the Tanjung Bungah mosque, which looks like it's floating on seawater.
Relatively close by, you can also enjoy a swim at Batu Ferringhi Beach. Afterwards, you can always take the opportunity to visit the Batu Ferringhi night market.
💡 EXTRA TIP: If you have more days available to visit Penang, I suggest adding a day in Penang National Park to your itinerary, for example. In the meantime, you can also read all my tips and a more detailed Penang itinerary here.
Accommodation in Penang
Undoubtedly, given the location of Penang's main points of interest, one of the best areas to look for accommodation in Penang is George Town.
In my case, I stayed at Courtyard by Mariott Penang, which is one of the best 4-star hotels in Penang. The rooms are extremely spacious and the service is exceptional.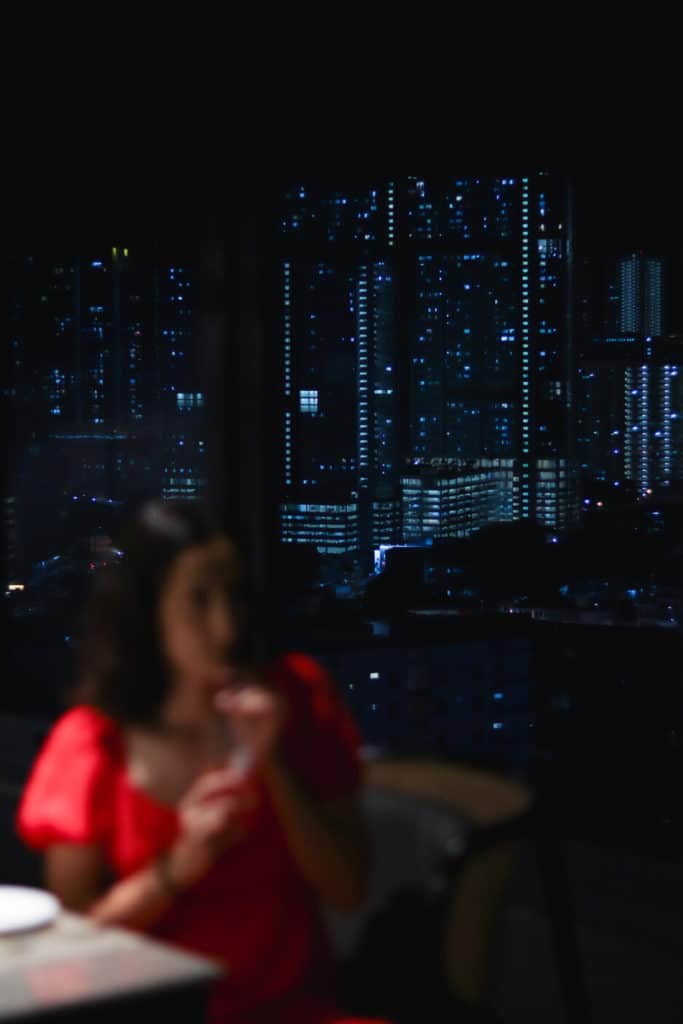 In addition to a buffet breakfast service and an à la carte lunch menu, the hotel also has the Gin Library concept. Here they serve more refined dishes and an extensive menu of cocktails, especially gin-based.
Anyway, here are some more suggestions for accommodation in Penang: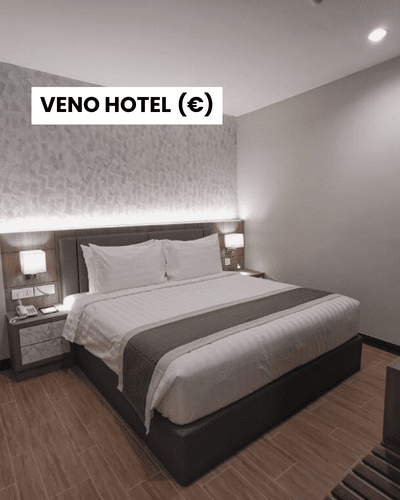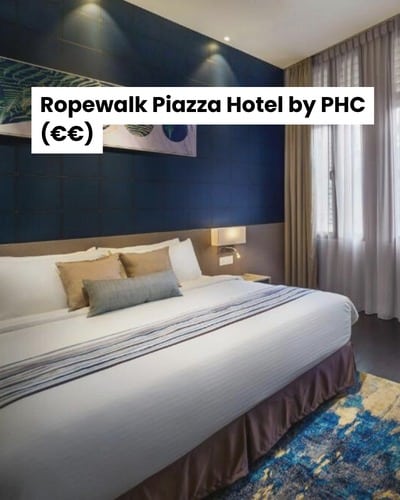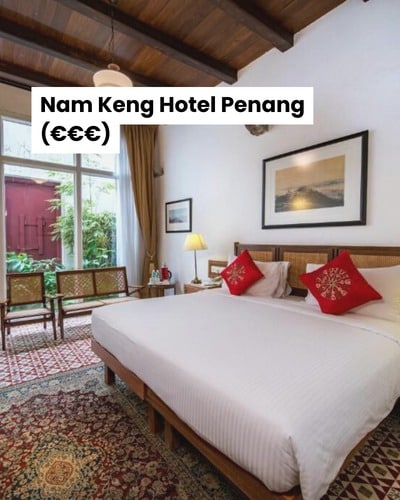 Day 9 and 10: Langkawi
And, to round off this 10 days in Malaysia itinerary, I suggest a visit to the heavenly island of Langkawi. In fact, Langkawi is an archipelago of almost 100 islands. This is the perfect place to rest after this city-based itinerary.
There used to be a ferry from Penang to Langkawi, which took around 2 to 3 hours. However, this option no longer exists. Alternatively, there are flights (which don't even take 20 minutes) between Penang and Langkawi. This is how I actually travelled between these two places. The ticket (with AirAsia) cost just 8€ and I highly recommend it (it's kind of an Asian version of Ryanair).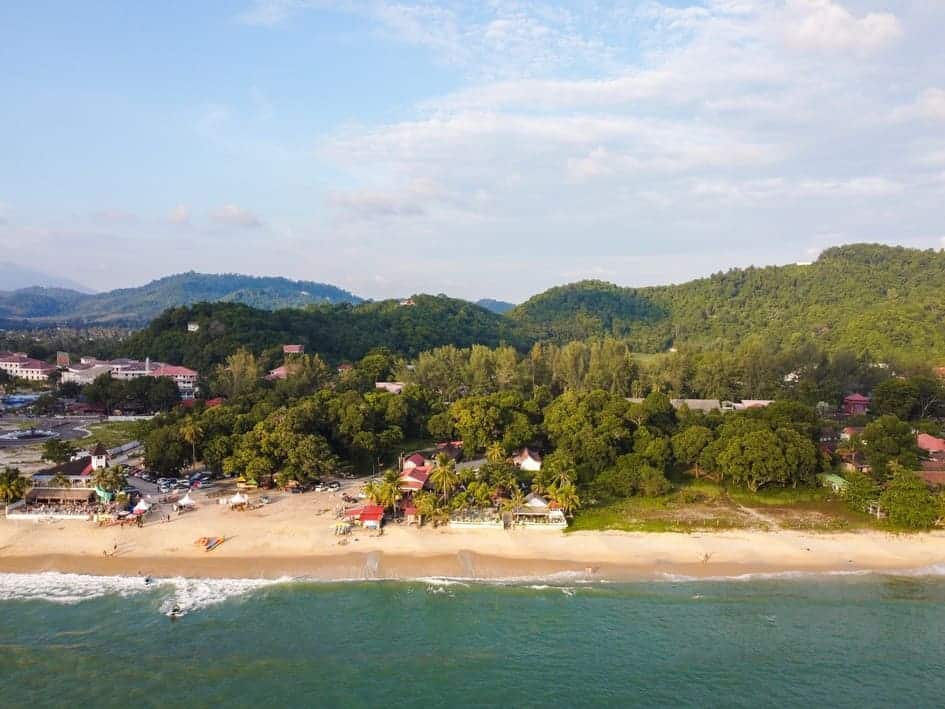 Langkawi's highlights are clearly its long sandy beaches and its very warm water. I had the opportunity to visit the two main beaches in Langkawi (Pantai Cenang and Pantai Tengah), but my favourite was actually Tanjung Rhu Beach, which is located a bit outside of Langkawi's main area.
💡 EXTRA TIP: You can find more tips for visiting Langkawi in my post about how to spend 2 days in Langkawi.
Another must-visit place in Langkawi is the Oriental Village and a ride on the world's steepest cable car. At the top of the ride, you'll find the SkyBridge – a glass bridge with unforgettable views over Langkawi.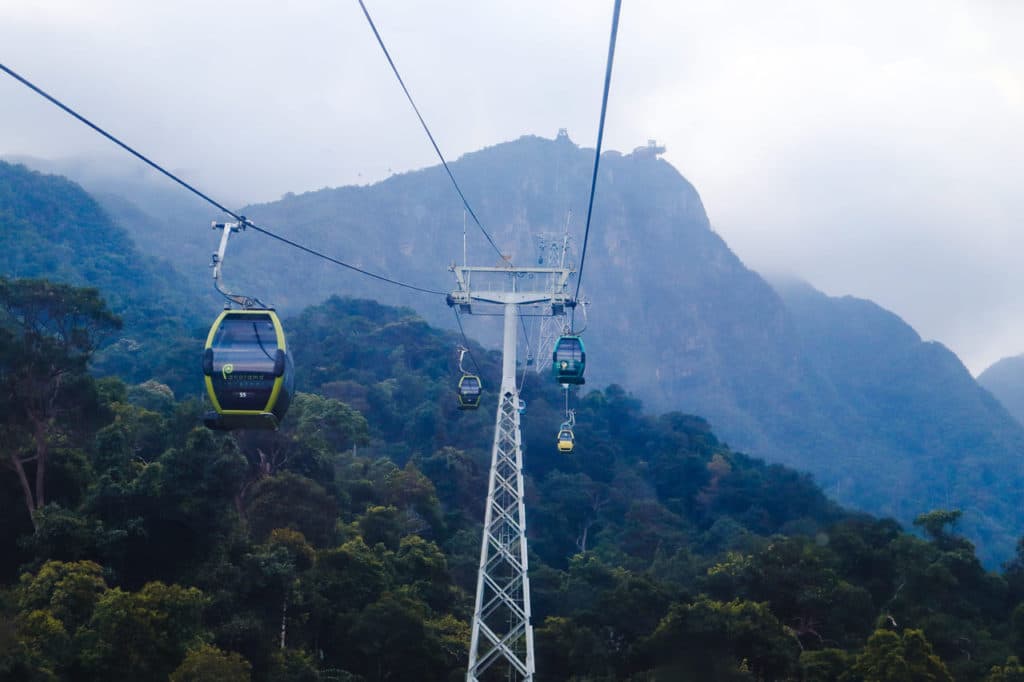 But there are a few tours in Langkawi that are also worth considering. Firstly, the island hopping boat trip (~18€) which usually includes a stop at the famous Pulau Dayang Bunting, but also at the island of Beras Basah. This is a very touristy tour, but it's certainly one of the most convenient ways to visit the tour's main attractions.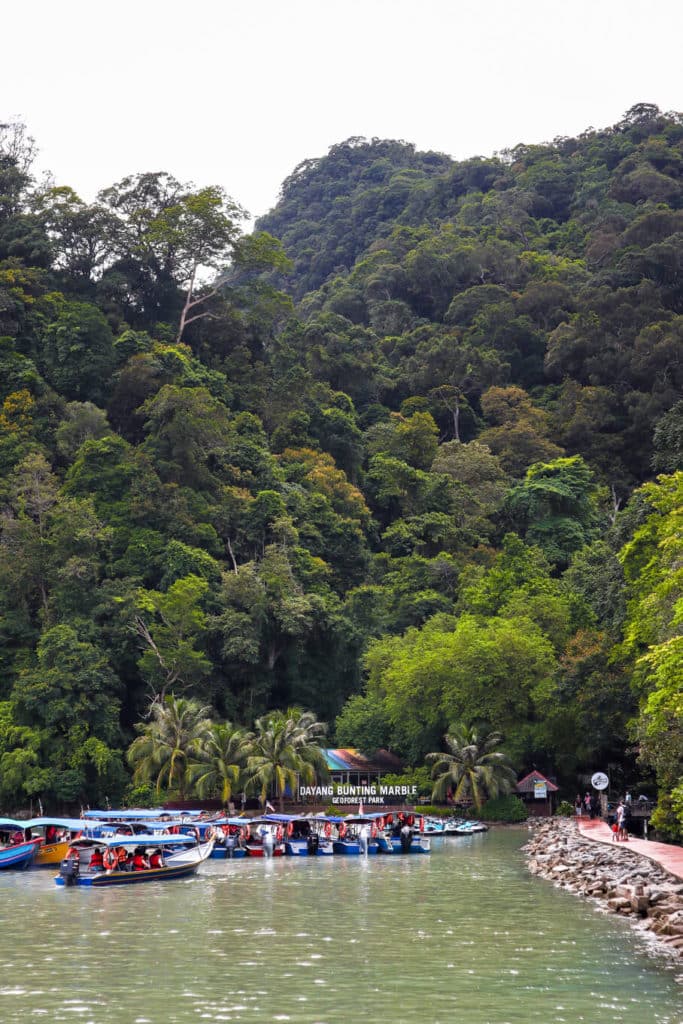 Secondly, the protected area of Kilim Geoforest Park is also quite popular in Langkawi. There are some tours to visit it and this is another excellent option for observing Langkawi's wildlife, especially the mangrove forest.
But the important thing in Langkawi is to get in touch with a different side of Malaysia 😍. People don't often think of this country as a beach destination, and let me tell you, it couldn't be further from the truth.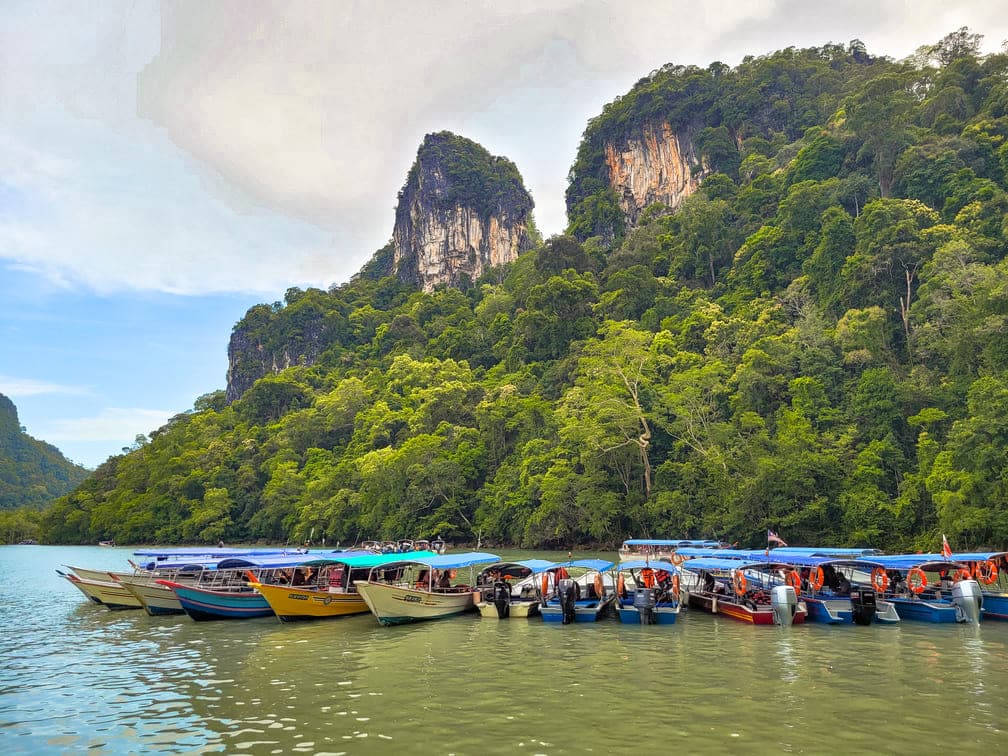 💡 EXTRA TIP: Once you've completed this itinerary, it's likely that your return flight from Malaysia will depart from Kuala Lumpur! To avoid having to take the bus back to Kuala Lumpur, I recommend booking a flight between Langkawi and Kuala Lumpur. The journey takes about an hour and you can easily find a cheap fare.
Accommodation in Langkawi
In Langkawi, you should choose wisely the area of the island where you will be staying, as some areas are more difficult to access. The areas with the most accommodation and the best access are Pantai Cenang, Pantai Tengah and Kuah.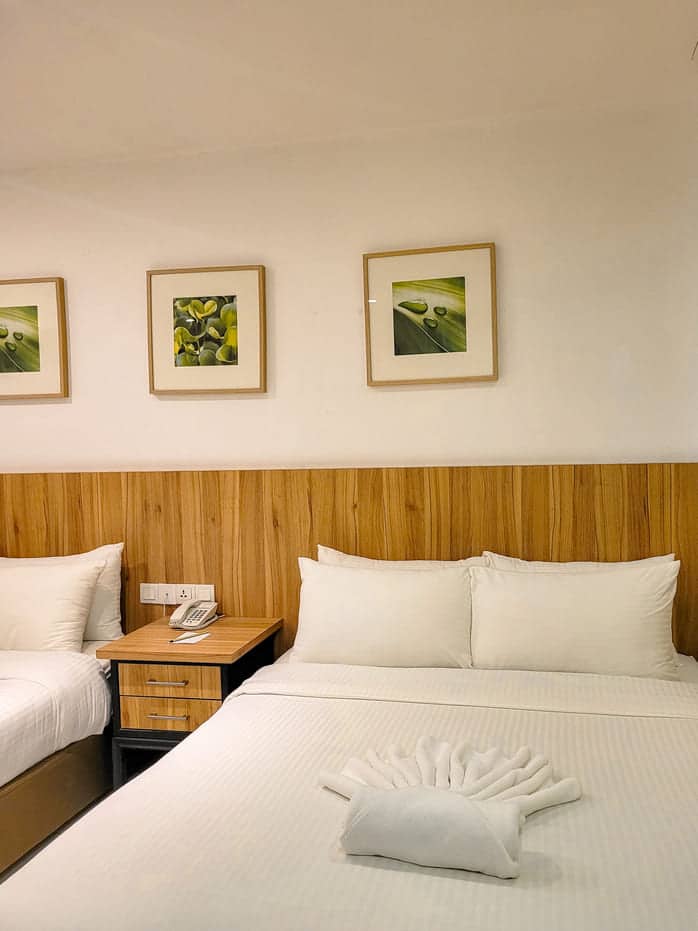 In my case, I chose to stay in Pantai Cenang at Villa Langkawi. The accommodation was central and, although simple, it was clean and good value for money (25€/night).
In any case, I'll share with you other accommodation options in Langkawi: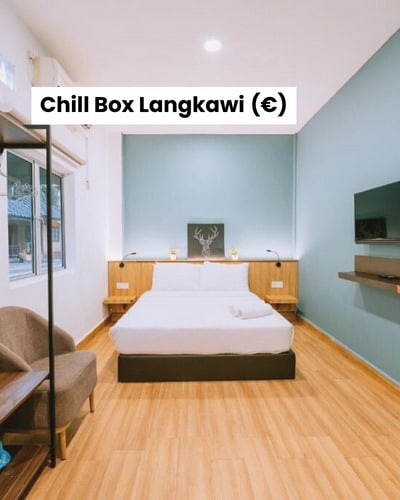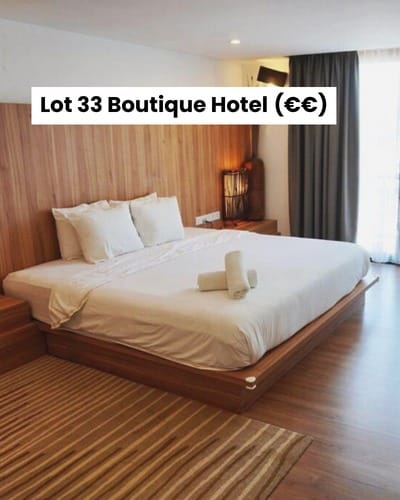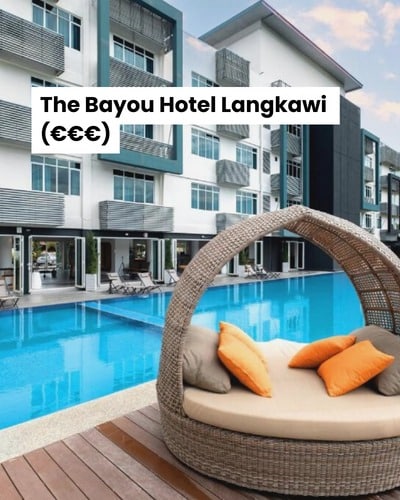 Malaysia Itinerary – What to visit: no beaches edition
If you're not a big beach lover, then I suggest removing Langkawi from your Malaysia's 10-day itinerary, as most of the activities on the island involve going to the beach.
Therefore, I suggest an alternative version of a 10-day itinerary with some of the best things to do in Malaysia:
Day 1: Malacca
Days 2 to 4: Kuala Lumpur
Days 5 and 6: Cameron Highlands
Days 7 and 8: Ipoh
Days 9 and 10: Penang
The big difference from the previous itinerary is that I replaced the 2 days in Langkawi with 2 days in Ipoh (and also changed the order of the itinerary). Ipoh is a small town relatively close to Cameron Highlands.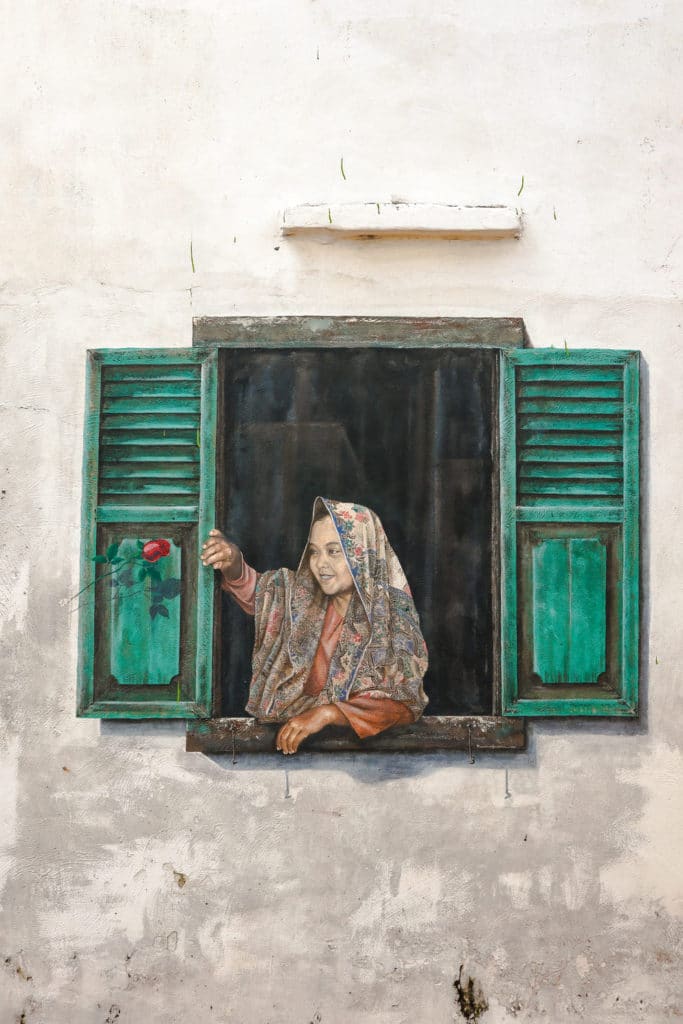 So, take the opportunity to visit another Malaysian city, where some of the highlights include temples (e.g. Sam Poh Tong) or street art just like George Town. Some actually say that Ipoh is a less visited version of George Town 😉.
I didn't have time to actually include this city in my Malaysian itinerary (much to my regret!), but I'll share with you this Ipoh's detailed guide by another blogger.
Malaysia 7 days itinerary
Although I wouldn't recommend dedicating just 7 days to visiting Malaysia, it is still possible to see some of the must-visit places in Malaysia in that number of days. So, I share with you my version of a 7-day itinerary in Malaysia:
Day 1: Malacca
Days 2 to 4: Kuala Lumpur
Days 5 and 6: Cameron Highlands or Ipoh
Days 6 and 7: Penang
Malaysia Itinerary for those with more than 10 days
If you're lucky enough to have more than 10 days in Malaysia, then here are a few more suggestions of other top places to visit in Malaysia as well:
Perhentian Islands – paradise islands with fantastic beaches (note: be aware of the rainy season)
Tioman Island – small island with idyllic beaches (note: be aware of the rainy season)
Taman Negara – the world's oldest rainforest
Malaysia's best food – What to eat
One of my favourite parts of Malaysia was its cuisine 🥰. Although it's often extremely spicy (if you don't like spicy, I suggest always asking for non-spicy food), there are lots of typical dishes:
Nasi Lemak – one of Malaysia's most popular foods. This dish is made from rice cooked in coconut milk and usually served with fried chicken.
Nasi Kandar – also a rice-based dish served in a banana leaf. It is very popular in Penang.
Satay – Meat skewers with a spicy sauce. Delicious!
Char Kway Teow – one of the most popular dishes in Penang and simply divine. These are rice noodles fried in soy sauce and topped with vegetables and often shrimp.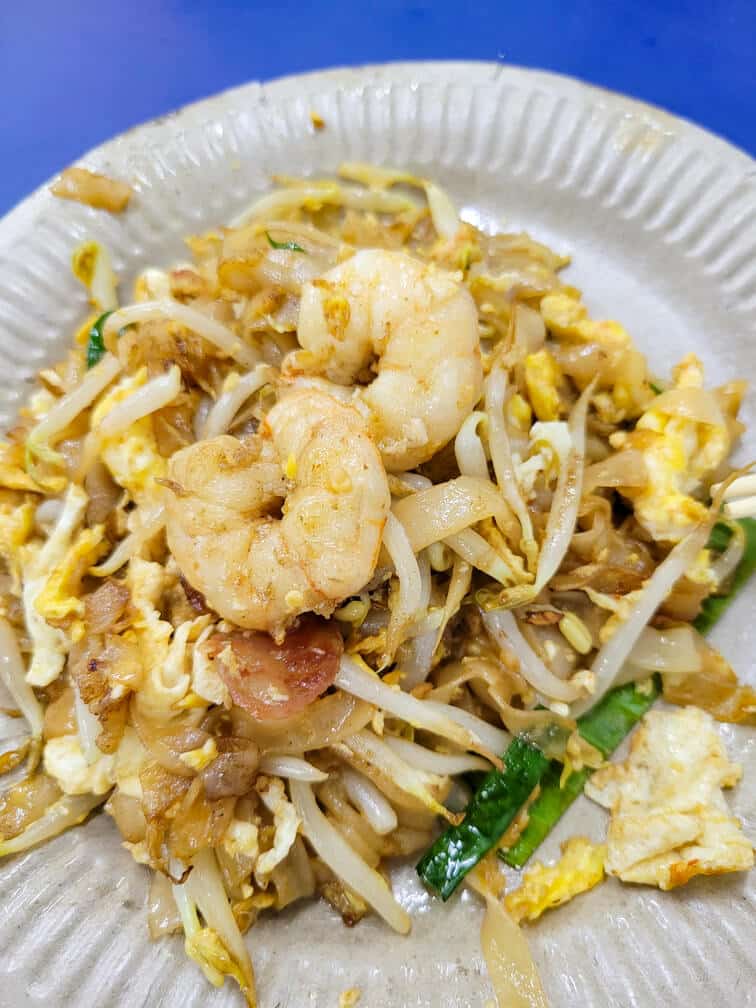 Kuih – a very colourful dessert. The texture is strange and I confess I didn't love it.
Cendol – a dessert made with shaved ice. I found it very sweet and strange.
Nasi Goreng Kampung – spicy fried rice.
Teh Tarik – the most famous hot drink in Malaysia and consists of tea mixed with milk.
Popiah – similar to spring rolls and it can have various fillings (from vegetables to meat)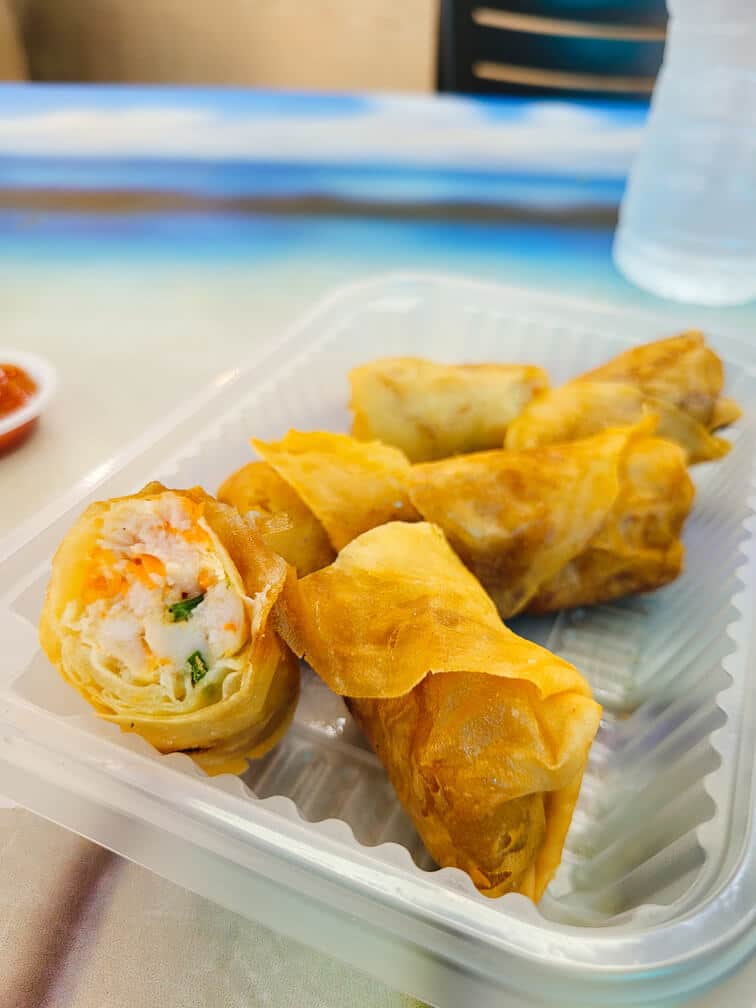 I hope this post has made you want to visit Malaysia as much as I want to go back there 😍! So, if you're unsure about whether to visit Malaysia, trust my opinion, you won't regret it.
Disclaimer: this post may contain some affiliate links, which means I get a small commission if you buy something through my links. This doesn't represent any additional cost to you and you'll be supporting my work here on the blog😊