Albania is probably one of the most underrated destinations in Europe. With some of the most beautiful beaches in Europe, mountain areas with breathtaking scenery and cities full of history, I don't quite understand how people haven't started to massively visit Albania yet.
To be totally honest, my urge to visit this amazing country started when I saw some posts on social media about Albanian landscapes. I quickly added the country to the top of the list of countries I'd like to visit 😊
And the best part is that it didn't really disappoint in any way. It was one of my favourite trips so far and I'd go back there in a heartbeat. I could be very wrong, but I really think Albania will be the next Croatia (ps: I visited Croatia 3 months before Albania, so my comparative memory was pretty fresh!)
What is the best time of year to visit Albania?
Quite honestly, I don't think you should stop visiting Albania just because it's colder or warmer. I think the country is magnificent any time of the year! However, the truth is that it would also be a shame not to enjoy the extensive Albanian coastline with beautiful beaches (especially the Albanian Riviera area).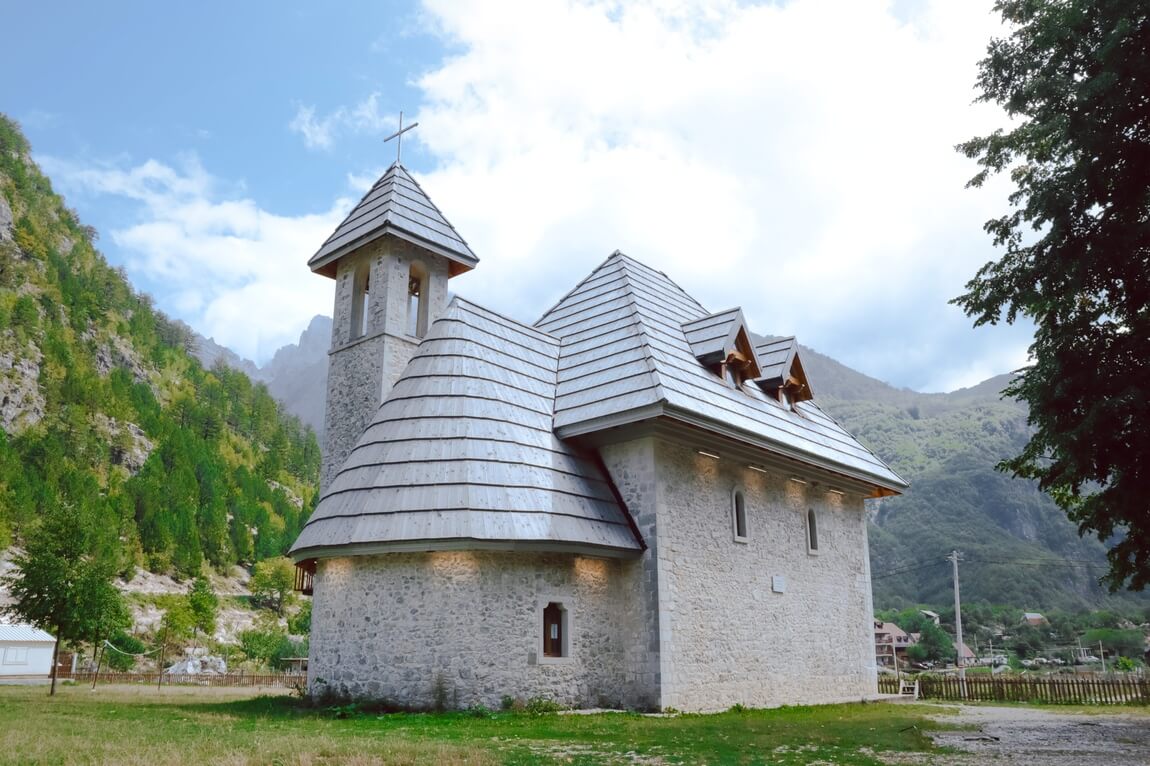 So, I would say try to visit the country between May and October to try to assure milder temperatures and also to increase the probability of being able to enjoy the beaches. The country has not been hit by mass tourism yet, so even if you visit in summer it won't be too crowded (of course the beaches tend to be crowded, but not so much in the rest of the country).
How many days do you need to visit Albania?
Albania may not be a very big country, but there are not many highways which means travelling short distances take a long time. Additionally, the country has very diverse landscapes… from mountainous areas further inland, to the beaches of the south.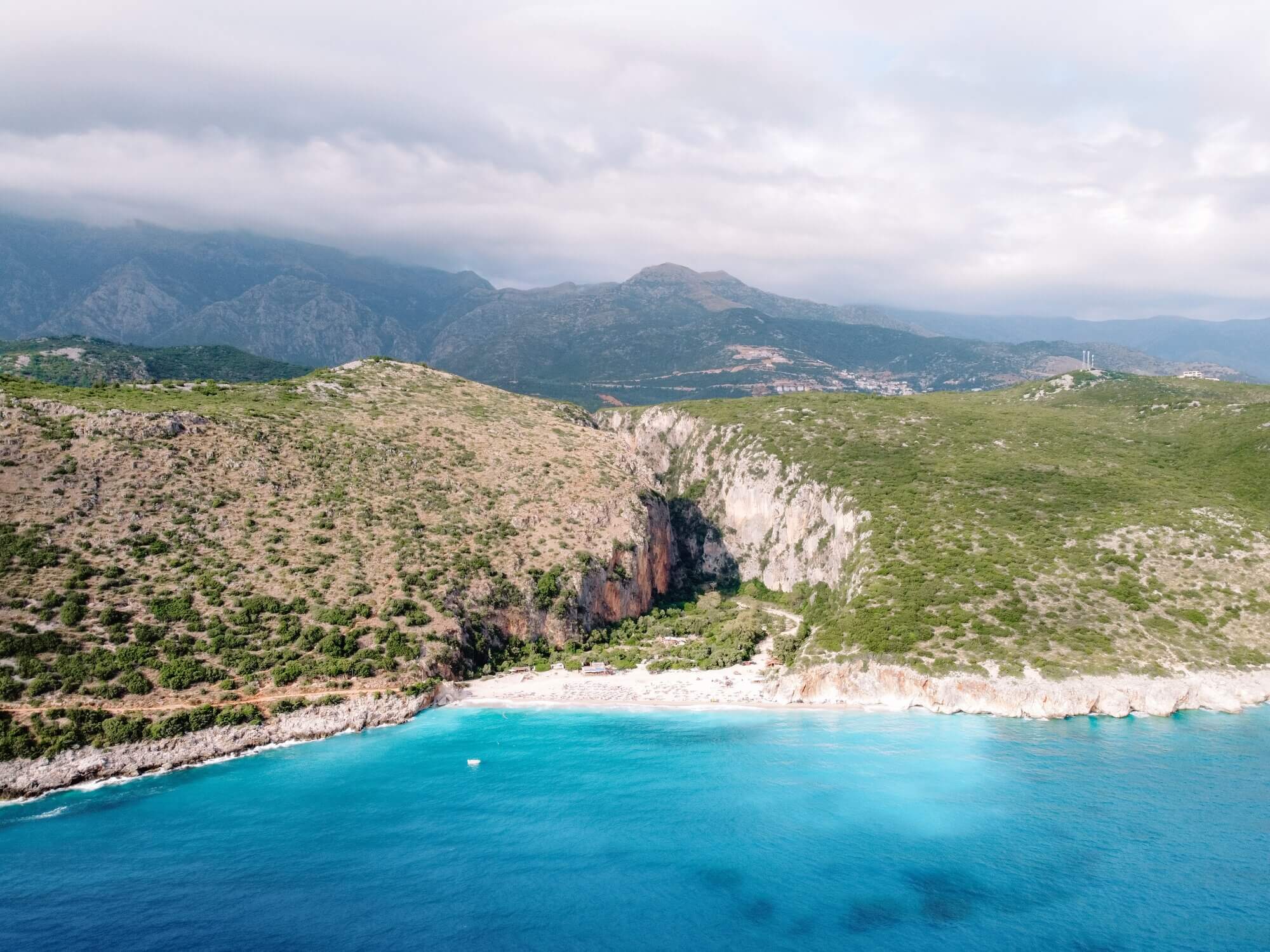 So, I believe that the ideal duration of a trip in Albania is 15 days. However, I ended up spending only 9 (almost!) full days in the country and I was able to still visit lots of places. It is also possible to stay only 7 days with some adjustments in the itinerary. Although the itinerary I'm going to tell you about is for 9 days, at the end of the post you can also find a version for 7 days.
How to get to Albania?
At the moment, there is only one international airport in Albania, located in the country's capital (Tirana). Tirana is a good starting point for those wishing to visit Albania as it is located relatively in the middle of the country.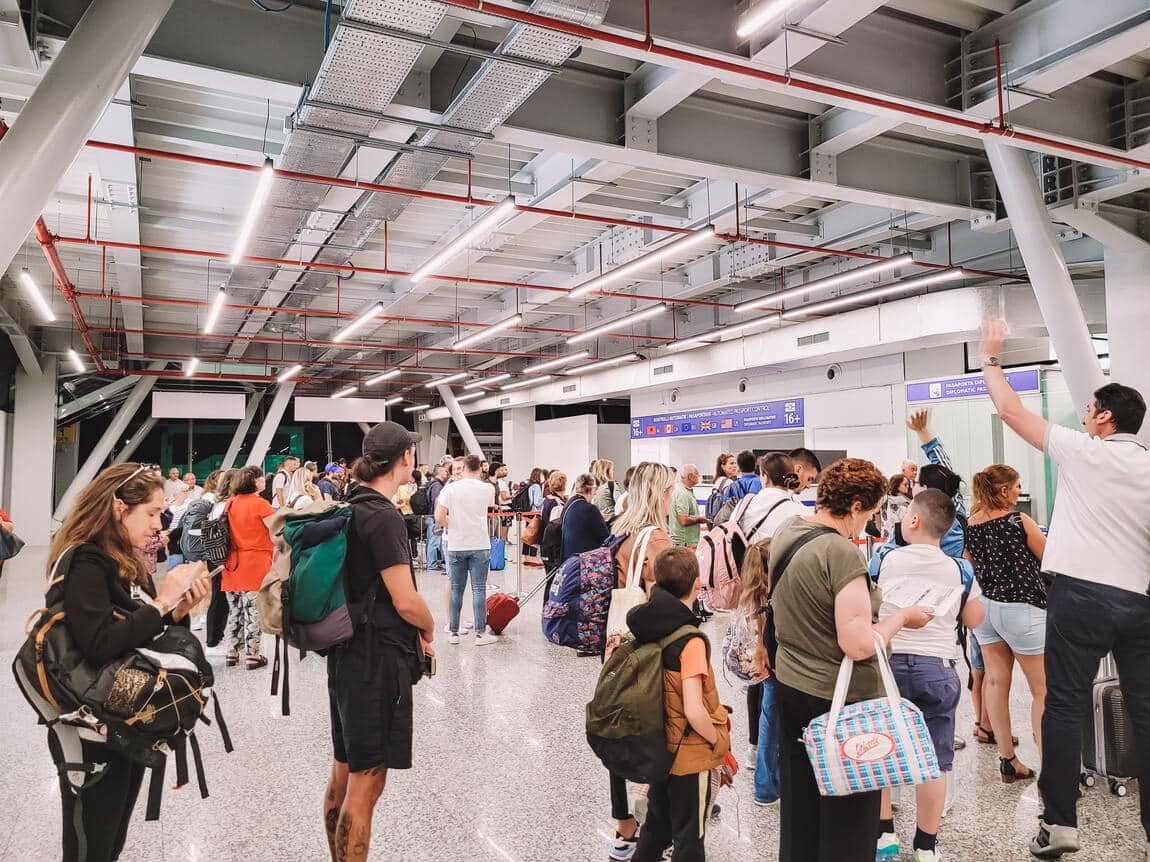 Here are some European cities with direct flights to Tirana:
Italy (Milan, Bari, Verona, Venice, Rome, Pisa)
Germany (Memmingen, Berlin, Munich)
Switzerland (Geneva, Zurich)
Spain (Barcelona, Madrid)
Belgium (Brussels)
France (Lyon, Nice, Paris)
United Kingdom (London)
Netherlands (Eindhoven)
What is the best way to travel in Albania?
The bus network does not work marvellously well in Albania (although it does exist and it is possible to travel this way) and trains are practically non-existent. So, without any doubt, the best way to get around Albania is by car.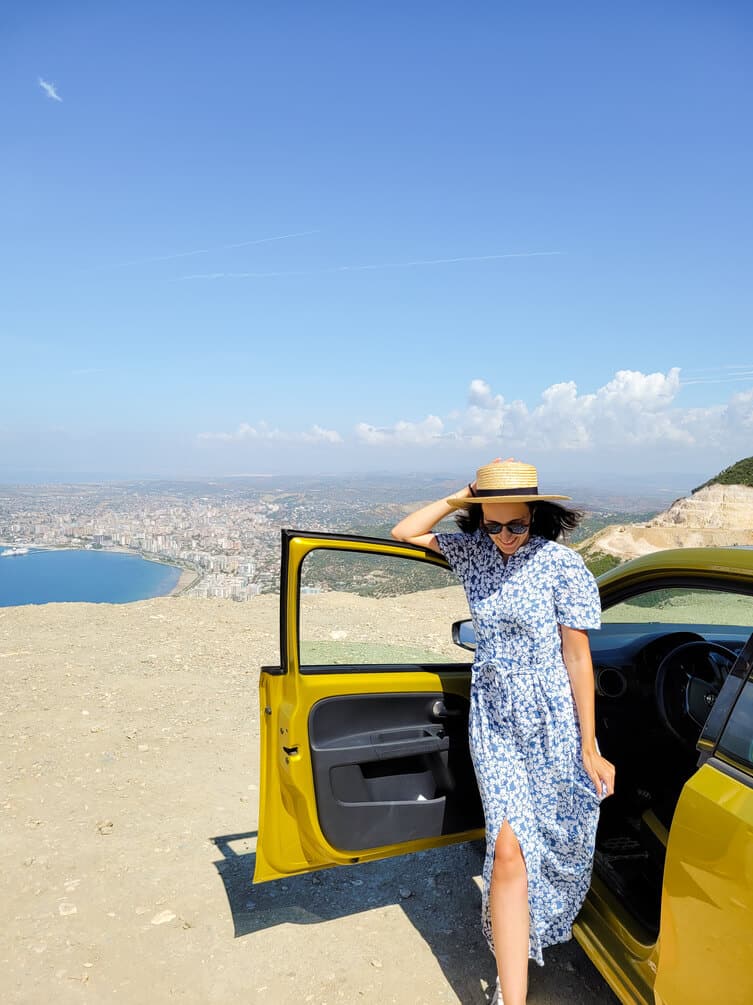 I chose to rent the car with Select Car and I really enjoyed the service. I chose to pick up the car in the city centre because on the first day I stayed in Tirana and didn't need a car and returned it at the airport at the end of the trip.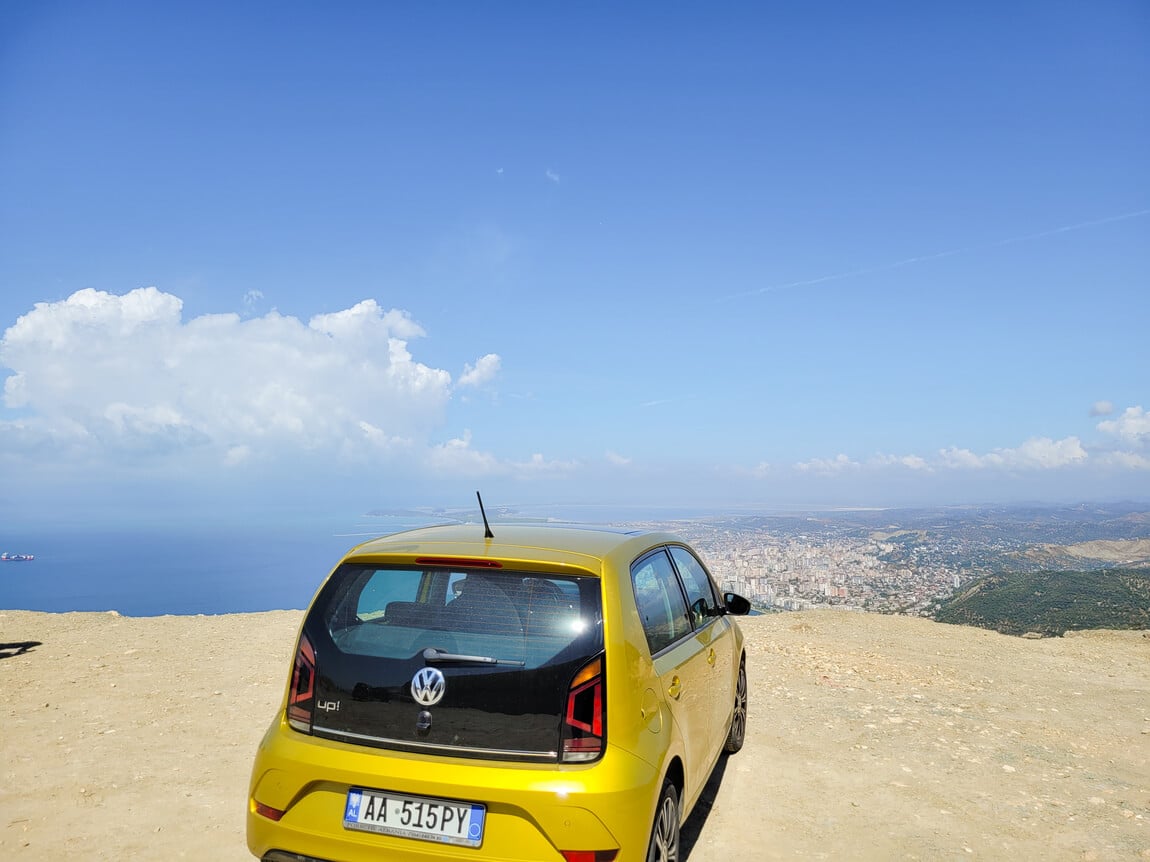 The service was very friendly and the car collection time was quite speedy (how often do I waste so much time with this part of the process 😔). 
💡 EXTRA TIP: Even though I ALWAYS recommend buying full insurance when renting a car, in Albania this recommendation is even more valid. Driving in Albania can be a bit aggressive and so, it's better to be safe than sorry 😊
💼 TRAVEL INSURANCE: If you want to feel safe while travelling, then you should definitely look into purchasing some travel insurance. Having insurance will help you with any health-related emergencies as well as with other events, such as theft, loss or delay of luggage, eventual need to cancel your trip and much more. In my case, I always use IATI Insurances, which has one of the best price-quality ratios in the market and a 100% online service that is very easy to use. Book here your travel insurance and enjoy a 5% discount for being readers of the blog. Don't forget that the purchase must be made using this link.
Is driving in Albania easy?
Driving in Albania can be daunting for less experienced drivers, to be very honest. Although I really enjoyed it and was comfortable driving, it was the most chaotic country I have ever driven in. Apart from the fact that Albanians are not very respectful of traffic rules (e.g. overtaking in a 3rd lane that doesn't exist, sneaking in when they're not supposed to), the roads are not always in the best condition.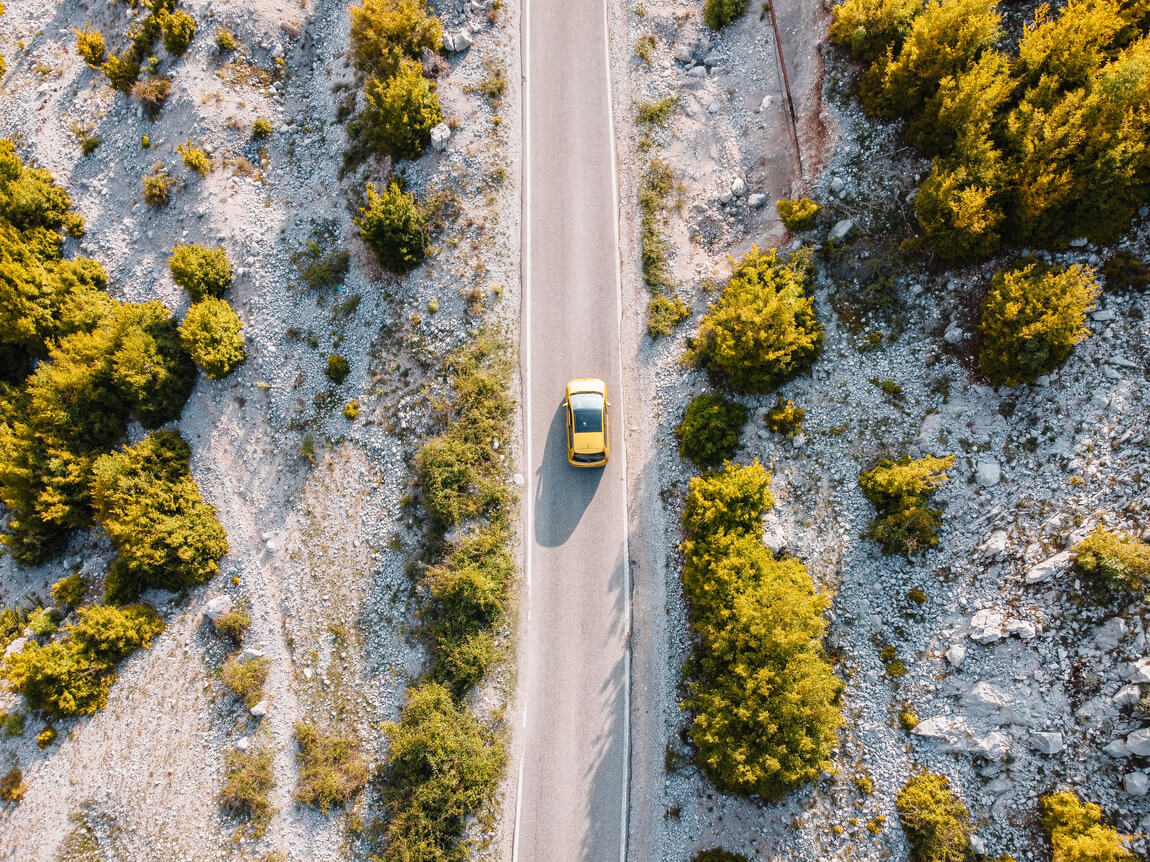 But, all that being said, I didn't feel nervous or anything like that when driving. You end up getting used to their driving (and, I have to confess, I laughed my ass off with some situations I saw on the road 😂). So unless you're very inexperienced in driving, I'd say it's moderately easy to drive in Albania.
How to pay in Albania?
The official currency of Albania is LEK and as of today (September 2022) this is the exchange rate against the Euro: 1 EUR = 117 LEK. Albanian currency can only be purchased and exchanged in Albania!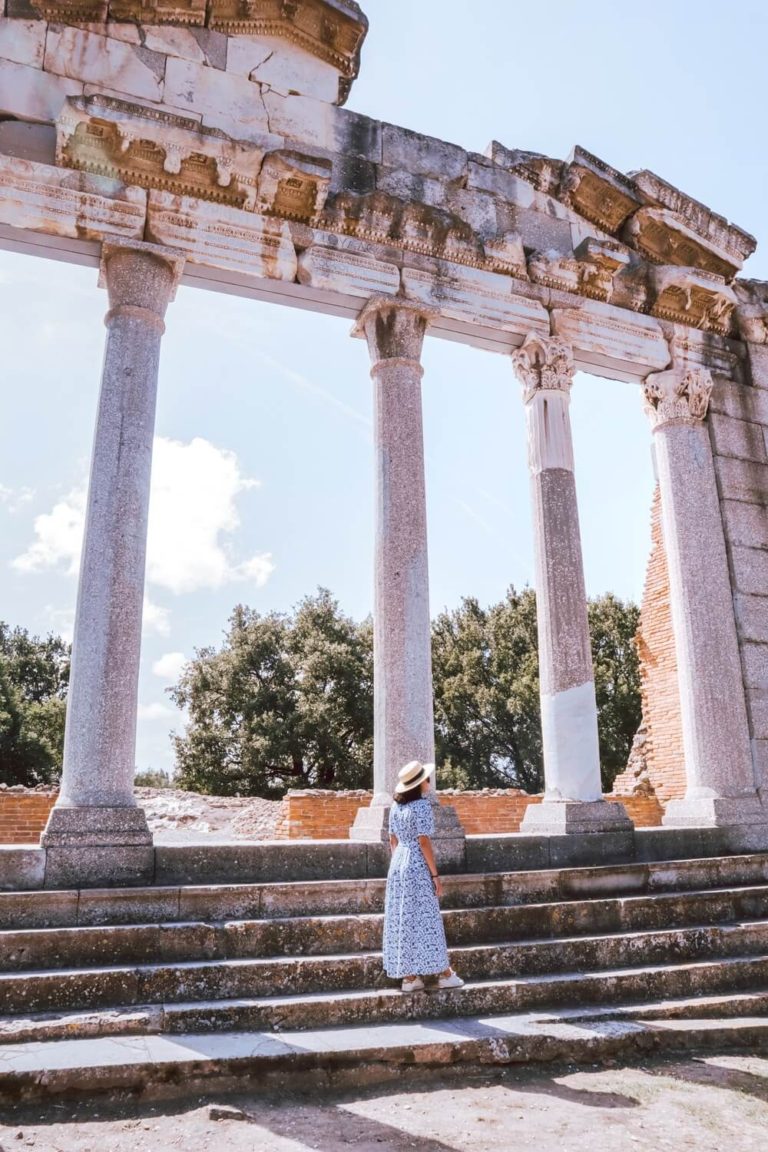 Albania is a country that still operates very much on a cash basis. You will often hear "only cash". So, one of the biggest recommendations is to get cash as soon as you arrive in the country and always carry some cash with you as you never know when you'll be able to use a card 😜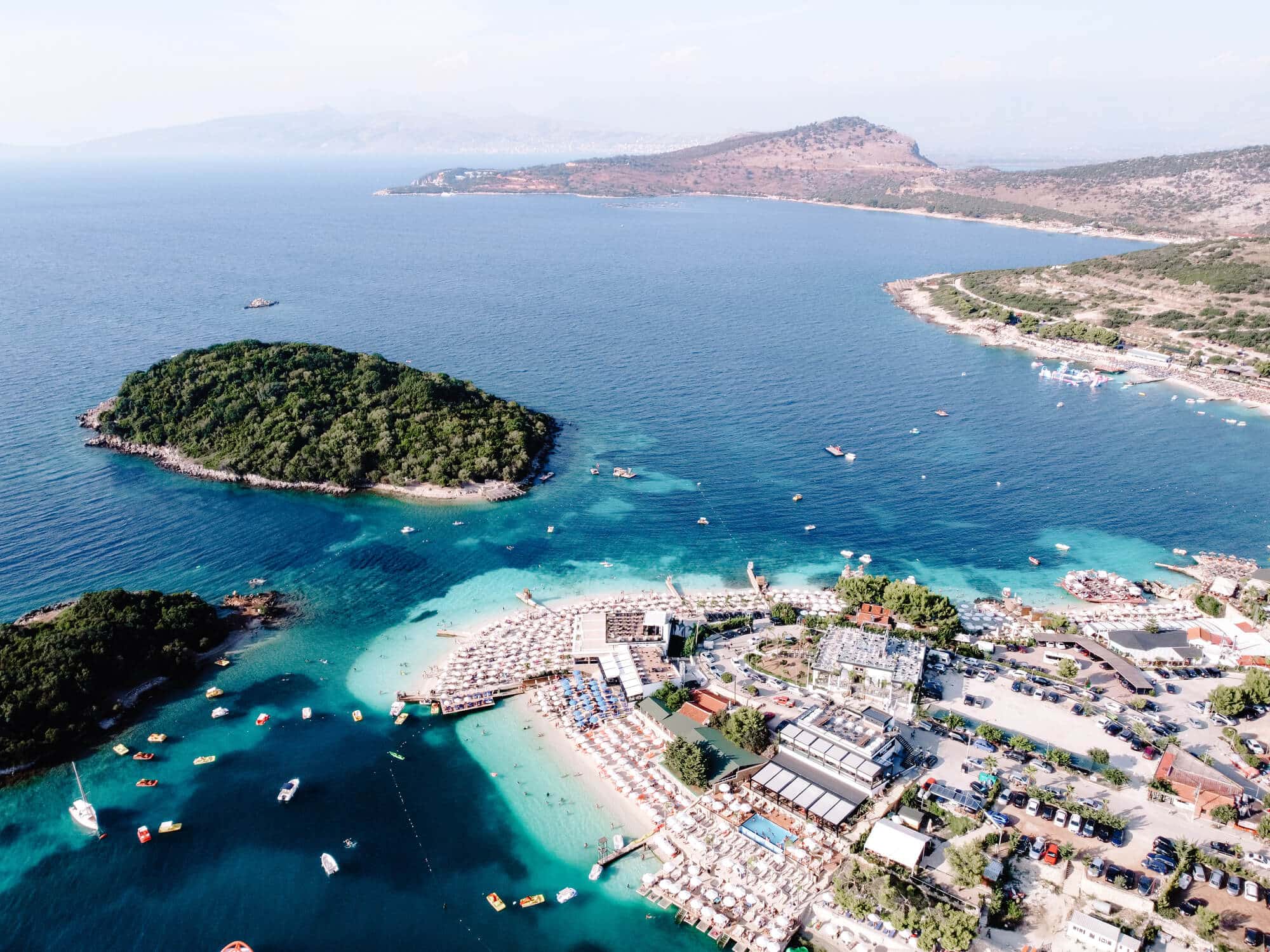 Sometimes restaurants and shops also accept Euros (and other currencies such as Dollars or Pounds), but always check if the exchange rate they suggest is beneficial for you! In my experience, it rarely is.
Where to withdraw money without paying fees?
Firstly, I recommend using a Revolut Card, since it will not charge you additional fees for using a different currency (either when you pay with the card or when you withdraw money). You can read more about how the Revolut card works here.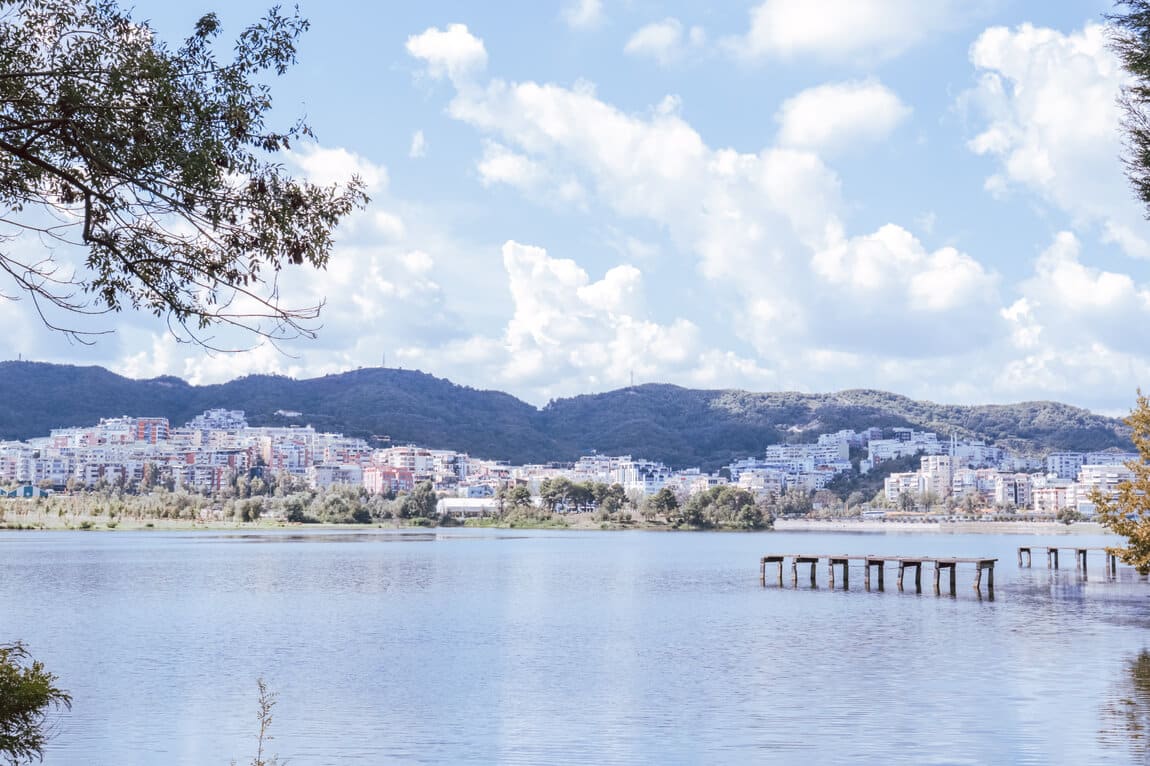 However, although Revolut does not charge additional fees for withdrawing money in another currency, most banks in Albania charge heavy fees for such withdrawals (one of the highest fees I saw was 6.8€). However, I found one bank that does not charge any fee – CredinsBank. Update 2023: I've been told that CredinsBank also started charging fees recently.
💡 EXTRA TIP: Since Albania is a country that works very much based on cash, you should still withdraw a considerable amount because you'll need to use cash a lot. However, if you have subscribed to the most basic Revolut plan, be aware that the withdrawals without extra fees by Revolut have a monthly limit (the months are not fixed) of 200€. In my case, we had 2 Revolut cards and had to exceed the limit in one of the withdrawals.
How to have internet in Albania?
These days, it is almost impossible to go to a country and not be reachable or not have internet. Since Albania isn't part of the EU, everyone pays for roaming there. So I recommend buying an Albanian data package as soon as you arrive in Albania.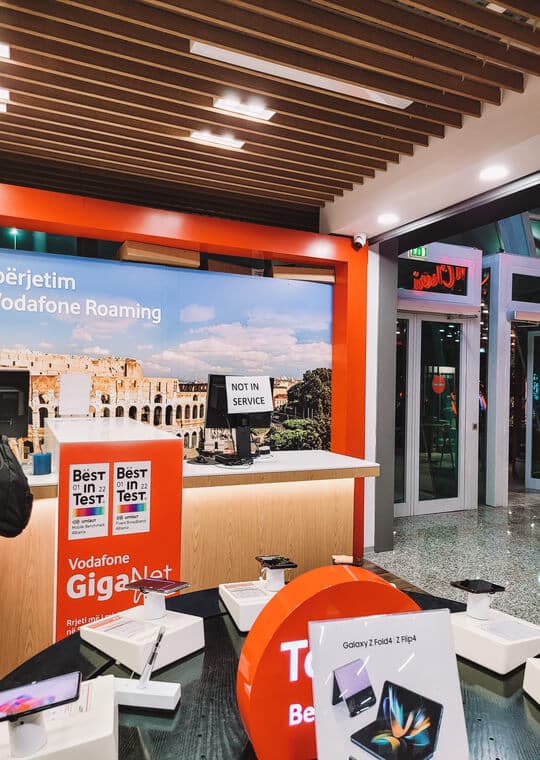 At the airport, there are two companies with identical packages: 35 GB for 2000 LEK (~€17). The Vodafone or One stands are side by side right next to the airport entrance/exit.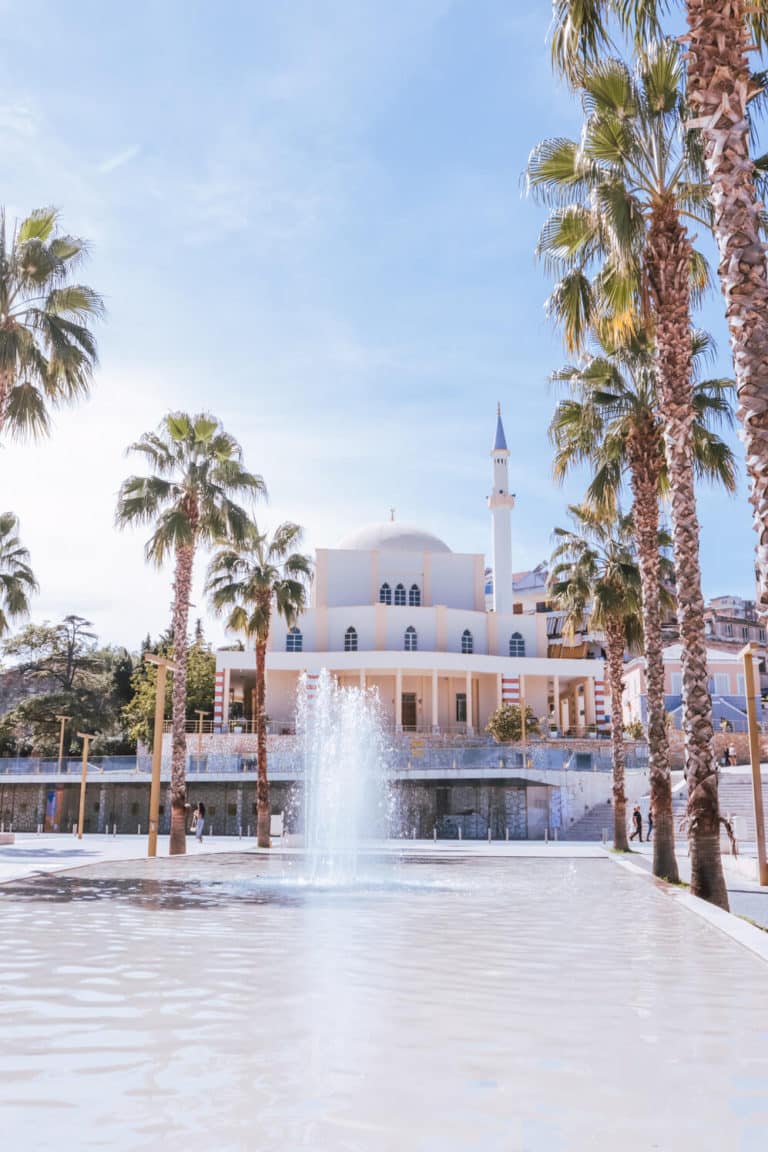 I ended up choosing Vodafone and the coverage across the country was quite satisfactory! As we were 2 people, we bought only one SIM card and made a hotspot between the phones. We spent 10 days travelling around the country and we still came back with more than half of the mobile data available 😉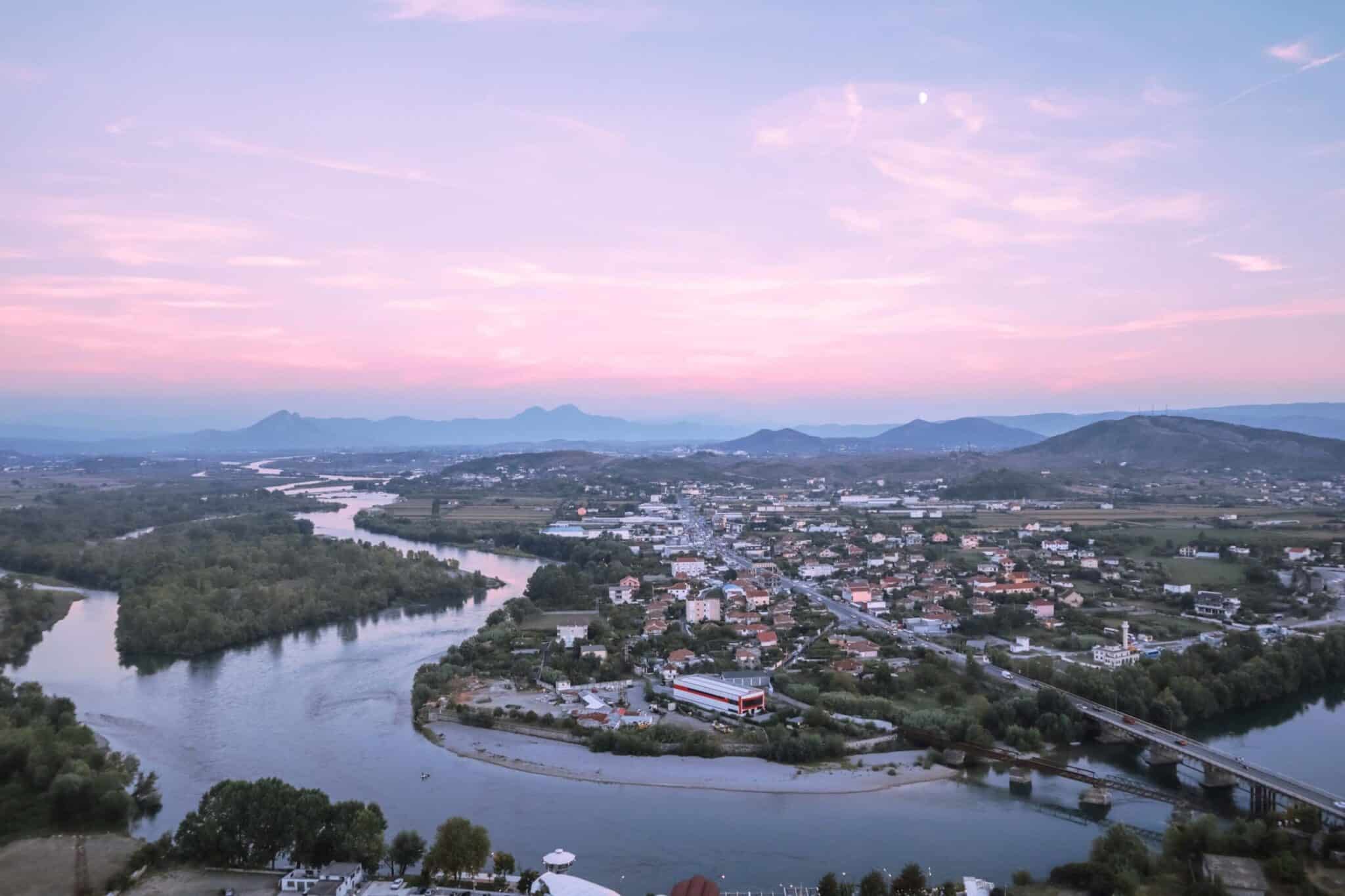 The process of buying the card was also quite simple. It took less than 15 minutes, 10 of which were in the queue waiting. All we had to do was provide some personal details, sign a document, pay and voilà!
Is Albania a safe country?
Before visiting Albania I heard some stories that this might not be a very safe country. Reports of mafia and car robberies, recommendations not to drive at night, and so on. However, I've always felt safe (both day and night!). Only on 2 or 3 occasions, I felt a slight insecurity, but this is something perfectly normal that also happens often here in Portugal (one of the safest countries in the world).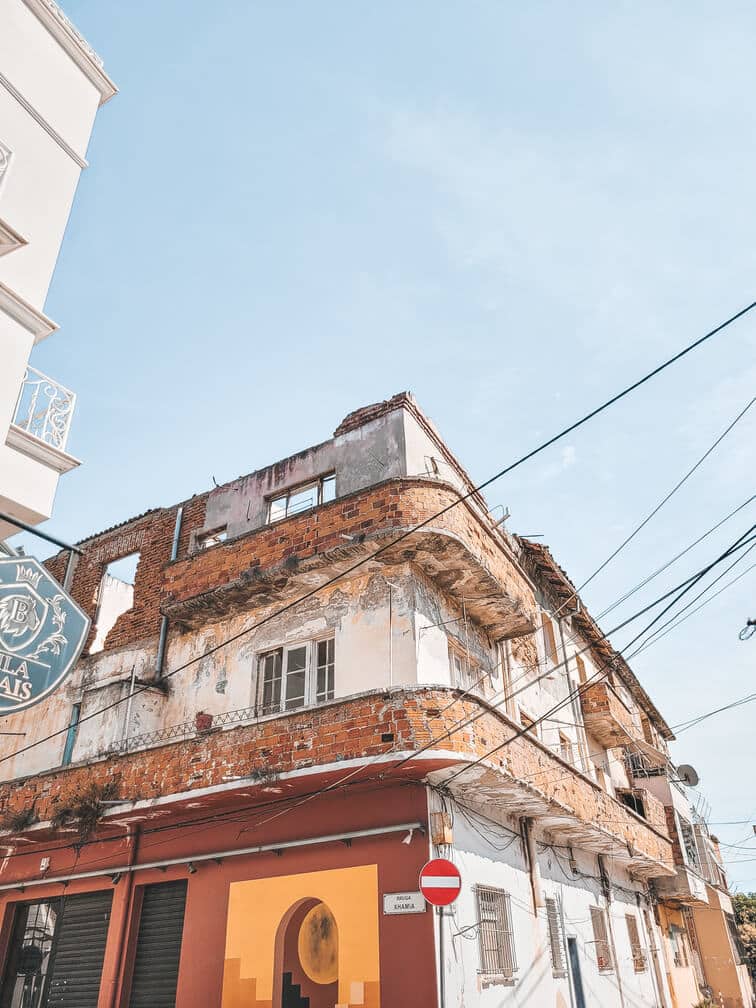 The truth is that I arrived at my first accommodation in Albania very late at night and when I left the accommodation the next day everything seemed weird. Wires everywhere, houses and buildings that had not been completed! I confess it was a bit of a shock, at least until I realised that this was absolutely normal in the country and didn't mean that I was in a more dangerous area just because the houses looked poorly.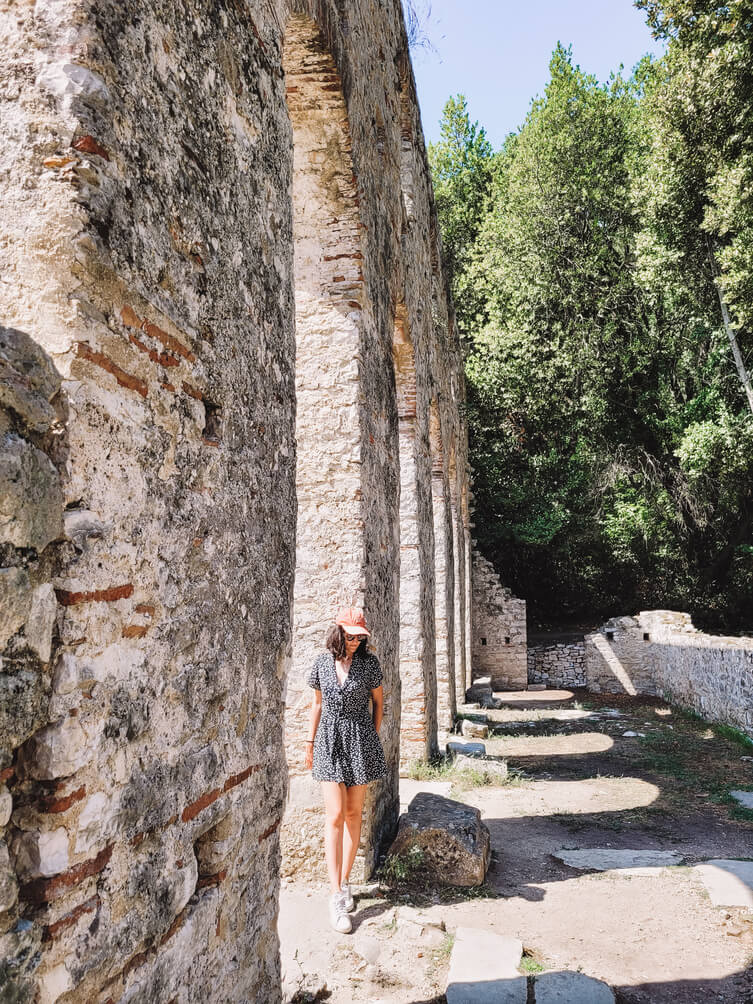 It is even worth mentioning that I almost always carried a camera around my neck and a mobile phone in my hand to use the GPS and I never felt insecure about possible muggings. Having said that, it is also important to say that I took the normal precautions that I always take in any country (e.g. not leaving my documents, money and cards in the easily accessible area of my backpack to avoid possible cases of pick-pocketing).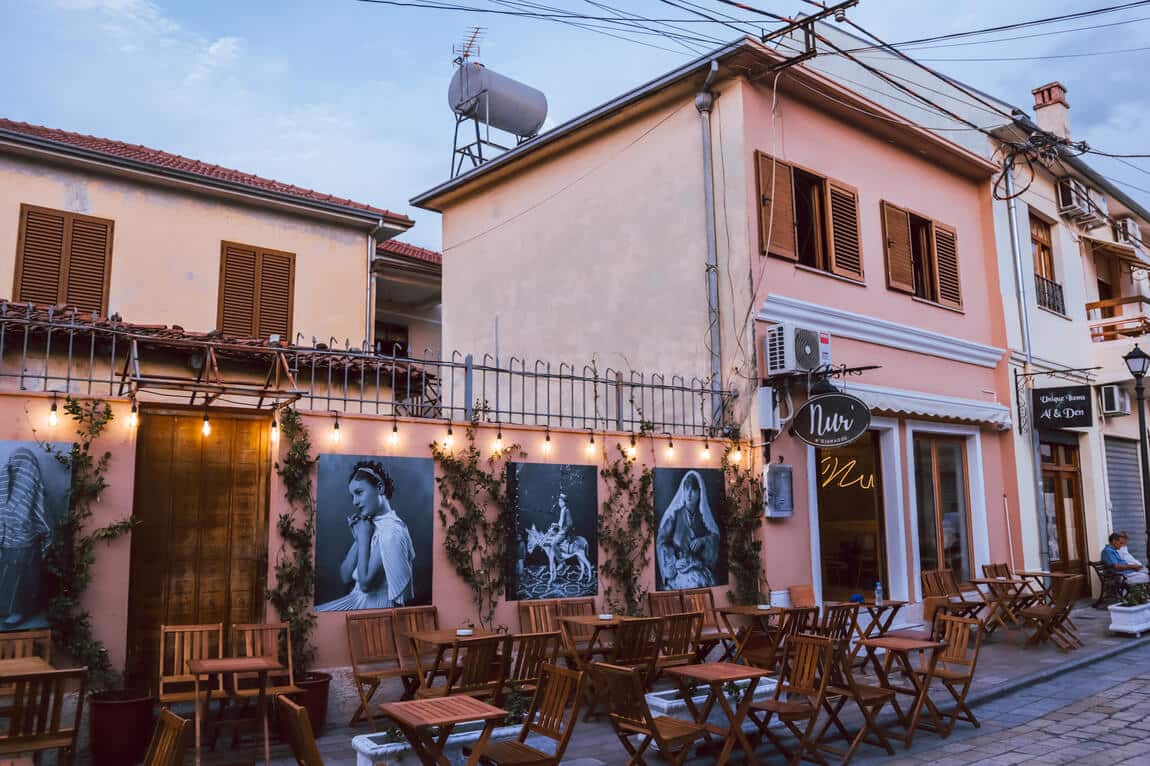 However, I've also read on some sites and blogs, that there are some areas of the country that are in fact not recommended visiting. The first is the northernmost area near the border with Kosovo due to still active mines and some conflicts still existing in the region. The second is a small land called Lazarat, which is known to be the drug capital of Europe and consequently with very little police control.
What to visit in Albania in 9 days?
What to visit in Albania – Day 1: Tirana (walking)
The first day of this itinerary starts with a must-visit in Albania – its capital city. Despite its small size, Tirana is a very interesting city.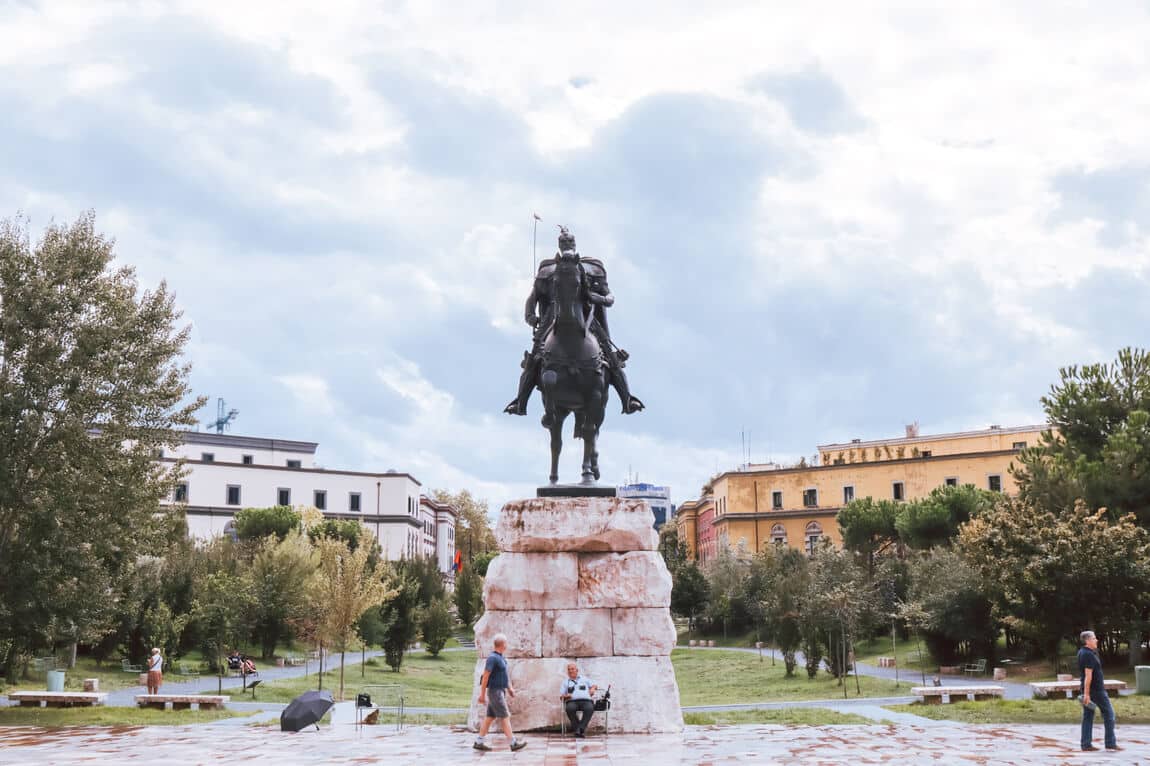 A visit to Tirana is not complete without visiting the square that honours Albania's national hero – Skanderbeg. In Skanderbeg Square, you can find the Museum of National History, the Clock Tower and also the Et'hem Bey Mosque, which is worth visiting inside.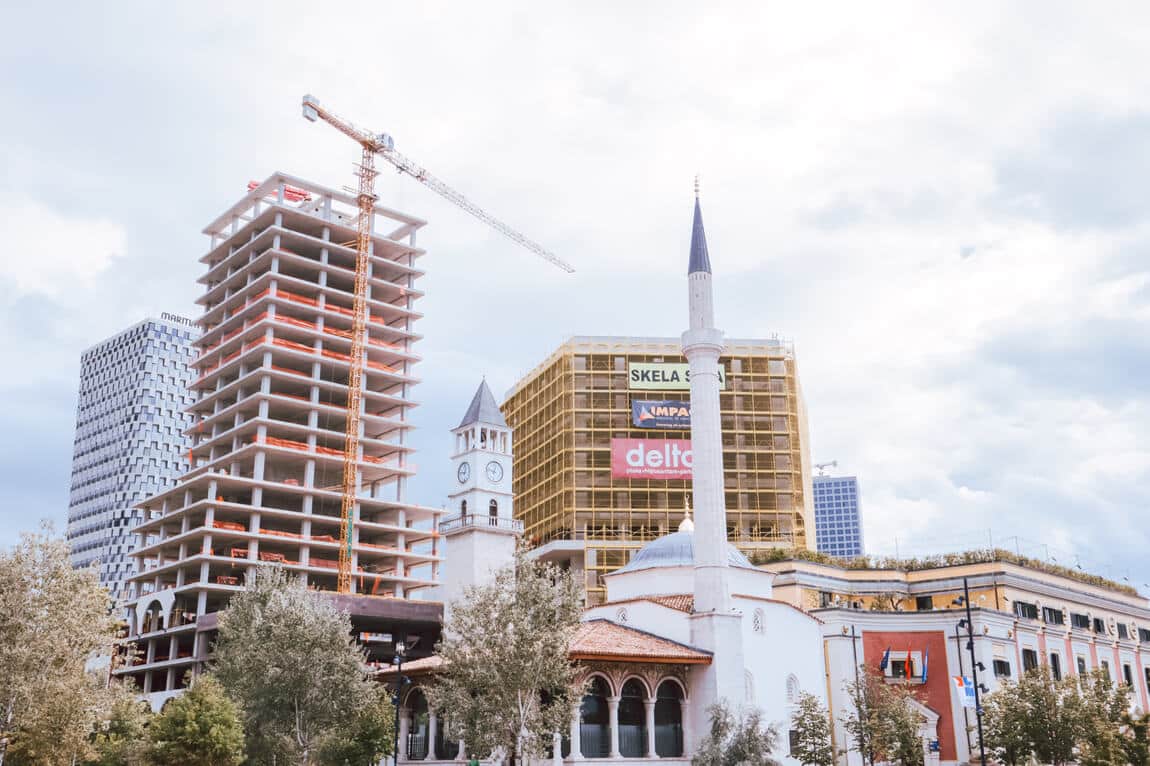 Also be sure to stop and admire the colourful Pazar i Ri market or one of the city's most famous streets (Rruga Murat Toptani), where the old Tirana castle is located, which has been rehabilitated and is a pleasant space with several shops and restaurants.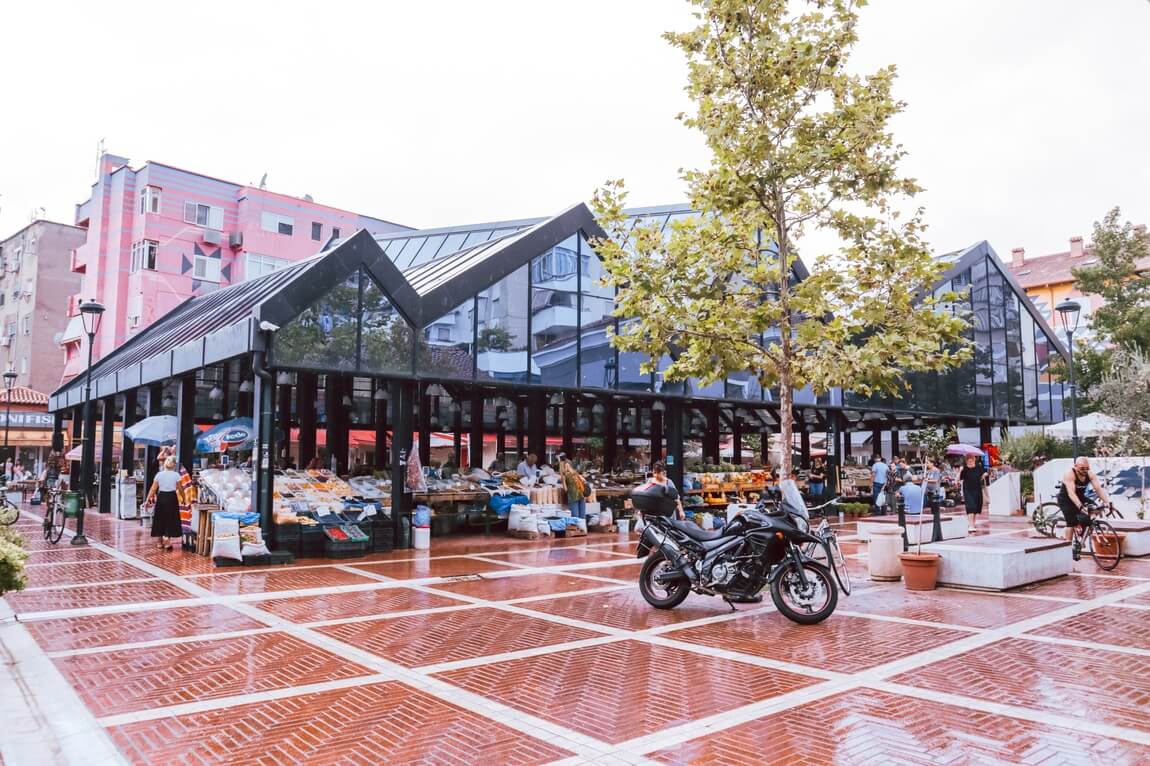 But a visit to Tirana is not complete without visiting one of the two bunkers in the city. Before your visit to Albania, you should try to learn a bit more about the country's history. The country was for many years under a communist regime which largely contributed to the isolation of the country until the early 90s. The two bunkers (Bunk'Art 1 and Bunk'Art 2) in Tirana (as well as the more than 170,000 bunkers spread around the country) are proof of the existence of a lunatic dictator who constantly feared an attack on the country.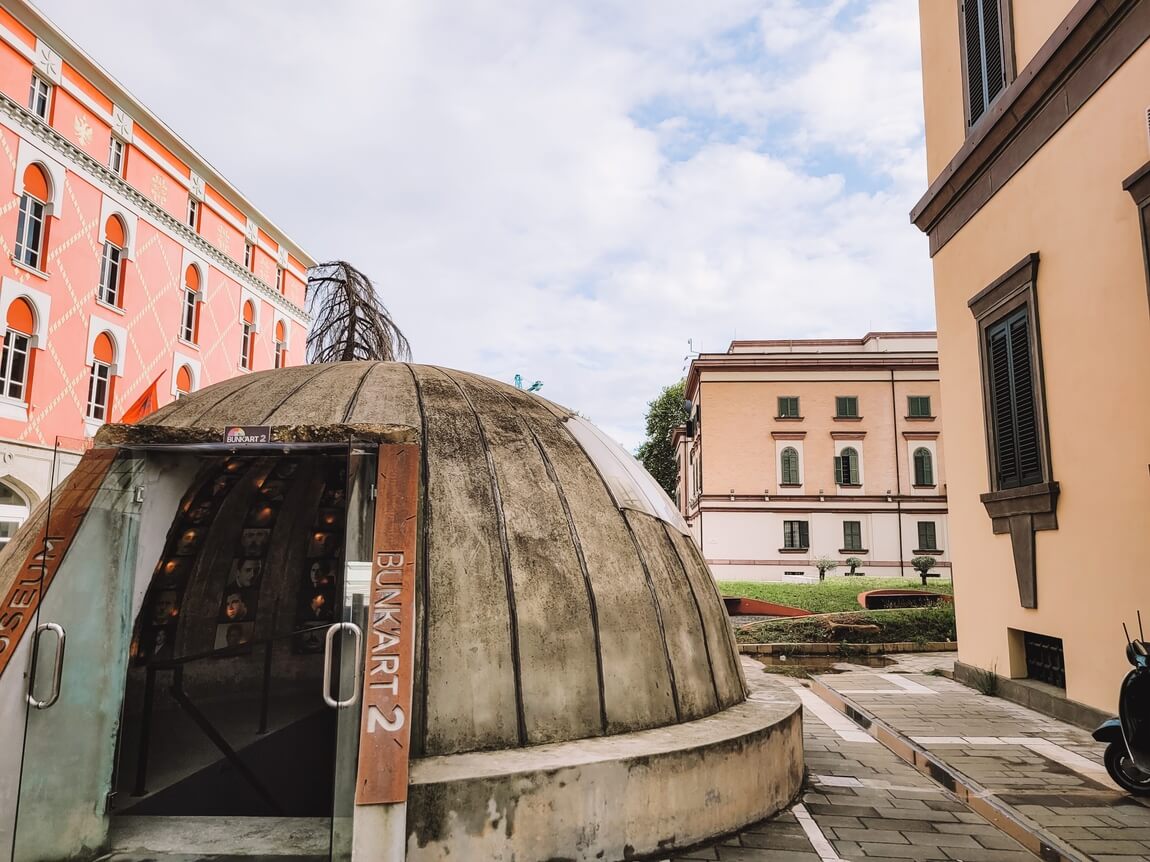 However, Tirana has more to visit than the points of interest mentioned above. If you want to plan your trip to Tirana in more detail, I suggest reading my specific post about Tirana, where you can find several tips and useful information to plan your visit there.
Accommodation in Tirana
I stayed in a recently renovated flat relatively close to the city centre – 5-10 minutes walk to the main points of interest. Studio Apartments Villa 24 is a set of flats that are equipped with everything we need for a good stay in Tirana.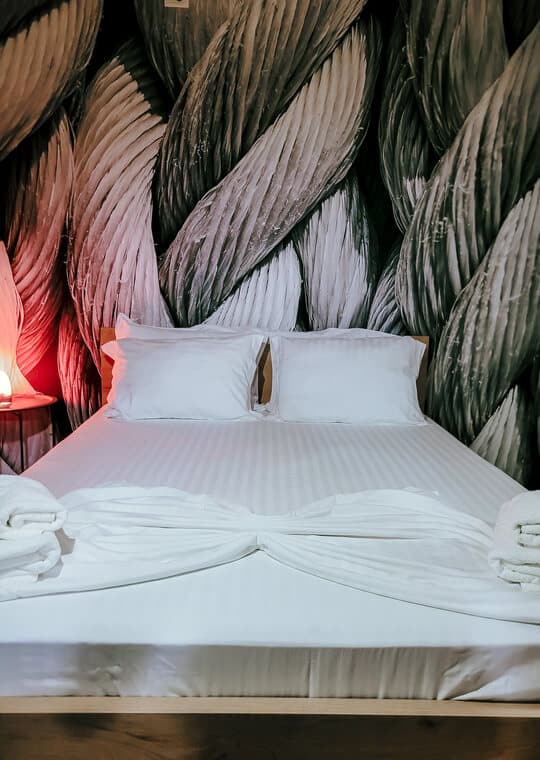 Besides the comfortable bed and modern bathroom, it also had a living room and a small kitchen, in case we wanted to cook some meals. We were very well received at the accommodation with some fruit, some biscuits and water. Anyway, I leave here some more accommodation suggestions: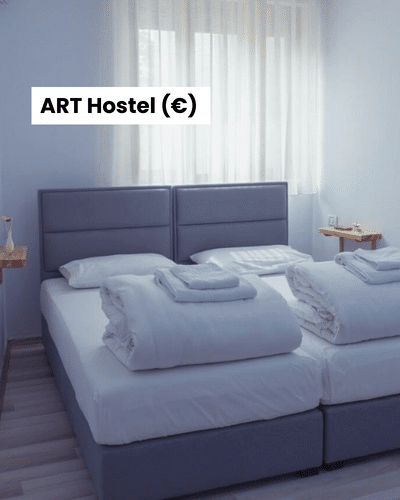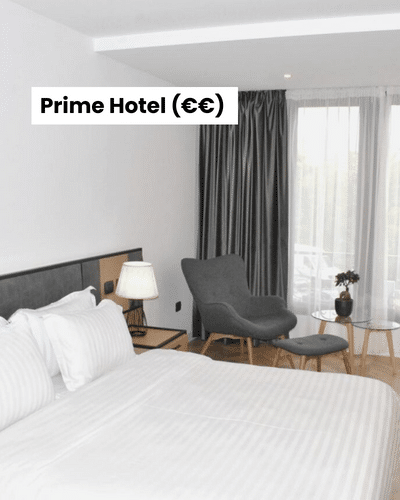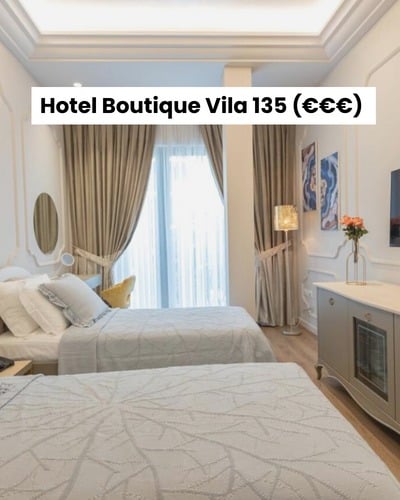 What to visit in Albania – Day 2: Tirana – Durrës – Krujë – Lake Komani (193 km; 4h10)
» Durrës
We start the 2nd day of our itinerary in Albania with a visit to the port city of Durrës. Although I visited the city on a Saturday, I found it almost empty, which I found very strange. I don't know if it is always like this, but it didn't help me to like the city.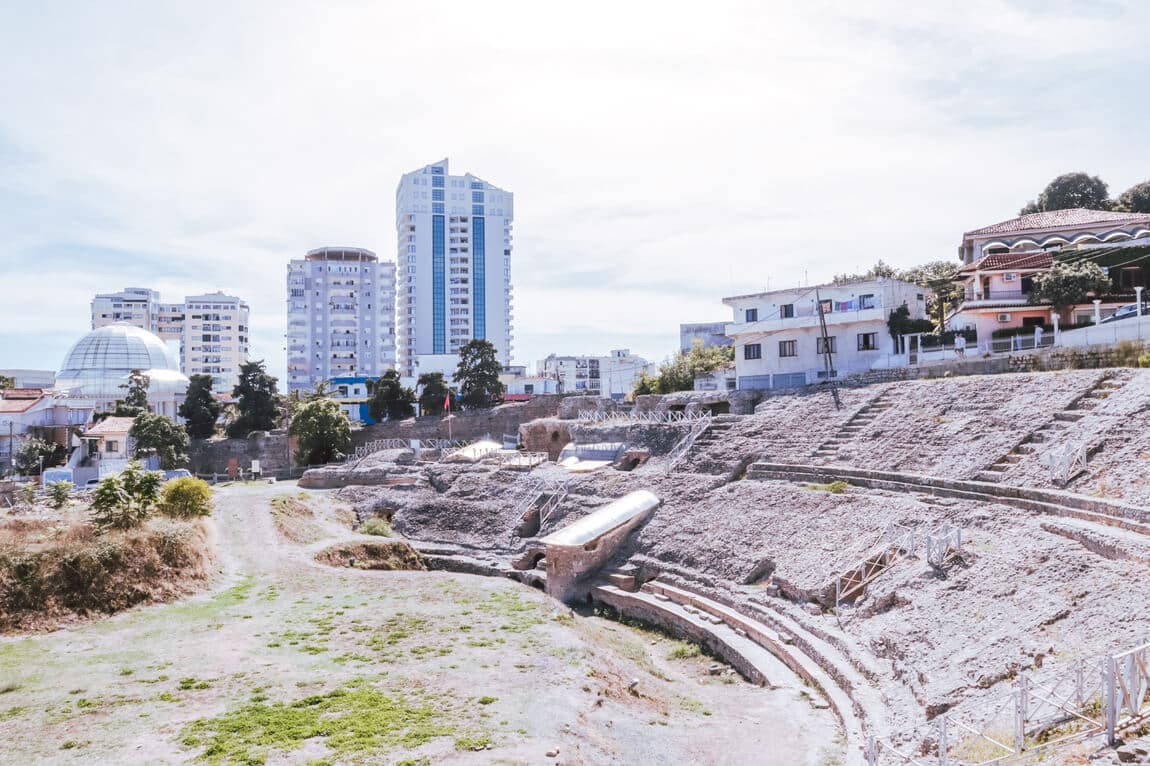 The city is tiny and has only a few points of interest. Some ruins can be seen throughout the city, such as the old Byzantine market, the Amphitheatre or even the Forum and the Roman Baths. Of these, the amphitheatre is clearly the one best preserved.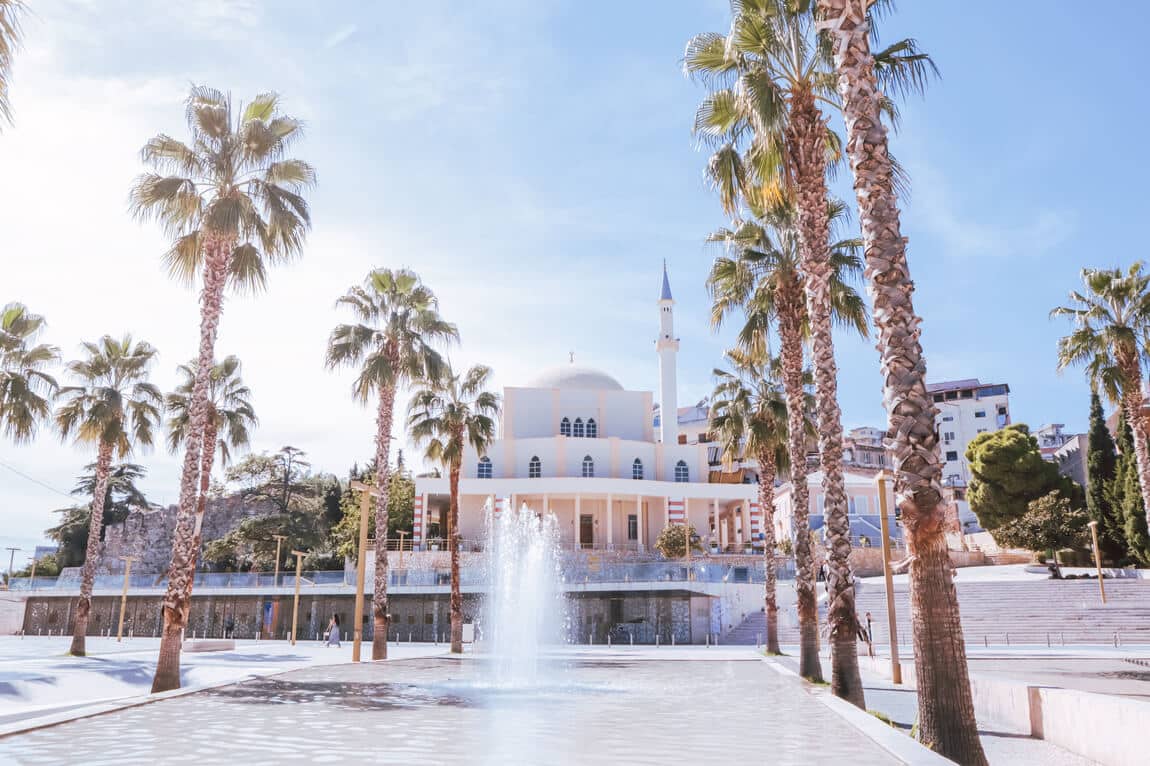 In the city, you can also visit two mosques: Xhamia E Madhe and Fatih Mosque. The former is rather more imposing than the latter, but I ended up not visiting either inside.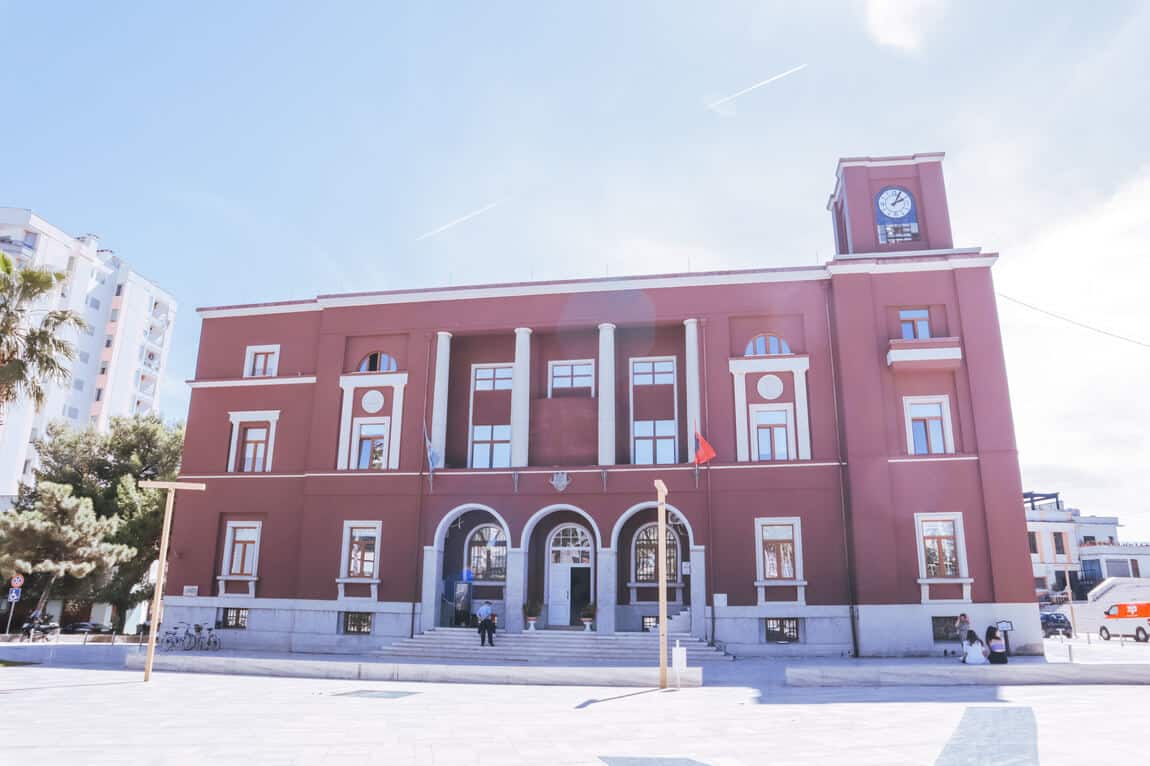 Next to the Xhamia E Madhe mosque, we find a square, where the Durrës Town Hall is located.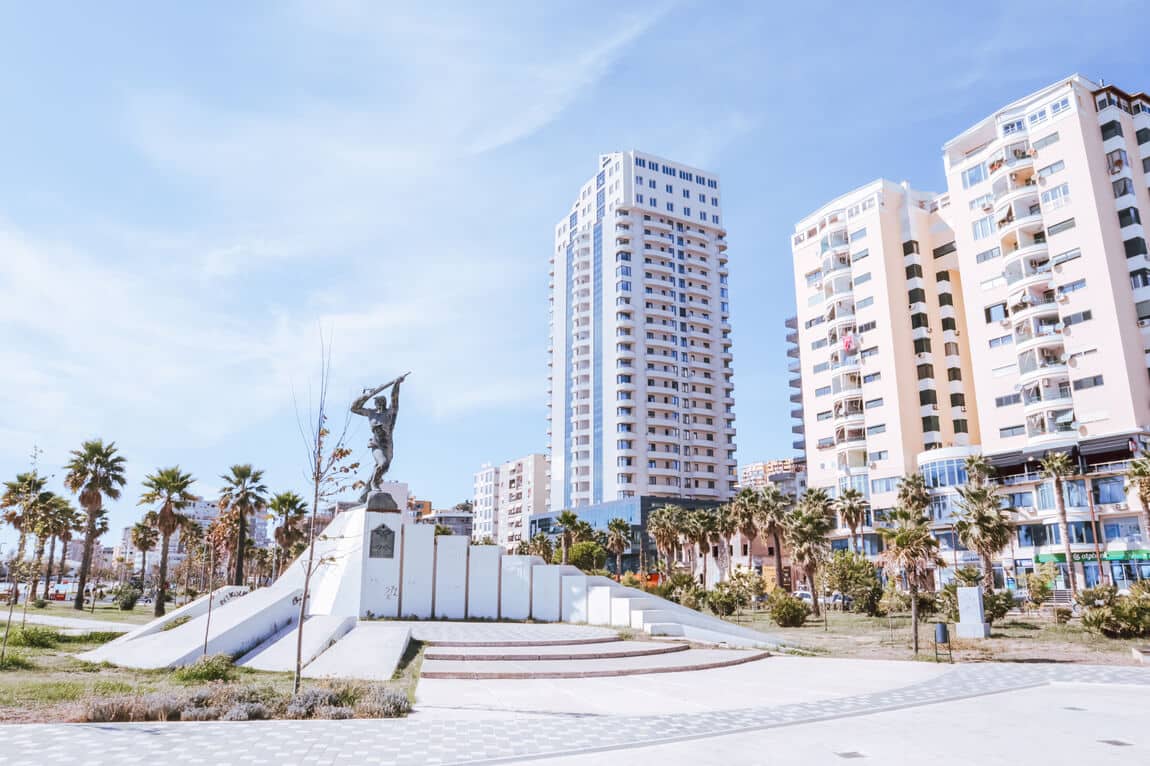 You can also visit the Venetian tower of Durrës (under construction when I visited) or you can also enjoy a walk by the sea. You have the possibility to enjoy the beach here, but quite honestly, with so many beautiful beaches in southern Albania, I don't think this is the best place to do so.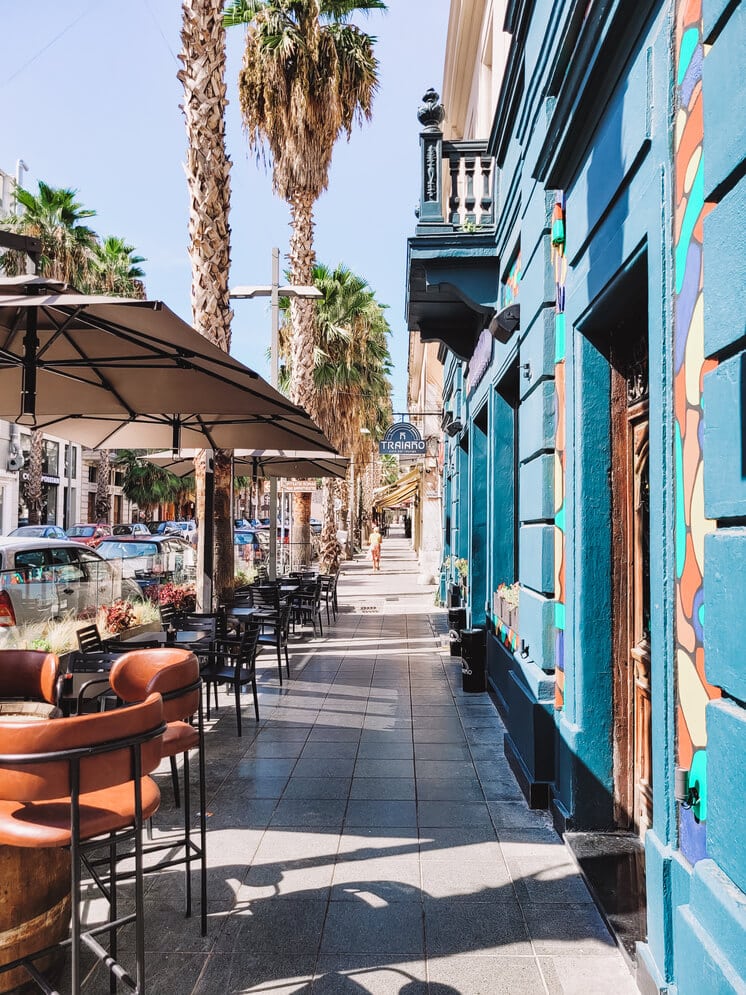 Despite one or two cuter streets in town, Durrës disappointed me and was probably one of my least favourite places in Albania.
💡 EXTRA TIP: As an alternative to Durrës, you can choose to visit Lake Bovilla, with absolutely incredible colours and is relatively close to Tirana. The only problem with this option is that you will add 40 min to your itinerary as the road to reach Lake Bovilla is not in good condition. Although the distance is only 23km, the trip from Tirana takes about 1 hour. However, I leave you with this idea in case you want to study alternatives to Durrës.
» Krujë
We continue this itinerary to one of the cities that everyone should visit in Albania. Krujë is a city full of history and one of the most famous in the country. Its importance is related to the fact that this is the hometown of the Albanian hero – Skanderbeg – who freed the country from the invasion of the Ottoman Empire.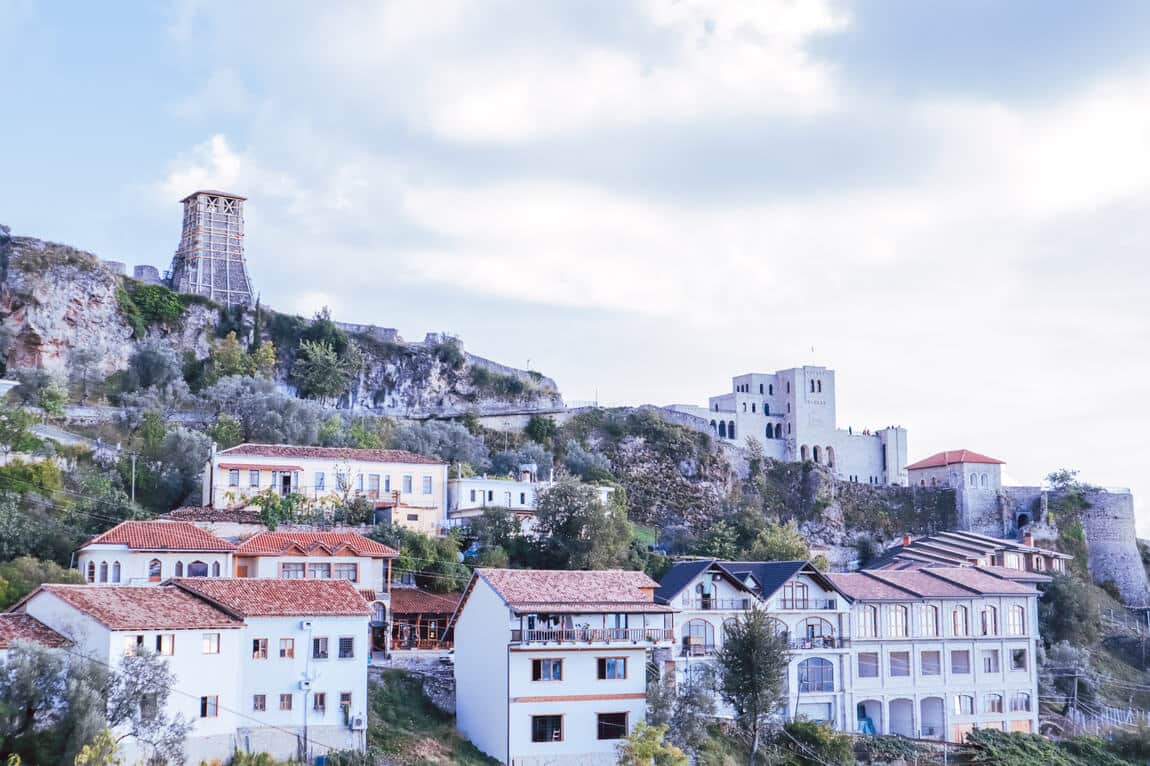 There aren't many places to visit in Krujë, but the few that exist are more than good. I loved visiting Krujë 😍 One of the city's landmarks is its Old Bazaar, where you can find plenty of handicrafts and local products. It's a market over 500 years old, dating back to the Ottoman Empire. Prepare your cameras because you'll want to photograph every corner.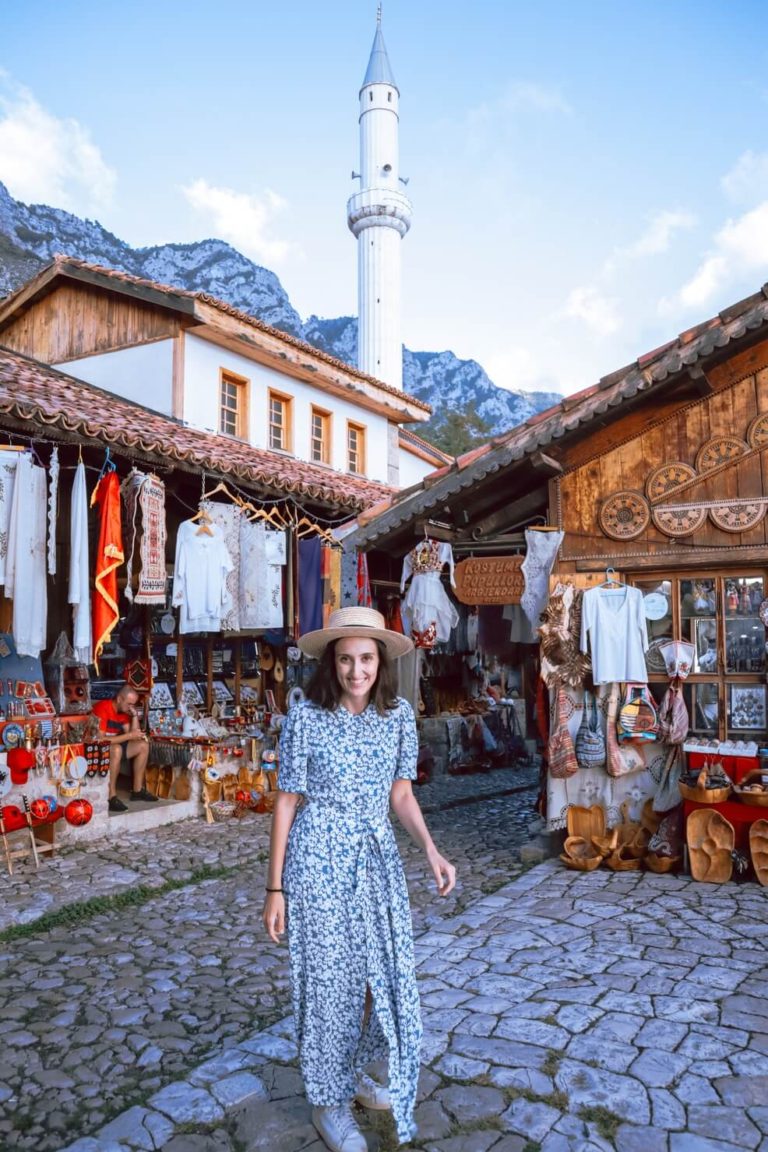 Apart from the Bazaar, I also suggest a visit to the castle of Krujë, which houses the Skanderbeg Museum which, as the name suggests, tells the story of Albania's hero, but also a bit of the country's history.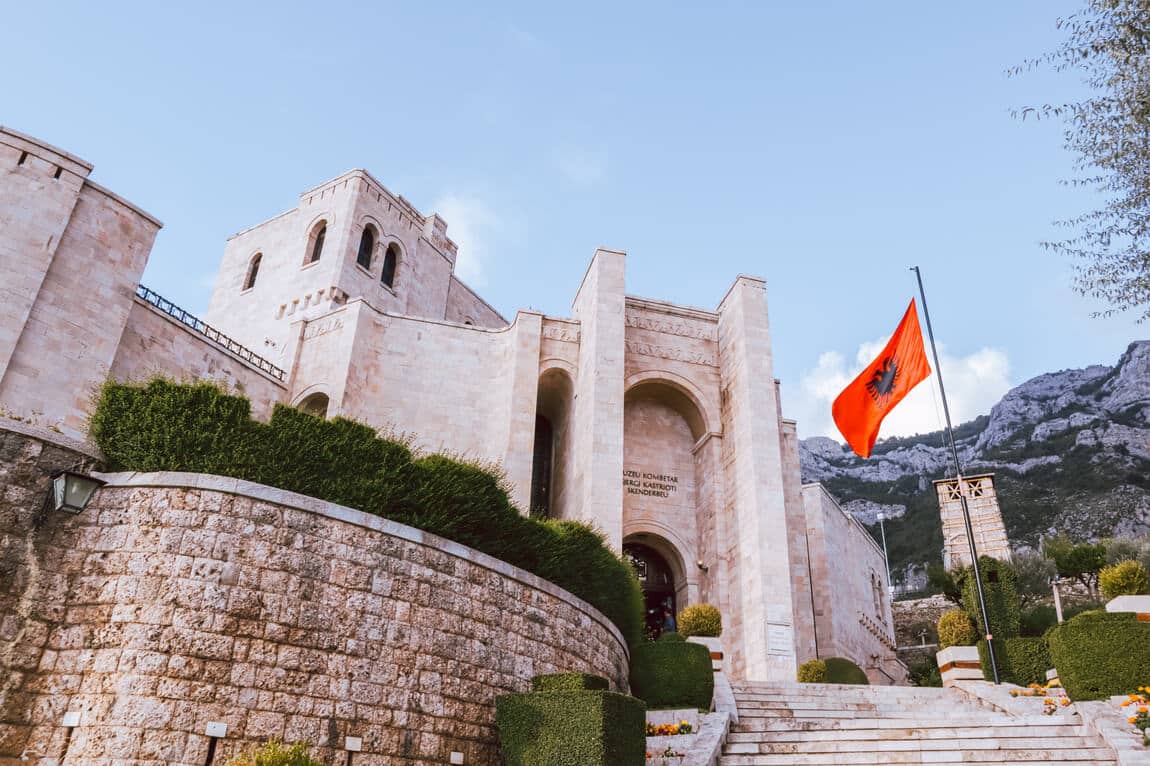 In the castle complex, you can also visit another museum: the Ethnographic Museum of Krujë, which aims to tell us a bit more about the lifestyle of the Albanians during the period of occupation by the Ottomans.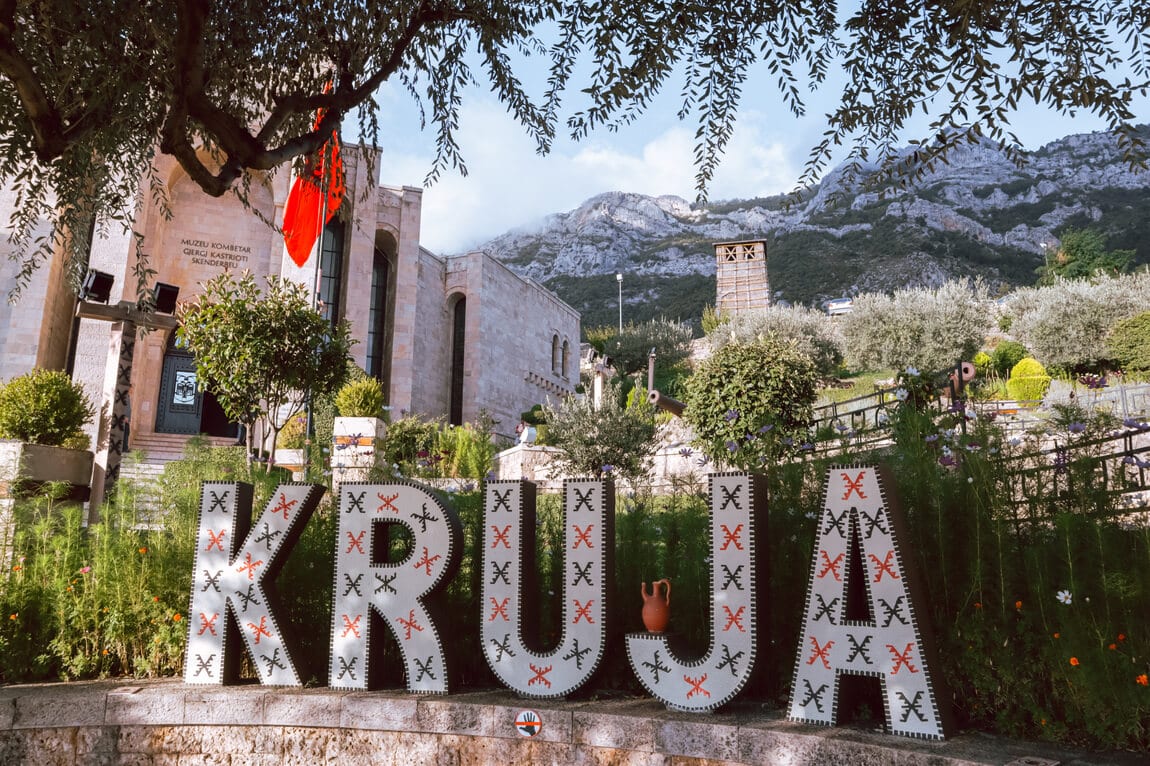 When you go up to the Castle, besides admiring it, you will also enjoy incredible views!
What to visit in Albania – Day 3: Lake Komani – Shkodër (57 km; 1h45)
» Lake Komani
Lake Komani was one of the most beautiful places I visited on this trip and although the access to the lake is not the nicest, not including it in the list of places to visit in Albania would be foolish 😉 It's worth any effort (more on that below)!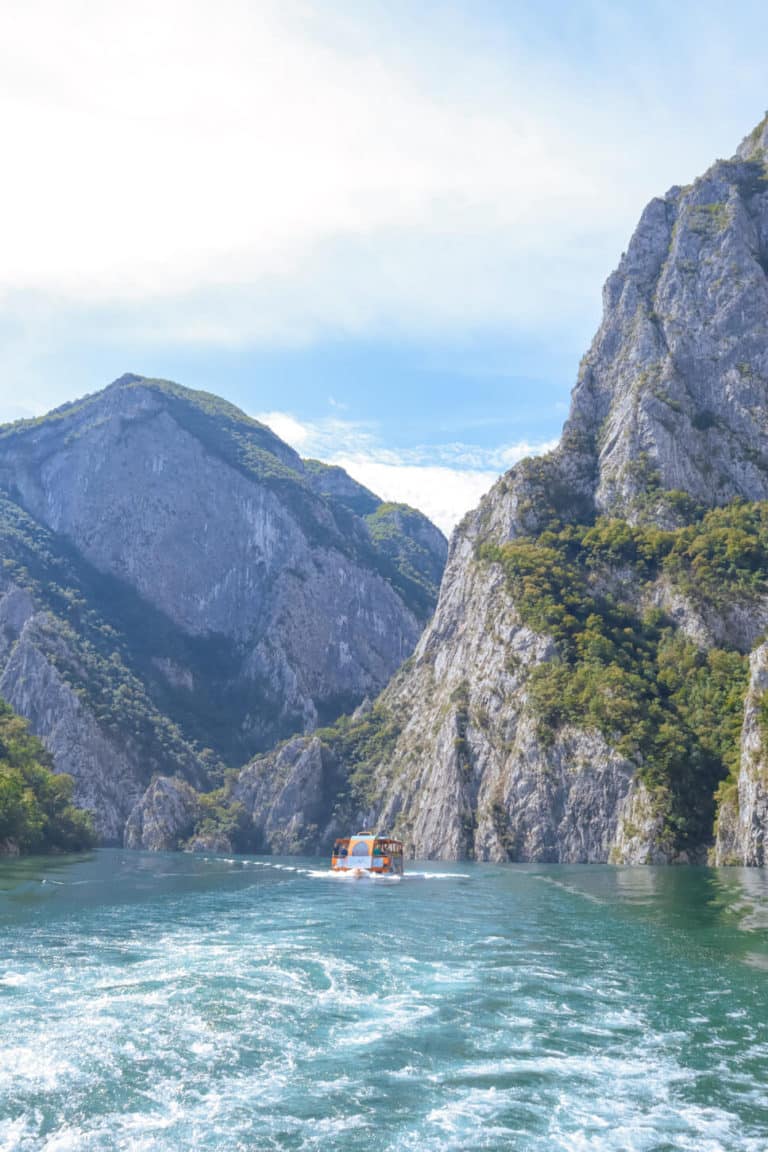 To make this 3rd day possible, I recommend arriving in the vicinity of Komani Lake the day before. Many people make the trip to Komani very early in the morning (most boats leave around 9 am), but I think it is better to go the day before, as the road to Komani is a real hassle. Anyway, if you want to go from Shkodër or Tirana on the same day, there are several transfer services available. For example, from Tirana you have this one available.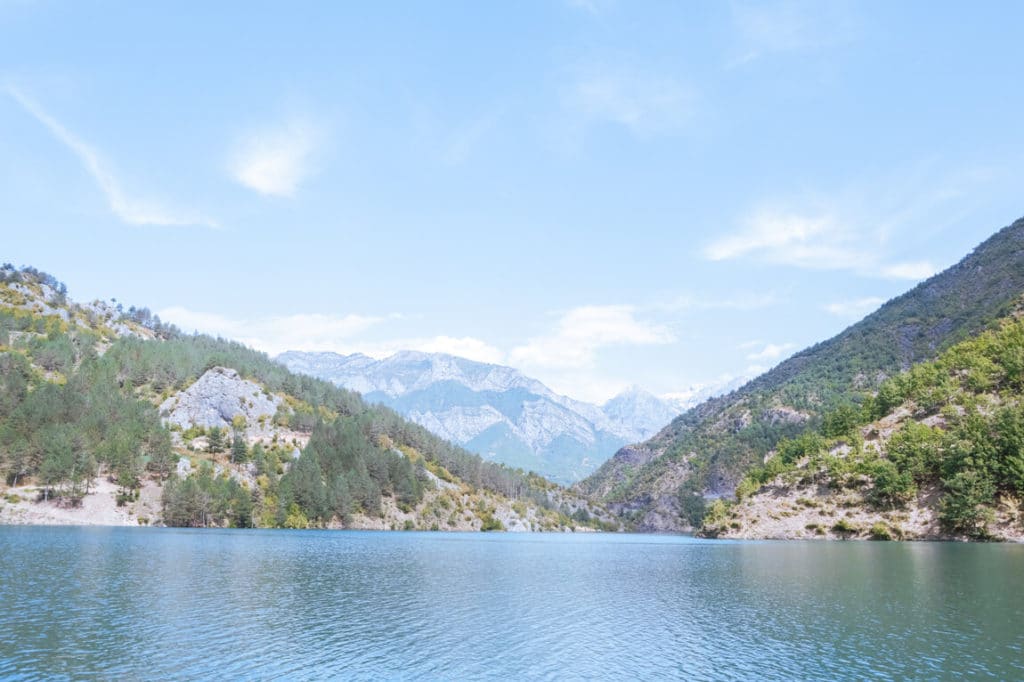 The road to Komani is terrible, and this was clearly the road I passed that was in the worst condition. From Krujë to the place where I stayed overnight near Komani Lake is a 2h44 (116 km) drive. Much of the road is in fairly good condition, with only the last part being terrible. The road is full of potholes and so a journey that could take 20/30 minutes takes almost 1 hour. However, some locals informed me that there are prospects for improvement of this road in the near future 😊.
Accommodation near Lake Komani
Lake Komani is in a relatively remote location so the choice is quite limited. I stayed at Lugina e Komanit, a 10-minute drive to the place where you catch the ferries to enjoy lake Komani. It is an accommodation in the middle of nowhere, very simple but with friendly service.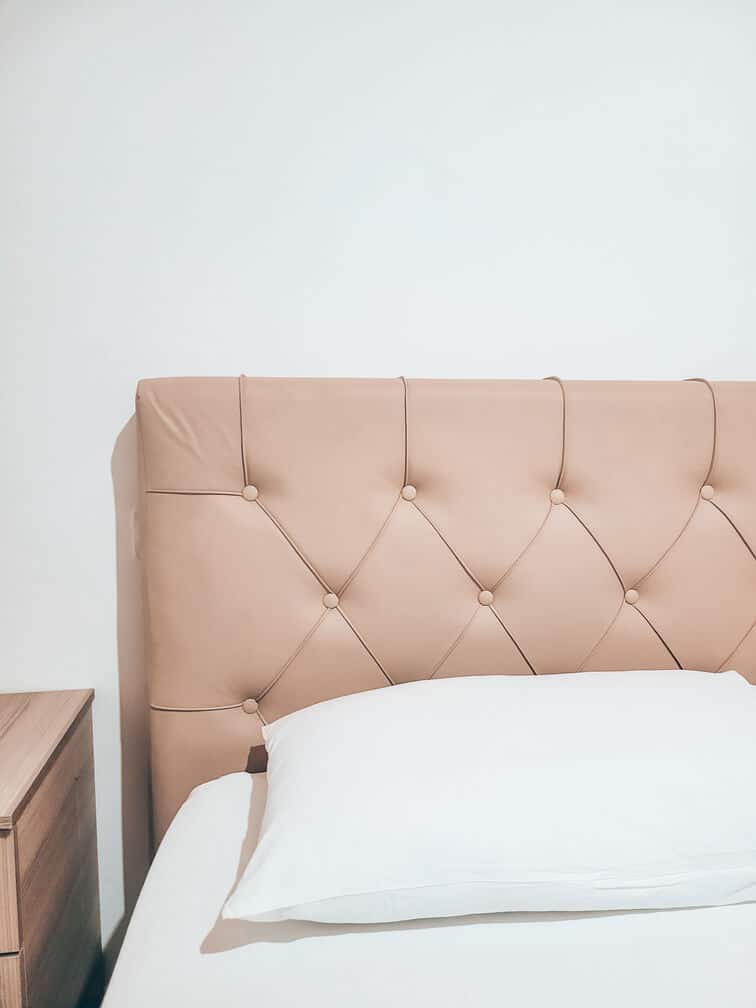 It is a fairly family-run business and it's perfect for those looking for a place just to sleep overnight. Also, breakfast is included in the rate. The accommodation also has a restaurant downstairs and it was actually where we had dinner when we got there around 9 pm the day before. The next morning, they offered to drive us to the ferry, which turned out to be a plus because we avoided having to find parking for the car.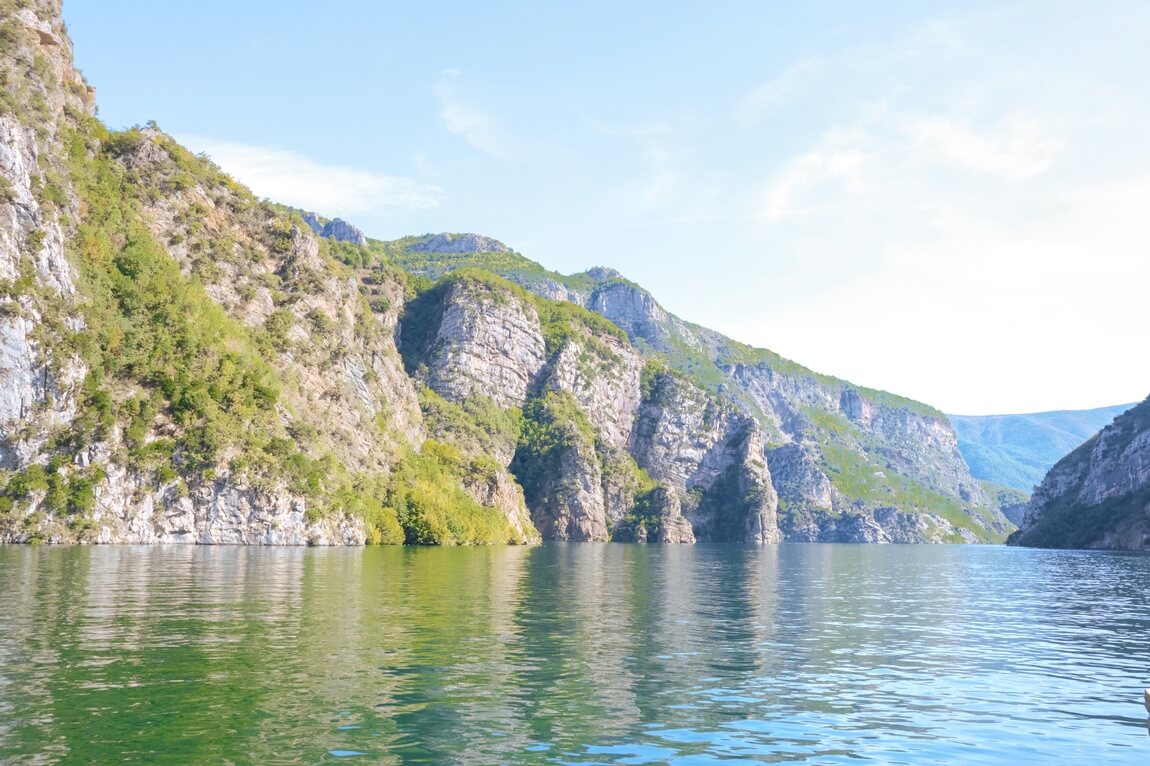 Another option for accommodation in the vicinity is this accommodation: Kulla e Vjeter.
How to visit Lake Komani?
Lake Komani is artificial and was created when the hydroelectric power station was built in the 1980s. The best way to visit it is through a boat trip that winds its way through those crystal clear waters surrounded by green mountains.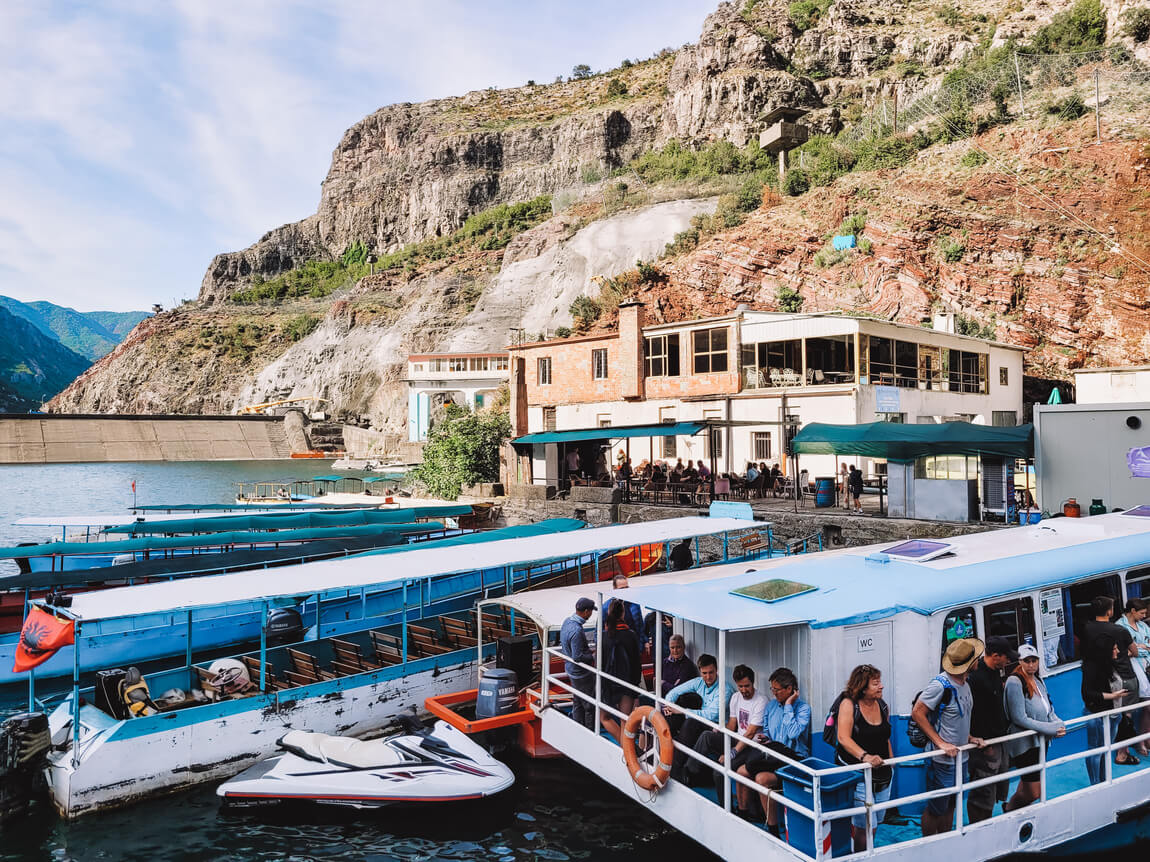 I ended up choosing Berisha ferry services, where the boat departed towards Fierza at 9 am. Honestly, I didn't enjoy the experience. The ferry was so full that there was no place for all the people to sit (and this was early September, no longer peak season). People ended up sitting anywhere they could, and since I wanted to enjoy the scenery, I ended up standing the whole trip. But when I saw that beautiful landscape, I immediately forgot the mess it was to get to that tiny place while standing up for more than 2 hours 😊
📝 USEFUL INFORMATION: Tickets for the Berisha ferry can be purchased online and there is the option to buy tickets with a car or only pedestrian. The ferry departs at 9 am from Komani and arrives at Fierza at 11.30 am. Then the same ferry returns from Fierza at 1 pm and arrives in Komani at 3.30 pm. There is also another ferry from the same company (no car transport option) that leaves from Komani also at 9 am and arrives at Fierza at 12 pm. However, it is not possible to return on this ferry since it leaves Fierza at 6 am and arrives in Komani at 8.45 am. The price is 8€ (7€ if bought online) per person. However, I suggest you consult the most updated information here.
There are other options to visit the lake, such as the Alpin company or the Rozafa ferry. The opening times are different and so are the prices. I suggest you check the conditions of each of the ferries here:  Alpin or Rozafa.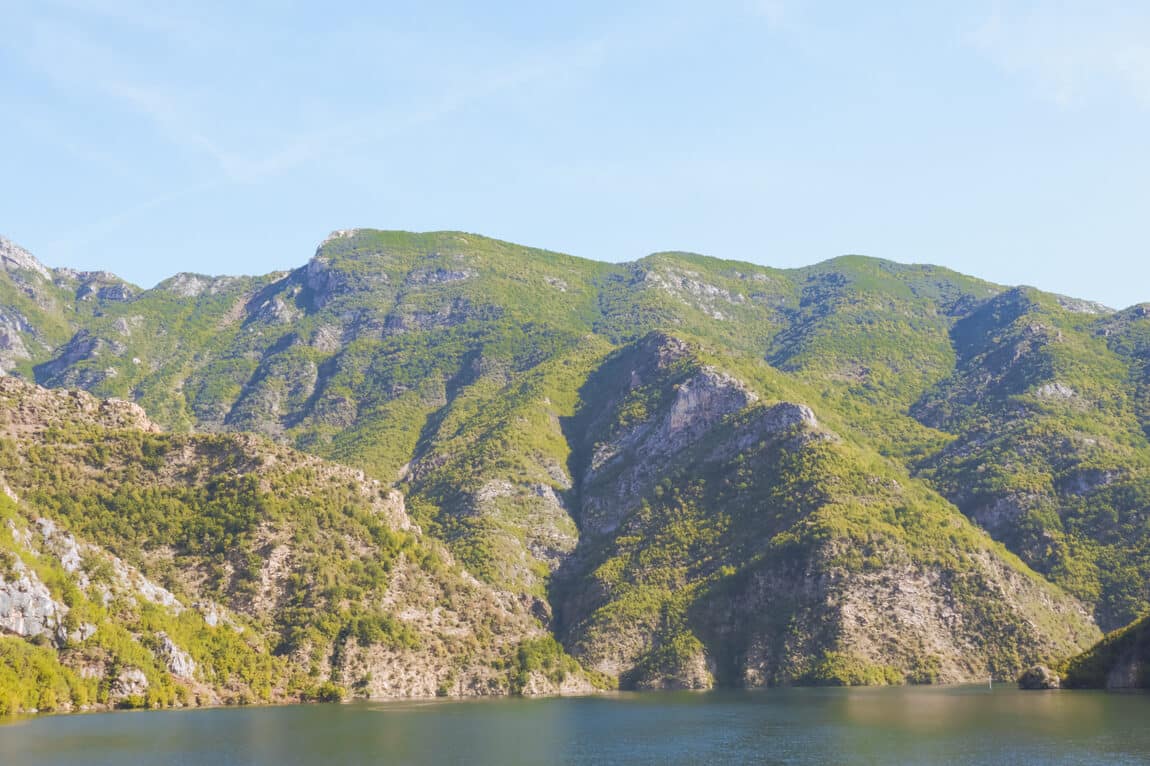 In addition, there are also some tours of Lake Komani, with smaller boats. Some of these tours even include stops along the way, in places like the Shala River. Knowing what I know today, I would have probably opted for this tour even though it is slightly more expensive. You can for example check this company that offers this service (PS: I have not personally used this service so I don't know how good it is).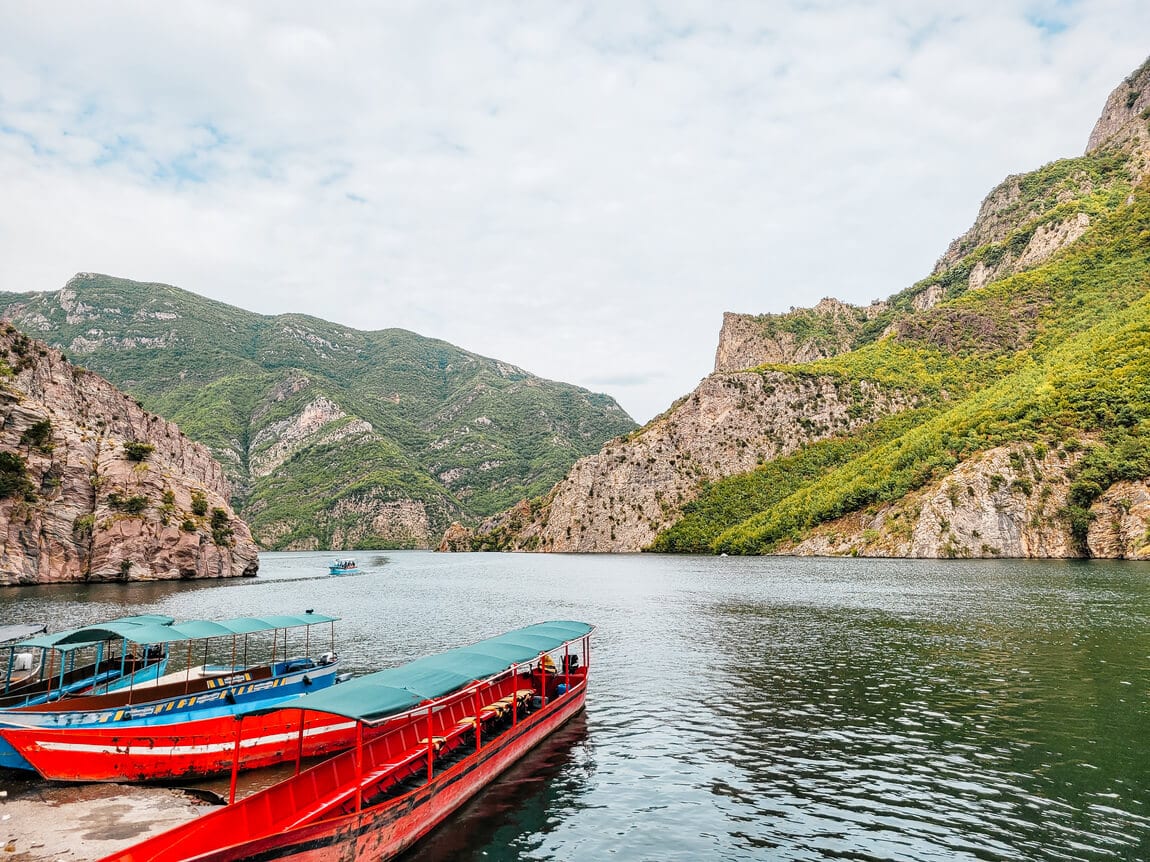 Is it necessary to make the round trip by ferry?
If your goal is just to visit Lake Komani, then yes! In fact, this is exactly what I did. When we arrived at Fierza, we got off the boat and had lunch at the only small café there and a bit later we were back on the ferry to make sure we had seats on the way back to Komani.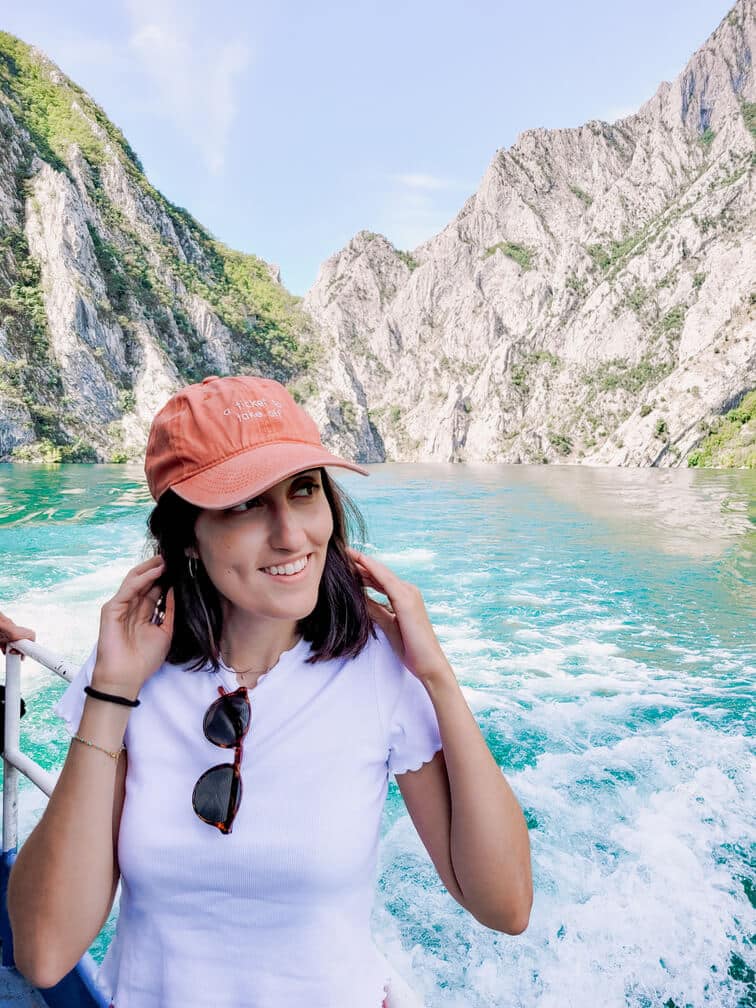 The trip is still relatively long (almost 2h30) and I found it rather boring to do it twice on the same day. As you might expect, on the way back I wasn't so excited about the landscape or taking so many photos because I had done that route only a few hours ago. But, even so, this is the best option. I even considered taking a car to return from Fierza by car, but this option would take 2 additional hours.
Some practical tips for the journey
Specially in other seasons other than summer, I recommend you bring some warm clothes.
The boat has a minibar, but it sells very few items, so I recommend bringing your own snacks.
The boat has a bathroom.
Although the route is beautiful, unfortunately I saw lots of rubbish in the water. To be honest, this is a problem that seemed to be structural throughout Albania.
💡 EXTRA TIP: Many people use this ferry to get to Fierza, from where they then take a transfer to Valbona and from there they do one of the best-known trails in Albania that connects Valbona to Theth. Unfortunately, I didn't do this trail as it was impossible to fit it into the itinerary (believe me, I tried!) But if you have a few extra days to add to your itinerary, I highly suggest this experience. And I'll suggest you a post from another blog, which is one of the most detailed I found about the trail.
» Shkodër
Although the drive to Shkodër from Komani still takes 1h40, as we departed Komani early, we still managed to still enjoy a few hours in Shkodër. I, therefore, suggest you visit Rozafa Fortress, especially magical at sunset 🥰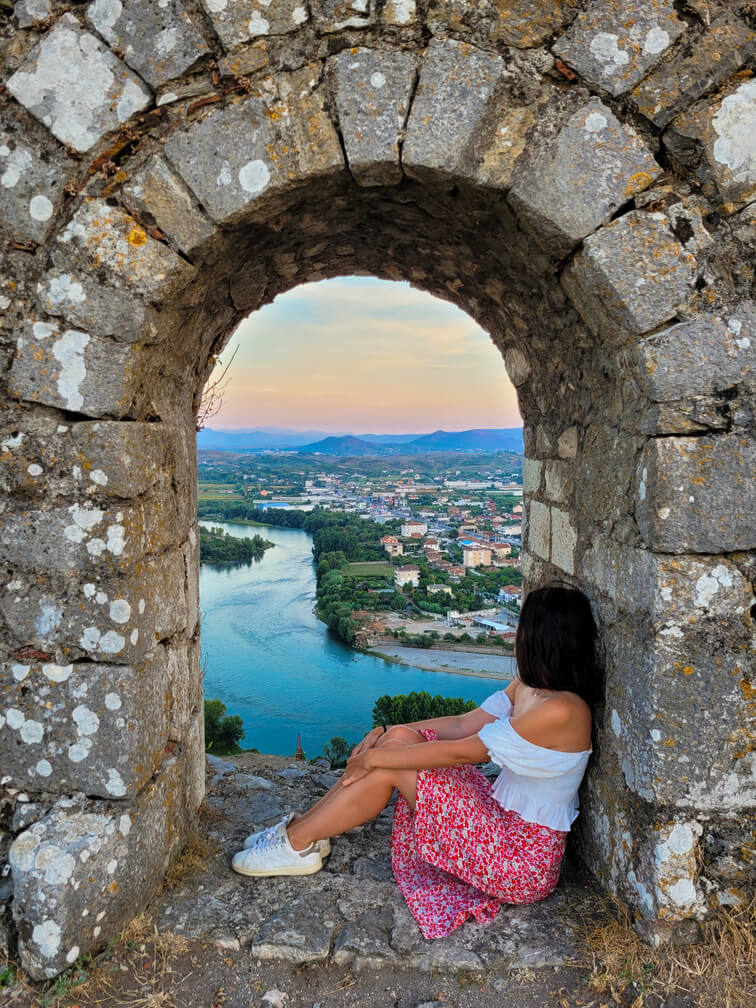 This is clearly one of those situations where a picture is worth a thousand words!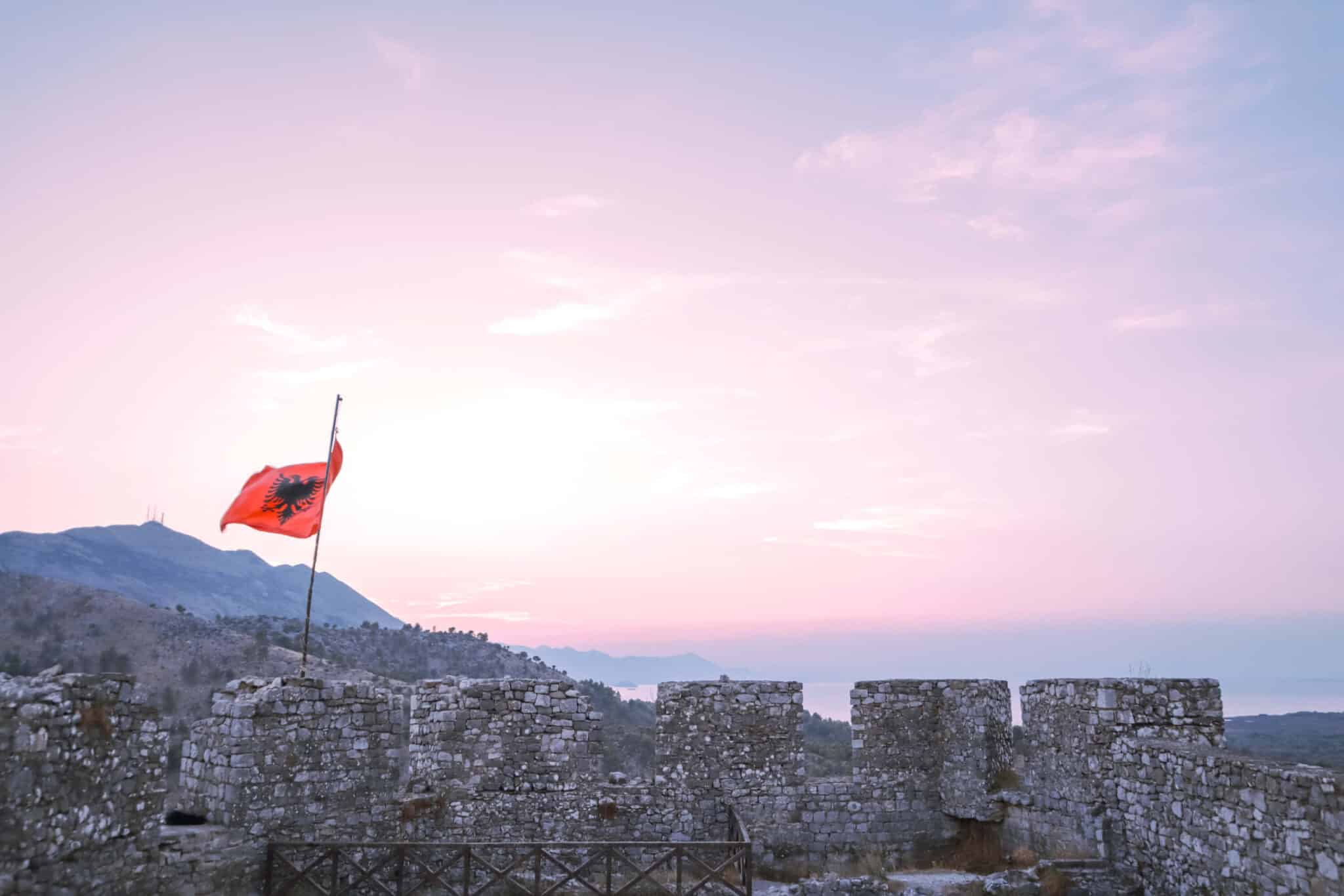 📝 USEFUL INFORMATION: The fortress can be reached by car and there is a small car park near the entrance. The car park is free of charge, but the entrance to the fortress costs 400 LEK (~3,4€).
Shkodër is an excellent choice of place to stay in Northern Albania as it is a good starting point to explore areas like Theth or Komani Lake. I chose to stay 2 nights in Shkodër and the guesthouse I stayed in was a real surprise – InTown Guesthouse 😊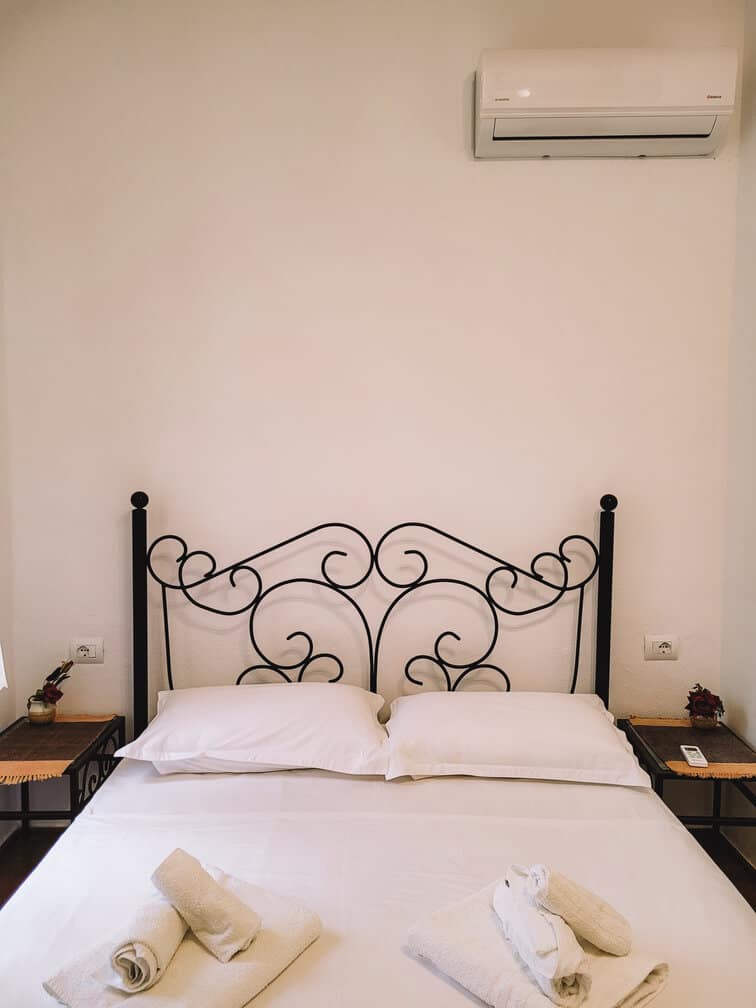 The host was one of the friendliest I've ever met while travelling. Centrally located, the guest house is the result of the renovation of a house over 300 years old and only had a few rooms available. The rooms were simple but lovely. In addition, the guest house also had an indoor garden, where breakfast was served every day.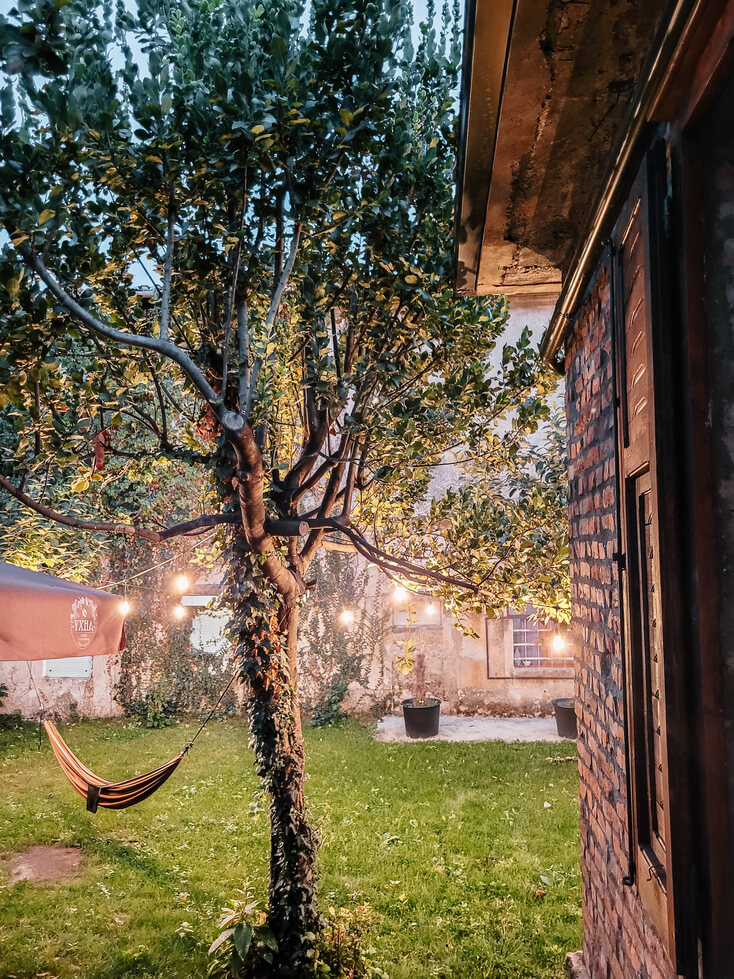 Anyway, Shkodër has several accommodation options, and I leave here some additional suggestions: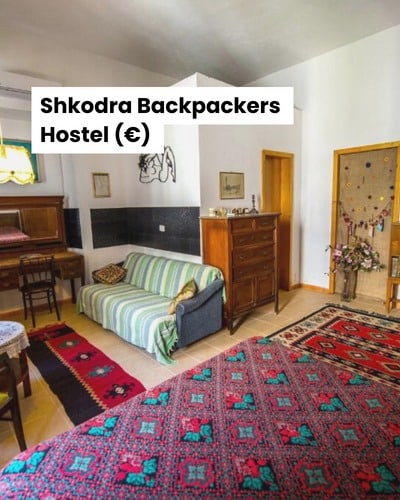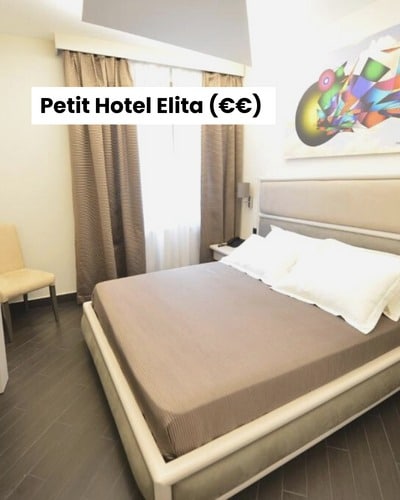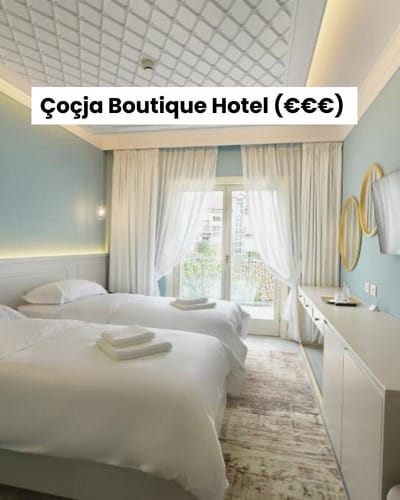 What to visit in Albania – Day 4: Shkodër – Theth – Shkodër (152 km; 3h55)
» Theth
Remember the trail from Valbona to Theth that is one of the most popular in Albania? Well… I couldn't fit the trail into my itinerary, but I had to fit Theth in because I was too keen to visit what is probably one of the most beautiful villages in Albania.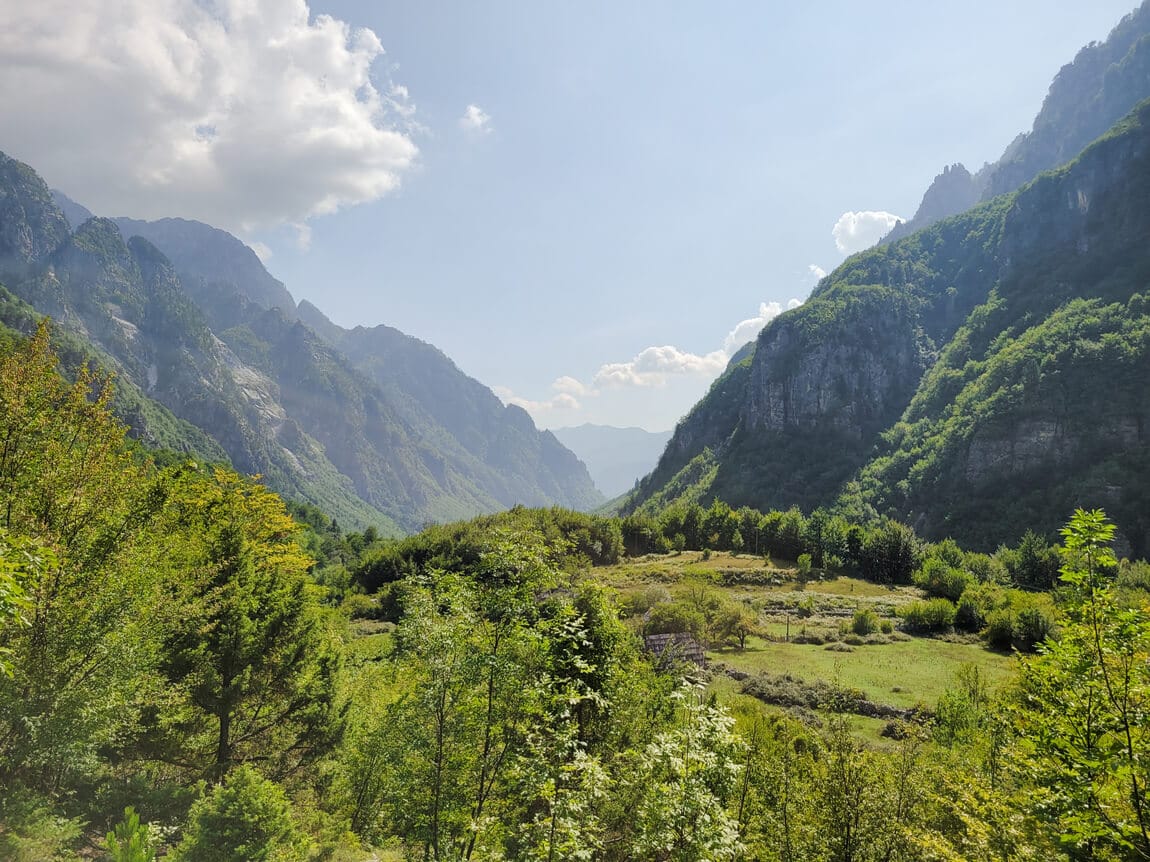 So we left Shkodër early towards Theth. The road is recent and in excellent condition, but it is a rather narrow road with lots of curves. So it is normal for the route to get to Theth to take longer. But I promise it will be worth it 😉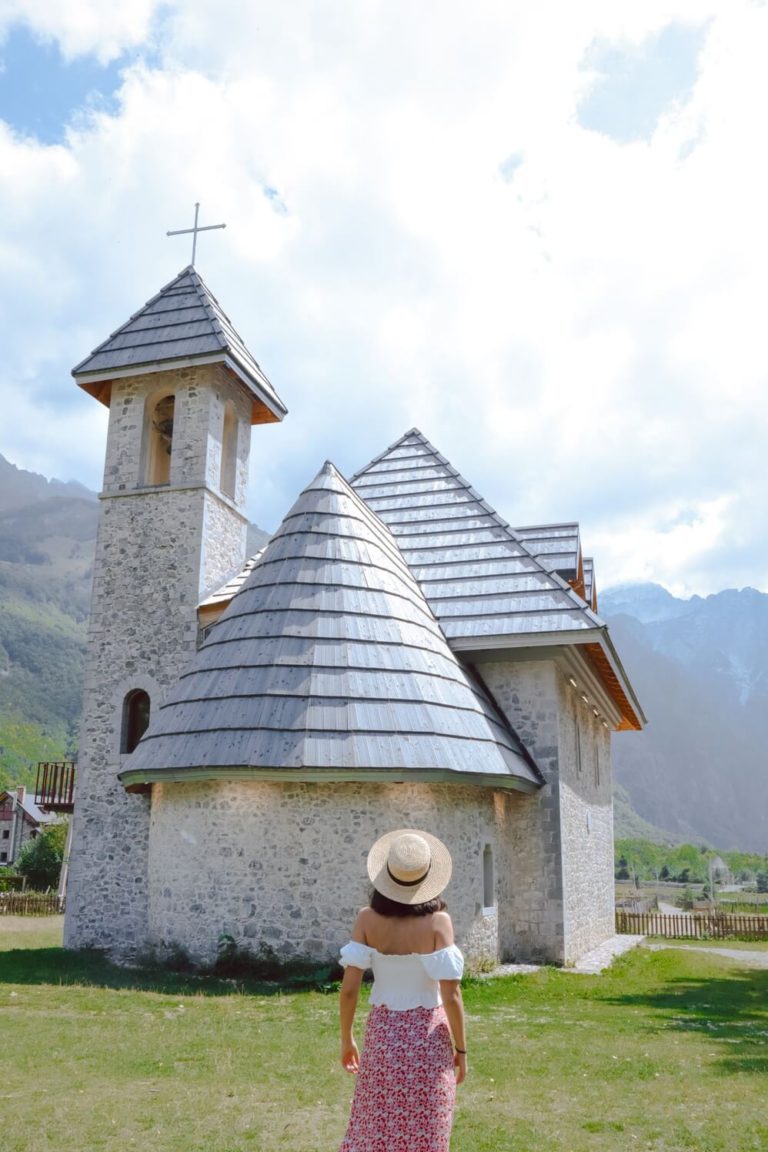 When we arrived in Theth, the truth is that there isn't that much to visit. I went straight to the first thing I was most curious to visit! The famous church of Theth! It is a 19th-century church and is perfectly framed by the mountains.
📝 USEFUL INFORMATION: It is possible to drive almost to the church, although the last part of the route has some gravel. We parked the car near the church and went to explore it on foot.
Near the church, you can take the opportunity to also visit the Lock-in Tower. This tower was used to imprison all those who had committed serious crimes against the Kanun – a set of rules of conduct from the 15th century. The Kanun stated that the person could only be released when the victim's family forgave or when some member of the criminal's family was killed as revenge. Funny times, don't you think? 🤷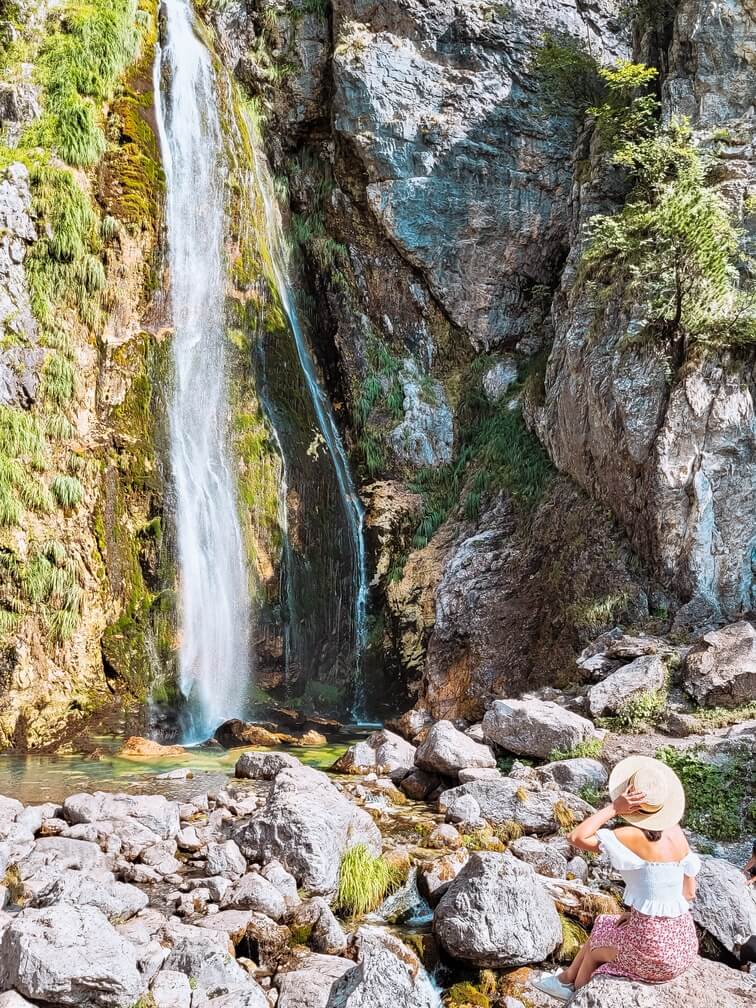 And, despite not being initially planned, I was convinced to visit the Grunas waterfall, which is about 45 min away on foot from the "centre" of Theth. I confess that it wasn't easy to get to the waterfall because the trail isn't always well-marked, but we got there in the end. And honestly, even though I just felt like giving up at some point because we couldn't find the waterfall, it was worth it 😉
💡 EXTRA TIP: If you are in Theth and have more time available, you can also hike a trail to the Blue Eye of Theth. But I must note that this trail is about 17 km round trip, so it's not exactly a fast trail.
If you are in Theth and have more time available, you can also hike a trail to the Blue Eye of Theth. But I must note that this trail is about 17 km round trip, so it's not exactly a fast trail.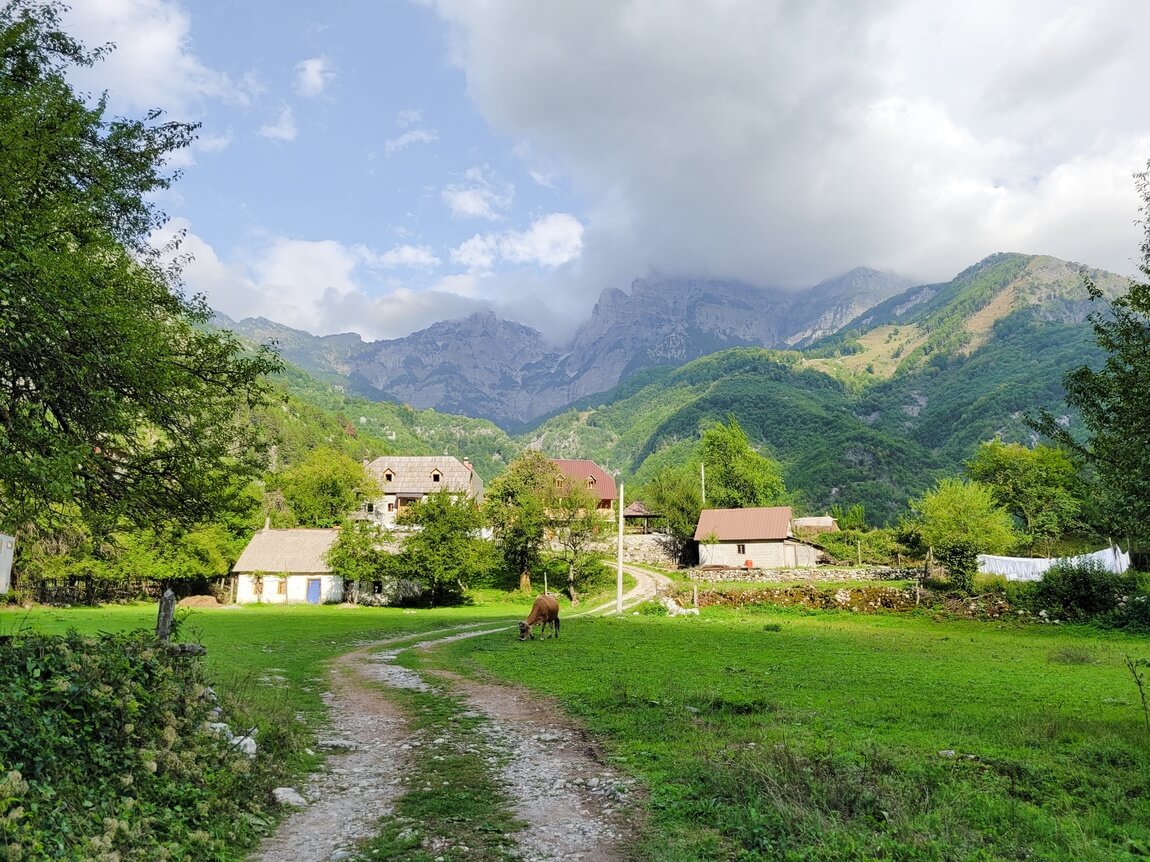 Conclusion: did I go to Theth on purpose to see a church, a tower and a waterfall? Yes, I did and it was 100% worth it! Theth is really a very different place from all the others I chose to visit in Albania and probably one of my favourites.
» Shkodër (continued)
We eventually returned to Shkodër to continue exploring this city which surprised me so much. After an incredible sunset at Fortress Rozafa the day before, we took the opportunity to also visit the Ebu Bekr Mosque from the outside and the Shkodër Cathedral where we managed to peek in to admire its interior (nothing impressive) as a mass was taking place.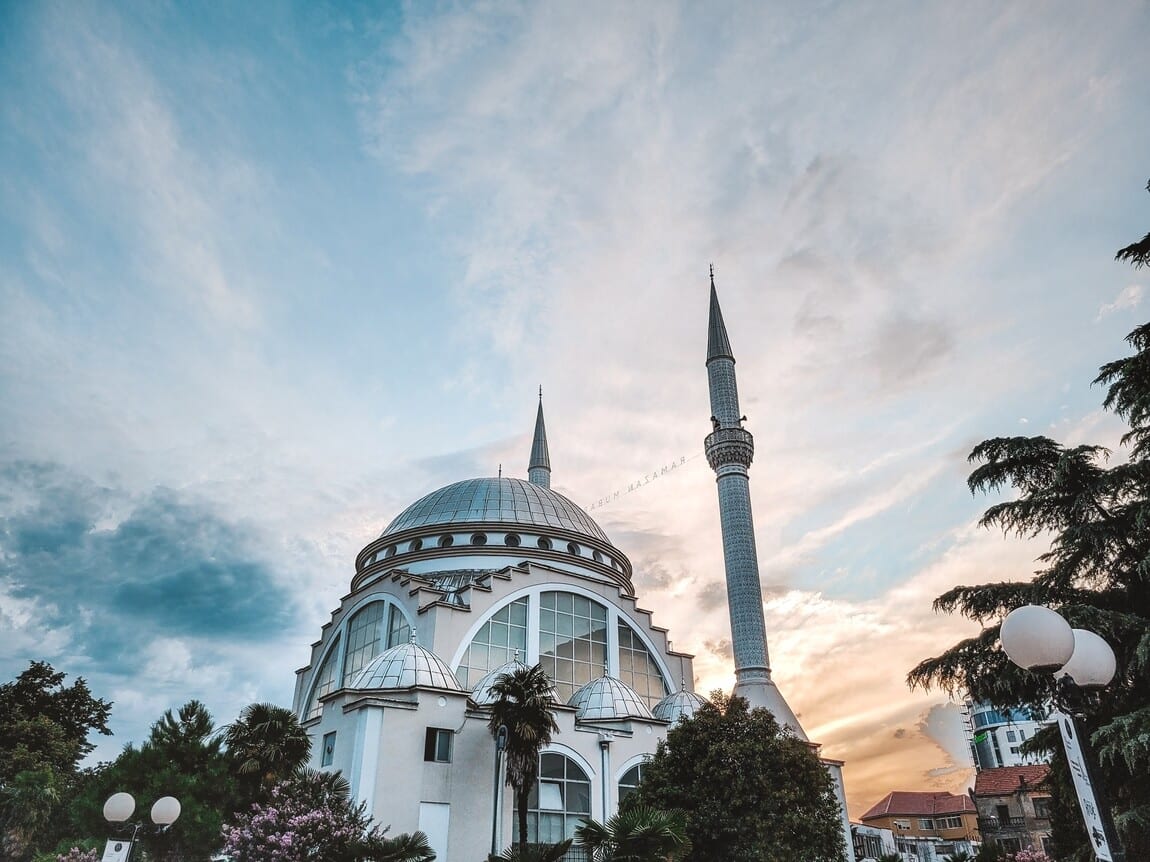 We ended our day wandering around the streets and alleys which are full of life at night (at least during the summer), so much that we joined the locals for an after-dinner drink 😊 These were the liveliest streets: Rruga Kolë Idromeno and Rruga G'juhadol!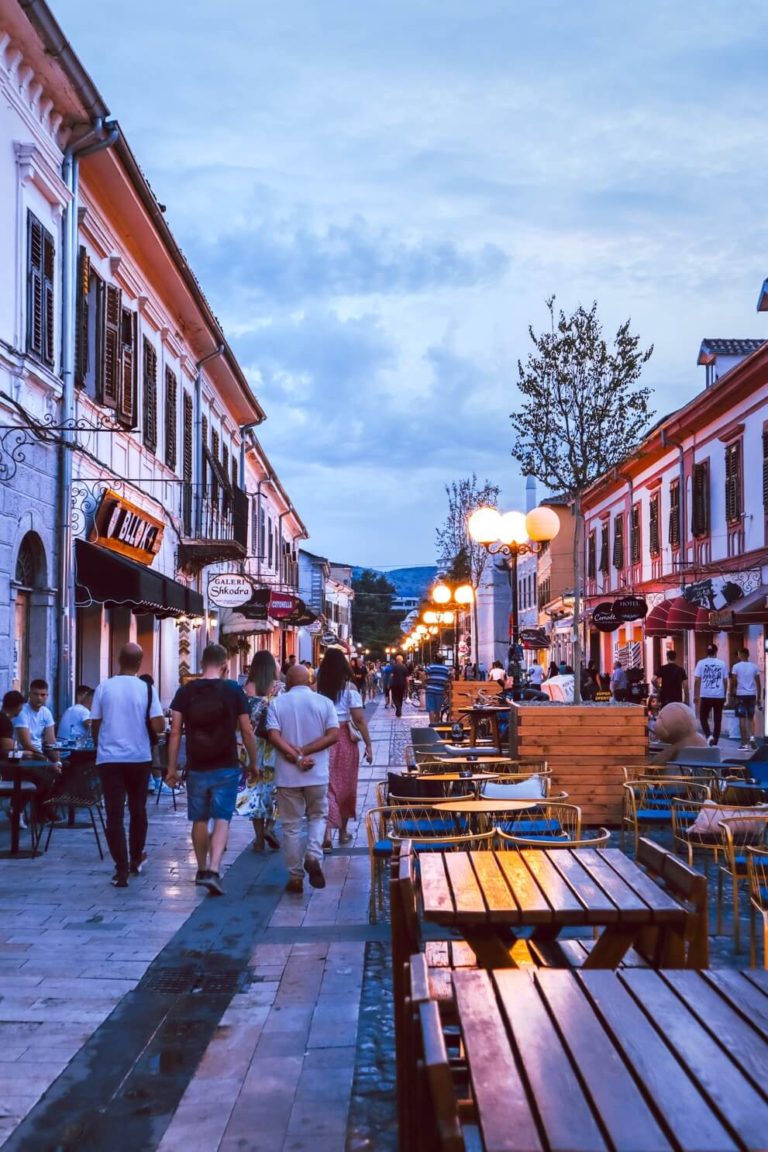 What to visit in Albania – Day 5: Shkodër – Berat (199 km; 3h15)
» Shkodër (continued)
On this 5th day of this visit to Albania, we will head south again, but before that, I suggest you take advantage of the early morning to visit two sites in Shkodër. The first is the Mesi Bridge, located about 5 km from Shkodër, built in the 18th century in order to connect Shkodër to other towns further north. Unfortunately, when I visited there wasn't any water running under the bridge, but it is still amazing!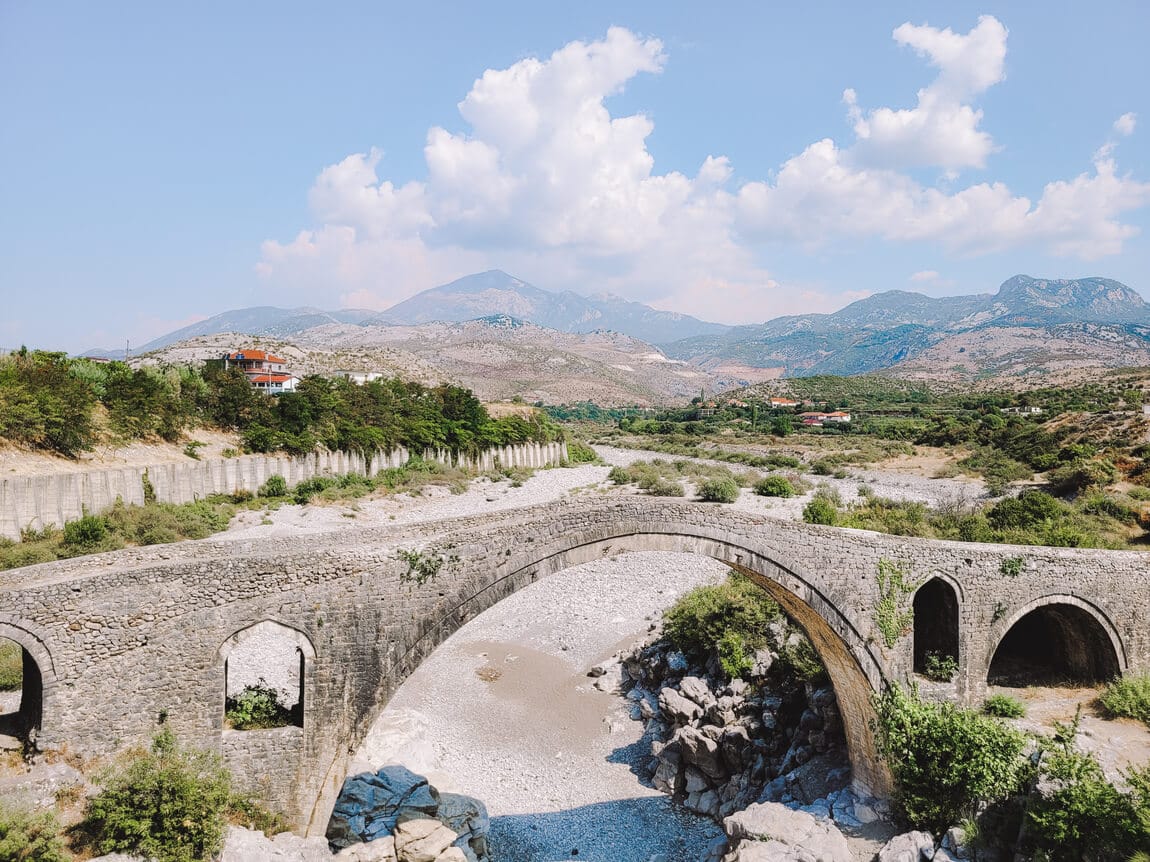 And finally, it would make no sense to visit Shkodër without visiting the lake that gives the town its name. Lake Shkodër is actually shared between Albania and Montenegro and is the largest lake in Southern Europe. Given the time I had available, I ended up just taking a short walk on the road right next to the lake, which connects Shiroka to Zogaj.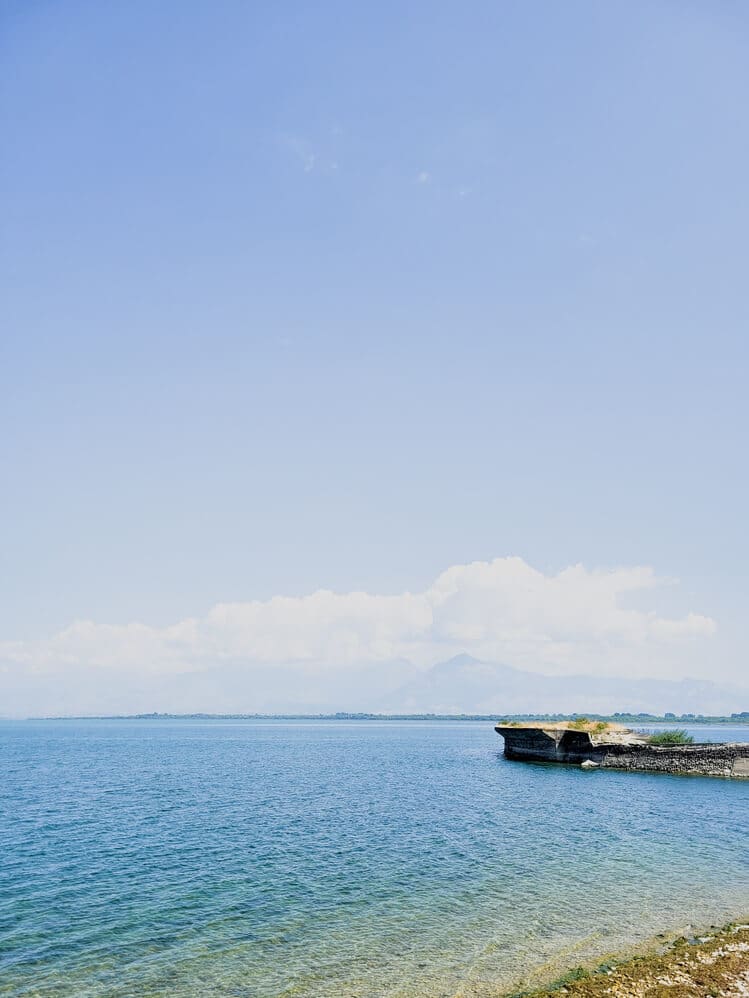 💡 EXTRA TIP: If you have some time available in your itinerary, you can add Petrela castle to your list of places to visit on this day as it is almost on the way to the next point – Berat.
» Berat
Berat is known as the city of a thousand windows and you only need to look at its white houses to understand why. This city is a UNESCO World Heritage Site and is a must-see when visiting Albania.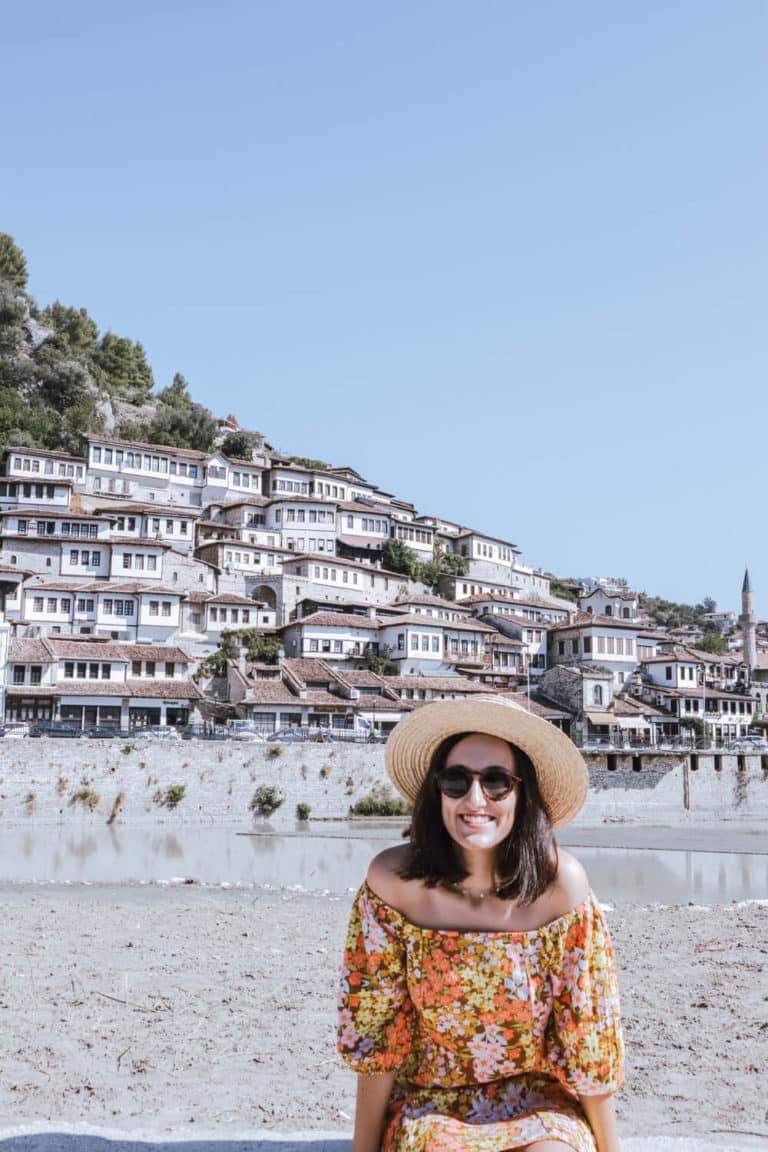 The city is divided into two quarters that are actually separated by the river – Mangalem and Gorica. Gorica is the side with fewer sights and is also quieter, but it's well worth wandering around there for a while. It is on this side of the river that you will get the perfect picture of the cute houses with several windows.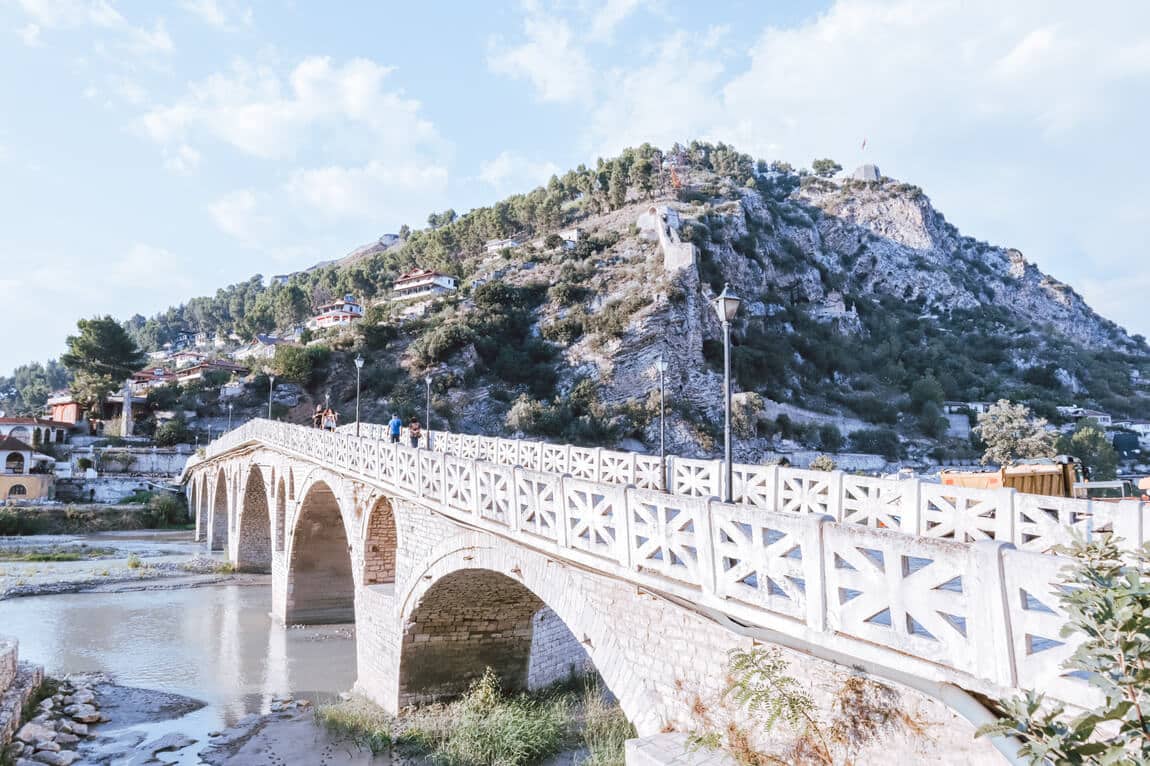 Crossing the Gorica bridge, we reach the busiest quarter – Mangalem. You can explore the famous Bulevardi Republika street, where the locals gather especially in the evening. Still not to be missed the Lead mosque and, a few meters away, the Cathedral of St. Demetrius.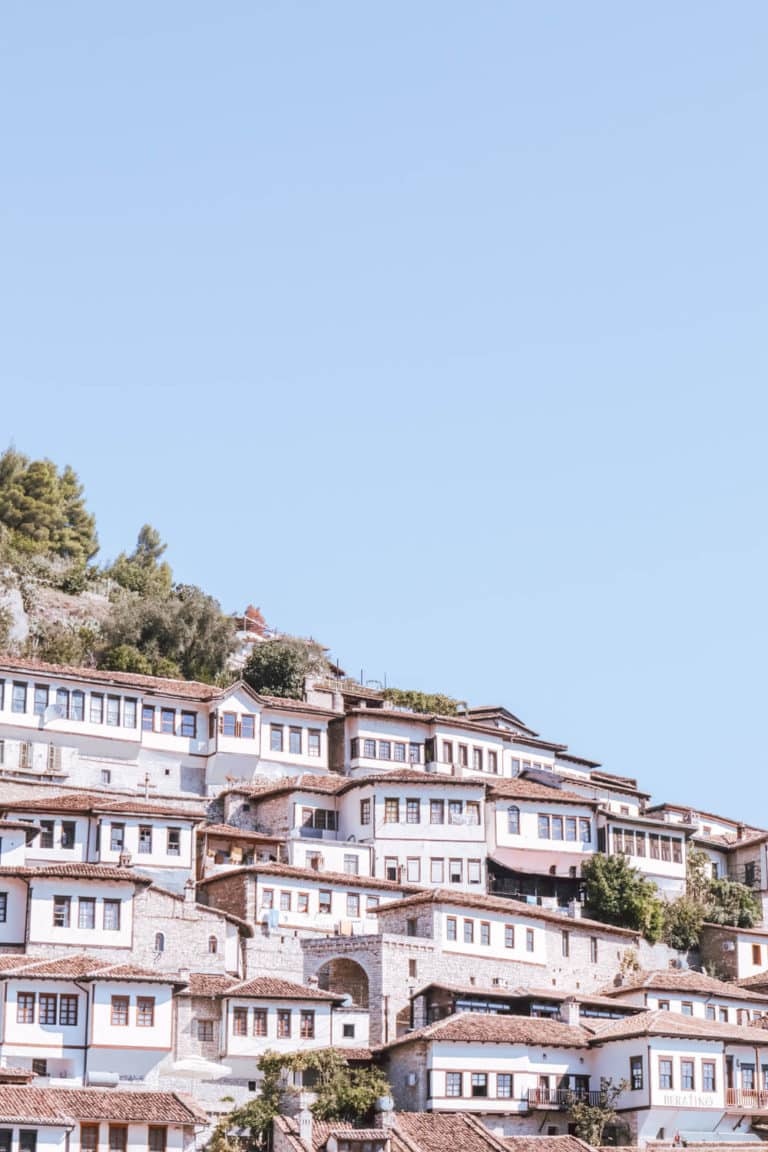 But what really made me fall in love with Berat was the visit to its castle. The castle complex is still quite large, so I recommend setting aside 1h to 1h30 to visit it. It's especially magical at sunset 😊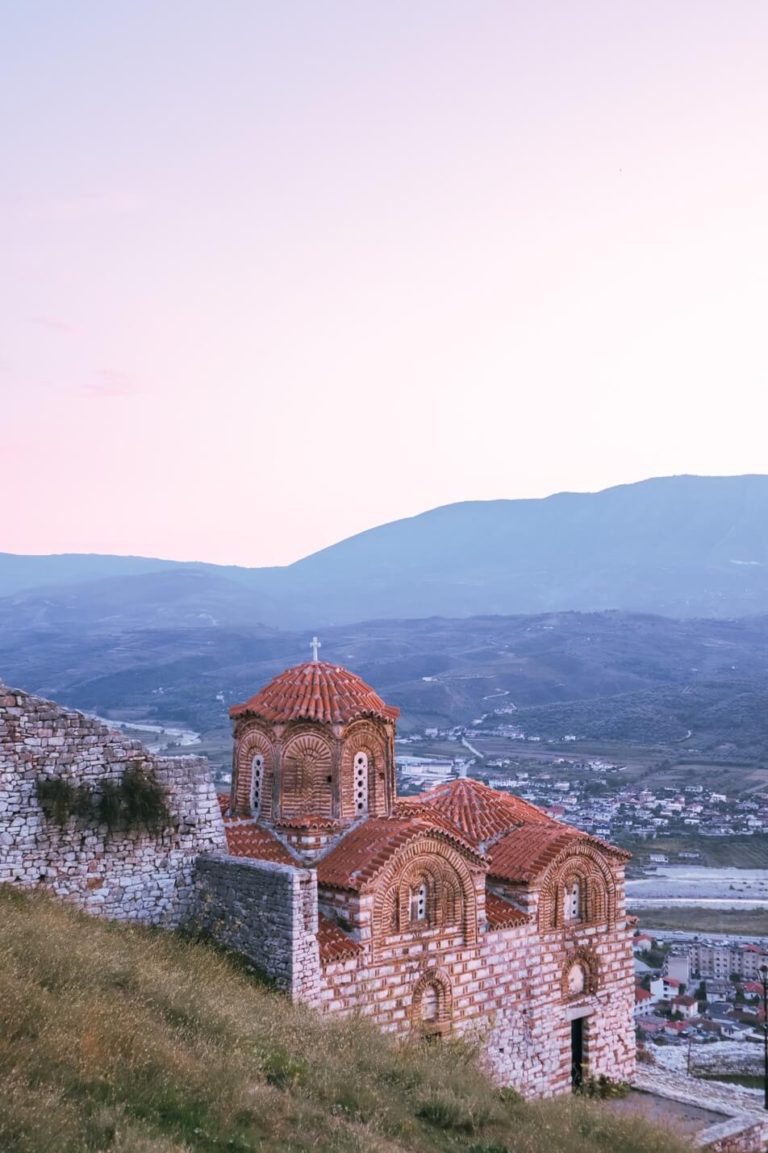 In addition to the incredible views over Berat that leave no one indifferent, you will find traces of other times (such as the ruins of the Red Mosque) or even the church of the Holy Trinity.
I stayed at Tradita e Beratit, a simply lovely accommodation that is the result of the restoration of a typical house of the region that is over 300 years old. It is a very small but truly welcoming accommodation 🥰 Nothing in the decor has been left to chance! 
In addition, Tradita e Beratit has a small restaurant where we can try a degustation menu with regional products and also where breakfast is served the next day.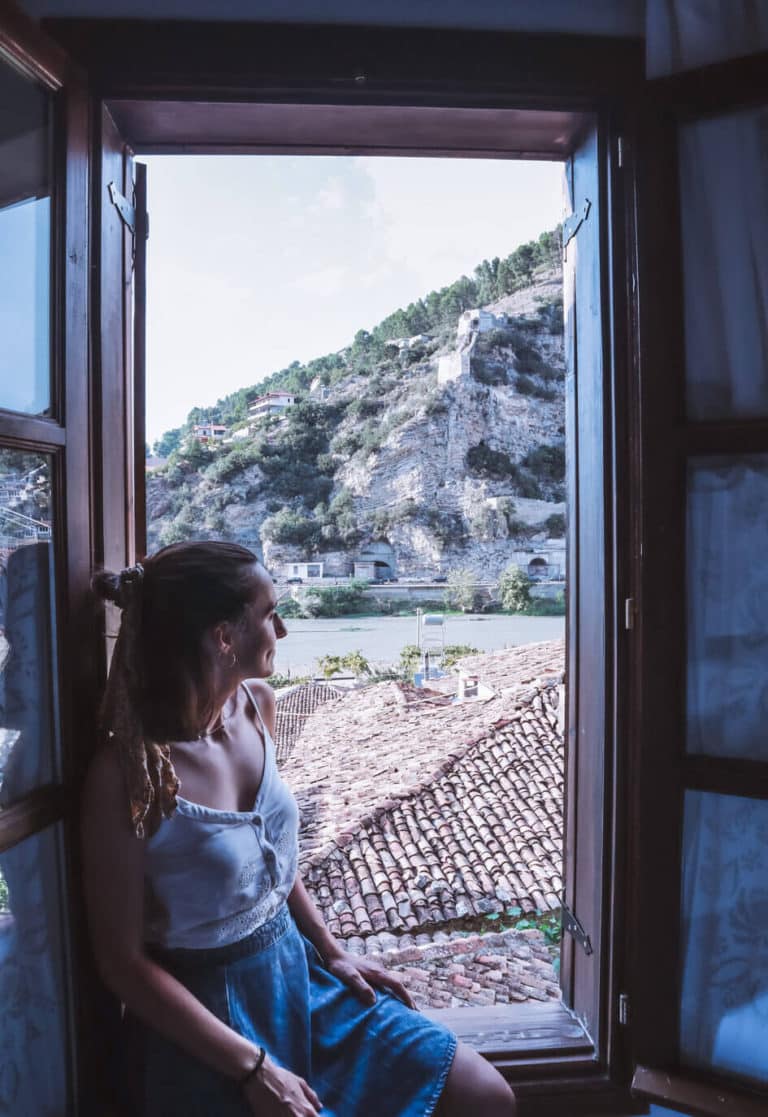 If you visit Berat, you will not want to miss this accommodation, I assure you. In any case, here are a few more suggestions: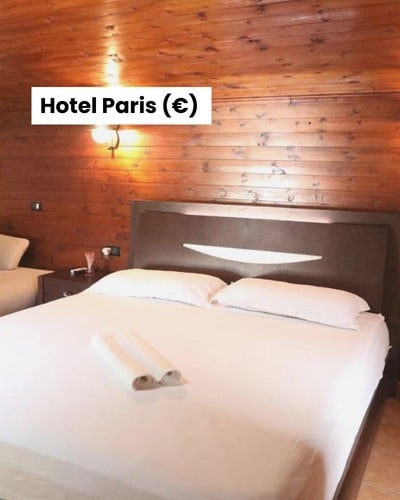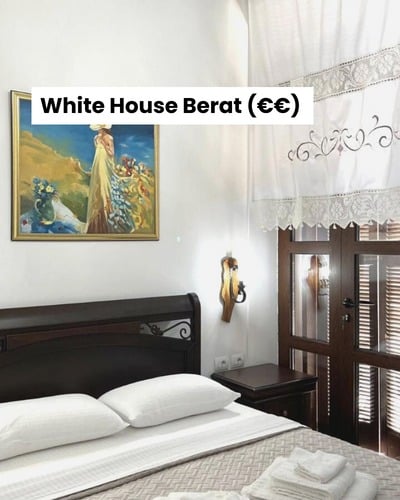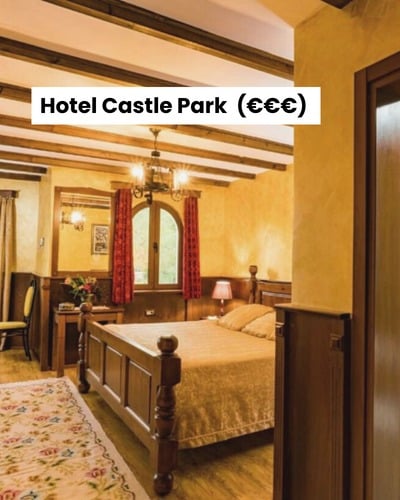 What to visit in Albania – Day 6: Berat – Gjirokastër – Blue Eye – Sarandë (237 km; 4h)
» Gjirokastër
We left one UNESCO World Heritage city for another. Gjirokastër is one of the loveliest towns and a MUST visit in Albania.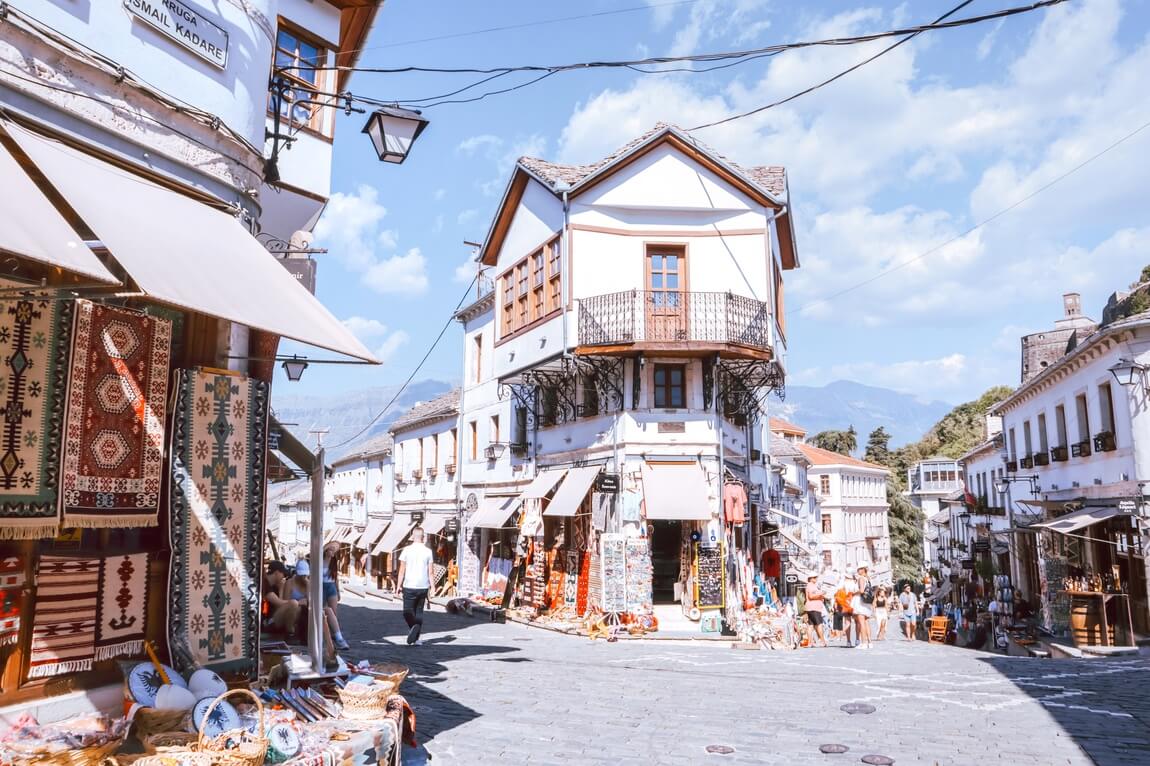 It is particularly known for its Old Bazaar from the time of the Ottoman Empire, which is generally the first thing people see when they arrive in the city.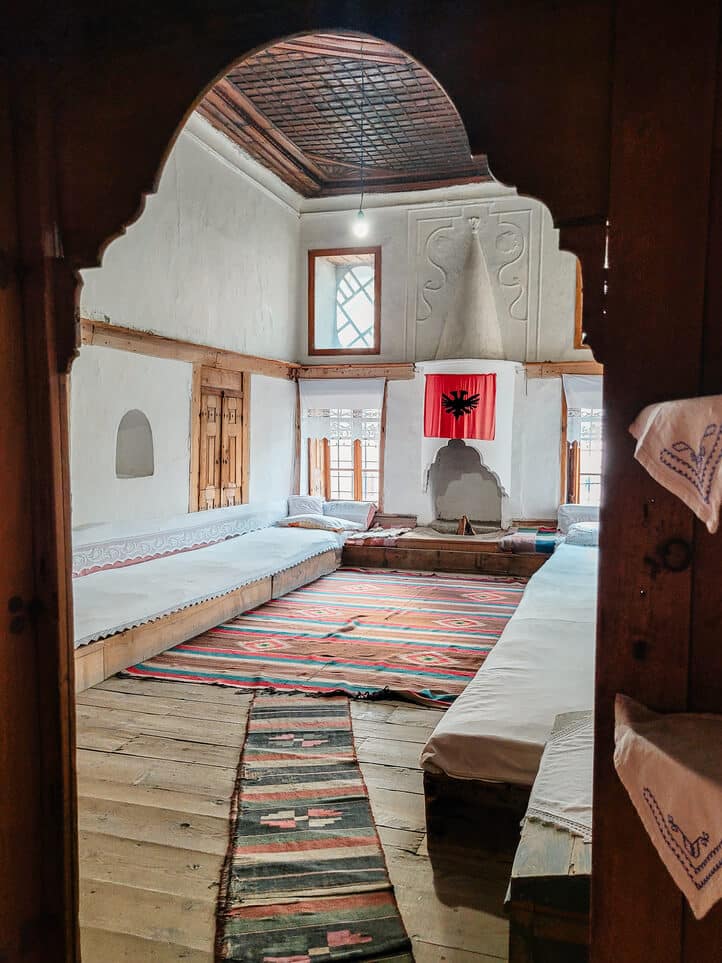 But Gjirokastër has much more to visit. From a Cold War tunnel that can be visited to authentic houses (Skenduli house and Zekate house) where we can learn more about the lifestyle of Albanians in the 18th century.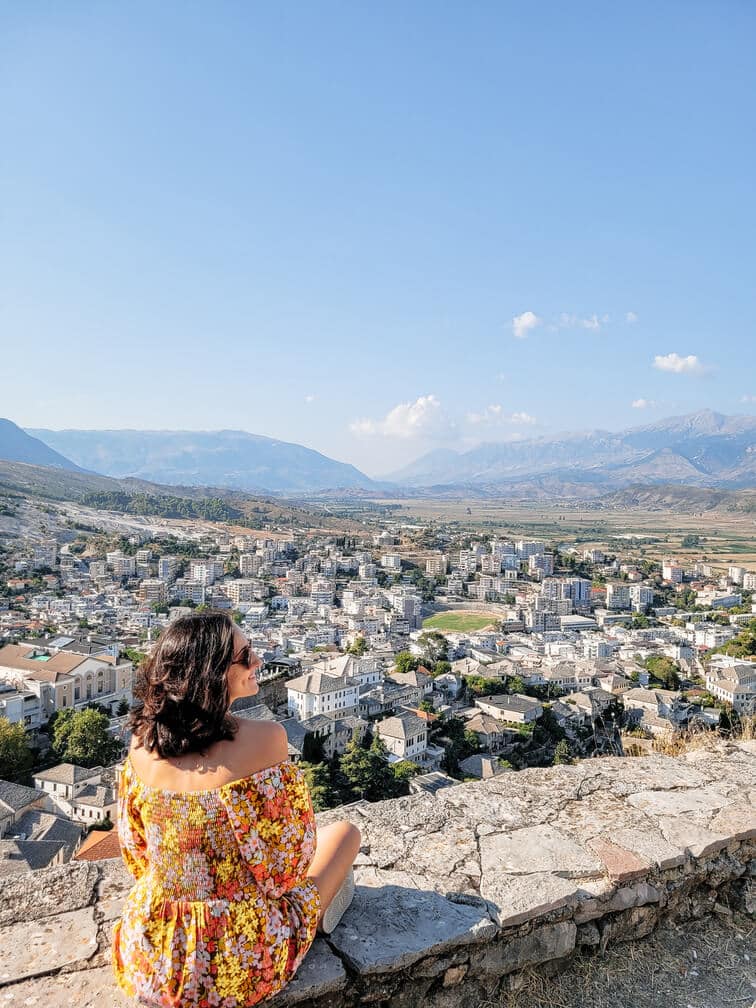 Additionally, you can also climb the town's castle, which offers incredible views of Gjirokastër.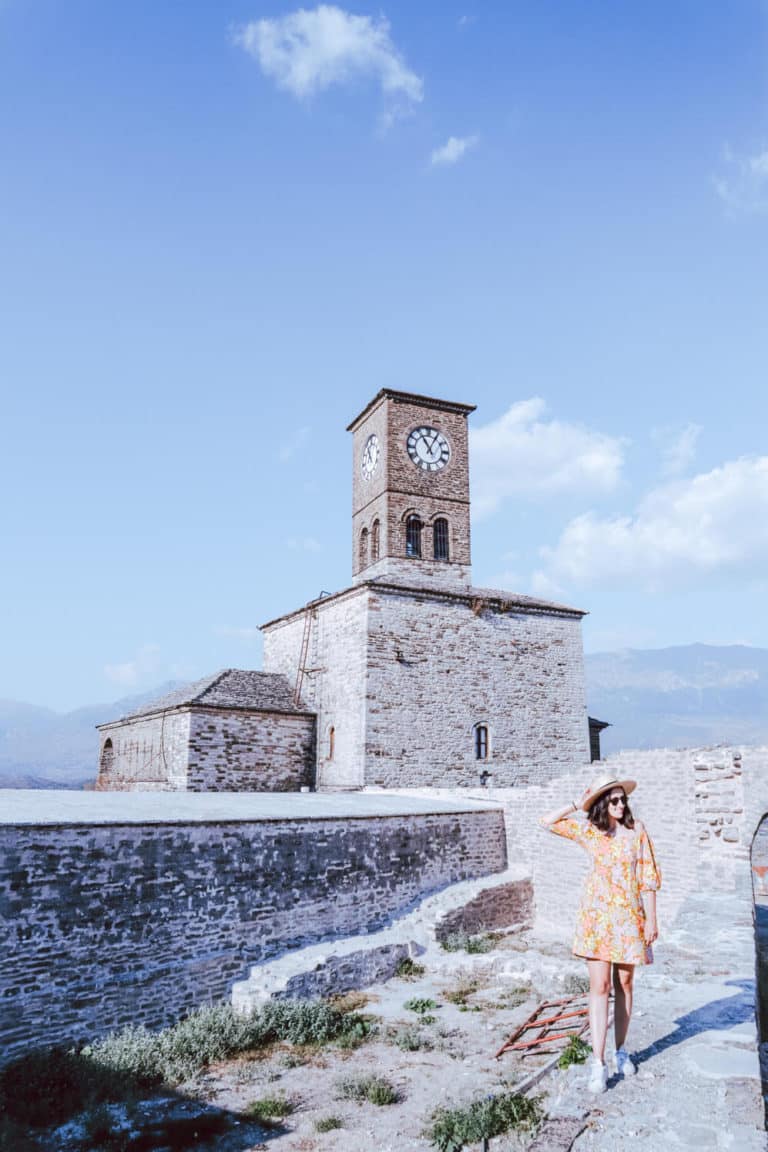 But if you are looking for a more complete itinerary of Gjirokastër, you can check my post dedicated to the 8 must-do things in the city where you can find many more tips to visit this Albanian hidden gem.
» Blue Eye
The Blue Eye is a great add-on to include on this day of the itinerary 🥰 This is a natural water source that attracts thousands of visitors due to the colour of its water.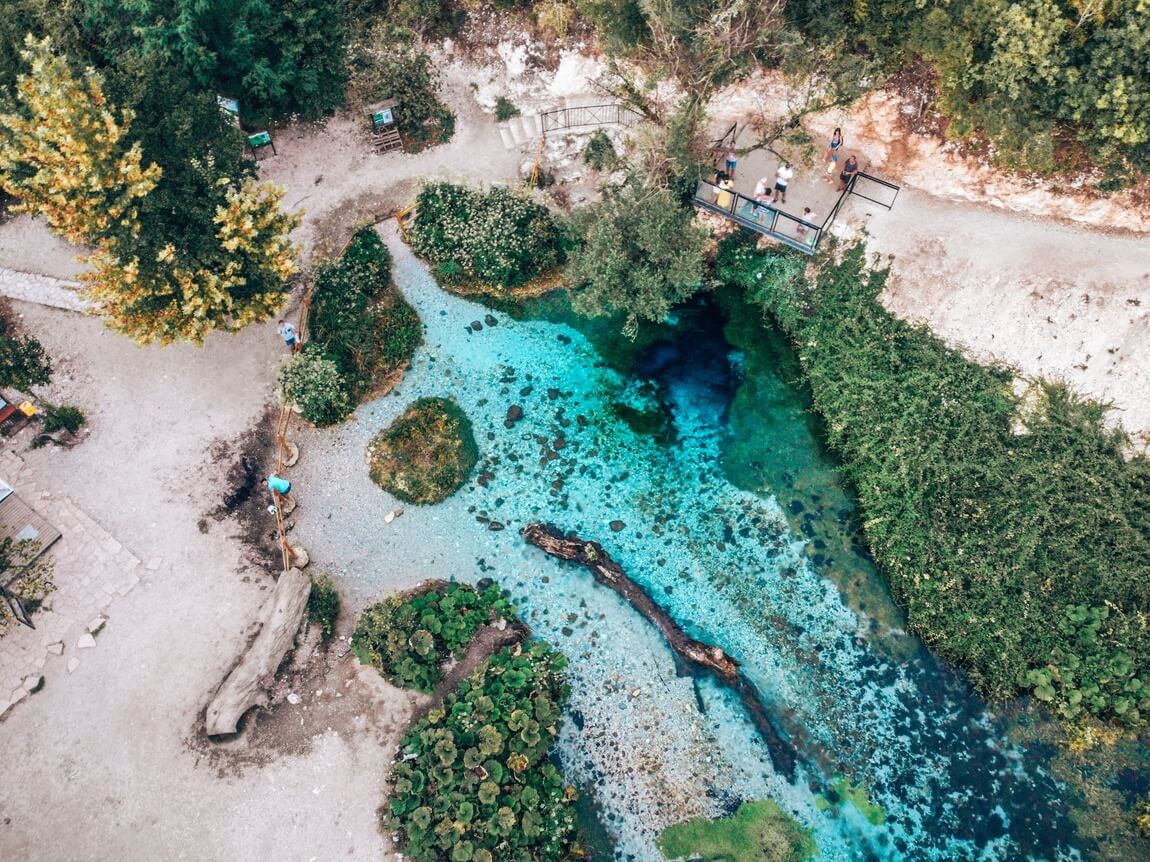 The water may be icy cold, but that doesn't mean that people don't want to take a dip (even though this is forbidden according to a sign posted there).
📝 USEFUL INFORMATION: You have to pay about 0.5€/pax to enter and the trail takes about 20 min (one way) to get to the area with water. The trail has some ups and downs, but is completely tarmacked. If you wish to visit the Blue Eye without a car, it is also possible. There are buses that connect Gjirokastër to Sarandë, just ask the driver to drop you off at the Blue Eye.
» Sarandë
After one of the most demanding days when it comes to driving, I suggest staying overnight in Sarandë, part of the famous Albanian Riviera. About what to visit in Sarandë, you'll have to continue reading the post 😋.
Sarandë can be a bit confusing and, for this very reason, I chose an accommodation located in a quiet area, but still very well located. Hotel PortaNova is an extremely recent hotel and has the advantage of having the beach at its doorstep (literally!). I timed myself and it took me 3 minutes and 8 seconds to get from the room to the beach!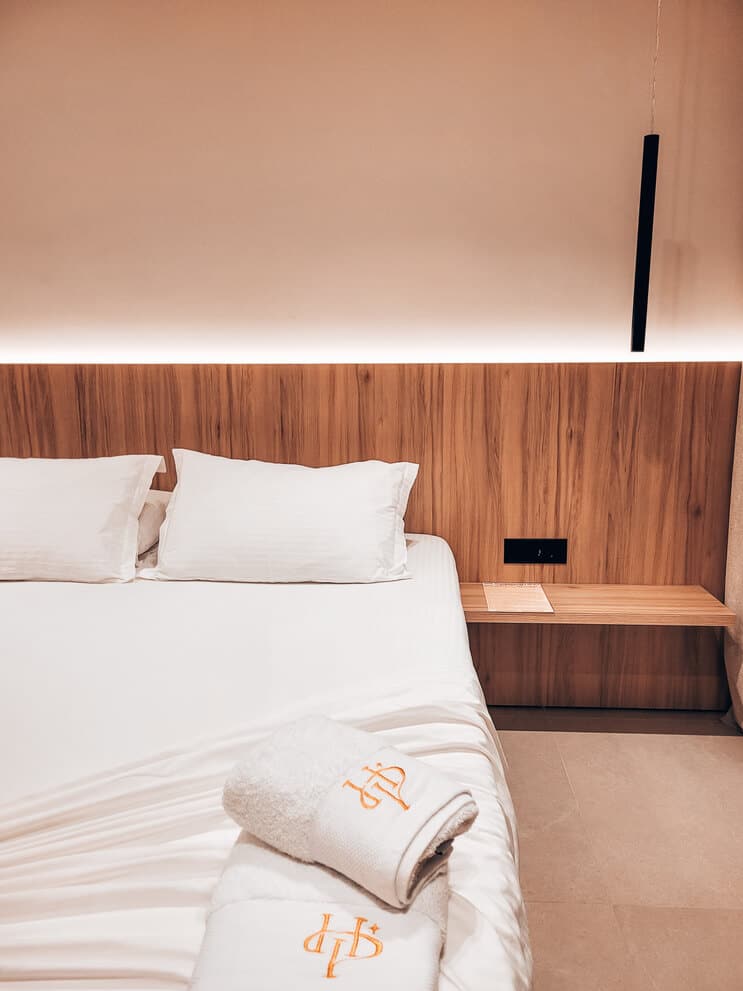 Apart from this, the facilities are very modern, the rooms very spacious and the hotel also has a breakfast service on the terrace next to the hotel entrance.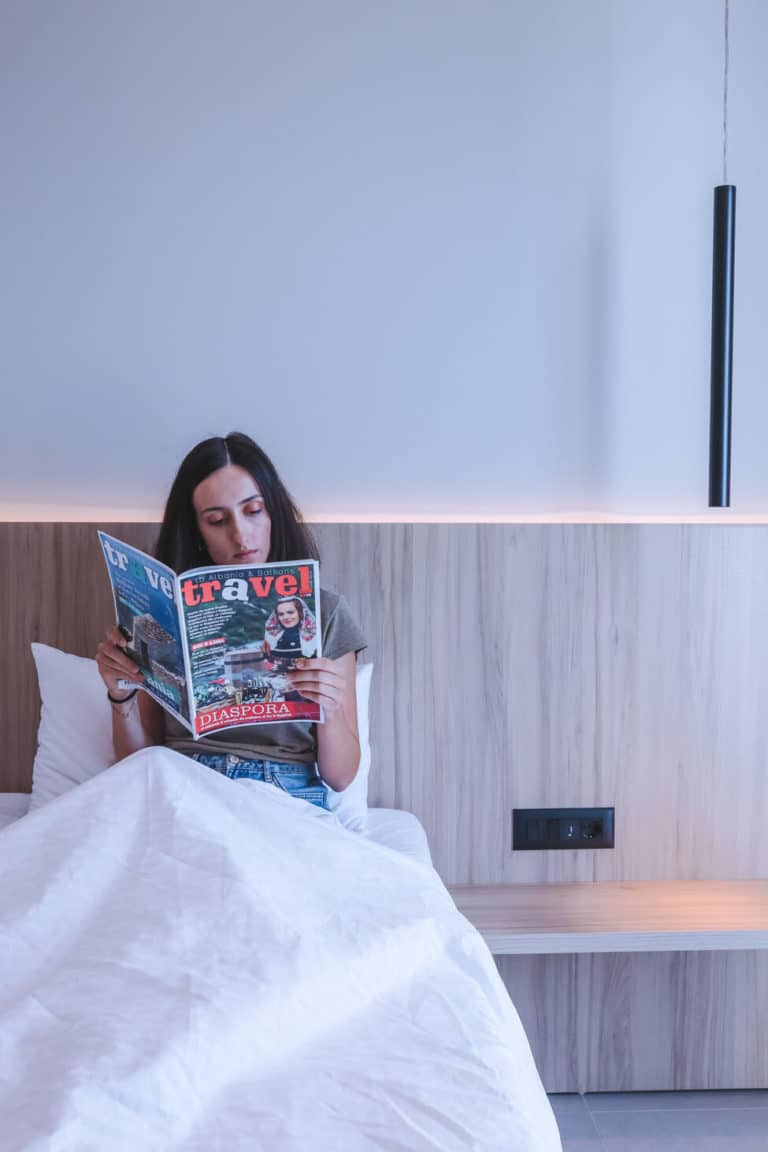 This is definitely an excellent option for those looking for accommodation in Sarandë. Anyway, I leave here some more recommendations for different types of budgets: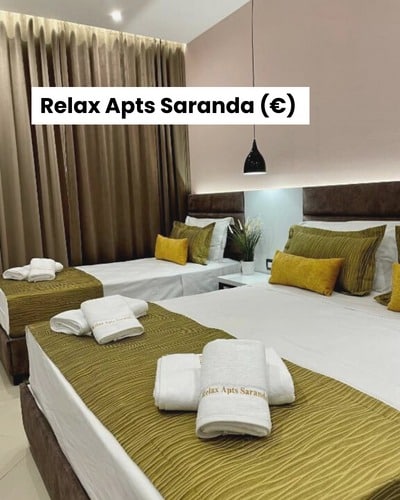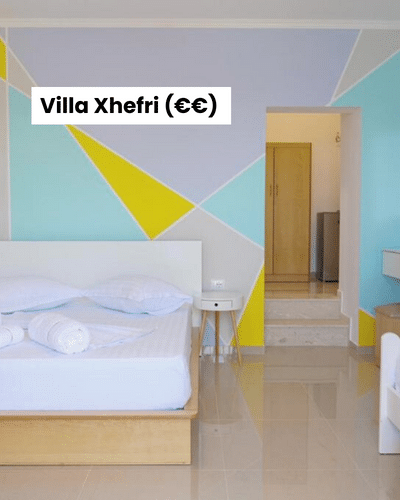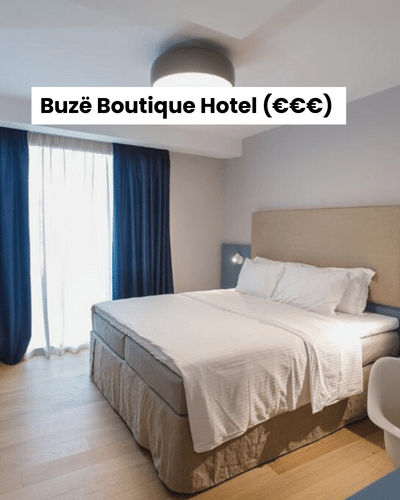 What to visit in Albania – Day 7: Sarandë – Butrint – Ksamil – Sarandë (35 km; 1h)
After several more intensive days of sightseeing, the most relaxed day of the trip follows, with a dip in Albania's fantastic beaches.
» Butrint National Park
Just 18 km away from Sarandë, another place you really must visit in Albania is the Butrint National Park. The park has more than 9 thousand hectares counting with lakes, marshes, plains, islands, etc. But what brings more tourists to this park is its archaeological zone.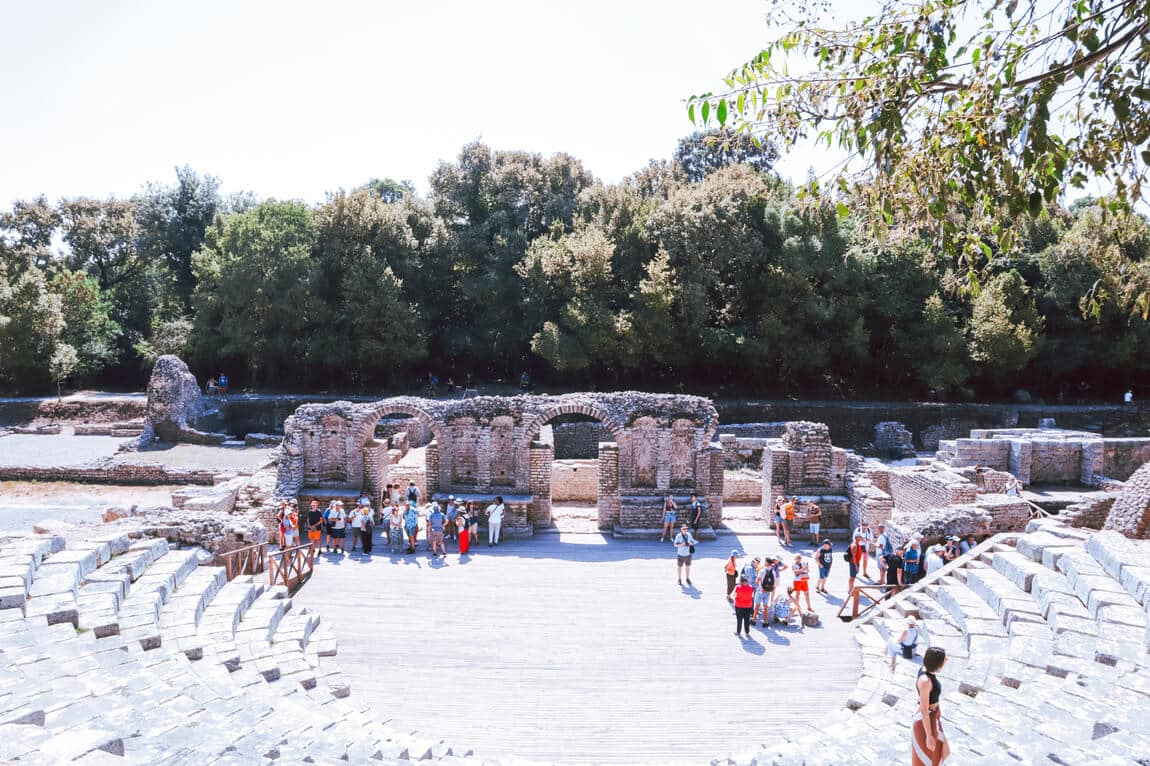 Butrint is a UNESCO World Heritage Site as it contains several artefacts from the Iron Age to the Middle Ages. It is impossible not to visit this place without imagining what life would have been like there so many years ago!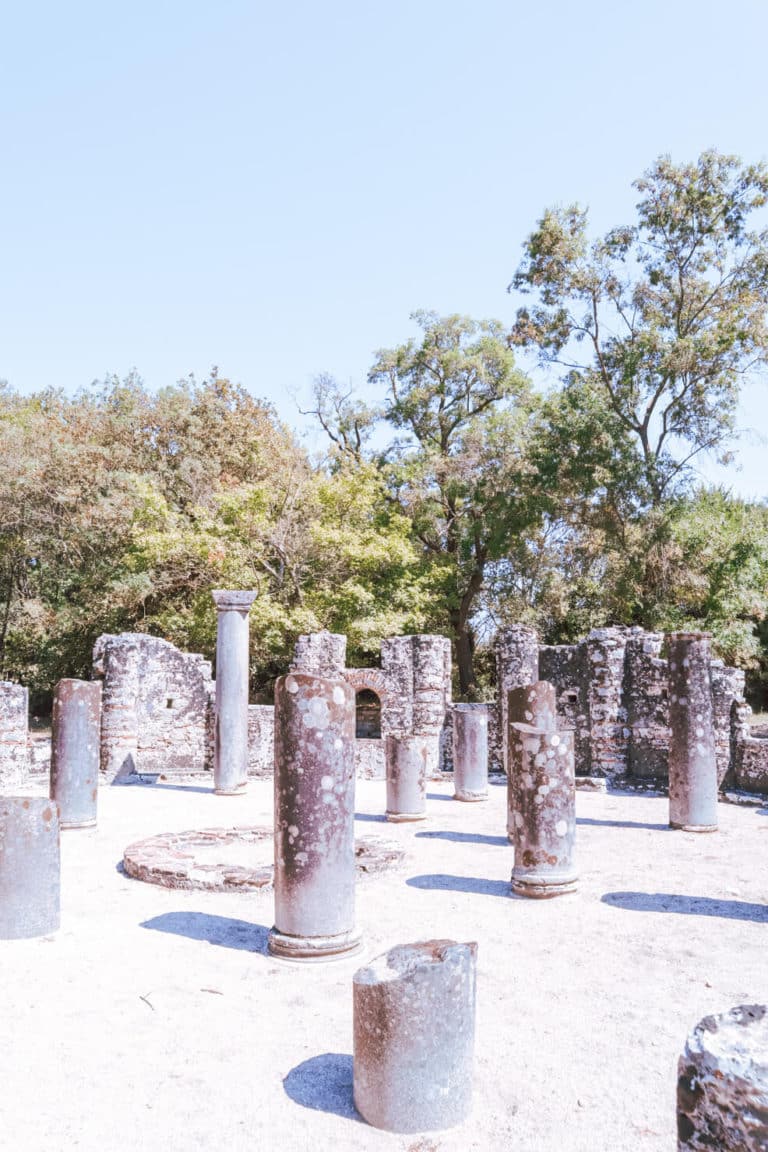 One of the most imposing points of the visit is undoubtedly the Roman Theatre, the ruins of the Basilica and the Lion's Gate. The space is quite large so I suggest at least 1h30 to visit all these archaeological remains. However, if you want to visit the park in more detail, you will certainly need more hours.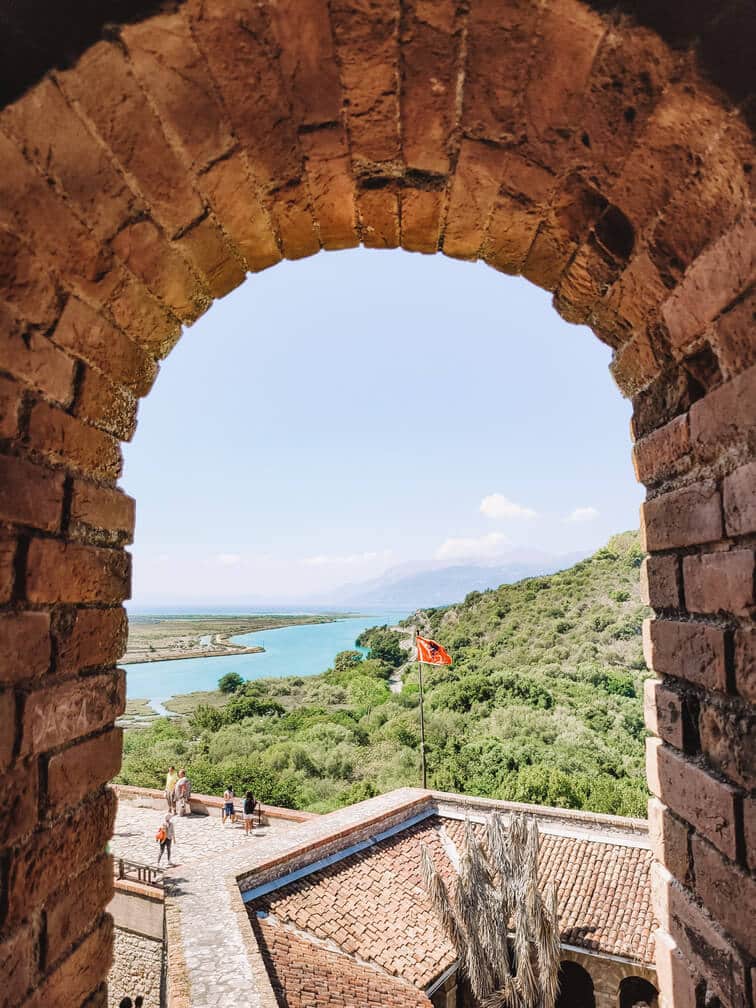 But the visit to Butrint is not only marked by the artefacts that we observe along the way. The surrounding landscape is beautiful! In fact, it is especially beautiful at the end of the trail near the Archaeological Museum.
📝 USEFUL INFORMATION: The adult ticket costs 1000 LEK (~8.58€) and the park can be visited from 9 am to 7 pm every day. Anyway, I always suggest you check the most up-to-date information here.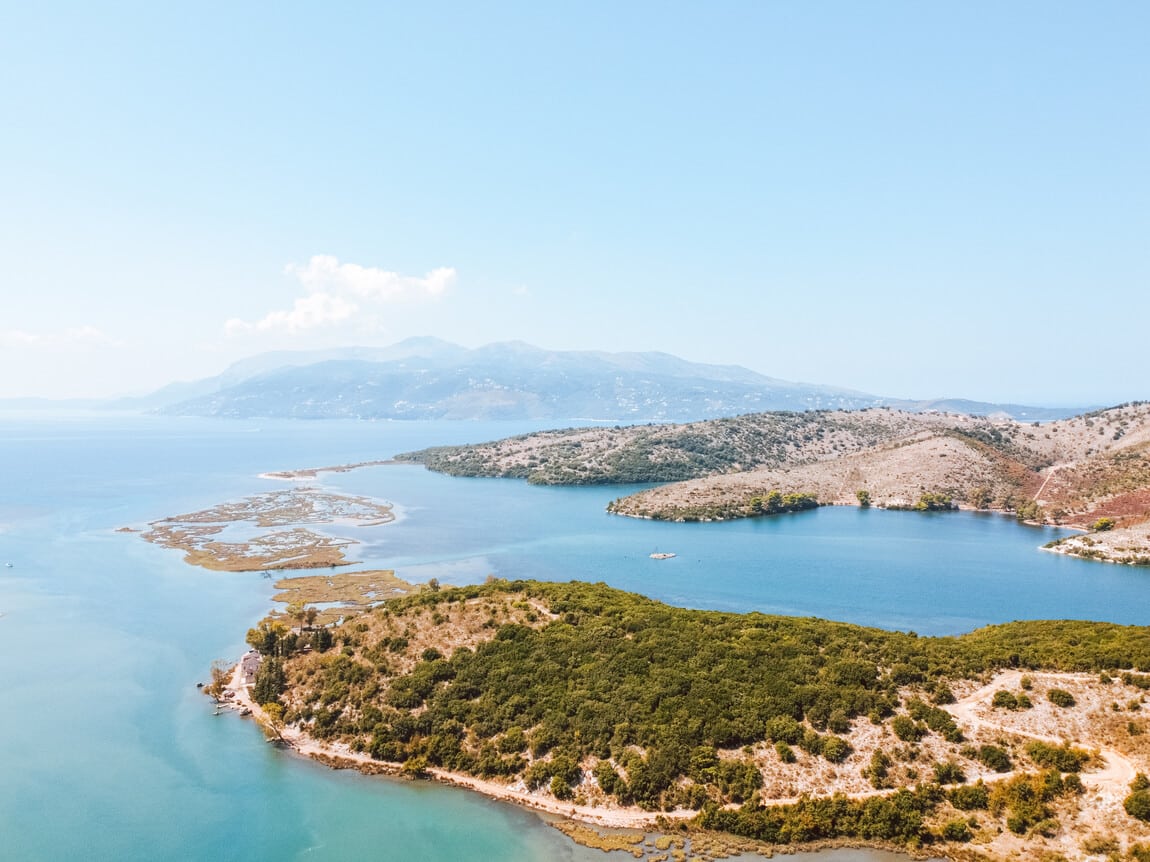 If you are travelling by car, the best option is to park your car here. The park was a bit congested, but there was a person from the organization directing the vehicles to the parking spots.
💡 EXTRA TIP: If you are following this itinerary and have some additional time available, you can also make a short stop at Ali Pasha castle, located between Butrint and the next point of this itinerary. However, in my case, I ended up only observing this castle from the road connecting Butrint to Ksamil.
» Ksamil
After a busy morning, it's time to finally experience the blue waters of the Albanian Riviera. There are several beaches you can visit, and in my case, I ended up choosing Bora Bora beach – probably one of the most famous.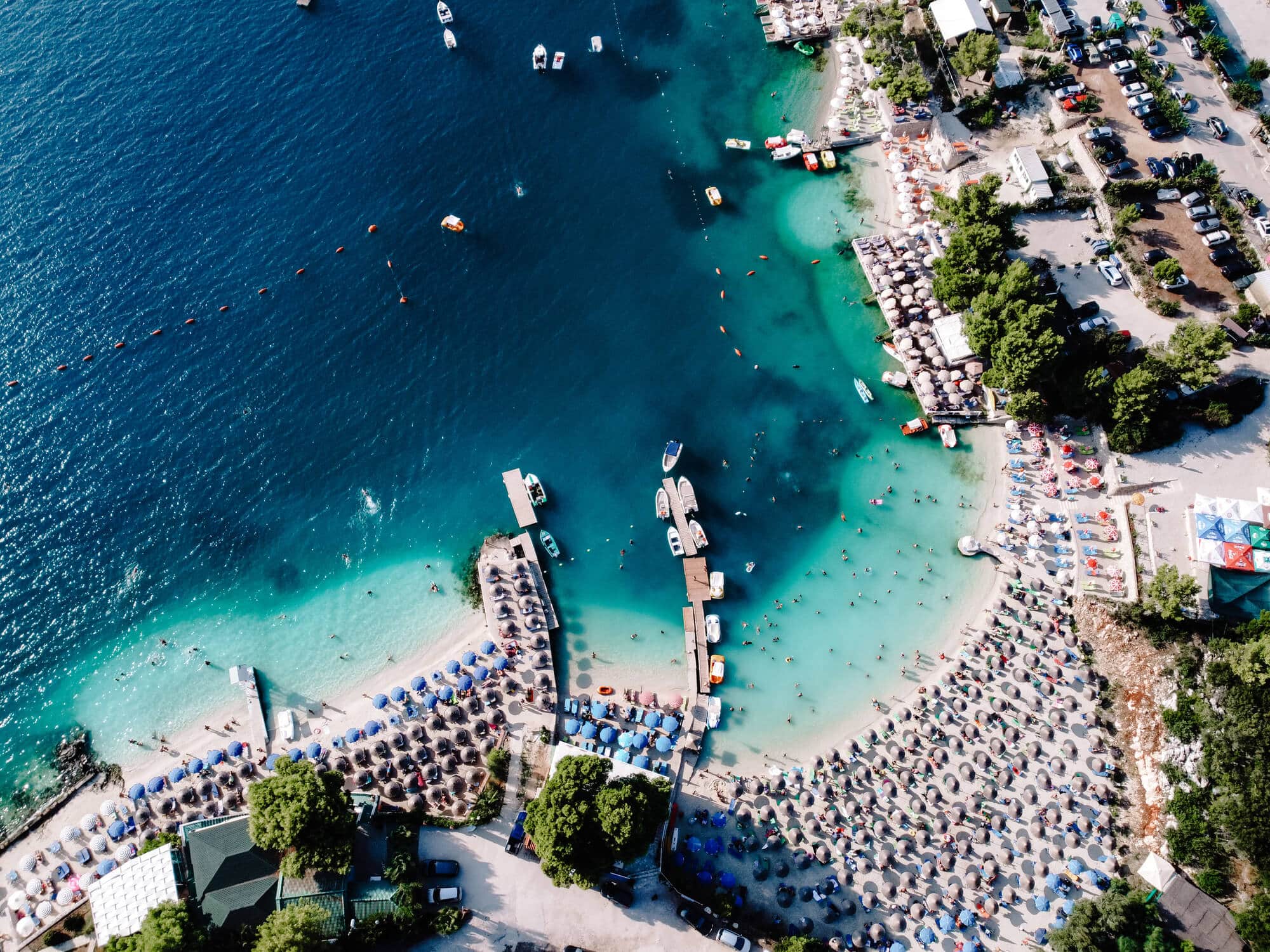 The beach is relatively small and all under concession. Although it was close to lunch time, we were lucky to find 2 available spots right by the water. The price for 2 sun loungers and 1 sun umbrella is 1000 LEK (~8,5€) for the whole day.
💡 EXTRA TIP: I stayed right on the first beach as soon as you get to Bora Bora beach. However, there are more places to stay, both to the right and left. When I left the beach, I walked to the left (facing the sea) and saw many more areas with sun loungers and even some beach bars.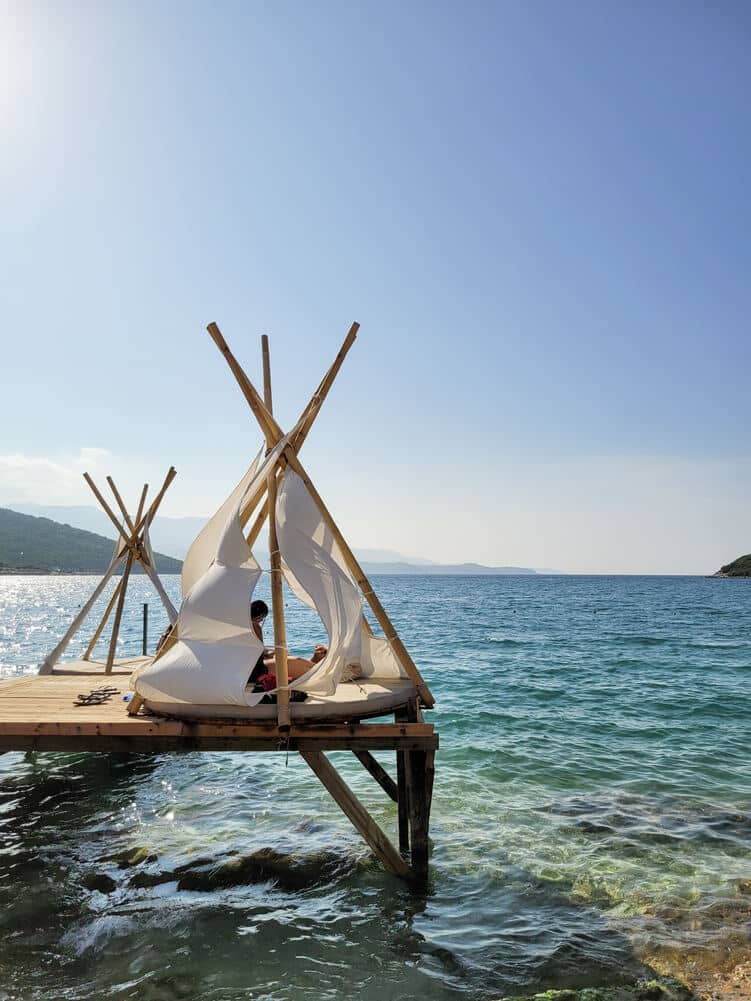 There are a few restaurants near the beach and so I ended up having a pizza for lunch right there with that magnificent view. The water temperature was incredible and it was super calm. It doesn't get any better than this, am I right? 🥰
💡 EXTRA TIP: While on other beaches in Albania it seems to be possible to get away with having to pay for the sun umbrella/ parasol because you can put your towel out a few metres to the side, on this one I'd say it's practically impossible.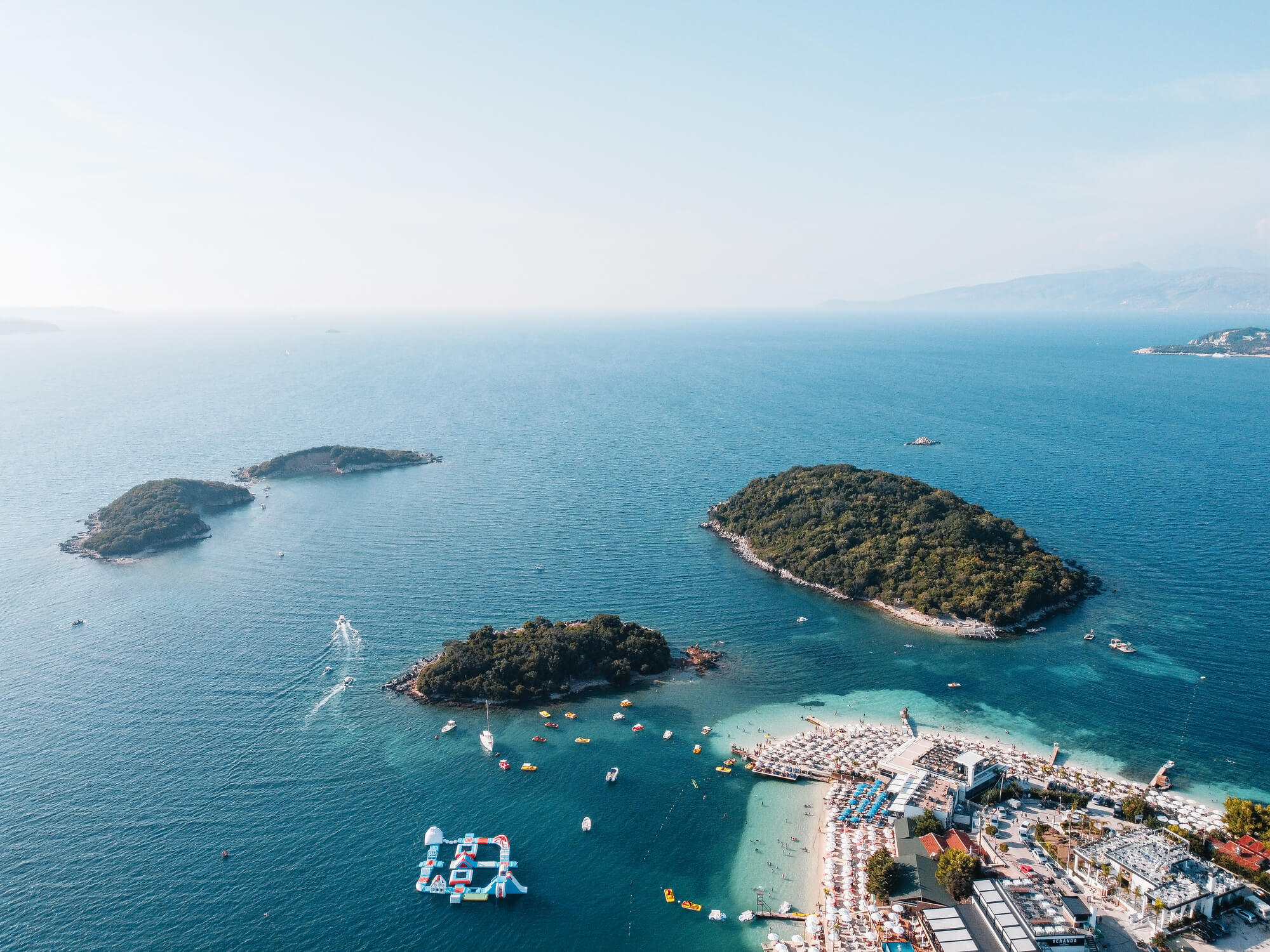 Although I didn't stay on the beach until sunset, Ksamil is said to have one of the most beautiful in Albania due to the perfect framing of the islands of Ksamil. Despite having visited only Bora Bora beach in Ksamil, I leave here other suggestions of beaches that I thought were equally amazing:
💡 EXTRA TIP: Another amazing beach option in this area is the "Mirror Beach" (Plazhi i Pasqyrave in Albanian). I ended up not visiting this beach, but it is rumoured to be one of the most popular.
Another amazing beach option in this area is the "Mirror Beach" (Plazhi i Pasqyrave in Albanian). I ended up not visiting this beach, but it is rumoured to be one of the most popular.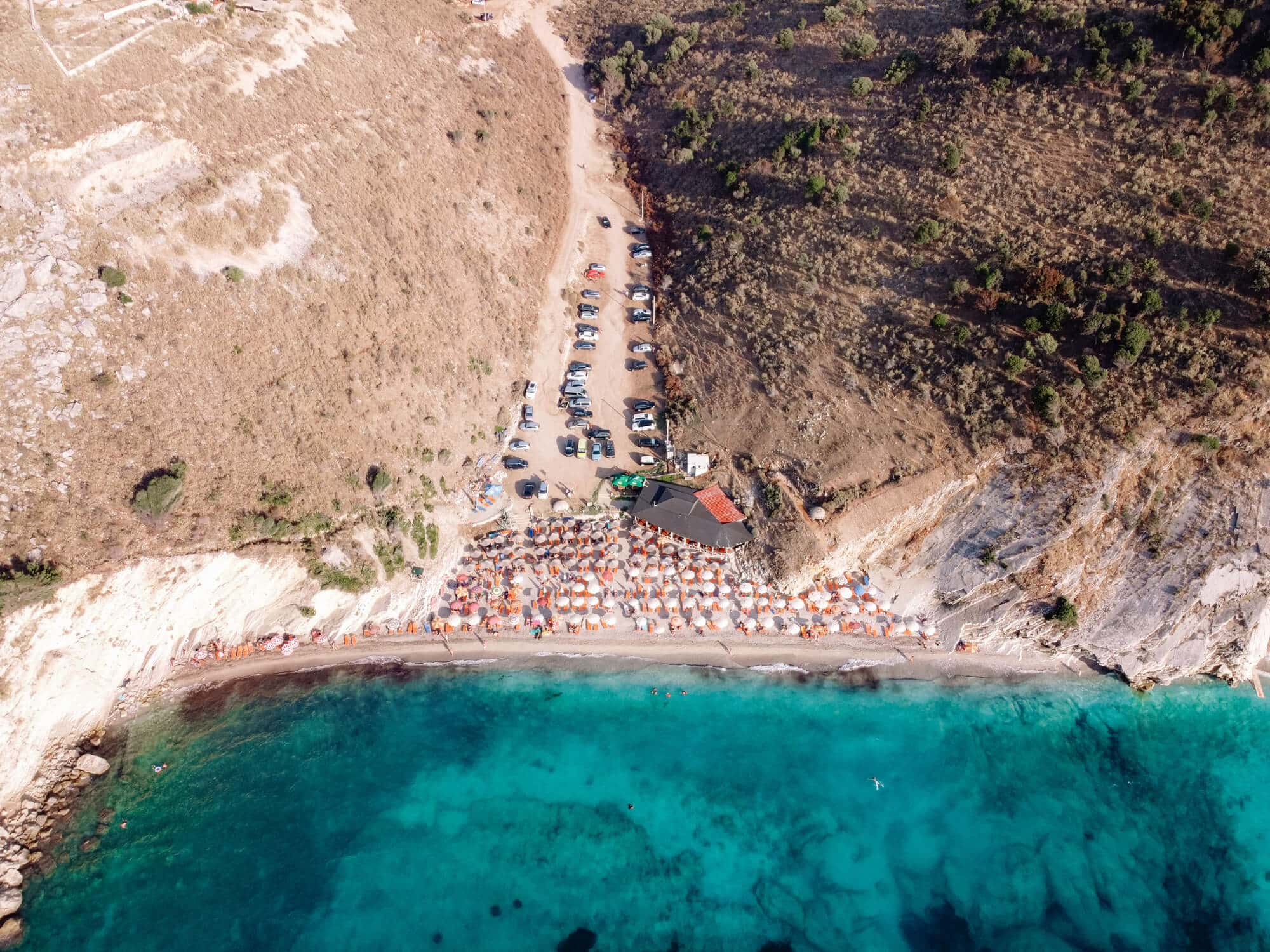 » Sarandë
And to finish the day, I suggest a visit to the coastal town of Sarandë. The city itself doesn't have that much to visit, but I especially recommend this in the city:
A stroll along Hasan Tahsini Boulevard;
A quick visit to the Old Synagogue complex;
Watching the sunset at Lëkurësi Castle.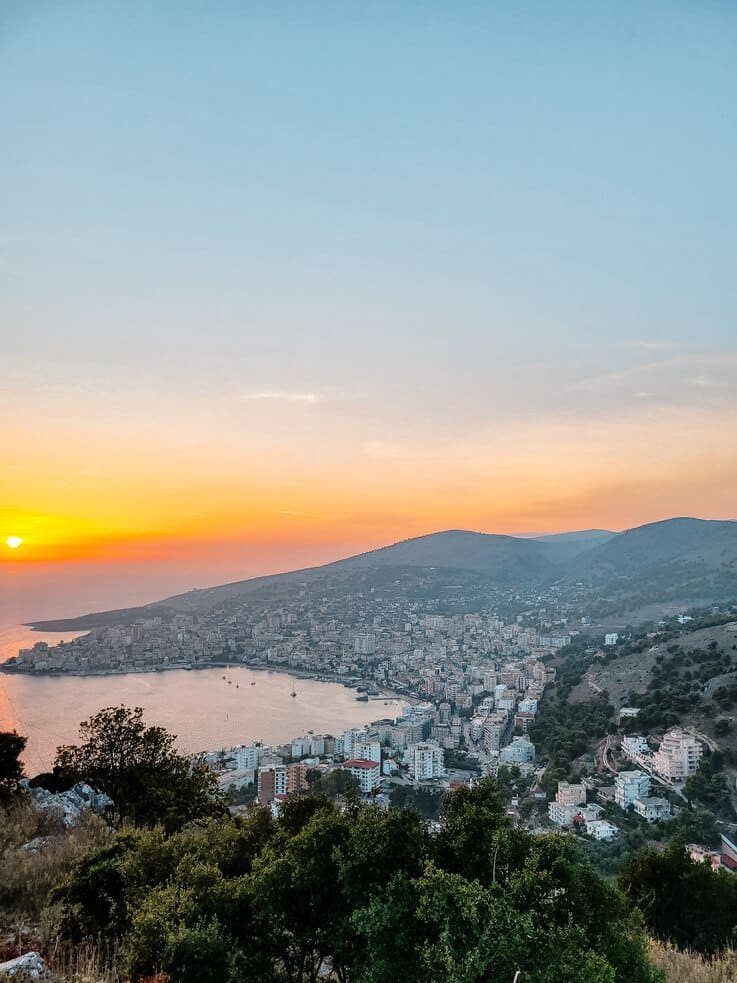 The sunset at the castle was one of the most beautiful moments of the trip. The orange tones of the sky, the view over the city of Sarandë, the island of Corfu (Greece) so close. Just missing even more that view while writing this 😍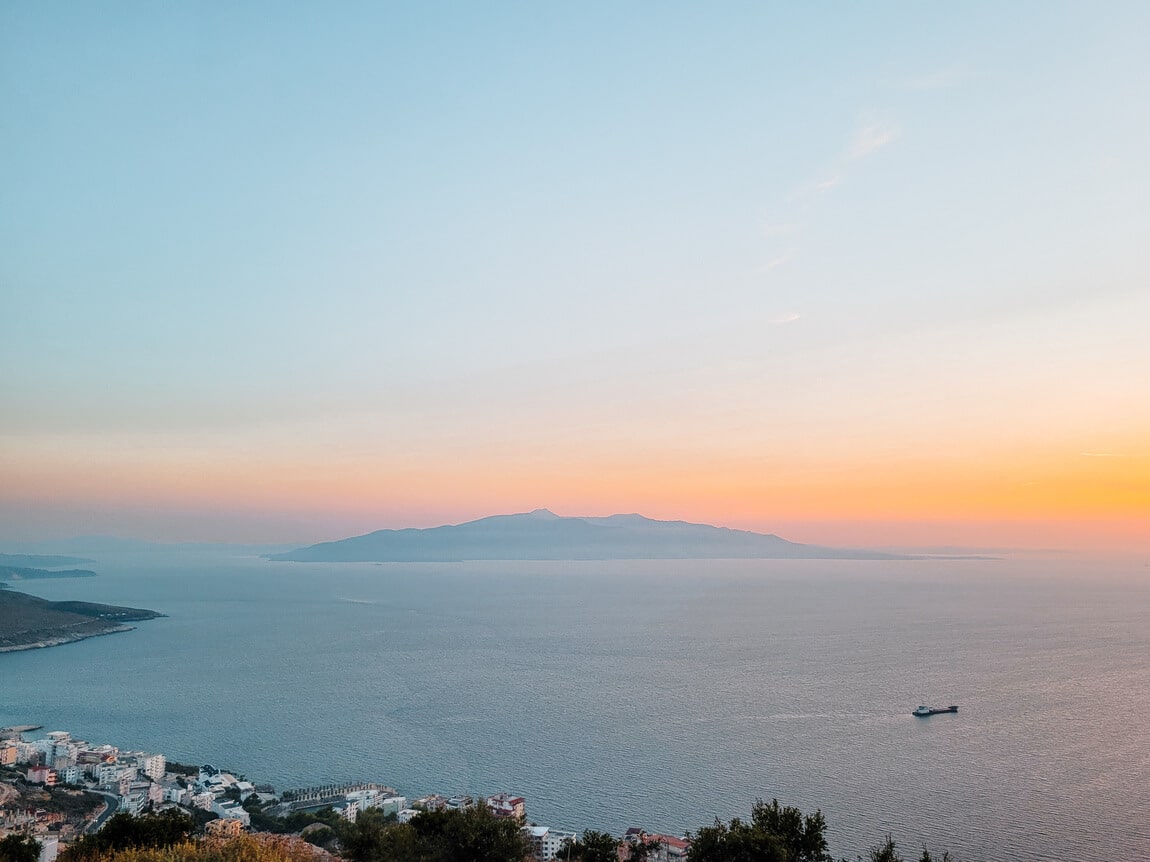 The castle has a restaurant and a bar where you can enjoy this sunset in an even more stylish way 😊
💡 EXTRA TIP: When I was preparing my itinerary for the trip, I read that it was also interesting to visit the Monastery of the 40 Saints for beautiful views. However, while the castle is free, here you have to pay 200 LEK (~1.7€) and the view is almost the same. Also, the monastery is quite degraded. So I suggest you don't make the same mistake as me and visit only the castle.
What to visit in Albania – Day 8: Sarandë – Gjipe Beach – Dhërmi (75 km; 2h10)
Day 8 of this itinerary to visit Albania will start again towards the north of the country. Leaving Sarandë, there are several stops that can be made along the way to Dhërmi, where I suggest staying overnight.
Unfortunately, I didn't have much time available and so I ended up just stopping here and there for a few photos, but these are the main points of interest until we reach Dhërmi:
Borsh, where you can visit:
Borsch Beach – the longest beach in Albania
Borsch Castle
Bunkers
Porto Palermo and its castle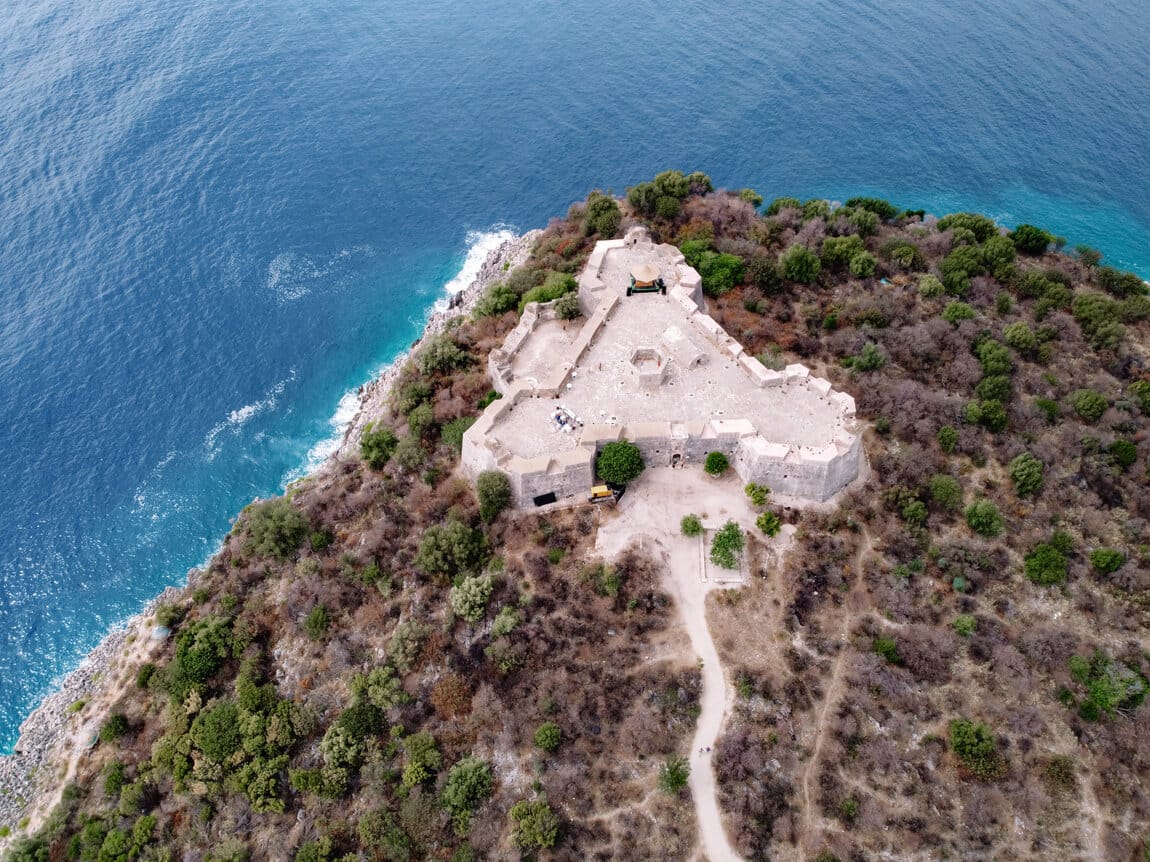 Qeparo, where you can visit:
Qeparo Beach
Upper Qeparo – an ancient village located on the slopes of Mount Gjivlash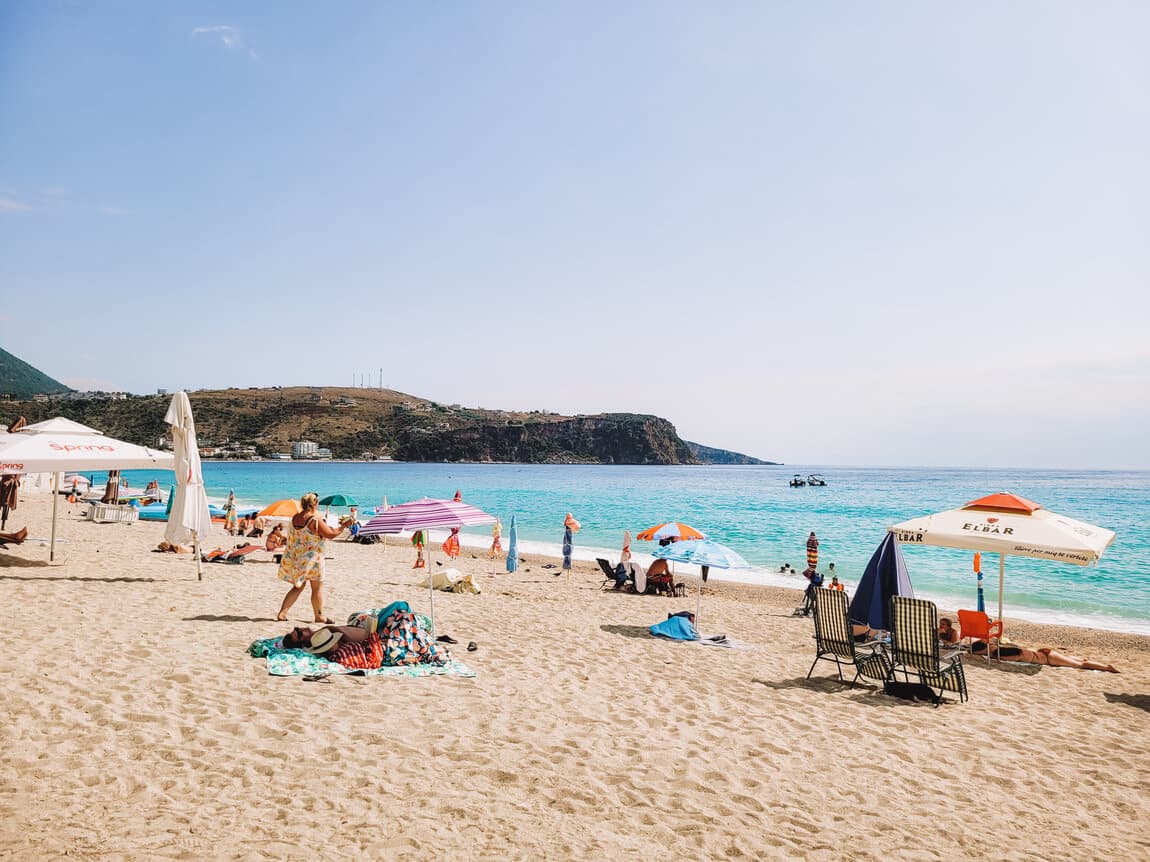 Himarë, where you can visit:
Castle
Historical centre
Livadhi beach
» Gjipe Beach
After a few photo stops and lunch in Himarë, we finally headed towards Gjipe beach. This was one of the places I most wanted to visit in Albania 😊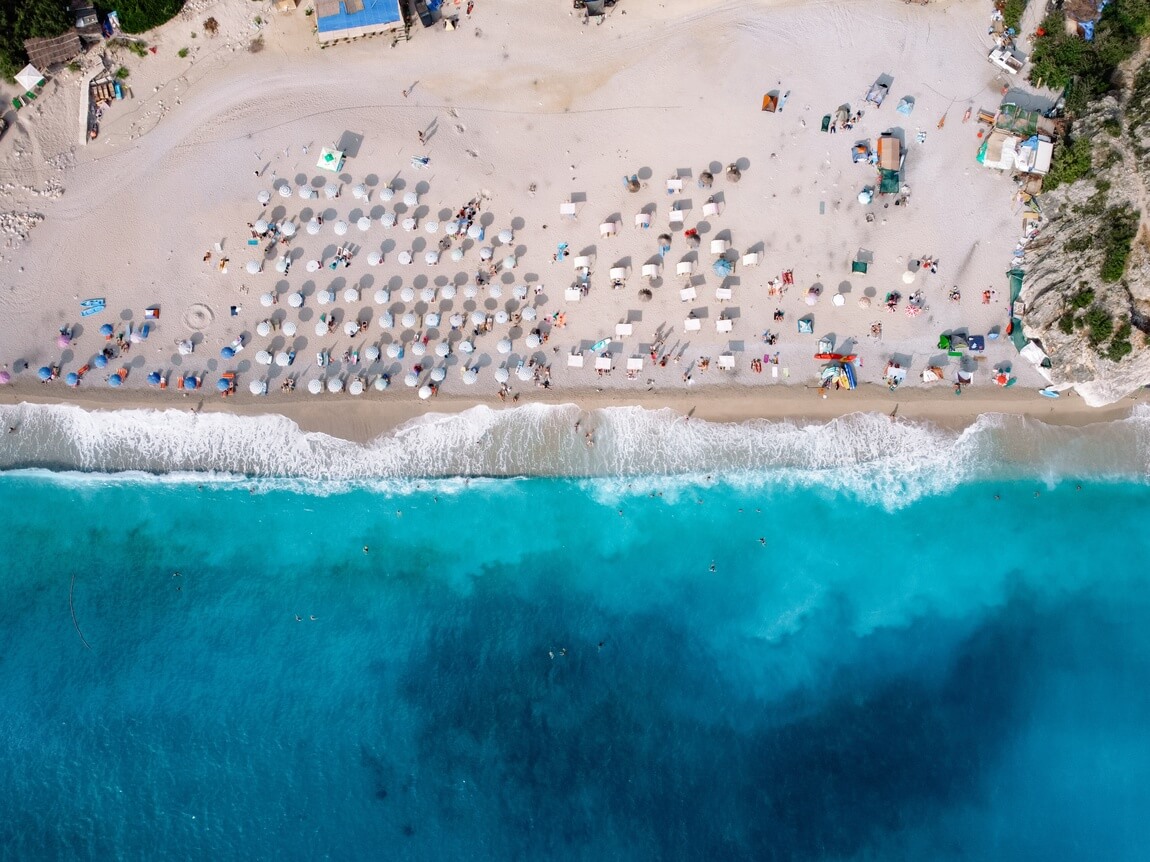 The reason this beach is so popular is the landscape in the background! Very impressive if you ask me.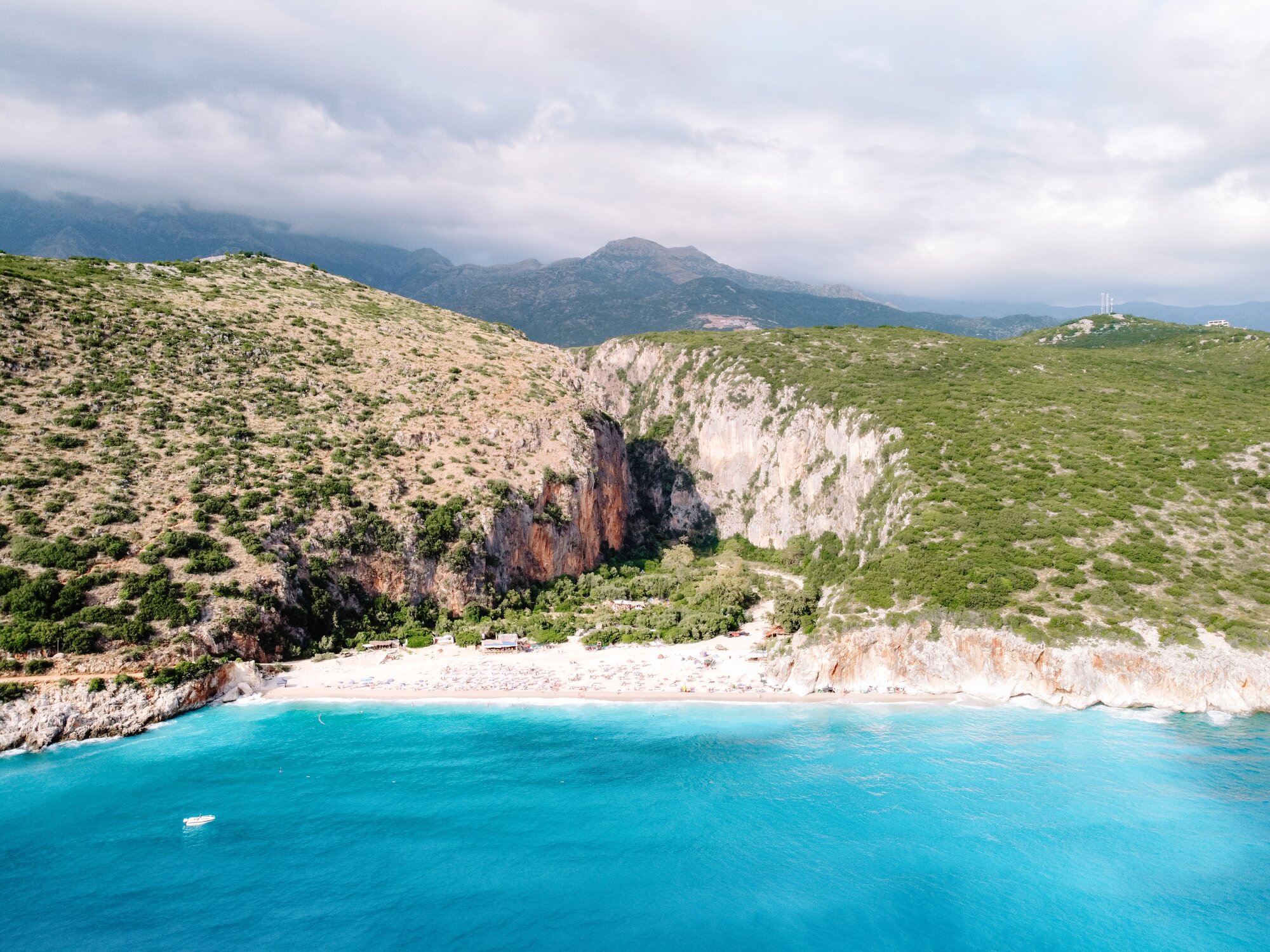 To get to the beach, there are a few options:
Boat or kayak from Jale beach
Park the car here (200 LEK) and walk a short trail to the beach. The trail is about 2km and takes 25 min (each way). It is more demanding on the way back (steep climb) and the ground is very uneven so I recommend suitable footwear.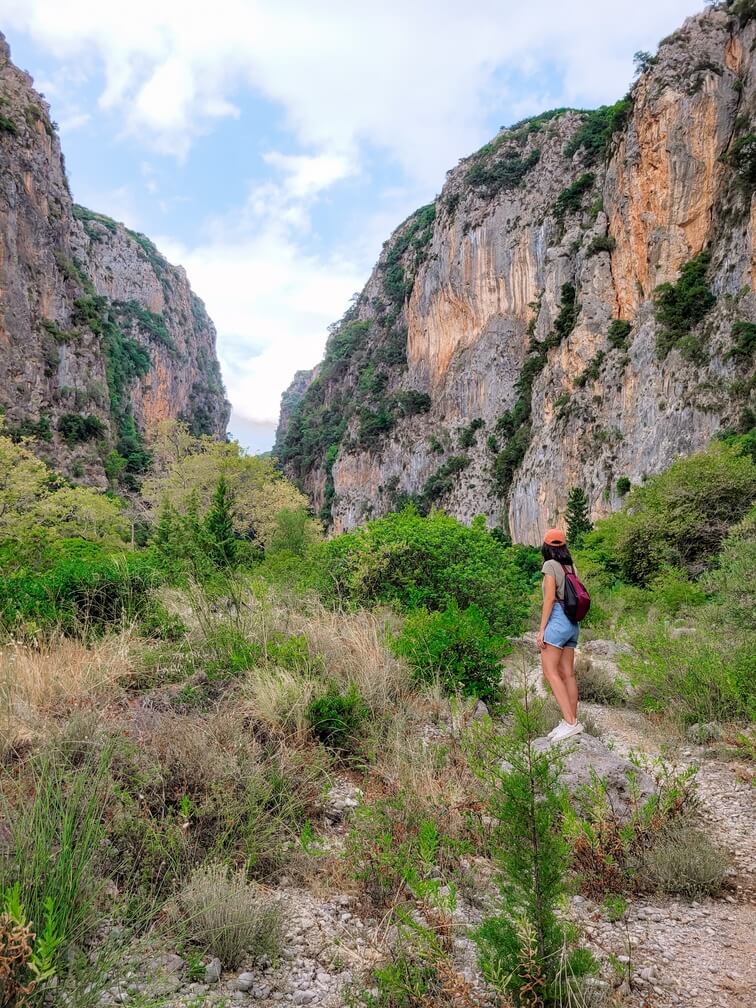 The beach has a few sun loungers but it was quite easy to find a place to lay our towel! Like many beaches in Albania, this beach doesn't have fine sand, so I'd recommend wearing proper shoes when going to the sea.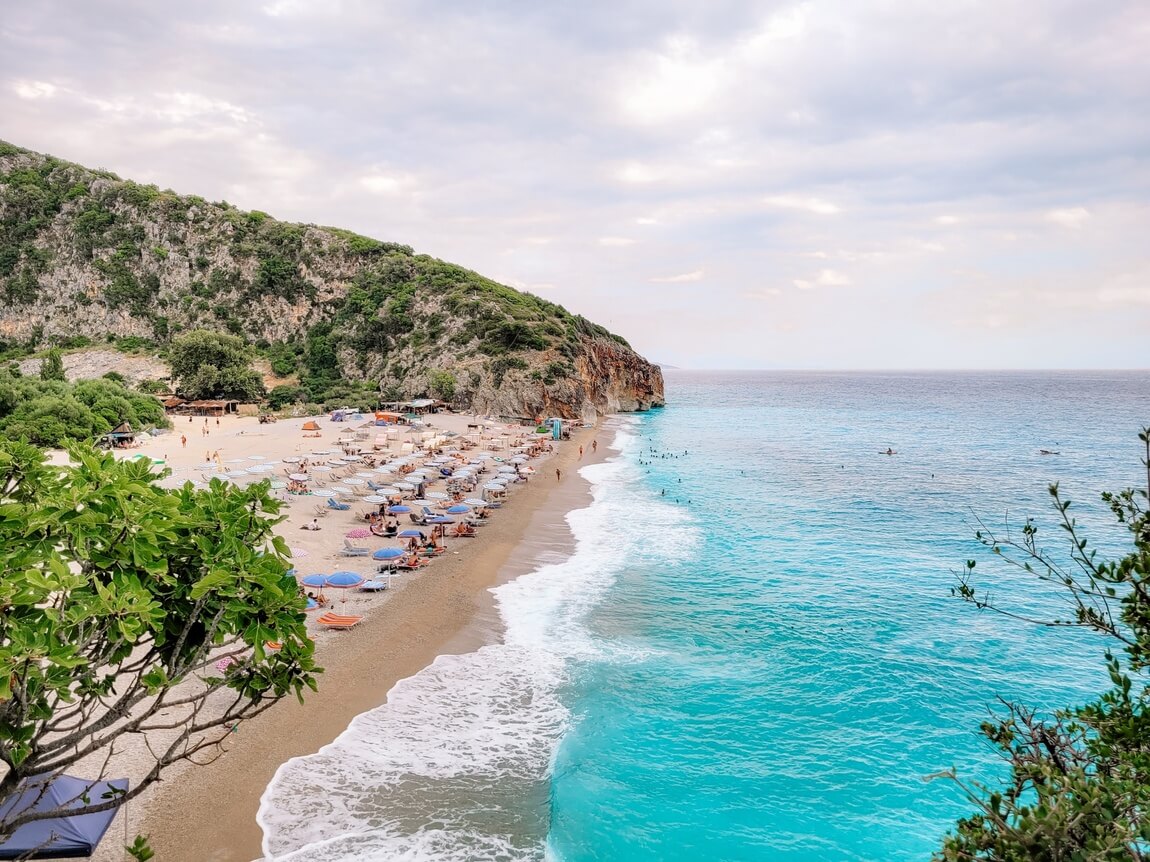 Apart from a few dips in the sea, I still managed to explore a bit of the canyon that marks so much the landscape of this beach. I read that there may be some poisonous snakes there, so if you want to venture further into the interior of the canyon, I recommend that you do more intensive research beforehand.
» Dhërmi
Dhërmi is also another excellent stopover option for those following this itinerary, with its cute historic centre or Dhërmi beach.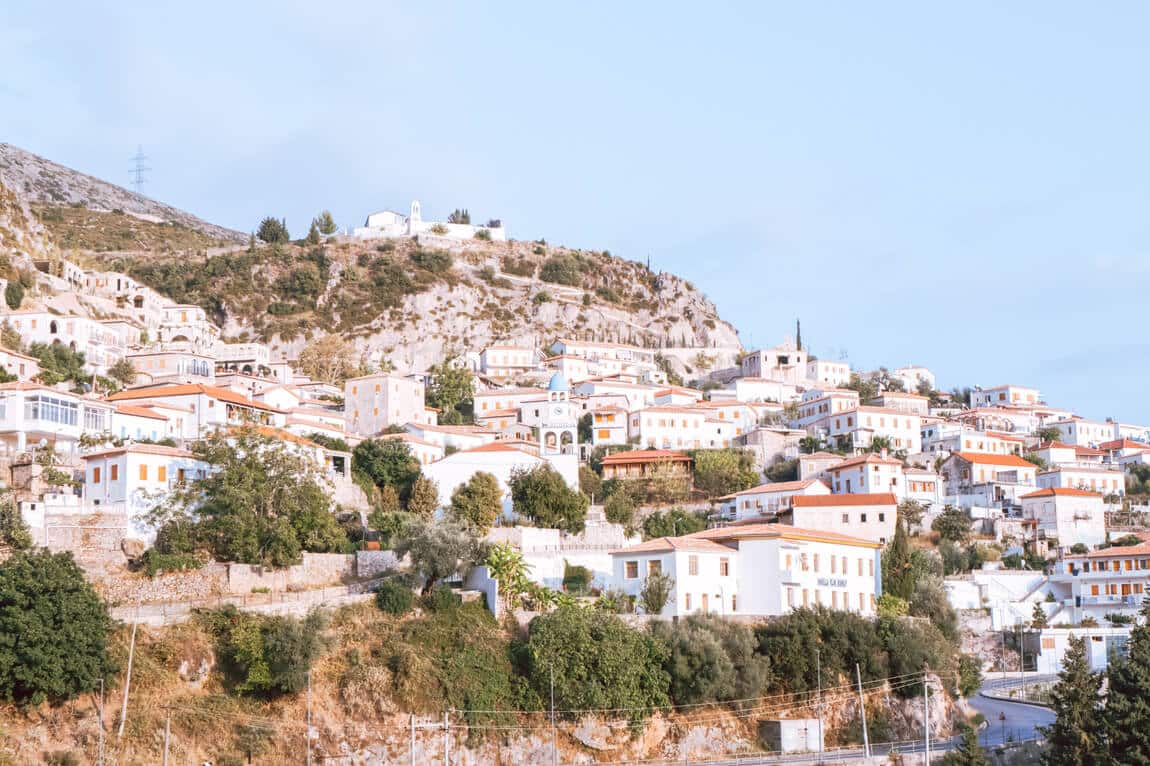 The last night in Albania was spent in Dhërmi at Gogo's Boutique Hotel. It is a very new hotel in the region. Apart from the very friendly service, I particularly liked the exterior decoration of the hotel.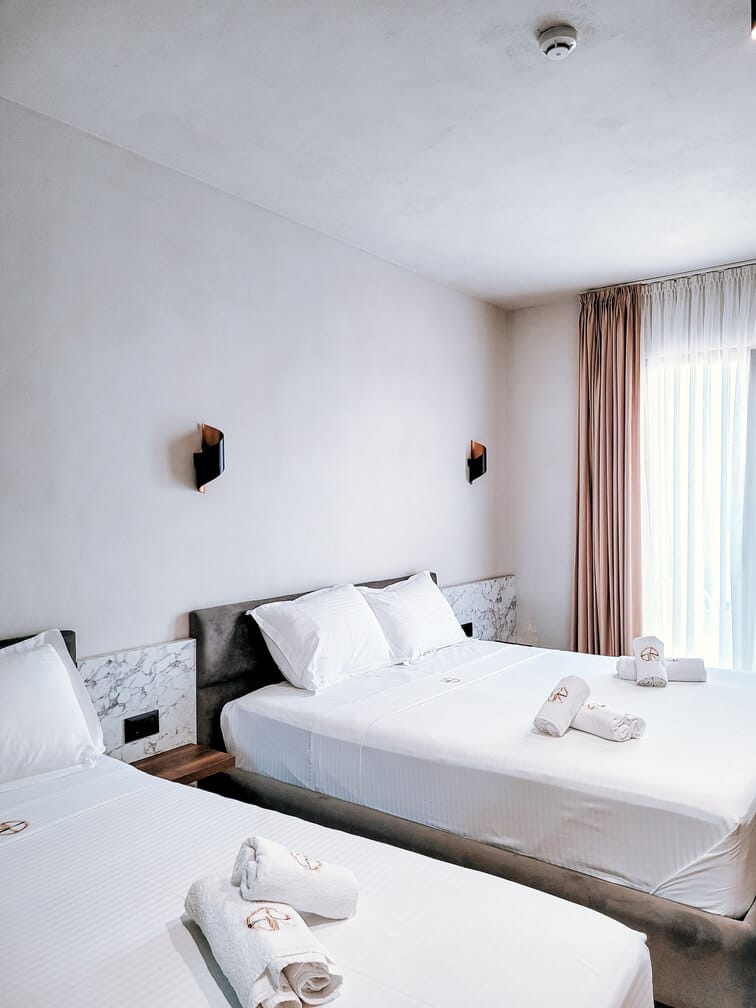 The outside terrace offers us a superb sunset and the flowery stairs are also very lovely. It's a very welcoming space, no doubt about it 🥰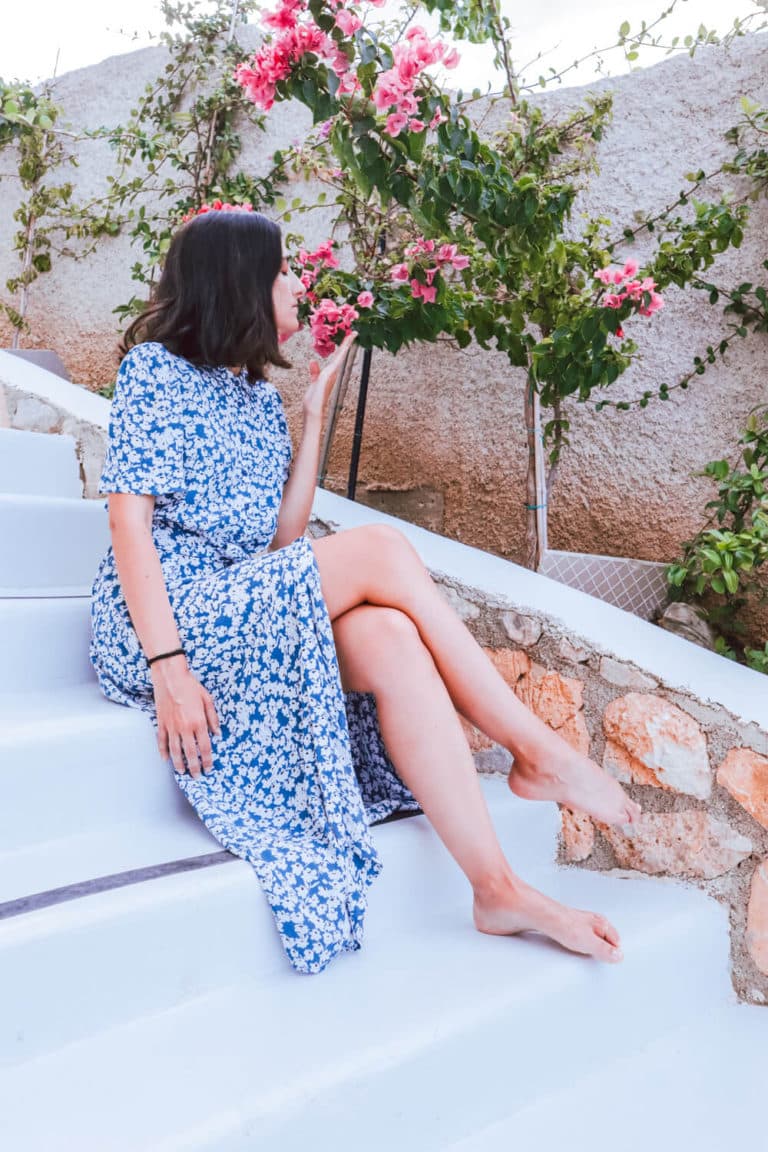 In addition, the hotel also has a breakfast service every day that is served on the outdoor terrace.
What to visit in Albania – Day 9: Dhërmi – Llogara Pass – Apollonia – Tirana (217 km; 3h30)
The last day of this itinerary is more about driving than visiting places, unfortunately. In fact, I had my return flight in Tirana at 7 pm this day. However, if this is not your case, it is still possible to add some places to the list.
» Llogara Pass
This is a road that is integrated into the Llogara National Park and winds its way through the Ceraunian Mountains along the Albanian Riviera. Unfortunately, I was unlucky and it was very overcast along the way, but this road seems to have incredible views.
💡 EXTRA TIP: If this is not yet the day of your return flight, it is possible to fit in a visit to the town of Vlorë.
» Apollonia
And our last point of interest to visit in Albania was Apollonia. It is an Ancient Greek trading colony and also an important city during the Roman Empire.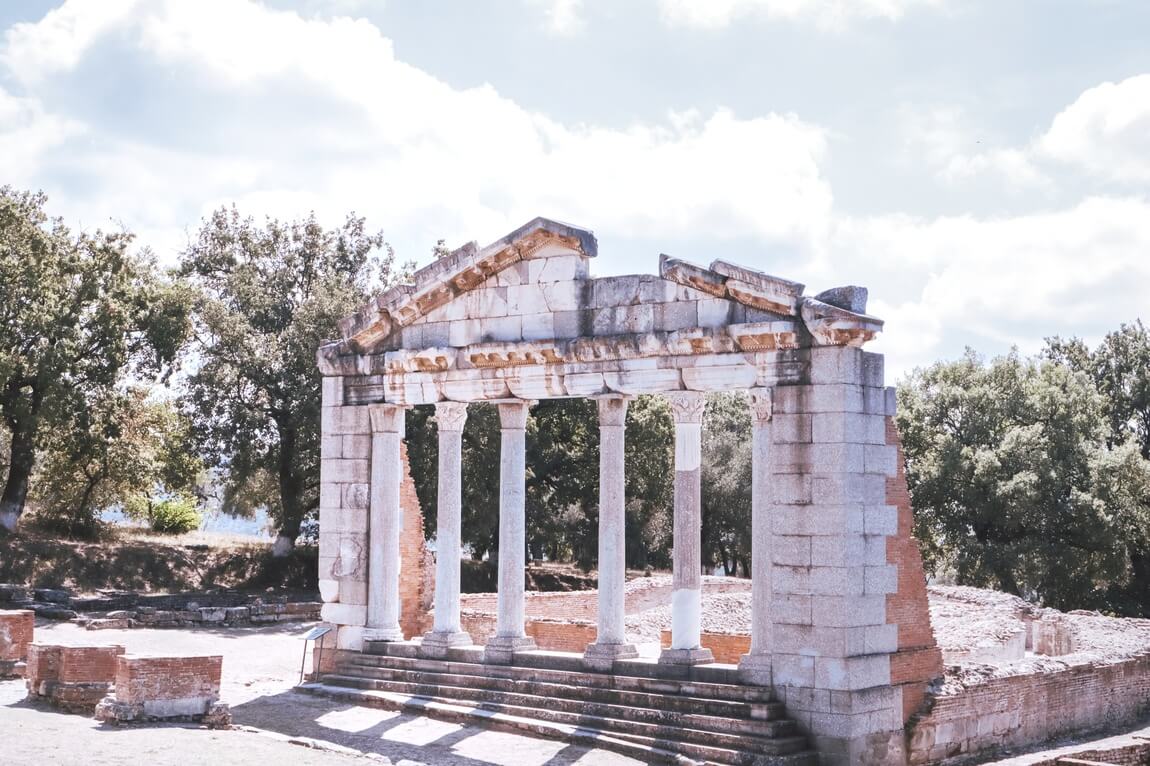 It is also a UNESCO World Heritage Site and on the premises, you can visit some ruins of the city, such as:
Amphitheatre
Acropolis
Agora
City Wall
Archaeological Museum
St. Mary's Church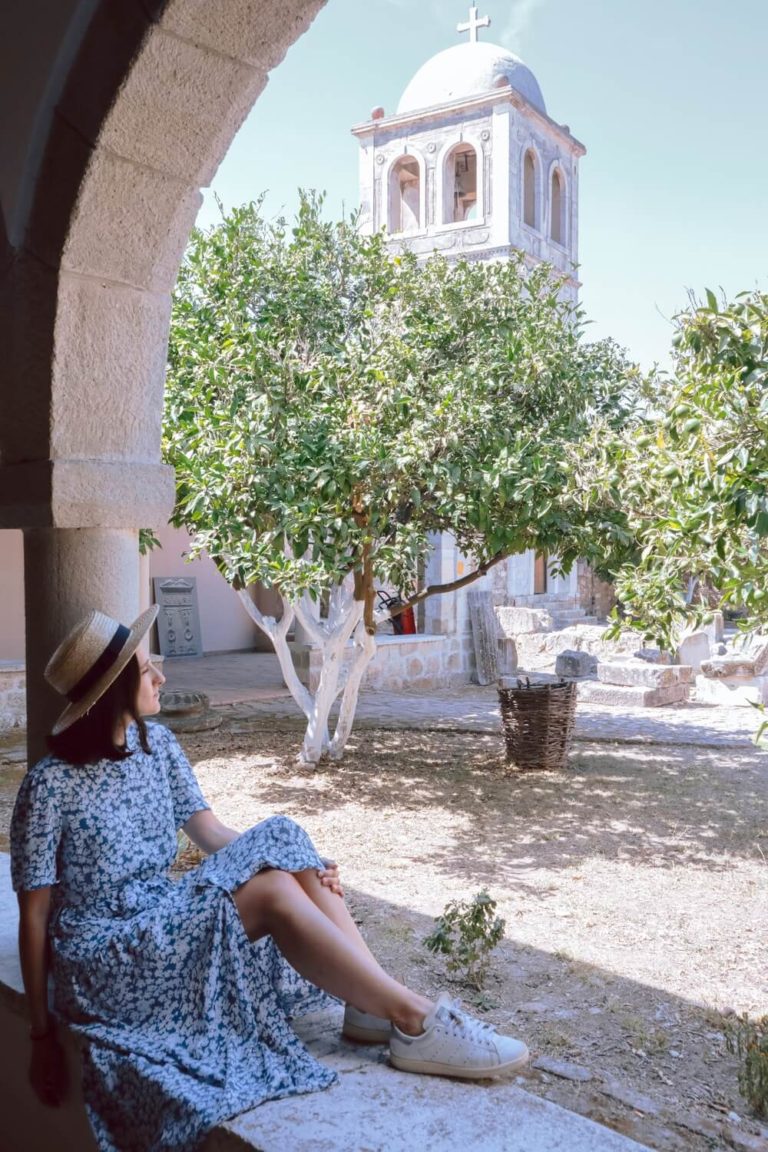 📝 USEFUL INFORMATION: Admission costs 600 LEK (~5.15€) and opening hours are from 9 am to 6 pm from May to October 15. From October until April, it is open until 4 pm. As for parking, although there is a car park here, but there is another one closer to the entrance here.
Restaurants in Albania (by region)
[Tirana] Era Blloku (€): Tasty traditional Albanian dishes at very affordable prices.
[Tirana] Tartuf Shop (€€): specialising in truffle dishes. Absolutely delicious and with affordable prices.
[Durrës] Spaghetteria Luli (€): Very affordable prices and the speciality is pasta. Very simple space, but everything was great.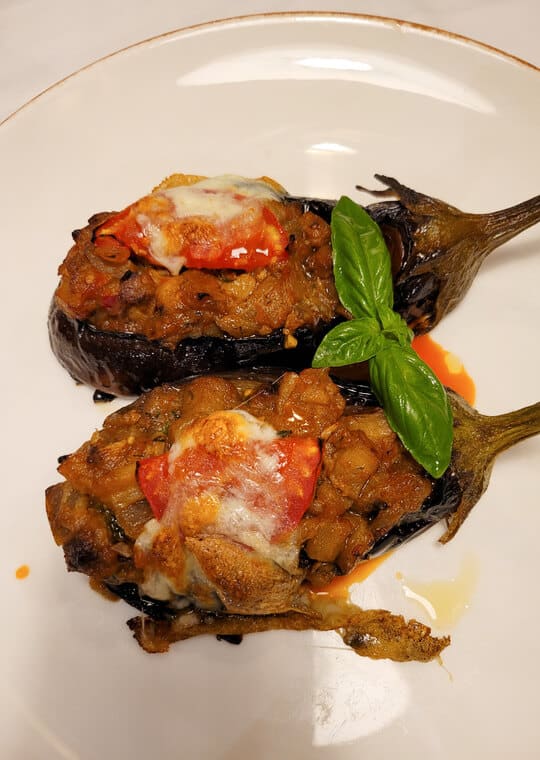 [Shkodër] Tradita Geg & Tosk (€€): Very pleasant outdoor space. Typical restaurant with very friendly service and live music.
[Berat] Tradita e Beratit (€€): Lovely outdoor space and tasting menu of typical regional products. Everything was perfect.
[Gjirokastër] Check-in (€): Amazing traditional Albanian dishes. I tried the qifqi and chicken pie which were great.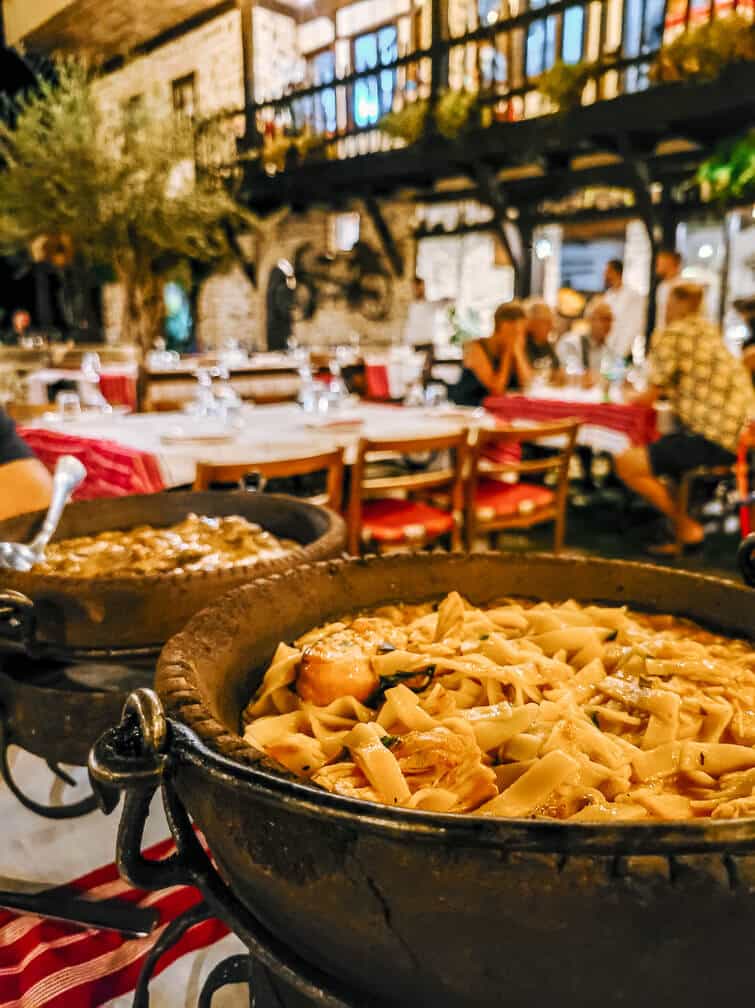 [Sarandë] Oda e Babes (€€): a true gastronomic experience. Every meal has to be started with a plate of 14 typical starters and then there is the menu of the day. Friendly service and tasty food.
[Sarandë] Fish Restaurant Black Marlin (€€): We tried the prawn risotto with truffle and another prawn risotto with courgette and they were both very tasty. The space is modern and the prices are affordable.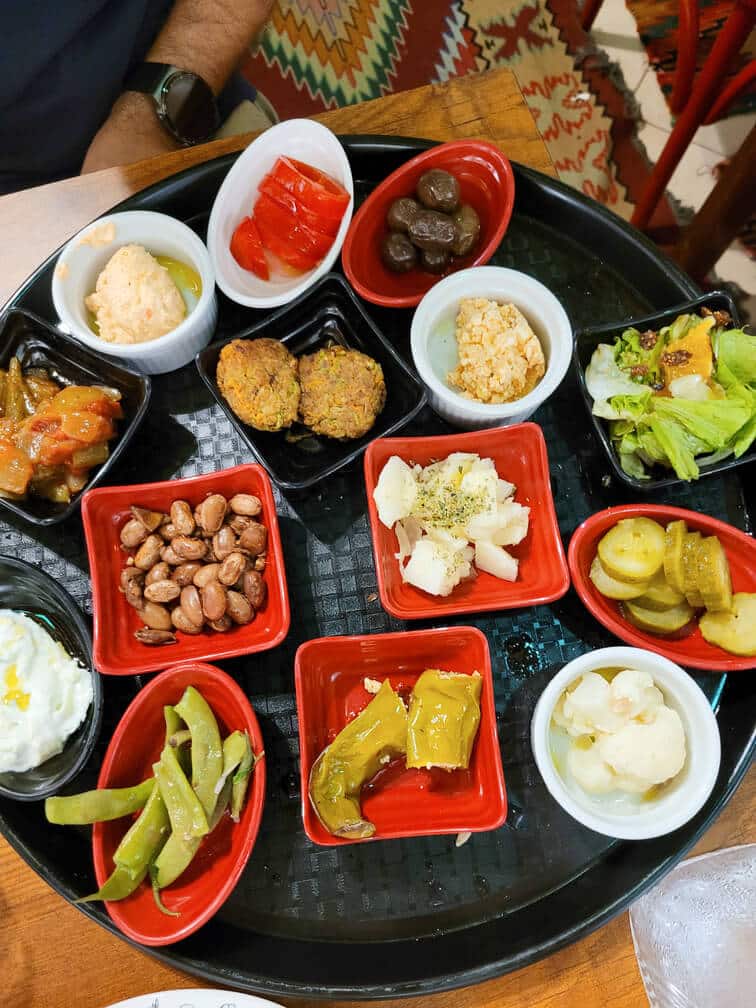 [Himarë] To Steki Sti Gonia (€): typical Greek restaurant right by the beach and everything was great.
[Dhërmi] Luciano (€€€): despite being the most expensive meal in Albania and the space being a bit of a party space, the food was quite tasty. We tried the risotto.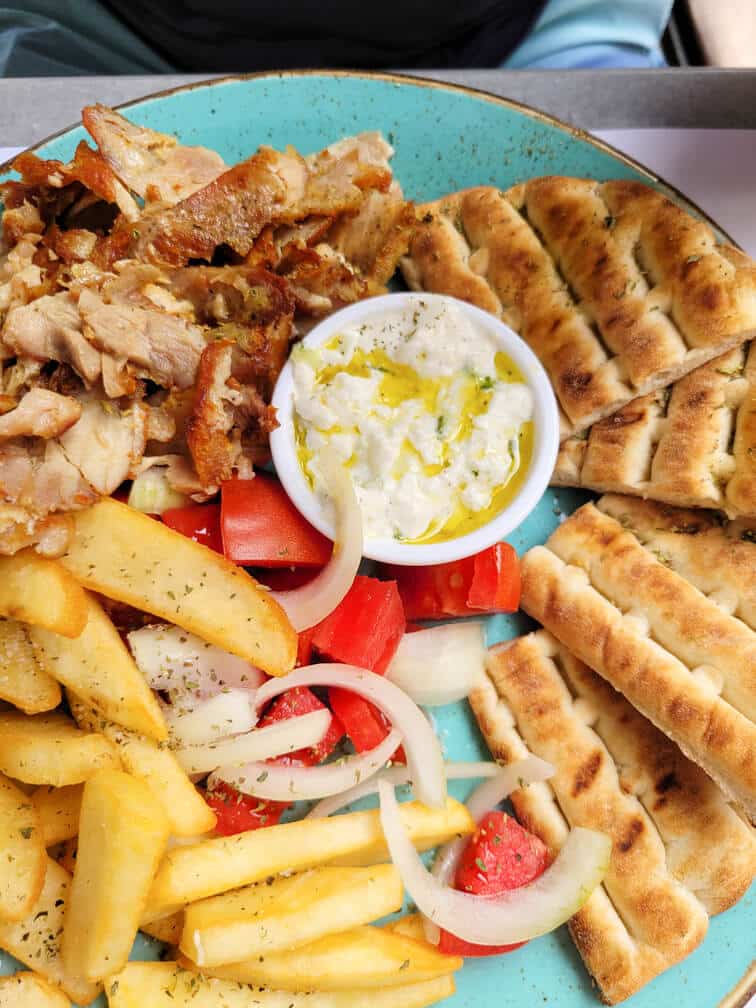 Must-try typical dishes in Albania
I confess that I went to Albania with great expectations about Albanian gastronomy after everything I had heard and read. And, quite honestly, it didn't disappoint. Albanian food is, indeed, excellent! And these are some dishes you should try on your next visit to Albania:
Byrek – a kind of puff pastry that can have various fillings (the most common being spinach and ricotta).
Qofte – a kind of meatball, but with a slight mint flavour.
Imam Bajaldi – Aubergine stuffed with vegetables, although it can be stuffed with other ingredients. Very good 😉
Sarme – cabbage stuffed with meat and rice. One of my favourite Albanian dishes!
Qifqi – traditional of Gjirokastër and consists of small balls made of rice.
Tave Mishi – a plate of various grilled meats.
Tava e Kosit – a dish that goes in the oven with lamb, eggs and yoghurt.
Petulla – a kind of "pancake". Served often at breakfast.
Baklava – a Turkish dessert, but also very popular in Albania. It is quite sweet.
Raki – alcoholic drink typical of Albania.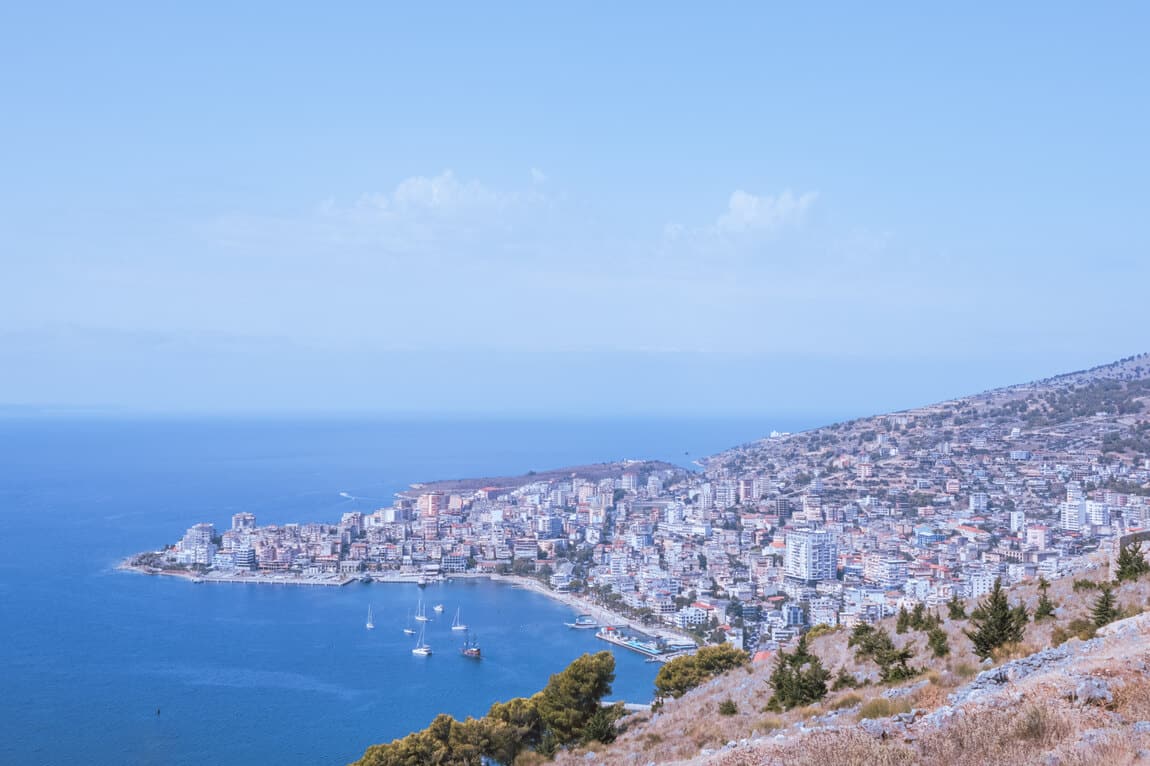 Alternative version of the itinerary to visit Albania in 7 days
As promised, here you can also find an alternative version of this itinerary if you only have 7 days to visit Albania:
Day 1: Tirana
Day 2: Tirana – Durrës – Krujë – Komani Lake
Day 3: Komani Lake – Shkodër
Day 4: Shkodër – Berat
Day 5: Berat – Gjirokastër – Blue Eye – Sarandë 
Day 6: Sarandë – Butrint – Ksamil – Sarandë 
Day 7: Sarandë – Tirana
Disclaimer: this post may contain some affiliate links, which means I get a small commission if you buy something through my links. This doesn't represent any additional cost to you and you'll be supporting my work here on the blog😊