Although Tirana was far from being the main reason why I really wanted to visit Albania, the truth is that the city surprised me a lot 😊 My visit to Tirana was a mix of feelings: a brief introduction to the so many peculiar features of this country and, at the same time, seeing a city that is moving towards development and modernisation after so many years of Communism.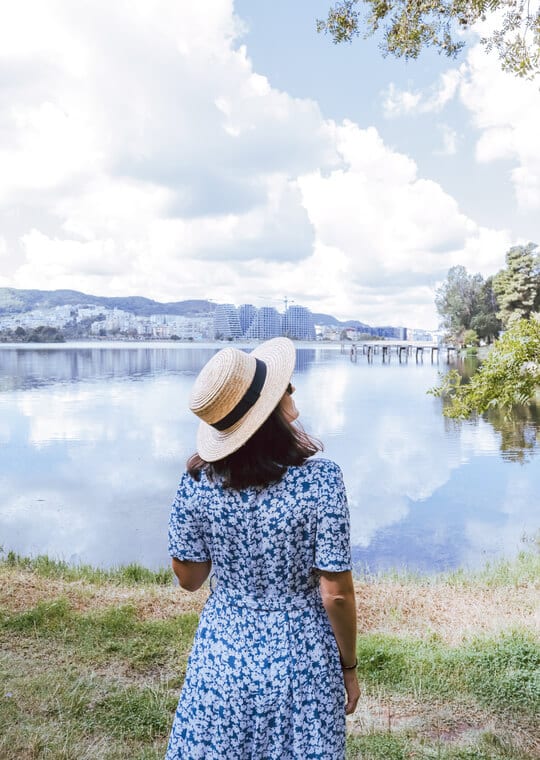 Tirana is a relatively small city, but still with some very interesting spots to visit! Continue reading to get surprised by the list of places you can visit in Tirana.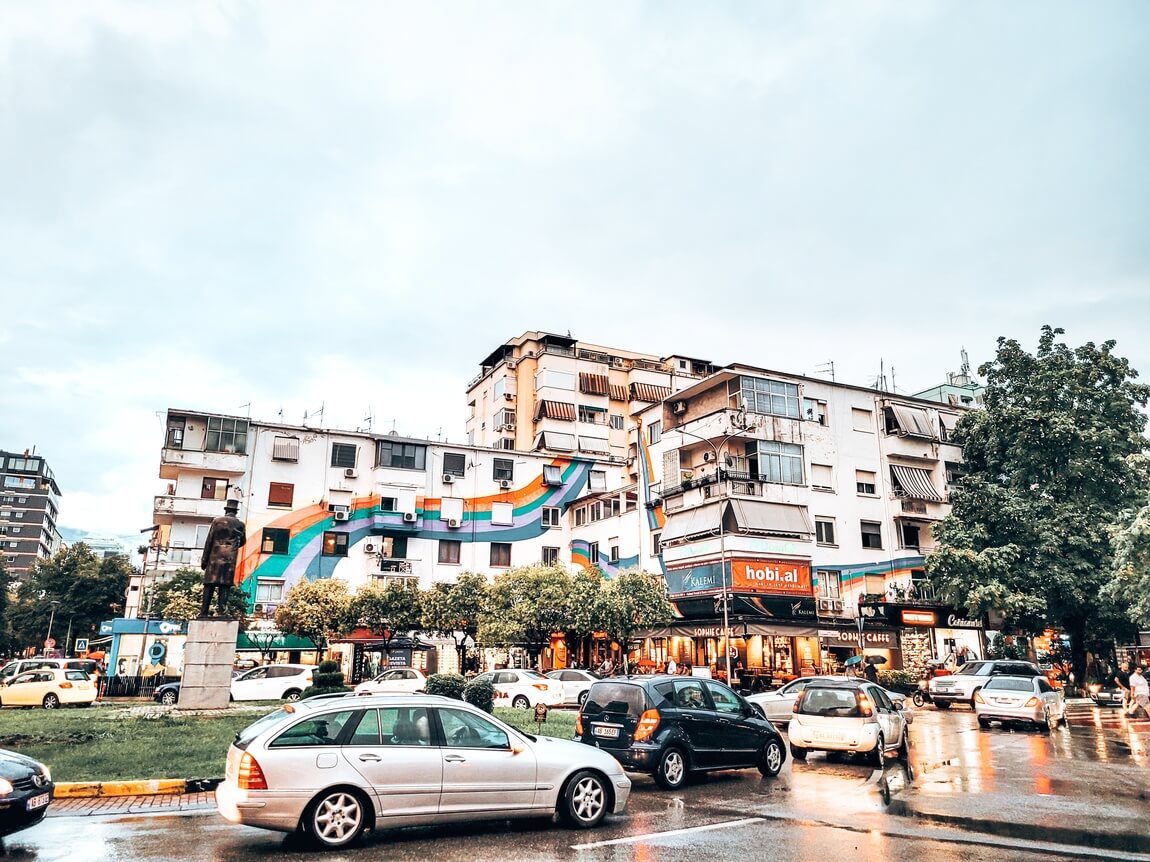 What is the best time of year to visit Tirana?
Tirana is quite cool in winter (December to March), with temperatures reaching almost 0ºC. On the other hand, summers are generally quite hot. At this time of year, thermometers average around 22ºC – 25ºC, but the air is quite stuffy.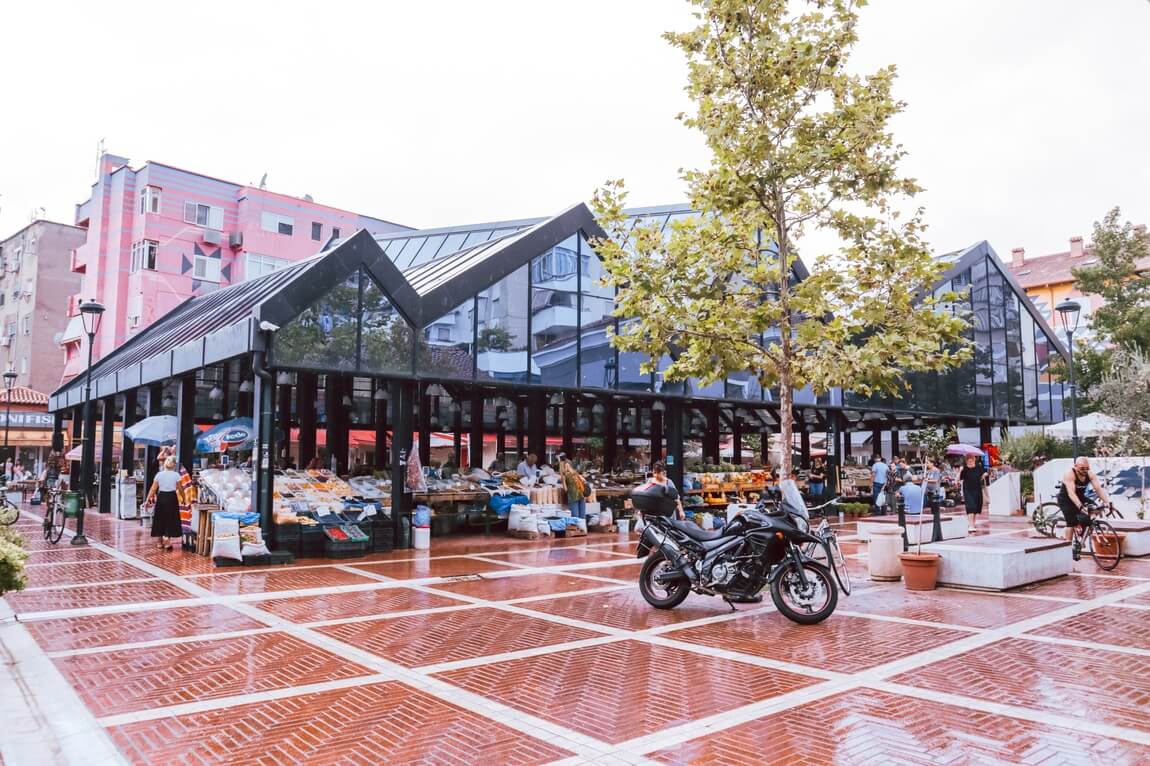 Not being a city with extreme temperatures, in fact, it is always a good idea to visit Tirana. Mass tourism has not (yet!!!) arrived in Tirana and Albania, so even if you choose to visit in summer you will not find endless queues everywhere or over-inflated prices.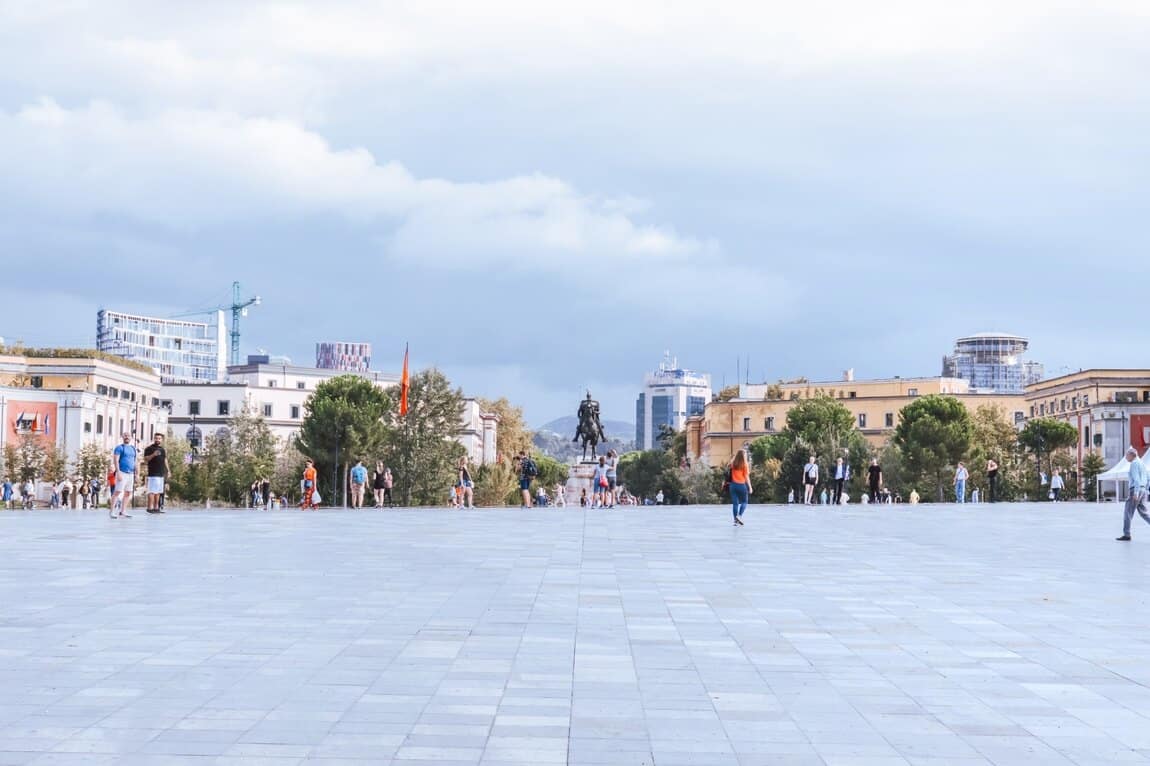 However, if I had to suggest a few months to visit this capital city, I would perhaps choose May, June and September to ensure milder temperatures.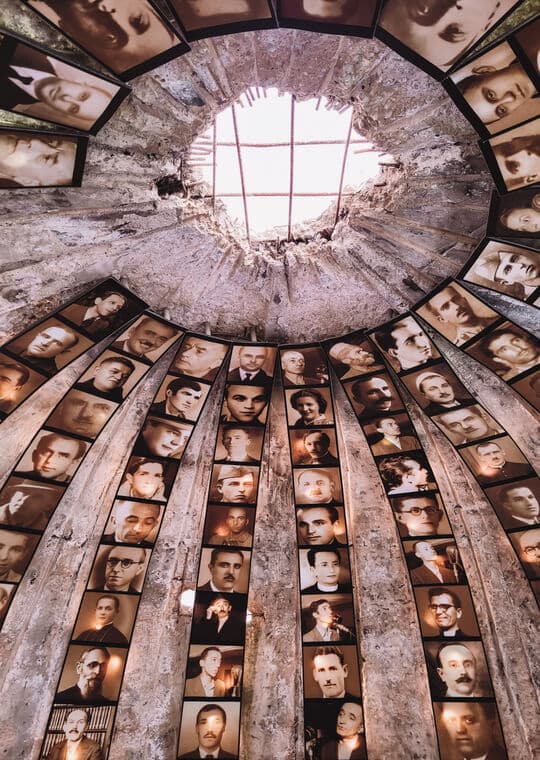 How many days do you need to visit Tirana?
The city of Tirana is relatively small and so 1 day is enough to get a good idea of the Albanian capital 😉 However, the city is getting more and more interesting from a cultural and social point of view so you can add another day or two if you really want to fully enjoy Tirana's vibe.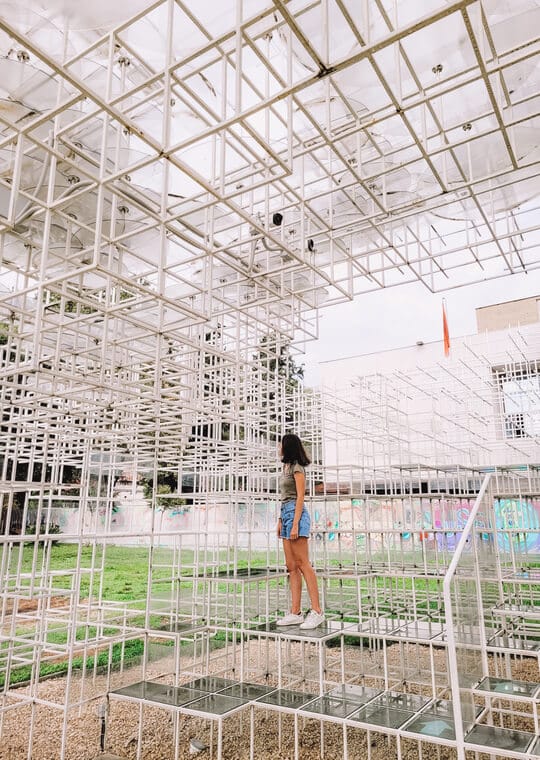 I walked around the whole city and it was pretty doable 😉 Distances are relatively short as the main points of interest are very close to each other.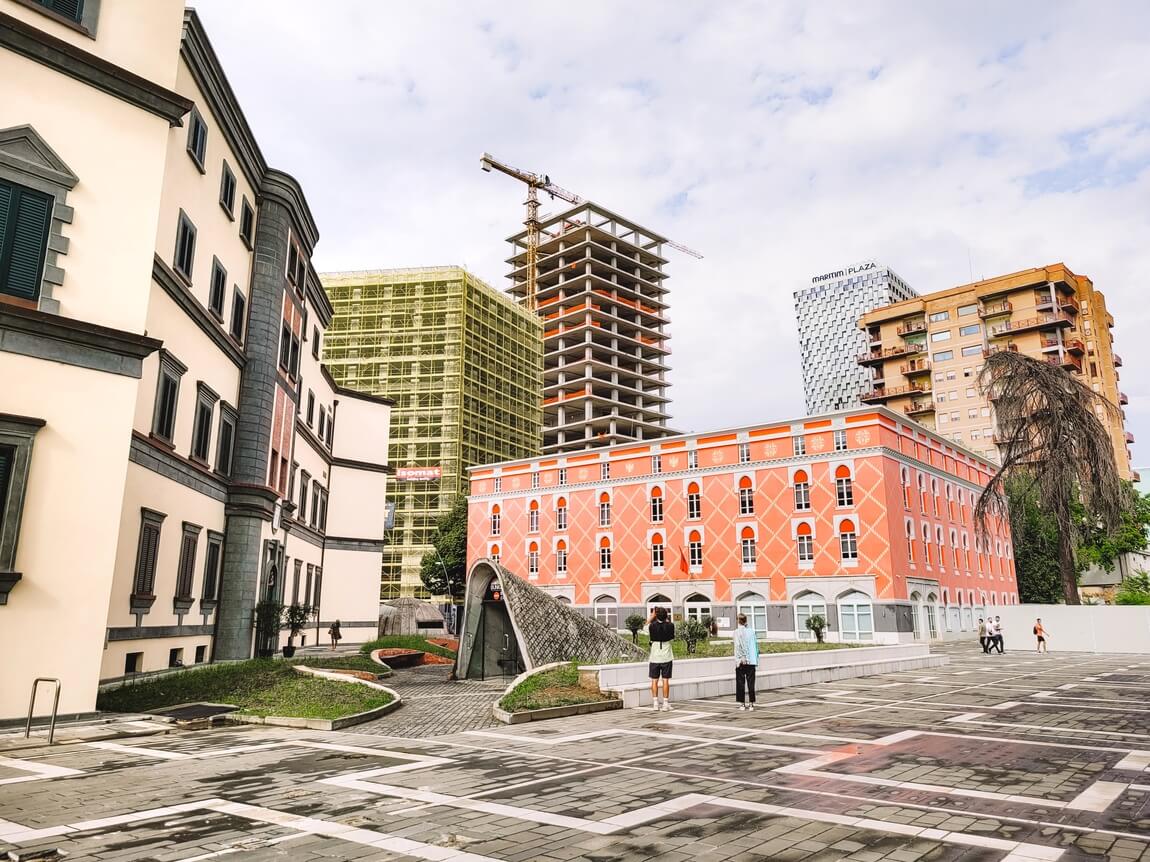 How to get to Tirana?
As of today (September 2022), Tirana receives direct flights from some European countries, such as:
Italy (Milan, Bari, Verona, Venice, Rome, Pisa)
Germany (Memmingen, Berlin, Munich)
Switzerland (Geneva, Zurich)
Spain (Barcelona, Madrid)
Belgium (Brussels)
France (Lyon, Nice, Paris)
United Kingdom (London)
Netherlands (Eindhoven)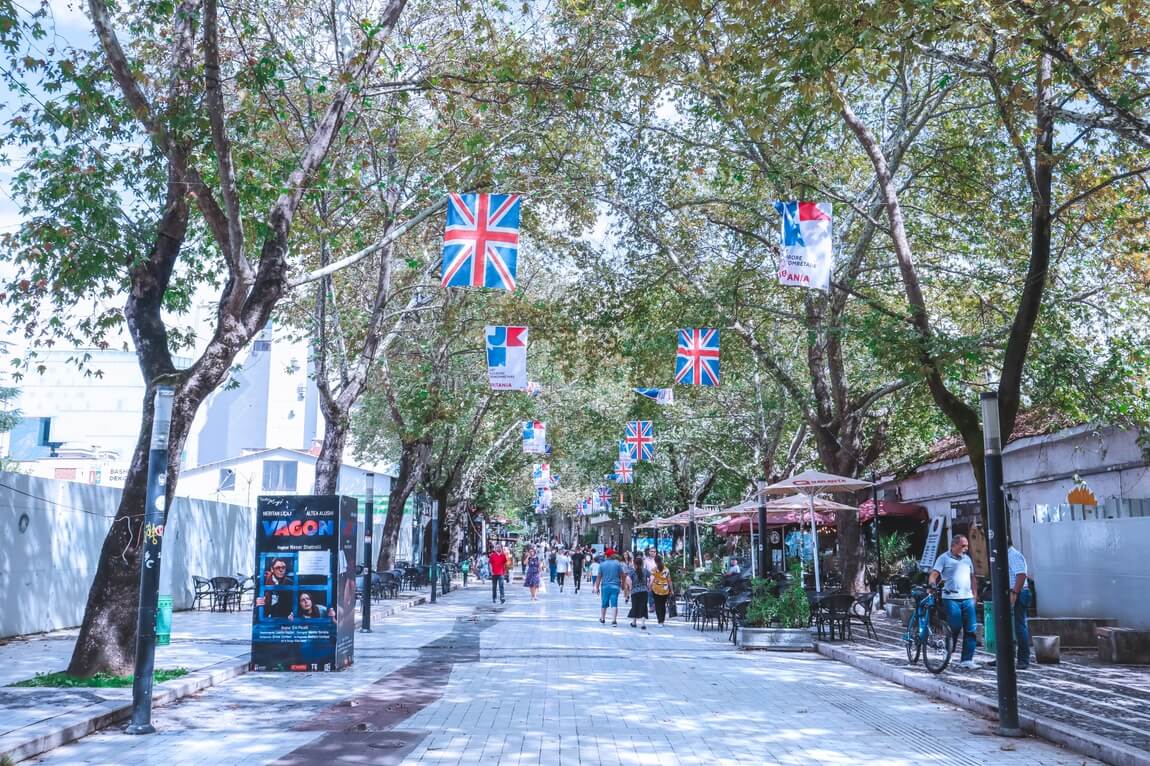 How to get from Tirana airport to the city centre?
Tirana airport is located about 18km from the centre of Tirana. If you have not rented a car, there are a few options to reach the city centre:
Option 1: Rina Express bus (by LUNA Travel) which departs every hour from 6 am to midnight. The bus stops at the main square of the city (Skanderbeg square) and the journey takes about 30min. You can check the most up-to-date information here.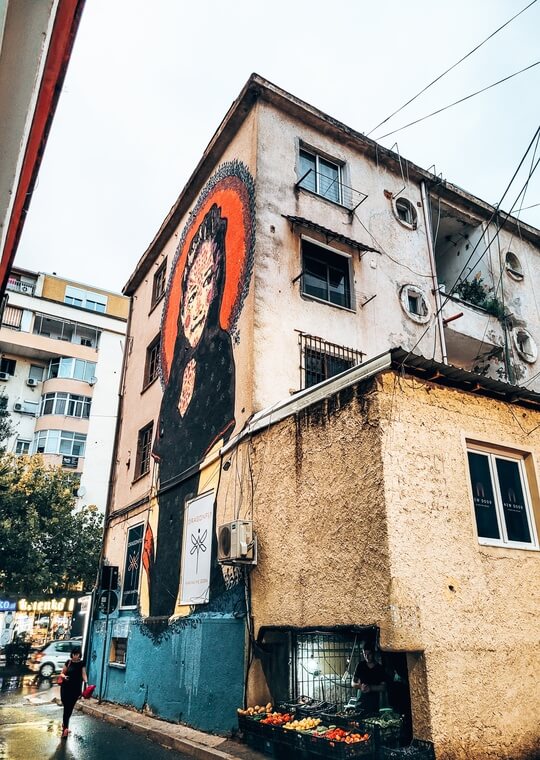 Option 2: taxi, several are available at the airport entrance/exit. The journey takes about 20-25 min too, but has the advantage of stopping wherever you want. The fare is about 2500 LEK (~21€). I recommend that before you get in the taxi, you agree on a fare with the driver.
Option 3: "Uber". Although Uber is not available in the country, there are some similar alternatives – Speed Taxi, UPs Taxi. You can install these Apps and call the driver directly there. However, unlike Uber, you will have to pay cash at the end.
📝 USEFUL INFORMATION: When I arrived at Tirana airport it was already late and I opted to use the UPs Taxi App. Both this app and Speed Taxi don't work as well as Uber, but they do work. We paid 20€ from the airport to our accommodation. Honestly, the only advantage over the traditional taxi was that we could guarantee that this would be the fare we would pay.
💡 EXTRA TIP: If you have any doubts as to whether the price you are being asked for a trip is fair, you can simulate the price of your trip on this site.
How to pay in Albania?
The official currency of Albania is LEK and as of today's (September 2022) this is the exchange rate against the Euro: 1 EUR = 117 LEK. Albanian currency can only be purchased and exchanged in Albania!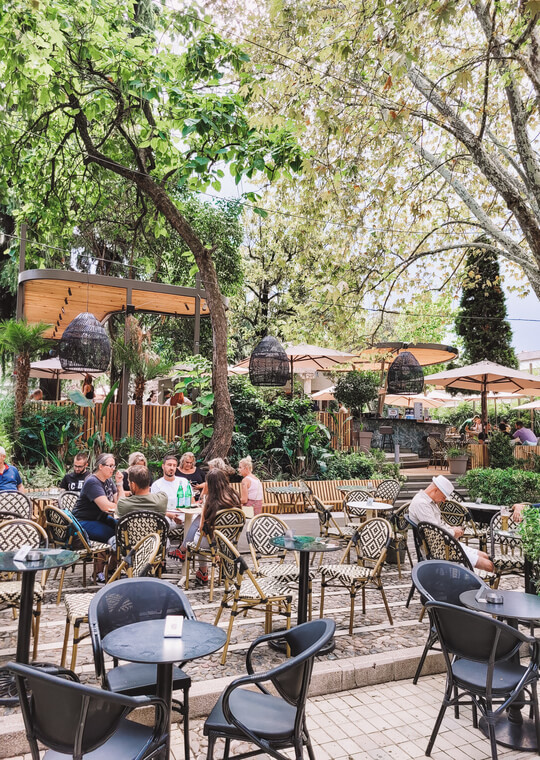 Albania is a country that still operates very much on a cash basis. You will often hear "only cash". So, one of the biggest recommendations is to get cash as soon as you arrive in the country and always carry some cash with you as you never know when you'll be able to use a card 😜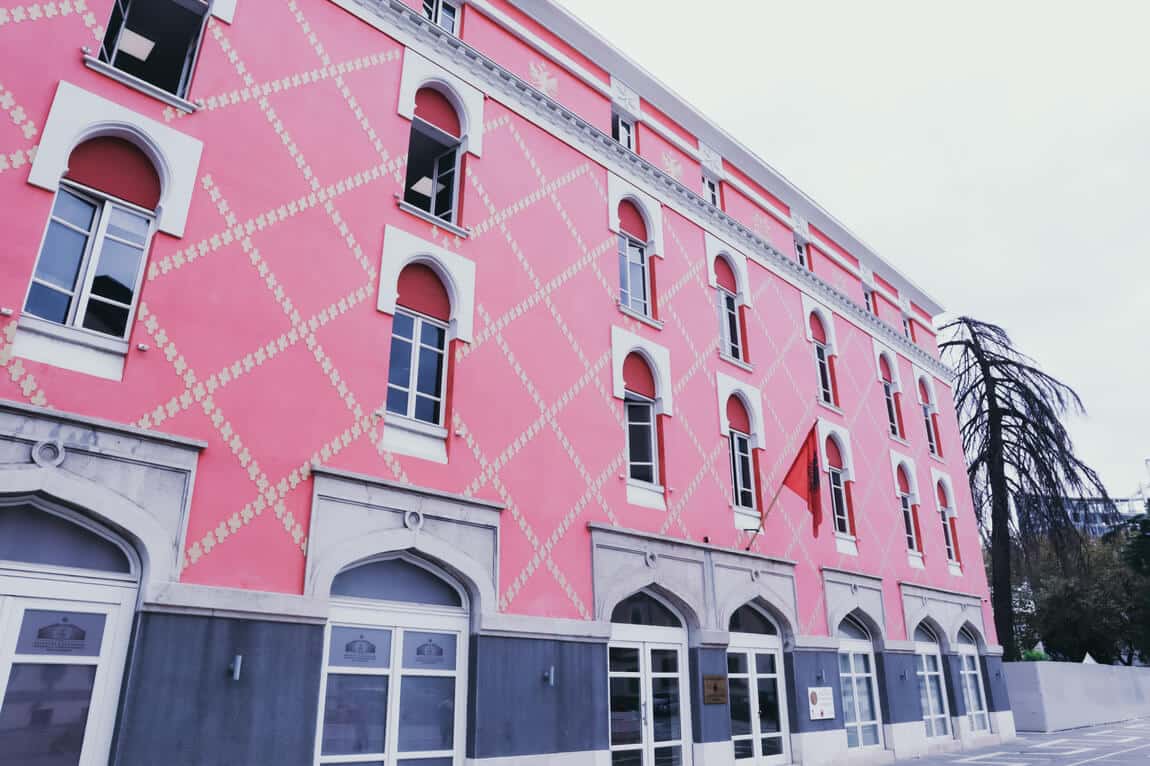 Sometimes restaurants and shops also accept Euros (and other currencies such as Dollars or Pounds), but always check if the exchange rate they suggest is beneficial for you! In my experience, it rarely is.
💼 TRAVEL INSURANCE: If you want to feel safe while travelling, then you should definitely look into purchasing some travel insurance. Having insurance will help you with any health-related emergencies as well as with other events, such as theft, loss or delay of luggage, eventual need to cancel your trip and much more. In my case, I always use IATI Insurances, which has one of the best price-quality ratios in the market and a 100% online service that is very easy to use. Book here your travel insurance and enjoy a 5% discount for being readers of the blog. Don't forget that the purchase must be made using this link.
Where to withdraw money without paying fees?
First of all, I recommend using a Revolut Card, since it will not charge you additional fees for using a different currency (either when you pay with the card or when you withdraw money). You can read more about how the Revolut card works here.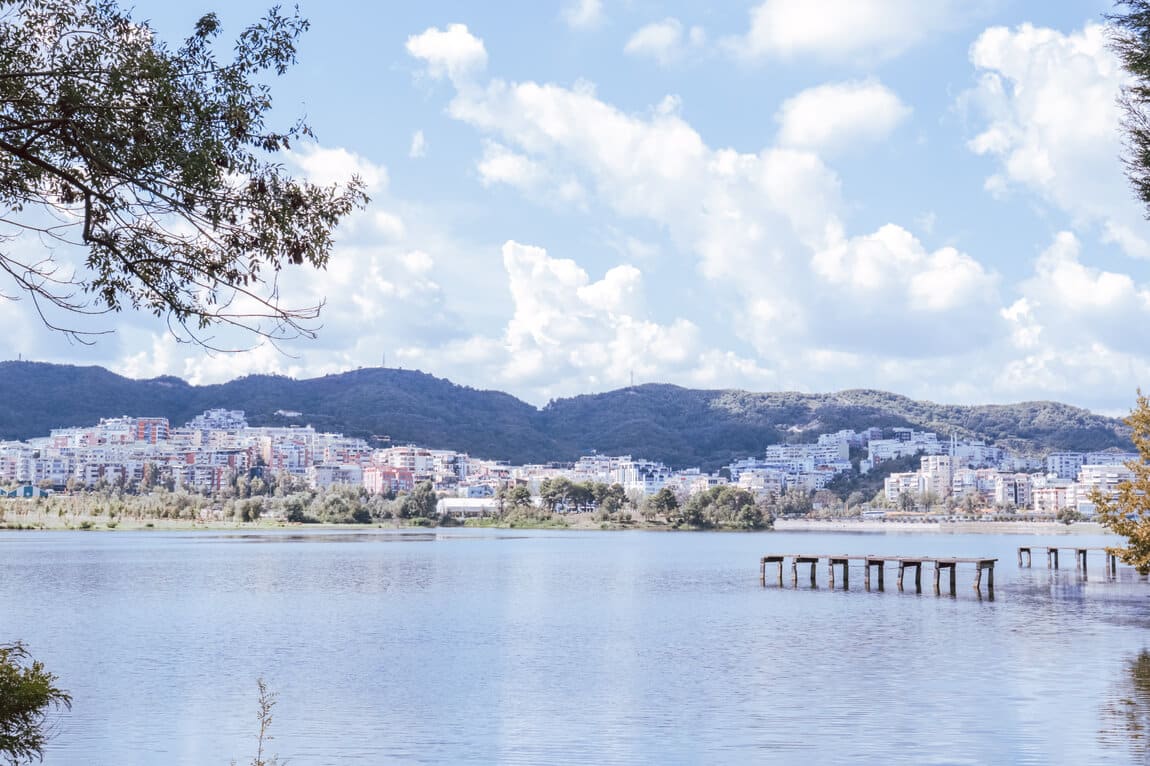 However, although Revolut does not charge additional fees for withdrawing money in another currency, most banks in Albania charge heavy fees for such withdrawals (one of the highest fees I saw was 6.8€). However, I found one bank that does not charge any fee – CredinsBank. Update 2023: I've been told that CredinsBank also started charging fees recently.
💡 EXTRA TIP: Since Albania is a country that works very much based on cash, you should still withdraw a considerable amount because you'll need to use cash a lot. However, if you have subscribed to the most basic Revolut plan, be aware that the withdrawals without extra fees by Revolut have a monthly limit (the months are not fixed) of 200€. In my case, we had 2 Revolut cards and had to exceed the limit in one of the withdrawals.
How to have internet in Albania?
These days, it is almost impossible to go to a country and not be reachable or not have internet. Since Albania isn't part of the EU, everyone  pays for roaming there. So I recommend buying an Albanian data package as soon as you arrive in Albania.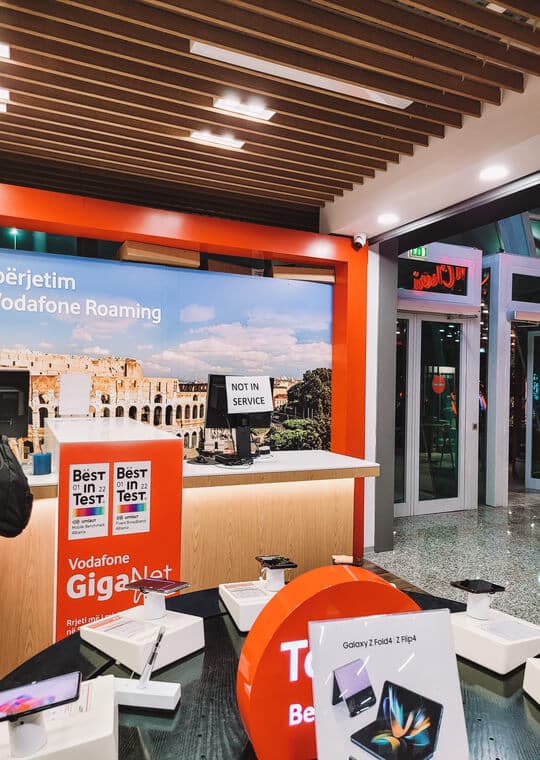 At the airport there are two companies with identical packages: 35GB for 2000 LEK (~€17). The Vodafone or One stands are side by side right next to the airport entrance/exit.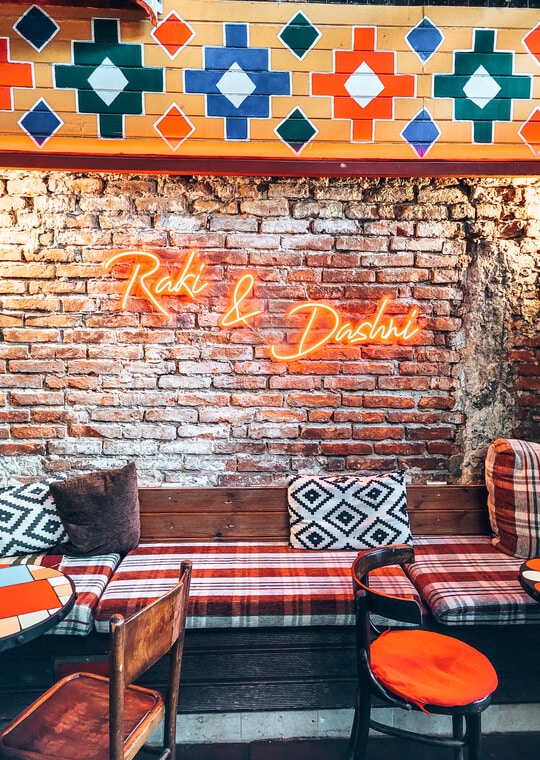 I ended up choosing Vodafone and the coverage across the country was quite satisfactory! As we were 2 people, we bought only one SIM card and made hotspot between the phones. We spent 10 days travelling around the country and we still came back with more than half of the mobile data available 😉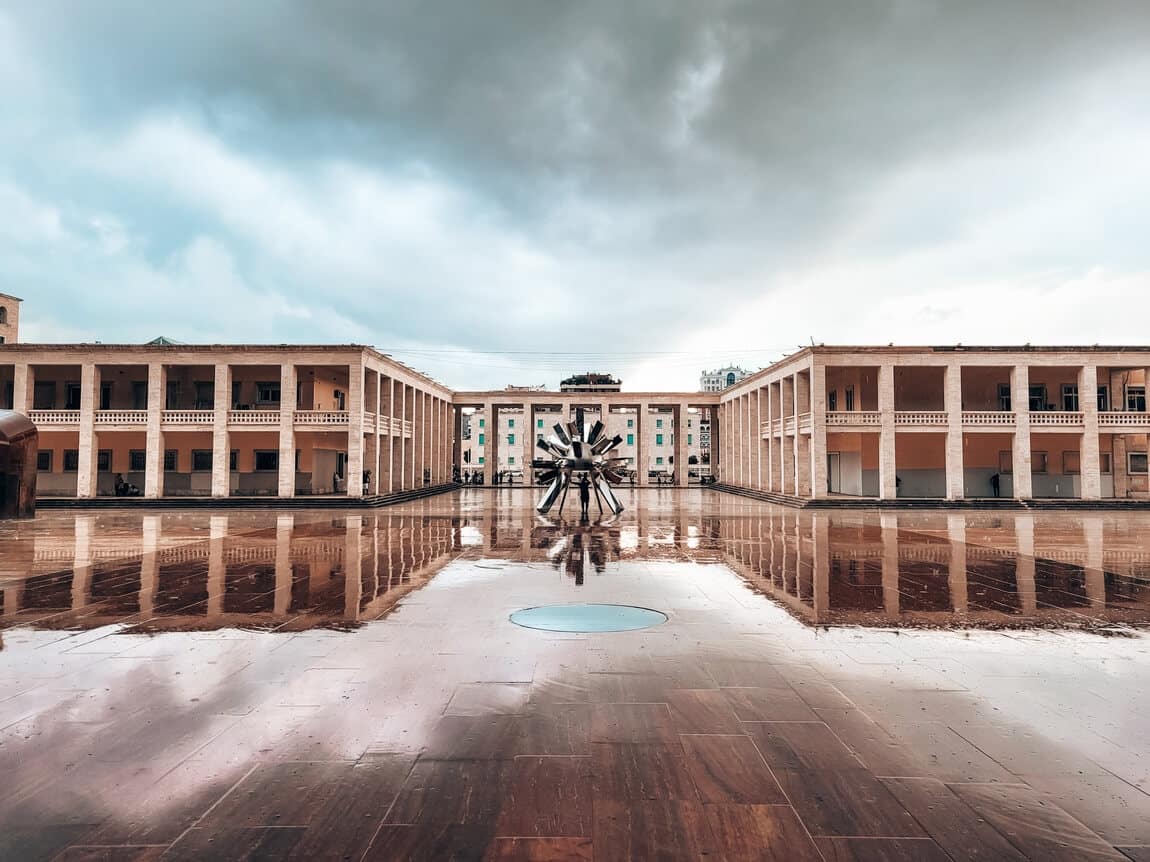 The process of buying the card was also quite simple. It took less than 15 minutes, 10 of which were in the queue waiting. All we had to do was provide some personal details, sign a document, pay and voilà!
Accommodation in Tirana
I stayed in a recently renovated flat relatively close to the city centre – 5-10 minutes walk to the main points of interest. Studio Apartments Villa 24 is a set of flats that are equipped with everything we need for a good stay in Tirana.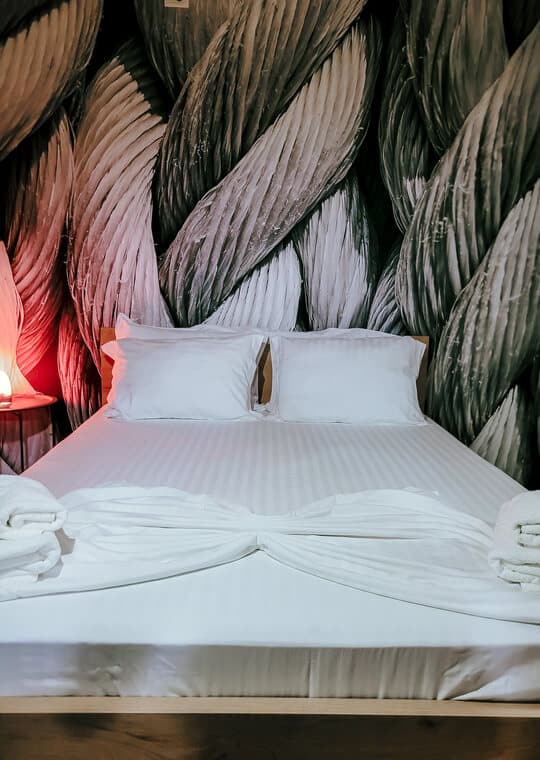 Besides the comfortable bed and modern bathroom, it also had a living room and a small kitchen, in case we wanted to cook some meals. We were very well received at the accommodation with some fruit, some biscuits and water.
What to visit in Tirana?
Before we go through each of the points of interest you can visit in Tirana, I'll share with you the map version of this 1-day itinerary in Tirana:
» Tanner Bridge
We started the list of places to visit in Tirana with a pedestrian bridge from the time of the Ottoman Empire (18th century). It was an important bridge in the commercialisation of the many products that entered the city.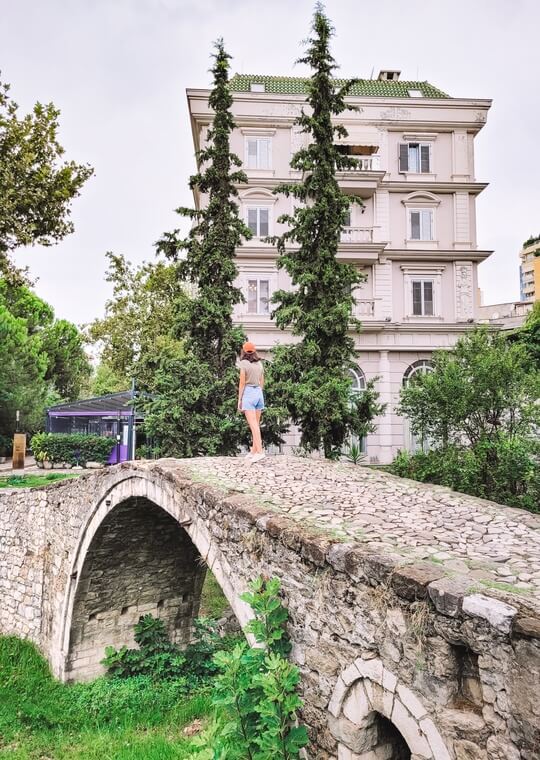 However, the watercourse that used to pass there was diverted and the bridge fell into disuse, serving only as a reminder of former times.
» Namazgah Mosque
Very recently built, do not fail to admire the splendour of this mosque. It is one of the largest mosques in the Balkan countries and was built to address the lack of mosques in Tirana.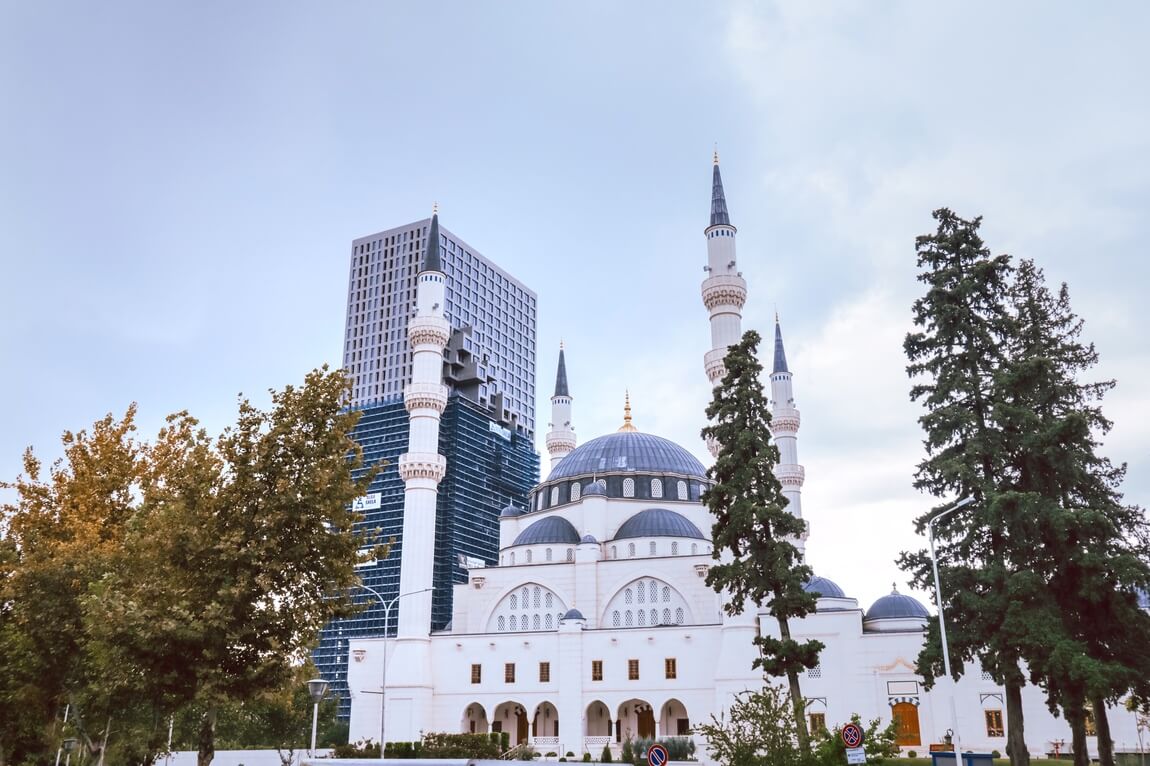 » New Bazaar (Pazari i Ri)
We continue towards a very interesting part of the city. The Pazari i Ri is a space where we can find from restaurants and bars to a market where various types of products are sold. The colourful stalls with the typical Albanian carpets will certainly brighten the day of those who pass by 😊
The original bazaar dates back to the 1930s and was rebuilt in 1959 and now more recently in 2016.
» Skanderbeg Square
One place you can't miss in Tirana is its main square. It is named after one of the country's greatest heroes – Skanderbeg, who helped liberate this region from the control of the Ottoman Empire. Don't be surprised if you see several references to this name throughout the country.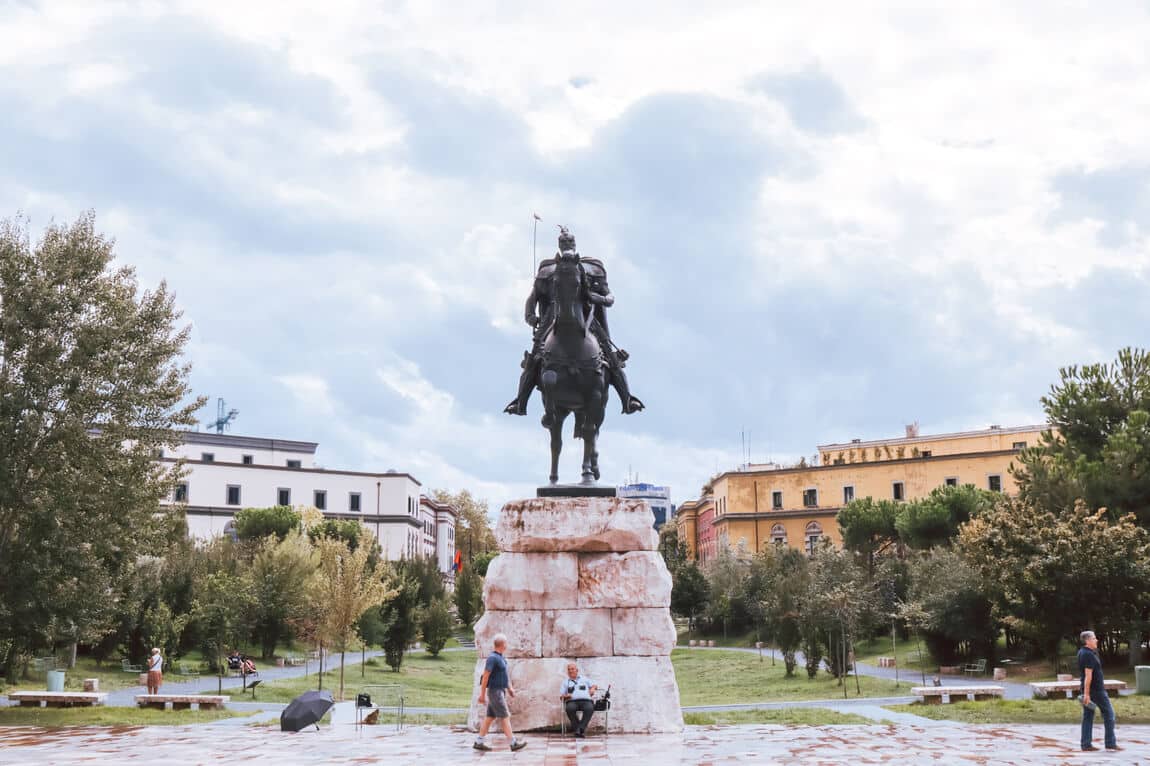 The square is quite large and in its centre we find the statue of Skanderbeg on top of a horse. But this square is also marked by other buildings that exist there such as:
Palace of Culture
National Opera
National History Museum
» National History Museum
Albania is a country with a tough history and a good part of it still very recent. Furthermore, it is a complex history that went from occupations by the Ottoman Empire, invasions during the 2nd World War to a Communist regime until the 90s that made this country almost isolated from the world.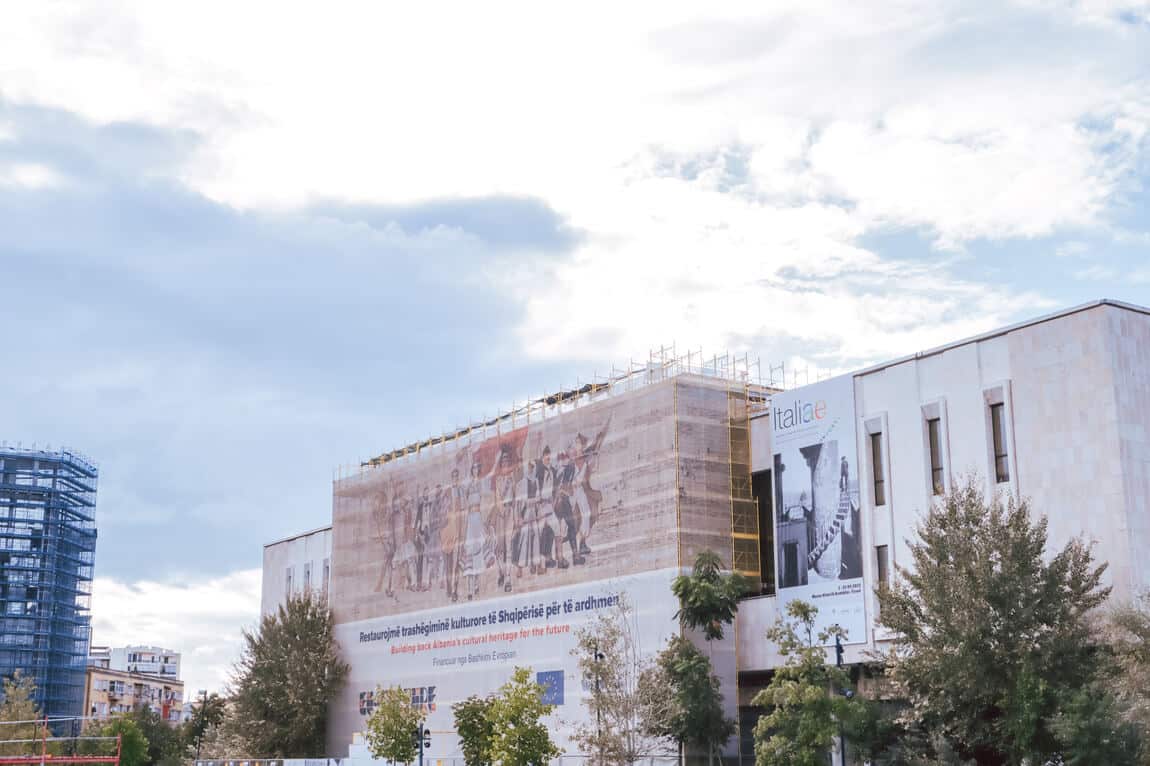 If you want to understand a bit more about the history of this country, the National History Museum might be a good bet. However, I personally did not find the museum extremely interesting. In some parts of the visit there is too much information and in others information is only available in Albanian.
📝 USEFUL INFORMATION: A visit to the museum costs about 500 LEK (~4,3€) and the Museum is open from Tuesday to Sunday.
» Clock Tower and Et'hem Bey Mosque
From Skanderbeg Square we spot two more of the city's important monuments. The first is the Clock Tower, which was once the tallest building in the city. Although I had read that it is possible to visit the inside of the tower and for free, I found the tower closed every time I passed by.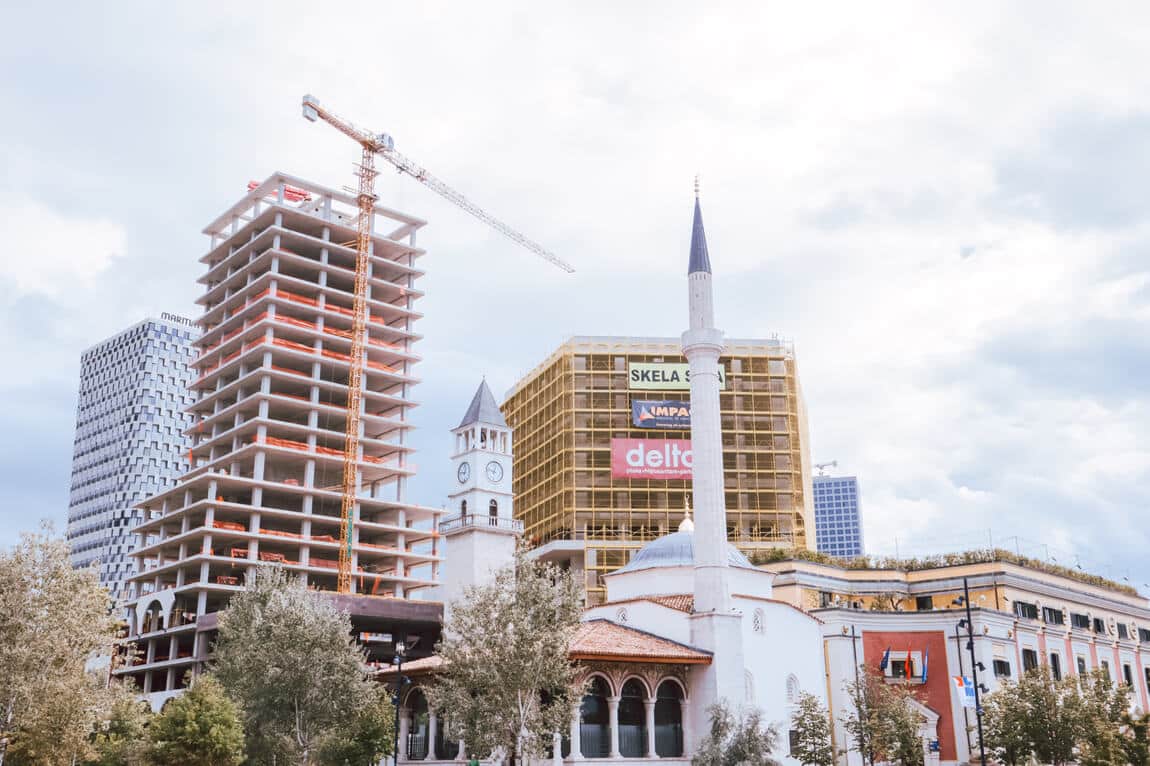 Right next door, we find a very tiny mosque – Et'hem Bey Mosque. The exterior and interior details of the mosque are wonderful 🥰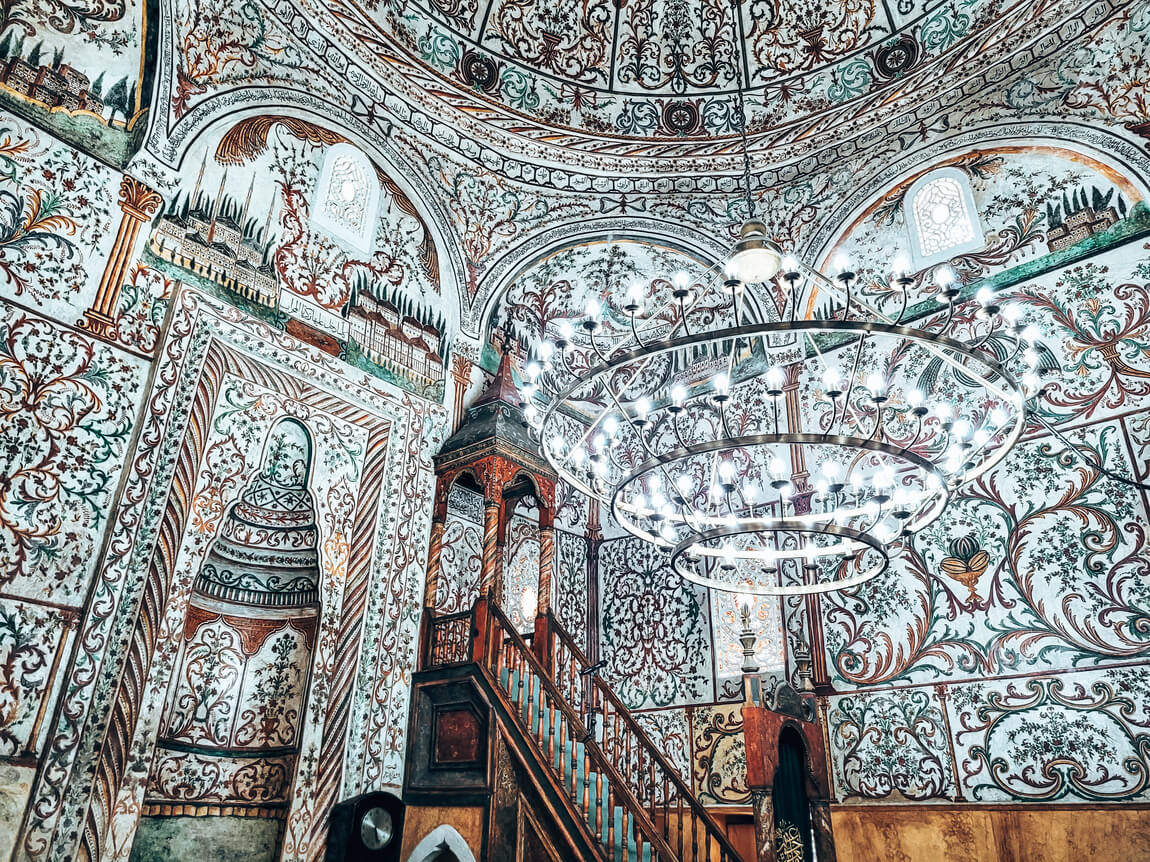 📝 USEFUL INFORMATION: Outside prayer hours, it is possible to visit the mosque free of charge. Men and women may enter together, and it is compulsory to take off your shoes at the entrance. The dress code is quite relaxed. For example, they did not require me to wear a scarf covering my hair. The only thing they asked was to cover my legs and they lent me a kind of cloak they had there (they are already prepared for tourists).
» Bunk'Art 2
One of the most peculiar and strange things about Albania is the astronomical amount of bunkers they have scattered around the country. Their dictator at the time of communist rule lived in fear of a possible nuclear attack (which never happened!) and built THOUSANDS of bunkers. There are estimated to be over 170,000 bunkers in the whole country 😱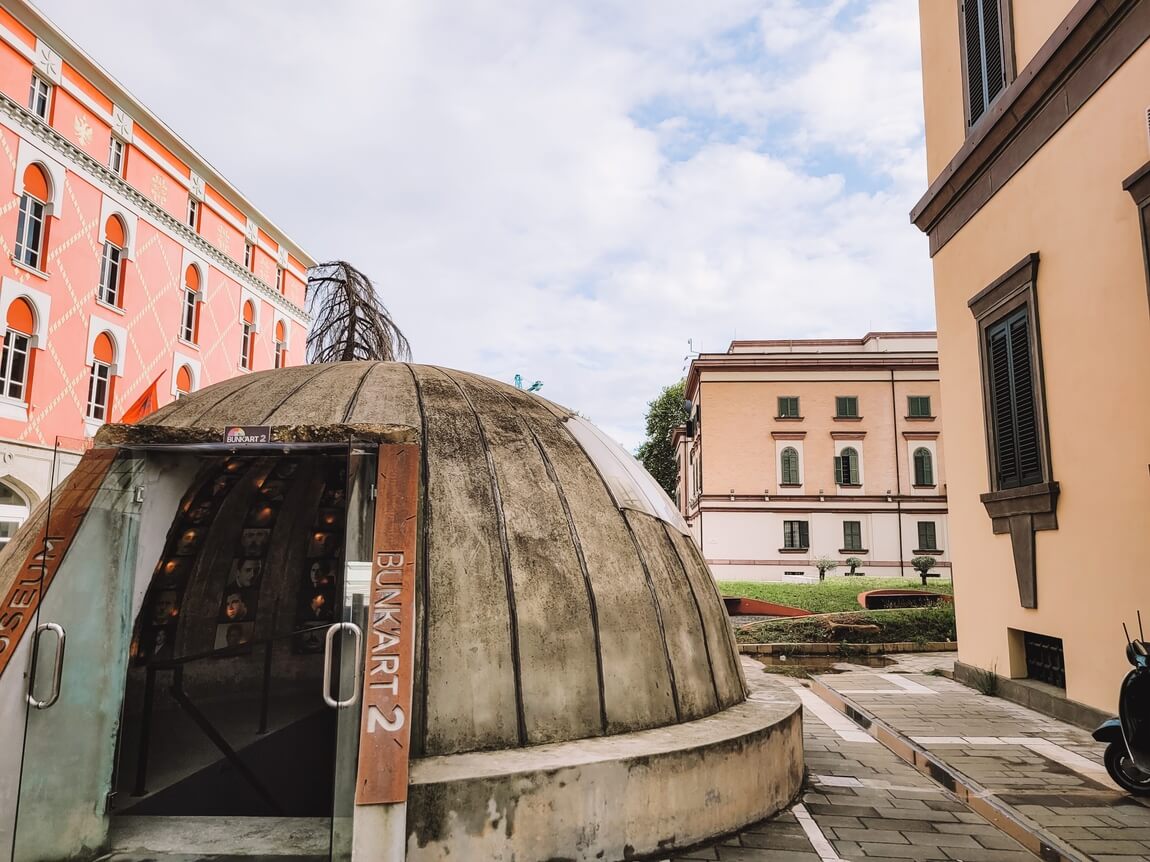 And if you're curious to learn more about two of the most important bunkers in the country, then you must add Bunk'Art 2 to your list of places to visit in Tirana. You can consult several information panels throughout the visit, which takes about 1h-1h30.
Alternatively, you can also visit another bunker (Bunk'Art 1) which is even bigger as it was intended to be occupied by the dictator and his government. However, it is located outside the historic city centre.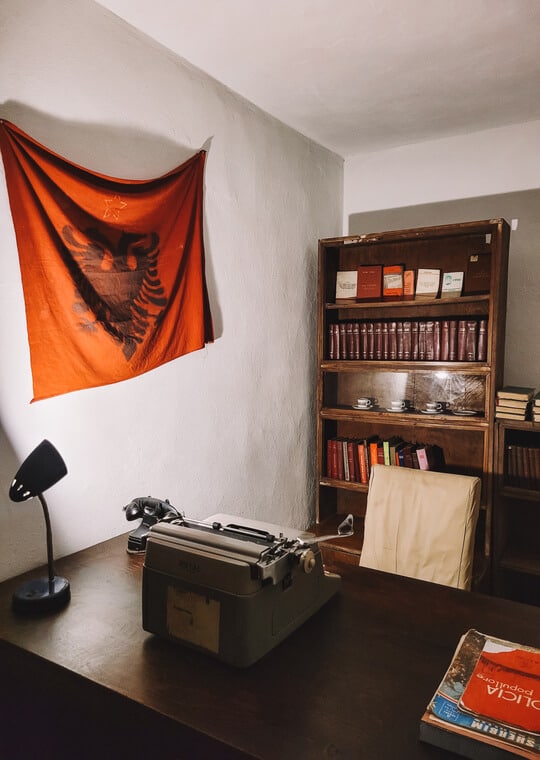 As well as the bunkers themselves being different on the inside, the information panels also explain different themes. Bunk'Art 1 is more focused on explaining the history of building the bunkers and the history of the communist regime at the time. On the other hand, Bunk'Art 2 focuses more on the history of the Albanian secret police of the time who persecuted anyone who did not follow the rules of the regime.
📝 USEFUL INFORMATION: Bunk'Art 2 is open from 9 am to 6 pm and the visit costs 500 LEK (~4.3€).
» Murad Toptani Street and Tirana Castle
Continue towards the city's best known pedestrian street – Murad Toptani Street. The spirit of the whole street is quite friendly, full of bars, cafes and restaurants where locals come together.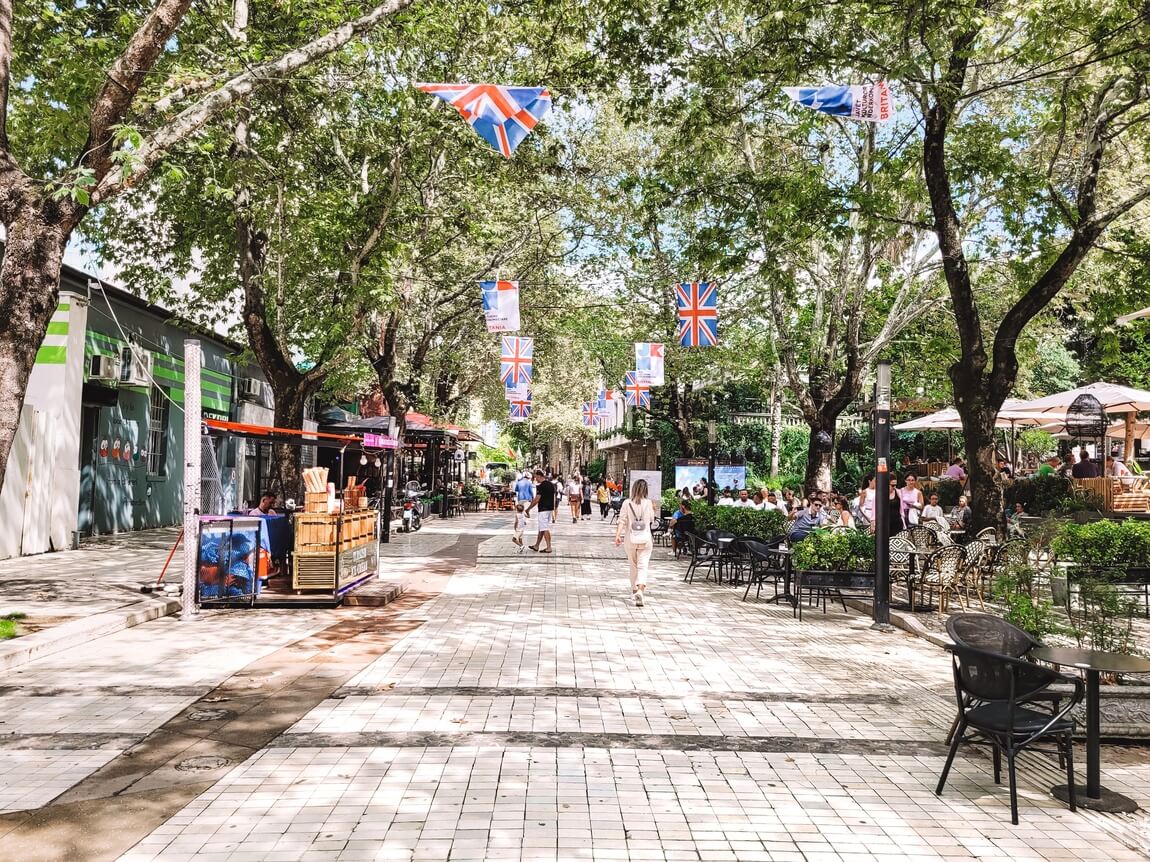 Further on, you will find Tirana castle. Although the castle walls still remain, its interior has been transformed into a kind of open-air market, where in addition to some shops, we find several restaurants and cafes. It is a very interesting place and well worth a visit in Tirana 😊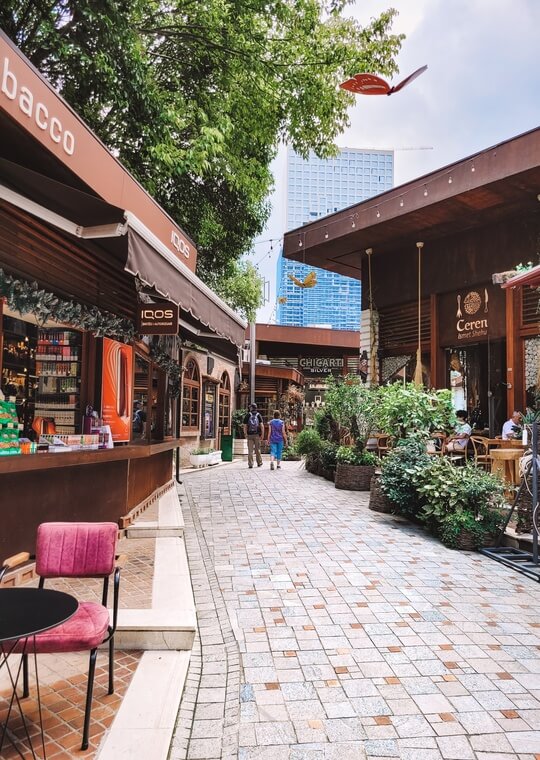 💡 EXTRA TIP: Enjoy while you're there and make a small detour to the "cloud sculpture" – a sui generis sculpture, to say the least.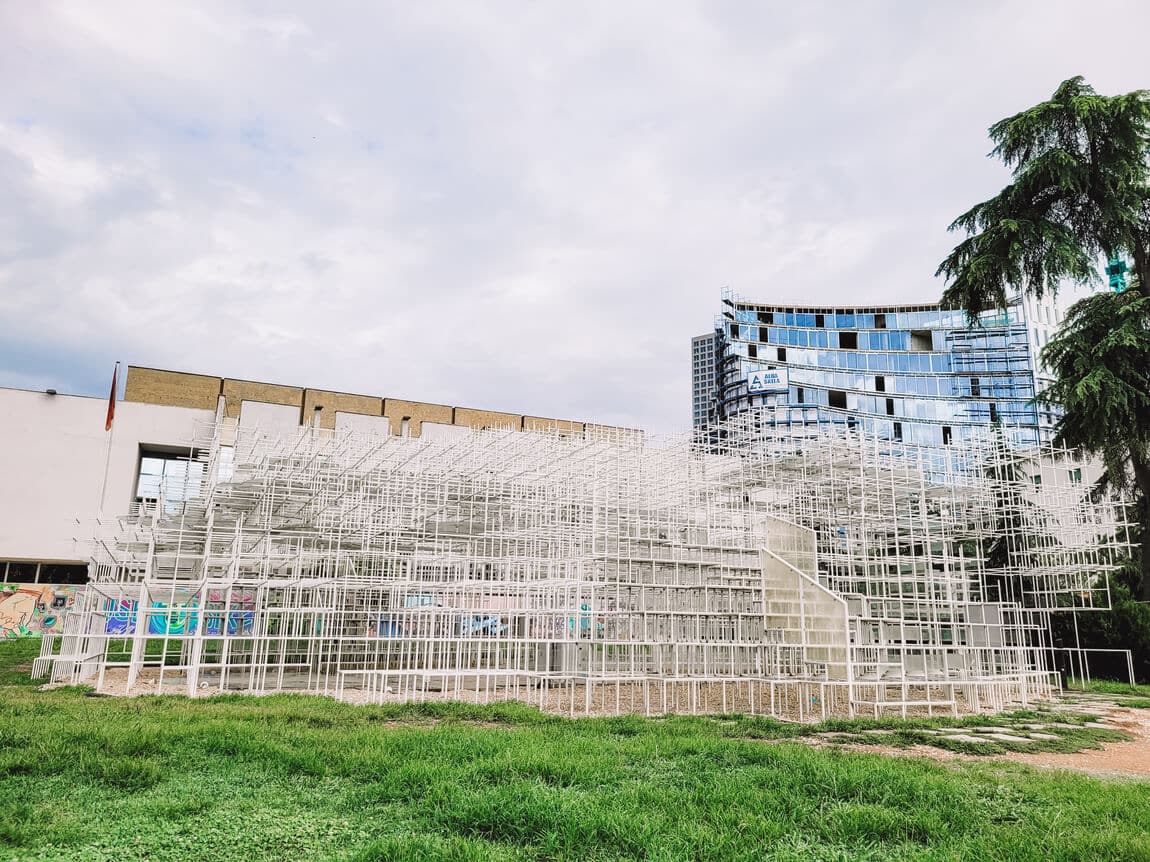 » Piramida
The Pyramid of Tirana was built in the late 1980s as a museum in honour of Enver Hoxha (Albanian dictator) and is named after its shape. With the fall of the communist regime, this structure has had several uses, from a NATO base to a conference centre. Currently, it is in a process of reconstruction to become a young IT centre.
» Mother Teresa Square
After Skanderbeg Square, this is the second largest square in the Albanian capital and is dedicated to Mother Teresa of Calcutta, who has Albanian roots.
» Grand Park of Tirana
Next to the square, you will find the Grand Park of Tirana – one of the largest green spaces in the city. This is a great place to rest after a day of sightseeing. Don't miss the artificial lake located inside the park.
» Blloku
And we end this Tirana tour visiting one of Tirana's most emblematic neighbourhoods – Blloku. Currently one of the most hipster areas of the city, this area was restricted to the highest ranks during the communist period, making it impossible for the remaining Albanians to enter it.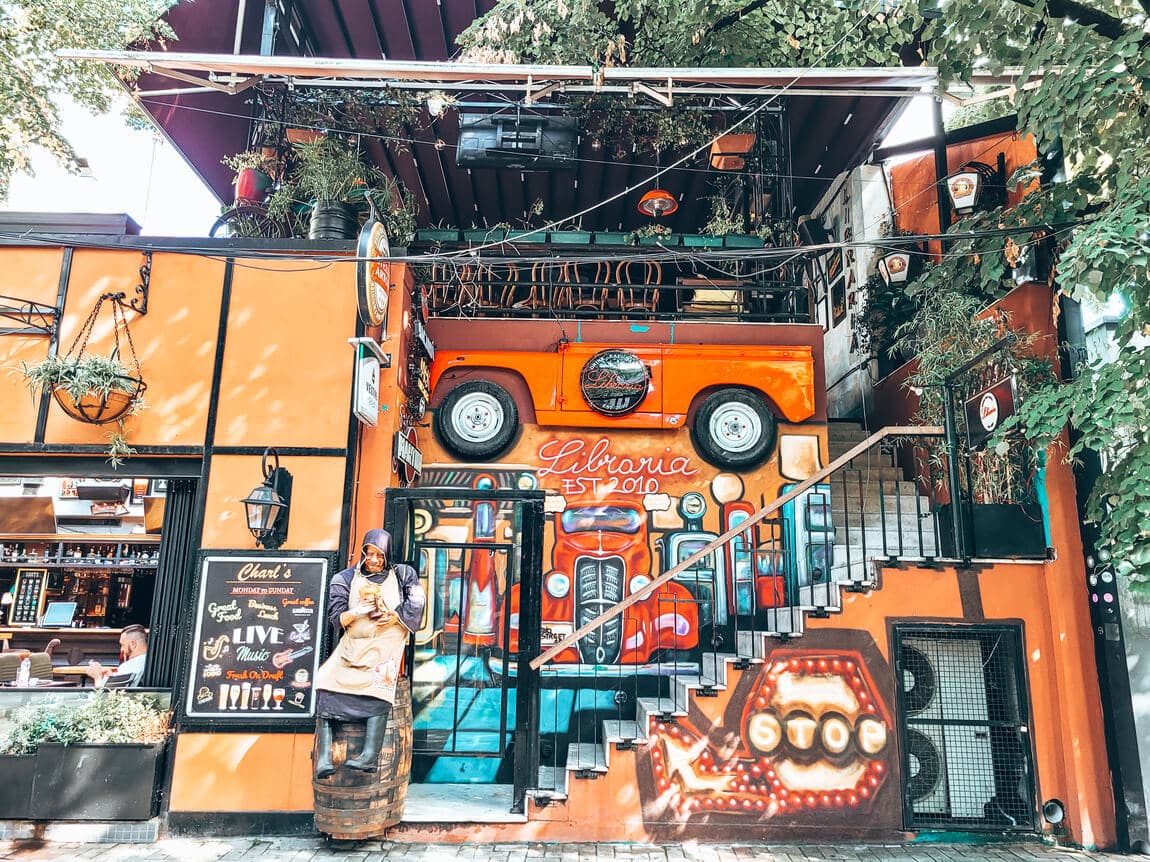 In fact, this is where you can find the former residence of Enver Hoxha – the lunatic dictator of the Albanian communist regime.
💡 EXTRA TIP: Don't miss Rruga Abdyl Frashëri (street) to admire the rainbow houses or the Postblloku – a Memorial to the isolation that the Albanian people experienced during the communist regime. In the latter, you will find a piece of the Berlin Wall, a bunker and some parts that were present in a labour camp with several political prisoners.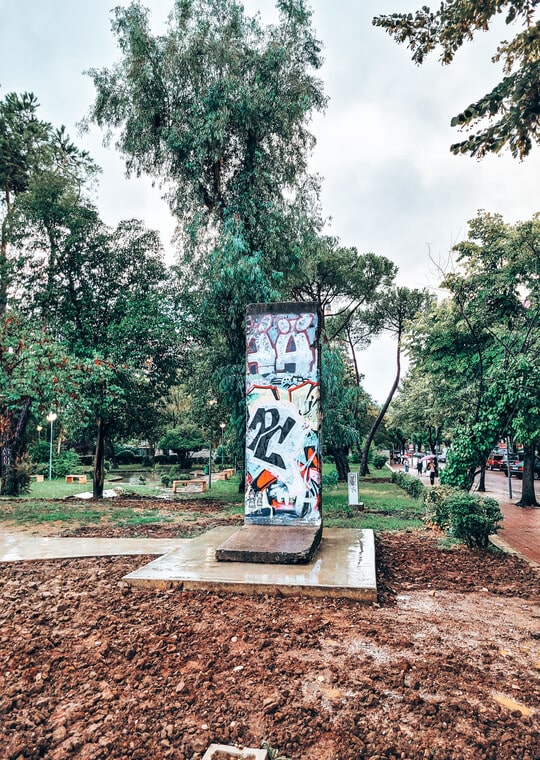 For one of the best views of the city, you can try climbing to the top of the Sky Tower (warning: in September 2022, this was under renovation and it was not possible to go up).
» [optional] Dajti Express
This point is purely for those who have some extra time available in the city of Tirana. The Dajti Express is a cable car located slightly outside the centre of Tirana and offers us incredible views 😊 The ride takes about 15 minutes and takes us to a viewpoint on Dajti mountain. I confess I didn't make this trip for two reasons: I was afraid and didn't have the time. But if you are interested, you can better plan your visit here.
Daytrips from Tirana
Tirana is a very interesting city, but there are also many other places relatively nearby that are worth a visit. Take a look at some of my suggestions:
Restaurantes em Tirana
Era Blloku (€): Very affordable prices and tasty traditional food. We tried the stuffed aubergine and the stuffed cabbage (sarme).
Tartuf Shop (€): The dishes on the menu are mostly truffle-based and I loved them. We tried some truffle ravioli and a truffle and asparagus risotto. All extremely tasty.
Komiteti – Kafe Muzeum (€): if you're looking for the coolest café in Tirana, then this one could well win the prize. With the most original decor, this is a place both for the first coffee of the day and for a drink at the end of the day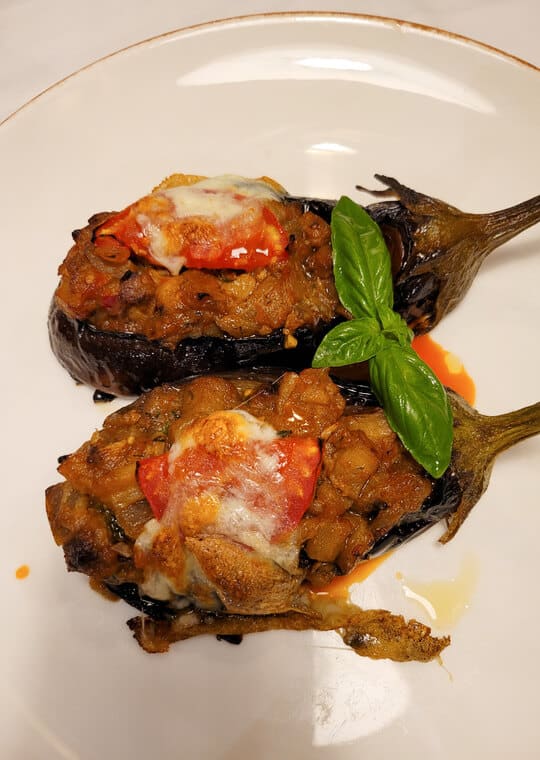 Disclaimer: this post may contain some affiliate links, which means I get a small commission if you buy something through my links. This doesn't represent any additional cost to you and you'll be supporting my work here on the blog😊