If a few years ago, nobody really knew where Nazaré was located, nowadays, this is no longer true. It was the giant waves of Nazaré that made this Portuguese town famous. In fact, more specifically, Nazaré became known after the surfer Garrett McNamara broke the world record for the biggest wave surfed there.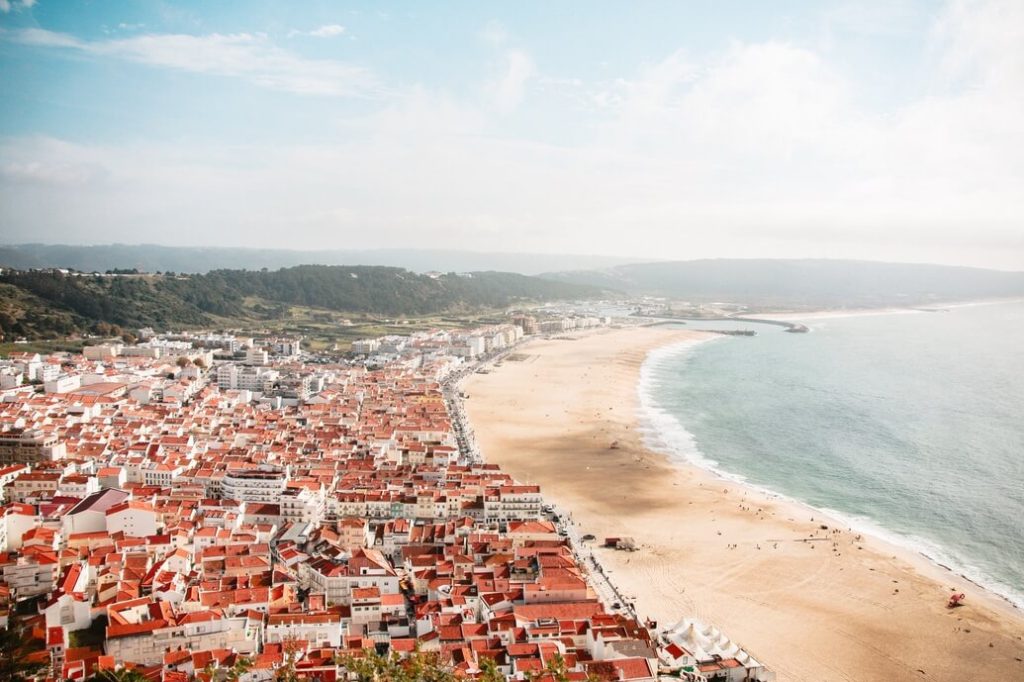 When we visit Nazaré, we tend to feel free. Free from the hustle and bustle of everyday life. Free from cities' confusion. Even if you are not a surf lover (I am not, trust me!), there is always a good reason to spend some holidays in Nazaré 🥰.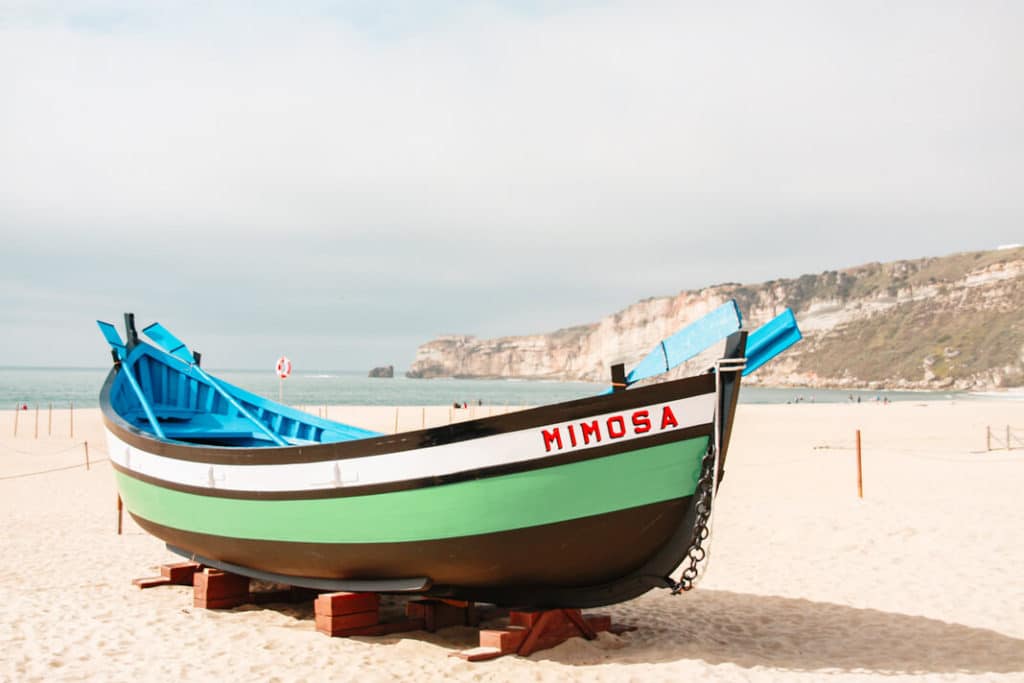 But visiting Nazaré has much more to it than the famous giant waves. So, throughout this post, you can find a 1-day itinerary with what to do in Nazaré. Besides the places to visit in Nazaré, you can also find a map of Nazaré, suggestions for accommodation in Nazaré, as well as restaurants, among others.
What is the best time of the year to visit Nazaré?
Like most of the Northern Portuguese Coast, the weather in Nazaré is a bit uncertain. This is true at any time of the year, even in summer. It would not be surprising if it was cold and foggy on a summer day.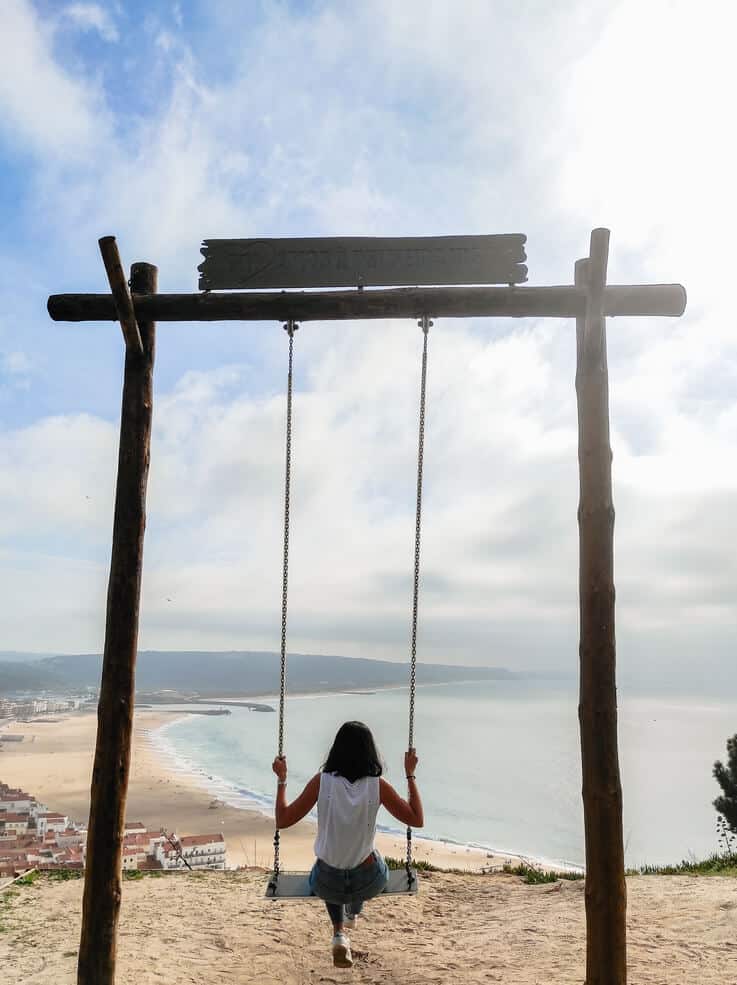 Despite all this, Nazaré is a very popular destination, especially in the summer. When the weather in Nazaré is good, the beaches get quite crowded. However, although summer is the best time to visit Nazaré, this is also the season with more tourists.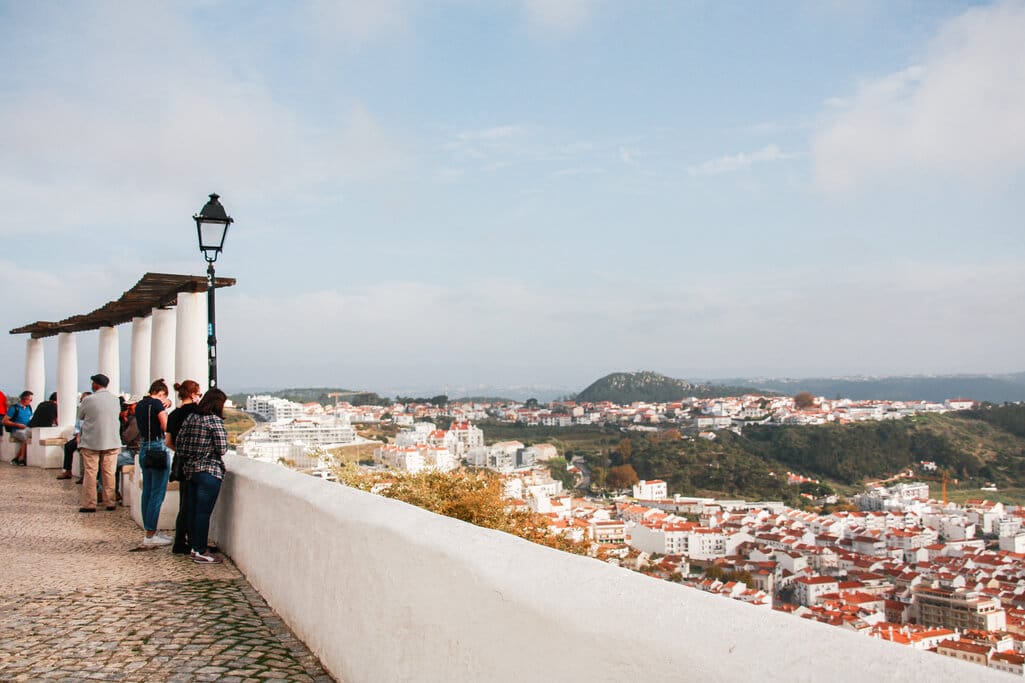 Thus, I recommend visiting Nazaré from June to September, to ensure a higher probability of good weather. Anyway, I remind you that the weather is always a bit uncertain in Nazaré😄.
💡 EXTRA TIP: If your main goal is to enjoy Nazaré's big waves, then you will have to book your trip at short notice since this phenomenon is a bit uncertain. This natural event usually takes place from October to March. In fact, the WSL Nazaré Tow Surfing Challenge is only confirmed a few weeks in advance.
How many days do you need to visit Nazaré?
Given the dimension of the town of Nazaré, it is easy to visit the main attractions of Nazaré in just one day. However, if you would like to spend some time enjoying the sun and Nazaré's beaches, then I suggest adding a day to the itinerary and spending two days in Nazaré instead.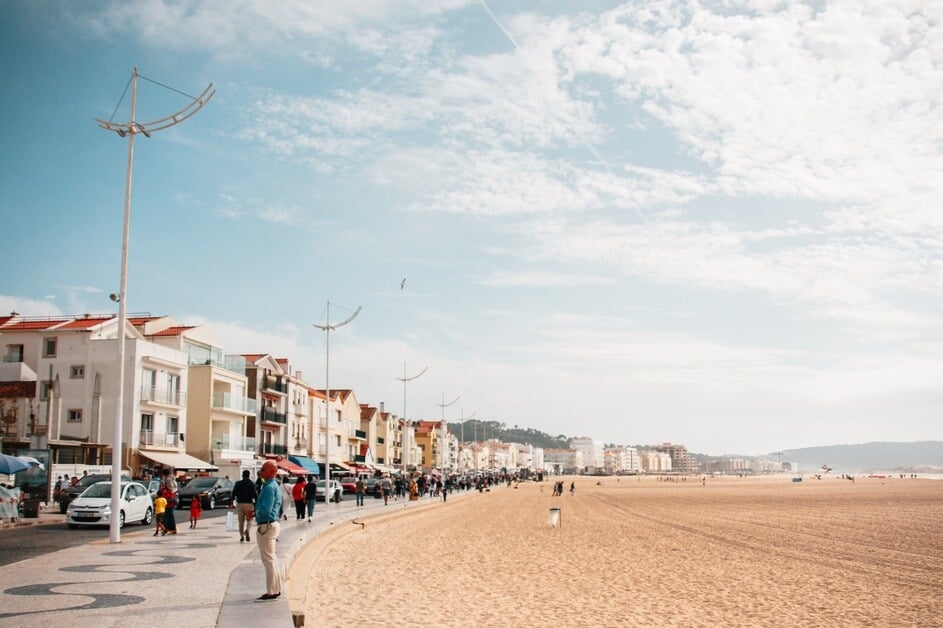 How to get to Nazaré?
How to get to Nazaré from Lisbon
Lisbon is the largest Portuguese city closest to Nazaré. The distance from Lisbon to Nazaré is only 122 km (about 1h30 drive). Thus, Nazaré is often an excellent day trip option from Lisbon.
Besides the option of renting a car, you can also get a bus from Lisbon to Nazaré. Rede Expressos has a route that connects Lisbon Sete Rios to Nazaré. The trip takes about 1h50 and costs about 12€ (however, sometimes there are promotions for 5€).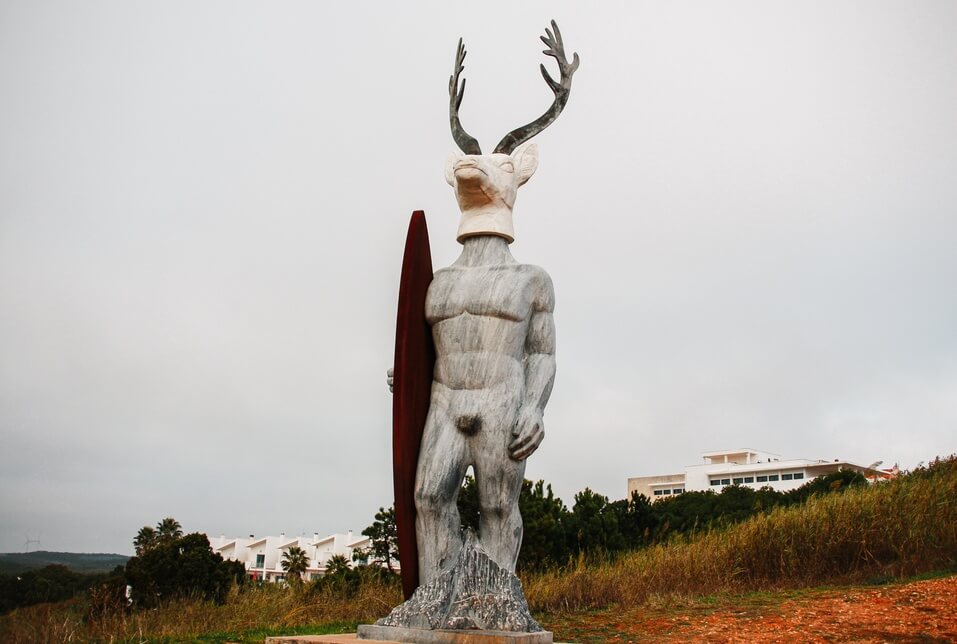 How to get to Nazaré from Porto
Although the distance between Nazaré and Porto is longer (214 km, 2h10), the trip by car is also quite quick and comfortable.
However, the public transport option is no longer so practical. Rede Expressos also has a route that operates between Porto and Nazaré and the trips can take between 2h45 to 4h, depending on the option chosen. The value of the ticket ranges from 12€ to 17€. Flixbus also has deals on the route from Porto to Nazaré.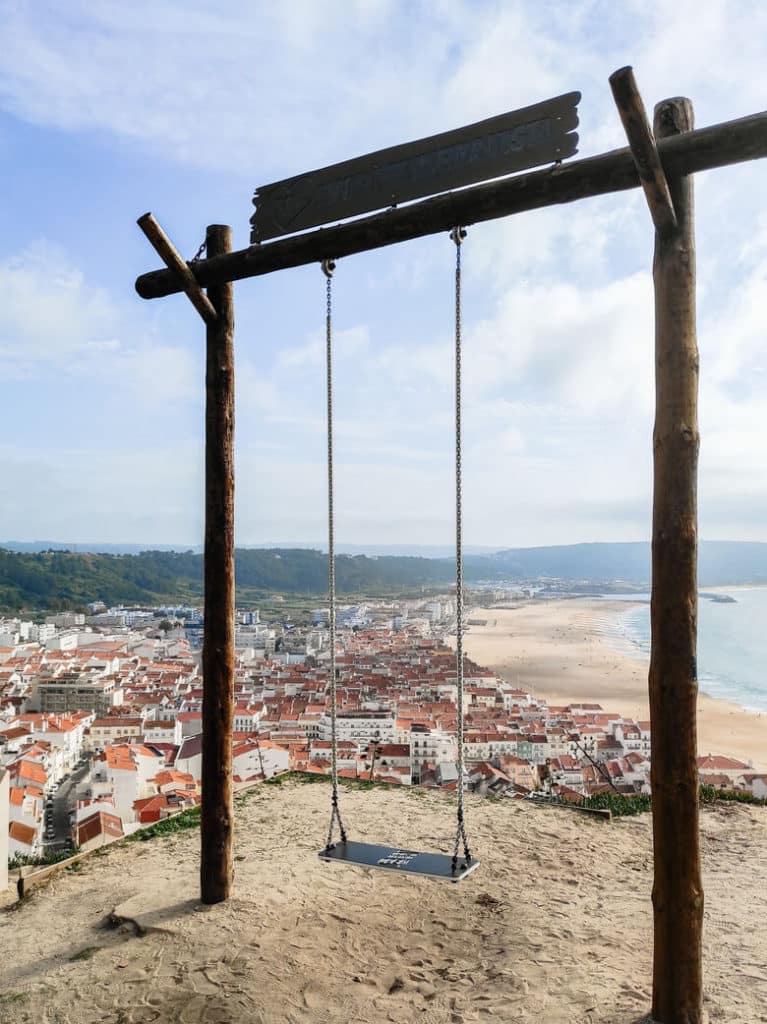 Is Nazaré worth visiting?
Nazaré may be a small town, but it certainly is charming. You get to visit viewpoints with breathtaking views, admire one of the biggest waves in the world and, on top, the food is also delicious. So, visiting Nazaré is quite the perfect idea if you want to chill out for a bit and have a cool day by the sea.
Even if you visit Nazaré as a day trip from Lisbon, it's still worth it. Of course you'll have less time available to visit it, but you can pretty much visit all the points of interest I mention in this itinerary.
Accommodation in Nazaré
When I was in Nazaré, I didn't have the opportunity to stay there, since I chose to stay in Caldas da Rainha, which is relatively close. However, there are several accommodation offers in Nazaré. In fact, it is quite common to see even locals luring tourists to local accommodations on the sidewalk, for example.
Since I always like to know what to expect, I prefer to check with my old friend Booking and see the various options available online: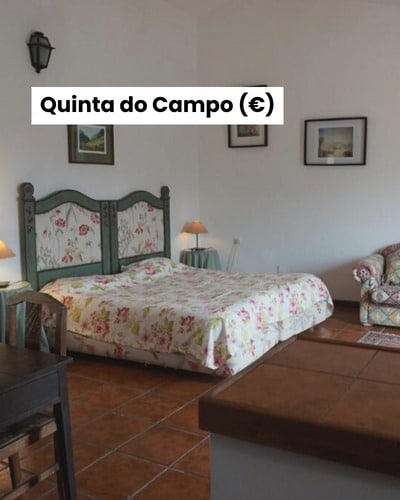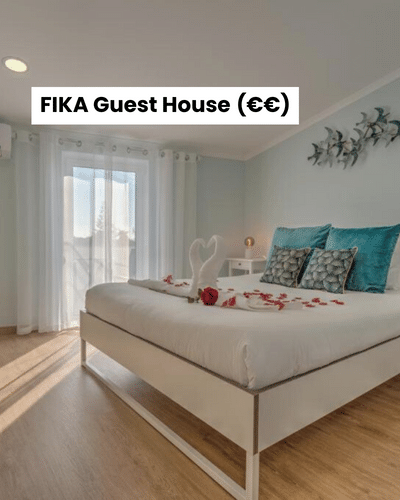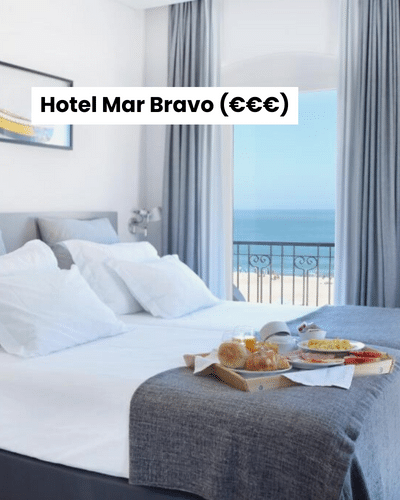 💼 TRAVEL INSURANCE: If you want to feel safe while travelling, then you should definitely look into purchasing some travel insurance. Having insurance will help you with any health-related emergencies as well as with other events, such as theft, loss or delay of luggage, eventual need to cancel your trip and much more. In my case, I always use IATI Insurances, which has one of the best price-quality ratios in the market and a 100% online service that is very easy to use. Book here your travel insurance and enjoy a 5% discount for being readers of the blog. Don't forget that the purchase must be made using this link.
Activities & tours in Nazaré
Map Nazaré Portugal: Main points of interest
Before I show you my suggested itinerary in Nazaré, I'll share a map of Nazaré with the best things to do in Nazaré to help you plan your visit!
What to visit in Nazaré – 1 day itinerary
Although Nazaré is a small town, it is divided into three main areas, which are still a little bit distant from each other. However, there is, at least, one thing that will help you with one of the steep climbs! But more about that later 😉.
Nazaré is divided into the following zones:
Marginal by the Nazaré Beach
Sítio da Nazaré
Pederneira
So, below you'll find a list of what to see in Nazaré divided into these three zones. Keep reading to get your perfect itinerary in Nazaré!
» Marginal by the Nazaré Beach
I suggest you start this Nazaré itinerary by the Nazaré beach area. This is one of the most popular areas and where we find some of the main accommodations and restaurants.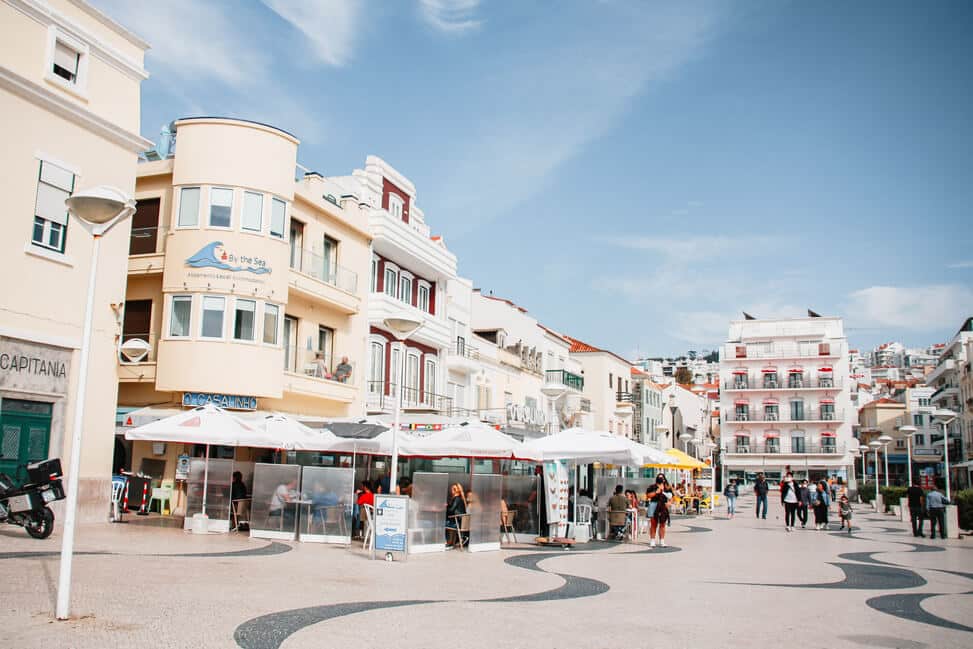 Nazaré beach (Praia da Nazaré)
Whether cold or hot, the Nazaré beach is a must-do in Nazaré. It is the beach that tourists and locals usually chose when the weather is warm for some good sunbathing.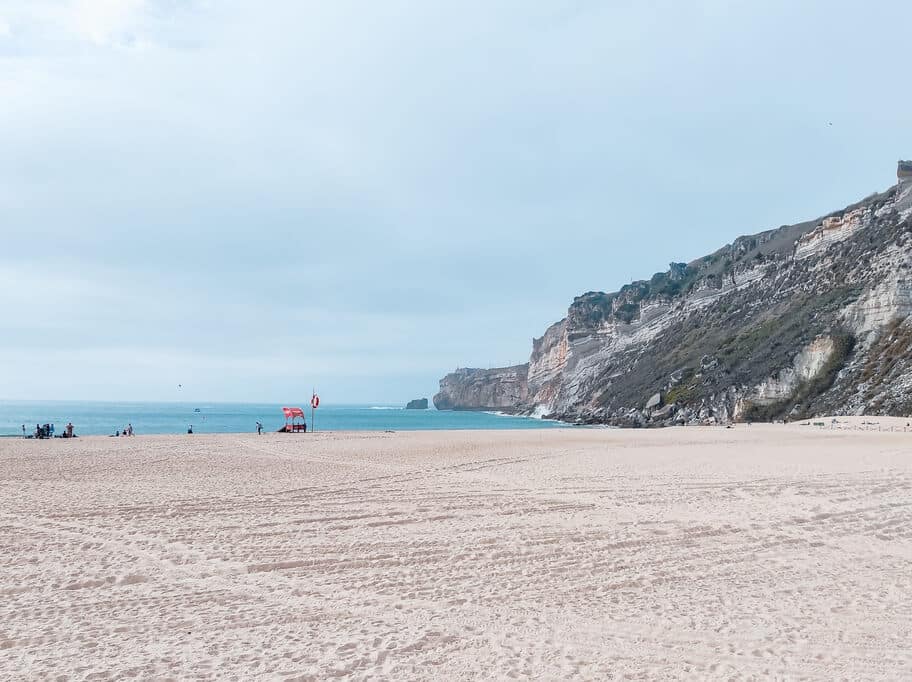 However, even if the weather does not allow it, it is always a good idea to stop here, because the walk along the waterfront near Nazaré beach is quite pleasant. Along the short sidwalk, you will find several restaurants and cafés, many of them with terraces with privileged views.
Dried fish displays ("Estindarte")
While walking along on the sidewak near Nazaré beach, it is very usual to find small stands selling dried fish (Seca do Peixe). Drying fish is a tradition with a strong presence in Nazaré.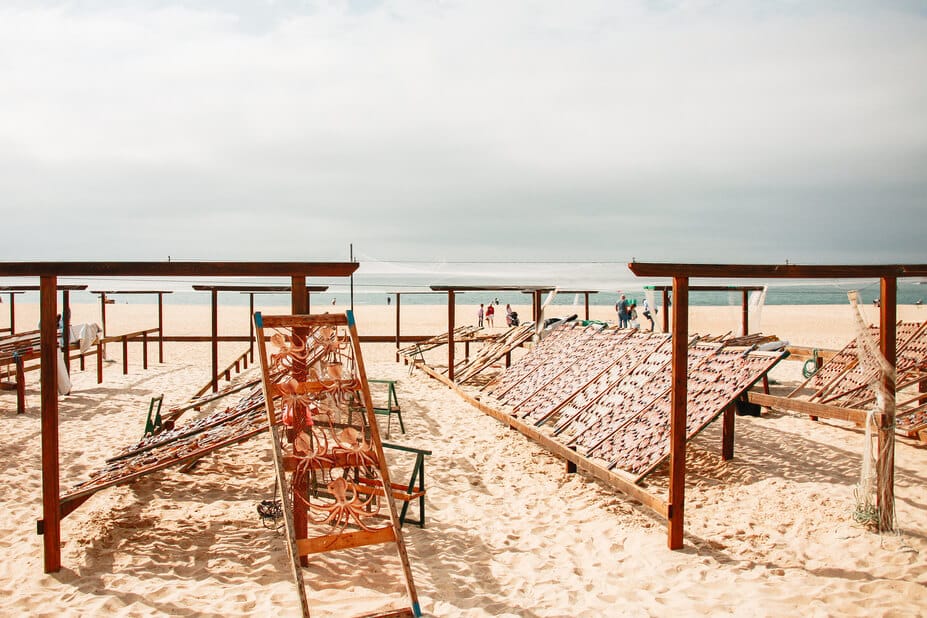 The main species used are octopus, horse mackerel, sardines, shark, and batfish. There are different drying processes, but the drying process usually takes 2 to 3 days.
📝 USEFUL INFORMATION: No one really knows how the tradition of drying fish in Nazaré began, but many believe it is related to scarcity back then since this is one of the best ways to preserve fish.
Cultural Center of Nazaré
The Cultural Center of Nazaré is located in the place where the first fish auction was created to sell fish in Nazaré. This centre has been open since 1995 and currently hosts some exhibitions.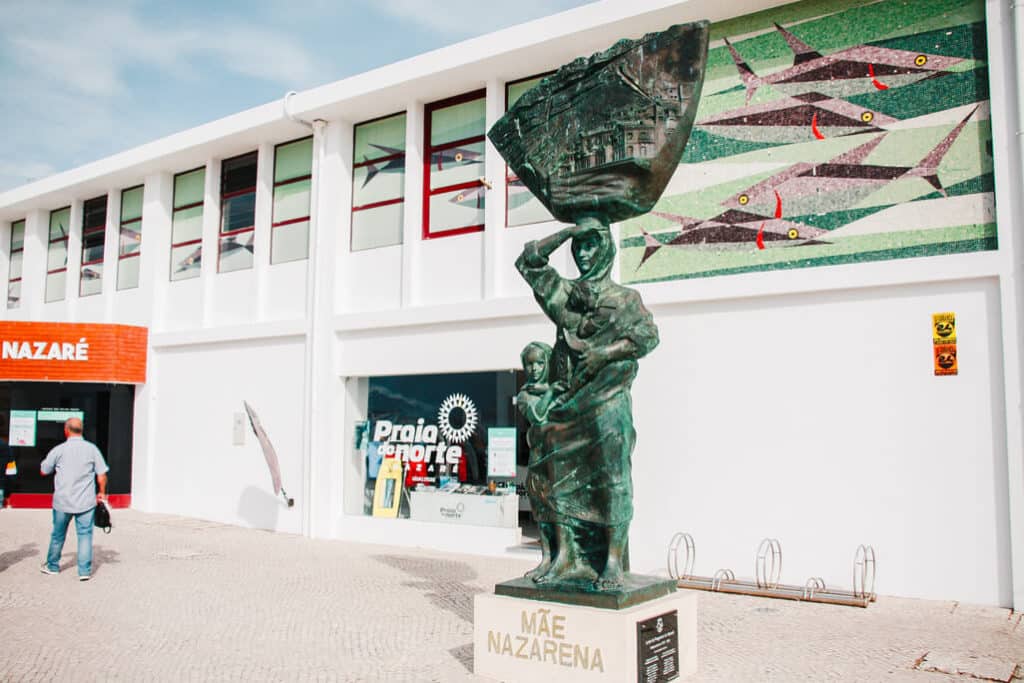 Right in front of the Cultural Center, you can find the statue in honour of the Nazarene Mother, as well as the Monument to the Shipwrecked.
Traditional boats on the beach
On the sand of Nazaré Beach, we can find traditional restored boats. All have different colours and make us quickly understand the connection of the people who live in Nazaré with the sea.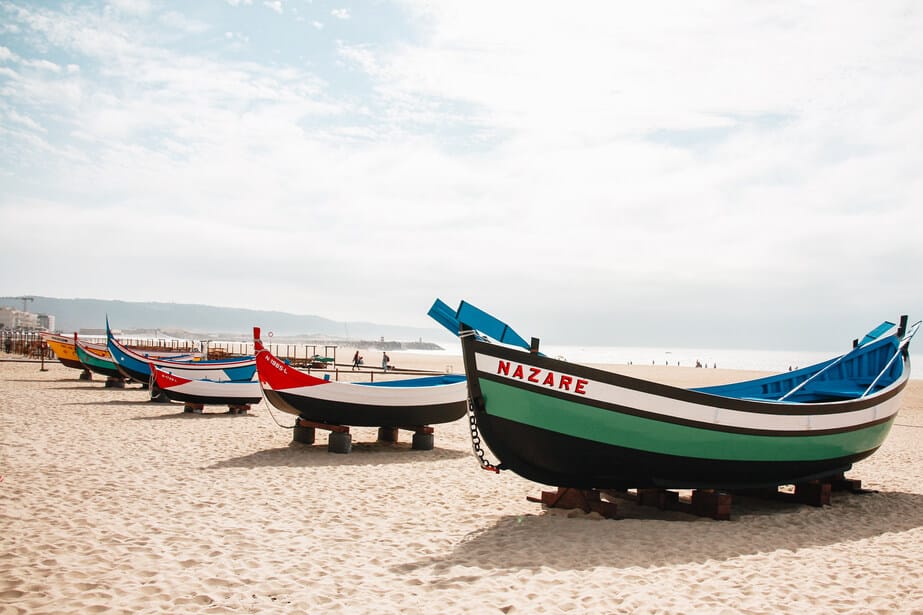 Saint Anthony Chapel (Capela de Santo António)
St. Anthony Chapel is a small chapel that was built with contributions from the fishermen of 1% of the fish they sold. It is quite a simple chapel where the highlight is the blue and white exterior tiles, with a small tile dedicated to St. Anthony.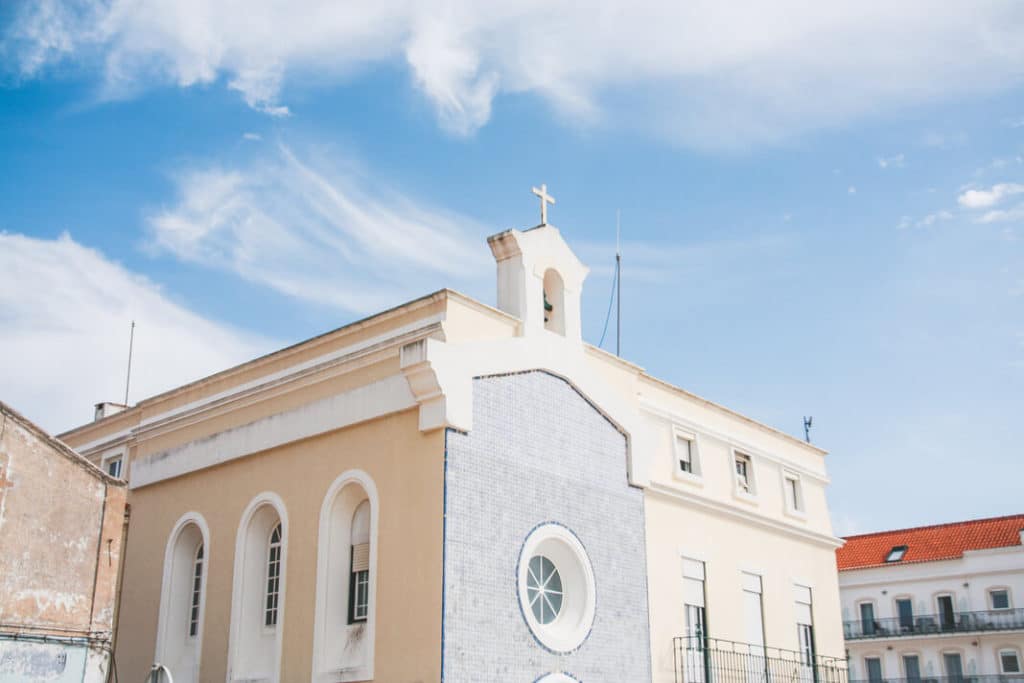 Municipal Market of Nazaré
Another point of interest in Nazaré is the Municipal Market of Nazaré, where you can find the freshest caught fish in town on sale. However, in this market, it is also possible to buy other types of fresh products, such as fruit and vegetables.
» Sítio da Nazaré
Sítio da Nazaré is a neighbourhood in Nazaré and is located at the highest point in town. It is from here that you can watch the giant waves show in Nazaré. Don't know what I am talking about? You can watch the video below👇.
Nazaré's Funicular (Ascensor da Nazaré)
Although Sítio da Nazaré is located on a much higher level than Nazaré beach, there is a simple way to get there. I'm talking about the Nazaré's Funicular that connects the Nazaré beach to Sítio da Nazaré.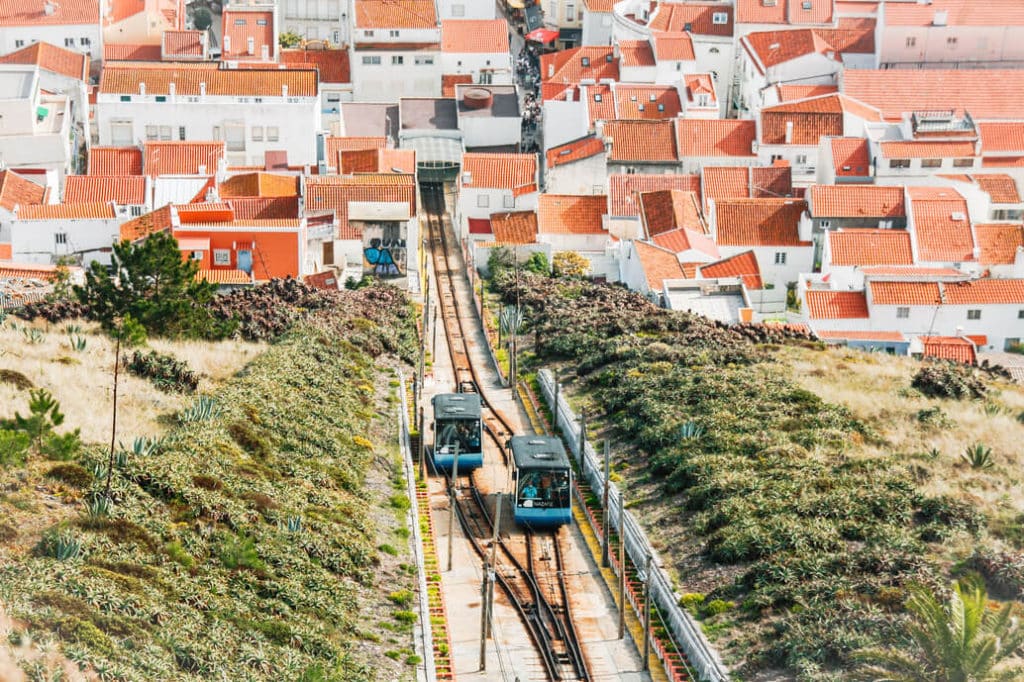 This funicular was first opened at the end of the 19th century and its construction was intended to help settle the population in this part of the town and, consequently, promote its development.
📝 USEFUL INFORMATION: Ascensor da Nazaré runs from 7:15 am to midnight (or until 2 am from August to September 15). A one-way adult ticket costs 2,5€ (4€ for a return ticket). For the most up-to-date information, click here.
Ladeira do Sítio
If you prefer not to spend money on the funicular ride or simply prefer to get moving, you can always walk up through Ladeira do Sítio. This is the path that was formerly used to get from Nazaré beach to Sítio.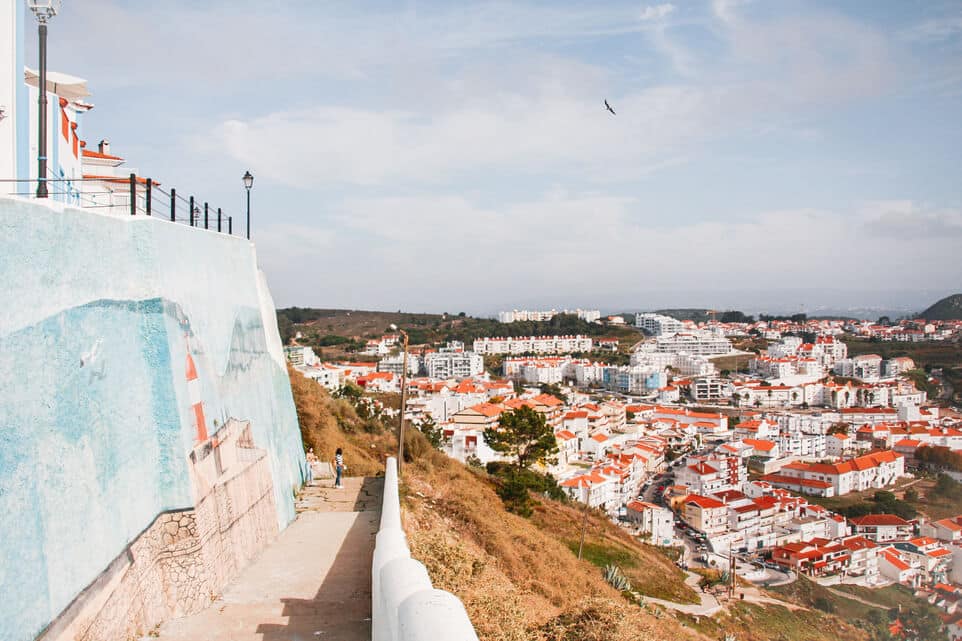 Ladeira Swing (Baloiço da Ladeira)
It's true! The swing fever has also arrived in Nazaré. Along Ladeira do Sítio, you will find the Ladeira Swing. Besides the always fun experience of swing riding, this swing is strategically placed in a place that leaves no doubt that Nazaré is worth visiting 🥰.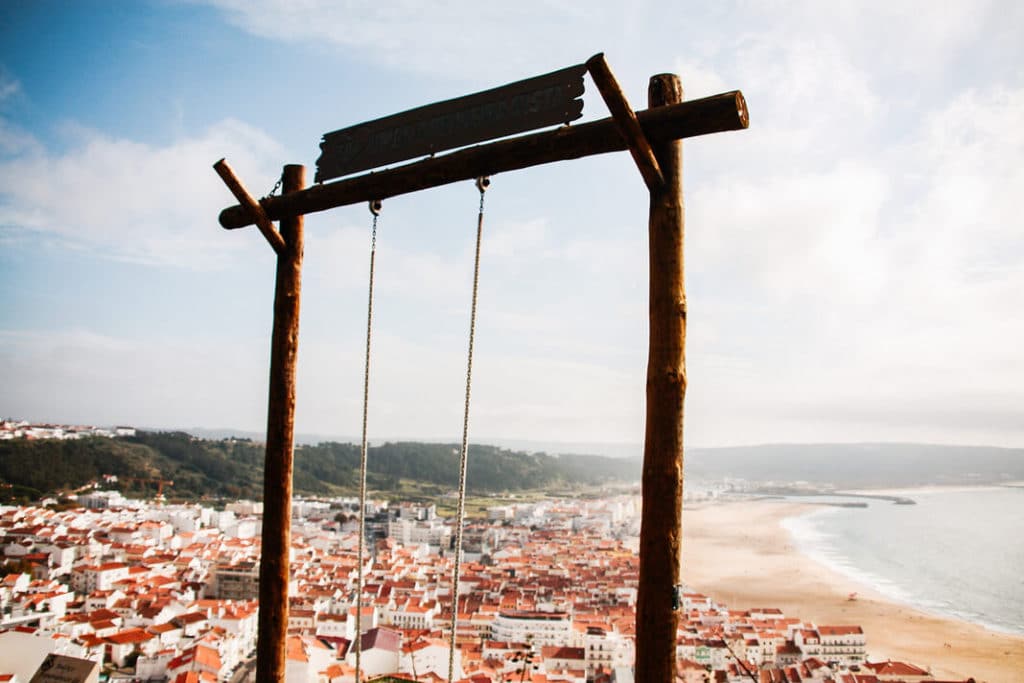 On the swing, you can read "It was love at first sight" (originally written in Portuguese) and you can easily understand why!
💡 EXTRA TIP: If you prefer to ascend to Sítio da Nazaré by funicular, you can do so and then descend only a small part of Ladeira do Sítio to the swing and return to Sítio. The route is only 150 meters long.
Ermida da Memória
Ermida da Memória is a small religious monument in Sítio da Nazaré, alluding to the miracle in which D. Fuas Roupinho was saved through the intercession of Our Lady of Nazaré.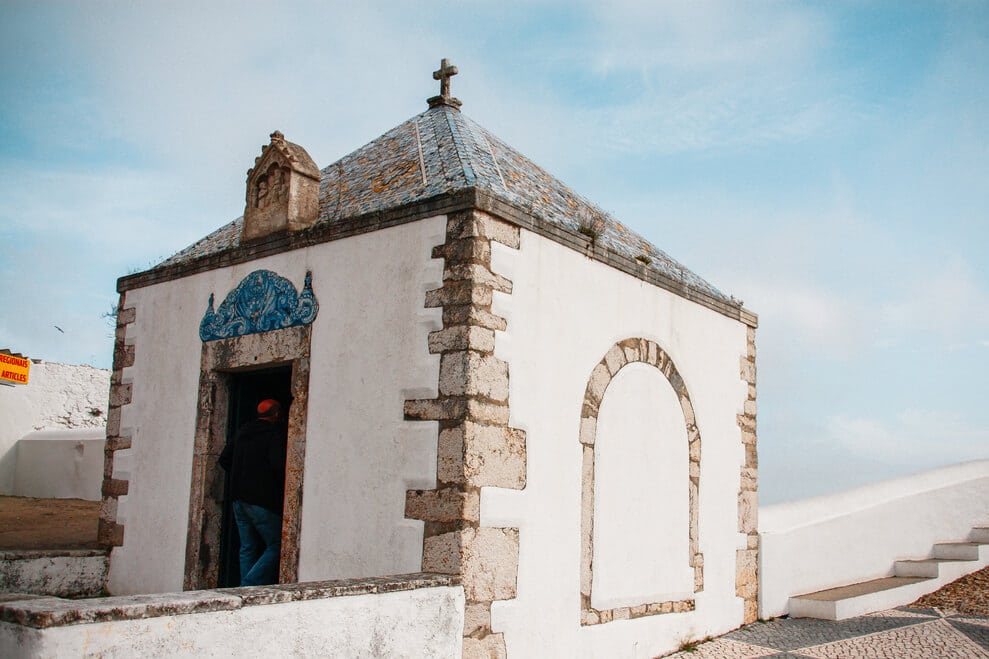 Suberco Viewpoint
We continue towards the Suberco Viewpoint – one of the best viewpoints in Nazaré. The framing over Nazaré Beach is truly breathtaking😍.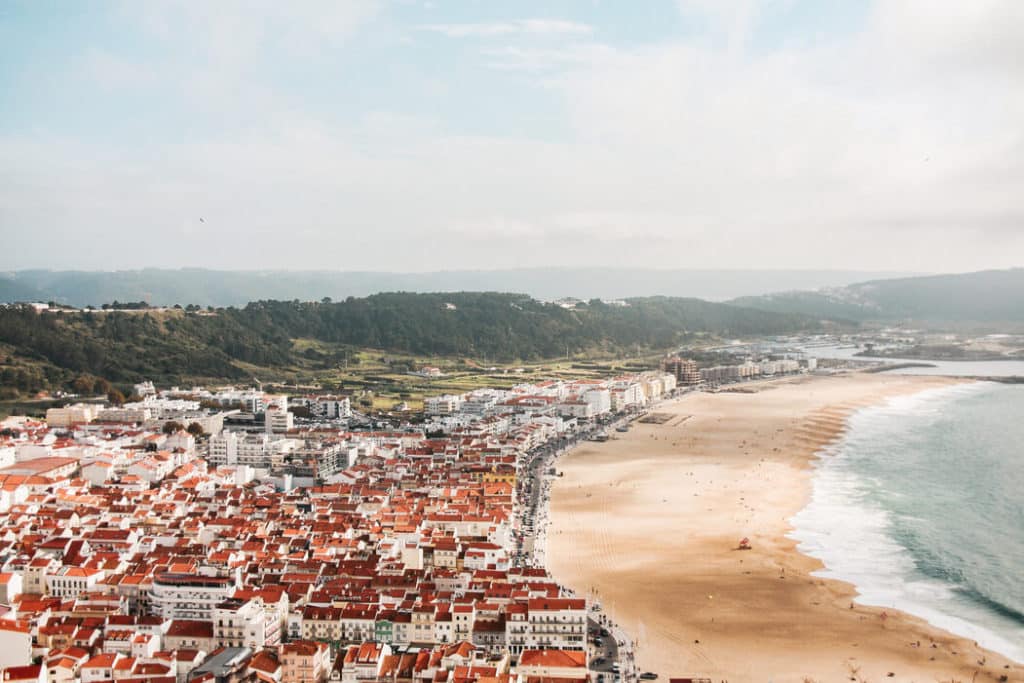 Our Lady of Nazaré Sanctuary (Santuário Nossa Senhora da Nazaré)
This sanctuary was built in the 14th century and aimed to improve the place of worship of Our Lady of Nazaré, since, at the time, only Ermida da Memória existed.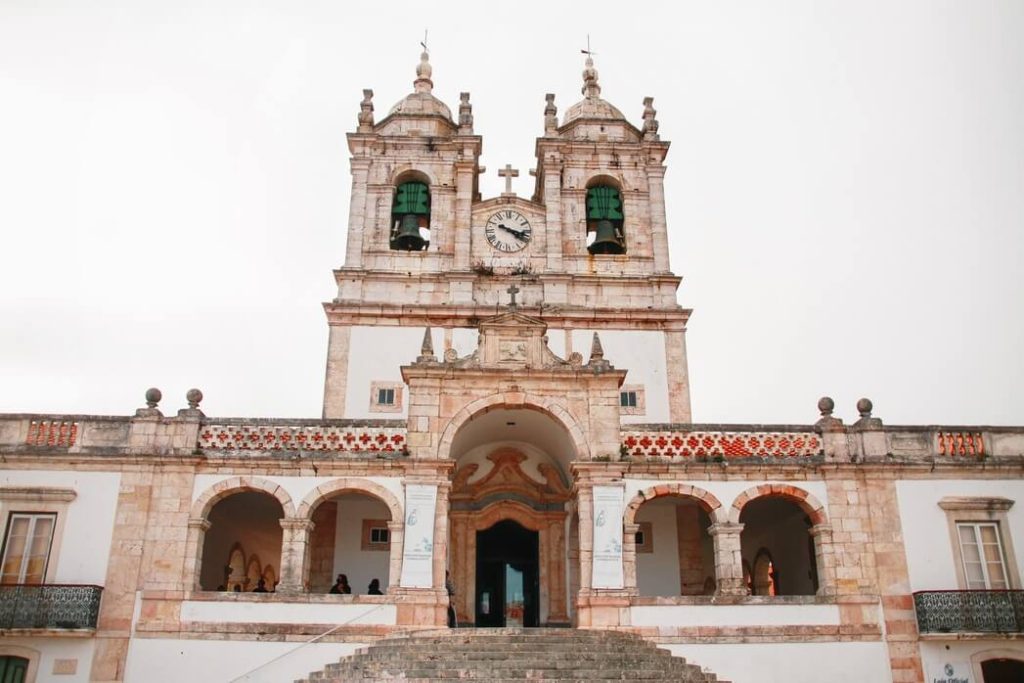 I also recommend a walk along the square in front of the Our Lady of Nazaré Sanctuary, where we find a bandstand.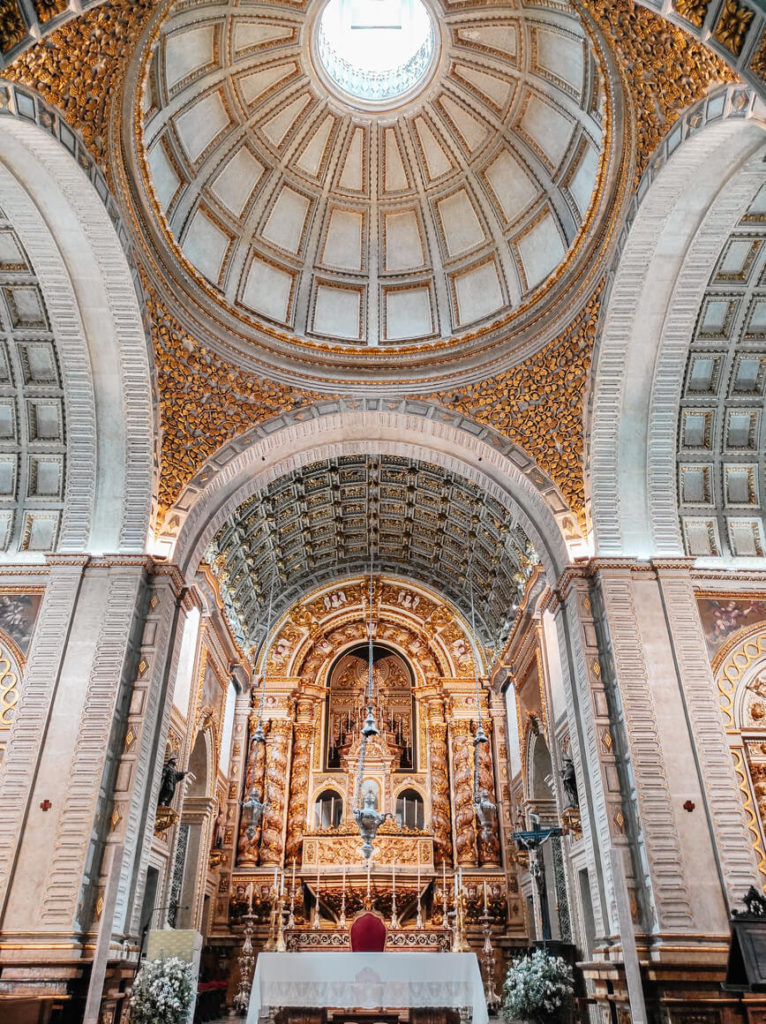 Near here it is common to find women from Nazaré wearing seven skirts selling snacks or souvenirs. The Nazarene seven skirts are traditional and are said to represent the seven virtues, or the seven days of the week, or the seven waves of the sea, etc. There are quite some theories around the meaning of the skirts.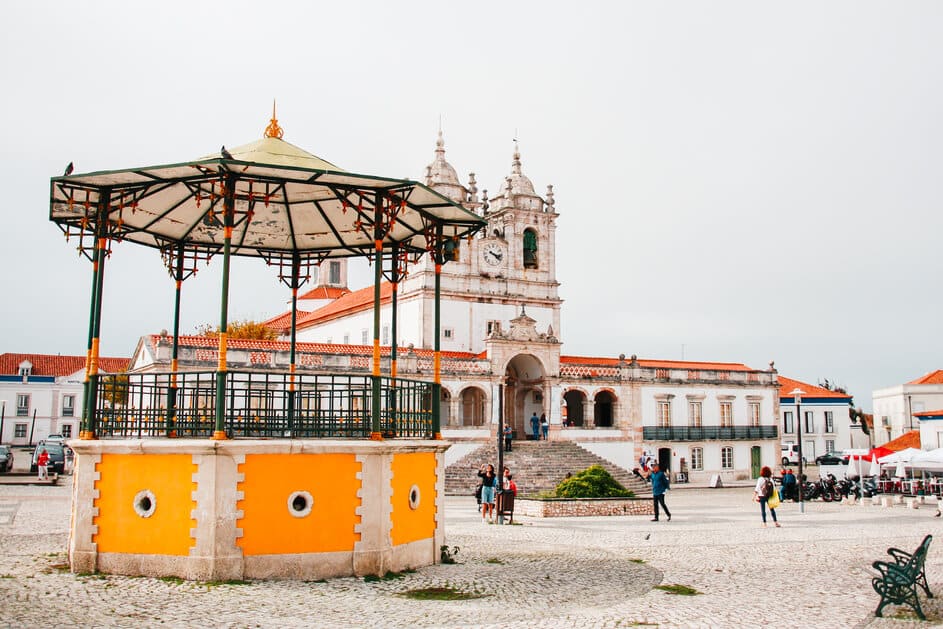 Although there is no agreement on the origin of this tradition, something that several researchers agree on is that the skirts were worn by women who waited for hours while their husbands and sons went to the sea to fish. It was, therefore, a way for them to protect themselves from the cold that was felt near the sea.
São Miguel Arcanjo Fortress
São Miguel Arcanjo Fort is one of the most popular places in Nazaré, as it appears in almost every filming of Nazaré's big waves. It is a symbol of the resilience of the people from Nazaré, having even survived the French invasions.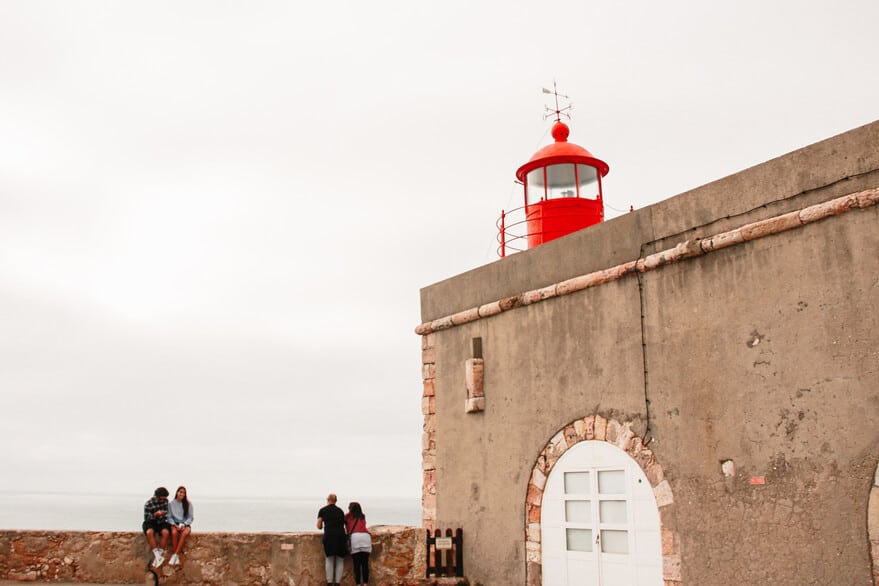 Currently, inside the São Miguel Arcanjo Fort, we find a small exhibition of surfboards and other surf equipment of the adventurers who have faced the giant waves resulting from the famous Nazaré canyon.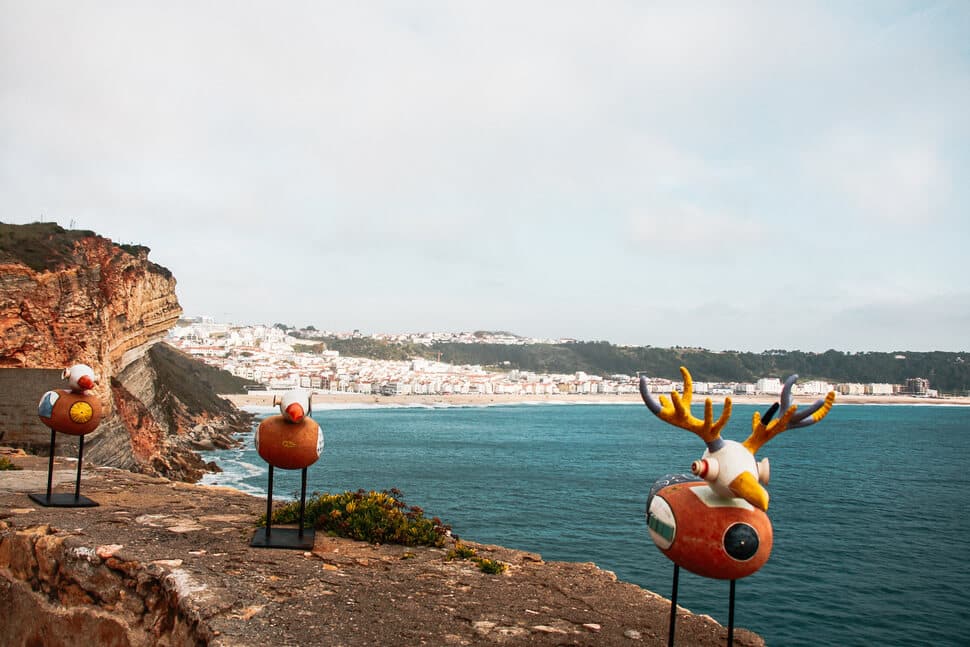 The exhibition also includes a brief explanation about the phenomenon of Nazaré's underwater canyon, namely how it is formed.
📝 USEFUL INFORMATION: São Miguel Arcanjo Fort can be visited daily from 10 am to 8:30 pm and the visit costs 2€.
North Beach (Praia do Norte)
It is in Praia do Norte that the giant waves that made Nazaré so famous are surfed. The best views over this beach are precisely from São Miguel Arcanjo Fort.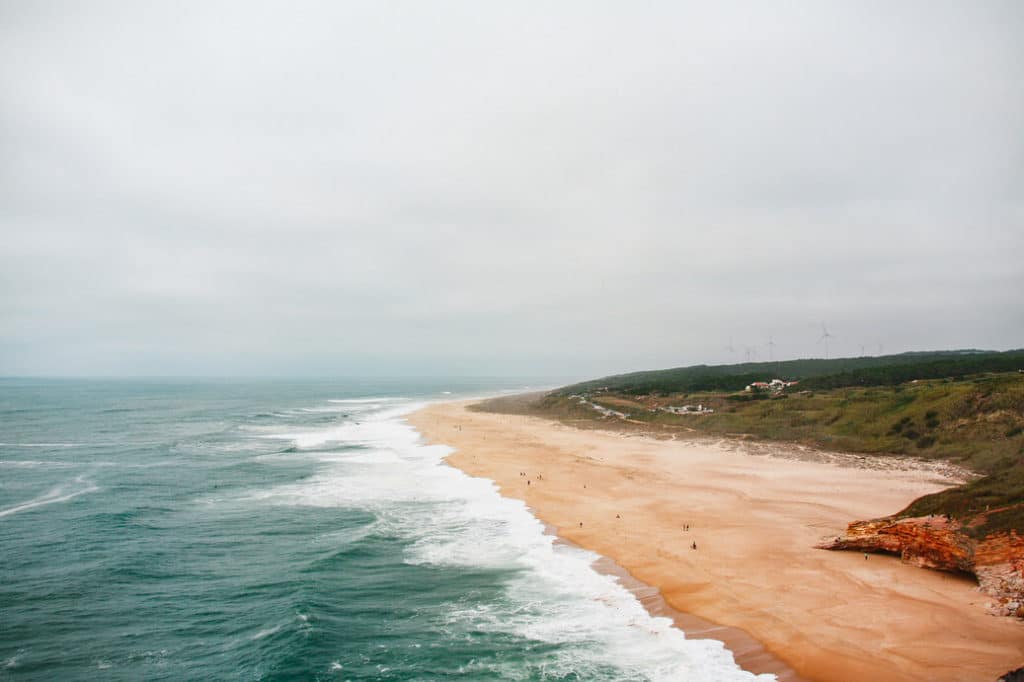 » Pederneira
The Pederneira district is one of the least known places in Nazaré, being often neglected by those who visit Nazaré. Although, in my opinion, it is not as interesting as the other points of interest in Nazaré mentioned above, there are two or three places that deserve our attention.
Pederneira Viewpoint
The Pederneira Viewpoint offers us another fantastic perspective of Nazaré Beach as well as the Fort of São Miguel Arcanjo in the distance.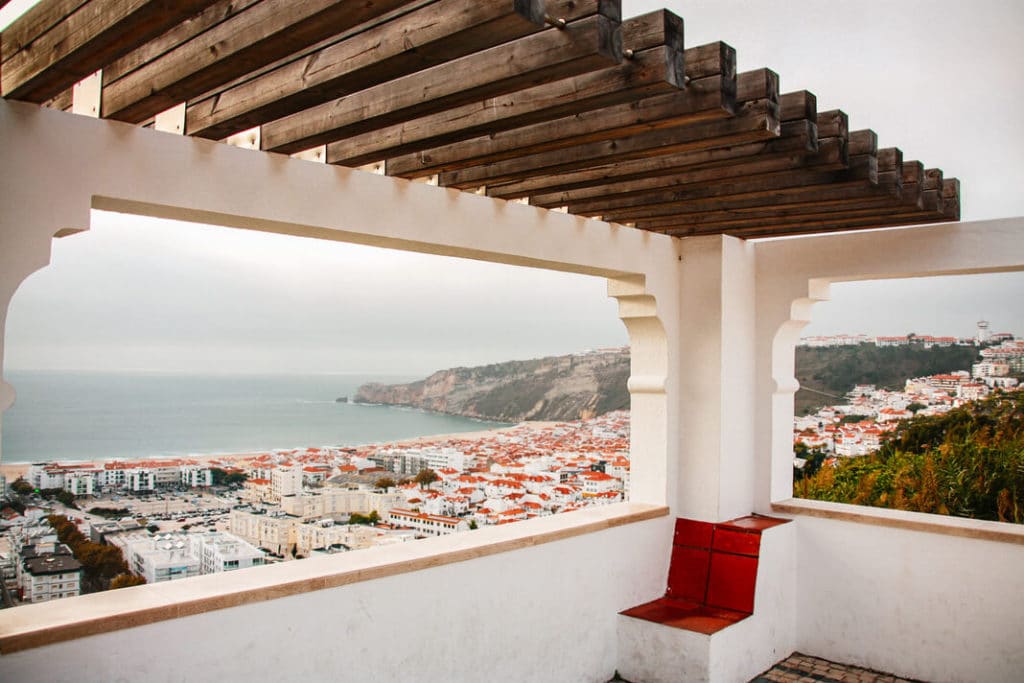 Misericórdia da Pederneira Church
Right next to the Pederneira Viewpoint, we find the Misericórdia Church, whose construction date nobody knows for sure, but it was built to house the Irmandade da Misericórdia da Pederneira.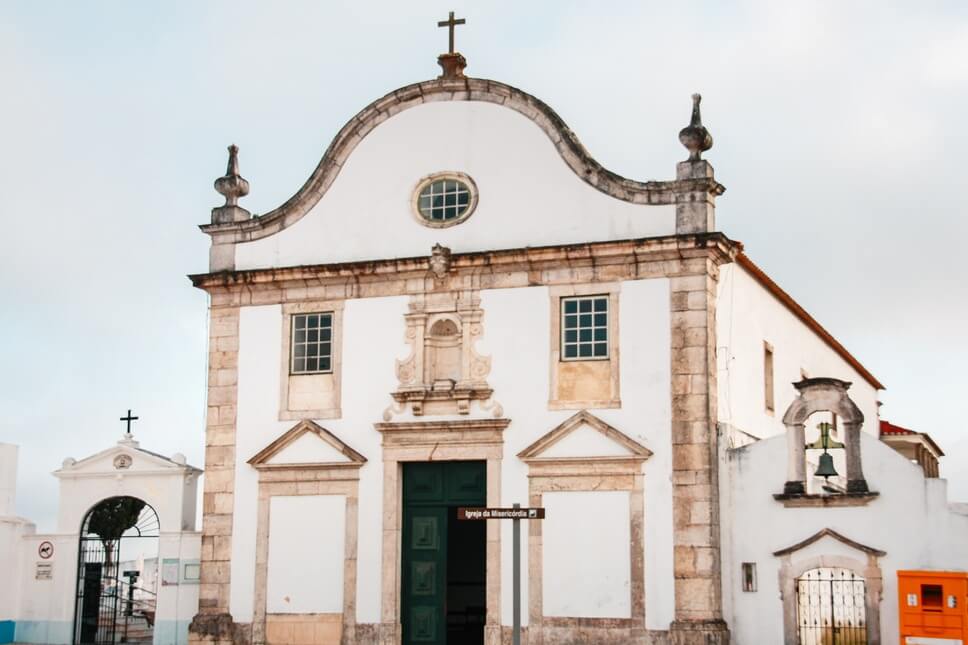 Nossa Senhora das Areias Church
Built between the 16th and 19th century, the Church of Nossa Senhora das Areias is the mother church of Nazaré. It is a bit hidden, but worth the visit for its tile-covered interior walls.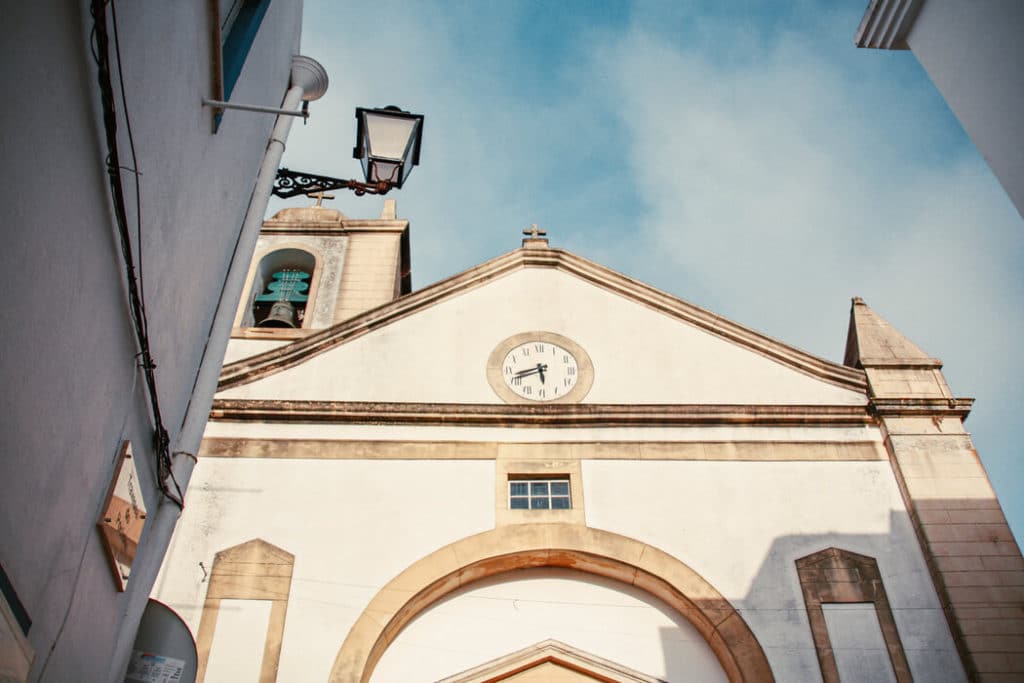 Restaurants in Nazaré
I only had one meal in Nazaré, but I can highly recommend the restaurant I tried. Rosa dos Ventos, despite its very small size, sells amazing fresh fish. As it is dependent on what is caught in the sea, the fish that is available daily is not always the same.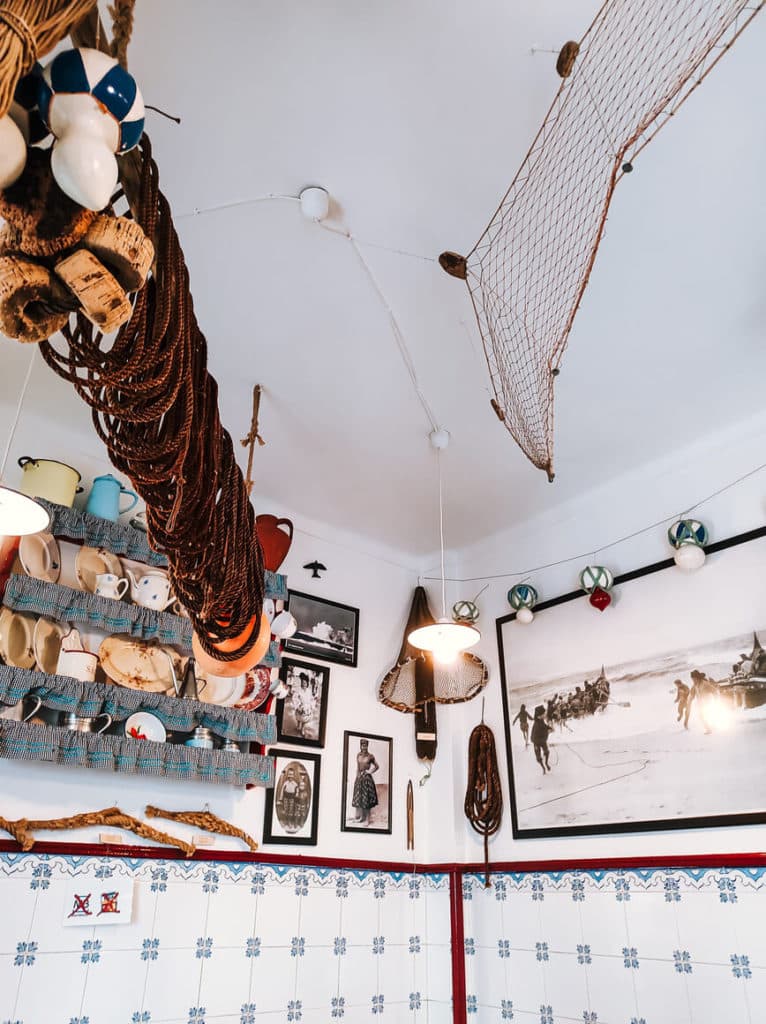 Although the price is slightly high (it is a fresh fish restaurant, after all), this restaurant has good value for money. In addition, the service was very friendly.
Day trips from Nazaré
Nazaré is excellently located in Central Portugal, much also due to the proximity of other amazing places in this Portuguese region, such as:
Beaches like Foz do Arelho or Rei Cortiço)
São Martinho do Porto (18 min drive)
Caldas da Rainha (30 min drive)
Peniche (48 min drive)
Óbidos (36 min drive)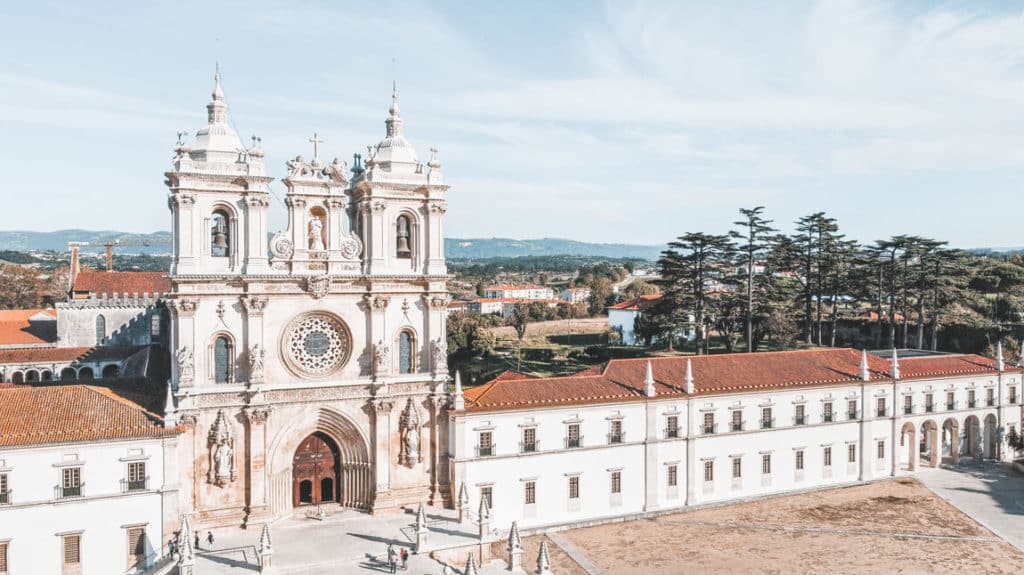 » Alcobaça (17 min drive)
Alcobaça has little to visit other than its incredible Monastery, which is one of the 7 Wonders of Portugal. The ticket to visit costs 6€, but is free on Sundays and holidays until 2 pm for all residents in Portugal. You can check the most up-to-date timetable here.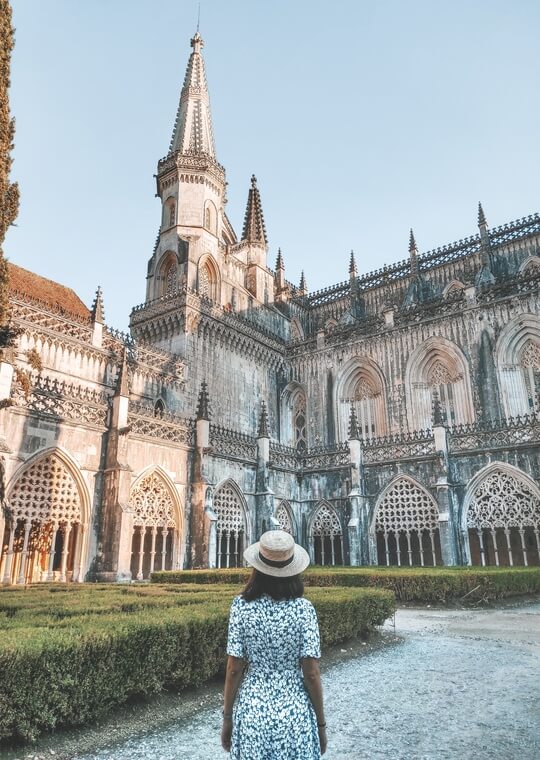 » Batalha (30 min drive)
Similar to Alcobaça, Batalha is mostly known for its Monastery, also one of the 7 Wonders of Portugal. The price of the tickets is the same and it is also free on Sundays and public holidays. Information about the opening hours can be found here.
💡 EXTRA TIP: If you are not able to visit the Batalha and Alcobaça Monasteries on a Sunday, you can buy a joint ticket that costs 15€ and includes a visit to the Monastery of Alcobaça, the Batalha Monastery and also the Convent of Christ in Tomar.
Disclaimer: this post may contain some affiliate links, which means I get a small commission if you buy something through my links. This doesn't represent any additional cost to you and you'll be supporting my work here on the blog😊