Nothing better than a break to get to know some of the best restaurants in Porto! I must confess I'm a foodie and, over the years, I've had the opportunity to try some of the many restaurants in Porto 😊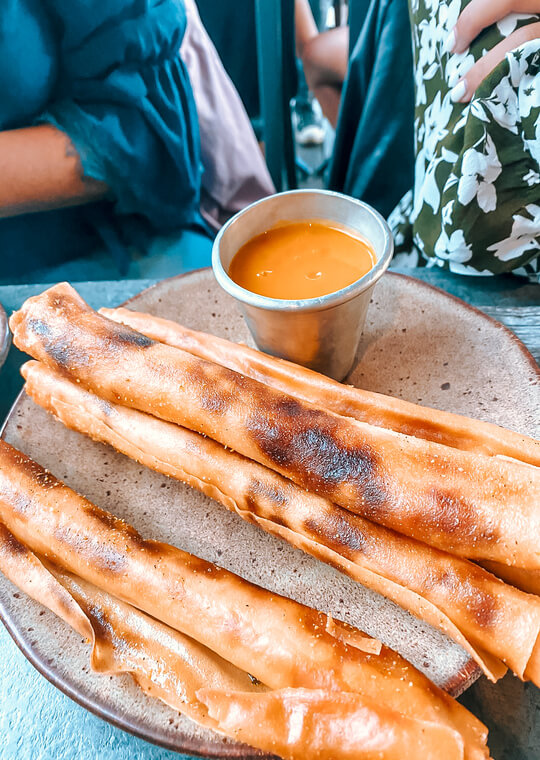 That's why I decided to put together this list of the best restaurants in Porto. Looking for a restaurant for a romantic meal? A restaurant where you can eat traditional Portuguese food? A tapas restaurant? You name it… A restaurant for each mood written by a local!
💡 EXTRA TIP: If you'd like to try out some of Porto's best cafés, then you can also check this ultimate guide.
What are the best restaurants in Porto…
… to taste traditional Portuguese food?
Portugal is, without a doubt, one of the places in the world with the best gastronomy (I'm not biased at all, am I? 😉). And so, not trying some of the best restaurants in Porto for traditional Portuguese food would be an absolute shame.
Firstly, I suggest Adega de São Nicolau located in Cais da Ribeira. The average price for two people is 45€, and I especially recommend the octopus fillets with octopus rice.
For a more affordable option, you can try one of the grilled meat options in Adega do Carregal. Located next to Cedofeita street, the average price for two people is 20€. And, finally, Casa Paraíso, even though it has a less central location (next to the metro station Faria Guimarães). The facilities are not the most incredible, but the price-quality ratio is excellent. I especially recommend the British roast beef!
… for those who want to try Porto's specialties?
When you come to Porto, you definitely should try a "francesinha". It's a sandwich with beef, sausages, ham, cheese and a spicy sauce on top. It's a strange combination, but most people love it 😅 There are usually big fights when it comes to deciding which is the best "francesinha" in town! Nevertheless, I can tell you which is my favourite.
Without further ado, I think you should really try the francesinha from Lado B, which is located in Porto's downtown.
Alternatively, you can always pop into Café Santiago – which has already won the award for best francesinha! Anyway, whatever you choose, arrive early at either of these two restaurants as they do not accept reservations and the queues tend to be long.
💡 EXTRA TIP: Away from the hustle and bustle of Porto's city centre, you can also try the francesinha at Café Offline. Besides the one from Lado B, it is probably one of my favourites 😊 Located on the other bank of the Douro river, it's just a 5 minute walk from João de Deus metro station.
But it doesn't stop here… Another of Porto's specials is "cachorrinhos". It is basically a small hot dog, usually spicy and with cheese, served in mini baguettes. The best restaurants to try this delicacy are Cervejaria Gazela (8€/2 pax), República dos Cachorros (15€/2 pax) or Mirone (20€/2 pax).
And finally, we must mention the famous Casa Guedes (12€ for 2 people) – a historic house in Porto with the best ham sandwiches.
… for meat lovers?
But if what you're in the mood for is good grilled meat, then this section with the best grilled meat restaurants in Porto is for you.
Located in Matosinhos, Terminal 4450 is one of the top-rated restaurants in the city. A pleasant and informal atmosphere, the service is attentive, and the meat is of excellent quality. The portions are quite generous, and the price is around 70€ for 2 people.
💡 EXTRA TIP: On weekdays, Terminal 4450 has an executive menu that includes one main dish, soup and drink for around 10€. The main dish is different every single day, so you should call them before visiting to find out what it is.
However, if you are looking for a more central option, you can also try Belos Aires. It is a much smaller restaurant with Argentinean origins. The price for 2 people is, on average, 45€.
Finally, if you're looking for a lighter and cheaper option (20€/2 pax), I suggest trying the "pregos" at Prégar, next to Flores Street. A "prego" is traditionally Portuguese, and it consists of a beef sandwich (even though it can also be served on a plate with fries on the side). The meat is very tasty and tender, you can't help but like it! The space is quite small, but this restaurant also has a terrace service.
… for those who love fish and/or seafood?
If you're in a fish/seafood mood, there are also great choices in the city. You should definitely visit Matosinhos or near the beaches to try the freshest fish/seafood.
I suggest the historic restaurant Salta O Muro, right next to Lota de Matosinhos (the market where they sell fresh fish). The restaurant is old and very small, but this is where you'll find the best octopus fillets with octopus rice (available only on certain days of the week) 😉 In addition, the cook is very traditional and familiar. On average, a meal for 2 people costs 30€. You should go early as they don't take reservations!
Also nearby, we find another very traditional restaurant with plenty of fresh fish available – Lage Senhor do Padrão. With an average price of 35€ for 2 people, the restaurant works on a first come, first served basis and is usually quite busy.
However, if you are looking for a more sophisticated gastronomic experience, my suggestion is Casa da Guripa. Located in Lavra (about 25 min drive from downtown Porto), this more intimate restaurant has several options from fish to seafood and even meat. I suggest the sea rice and the tempura prawns with sweet and sour sauce. The price is around 40€ for two people.
… for vegetarians?
However, if meat or fish is not your thing, or you just don't feel like it, there are also some vegetarian options in town.
Firstly, daTerra restaurant, with various locations in the city, has a wide choice and works on a buffet basis. The price is different for lunch and dinner but is around 20€ for two people.
In Matosinhos, there is also an excellent option – Terrárea. The space is very pleasant and, in addition to being tasty, the food is super Instagrammable 😋
Finally, if you are looking for a more gourmet option, Fava Tonka is the right choice. It is located in Matosinhos and the price is 50€ for two people, on average.
… for those who miss neighbouring Spain?
You can also try amazing tapas in Porto! Although not typical Spanish tapas, I will now tell you about some of the best tapas restaurants in Porto.
Arco-da-Velha Bistro & Wine Bar is a small restaurant near downtown Porto with an excellent quality-price ratio. For about 25€ for two people, I especially recommend the calamari and the "huevos rotos".
Another excellent option is Casa de Pasto da Palmeira (40€/2 pax). Located in Foz, I recommend the "alheiras" (typically Portuguese kind of sausage) muffins, "ovos à Rui" (a kind of "huevos rotos") and the apple crumble for dessert. The space is very small, so it's best to book a table in advance.
… for those looking for a romantic meal??
If you're in for a romantic meal, there are some must-try restaurants in town for a more special night out.
Let's start with Flow – one of the most highly-rated restaurants in Porto. The space is very welcoming, the service extremely careful and, above all, excellent food. The average price for two people is 70€.
Also very central, you should also search for Cantina 32. Here you can choose individual dishes or share some snacks. Whatever your choice, you won't regret it. The average price for 2 people is 50€.
But the list of the best romantic restaurants in Porto doesn't end here. You can also take the opportunity to get to know Esquina do Avesso with its signature cuisine (50€/2 pax).
Finally, if you want to combine a beautiful view with a nice meal, I have two more suggestions 😊 Firstly, the restaurant Intrigo (40€/2 pax), where I recommend arriving early to be lucky enough to stay on the magnificent terrace overlooking the river. Secondly, the restaurant Bacalhau at Cais da Ribeira (40€/2 pax) – also particularly special on the terrace.
… for the best artisanal burgers in town?
You're not looking for anything too fancy and you're craving a good artisanal burger. Here are the best burger restaurants in Porto.
Real Hamburgueria Portuguesa, located in Cedofeita, has a wide selection of hamburgers. Let yourself be surprised by the best combinations of ingredients in this relaxed space. A meal for two people costs, on average, 20€.
Next comes Bira dos Namorados (€30/2 pax) which, despite being originally from Braga, has a large space and a quirky decoration. The bonus? The desserts are amazing!
Finally, there is Munchie, which has several locations in the city. It was one of the first burger places to open in the city, and it is one of the cheapest (15€/2 pax) and still has incredible quality. They are probably my favourite burgers in town 😉
… for those who want to travel to Italy?
But if you're craving some Italian, there are also several options. In terms of pizzas, I especially recommend 4 restaurants:
But it doesn't end there! I have one final recommendation when it comes to Italian food. The restaurant Reitoria is already well known by the locals as the one where you can taste the best focaccias in the city. The price depends a lot on which part of the restaurant you visit. In the restaurant next to Leões Square, in the lower part (snacks), the price is quite accessible (about 25€/2 pax), however in the upper part (matured meats), the price is around 80€/2 pax.
💡 EXTRA TIP: You can find the focaccias in two more spaces around the city: at RT in Bom Sucesso Market and in Norteshopping.
… for those who want to take a trip to Asia?
And to finish this blog post, how about a trip to Asia? Firstly, I must recommend the best Chinese restaurant in Porto, located right next to the Luiz I Bridge. O Chinês da Ponte (25€/2 pax) is a typical Chinese restaurant, there is little to add here to be honest! But most locals will agree that this is the best Chinese restaurant in town.
Other of my favourite Asian restaurants in the city include:
I hope this post has left you craving some good food and wishing you can try some of these restaurants in Porto 🤤
Disclaimer: this post may contain some affiliate links, which means I get a small commission if you buy something through my links. This doesn't represent any additional cost to you and you'll be supporting my work here on the blog😊